The term minimalist wallet means something different for every kind of traveler. Suppose you're trying to pack as light as possible; an option that utilizes lightweight materials and less hardware will work best for you. Or, if you want your wallet to be straightforward regarding cash and card-carrying ability but utilitarian and useful, a metal-framed option with unique features is your best bet. This list will cover both ends of the spectrum and everything in between.
This roundup covers materials from nylon to polyethylene and elastic to aluminum—so, by the end, you'll have found the best minimalist wallet for you. Some will be able to stow coins for trips to countries where cash is still king, while others will only work with cards for adventures across urban environments.
Minimalism doesn't always mean small; however, all these wallets will fit inside your daypack or travel backpack. Some will be too large to stow in a small sling, and some will fit like a glove. For some, minimalism comes in design, materials, or features.
So, sit back, relax, grab your favorite credit card and currency of choice, and we'll help you choose the best minimalist wallet for you!
Pack Hacker Pro Members-Only Live Stream
Get a detailed look at gear in real time and have your burning questions answered by our team. Unlock access to our entire catalogue of live streams when you sign up for Pro.
Live Stream
1. NOMATIC Wallet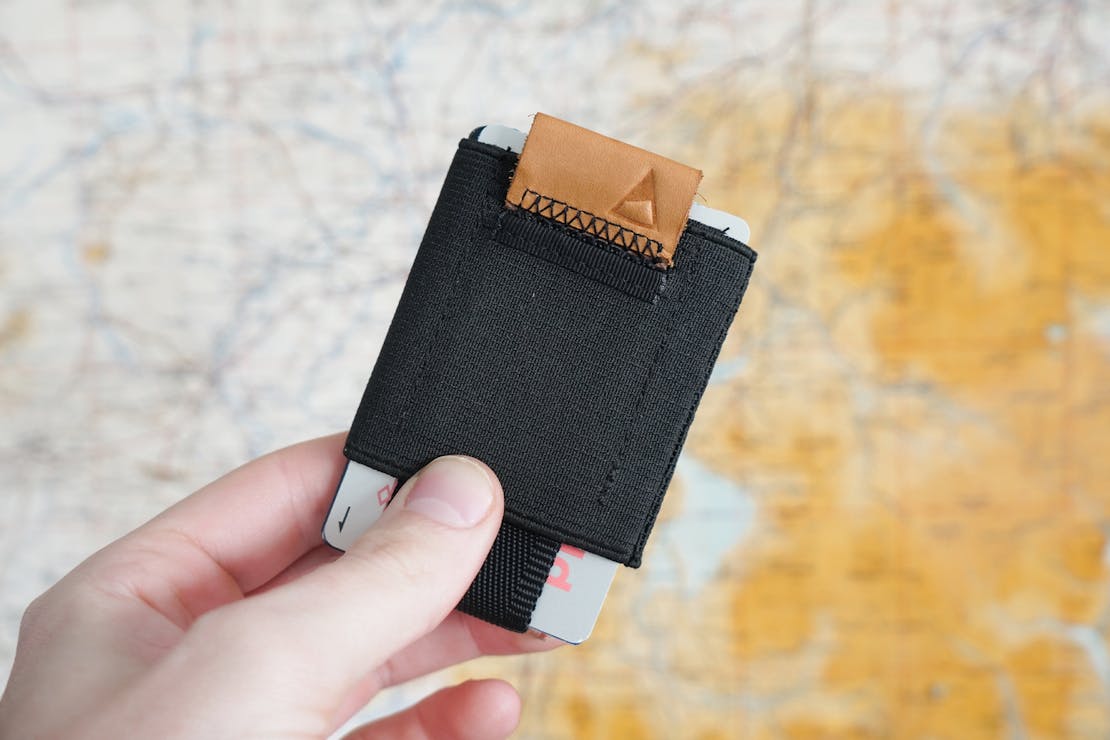 Why We Like It: The simple design allows for up to 14 cards.
What You Should Know: The material will stretch out over time.

If simplicity is the goal, look no further than the NOMATIC Wallet for your next minimalist wallet choice. The primary material used in its construction is elastic; however, there are leather and polyester accents. The design is simple—there's a slider for cards—which you can pull out quickly with a pull tag, and a small pocket for cash or other little items like a key or fob.

The leather accent is attached to the pull tag, so you can get your cards out quickly without fiddling around. Considering there are just two places to stow gear, you can't get a much more minimal than this!

Over time, the elastic may start to wear out, but it took roughly a year to be noticeable. It still works—it just isn't as tight when you've got less stowed inside. The simple design takes some getting used to, but once you've gone this basic, it's hard to go back! If you're looking for an option that stretches to fit what you've got, this is the best minimalist wallet for you.

Pros
Great segmentation for a wallet so simply designed
Quick, easy access to cards and cash
Key, coin, and cash pocket is a nice touch
Cons
Material is bound to stretch over time (but has held up well so far)
Too many cards in main sleeve can be difficult to sort through
Clever, but can take a while to figure out
See Full Review & Buying Options
2. Trayvax Original 2.0 Wallet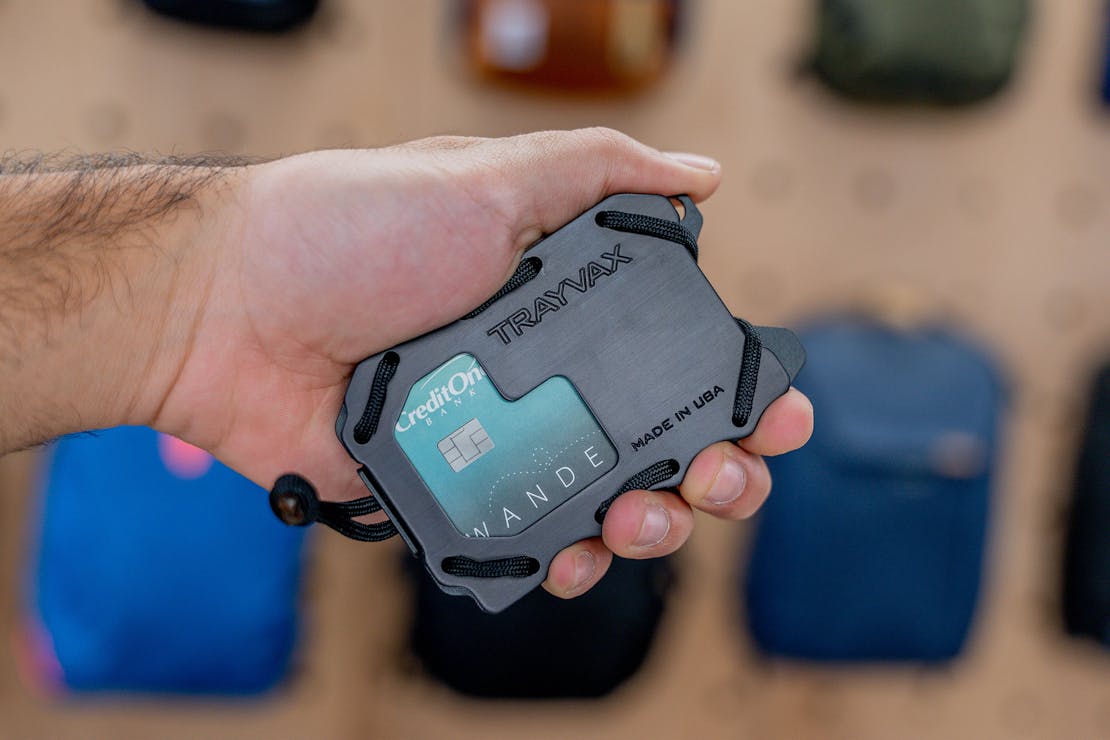 Why We Like It: The paracord allows you to expand it to fit more cards.
What You Should Know: The expansion process isn't quick and can be rigorous on your hands.

If you want something that can handle a rugged adventure, look no further than the Trayvax Original 2.0 Wallet. The main component's construction is stainless steel and aluminum. They're extraordinarily durable and look sleek, too. The two panels are held together using a thick paracord, which you can tighten or loosen based on what you've got stowed inside. The paracord is the weakest link in thiswallet since it's made of such durable materials; however, we haven't had issues with it breaking. Plus, if it does, it's easily replaceable.

There are two places to stow your currency options. Cards go between the two plates. One of the plates has a window in which you can put your ID; however, depending on where your ID is from, the details you might need to show could be covered up. The other plate has a money clip so that you can stow cash. It works well for American and other non-tall bills, but taller currencies can interfere with the paracord toggle. It'll still work, but you'll have to fiddle to get your cards out.

If durability is the name of your game, this is the best minimalist wallet for you!

Pros
Plenty of room for expansion to fit more cards
Paracord is easily replaceable
Navigating through cards is quick and simple
Cons
Tall currencies may interfere with the toggle
Money clip not the most friendly for cash-heavy users
Paracord's slack can snag other pocket items
See Full Review & Buying Options
3. Bellroy Card Pocket
Best for: Relaxed Travelers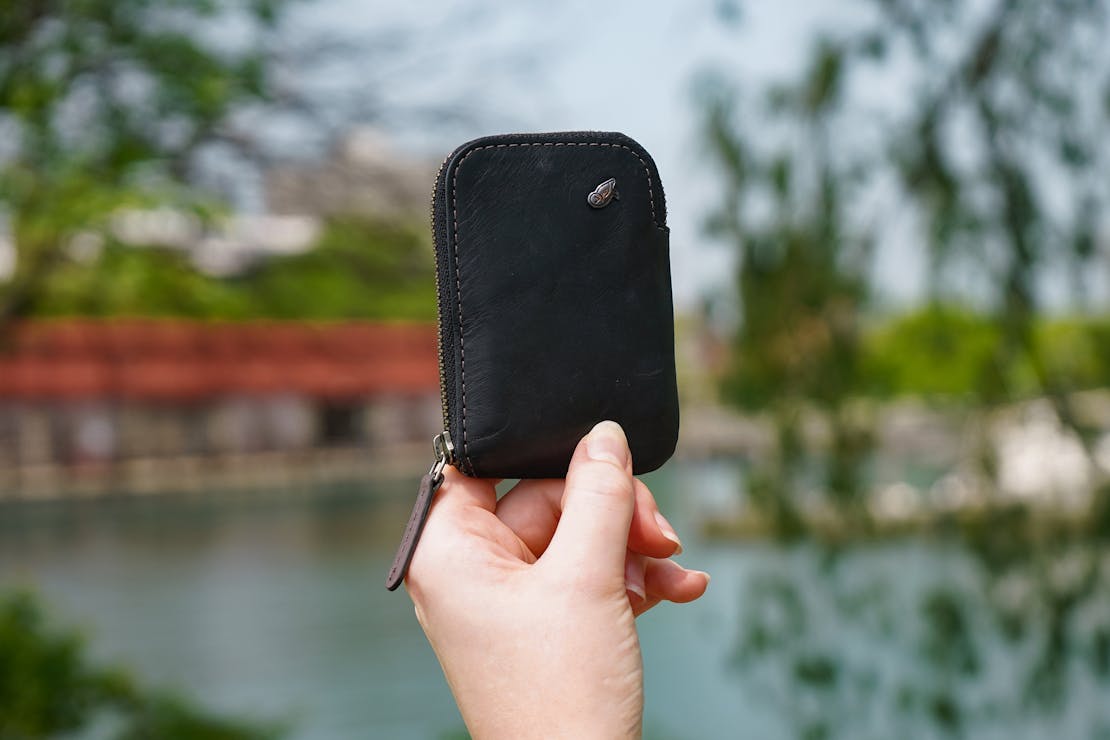 Why We Like It: Can easily hold cash, cards, and coins without taking up much room.
What You Should Know: Items on the interior can get stuck on the zipper.

The transition to a minimalist wallet can sometimes be difficult, primarily if you've never used something smaller. However, if your new wallet feels similar to your old one, it can make the change easier. The Bellroy Card Pocket is crafted from leather, so it feels like your old wallet, but it comes in a small package with thoughtful internal organization.

This model has a zippered YKK closure, which hasn't failed in testing but sometimes gets stuck. Once you've made it inside, the liner is made from polyester, and there are a few places to stow your gear. There's a card pocket for your cards and folded-up cash, a coin sleeve for change, a spot to hold a SIM card, and some wiggle room in the middle for extras. For such a small minimalist wallet, this thing packs a punch!

The Bellroy Card Pocket feels like the perfect middle ground for those just searching for the best minimalist wallet. It has a lot of the details and organization you'd expect from a standard model, but the size of something more streamlined.

Pros
Made of high-quality, ethically-sourced materials
Sleek and sophisticated design
Small enough to fit in most quick-grab pockets on bags and slings
Cons
The zipper is sticky
Not ideal for quickly accessing cash
Items in the main compartment can get caught in the zipper.
See Full Review & Buying Options
4. GRIP6 Wallet (Leather and Loop)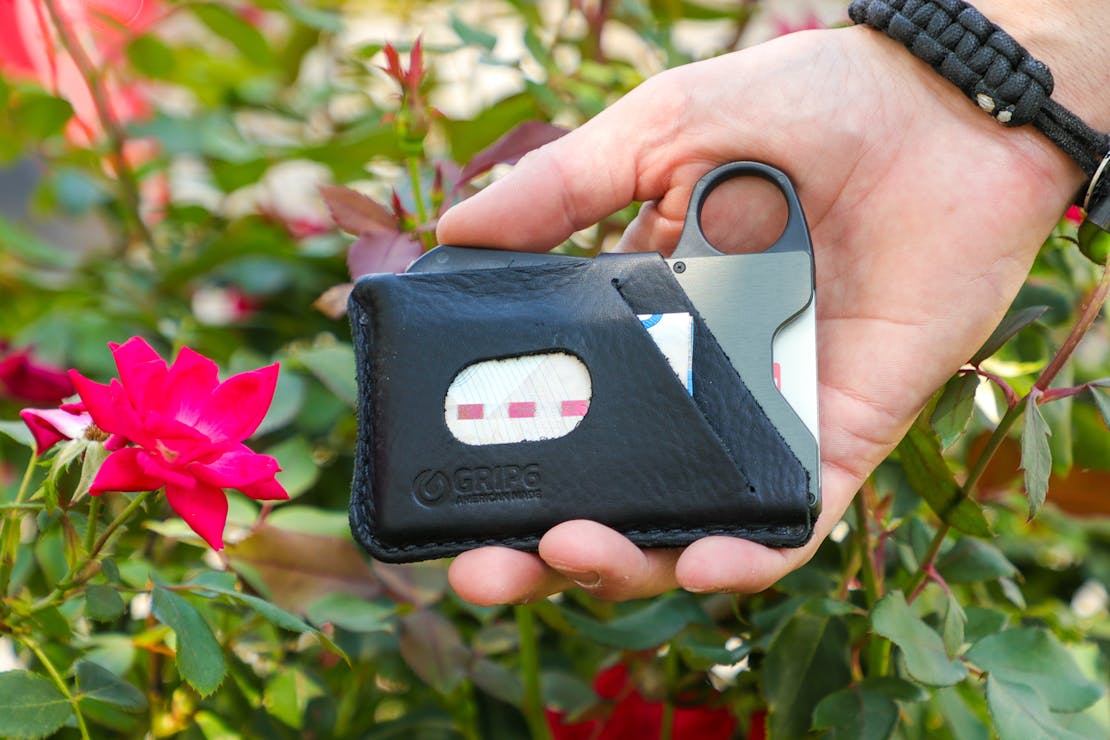 Why We Like It: You can build your own customized wallet to meet your needs.
What You Should Know: Cards can pop out faster than you're ready for.

We've got you covered if you're looking for a minimalist wallet that works as a fidget toy. The second iteration of the GRIP6 Wallet is customizable, durable, and fun to play with. There are four metal body colors, which are crafted from 5052-H32 Aluminum.

The wallet is 0.4 inches thick and can stow 5-6 cards. To retrieve your cards, click down on the side of the wallet and they'll pop out so you can fan through and find the one you want. However, the lever works almost too well, and sometimes our cards shoot out of the wallet entirely, which puts them at risk of getting lost. There are two models, one with a large eye (or loop) and one that has more minimalist styling. The loop is fun to play and fidget with; however, it's bulkier.

If you want to stow more than just cards, you can add on a moneyband. This accessory sticks on the exterior of the wallet and can be used to hold cash and other small items. The design isn't as sleek, but you can stow more gear, which is a fair trade off when searching for the best minimalist wallet for you!

Pros
Aluminum body is sturdy and solid
Mechanical design makes getting cards out easy
Slots grip cards well
Cons
Fraying at the leather's cut edges
Cards can pop out at varying speeds
Loop adds extra pocket bulk
See Full Review & Buying Options
5. RE:FORM RE:02 (Card Holder)
Best for: Full-time Travelers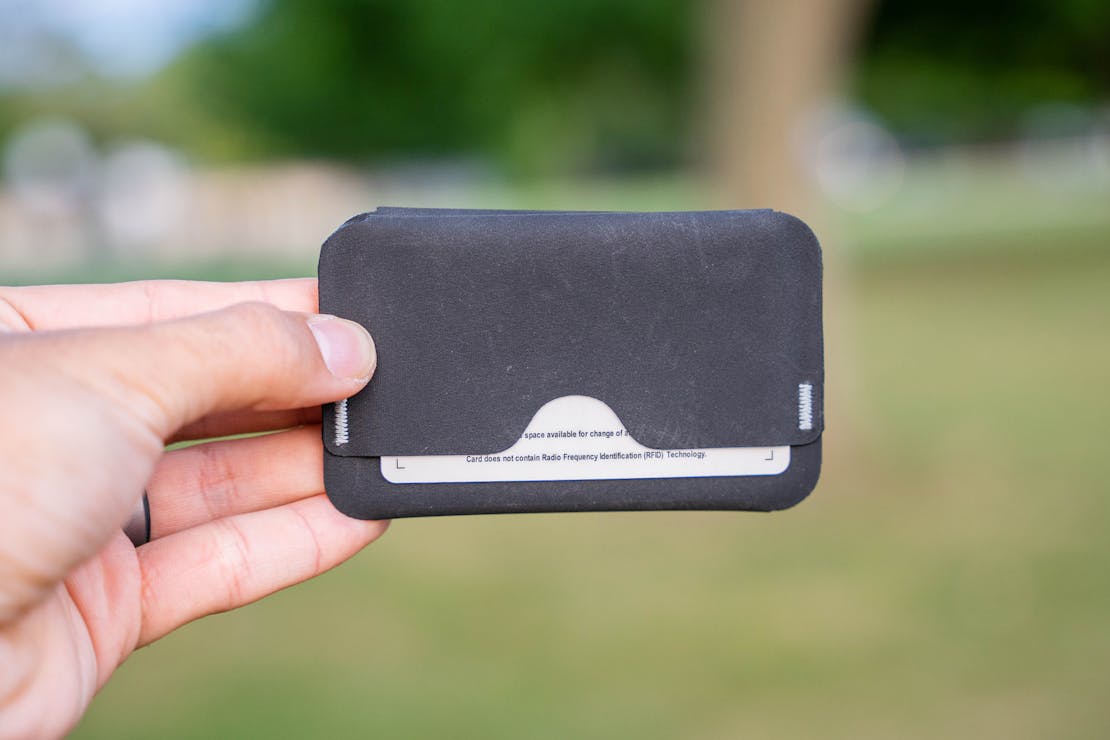 Why We Like It: It utilizes unique materials and magnets to form a sturdy closure system.
What You Should Know: The fabric can be so grippy it's hard to get your cards out.

There aren't many minimalist wallets that only utilize one material—let alone models that only use polyethylene. The RE:FORM RE:02 comes in two designs, the Coin Sleeve and the Card Holder. The two models have a similar construction but are built to hold their namesake.

The polyethylene material is comfortable to hold in your hand and has a unique texture. If you're a connoisseur with a closed full of wallets, odds are, no others in your collection feel exactly like this one. It utilizes a classic billfold design with magnets to help secure it. However, the magnets don't present a foolproof closure, so it may pop open when you don't want it to.

We can fit roughly nine cards inside, but your mileage may vary depending on the thickness of what you try to stow inside. RE:FORM's RE:FINE material, that polyethylene we were going on about earlier, hasn't worn out in testing, making this a contender to be one of the best minimalist wallets.

Pros
Slim design doesn't take up too much pocket space
Multiple card slots offer organization
Magnetic closure is tactile and satisfying to engage
Cons
Material's rubbery texture can add too much grip
Slots need just the right amount of cards for a secure fit
Takes some fiddling to get bills slotted in
See Full Review & Buying Options
6. Pioneer Flyfold 2.0
Best for: Professional Travelers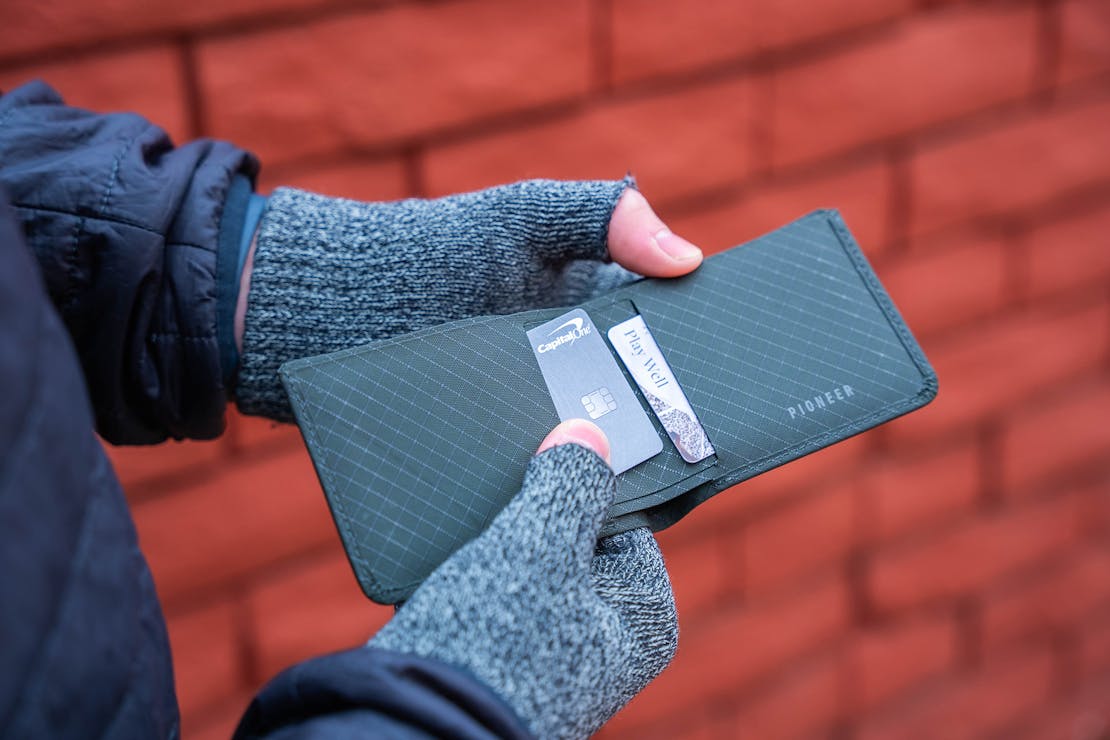 Why We Like It: Materials are lightweight but durable and water resistant.
What You Should Know: There are only two card slots, which can be hard for organization.

Of all the minimalist wallets we've had in hand, the Pioneer Flyfold 2.0 might feel the most like a standard billfold. However, it's not the design that makes this option stand out. Pioneer opted to use 10XD fabric, which is durable and extraordinarily water resistant, which makes this a rugged yet sleek choice for those not ready to give up on billfold life.

There's a spot for your cash like usual–however, some taller currencies may poke out of the top. We've got two card slots to work with, each holding roughly six cards, which is ample storage for a thin wallet. However, because there are only two high-capacity slots, finding the card you were looking for can take a few moments. If you place the cards correctly, getting used to the format is quick.

The Pioneer Flyfold 2.0 is one of the larger minimalist wallets on this list, but the durable materials and sleek design make it a worthy inclusion.

Pros
Solid build quality improves on original
Material has little to no stretch, keeping its shape with use
Cards stay in place thanks to slots' sideways orientation
Cons
Card access is slower than layered slot designs
Two-card slot organization is relatively minimal
Tall banknotes protrude
See Full Review & Buying Options
7. TOM BIHN Nik's Minimalist Wallet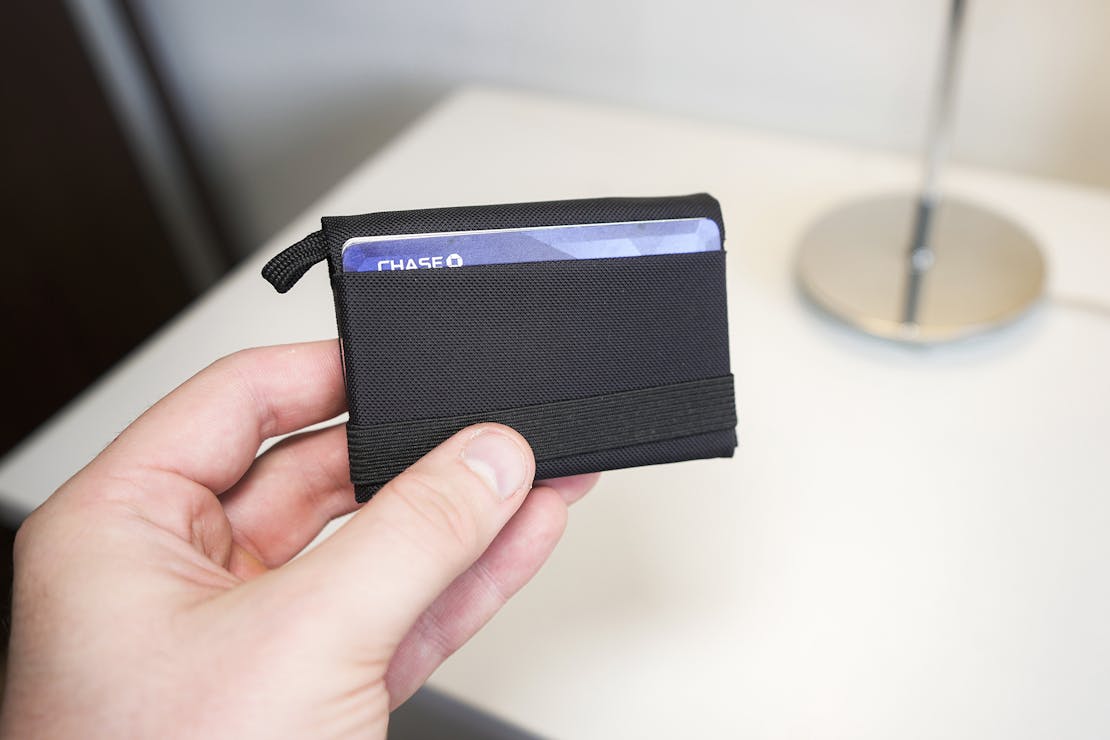 Why We Like It: There are multiple versions to fit your needs.
What You Should Know: The pockets aren't stretchy, so it can't expand or retract to fit your cards.

We've described TOM BIHN products as having big dad energy in the past, and that sentiment reigns true with their Nik's Minimalist Wallet. There isn't much going on here, but the materials, design, and features are utilitarian. We're not saying this thing isn't sleek, but it doesn't have the harsh lines and modern features that some other entries on this list do.

In typical TOM BIHN fashion, the materials are high quality. The main fabric is ballistic nylon, and there's a TPU window on the interior so you can see your cards. We've got multiple slots to work with when placing our gear inside, but there isn't much room, as the name implies. There are two on the inside and one on the exterior, which is helpful for quick access items so you don't hold up the line at the coffee shop.

As TOM BIHN explains on their site, there isn't any extra room for junk accumulation here. A combination of design and material choice makes this an excellent option for your next minimalist wallet.

Pros
Made of quality, durable, bluesign® certified fabrics
Great organization (for a minimalist wallet)
The clear ID window is a nice touch
Cons
The pockets aren't stretchy, meaning you need to be careful not to over or under fill it
Not ideal if you like to carry a ton of stuff inside of your wallet
You have to fold your bills for them to fit
See Full Review & Buying Options
8. Chums Surfshorts Wallet
Best for: Frugal Travelers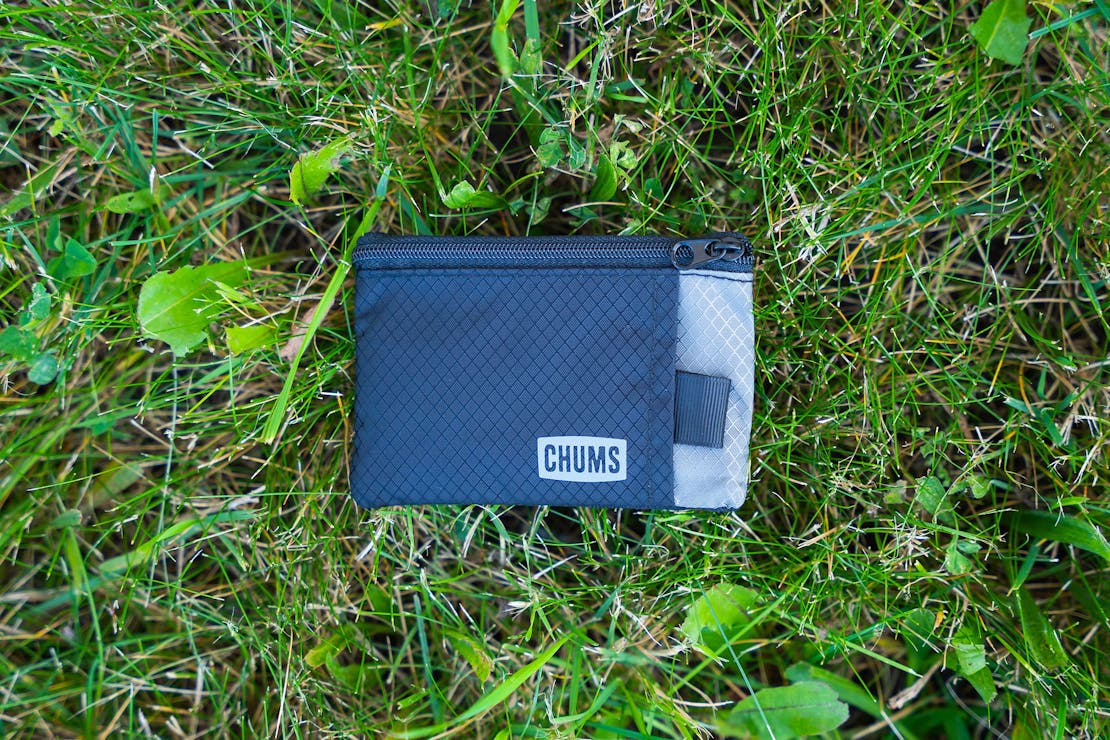 Why We Like It: A budget friendly wallet that will last you a long time.
What You Should Know: There isn't much internal organization.

If you're looking for something minimalist, durable, and budget-friendly, the Chums Surfshorts Wallet has your name on it. Plus, there's a colorway for everyone. Who can argue with that?

The primary material utilized here is ripstop nylon, but there's a TPU window on one side, so you can show your ID without pulling it out. There are two zippered compartments, one with a divider to separate gear, the other operating as a large area to stow the rest of your gear.

On the exterior, there's an additional liner pocket with a key ring inside. You can stow roughly five keys here comfortably, but it does affect how much you can fit inside.

In long-term testing, the logo rubbed off, and the zipper lost some of its paint, but the core functions of this minimalist wallet will remain intact!

Pros
Small enough to fit in a front or back pocket
Two large zippered pockets for stowing essentials
Easy key access when you want it that's hidden when you don't
Cons
No dedicated place for coin change
IDs and other cards can get bent if overstuffed
Keys can come flying out at inopportune times
See Full Review & Buying Options
9. Secrid Cardprotector
Why We Like It: The cards pop out pre-fanned, so you can get what you want quickly.
What You Should Know: You can only stow a few cards at a time and no cash.

Are you looking for a minimalist wallet that can stow a couple of cards with extreme durability and protection? The Secrid Cardprotector can do that for you—but not much else.

We've found that you can fit four embossed or six flat cards inside, but no more than that. The exterior is extraordinarily sleek—there isn't a pixel out of place. Seriously, this thing is mad smooth! On the bottom, a small lever pops the cards out of the top of the wallet.

The best thing about this mechanism is that it fans the cards for you. The card furthest back pops out furthest, and the card furthest forward the least. This makes it easy to grab the card you want without sifting through them all in the middle of the market.

Regarding cash or expandability, you don't have any in-house options. You could attach something to the exterior, but it wouldn't be nearly as smooth and fun to hold onto. As we mentioned, this might be the best minimalist wallet for you if you only need a couple of cards.

Pros
Cards fan out neatly when deployed
Slim profile slips into pockets easily
No majorly protruding parts that could snag on clothing
Cons
Non-expandable card capacity
No built-in way to hold cash
Lever intermittently jams on two samples we've tested
See Full Review & Buying Options
10. Paperwallet Micro Wallet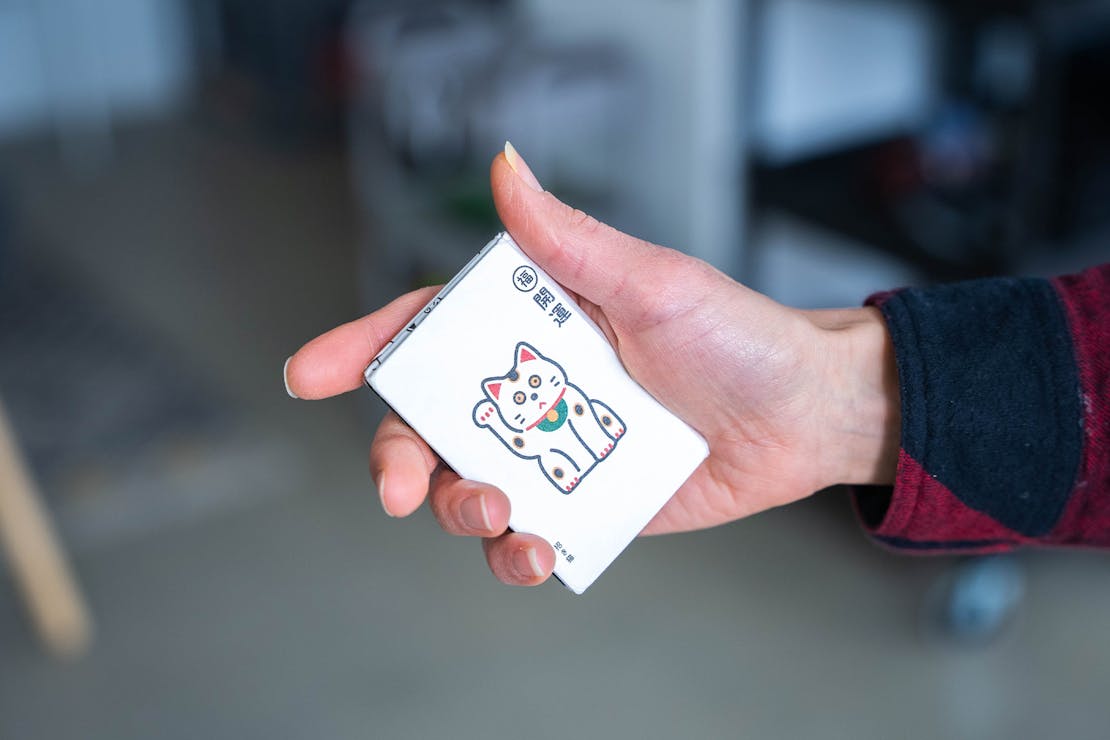 Why We Like It: The art on the exterior is fun and unique.
What You Should Know: The material shows wear quickly, although it won't rip.

If you like your gear to match your personality, the art prints on the Paperwallet Micro Wallet will spark your interest! Don't worry—if you like simple colorways, they've got those too. Like many options on this list, the proof is in the puddi…er…materials.

These wallets are made of Tyvek®, which feels like paper but is far more durable. This is a similar material to what you see wrapping houses that are being built—it typically is white and has the manufacturer plastered all over it. On a home, it's used to control airflow and water permeation. Come to think of it, that's pretty helpful for a wallet, too.

We've got five separate slots to work with, so you can effectively segment your cash and cards to your liking. However, because the material is so lightweight and small, this thing fits in your pocket—front or back. Yup, even feminine-styled pockets!

We have to admit; this thing takes some getting used to. However, once you're used to the material and its size, the Paperwallet Micro Wallet might be the best minimalist wallet for you.

Pros
Tons of artist designs to suit any style
Paper is water resistant to prevent disintegration
Fits in smaller pockets
Cons
Cards can catch on corners as you slide them in
Have to fold cash oddly to fit
Nicks and dents show on material
See Full Review & Buying Options
11. Pakt Mojito Wallet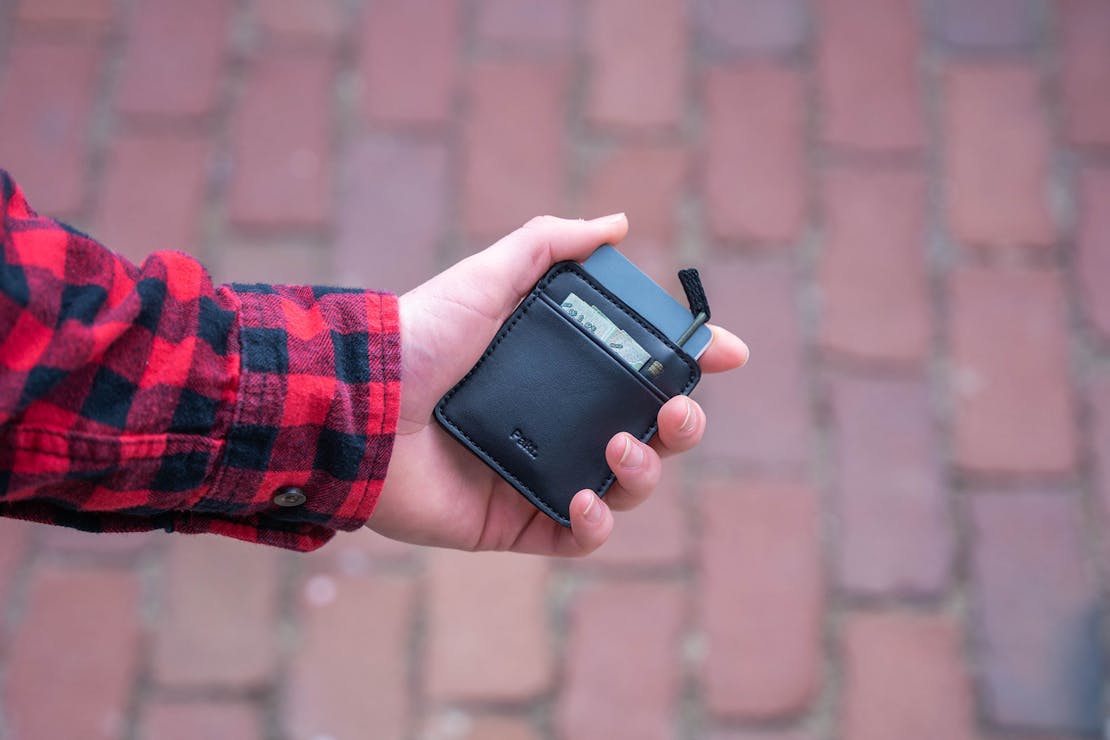 Why We Like It: One of the smallest wallets we've come across.
What You Should Know: It isn't terribly thin for how small it is.

For many travelers, a wallet should look and feel like a wallet. However, just because something feels and looks like (animal) leather doesn't mean it has to be made of animal hide. Enter the Pakt Mojito Wallet. This thing is made from synthetic PU leather, which looks and feels like the real thing, with added durability, and without the animal parts.

The design is relatively simple–a large card slot with a topper made of elastic holds your cards in place. When you want to get one out, grab the tab, move it to the side, and get what you need. If you want to stow your cash somewhere quicker, there's a small pocket on the exterior.

Because of the design, the Mojito isn't as wide as a standard credit card. It fits in pockets of all sizes, so you don't have to worry about which pants your packing before your trip.

Pros
Materials are durable and look professional
Separate spots for cash and cards
Small footprint fits into most pockets
Cons
Not as thin as other minimalist wallets
Can only fit six cards without overstuffing
A small loose thread near the elastic topper
See Full Review & Buying Options
12. Recycled Firefighter The Fire Hose Sergeant Wallet
Best for: Sustainable Travelers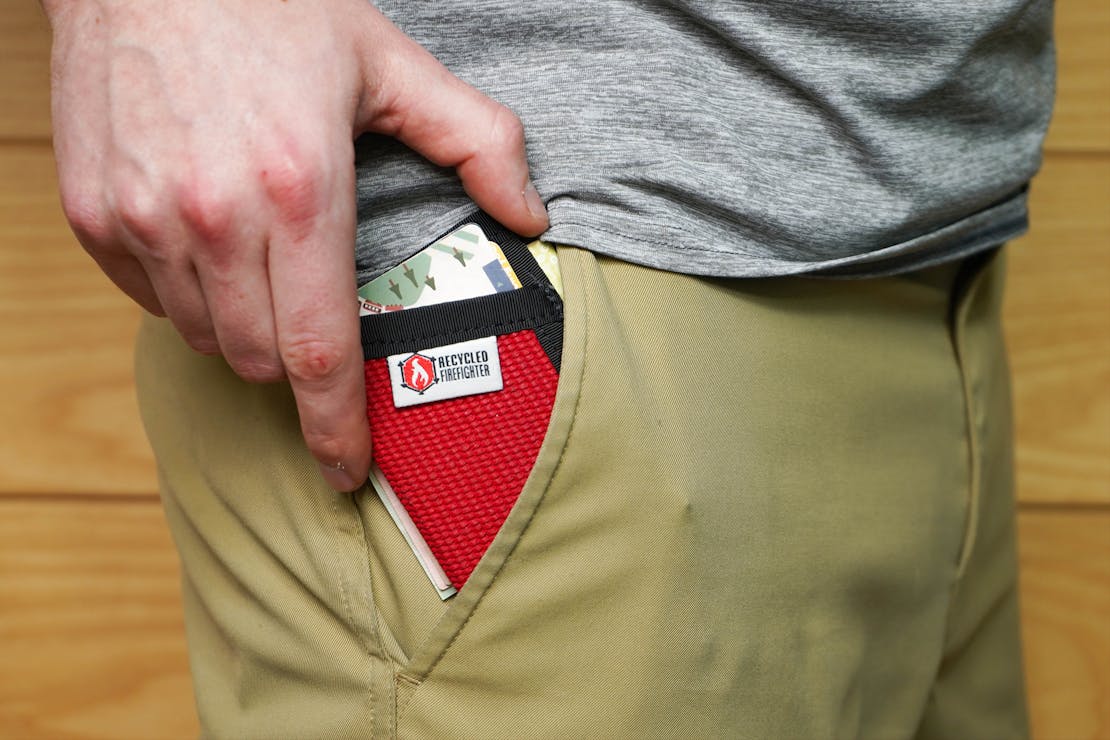 Why We Like It: Extraordinarily durable because it's made from repurposed fire hoses.
What You Should Know: It's tricky to stow cash in the strap.

There are a lot of recycled wallets out there, but only a few have the firepower of the Recycled Firefighter The Fire Hose Sergeant Wallet. Bad jokes aside, this minimalist wallet pairs a simple design with durable recycled materials to make for a convenient carry.

It's crafted from repurposed fire hoses, which are rugged, unique-looking, and fun to hold onto. We have just one proper storage area to work with, so that's where your cards will go. There's a band for cash or other small items on the backside. Using the strap can sometimes be a little awkward, especially with larger bills. However, we've gotten used to it pretty quickly and like how fast we can access the money we've stored in it. It's scientifically proven that you'll get your doner kebab quicker if you pay faster. Who can argue with that logic?

There are quite a few colorways to choose from, and the price comes in at under $40 at the time of this post, making this a great contender for the best minimalist wallet for you—especially if you loved fire halls as a kid!

Pros
Slim profile—you'll forget you have it in your pocket
Durable
Made from repurposed fire hoses
Cons
The cards aren't staggered—so seeing and accessing the middle ones can be slow
Cash can be fiddly to put behind cash strap
Not ideal if you like to carry a ton of stuff inside of your wallet
See Full Review & Buying Options
So there you have it—12 minimalist wallets that can do everything from carrying cash to protecting your identity. Whether commuting across the city or crossing Europe on a backpacking trip, one of these wallets will work for you!
And, check out some of these options and more in the video below.