The term minimalist wallet means something different for every kind of traveler. Suppose you're trying to pack as light as possible; an option that utilizes lightweight materials and less hardware will work best for you. Or, if you want your wallet to be straightforward regarding cash and card-carrying ability but utilitarian and useful, a metal-framed option with unique features is your best bet. This list will cover both ends of the spectrum and everything in between.
This roundup covers materials from nylon to polyethylene and elastic to aluminum—so, by the end, you'll have found the best minimalist wallet for you. Some will be able to stow coins for trips to countries where cash is still king, while others will only work with cards for adventures across urban environments.
Minimalism doesn't always mean small; however, all these wallets will fit inside your daypack or travel backpack. Some will be too large to stow in a small sling, and some will fit like a glove. For some, minimalism comes in design, materials, or features.
So, sit back, relax, grab your favorite credit card and currency of choice, and we'll help you choose the best minimalist wallet for you!
Pack Hacker Pro Members-Only Live Stream
Get a detailed look at gear in real time and have your burning questions answered by our team. Unlock access to our entire catalogue of live streams when you sign up for Pro.
Live Stream
1. NOMATIC Wallet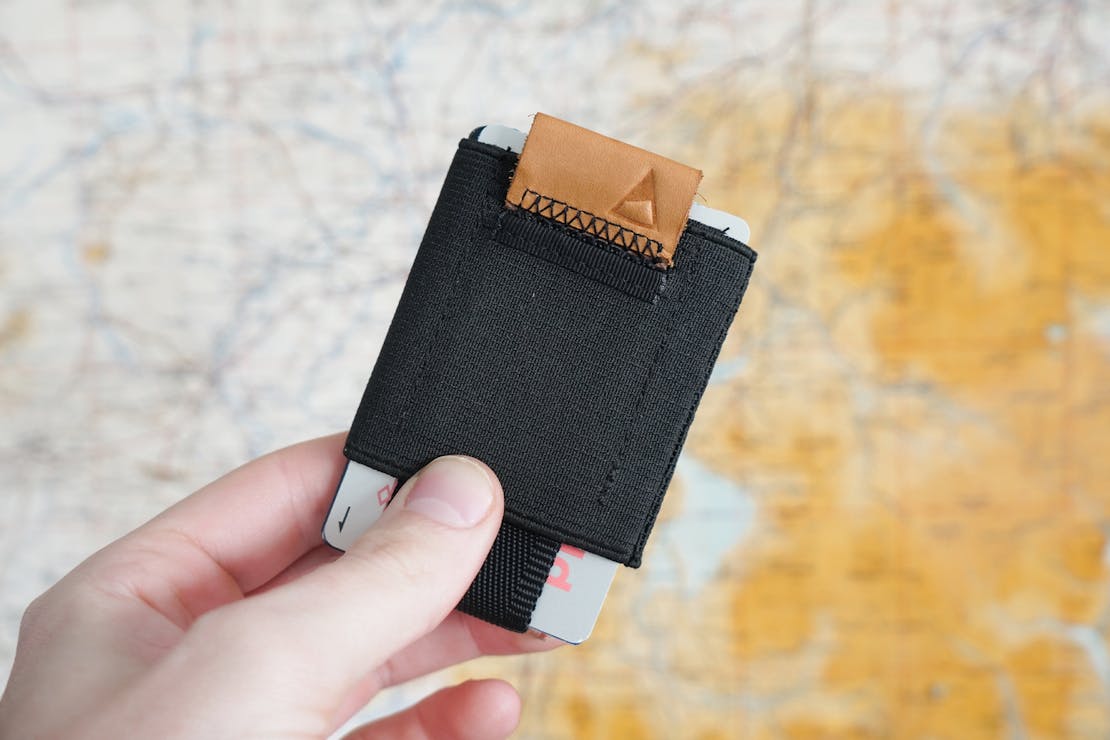 If simplicity is the goal, look no further than the NOMATIC Wallet for your next minimalist wallet choice. The primary material used in its construction is elastic; however, there are leather and polyester accents. The design is simple—there's a slider for cards—which you can pull out quickly with a pull tag, and a small pocket for cash or other little items like a key or fob.
The leather accent is attached to the pull tag, so you can get your cards out quickly without fiddling around. Considering there are just two places to stow gear, you can't get a much more minimal than this!
Over time, the elastic may start to wear out, but it took roughly a year to be noticeable. It still works—it just isn't as tight when you've got less stowed inside. The simple design takes some getting used to, but once you've gone this basic, it's hard to go back! If you're looking for an option that stretches to fit what you've got, this is the best minimalist wallet for you.
Why We Like It
The design is simple, but the wallet has excellent segmentation
Access to cash and cards is quick and easy
What You Should Know
The materials will stretch out over time
The design is intuitive, but it takes a while to get used to
See Full Review & Buying Options
So there you have it—12 minimalist wallets that can do everything from carrying cash to protecting your identity. Whether commuting across the city or crossing Europe on a backpacking trip, one of these wallets will work for you!
And, check out some of these options and more in the video below.