Bellroy Card Pocket Review
A small wallet with a surprising amount of internal organization, the Bellroy Card Pocket is ideal for travel, even if the zipper is a little sticky.
Our Verdict
Unlock the Pro Summary
Save time. Get access to brief summaries of our reviews so you can browse and make decisions more efficiently.
Pros
Made of high-quality, ethically-sourced materials
Sleek and sophisticated design
Small enough to fit in most quick-grab pockets on bags and slings
Cons
The zipper is sticky
Not ideal for quickly accessing cash
Items in the main compartment can get caught in the zipper.
Recent Pack Hacker Video
Technical Details
Weight (oz)

1.1 oz (31.2 g)

Dimensions

2.6 in x 4 in x 0.5 in (6.6 x 10.2 x 1.3 cm)

Notable Materials

Leather, YKK Zippers, Polyester

Manufacturing Country

India

Warranty Information
Full Review
The Bellroy Card Pocket is a simple, sleek place to hold your cards, cash, and coins while on the move. It's tiny—about half the size of an average smartphone—and will fit in most quick-grab pockets on most bags. And, if you're lucky enough to own pants with usable pockets, those too.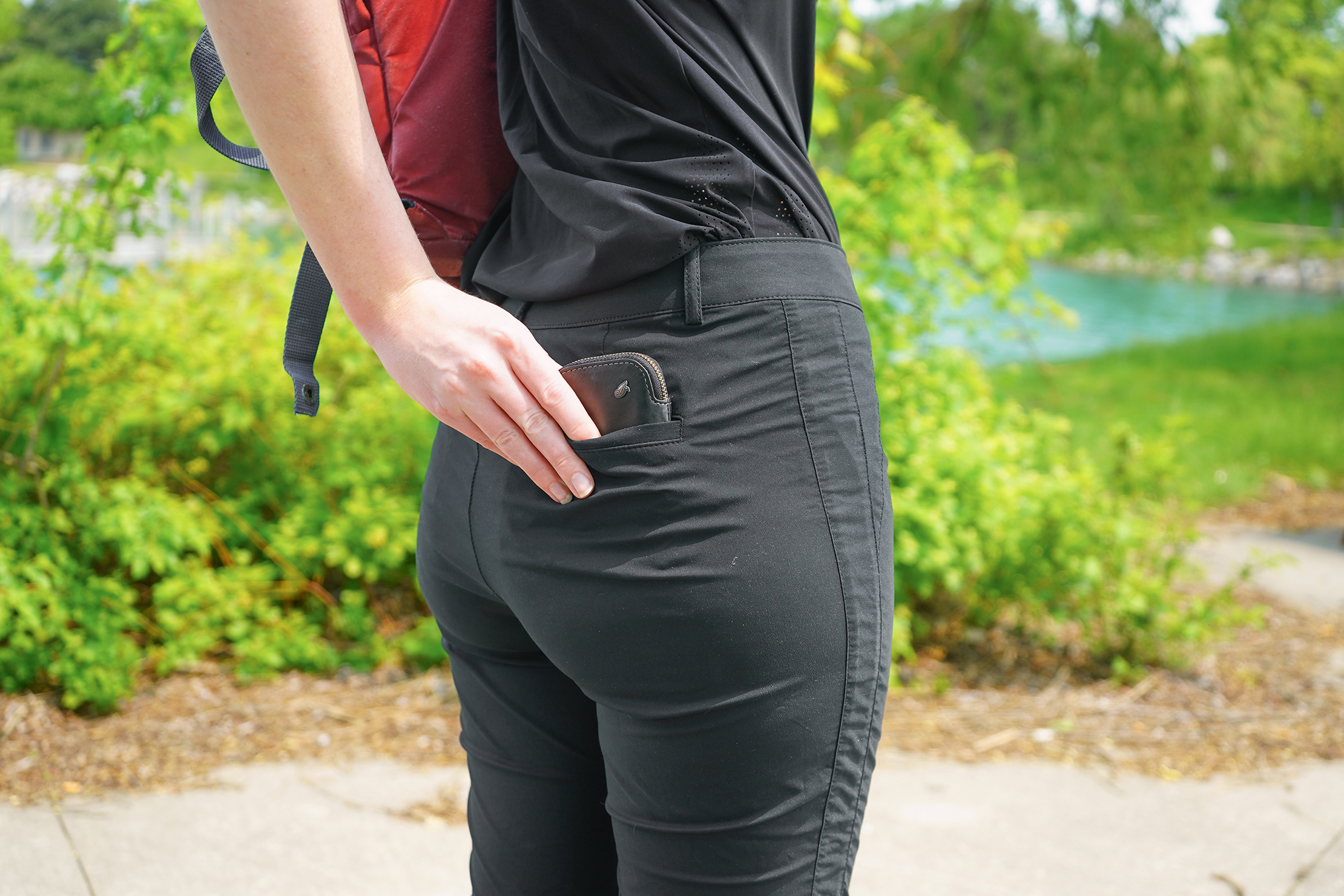 Better yet, the Bellroy Card Pocket desn't foce you to sacrifice usability. Unlike some other minimalist wallets which don't have much organization at all, this thing has 3.5 pockets. You can carry cash, cards, coins, and a SIM card with ease.
So let's get into the details and see how this travel-focused wallet fares in the real world.
Materials & Aesthetic
The Bellroy Card Pocket has a simple and professional aesthetic that we really like. The stitching along the perimeter has a nice elegance to it and the zipper is not only functional, but draws your eye. Other than that—and Bellroy's logo on the bottom right corner—there's not much else going on, which is just the way we like it.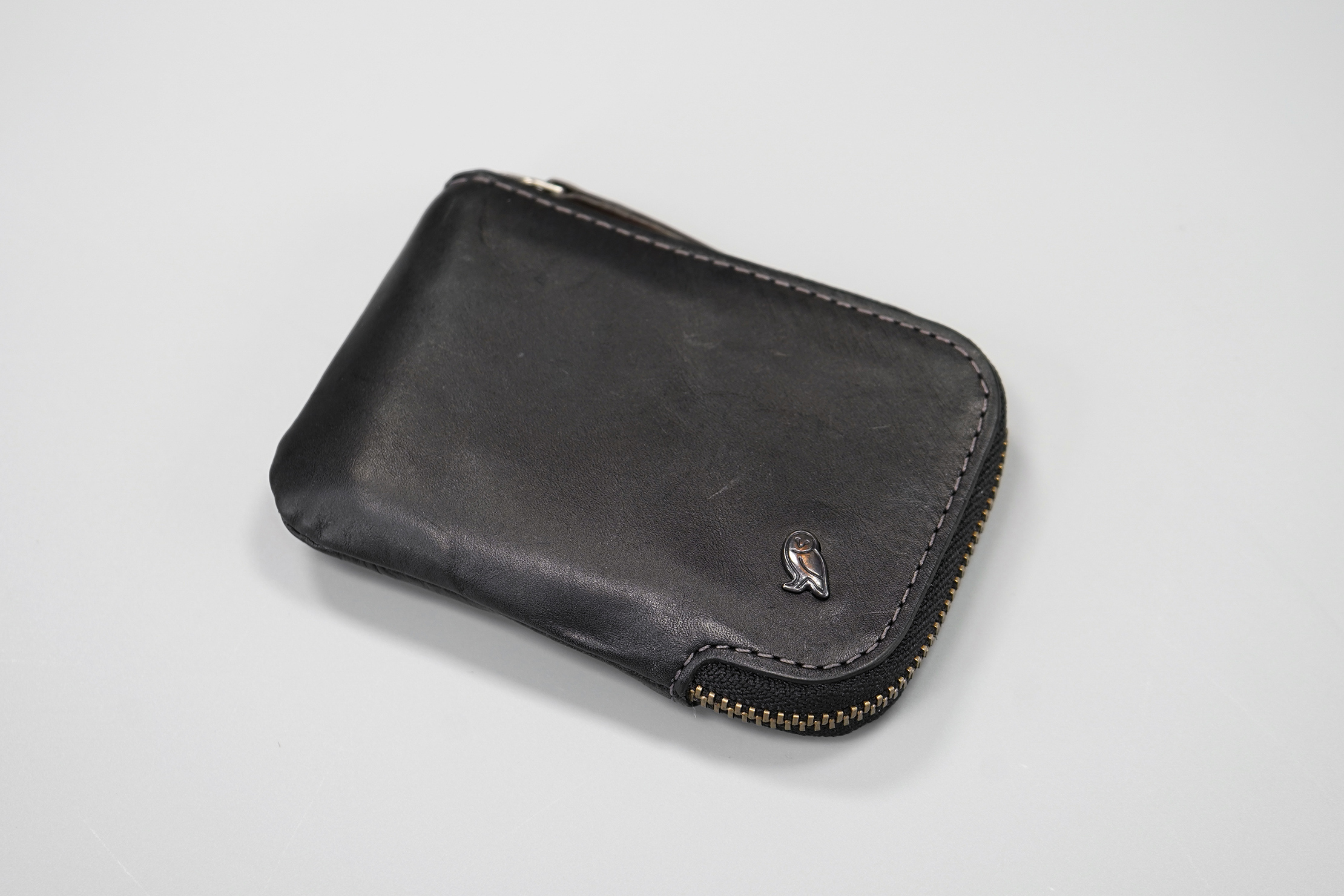 As per usual, we've been testing the pocket in black, but at the time of this review, it's also available in Navy, Tan, Caramel, and Wine. Because of the simplicity of Bellroy's design, no matter the color, it still has that sleek, sophisticated look appropriate for all sorts of sophisticated situations (ballroom dances, meetings with diplomats—you know, the usual travel stuff).
Bellroy is known for their leather products, so it's no surprise that the Card Pocket is made primarily of leather. The leather is ethically sourced and tanned under the watchful eye of the Leather Working Group, which is a third-party organization that ensures all leather tanning is done in an eco-groovy way, which we're glad to hear.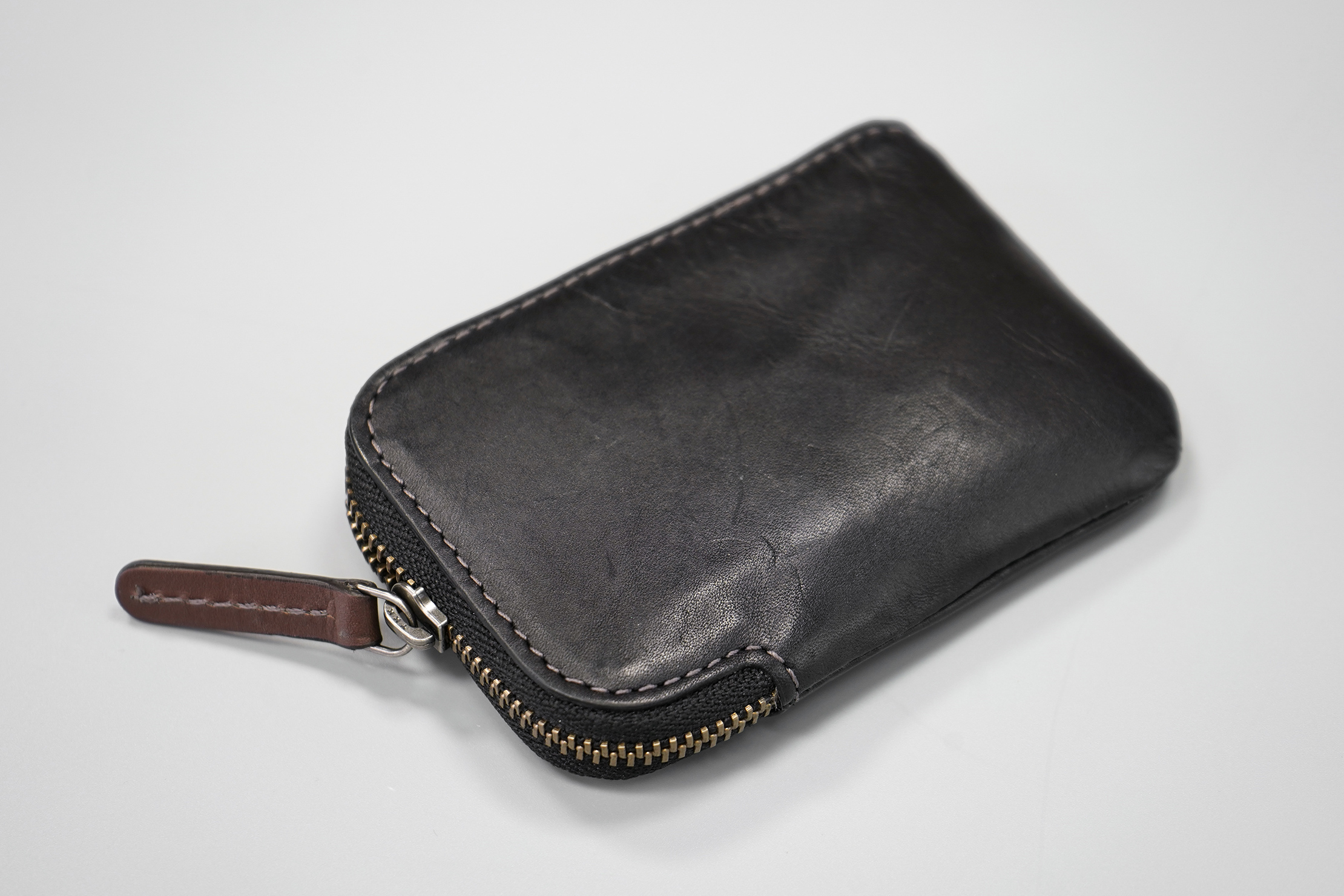 Plus, the leather has a nice feel and look to it. (Which is what everyone ultimately wants from leather, isn't it?)
The zipper is a YKK #3, and YKK zippers usually have a good "track" record (zipper puns), so they're not likely to fail on you. However, we do have some gripes with the overall zipper experience, which we'll get into later.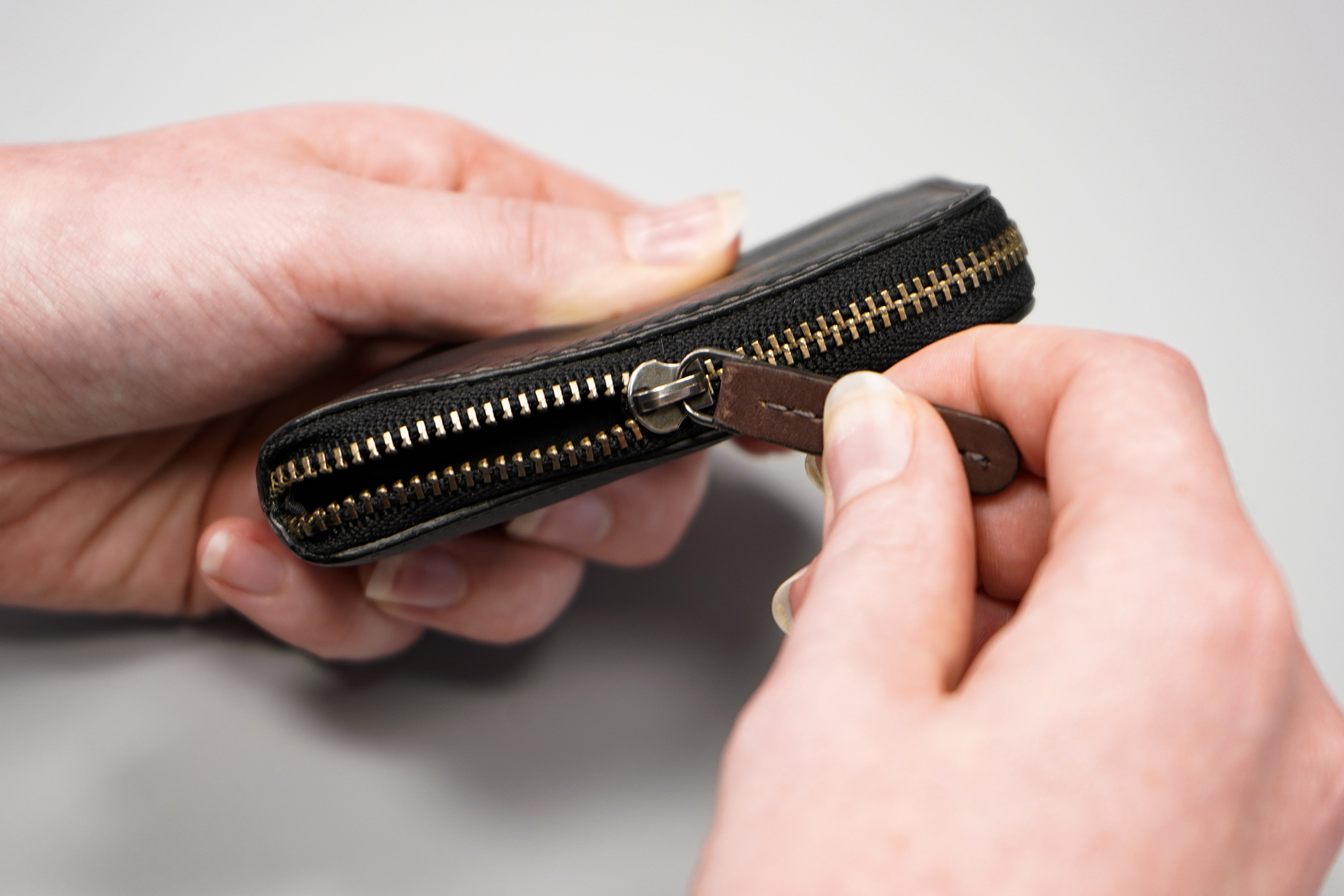 Inside The Pocket
For such a small wallet, there is a lot of organization going on in this thing.
The first "pocket" is just the Card Pocket itself. Bellroy says you can fit tri-folded bills in here and you can, though we've found folding our cash into quarters works better. Even so, the bills sometimes get caught in the zipper. In order to reduce the likelihood of a zipper-bill cataclysm, you'll want to take your time getting into and out of the wallet.
We've been okay with this, since we don't use cash too frequently, but if you're one of those Dave Ramsey types (good for you), this will probably annoy you to no end. Honestly, heavy cash users will probably want a different wallet.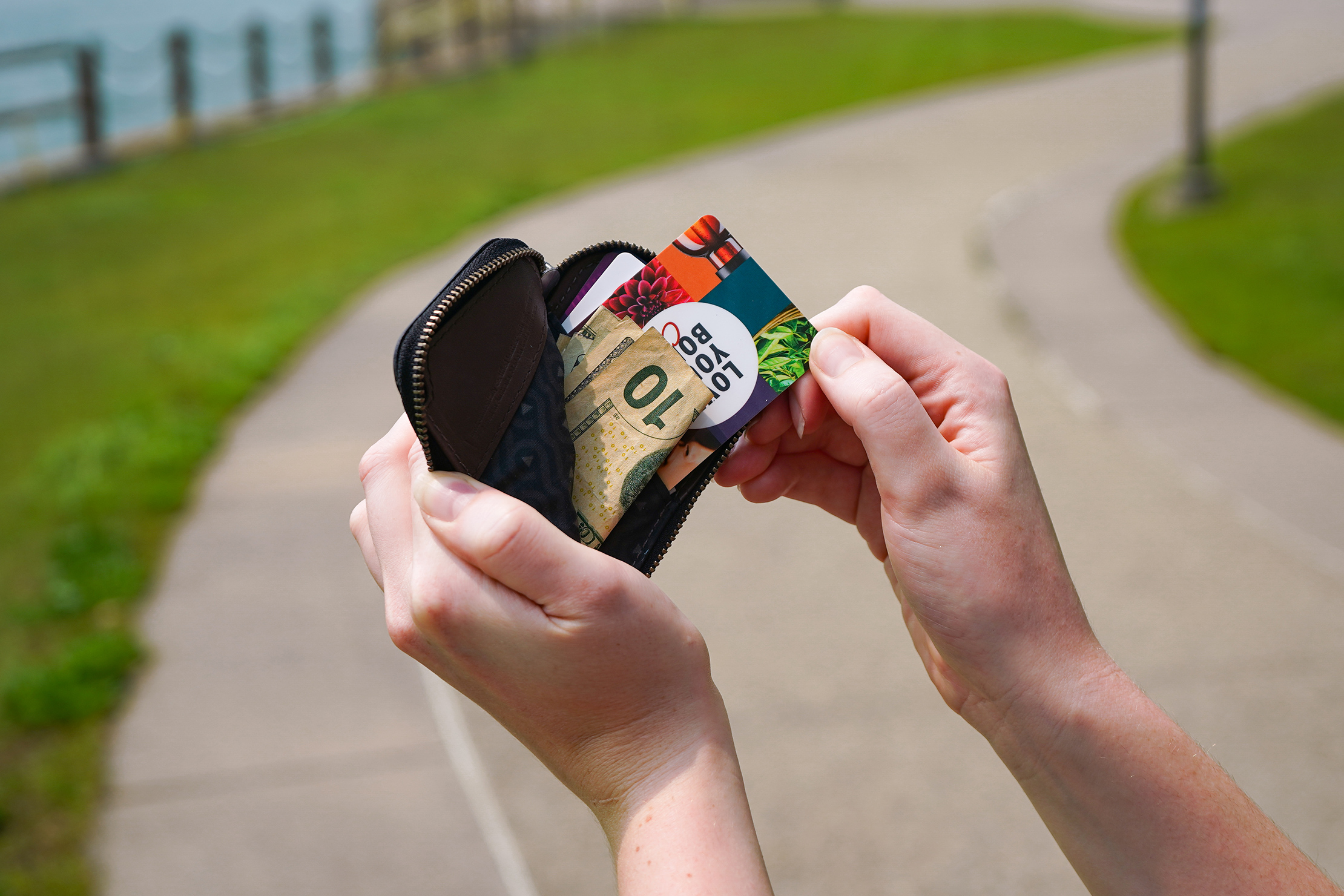 Next up is the coin sleeve, which just might be our favorite part of the entire wallet. We often find ourselves with handfuls of coins while traveling, and a good number of travel-oriented wallets don't have any place to put them. So, our hats off to the Bellroy team for including a coin sleeve.
This streamlined pocket is super practical and can hold your coins without impacting the space in the rest of the wallet. Plus, if you don't carry coins, you can use it to store other cards and if you don't use it at all, you'll forget it's even there.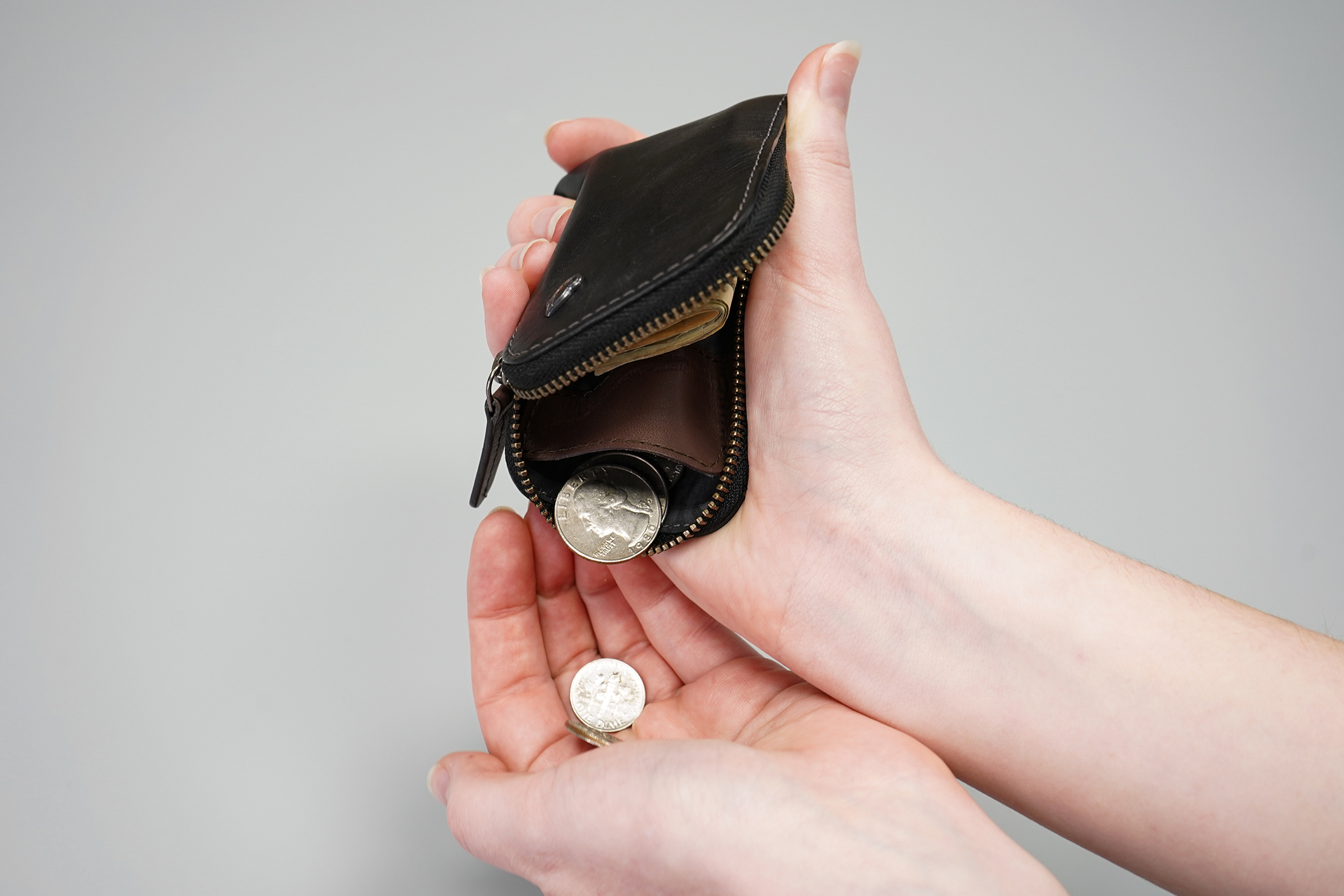 Accessing your coins is pretty quick too, although you have to finagle the Card Pocket by tilting it at such an angle that the coins will spill into your palm (which is easier than it sounds, trust us). Better yet, your coins won't fall out as they're protected by a thick, leather strap. We've found this to be a super useful feature!
On the opposite side, you'll find a small pocket for your cards, which we've found works best with no more than eight. The exterior fabric of the pocket sits diagonally across the cards, which we think is a nice touch as it allows you to both see and access your cards quickly and easily.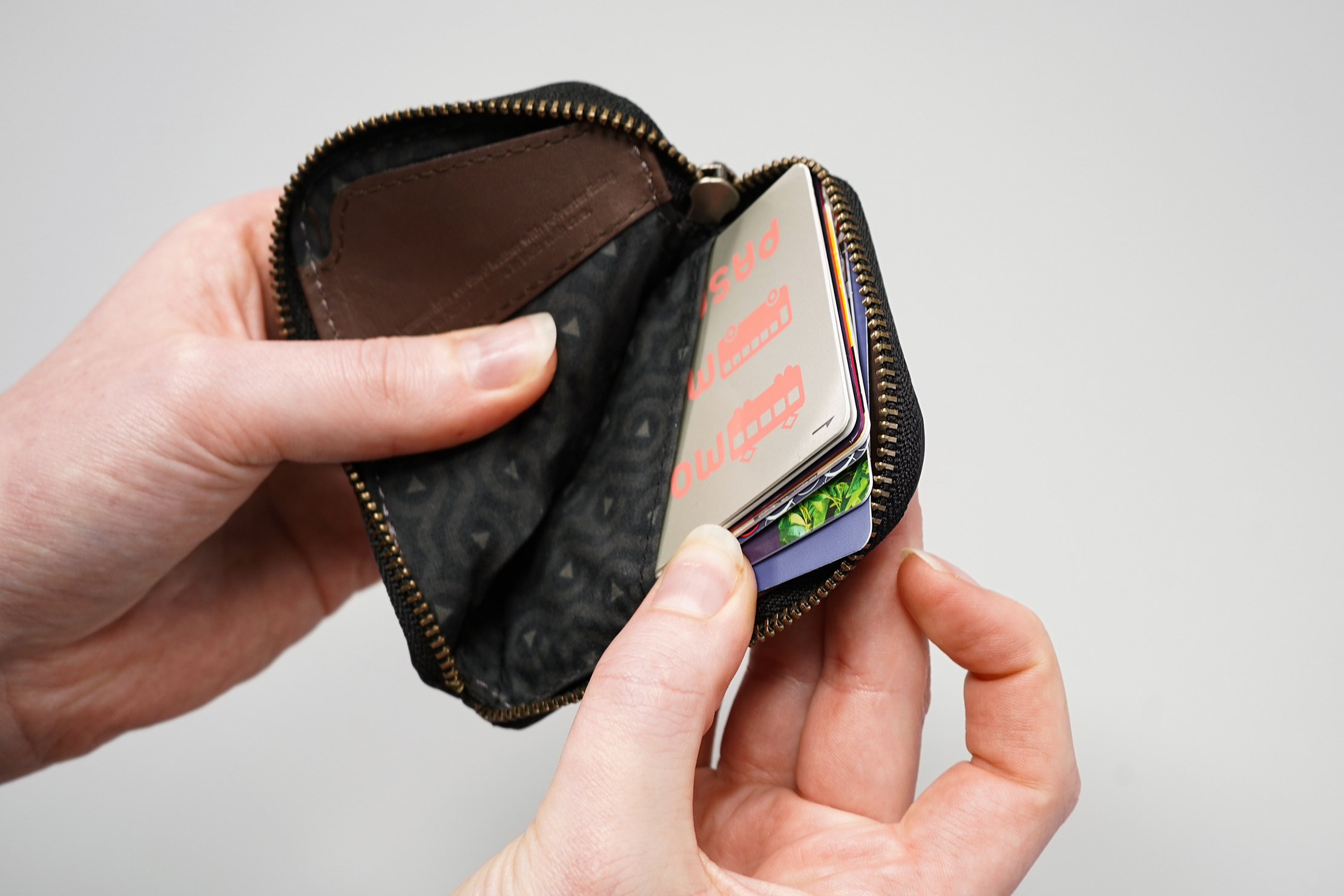 If need be, you may carry additional cards in the main compartment. However, they tend to move around a lot and may get in your way as you open and close the pocket.
And finally, you've got the half-pocket: a little, dedicated spot for a SIM card, which is definitely a nice feature for traveling. And it's pretty out of the way so it won't bug you if you don't use it.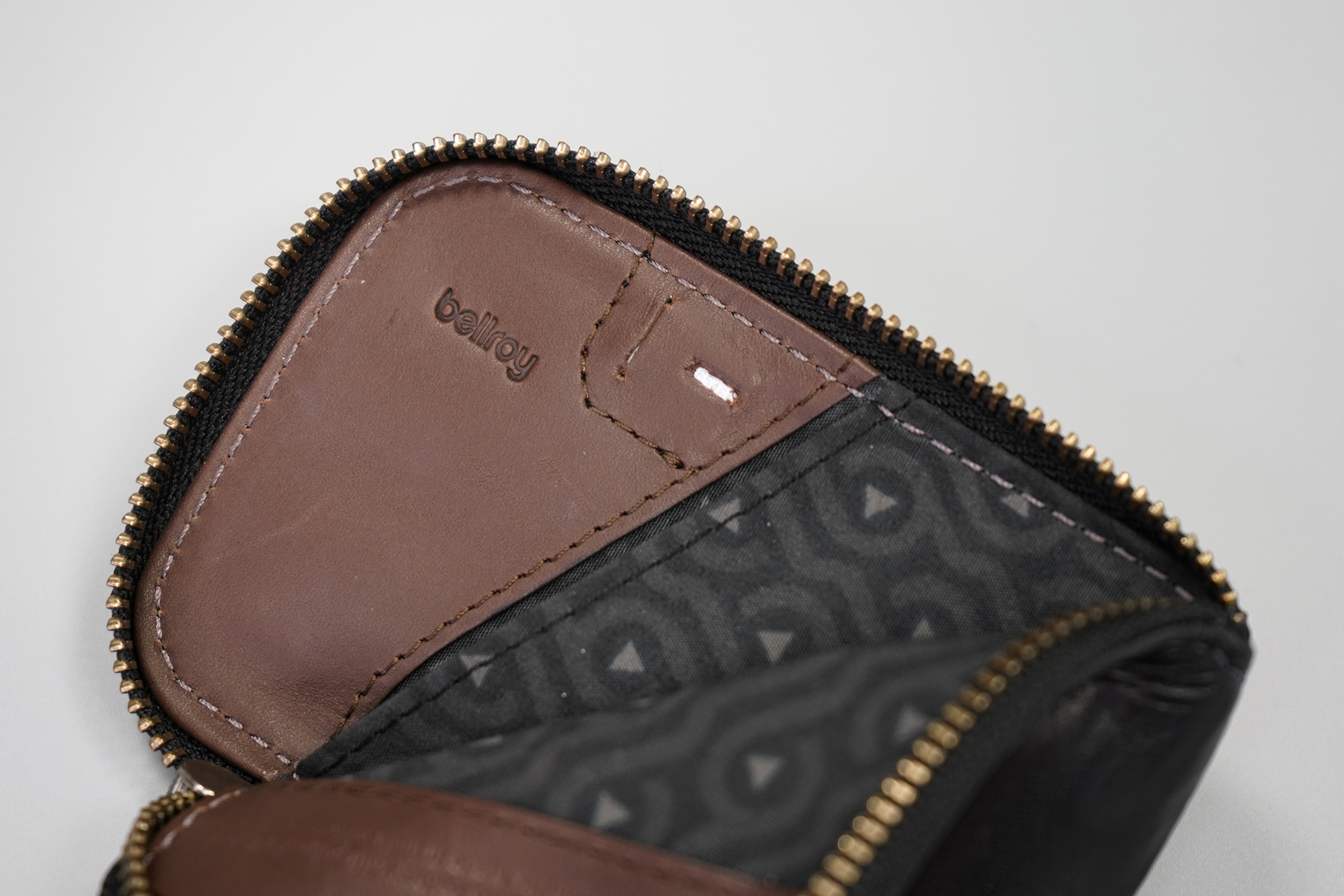 Durability & Testing
We've been testing the Bellroy Card Pocket for about a month now. Like we mentioned earlier, its size-to-organizational-features ratio truly can't be beat. We've been loving how the wallet will easily fit in the smallest pockets of most bags. You can even toss it in an internal pocket in the Patagonia Mini Hip Pack without any hassle (and that has "mini" in its name—this wallet is tiny!). This small size is super convenient for daily use, but especially great when it comes to travel as you usually don't have too much space to work with.

Our biggest complaint lies with the zipper. It's on the sticker side, so it just isn't very pleasant to zip. We know that sounds nit-picky, but the stickiness gets old when you're zipping and unzipping your pocket multiple times every single day.
Usage Timeline
Initial Usage
Condition: Excellent
This thing is super small and lightweight, so it fits easily in a pocket or small compartment in your pack.
The black leather looks smart, minimal and sleek.
Can hold 15+ cards, cash, coins and a sim card, so we're interested to see how easy the items are to access.
1 Month of Use
Condition: Good


A few little marks on the exterior, but nothing unusual for leather.
3 Months of Use
Condition: Good
It's starting to get that worn leather look. There are a few creases in the leather where you fold it back to access your cards and you can see the shape of coins indented on the other side from using the coin pocket.
6 Months of Use
Condition: Good
The metal logo has become tainted and changed to more of a bronze color.
9 Months of Use
Condition: Good
Apart from some creases and dents, the leather is holding up well. These changes are mostly aesthetic and the wallet is still really nice to use.
Access the Pro Community Discussion
Get your questions about the Bellroy Card Pocket answered from our team and the Pro Community right here on the page. Plus, join discussions with other members about gear, guides, and more.
Other Organizers & Pouches Reviews