Anatomie Techno Chino Mid Rise Pant Review
The Anatomie Techno Chino Mid Rise Pant are fabulous to take traveling—comfortable to wear, lightweight, and sleek. If only they had useable pockets.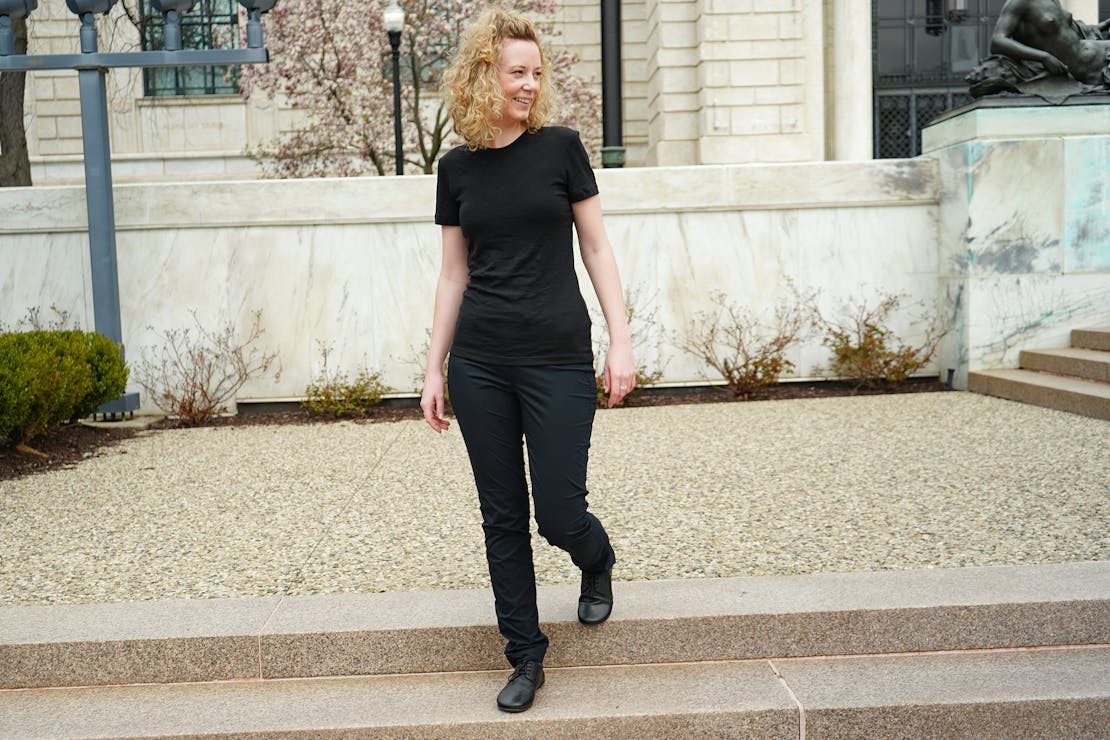 Our Verdict
Unlock the Pro Summary
Save time. Get access to brief summaries of our reviews so you can browse and make decisions more efficiently.
Pros
Versatile enough to dress up or down
The fabric is stretchy, breathable, lightweight, and wrinkle resistant
Comfortable wear
Cons
The two pockets on the rear of the pants are not super practical
Not the best for cooler climates without additional layers
Mid-rise style might not be for everyone
Recent Pack Hacker Video
Technical Details
Weight (oz)

5.35 oz (151.7 g)

Notable Materials

Polyamide, Elastane

Manufacturing Country

Romania

Warranty Information
Full Review
Meet Anatomie's Techno Chino Mid Rise Pant—pair of chinos that wear well, dry quickly, shake out wrinkles, weigh almost nothing, and look professional enough to fit in at a business meeting, yet casual enough to wear to a bar. Welcome to the 21st Century, folks.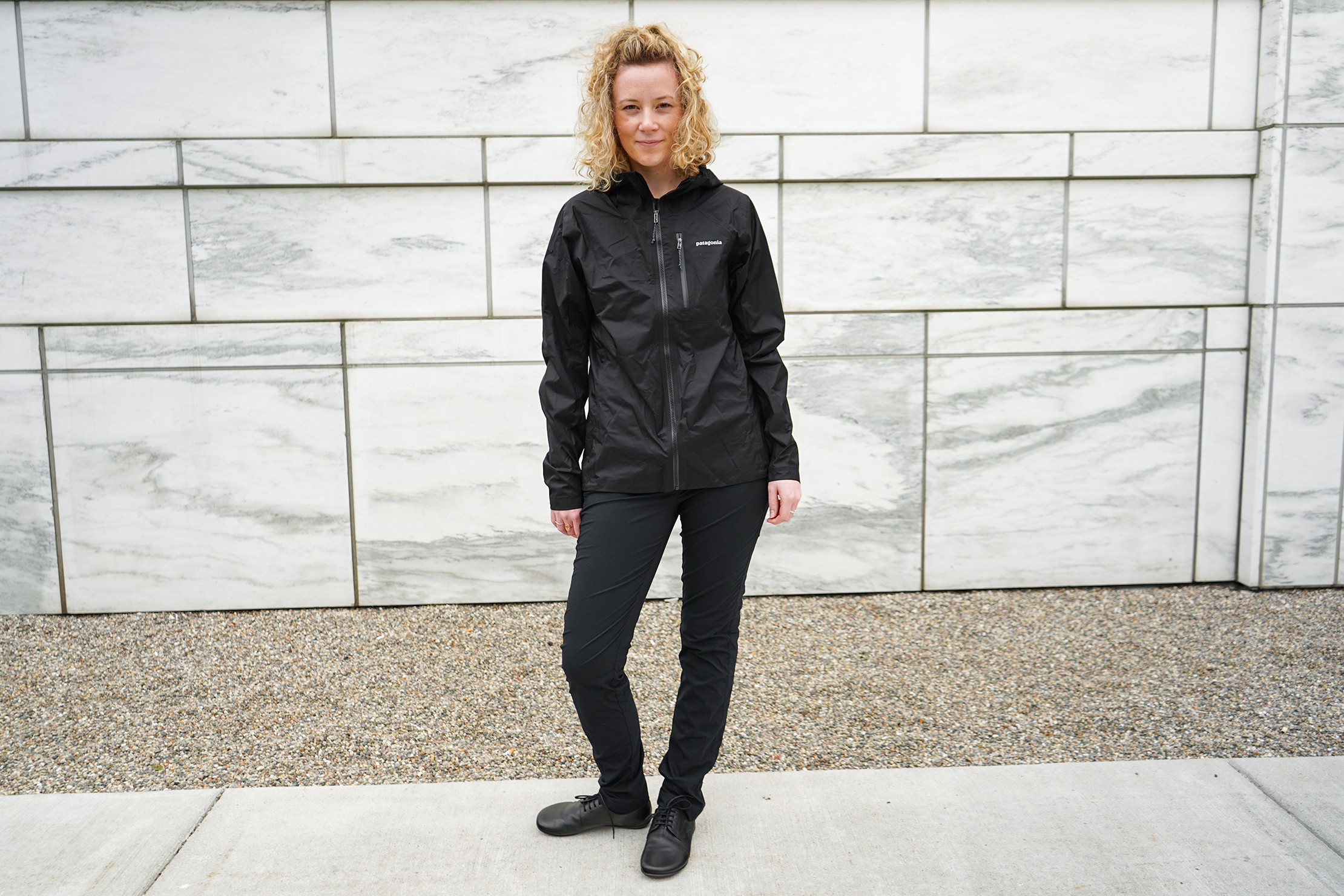 Anatomie, which refers to themselves as a "luxury travel brand," makes high-end pants, tops, jackets, dresses—even jumpsuits—built with women and travel in mind. Their goal is to mesh style with practicality. And we think they've succeeded, at least when it comes to their Techno Chino Mid Rise pant.
So let's jump right into it.
Look & Feel
The Techno Chinos look and feel more than like pants than "travel pants." That's to say, they are sleek, form-fitting, and stylish enough to dress up or down. We've been testing the chinos in black, but they're also available in gray and khaki at the time of this review.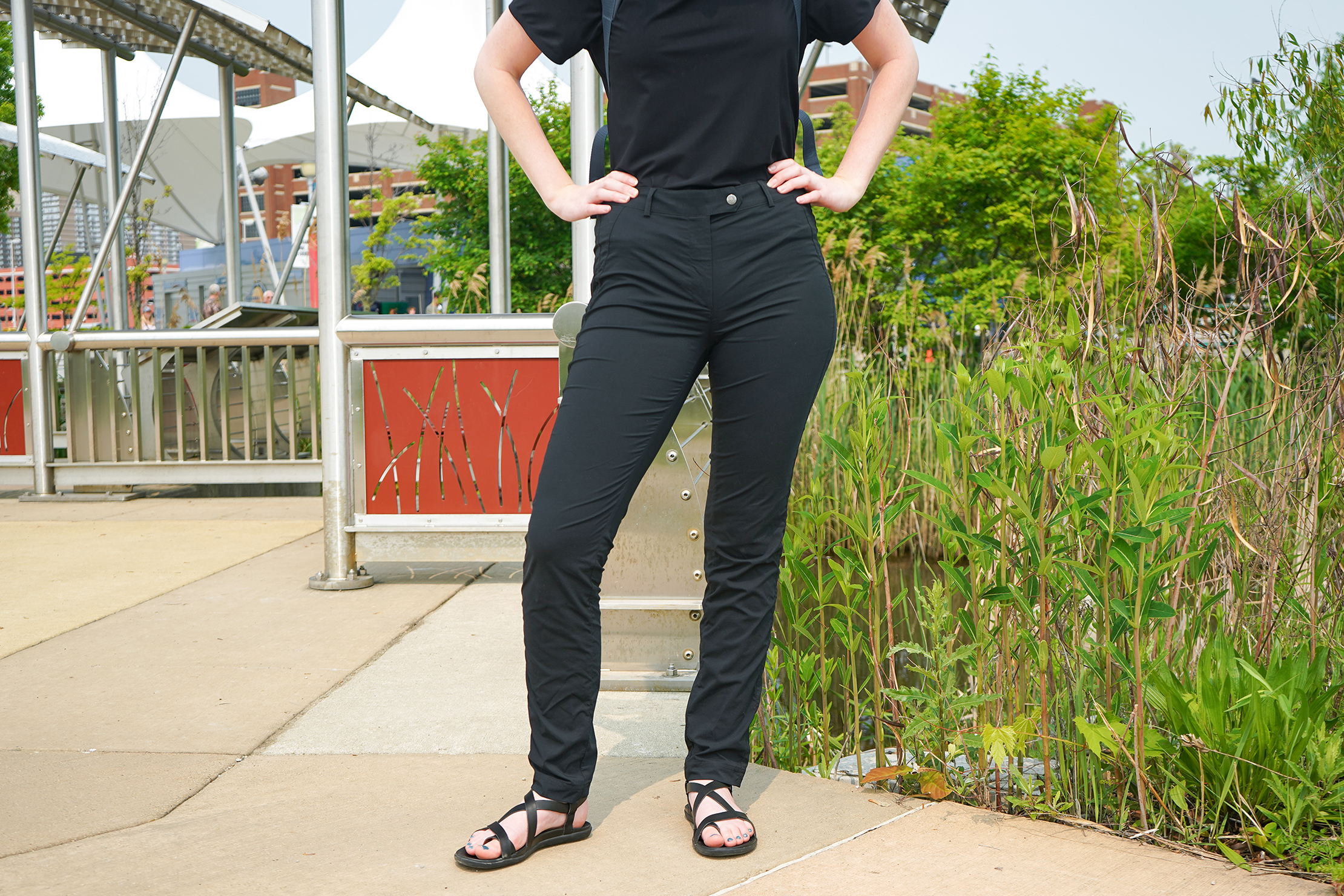 What we love most about these pants are their fit (note: they're true to size). They don't create that boxy look common to cargo or other travel-geared pants. Instead, they're meant to hug your natural curves. Anatomie has a ton of pants in various styles all designed to fit different body types, so we recommend checking them out to see what works best for your style and body.
The Techno Chinos are a straight-leg, mid-rise style that the folks at Anatomie say will work better with taller figures. The testers on our team aren't exactly Amazonian, and they still fit nicely—hitting right at the natural waist.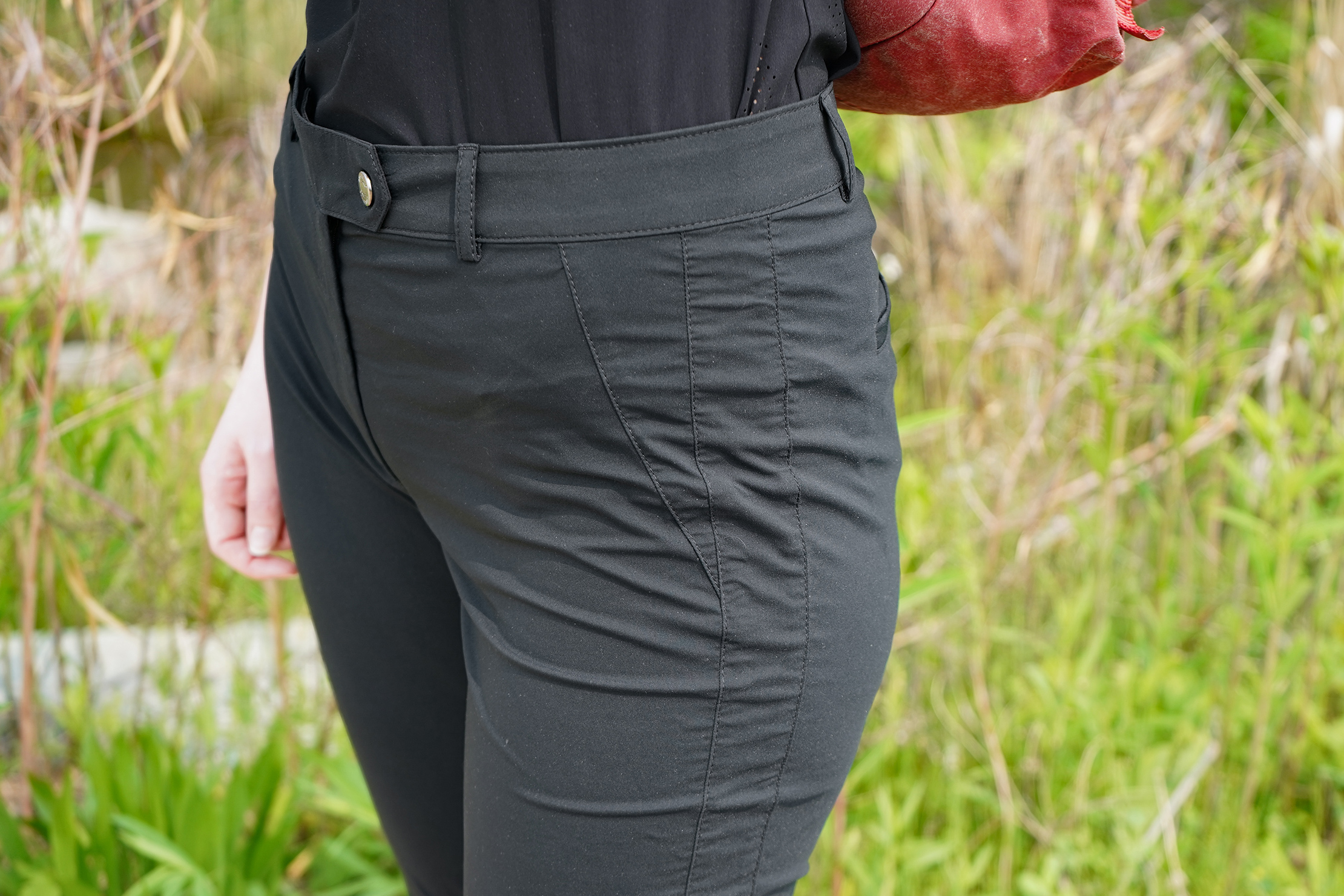 We like this style because we've never had to worry about them riding down, and there are belt loops if you want to add an extra layer of security. Of course, if you're a super high-waisted or low-cut kind of person, you may not appreciate this feature.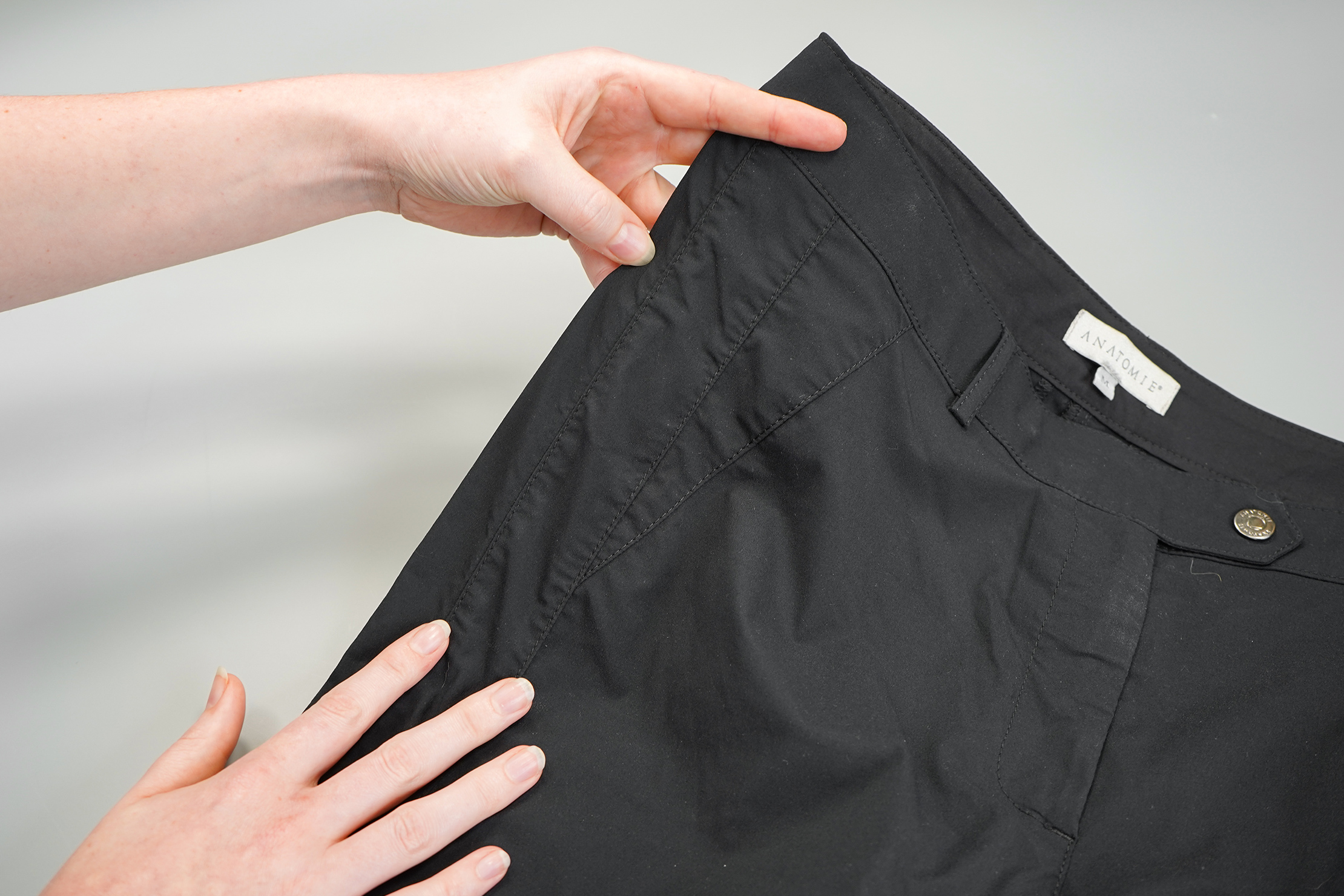 The beautiful stitching along the sides of these chinos add a nice level of sophistication and style. Pair them with a sleek top and you'll fit right in at a business meeting.
Another nice touch is the little silver button above the fly. It's a classy color and the only place you'll find the Anatomie logo. The button is a snap fastener, which we were wary about initially—because snap fasteners may or may not remind us of elementary school—but we've really been liking it. It's quick and easy to fasten, and we've never had any issues with it coming undone. There is a regular button as well, which sits on the internal side of the pants for some additional security.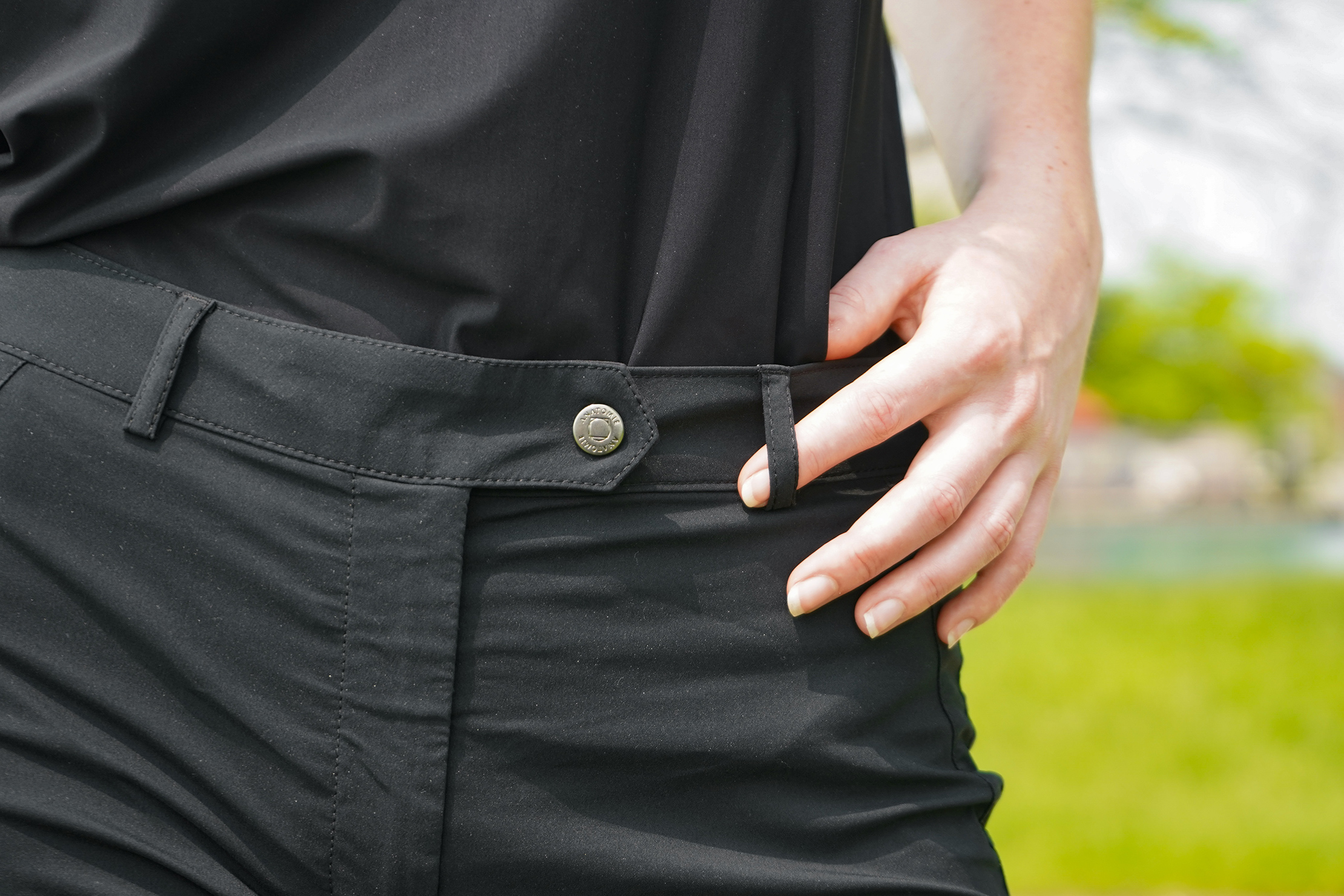 Overall, we're really impressed with how the chinos wear and how they're both classy and simple enough to go with anything.
Features & Usage
These chinos have a surprising number of features for such a little pair of pants.
Anatomie claims their signature stretch fabric—92% polyamide and 8% elastane—is wrinkle-free, and while that might sound gimmicky, we've found it to be true.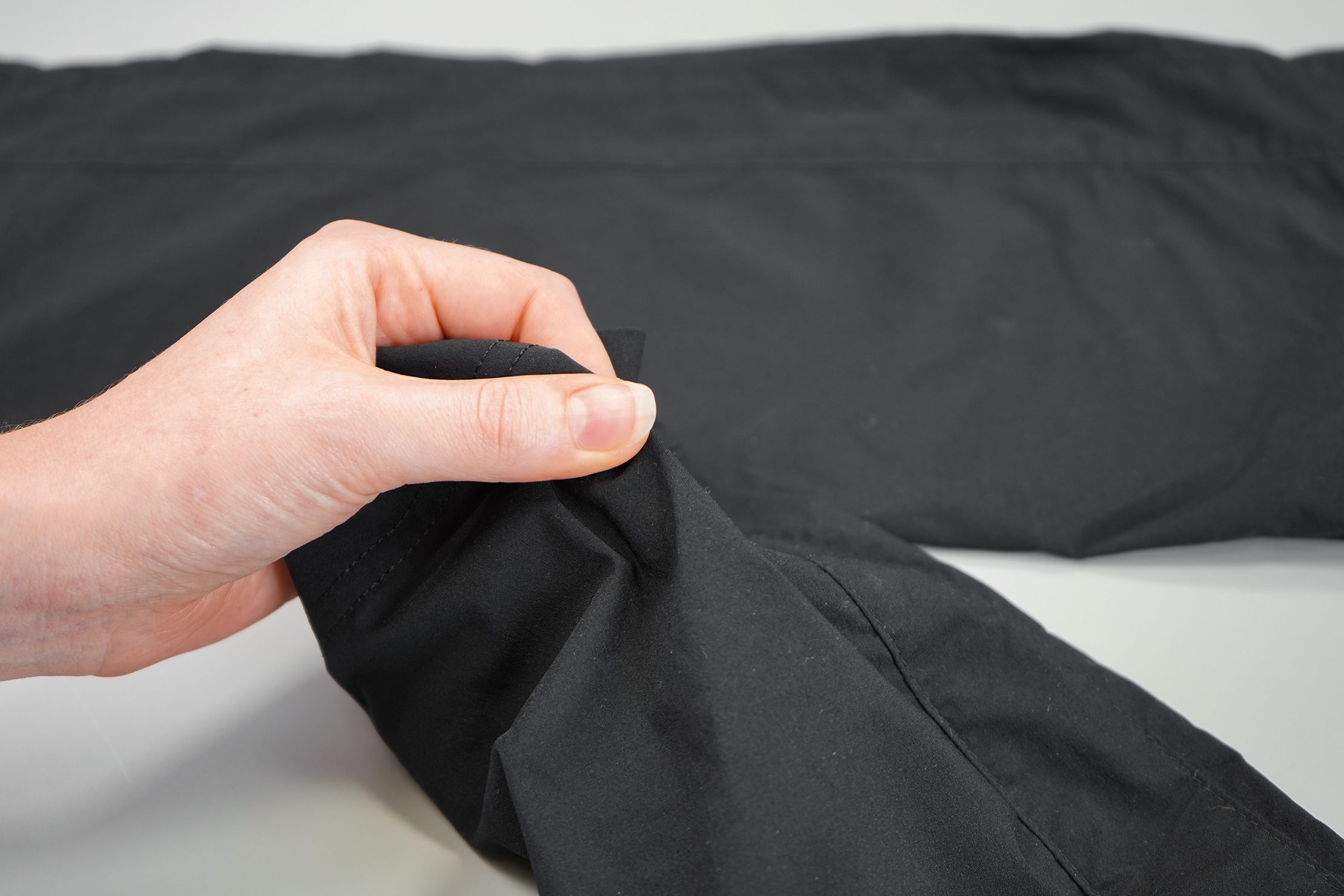 When you first pull the pants out of a backpack, you'll see a decent number of wrinkles, but they shake out quickly after you put them on. We usually don't travel with an iron (does anyone?)—so this feature is a huge plus in our books.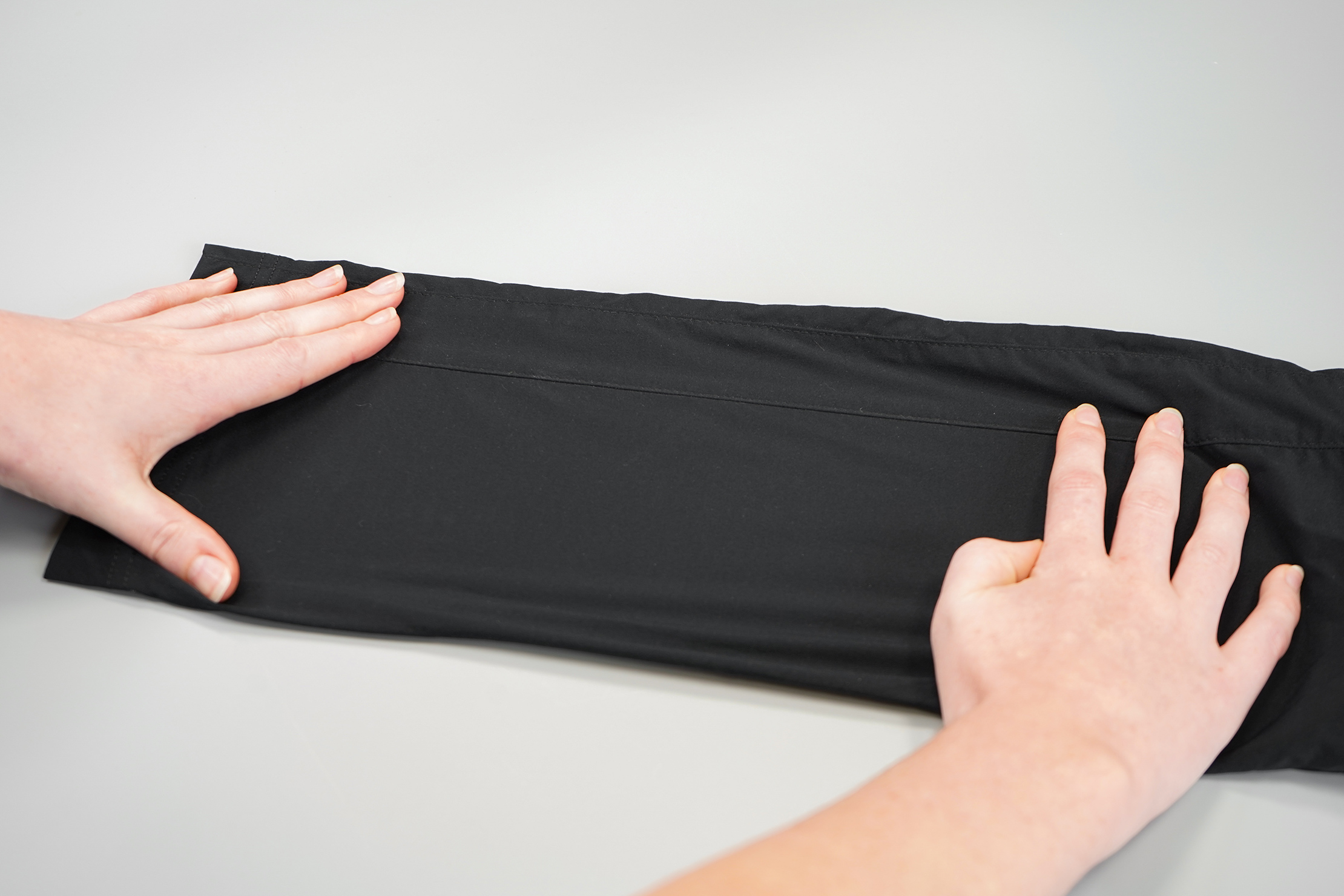 Anatomie also says their signature fabric blend is…
Lightweight
Comfortable
Quick drying
Easy to clean
And—believe it or not—we've actually found these all to be true.
From the moment you receive your chinos in the mail, you'll be able to feel just how lightweight they are. Not only is that great when it comes to packing, but you'll appreciate their weight (or lack thereof) in the heat. Due in part to how light these chinos are and the overall breathability of the fabric, they are quite comfortable to wear.
That being said, they're probably not the best for a cooler climate. But they're loose enough to layer with leggings or tights in cooler climates, like the Calzedonia Perfect Skin 100 Denier Tights and the Arc'teryx Oriel Legging, which both add a nice amount of warmth.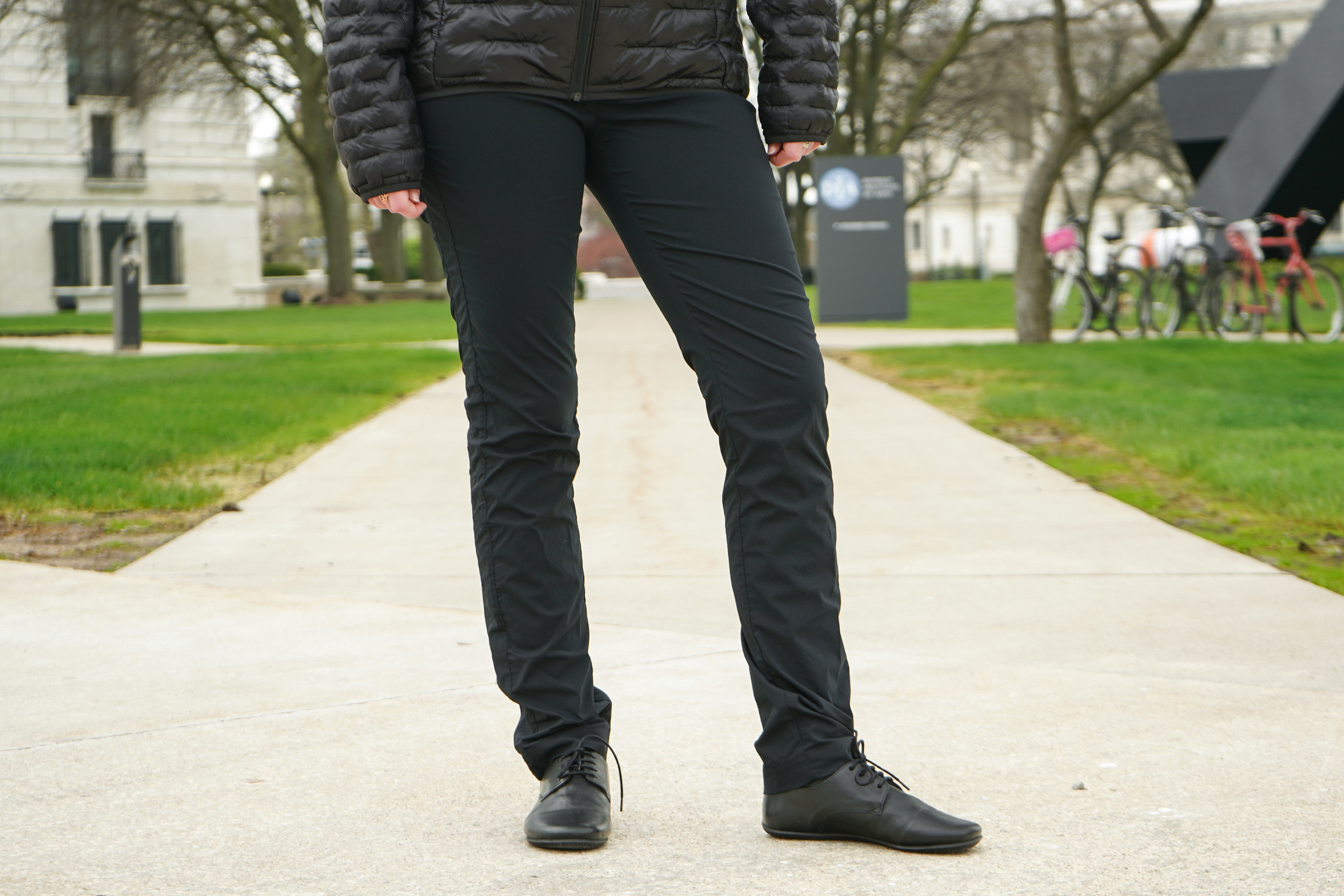 While they're loose enough to layer, they're still a bit tighter to the skin than some other travel pants on the market, which we appreciated, but can be uncomfortable for some people, especially when you start to sweat.
And, for us, travel usually involves a decent amount of sweating. Either it's hot outside, you're wearing a million layers, or you're caught running to your gate to catch a flight. And, maybe it's just us, but the simple act of sitting on a bus or plane for hours at a time seems to turn the sweat glands up to high. Long story short—sweating is an inevitable part of travel, and these pants will help you avoid the worst of it.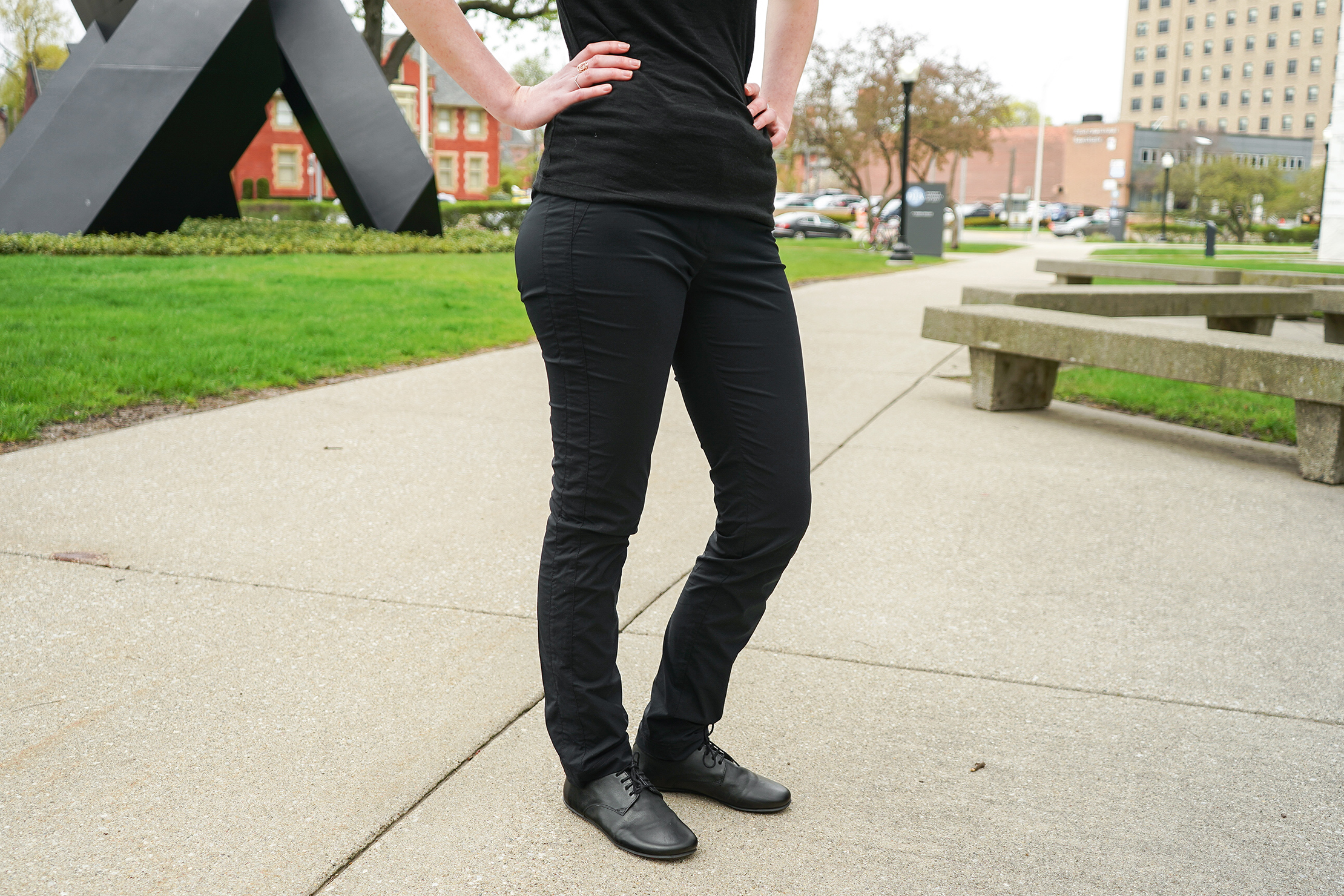 While tight, these pants are still nice in hotter climates because they're so fast-drying. They basically come out of the washing machine dry. This in itself is a nice feature because, while the pants are easy to clean and you can stick them in the washer on a delicate or cold cycle, Anatomie says you need to air dry them to ensure longevity. This isn't a big problem because they dry so quickly (think an hour or less in dry climates). And, while we haven't tried this ourselves, the folks at Anatomie claim you can dry the chinos in less than five minutes with a blow dryer.
There is one "feature" where Anatomie misses the mark: these chinos don't have useable pockets. Compare that to the Bluffworks Chino pants for men, which had so many pockets we wrote an entire "pockets tour" section.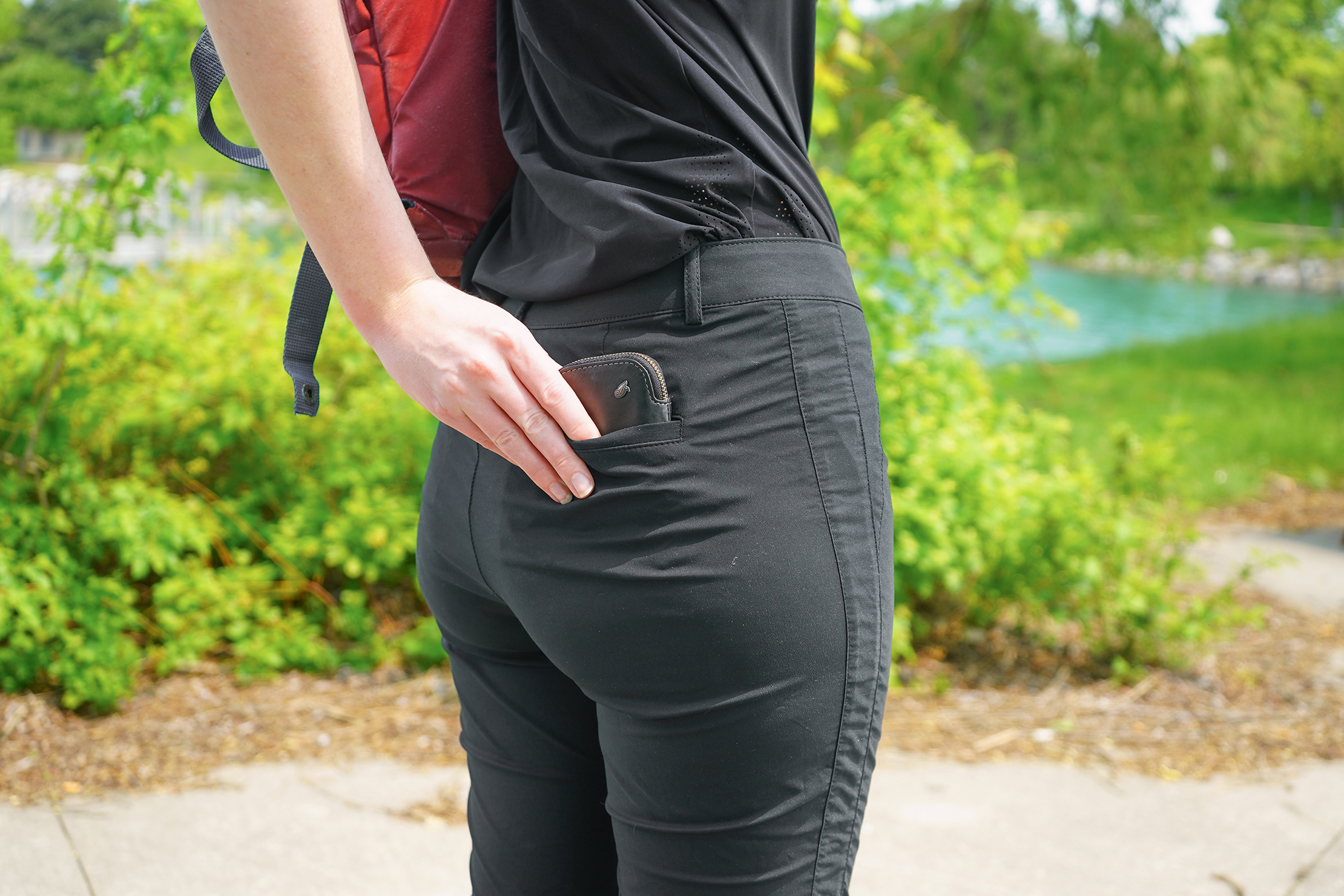 The Techno Chinos only have two pockets on the rear of the pants and, while they'll work for receipts and some cash, they probably won't hold anything of real substance, at least comfortably.
Anatomie does offer styles with front pockets—including their popular Skyler pant—but we found we liked the feminine fit of their Chinos better. But again, everybody is different. We hope Anatomie can somehow figure out how to balance a feminine cut and practical, front pockets in the future.
Durability & Testing
We've been testing the Anatomie Techno Chinos for a month now and have been impressed so far.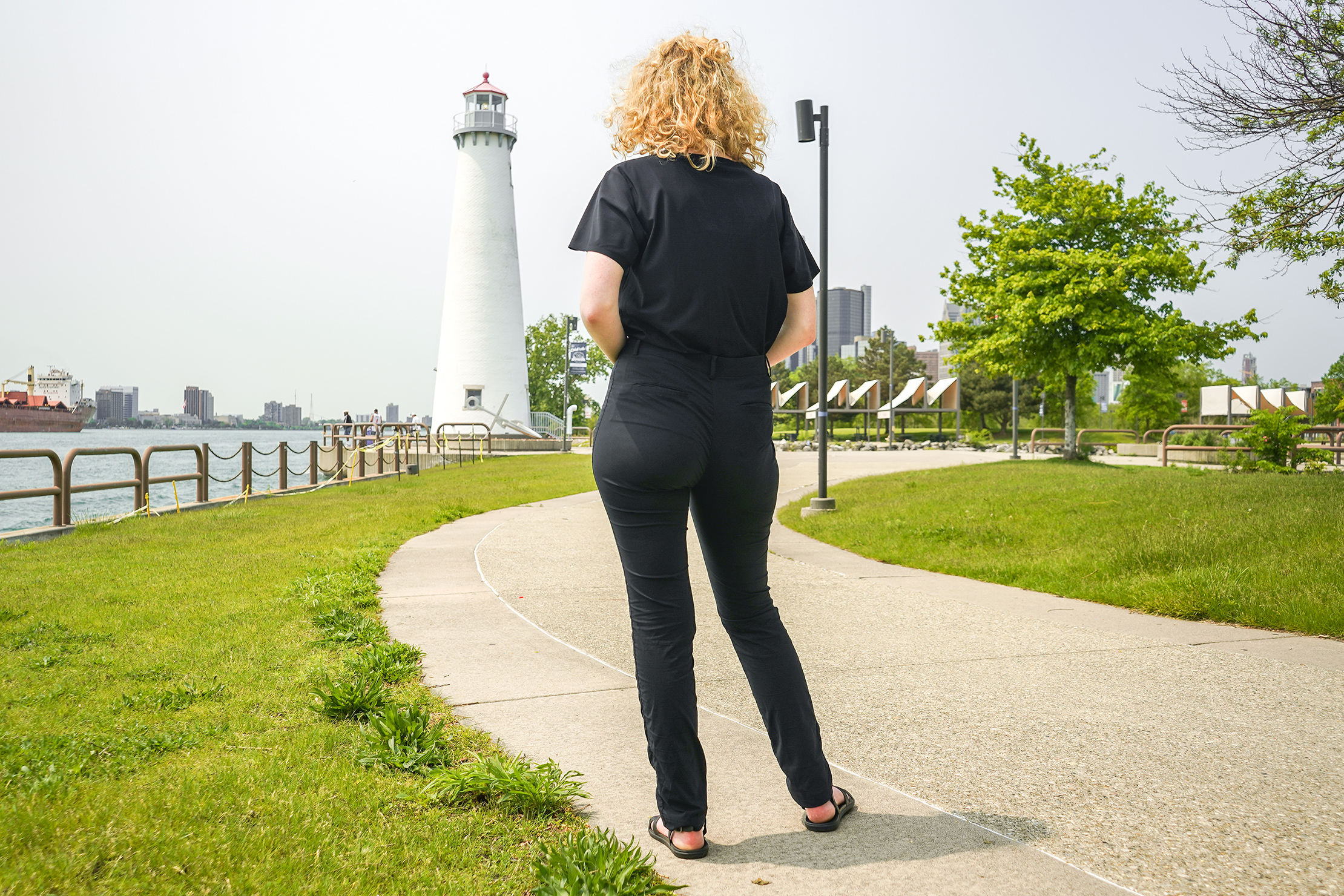 Like we mentioned earlier, they look nice and can be worn for most occasions. Because of their simple design—and our color choice of black—they're also really versatile in terms of what you can wear with them. You can pair the pants with a nice button-up, a flowy tunic, or a simple t-shirt. And there have been no issues as far as pilling or durability are concerned.
If you're in need of a nice, stylish pair of travel pants—and don't mind wearing a sling, pack or purse due to the lack of pockets—then the Anatomie Techno Chinos are definitely worth looking at.
Usage Timeline
Initial Usage
Condition: Excellent
The lightweight, wrinkle-free and stretchy fabric is comfortable and great for travel.
A smart and minimal look.
Would have liked some more practical pockets.
2 Weeks of Use
Condition: Excellent
Love how quick-drying they are.
1 Month of Use
Condition: Excellent
The pants still look really nice—haven't lost any of their shape.
Access the Pro Community Discussion
Get your questions about the Anatomie Techno Chino Mid Rise Pant answered from our team and the Pro Community right here on the page. Plus, join discussions with other members about gear, guides, and more.
Other Clothing & Accessories Reviews