Patagonia Ultralight Black Hole Mini Hip Pack Review
Lightweight and durable Patagonia's Black Hole Mini Hip Pack is an ideal travel companion—as long as you're ready to embrace the fanny pack trend.
Our Verdict
Unlock the Pro Summary
Save time. Get access to brief summaries of our reviews so you can browse and make decisions more efficiently.
Pros
Comfortable carry
Large enough to hold all of your essentials, but small enough to throw in your pack and forget about
Durable materials used throughout
Cons
Isn't everyone's favorite look
The small pocket opening means it can take some maneuvering to get bigger items inside the pack
Difficult to grab your stuff if it's full
Recent Pack Hacker Video
Technical Details
100 %
Carry-on Compliance
Capacity

1l

Weight (oz)

3.5 oz (99.2 g)

Denier

70D

Dimensions

4.5 in x 7 in x 2 in (11.4 x 17.8 x 5.1 cm)

Notable Materials

Ripstop Nylon, Polyurethane, Silicone

Manufacturing Country

Vietnam

Warranty Information
Full Review
Right off the bat, let's clear a couple of things up. Yes, a hip pack (or waist pack) is the 2019 term for a fanny pack. And, yes, fanny packs—sorry, hip packs—are back.
That's not to say you still won't feel dorky while rocking one, but you can at least rest easy in the fact that you're trendy and everyone side-eyeing your waist is not.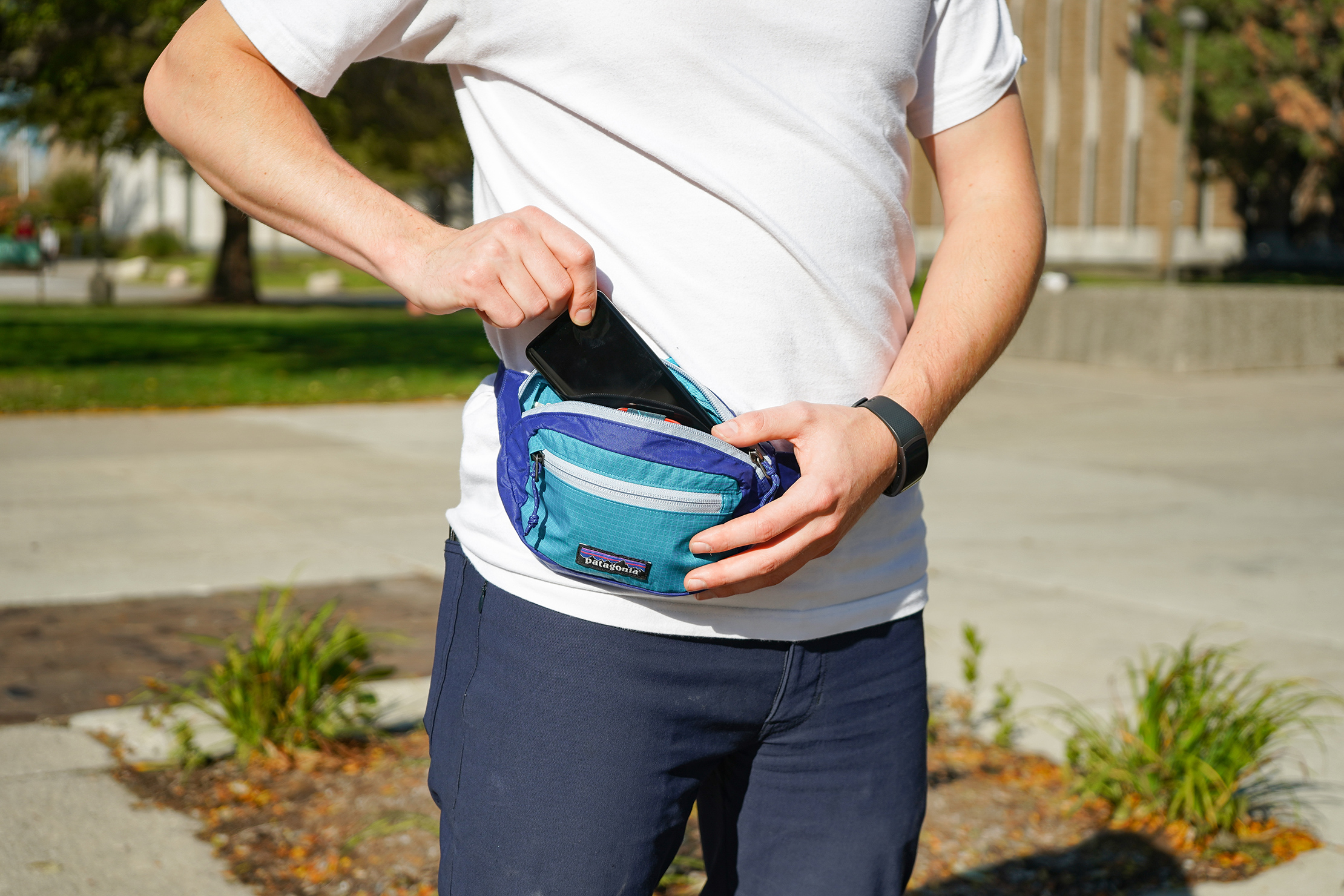 Plus, waist packs are just so convenient. Including the Patagonia Lightweight Mini Travel Hip Pack, which is an ideal size for when you need the essentials and your pocket just can't cut it. And it folds into its own pocket, which is a great feature for traveling.
We've been testing Patagonia's Mini Hip Pack for two weeks now around southeast Michigan and, despite the sudden urge to listen to Nirvana, we've been loving it. (Also, the Nirvana thing is definitely not a downside…)
Our Experience
We've been testing this Patagonia fanny pack in black (how unlike us, right?), but as of this review, it's also available in such fun colorways as Tasmanian Teal/Peach Sherbet, Balkan Blue, and more. So you can be as subtle or in-your-face about your newfound love of waist packs as you want.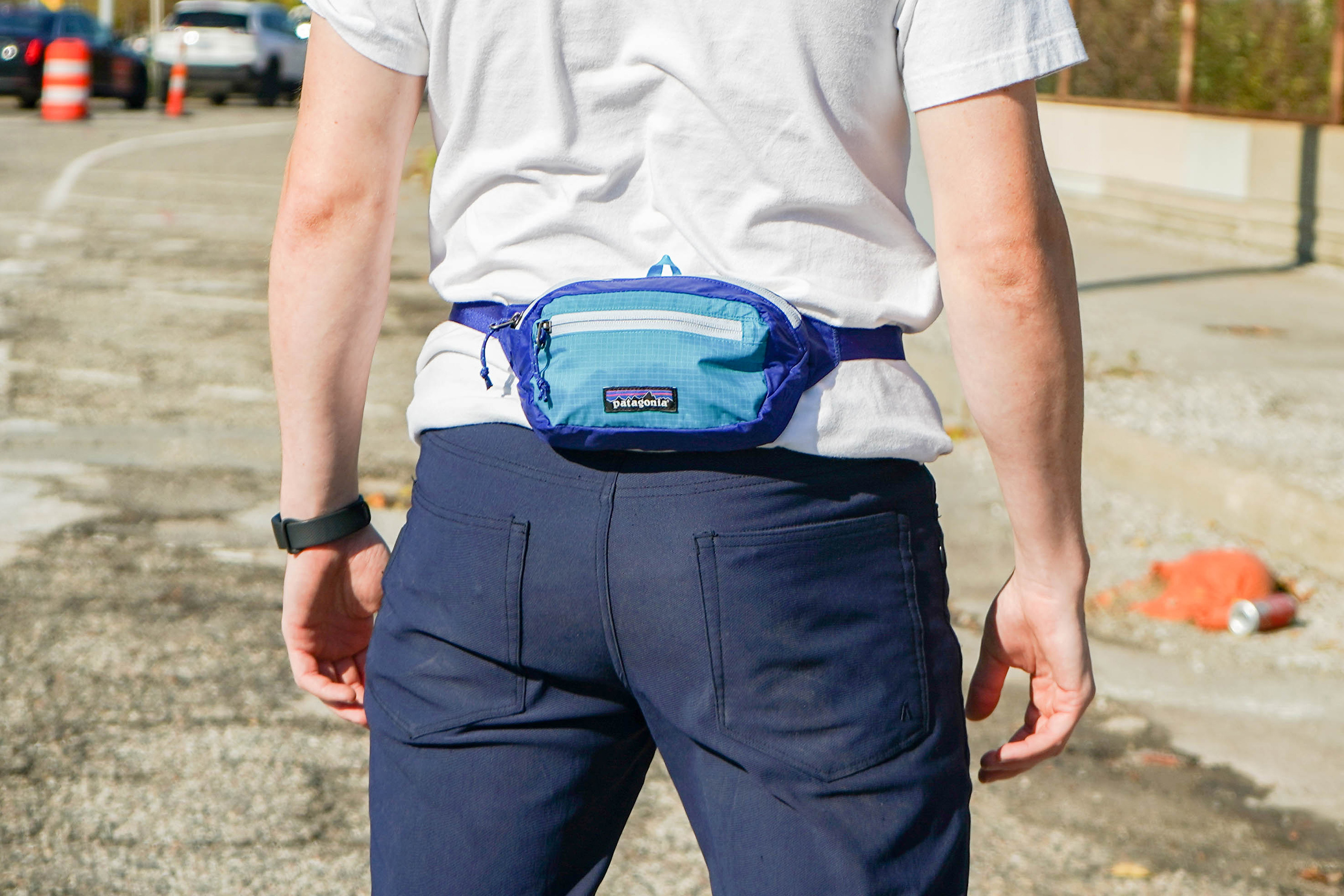 Because the Patagonia brand is so closely tied to the outdoors, the pack naturally has a pretty outdoorsy aesthetic. Take the hip pack with you on a quick jaunt to the top of Mount Rainier and no one will bat an eye (unless it's all you take with you). And because there's not a lot going on styling-wise, it doesn't feel out of place in a city either. We've been liking this simple aesthetic—too much detailing on such a small pack just doesn't work (in our opinion).
While mini, the pack is still large enough to hold all of your essentials easily, although the opening is smaller than the pocket itself, so you will have to do some finagling. You can toss your phone, keys, wallet, headphones, maybe even a snack or two, and your passport in there.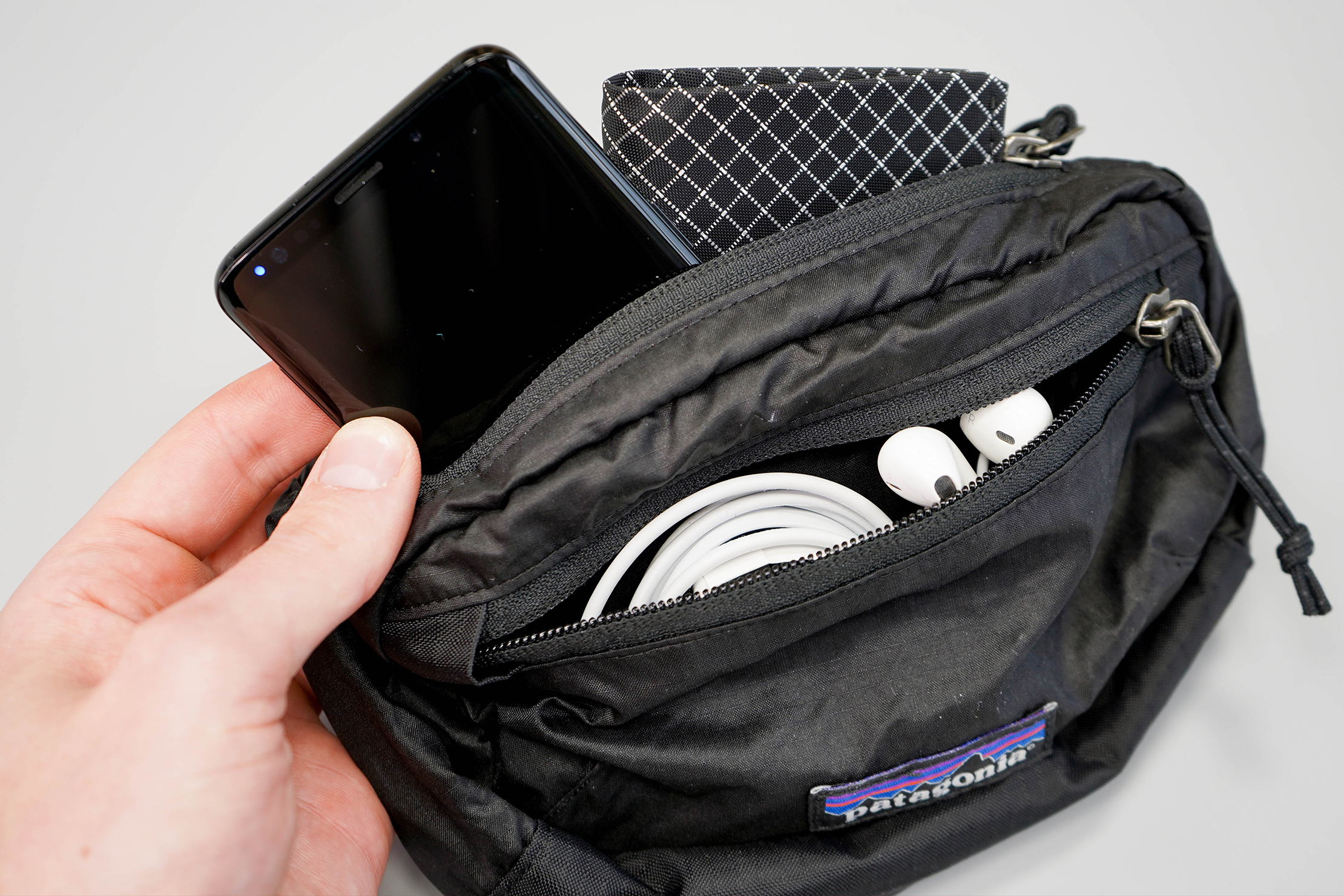 However, we have found that the more you stuff the pack, the harder it will be to access said stuff. Just because you can shove a ton of things in there, doesn't mean you should.
In fact, we've found a huge upside to this mini hip pack is how it encourages you to pack thoughtfully. Instead of lugging a full daypack's worth of gear with you while you roam the streets of wherever, you can figure out what you really need and only take those things. (And your back will thank you!)
There's also not much in terms of internal organization—with two external pockets and a zippered security pocket inside the main one, which doubles as the hip pack's stuff sack. We think Patagonia has done a nice job finding the sweet spot between too much organization and too little.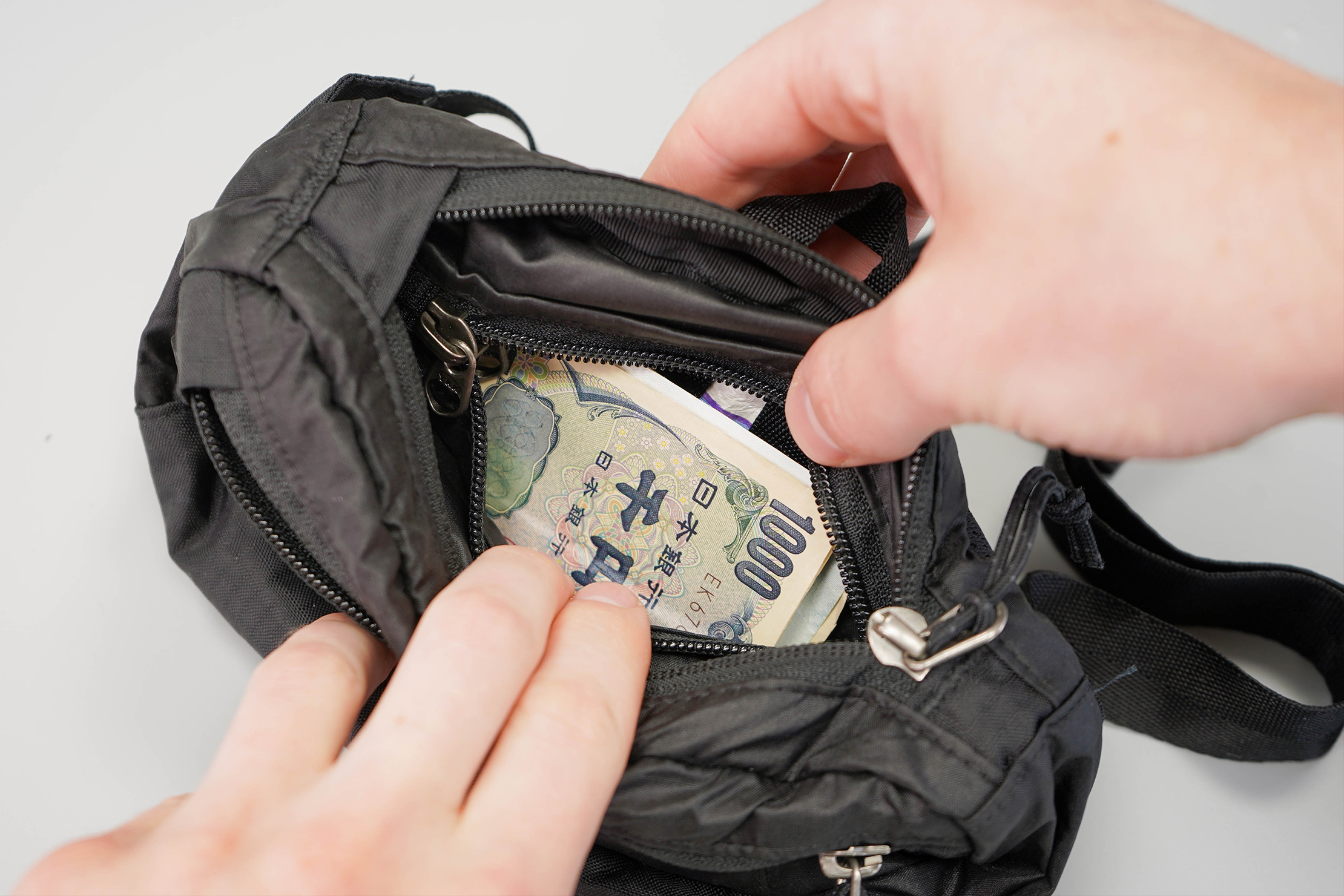 The front pocket is ideal for items you want to access quickly—like your phone—and the main pocket works for everything else. The main pocket also has a plastic key leash, although we didn't find ourselves utilizing it too frequently, and the security pocket—which is a great place to stash valuables like your passport.
Speaking of security, fanny packs get a lot of praise for being a safe way to carry your valuables while traveling. It's partially true as the Patagonia waist pack, and thus your stuff, sits directly against your body and in your line of sight. However, Patagonia's fanny pack attaches to your waist via a buckle that sits on your lower back. It is possible that someone could unbuckle your waist pack and run off with it somewhat easily. So that's definitely something to keep in mind. And if security is a top priority for you, you might consider a waist pack that has some additional safety features, like a lockable or hidden buckle.

On a lighter note, let's talk about how comfortable it feels to wear this Patagonia fanny pack. It nicely contours to your body and the strap is easy to adjust if you need to tighten or loosen the fit. Where exactly you want to wear it is up to you, although we've found it's slightly more comfortable sitting lower on your hip as opposed to your waist. But you do you.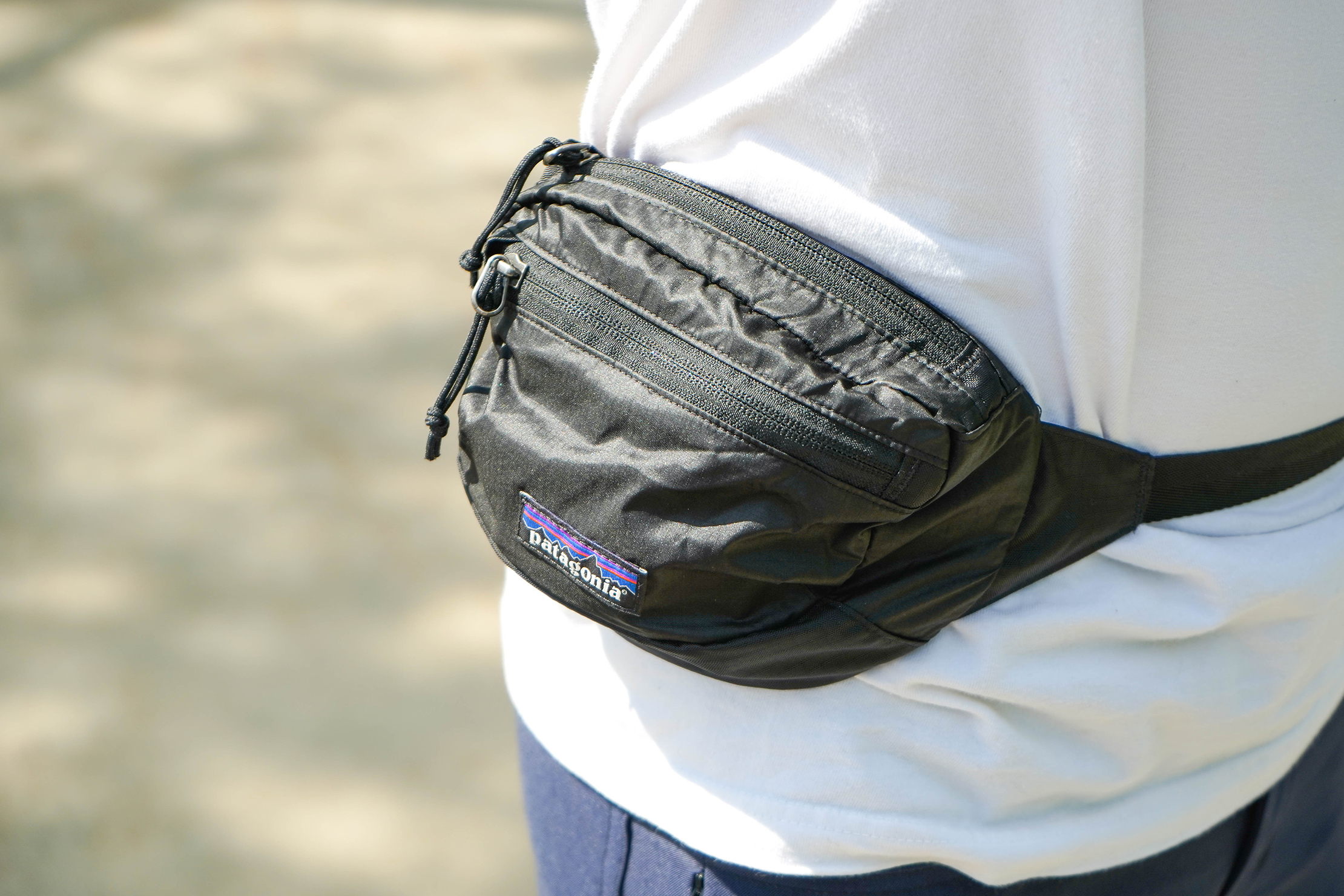 Either way, you may encounter some shirt-bunching as you clip the hip pack around your body (depending on your shirt). Not a big deal, but we thought we'd mention it so you're prepared. The back is also nicely padded and there's some mesh to keep the sweat to a minimum.
Additionally, Patagonia claims you can wear this hip pack over your shoulder, sling style. You can, but it looks like, well, you're wearing a hip pack as a sling. Compare that to packs like the Peak Design Everyday Sling—which are designed to fit across your body—and you'll see why we're not huge fans of this method.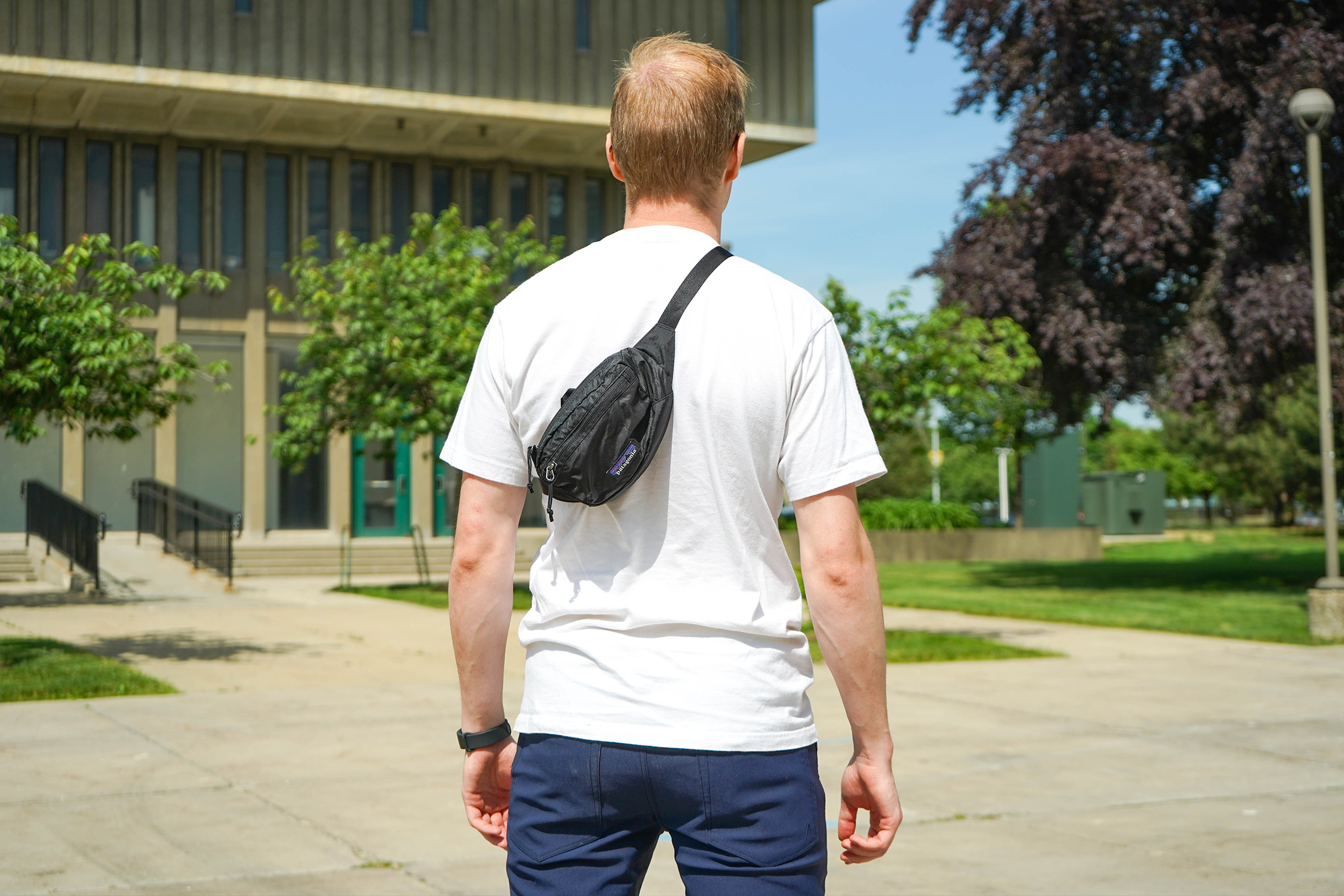 A quick side note: While this pack isn't built for runners, it's actually not the worst to run with (it doesn't move around too much), so if you want to keep up your jogging habit while abroad but don't want to bring an additional running vest, this hip pack will do.
Or, if you're not a runner but are a chronically-late-person, you'll be nice and comfortable sprinting through airport terminals with this pack securely fastened to your hip.
Noteworthy Features
Probably the most noteworthy feature of the Patagonia Lightweight Mini Travel Hip Pack is its ability to fold into its own pocket. We love the design of this feature—it's easy to use and very convenient for travel. Plus, the hip pack's name doesn't lie. The pack weighs almost nothing (3.2 ounces if you want to get technical about it), which is a great feature in itself. When you couple that low weight with its compressibility, it means you can toss this thing in a backpack and barely tell it's there.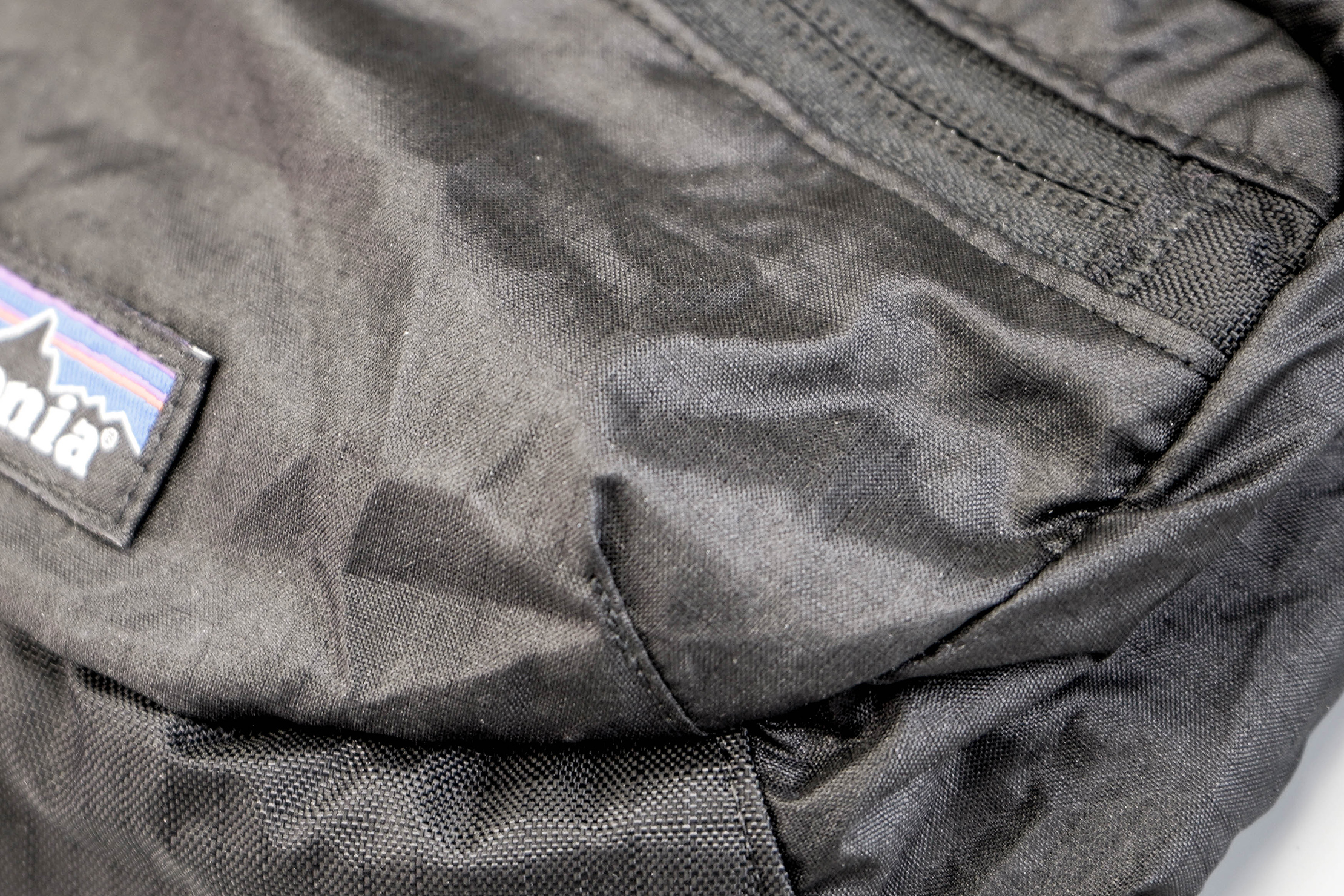 And, as per usual for Patagonia, this fanny pack is made with some durable stuff. The body is made of a 70D nylon ripstop with an additional polyurethane coating, and the base is reinforced with a 210D nylon ripstop—also with a polyurethane coating. Nylon ripstop, as you may have guessed by the name, is a fabric that's specially woven to prevent tearing. And that polyurethane coating adds some weather resistance.
The zippers are YKK #5 Reverse Coil zippers and have little garages where you can "park" them if your pockets are fully zipped. And just to clarify, YKK is a company that owns a huge percentage of the zipper market, and for a good reason—their zippers are built to last. The Reverse Coil bit means the zipper teeth are internally, rather than externally facing, further protecting your stuff—and the zipper itself—from the elements.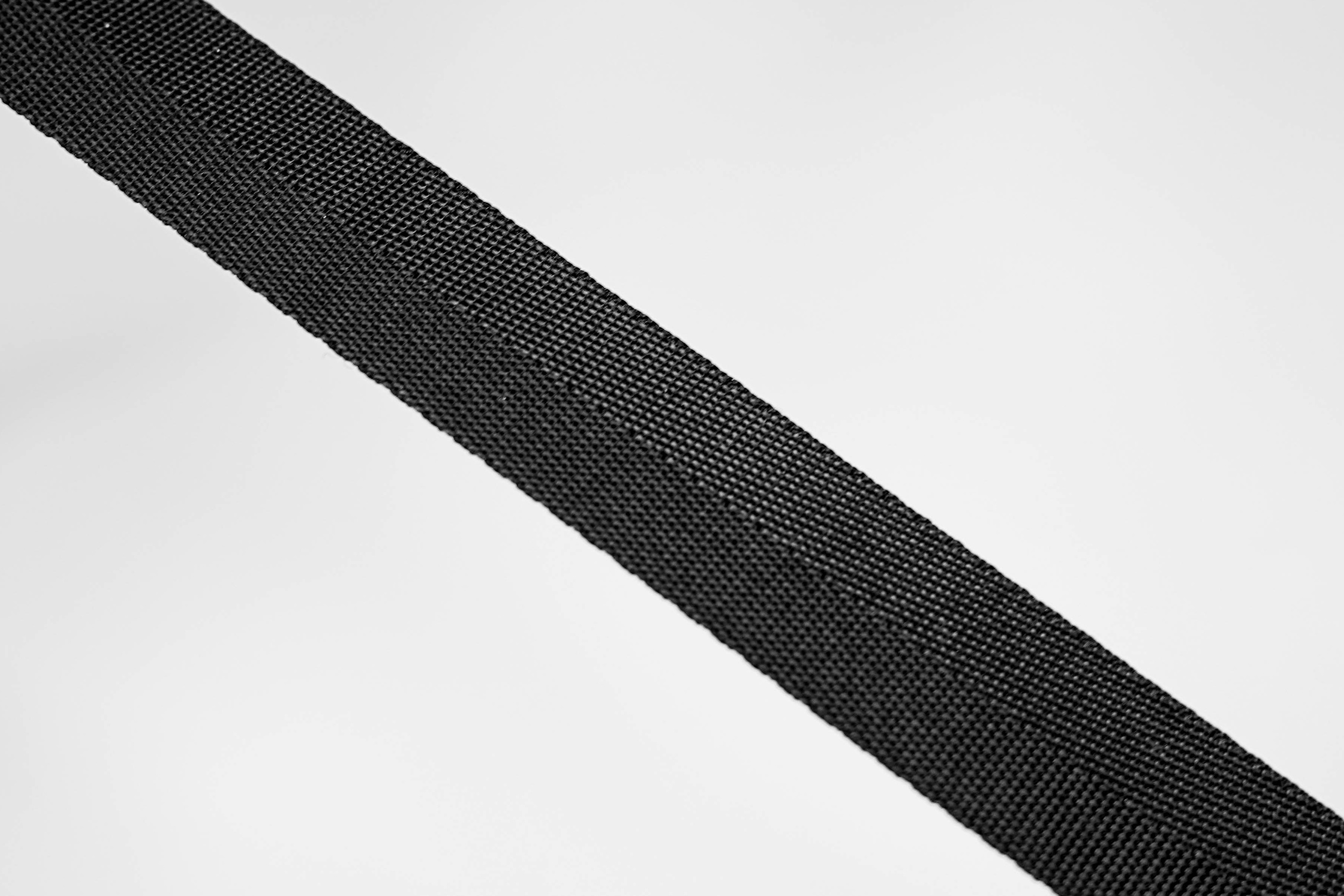 Finally, you've got the herringbone-webbing strap, which is equally durable and comfortable, as well as a buckle from Nifco, which is a company known for its high-quality products. And, of course, you've got some strap keepers as well to keep those straps nice and tidy.
Usage Timeline
Initial Usage
Condition: Excellent
Packs away into its own pocket.
At 1L it's just big enough to hold the essentials.
Available in a range of different colors.
2 Weeks of Use
Condition: Excellent
Comes in surprisingly handy and it's pretty good to run with.
Access the Pro Community Discussion
Get your questions about the Patagonia Ultralight Black Hole Mini Hip Pack answered from our team and the Pro Community right here on the page. Plus, join discussions with other members about gear, guides, and more.
Other Bags & Luggage Reviews