Secrid Cardprotector Review
The Secrid Cardprotector wallet fans out cards neatly, though the mechanism's lever jams from time to time.
Our Verdict
Unlock the Pro Summary
Save time. Get access to brief summaries of our reviews so you can browse and make decisions more efficiently.
Pros
Cards fan out neatly when deployed
Slim profile slips into pockets easily
No majorly protruding parts that could snag on clothing
Cons
Non-expandable card capacity
No built-in way to hold cash
Lever intermittently jams on two samples we've tested
Recent Pack Hacker Video
Technical Details
Weight (oz)

1.76 oz (49.9 g)

Cardprotector | 0.25 oz Moneyband

Dimensions

4 in x 2.48 in x 0.3 in (10.2 x 6.3 x 0.8 cm)

Cardprotector | 2.52 in x 0.98 in x 0.16 in Moneyband

Notable Materials

Aluminum, Stainless Steel, Rubber

Manufacturing Country

Netherlands

Warranty Information
Full Review
Cash may come and go from a wallet, but cards are kind of permanent residents. They're infinitely reusable until the day they expire as long as you take care of them. To this end, it's no surprise that metal wallets have taken off, with cash taking a bit of a backseat in terms of priority. Some designs even omit a dedicated slot for cash altogether, like Secrid's Cardprotector.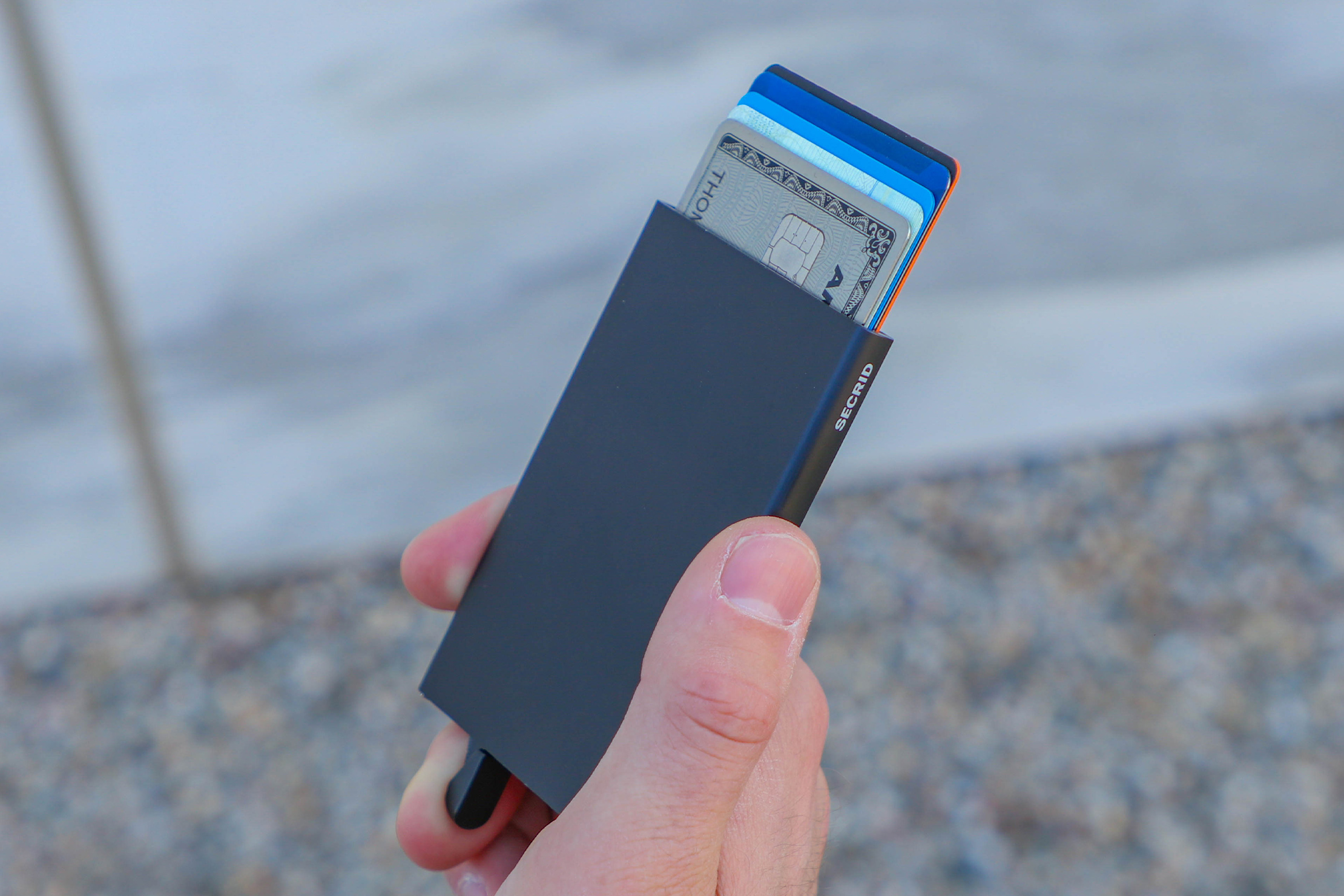 The Cardprotector is a card-focused metal wallet. Spoiler alert: there is an add-on if you wish to carry cash with it, but we'll get into details later. As simple as the unibody design appears to be, it's a wallet with a slick pop-out mechanism that works really well—that is, when it works. The mechanism has a jamming issue we encountered on two separate samples. Metal wallets are usually neat exercises in interesting designs—the Cardprotector being no exception—so let's dive right in.
Materials & Aesthetic
The styling Secrid went for with the Cardprotector can be summed up as simple and minimalist. No matter how you slice it, this wallet takes the concept of no-nonsense styling to heart. It's a slim rectangular slab of aluminum with a text-based logo at the side—that's it. The only real interruption to the shape is the small lever at the bottom.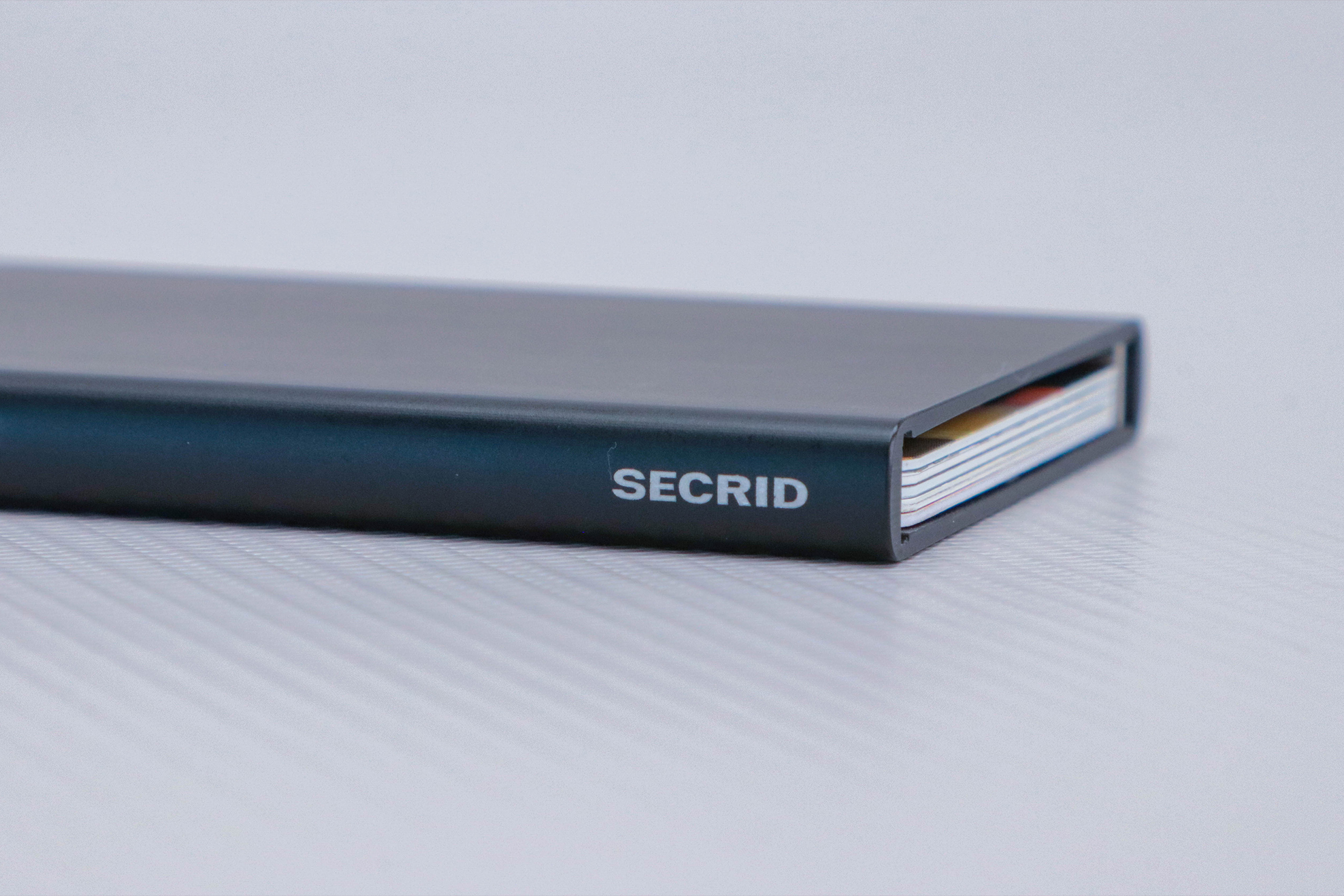 This isn't to say that the Cardprotector doesn't have any charm—far from it. Beauty will always be in the eyes of the beholder, but we personally think this no-frills design is a good-looking one. It comes off as classy and mature. In particular, the black color emphasizes the solid feel of the Cardprotector's aluminum construction. At the very least, the black color helps keep the Carprotector stealthy even under well-lit conditions.
For those who want a bit of personalization, there are many other colorways available at the time of writing this review. These include, but are not limited to, silver, titanium, green, red, blue, sand, etc. If you're a fan of engraving, Secrid also offers Laser Structure models, which come with a neat-looking laser-engraved pattern.

The aluminum material is more than an aesthetic choice. It also helps block RFID signals, meaning that cards inside are well-protected from scheming card skimmers. It also has a good balance of lightness and rigidity, hence why airplanes are made out of the stuff. Struggle as we might, the whole wallet doesn't exhibit any sort of flex worth worrying about—a nice advantage of a practically unibody design.
Usage & Features
As mentioned earlier, the Carprotector's overall footprint is on the slimmer side of the wallet spectrum. It's actually not that much thicker than the number of cards it holds. Compared to its contemporaries like the Grip6, Trayvax Contour, and Trayvax Original 2.0, it's noticeably smaller in all aspects. That said, the capacity for cards is equally small and fixed.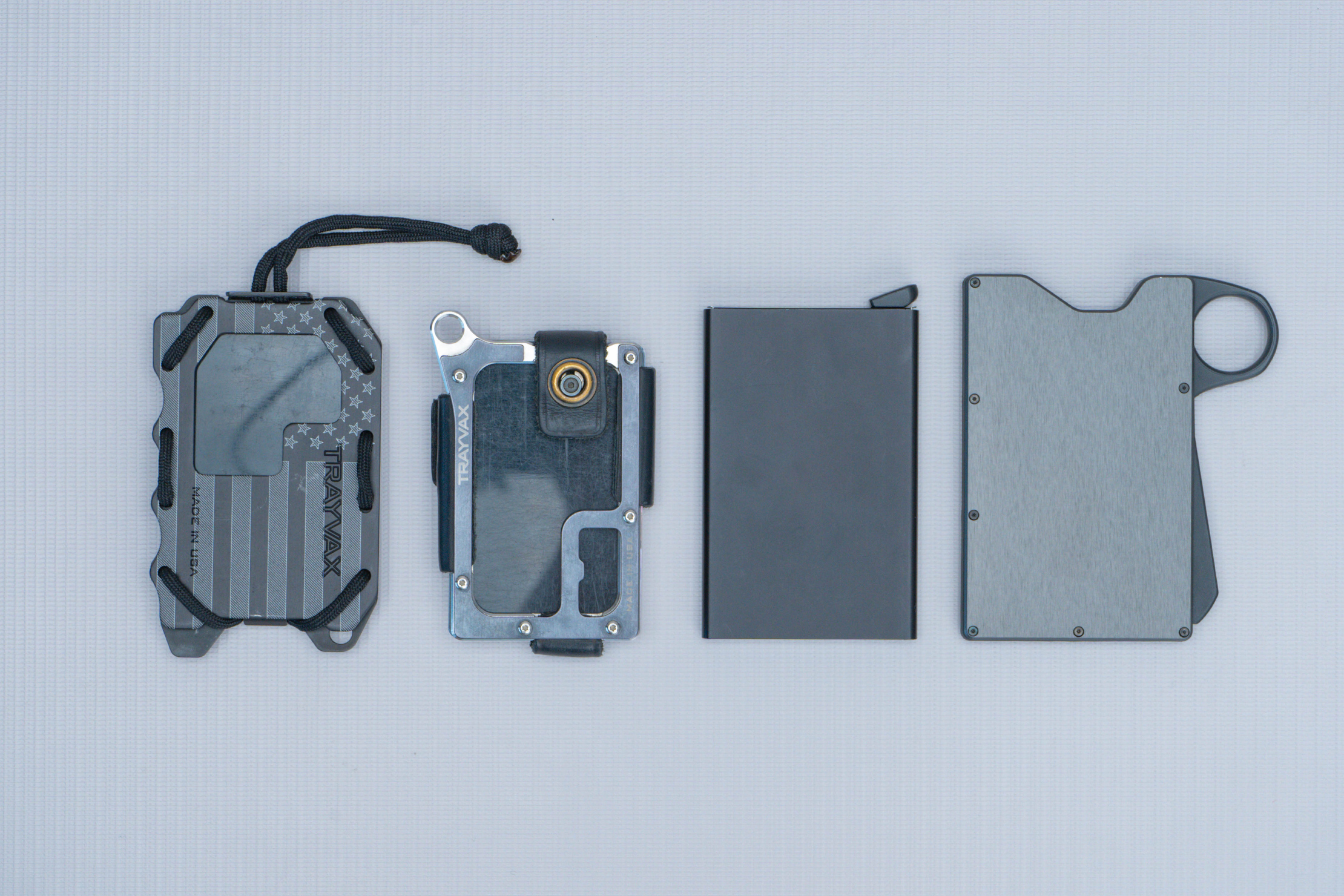 Unlike the expandable Contour and Original 2.0, the Cardprotector makes do with four embossed or six flat cards. That's Secrid's own estimate, and we found this to be generally true. We're able to throw in a mix of flat transit cards and embossed credit cards for a total of 5 cards. Your mileage may vary depending on what kinds of cards you carry—there are always those outliers like the metal Apple Card.
The way cards go in and deploy from the Cardprotector is quite different from more manual metal wallets. It's as simple as sliding cards into place, and like the Grip6, the Cardprotector also has a pop-out mechanism. There's a lever at the bottom which we're able to push with our ring finger easily. One-handed operation is possible, but we formed a two-handed habit. Once pulled, the cards inside deploy already fanned out.
We dig the neatness of how the cards pop out. The fanned-out position means we're able to pick out the card we need. No more having to sift through cards awkwardly while the cashier and the queue behind us wait patiently. More importantly, unlike the Grip6, the Cardprotector doesn't launch the cards so far that they jump out of the wallet.
However, we did encounter an issue with the lever and its mechanism. Our first sample's lever frequently jammed in the open position. We assumed this was a simple one-off defect, and we quickly got a replacement. Unfortunately, the replacement is also somewhat affected by the same issue. Things got a little better once the wallet was more broken in, but it still happens from time to time, just not as often as before. To Secrid's credit, they sent us a video showing how to unjam the lever by simply pushing the lever back in place. The silver lining here is that it's an easy fix, albeit not a permanent one.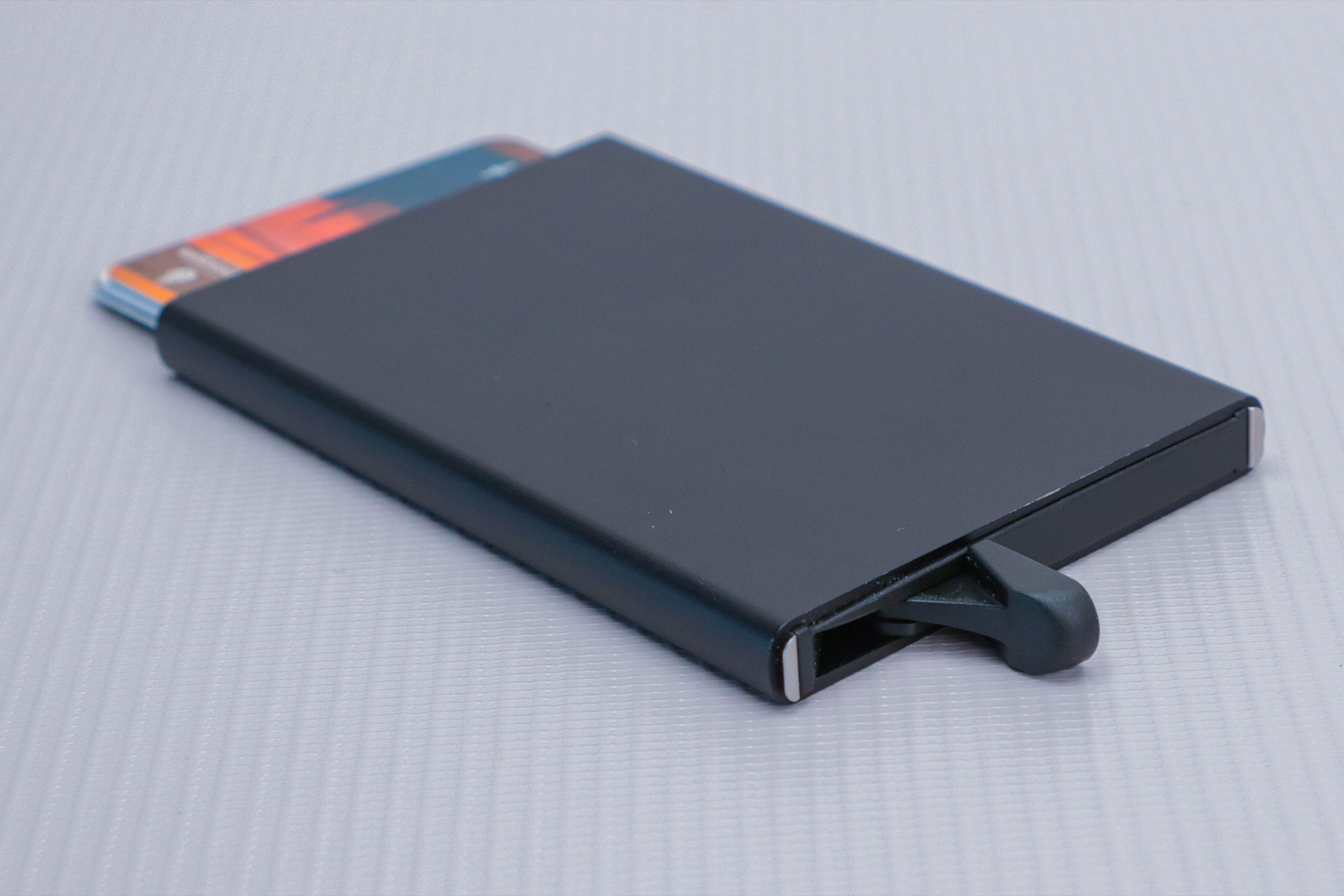 The most noteworthy missing feature on the Cardprotector is a place to stash cash. The bad news is that there is no built-in way to do that, but Secrid does sell an add-on called the Moneyband. It's a scrunchie-like accessory that straps around the middle of the Cardprotector where you can slot cash in. Yes, it's pretty much a rubber band type of deal, which is why we opt to hack it that way.
The biggest difference between our hack and the Moneyband is ours lacks a metal plate. It works well enough for our use case, though we admit it's not as elegant as a dedicated pocket or slot. That said, our rubber band may not last as long as the Moneyband, so at least there's a first-party option if you're not quite ready to go cashless just yet.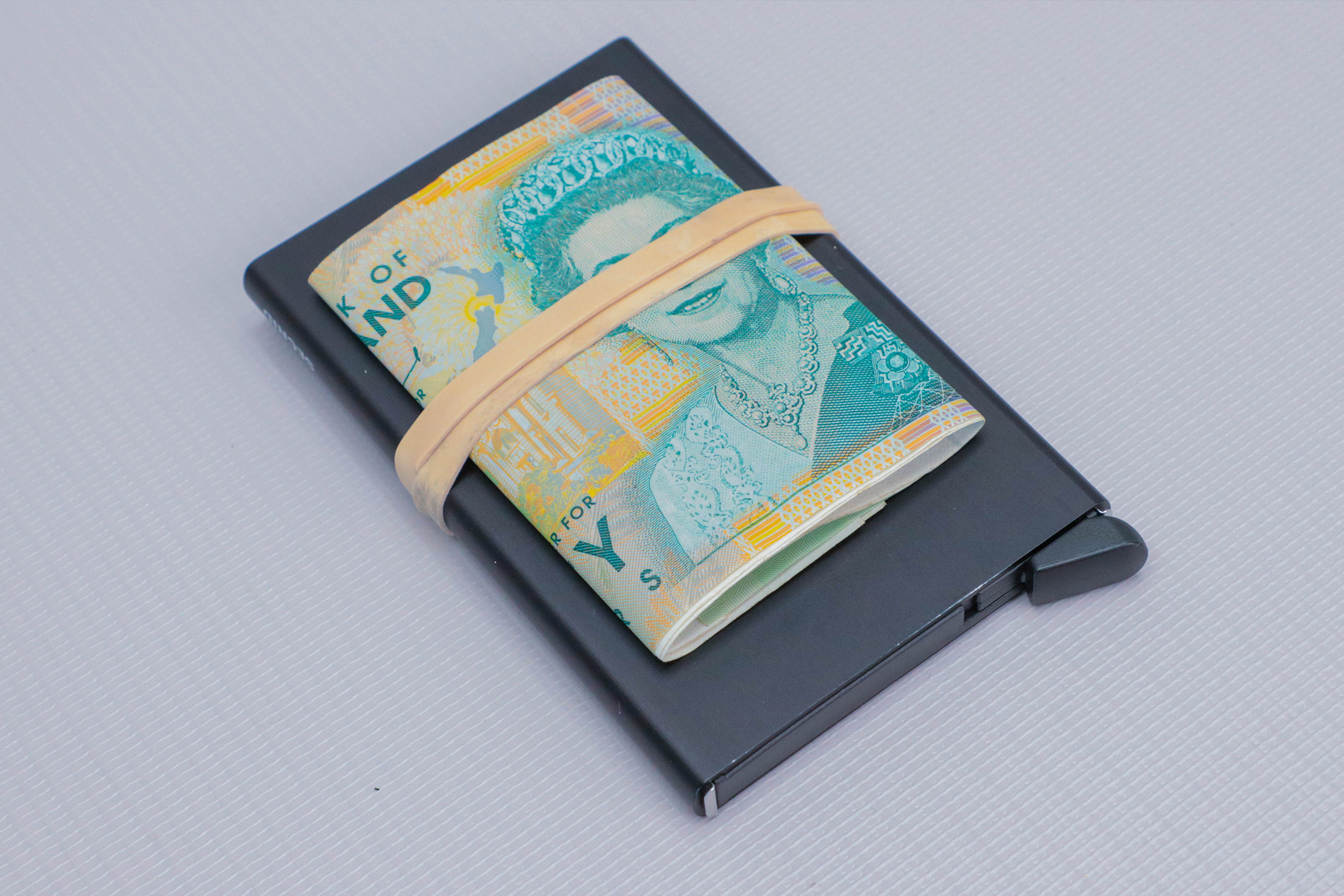 Apart from the intermittently jamming lever, we didn't encounter any issues with the Card Protector. It's fairly easy to slip and take out of our pocket because of its slim design—even with tight-fitting jeans or tightly packed slings. Unlike other metal wallets, the lack of any majorly protruding parts means that it's less likely to snag on its way out of a pocket. The lever is technically protruding, but it never really catches on anything since it's at the bottom and fairly small.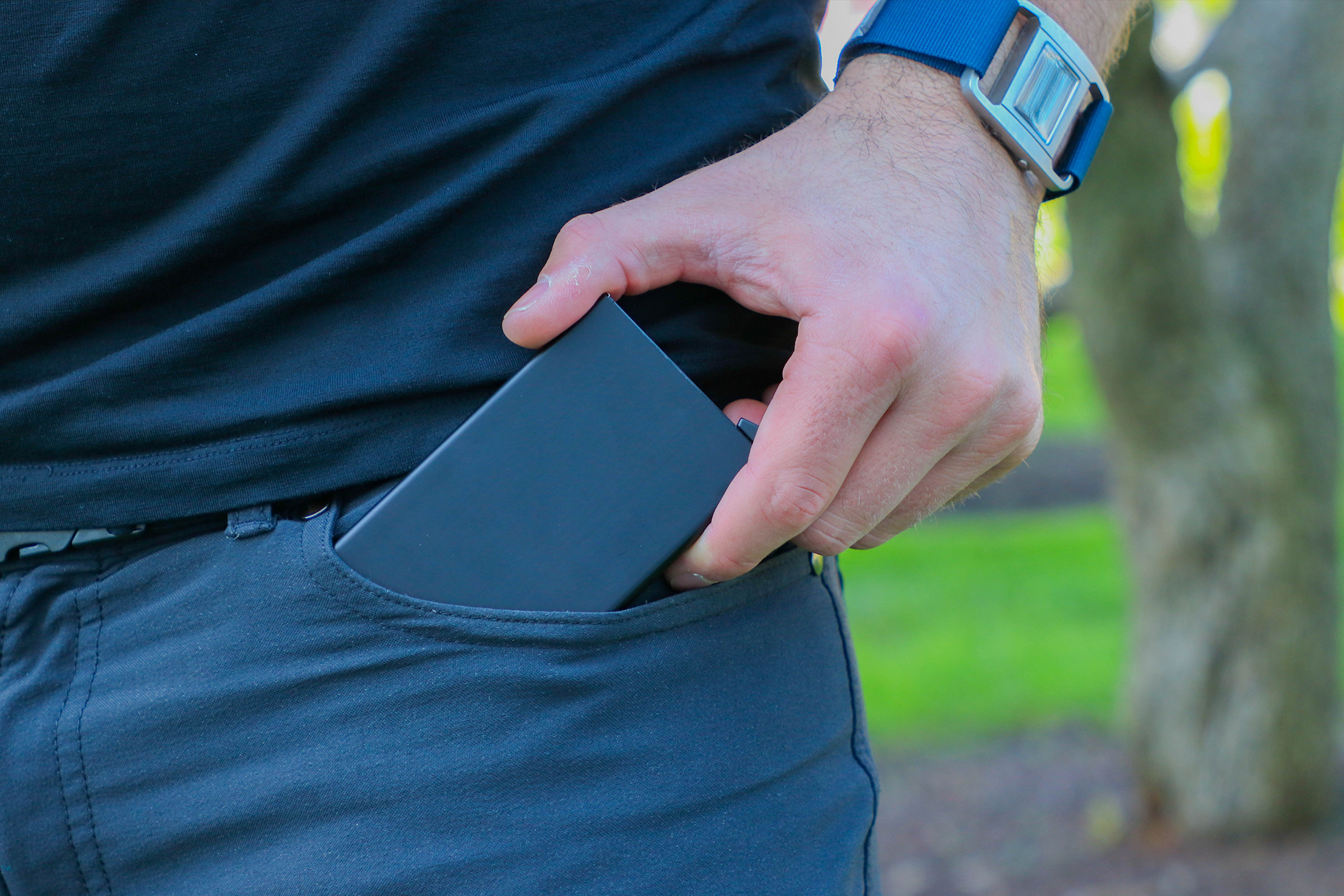 As a minimalist wallet, the Cardprotector is mostly limited to just cards, hence the name. From that perspective, it is good at what it does. Cards pop out in a way that's easy to pick one quickly. Yes, the lever does have a jamming issue, but it's not a total deal-breaker that renders the whole thing useless. To summarize, the Cardprotector is a bit rough around the edges, but when it works, it works really well.
Usage Timeline
Initial Usage
Condition: Excellent
Cards deploy via a low-profile lever at the bottom
Slim, minimalist profile fits at least four thick PVC cards
Moneyband wraps around; holds bills via elastic
2 Weeks of Use
Condition: Good
Card lever can intermittently jam—we've been able to replicate this error on two separate Secrid Cardprotectors
Love the low-profile design—it's one of the smaller wallets of this style out there
No place to hold cash wasn't much of an issue—we used a black rubber band, though there's a sold-separately cash strap
The cards fan out nicely for easy selection—this, again, is unique compared to similar wallets on the market
Access the Pro Community Discussion
Get your questions about the Secrid Cardprotector answered from our team and the Pro Community right here on the page. Plus, join discussions with other members about gear, guides, and more.
Other Organizers & Pouches Reviews