Trayvax Original 2.0 Wallet Review
The Trayvax Original 2.0 Wallet makes navigating through your cards easy, though it's not the most ideal option for cash-heavy users.
Our Verdict
Unlock the Pro Summary
Save time. Get access to brief summaries of our reviews so you can browse and make decisions more efficiently.
Pros
Plenty of room for expansion to fit more cards
Paracord is easily replaceable
Navigating through cards is quick and simple
Cons
Tall currencies may interfere with the toggle
Money clip not the most friendly for cash-heavy users
Paracord's slack can snag other pocket items
Recent Pack Hacker Video
Technical Details
Weight (oz)

2.4 oz (68 g)

Dimensions

4.125 in x 2.625 in x 0.48 in (10.5 x 6.7 x 1.2 cm)

Notable Materials

Aluminum, Stainless Steel, Paracord

Manufacturing Country

United States

Warranty Information
Full Review
There are a lot of potentially nerve-wracking moments when exploring a foreign city. We think automated ticket vending machines at metro stations are a good example of this. There's always an overwhelming number of buttons and a lot of symbols to decipher. But when you take a look at locals using these machines, they seem to be quite intuitive. Bravely trying it for yourself is part of the experience, and you might be surprised at how easy they are to use. By the way, there's nothing wrong with asking for help either.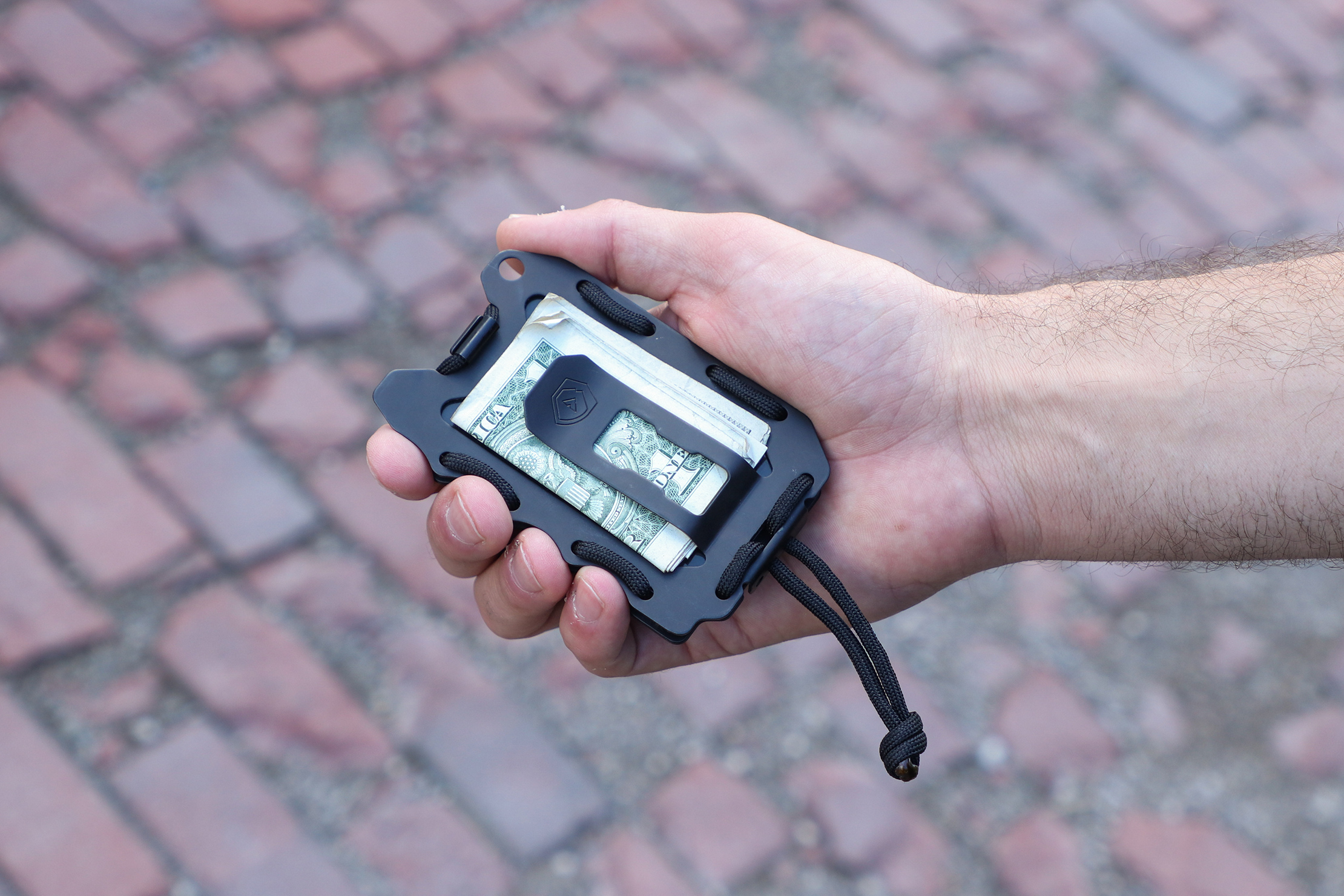 Looks can be intimidating until you try it out, and with Trayvax's Original 2.0 Wallet, that certainly seems to be the case as well. There's a ton of stuff going on from just a glance, but it's actually an easy-to-use, feature-rich, yet relatively simple metal minimalist wallet. Newcomers to metal wallets may understandably feel hesitant to try one out, so let's see if this is an easy first dip or a plunge into the deep end.
Materials & Aesthetic
When a wallet looks more like a tool than a wallet, it's bound to pull the heartstrings among the function-over-form crowd. Just look at it. You'd be hard-pressed just to begin describing the Original 2.0. There are grooves, edges, holes, curves, and even paracord—stuff you'd generally find in a tool shed rather than in someone's pocket. Trayvax has their logo etched into the front plate and a "Made in USA" statement along the bottom, just as you'd find on a hammer or screwdriver. The twist is, the busy aesthetic looks rather good.

There are those who love minimalism and those who dig freestyle expression. We're not going to lie; we really can swing either way, especially if the design just works—and boy does it work for the Original 2.0. Truth be told, we dig the simple colorways, namely: Black, Grey, Blue, OD Green, and G10, with the latter most having high-pressure fiberglass laminate.
Our sample, though, is made purely out of stainless steel, aluminum, and paracord. The front plate is aluminum, which is generally regarded as lightweight metal. On the other hand, since the pry bar, money clip, accessory hole, and clasp are all on the backplate, it's made out of stronger stainless steel. A paracord holds both halves together by threading through side holes, similar to how shoelaces do. That's good news for DIY and right-to-repair enthusiasts, as it means easy replacement if the included paracord gets worn out or damaged over time.

Our overall impression of the fit and finish of the Original 2.0 can be summed up as "solid." Despite the paracord in the middle, the structure never feels wobbly, especially once the cards are snug inside. It's also more refined compared to its predecessor, the Original, which used a combination of hook-and-loop fastener and paracord. To summarise, it's got a unique design and solid build quality, but what's it like to live with?
Usage & Features
Let's get down to business and address the burning question: how easy is it to get to your cards? One of the key features of metal or rigid wallets like the Original 2.0 is how well they hold and dispense cards. Most of them have a simple "slide it out with your thumb" approach, while wallets like the Grip6 Wallet have a squeeze mechanism that pops cards out. We're not really huge fans of the latter—more often than not, we find that simply sliding cards work the best, which this wallet does here.
The cards are held in by a security clasp—one end of the paracord hooks into a slightly protruding lip on the backplate. It's easy to undo with a flick of the thumb, but most of the time, we pinched it open. Not because the mechanism is flawed, but because it felt more natural to do it that way.
Navigating through all seven of our cards is a breeze. There's a sizable cut-out at the front plate where you can view most of your info. Additionally, this is where your thumb can scroll through each card. However, the ease of navigating through them is also determined by how well the paracord is adjusted.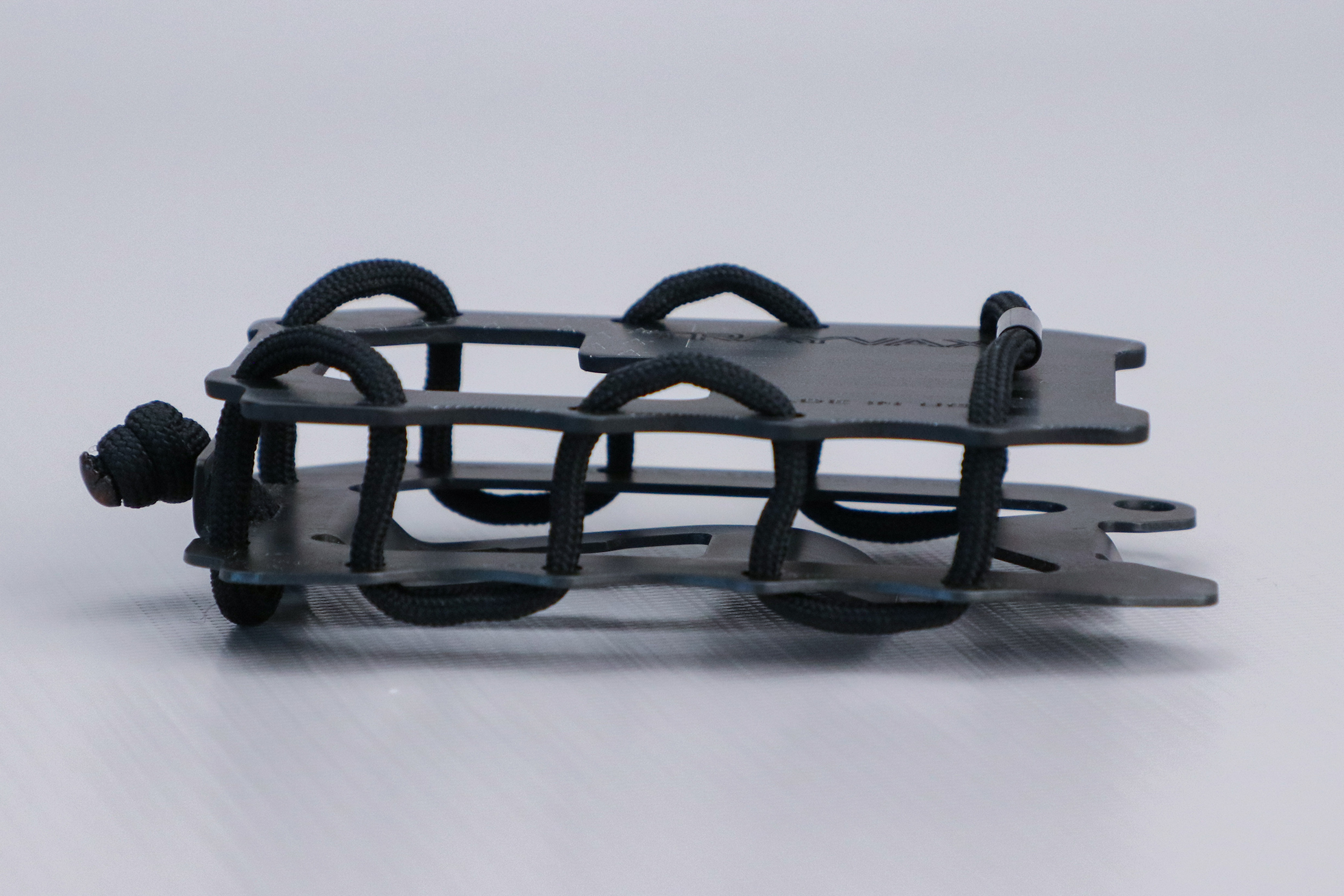 Depending on how many cards you plan on putting inside, the paracord can be adjusted manually to widen the gap between the metal plates. It's a bit tedious, but it beats having to use a hex key each time you want to fit one or two more cards. Right out of the box, there's a ton of extra slack to play around with. In theory, you can put it all to use and max out the Original 2.0 with a whole deck of cards. It's really worth putting in the time and getting just the right fit for how many cards you have—you wouldn't want it too tight or too loose.
Interestingly, Trayvax points out that the paracord's extra slack can be used as a quick-grab handle. In practice, we didn't really find it useful for that. We generally don't have a problem accessing the Original 2.0 from our pockets, so this may be more of a case of Trayvax justifying the extra length of the paracord. If the length does bother you—for example, if the cord keeps snagging inside your pocket—you can always trim it down and knot it back up.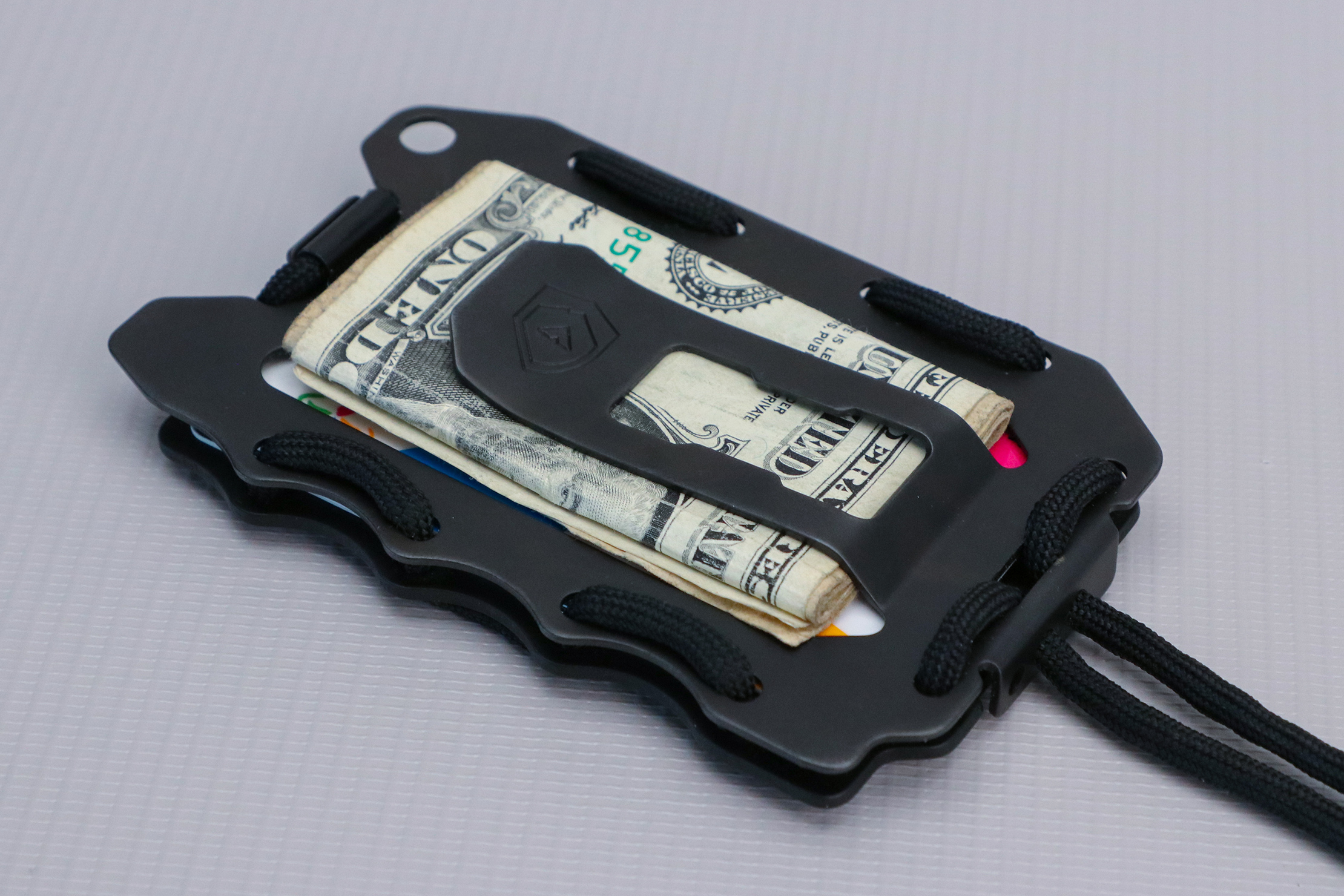 Of course, Trayvax hasn't forgotten about cash storage, and for that, there's the money clip. Yep, just a simple and trusty metal clip for bills. Cash-heavy users coming from more traditional fabric or leather wallets might find this a bit tough to adjust to. Our preferred method is folding our US dollar bills twice over into a quarter fold. With a fold like this, we're able to fit five bills comfortably with room to spare. Your mileage may vary, and taller bills like Singapore dollars may actually somewhat interfere near the edge of the security clasp. It doesn't make cards inaccessible, just that you may have to get around the bills to undo the clasp.
The Original 2.0 also comes with an attachment point, either for accessories or for securing the wallet. The former is self-explanatory; you can attach keychains, Tile, or Apple AirTag trackers for better security. Alternatively, travel locks and carabiners can thread through the small hole if you need the wallet secured to something bigger, like a travel backpack or a chain-link fence at a campsite.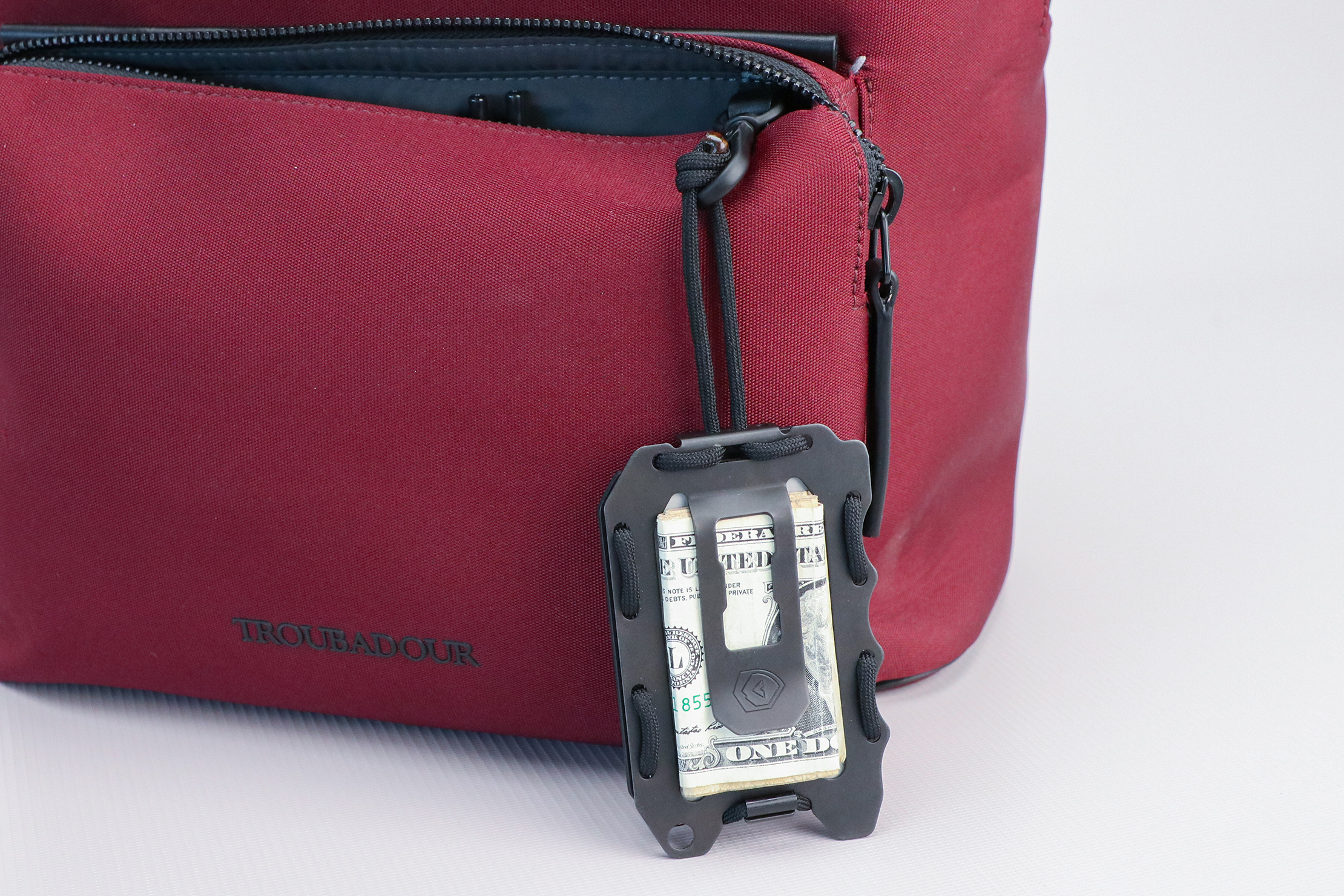 Lastly, the metal money clip also doubles as a built-in bottle opener. Trayvax even thoughtfully made it double-sided so you can open a bottle relatively easily, even at a dimly lit tailgate party. That said, we found that the most comfortable way to hold the Original 2.0 is by aligning the groves with your fingers. The edges of the Original 2.0 are also all rounded, so it doesn't feel harsh to grip and pop off bottle caps all night long.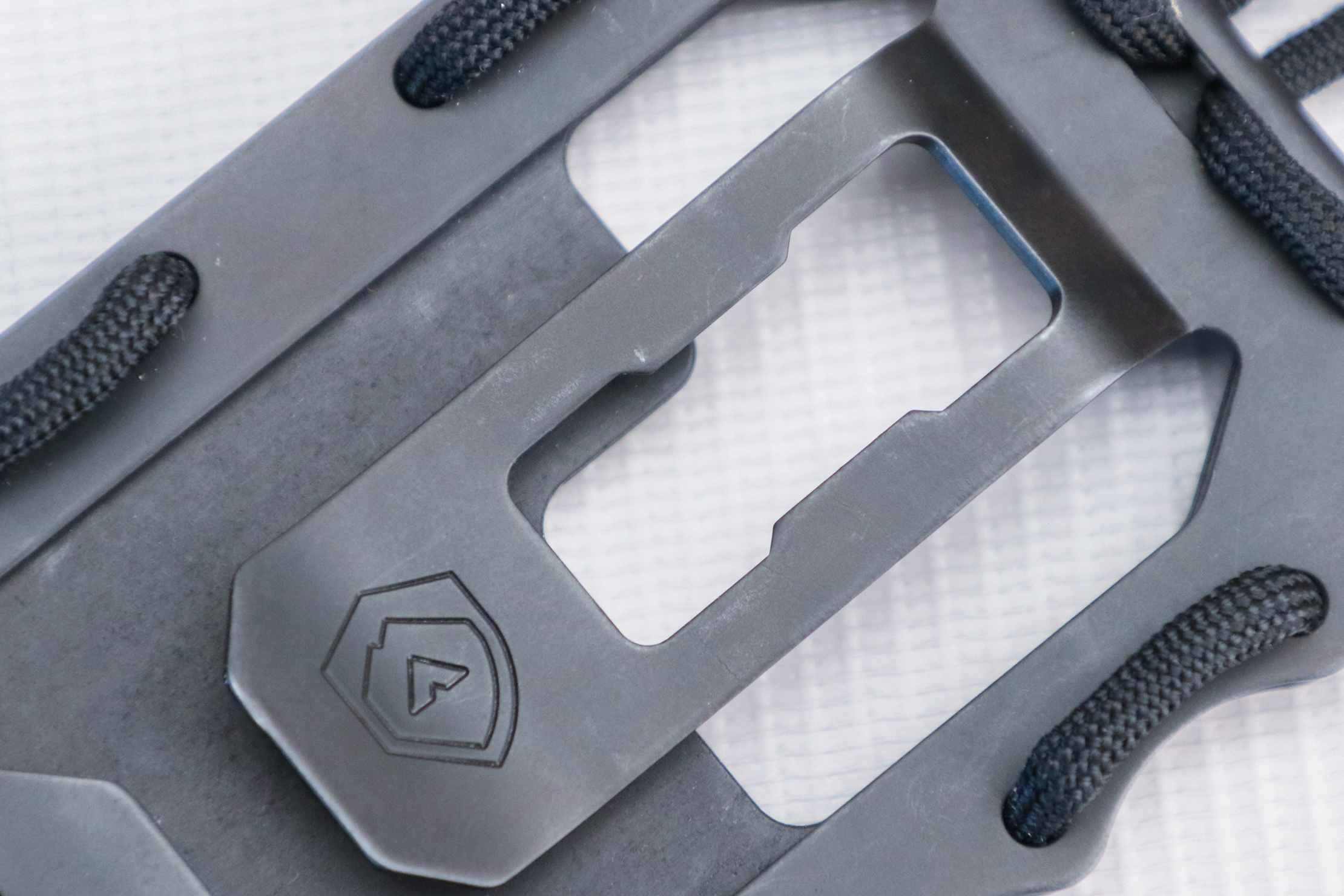 Overall, we dig the refinements the Original 2.0 has over its predecessor. It feels much easier to use, with a ton of room for expansion and backed by Trayvax's 65-year heirloom warranty. Granted, dipping one's toes into the world of metal wallets will still find the usual caveats, such as limited cash capacity and card-centric storage. But as far as choices go, the Original 2.0 is a good starting point for those looking to take the plunge.
Usage Timeline
Initial Usage
Condition: Excellent
Scalloped shape on one side for an easy grip
Built-in cord for hanging
There's a cut-out so you can see your most-used card
2 Weeks of Use
Condition: Excellent
Wallet is so simple, but so nice to use with some clever features included
"Paracord dongle" seems like an excuse for the extra paracord
Flicking cards in and out of the wallet is fun, and faster than some other wallets that have mechanisms specifically designed to do this
Durable materials, though the aluminum & steel have round edges which are comfortable to grab
Double-sided bottle opener is a nice touch
Access the Pro Community Discussion
Get your questions about the Trayvax Original 2.0 Wallet answered from our team and the Pro Community right here on the page. Plus, join discussions with other members about gear, guides, and more.
Other Organizers & Pouches Reviews