Trayvax Contour Wallet Review
The Trayvax Contour Wallet is a functional, durable wallet with a slick organization system that will last a lifetime (well, 65 years, to be exact).
Our Verdict
Unlock the Pro Summary
Save time. Get access to brief summaries of our reviews so you can browse and make decisions more efficiently.
Pros
High quality, super durable.
Great warranty—65 years.
Very functional, more efficient than traditional bifolds.
Cons
Hex screw adjustment can be confusing.
The system can take some time to get used to.
No space for coins—can be problematic for international travel & like that sort of thing.
Heavy—could be problematic for ultralight travelers.
Recent Pack Hacker Video
Technical Details
Weight (oz)

4 oz (113.4 g)

Dimensions

3.8 in x 2.4 in x .5 in (9.7 x 6.1 x 1.3 cm)

Notable Materials

Stainless Steel, Leather

Manufacturing Country

United States

Warranty Information
Full Review
Trayvax is known for making super rugged, durable wallets that will last a lifetime. And they're serious when they say "lifetime"—they test all of their products for 65 years of use, and everything they make comes with a 65-year heirloom warranty. Trayvax also holds the award for "most intense wallet promo video" by a landslide, if that matters to you:
Mark, the founder of Trayvax, is a big advocate for environmental sustainability and he hates the idea of planned obsolescence—along with, like, 99% of the population. It's refreshing to see someone put in so much effort to make a super functional piece of kit that will literally last a lifetime—and if it doesn't, it can be repaired. These wallets will not see a landfill anytime soon.
The Trayvax Contour wallet is the newest, slickest, and most expensive wallet that Trayvax offers. We've also taken a look at a few other wallets from Trayvax; The Axis and Element. Be on the lookout for those reviews, coming soon.
This wallet looks like no other wallet we've seen. The reason is because Trayvax has engineered this thing to provide maximum efficiency, function, and strength. We love the way the Contour looks, and have heard about a 50/50 "yes it looks great" to a "nah, it's not my style" from about 20 random folks. The sleek combination of metal and leather gives it a good blend of durability and aesthetic, providing a rugged, yet polished look. The metal creates a nice frame for your cards, and the opening makes it super easy to thumb through. Oh, we forgot to mention—if you put this thing in your back pocket and sit on it, it will feel like you're sitting on metal. Because you are sitting on metal. We recommend sticking to the front pocket.
When you hold this wallet in your hand, it feels incredibly solid. It's made in the USA and you can immediately tell that it is a quality piece of gear. Normally, we would never refer to a wallet as "gear," but it definitely fits here.
Like we said before, this thing is like no wallet you've ever had, so it can be a little hard to figure out at first. But once you get it down, there are a lot of benefits to the unique design. The section for cards allows you to easily thumb through cards with one hand. With a little practice, you can just about use the entire thing with one hand.
It will take some getting used to, but you can get pretty quick with this thing. You know that situation everyone ends up in at the counter? You're trying to stuff your card back in your wallet while there's like eight people behind you—so you end up just grabbing everything and stuffing it all in your pockets with the hope of sorting it out later. Yeah. We've all been there. This wallet can eliminate that whole ordeal—it is really easy to rifle through cards and put them back quickly.
One little tip we have is to arrange your cards based on whether they have numbers on them or not. Cards with raised numbers (credit cards) slide out a lot easier than flat cards—which tend to stick to each other. If you arrange them so that every other card is a number card, it makes them a lot easier to slide out.
The Contour offers two strap sizes; the original leather strap carries up to 8 cards and 10 bills, while the extended leather strap carries up to 13 cards and 10 bills.
Once you figure out which strap to go with, one of the best features of this wallet is that you can resize the card section depending on how many you need to carry at one time. You know how leather wallets tend to stretch out if you put a lot of cards in one section? Anyone who has cleaned out their wallet of excess cards knows that can be an issue—all of a sudden you have cards sliding out of your wallet. The Contour fixes this by using a hex screw system. You can actually adjust the wallet to perfectly hold the exact number of cards you need.
Upon initial setup, Trayvax recommends to start by loosening the wallet as much as you can. Then, putting cards in one at a time and test how easily they slide out. There's going to come a point when they get harder to slide out—that's your limit. The key is to not overstuff it. If you don't have enough cards to hit that limit, tighten it down until they are secured—still easy to slide out, but they're not going to fall out on their own.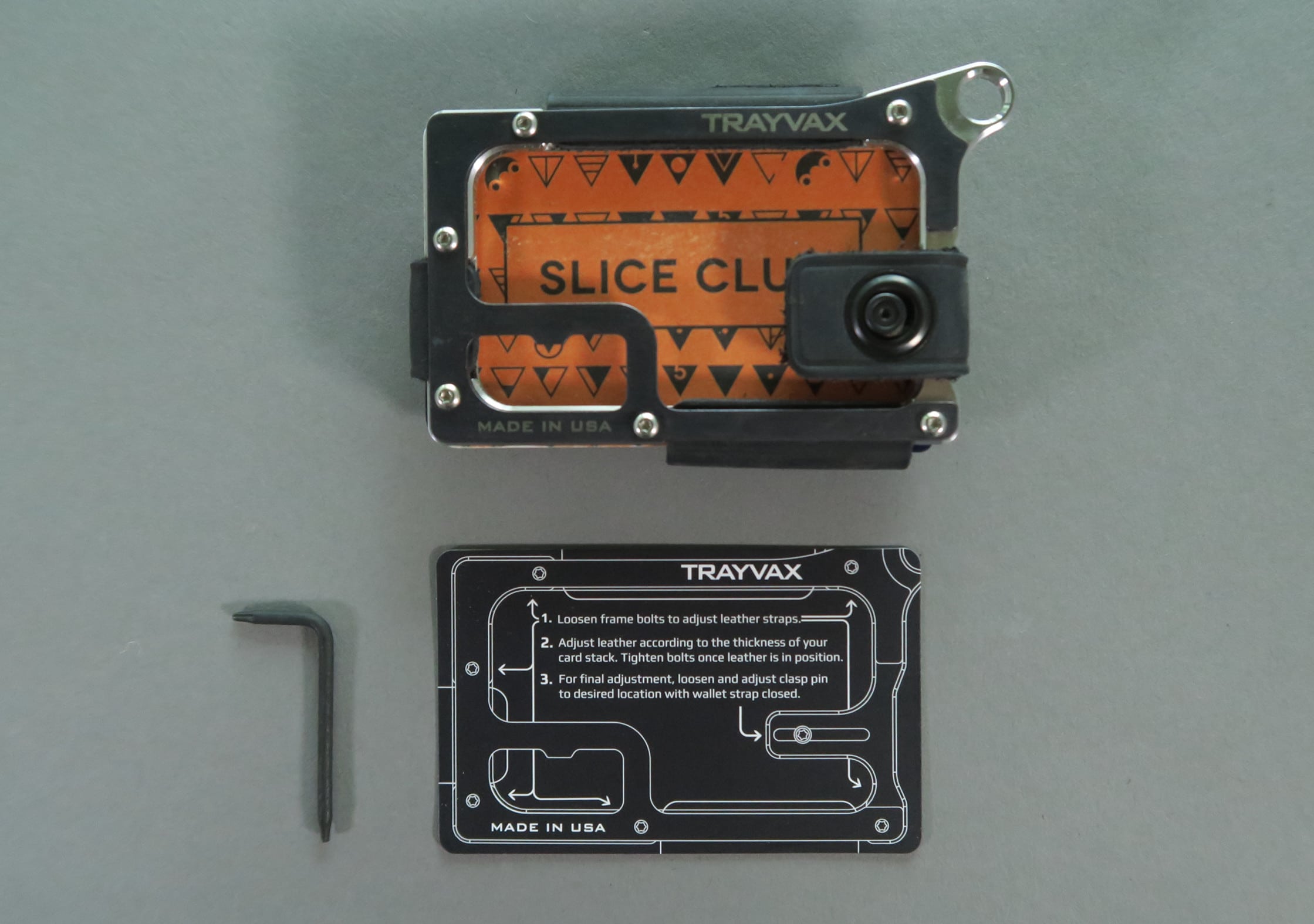 This system is great if you have a fixed number of cards. But if you tend to pick up a lot of metrocards or hotel key cards, adjusting it can become tedious. And let's be honest—no one wants to bring an allen wrench around with them so they can adjust their wallet. You can, however, just leave room for a few cards and deal with your wallet being a little tighter or looser depending on what you currently have in it. We ended up setting it to the max size and rolling with it.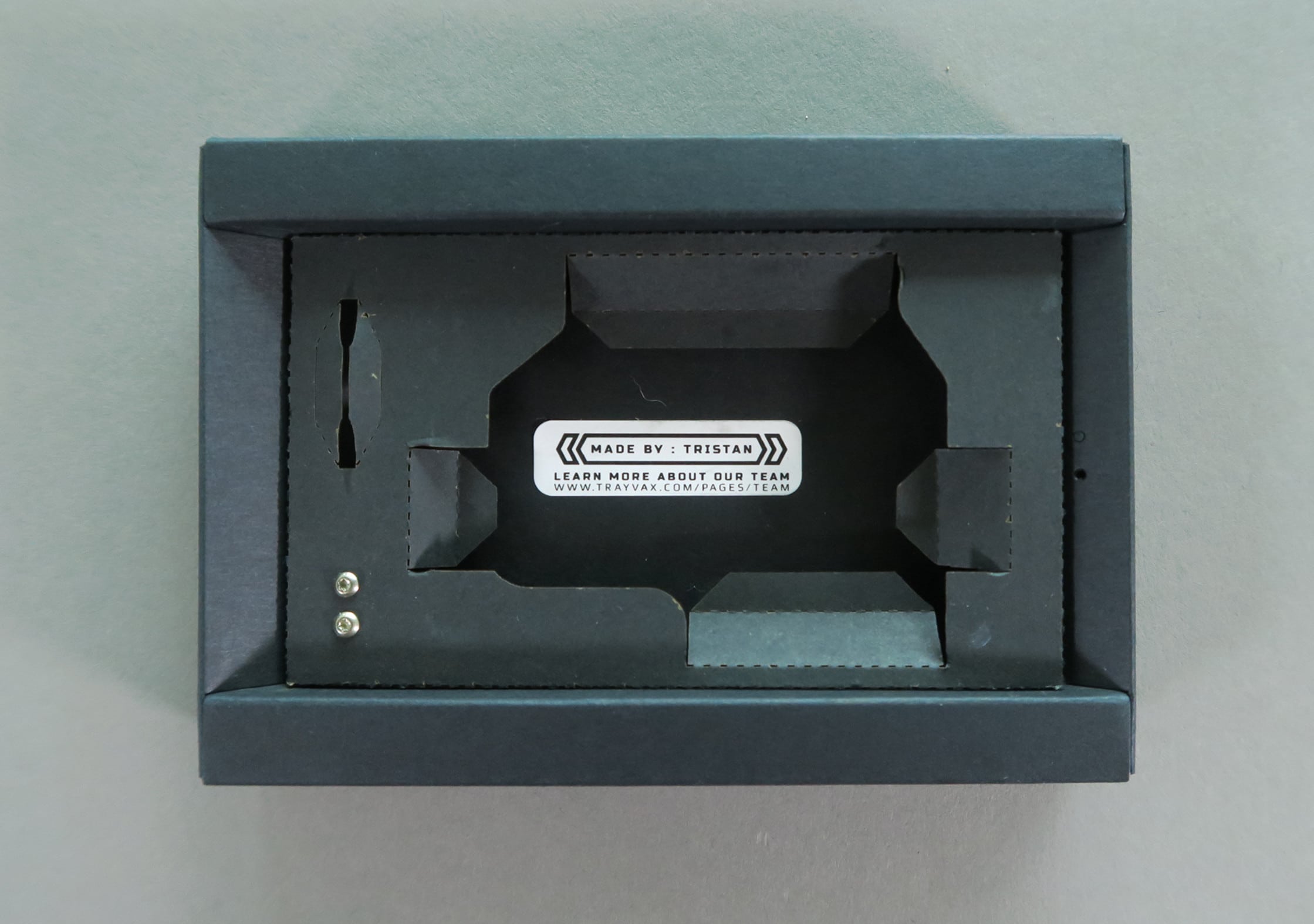 Oh – and this thing is made by an actual human – which is pretty cool. Thanks Tristan! (this is noted on the packaging of every Trayvax wallet).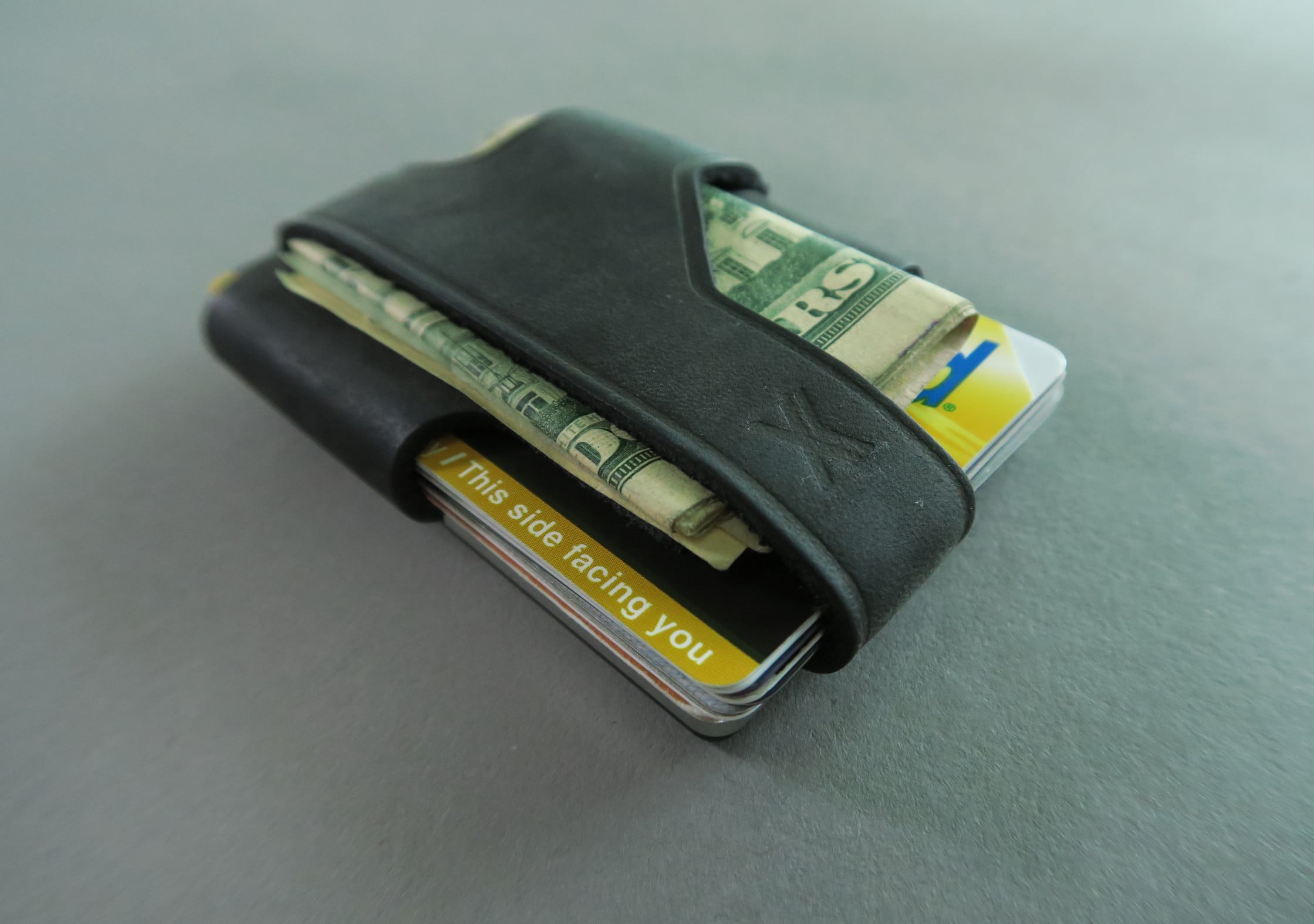 As far as bills go, you'll need to fold them in half twice to fit them in. This means you can't really sort them like you could with a bifold wallet, but the benefit is that it can fit bills of any size. Larger currency that won't fit in a traditional bifold wallet—like euros or Singapore dollars—will fit fine in the Contour.
Update: A member of the Pack Hacker community just shared a pro-tip, letting us know that if each bill is folded up individually before going into the wallet, it's easier to sort through and access. We've found it to be true!
There are a couple of other unique features on the Contour. There is an engraving on the inside that says, "Earn Your Story"—pretty appropriate for the adventurous types who are likely to buy this.
There is also a bottle opener built into the metal frame of the wallet, which is always a hit at parties and useful in a pinch if there's no bottle opener around.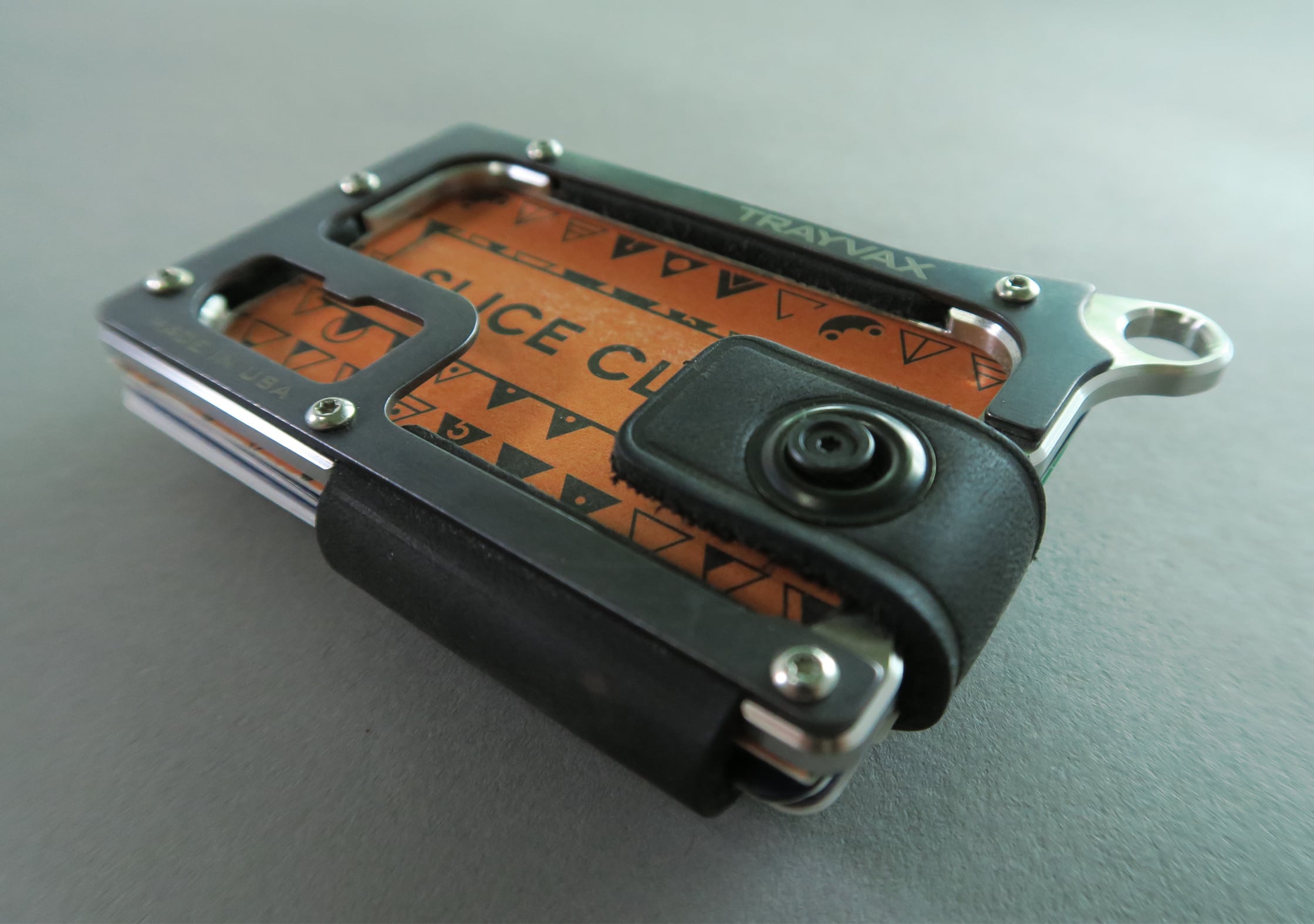 The loop on the corner of the wallet fits a carabiner, which can be a nice addition if you want to clip your wallet to something, like… Maybe you need quick access to your credit cards while doing a big wall climb? Or, you could clip it to the outside of your pack so thieves can just grab what they want.
In all seriousness, it does make sense if you want to attach it to your pants with a chain or lanyard—if that's your thing—not a bad idea for an additional anti-theft measure in a dicier area. If you like to store your wallet in a backpack, you can attach it to a clip or strap near the top of the bag—meaning you won't have to dig through your pack to find it.
Usage Timeline
Initial Usage
Condition: Excellent
Good out of the box, still getting used to the screw system.
3 Months of Use
Condition: Good

Leather on the sides has started to fray a bit, but it's still solid.
1 Year of Use
Condition: Good
Access the Pro Community Discussion
Get your questions about the Trayvax Contour Wallet answered from our team and the Pro Community right here on the page. Plus, join discussions with other members about gear, guides, and more.
Other Organizers & Pouches Reviews