Bellroy All-Conditions Card Pocket Review
The leather-clad Bellroy All-Conditions Card Pocket's rigidity protects your cards, at the cost of sometimes feeling too bulky and stiff.
Our Verdict
Unlock the Pro Summary
Save time. Get access to brief summaries of our reviews so you can browse and make decisions more efficiently.
Pros
Sturdy structure protects cards from bending
Pocket and elastic leash holds oft-used key
Top-notch materials and build quality
Cons
Cards butt up against the stiff outer edge, making them hard to get
Relatively chunky for a card wallet
Zippers need a break-in period for smoother operation
Recent Pack Hacker Video
Technical Details
Weight (oz)

2.5 oz (70.9 g)

Dimensions

4.17 in x 2.95 in x 0.71 in (10.6 x 7.5 x 1.8 cm)

Notable Materials

Leather, YKK Zippers, Elastic

Manufacturing Country

India

Warranty Information
Full Review
Bellroy gear has an air of stylishness that makes you wonder about its durability. For example, you take a look at the All-Conditions Card Pocket and think it's a good-looking nugget of a wallet but probably not suitable for outdoor use. However, Bellroy insists that this is an all-weather, performance-ready minimalist wallet. It's, apparently, not just a wallet, either, and they suggest you can use it as a bike tire repair kit or a simple everyday carry pouch for really tiny tech accessories—it's practically multi-purpose.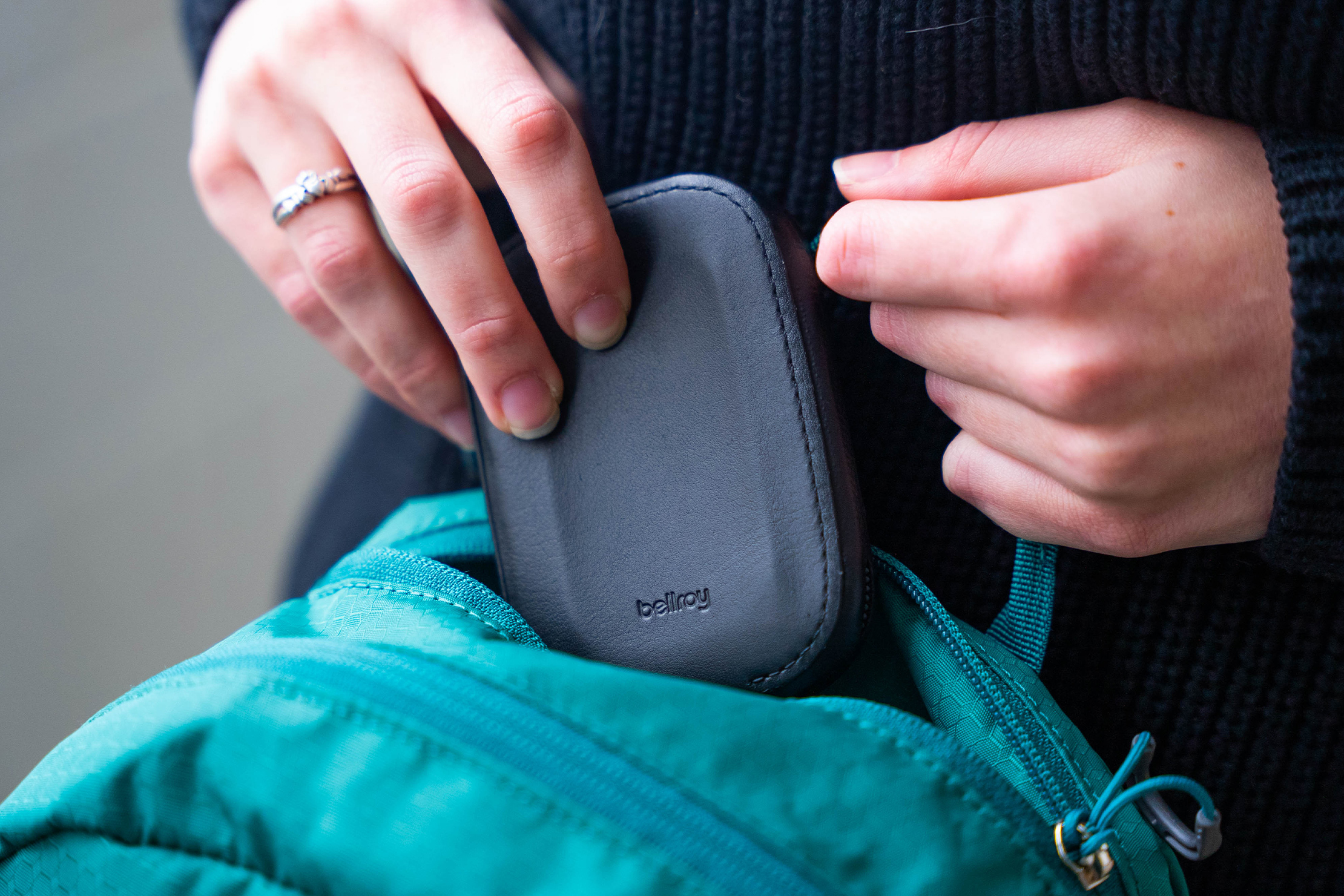 So what's the deal here? Is it both stylish and durable? Well, from our hands-on experience, its leather shell has the rigid structure you'd want from a durable wallet. The interior's quite classy as well, with a very much expected beige and gray interior. So yes, it's both stylish and durable. Yet, that doesn't preclude it from having its fair share of flaws, and some of them, ironically, stem from the All-Conditions Card Pocket's strength and durability.
The Rundown
Anyone and everyone can argue over style,, and our opinion isn't necessarily more valid than anyone else's. However, we'd reckon you'd find an all-black leather wallet like this timeless, just as we do. Nothing stands out against the blackness, not even the paracord zipper pull, which is a very tasteful dark shade of blue. There's a debossed Bellroy logo at the front, the uniform shape of the entire wallet, and that's it—it's all kept very clean.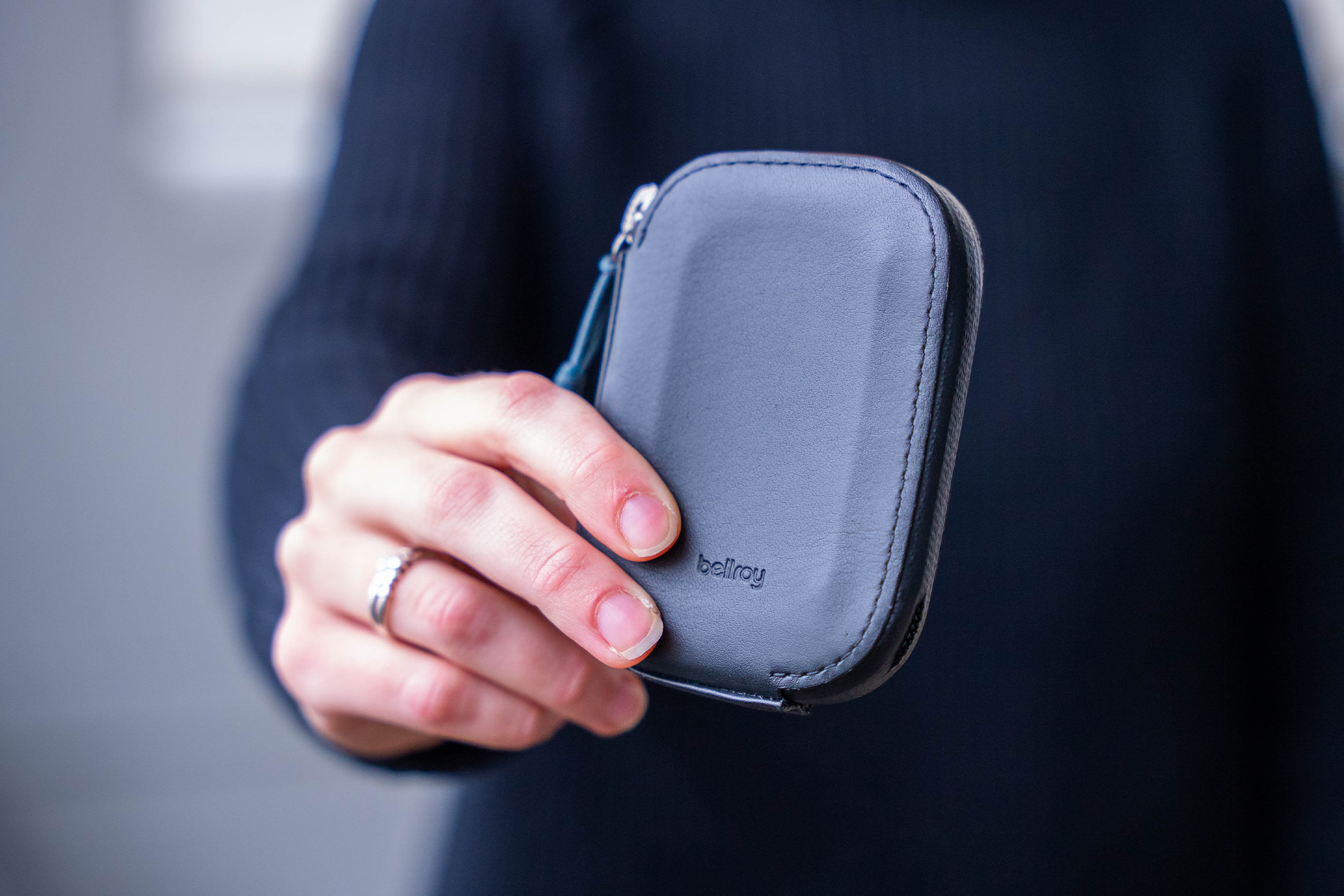 That zipper is from YKK, and it's of the AquaGuard variety, driving home Bellroy's point about the All-Conditions Card Pocket being suitable for outdoor use. Raindrops aren't getting inside anytime soon, though it's at this point that we have to remind you that it's not entirely waterproof—it's just water-resistant. The zipper doesn't form a complete seal, so if you submerge this in water, chances are it's going to find a way to seep in.
Here's the downside of that zipper, though: it's very stiff. While YKK AquaGuard zippers are generally stiffer-feeling than regular zippers, the one here feels especially stiff. One reason for this is the wallet's small size; gear tends to feel fiddlier when smaller, based on our experience. Another reason is that the zipper track goes around a relatively sharp corner. Combined with the All-Conditions Card Pocket's rigid structure, it makes for a not-very-malleable zipping process. Fortunately, the zipper has softened throughout testing, and it's much easier to use now, at the time of writing.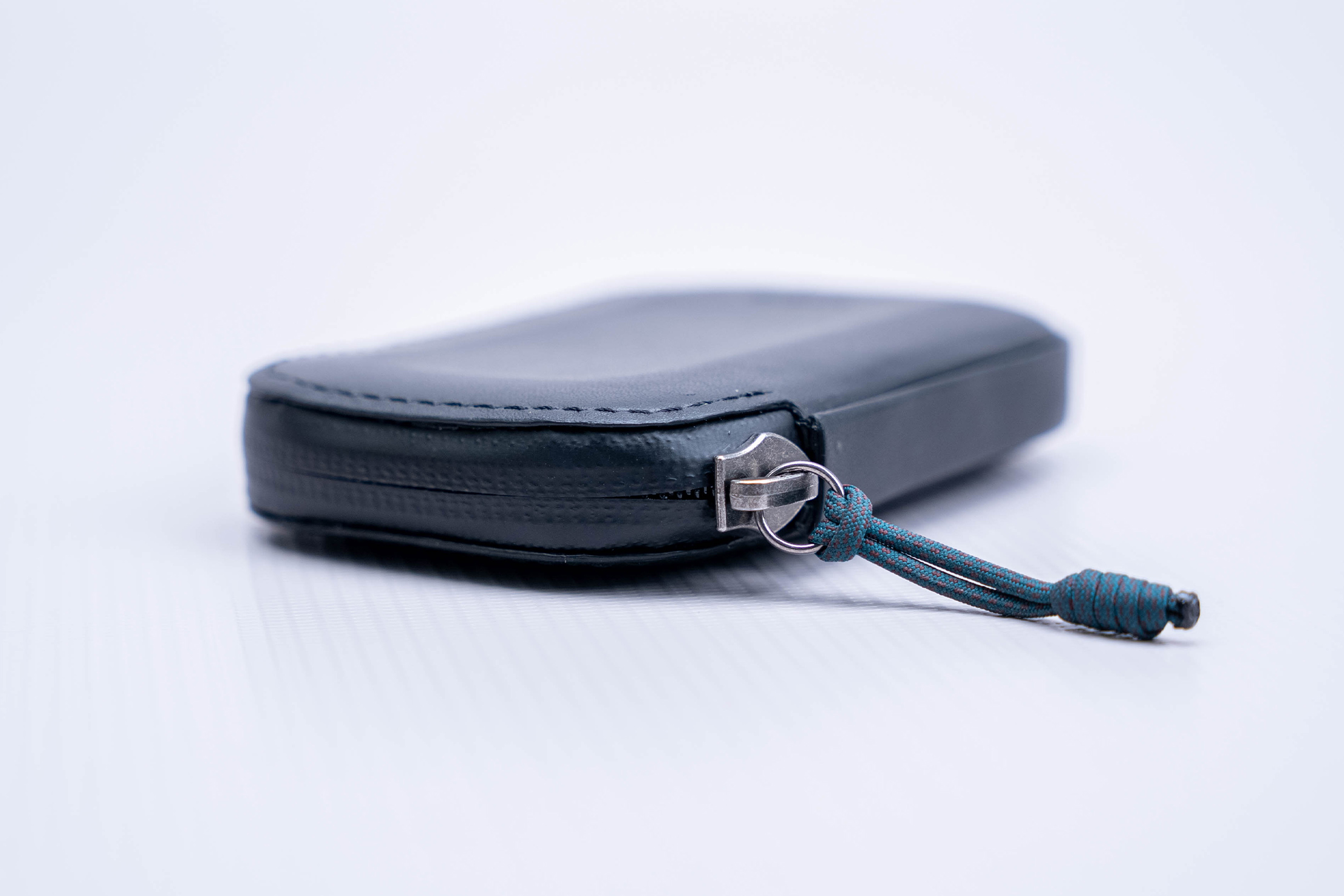 Generally speaking, the All-Conditions Card Pocket feels very solid and structured; that's the theme here. Even once the wallet's emptied, it still maintains its shape, unlike soft pouches or even the All-Conditions Card Pocket's closest sibling, which we'll compare to it later. Of course, this structuredness also has its downsides, primarily with how bulky the entire wallet feels in your pocket. Slot the All-Conditions Card Pocket in your pants pocket, and chances are it will visibly imprint (unless you're wearing exceptionally baggy jeans).
The upside is that all this rigidity means better protection for your cards. We're not particularly worried about the metal cards that Apple uses for Apple Pay. Nor are we worried about very flexible, cheap transit cards. However, the PVC-based credit cards that banks use feel relatively brittle if you bend them the wrong way, and the tough All-Conditions Card Pocket is a good way to protect them.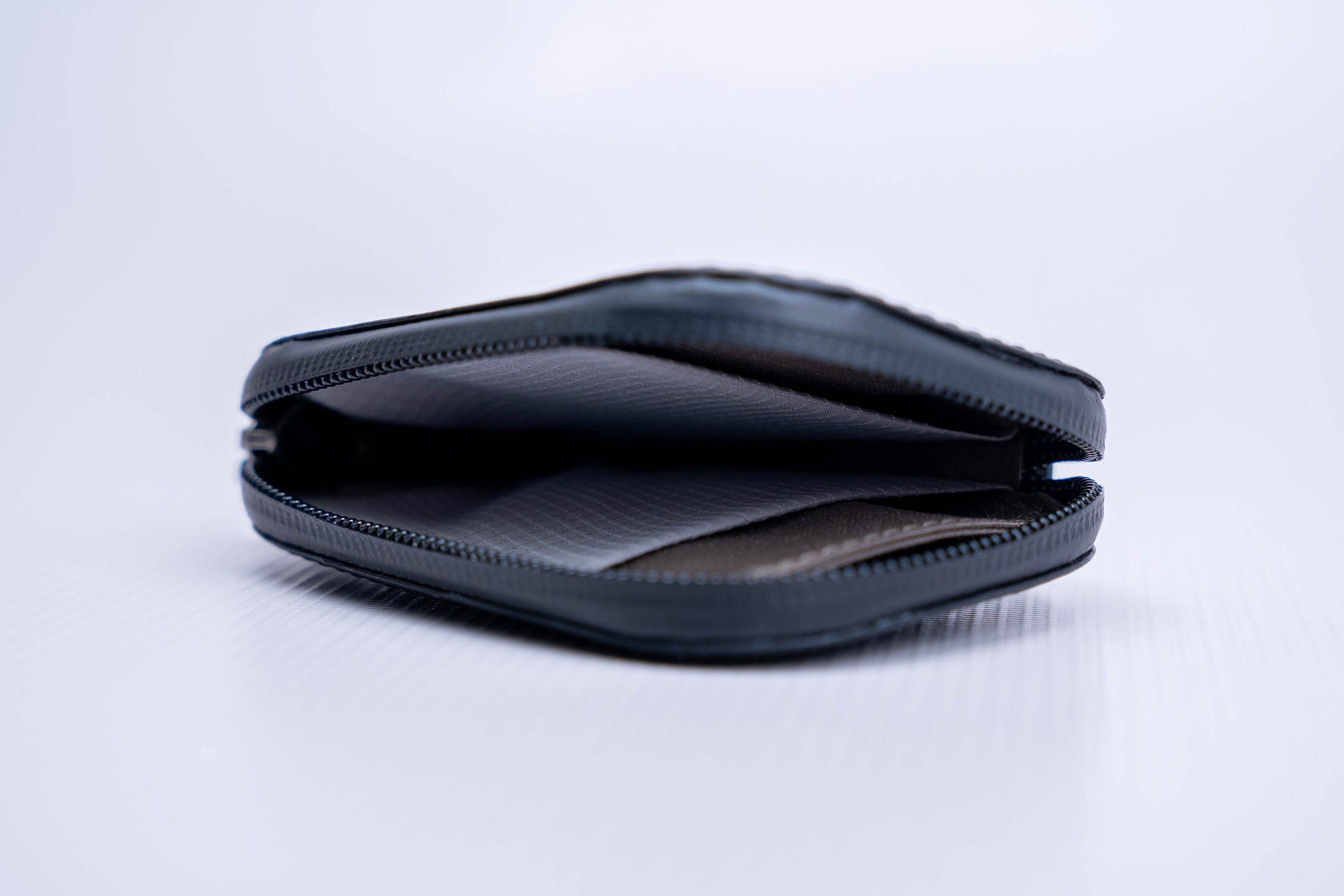 The wallet's single zipper covers an L-shaped opening wide enough to let you see everything inside. We dig Bellroy's choice of a beige liner and gray pockets; it all adds to the classiness of the wallet. On each side is a slip pocket for your cards, with the leftover space in the middle for cash. The pocket towards the front side is spacious enough for six cards of varying thicknesses (think a mix of the ones we mentioned above). Meanwhile, the pocket towards the back side feels tighter, with room for only four cards—but there's a good reason for that.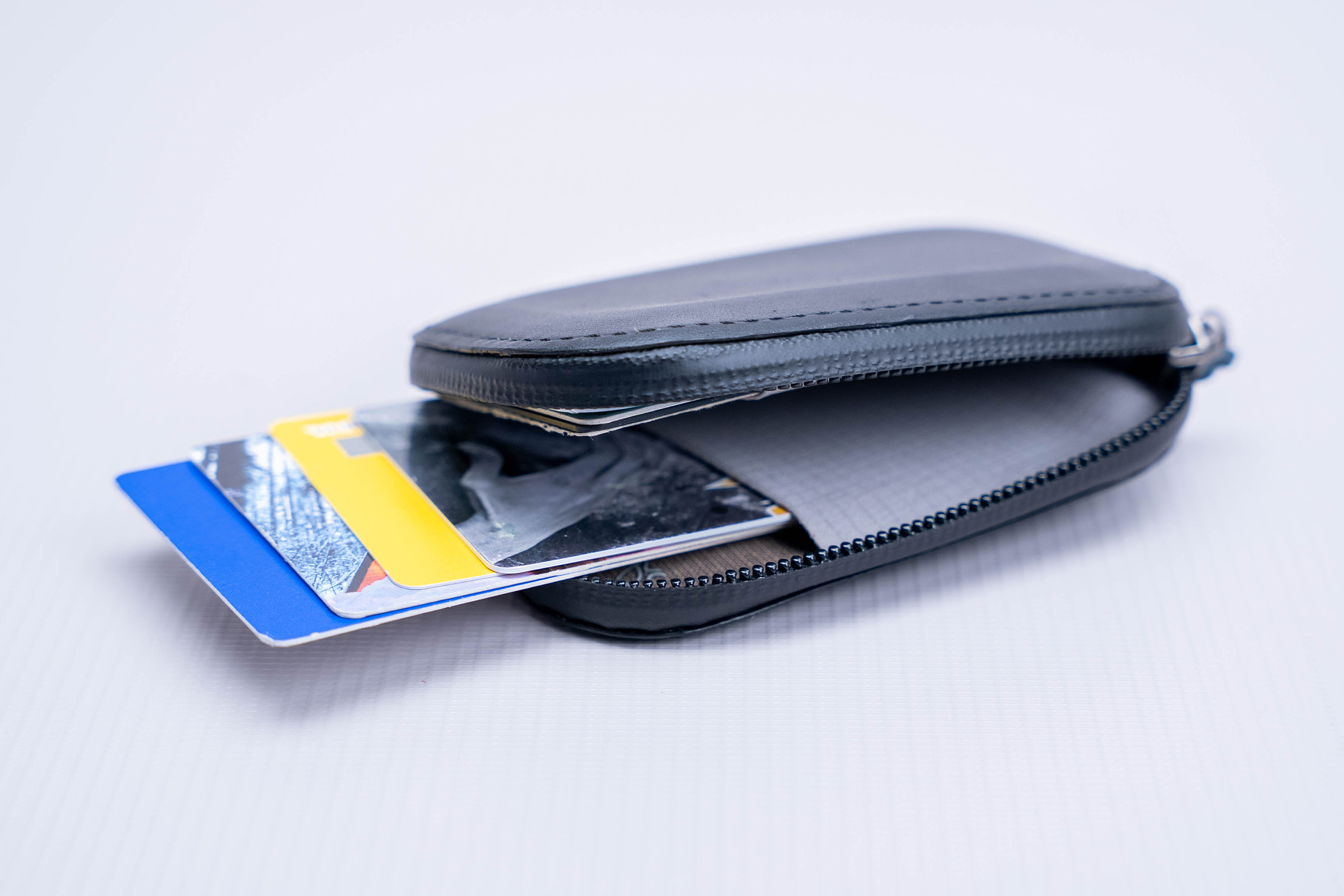 Behind the back side card pocket is another pocket that houses an elastic key leash. This is where you can store a key—yes, as in singular. You won't be able to fit an entire set of house keys, but you can hold the key to your front door or your mailbox. While not very generous, having a dedicated pocket for an important key you use daily is a good way to keep tabs on it. How often have you used a key and just left it in a random place in your house after using it? A key leash will prevent that (unless you misplace the entire wallet, too).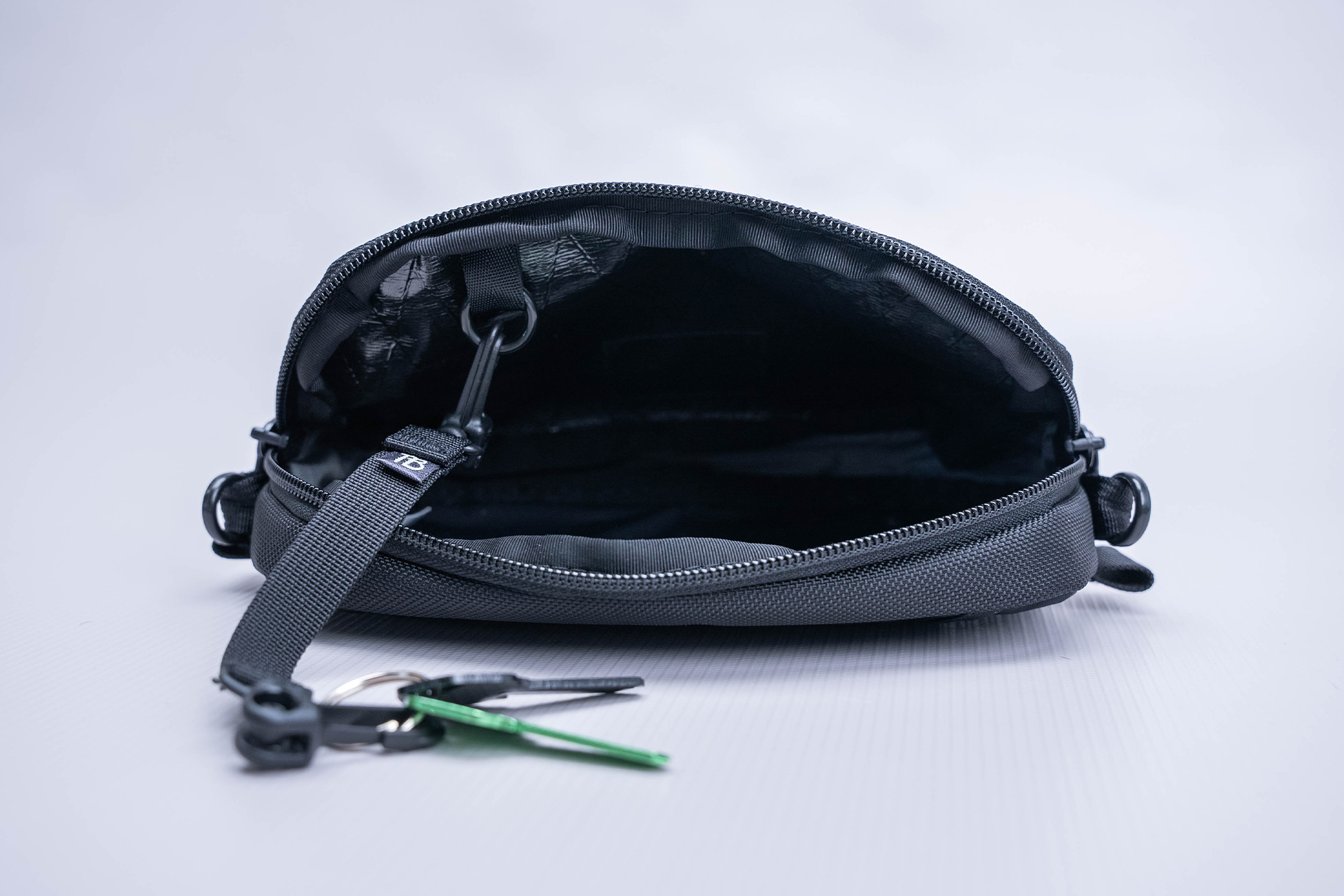 Getting cards in and out of the pockets is relatively easy. However, there are times when the cards can shift and butt up against the zipper track. Doing so causes them to get in the way of unzipping at times, so you have to lightly shake the wallet to reseat the cards back in place. Overall, it's not a huge deal; more like a small quirk, if anything.
Packability
As mentioned before, the All-Conditions Card Pocket's structure and chunkiness mean it's not the most space-efficient wallet out there. In this case, you're trading size for protection, which may or may not be worth it, depending on who you ask.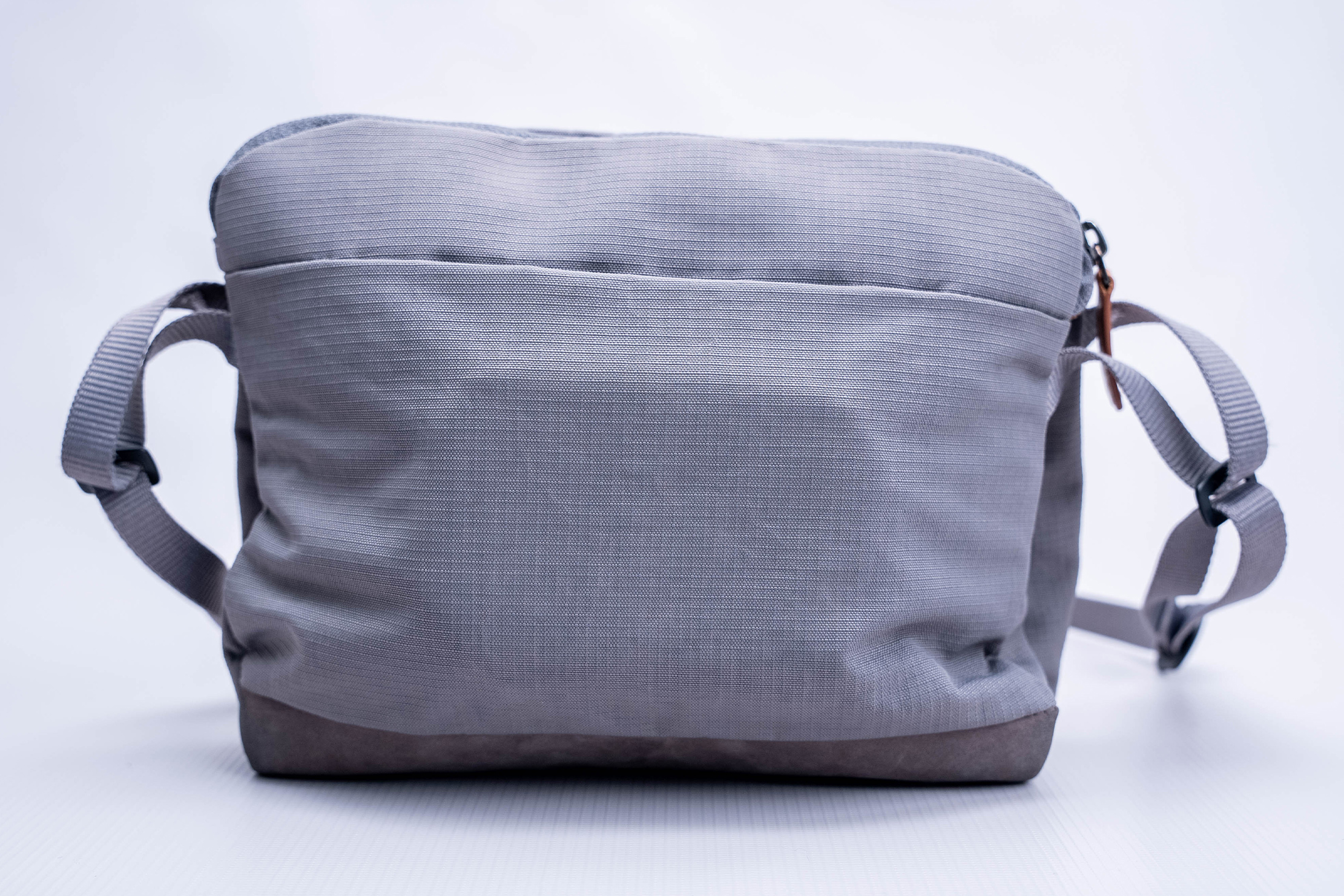 We will say, though, that at no point during testing did we feel insecure about the quality of the wallet. So if space is not an issue for you—like if you usually put your wallet in a sling instead of a tight-fitting jeans' pocket—then this is a solidly-built option.
Quick Comparison
The closest and arguably most interesting point of comparison to the All-Conditions Card Pocket is against Bellroy's very own regular Card Pocket. They have very similar layouts, with the regular version having one less internal pocket and no elastic key leash. More to the point, however, is the difference in structure and size. Okay, okay, we've droned on about structure for the better part of this review, but just bear with us for this last stretch.
The regular version has a much softer leather exterior that easily squishes down when the wallet's not fully packed. It makes the Card Pocket less bulky and also makes it easier to get cards out since the outer shell's more flexible. We'd say the regular version wins the everyday ease-of-use award, but if you want protection and solidness, you can't go wrong with the All-Conditions Card Pocket.
Usage Timeline
Initial Usage
Condition: Excellent
Interested to see if the weatherproof zipper breaks in over time
Digging the dedicated key pocket with a small leash
Super sturdy feel
2 Weeks of Use
Condition: Excellent
Durable materials feel a bit overkill for a wallet
AquaGuard zipper still a bit sticky, but getting better
Digging the built-in key leash
1 Month of Use
Condition: Excellent
AquaGuard zipper much easier to use after a month
Still feels very structured
Access the Pro Community Discussion
Get your questions about the Bellroy All-Conditions Card Pocket answered from our team and the Pro Community right here on the page. Plus, join discussions with other members about gear, guides, and more.
Other Organizers & Pouches Reviews