Chums Surfshorts Wallet Review
The Chums Surfshorts Wallet is crafted from lightweight materials, fits into your front pocket, and has two large pockets for your daily essentials.
Our Verdict
Unlock the Pro Summary
Save time. Get access to brief summaries of our reviews so you can browse and make decisions more efficiently.
Pros
Small enough to fit in a front or back pocket
Two large zippered pockets for stowing essentials
Easy key access when you want it that's hidden when you don't
Cons
No dedicated place for coin change
IDs and other cards can get bent if overstuffed
Keys can come flying out at inopportune times
Recent Pack Hacker Video
Technical Details
Weight (oz)

.7 oz (19.8 g)

Dimensions

4.5 in x 3 in (11.4 x 7.6 cm)

Notable Materials

Ripstop Nylon, Thermoplastic Polyurethane (TPU)

Manufacturing Country

United States

Warranty Information
Buying Options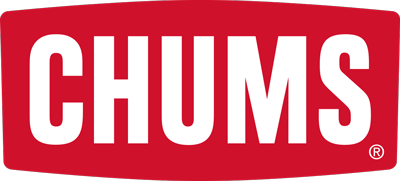 $11.99
$11.99
Full Review
Get up to 20% off Chums • Join Pack Hacker Pro
At the time of writing, the Chums Surfshorts Wallet can be found for around $10. You hear us right, $10! At first glance, it may seem like a generic Amazon brand, but after seeing it recommended more than once in our Pack Hacker Pro Community, we couldn't help but give it a go. Let's dive in head first!
The Rundown
Whereas the Surfshorts Wallet is, by definition, a front-pocket wallet, it fits nicely into a back pocket, too. After six or seven months of use, the logo started to peel away. Once it began flaking, it was hard not to play with, and the rest is history. On its gravestone, we put "death by anxious picking." You can't tell where the logo was; in fairness, it looks more minimalistic now.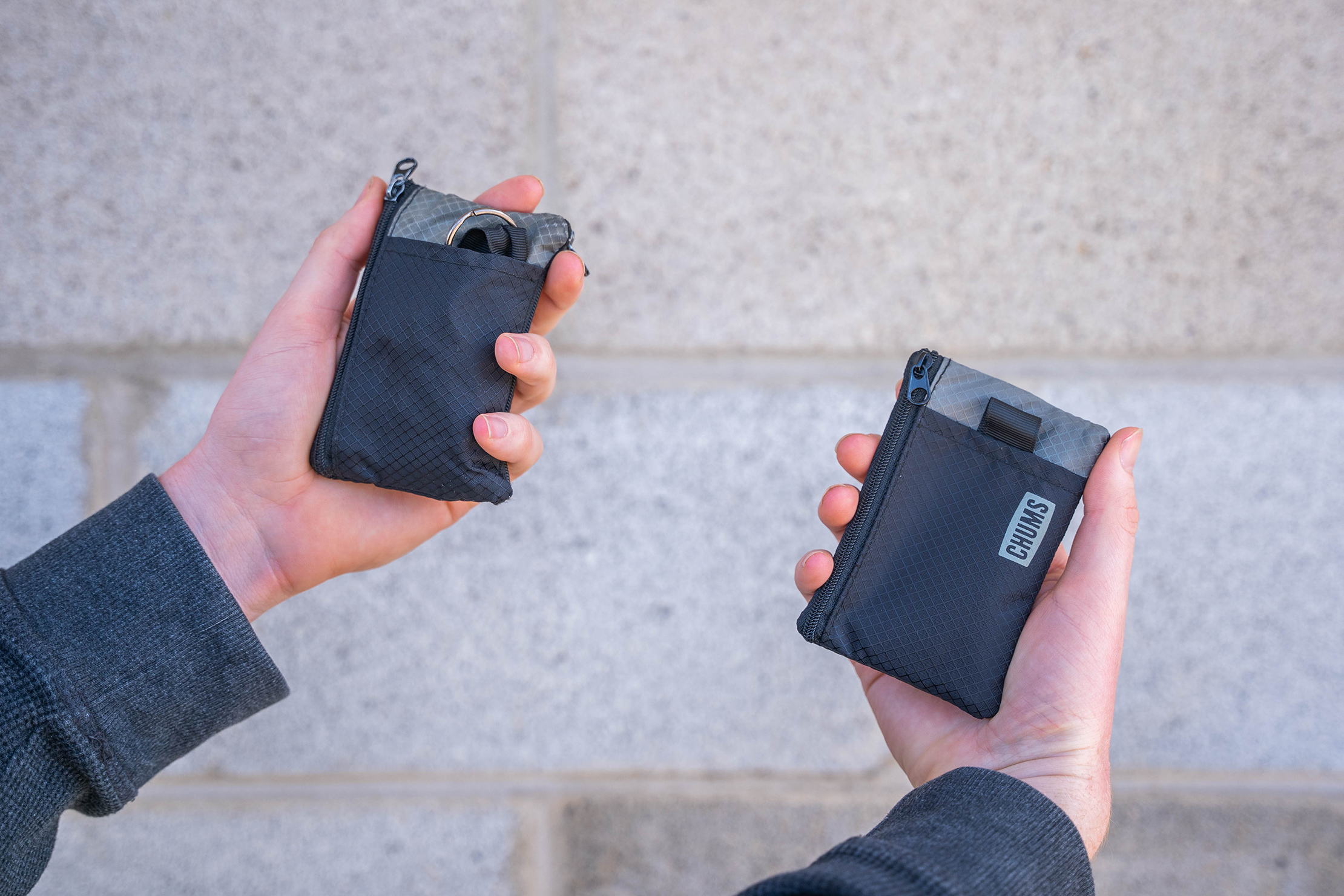 The wallet is crafted from ripstop nylon and is holding up very well. There is some slightly noticeable fraying at the seams, but nothing too alarming. Minor water exposure is okay, but anything more than light rain can soak through the material and get your gear wet. Nobody likes drying currency, so this is best to be avoided by tossing it inside your daypack, sling, or travel backpack.
There's a window on one side that feels like it's crafted from TPU. After a few months, it became noticeably scratched up but by no means battered. You can still see through it when the cashier asks to see your ID, which is a nice inclusion.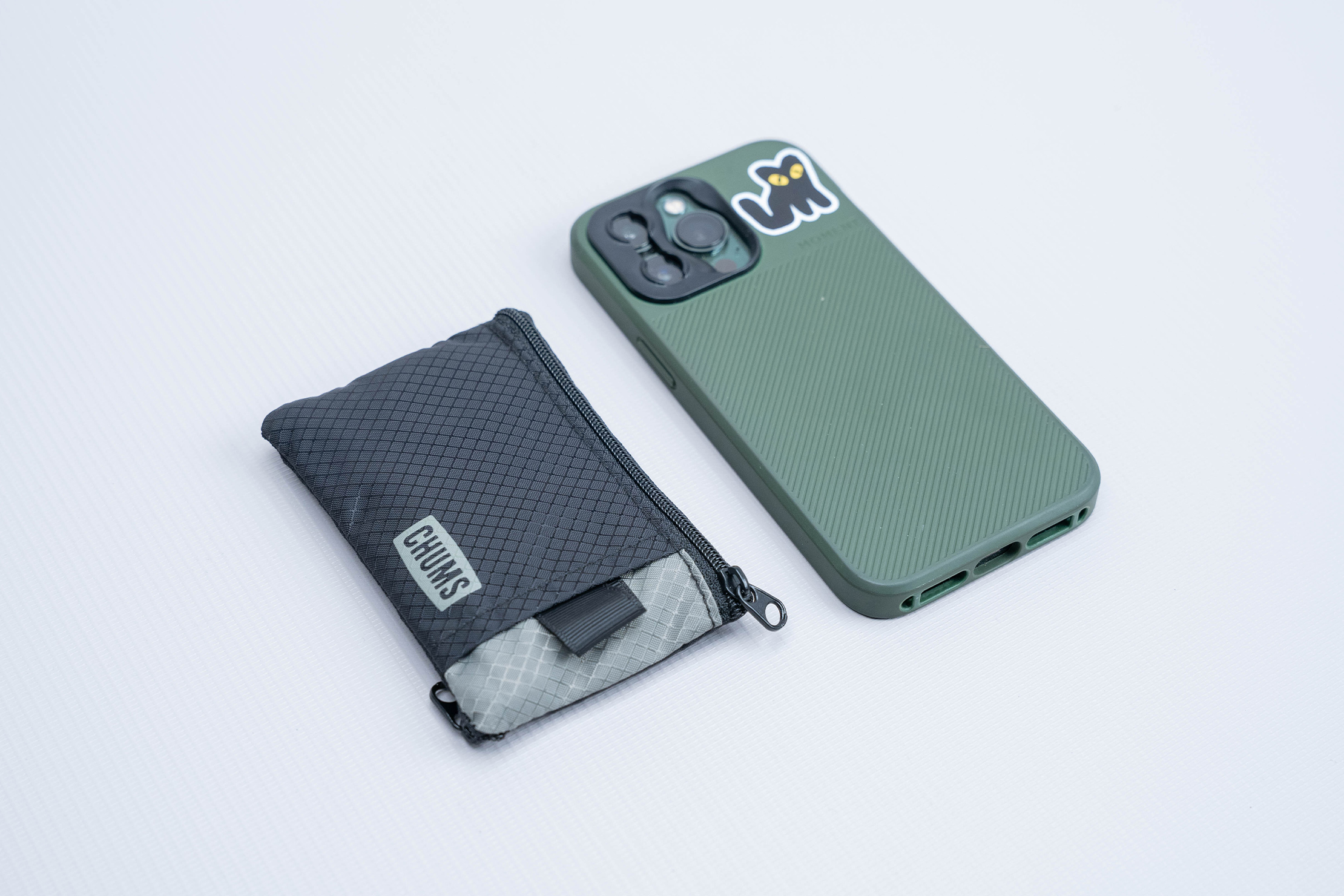 There's one pocket without a closure with a key ring inside. A piece of nylon holds the ring on, and you can hide away your keys when you aren't using them. Five or six keys slot in nicely, but more get a little too tight. If you have the wallet super stuffed, it can be hard to fit more keys inside. It isn't a great idea to throw loose items here because they're prone to falling out no matter how stuffed the wallet is. If you're in a hurry, shake the wallet upside down, and the keys will fall out. It's a lot of fun and doubles as an annoying musical instrument when you're feeling crafty.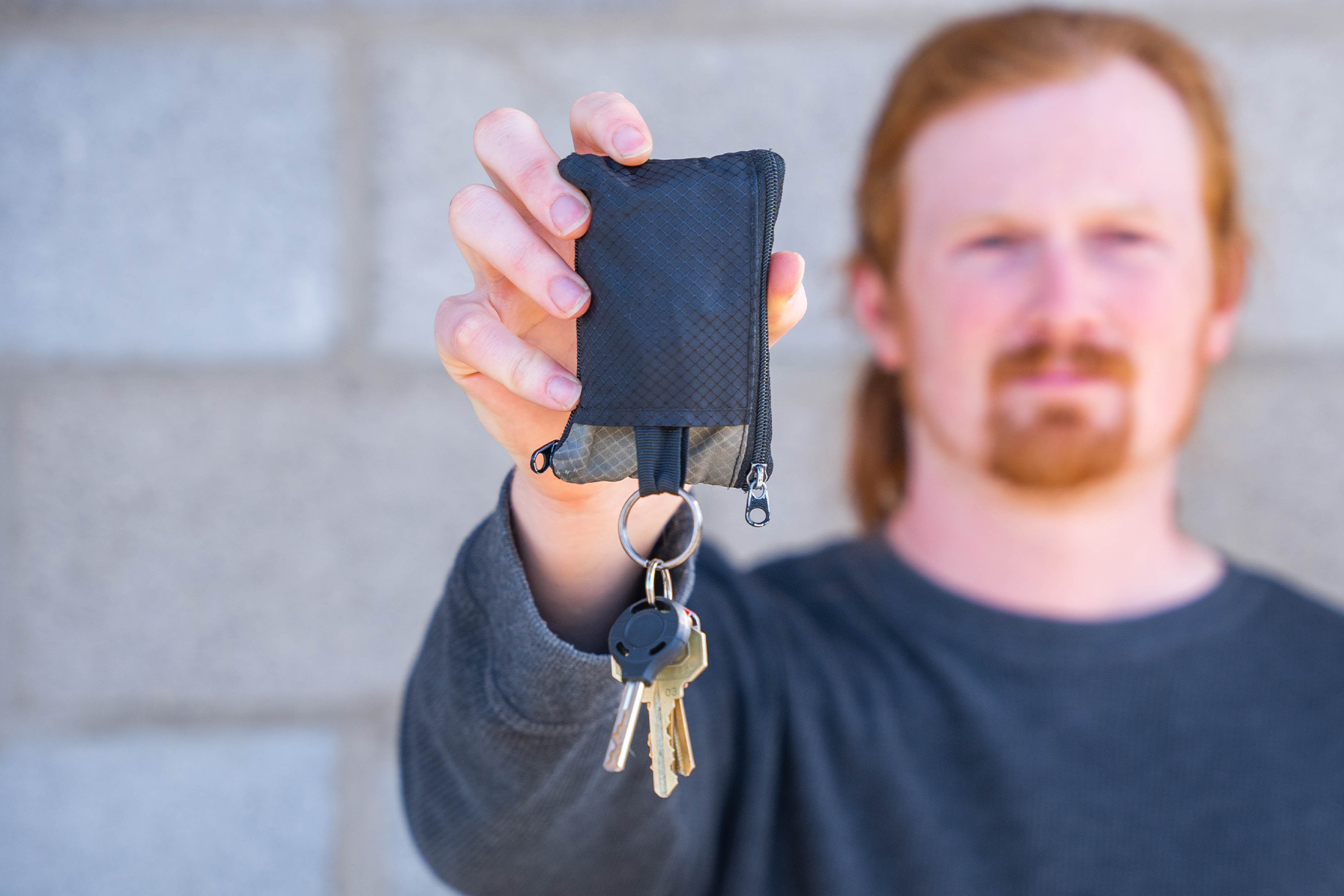 There are two other pockets, both of which have a small zipper. There's no noticeable branding, but we have no issue with how either performs. After six or seven months, the paint and finish got flakey and now show the metal below, but again, we have no issue with how it performs.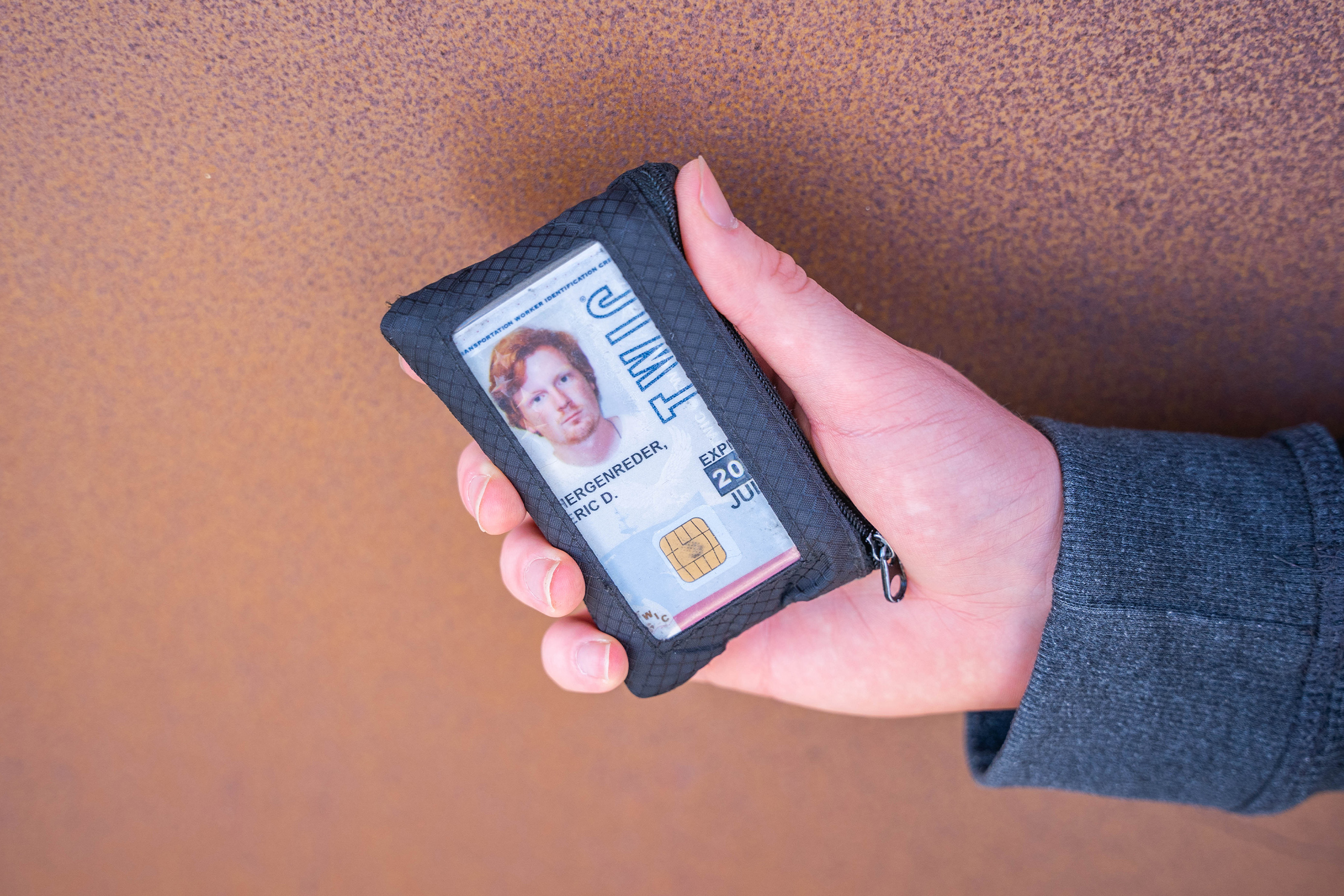 The TPU window pocket has a divider in the middle to segment the compartment. You can throw your ID on one side of the window and then have some separation between that and the rest of the space. This is an excellent spot for items you use all the time because, after all, you'll still need to take your ID out occasionally. A credit or debit card, student ID, or other quick-use cards work well here. If you place non-card items here and the wallet is packed out, they can cause your ID to bend because there isn't any structure to the materials, which isn't ideal.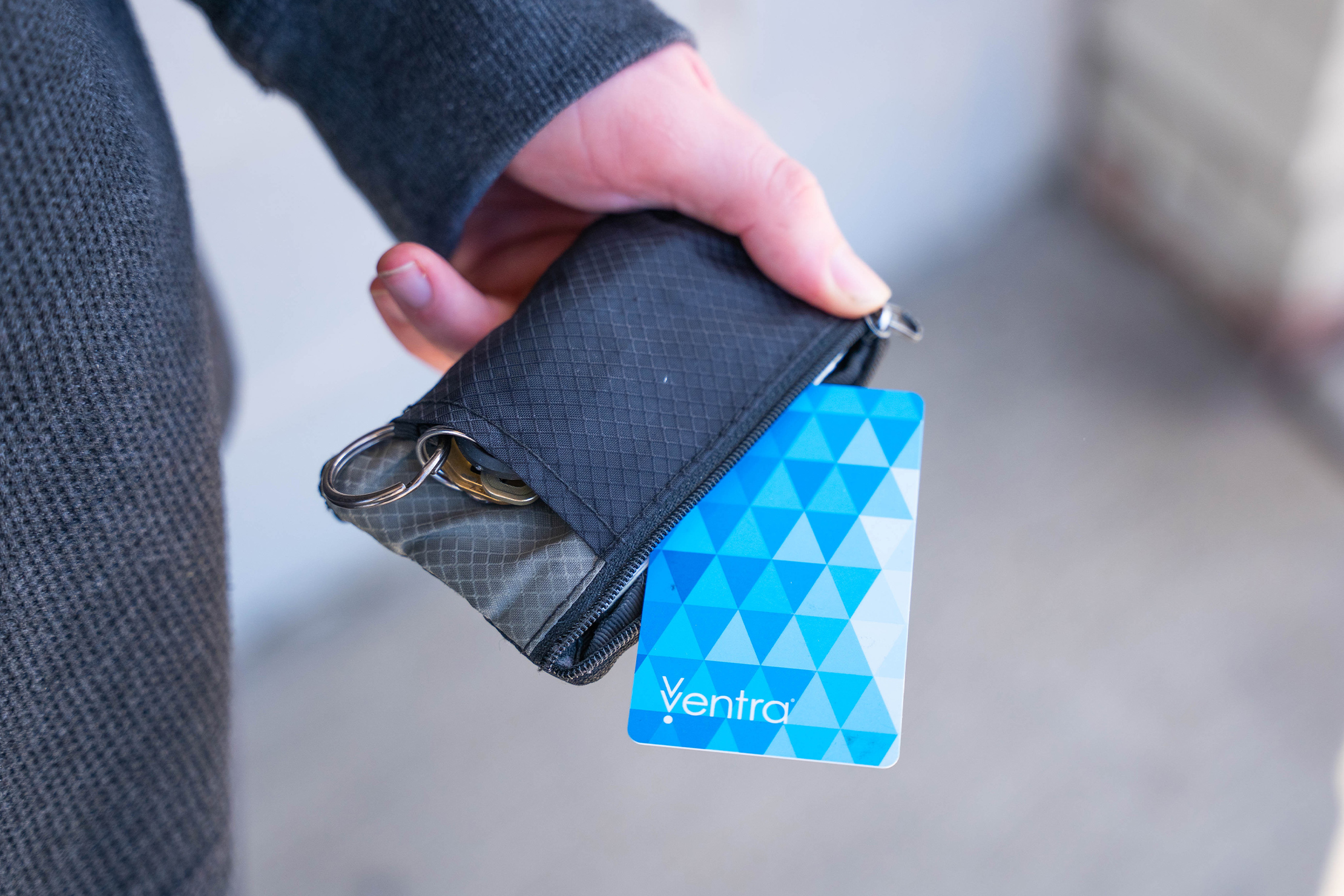 The other pocket is roughly the same size but doesn't have any organization so it feels larger. This is a handy spot for the rest of your cards that you don't use as often. A library card, an insurance card, and the five Olive Garden gift cards you've wracked up from your Aunt June from your last five birthdays. When will she remember that you live 45 minutes from an Olive Garden and don't have a car?
This is a better spot for non-card items because you can place them on the outside of the wallet. Key fobs, bike lock keys, and other small items fit well here. If you place a key fob here, you can still use it through the nylon so long as there isn't a key directly on top of it from the exterior key ring. If you stuff a ton of gear inside here, it's hard to fit more keys into the key ring pocket, and vice versa.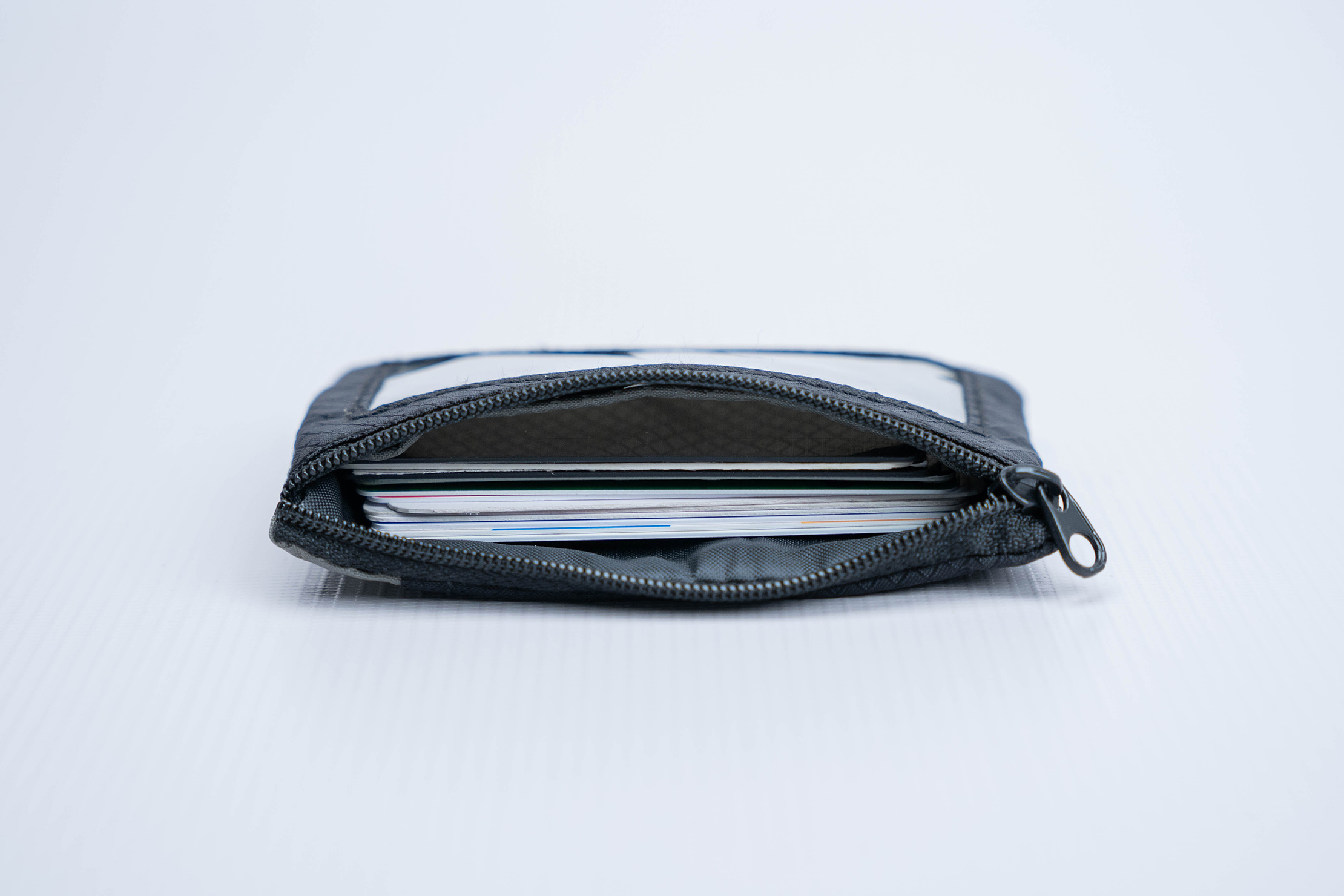 Change is a hard sell in this wallet unless you elect to put all your cards on one side or the other. It gets stuck between cards and can awkwardly sit on the bottom waiting to be rescued. Giving coins their own pocket feels wasteful, but we don't judge you if you do so.
Cash does okay because it can slide neatly between, in front of, or behind cards. If you feel like flaunting it, you can throw your cash in the TPU window, but that's probably not the best idea while traveling in a foreign place.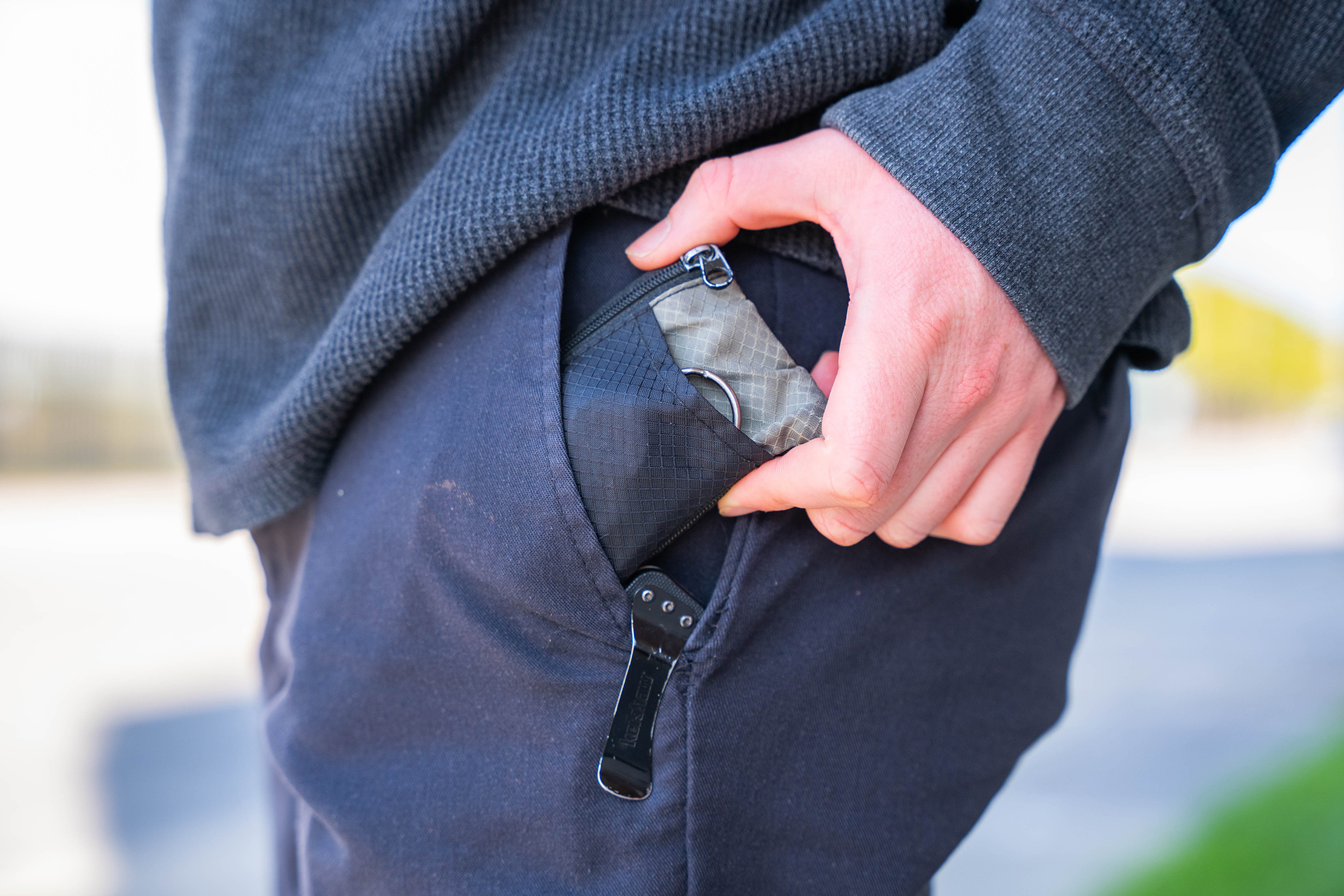 Apart from the log peeling away and the zippers chipping, the wallet looks pretty solid after a year of use. It has a hardier look, but so would you if you lived in someone's pocket for a year.
Packability
For all that you're able to fit inside, the Chums Surfshorts Wallet is excellent for a front-pocket wallet. You can fit all your cards, cash, keys, and key fob in a single pocket and still have room for a pocket knife, gum, or small battery bank. In a pair of shorts with small pockets, like, a pair of surf shorts, the wallet feels a little large but doesn't fall out or become uncomfortable.
If you don't constantly need your wallet, it excels inside a liner pocket in a sling or daypack. It has a little more depth than some minimalist wallets, so it actually stretches elastic toppers, which holds it in place better than a thin wallet. If your travel backpack doesn't have a ton of organizational features, it blends in nicely with liner materials, so it may get lost easily if it's just floating around.
Quick Comparison
The Fjallraven Kanken Card Wallet is similar in size but has several key contrarian features. Whereas the Surfshorts wallet has all the pockets accessible from the exterior, you have to open the Kanken Card Wallet like a book to access the zippers. For those who like a little extra security, this is a nice feature that the Chums doesn't employ.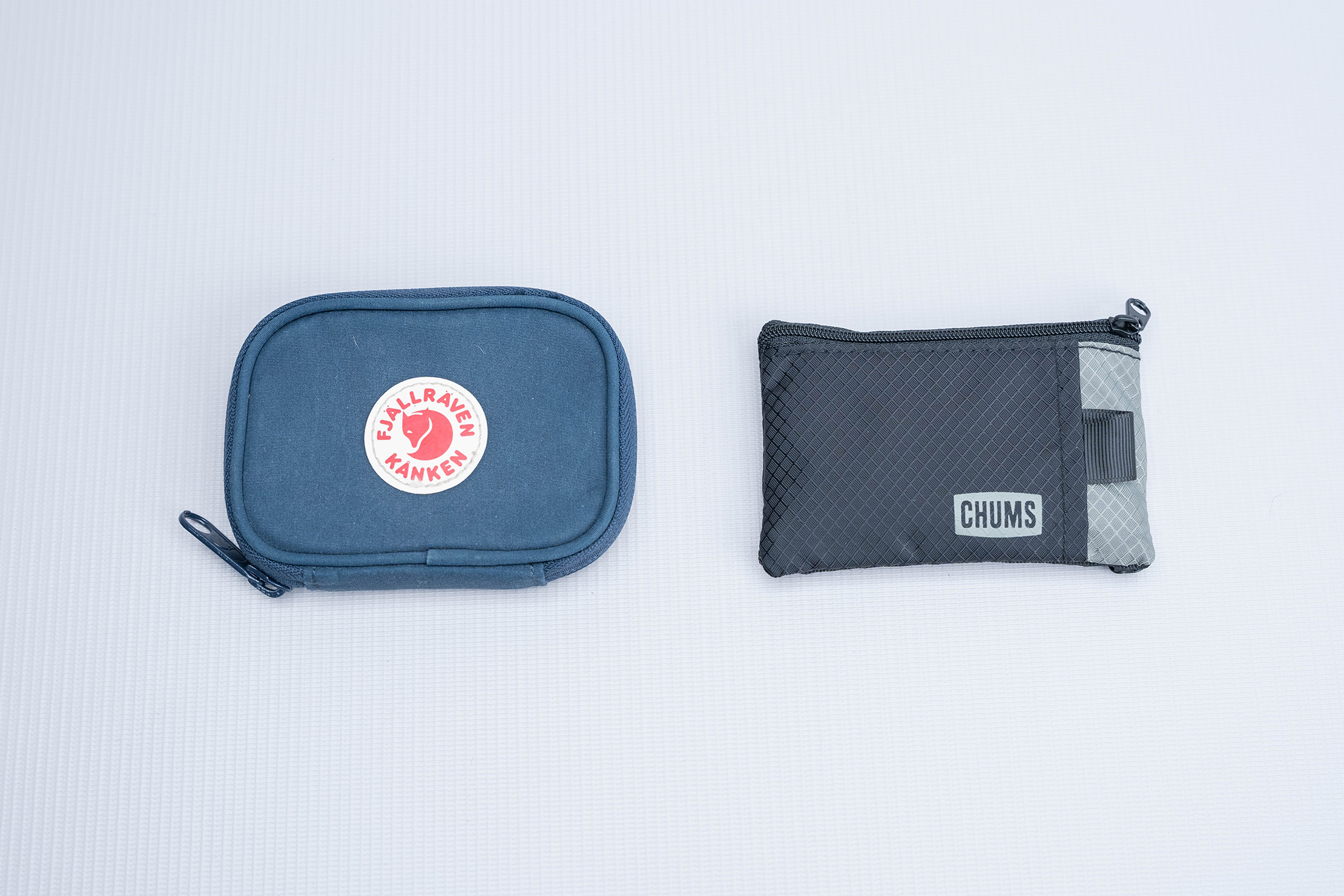 Even though the card pockets aren't staggered on the Kanken, it's still easier to find which car you're looking for than in the Chums. We think it's easier to manage a lot of cards with the Surfshorts Wallet, which is a plus if you tend to keep many cards with you.
There's a dedicated change zipper inside the Kanken, which is excellent for those who like to keep your bus fare on you at all times, but it feels a little wasteful as a travel wallet. There isn't a great place for keys on the Kanken either. The Kanken employs a more water-resistant design but is roughly three times the price of the Chums wallet at the time of writing.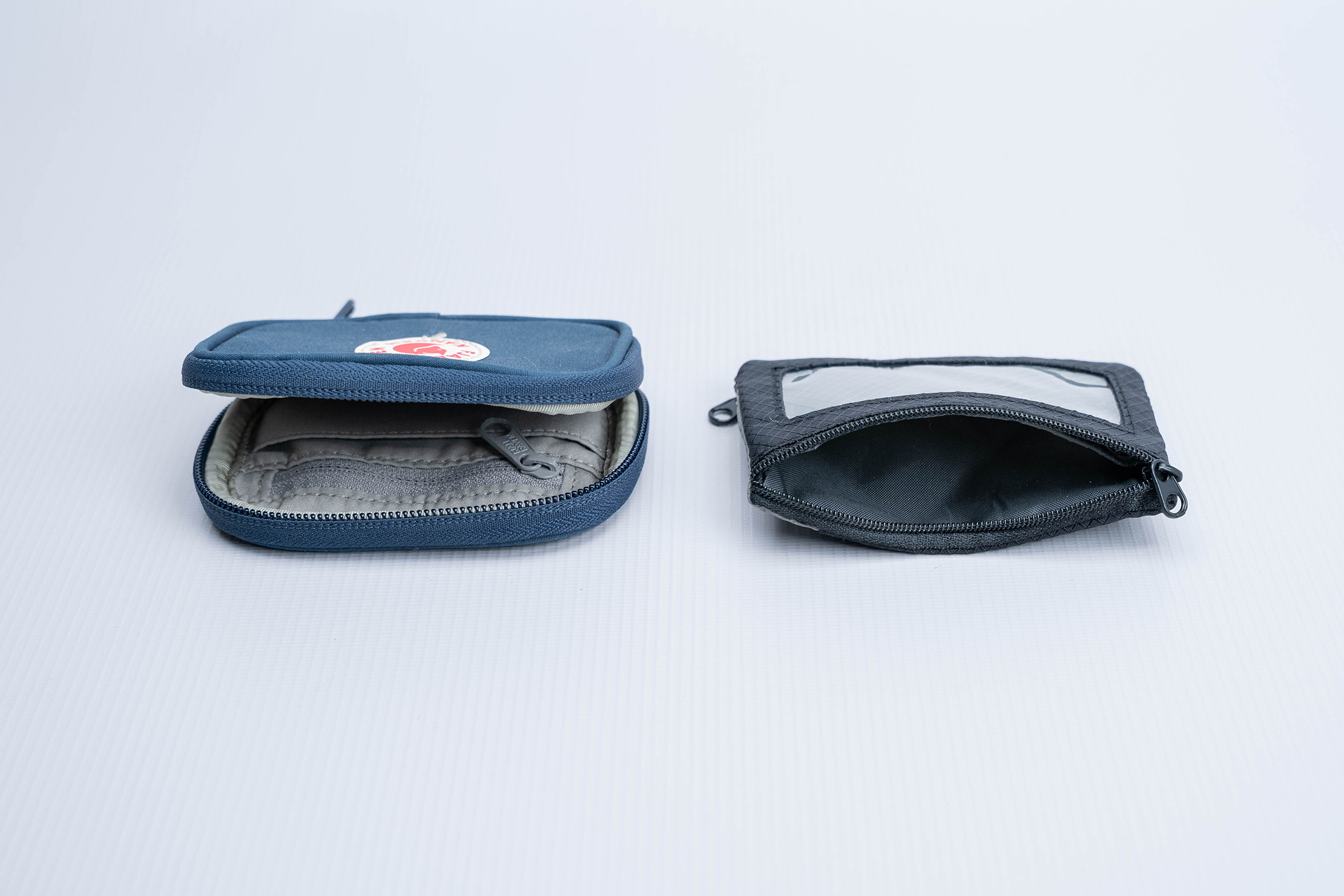 Both wallets are great options for folks who can't get on the industrial metal wallet train, or, want to give a more minimalistic wallet a try and don't want to jump the gun.
Usage Timeline
Initial Usage
Condition: Excellent
Materials are incredibly lightweight and don't feel durable
The integration of the keyring is streamlined and unique
A transparent window for your ID is ideal for showing it quickly but can be slower if you end up having to take it out
2 Weeks of Use
Condition: Excellent
No issues with the materials—everything looks brand new
The keyring takes some getting used to, but being able to stow it away is nice
1 Month of Use
Condition: Excellent
Still going strong—no updates
2 Months of Use
Condition: Excellent
The zipper paint has started to chip ever so slightly, but everything still works as it should
3 Months of Use
Condition: Excellent
Still going strong—no updates
6 Months of Use
Condition: Good
The logo began peeling away and quickly was gone completely. There isn't any residue, and the wallet looks very minimal now. The zipper has continued to chip but still operates.
9 Months of Use
Condition: Good
No new updates to report—still operating at 100% with no logo and chipped paint on the zipper
1 Year of Use
Condition: Good
No new updates to report—still operating at 100% with no logo and chipped paint on the zipper
Access the Pro Community Discussion
Get your questions about the Chums Surfshorts Wallet answered from our team and the Pro Community right here on the page. Plus, join discussions with other members about gear, guides, and more.
Other Organizers & Pouches Reviews