Pakt Mojito Wallet Review
The Pakt Mojito Wallet pairs minimalism with a small footprint and has a classic feel you might expect from a traditional leather wallet.
Our Verdict
Unlock the Pro Summary
Save time. Get access to brief summaries of our reviews so you can browse and make decisions more efficiently.
Pros
Materials are durable and look professional
Separate spots for cash and cards
Small footprint fits into most pockets
Cons
Not as thin as other minimalist wallets
Can only fit six cards without overstuffing
A small loose thread near the elastic topper
Recent Pack Hacker Video
Technical Details
Weight (oz)

0.4938 oz (14 g)

Dimensions

2.75 in x 3 in x .125 in (7 x 7.6 x 0.3 cm)

Notable Materials

PU Leather

Manufacturing Country

China

Warranty Information
Full Review
Get up to 10% off Pakt • Join Pack Hacker Pro
At first glance, the Pakt Mojito Wallet seems like an excellent middle ground for those looking for a minimalist wallet that still has a taste of what they're used to. Sure, the Mojito is tiny, but it features synthetic leather that looks and feels like the real deal, has stitching that looks professional, and feels extraordinarily durable. Will these features play off one another like individuals in a symphony, or will they screech together like an owl in the night? Let's find out!
The Rundown
To kick things off, let's talk about materials. Although the Mojito looks like it's crafted from standard leather (that drink wouldn't taste good), it's actually made of polyurethane leather. That might not mean a ton to some people, so let's dive further into the deeper definition.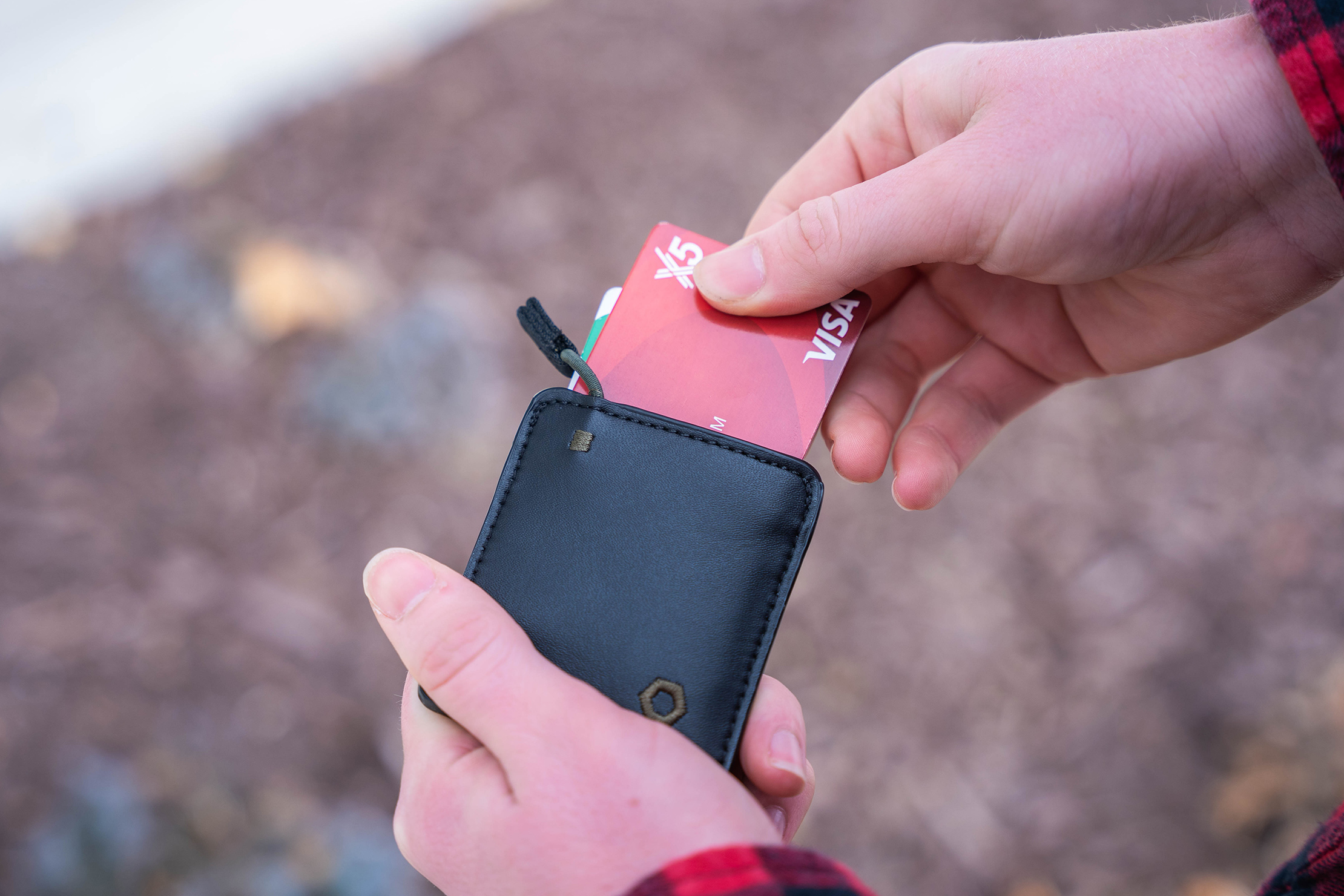 PU is a thermoplastic polymer that boasts high durability and is commonly found in shoes and other consumer products. Durability is good, as you want the wallet to last as long as possible. Plus, it's non-animal leather, which we dig.
We continue to put this thing through the wringer to test how the leather might hold up over time. Emptying the wallet, crumpling it up in a hand or pocket, and even soaking it. The leather has stayed looking nearly as good as new. This is surprising, but we're happy with how it has faired.
On the top of the wallet, there's an elastic band to hold your cards in place. The wallet only covers roughly five-sixths of your card, so the elastic holds them in place. The elastic is stretchy—but not too stretchy, which works well for the task at hand. If it extended too far, your cards could come loose without the elastic topper (which we'll discuss shortly), but too tight would make accessing the cards difficult. To quote the littlest bear, it's just right.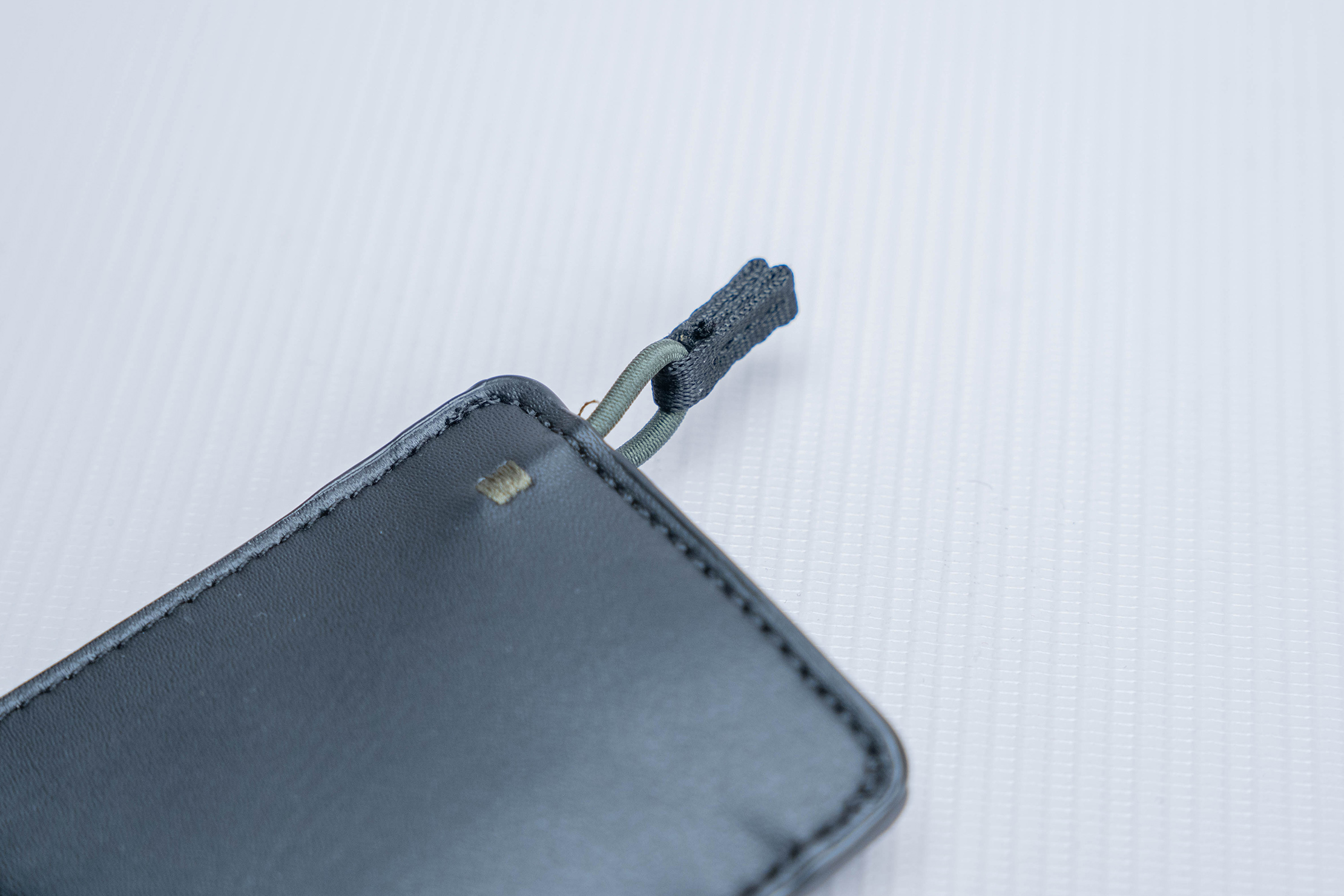 Regarding the colorway and logo, we're happy with the minimalism presented here. Pakt is imprinted in the PU leather on the back side, with some green stitching on the front face. This adds a nice contrast and is fun to play with using your finger, which is excellent for when you're anxiously awaiting your food order after a long day of exploring. We all get hangry sometimes, don't worry!
When it comes to using the wallet, there are two slots to place items. The main card slot we mentioned earlier can hold up to 6 different cards. We feel this is enough for traveling because you aren't going to need every single card you own while on the road—you can probably survive with one debit, one credit, your ID card, and an insurance card.
That leaves space for two more additions should you have something you want to add into the mix, but you can use the wallet with fewer than six cards. This is due to the elastic topper—it holds the cards no matter how many you've got in the pocket. Some wallets lose cards when they aren't packed to a specific capacity, but that isn't the case here.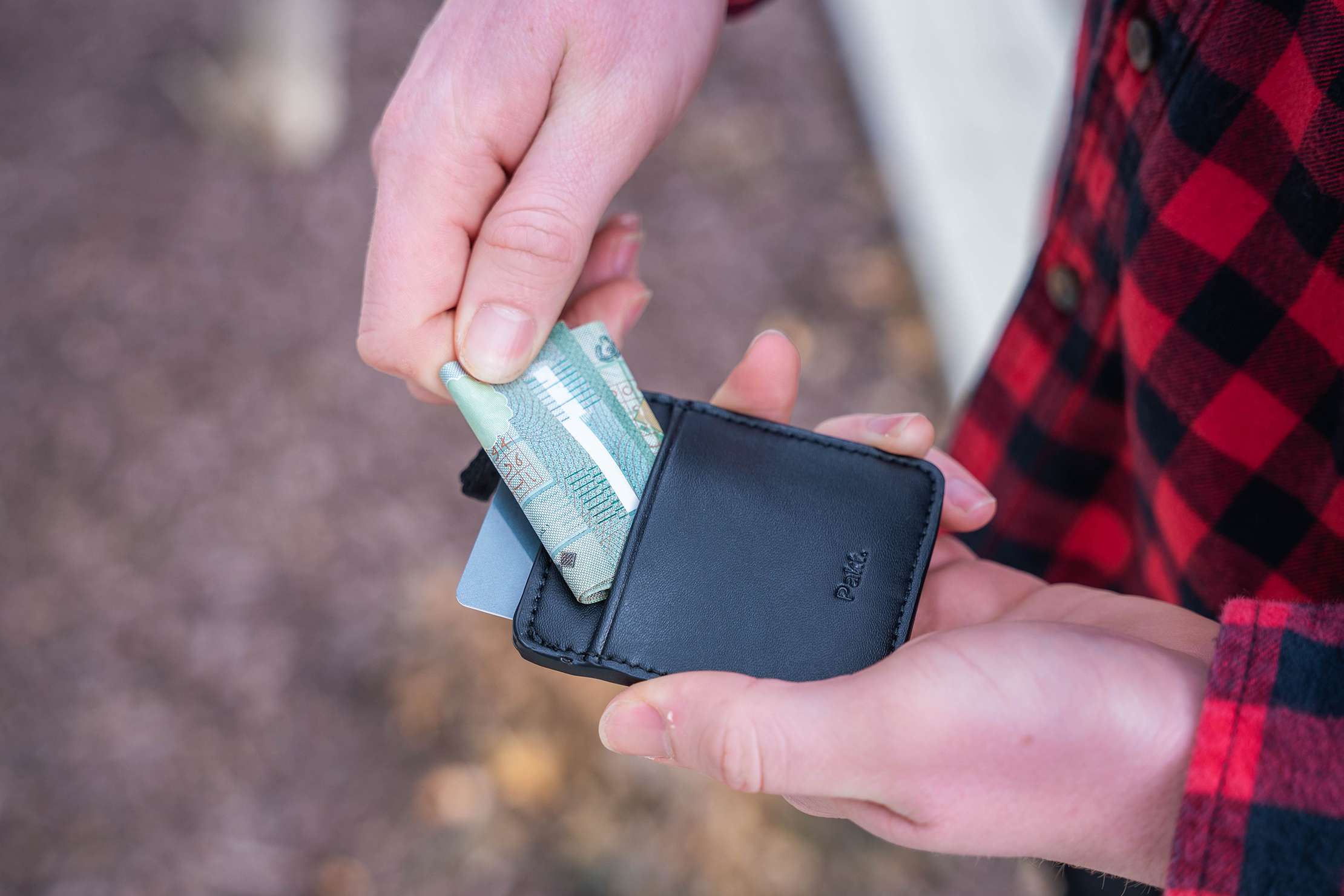 The other option for storage is the money slot. This pocket is much smaller and has a diagonal-oriented access point. This makes it so you can easily see and grab your cash. Even with just a single bill inside, the wallet holds onto it nicely, so your hard-earned dough doesn't hopelessly whisk away like a feather on the Clyde.
Packability
When it comes to packability, this wallet is on the smaller side of the spectrum. It isn't as lightweight as other minimalistic wallets we've tried, but it has a form factor that feels comfortable in your hand.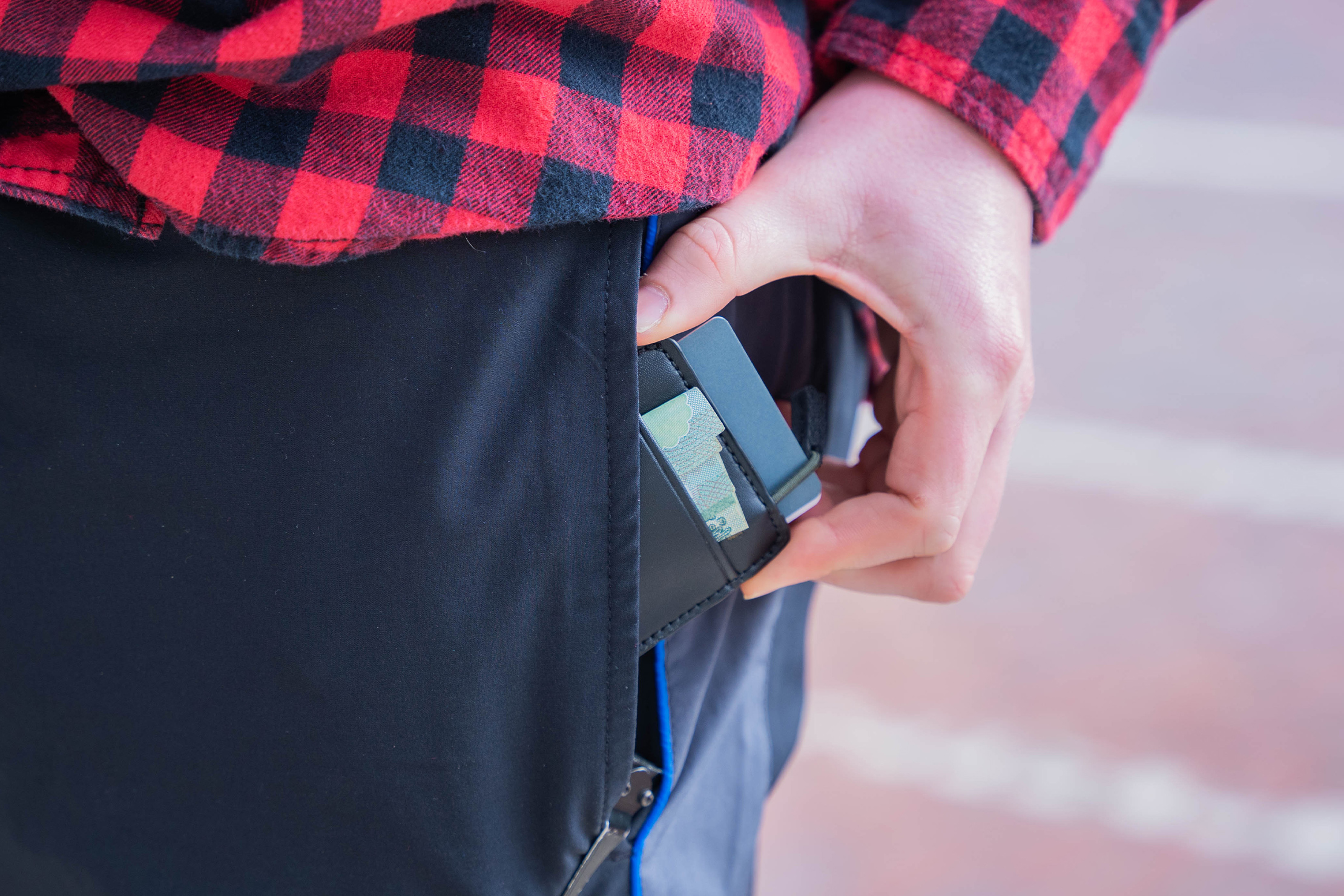 It slides into most pockets, but the topper on the elastic may poke out in some tiny places. The elastic can slide off in tighter-fitting pants when you pull it out, but this doesn't happen often. You can slide this thing in a front or back pocket without issue, and it has a flat design that isn't uncomfortable to sit on. It feels more natural in the front, especially considering its size, and you can fit extras alongside it, like a pocket knife or keys, without much fuss.
Its small size enables it to easily fit into the liner pocket of a sling or daypack. However, if your travel backpack doesn't have much internal organization, you may struggle to find a home for it there.
Quick Comparison
Another wallet that's similar in size to the Pakt Mojito Wallet is the Magpul DAKA Micro Wallet. Although they're similar in size, there are a few significant differences that affect carry and what you'll use them for.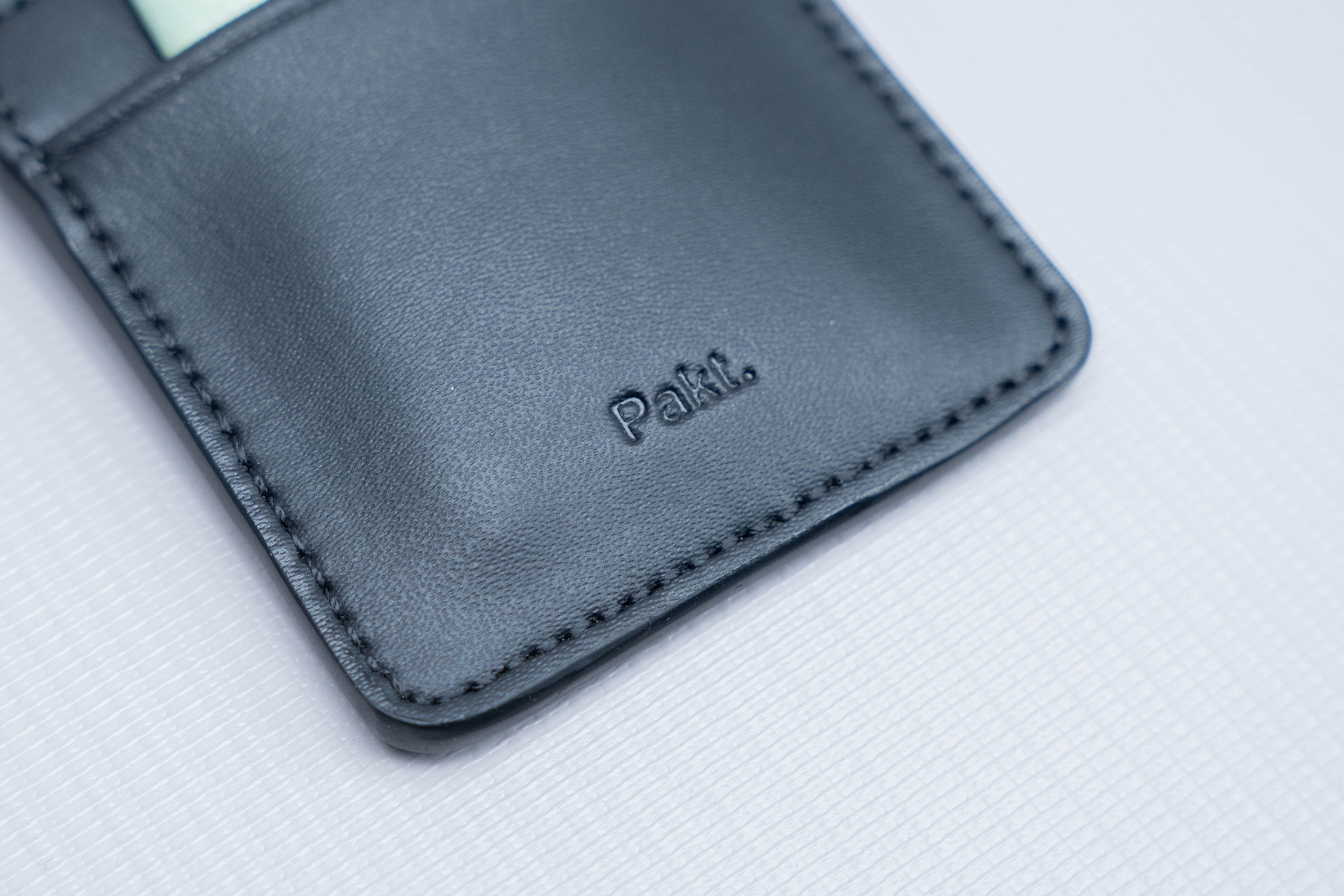 The DAKA is crafted from a polymer fabric, which is durable, grippy, and feels like rubber. This is in stark contrast to the soft leather on the Mojito.
It only has one place to stow cash and cards, and there's nothing to differentiate between them. This wallet is as minimalistic as it gets, and its size reflects that. It has roughly the same footprint as the Mojito, but it's quite a bit thinner—even when stuffed full.
The DAKA has a small hole on the top that you can loop a lanyard through, which makes it so that you can wear your most crucial gear around your neck if you don't want to keep it in your pocket.

Regarding usage, the DAKA is a more ultralight, minimalistic option. The Mojito has a small form factor but is wider than the DAKA. It's a great middle-ground for someone trying to size down their pocket size for a trip or to have a smoother everyday carry. To be minimal, you don't have to go with something as tiny as the DAKA, and the Mojito proves that.
Usage Timeline
Initial Usage
Condition: Excellent
Holds up to six cards
Elastic feels durable and snappy
Cash pocket feels tight and secure
2 Weeks of Use
Condition: Good
One small loose thread, but no issues other than that
PU leather holds its shape, even after getting crumpled
Elastic hasn't worn out or loosened
Access the Pro Community Discussion
Get your questions about the Pakt Mojito Wallet answered from our team and the Pro Community right here on the page. Plus, join discussions with other members about gear, guides, and more.
Other Organizers & Pouches Reviews