Magpul DAKA Micro Wallet Review
The Magpul DAKA Micro Wallet is a capable no-frills minimalist wallet that's a little rough around the edges.
Our Verdict
Unlock the Pro Summary
Save time. Get access to brief summaries of our reviews so you can browse and make decisions more efficiently.
Pros
Won't get that much thicker as it's filled up
Grippy texture prevents slipping out of your pocket
Rounded corners reduce snags when pocketing
Cons
Very minimal space
Thicker cards can be hard to pull out when tightly packed
Noticeable fraying at the welded edges
Recent Pack Hacker Video
Technical Details
Weight (oz)

.3 oz (8.5 g)

Dimensions

3.75 in x 2.67 in (9.5 x 6.8 cm)

Notable Materials

Polymer

Manufacturing Country

United States

Warranty Information
Full Review
Magpul. For those unacquainted with the name, they're a brand that mostly deals with rugged accessories for firearms and matching apparel. At first glance, something small and simple doesn't seem to fit in this scene. But on closer inspection, the DAKA Micro Wallet does fit in that context.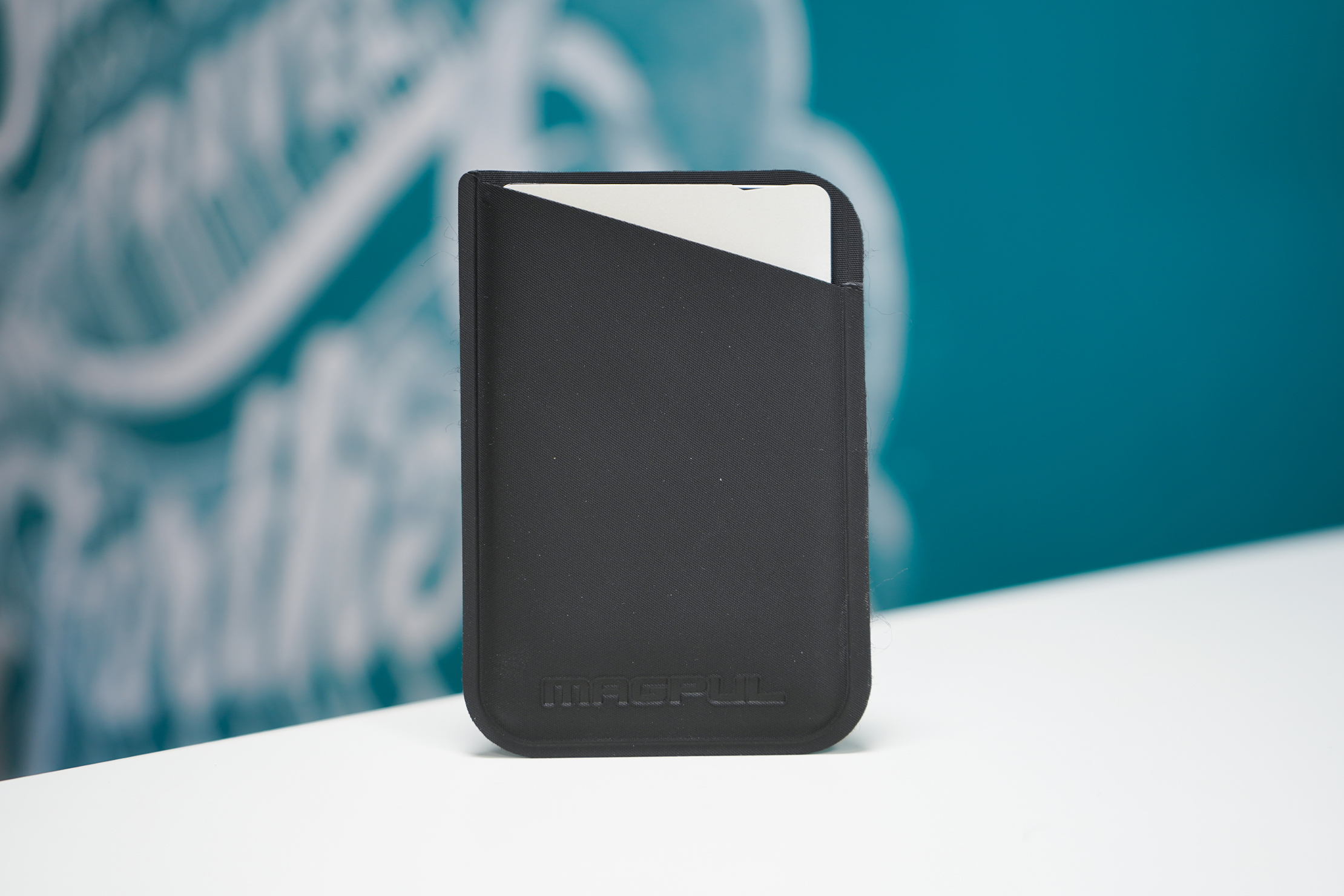 The philosophy lines up: It's a no-nonsense wallet that takes only the essentials and can even hide in plain sight, in addition to inside your pocket. As simple as it looks, what's it like to use a micro wallet? We're here to answer that and more in this review.
Materials & Aesthetic
The DAKA Micro Wallet is as basic as it gets—and that's totally fine as it gets the job done. It's an unassuming credit card-sized black rectangular sleeve with rounded corners. There's some flair going on by way of a debossed Magpul logo, a diagonally cut top, a glossy finish at the welded edges, and a more sharply pointed top left corner. There's also a small hole punched in near the top center or the rear piece for threading through a lanyard, though that's not a design and more of a feature we'll go through later.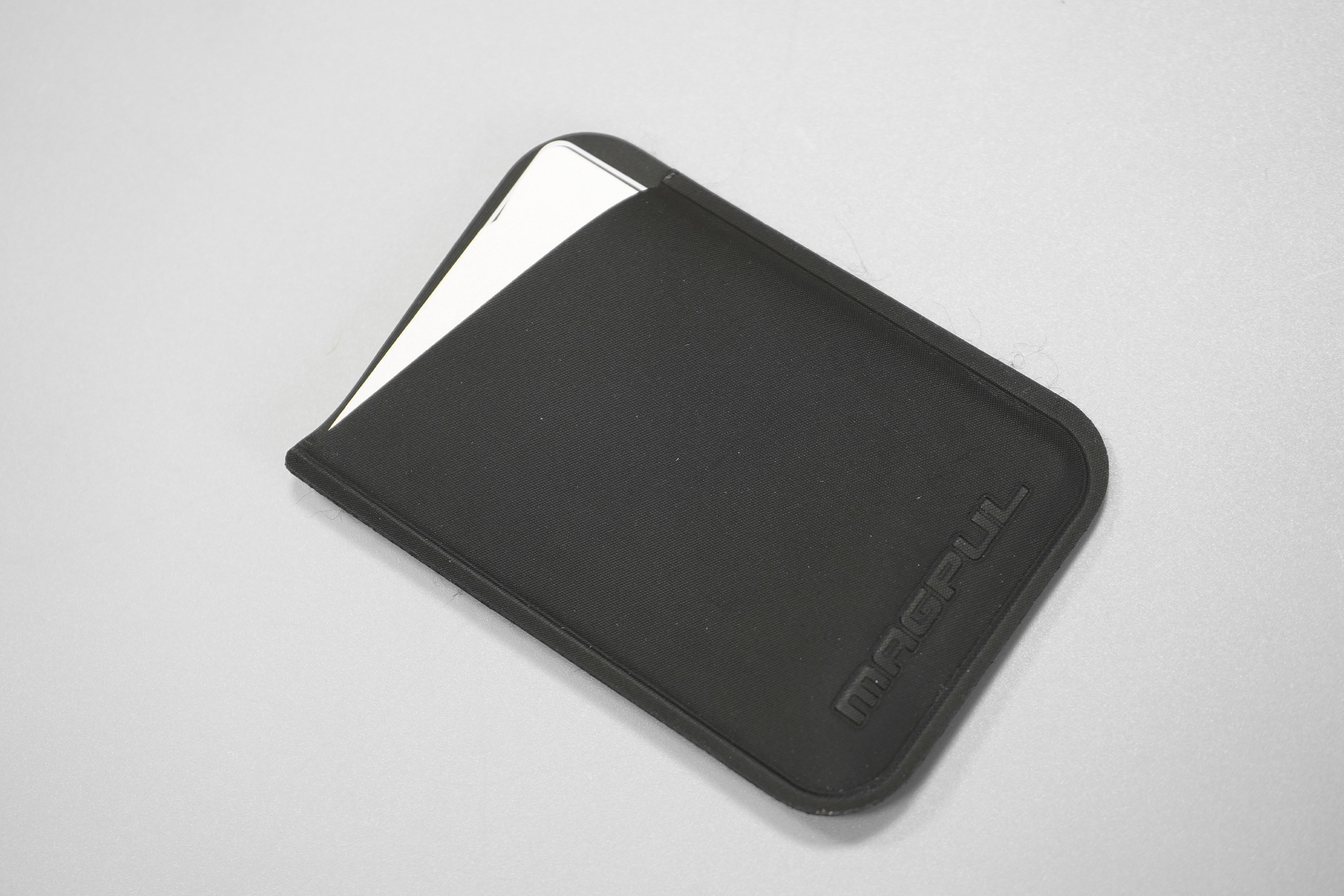 But no matter how you slice it, this is still a no-frills one-pocket wallet that's perfectly in tune with Magpul's theme of tough-as-nails hardware. If we were to sum it up in one word, "tactical" best describes the DAKA Micro Wallet—and it comes in the appropriate colors as well. You can have it in standard black or grey, but there are also the earthier OD Green and Flat Dark Earth colorways.
The main material is a polymer fabric that feels rubbery and grippy. It's not very thick, though it's substantial enough that it doesn't feel like coins or keys will poke straight through and scratch your cards. The most noteworthy sign of wear we've seen is the fraying at the welded edges. It's a common side-effect of the welding technique, and it hasn't affected durability in any meaningful way.
Usage
Saying that the DAKA Micro Wallet is a minimalist wallet would be apt, if not an understatement. Magpul themselves quote it as being able to fit 1-3 cards comfortably. One should temper expectations, especially if you're coming from a much bigger wallet. We won't tell you to pick favorites among your cards, but here's the setup we've come up with to work with the minimalist capacity.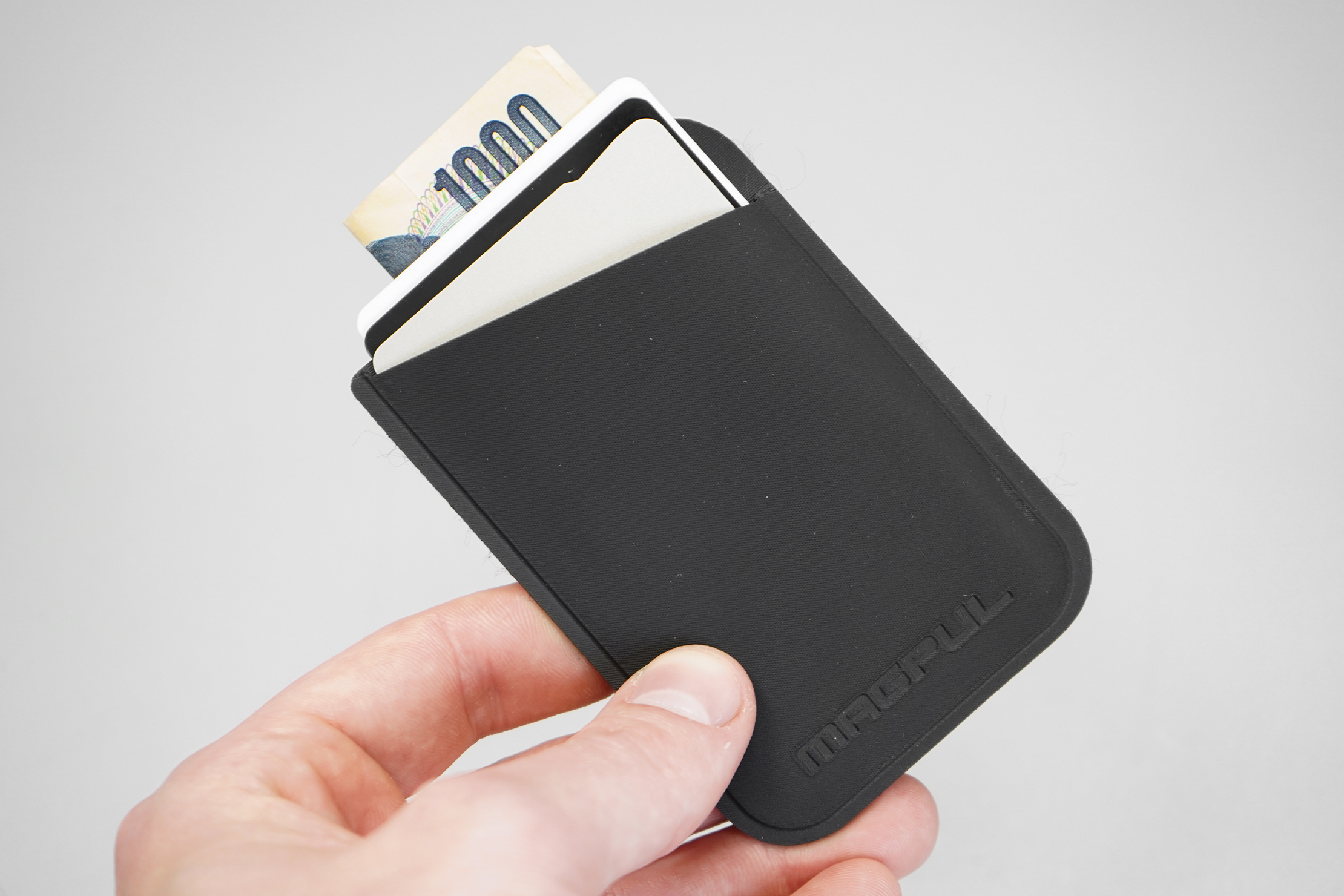 We have three cards—all PVC types—that we usually carry around with us. In no particular order: our business credit card, personal credit card, and driver's license. These are good representations of the thick PVC-based cards most commonly found and distributed around.
As much as card payments have become the norm in recent years, cash hasn't really gone out of fashion either, so we threw in three US dollar bills as well. Yes, it's important to think about what kinds of cards and bills you're putting in, considering the limited amount of available space. Even one thicker metal credit card may bring the three-card allowance down to two.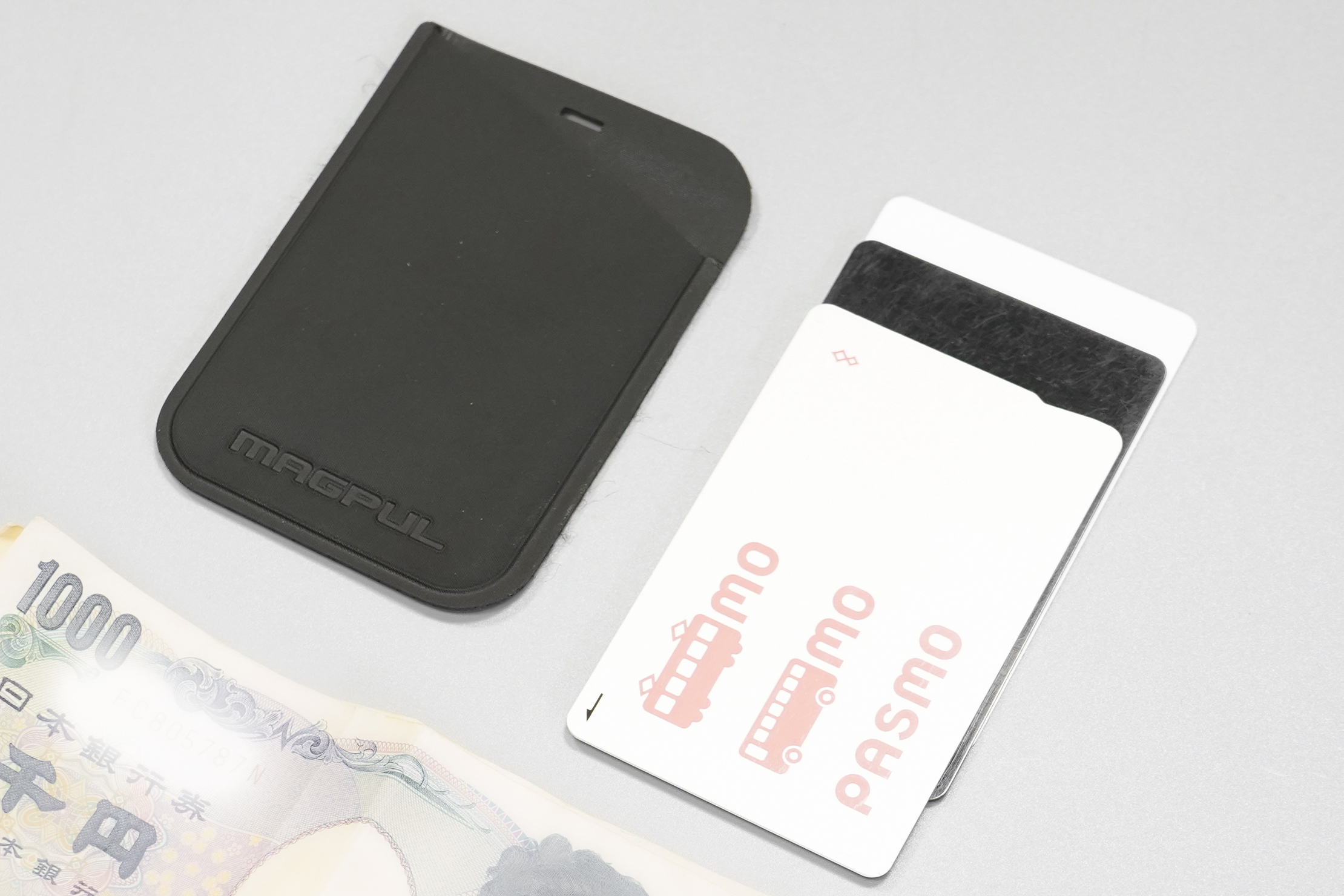 This setup totally works if you want to go down the minimalist route, but the DAKA Micro Wallet can be tricky to use if you pack it in too well. It's all down to the polymer material here, delivering a double-edged trait of being very grippy. On the one hand, it keeps your stuff from falling out of the lid-less wallet. On the other hand, when the time comes to pull something out, you may need both hands to wiggle things.
Despite the relatively minimal space, a single card can still fall out if it's the only thing inside the wallet. So, for example, if you carry mostly bills and just one card, be careful when you're running low on the former.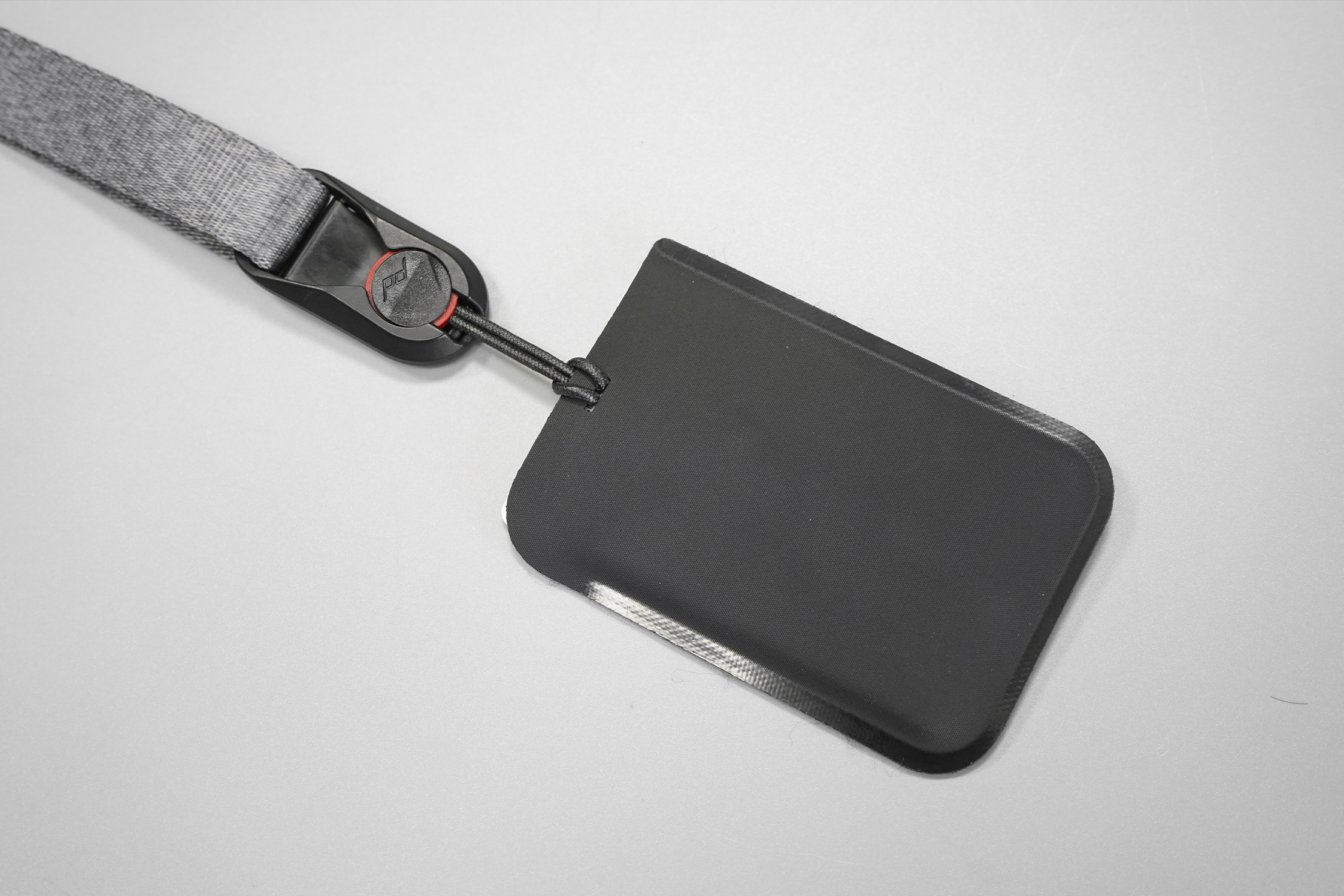 If you like keeping your pockets as unoccupied as possible—or if you don't have the luxury of pockets at all—you can also hang the DAKA Micro Wallet off of a lanyard via the small punch hole and let it sit behind your ID. It's a small but appreciable feature that takes advantage of the small size of the wallet. Thanks to its discreet aesthetic, it's unlikely it'll draw any unwanted attention.
We still opted for our usual pocket carry method during our testing. There's always a small worry that slim wallets like this might accidentally slip out of our pocket whenever we test them. Bellroy's Apex Slim Sleeve, for example, has leather less grippy than the polymer here. Fortunately, the DAKA Micro Wallet didn't go AWOL on us, and we'll partially credit this to the grippy fabric. As we said earlier, it has its pros to balance out the cons.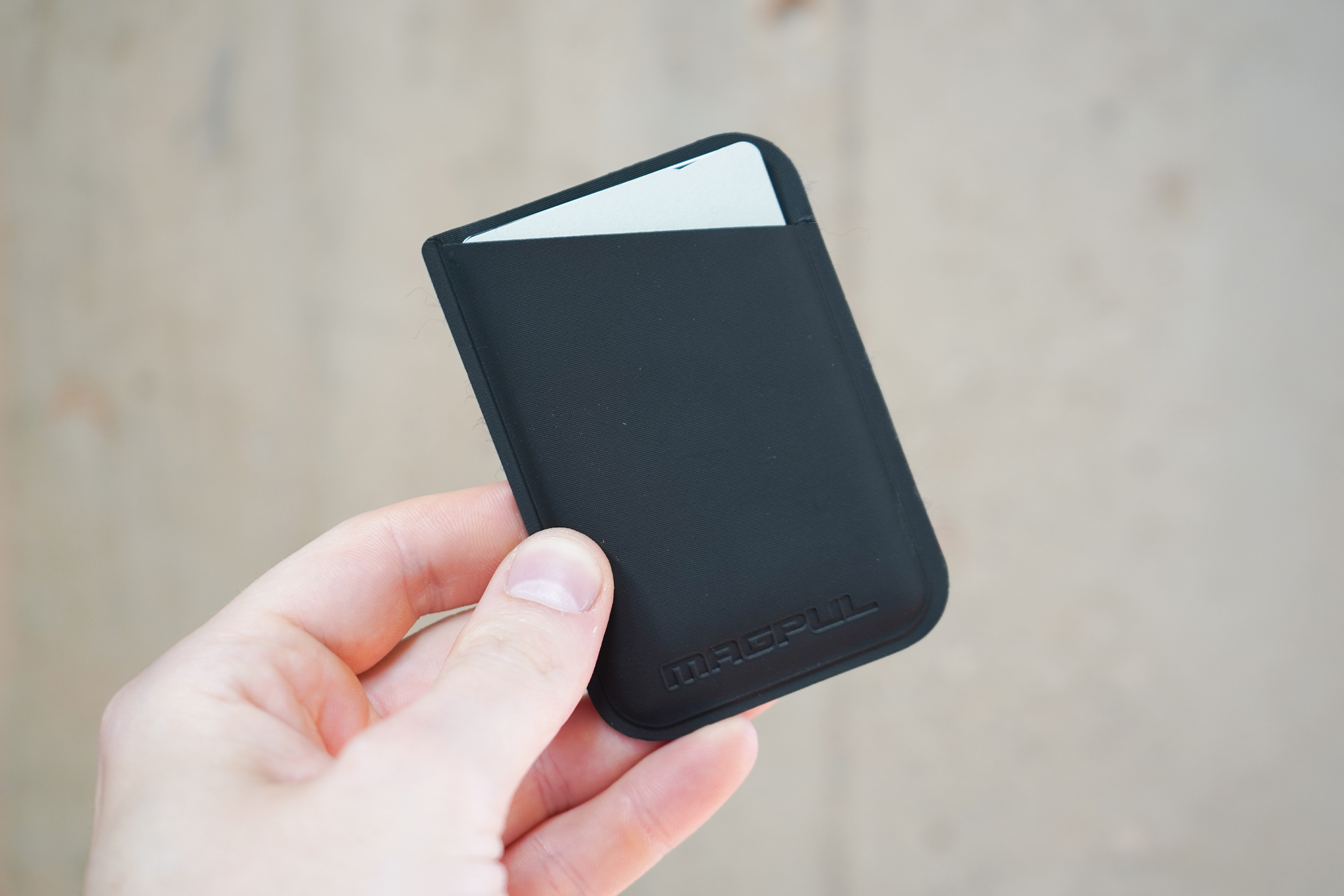 Magpul's DAKA Micro Wallet takes things to a very deep end of minimizing your everyday wallet. It's a little rough around the edges, somewhat literally with its welded edges, and figuratively with its grippy fabric. But whether you're already in the minimalist game or looking to downsize your packing list, it's a no-frills here-to-do-the-job solution that only takes a bit of getting-to-know.
Usage Timeline
Initial Usage
Condition: Excellent
Extremely lightweight
Not much thicker than the number of cards you have in it
Only holds 1-3 cards comfortably
2 Weeks of Use
Condition: Excellent
Wallet is best with 2 cards inside of it; 1 card can slip out easily, and 3 can be hard to take out since the fabric is so grippy
Digging how skinny this is in a front pocket compared to other wallets
Would be curious to test one of the other Magpul wallets out there
1 Month of Use
Condition: Excellent
The wallet is a bit more broken in and isn't as flat as it used to be but it's still holding up and doesn't look like it's going to stretch out
Some fraying is starting to develop on the welded edges—we've seen this happen before on other products that have similar welding; we don't think it'll affect the durability but it's something to note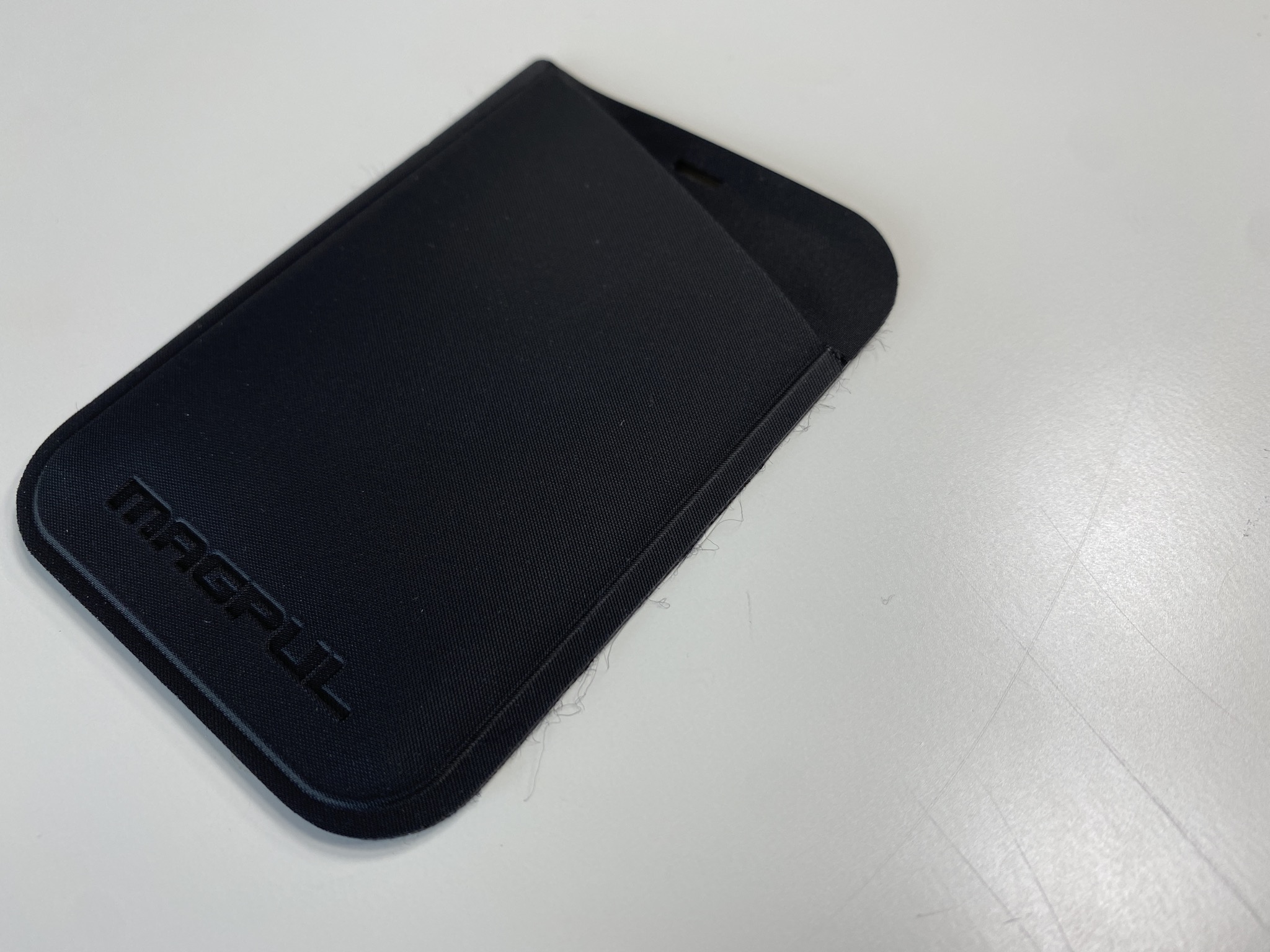 Access the Pro Community Discussion
Get your questions about the Magpul DAKA Micro Wallet answered from our team and the Pro Community right here on the page. Plus, join discussions with other members about gear, guides, and more.
Other Organizers & Pouches Reviews