Bellroy Apex Slim Sleeve Review
The Bellroy Apex Slim Sleeve is a minimalist wallet made with premium leather and solid one-handed operation, but it can have issues closing when filled up.
Our Verdict
Unlock the Pro Summary
Save time. Get access to brief summaries of our reviews so you can browse and make decisions more efficiently.
Pros
Pre-molded leather makes fitting even stiff cards hassle-free
One-handed use takes time to get used to but convenient when honed
Pull-tab makes fishing out cards easier
Cons
Small size necessitates a minimalist approach
Works well with USD—different-sized banknotes may require additional folding
Not the best solution if you use bills more than cards
Recent Pack Hacker Video
Technical Details
Dimensions

4.01 in x 2.91 in x .67 in (10.2 x 7.4 x 1.7 cm)

Notable Materials

Leather

Manufacturing Country

India

Warranty Information
Full Review
Whenever we walk up to any shop's counter, there seems to be one more payment method added to their point-of-sale machines. They expand, we down-size to make our lives easier and more convenient. Thus, this leaves us with the freedom to go minimalist with our wallets. This is the kind of "emptying our wallets" that we can get behind.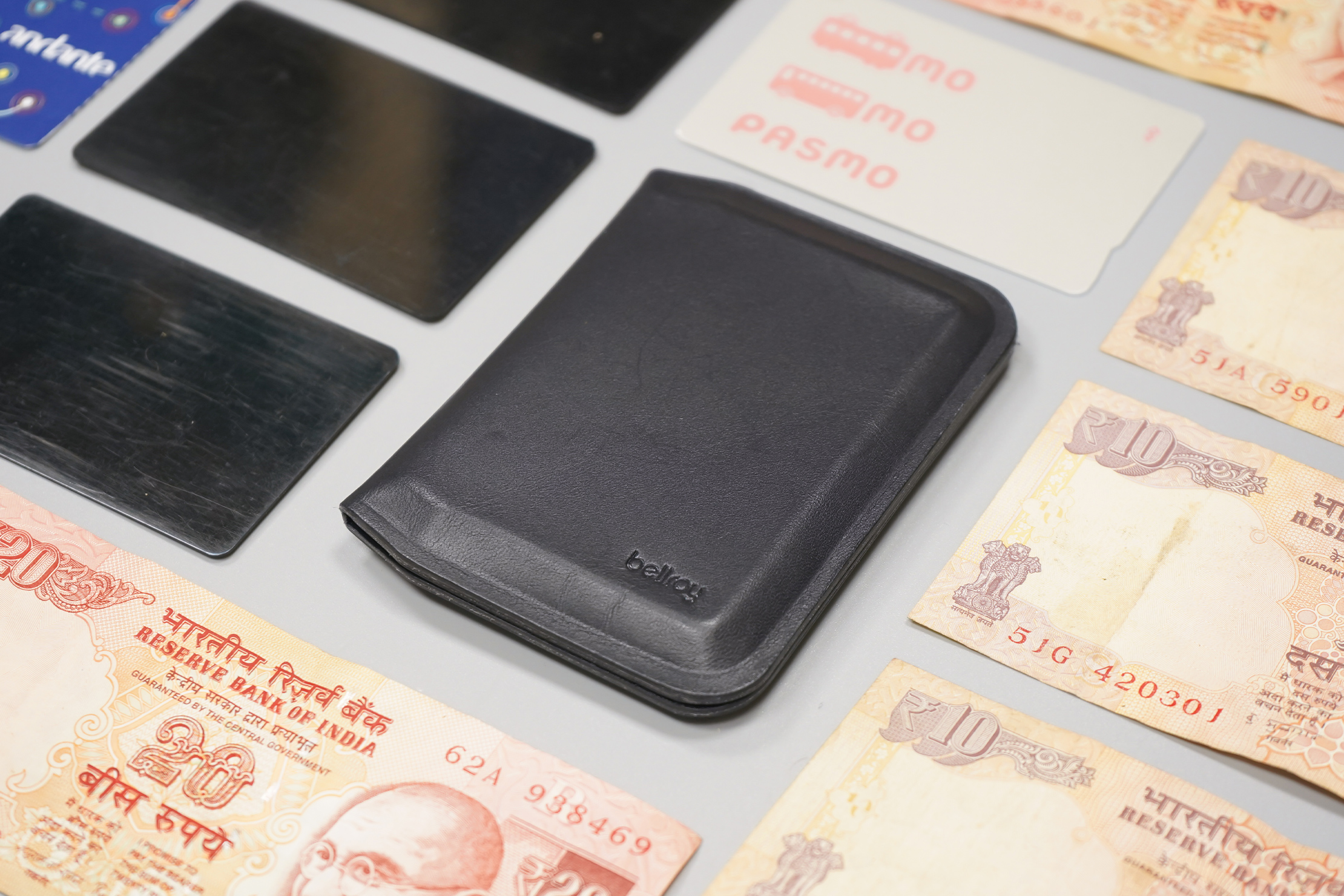 Bellroy's Apex Slim Sleeve looks like it fits the bill. It's barely bigger than the cards it will hold, plus some extra space to hold your cash. Being from Bellroy, you can expect it to look and feel premium, although there's much more to it once you test it out.
Materials & Aesthetic
As expected, Bellroy's leather-game is as on-point as always. We dig their use of leather, whether they're accent pieces on their daypacks or as the main material on their wallets. On the Apex Slim Sleeve, Bellroy has put a small twist on the leather used: it feels broken-in. Now, that doesn't mean someone from the factory spent hours using the wallet before it shipped to you—it's just how the material is designed to be. The cherry on top? The leather's sourced from gold-rated tanneries in the Netherlands certified to be environmentally-friendly.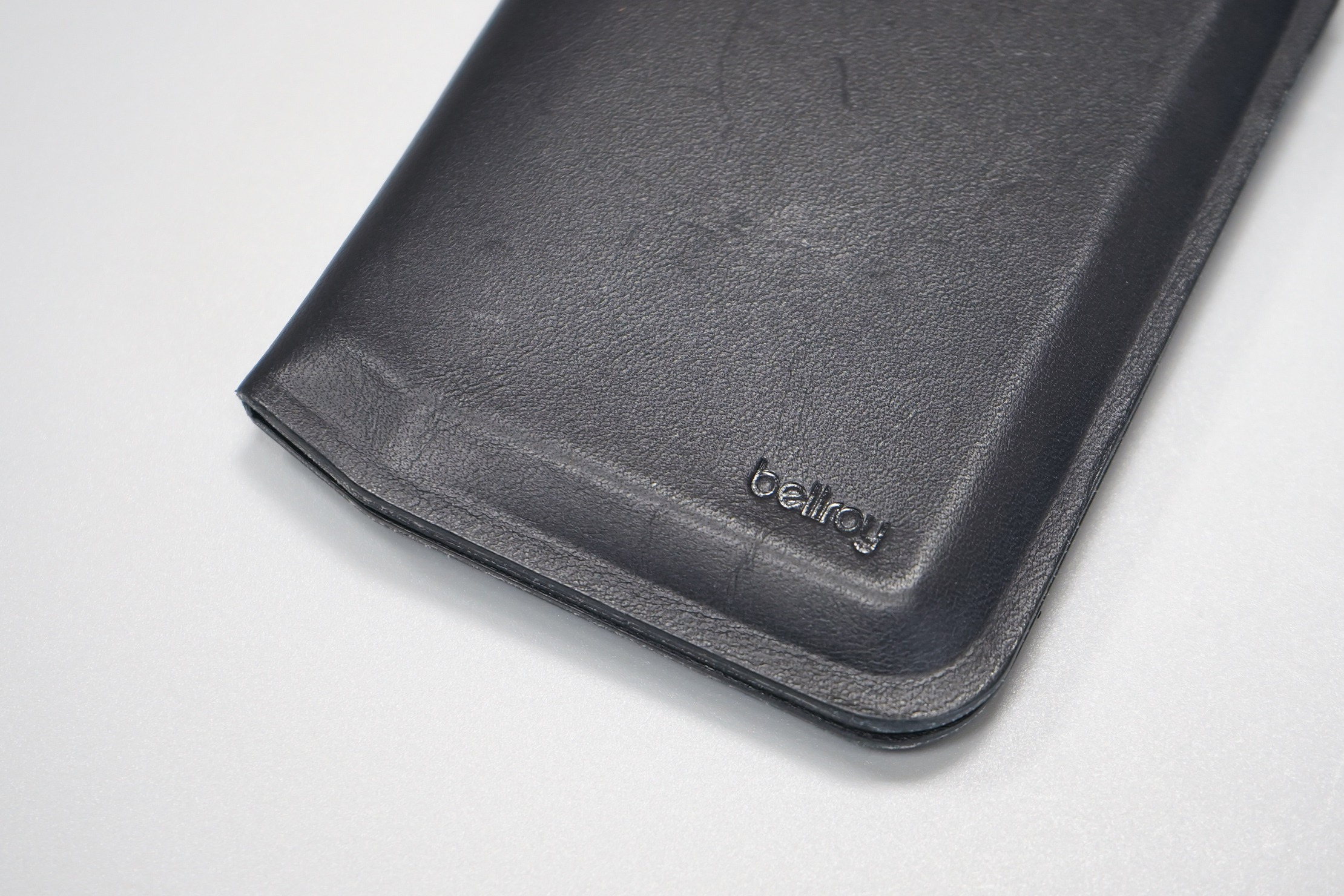 Most of us are familiar with working with stiff new leather on shoes or bags, and they can take days or a few weeks to break-in and feel like home for your stuff. We didn't feel that way with the Apex Slim Sleeve. Our cards and bills fitted in without a fuss and without the leather putting up much resistance.
The wallet itself has an unassuming yet familiar look too. It doesn't have a very glossy finish like some leather wallets. Instead, it looks more matte and feels soft in hand, like you've had it for a long time already.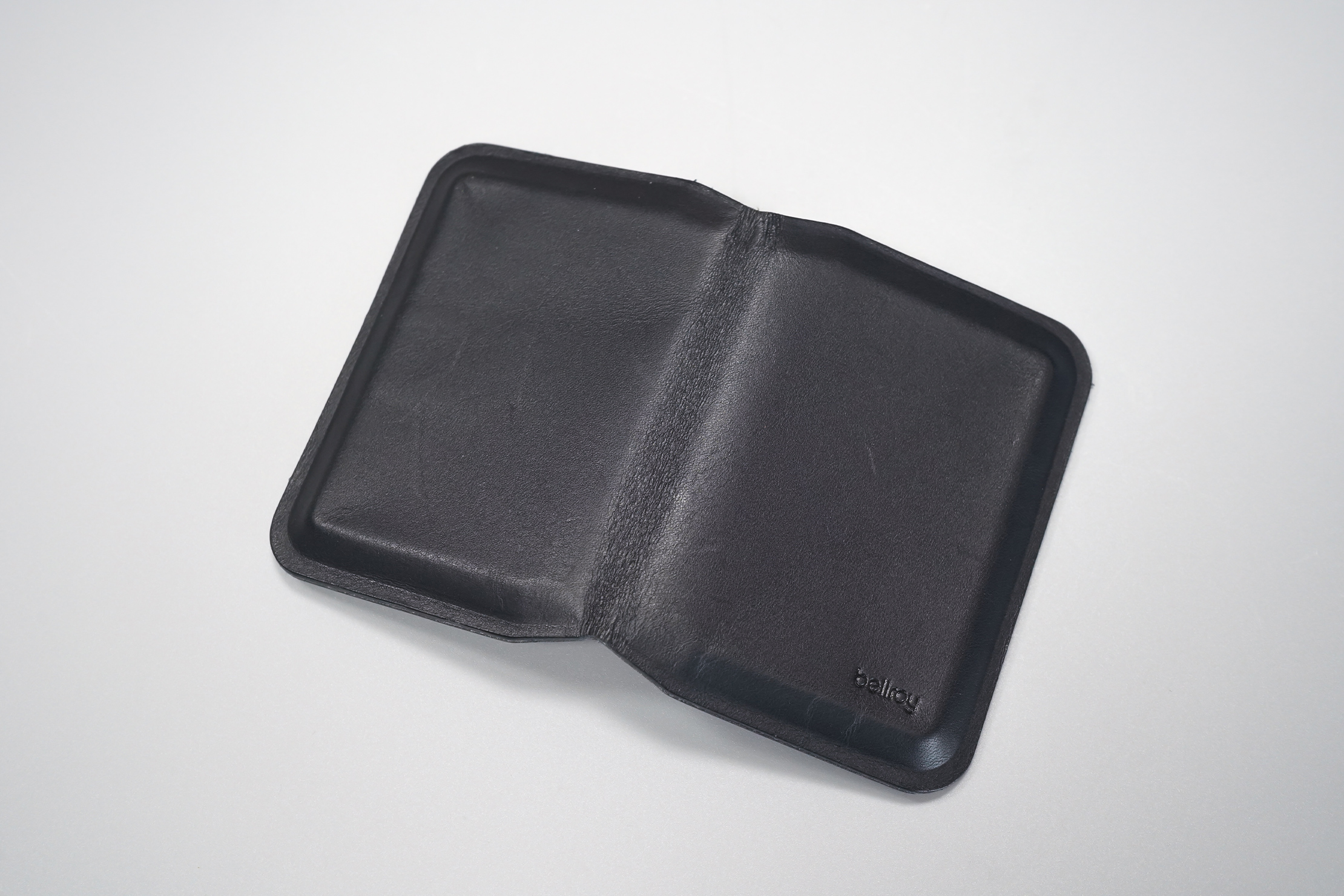 But it's overall a discreet-looking wallet that will only attract compliments from fans of minimalist designs. There's only a single embossed Bellroy logo at the bottom right side on the front. You'll find their owl logo on the inside, directly on the flip side of the Bellroy logo. There's something neat about having your logos back-to-back like that.
We have the Onyx colorway here in this review, and it comes with an orange interior. There are also very vibrant choices of Pepper Blue (speckled gray exterior with tan & blue interior) and Indigo (with orange & speckled gray interior). We tend to gravitate towards catchy, vibrant colors, and they work really well with the Apex Slim Sleeve if you dig it too. There's also a Tan option, which looks amazing.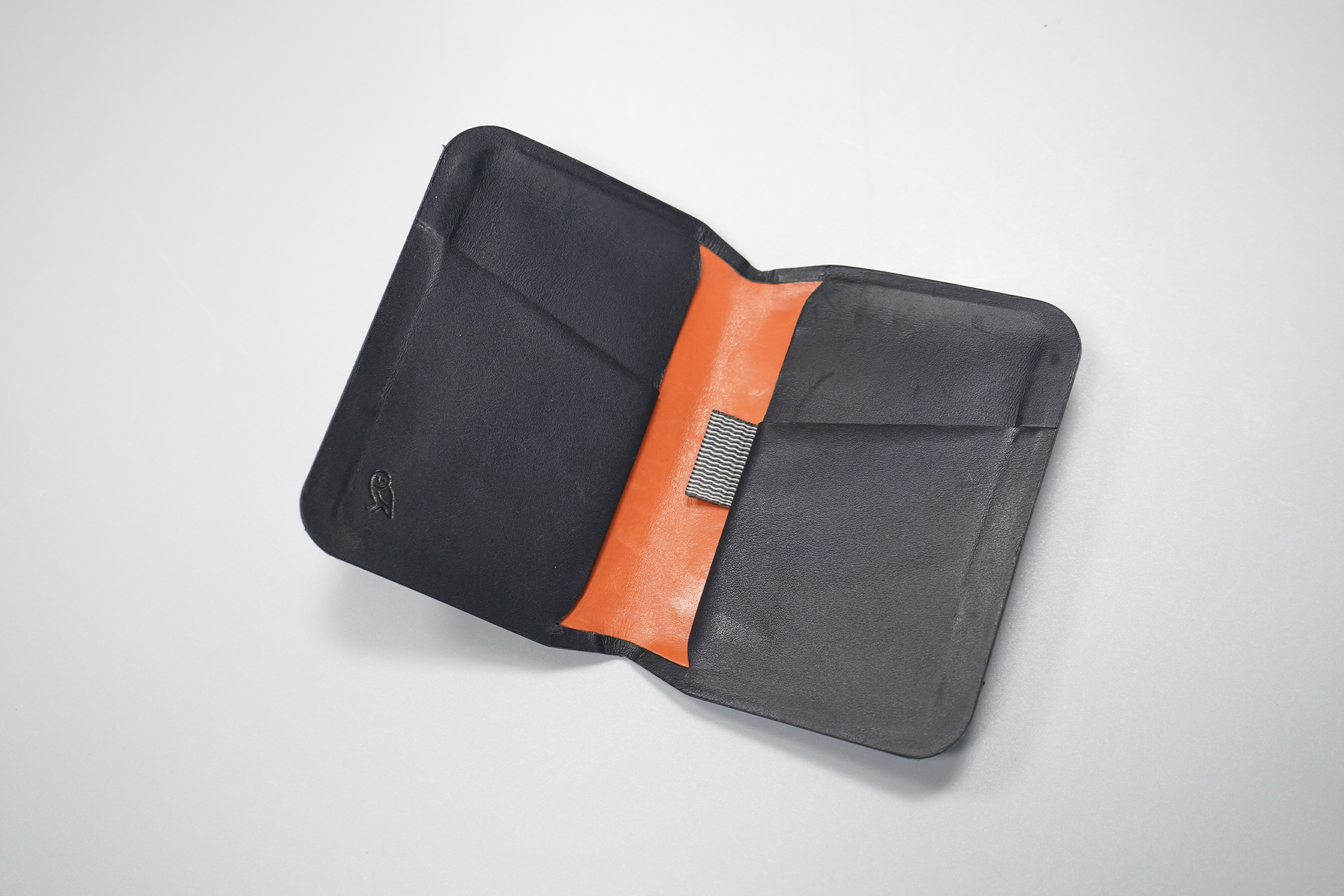 In terms of build quality, the Apex Slim Sleeve is as good as other Bellroy products; that is to say that it's pretty top-notch. Instead of stitching, as they did on the Slim Sleeve (the Apex Slim Sleeve's larger sibling), they opted to go with heat-pressing the leather pieces together. You can see this along the edges, where the materials all sandwich together. We've put the wallet through its paces over a few weeks, and it's held up really well without issues.
Usage
When we first got our hands on the Apex Slim Sleeve, we struggled to get it open smoothly. Our eager instinct was to pry it open along the edges like you would a tightly sealed clam. That didn't go as well as we'd hope. Looking at Bellroy's demo, you have to squeeze along the top and bottom edges to pop the wallet open. We found this kinda works, but we found it much easier to squeeze in much closer to the hinge. This way, the wallet pops open without fail each time we need it, and this is definitely the way to go.
Once opened, it's a fairly straightforward layout. It's a symmetrical design with one pocket and one card slot for each side. The only distinguishing features are the handy little pull tab on the right-side pocket and the. Orientation isn't an important thing to remember for the Apex Slim Sleeve because of how well-fitting the slots are, so there's really no risk of your cards and bills falling down if you open it upside down.
Capacity-wise, there's no getting around the fact that this is on the smaller side of the spectrum. Bellroy specifies that the Apex Slim Sleeve can take in up to eight cards and folded bills. In our testing, we were able to fit in six cards and six US dollar bills with only one minor nitpick: The edges don't quite fully seal in this configuration, and we had to take out three cards to make it completely seal shut.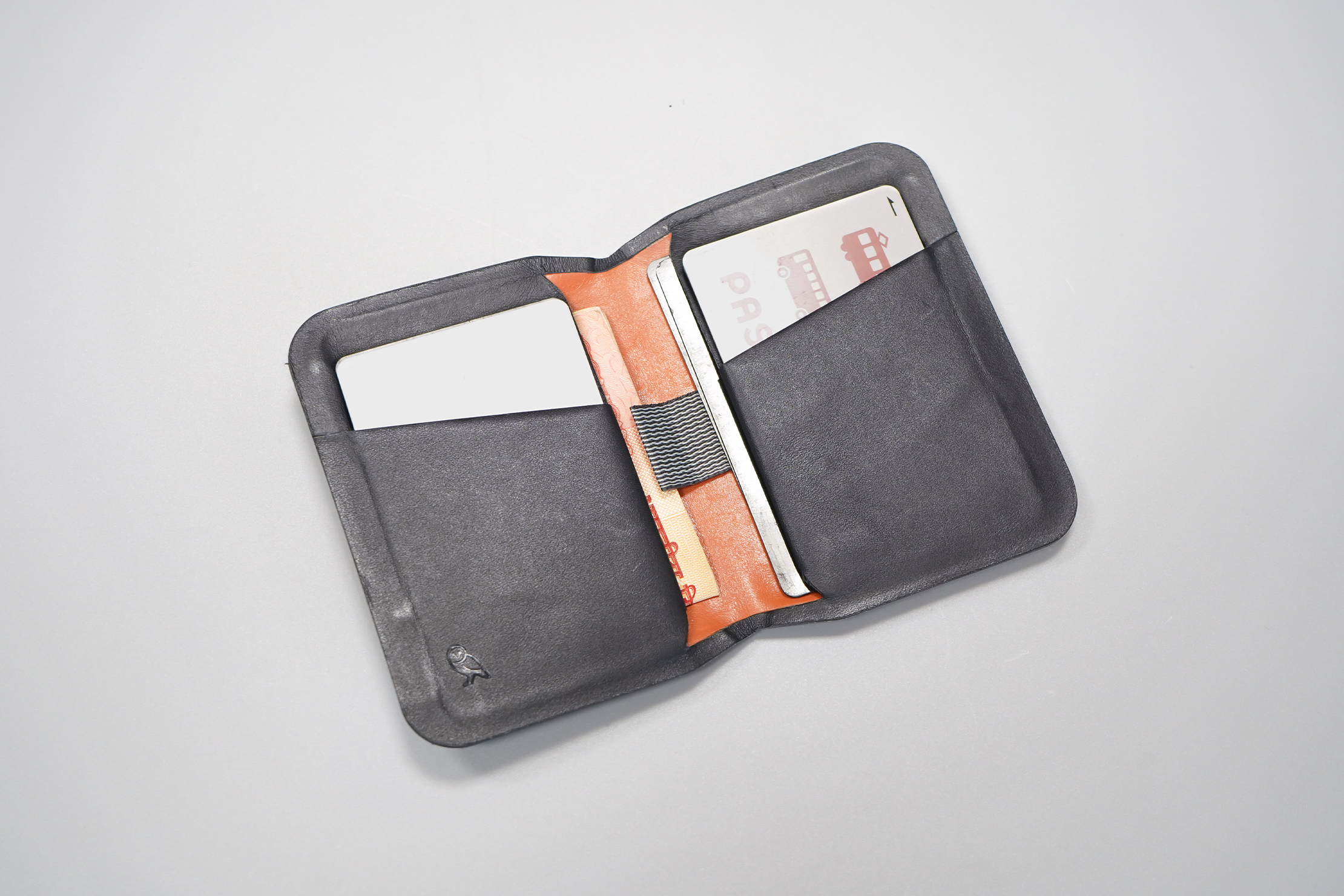 This isn't a big issue in practice, as the edges are still mostly sealed by the magnets. Consequently, this also makes opening the wallet a little bit more difficult, but not to the extent that it's no longer able to open one-handedly.
It will definitely take some planning and getting used to if you're moving from a bigger wallet to the Apex Slim Sleeve. Your mileage will vary depending on what kinds of cards you have. Thicker credit cards (especially ones with protruding serial numbers) will take up more space than slimmer metro cards, for example.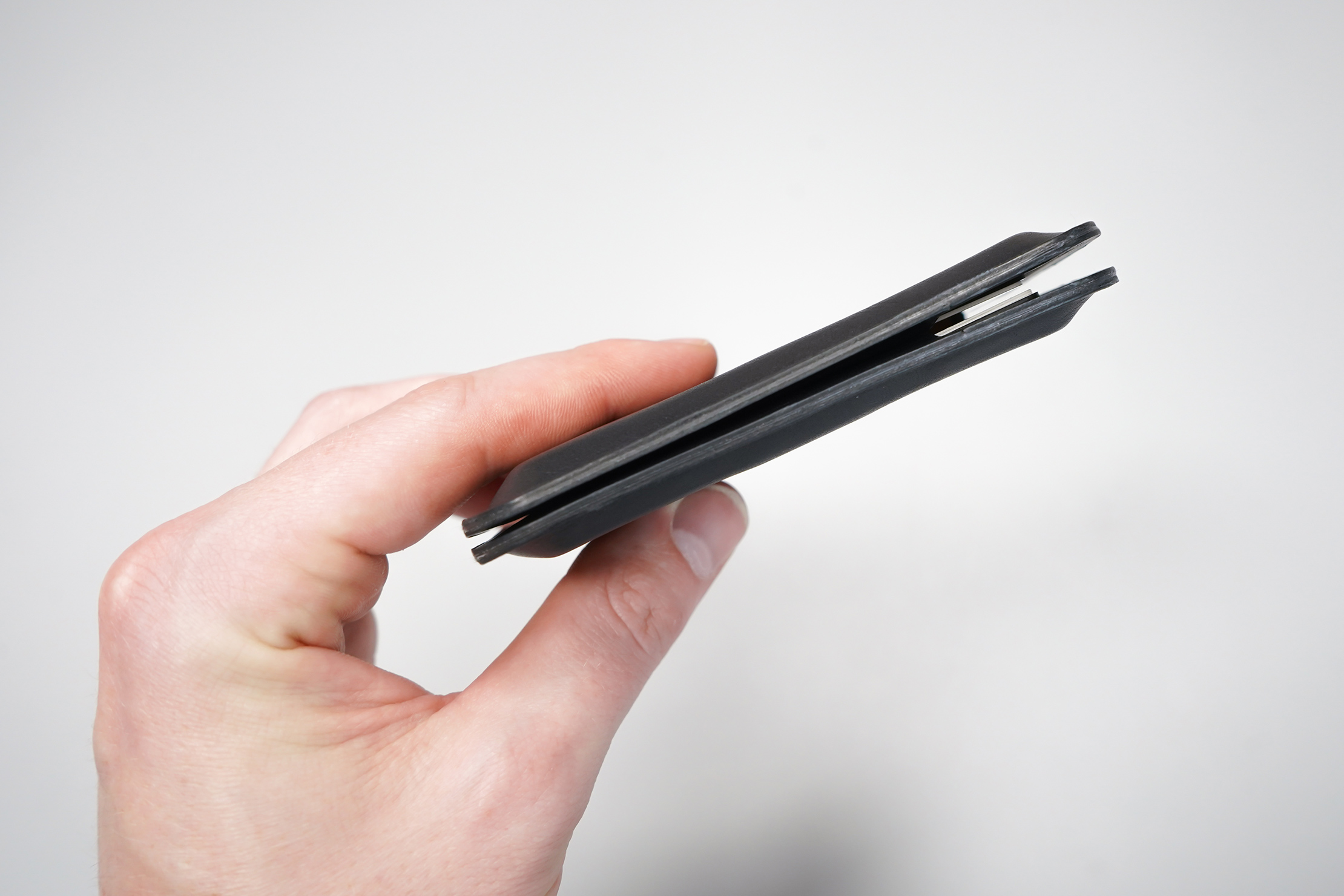 This goes double if you prefer using bills more since you'll only have one pocket for it inside the Apex Slim Sleeve. US Dollar bills fit inside no problem by simply folding in half. Taller banknotes, such as the Japanese Yen, will require being folded into thirds and going in sideways. Regardless of which currency you use, there isn't much space for bills—especially if you need to fold them multiple times—so you'll have to consider that when picking the Apex Slim Sleeve.
But once you've got things settled in, the Apex Slim Sleeve is a joy to use. The small and slim profile fits in the pockets of even the skinniest of jeans. We did eventually get the hang of the art of one-handed opening, and it also comes with a satisfying feeling, thanks to the magnets. It kinda reminds us of opening and closing old flip phones back in the day. Did we mention that it's RFID-blocking as well? A neat touch of tech to go along with your high-value cards.
Wrap Up
We really enjoyed testing Bellroy's Apex Slim Sleeve. The minimalist approach and satisfying tactility have a strong appeal that—when it works—feels really good in day-to-day use. It has a few very minor quirks, notably that it might not close as cleanly as you'd expect, depending on what's inside.
It also won't appeal to everyone, especially those who carry a lot more stuff in their wallet and rely heavily on banknotes. In which case, Bellroy's Slim Sleeve or Travel Wallet might be a better fit. Those looking at the Apex Slim Sleeve will have to take inventory of their current wallet's load-out and might have to make a few cuts to make a smooth transition. If you're set on going minimalist, the Bellroy's got a strong contender on their hands for those looking for a slim wallet.
Usage Timeline
Initial Usage
Condition: Excellent
Magnetic closure around the whole wallet for a secure hold but can be opened with one hand
Fits 6-8 cards plus folded bills
Pre-molded leather means you don't need to break it in over time, and your cards fit perfectly from the get-go
2 Weeks of Use
Condition: Excellent
Like that this feels already broken—Bellroy typically uses excellent leather
The heat pressed leather looks cleaner than stitching
The snap-open mechanism takes a bit of getting used to, but after that, it can be easily opened one-handed
Bellroy states you can use up to 8 cards with the wallet & folded bills. When we tested with 6 cards & 6 bills, the wallet didn't close as cleanly as we'd like—it doesn't sit flush. Removing cards & bills creates a cleaner closure.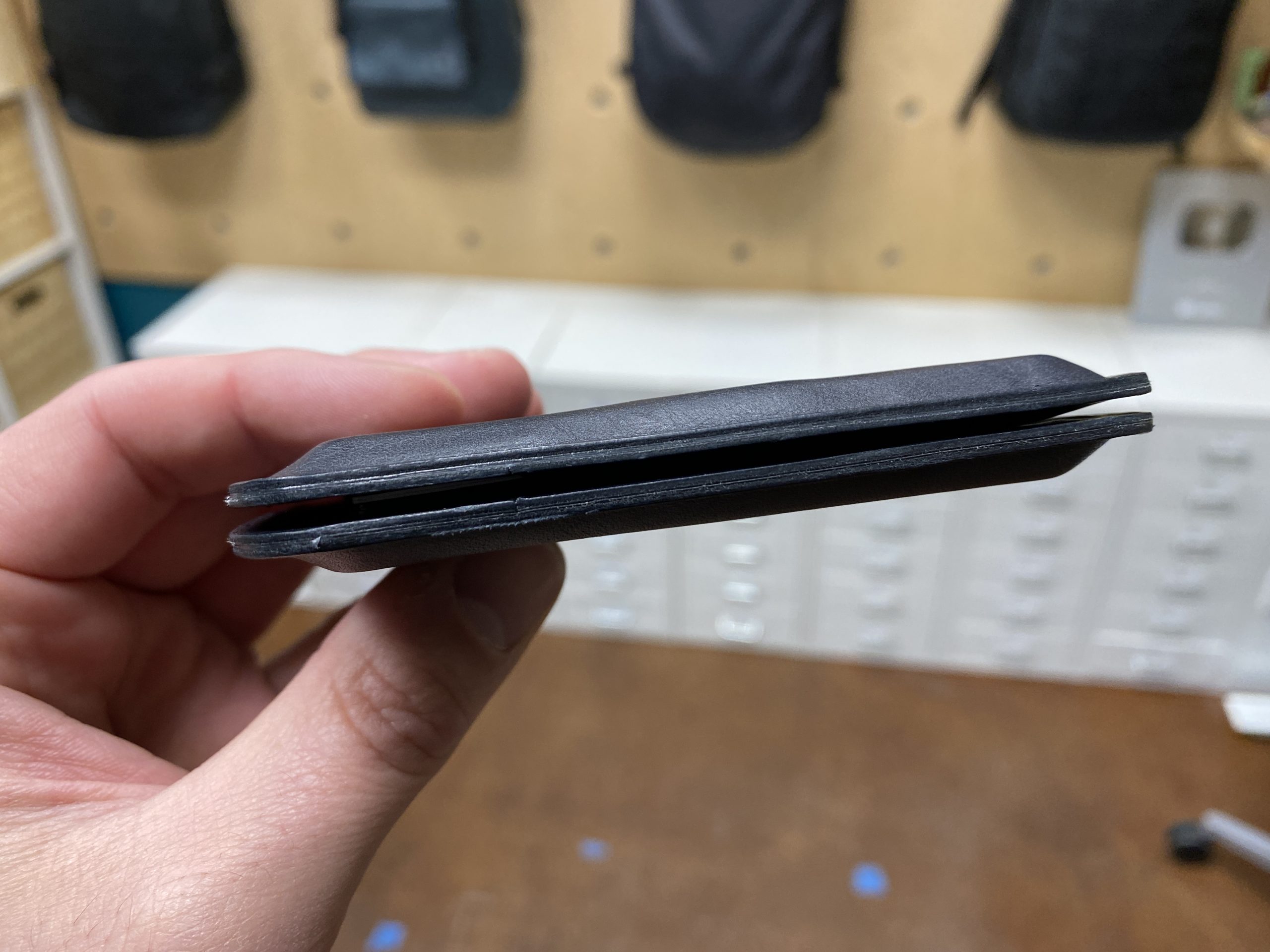 Access the Pro Community Discussion
Get your questions about the Bellroy Apex Slim Sleeve answered from our team and the Pro Community right here on the page. Plus, join discussions with other members about gear, guides, and more.
Other Organizers & Pouches Reviews