Bellroy Travel Wallet Review
The Bellroy Travel Wallet keeps your travel documents organized and handy while on the go. Although we wish the flap securing the hidden pocket was sturdier.
Our Verdict
Unlock the Pro Summary
Save time. Get access to brief summaries of our reviews so you can browse and make decisions more efficiently.
Pros
Sophisticated, professional aesthetic
Thoughtful interior organization
The Micro Pen is a nice touch
Cons
The flap securing the "hidden" pocket is flimsy
Large size means it won't fit inside pants' pockets
Several marks and scratches on the leather after a few weeks of testing
Recent Pack Hacker Video
Technical Details
Weight (oz)

3.00 oz (85 g)

Dimensions

3.82 in x 5.9 in (9.7 x 15 cm)

Notable Materials

Leather, Nylon, Polyester

Manufacturing Country

India

Warranty Information
Full Review
If you prefer all of your boarding passes, passport(s), cards, cash, SIM cards, and the rest of your travel documents to be strewn about your backpack, pockets, and wherever else in a chaotic mess then you're not going to like the Bellroy Travel Wallet.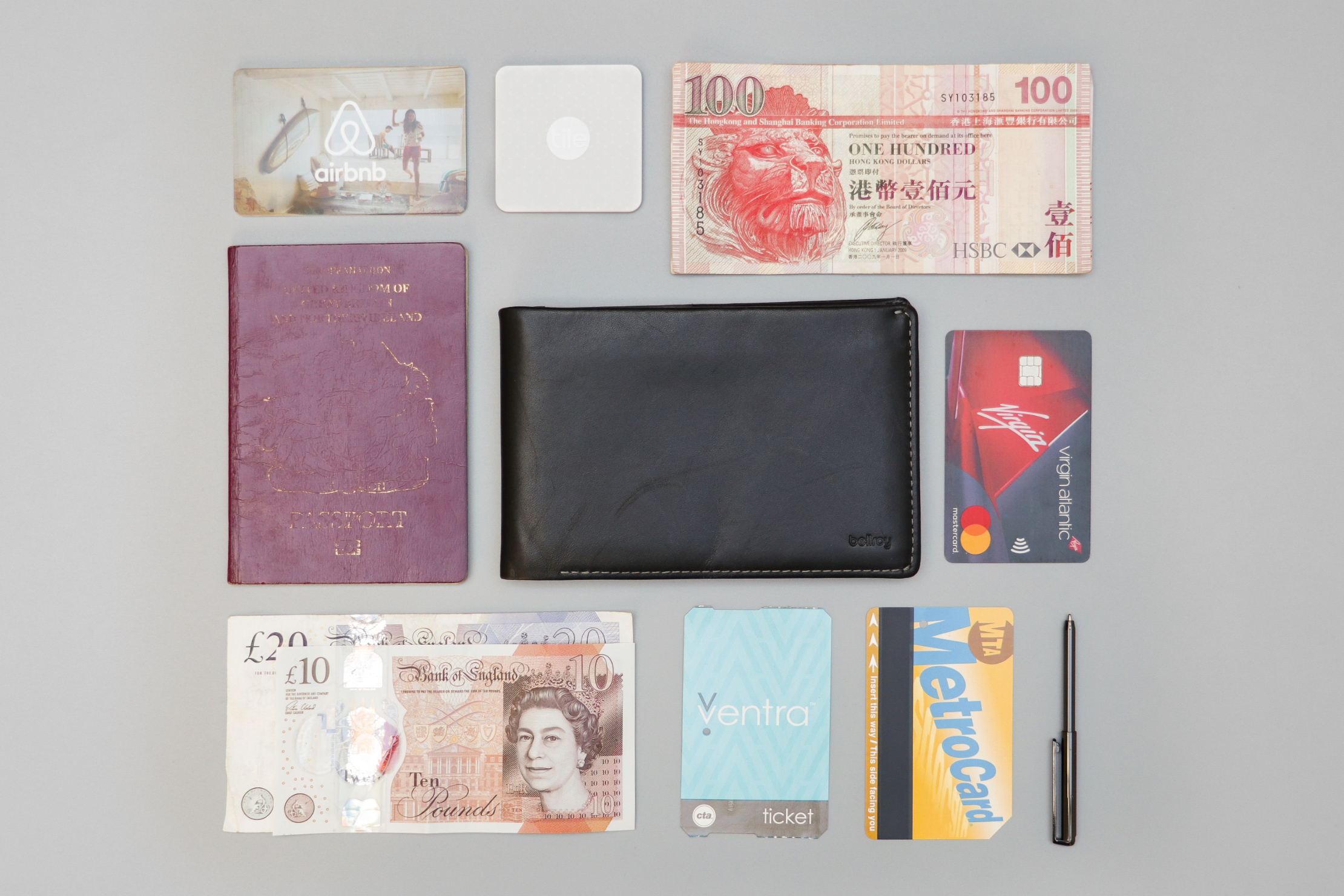 But if you prefer to keep all of the above organized and handy in a sleek, sophisticated package then you'll love to meet the Bellroy Travel Wallet. We've certainly been excited to get our hands on it. After all, we've tested several Bellroy products here at Pack Hacker with, mostly, good results.
So how has the Bellroy Travel Wallet performed these past few weeks of testing? Read on.
Materials & Aesthetic
Bellroy's take on the Travel Wallet is one of the more sophisticated, professional-looking travel wallets we've tested to date. Seriously—it's perfect for business travel or if you want to give off a classy vibe. We're digging the premium stitching along the perimeter, the debossed Bellroy name on the exterior, and owl logo on the interior.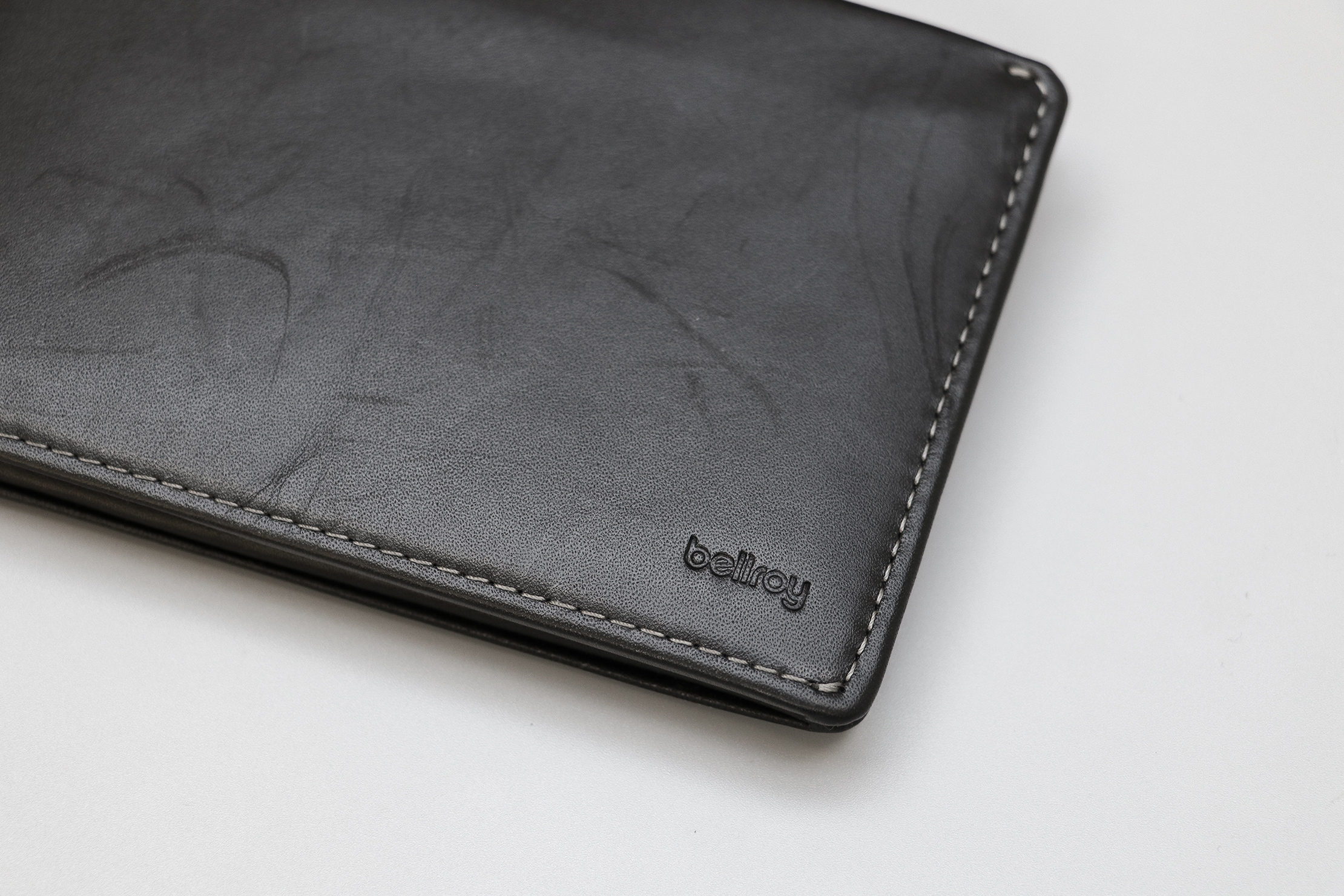 At the time of this review, it's available in four colorways: Black, Navy, Caramel, and Cocoa. We've been testing the Black, but all four colorways look sleek.
Of course, the Travel Wallet being a travel wallet—and thus designed to fit a passport—is larger than your standard bifold. But it's still slim and, while it won't comfortably fit in most pants' pockets, it'll fit inside the quick-grab pockets on sling bags and backpacks.
The Bellroy Travel Wallet is made of premium leather, which is no surprise coming from a company known for its quality, supple leather that feels oh-so-good in the hands. An added perk is that Bellroy only uses leather that's been tanned under gold-rated Leather Working Group environmental protocols.
We've tested several Bellroy products and have always had good experiences with its leather. That said, we've noticed a few aesthetic blemishes on the Travel Wallet's leather, which we'll discuss more in the Durability & Testing section of this review.
Inside the Wallet
There's a fair amount of stuff going on behind the wallet's sleek, minimalist exterior.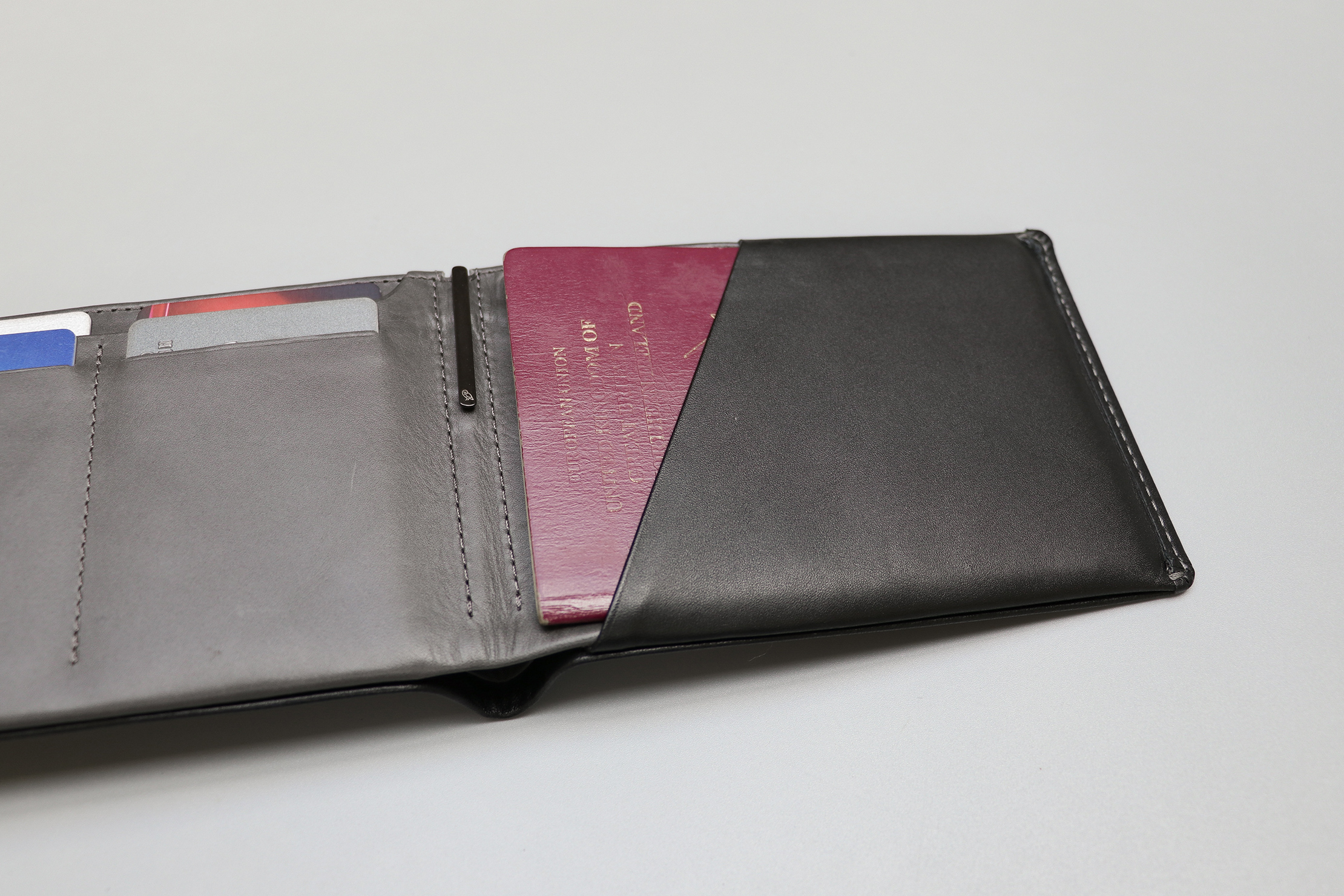 The wallet opens up like a traditional bi-fold. On the right, you'll see the passport pocket. We really like the way the folks at Bellroy have integrated this pocket—it keeps your passport safe and secure, especially because the opening is oriented toward the interior of the wallet, so there's no risk of your passport sliding out. At the same time, it's also quick and easy to whip out your passport when need be.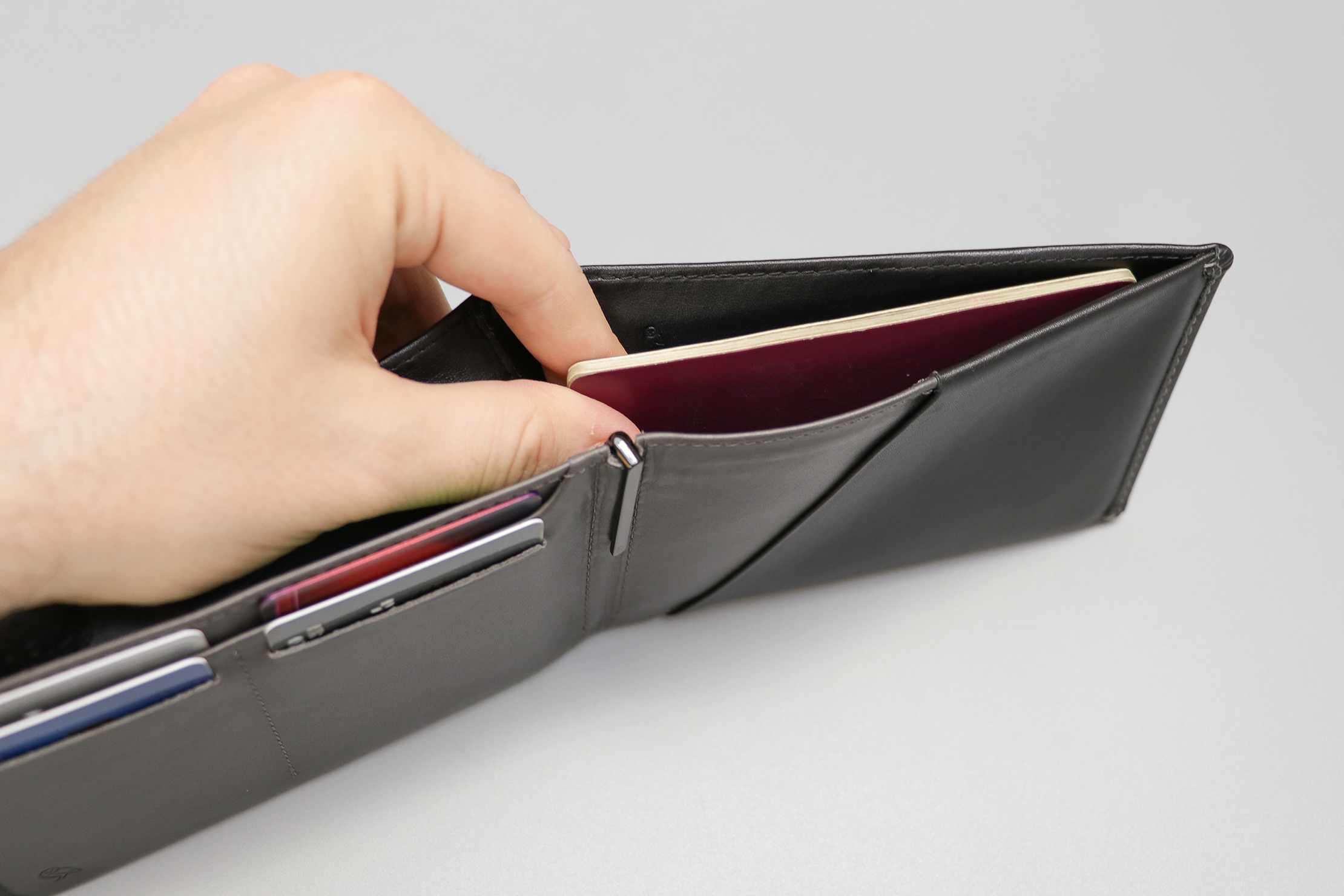 You can't slide two passports inside this pocket—it'll be too tight—which is definitely a bummer if you're Jason Bourne. Or, you know, traveling with a significant other, children, etc. That said, you can easily slide a second passport inside the cash sleeve. It's not a perfect spot for it—it's not as secure as the dedicated passport pocket—but we've found it works just fine.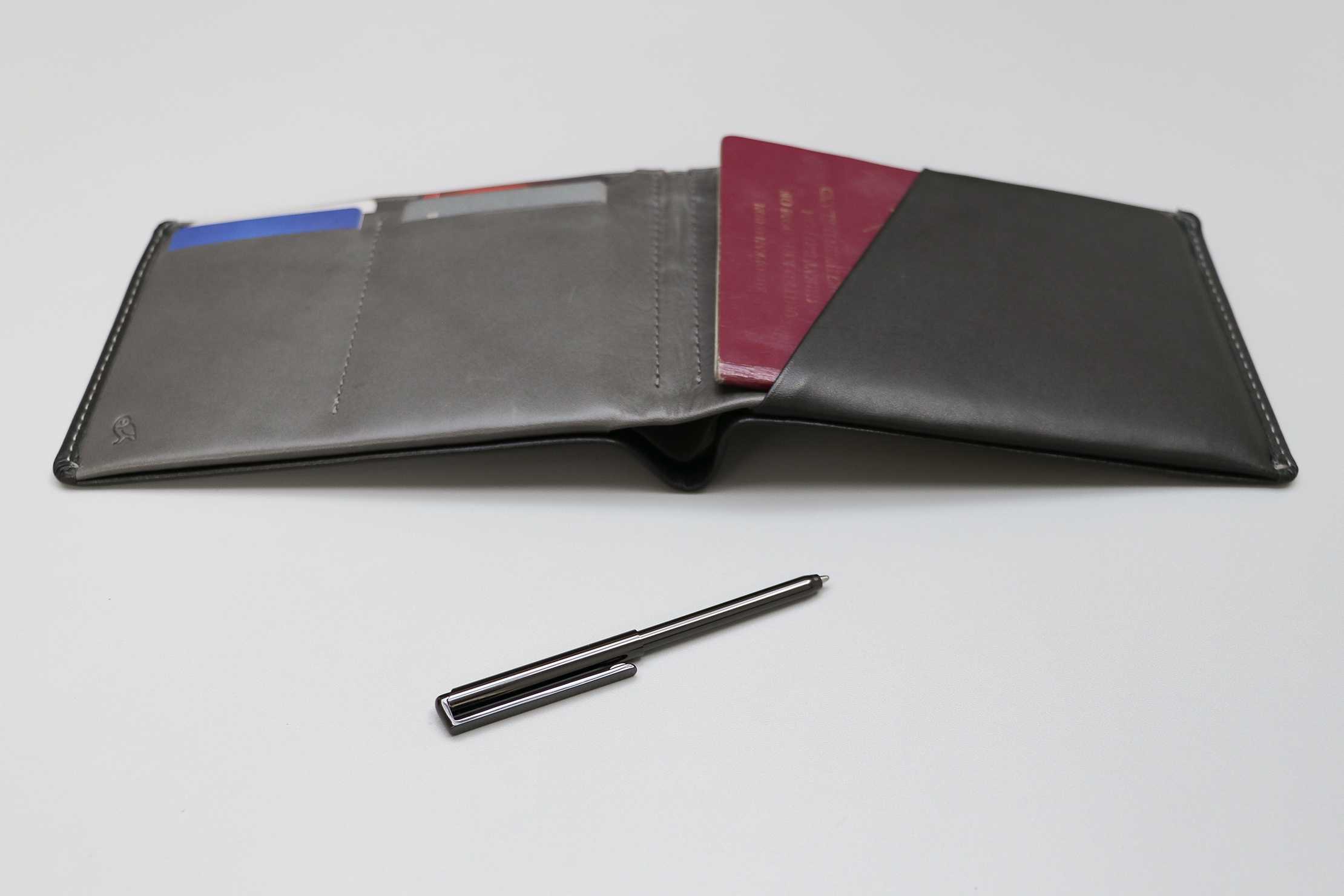 In the middle, there's a Micro Pen (as Bellroy refers to it) that comes with the Travel Wallet. It's a nice touch, especially because it's stashed in a small slot, staying out of your way until you need it. And you may need it more than you think—mostly for all the paperwork that traveling entails, but also to scribble down all the hilarious jokes that pop into your head while soaring through the clouds or for writing down your number to share with your cute seat neighbor.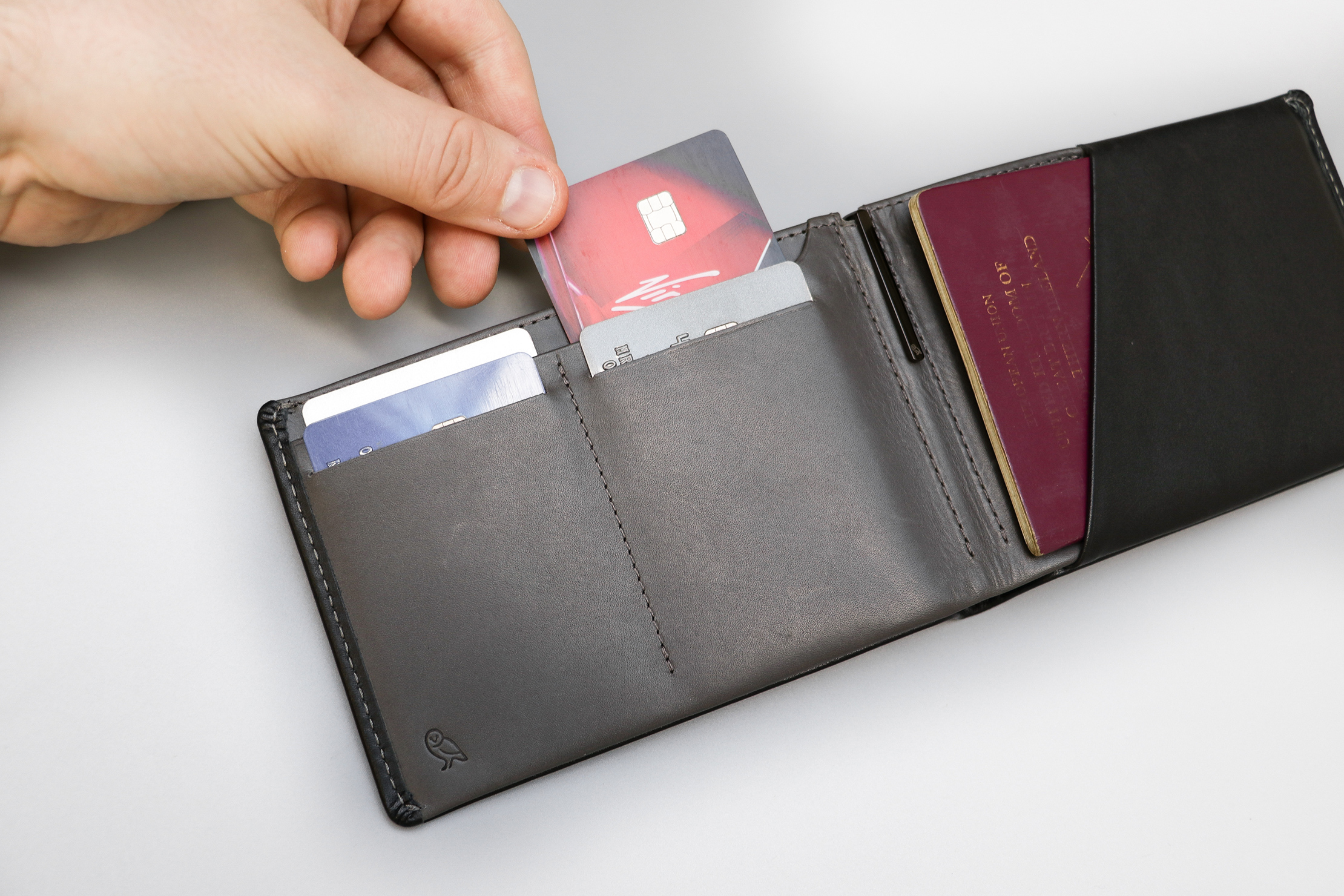 On the left side of the wallet, there are four card sleeves for the cards you use most frequently. We've found them to work best with one card per sleeve, which isn't a huge deal because tucked into the cash sleeve there are three more card sleeves. Bellroy says that the Travel Wallet will comfortably hold approximately ten cards.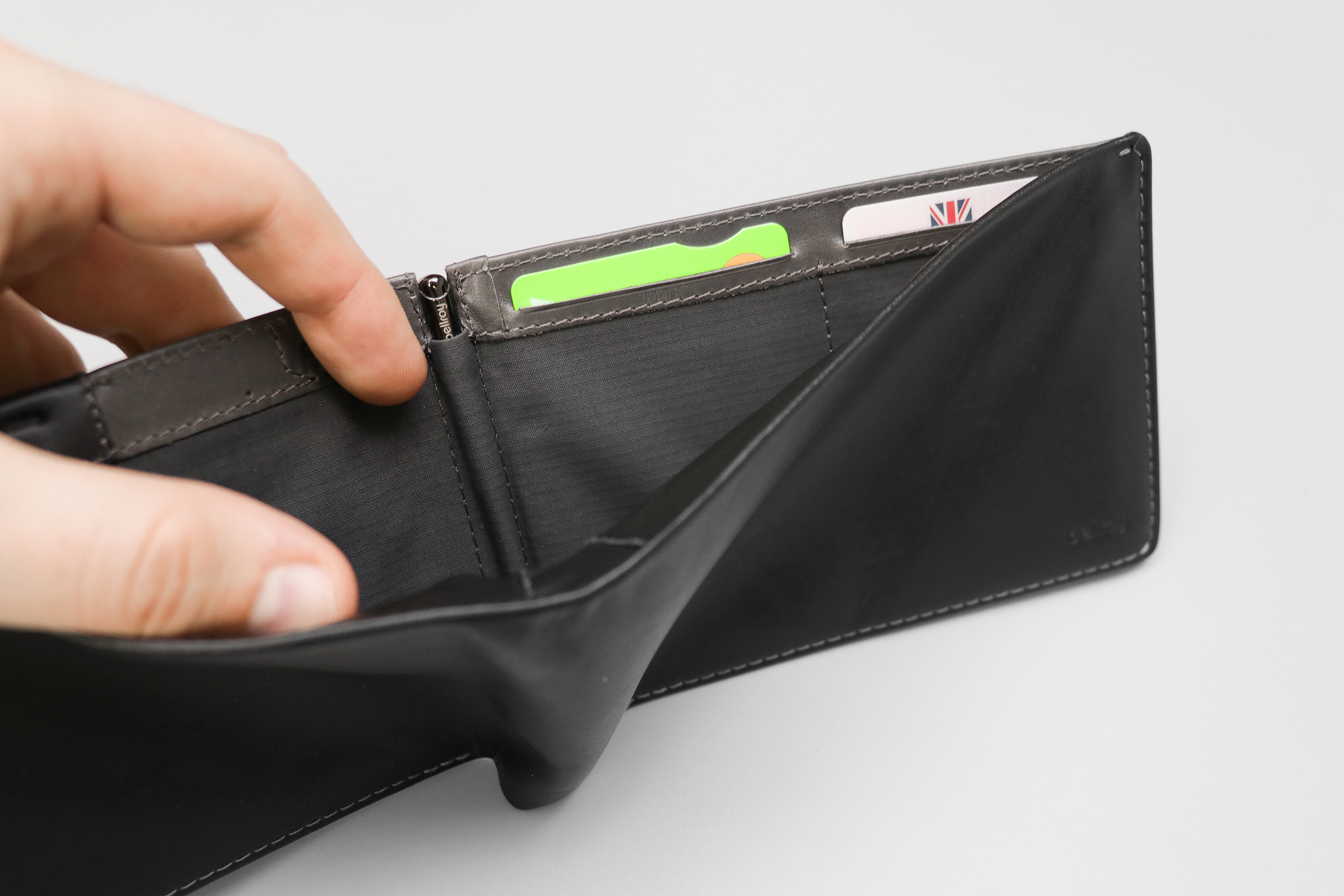 Inside the cash sleeve, you'll also find a SIM card pocket. It's frequently cheaper to pick up a SIM card when you reach your destination, so it's nice to be able to pop your original one in a secure spot. There's also a sleeve that'll hold your ejector pin (a necessity to easily transfer SIM cards). And these sleeves will also stay out of your way if you don't use them.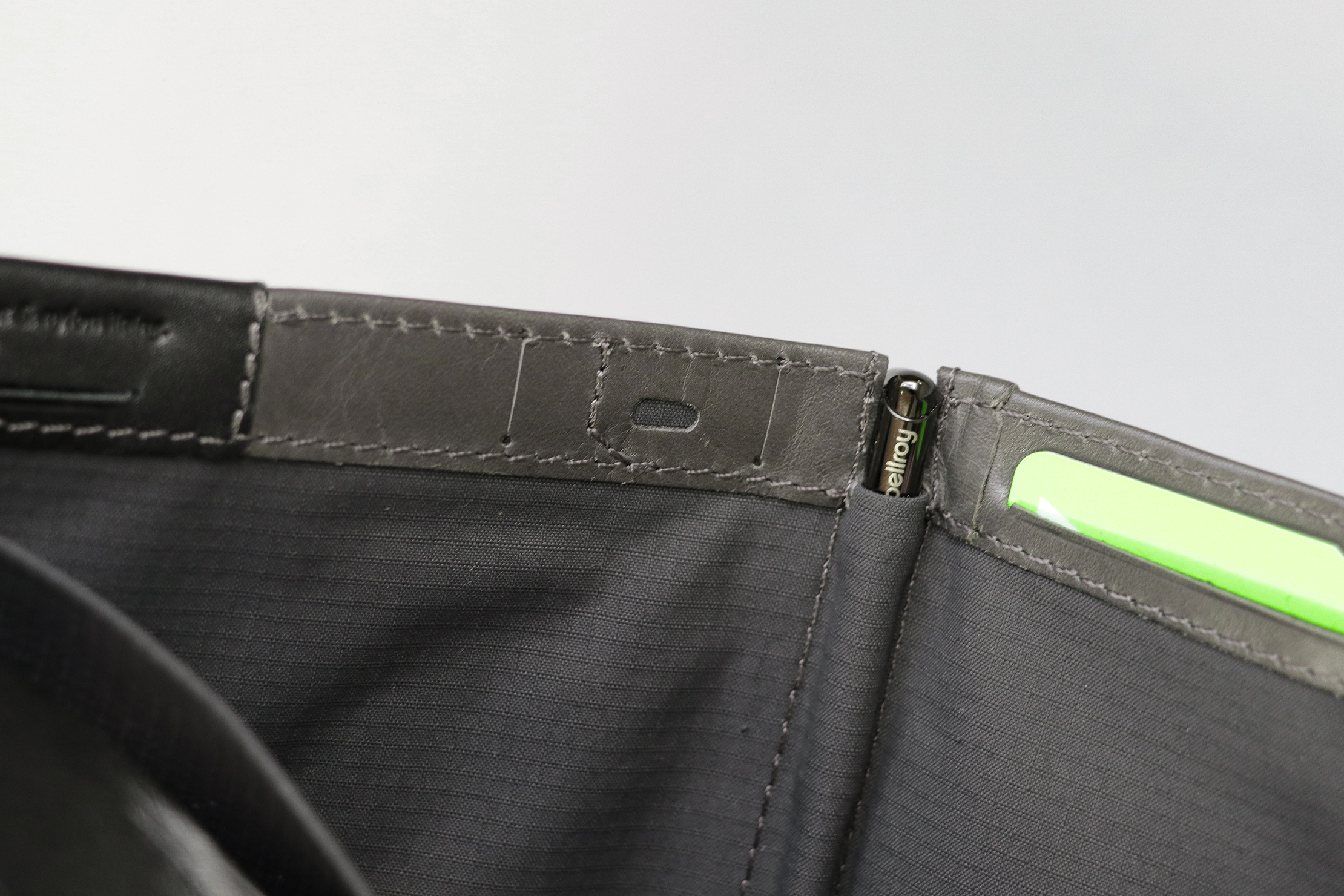 The cash sleeve itself is quite spacious. There's enough room for a significant amount of cash, as well as boarding passes, receipts, love letters, and other important travel documents.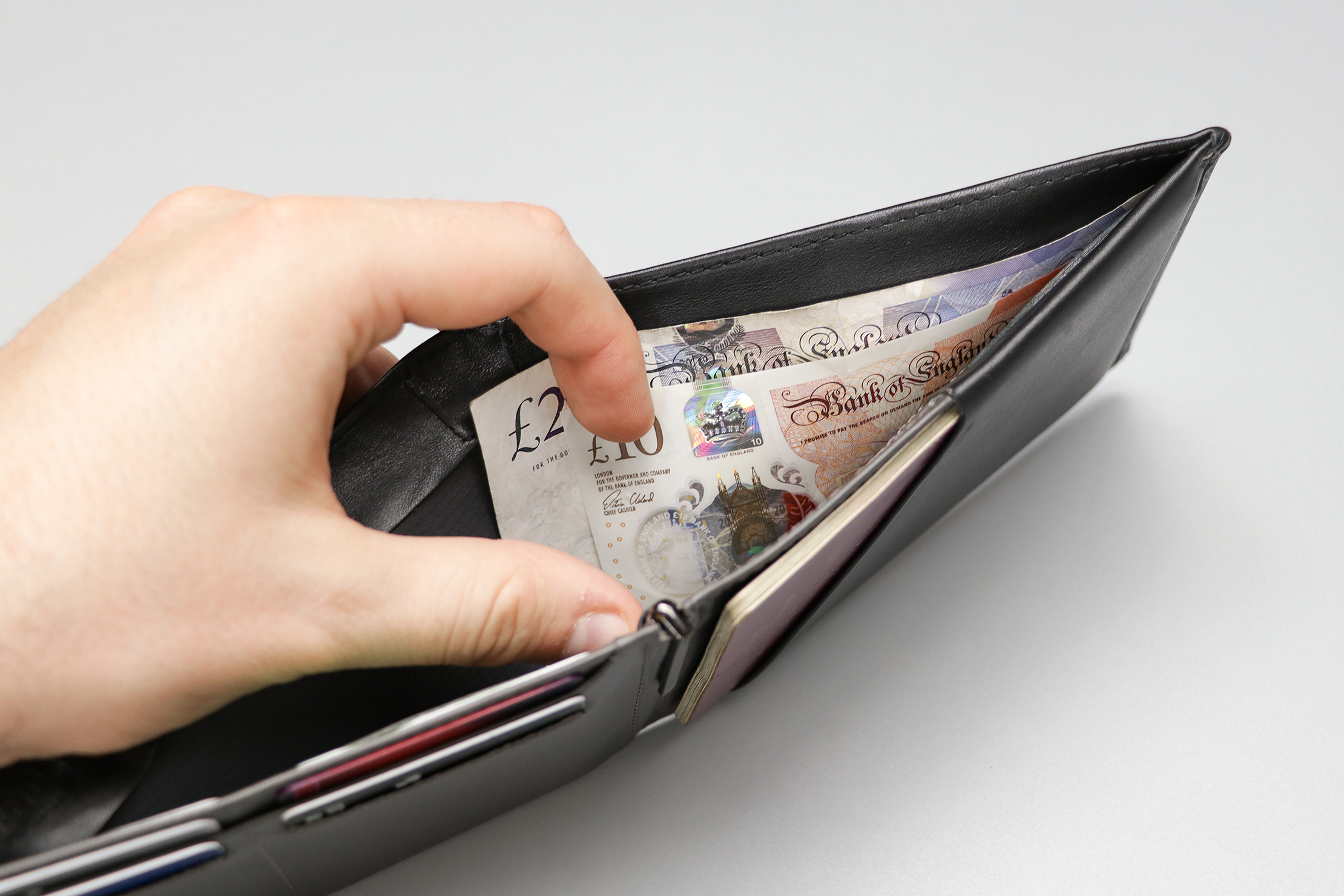 If you flip up the leather flap at the back of the sleeve, you'll find an additional spot for cash. This "hidden" sleeve isn't new to the Bellroy Travel Wallet—you'll find it on the Bellroy Hide & Seek Wallet, for example—and it's a concept we really like.
While it's not going to help much with security—let's be real, a pickpocket or wrongdoer will likely steal your entire wallet, instead of asking you to pull out visible cash—it can help you stay organized or force you to stay on budget (stash emergency cash behind the flap and allow yourself to only spend what's in sight #PackHackerProTip).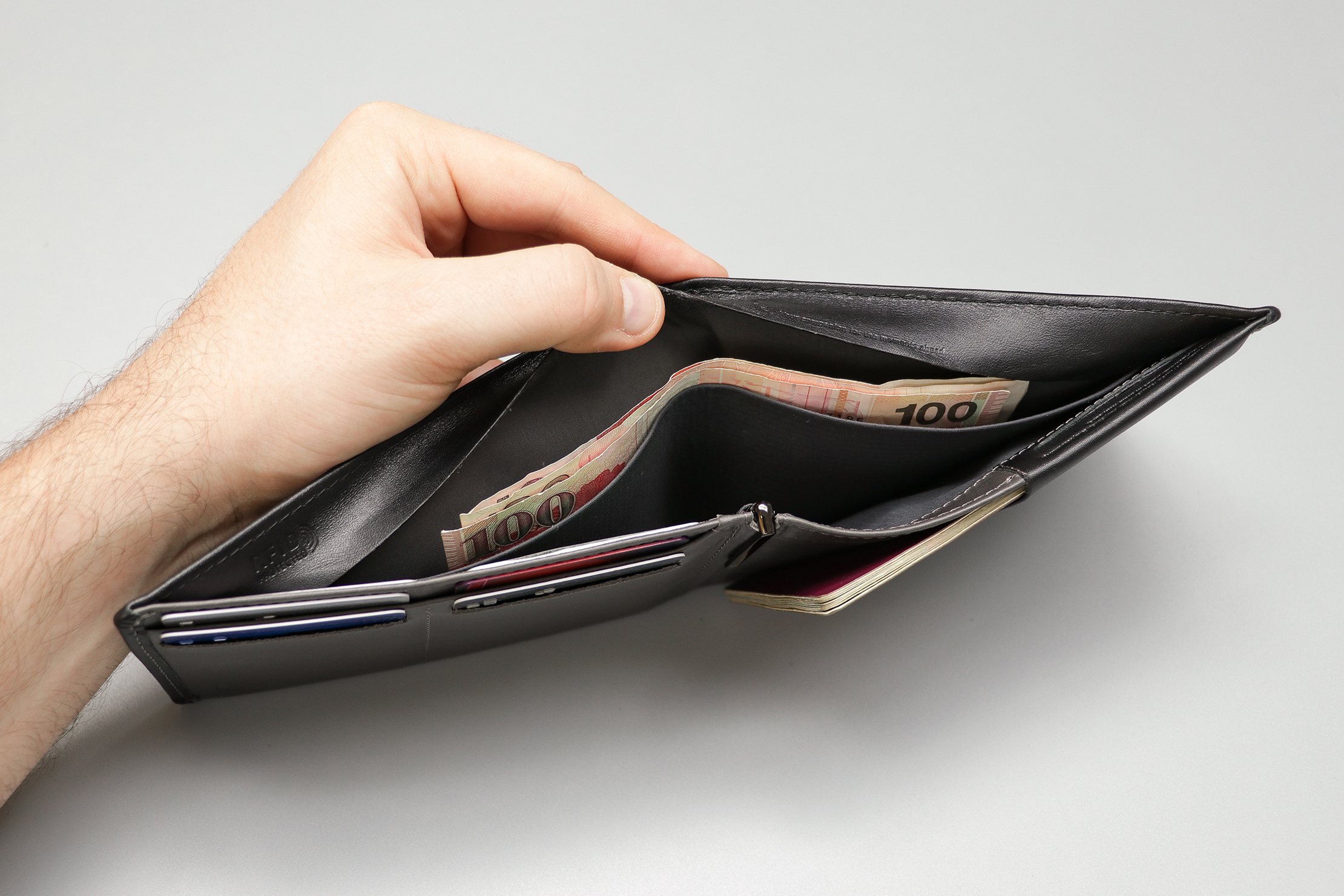 You also don't have to keep this slot hidden, instead using it as a divider to separate two types of currencies. That way you don't embarrass yourself pulling out dollars when what you really need is pounds.
Unfortunately, in this case, the leather flap that hides your cash is flimsy and thin. It frequently flips up, causing the "secret" compartment to pop out from underneath, showing off the money you're hoping to keep secret and secure. We've frequently had to tuck the divider back into place, which obviously isn't ideal.
We haven't had the same issue with the Bellroy Hide & Seek Wallet—the flap on that wallet feels secure. We believe it's because the Travel Wallet is nearly twice as long as the Hide & Seek Wallet, yet the depth of the fold looks the same. Because the Travel Wallet is longer, we believe the fold should go further down to compensate. As it stands, the flap doesn't scale well.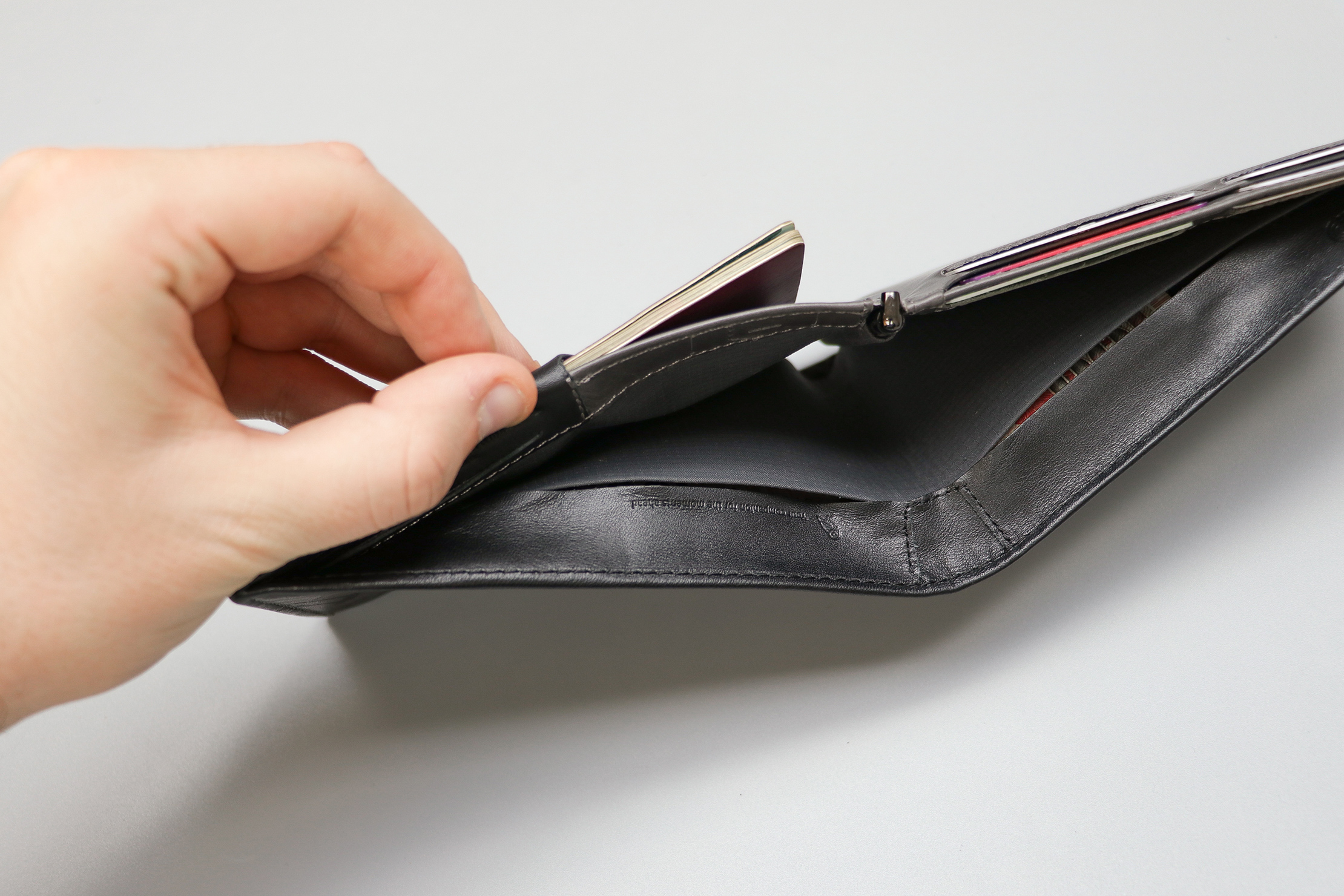 The entire wallet is also RFID-protected, so you don't have to worry about your passport or credit card information getting stolen via radio waves. While it's been contested whether or not you should worry about these financial crimes, peace-of-mind is never a bad thing.
Durability & Testing
We've been testing the Bellroy Travel Wallet for a few weeks now, putting it to the test as we traveled from Detroit to the U.K., with a short stop off in New York City. Since arriving in the U.K., we've tested the Travel Wallet as a daily wallet to see how it works once you reach your destination.
All in all, it's been a great travel companion. It organizes all of your cash, boarding documents, and cards, as well as a passport or two (we've tested it with two passports).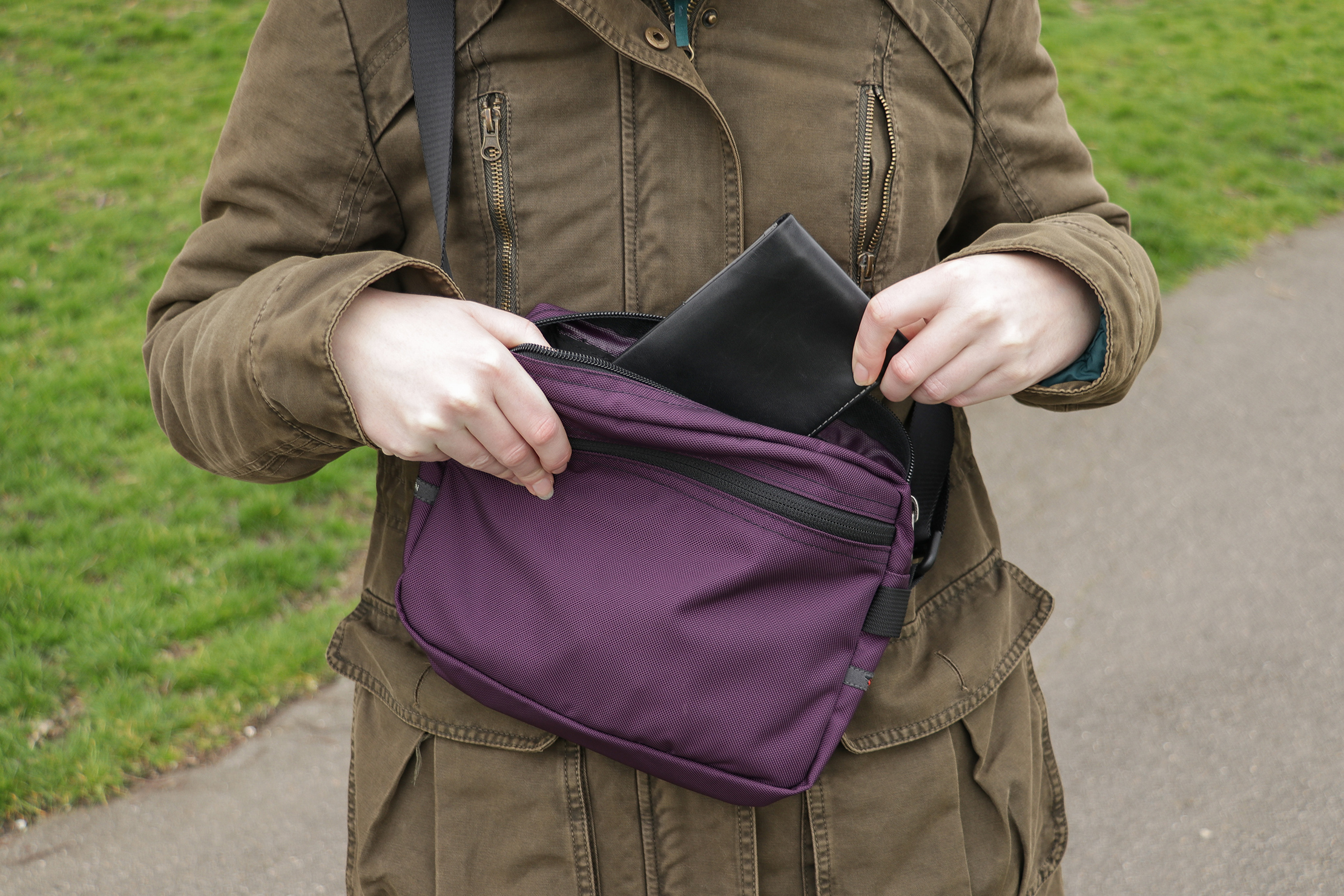 It also works as a daily driver, although its large size means it's not ideal. In a perfect world, the Bellroy Travel Wallet would come with a shrink ray. That way, you could use it as a travel wallet—with enough space for boarding documents and a passport—and shrink it down to a pocketable size for everyday use. Unfortunately, shrink rays aren't a thing yet, so you'll just have to be okay using an oversized wallet at your destination.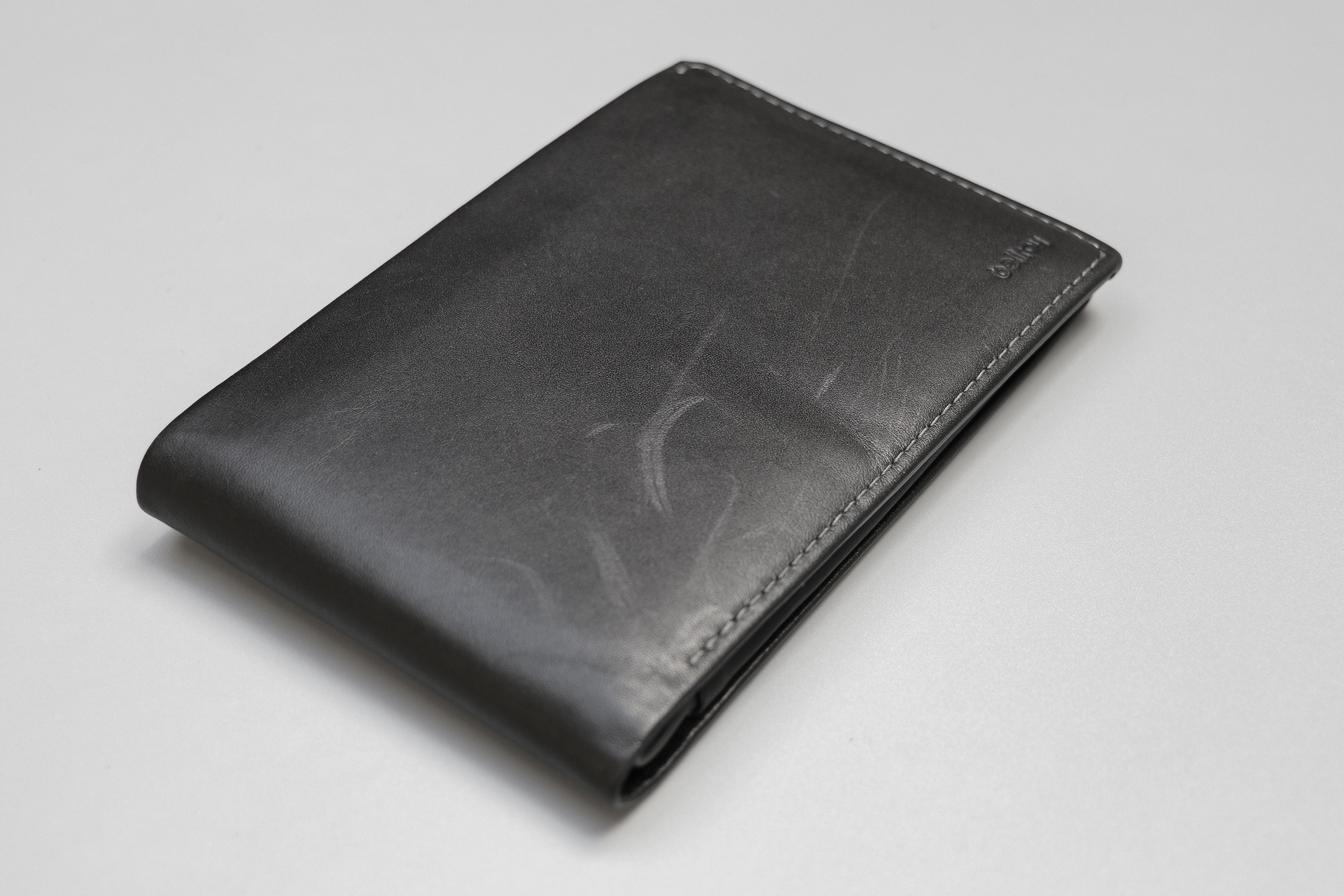 As far as durability is concerned, the Bellroy Travel Wallet isn't holding up as well as other Bellroy products we've tested. Bellroy leather typically ages beautifully, but there are a number of noticeable marks and scratches on the Travel Wallet's exterior. Obviously, these marks detract from the wallet's overall sophisticated look, although it's nothing terrible yet. We'll keep you posted in the Usage Timeline down below.
Usage Timeline
Initial Usage
Condition: Excellent
Tons of organization packed into a small package
Love the material, feels great in your hand
Sleek and stylish design
2 Weeks of Use
Condition: Good
We used this travel wallet with two passports in as we traveled from Detroit to the UK, with a short stop off in NYC
It did a great job at holding all of our cards, passports, and cash while on the road
We've noticed a fair few scratch marks on the leather which is rare for Bellroy products—it definitely detracts from the aesthetic
We found the leather fold that holds the "hidden" compartment in place isn't sturdy enough, and the compartment can pop out from underneath
Access the Pro Community Discussion
Get your questions about the Bellroy Travel Wallet answered from our team and the Pro Community right here on the page. Plus, join discussions with other members about gear, guides, and more.
Other Organizers & Pouches Reviews