Bellroy Hide & Seek RFID Wallet Review
Ideal if you like to stay organized, the Bellroy Hide & Seek RFID Wallet hides numerous cash, coin, and card slots inside a (relatively) sleek package.
Our Verdict
Unlock the Pro Summary
Save time. Get access to brief summaries of our reviews so you can browse and make decisions more efficiently.
Pros
Sleek, sophisticated aesthetic
Full of organization, including hidden cash and coin pockets
RFID-blocking
Cons
May have too much organization for some
Thicker than more minimalist wallets
Leather isn't suitable for those avoiding animal products (and they don't offer non-leather alternatives)
Recent Pack Hacker Video
Technical Details
Dimensions

3.3 in x 4.5 in (8.4 x 11.4 cm)

Notable Materials

Leather

Manufacturing Country

India

Warranty Information
Full Review
Bellroy describes the Hide & Seek RFID Wallet as "a traditional wallet on the outside [that] hides a few tricks on the inside." And we have to agree. The Hide & Seek RFID Wallet tucks several clever features inside a minimalistic, clean package.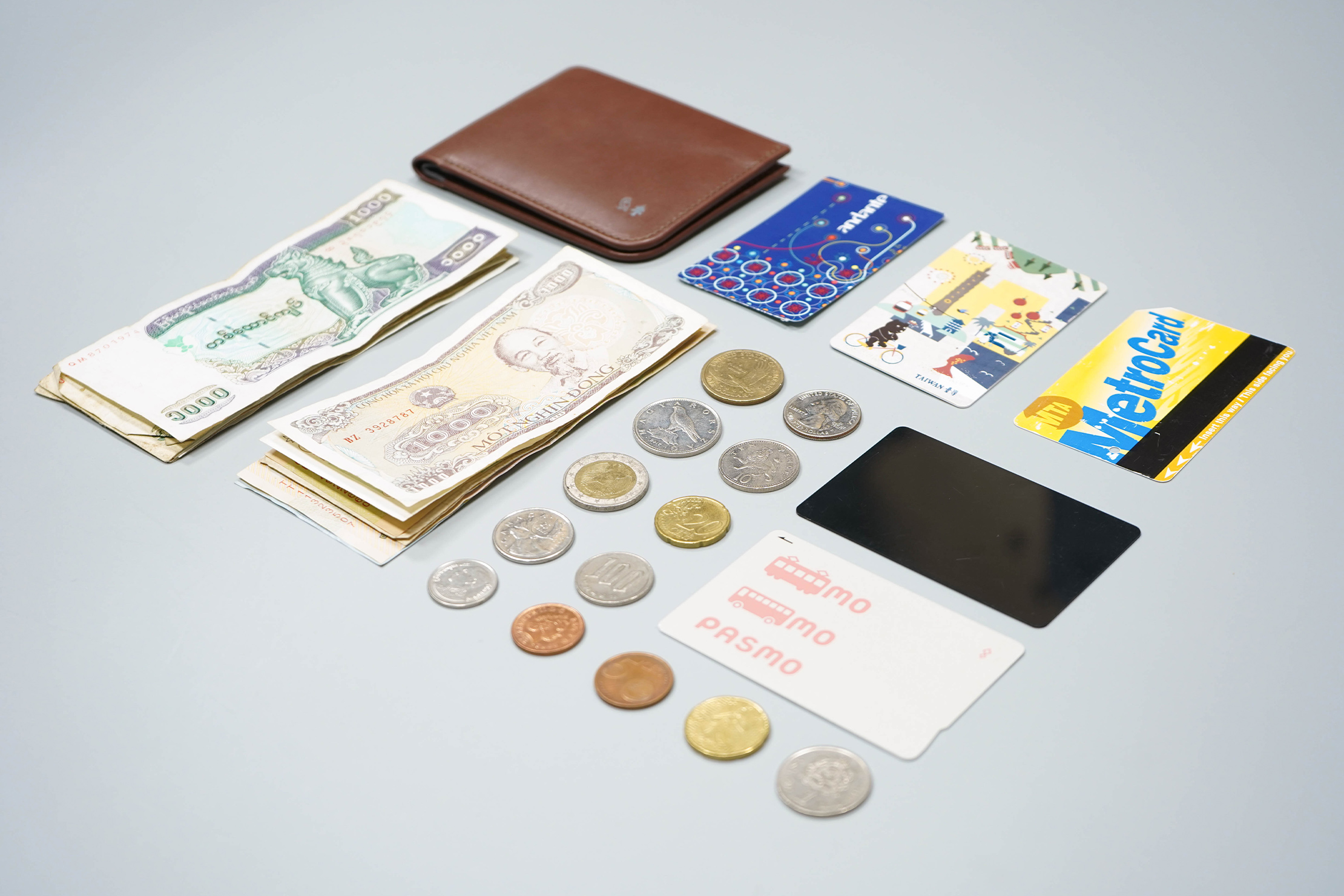 We've been testing the Huckberry Exclusive version of the Hide & Seek RFID Wallet, but you can also pick up the regular Bellroy version. (The differences are purely aesthetic.) So let's check it out.
Materials & Aesthetic
The Bellroy Hide & Seek RFID Wallet is made from leather. And if you've read any of our reviews of Bellroy products in the past, you'll know how much we love their leather. The company uses vegetable tanned cow leather from gold-rated Leather Working Group tanneries, which ensures the tanning process is done sustainably (as much as possible, anyway).

Plus, the leather is exceptionally supple and soft. Of course, leather is slightly more sensitive than some synthetic fabrics on the market. Be careful in rainstorms, avoid puddles at all costs, and try not to scratch it up. Still, we usually like the look of aged leather, which gets a beautiful unique patina over time.
We're also digging the minimalistic face of the wallet. The stitching along the perimeter is clean and sleek, adding to the wallet's classy aesthetic. At the time of this review, you can pick it up in a ton of different colorways (how many depends on the size you pick up), which all skew toward being earthy and subdued. Note that the Cocoa/Charcoal colorway we've been testing is exclusive to Huckberry.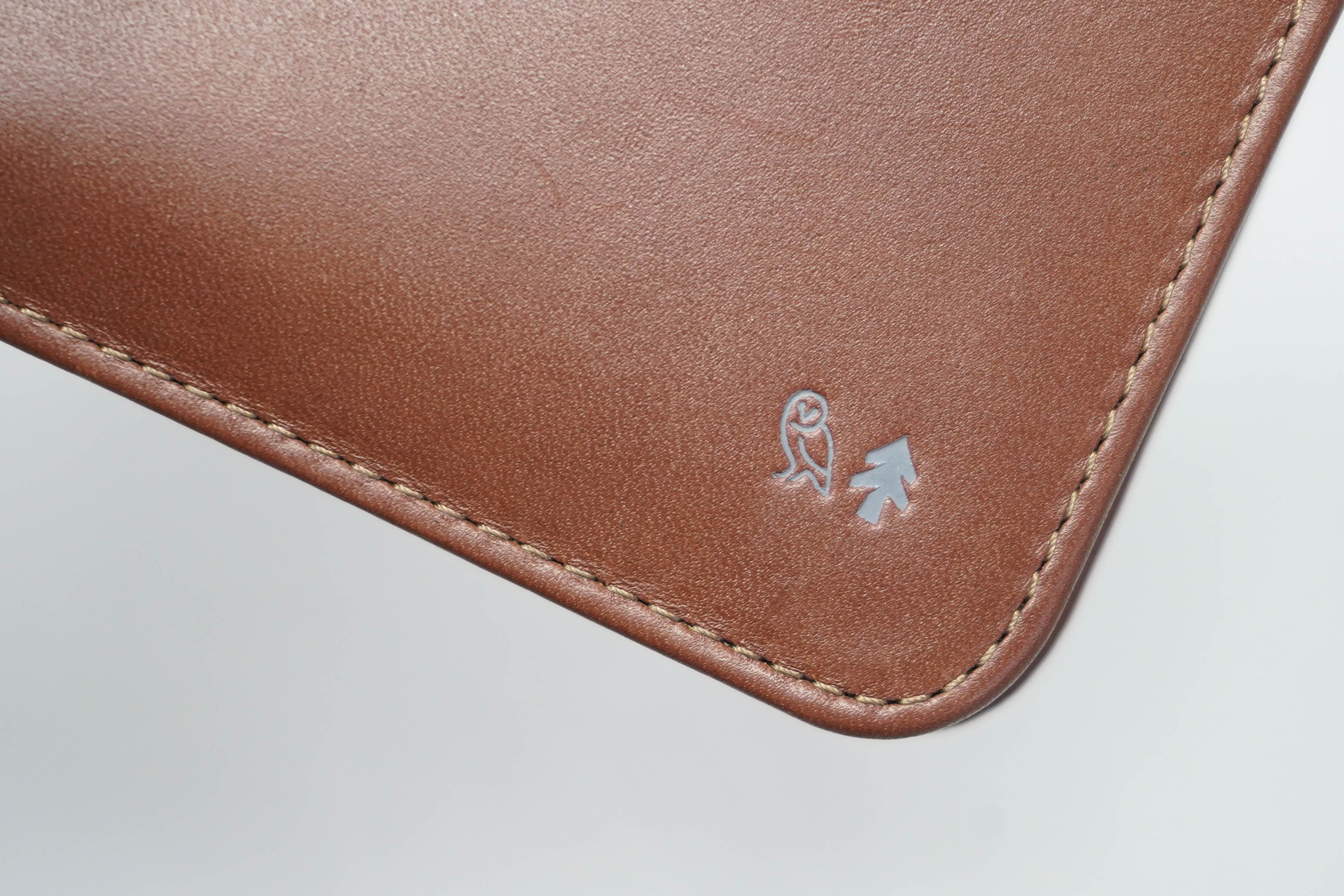 The Huckberry Exclusive version also features both the Bellroy owl and Huckberry tree debossed into the bottom corner, while the Bellroy version only has a metal Bellroy owl.
Bellroy also offers two different sizes of the wallet—LO for bills shorter than 74mm (think American dollars) and HI for bills taller than 74mm (think Japanese Yen).
Inside the Wallet
When you open up the Bellroy Hide & Seek RFID Wallet, the first thing you'll see is quick-access card slots—one on the left and three on the right for a total of four. They're staggered, so you can easily see what cards you have where. Plus, it's easy to slide your cards in and out. We've kept our personal cards on the right side and business credit cards on the left, but you can work out whatever system is best for you.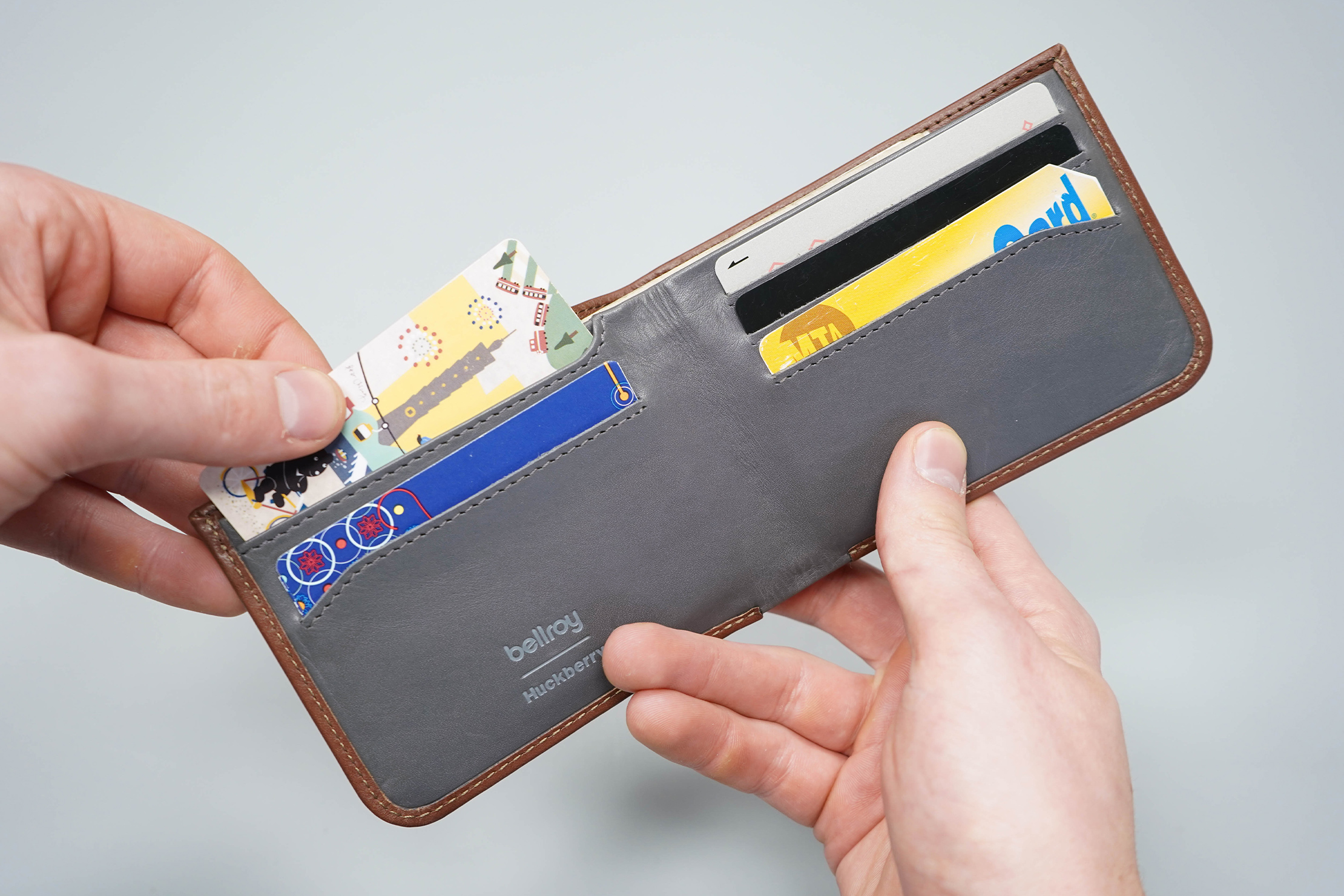 There's an additional card slot on the left, but it's deep—it goes all the way to the bottom of the wallet—and hides your cards from sight. It's a good spot for those cards you don't access often, insurance cards or priority passes, for example. It'll also hold coins.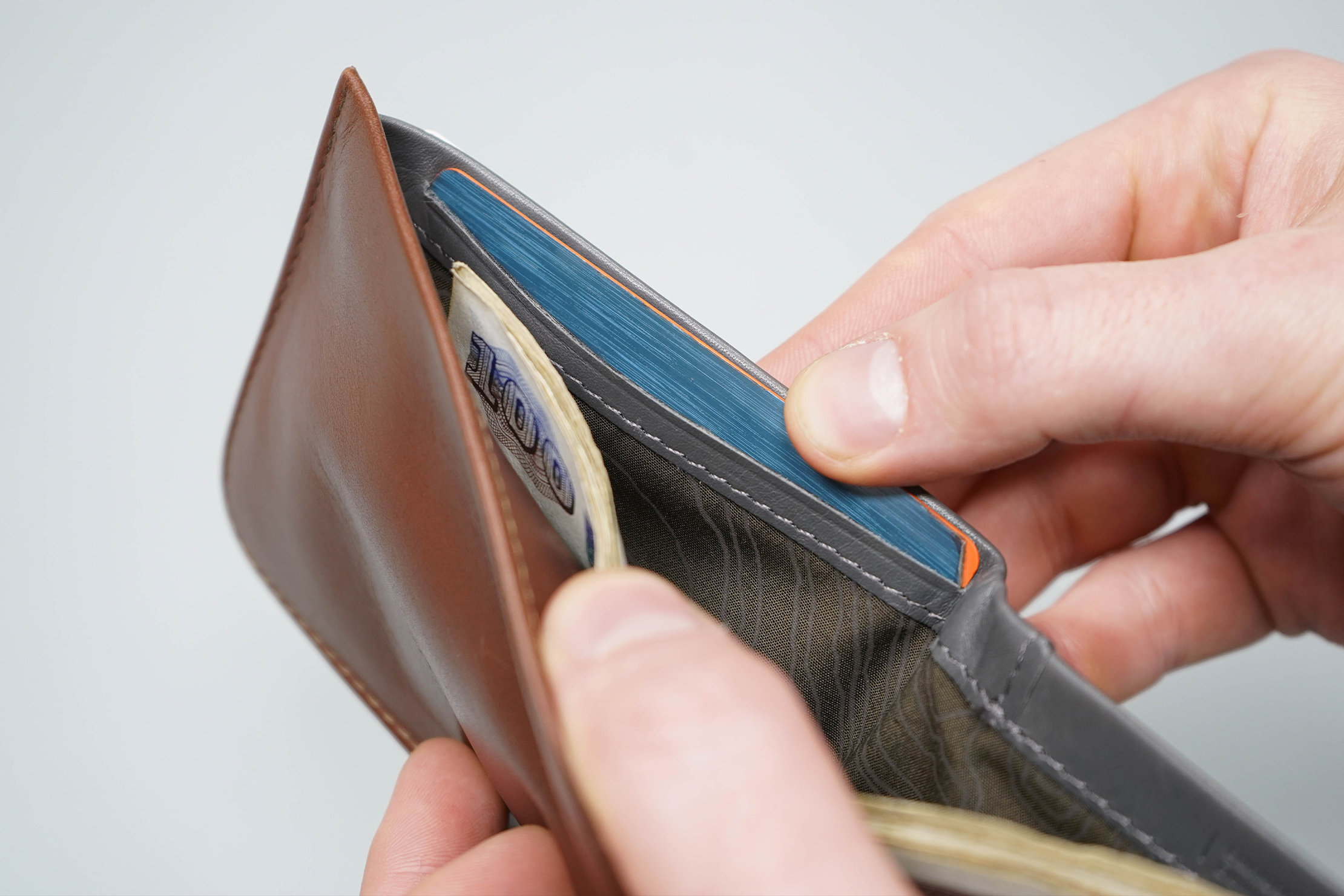 There's yet another card slot tucked into the front of the cash sleeve, behind those staggered card slots on the right side of the wallet. Again, this is a good spot for those cards you don't use as frequently.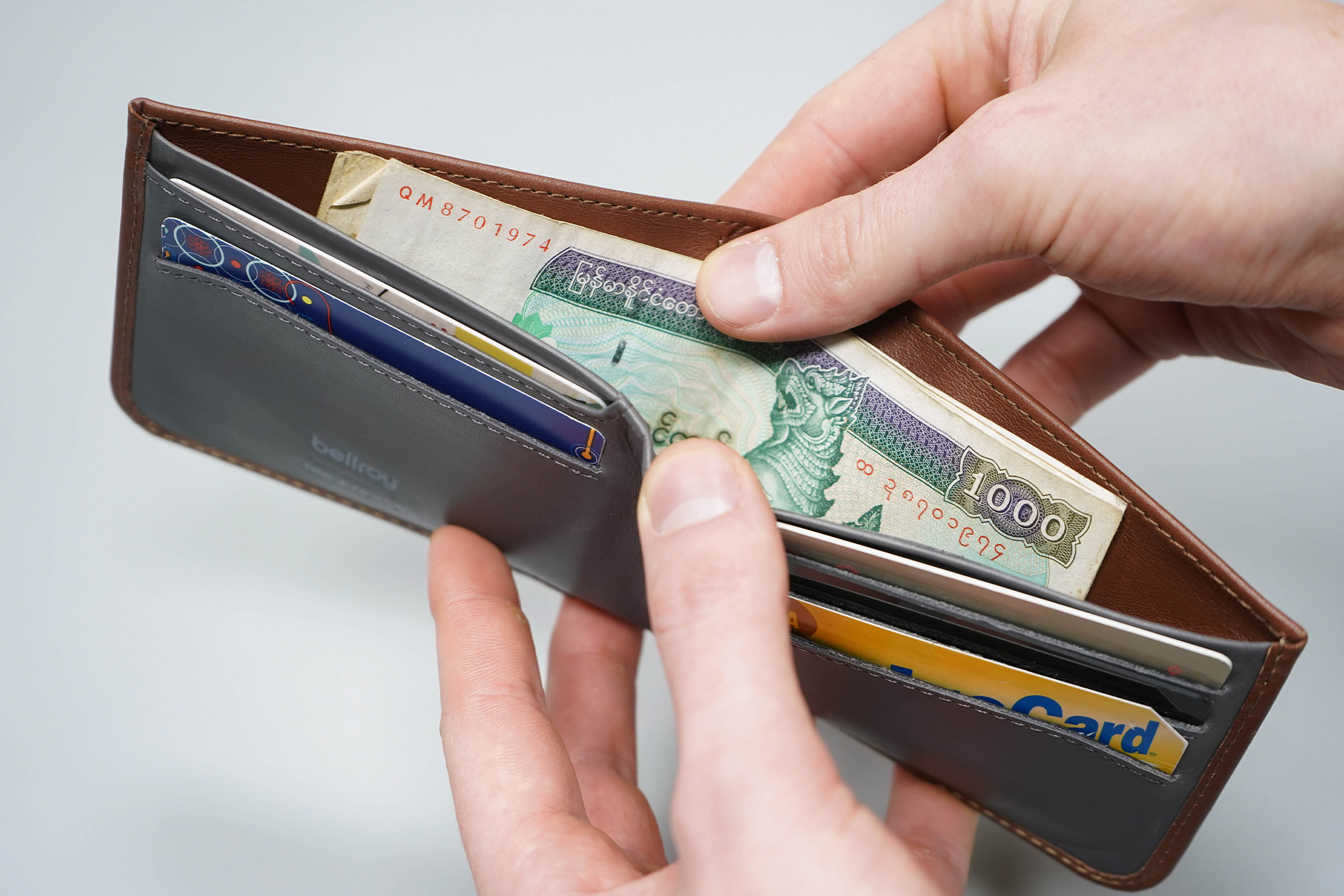 The cash sleeve allows you to carry cash without having to fold it, which may be a major pro for you. What size of cash that'll fit depends on the size you purchase.
Inside the cash sleeve, on the Huckberry exclusive version, you'll find a topographical pattern that we're really digging. It just adds a subtle pop of style. There's also the quote "your companion for the moments ahead" debossed into the leather.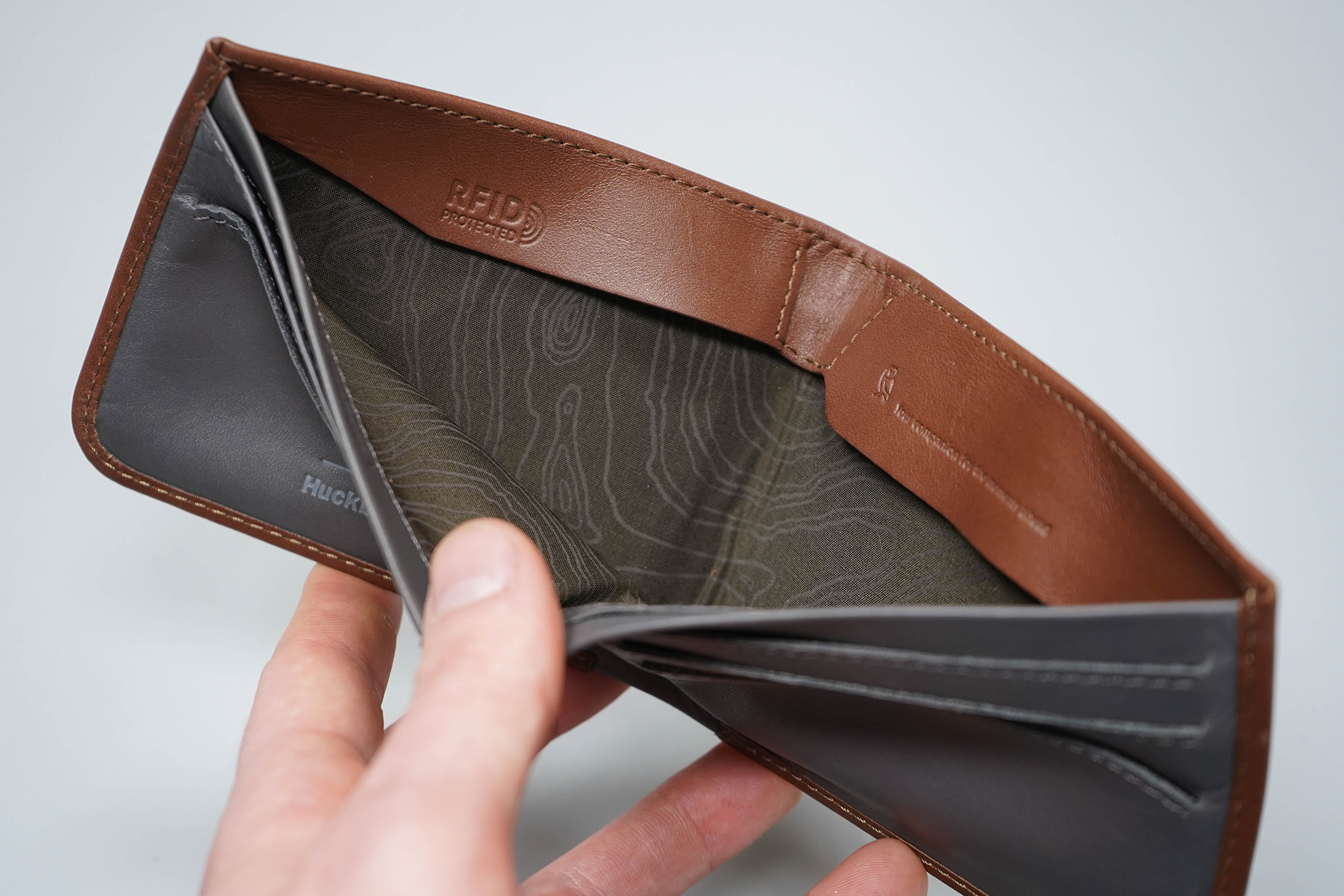 If you flip up the leather flap at the back of the sleeve—this is where that Hide & Seek name comes in—there's an additional spot for cash. You can keep this slot hidden for security reasons (perhaps a wrongdoer asks you to pull out all of your cash from your wallet, but doesn't see your secret second stash?) for organizational purposes, or to trick you into staying on budget (you can keep "emergency cash" behind the flap, but only allow yourself to spend what's in sight).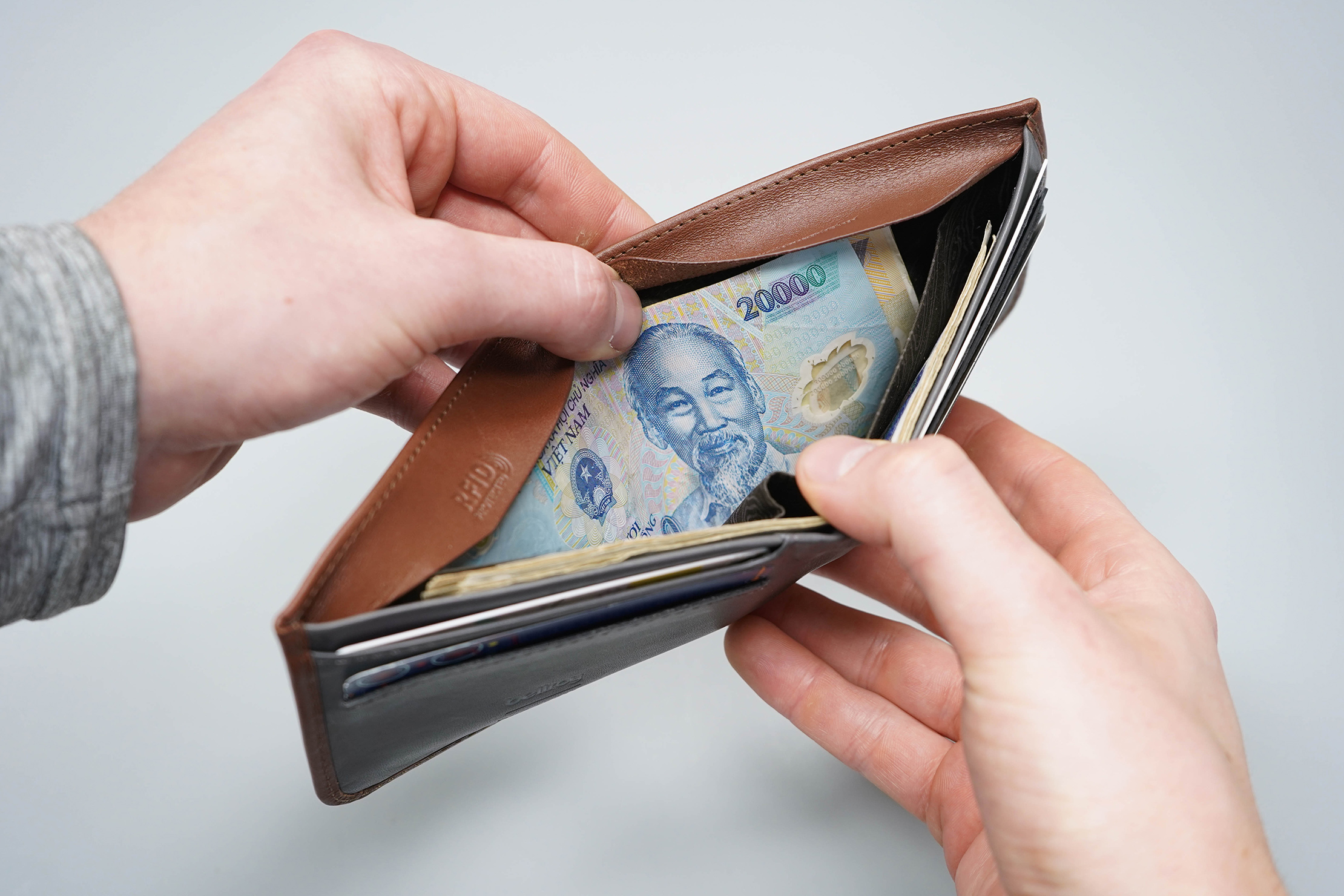 You also don't have to keep this slot hidden and can instead use it to separate two types of currencies while traveling. Say dollars in the back and Euros upfront. Of course, the size of the wallet you get will determine what currencies you can fit, so make sure to keep that in mind while purchasing.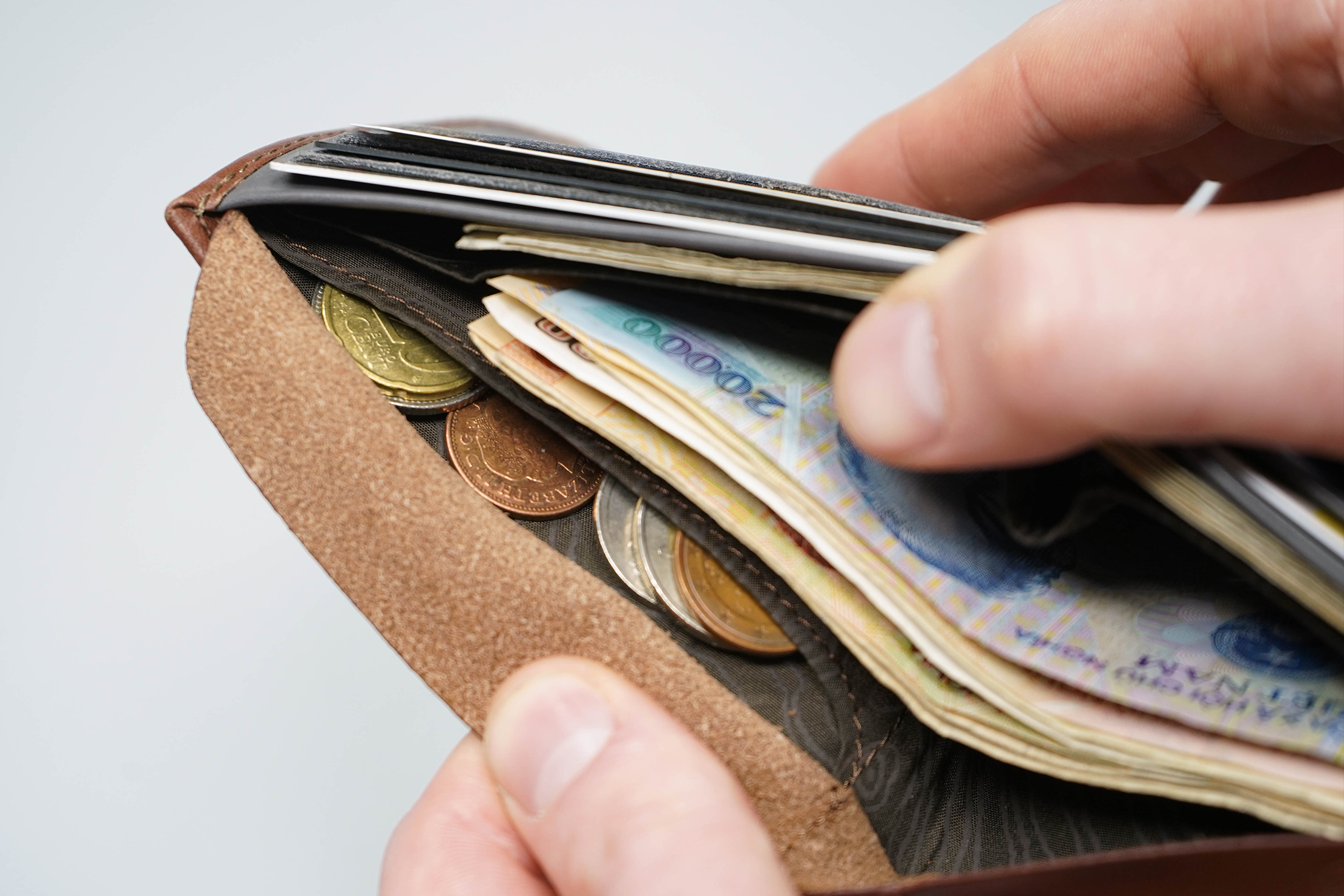 Behind the flap, there's also a coin pocket, which can also hold credit or business cards. With all of these slots and secret pockets, the wallet is a little bit on the thicker side, especially if you're used to more minimalist wallets. But it'll sit fit inside your pocket or the quick-grab pockets of most backpacks or sling bags.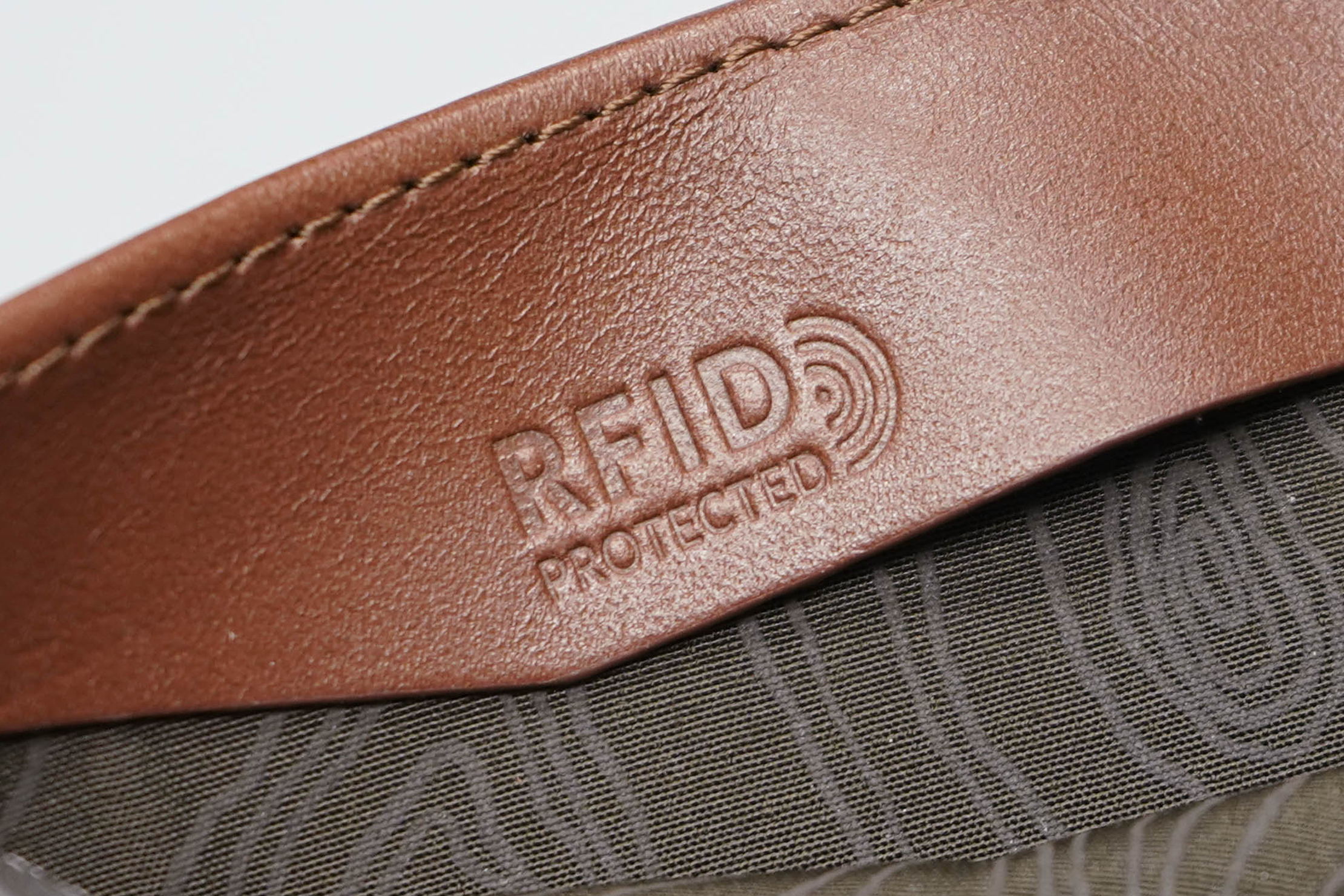 We also want to note that the entire wallet is RFID-protected. There's not a lot of solid information out there on how many RFID crimes have been committed—knowing how credit card information is stolen is not as simple as you might think—but an RFID-blocking wallet does give you some peace of mind if you have RFID enabled credit cards, passports, key cards, etc.
Durability & Testing
We've been testing the Huckberry Exclusive Bellroy Hide & Seek RFID Wallet for a few weeks in Detroit, Michigan. All in all, we've enjoyed using all of the pockets and sleeves to keep cards, cash, and coins handy and tidy.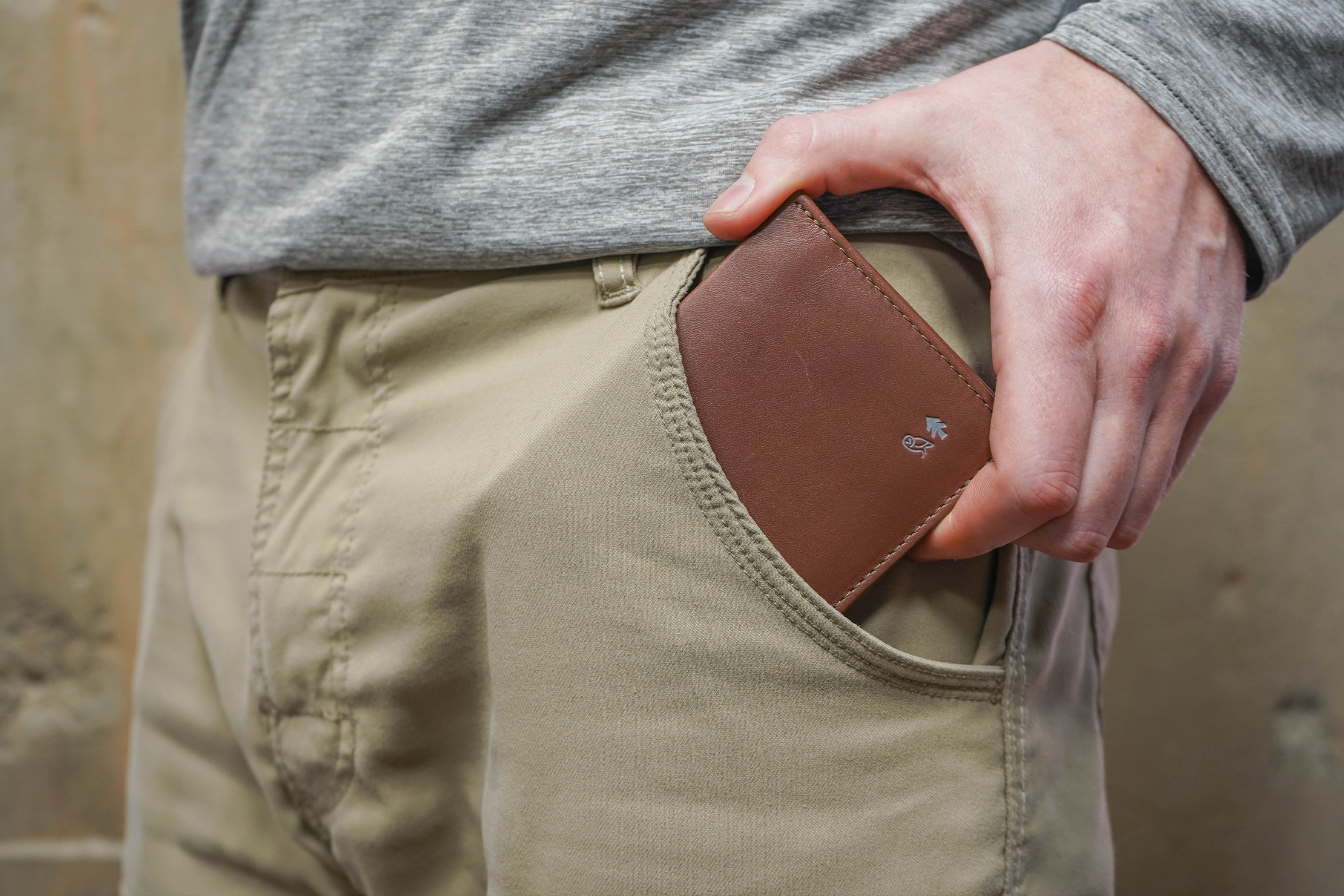 And, as always for Bellroy, the craftsmanship is top-notch. We have no durability issues to report so far.
Usage Timeline
Initial Usage
Condition: Excellent
High-quality look and feel
Great security features like hidden cash pocket and RFID protection
Halfway between a normal wallet and minimalist wallet
1 Month of Use
Condition: Excellent
So far, so good. Often, with leather wallets, you'll find that the card slots stretch out. But these ones haven't yet.
Access the Pro Community Discussion
Get your questions about the Bellroy Hide & Seek RFID Wallet answered from our team and the Pro Community right here on the page. Plus, join discussions with other members about gear, guides, and more.
Other Organizers & Pouches Reviews