If you're traveling abroad, passport security has probably crossed your mind more than once. Exploring a new place is exhilarating, but being unsure if your passport is secure causes unneeded anxiety. Never fear; Pack Hacker is here!
We've compiled a detail-oriented list of our favorite travel wallets to help you decide which should accompany you on your next trip. Some are basic passport wallets without frills; others are as detailed as your itinerary. There's a best travel wallet for everyone on this list, so sit tight, and enjoy the ride!
Before we dive in, we tested all of these passport wallets with American identification. If you your passport is a different size, your mileage may vary. For reference, an American model is 4 15/16 x 3 7/16 inches (12.54 x 8.73 centimeters). Most passports match this size, but if unsure, measure yours first!
And, if you want to see some of these wallets in action, check out the video above. Now, let's get into it!
1. Bellroy Travel Wallet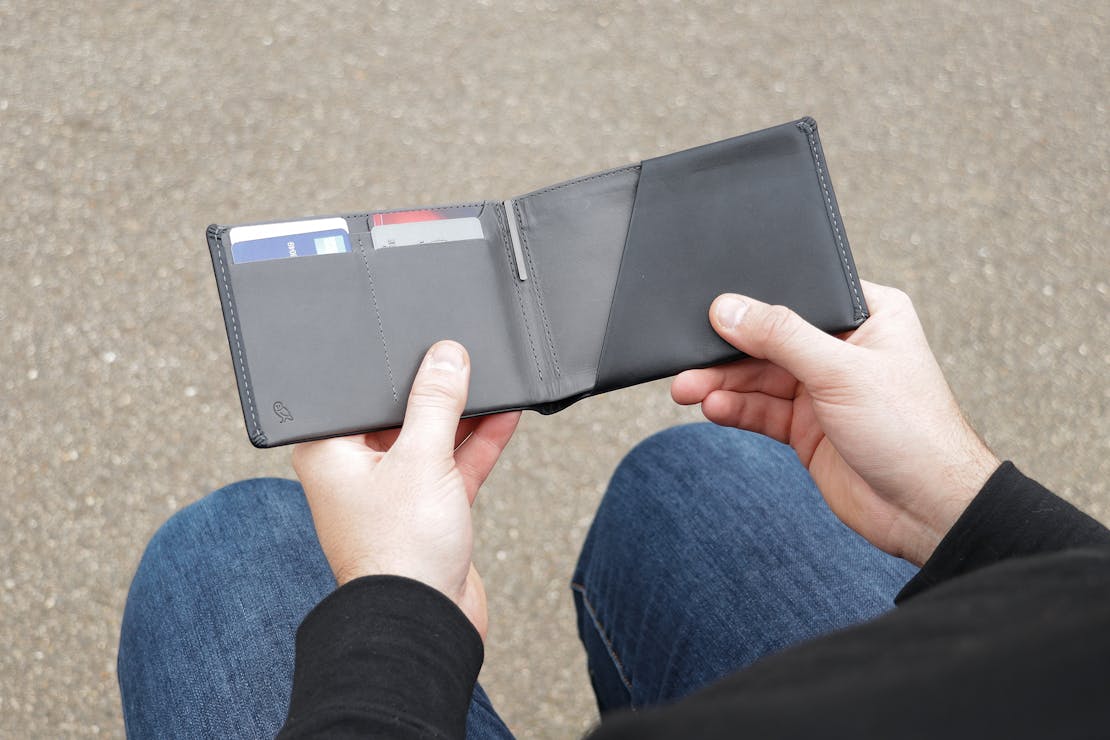 Why We Like It: A professional-looking option that includes a pen.
What You Should Know: The hidden pocket flap is flimsy.

Bellroy's Travel Wallet is a popular and competent offering that looks professional and has thoughtful internal organization. You can slide more than one passport inside, and there's a divider in the money pocket to separate different currencies. Or, slide a boarding pass in one and your cash in the other.

Although the wallet looks similar in size to a standard wallet, it has a much larger footprint. This keeps it from fitting inside your front pocket and away from most back pockets. However, It should fit inside your sling, coat pocket, or daypack.

Though the exterior scratches and scuffs easily, it offers a unique, rugged, professional look that we dig. Plus, it comes with a micro-pen! That's great for filling out your customs form on the plane before landing. What else could you ask for from a travel wallet?
See Full Review & Buying Options
2. Fjallraven Passport Wallet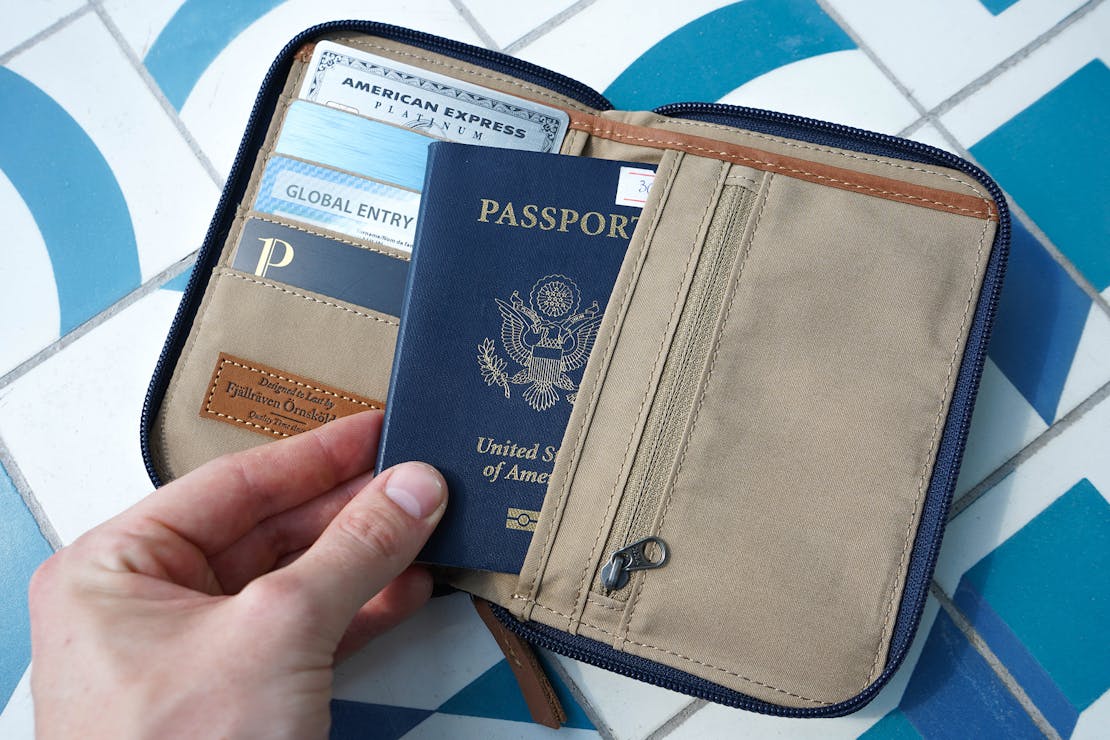 Why We Like It: Internal organization feels more like a wallet with space for extras.
What You Should Know: It is a tad too big for a pocket but too small to require a sling.

The Fjallraven Passport Wallet utilizes G-1000 fabric, which we're used to seeing on other products from the brand. It's durable, looks professional, and makes the color pop. Paired with YKK zippers, this is a passport wallet that you can rely on for years to come.

The internal organization can handle your travel documents, credit cards, and more than one passport if you pack it wisely. Given how much you can fit inside, this wallet is larger than your daily carry, but it feels soft in your hand and looks professional and fun at the same time.

If you own other Fjallraven gear, their Passport Wallet will fit right into your kit.
See Full Review & Buying Options
3. Pioneer Passport Wallet
Why We Like It: The use of premium, sturdy materials goes a long way.
What You Should Know: There's only one place to put your passport.

If durable materials are your thing, look no further than the Pioneer Passport Wallet. In addition to having space for your important travel documents, the nylon shell is extraordinarily tough and can handle whatever journey you have planned next. It also has a DWR coating to shield your sensitive information from the elements.

The interior design is simple, which ensures you can access everything quickly. Both the interior and exterior are minimalistic, which is great for looks, but may leave something to be desired for those who like to bring a ton of gear.

Whereas this is an excellent option for those looking for a passport wallet for just the essentials, if you want the best travel wallet for the whole nine yards, this might not be the right choice for you.
See Full Review & Buying Options
4. Zero Grid Passport Wallet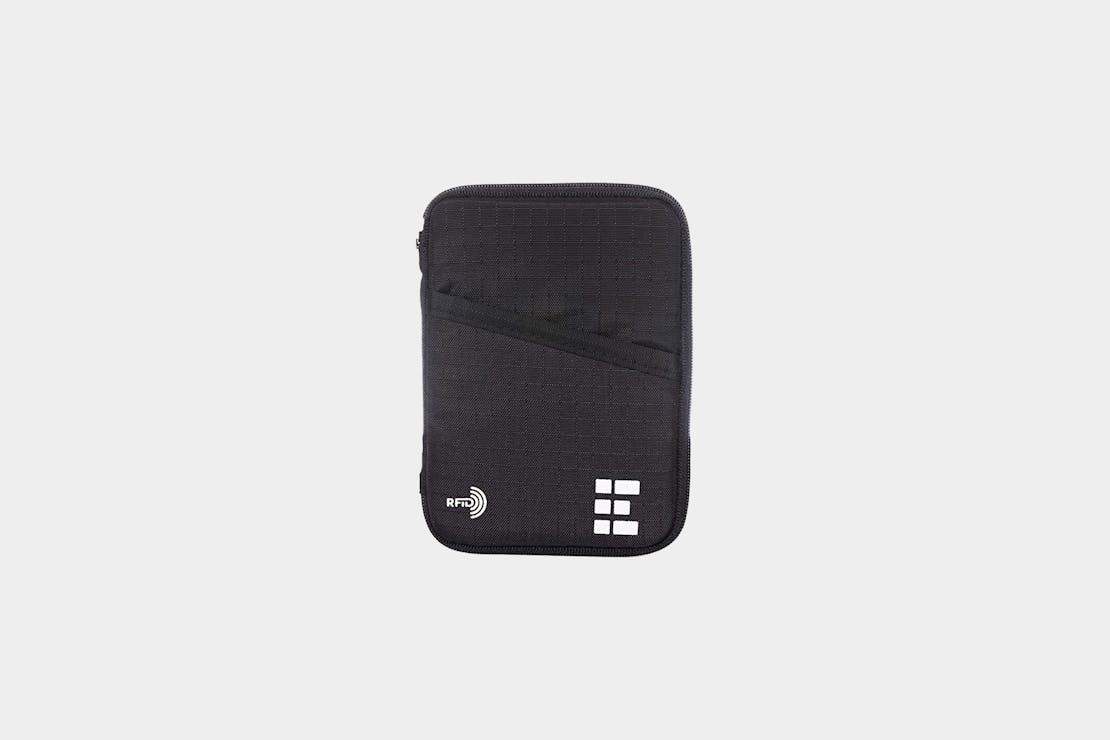 Why We Like It: It can fit a lot of gear for its small footprint.
What You Should Know: The materials aren't very sturdy for rugged adventures.

At first glance, the Zero Grid Passport Wallet looks a bit cheap. However, what it lacks stylistically, it makes up for in gear storage. On the interior, you can stow your passport on either side, leaving the other for your cards and cash. There's even an exterior pocket that's handy for waiting in line at the coffee shop or food truck.

This travel wallet closes with a YKK zipper and utilizes ripstop nylon, which is lightweight and fairly durable. It isn't the best choice for a rugged adventure, but it'll hold up well for most use cases.

If the small size doesn't suit your needs, Zero Grid makes a larger Passport Holder with enough space for an entire family. Plus, the included pen is nearly twice as large; what a deal! This comes in handy for filling out customs forms and writing down directions.
See Details & Buying Options
5. Pacsafe RFIDsafe Compact Travel Organizer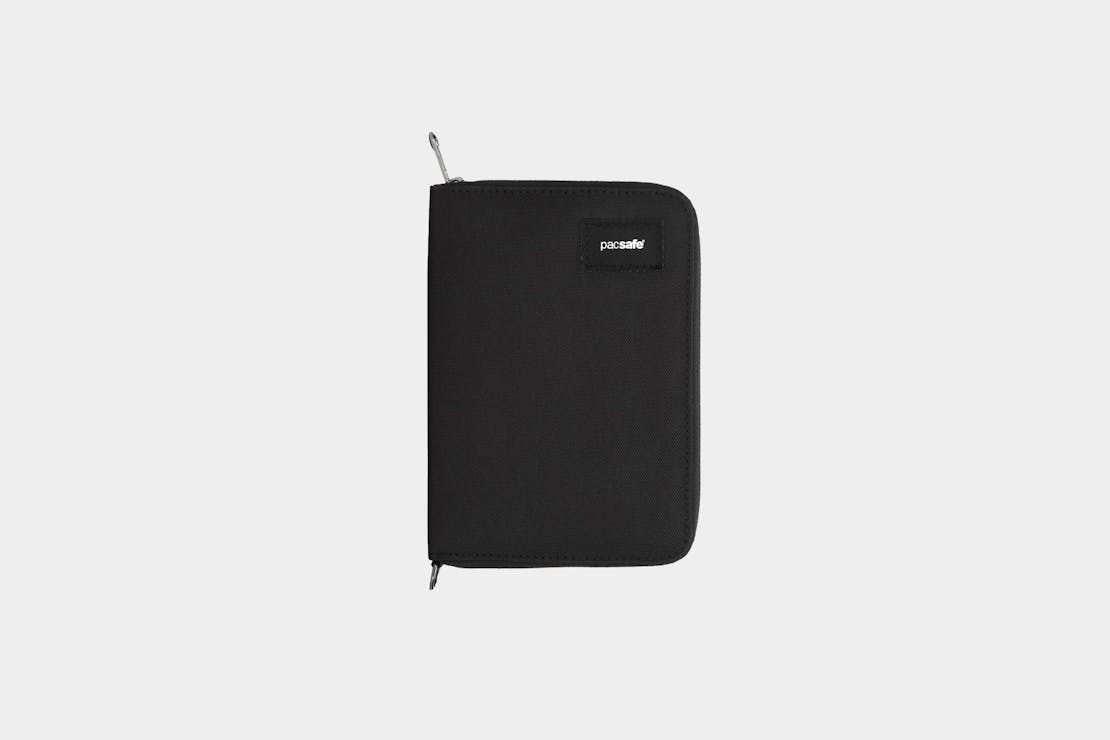 Why We Like It: The dedicated change purse is ideal for places where cash rules.
What You Should Know: Although plentiful, the internal organization can be daunting.

Pacsafe is known for its products that deter theft while traveling. Although their Compact Travel Organizer doesn't have any of the unique locking features as some of their slings we've tested, it has RFID-blocking technology and is a capable travel wallet.

The exterior is crafted from recycled polyester and is PFC-free, which is an excellent shout from an environmental standpoint. A small zippered pocket on the exterior works well for change or if you're waiting in line at a cash-only joint and don't want to wave bills around beforehand.

This passport wallet is large, but not so large that you'll feel awkward holding onto it for a few minutes at a restaurant or shop. The interior organization is thoughtful and easy to organize, so you'll be able to quickly access your gear no matter where you end up.
See Details & Buying Options
6. Away Passport Holder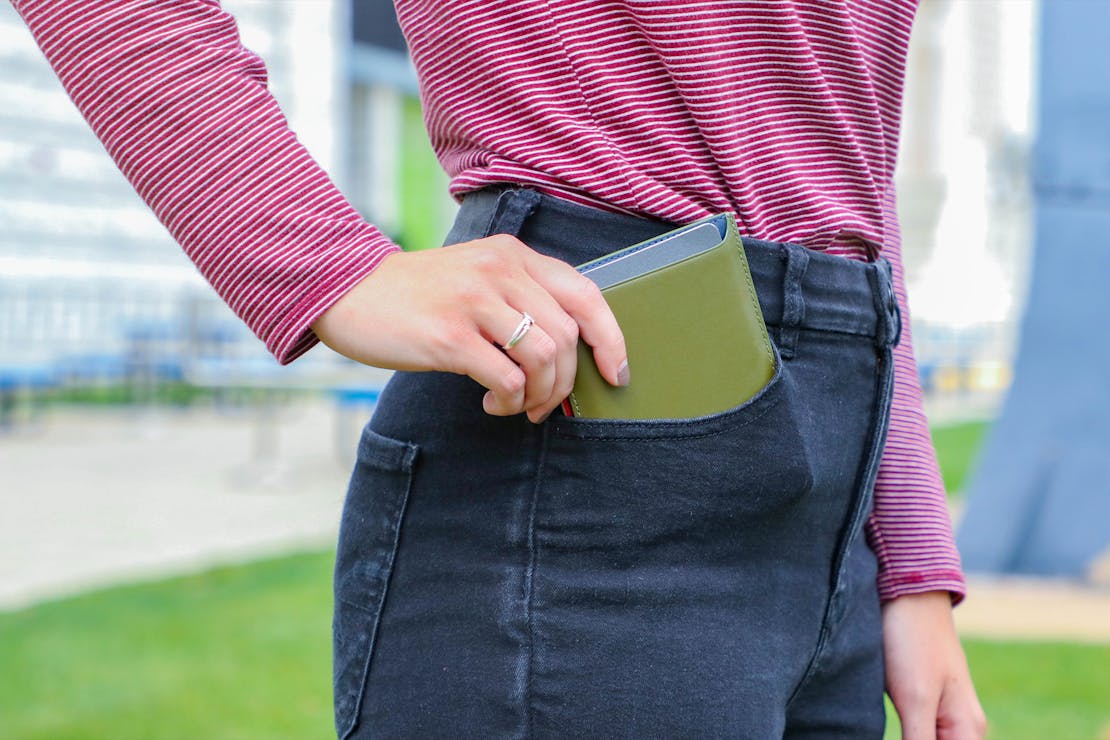 Why We Like It: Unique design doesn't fold, ensuring no wasted space.
What You Should Know: It can be hard to see the cards inside the wallet.

Most of the travel wallets on this list share one feature—a fold. We're used to seeing non-folding models in the everyday carry world, but for a passport wallet, it feels wasteful. Enter the Away Passport Holder!

The design ensures easy access to your passport and gear because you don't need to open a fold before grabbing it. This does heighten the chance that dirt and debris will slide inside and makes it a little harder to see cards in poor light, but once you get used to it, this isn't an issue.

Best of all, this travel wallet from Away looks professional and feels durable. Plus, if you have larger pockets on your clothing, you may be able to carry it without needing a sling or daypack!
See Full Review & Buying Options
7. Amazon Basics RFID Travel Passport Wallet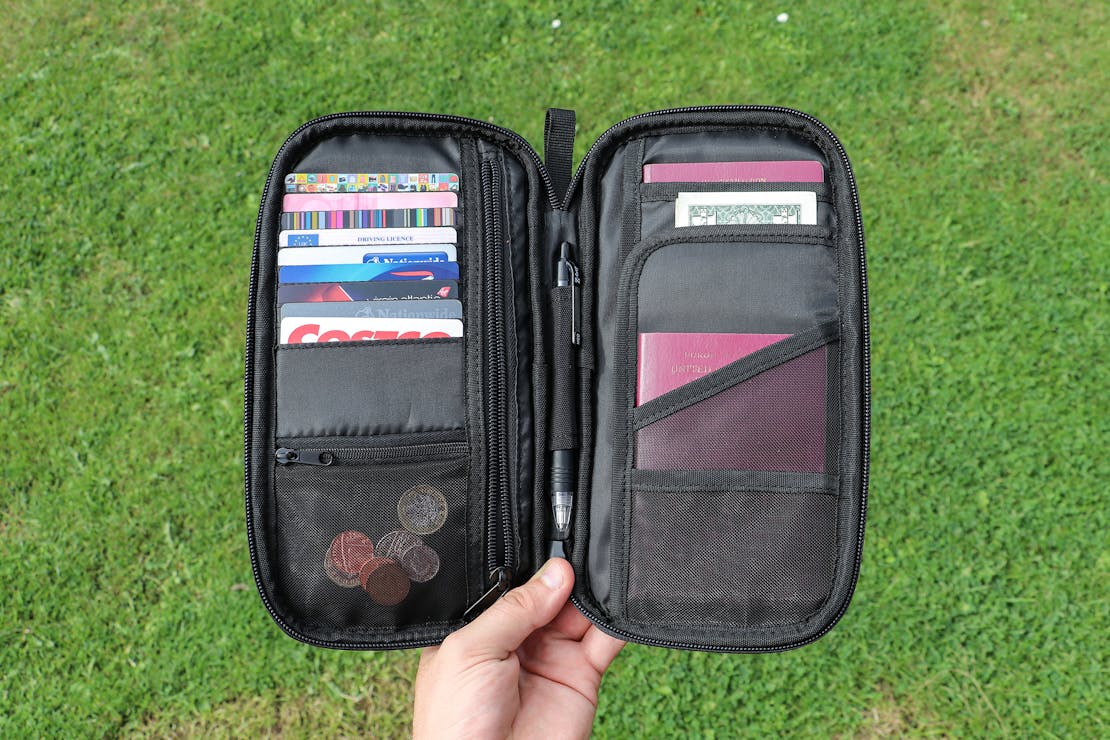 Why We Like It: There's enough room for everything in your wallet and then some.
What You Should Know: You'll need to stow it in a daypack or other large gear.

We know what you're thinking—an AmazonBasics travel wallet? Stick with us. It might look like the little folder that the check comes in at a restaurant, but the AmazonBasics RFID Travel Passport Wallet can fit you, your partner, and your family's travel documents in one easy-to-access location.

In addition to holding everyone's passports, you will be able to stow cards, cash, and other gear inside. The exterior has a loop to secure it inside your pack for extra peace of mind. The design is thoughtfully crafted, so you know where all your important documents are at all times.

Best of all, it comes at a budget-friendly price so you can spend more on wontons, not a travel wallet.
See Full Review & Buying Options
8. Zoppen Passport Holder
Why We Like It: Clutch-style design looks as comfortable at a restaurant as at the airport.
What You Should Know: Button closure can be finicky.

Most travel wallets we've come across have a more masculine style. There are options for those who prefer something different, but they're not as common. The ZOPPEN Mulit-purpose Rfid Blocking Passport Holder Travel Wallet utilizes a clutch-style design that fits in no matter where you end up.

The exterior is crafted from faux leather that looks professional and holds up well over time. The snap closure can be tricky, especially when not fully packed. There are a ton of fun colorways to choose from, and this travel wallet won't break the bank, either.

The interior has a soft accent material to ensure your gear stays safe and scratch-free. It unfolds like a pamphlet, so you'll have enough room for everything you need, from Detroit to Delhi.
See Details & Buying Options
9. Herschel Supply Co. Raynor Passport Holder
Why We Like It: It has a casual design that feels at home no matter where you end up.
What You Should Know: Sliding your passport in and out isn't always the quickest.

The Herschel Supply Co. Raynor may be described as a passport holder, but it operates like a travel wallet. It's crafted from leatherette, or synthetic leather, which is durable but shows cracks over time. These haven't compromise the material in our experience, though they are noticeable.

The interior has a simple design that can hold a few cards, cash, and a passport. The organization doesn't try to do or carry too much and ensures you don't overpack in the process.

However, it's pretty large for what you can stow inside. It feels more like a standard model than a travel wallet. That might not work for some, but if you want to use something that reminds you of what you're used to, it will do that perfectly. The model we have on hand has a black-and-white colorway that's sharp-looking and unique.
See Full Review & Buying Options
10. Trayvax Explorer Passport Wallet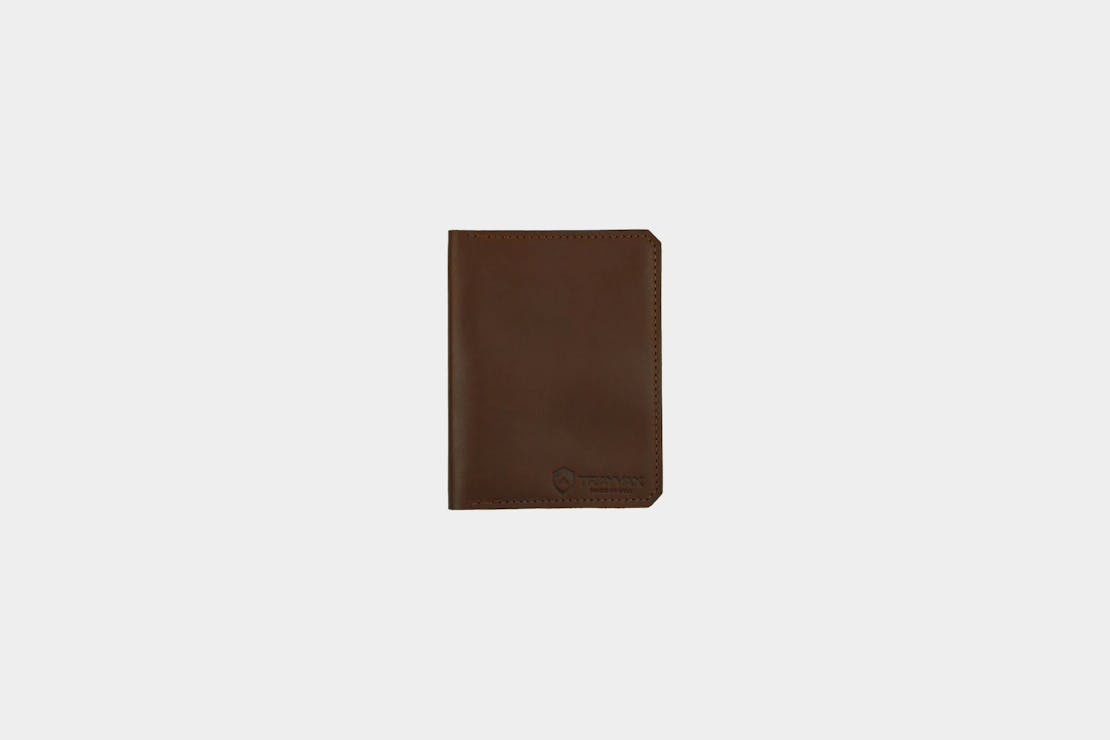 Why We Like It: American leather looks professional and rugged simultaneously.
What You Should Know: You can't fit a ton of gear inside for how large it is.

We've tested a lot of Trayvax Wallets here at Pack Hacker; although most are made of metal and feature minimalistic design hues, the Explorer Passport Wallet has a unique look all its own. It's crafted from genuine American leather that looks professional and rugged simultaneously.

The angled corners look almost art-deco and add to this wallet's stand-out design. It only comes in brown, but we feel that color suits it well.

On the interior, there's a window so you can see what card you're sliding out. There isn't much room for gear here, but there's enough space for your travel essentials. In addition to offering an excellent passport wallet, Trayvax has a warranty that can be relied on. The warranty spans 65 years and covers any issues with materials or their work from general wear and tear.
See Details & Buying Options
11. Red Wing Shoes Passport Wallet
Why We Like It: A classic look that your grandfather and grandchild can appreciate.
What You Should Know: The fold is rounded, so it takes up a lot of space.

Red Wing has been cranking out comfortable boots since just after the turn of the century, but they make other leather goods worth looking at, too. The Red Wing Shoes Passport Wallet is crafted from durable materials and feels as sturdy as we'd expect from such a reliable brand.

On the interior, the two sides are nearly identical. There are slide pockets for your passport(s), two slots for cards, and a larger pocket perfect for cash. There isn't a good spot for coins, so you might want to have an alternative place for that or avoid carrying it.

Given the durability of the leather, the crease isn't very flat, which gives this travel wallet a lot of width. It feels more comfortable in a sling or daypack, but you can throw it in your jacket pocket in a pinch.
See Details & Buying Options
12. Fjallraven Kanken Travel Wallet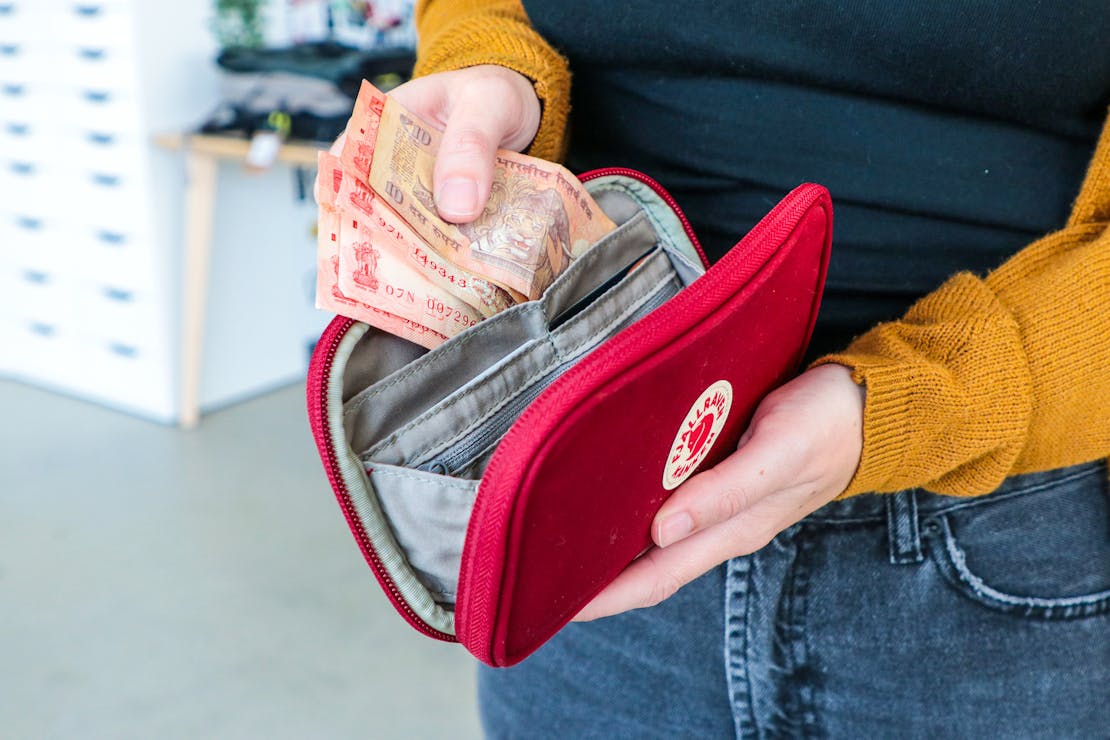 Why We Like It: Has enough space to fit small gear inside, so it functions similar to a clutch bag.
What You Should Know: It's pretty bulky for the storage space you get.

We've tested a lot of Fjallraven gear over the years, a lot of which carries the Kanken name. The Fjallraven Kanken Travel Wallet is perfect for someone who already owns gear from the line or is looking for an ecosystem to invest in.

This passport wallet has lots of internal organization for your travel essentials and everyday gear. There's an exterior phone pocket to keep everything in one place; however, plus-sized phones and large cases might not fit. When you're phone is stowed inside, you can see the edges, which isn't the most flattering look.

There are numerous fun colorways, and the styling perfectly fits into the Kanken line. However, it works well with anything colorful. When not fully packed, the top of the wallet caves in a little. This doesn't affect usage, but it is noticeable.
See Full Review & Buying Options
13. CODEOFBELL ANNEX CASE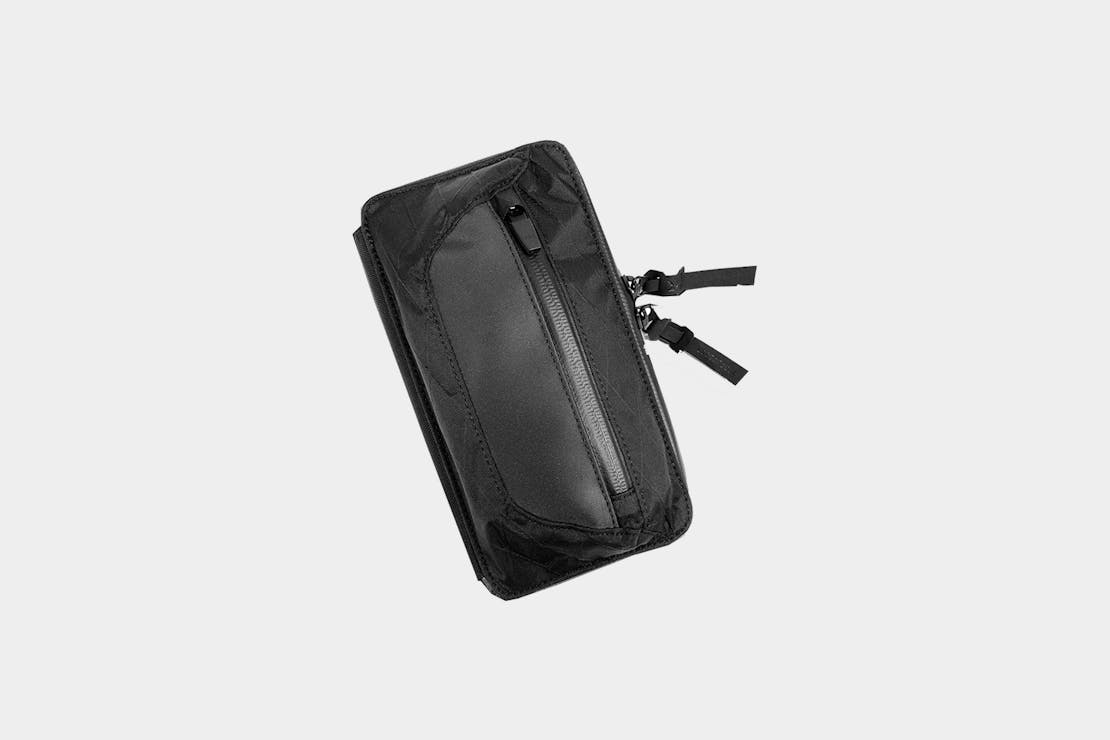 Why We Like It: Enough room to stow your daily essentials and passport.
What You Should Know: It's a bit bulky, even for a small pouch.

The CODEOFBELL ANNEX CASE isn't a passport wallet per say, but it works exceptionally well for folks who want to go the extra mile in gear storage. The exterior has a durable shell with ample water resistance, so your gear inside will stay safe.

You can turn the case into a sling or crossbody bag, so you don't have to worry about whether or not it will fit into your pocket. Though that makes this thing is large and hefty, you can fit more gear inside than in a traditional travel wallet. It utilizes segmentation, separate zippered compartments, and liner pockets to ensure all your gear has a home.

It has a minimalistic design, but the black colorway might not be what everyone looks for in a pouch.
See Details & Buying Options
14. Moment Crossbody Wallet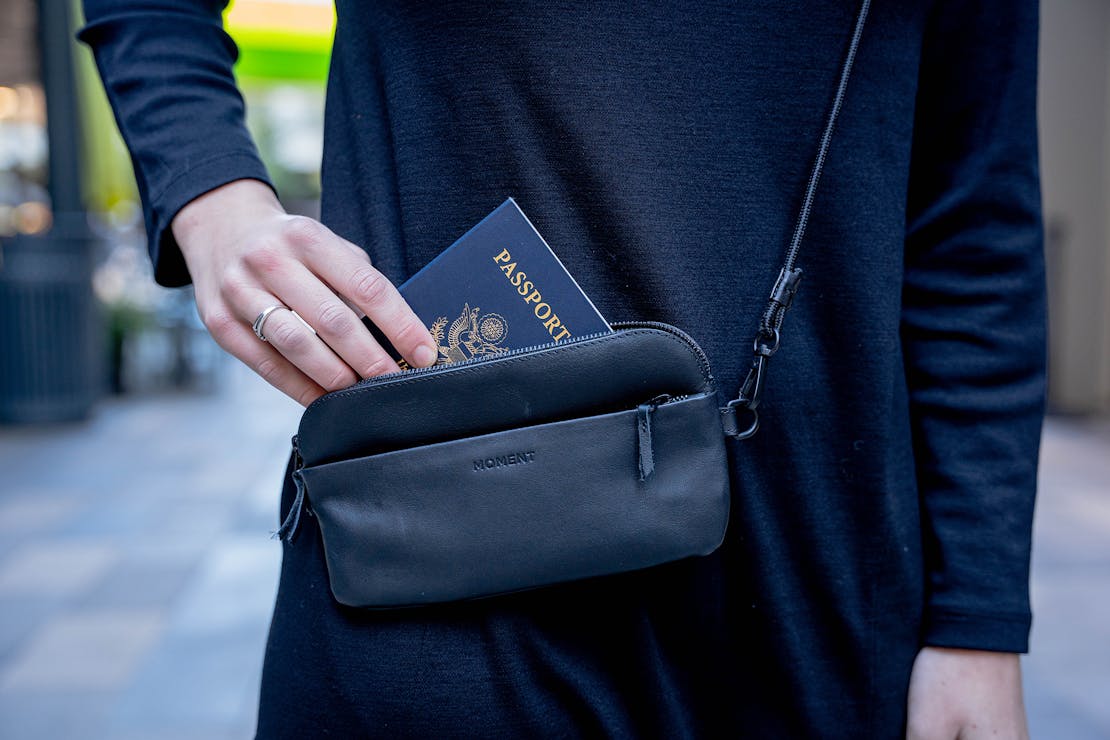 Why We Like It: A simple wallet for those who prefer the option to wear your essentials.
What You Should Know: It looks more like a purse than a wallet.

The Moment Crossbody Wallet is a mini sling that can be used as a wallet. You can carry it with the included wristlet or use the strap to keep your hands free. The design is more feminine, but the colorway lends itself to most outfits and any gender.

The strap clips don't feel the most secure, but we haven't had any issues with them coming undone. There's enough space to segment your gear on the interior but not enough to drown it in organizational bureaucracy. That said, it can feel a bit tight, so it's best for storing small gear like a phone or chapstick.

Whether at the airport or on a fancy date, the Moment Crossbody Wallet is the best travel wallet that's up for any occasion and ensures all your gear makes it home safely.
See Full Review & Buying Options
So there you have it! Hopefully, by this point, you've chosen a few travel wallets that you can choose from for your next trip. Whether you're heading to Texas or Tazmania, one of the passport wallets on this list will surely get your gear there safely.