Pioneer Passport Wallet Review
The Pioneer Passport Wallet has a good amount of pockets for travel documents, cards, and cash, though we wish there was more than one way to fit a passport.
Our Verdict
Unlock the Pro Summary
Save time. Get access to brief summaries of our reviews so you can browse and make decisions more efficiently.
Pros
Premium materials and build quality
Dedicated pockets passport, tickets, cash, and cards
Discreet design to protect important documents
Cons
Small discoloration inside
Only one pocket fits a passport
Size and stiff material can be awkward to store in pocket
Recent Pack Hacker Video
Technical Details
Dimensions

8.46 in x 5.31 in x 0.16 in (21.5 x 13.5 x 0.4 cm)

(when open)

Notable Materials

Nylon, Polyethylene, DWR Coating

Manufacturing Country

Vietnam

Warranty Information
Full Review
Travel wallets are neat tools for two reasons: they're big enough to fit travel documents and often have more than enough organization to replace a regular wallet. It's a convenient way to reduce the amount of gear you're bringing along and become #OneBagTravelGoals.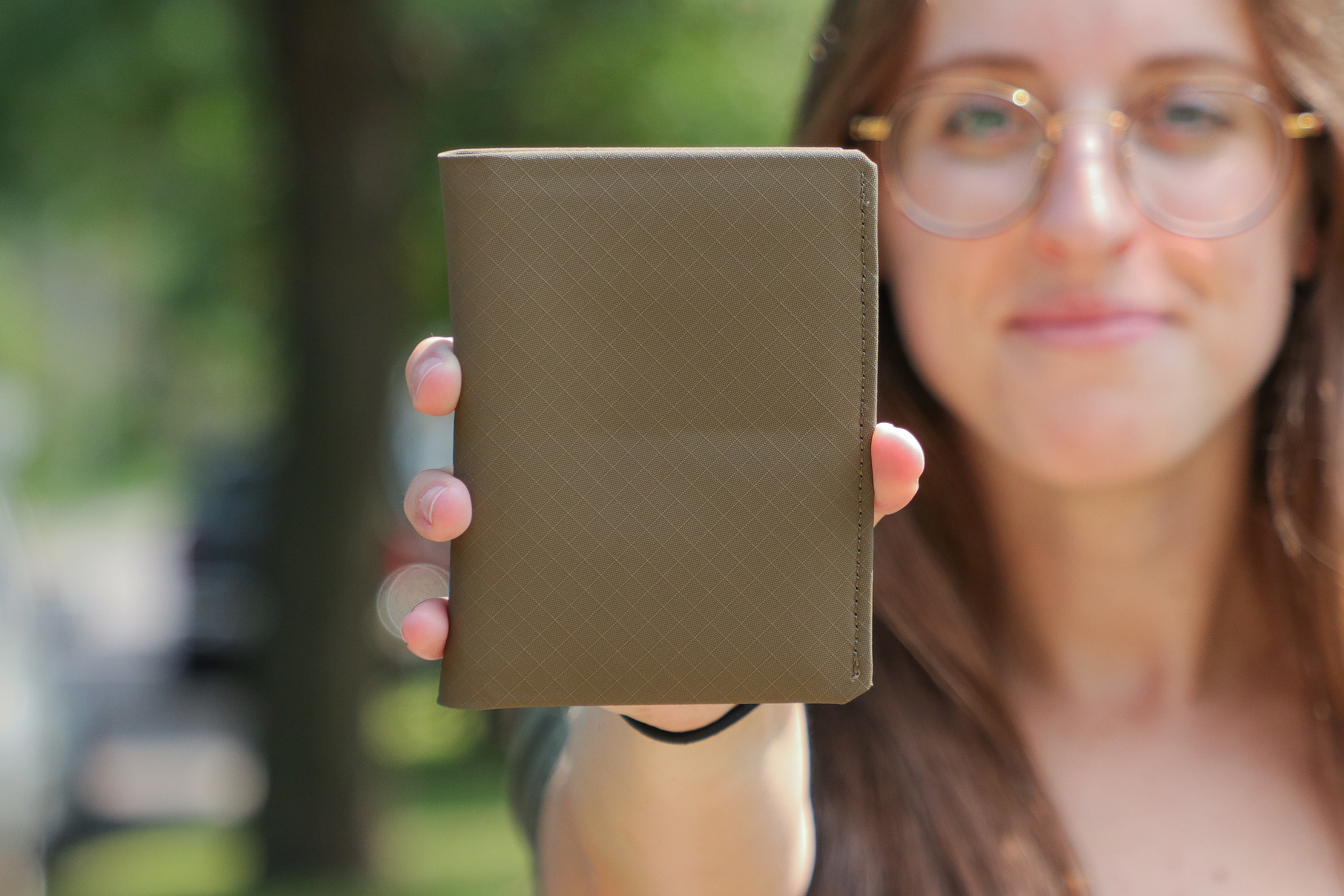 Okay, admittedly, travel wallets are not a total win-win solution. There has to be a catch somewhere, right? For starters, there's the size; they're not the most pocketable wallets out there since they have to fit a passport inside. But if you can't make them as small as regular wallets, you might as well double down on the concept.
That's the vibe we're getting from Pioneer's Passport Wallet. At first glance, everything about it seems simple, but there are a lot of thoughtful considerations once you get inside. It has its own layout, with each pocket serving a different purpose. Its structure goes well with its size, offering good rigidity for protection. It's not compact, but it fully embraces its moniker as a wallet for your passport.
Materials & Aesthetic
First impressions of the Passport Wallet are solid—and we mean that in a somewhat literal sense. The outer nylon shell feels smooth, but the structure gives it a strong and durable feel in hand. A close comparison would be a premium notebook with a thick cover. That actually makes a ton of sense since this isn't just a wallet—it's a wallet meant to house a passport. In other words, the structure not only enhances the premium feeling of the wallet, but it's also necessary in order to protect precious travel documents.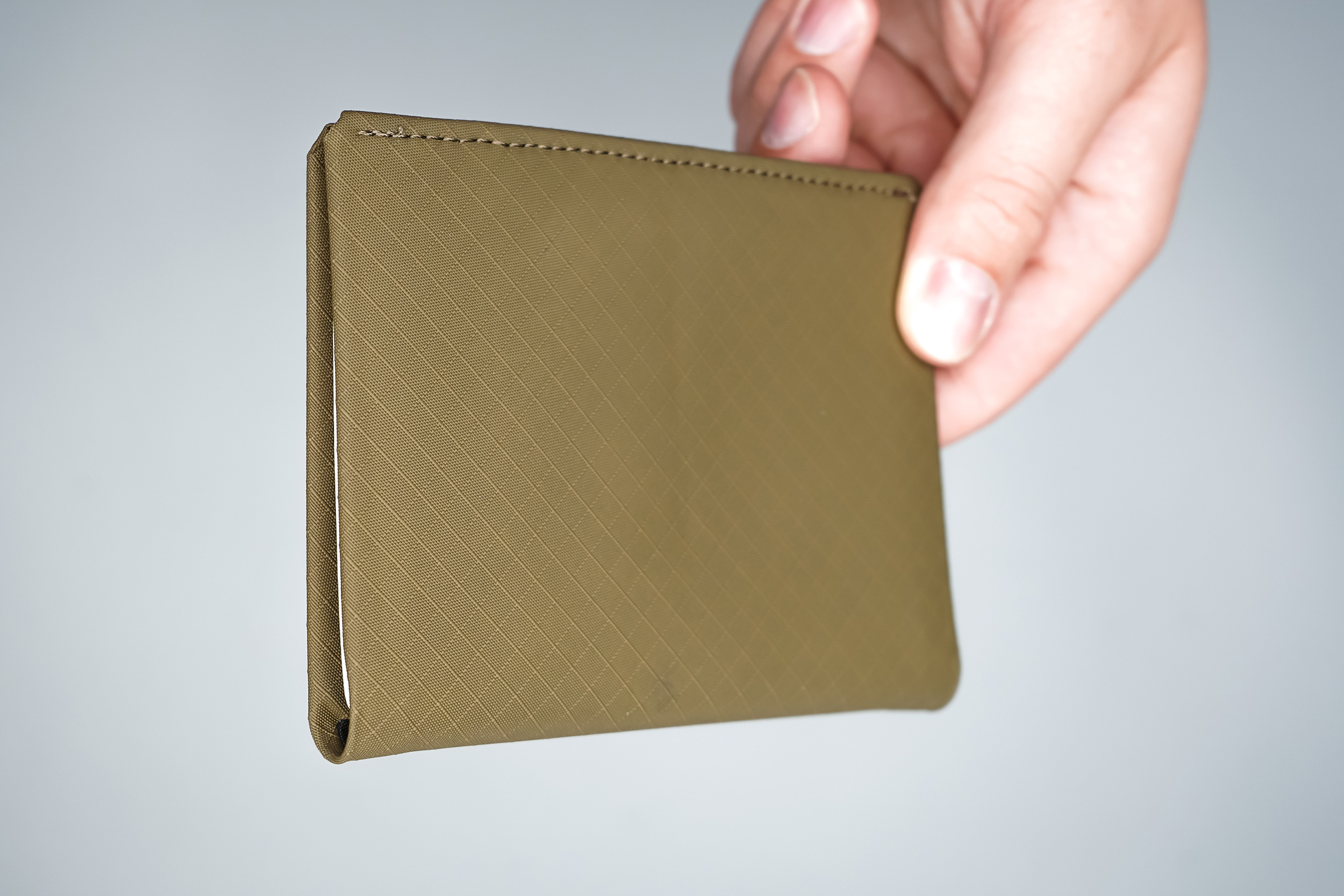 There's not a ton to talk about when it comes to the Passport Wallet's styling. The nylon fabric has a simple checkered pattern, and it's pretty uniform and symmetrical throughout, with only a subtle seam running across the front side. There are no badges, logos, branding, or labels on the outside. "Discreet" would be an apt description, followed by "classy" or "elegant." If you're traveling, balancing style with stealth is a good way to approach things.
The inside remains deceitfully symmetrical (we'll get into that later), apart from the Pioneer branding on the right side pocket. It's still more of the same fabric found on the outside. That is to say, the premium vibe continues here. What's not so premium is the bit of discoloration we found on the upper right corner of the passport pocket. We received the wallet with the discoloration already there, so we can't be sure what exactly caused it. However, we think it could be friction from the two halves rubbing against one another near the edges.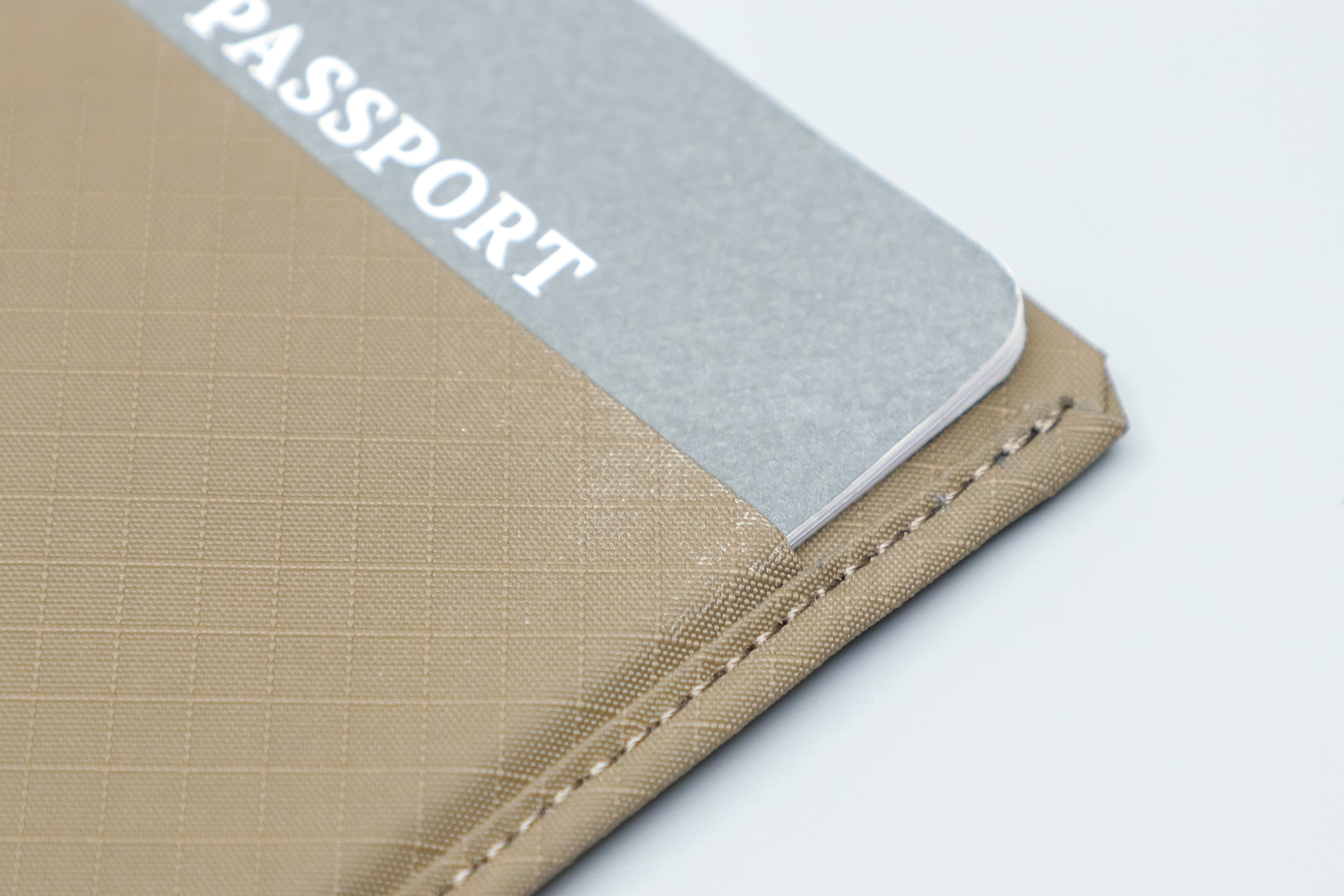 The variant we're showing in this review is the Earth colorway, and it features 3PN or "3-ply nylon" with DWR coating; and this fabric is also used for the Slate, Evergreen, and Navy colorways. Also available at the time of writing is an Onyx colorway, but this uses 10XD fabric, which is Pioneer's shorthand for ultra-high molecular weight polyethylene that they say is ten times stronger than steel.
Usage & Features
Inside the Passport Wallet, there are a total of five pockets. Despite the seemingly symmetrical layout, the wallet is hiding some rather clever means of organization. First, there's the large left pocket for boarding passes or tickets; then there's the passport pocket itself on the right side. If you take a ruler to these pockets, you'll notice that the left pocket is narrower than the passport pocket.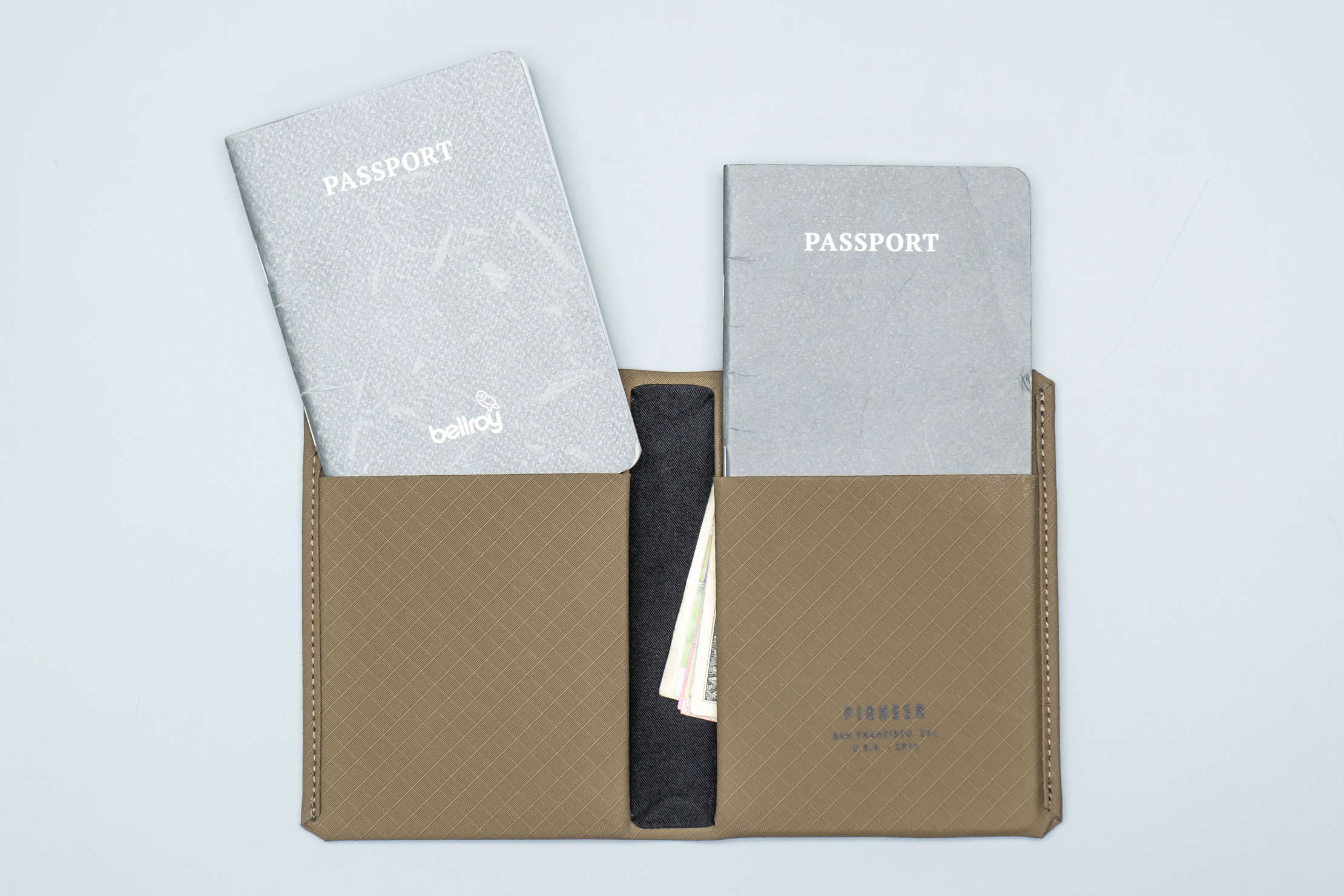 It's not much, but it disallows you from fitting a standard size passport inside the left-side pocket. Furthermore, a top-down view of the pockets reveals that there's slightly more volume inside the passport pocket to accommodate the extra thickness. Meanwhile, the left-side pocket is tight and flat so that it can hold onto tickets or boarding passes securely. This layout makes sense, and there's definitely merit to giving each pocket a specific purpose. That said, we can't help but want the option to fit our passport on the left-side pocket as well. Something like the Herschel Supply Co. Raynor Passport Holder would be a good example, where you can fit a passport in different ways, whether it be on the left or right side, in a closed or open position.
Like the large pockets mentioned previously, there are also two left and right inward-facing pockets. These are smaller, and they get the honor of holding onto smaller but equally important items such as cash, credit cards, and IDs. The right inner pocket has enough volume for 10 to 14 half-folded bills, some receipts, or some important sticky notes you had to bring along at the last minute before your flight. However, keep in mind that most bill sizes are just a bit too big for the pocket. You'll have to fold them, which does impact the Passport Wallet's naturally flat profile if you have a lot of them.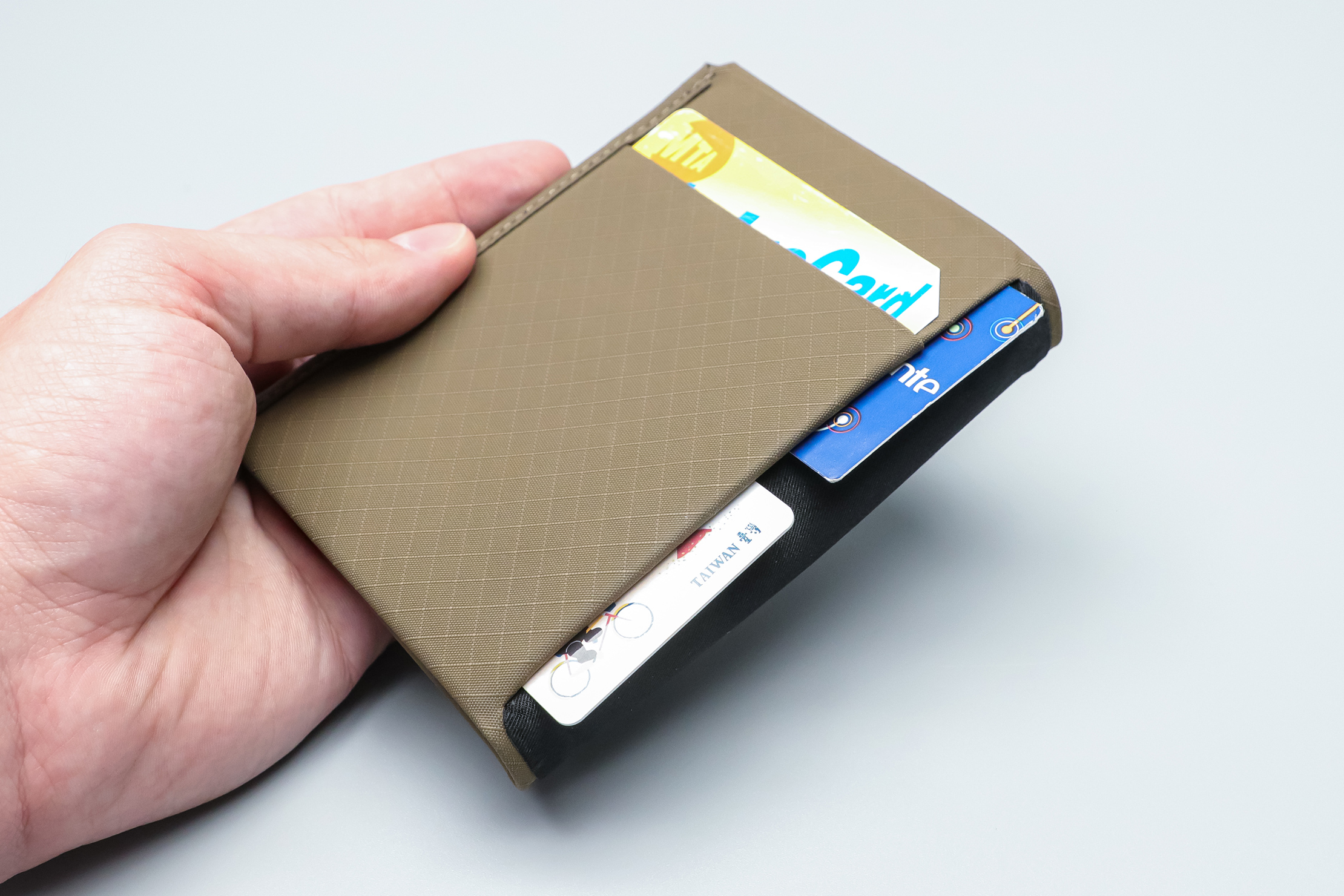 The left inner pocket is similar to the right one, but it's subdivided into two pockets. It's nothing fancy, just simple stitching to provide separation between left and right. This stitching is what causes the subtle seam that appears at the front of the Passport Wallet. The seam isn't too bad and doesn't diminish the aesthetics, let alone the functionality, so it gets a pass.
Regarding how many cards can fit inside, we were able to get four thin and flexible cards in each pocket. How much you can fit inside will depend on how thick your cards are. Due to how structured the Passport Wallet is, there's relatively little give or stretchiness to these card slots, so it would be best to prioritize your most important cards.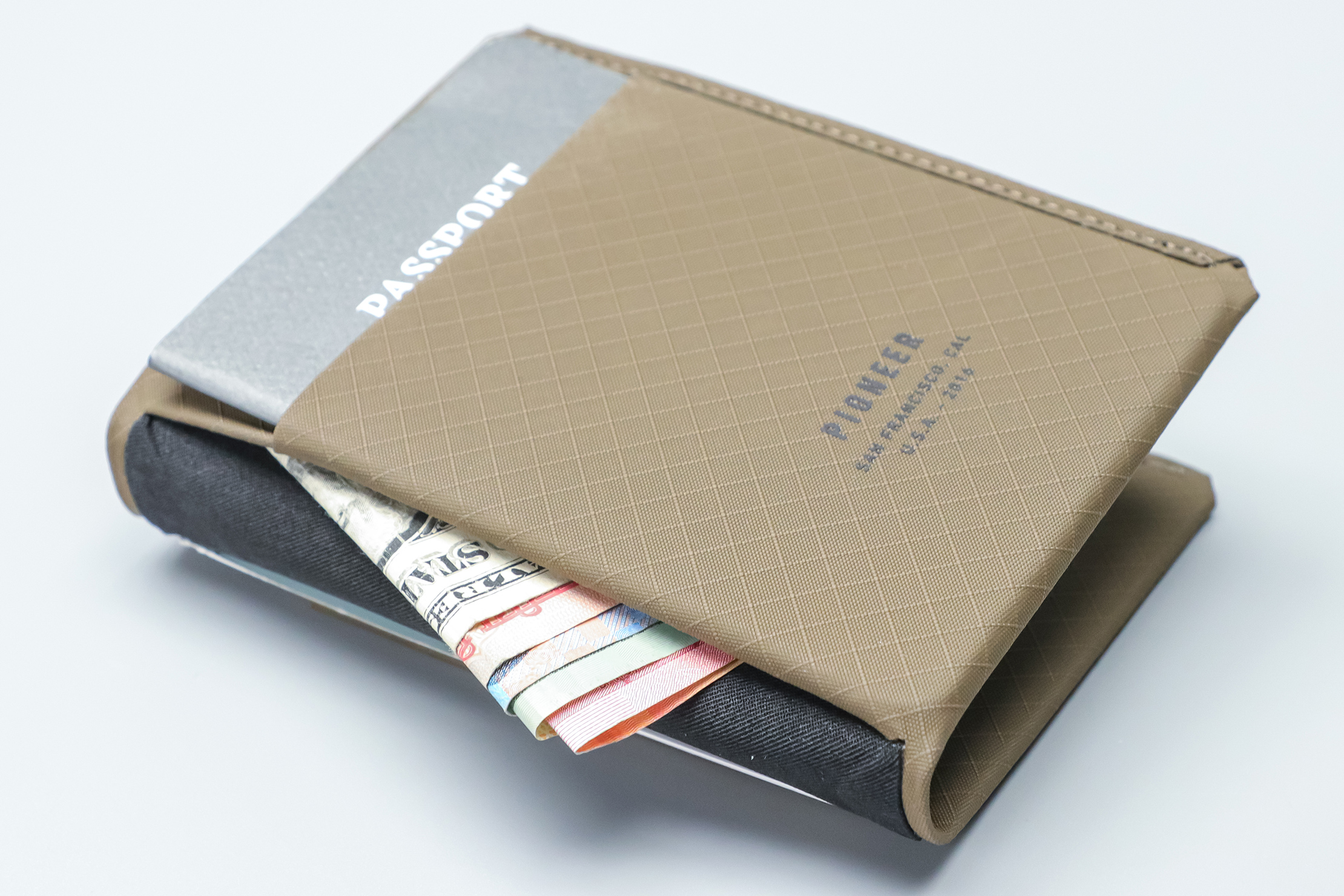 One thing to always consider with wallets designed for passports is the size. Standard-issue passports typically measure 3.5 inches by 5.0 inches, which is already big for regular pockets. In the case of Pioneer's Passport Wallet, we could still get it inside our pants' pockets, though it's a little big for front pockets and looks more natural in the back. Unfortunately, since the Passport Wallet is well-structured, sitting on it doesn't feel comfortable; it feels uneven like you're half-sitting on a notebook. It would be best to keep the Passport Wallet in a sling or a daypack.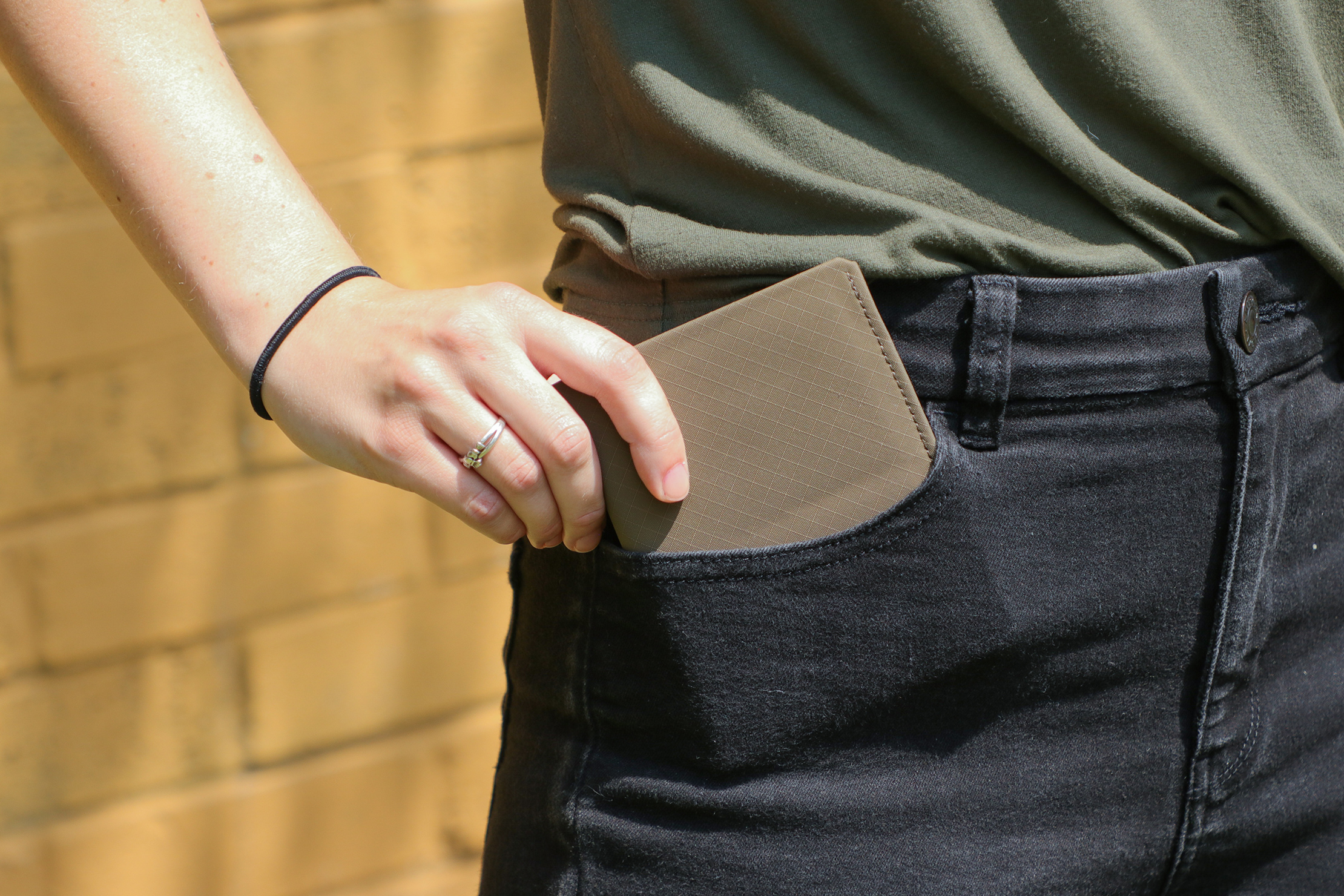 As simple as Pioneer's Passport Wallet appears to be, it serves its purpose: a wallet for your passport. The design is subtle, but the layout is purposeful, with each pocket having a different purpose and role to play, albeit a little inflexible with only one way to fit a passport. We also dig the premium design and structure, as it packages the functionality of the Passport Wallet with good aesthetics.
Usage Timeline
Initial Usage
Condition: Excellent
Fits a passport inside
Relatively thin for a wallet
Ripstop-like pattern on the fabric
2 Weeks of Use
Condition: Excellent
Starting to develop a crease on the front where the two card slots are
Nylon feels durable and hasn't developed any blemishes over testing apart from the one that was already there
Stitching on the edges is secure
Access the Pro Community Discussion
Get your questions about the Pioneer Passport Wallet answered from our team and the Pro Community right here on the page. Plus, join discussions with other members about gear, guides, and more.
Other Organizers & Pouches Reviews