Herschel Supply Co. Raynor Passport Holder Review
The Herschel Supply Co. Raynor Passport Holder is a convenient way to have your passport close at hand, but removing and inserting one takes some practice.
Our Verdict
Unlock the Pro Summary
Save time. Get access to brief summaries of our reviews so you can browse and make decisions more efficiently.
Pros
Leatherette material holds up well over time
Convenient way to present an open passport
Room for three cards and some cash
Cons
Getting a passport in and out smoothly takes practice
Relatively thick for just one passport and three cards
Cracks on the leatherette are very noticeable
Recent Pack Hacker Video
Technical Details
Weight (oz)

3.2 oz (90.7 g)

Dimensions

5.5 in x 4 in x .25 in (14 x 10.2 x 0.6 cm)

Notable Materials

Polyester

Manufacturing Country

China

Warranty Information
Full Review
When you use something frequently, there comes a point where you start to invest in something for its upkeep. Smartphones get cases, tools get toolboxes, laptops get laptop bags, and yes, even passports get the same treatment. For context, we use our passports a lot here, and one of ours, unfortunately, got too intimate with some bottled water.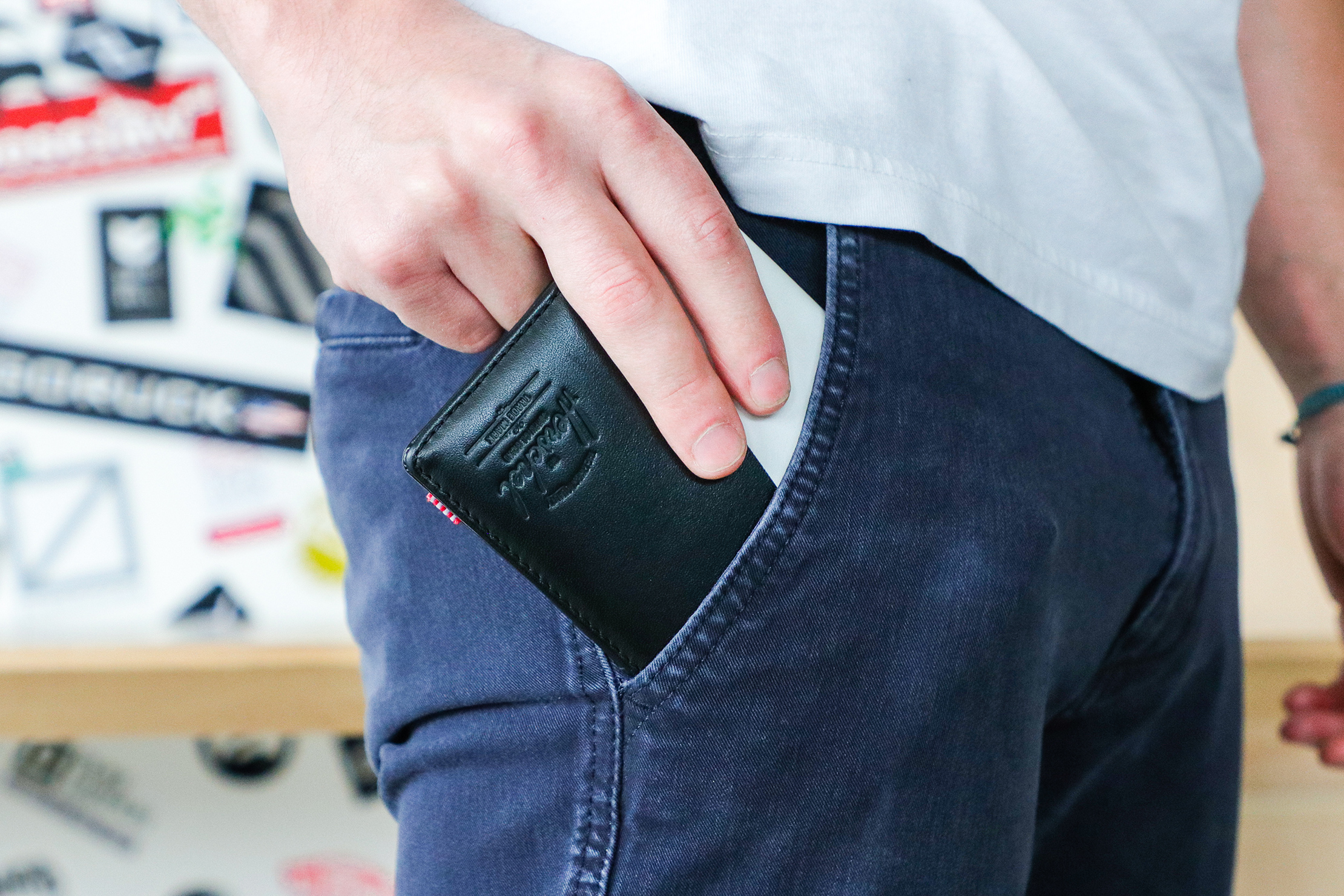 The good news is we were due for a new passport anyway, and this time we have Herschel Supply Co.'s Raynor Passport Holder with us. It's like a wallet, but for your passport, and it's also a convenient way to present it to authorities when traveling. There's a bit of a learning curve on how to take a passport in and out. Plus, we have some notes on the material on the sample we have, so without further ado, let's dive in.
Materials & Aesthetic
On the surface, the Raynor looks like a typical leather wallet—until you get it in your hands. By then, it looks like it had a growth spurt. The size makes it immediately apparent that this is less of a wallet and more of a passport holder, hence the name. Okay, that's arguably not the most eye-catching design aspect of the sample we have here. We're actually more drawn towards its two-tone black and white colorway.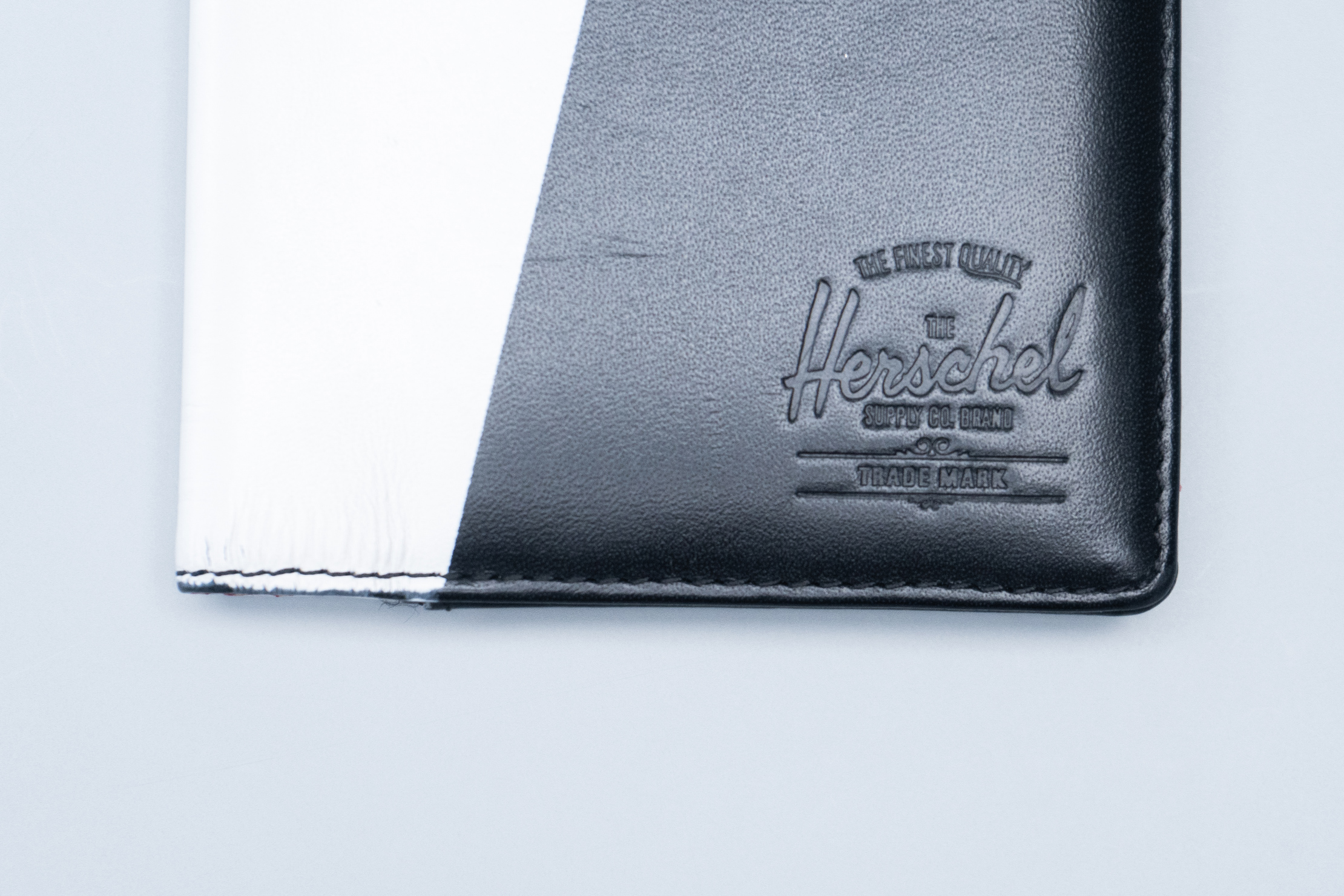 This sample uses leatherette material and comes in black and white. We've been using the Raynor for two years now after our unfortunate spilling accident. Over those two years, the leatherette has held up surprisingly well with minimal cracking around the hinge. It's not uncommon to see similar material exhibit worse cracking within the same time period. Your mileage may vary, of course, depending on how frequently you open and close the Raynor or how you store it. As for us, we're pretty careful with our gear; prevention is better than cure, after all.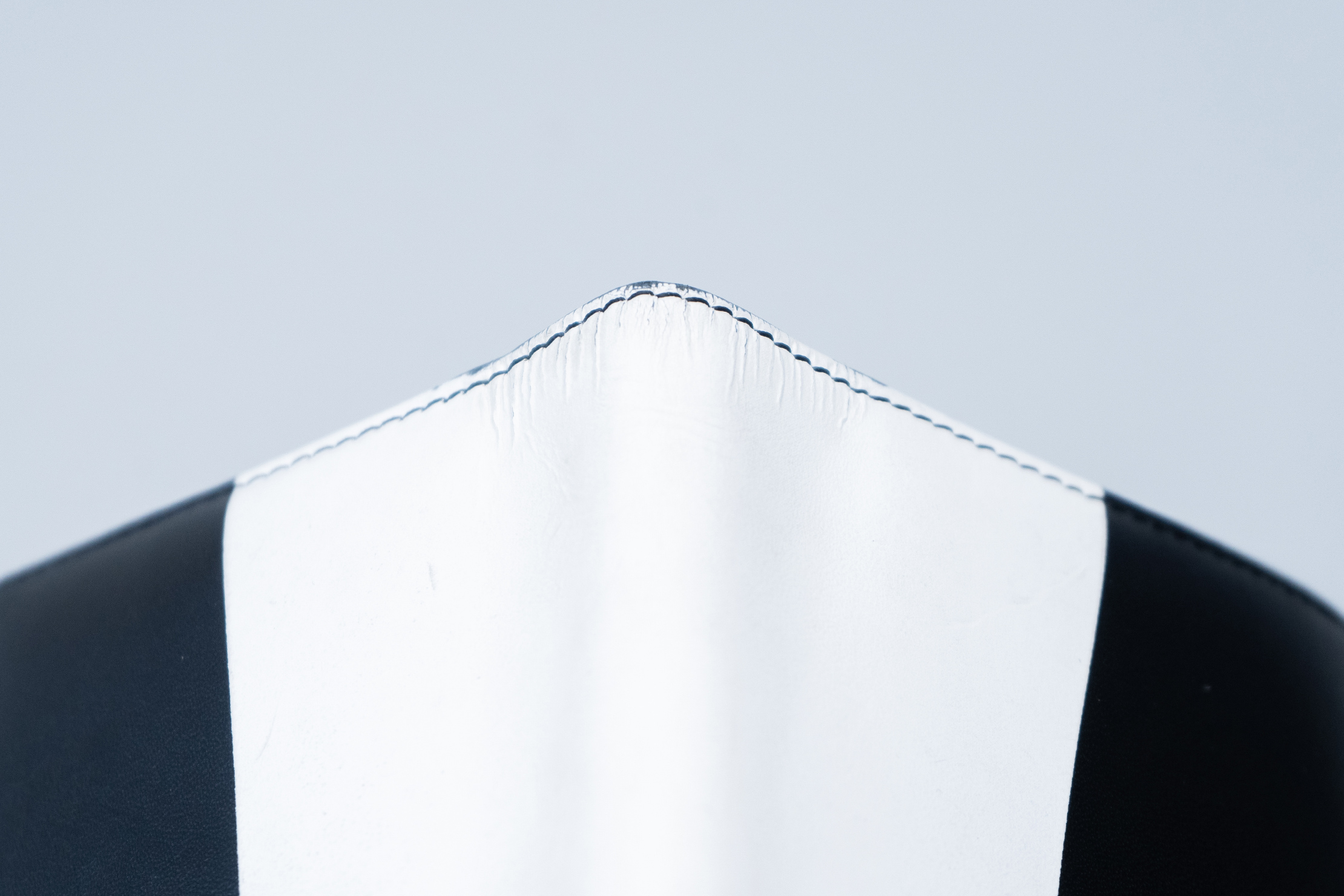 That said, it is quite unfortunate that the cracking happens to be on the white part of the leatherette—if it were on the black portion, it might not be as noticeable. Plus, if the colors were reversed, we think the rather intricate Herschel Supply Co. logo would look pretty classy debossed on a white background.
Usage & Features
The Raynor opens up like a small book. That's it, really—there are no fancy zippers, velcros, snap fasteners, buckles, or magnets. In that way, it feels more like a classic leather wallet, easy to open and close, making it very accessible. The interior fabric is pretty easy on the eyes as well, with a red and white pinstripe pattern that has a sort of carnival look to it. There's some discoloration around the edges now, but it's not too noticeable once it's behind a passport.

Inside, a flap on the left side is stitched on the bottom and faraway edge. On the opposite side, there's another flap stitched on all sides, except the inner side. Your passport slides into both these slots, which then, in turn, hold the passport open whenever the Raynor is opened. The technique of getting a passport inside without excessive folding takes some practice. For reference, you can check out the GIF below. One tip to make fitting a passport easier is to leave the card slots empty first. This way, the flap is easier to bend out of the way.
On the subject of those card slots, they're standard card slots arranged in three tiers. It doesn't seem a lot, but it was way more than enough for us, especially since we stacked some of them. The Raynor is meant less as a wallet replacement and more as storage for travel documents. With that in mind, transit cards, tickets, and an ID can go in there while your main wallet takes care of credit cards and other IDs.
Even as a passport holder, the Raynor's large size makes it suitable for storing cash as well. The flaps have enough space to fit a few folded bills, but nothing too crazy, especially if you carry wads of cash with you. Between the left and right flap, we found the left one to be most convenient for storing tickets and cash because of its open top.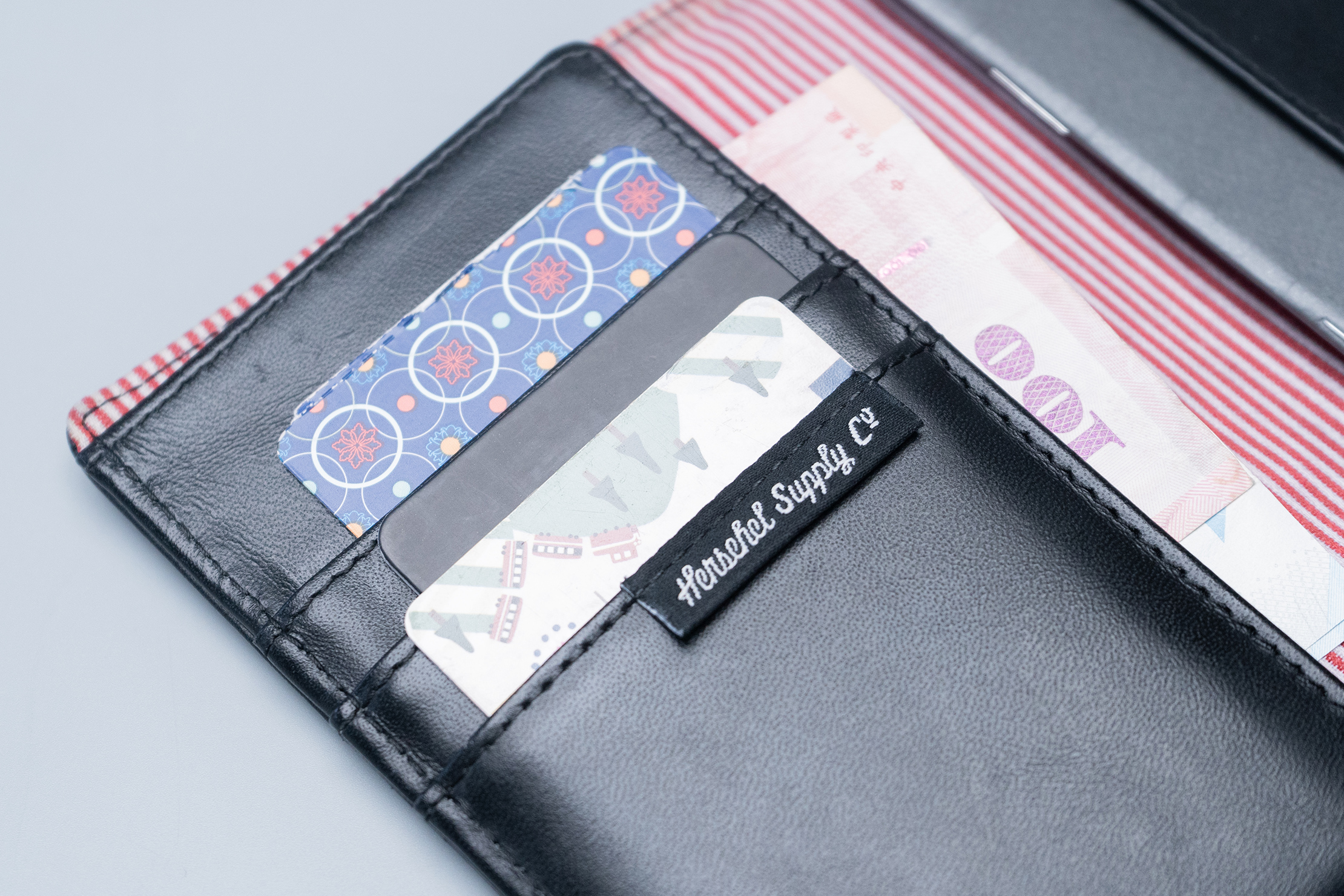 As a passport holder, the Raynor's first job is to hold onto your passport and protect it from the elements. However, a liner pocket on a sling or backpack can do that, so what does the Raynor have that makes it special? Quite simply, it's a convenient way to present your passport when going through customs.
We've gone through several airports over the last two years, and the Raynor has made things simple. Most of the time, it was just a matter of opening the Raynor, presenting the already open passport to get it stamped, and moving on. That said, your experience may vary depending on the person in charge—there were instances where we were asked to remove the passport from the Raynor. If or when that happens, it can be a bit tricky to put a passport back if you haven't perfected the technique yet.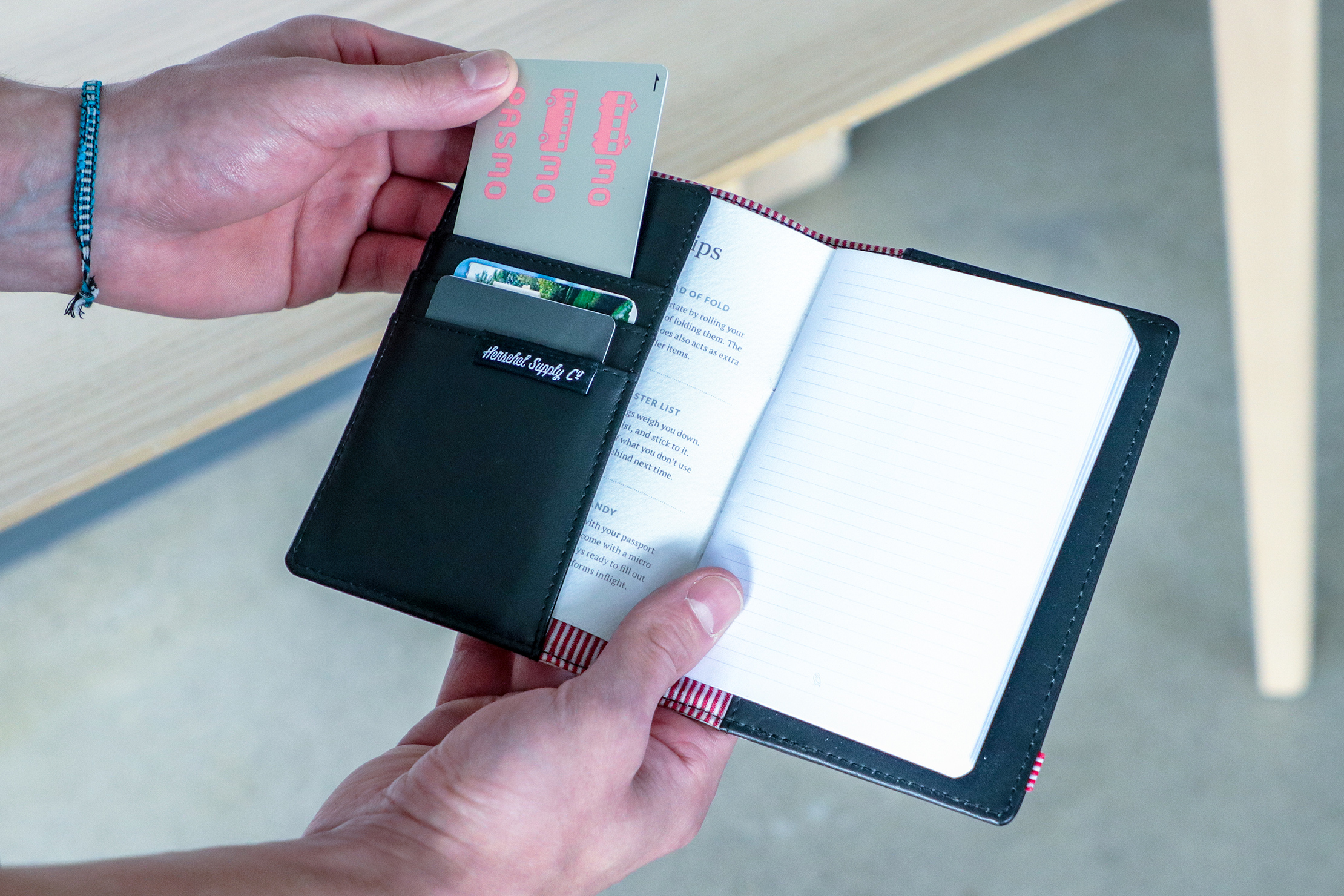 Our experience with the Raynor Passport Holder isn't without hiccups. It was mainly getting the passport in and out that was tricky, mostly due to extra-scrutinous customs agents. Furthermore, for three cards, some cash, and a passport, the Raynor does feel a bit thick for what it holds inside. This can be a huge deal if you're minimizing packing habits or simply have little room inside your sling. However, the convenience of an easy-to-present passport is a trade-off worth considering for the frequent flyer.
Usage Timeline
Initial Usage
Condition: Excellent
Simple design with useful organization
Definitely an order of operations to getting the passport in without bending it
A lot of fabrics and styles available
2 Weeks of Use
Condition: Excellent
Digging the simplicity of the layout and organization—3 card slots are plenty for anything travel-specific
1 Month of Use
Condition: Excellent
The holder is breaking in quite nicely
3 Months of Use
Condition: Excellent
Still going strong and has traveled through a decent amount of customs checkpoints at various airports
6 Months of Use
Condition: Excellent
Everything is pretty much as it was day 1—there's a bit of discoloration to the fabric but nothing major
1 Year of Use
Condition: Good
The external material is beginning to crack, which we've seen in a lot of Herschel products made with similar material (like backpack straps)
2 Years of Use
Condition: Good
The outer material continues to crack during wear and tear. It's still going strong!
Access the Pro Community Discussion
Get your questions about the Herschel Supply Co. Raynor Passport Holder answered from our team and the Pro Community right here on the page. Plus, join discussions with other members about gear, guides, and more.
Other Organizers & Pouches Reviews