Fjallraven Passport Wallet Review
The Fjallraven Passport Wallet is a great place to hold your credit cards and passport as you jet around the world—although it is a bit large.
Our Verdict
Unlock the Pro Summary
Save time. Get access to brief summaries of our reviews so you can browse and make decisions more efficiently.
Pros
Top-notch craftsmanship
Thoughtful interior layout
Holds passports nicely
Cons
Bigger than many travel-focused wallets
The back pocket is oddly shaped and sized
Leather detailing makes the wallet unsuitable for those avoiding animal products
Recent Pack Hacker Video
Technical Details
Weight (oz)

3 oz (85 g)

Dimensions

6.3 in x 4.4 in x 0.5 in (16 x 11.2 x 1.3 cm)

Notable Materials

G-1000, Polyester, Cotton, YKK Zippers

Manufacturing Country

Vietnam

Warranty Information
Buying Options
$61.64
Full Review
Finding the perfect travel wallet is a quest all modern travelers must go on. Do you go with RFID-blocking technology? Stick with something that can fit in the smallest of jean pockets? Leather or synthetic? Metal?
The Fjallraven Passport Wallet offers one route. While bigger than a number of travel wallets on the market, it's purposefully designed to hold multiple passports and all other wallet-esque items you may travel with.
So, no, it probably won't fit in the quick-grab pocket of your smallest sling. But, yes, you will get to keep all of your travel documents, credit cards, cash, coins, and passport(s) together and organized.
Let's check out those details so you can decide if this Fjallraven wallet is the one for you.
Materials & Aesthetic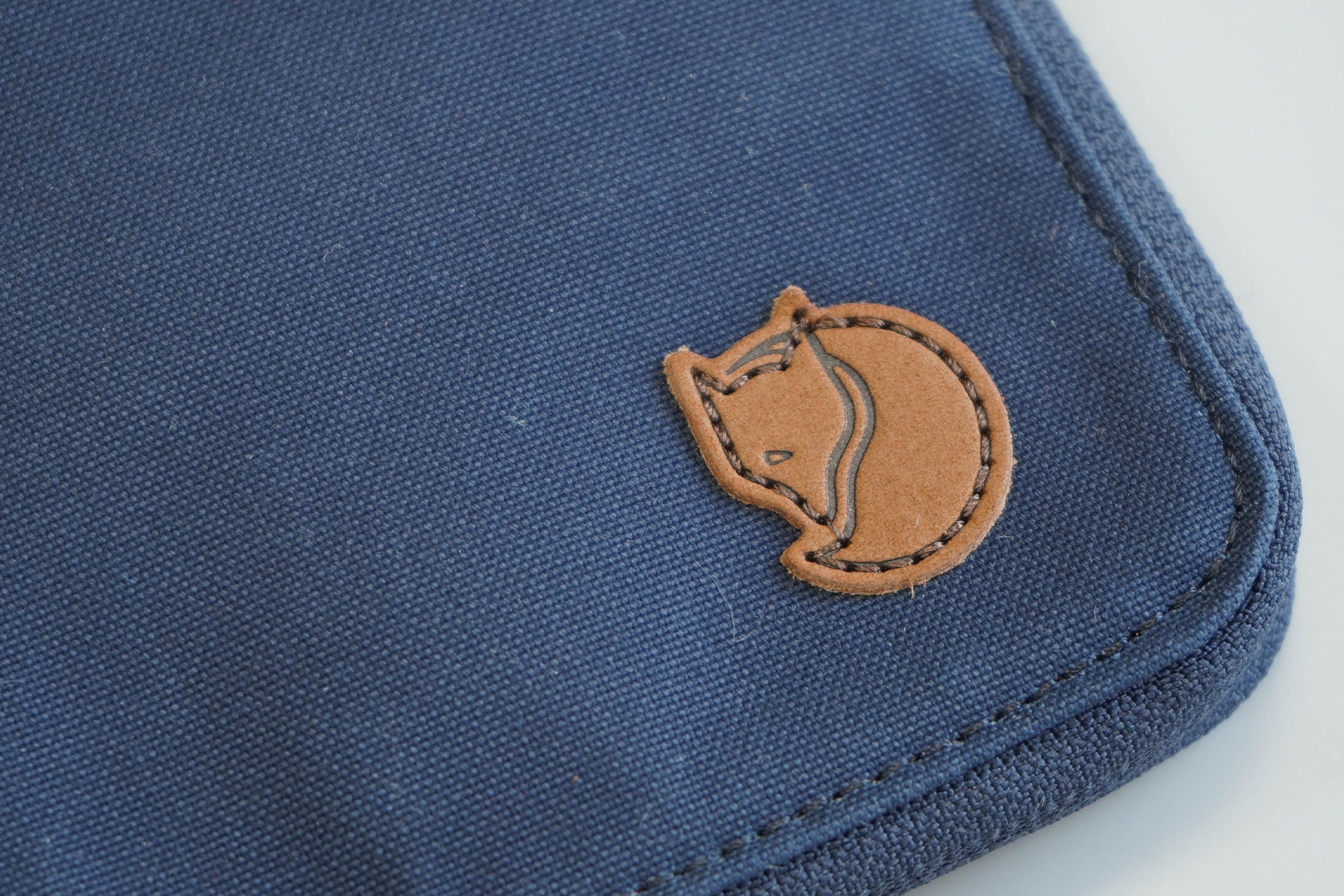 The Fjallraven Passport Wallet doesn't feel out of place in the Fjallraven universe. It has the same simple, sleek look as a number of the company's other products, and we're not complaining.
There's the small leather Fjallraven logo tag on the bottom corner and some other leather detailing throughout. Couple that with its rounded edges, and we think it has an overall sophisticated air about it. We've been testing it in navy, but at the time of this review, the Fjallraven wallet is also available in nine other colorways. (Yeah, nine!)
The exterior of the Wallet is made from Fjallraven's own G-1000 Heavy Duty fabric, while the interior is the G-1000 Regular. The G-1000 fabric—a polyester and cotton blend—is durable, weather-resistant, and can be revitalized with the Fjallraven Greenland wax whenever it starts looking a little sad. We've discussed the G-1000 fabric at length in our review of the Fjallraven Travel Pack, so head over there if you want the crash course.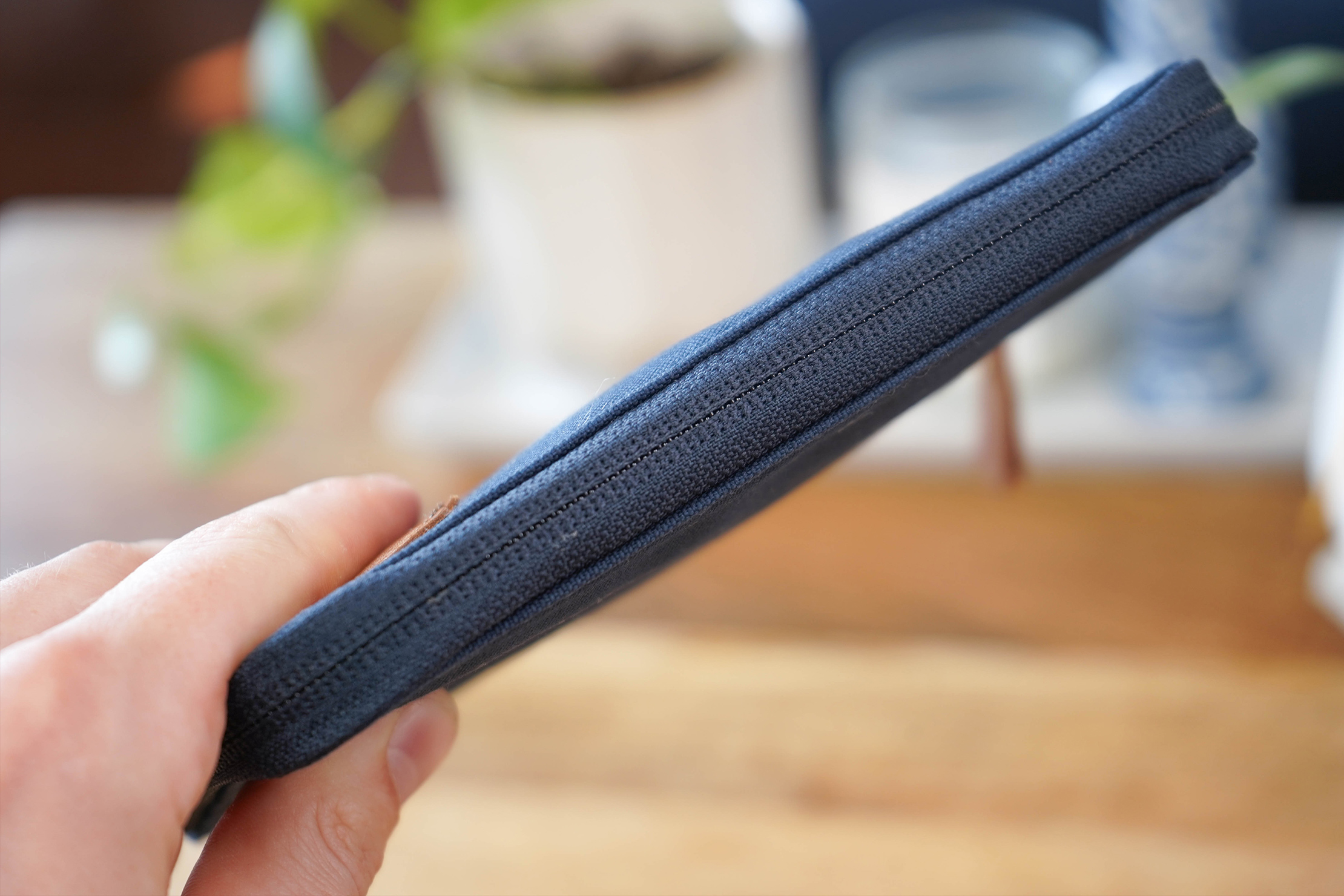 The main zipper is a YKK #5 Reverse Coil. A reverse coil zipper means the teeth are basically hidden, which creates a nice, sleek look and helps with weather-resistance. The interior zipper is also from YKK, although it's a much smaller—much cuter—size, which is fine for an internal pocket. And both zippers are nice and smooth from the get-go.
As we mentioned above, you'll also find leather accents throughout the wallet—on the zipper pull, the logo tag, and a couple of other places. If you try to avoid animal products, then this Fjallraven wallet is, unfortunately, not for you.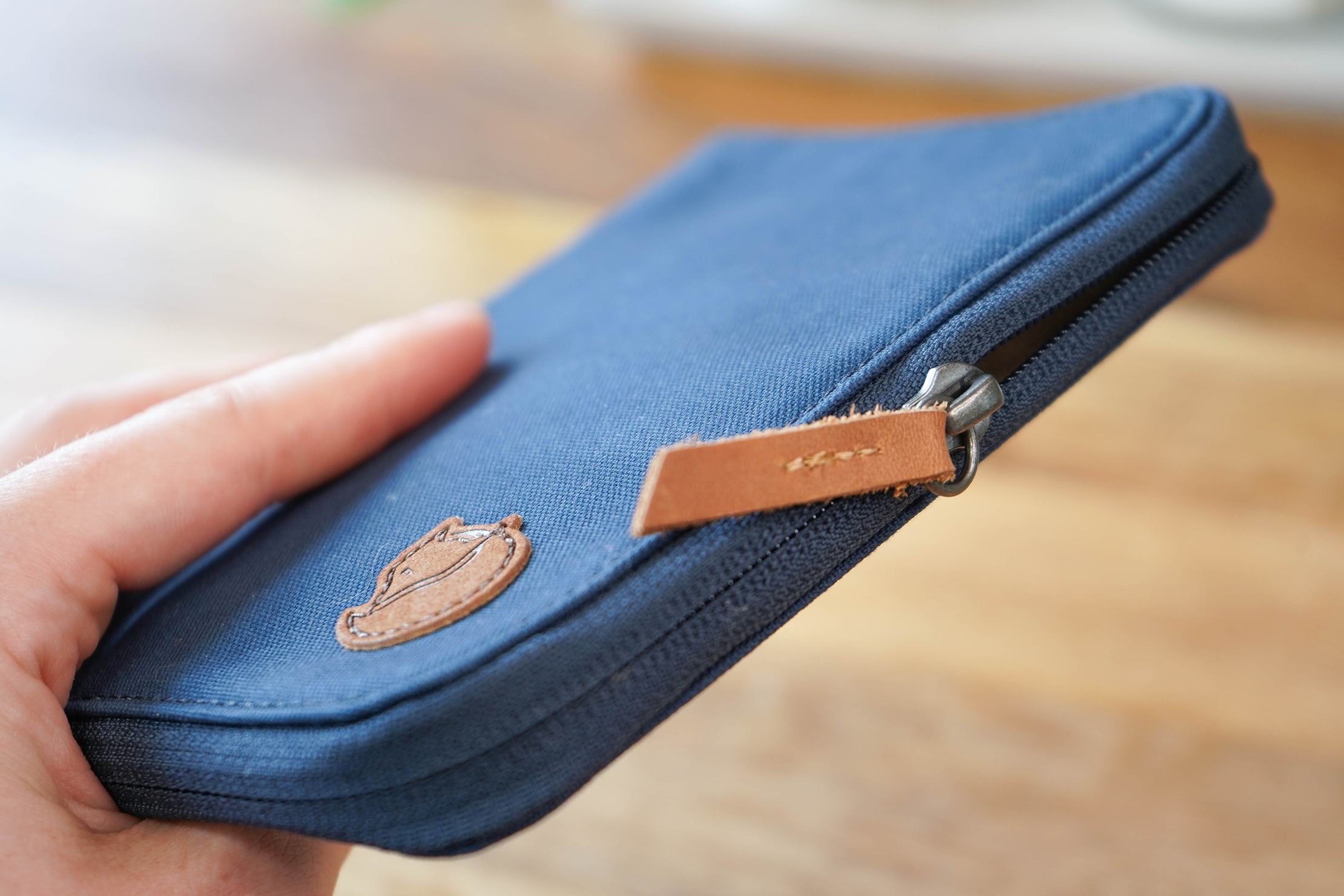 We should note, however, that Fjallraven is committed to sourcing their leather from ethical sources and they tan their leather under the watchful eye of the Leather Working Group—both of which we're glad to hear.
Inside the Wallet
The interior of the Fjallraven wallet is well thought-out and designed; we've been enjoying how the pockets are laid out.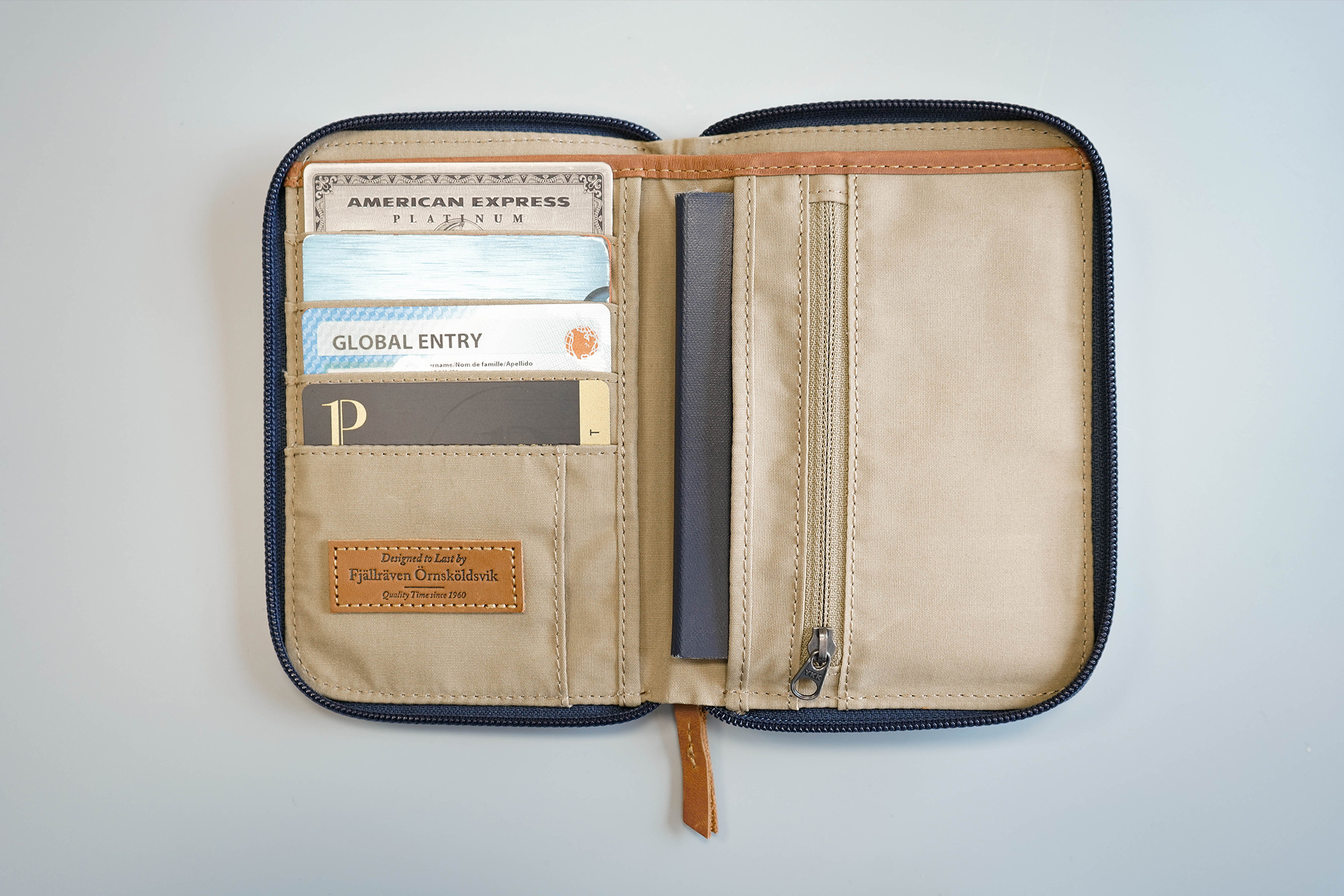 Let's start with the wallet's namesake: the passport pockets. You'll find one on either side of the fold, allowing you to carry more than one passport if need be (Jason Bourne would love this thing). You can slide your entire passport in there or just the back, keeping the papers above the fold. That way, you don't have to take your entire passport out if you need to quickly access the pages.
On the left side, you'll find stepped card pockets to stash credit cards and the like, as well as an ID pocket. And on the right-hand side, you'll find a zippered coin pocket. We've appreciated having this as we tend to accumulate a ton of coins while traveling.
Finally, there's the large back pocket. It's huge and kind of oddly shaped—we think of it as a black hole for your stuff.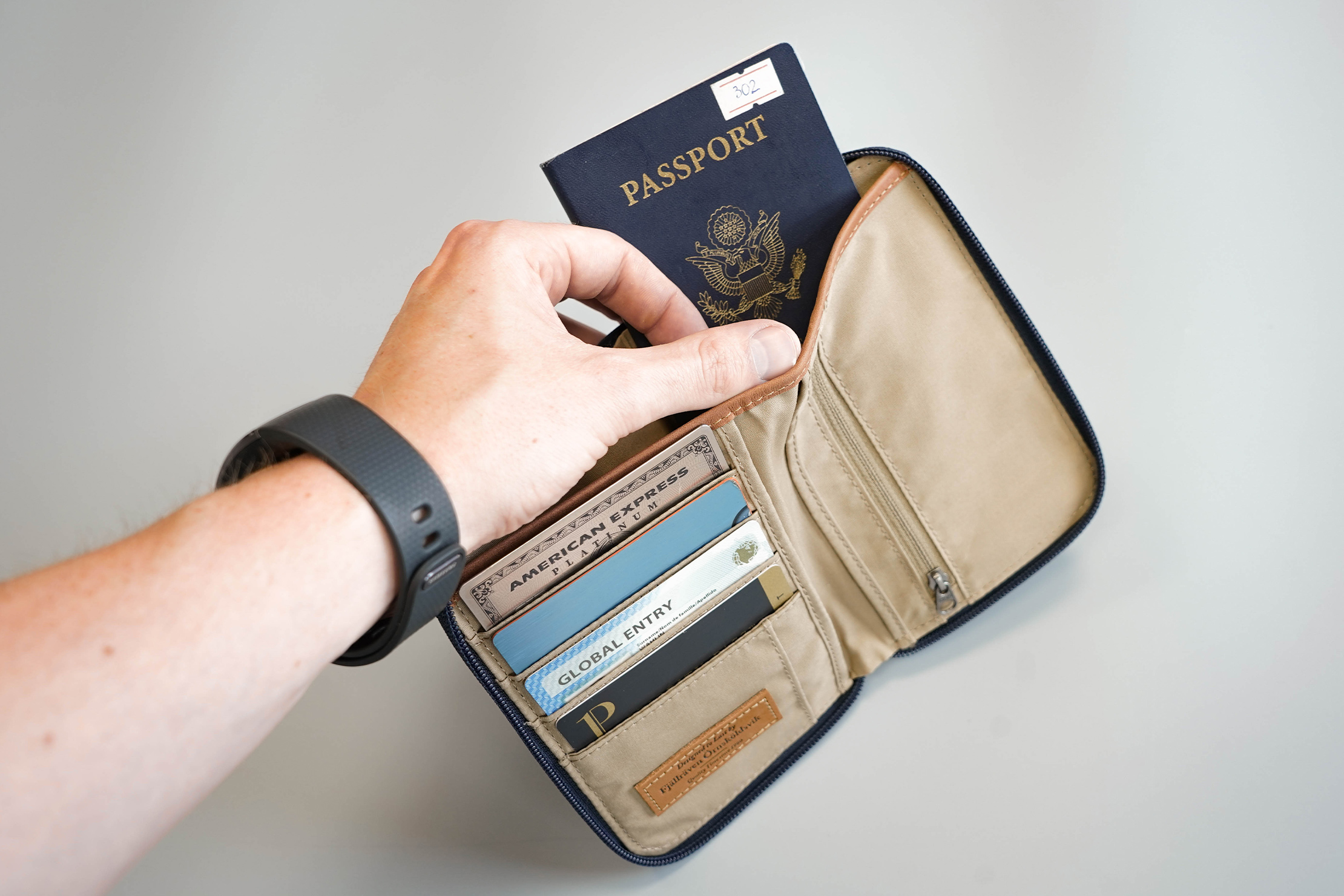 You could store another passport here (it'll fit), although with two other passport pockets we're not sure when the average person would have the need (although Jason Bourne would, again, be psyched about this). Although, it could be helpful when you're traveling as a couple or family and you could also throw your travel documents or receipts in this pocket. We obviously haven't used it much, but hey, everyone is different. Maybe it'll be your favorite pocket. In any regard, if you decide not to use it, it won't get in your way.
Durability & Testing
We've been testing the Fjallraven Passport Wallet for two weeks now and have hardly any negative things to say. (If you've been following us for any amount of time, you'll know this doesn't happen often.) The exterior fabric collects dust slightly more than other types of synthetic fabrics, but not a crazy amount by any means.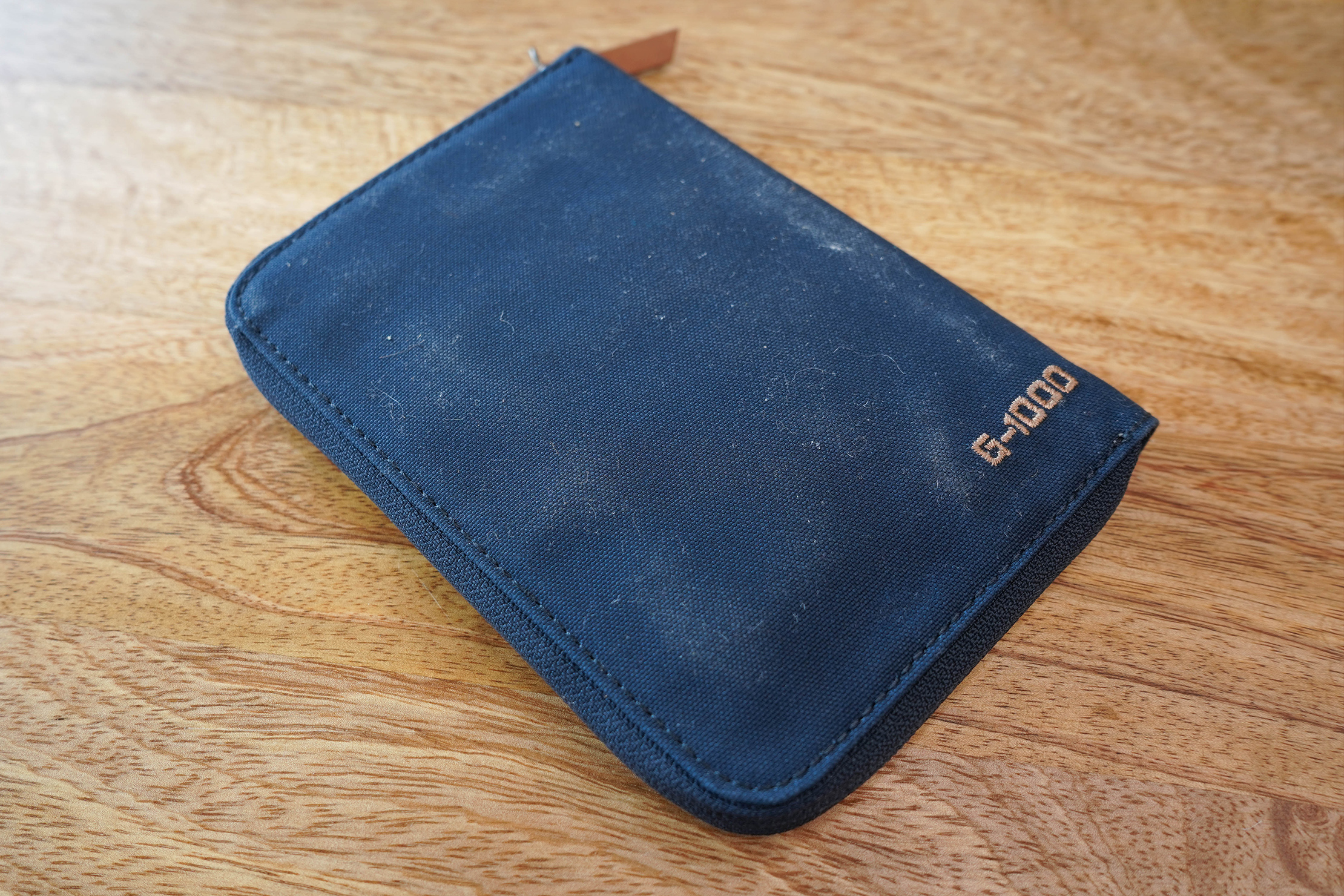 Like we mentioned above, we've really clicked with the interior organization. It feels like the Fjallraven team took their time to thoughtfully craft the wallet's layout (except for that black hole pocket) and, in typical Fjallraven fashion, the craftsmanship is also top-notch. We're excited to see how the Fjallraven wallet will hold up over time—because we're planning on using this for a while.
Usage Timeline
Initial Usage
Condition: Excellent
Made from durable materials and reliable hardware
Lots of internal organization with a great variety of pockets and compartments.
A minimal design that comes in a range of different colors
2 Weeks of Use
Condition: Excellent
Access the Pro Community Discussion
Get your questions about the Fjallraven Passport Wallet answered from our team and the Pro Community right here on the page. Plus, join discussions with other members about gear, guides, and more.
Other Organizers & Pouches Reviews