Fjallraven Travel Pack Review
With its Scandinavian style and impressive organization, the Fjallraven Travel Pack is a fantastic companion for weekend city breaks or business trips.
Our Verdict
Unlock the Pro Summary
Save time. Get access to brief summaries of our reviews so you can browse and make decisions more efficiently.
Pros
Fantastic pocket and compartment organization.
Smart and streamlined look.
Made of eco-friendly materials.
Cons
Easy to mark and picks up fluff.
No side water bottle pocket.
Not suitable for a particularly heavy load.
Recent Pack Hacker Video
Technical Details
Capacity

35l

Weight (lb)

3.65 lb (1.7 kg)

Dimensions

18 in x 12.5 in x 10.5 in (45.7 x 31.8 x 26.7 cm)

Notable Materials

Leather, YKK Zippers, Polyester, Cotton, G-1000

Manufacturing Country

Vietnam

Laptop Compartment Size

15"

Warranty Information
Buying Options
$224.95
Full Review
Fjallraven is a Swedish outdoor brand that has been around since 1960. You probably best know them for their Kanken range, which has risen in popularity considerably in recent years—largely thanks to the fashionistas of today picking it as they daypack of choice in cities all around the world.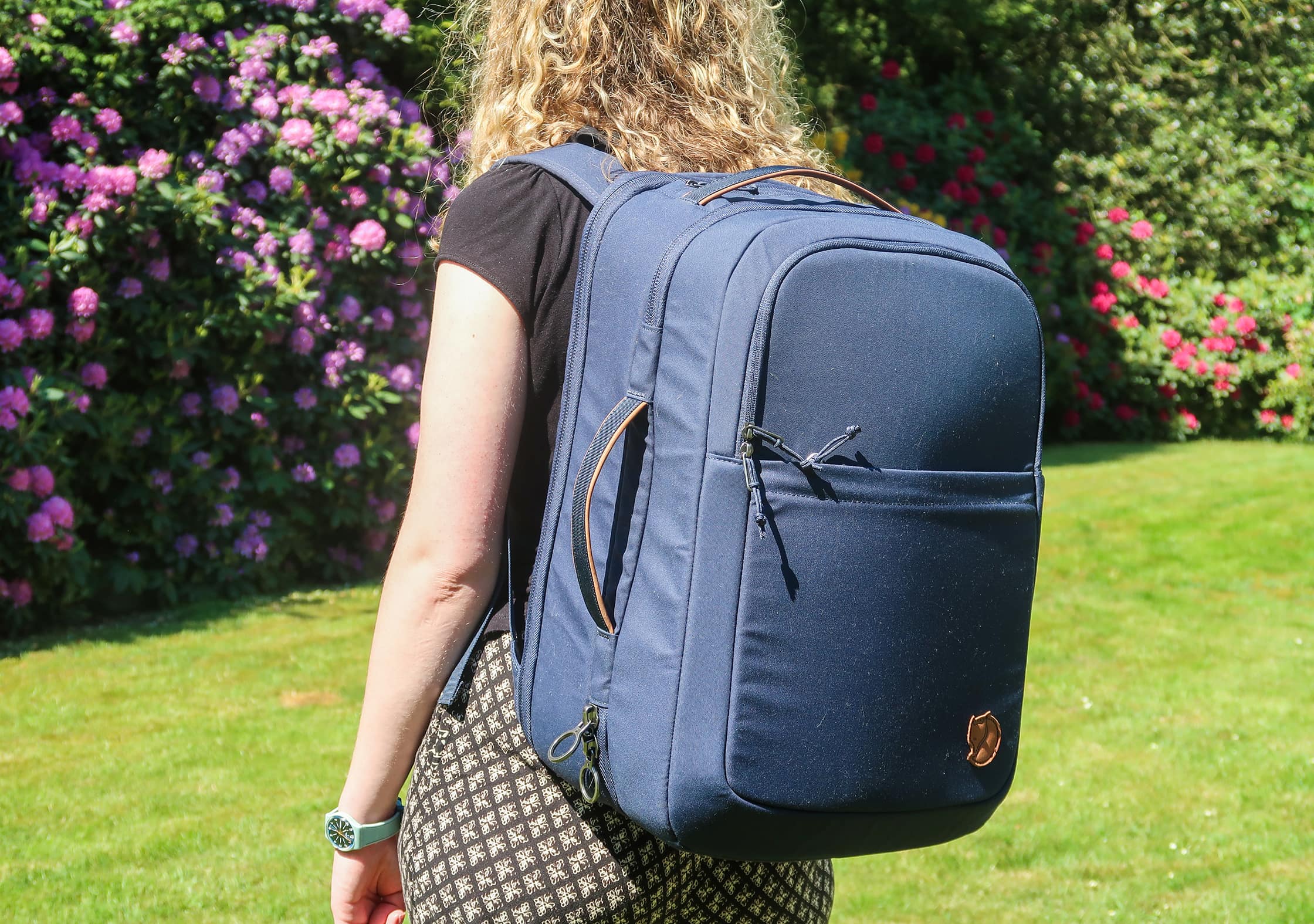 But Fjallraven is so much more than just a fashion statement. It's a great brand that believes in making products that are durable, reliable, and good for the environment. Fjallraven has a history of making larger packs that are firmly planted in the outdoor and hiking realm—being a Swedish outdoor brand, this isn't surprising—until now. We're proud to introduce you to the "Travel Pack," their first foray into a bag that is designed specifically for travel.
A 35-liter bag that's simply called the "Travel Pack?" It will come as no surprise to you that we couldn't wait to try this thing out!
Material & Aesthetic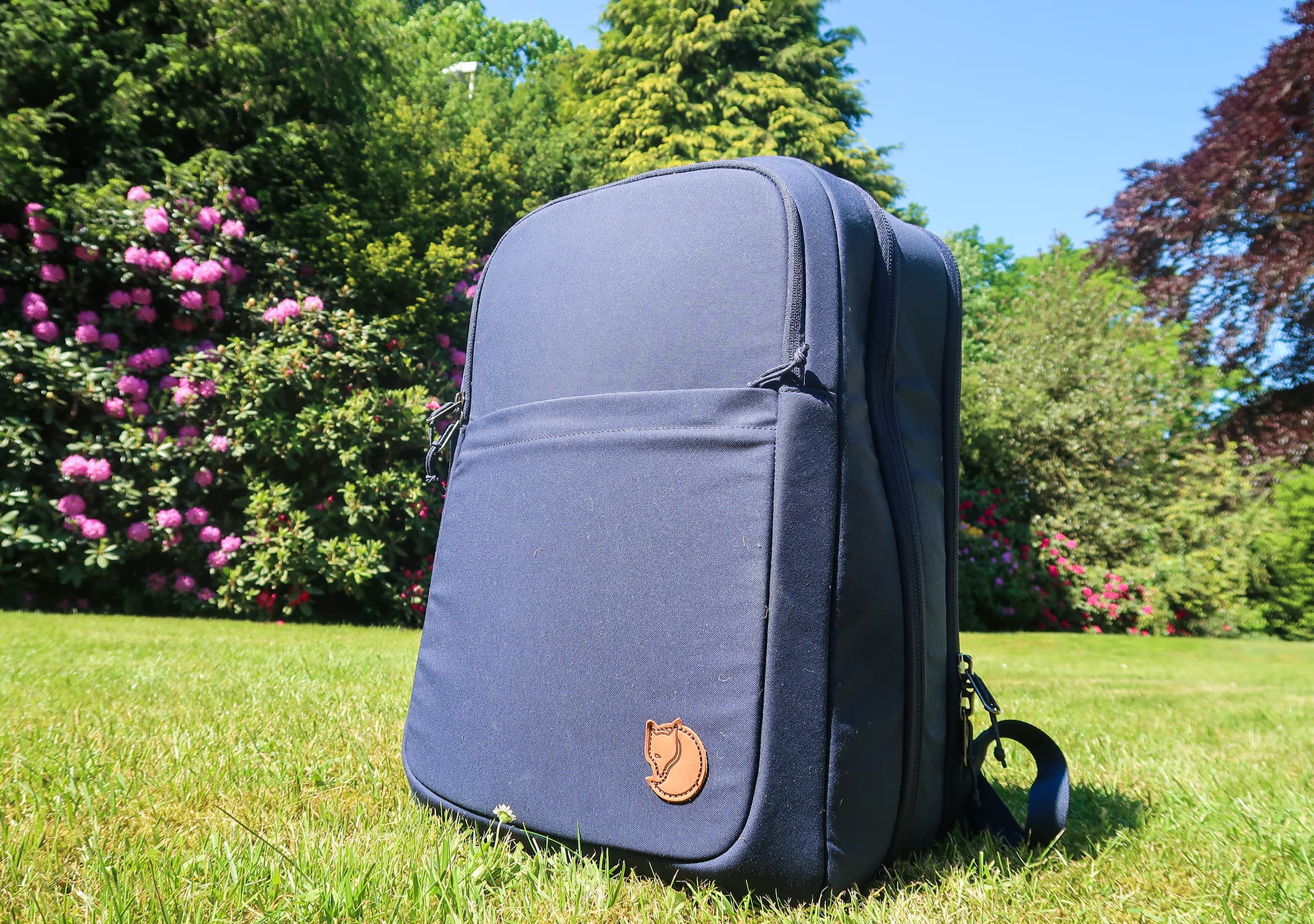 The Fjallraven Travel Pack alludes to its Swedish heritage with a minimalist and streamlined design—and just from a first glance, this thing scores pretty high in the fashion stakes. As expected, Fjallraven has kept the branding simple and effective, with only their arctic fox logo in leather at the bottom of the bag. The color of the fox also coordinates with the leather handle on top—simple, stylish, and very aesthetically pleasing.
First impressions of this bag? The Travel Pack has a unique boxy shape that makes it stand out from the crowd—quite literally. The semi-soft material—we'll get into that in a bit—means this pack holds its shape at all times. Whether you've just got a sweater and laptop in this thing or it's fully maxed out with enough gear to travel the world indefinitely, this bag is going to look the same. Some bags utilize flexible materials and compression straps so you can compress things down, but there's no way of doing this with the Fjallraven Travel Pack. Depending on your use case, this can be seen as a pro or a con—so we'll leave that up to you.


We were happy to see that this bag is available in a range of unisex colors—black, green, navy, and red—which should be enough to suit any taste, in any environment. Although we usually opt for black, we have been testing a navy version which looked fantastic strolling through Paris and other urban areas. We think that no one color is going to scream TOURIST, and the overall style of the pack helps with this too.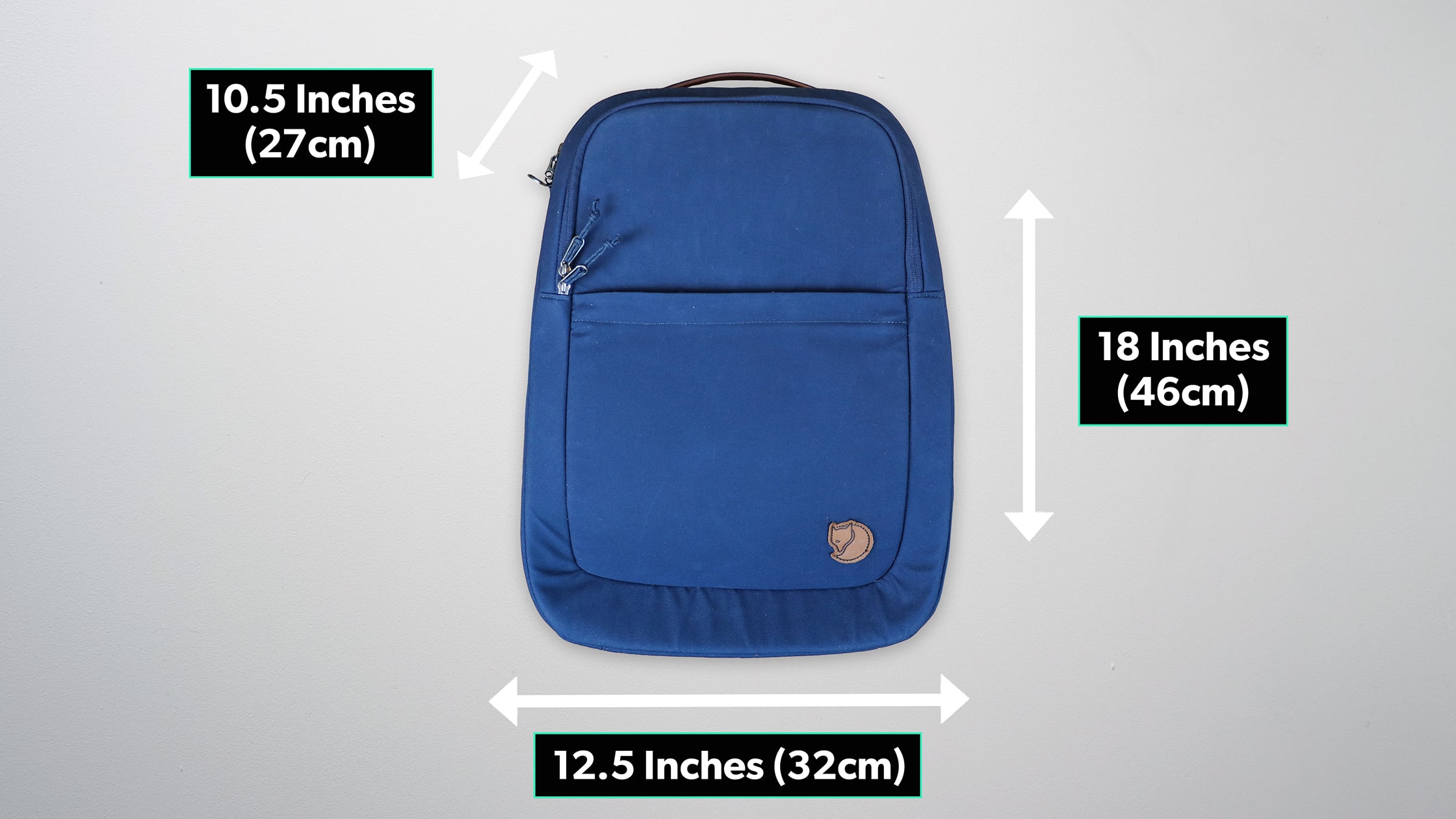 With dimensions of 18" (46cm) in height, 12.5" (32cm) in width, and 10.5" (27cm) in depth, this pack is perfect for one bag travel. It will fit comfortably within most airline carry-on specifications, and at 35 liters, there's plenty of room to hold enough goods for indefinite (albiet, minimalist) travel.

Now let's get into the materials used on this pack—Fjallraven has some pretty nifty stuff going on here! The Travel Pack is made from Fjallraven's cornerstone G-1000 material, which they have been using in one form or another for around forty years! G-1000 is a densely woven fabric made from 65% polyester, and 35% cotton—which is good, but not anything to write home about. The cotton is particularly odd in a backpack.
But there's a bit more to it than that. Fjallraven impregnates this fabric with their magic ingredient, Greenland wax, making the pack more durable, wind-resistant, and water-resistant—which is very important because they use cotton.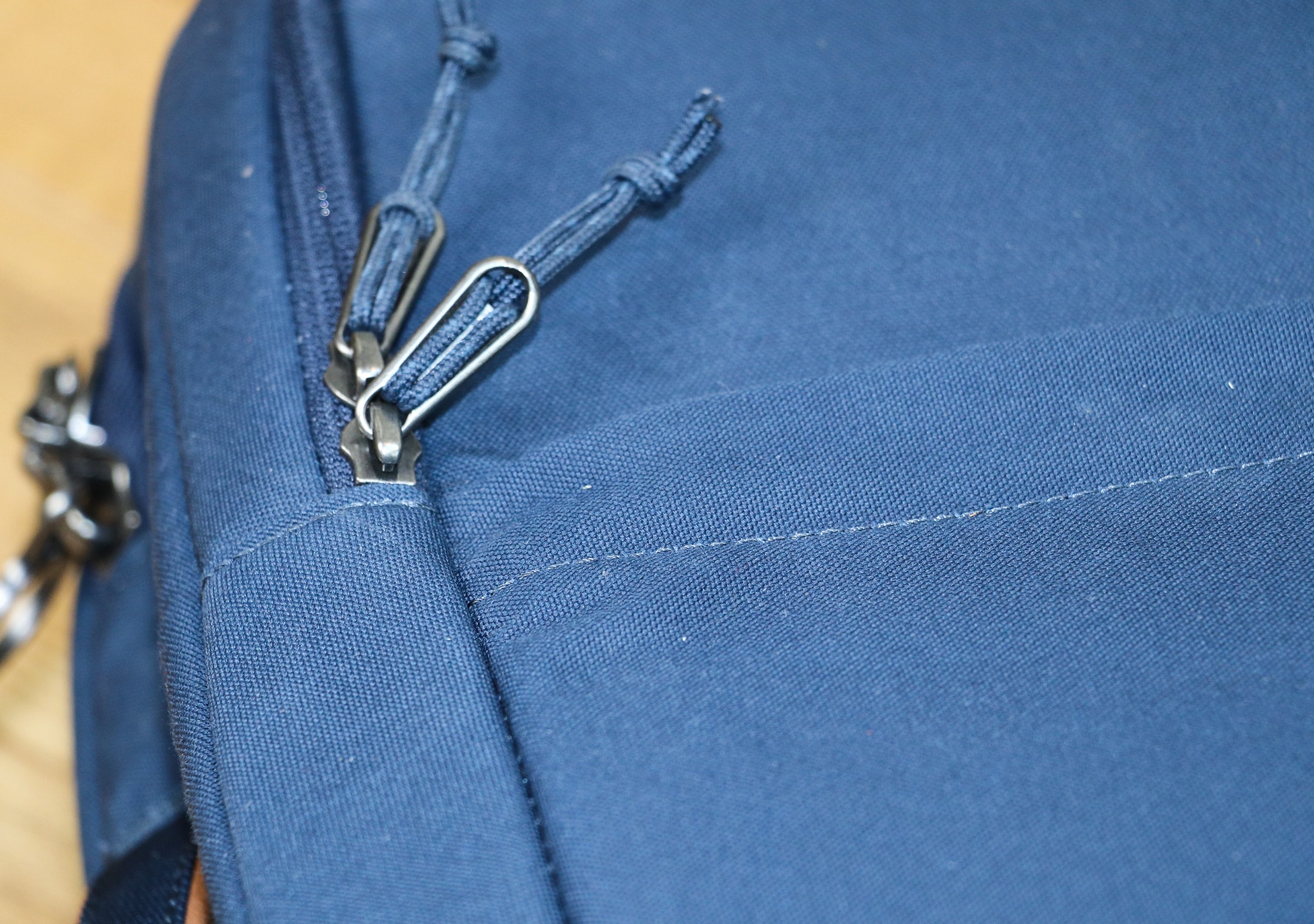 Over the years, Fjallraven has developed multiple variations of its G-1000 material—Original, Air, Silent, Heavy Duty, and Lite—all of which have their own unique set of traits. We won't go into the details now, but Lite is light, Silent is silent… you get the gist. The Travel Pack is made of the Heavy Duty variety, which is tougher, longer lasting, and more water-resistant than its counterparts—in other words, perfect for traveling. The Heavy Duty G-1000 features Greenland wax on the exterior and interior, which helps to increase the durability. It does, however, seriously inhibit any airflow and ventilation. Is this a problem? It could be, depending on what you're carrying, but we'd rather have the added durability in lieu of ventilation.
We mentioned earlier how Fjallraven is committed to making products good for the environment, and the Travel Pack is an excellent example of this. The G-1000 fabric on this model is their "Eco" version, meaning it is made from recycled polyester and organic cotton—and therefore gets a big thumbs up from us. There's a great quote on the Fjallraven website from Christiane Dolva Tornberg, the sustainability manager, who says "What's so exciting at Fjällräven, is that sustainability isn't treated as a separate project; it's at the core of everything we do." As it should be, right? Keep on doing you Fjallraven, because we dig it!
External Components
Because of the streamlined and minimalist design of the Fjallraven Travel Pack, you're not going to find a lot of the added accessories that other travel bags may offer. There's no side water bottle pocket, compression straps, and certainly no MOLLE. However, this doesn't mean you go without, Fjallraven has some cool stuff under its sleeve.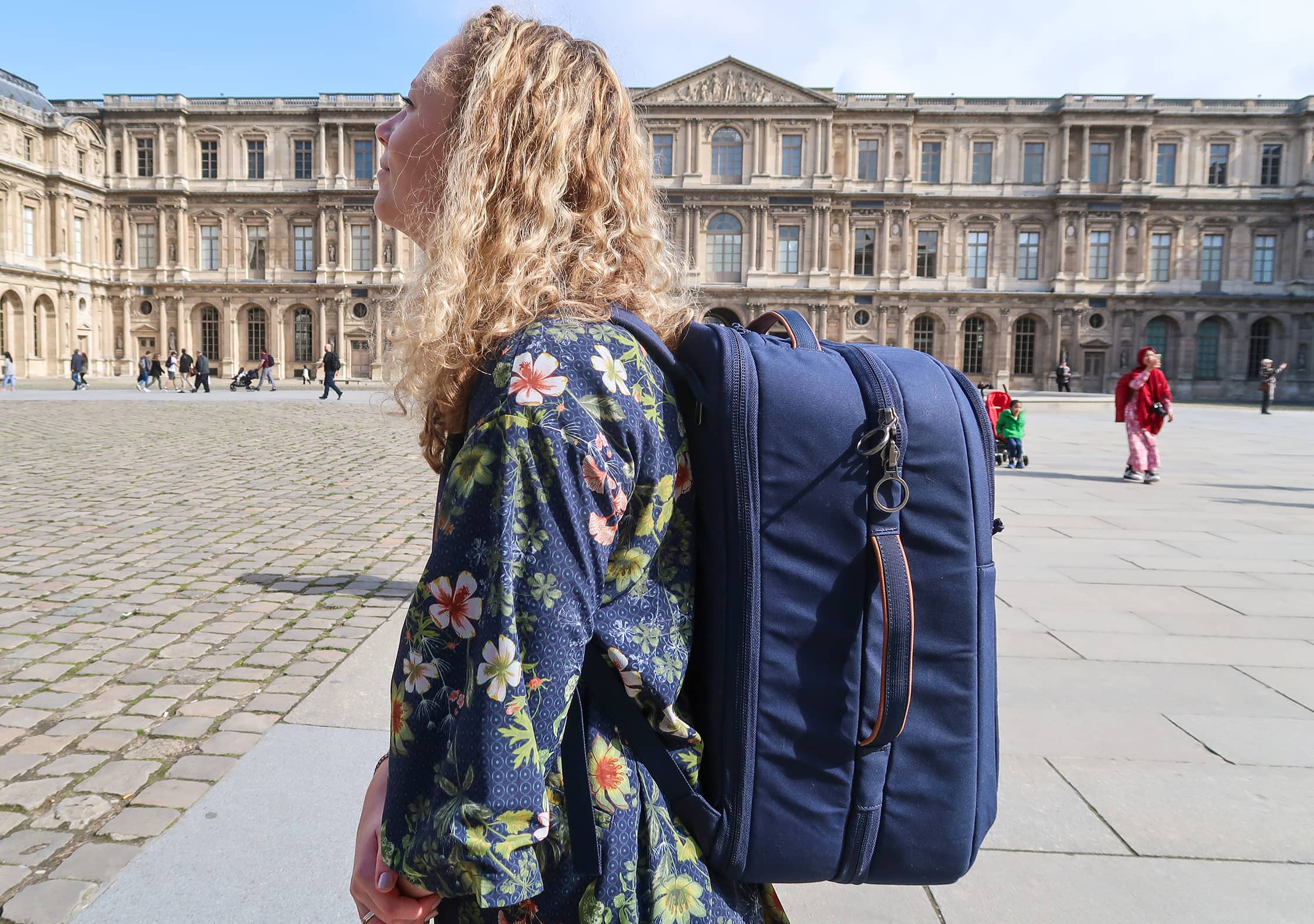 The padded shoulder straps on this pack provide a pleasant and comfortable carry, and the style fits in nicely with the rest of the bag. There are a few things to take note here, though—you're not going to find load-lifter straps, a sternum strap, or a hip belt on this thing. That being said, at 35 liters these things are by no means a necessity—and in fact, the semi-soft build of this bag would render load-lifter straps useless anyway.
Regardless, if you're looking for a bag that you can stuff to the absolute brim, and that contains extensive load carrying features, this probably isn't the pack for you—which is fine! Not every bag is going to fit everyone's needs. Fjallraven has positioned the Travel Pack as, "perfect for business trips and short holidays," so you can understand why they haven't included these features. We tested this pack on a four-day city break to Paris, and in this use case, we didn't feel a need for load-lifter straps, a sternum strap, or a hip belt—so Fjallraven seems to have gotten this one right.
The Fjallraven Travel Pack features a hideaway strap system which completely packs away every strap on this bag—perfect for tidying them away when you're in transit. The straps are hidden incredibly well—to the point you can hardly tell this thing has a harness system in the first place—but it's not the quickest transition. To hide away the harness system, first you have to feed the strap through and out of the buckle, which can be a bit tricky. We've seen some bags do this better, by simply unclipping the two components. Once you have the straps detached, however, you just slide them into their hiding places, nice and simple. The system is a great feature, and the end product is fantastic, but don't expect it to be something you can do in a rush.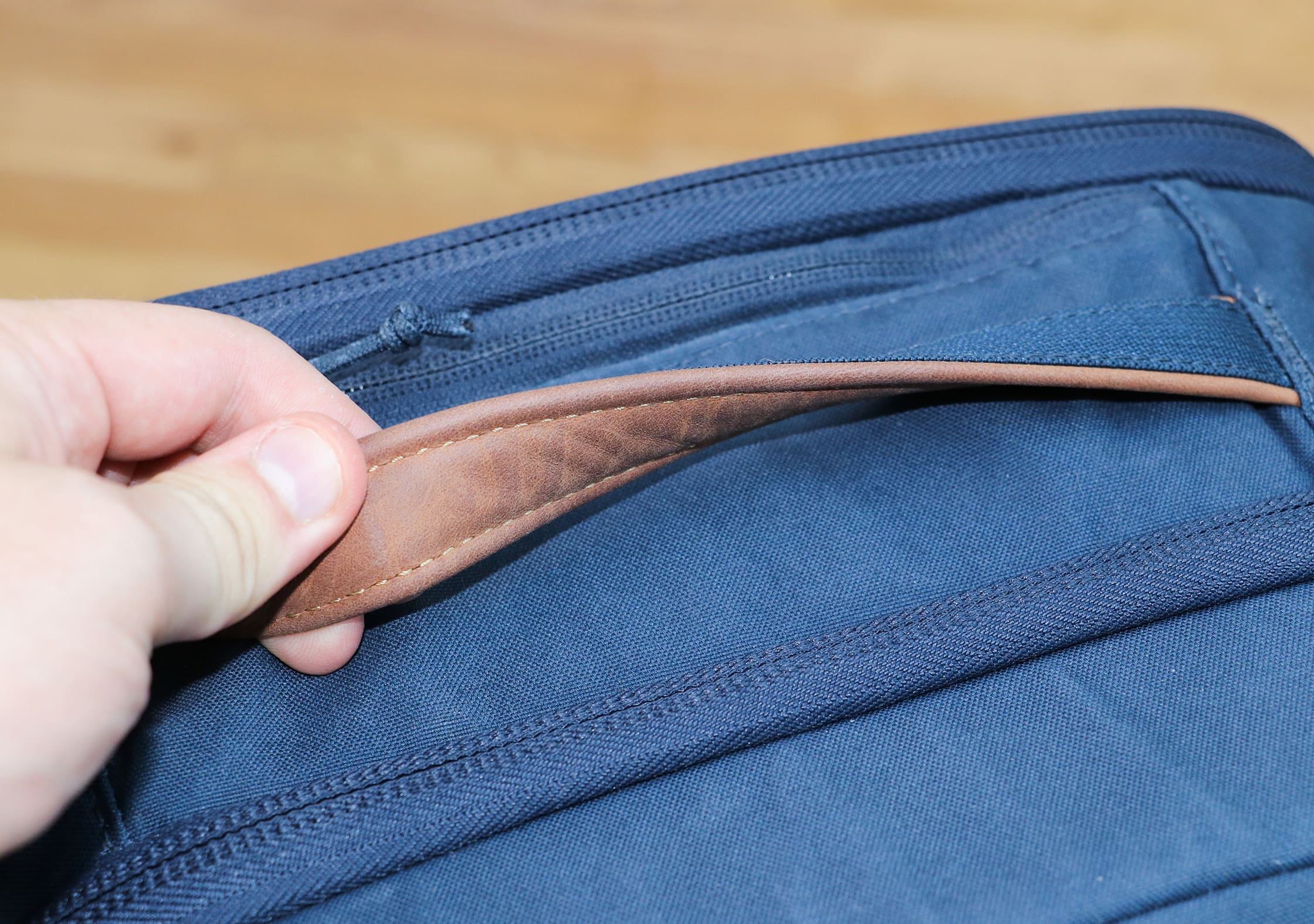 On the top and left-hand side of the Fjallraven Travel Pack, you'll find lovely leather handles, which not only feel strong but are incredibly comfortable to hold. These handles will come in "handy" (see what we did there?) for picking up the bag in a hurry, as well as putting it in the overhead storage on planes and trains.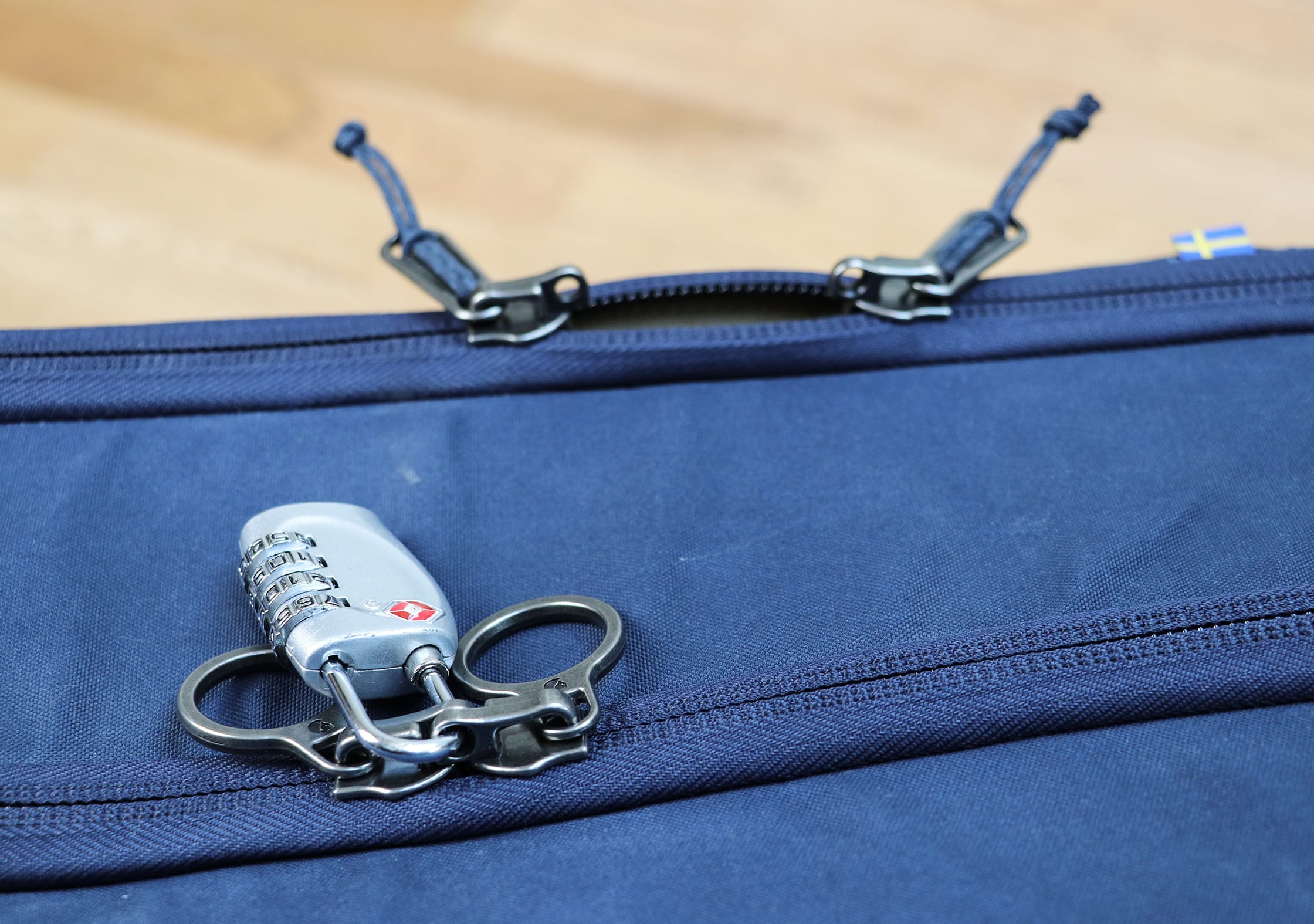 All of the zips on this bag are strong, durable, and reliant—which, of course means they are YKK. The main clamshell and laptop compartment zips have YKK 10RC zippers, which are pretty massive. Everything else has the smaller—but still reliable—YKK 5RC. For those of you who appreciate added security, the main clamshell zips and the laptop compartment zips can be locked together with a padlock. And on every zip you'll find a very helpful and convenient zipper pull. This may seem like a small thing, but they really do speed things up when you're on the go. You'll be zipping faster than you ever thought possible! We're half-joking here.
Inside The Pack
The saying "never judge a book by its cover" springs to mind when you open this pack. From the outside, the Fjallraven Travel Pack is the epitome of minimalism and simplicity, but on the inside, you'll find a multitude of different compartments and pockets for every need.

The Fjallraven features three quick-grab pockets, and the first one—a thin, fleece-lined pocket at the top of the pack—is a real humdinger. This thing is barely visible at first glance and is the perfect place to keep your phone and/or passport. It provides quick and easy access for passing through security at the airport (there is nothing worse than having to find your passport while everyone else in line silently judges you). This really is the perfect pocket, and better yet, the fleece lining will protect your phone from any random scratches.
But at this point you're probably thinking, "That first pocket sounds great. But what happens when I need quick access to items bigger than a passport or phone?! I NEED QUICK ACCESS TO LOTS OF ITEMS!"

Whoa, whoa. Calm down there bud—the second quick-grab pocket has you covered. Located on the front of the pack, you'll find a deceivingly large pocket that is accessible from the exterior and interior of the pack. We've used this compartment for chargers and toiletries, which is super handy—in most bags, this stuff would be largely inaccessible. Within this pocket, you'll also find a smaller zipped mesh pocket, which is useful for organizing a few smaller items in an otherwise large pocket.
You'll find the third and final quick-grab pocket just below the second one. This slim, but relatively large front pocket, is accessed via a zip that stretches across the front of the pack. This third pocket is ideal for your slimmer items you need quick access to—think folded documents, a small notepad maybe. We didn't find ourselves using this one too much, the first two quick-grab pockets had us covered for the most part, but it's nice and discreet, and certainly useful to have.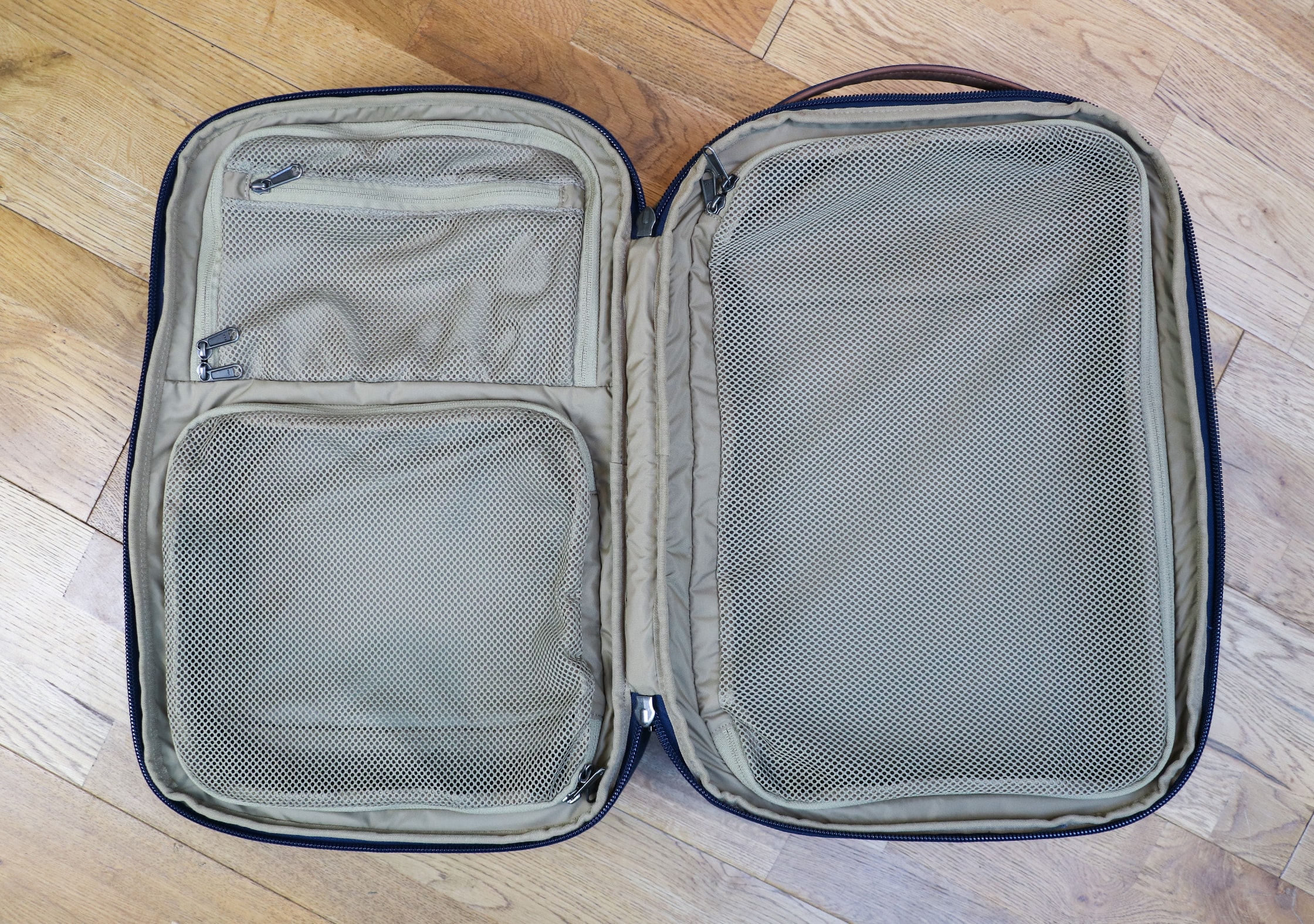 Upon opening the main clamshell pocket, you'll be confronted by three different sized mesh compartments. A large compartment on the right, medium sized on the bottom left, and finally a smaller compartment on the top left (the same one that's accessible from the front). The internal organization echoes that of a suitcase and makes accessing everything inside the pack easy and straight-forward. And because there are so many compartments, packing cubes aren't necessarily needed—but they are always helpful, so it's up to you. The mesh pockets also help you to quickly identify what is where (this is really useful) as well as providing some added breathability.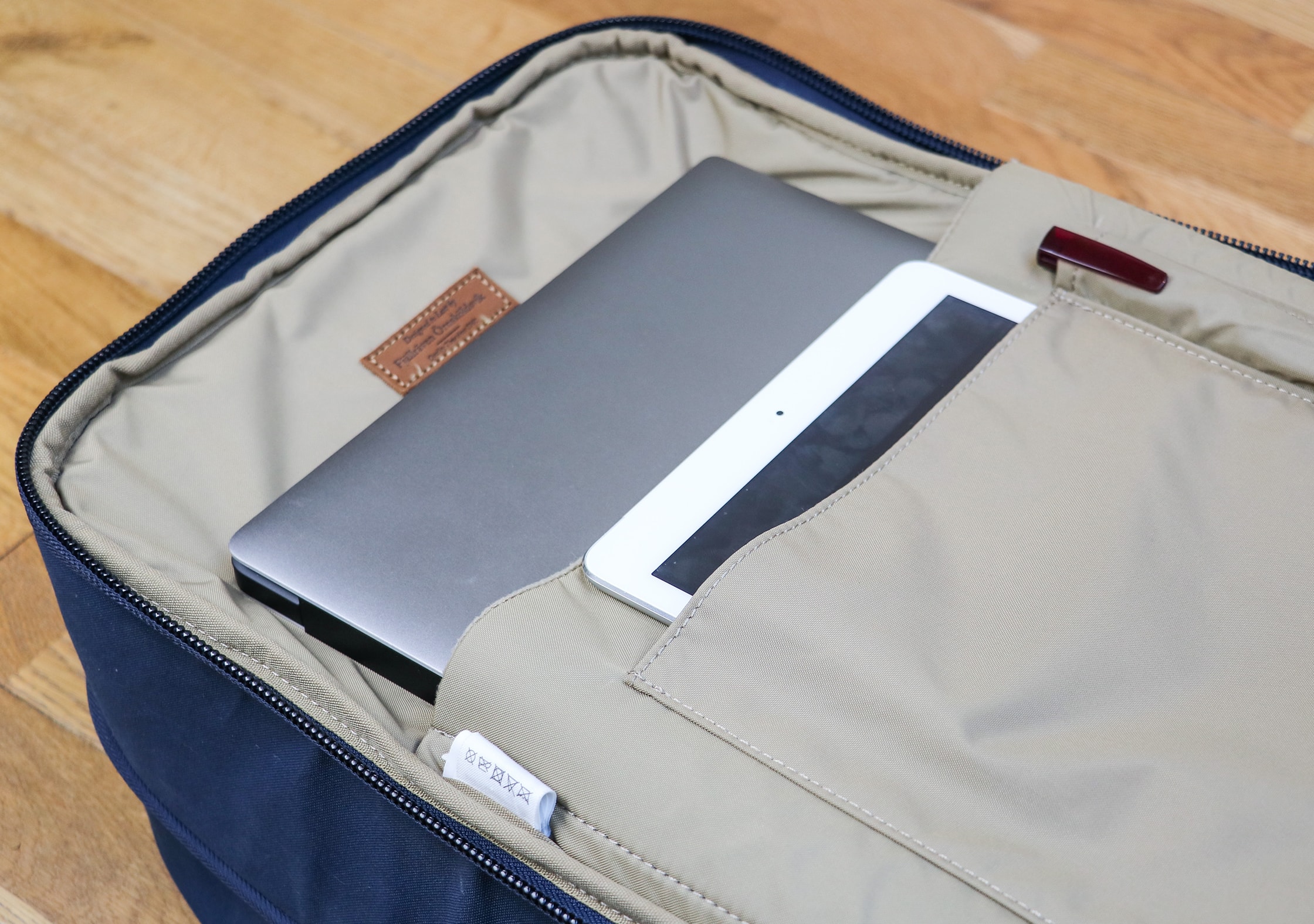 The last compartment—at the back of the pack—is where you'll find storage solutions for your laptop, tablet, notebooks, and pens. This compartment opens up all the way, giving you easy access to everything inside, and is heavily padded for that much-needed protection. The laptop sleeve will easily hold anything up to 15" in size, and in the front is an additional sleeve for your tablet. There is also a pen pocket—because how many times have you spent twenty minutes searching around your bag to find a pen because you SWEAR there is one in there. On the other side of the compartment, you'll find another large sleeve—perfect for documents—and a zippered mesh pocket just above. The folks over at Fjallraven have really nailed this back compartment, it's so efficient and discreet, you almost forget it's even there.
Durability & Testing
In a little over two months, we've tested the Fjallraven Travel Pack in the UK, France, and Germany—and so far it's held up great. We've found this pack to be a great companion on city breaks and business trips—precisely what they say it does best—and we particularly like how it doesn't instantly label you as a tourist.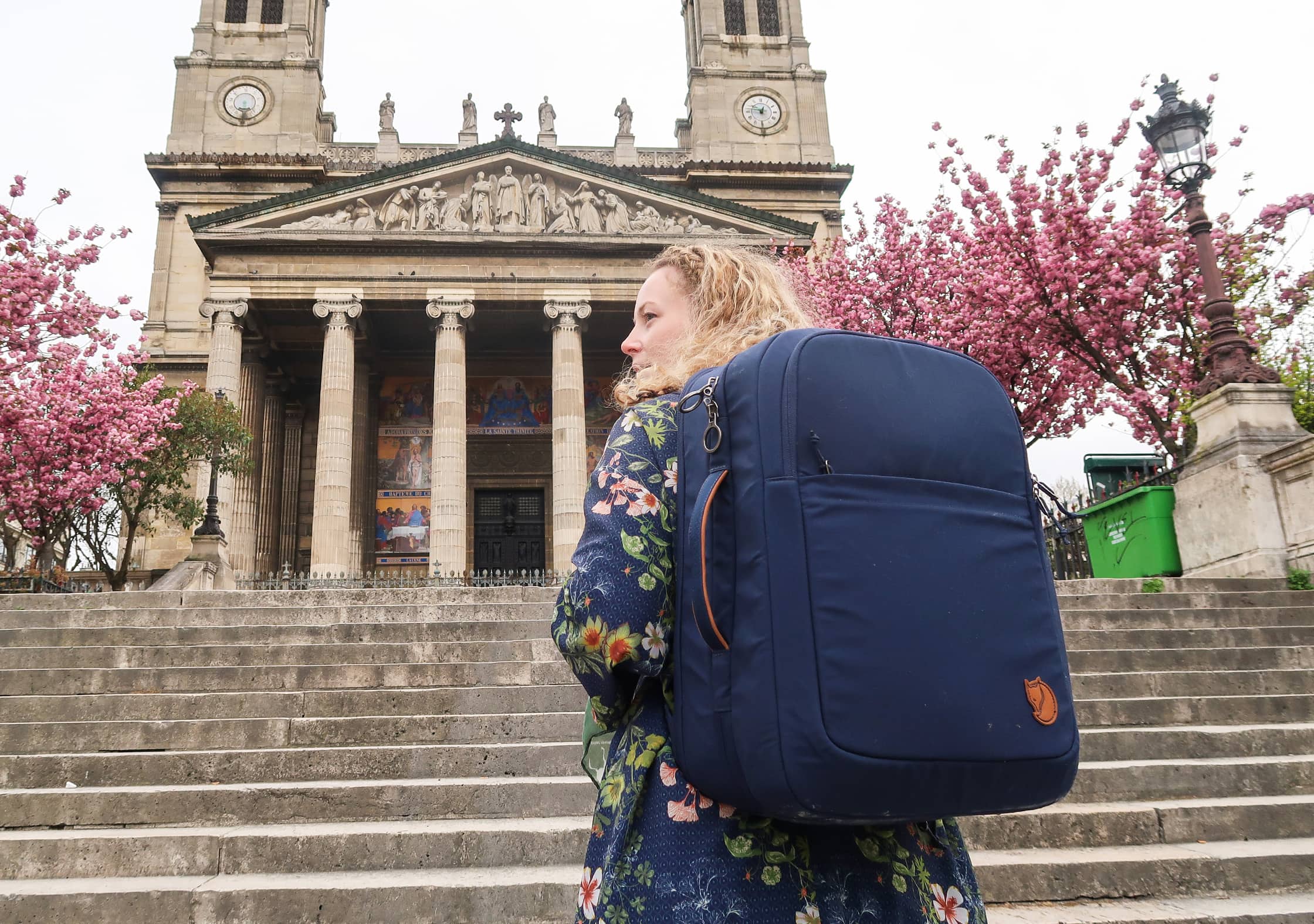 The Fjallraven Travel Pack delivers a nice comfortable carry, but it is important to note the lack of sternum strap and hip belt for its overall carry. If you're planning on packing this thing to the brim with heavy gear, your shoulders will feel the strain eventually—but its a tradeoff we're happy to make for the use case of this pack.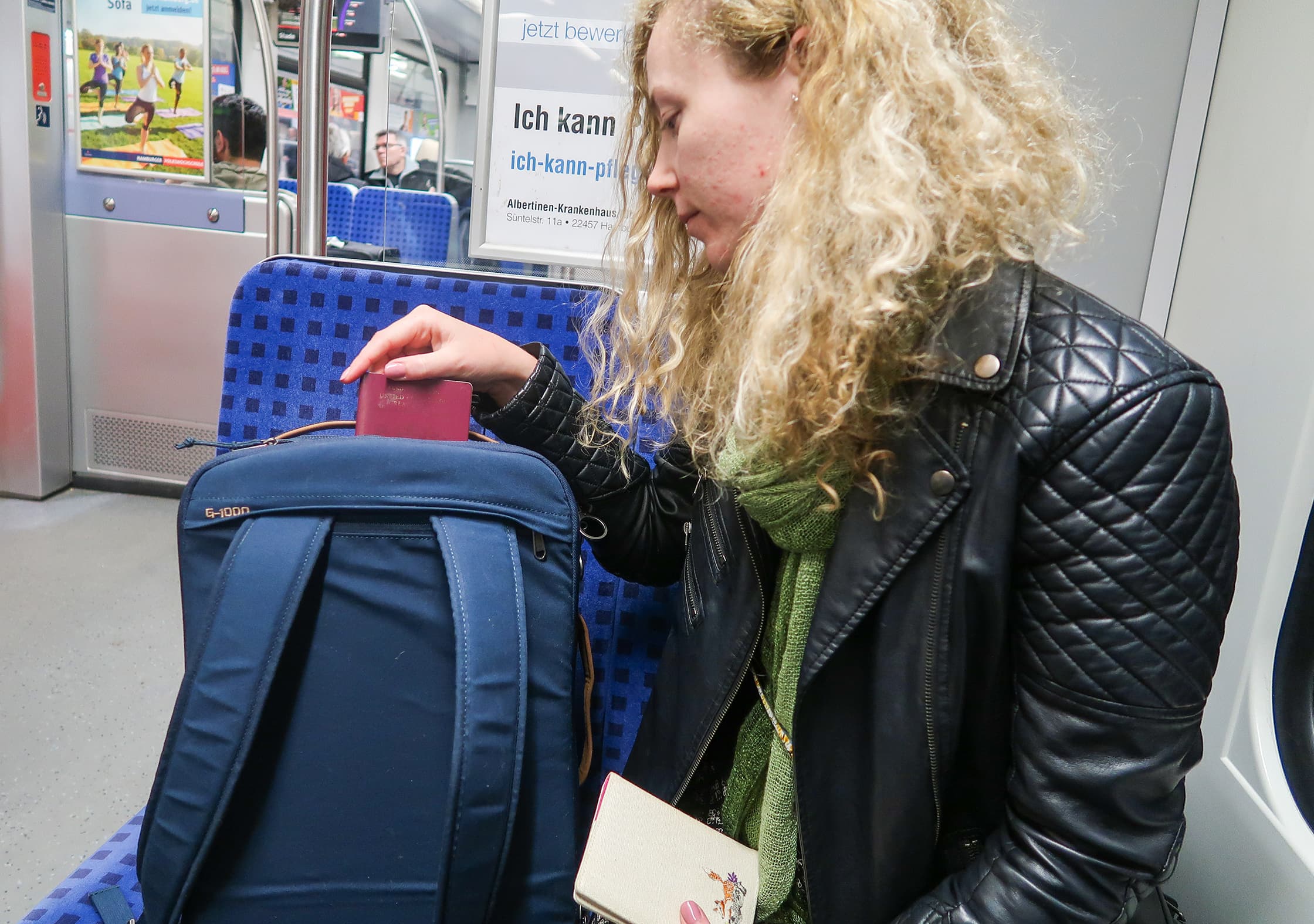 Other than the slick Scandinavian style, we've found the pocket and compartment organization to be one of the best features on this bag. We all know how stressful traveling can be, and there's nothing worse than a bag that adds to that problem—thankfully, the Fjallraven Travel Pack lends you a helping hand. The top fleece-lined quick-grab pocket is one of the most useful pockets we've tested to date, and the way both the laptop and main compartments are organized, make this pack super efficient, functional, and easy to use.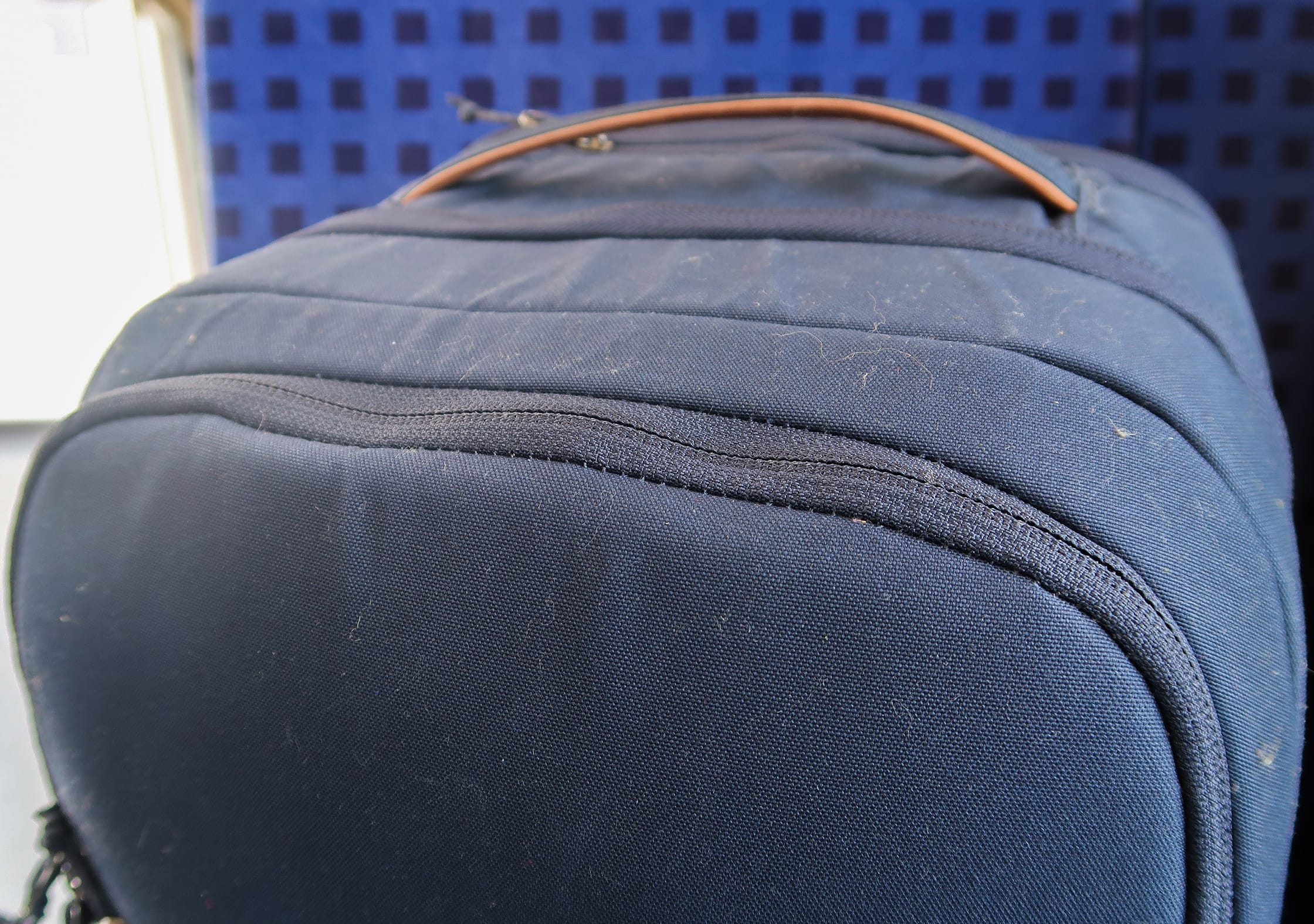 The G-1000 fabric on the Fjallraven Travel Pack certainly makes it feel different from others, but is it any better? Personally, we're fans of it—it's super durable, and the ability to "top-up" its water resistance and toughness by applying additional layers of wax is a great feature. Fjallraven sell a bar of the Greenland wax, FYI. We have found this G-1000 fabric does pick up fluff very easily—which isn't a major problem, just a tad annoying. If you do find the pack particularly fluffy, or dirty, it's effortless to clean, grab yourself a damp cloth and give it a brush—everything will come right off.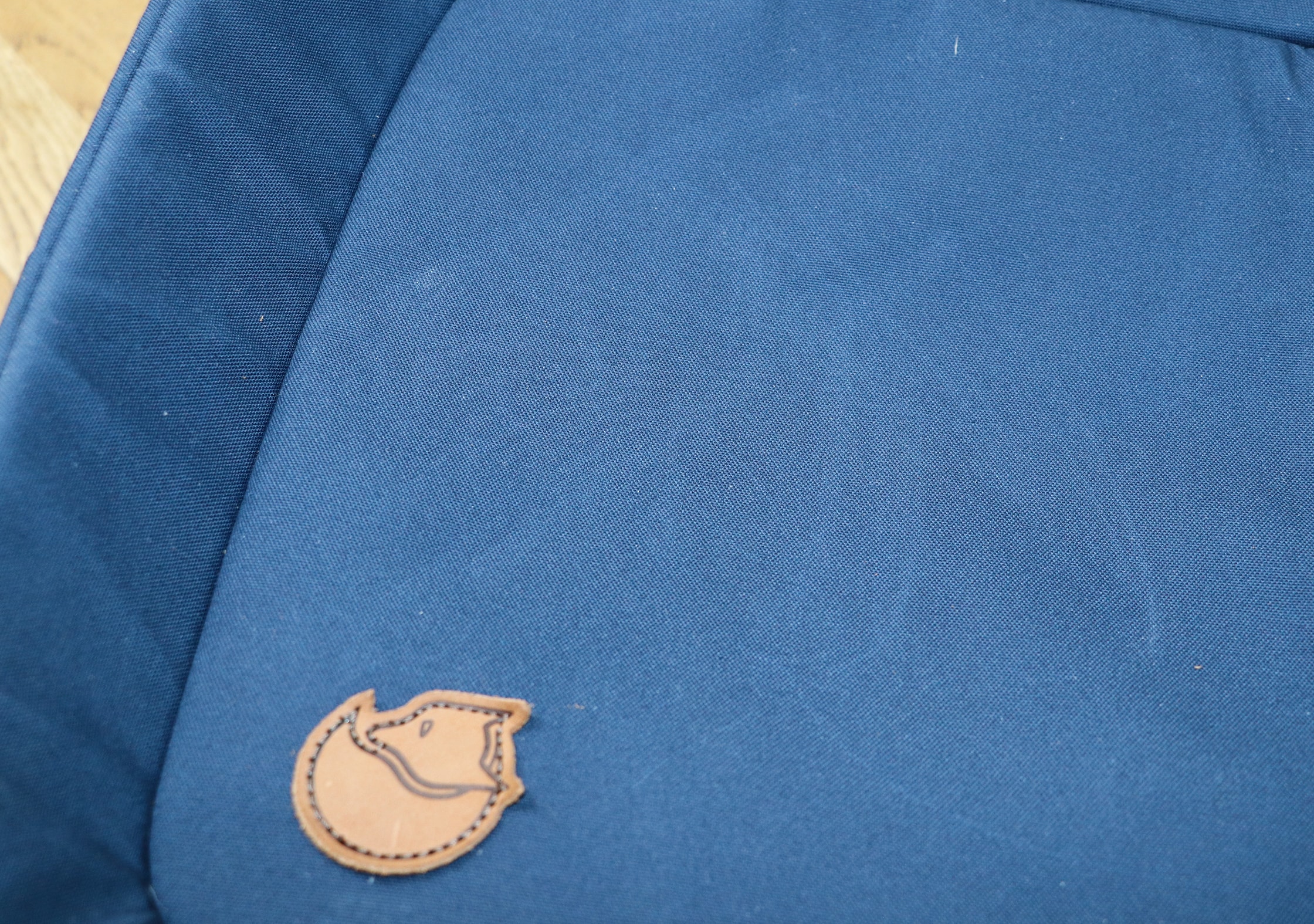 The only major downside we've found with the fabric so far—which is a real pain—is that it marks relatively easily. Because of the layer of wax, if you catch your fingernail on the material or press the bag up against something hard, it's going to leave a mark. That being said, blemishes are by no means permanent—a new coating of wax should freshen it up when necessary.
Usage Timeline
Initial Usage
Condition: Excellent
So many awesome pockets on this, really easy to pack.
1 Month of Use
Condition: Good
Found a few blemishes on the material, should be fixed when we apply a new layer of wax further down the road.
2 Months of Use
Condition: Good
This pack looks great in a city environment, still feeling strong and sturdy. Although, we are finding the pack to pick up a lot of dirt and dust.
Access the Pro Community Discussion
Get your questions about the Fjallraven Travel Pack answered from our team and the Pro Community right here on the page. Plus, join discussions with other members about gear, guides, and more.
Other Bags & Luggage Reviews