Fjallraven Kanken Mini Review
The Fjallraven Kanken Mini is a simple, functional daypack that will get the job done—and what it lacks in features, it makes up for in style.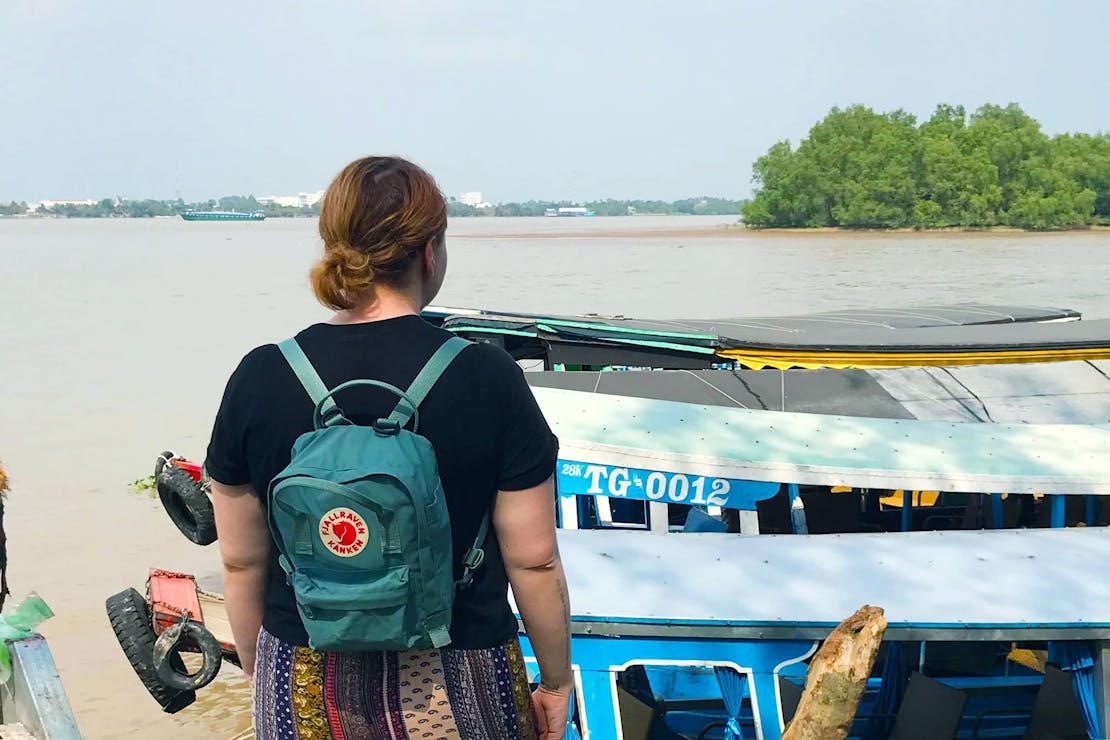 Our Verdict
Unlock the Pro Summary
Save time. Get access to brief summaries of our reviews so you can browse and make decisions more efficiently.
Pros
Zippers are securely hidden for safety in crowded areas
Perfect size for a day pack
Nice aesthetic with a variety of color options
Cons
Not the most compressible daypack we've tested
Ends and edges of straps are rough/itchy and can snag clothing
The top handles can be a nuisance when disconnected
Recent Pack Hacker Video
Technical Details
Capacity

7l

Weight (oz)

7.76 oz (220 g)

Dimensions

11.4 in x 7.87 in x 5.11 in (29 x 20 x 13 cm)

Notable Materials

Polypropylene, Vinylon F, YKK Zippers, Wasa Hardware

Manufacturing Country

South Korea

Warranty Information
Buying Options

$80.00
$50.95
Full Review
When you plot out your packing plans for a trip, you'll need to break down what you'll be using during your adventure. Trekking around cobblestone alleyways or across a hilly countryside won't be conducive to a roller suitcase or a full 35L backpack. Enter the Fjallraven Kanken Mini—a great choice for a lightweight daypack (coming in at a mere 7oz) that can hold your camera, cash and perhaps a book.
A good combination of style and function can be hard to find when it comes to daypacks. When we began searching for the perfect pack to roam around the streets of Saigon, we saw a bunch of slings and packs that prioritize hiking features or that lacked the protection and padding we like to see. There's no reason you should be beating yourself up with a camera through non-padded, nylon fabric.
A brief scan for stylish yet affordable backpacks led us to the Fjallraven Kanken—in particular, the mini. The brand features a signature square body with two top handles clipped together and a small red fox emblem. Founded in Northern Sweden in 1960 by a young adventurer, the brand boasts functionality, durability, and dependability as their core principles. Several of their core principals actually play directly into our review, which is saying a lot as we weren't even aware of them when we first started writing!
If you haven't noticed, Fjallraven has exploded into a globally recognized brand within the last couple of years. We saw these bags popping up in many places we've visited, in tons of airports, and even received notes from our friends about the popularity of the Fjallraven Kanken Mini.
The Fjallraven Kanken Mini is small enough to pack in a larger bag or use for a carry-on "personal" item (while still being polite to your seatmate's overhead bin space). If you're already traveling with a backpack, the top handles are key. It allows for extreme versatility in many situations. You can easily rock this as a backpack while wandering the lantern-lit streets of Hoi An, but then slip your arm through the top handle to sort out some cash as you make your way through the market. We found it to be important to keep the handles clasped, as they tend to stick out and intercept passersby when wandering heavily populated areas.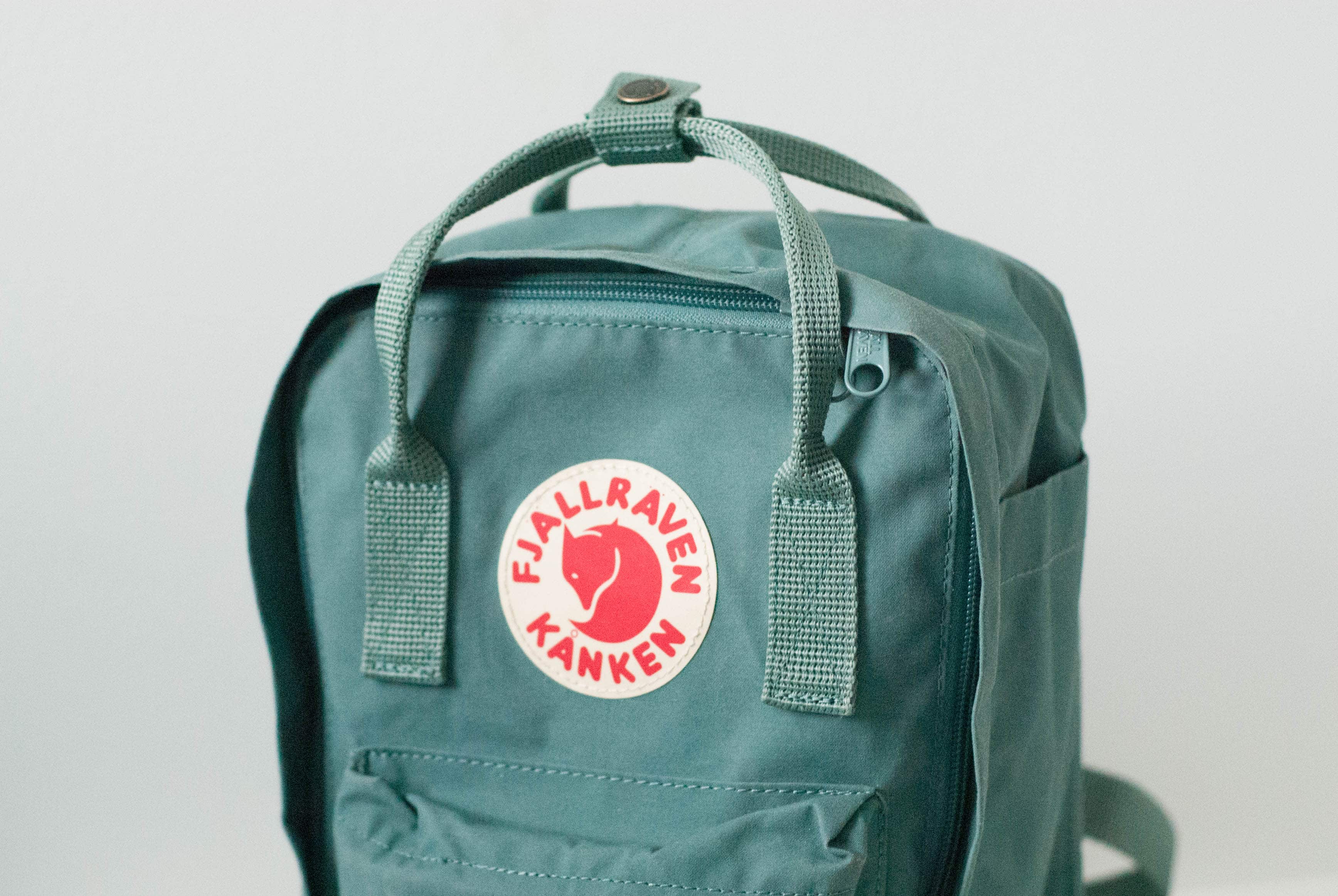 Immediately on unpacking, we recognized how stiff this Fjallraven Kanken Mini was—from the handles to the fabric and the support along your back. Initially, this seemed like a frustration as the bag holds mega style value. In retrospect, the rigidity allows the bag to hold its shape and evenly distribute its weight no matter what you cram inside. In our case, the bag sometimes housed just a wallet and a small book, but other times we'd have a DSLR, power bank, art supplies, cell phone and a handful of funky souvenir items. Regardless of the contents, the bag remained in its perfect, square-like shape. An inside pocket holds a firm foam board, which Fjallraven designed to be a seat pad. We've found that it can double as extra support for the back and protection from heavy cargo bouncing against the wearer.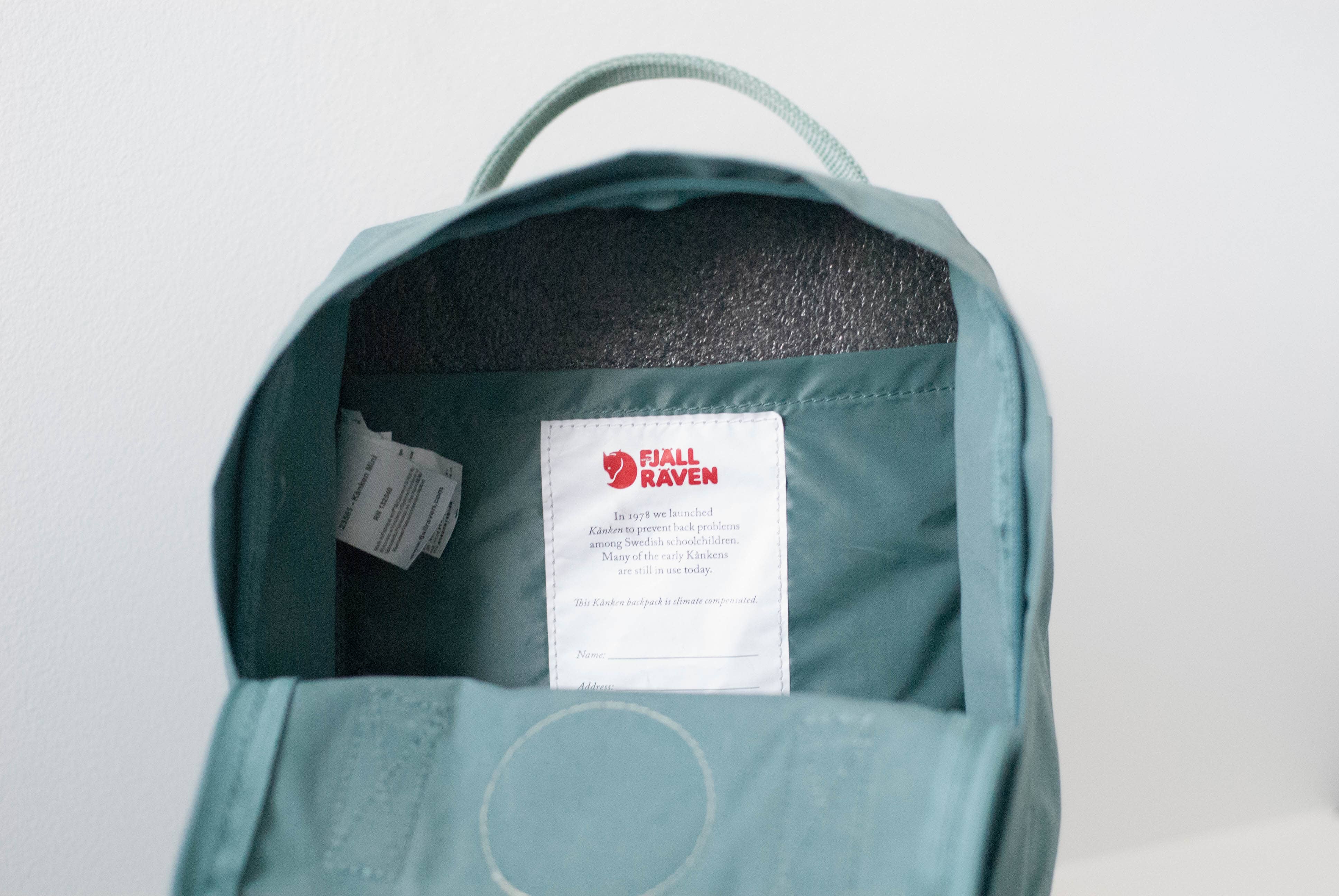 The Fjallraven Kanken Mini features four pockets for a variety of needs. The interior pocket served as an exceptional place to store a passport or any important paperwork, receipts, or visa documents. We take safety and security pretty seriously when wandering abroad, and this interior pocket would be nearly impossible to access unless someone was able to snatch the bag off your back.
On the exterior, along each side, there are two slim pockets with no closure. We used these minimally but did find them useful for a cheap pair of sunglasses or easy access to some cough drops.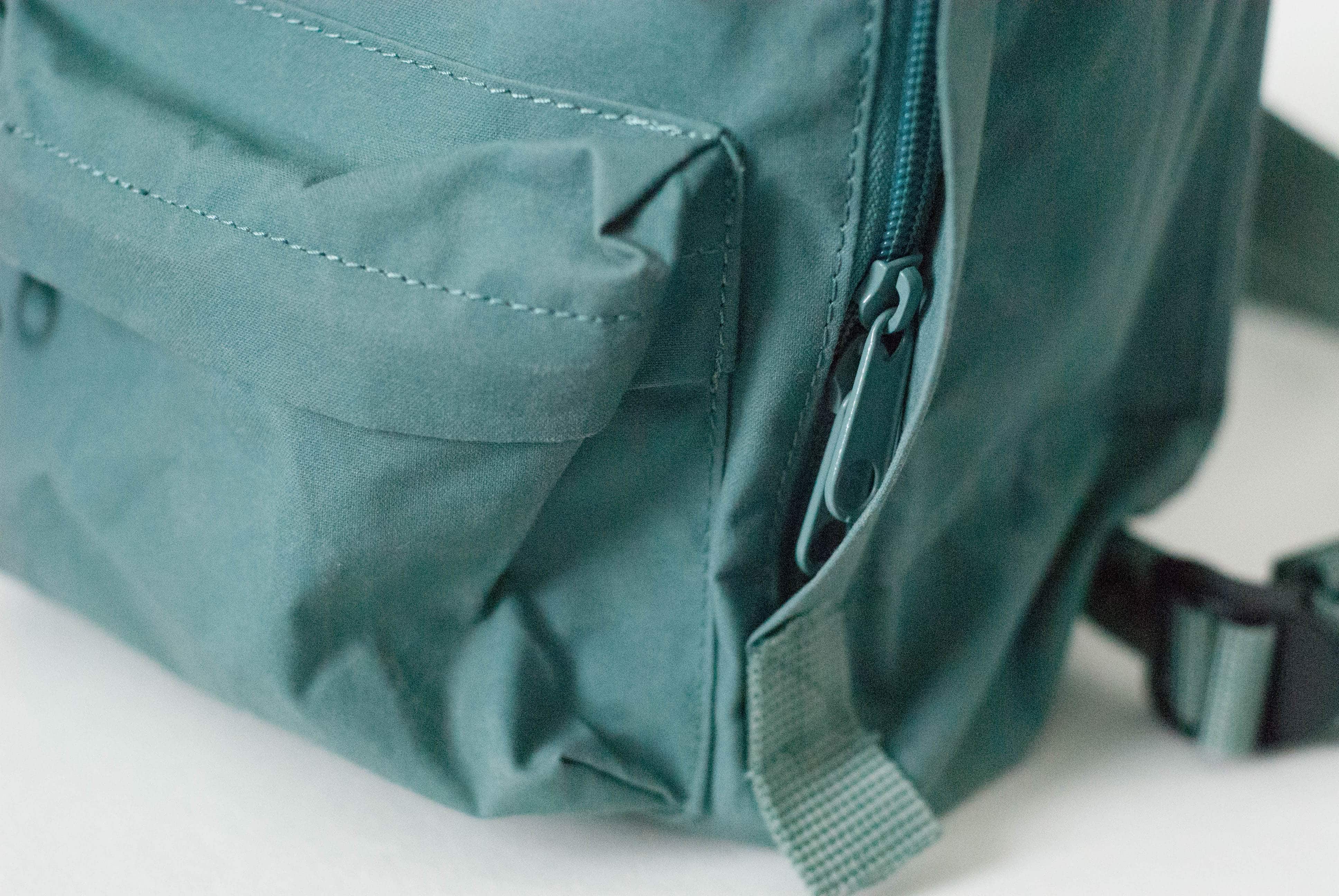 Lastly, the fourth pocket is a small zippered pouch in the front. A classic backpack feature, this pocket is small and perfect for train tickets, knick-knacks, chapstick—you get the idea. We were pleasantly surprised by the solid variety of storage and organization within the bag—simple but effective!
We mentioned one of the security points on the Fjallraven Kanken Mini already, but one feature we have really come to appreciate are the zippers, and specifically the liners that cover them. Every edge of the main zipper has a lip covering it, which is stiff and snug—meaning you really have to get a grip on the bag to even expose the zipper pull, let alone open the compartments. A huge win if you find yourself getting nervous about people tampering with your stuff in a crowded or unfamiliar space. It's not a bulletproof solution, but a nice addition nonetheless.
While Fjallraven offers a whole line of backpacks, the Fjallraven Kanken Mini is clearly the most suited for daily use. This means that you're not going to find the same focus on durability and comfort you may find on a dedicated travel pack, for example. Which brings us to the straps…
Each strap is made of a high-quality, sturdy nylon—which is great. But there is no padding. None.
We were pretty concerned about this, as backpacking across a hot and humid country with this type of strap can lead to some discomfort at best, and cuts on your arm at worst. But not this little pack. This bag has held up over a bunch of different climates and we have yet to have any problems with the straps. We're not sure if this is because the bag is so small it is generally on the lighter side or what, but the straps have been surprisingly comfortable. There are also no signs of creasing or folding, which is nice.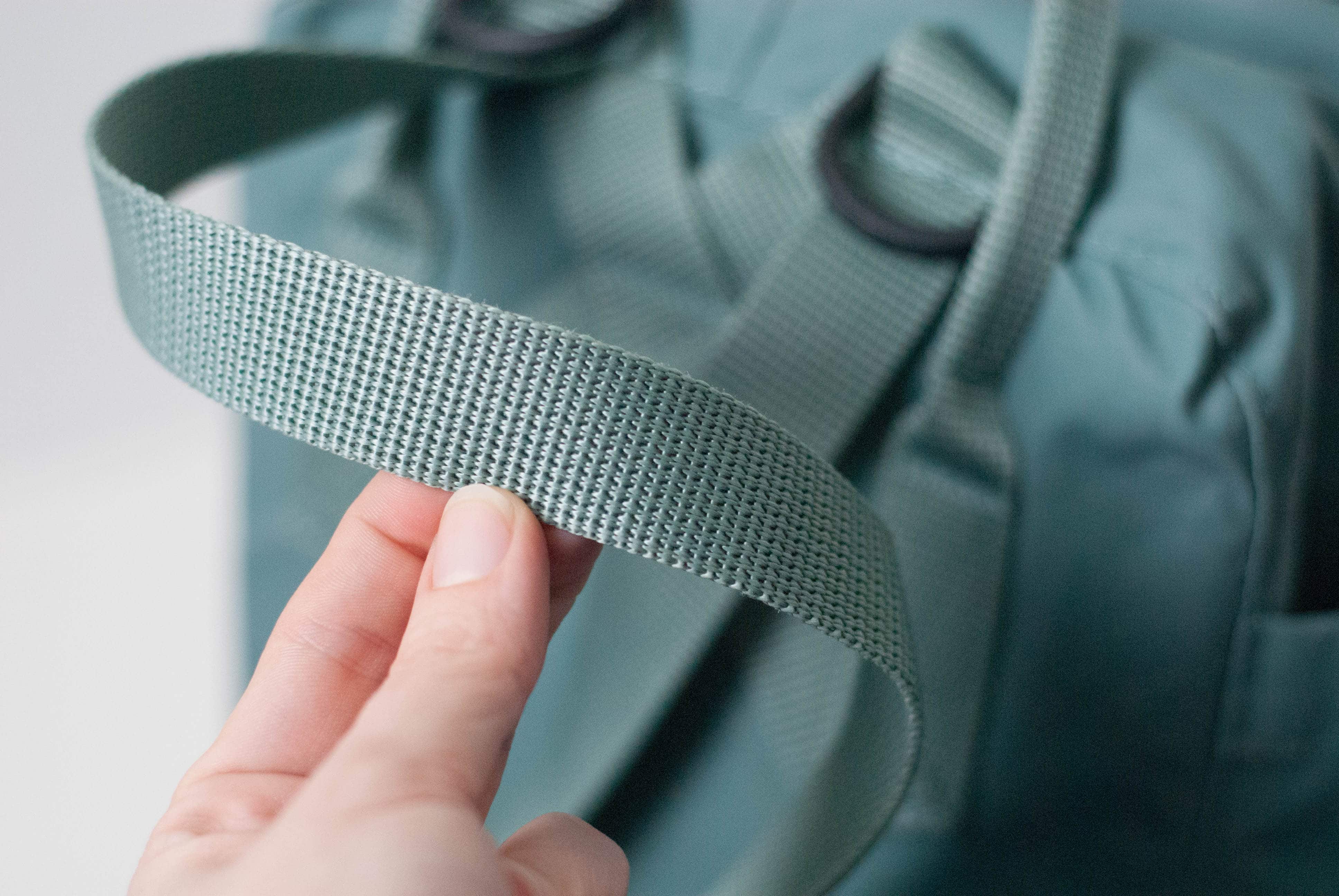 We did notice on a very warm day with only a tank top on, that the straps weren't exactly soft—If you're a fan of sleeveless tops or going shirtless, you might want to look into the shoulder pads that Fjallraven sells separately.
Usage Timeline
Initial Usage
Condition: Excellent
Tip top shape, fresh and crisp.
2 Months of Use
Condition: Excellent
Access the Pro Community Discussion
Get your questions about the Fjallraven Kanken Mini answered from our team and the Pro Community right here on the page. Plus, join discussions with other members about gear, guides, and more.
Other Bags & Luggage Reviews