Amazon Basics RFID Travel Passport Wallet Review
The AmazonBasics RFID Travel Passport Wallet is a solid place to keep your travel documents organized on the road—though it doesn't have the best look.
Our Verdict
Unlock the Pro Summary
Save time. Get access to brief summaries of our reviews so you can browse and make decisions more efficiently.
Pros
Solid internal organization
Budget-friendly
RFID-blocking
Cons
Feels somewhat cheap
One of the larger passport wallets on the market
Not the sleekest aesthetic
Recent Pack Hacker Video
Technical Details
Weight (oz)

7 oz (198.4 g)

Dimensions

10 in x 5 in x 0.8 in (25.4 x 12.7 x 2 cm)

Notable Materials

Polyester, SBS Zippers

Manufacturing Country

China

Warranty Information
Full Review
If you're a budget traveler, AmazonBasics should be on your radar. AmazonBasics is essentially Amazon's catch-all brand, offering a wide variety of gear from electronics to bath and body all for a reasonable price. And recently, the company has been moving into the travel sphere.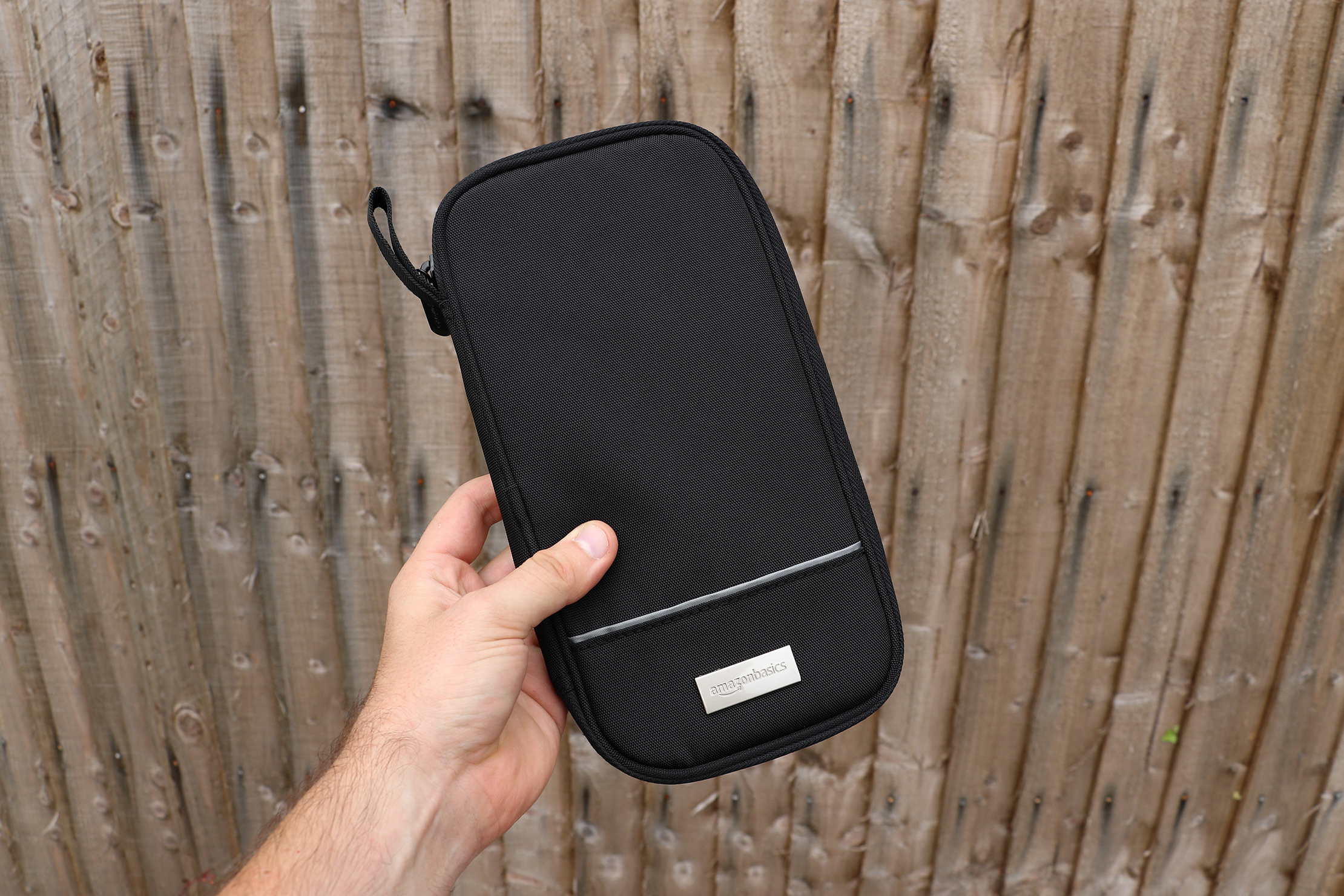 While we initially had our reservations with the brand—as AmazonBasics gear is seriously inexpensive—we've been pleasantly surprised with products like the AmazonBasics Slim Carry On Travel Backpack Weekender.
We've been excited to see how the AmazonBasics RFID Travel Passport Wallet would stack up. So how has it? Read on to find out.
Materials & Aesthetic
This wallet looks alright. We don't have anything good to say about it, but we're not repulsed by its simple aesthetic either. While we're digging the sleek black colorway, the AmazonBasics logo on the lower front makes it look a little, well, cheap.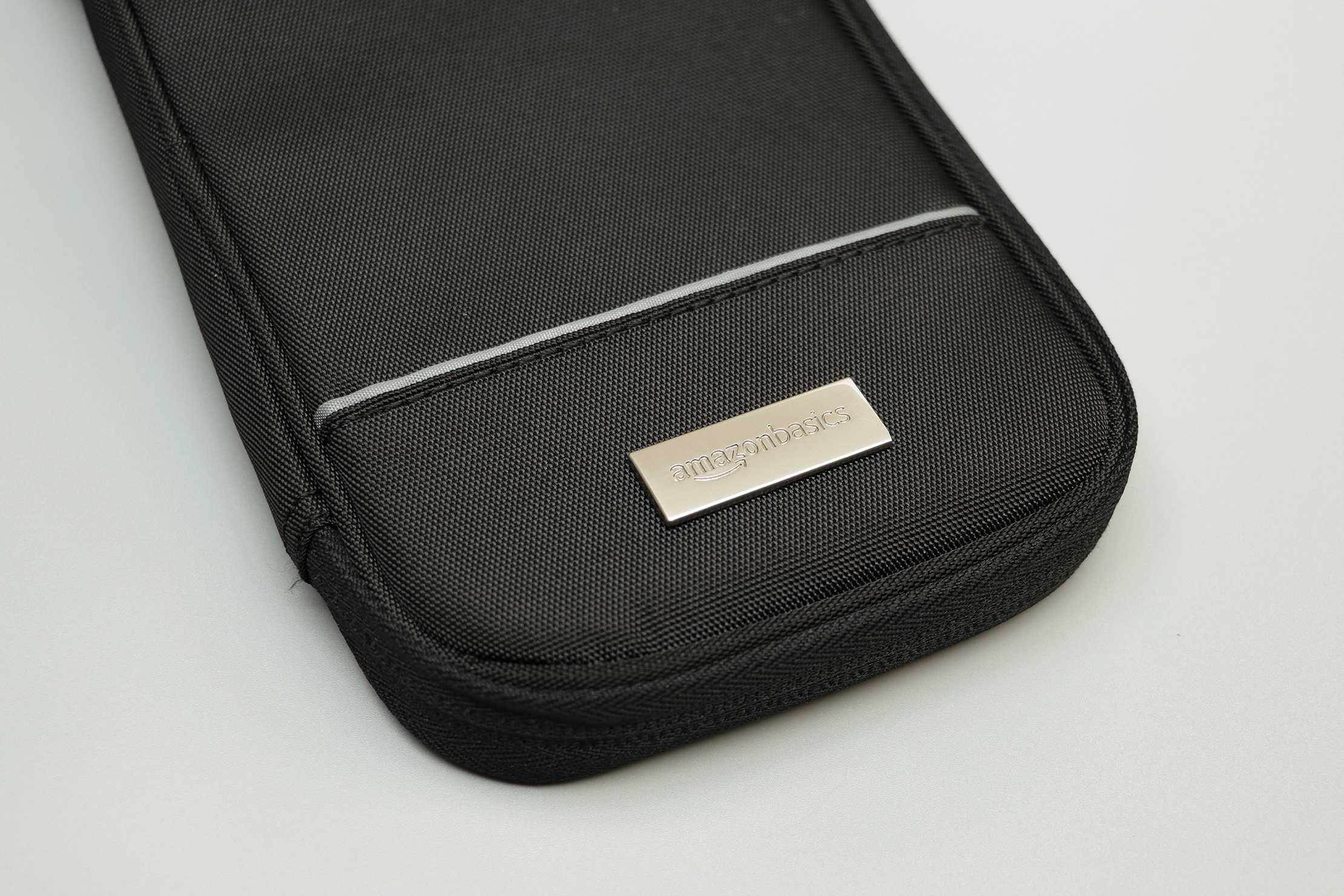 Currently, it's available in black and…black. The team here at Pack Hacker is all about dark-colored gear, so we're alright with this. But if you're a neon-or-bust person, you'll probably want to opt for a different wallet.
It's a lot larger than we expected based on Amazon's product pictures. It measures 10 inches by 5 inches—which means it's on the larger side of passport wallets we've tested. While we prefer smaller wallets, this one does still fit in most quick-grab pockets on backpacks or inside of sling bags. So it's not too big by any means.
The AmazonBasics RFID Travel Passport Wallet is made from 100% nylon, which is a great choice by Amazon. It's more durable and lightweight than polyester, which is the synthetic fabric usually used on budget-friendly gear.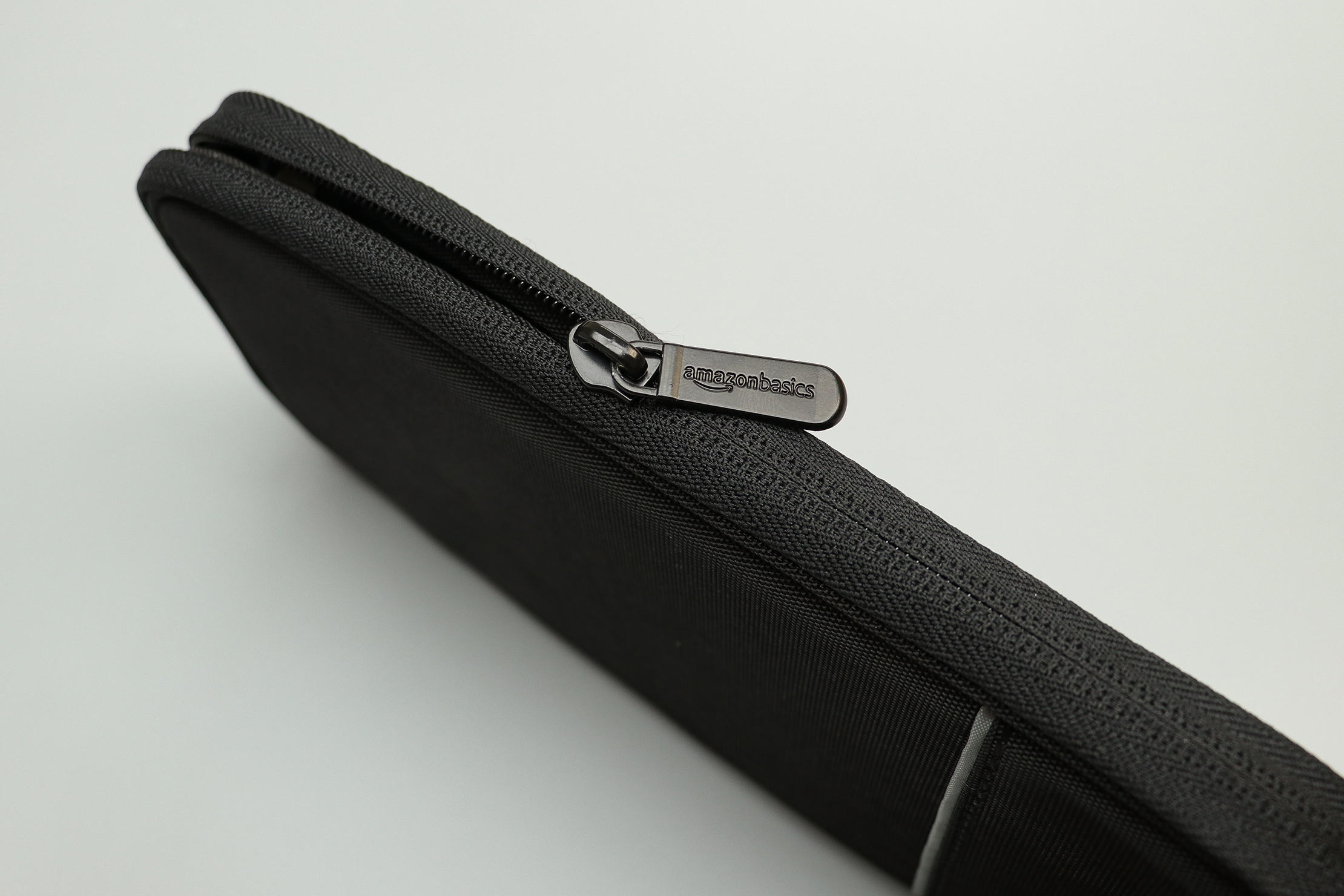 The zipper is from SBS, which isn't the most reliable of zipper brands but should be alright in this case. You don't need as hardy of a zipper on a wallet as you need on a backpack.
Inside the Wallet
This wallet has a clamshell-style opening—meaning it opens up like a book—which is a huge plus, allowing you to see everything you have inside. And there's a lot going on inside. On the left-hand side, you'll find nine card slots, which can all hold multiple cards if need-be. You can store debit, credit, loyalty, business, bus, whatever-else cards you desire here.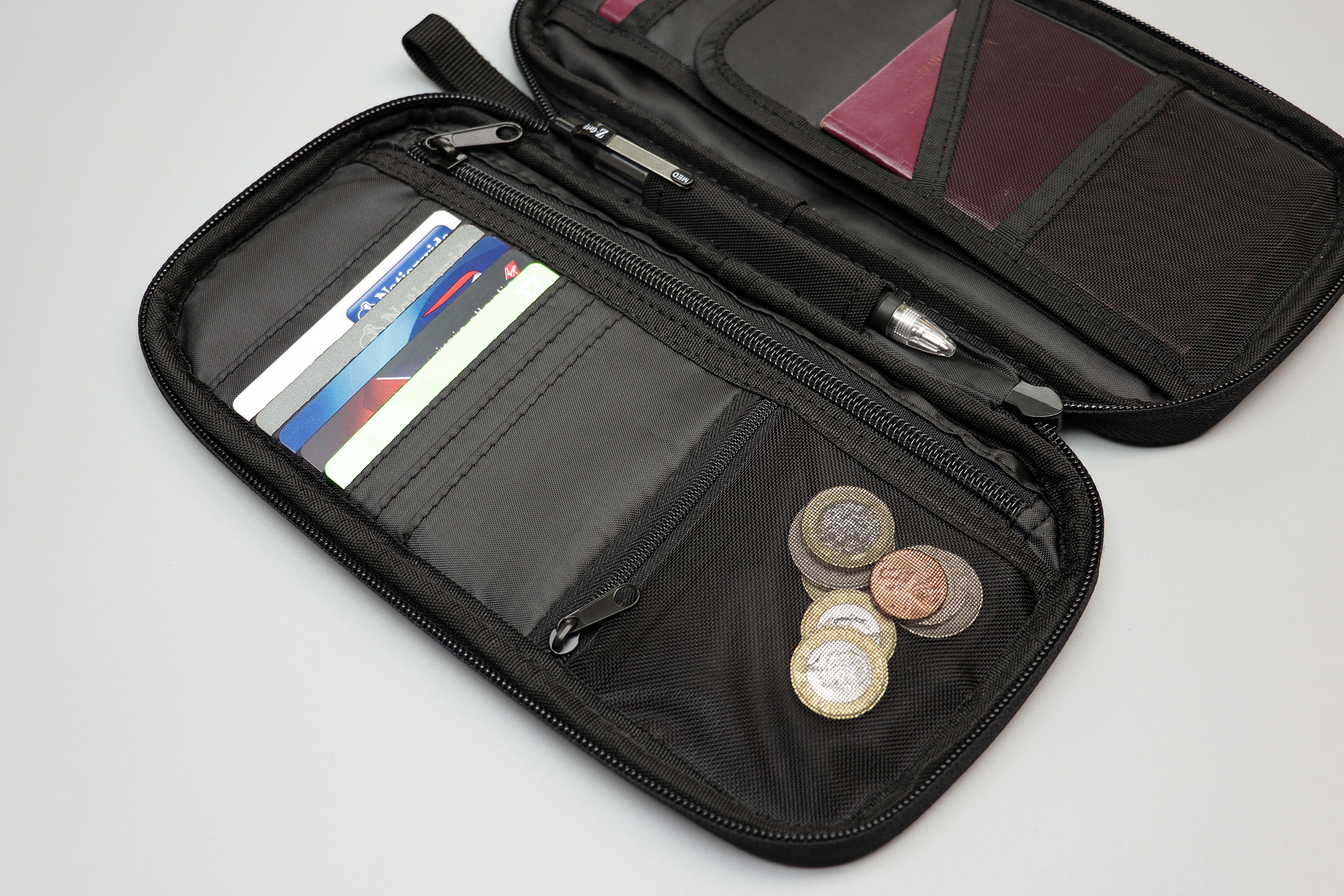 Beneath the card slots, you'll find a small zippered, mesh pocket. The mesh feels a little cheap, but as long as you're not doing any hardcore traveling or adventuring, it should hold up. We've used this space for coins, but you could also stick SD cards or other small items here.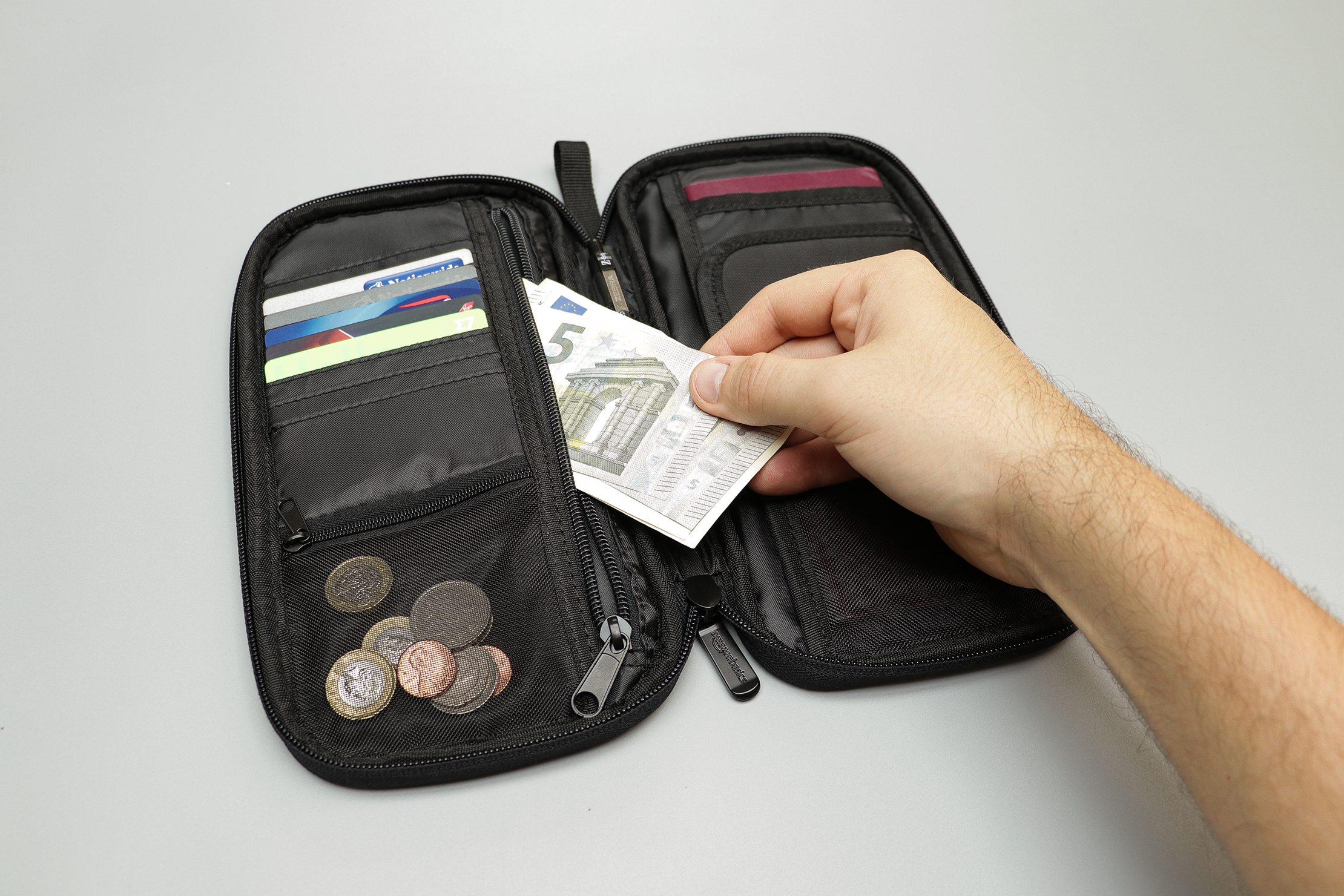 Behind the card slots and zippered mesh pocket is a large, zippered pocket that's a perfect place for cash. While this isn't exactly a "secret pocket" as it's not hidden, it's not immediately obvious it's there either. And the zipper prevents money from slipping out or getting pickpocketed. We've stored "emergency" cash here—an extra 50 euros to be used if we've lost our other money or an emergency occurs.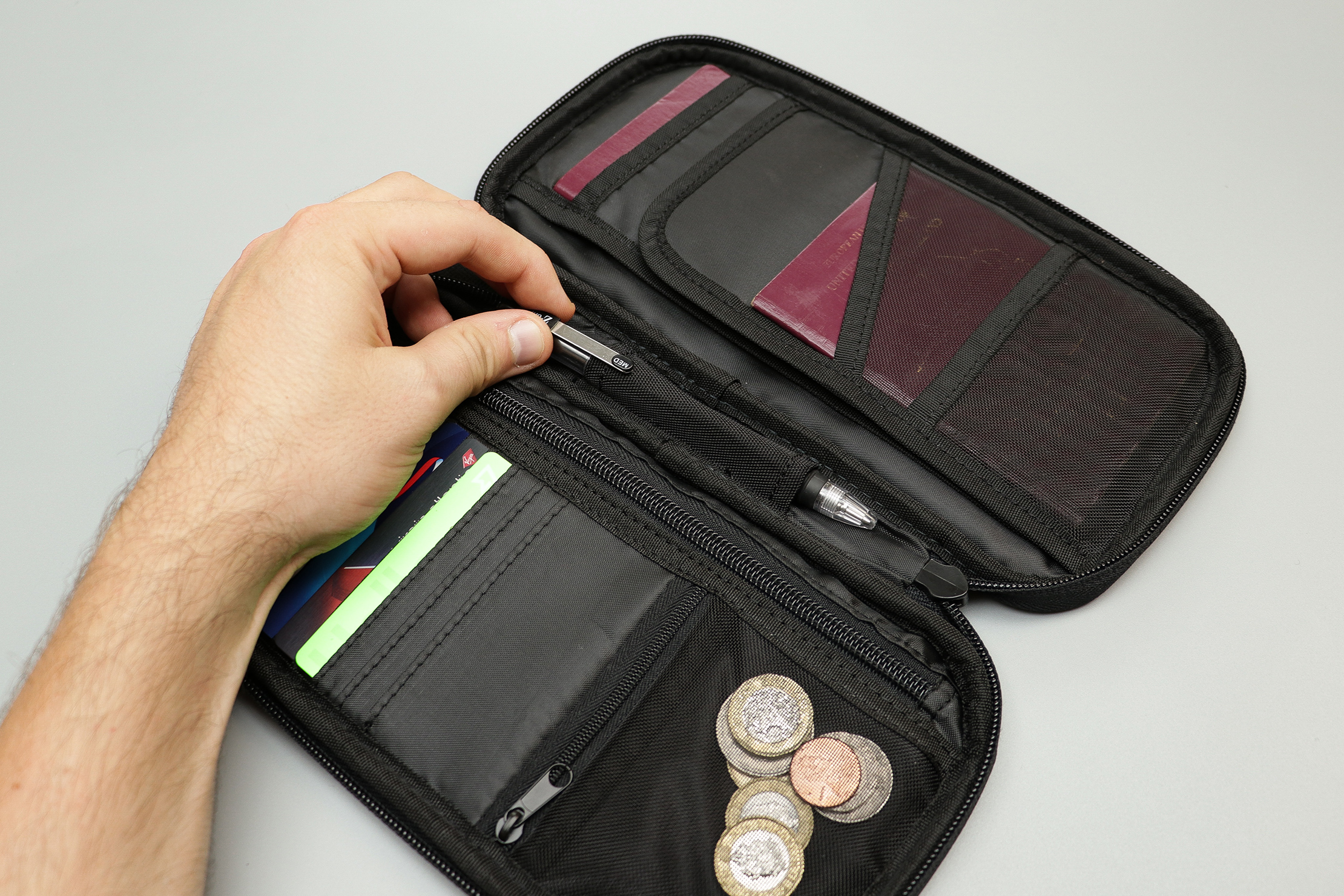 Between the left and right sides of the wallet is a pen sleeve that'll fit most average-sized pens. Traveling tends to involve a surprising amount of paperwork, so having a pen easily accessible frequently comes in handy.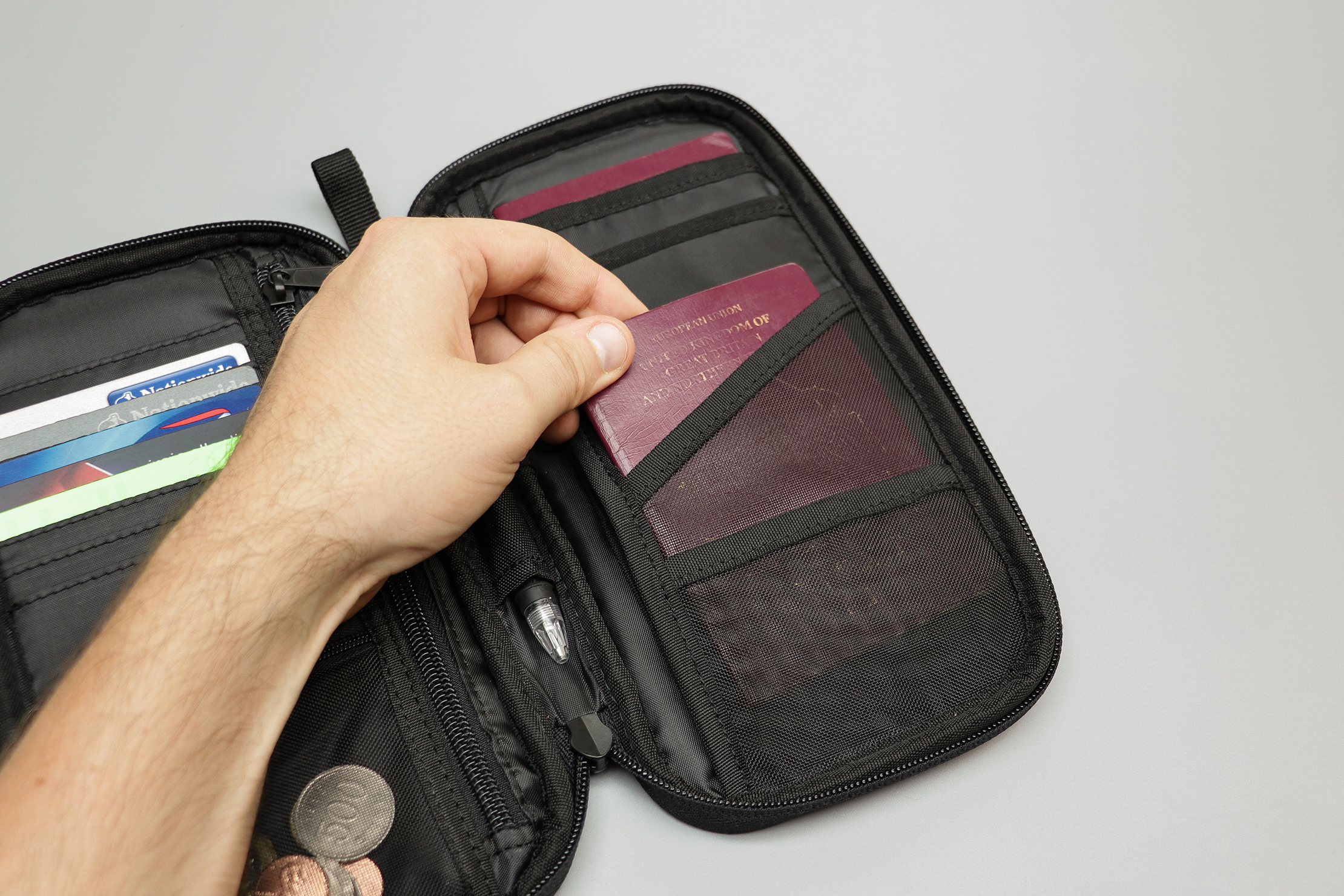 Moving on to the left side of the wallet. This side has a lot going on and can easily be tailored to your specific use-case. The folks at Amazon haven't over-designed this organization, so you can use these pockets for whatever you need them for, which is a huge plus. You do you.
We're not exactly sure which pocket is the one designed specifically for a passport as you can fit up to five passports in multiple pockets. This is great for couples, families, and international spies. We've mostly kept our passports in the diagonal stretch pocket and the large back stash pocket.
Either way, you'll have to take your passport out of the wallet every time you need to access it, as there's not a place for you to open it up internally.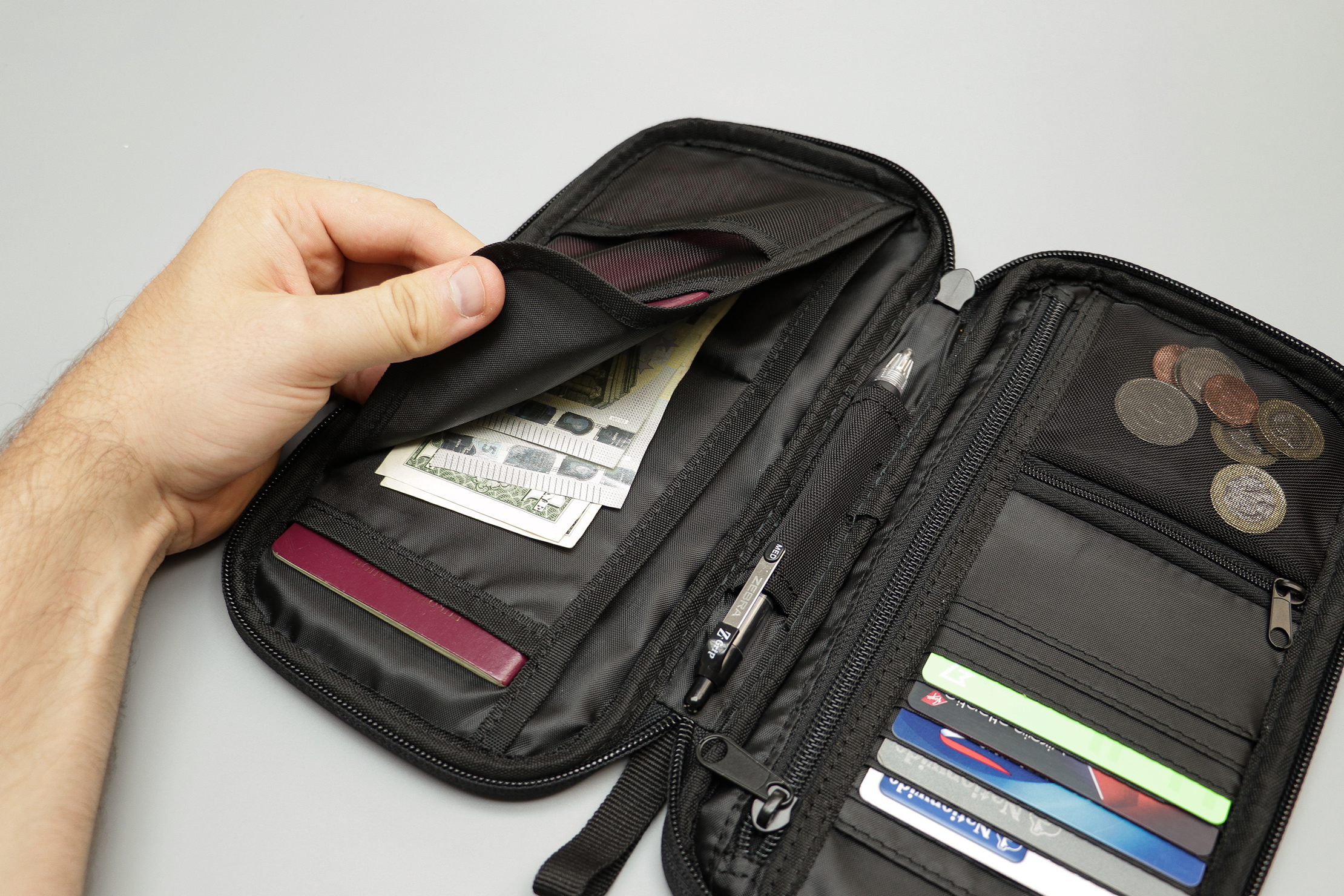 On the left side of the wallet, you can also fit your boarding documents, more cash, your ID, vaccination card, or whatever else you'd like to keep organized.
On the back of the wallet, you'll find the final pocket, which the folks at Amazon call a "rear stash pocket." We haven't used it much, but it's a good spot to keep anything you'll want to access quickly—perhaps your ticket or boarding pass.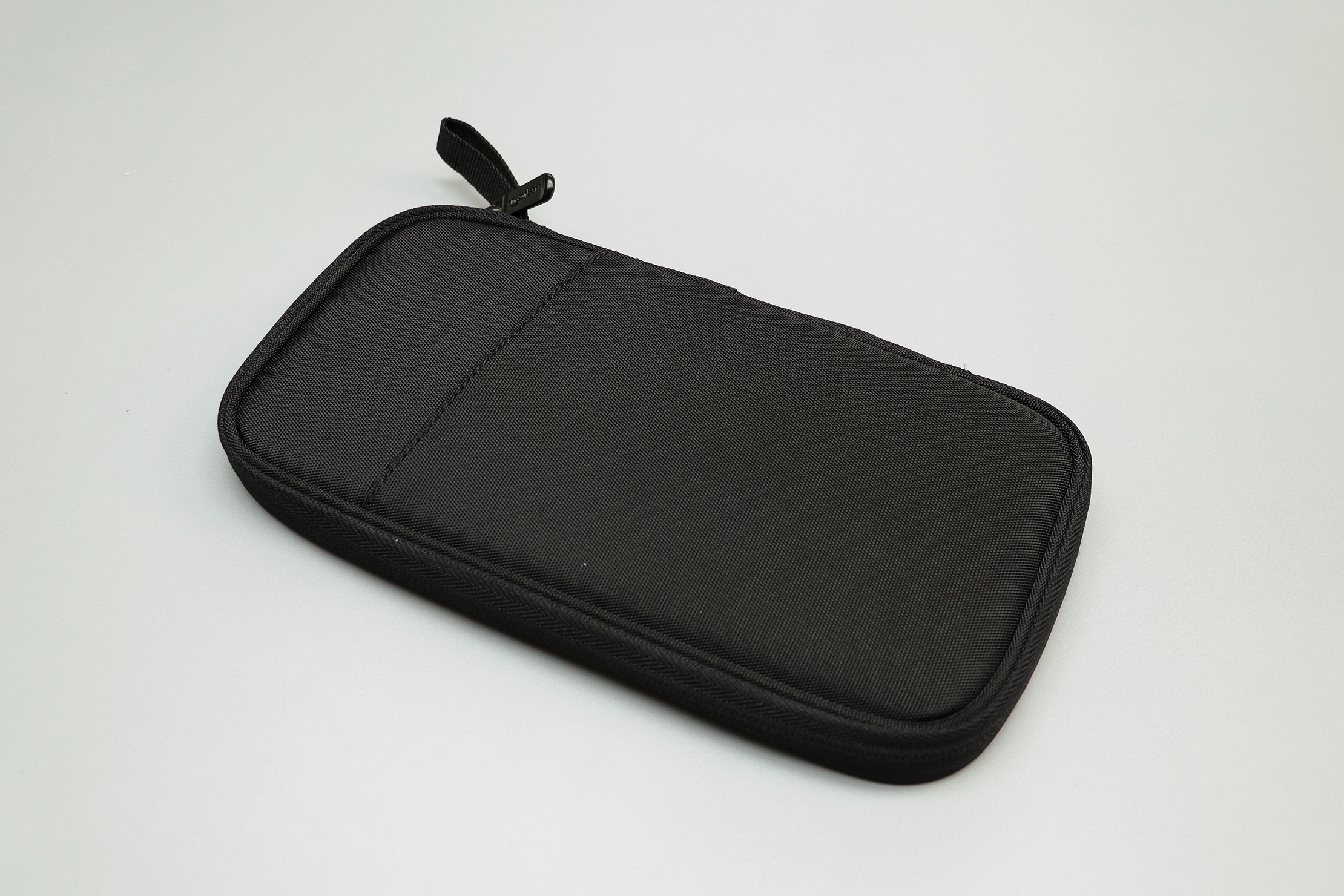 Features
The main feature of the wallet is its RFID-blocking, especially considering the price-point. A number of RFID-blocking wallets cost more than their non-RFID-blocking counterparts.
If you're unfamiliar, RFID stands for radio frequency identification. Hackers, with special RFID-readers, can tap into this frequency and steal your sensitive financial information, passport information, even the information off of your hotel key card. RFID-blocking hardware interferes when a hacker tries to intercept this radio frequency and your information.
All that said, the data is murky on how many of these electronic crimes have actually been committed. The thief needs to have an RFID-reader and be standing close to you. Plus, you need to have a credit card with an RFID sensor chip and most modern passports are already RFID-blocking.
It's probably easier for a thief to stick to good old-fashioned pickpocketing.
Still, having an RFID-blocking wallet is great for peace-of-mind. And a great benefit of this wallet is that the entire thing is RFID-blocking instead of just a pocket or two.
Durability & Testing
We've been testing the AmazonBasics RFID Travel Passport Wallet for three weeks now, including on a trip to Valencia, Spain. It's a simple, useful wallet that's been great for keeping our travel documents organized on the road. We've tossed it in a sling bag, which is great for air travel as it's easy to access. There's also a loop on the wallet that allows you to either clip it to the interior of your bag, your belt, or (if you want to be extra fancy) loop it through a lanyard and throw it over your neck.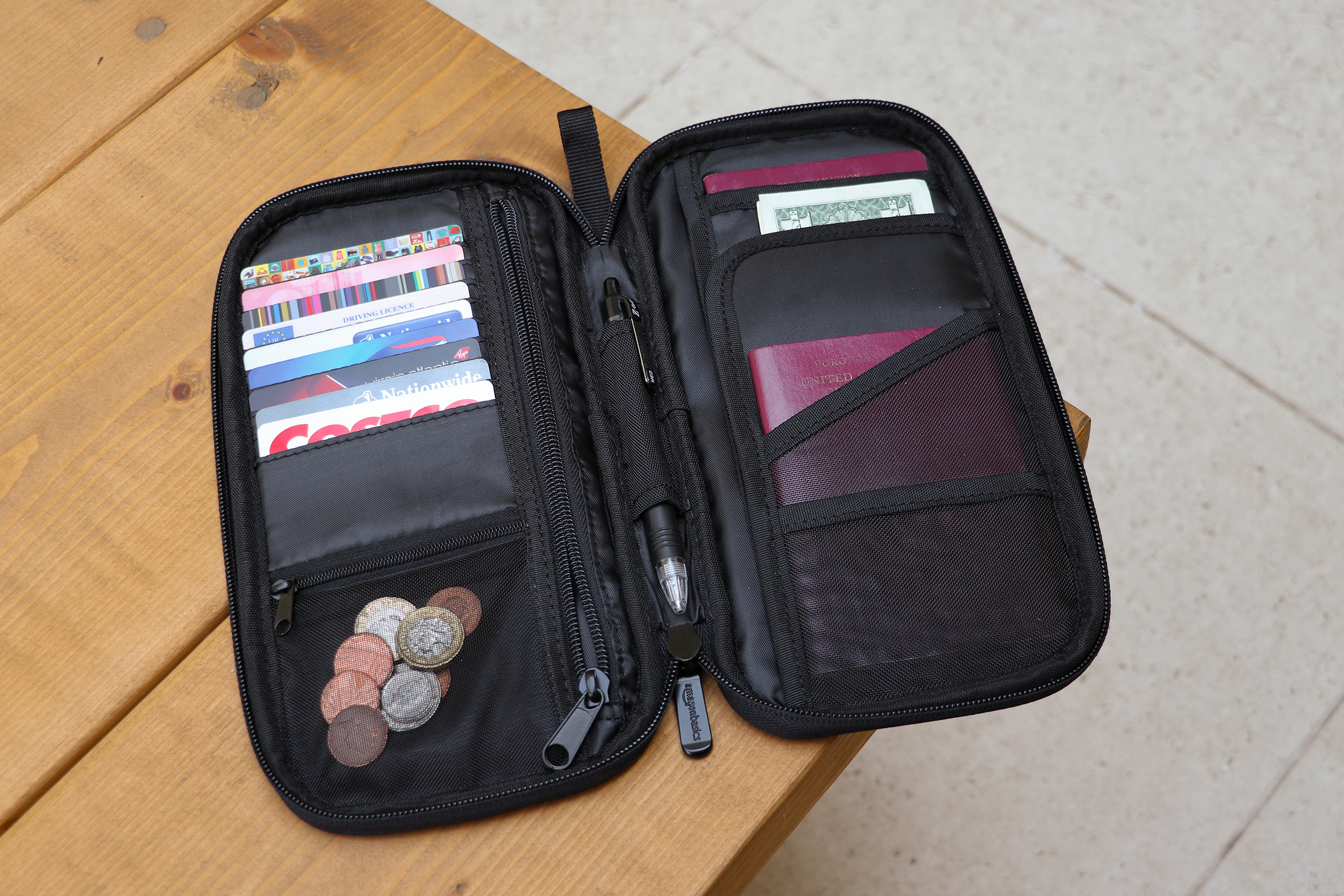 And as far as durability is concerned, we have nothing to report!
Yes, it's not the sleekest, most innovative passport wallet out there. But it gets the job done at a price point that can't be beat.
Usage Timeline
Initial Usage
Condition: Excellent
A little larger than expected but there's a ton of organization and space inside
The pen holder in the middle can come in useful at airports
It does feel a little cheap but it should be durable enough for plenty of adventures
2 Weeks of Use
Condition: Excellent
Access the Pro Community Discussion
Get your questions about the Amazon Basics RFID Travel Passport Wallet answered from our team and the Pro Community right here on the page. Plus, join discussions with other members about gear, guides, and more.
Other Organizers & Pouches Reviews