Amazon Basics Slim Carry On Travel Backpack Weekender Review
The AmazonBasics Slim Carry On Travel Backpack Weekender is an excellent choice for a budget-friendly pack that's versatile, durable and decent-looking.
Our Verdict
Unlock the Pro Summary
Save time. Get access to brief summaries of our reviews so you can browse and make decisions more efficiently.
Pros
One of the cheapest carry on-sized travel bags on the market
High-quality YKK zippers and Duraflex buckles used throughout
Nice versatility as a daypack or one-bag travel backpack
Cons
The polyester material feels somewhat cheap
The clamshell main compartment opening is a bit over-designed
The water bottle pocket is slightly too small
Recent Pack Hacker Video
Technical Details
Capacity

35l

Weight (lb)

3.25 lb (1.5 kg)

Dimensions

20.5 in x 13.5 in x 8 in (52.1 x 34.3 x 20.3 cm)

Notable Materials

Polyester, Duraflex Hardware, YKK Zippers

Manufacturing Country

China

Laptop Compartment Size

17"

Warranty Information
Full Review
Budget-conscious buyers rejoice! In this review, we're taking a look at the AmazonBasics Slim Carry On Travel Backpack Weekender—a simple backpack with some quality hardware and durability at an incredible price point. It's a bag that works well as both a large tech daypack or a one-bag carry-on travel backpack.
In case you aren't familiar with AmazonBasics, it's essentially Amazon's "budget brand" and offers everything from electronics to bedding at ultra-value prices. Amazon has been getting into the travel space, producing backpacks, packing cubes, and other travel essentials under their AmazonBasics brand. This pack shows some definite improvements over the larger and even less expensive AmazonBasics Carry-On Travel Backpack, and that's something we always like to see.
It's not the fanciest pack ever made (you know, in case the word "basics" in the brand name didn't give that away), but it does have a lot going for it considering the price point. Let's dive a little deeper and see how it stacks up.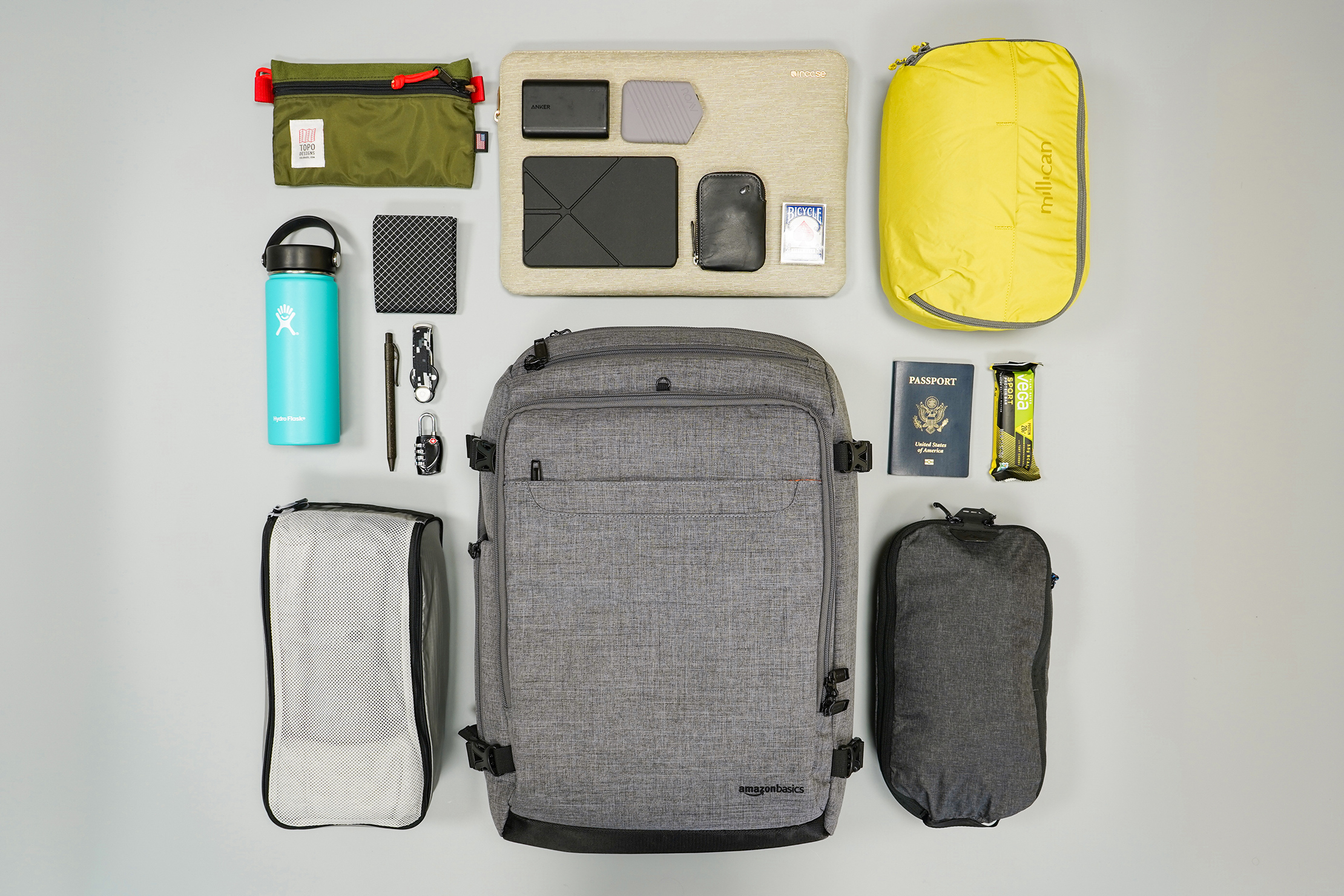 Material & Aesthetic
Before we get into all the details, we should note that there are two versions of the AmazonBasics Slim Carry on Travel Backpack—there's the weekender, which we're testing, and the overnighter. Thanks to our expert detective skills and superior knowledge of all things travel, we've actually figured out what these names mean so you don't have to do the legwork. You see, the weekender bag is good for weekend trips while the overnighter is good for overnight trips. Crazy how that works, isn't it?
Right off the bat, it's obvious the AmazonBasics Slim Carry On Travel Backpack Weekender isn't a high-end pack. Some of the materials feel slightly cheap, and there are certainly better-looking and sleeker bags on the market. That said, we don't dislike the aesthetic on this pack.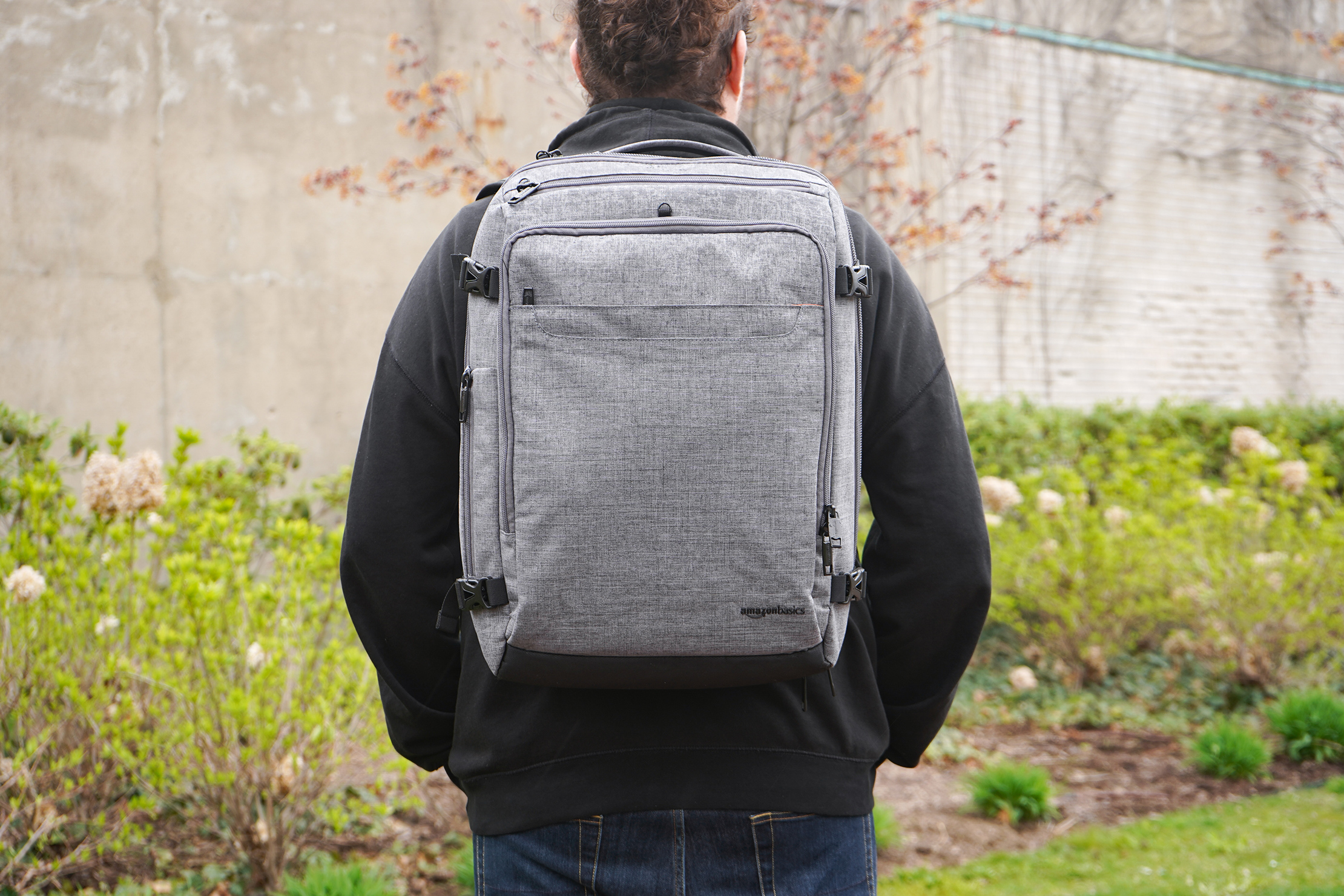 For the price, it looks pretty good. The Pack Hacker Instagram community was somewhat split on the issue, though: about 55% disliked the look. (Check us out @packhacker to take part in future polls!)
Branding is minimal on the Weekender pack, with a discreet AmazonBasics logo on the zipper pulls and a small black logo on the bottom right of the bag.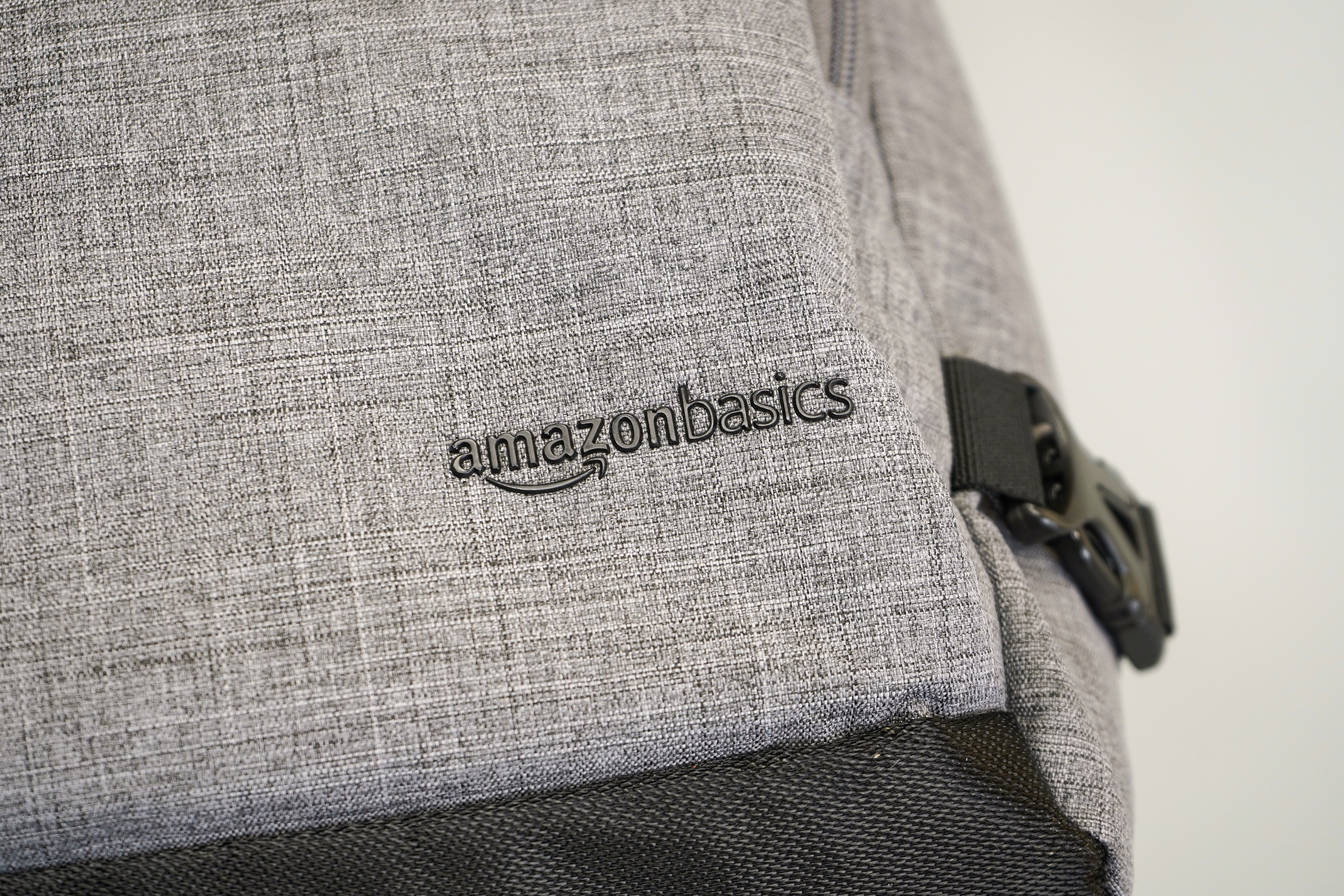 We can't help but love the variety of colors you can choose from on this product, including blue, red, denim, purple and more. We went for the gray version for our testing purposes, but it's always nice to have a wide range of colorways to consider. There's something for everyone here.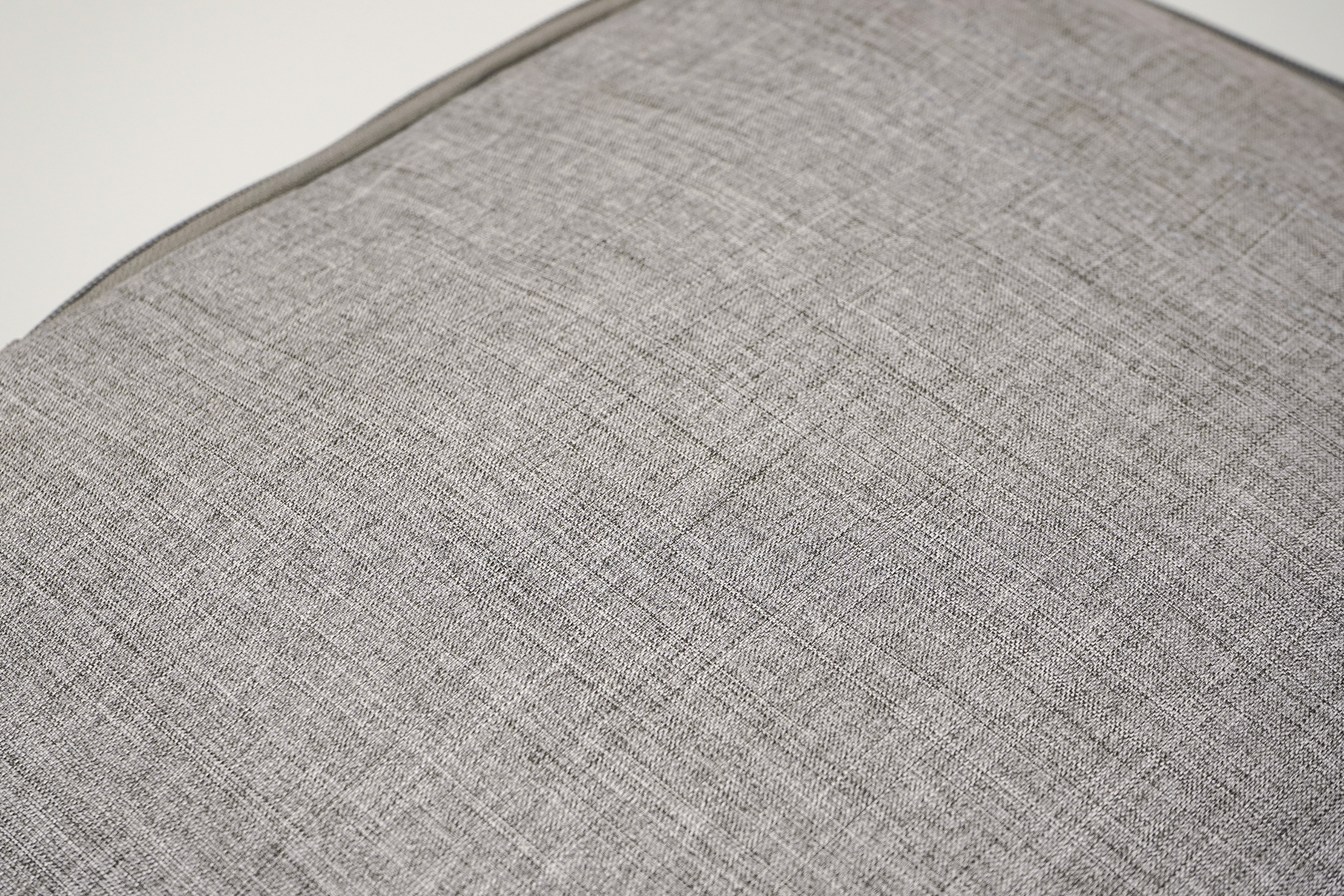 Moving on to the materials of the AmazonBasics Slim Carry On Travel Backpack, we have to say—we're pretty impressed considering the price point.
Both the heathered fabric used on the outside of the pack and the bright orange interior lining are 100% polyester. While we usually prefer nylon for its strength and softer feel, polyester isn't necessarily a bad choice here since it's more abrasion-resistant.
The slightly larger and less expensive version of this bag that we mentioned earlier—the AmazonBasics Carry-On Travel Backpack—lost points from our perspective for its unbranded zips and unbranded hardware that were unreliable and unpleasant to use. Fortunately, the AmazonBasics Slim version fixes both those issues with YKK zippers and Duraflex hardware, which are high-quality brands we routinely see on some of the best travel packs on the market.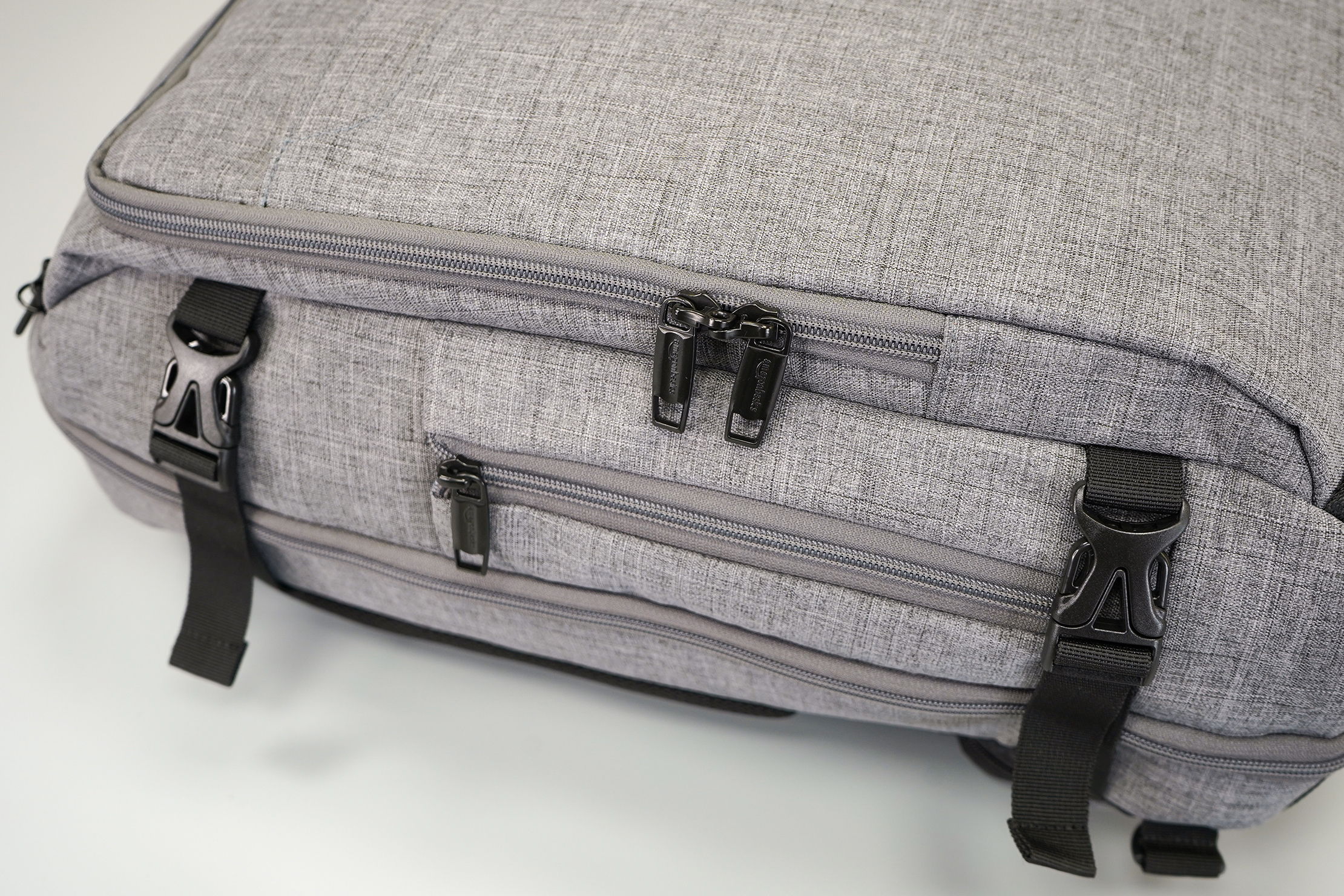 One thing we love about the zippers on this pack is that you can lock them together, and in some places even secure them to the bag using a small D-ring that's attached with a bit of fabric. This piece of fabric isn't that secure but it does offer a theft deterrent. We're always up for added security, and it's nice to see Amazon adding these little features in on a "budget" backpack.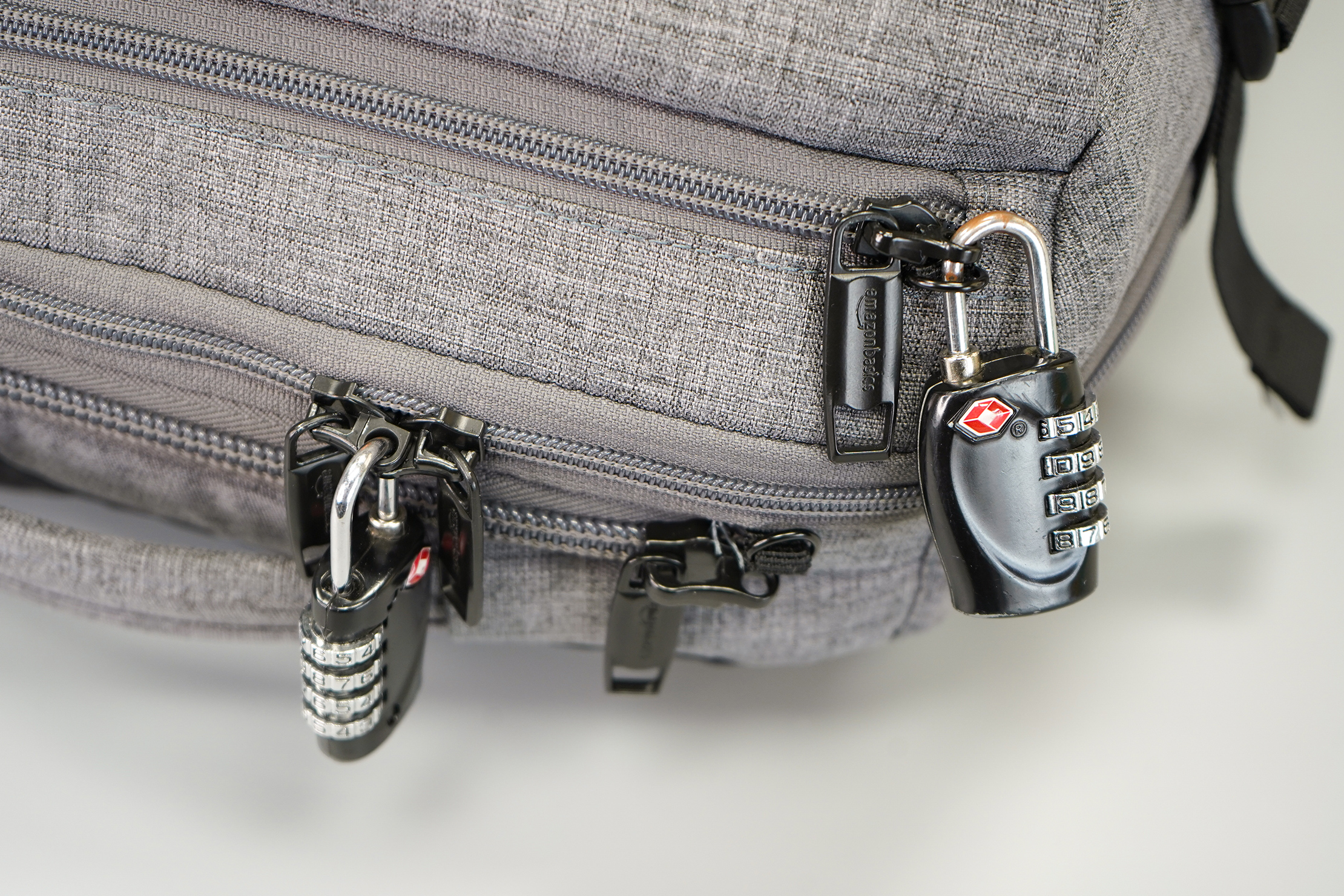 One thing we don't love about the zippers, though, is the exposed zipper coil. This means there's not much protection against the elements. If you anticipate being out in the rain for an extended period of time, we'd definitely suggest traveling with a rain fly just in case.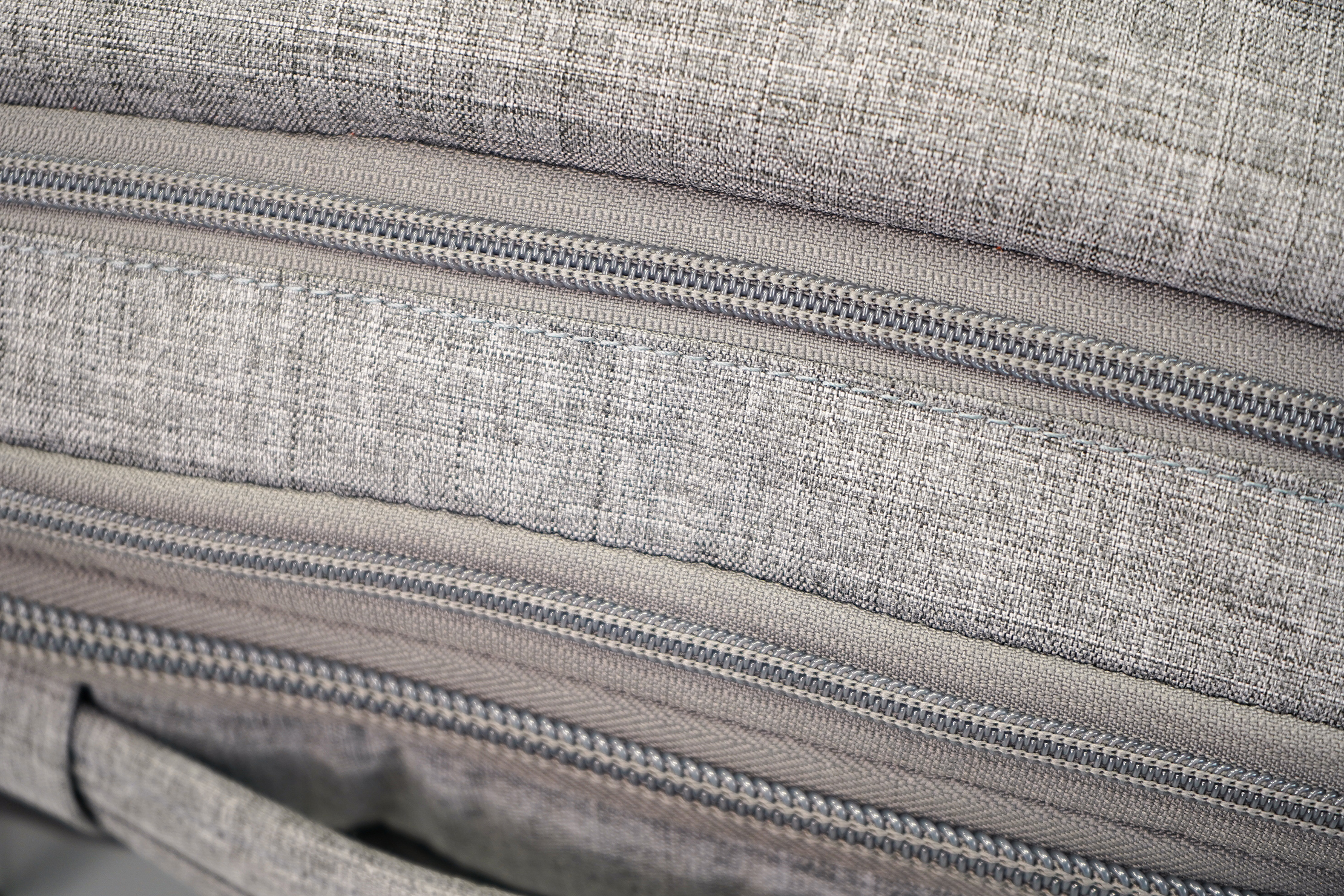 External Components
Moving on to the external components, we'll start with the shoulder straps. Amazon has opted to use some padded shoulder straps that have a slight curve in them, meant to provide a better fit. We don't have any major complaints here—the curved fit is nice and the padding is decent.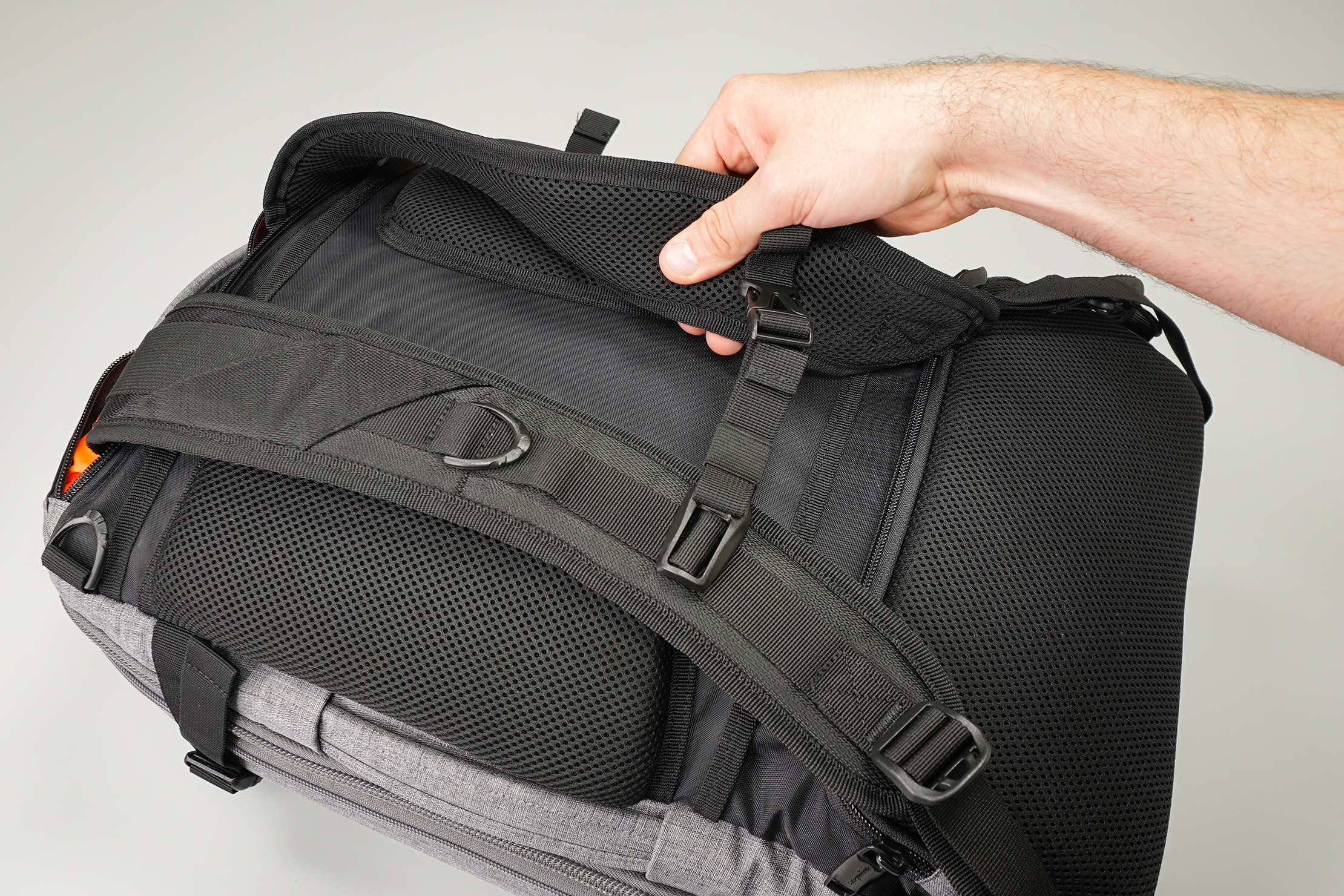 On the back panel, you'll notice three large areas of thick air mesh, which add some comfort against your back and also help with airflow and ventilation.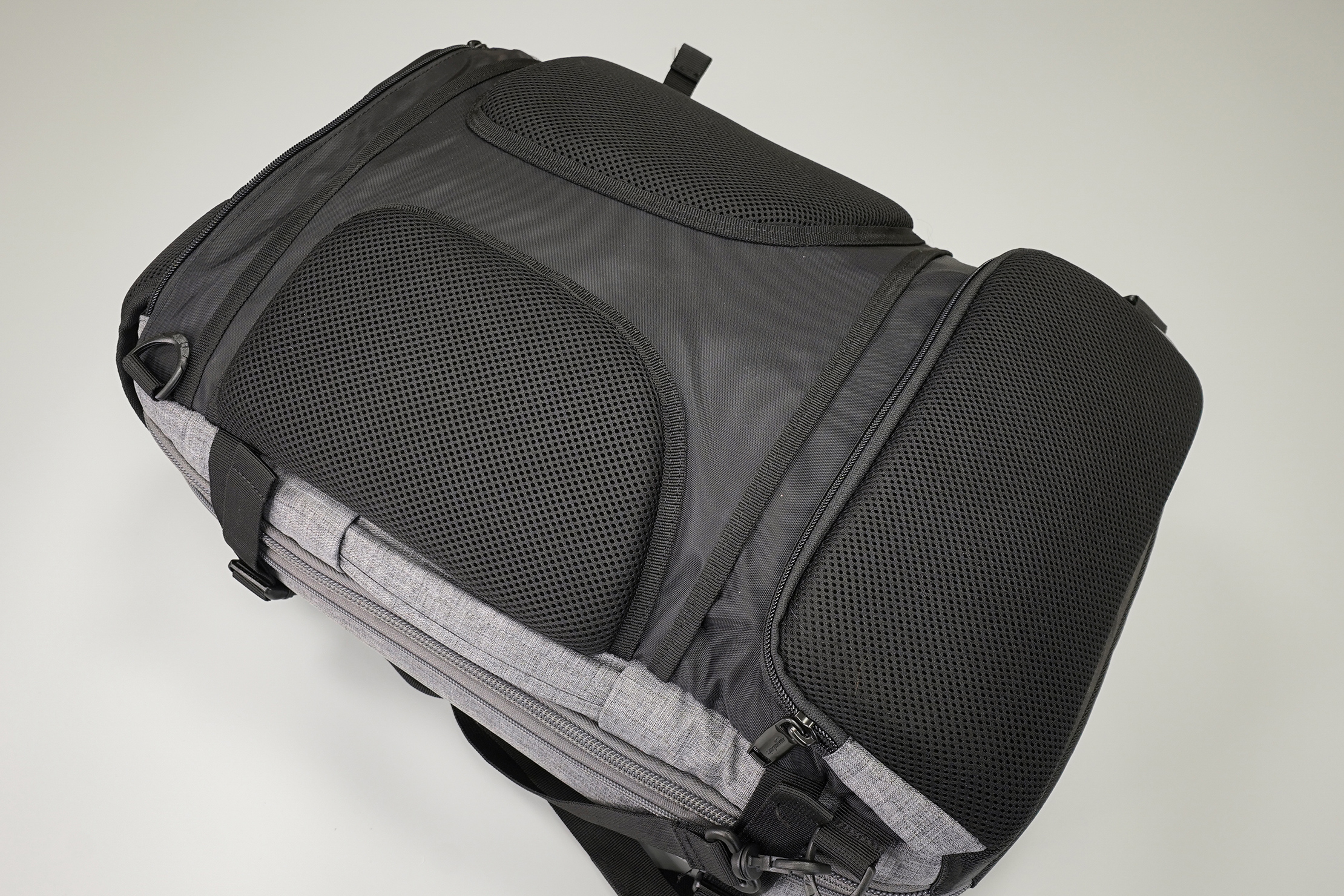 A discreet luggage pass-through sleeve is built into the back panel as well, which allows you to secure it to a luggage stroller. We don't tend to get much from that feature with a bag of this size, but it can definitely come in handy.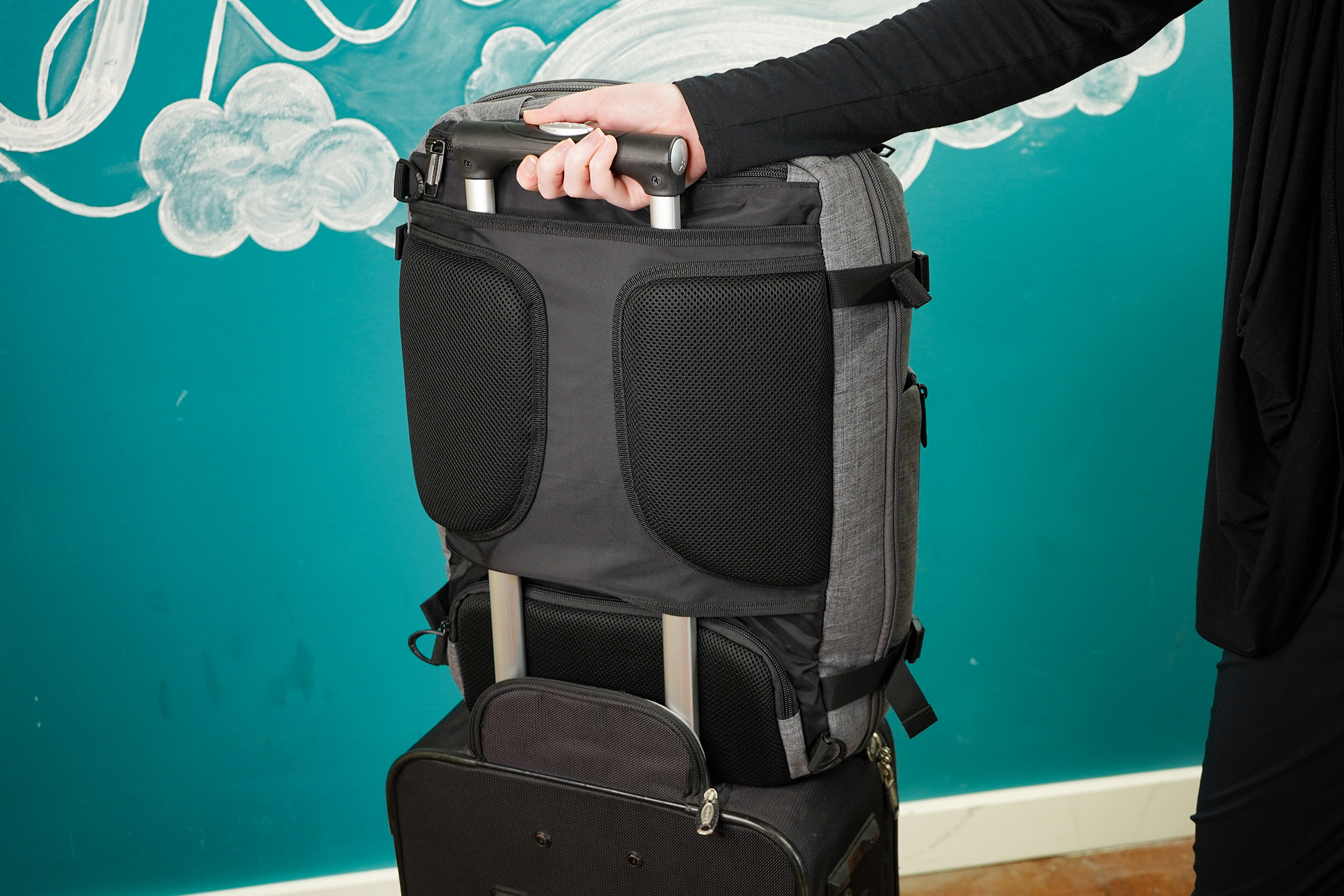 Keep in mind that the Weekender pack doesn't include a hip belt on the harness system. It's not exactly a must-have at around 30 to 35 liters, but some people prefer a hip belt—especially if your bag is loaded with heavy gear.
There is, however, a sternum strap that is height-adjustable and does a good job dispersing the weight away from your shoulders. One side of the sternum strap is elasticated and flexes with your body as you walk, which we love.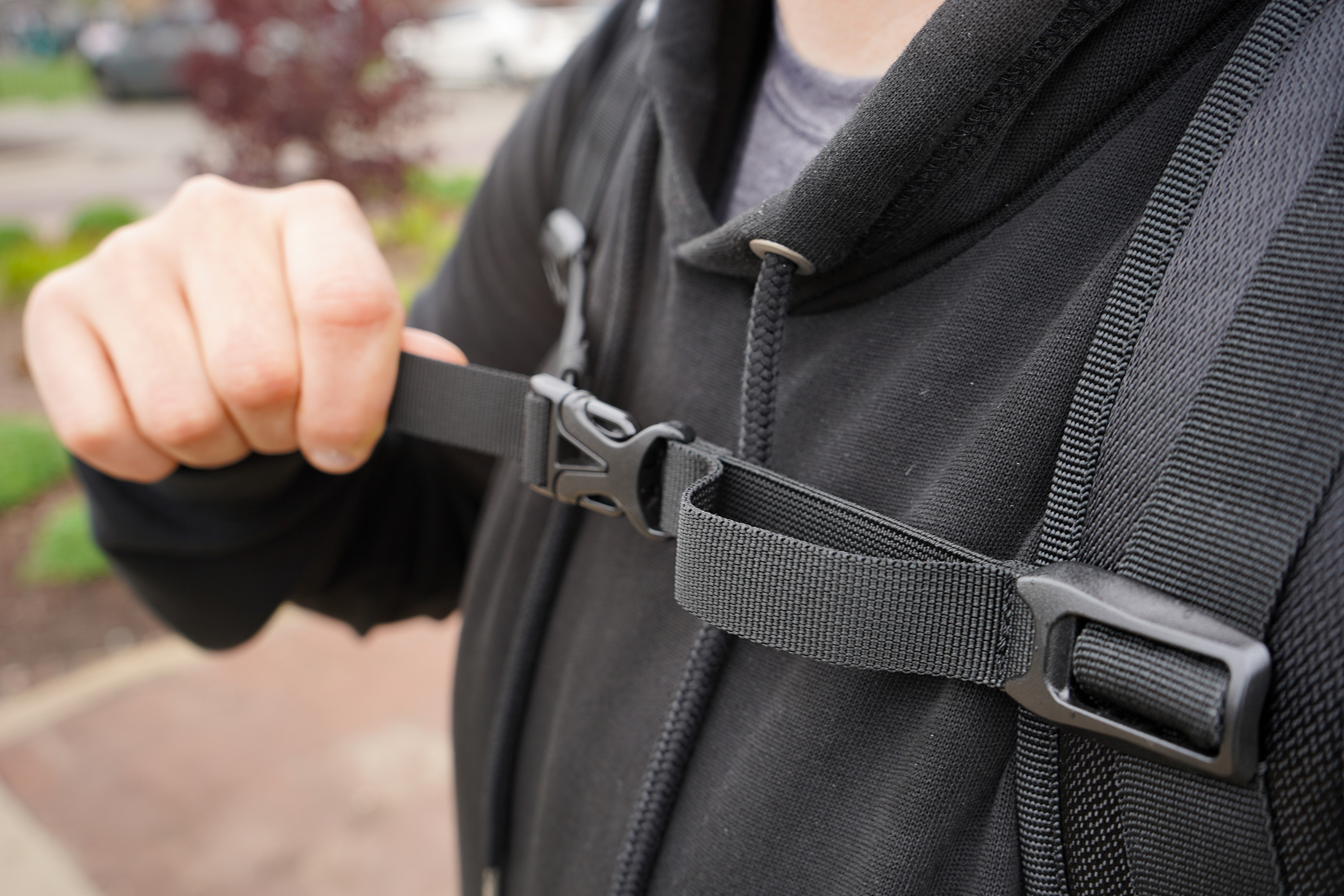 The AmazonBasics Slim Carry On Travel Backpack Weekender has a stowable harness system, allowing you to unbuckle the straps at the bottom, slide them into the sleeve, and zip everything up at the top.
You can also carry this pack as a backpack or use the included strap to carry it over one shoulder as a messenger bag. We prefer to carry a backpack as a backpack—and in our experience, the messenger bag style doesn't work too well with bags of this size—but it's there if you want to use it.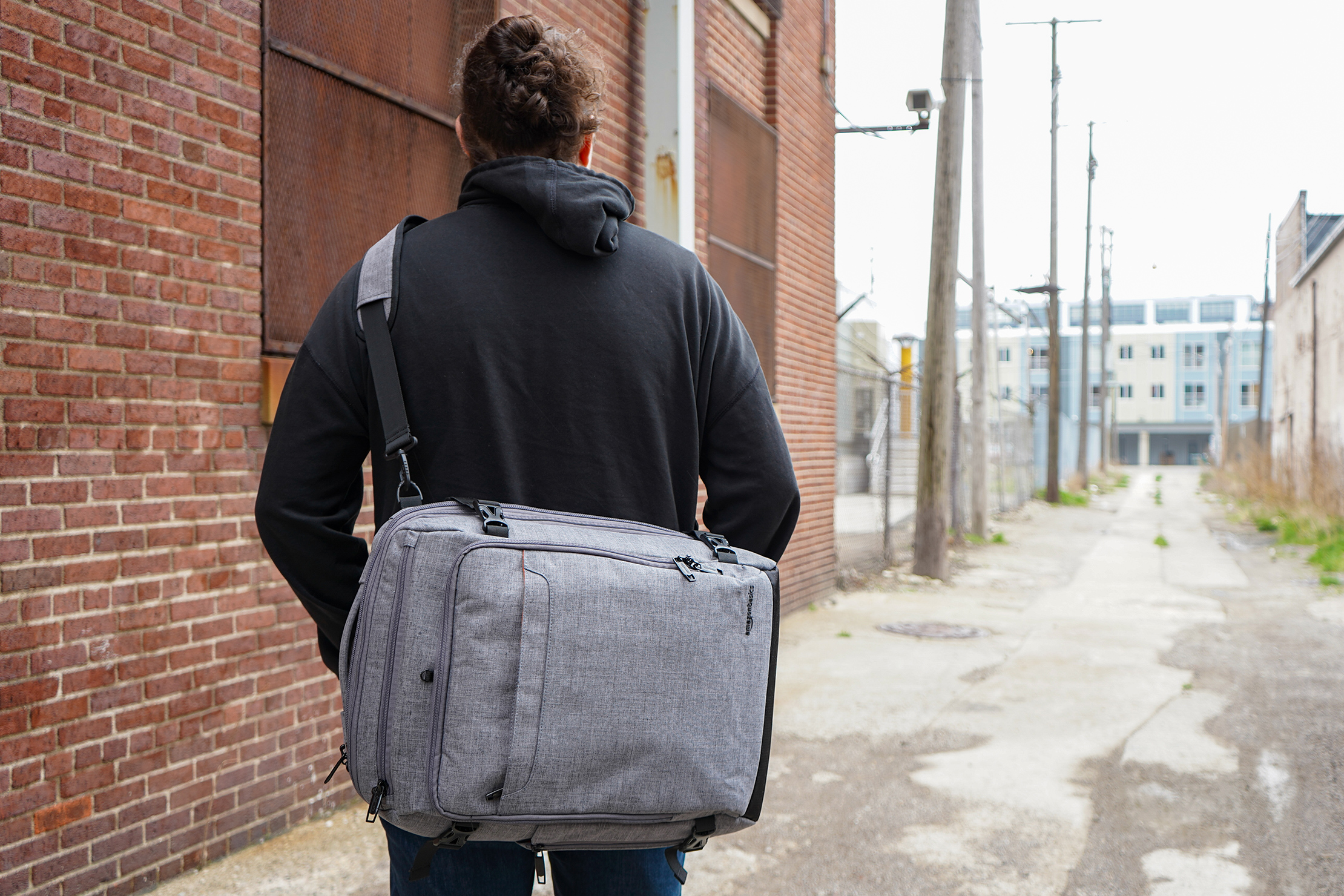 The Duraflex buckles on this bag, which are found on the messenger bag strap and shoulder strap attachment points, are capable but they do seem slightly thin. We're big fans of Duraflex and have always had positive experiences with these buckles, though, so we're hoping they'll continue to hold up.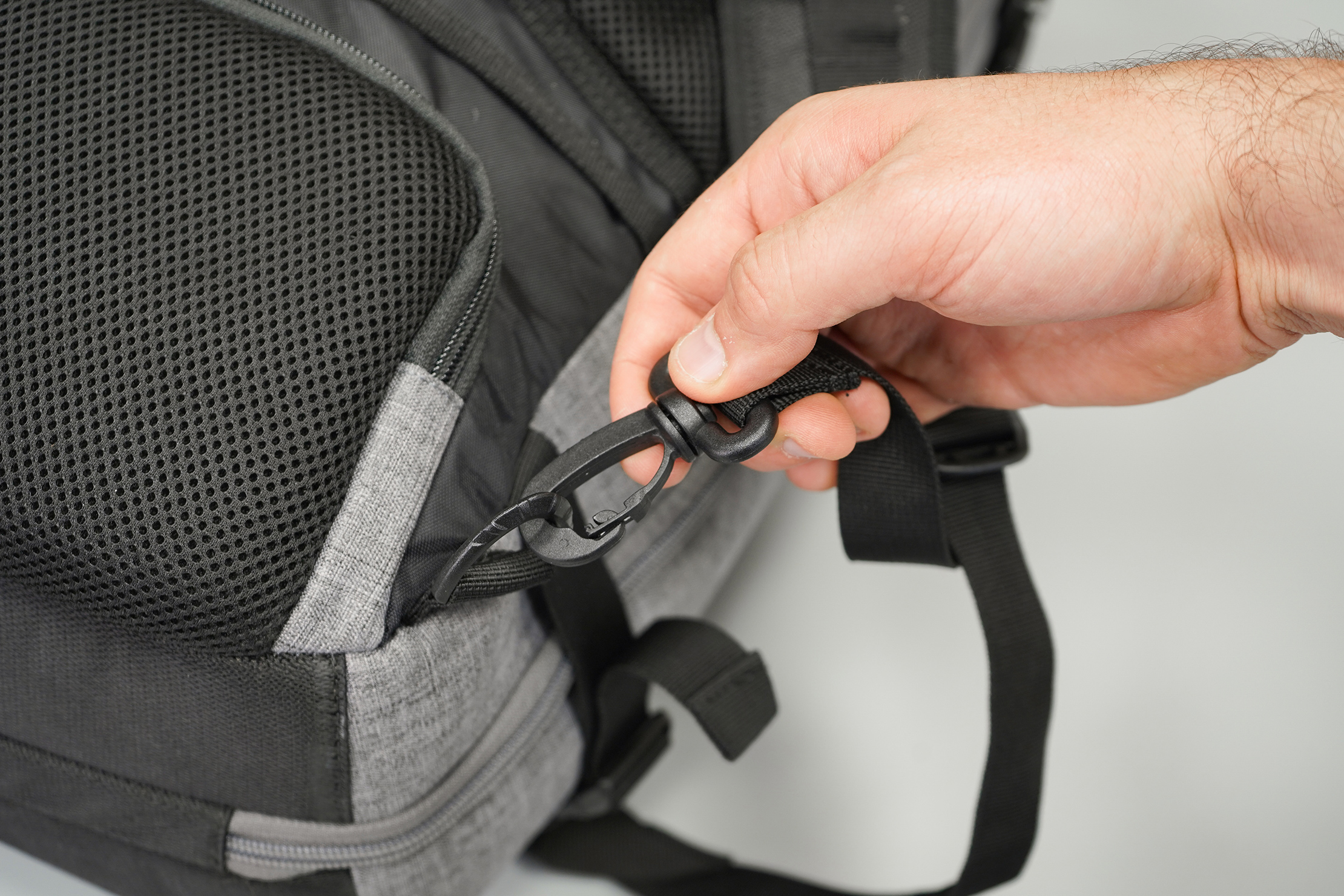 Moving on, there are two quick-grab handles at the top and on the right side of the pack.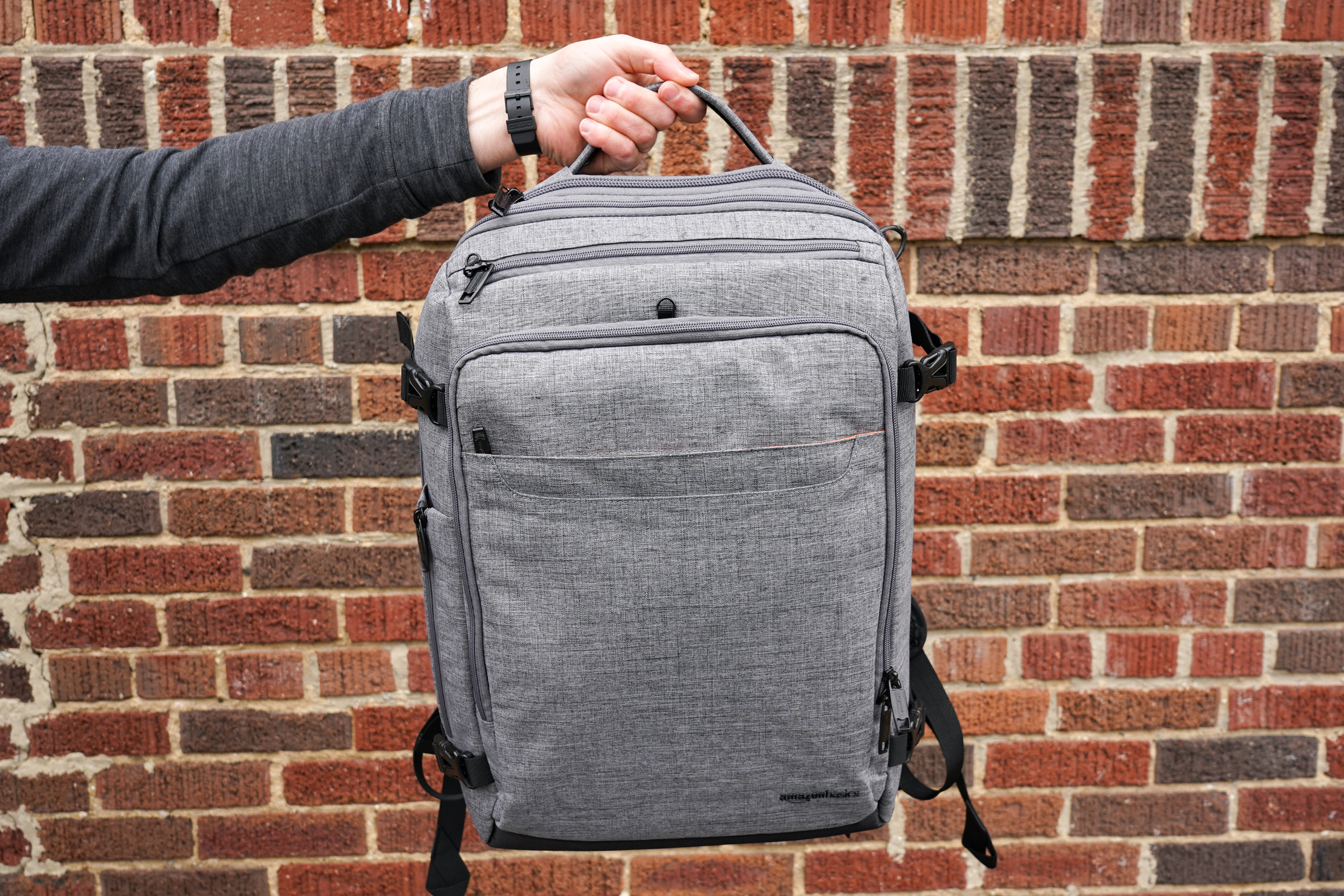 These both sit close to the bag when not in use but pull out a bit when you grab them, which is a handy feature and helps to give the bag a streamlined look while you're wearing it. The handles are somewhat stiff, but they'll get the job done.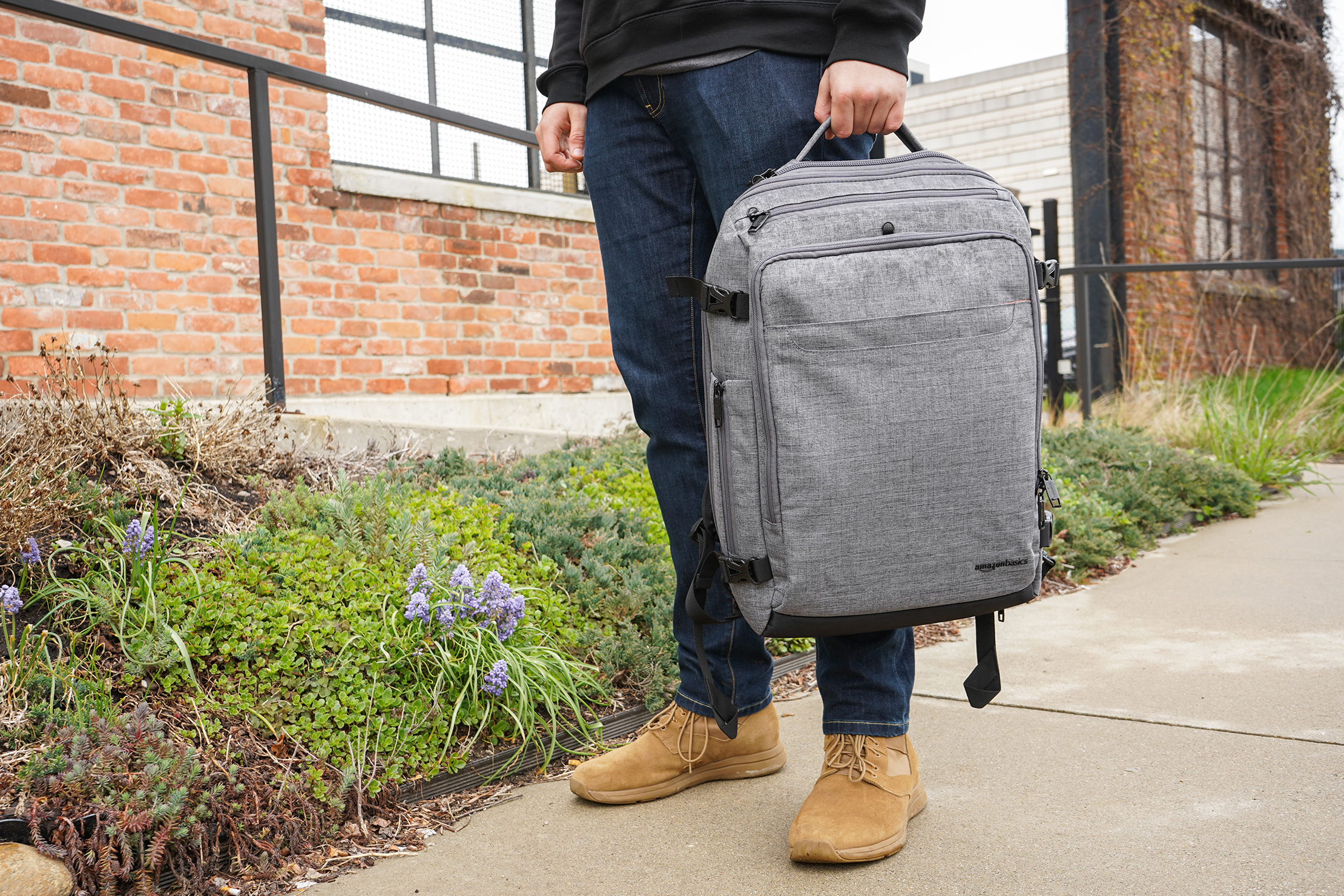 There are two compression straps included on each side of the bag, which are great for tucking the bag a little closer to your back when it's not very full or compressing it down to help with the carry when it's fully packed inside. These straps do get in the way of the zipper, which is a bit annoying, but it's a common trade-off with this type of system—and well worth it for the added value.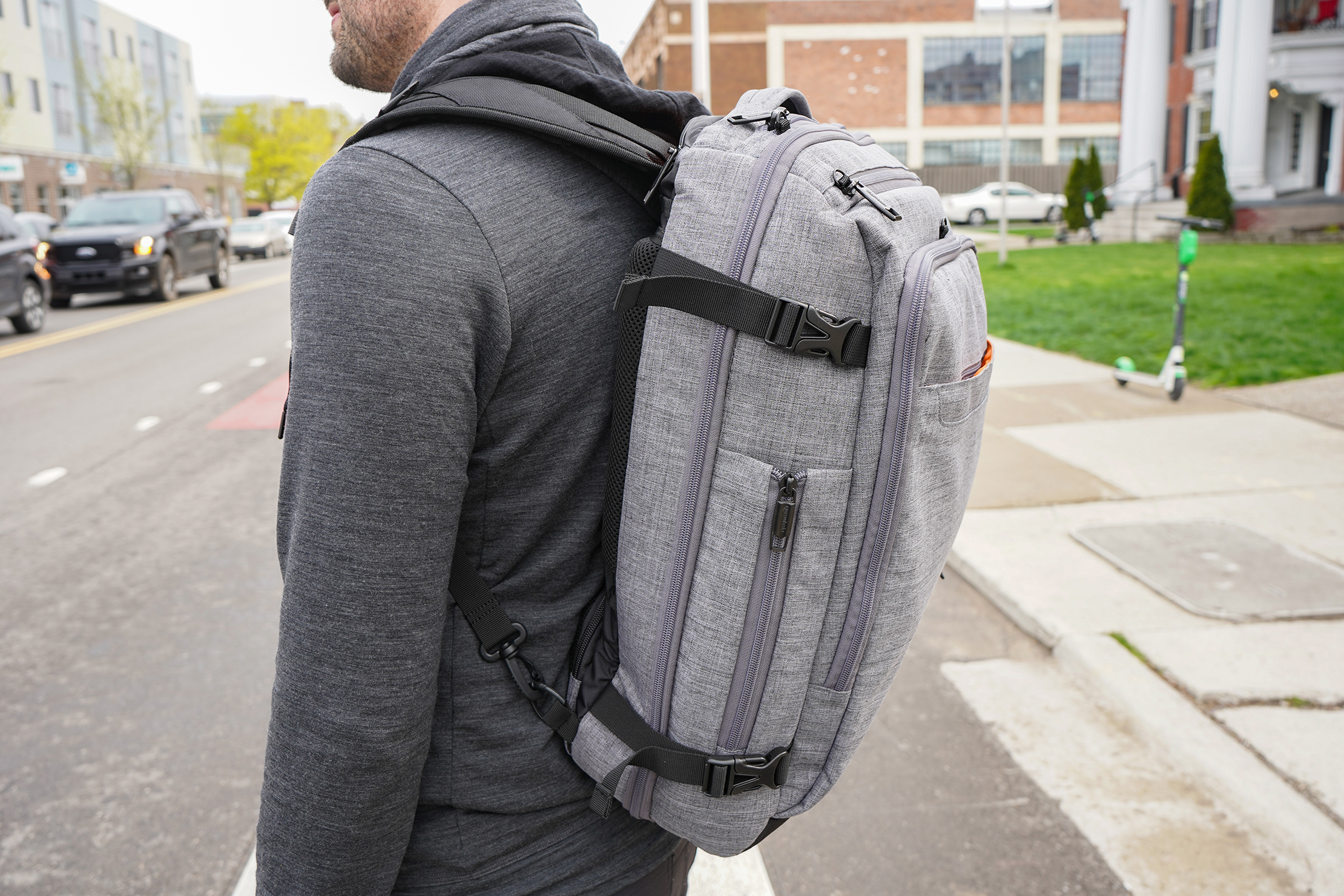 There is a zippered water bottle pocket on the left side of the pack. We tend to like this sort of water bottle pocket setup, but unfortunately this one is a little too small for an average-sized bottle, which is pretty frustrating. You might choose to use it for a tripod or umbrella instead.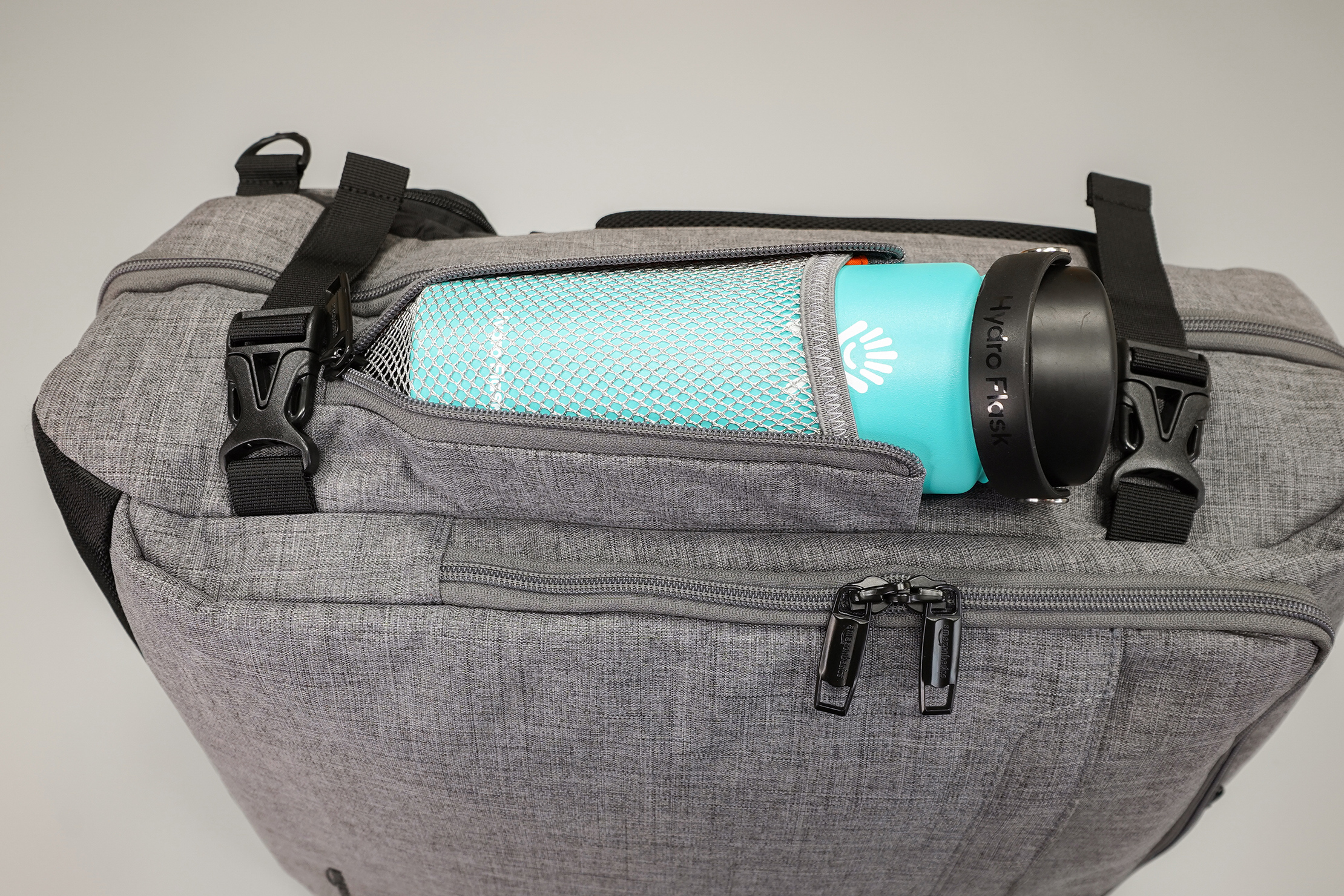 Inside The Pack
Now that we've covered all the external details, let's open this sucker up. There are two external pockets on this bag: a quick-grab pocket on the front, which is an ideal size for your passport and other daily essentials, and another along the back.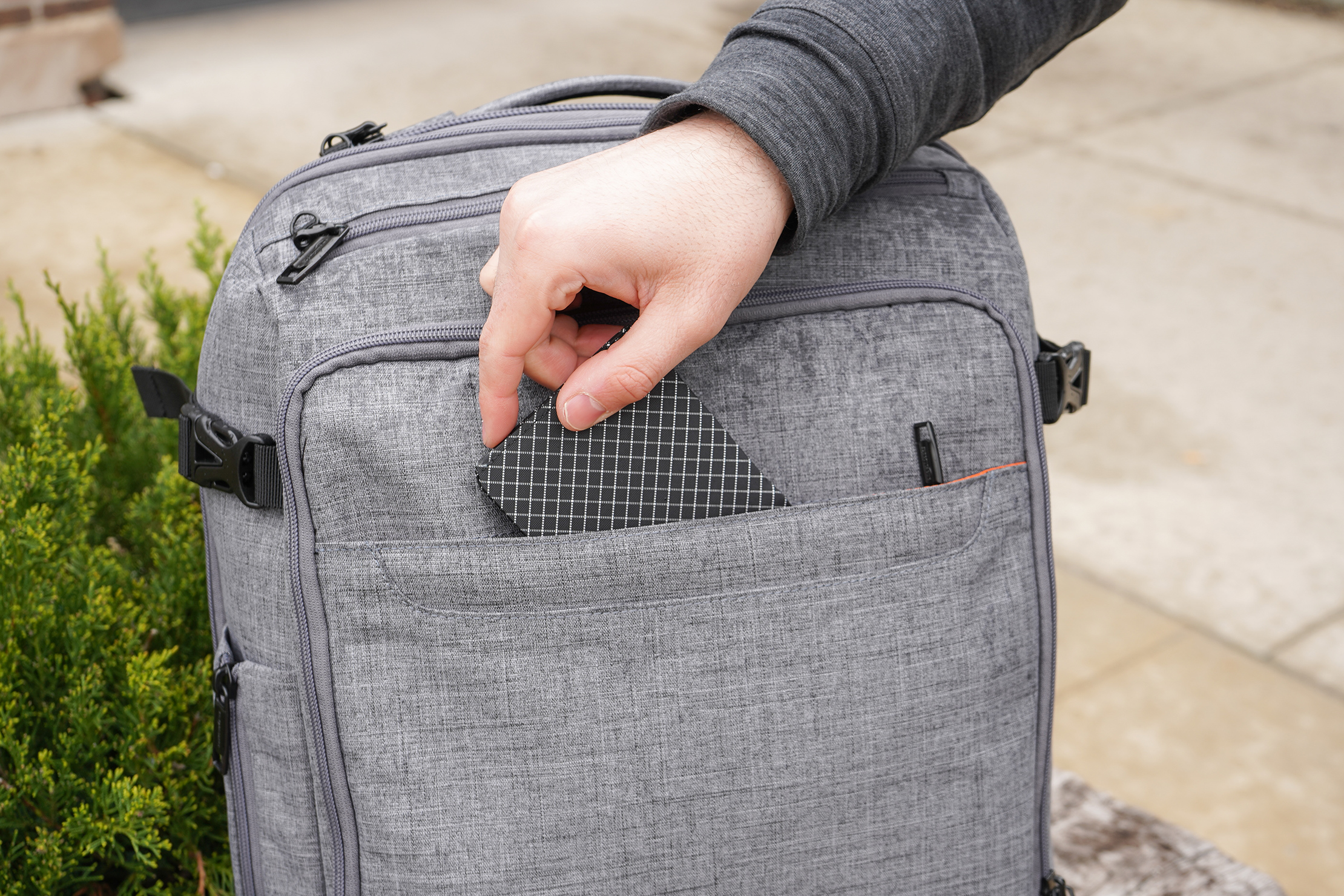 The rear quick-grab pocket is pretty unique—it sits below the back lower air mesh—and it's a good option for keeping items more secure if you're concerned about theft. We really like this feature, even though we haven't used it all that much in our testing.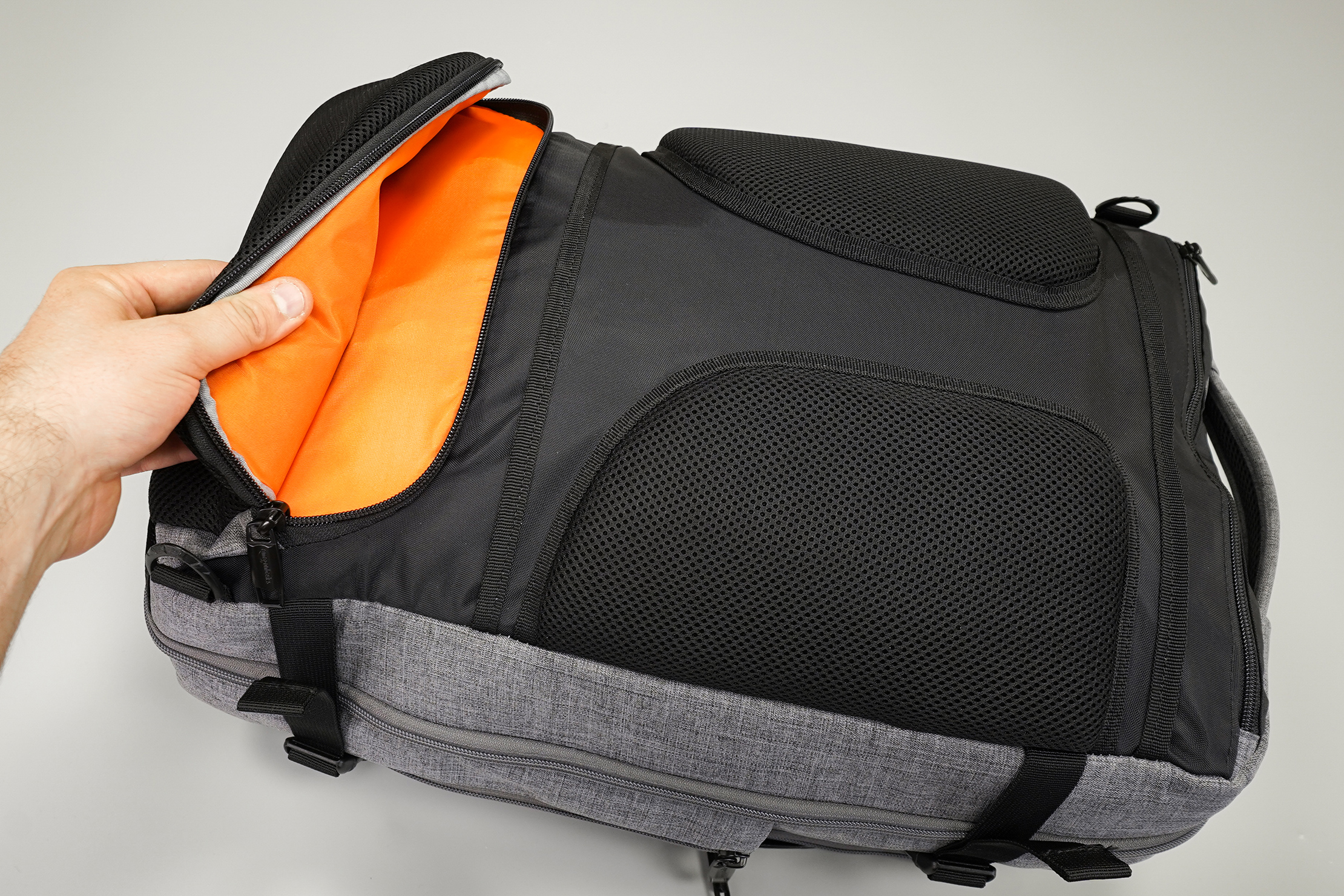 Looking inside the front compartment, the first thing you'll notice is the bright orange interior fabric. Now, let's be real—it could be considered a bit garish, but it does serve a purpose in that any dark gear will be super easy to spot inside the bag. We love seeing this inside bags, and we think Amazon has done a great job here.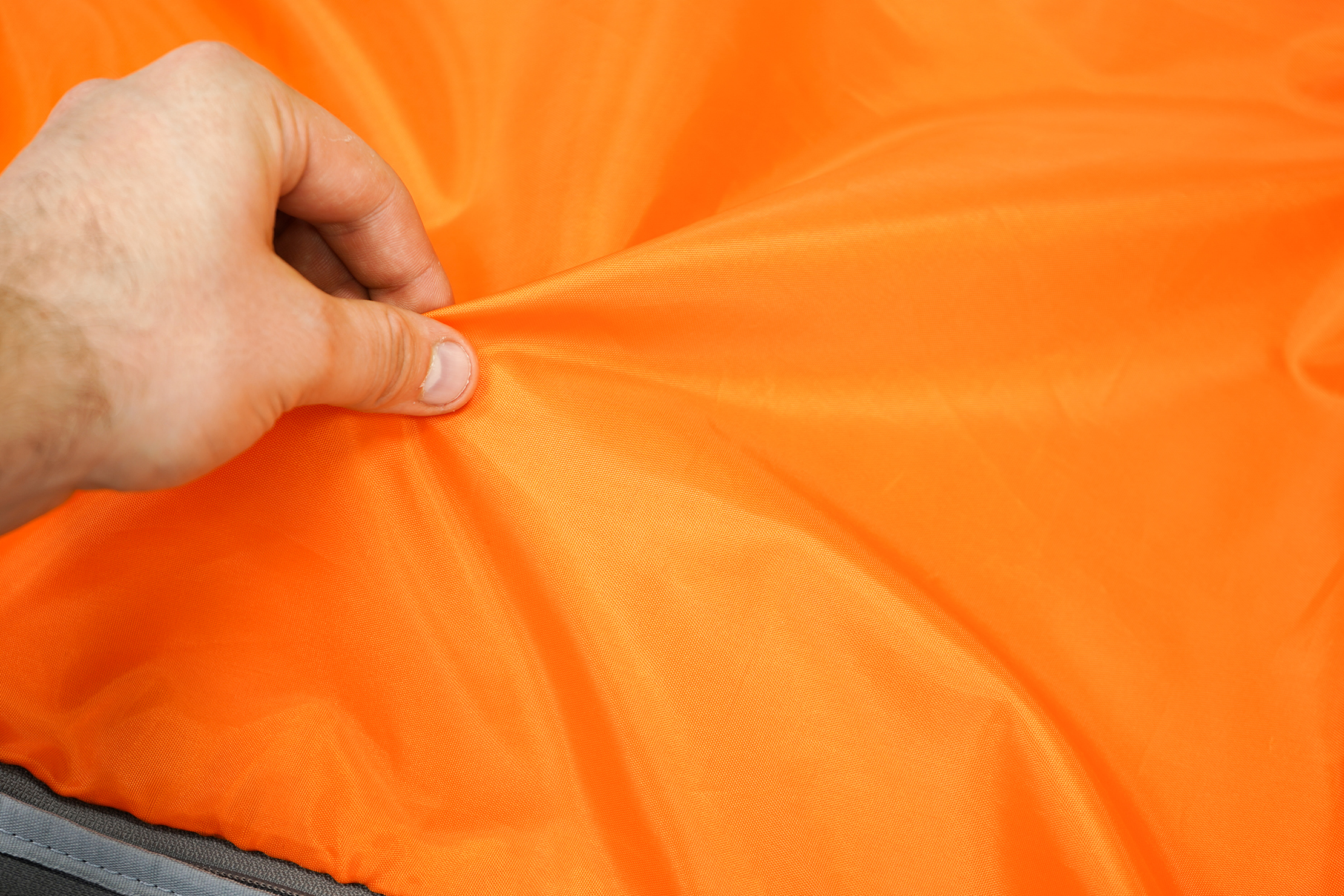 The inside pockets on the Weekender offer plenty of great organization space. Although one important thing to note is that the pockets stack on top of one another, so you'll need to be careful how you pack it. A large object in one pocket, for example, could eat up some of the space in the rest.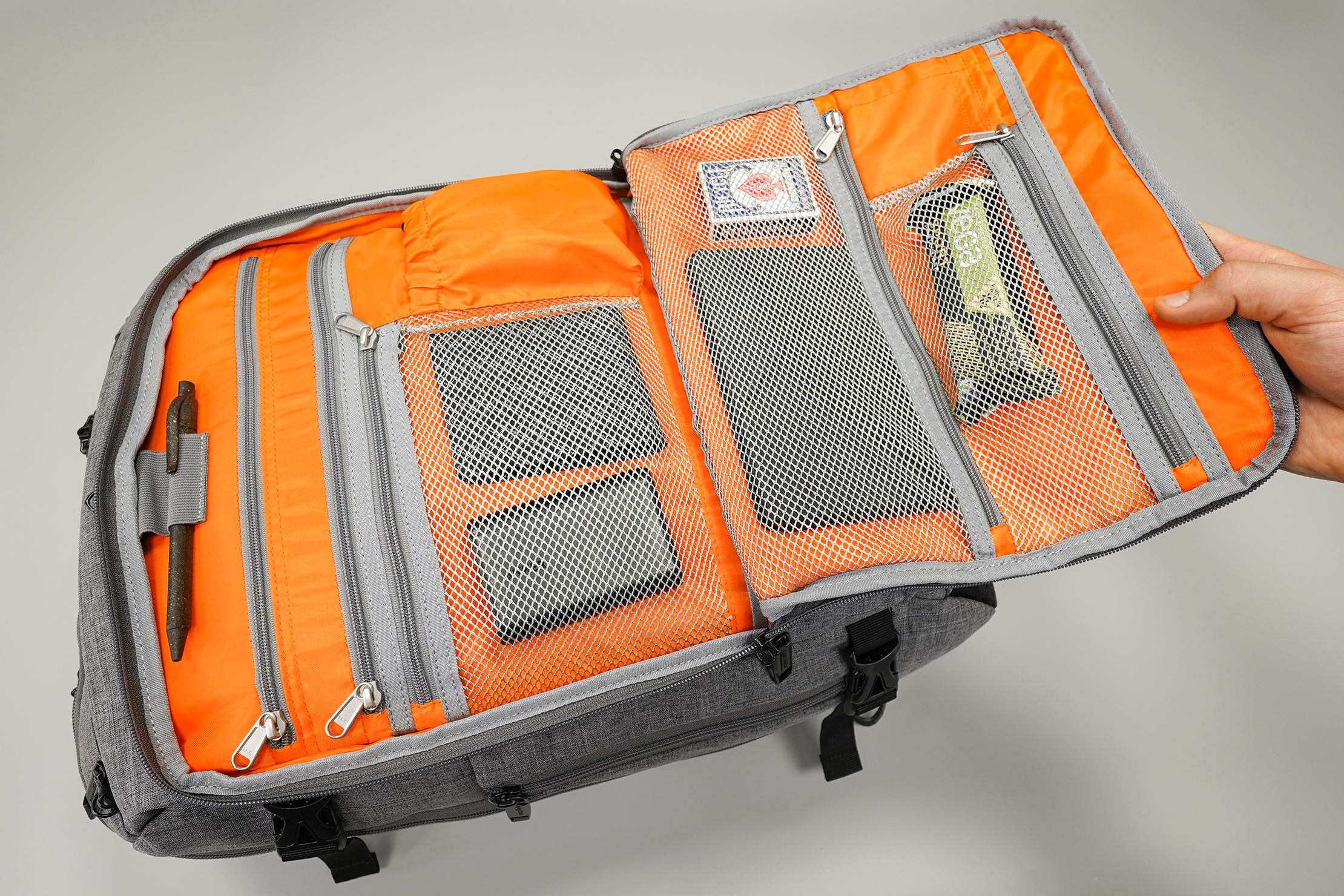 Organization sections include a couple pen holder sleeves up front, a few larger pockets (best for slimmer items), a stretchy pocket and a large mesh pocket with some 3D space. The mesh isn't our favorite material, as it feels somewhat cheap, but on a budget-level bag that isn't a huge surprise.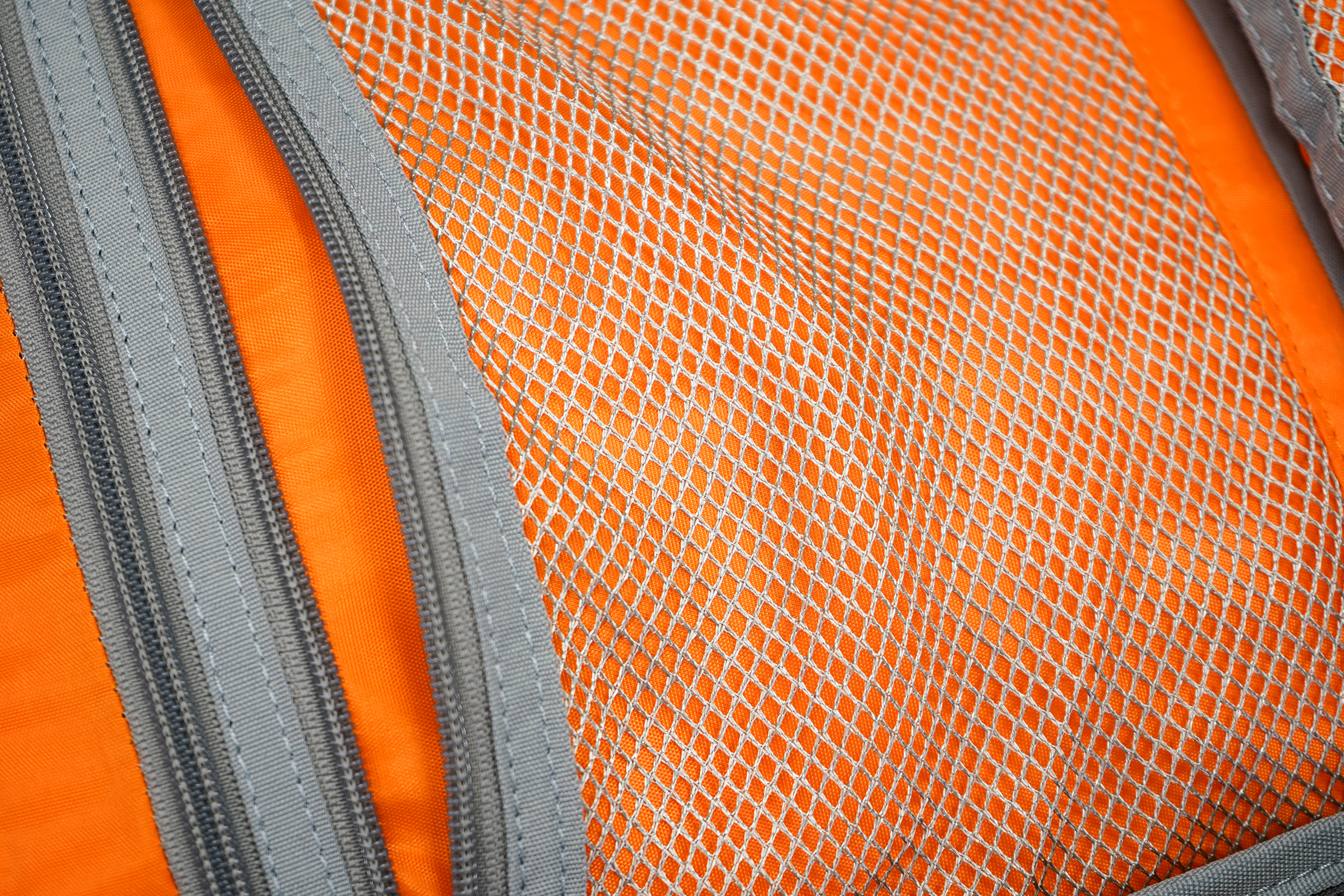 Down below, you'll find two material-lining pockets and some space at the bottom as well. On the flap side of the bag, you'll find two more mesh zipper pockets with 3D space and two small material pockets (warning: they don't close, so things will easily fall out of these pockets). There's honestly a lot going on here and it may seem like overkill, but you won't be short on organization options with this pack.
In the main compartment of the Slim Carry On—accessed by undoing the buckles and unzipping the clamshell opening—you'll notice that bright orange interior again and a large open space that's prime for packing cubes.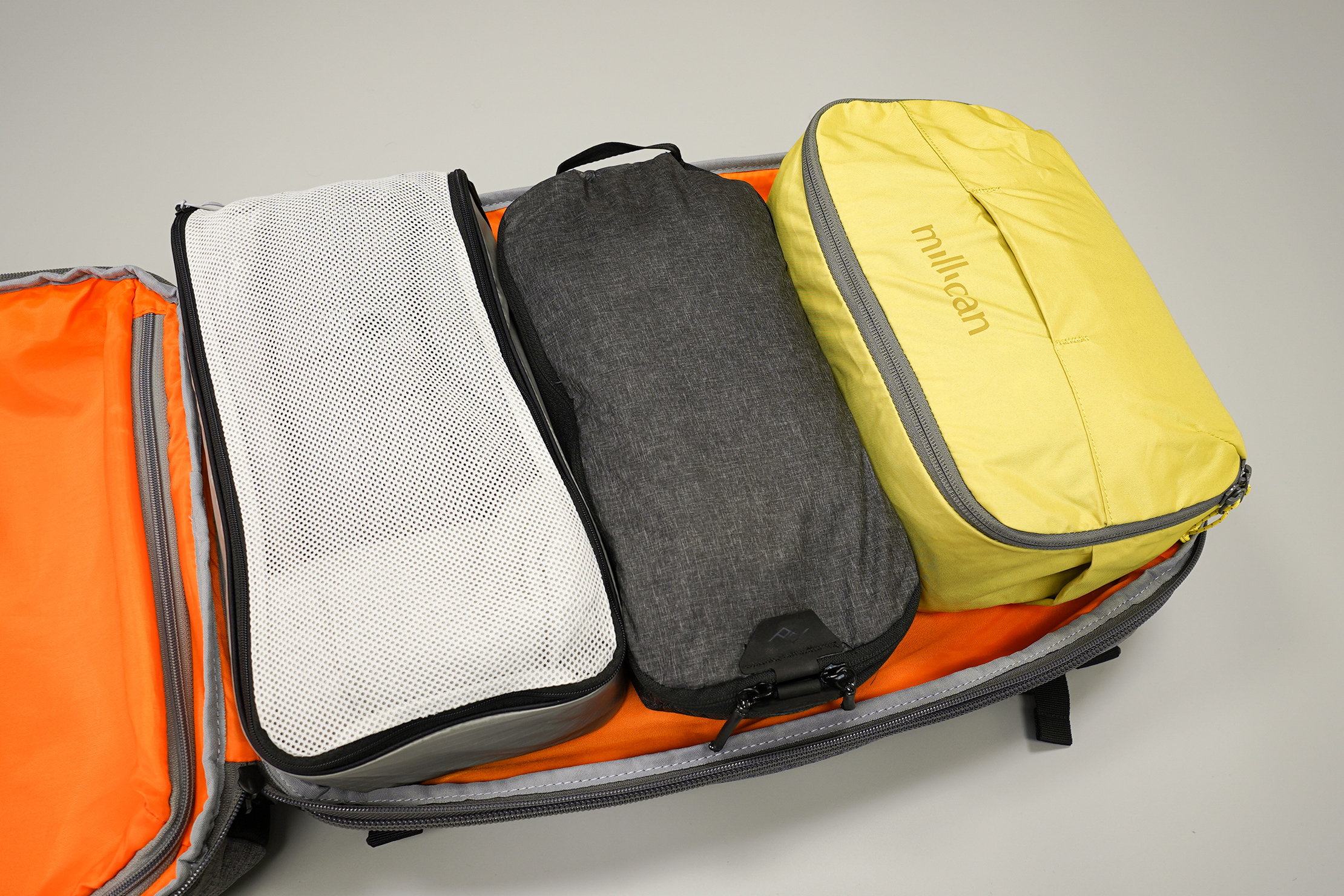 One side also has zippered access into another open compartment, but keep in mind that anything you pack there will eat into the space in the main compartment and vice versa.
One thing we really like about the additional compartment is that there's a zippered opening at the top of the bag so you can gain quick access to it, and the fabric pouch inside is great for storing items you might need on the go. Overall, though, we do find the Weekender pack to be slightly over-designed—one large compartment here would have been sufficient.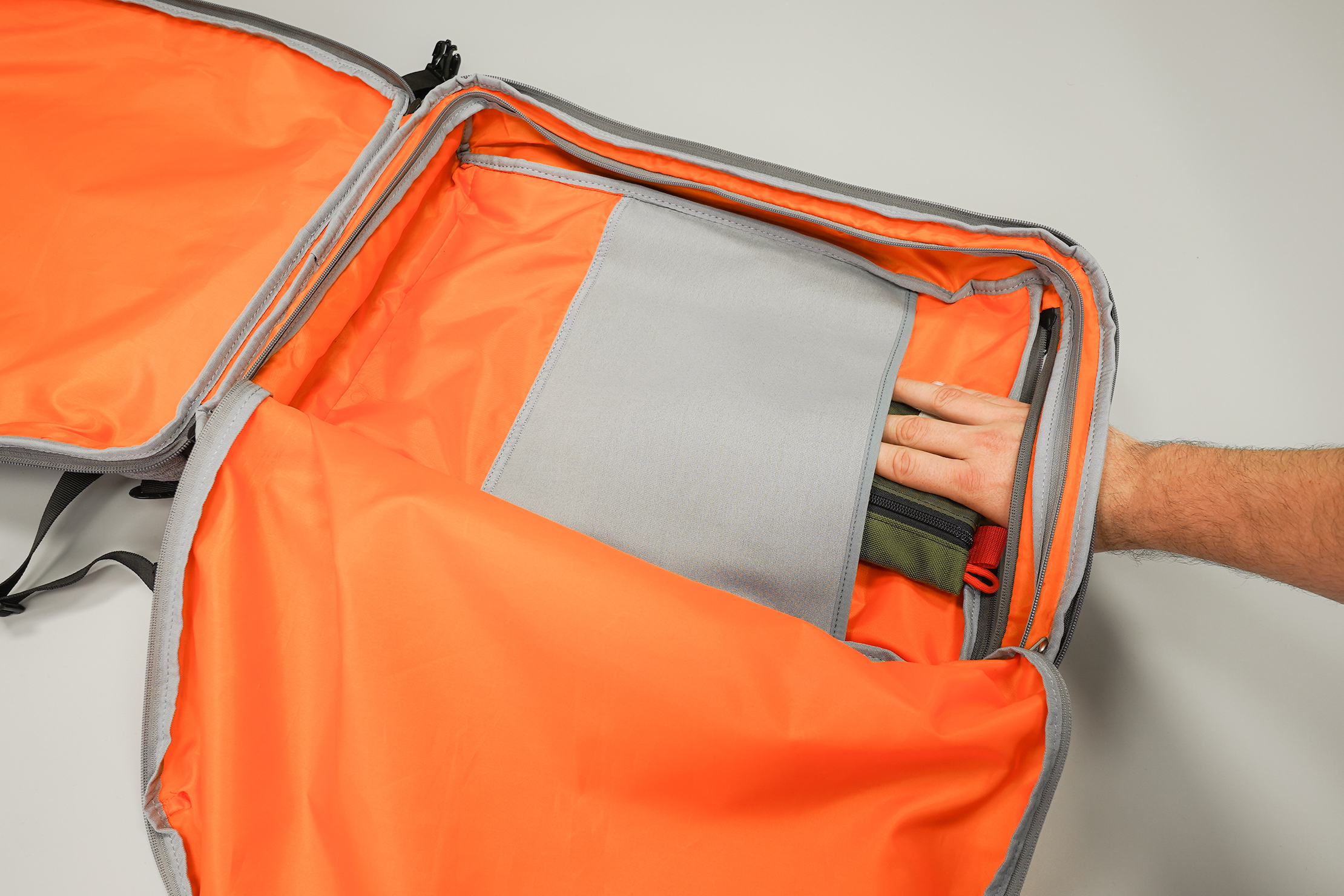 The laptop compartment on the back goes all the way down the right hand side of the pack. There's plenty of room here for up to a 17-inch laptop, but there's no false bottom on the sleeve, which is something we always prefer so that your most valuable gear has the best protection possible. There is dense padding at the bottom, so we're not overly concerned about it, but a false bottom would have been ideal.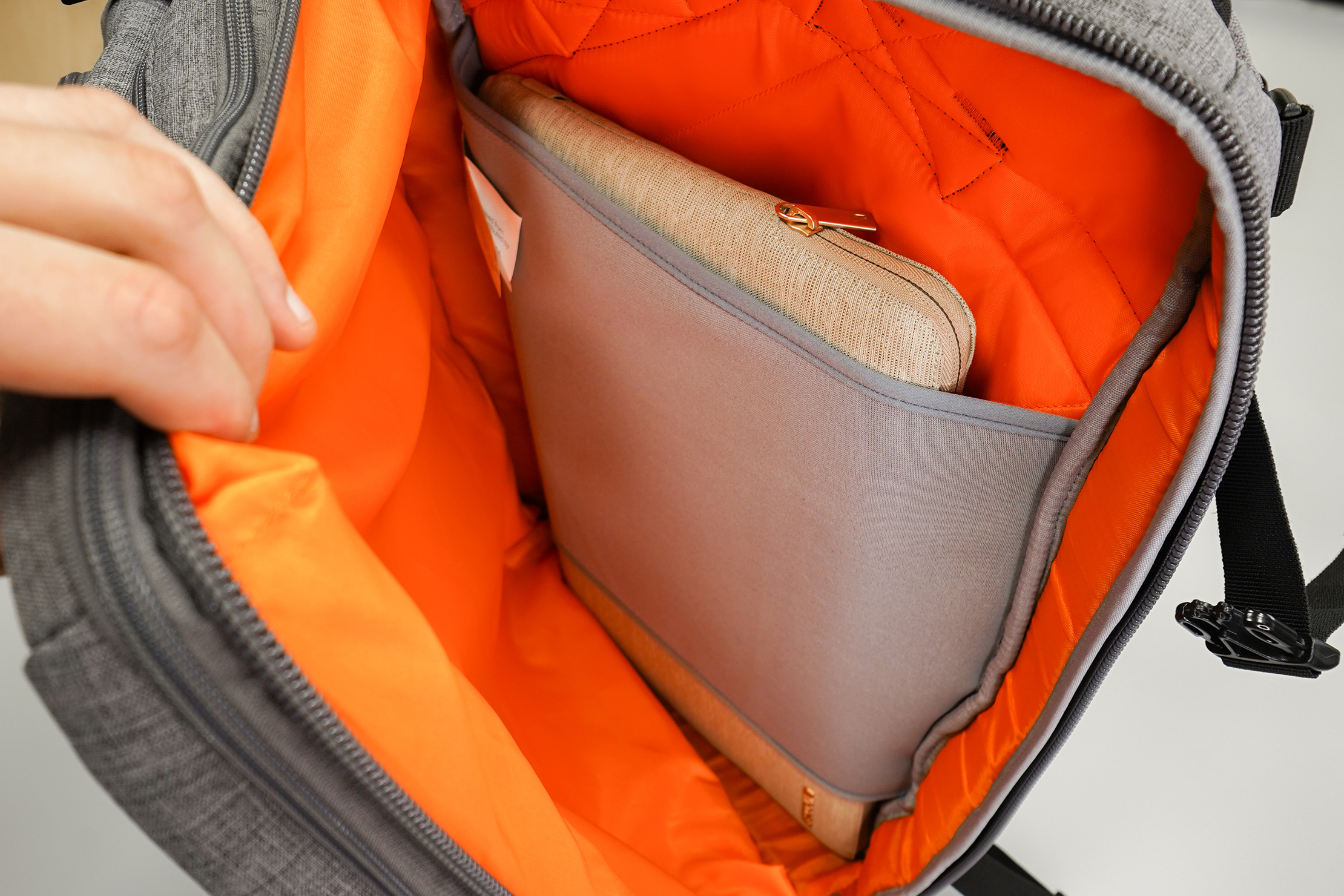 Durability & Testing
At the time of this review, we've been testing the AmazonBasics Slim Carry On Travel Backpack Weekender for just over two months. It's been used as a go-to tech daypack and a carry-on bag for one-bag travel on U.K.-to-U.S. transatlantic flights, and we're really pleased to report that there are no major signs of wear and tear as of yet.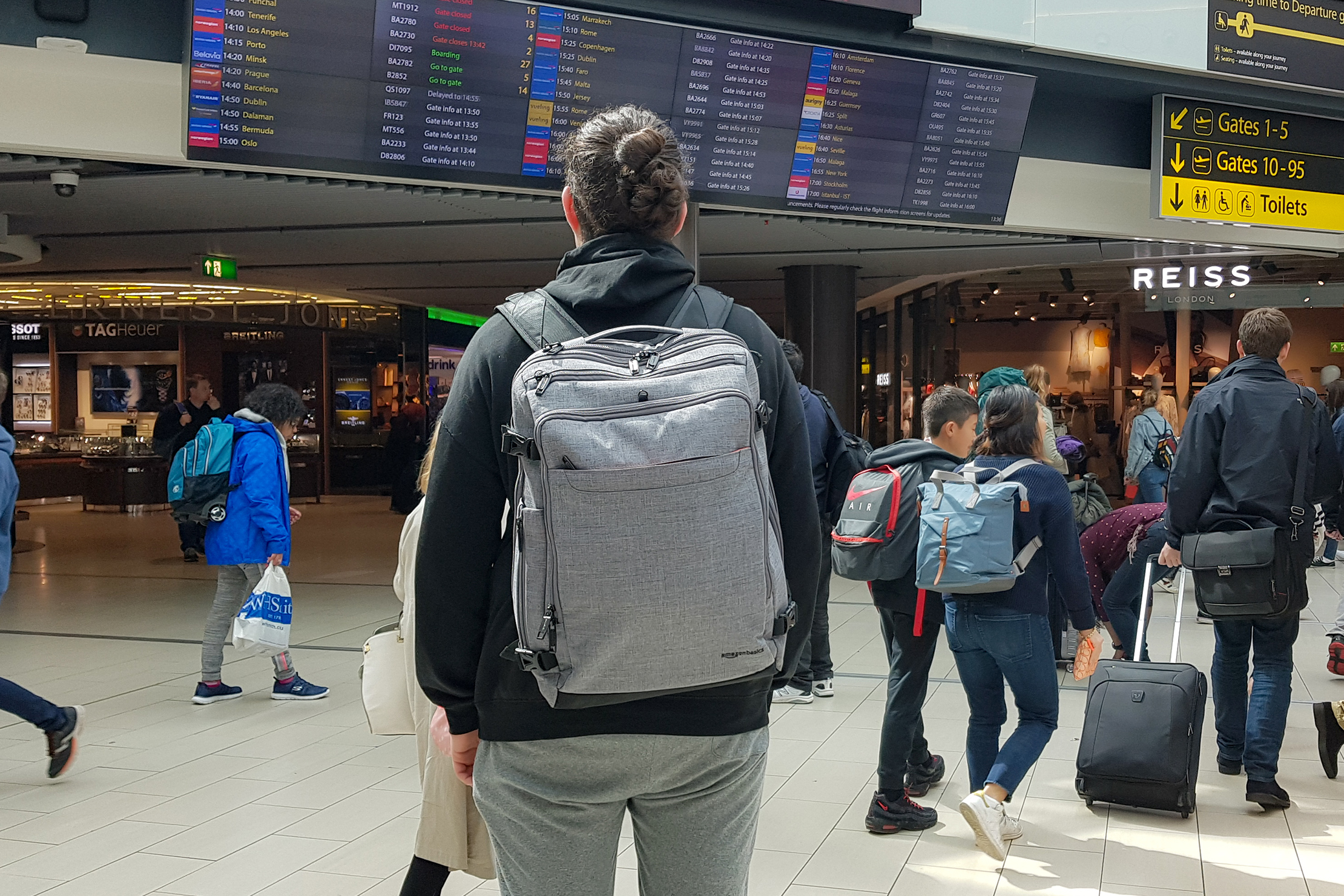 We've noticed some small marks on the interior polyester lining, but nothing that we're overly concerned about.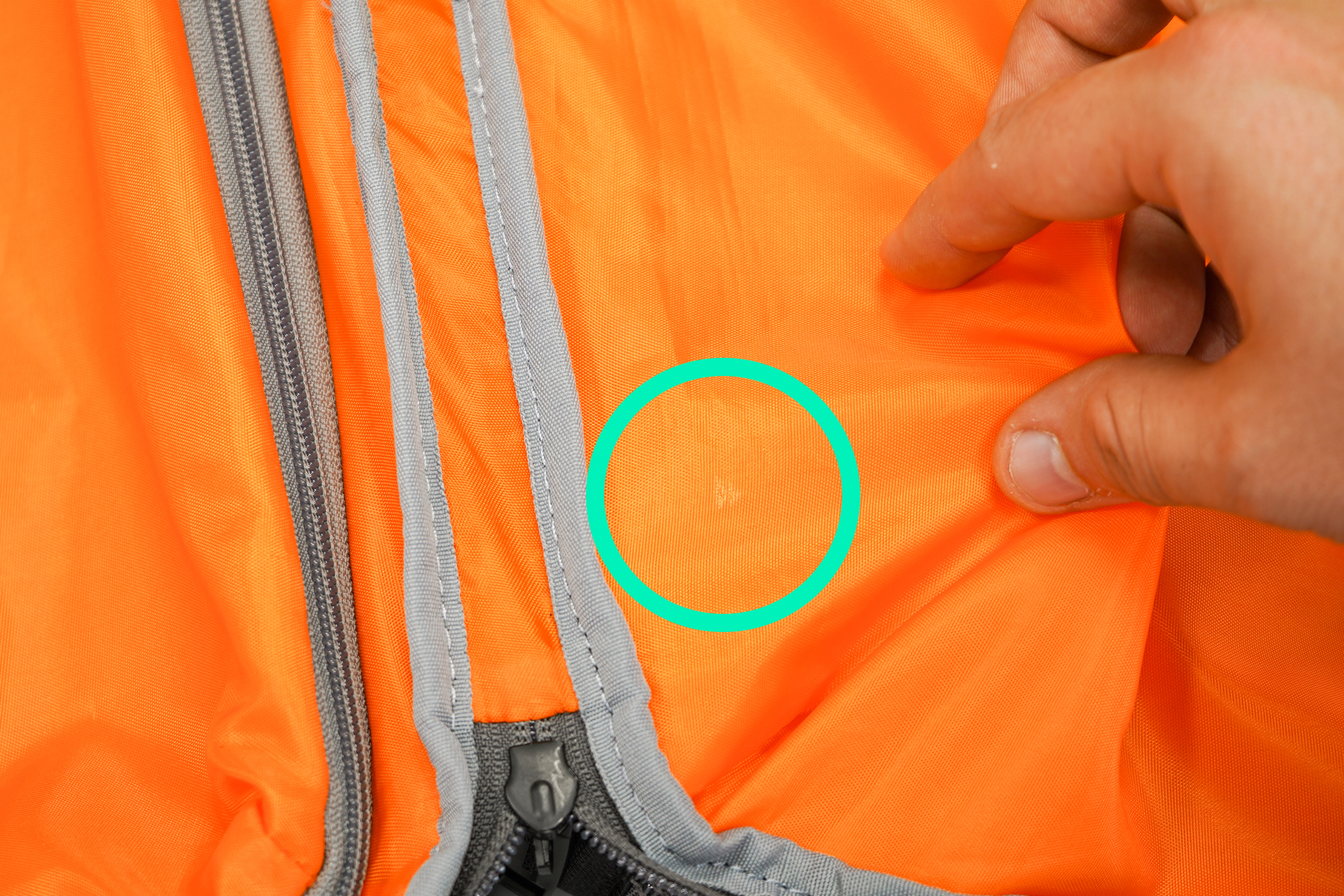 The outside fabric has held up really well, especially considering the significant use it has seen during our testing, and we're happy to say the fabric and stitching are both looking really good.
We've enjoyed testing this pack a lot more than we thought we would, especially after being so disappointed with the larger AmazonBasics Carry On Travel Backpack. This slimmer bag offers great versatility as a daypack and a one-bag travel pack and, assuming it continues to hold up as we keep testing it, we'll readily recommend it to anyone looking for a budget backpack.
Usage Timeline
Initial Usage
Condition: Excellent
The YKK zippers and Duraflex buckles are a great addition for such a budget bag.
Considering its price, this thing actually looks pretty good.
Lots of pockets and internal organization.
1 Month of Use
Condition: Excellent
Too many pockets, can't really use them all. Materials holding up well so far.
2 Months of Use
Condition: Good
Noticing a few small marks on the interior polyester lining. Exterior fabric and stitching look great.
Access the Pro Community Discussion
Get your questions about the Amazon Basics Slim Carry On Travel Backpack Weekender answered from our team and the Pro Community right here on the page. Plus, join discussions with other members about gear, guides, and more.
Other Bags & Luggage Reviews