Amazon Basics Carry-On Travel Backpack Review
While we can't guarantee the AmazonBasics Carry-On Travel Backpack will be your lifelong travel companion, its price is hard to ignore for anyone on a budget.
Our Verdict
Unlock the Pro Summary
Save time. Get access to brief summaries of our reviews so you can browse and make decisions more efficiently.
Pros
One of the cheapest carry-on sized backpacks on the market
Easy to pack clamshell design
Practical and well-organized front compartment
Cons
Significant concerns over the long-term durability
Not the most fashionable and the materials feel cheap (because they are)
Bulky and not particularly comfortable on your back
Recent Pack Hacker Video
Technical Details
Capacity

40l

Weight (lb)

3.64 lb (1.7 kg)

Dimensions

21.5 in x 14 in x 8.5 in (54.6 x 35.6 x 21.6 cm)

Depth is expandable to 10.5"

Notable Materials

Polyester, Polyethylene, SBS Zippers

Manufacturing Country

China

Laptop Compartment Size

17"

Warranty Information
Full Review
On a budget? Then keep reading, because it doesn't get much cheaper than the AmazonBasics Carry-On Travel Backpack.
We usually don't pay much attention to brands that are considered "cheap," but AmazonBasics has a pretty good track record of pumping out a ton of gear that gets the job done at a low price point. And let's be honest, they're not going away anytime soon.
After testing the AmazonBasics Packing Cubes for almost two years, we've been impressed with their durability, and as such, we've been curious to test out other AmazonBasics products. We are by no means expecting this to be the best travel backpack, but if you're looking to save costs then this could be an interesting option… as long as it's able to actually carry your gear, that is.
Let's find out whether it's up to the task!
Material & Aesthetic

Let's be honest, the AmazonBasics is not the most aesthetically pleasing backpack we've tested. There's really nothing fancy going on, but there's also nothing offensive either—it's just an average, black backpack.
We do know, however, that beauty is in the eye of the beholder, so we gave it to our Instagram audience to share their opinion. 46% said they liked the look of the pack, which is not an awful result.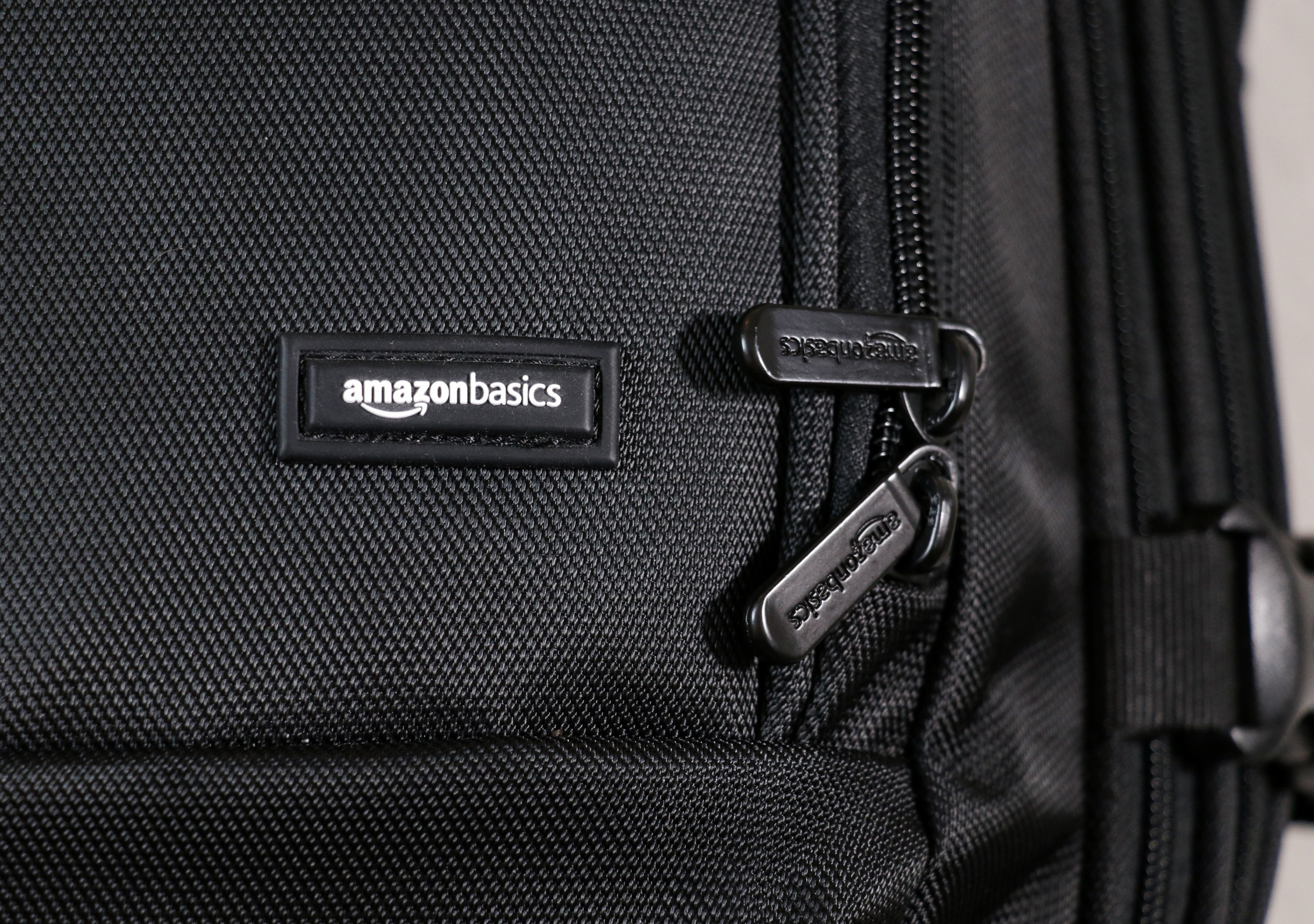 The branding on this pack is surprisingly minimal with the most evident logo being on the bottom of the pack, in addition to some smaller logos on the zipper pulls. We don't think an AmazonBasics logo is necessarily the most fashionable thing to rock, but it is pretty small. We do think if it was black on black—similar to the design on the zipper pulls—it would be much more discreet. Amazon doesn't need any more advertising, right?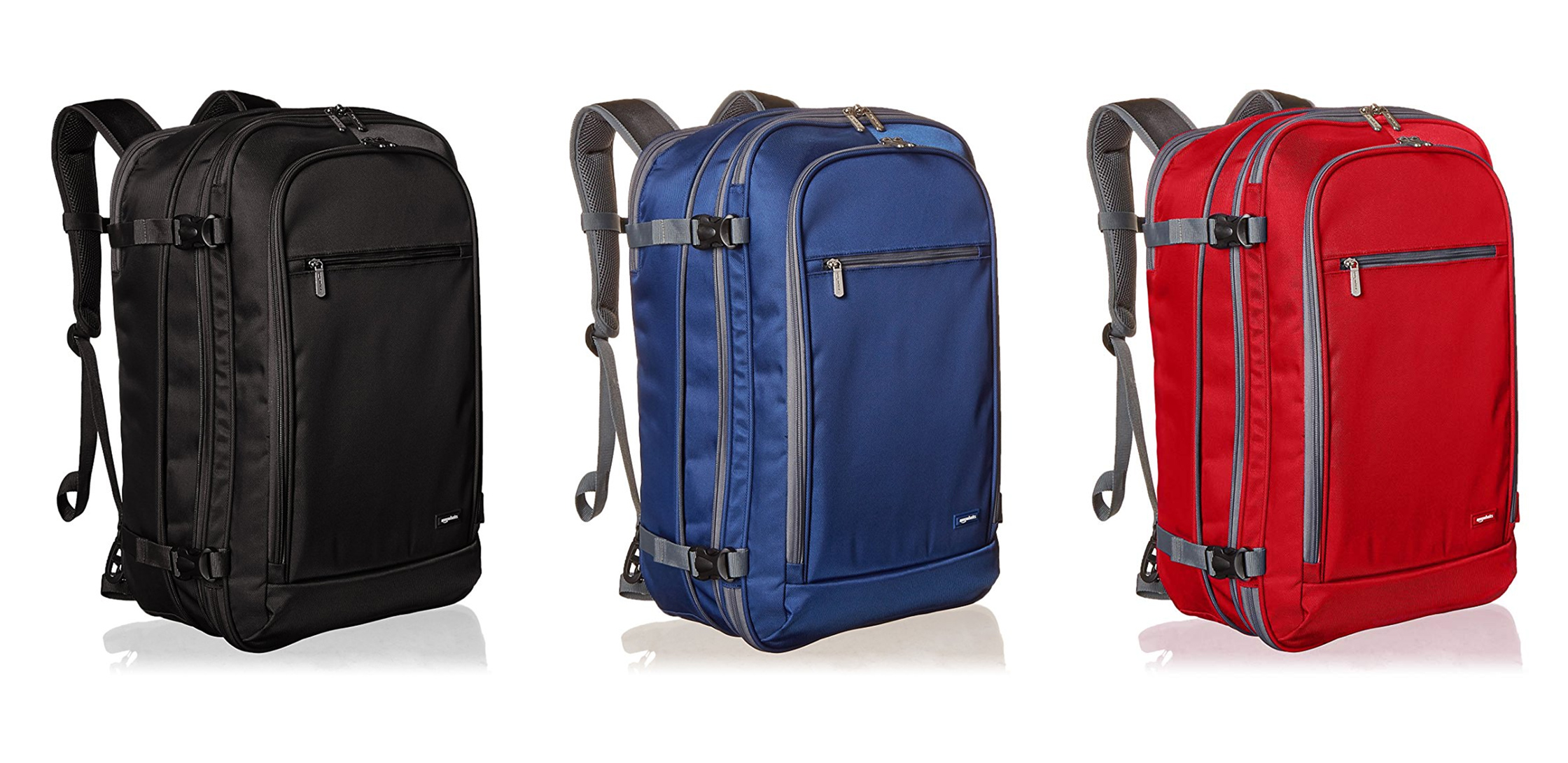 This backpack is available in black, navy and red. We think the black looks okay, but the navy and the red look a bit harsh and seem to make the bag look even cheaper. The black is definitely more inconspicuous and will show fewer marks and less dirt on the road, which we like.
As far as the overall size goes, regardless of whether this bag is at full capacity or not, it's pretty damn bulky and it just gets increasingly "lumpier" the more you pack. We're not going to beat around the bush here, there is nothing streamlined about this pack and even if you try to pack it efficiently, items still seem to stick out from within the pack. That being said, it is carry-on compliant for most airlines, which is awesome.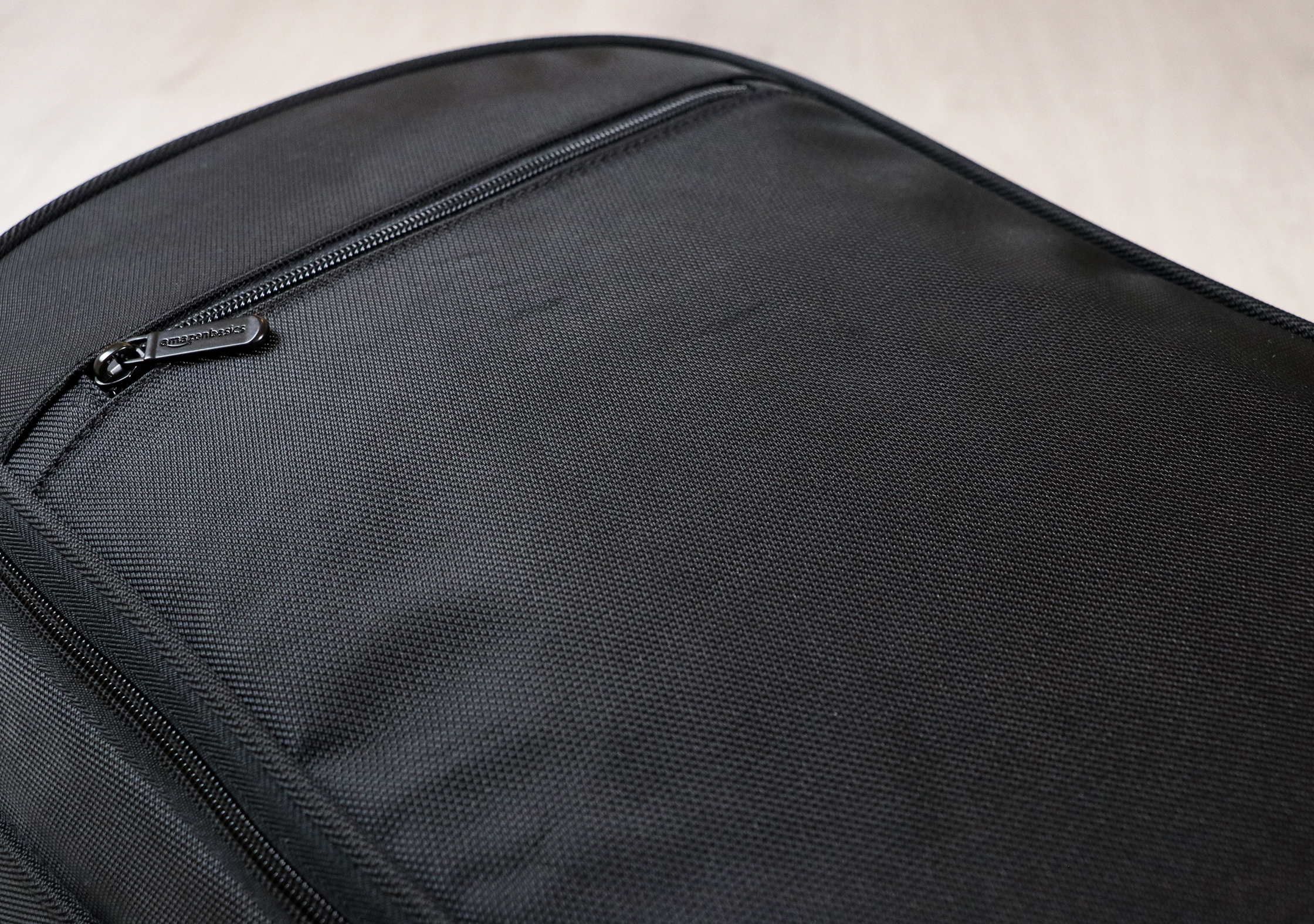 The AmazonBasics is made from 100% polyester. This isn't anything exceptional, although it is a common material used in backpacks because it's lightweight, flexible and durable. But there are definitely more lightweight and durable materials out there. The polyester also means this pack is not weather resistant, so if you're heading to a rainier climate, we'd recommend picking up a rain fly.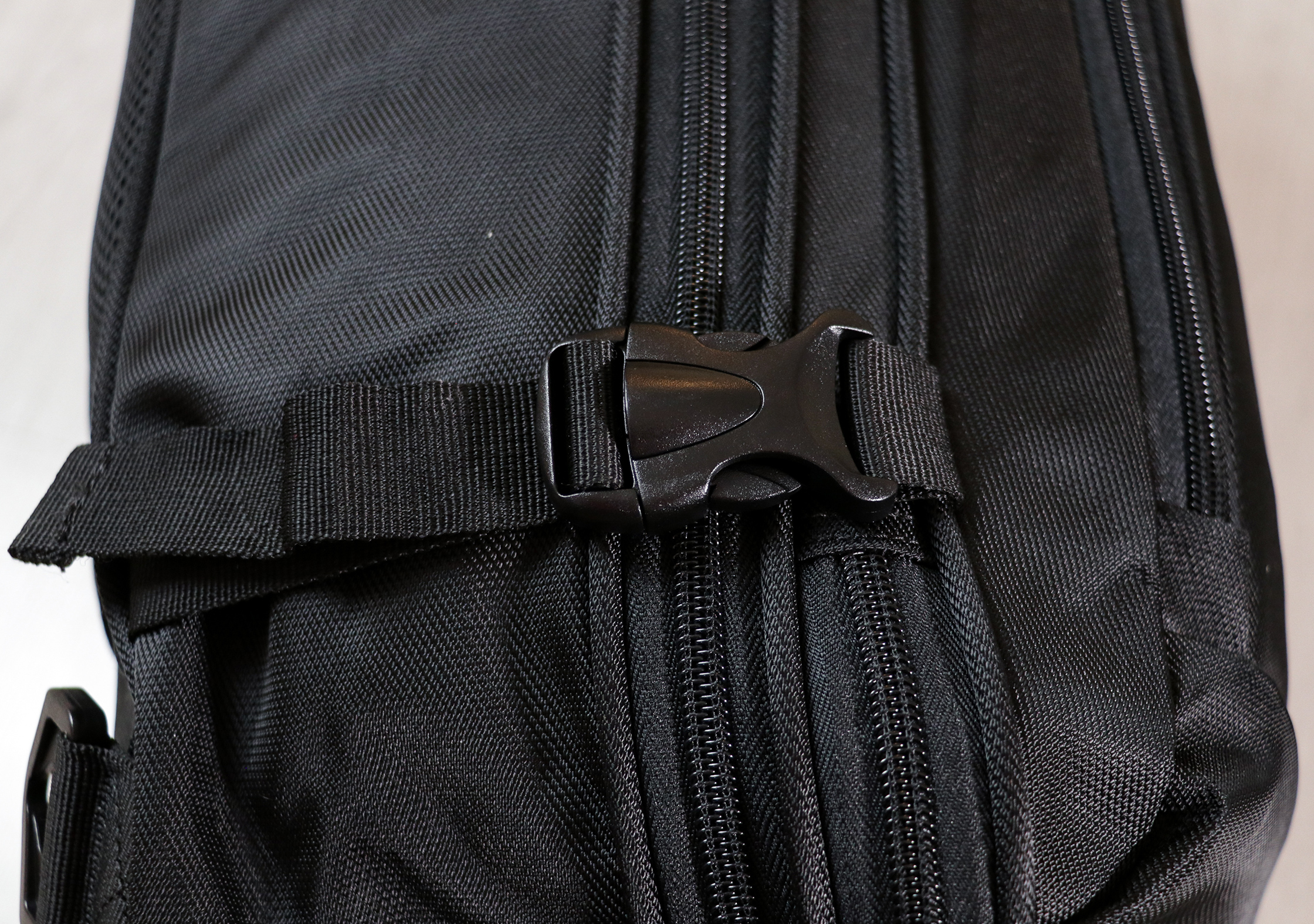 When it comes to the buckles, to put it bluntly, they're awful. We'd even say they're somewhat dangerous. These things are difficult to use and we've easily caught our fingers inside on multiple occasions.
Now, we wish we had better things to say about this bag, but we're going to let the gripes continue. Let's talk about these zippers.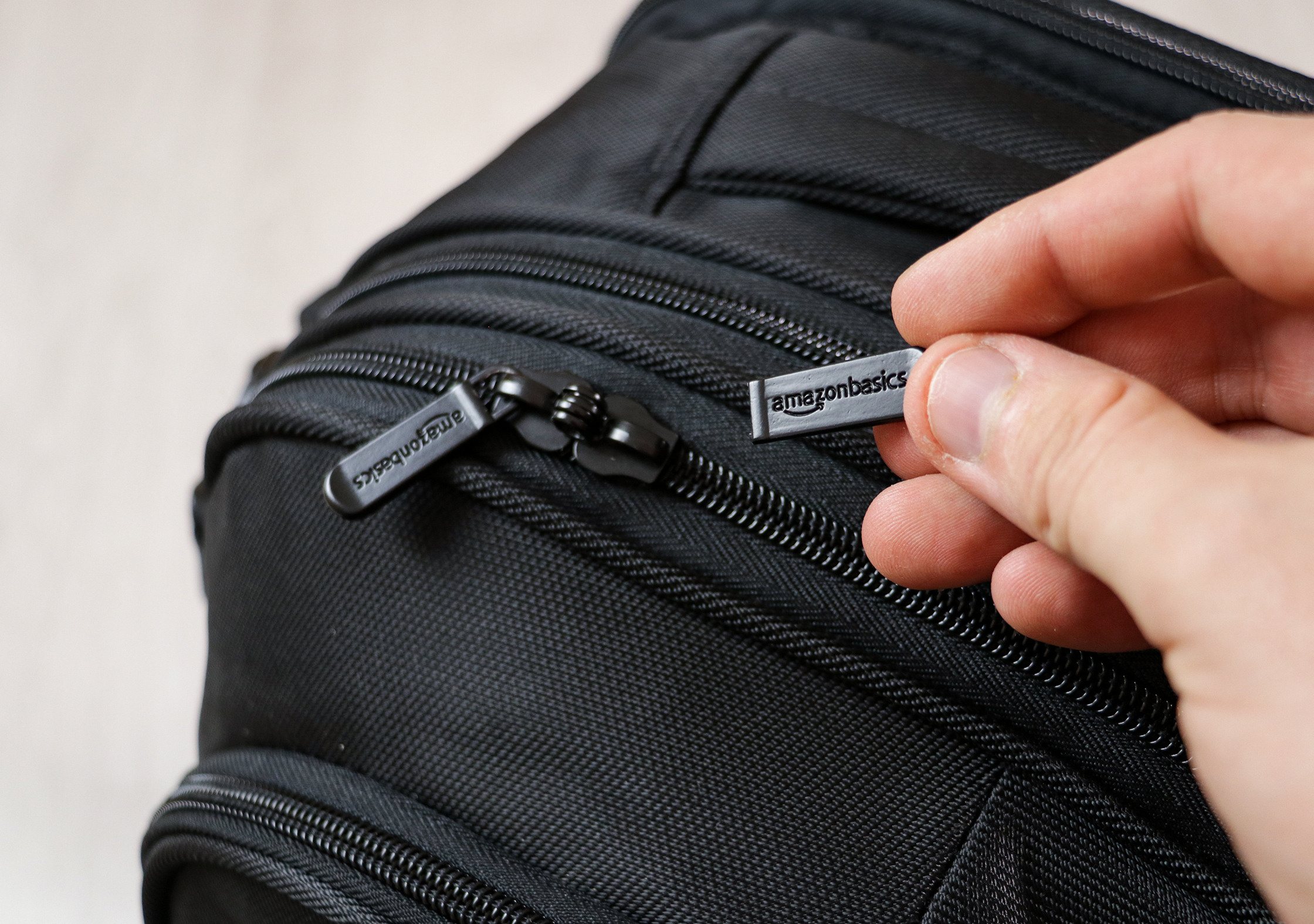 We've already had a zipper pull break on this bag after two months of use. Additionally, while the main compartment zipper is SBS—a fairly trusted, reliable brand—the rest are unbranded. While all of the zippers open and close pretty smoothly, durability is the issue here.
The bottom line is that a cheap backpack is made with cheap materials, and we really didn't expect anything else. While the broken zipper pull is a pain, it hasn't affected the overall integrity of the bag, and that's really the only thing we can ask for at this price-point.
External Components
Moving on to the external components, let's dive straight into the harness system.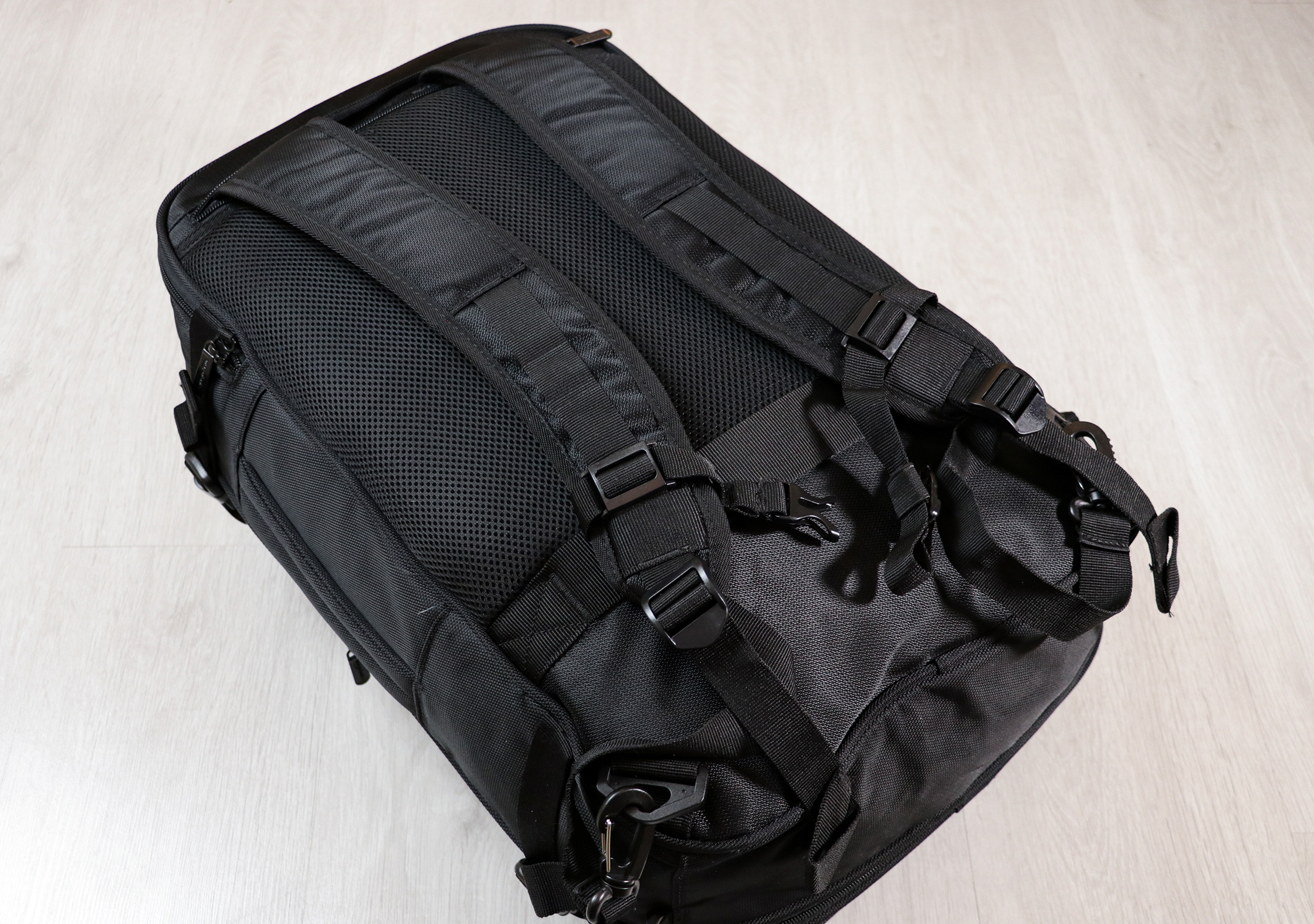 The adjustable shoulder straps are a tad flimsy but they're well padded with polyethylene foam, making for a surprisingly comfortable carry. The back panel is padded, just like the shoulder straps, but our problem lies at the bottom of the back panel. If you're only carrying a heavy item that's sitting at the bottom of your bag, it's going to dig into your lower back—which is far from ideal. That being said, we have noticed this is not as much of a problem when the bag is fully loaded and the weight is distributed throughout.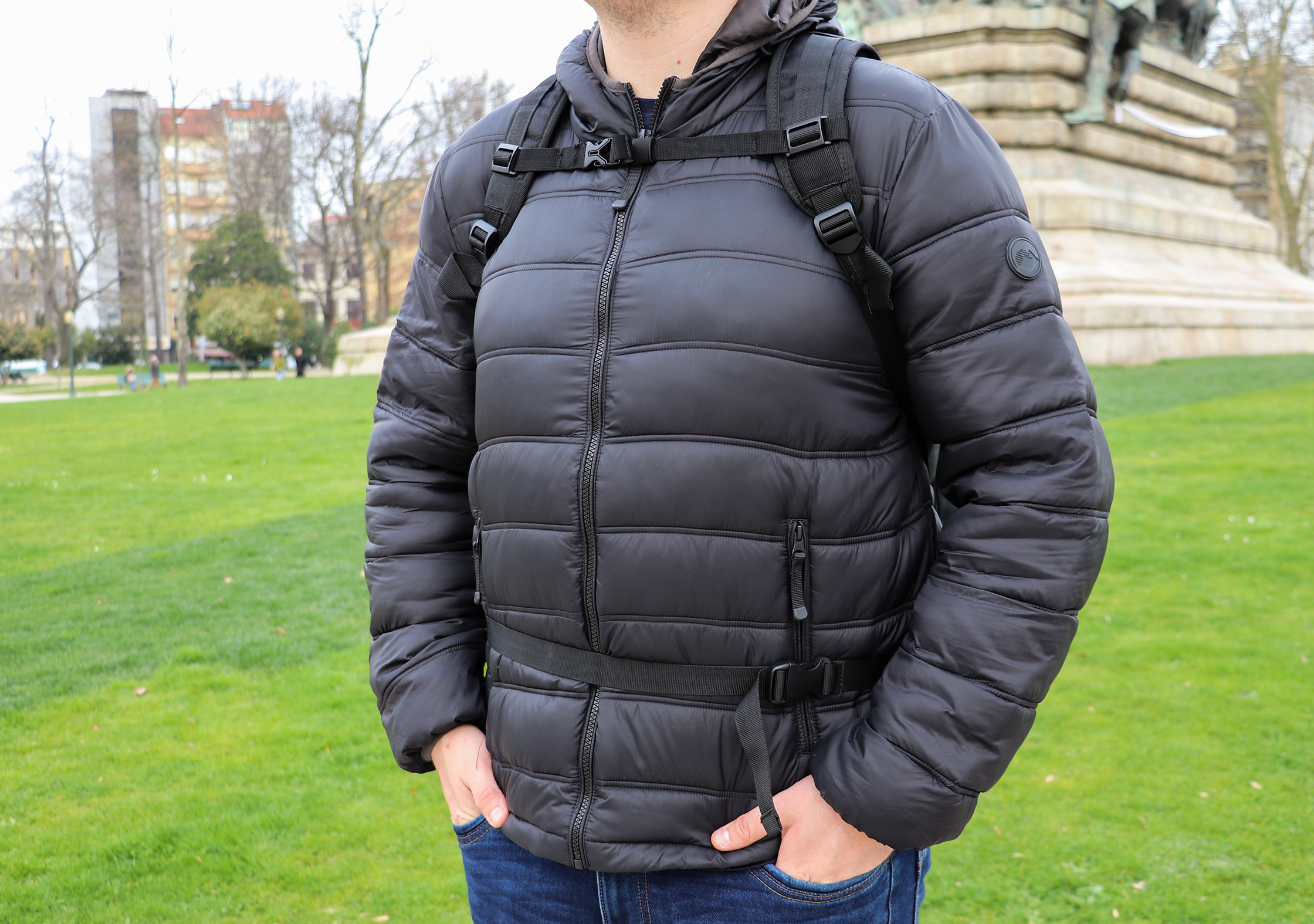 In addition to this, there is also an adjustable sternum strap that, unfortunately, cannot be removed or hidden away. This is a bit of a nuisance as it's always dangling when not locked in, but it's otherwise "okay." The pack comes with a hip belt as well, but it's pretty shoddy, and it really doesn't help distribute the weight of your pack at all. However, it is detachable so you can take it off if you don't want to use it.
All of these straps can be hidden by unclipping them at the attachment points. While we haven't had any problems with the clips themselves, a lot of reviews on Amazon say they have broken. Despite this, the hideaway harness system is easy to use, although it is a bit bulky.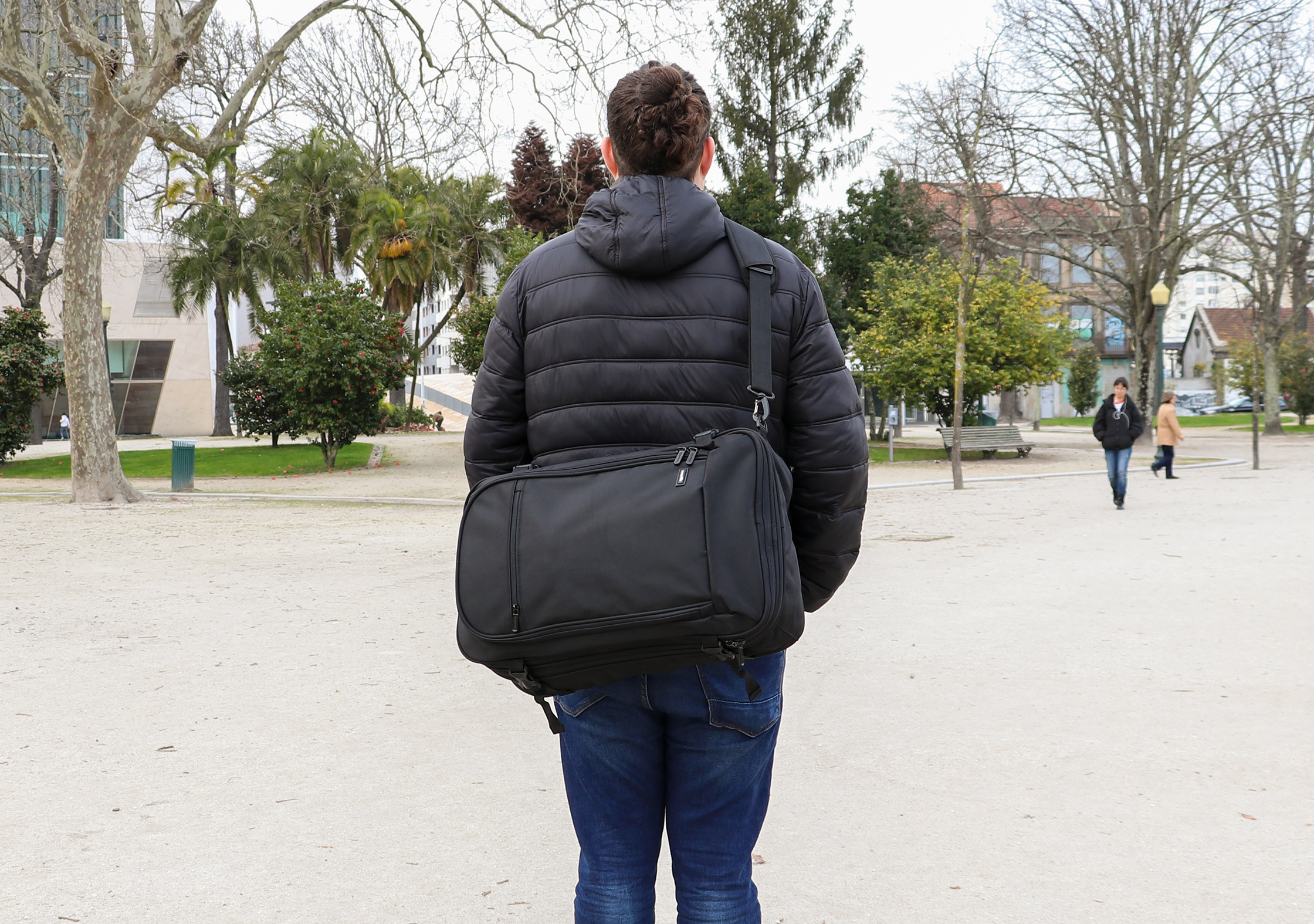 If you prefer to carry your pack in the messenger style instead of on your back, the AmazonBasics Carry-On Travel Backpack also comes with a strap attachment for you to do this. This works, but it's not really our thing. Nevertheless, it gives you the opportunity to do what works for you.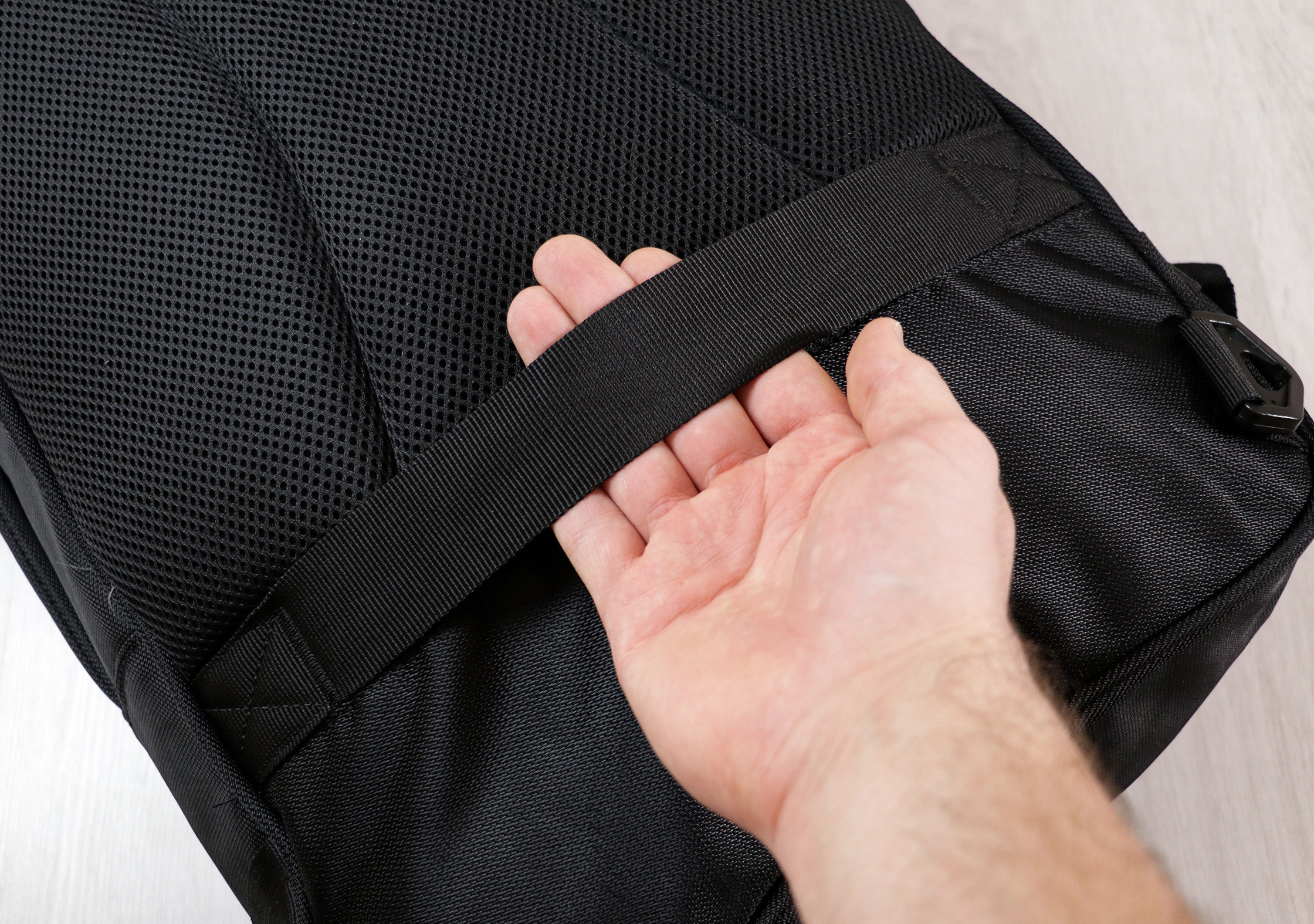 Moving on, there is a luggage pass-through sleeve at the back of the pack, but it seems a bit pointless to us. While we have nothing against tossing a backpack on top of your roller luggage, this thing is just way too big for it to work properly. Unless you're training for a roller luggage marathon, you're probably not going to want to use this.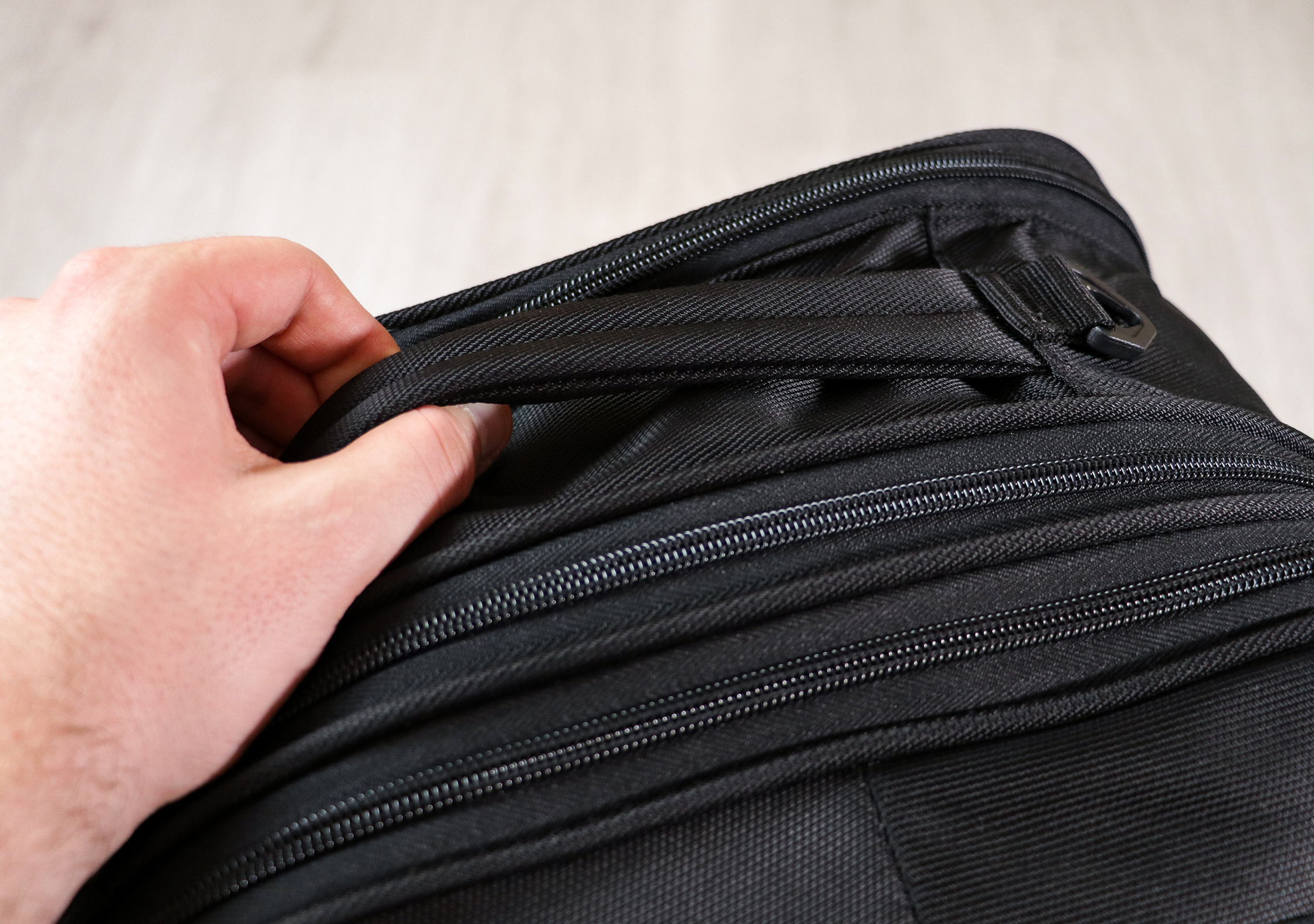 There are two quick-grab handles on the top and the right-hand side of the bag. These aren't the best and they're considerably lacking in the comfort department, but they'll work in a pinch.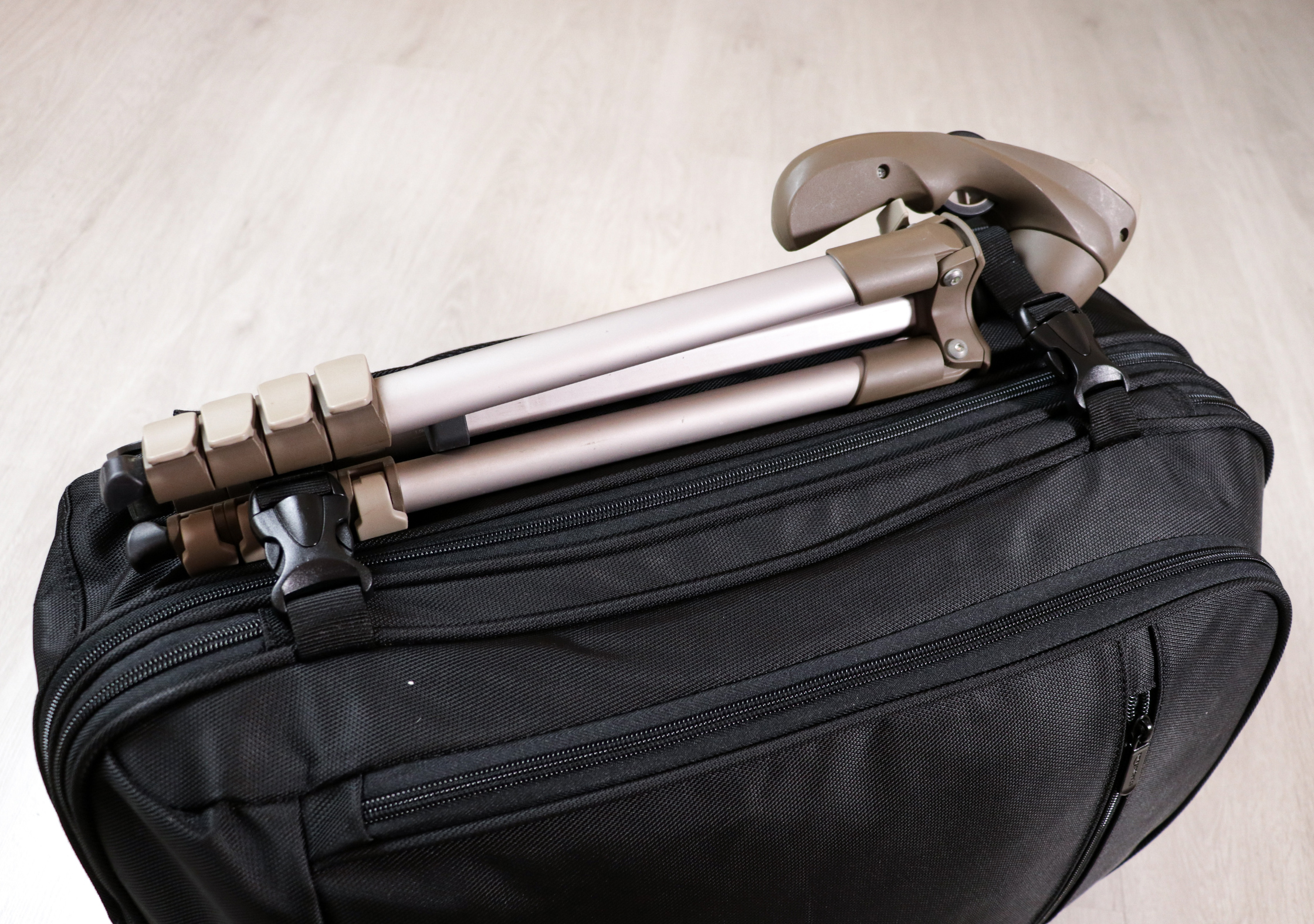 There are compression straps on either side of the pack that can also be used to hold a jacket or tripod, as well as to compress the bag of course. These do cover the zippers somewhat, but this is a common situation we've seen on plenty of other packs. You could even argue that they make this bag a bit harder for a thief to get into.
Finally, we should also mention that there's no water bottle pocket. Not a huge problem, but we've been missing it.
Inside The Pack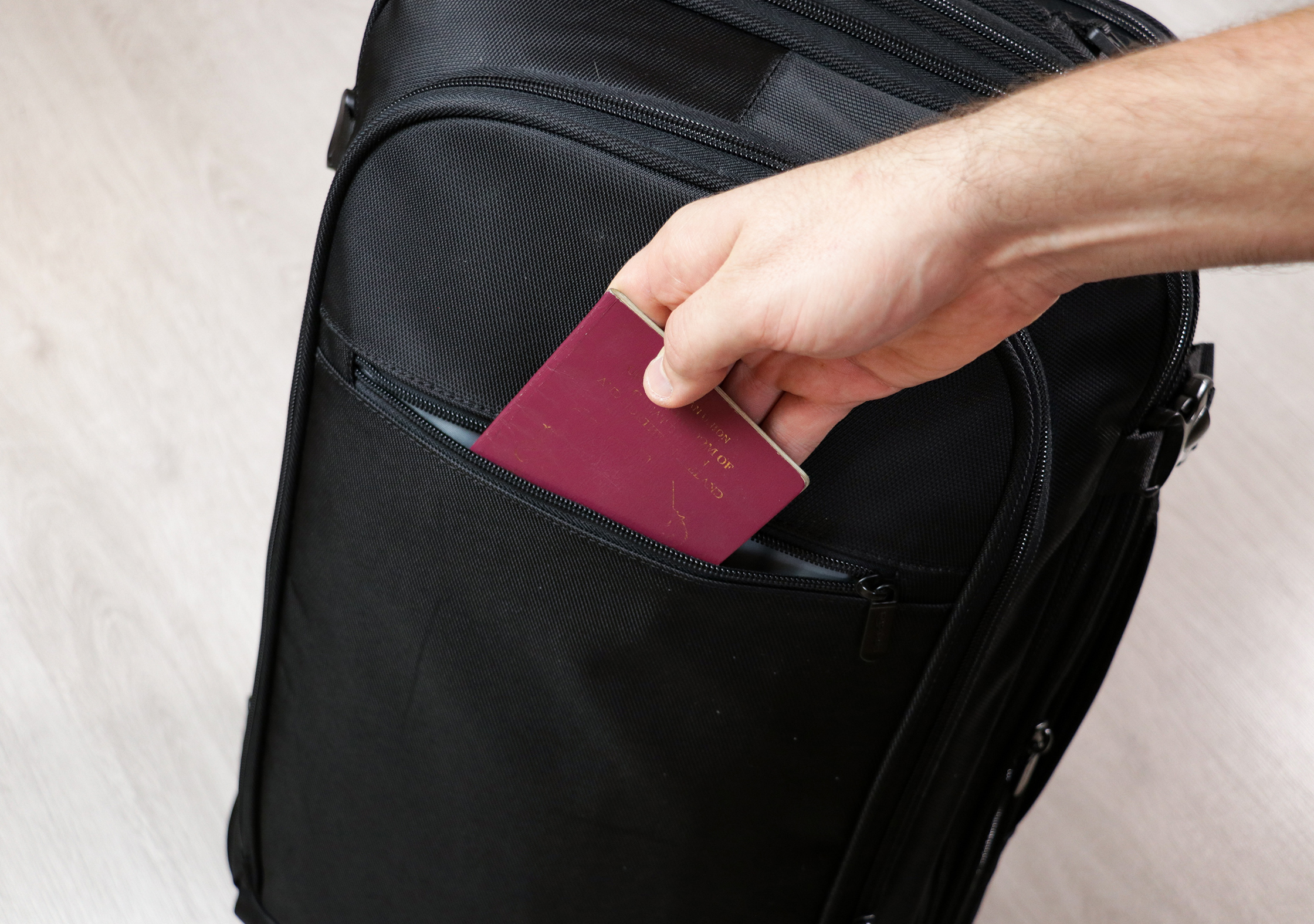 Let's start with the quick-grab pocket on the front. This is handy, but it's pretty deep, so be prepared for smaller items to get lost inside. It's not quite as "quick-grab" as we'd like it to be, but it's still a great place to hold your passport and other travel essentials.
The front compartment on the AmazonBasics Carry-On Travel Backpack is super practical and we've found it works well for all of our tech gear. Plus, there's even room to spare for a sweater if needs be.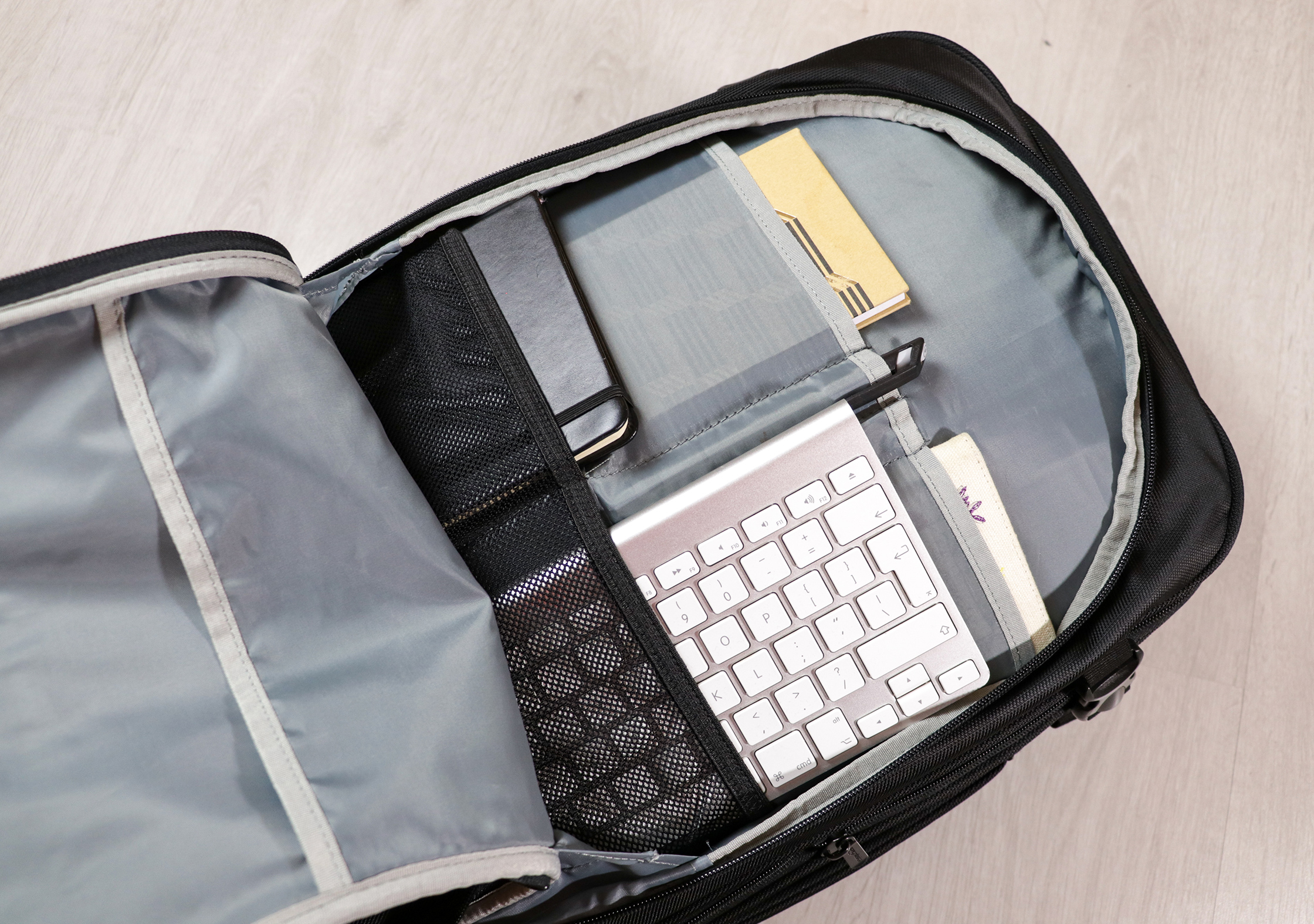 Starting at the top, there are two sleeves that are ideal for notepads or other similarly sized objects, with a couple of pen holders in the middle. Underneath this, there are two large mesh pockets that are perfectly sized for a keyboard, but they're extremely versatile and you can put whatever you'd like inside. Finally, there's a sleeve on the flap of this compartment. We struggled to utilize this space, but it's there if you need it.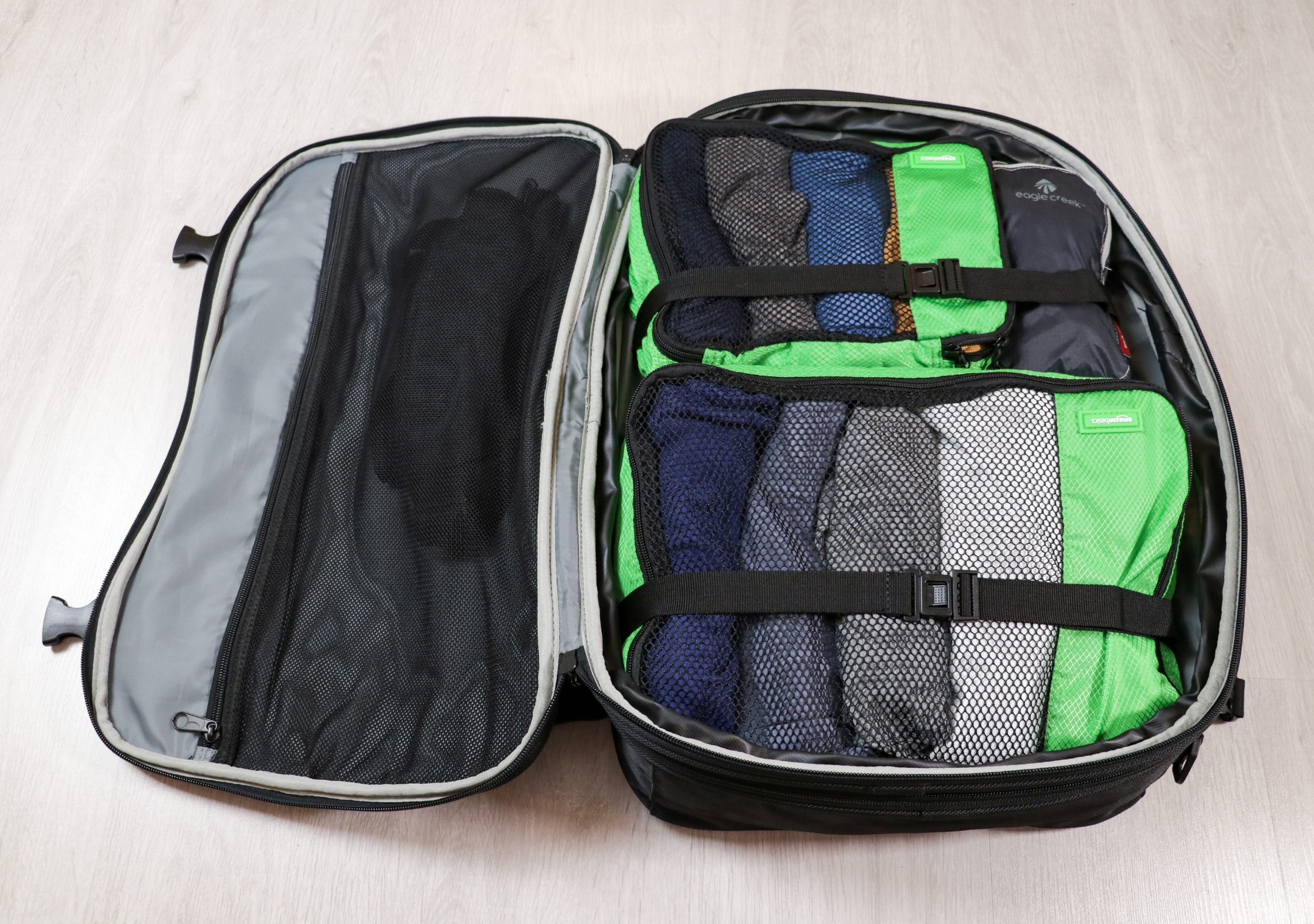 Moving on, the main compartment is a clamshell design that opens like a suitcase, making it super easy to pack. On the left there is a large mesh compartment we used to hold the hip belt and messenger strap when not in use. Then, there's a huge bucket of space for you to fill on the right. There are two internal compression straps here that can help keep everything together, but we'd recommend using packing cubes to further organize and compartmentalize this space. Plus, they'll help prevent your bag from becoming a mess of wrinkled clothes too.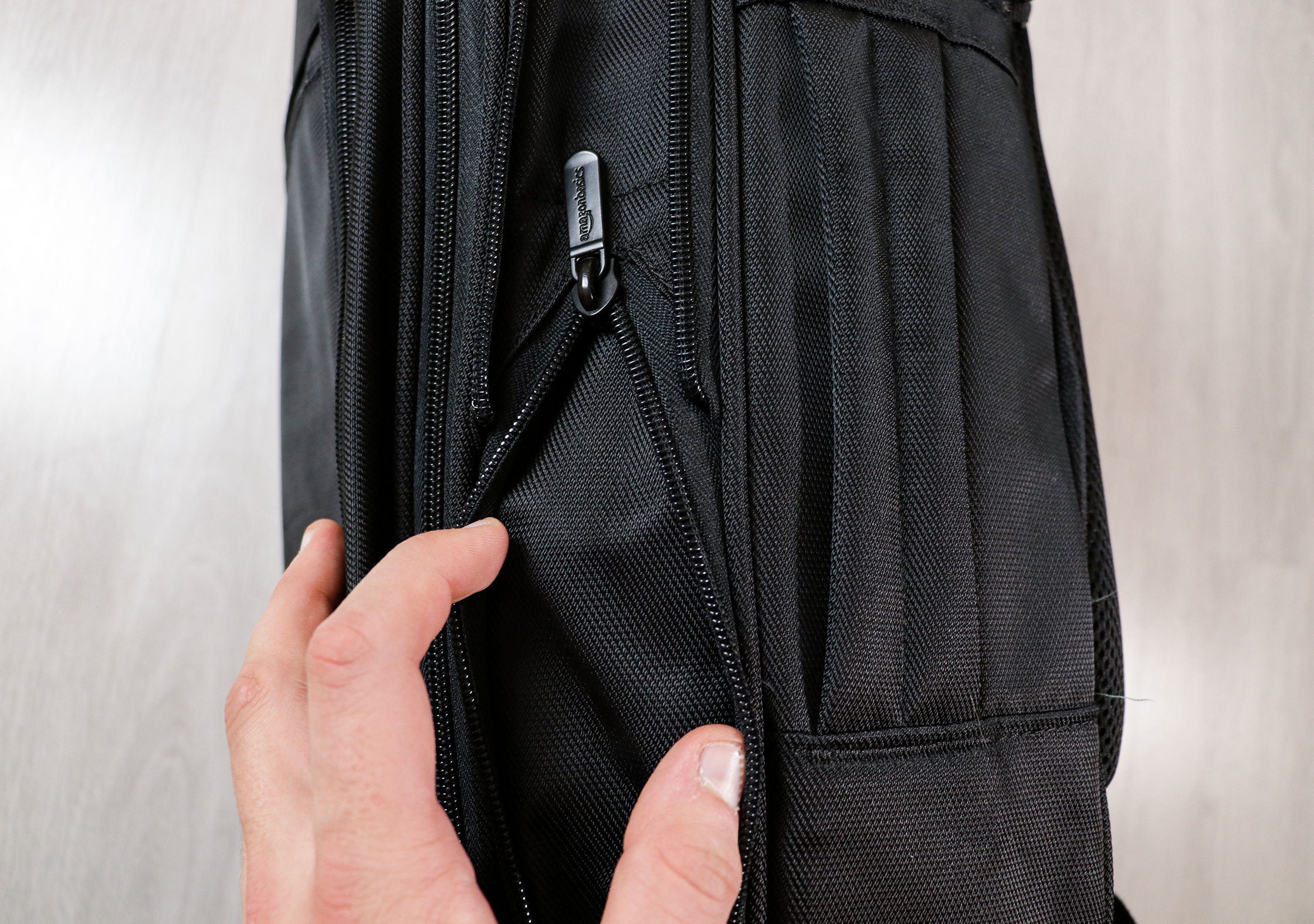 This main compartment can also be expanded by using the external compression zipper around the side of the pack. This will add around 2 inches of depth to the pack, meaning you can fit more stuff in. This is great if you're really trying to max out what you can bring, but we found the bag way too cumbersome for our liking in this state, and we'd strongly suggest keeping it compressed if you can.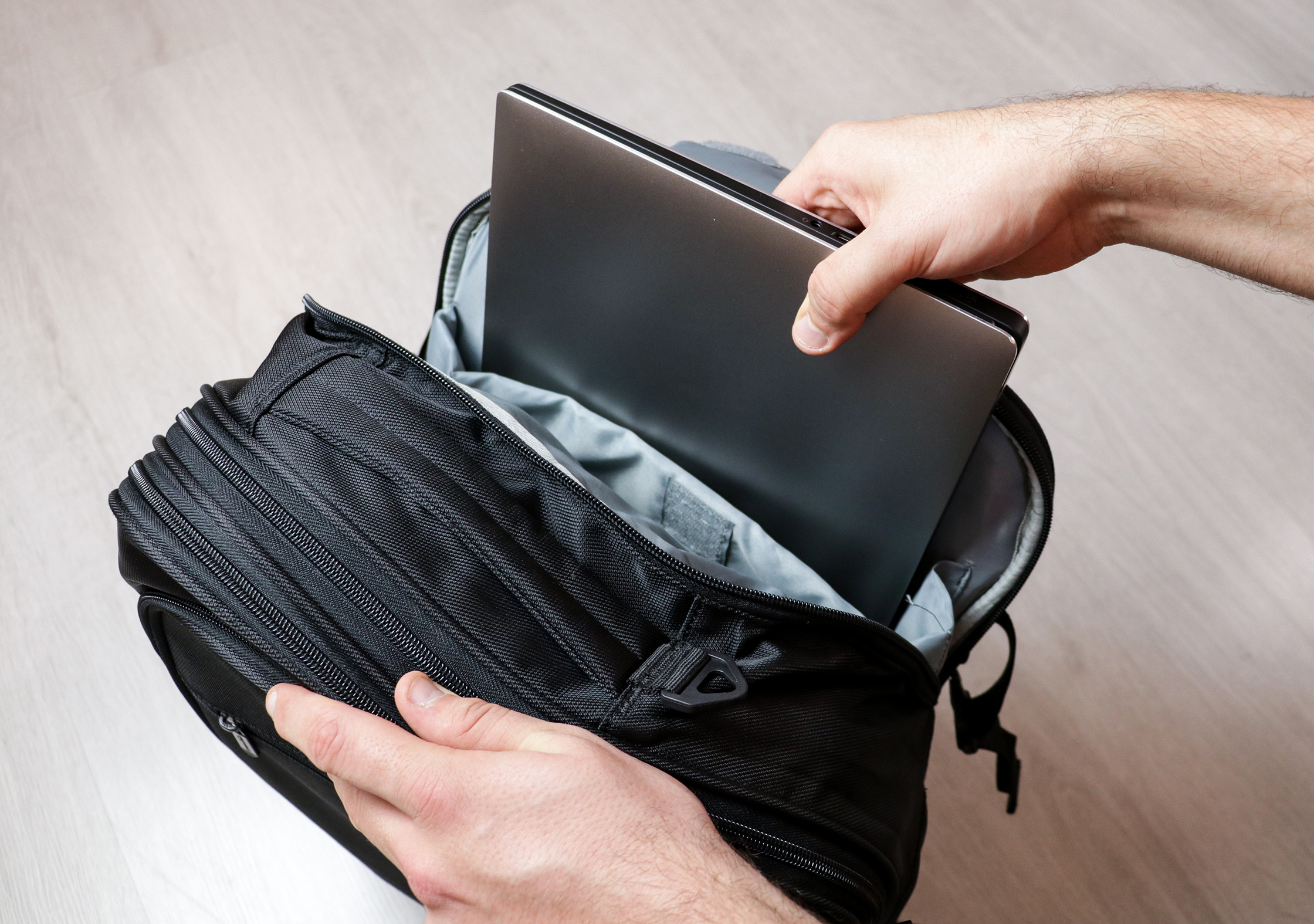 Finally, there's a large compartment at the back of the bag that can hold a 17" laptop. There's a load of padding and tons of room here, but this can be a tad deceiving as anything you put in here will start to eat away at the space in the main compartment. This is problematic if the bag is full to the brim, because it makes it difficult to fit the laptop in. If you do find yourself with additional room in the laptop compartment, it's a great place to store flatter items or documents.
Durability & Testing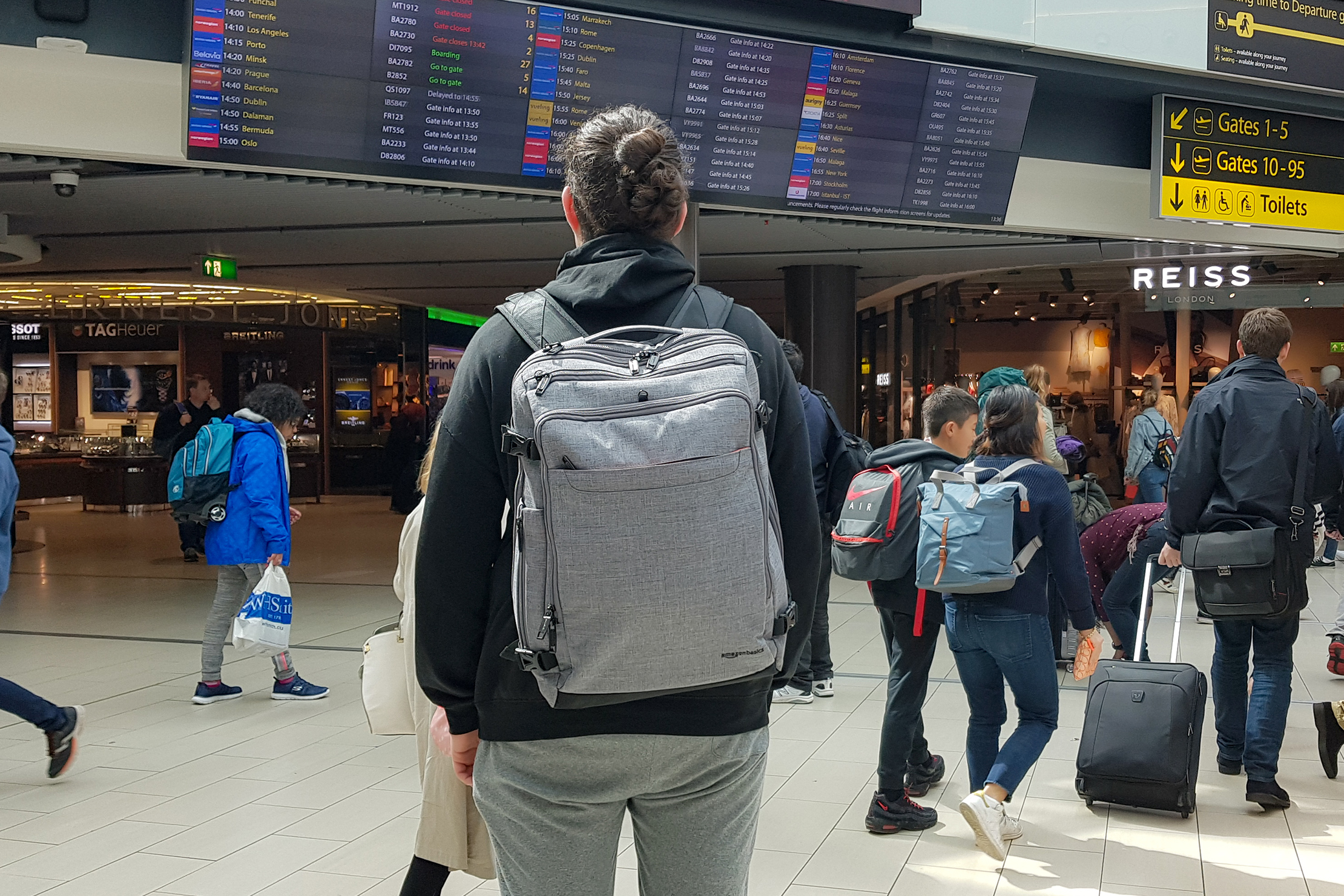 At the time of this review, we've been testing the AmazonBasics Carry-On Travel Backpack for three months. It's seen use around the UK and on a trip to Porto, Portugal. While we can announce this pack will hold a ton of gear, and it should get you from A to B, there are a fair few durability issues and causes for concern.
The first issue we encountered was with the zippers. One of them flew off of the main compartment as we were packing up the bag—which is never a good sign. While the zippers are still functioning, they're becoming increasingly hard to trust as we continue to use this thing.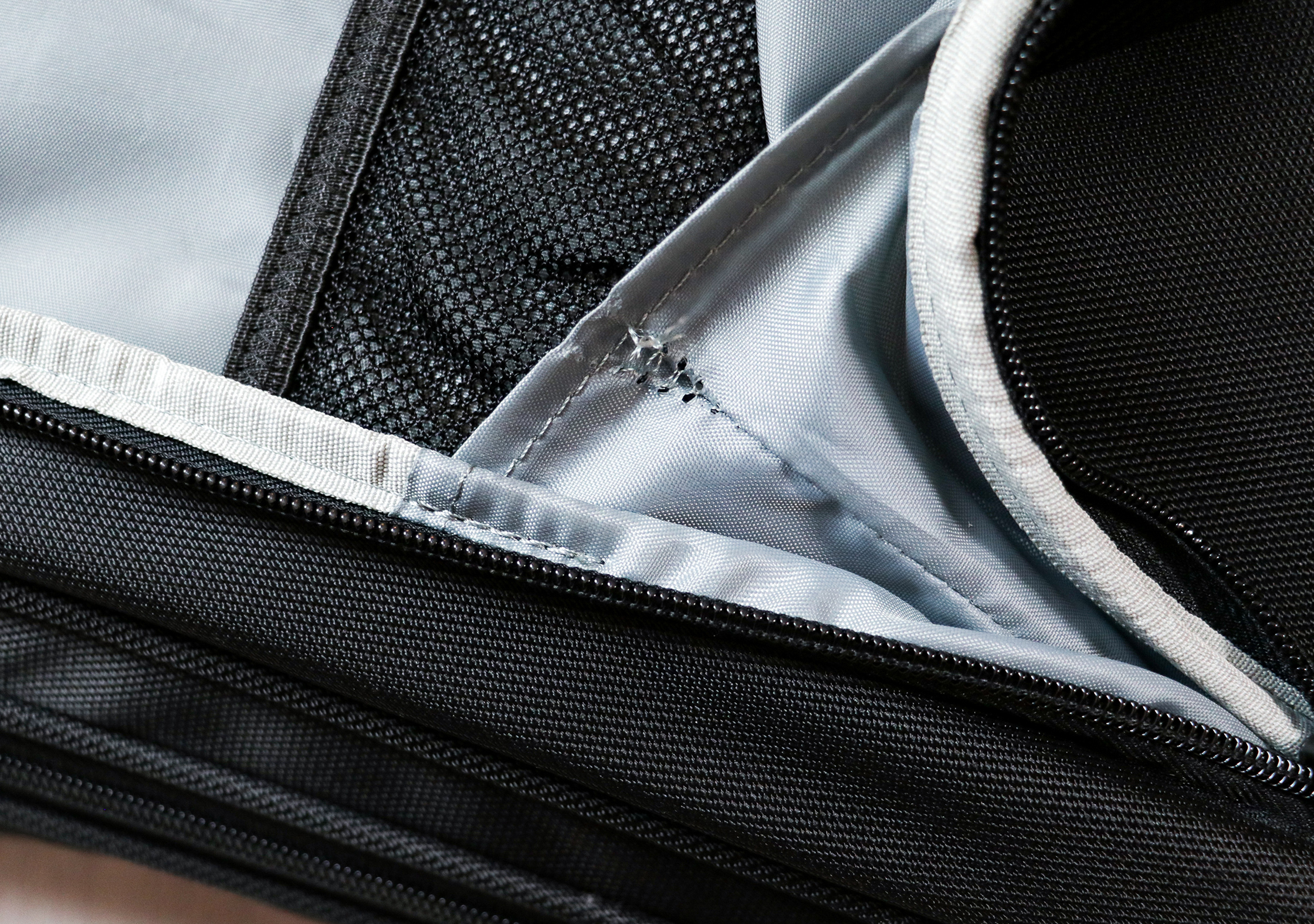 Plus, there are a lot of loose threads around the pack, and the seams are starting to tear in the front compartment. These are only things that are going to get worse with time, and it's not a good sign of what's to come.
We know—and so should you, if you've gotten this far—that the AmazonBasics Carry-On Travel Backpack isn't going to last a lifetime, but it should at least survive a trip abroad. And let's be honest, what more can you expect for around 50 bucks?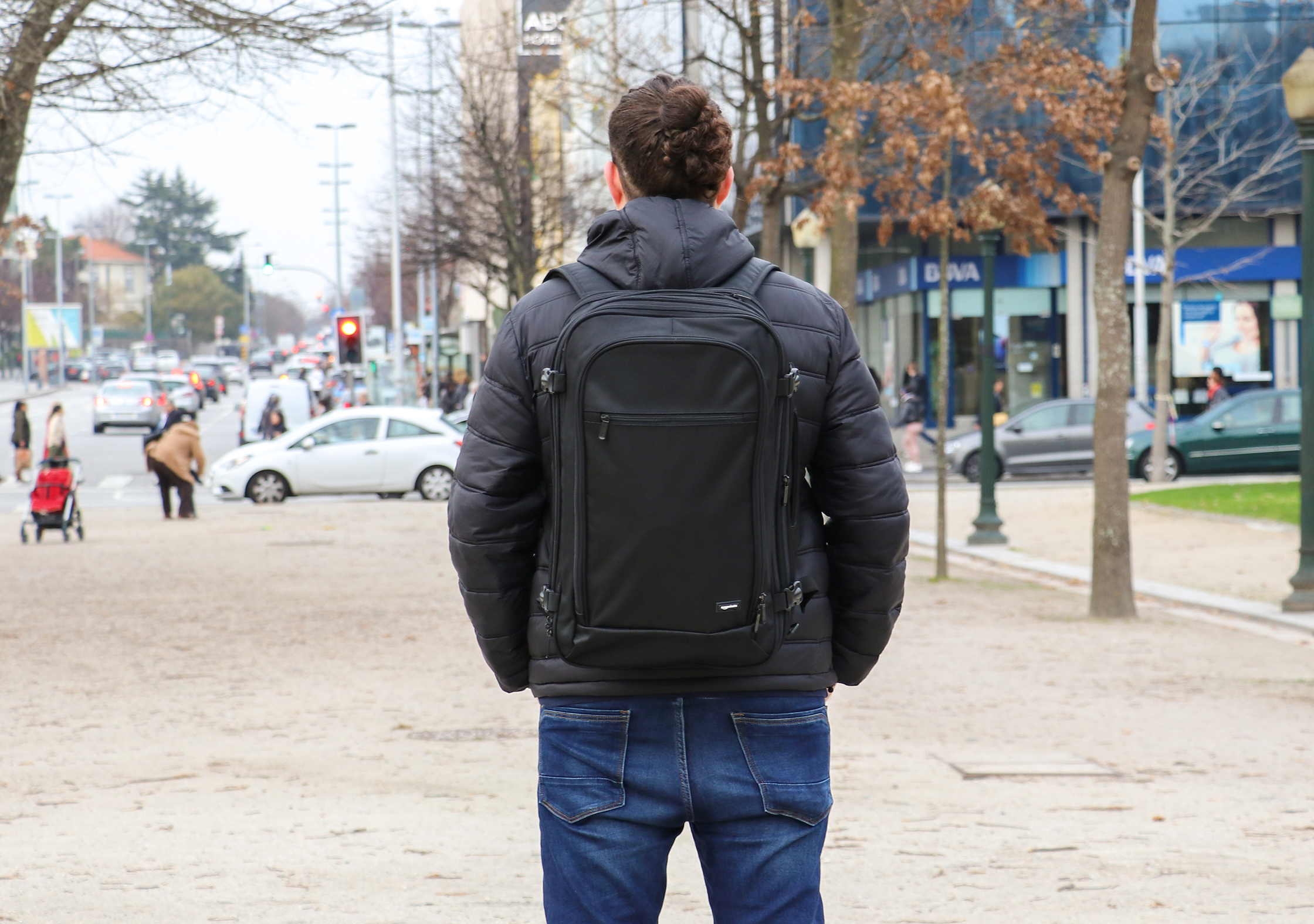 This being said, it still feels like a gamble every time we pack this bag up. There's a certain feeling you get when you have a durable backpack in your hands—it gives you a sense of comfort, knowing that nothing is going to go wrong during your trip. But that comes at a price. And unsurprisingly, we just can't say we get that feeling from this pack. But, considering this bag comes in at about a quarter of the cost of your mid-to-high tier travel backpack, it could still be a good option for the budget traveler.
Usage Timeline
Initial Usage
Condition: Excellent
Looks better than expected, but it's still pretty bulky.
1 Month of Use
Condition: Good
Lost a zipper pull on the main opening. It flew straight off!
2 Months of Use
Condition: Fine
Noticed a few loose threads, and the front compartment is starting to tear.
3 Months of Use
Condition: Fine
Brought this thing along on a trip to Porto. It's actually holding up okay considering the price point.
Access the Pro Community Discussion
Get your questions about the Amazon Basics Carry-On Travel Backpack answered from our team and the Pro Community right here on the page. Plus, join discussions with other members about gear, guides, and more.
Other Bags & Luggage Reviews