Away Passport Holder Review
Despite our reservations with the Away Passport Holder's closure-less design, its secure build quality ensures we don't lose anything valuable.
Our Verdict
Unlock the Pro Summary
Save time. Get access to brief summaries of our reviews so you can browse and make decisions more efficiently.
Pros
No folding parts mean less wear on the leather
Fuss-free access to all pockets
Enough space for other small travel documents
Cons
Dirt and debris could get inside more easily
Open design takes some getting used to
No zippered compartment for extra gear storage, like keys
Recent Pack Hacker Video
Technical Details
Weight (oz)

2 oz (56.7 g)

Dimensions

5.43 in x 4.25 in x -0.8 in (13.8 x 10.8 x -2 cm)

Notable Materials

Leather

Manufacturing Country

Cambodia

Warranty Information
Full Review
Having a wallet dedicated to your passport can be considered a milestone on your journey to becoming a seasoned traveler. It's a sign that you're beginning to take the nitty-gritty details of traveling more seriously—in this case, organizing travel documents. Gone are the days of tossing your passport into a random compartment in your backpack then trying to remember where you put it on the trip back.
Well, you can still do that, but in a more organized fashion.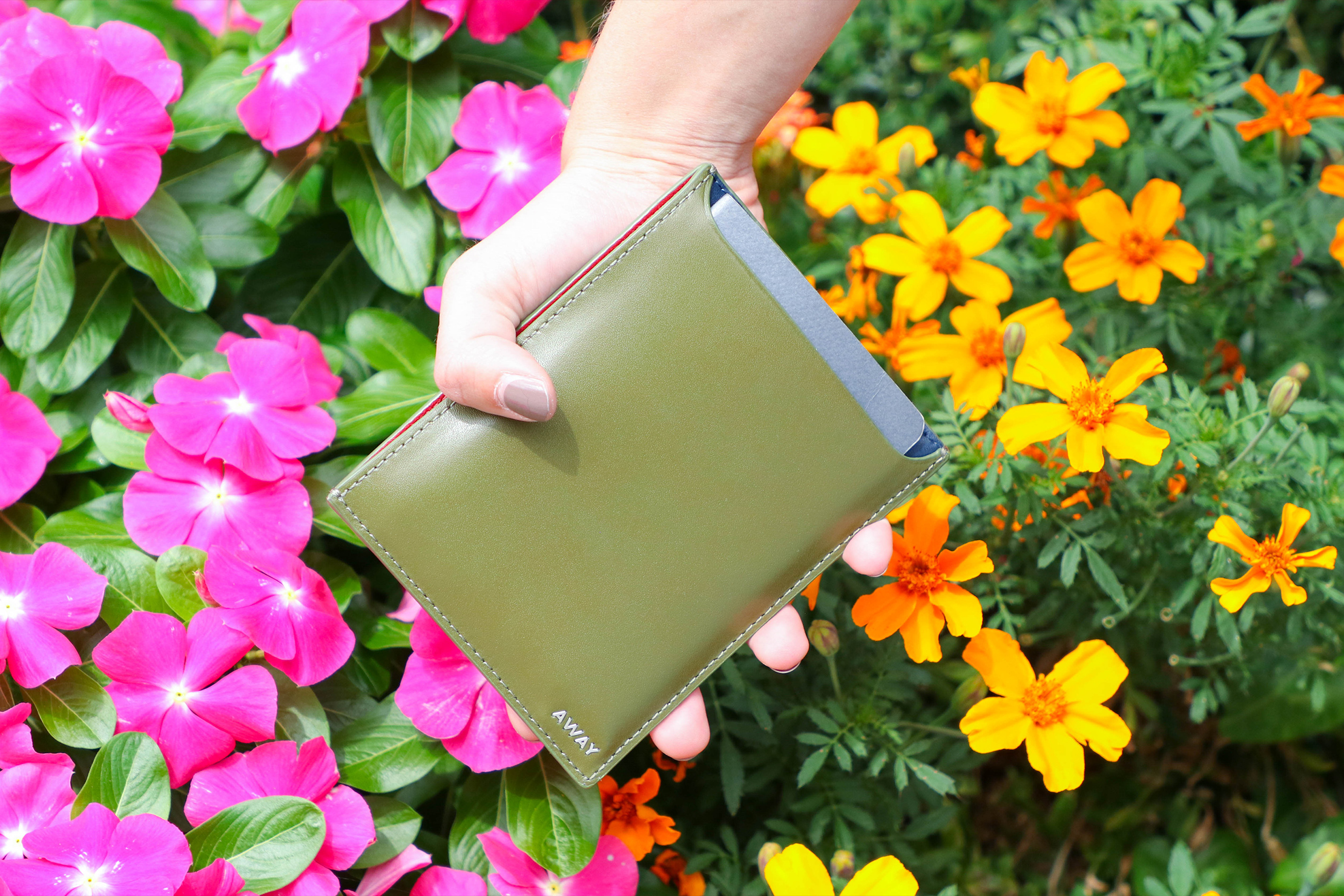 Away's Passport Holder is a simple passport wallet that can hold at least four cards, tickets, boarding passes, and cash in addition to your passport. What makes the Passport Holder unique is its complete lack of secure closure. It doesn't have any zippers, snap fasteners, VELCROs, or straps to hold things down. Yet, it manages to hold onto our important travel documents firmly.
It's an interesting approach to a passport wallet to say the least. So if that piques your interest, let's dive in.
Materials & Aesthetic
The Passport Holder's aesthetic design is as clear-cut as it can be. In a nutshell, it's a rectangular wallet with multiple layers of leather and fabric stacked on top of each other. However, unlike more typical wallet designs, there are no folding parts here. This means all of those layers remain pretty solid, and you get this sort of fancy postcard vibe from it.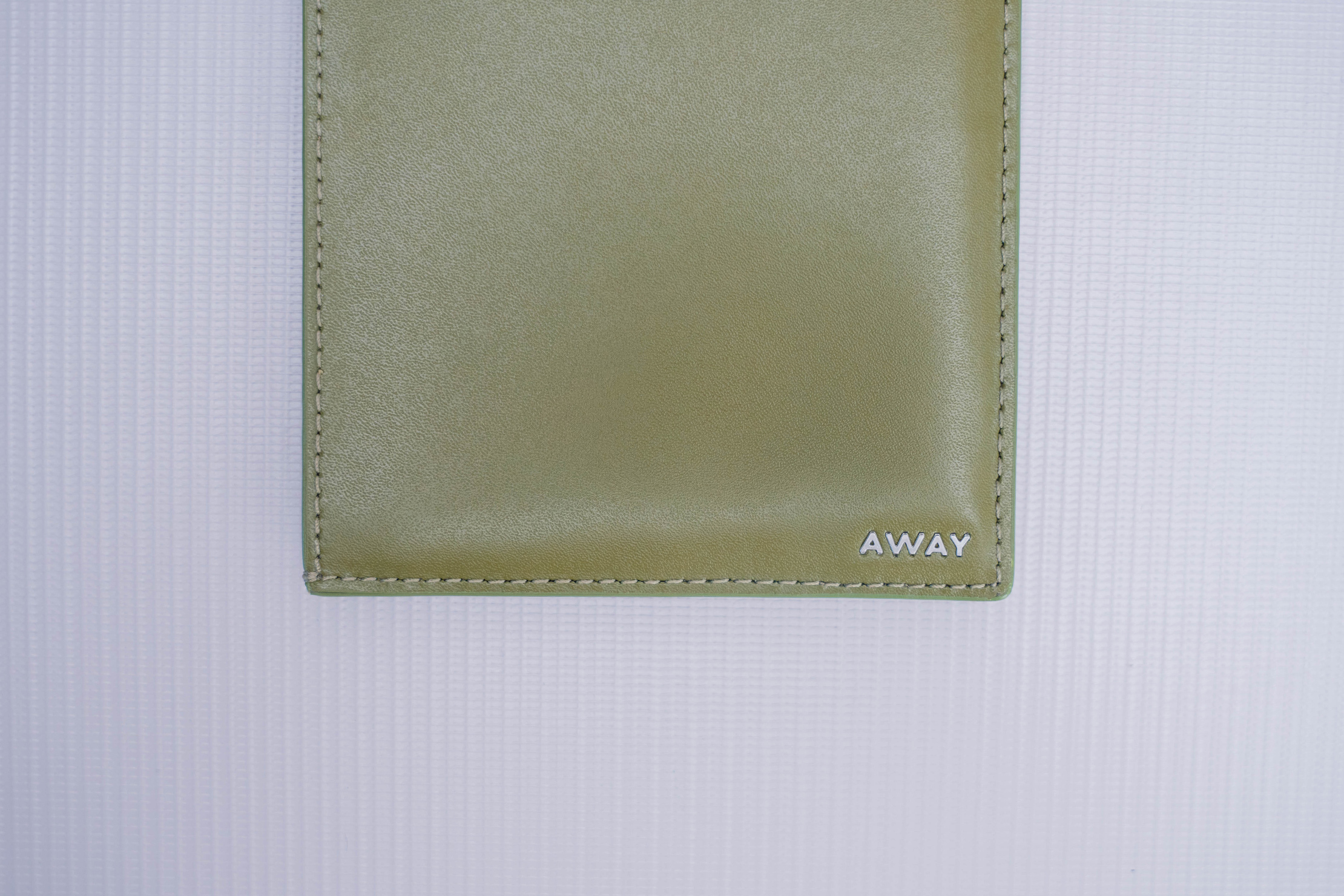 In other words, it's a rather clean and elegant design, as expected from Away. The fact that the Passport Holder has no folding parts bodes well for its leather construction. Creases and wrinkles are the primary causes of cracks on leather. Hence, why you mostly see damage on leather wallets concentrated around the edges where they fold.
This is why our sample here is looking pretty pristine even after a full month's worth of wear and tear. The only really noticeable damage is a bit of loose stitching in one corner. Even that is more of a nitpick, and we haven't seen it deteriorate past that corner either.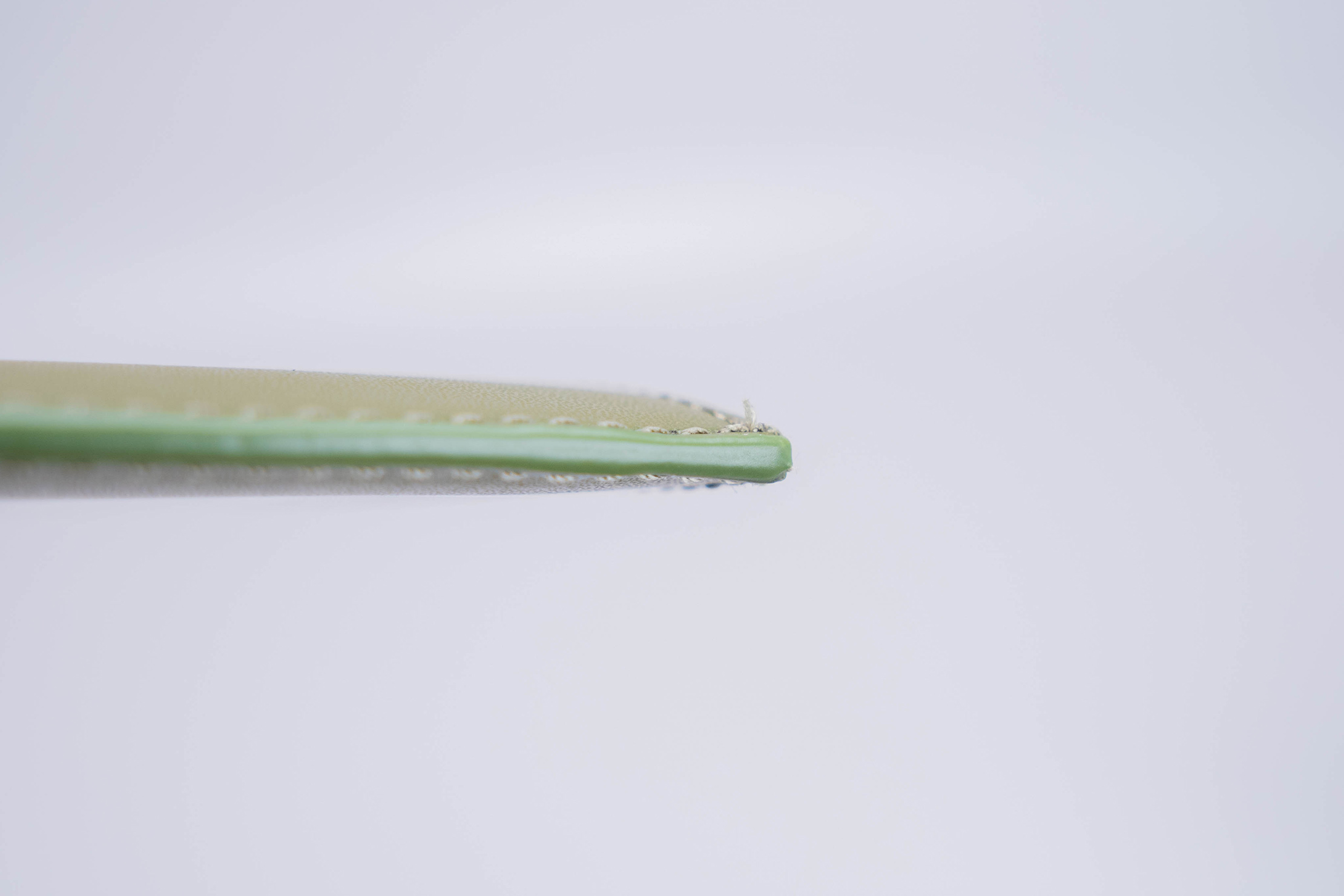 That said, the stitching does form a major part in the overall design of the Passport Holder. It goes around the edge of the wallet, and it's pretty exposed to the elements. Needless to say, as solid as the Passport Holder is, it's not exactly built for the rough and tumble of outdoor adventuring.
Usage & Features
No, the Passport Holder feels more at home tucked away in a sling or a daypack while being ferried across an airport terminal. We do have to emphasize the "tucked away" part, though, since the Passport Holder lacks any means of secure closure.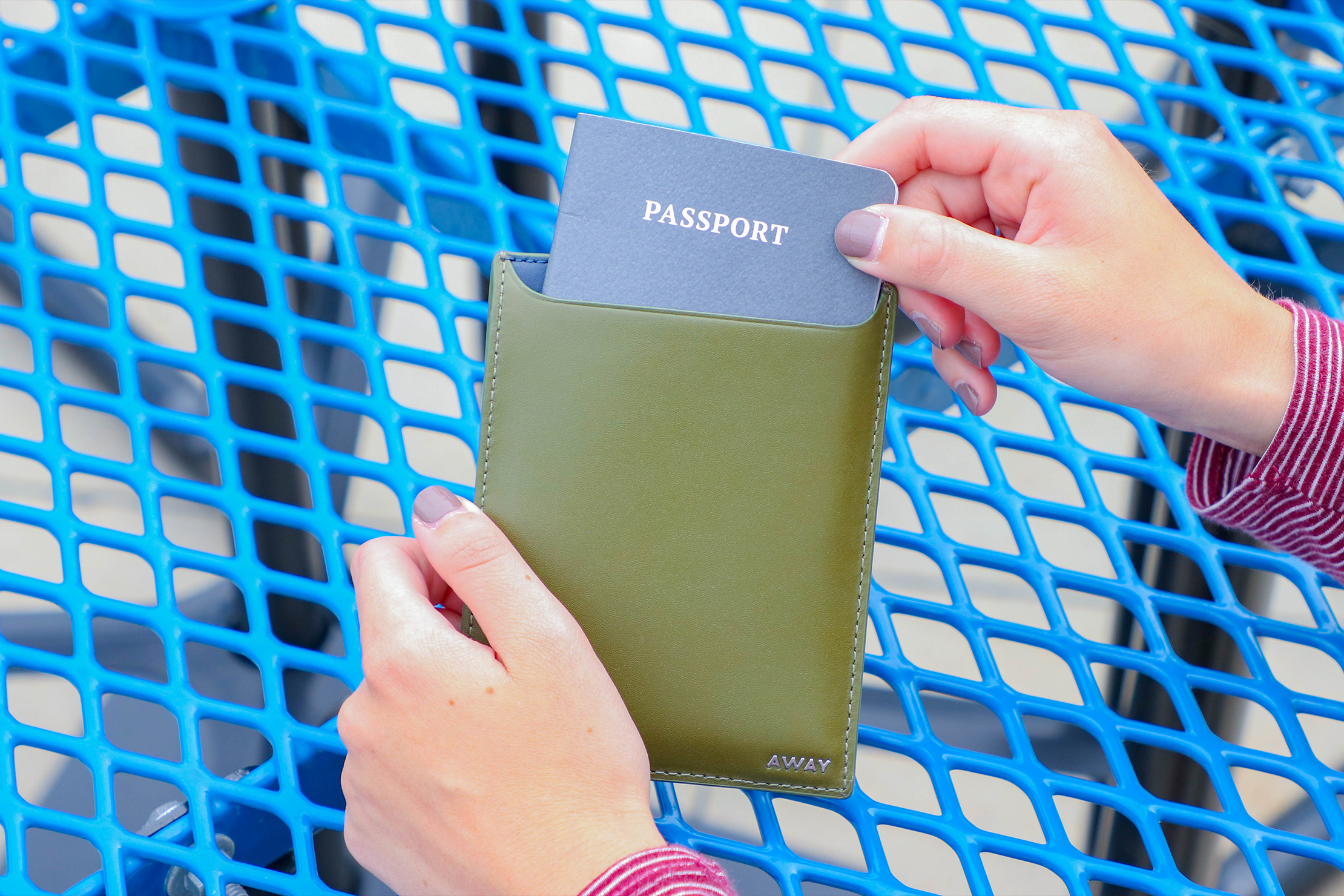 Unlike folding wallets or zippered pouches, the Passport Holder has a more open design. Its main pocket for the passport is a plain slip pocket. There's no shroud, strap, zipper, VELCRO, or tab to keep a passport in place, just sheer friction (physics majors, feel free to correct us here). That doesn't sound very reassuring, and believe us, we didn't think so either at first.
Fortunately, sheer friction seems to do the trick just fine. After a month of usage, our passport still stays firmly in place even if we shake it as hard as we can. In fact, we even tried holding the whole thing by our passport and shaking, and the Passport Holder still wouldn't relinquish its firm grip. We'll chalk that up to the Passport Holder's excellent fit and finish. But what about the other pockets?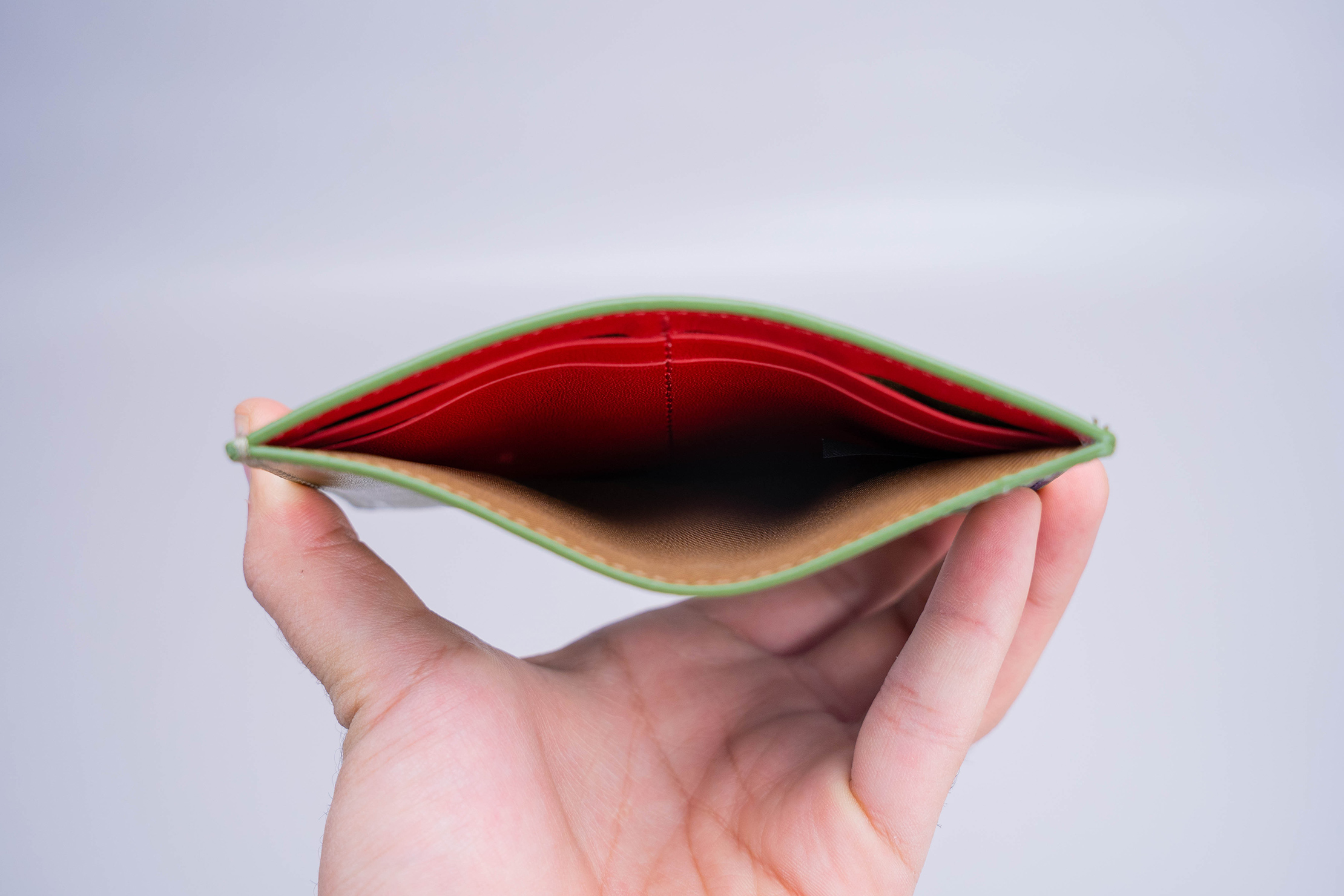 As with our passport, cards are held by four card-sized slip pockets located within the Passport Holder itself. The opening is on the left side, and as you might have guessed, it also doesn't feature any additional means of closure. The difference here is that since the pockets are inside, it's technically more secure than the passport slip pocket. Think of it as a typical billfold wallet that's permanently shut.
Getting past our initial hesitation with this unique wallet style took some time and effort. Once we're over it, though, it's as convenient to use as any other wallet; maybe even faster since there are fewer moving parts. All of our cards slip in and out easily, but not so easily that they'd escape on their own. The same can be said for our passport. There's also enough wiggle room to double-stack cards within a given slot, though your mileage may vary depending on the thickness of your cards.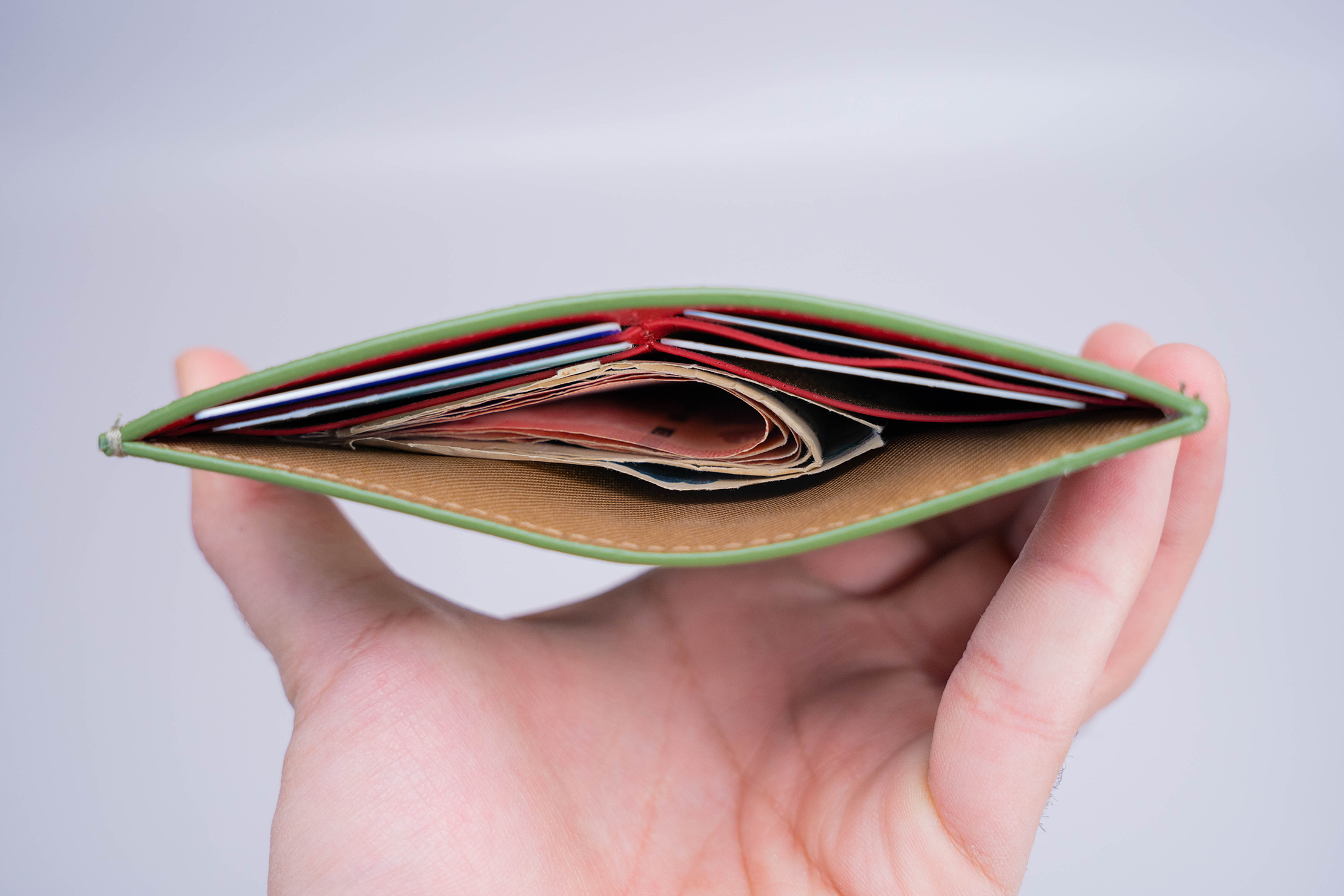 There's also enough room within the card compartment for some folded cash. However, keep in mind that width and space are somewhat limited. We have to fold our cash in half to make them fit. Really, the better-suited items to occupy that spot would be travel documents like tickets and boarding passes.
When it comes to carrying the Passport Holder, we still wouldn't carry it on its own like a standalone clutch. We just can't take the risk of something important falling out by accident. Therefore, the Passport Holder really works best as a travel documents organizer you keep inside a bigger bag.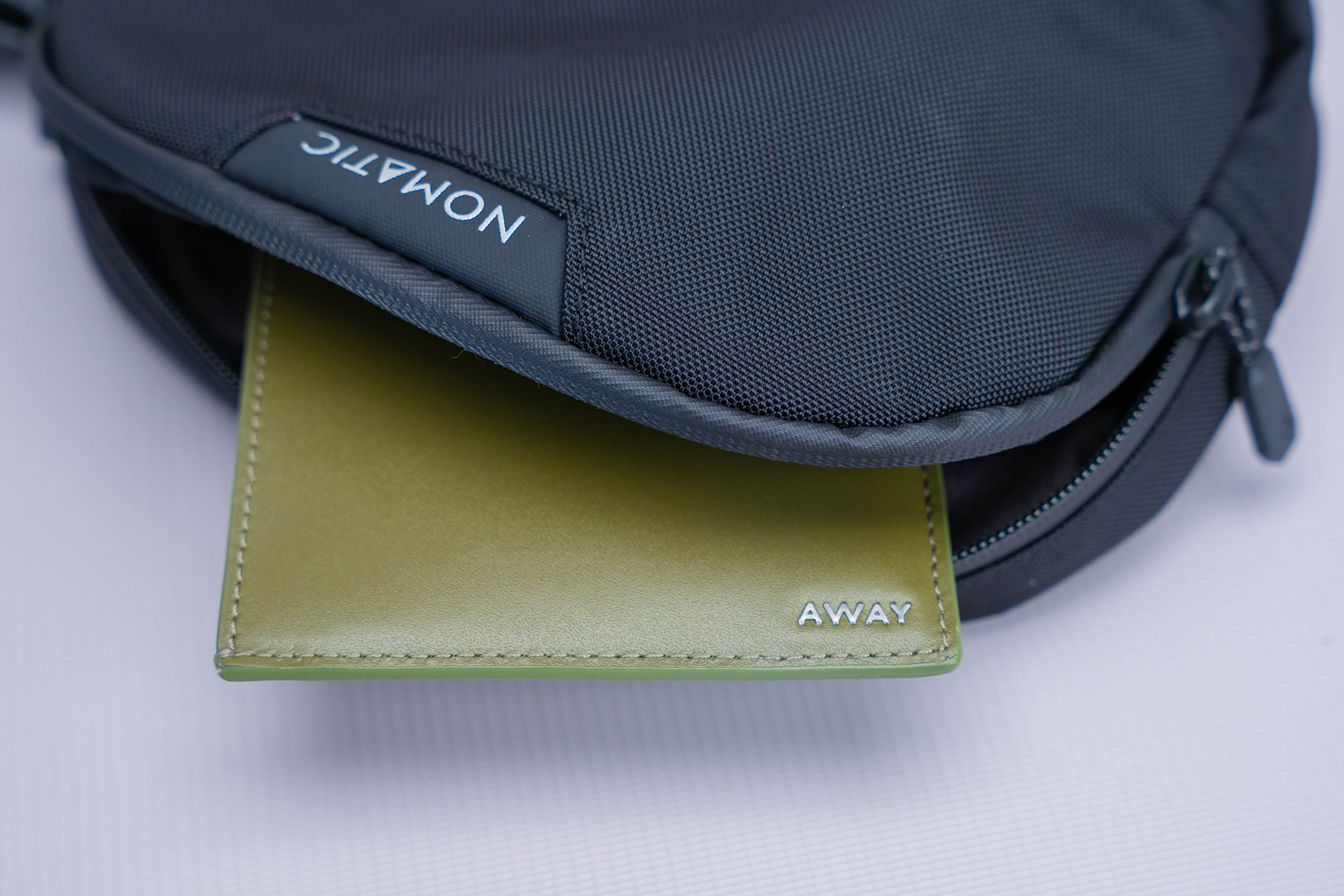 We still wish it had at least one zippered pocket for truly smaller items like keys and SIM cards. That would've upped its versatility even more and perhaps given us the confidence to carry it as a standalone clutch. On the other hand, that might just harm the Passport Holder's simple and straightforward design.
Usage Timeline
Initial Usage
Condition: Excellent
Exterior slip pocket fits a passport perfectly
Has four cards slots inside
It doesn't open like a folding wallet; more like an open-top pouch
2 Weeks of Use
Condition: Excellent
Passport slots in and out of pocket easily
Four card slots inside are secure, though the lack of a closure made us nervous
Still in like-new condition
Large inside pocket space is great for bigger documents, but the lack of a closure is less ideal for small items like keys
1 Month of Use
Condition: Excellent
Still in great condition; no obvious markings, loose threads, or discoloration
We got used to the card slots and had no issues with anything slipping out, though some extra security in the form of a zippered pocket would be nice
Access the Pro Community Discussion
Get your questions about the Away Passport Holder answered from our team and the Pro Community right here on the page. Plus, join discussions with other members about gear, guides, and more.
Other Organizers & Pouches Reviews