Fjallraven Kanken Travel Wallet Review
Keep important travel documents, credit cards, and cash in one place with the Fjallraven Kanken Travel Wallet. However, some pockets are a bit small.
Our Verdict
Unlock the Pro Summary
Save time. Get access to brief summaries of our reviews so you can browse and make decisions more efficiently.
Pros
Ample space to organize sensitive information
Designated phone pocket
Extra room for small gear
Cons
Organization pockets are small
Top of wallet caves in over time
Shape of bulky phone shows through when stored
Recent Pack Hacker Video
Technical Details
Weight (oz)

3.88 oz (110 g)

Dimensions

4.33 in x 7.48 in x 0.98 in (11 x 19 x 2.5 cm)

Notable Materials

G-1000, YKK Zippers

Warranty Information
Full Review
There's nothing quite as panic-inducing as getting in line to board a plane and realizing you can't remember where you put your boarding pass. Is it in your trusty travel backpack's quick-grab pocket? Did you shove it in your sling? Or maybe, worst of all, you dropped it while speed-walking through the terminal.
The Fjallraven Kanken Travel Wallet works to solve that problem, with the ability to store your boarding pass, passport, credit cards, and paper money in one place. If you're more of a digital boarding pass person, there's a pocket to keep your phone safe and sound as well. No matter how you travel, this wallet is a solid way to keep all of your sensitive information in one place.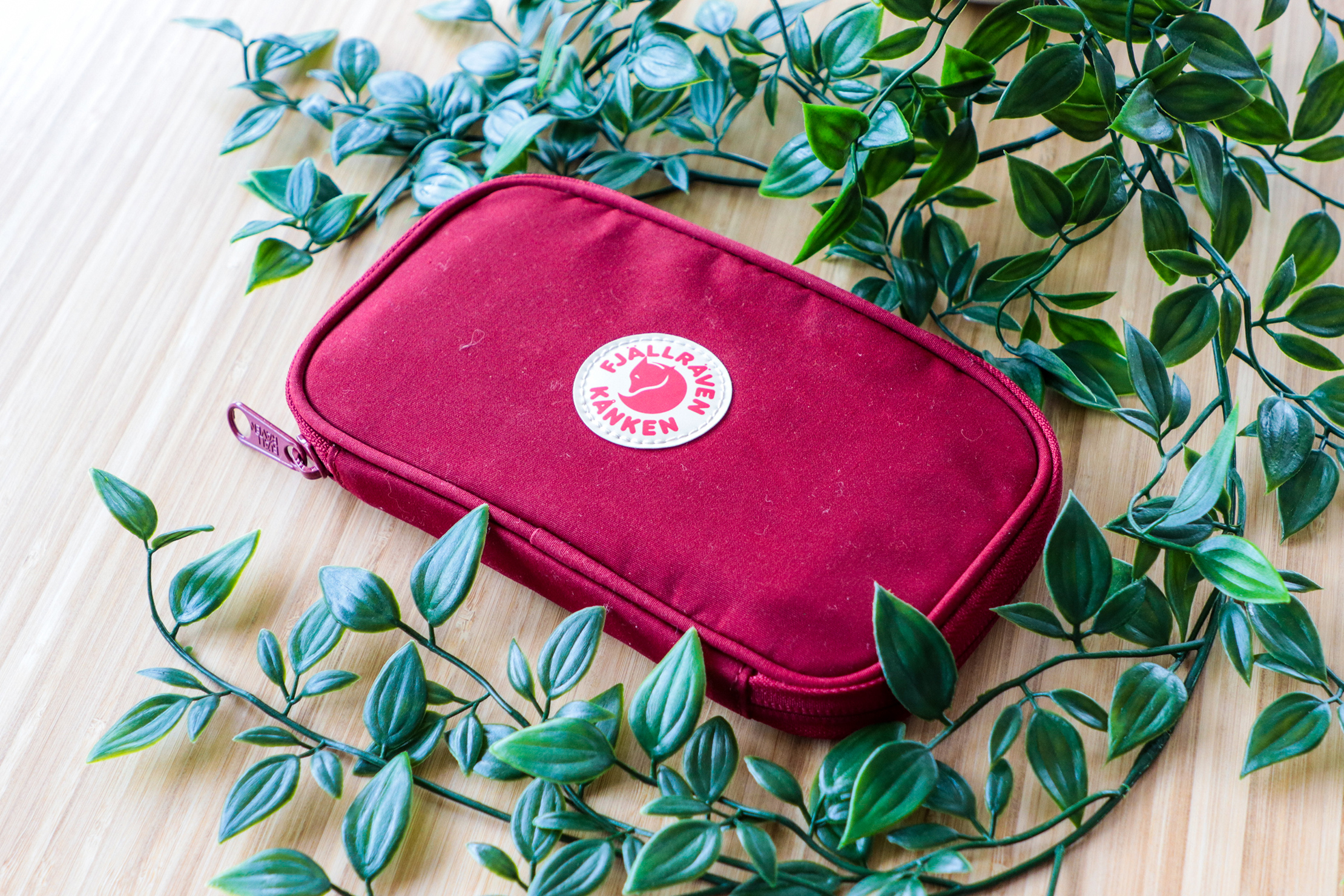 For those unfamiliar with Fjallraven, the Nordic company is known for its signature fox logo and has a reputation for creating long-lasting backpacks and outwear. The Kanken line, which includes this wallet, is one of their most popular and includes a wide range of products from packs to pencil cases.
When we got our hands on this wallet, we had expectations for a well-made product that adds a bit of flair to our travels. So, did it deliver? Read on to find out.
Materials & Aesthetic
This wallet is made with Fjallraven's G-1000 HeavyDuty Eco S material, a blend of recycled polyester and organic cotton. G-1000 is something you'll see in a lot of their packs and clothing, as it's densely woven and durable, and they often top it off their Greenland wax (like in this wallet here) to add weatherproofing. The HeavyDuty line kicks it up a notch, with extra reinforcement so that it can stand up to even more wear and tear.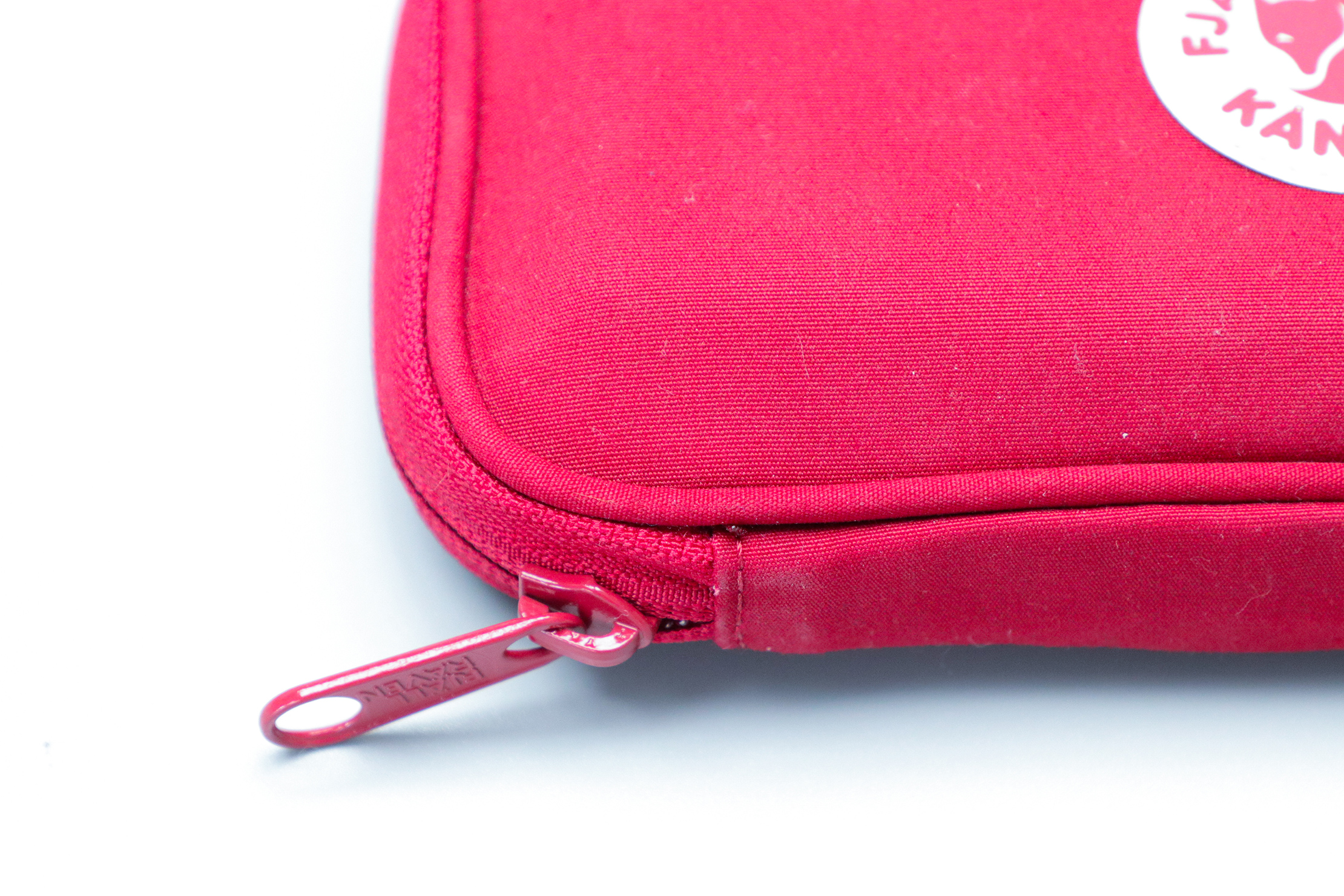 All jargon aside, this means that the wallet is designed to handle trip after trip without coming apart while you're on the road. While we only tested this specific product for two weeks, we have over a year of experience with the Fjallraven Greenland Top Backpack under our belt and can vouch for the material's durability, even if it's just in backpack form. It does pick up dust and lint pretty quickly, but it's easy to get off with a lint roller when necessary.
YKK zippers also provide comfort in the construction, as they're often a solid indicator of quality and generally don't cause us issues. The main zipper is reverse coil, which increases weatherproofing on top of the Greenland wax. Overall, longevity is not a concern of ours, though we have a few qualms with the internal design, which we'll get into in the next section.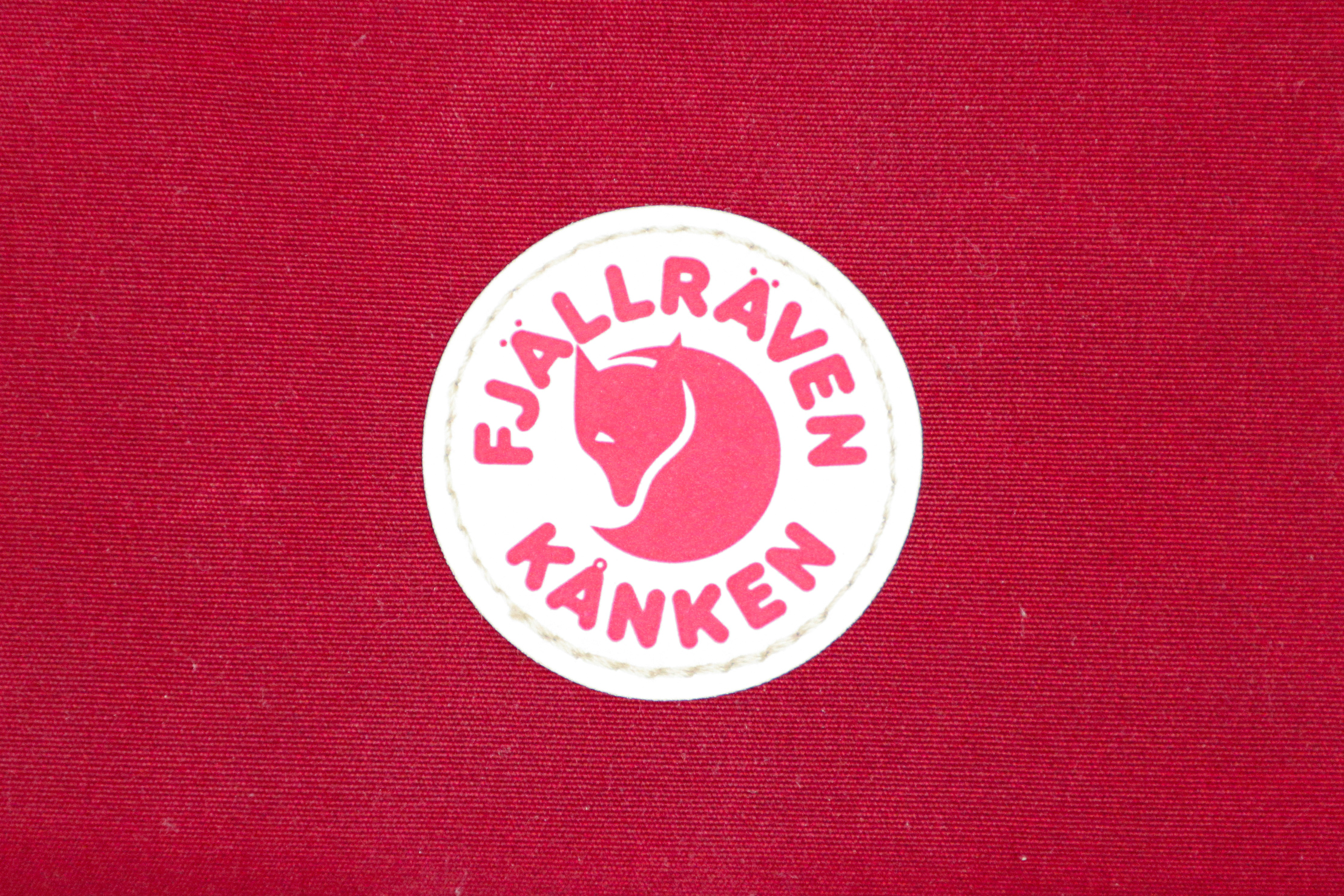 At the time of writing, the Kanken Travel Wallet comes in nine colors. The one we have here is Ox Red, but lighter colorways are available if you want something that stands out a little more. Where Fjallraven pulls back in design features they push forward in style, sometimes offering upwards of fifteen different colors to satisfy your desired level of flair.
Branding is at a minimum, only rocking a patch with the aforementioned fox logo on the front. For those who are fans of the Fjallraven aesthetic (and really cute woodland creatures) like we are, this is a welcome break in the otherwise subtle design of the wallet. But before we move on, there are two things we want to note.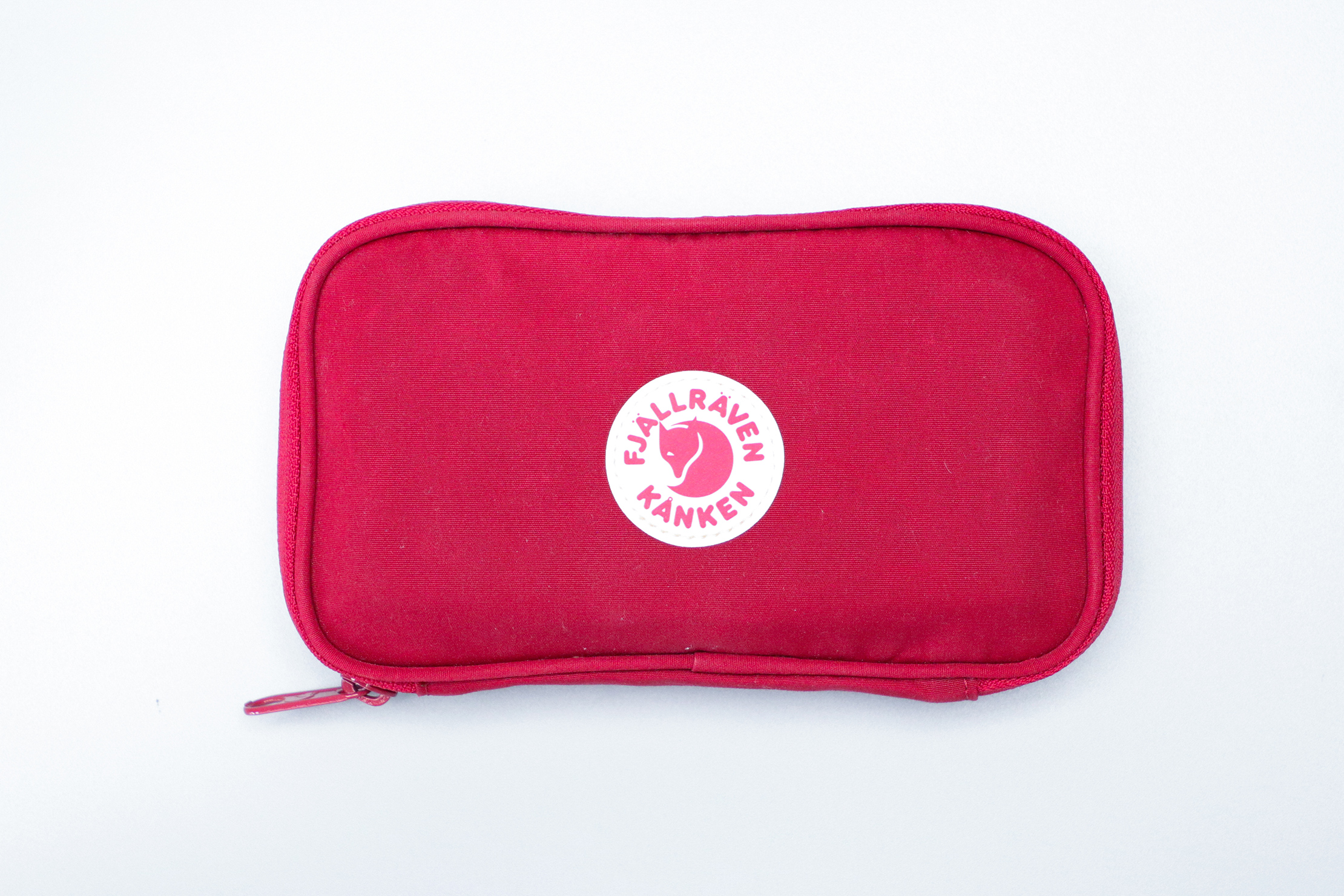 First off, the top of the wallet slowly bows in at the center where we found ourselves grabbing it most often, which is likely a result of repeated pressure from our hands. That said, even when the wallet is packed to the max, there's still an inch or so of empty space at the top, so the wallet lacks support regardless of what you put in there. This means that it may be difficult to avoid, and it does impact the profile, so that's something to keep in mind if you like your gear structured.
Second, we noticed that while different size phones easily fit inside the designated internal pocket, you can see their outline from the outside. Even with a minimal phone case, the edges poke through and show the phone's shape, as you can see in the photo above. Some of our more confident team members without a case had better luck with the phone not showing through, and while we're not all fans of risking our tech for aesthetics, it's up to you to decide if that's a dealbreaker.
In the meantime, let's open the wallet and break down its organization.
Features & Usage
This travel wallet opens with a gusseted clamshell since it's on the larger side to accommodate things like a passport and boarding pass. The clamshell makes it easy to get to everything inside on the fly while the gussets prevent it from flopping open, potentially losing your cards, cash, or personal information in the process. This also makes it comfortable to hold in one hand while you pull out whatever item you need with the other.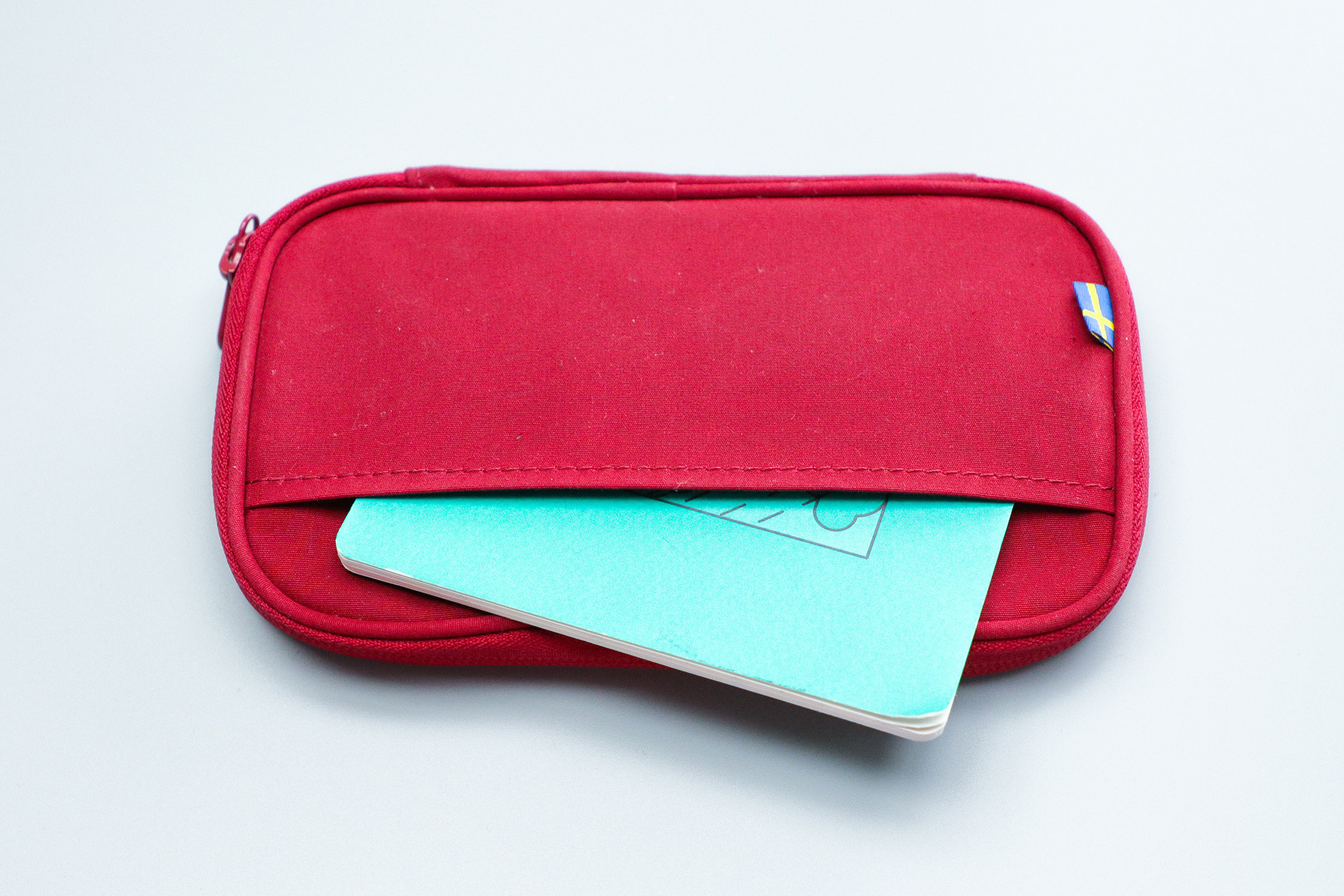 In terms of actual organization, there's quite a bit packed in here. There's an outside pocket that spans the length of the wallet and is designed to hold things you need fast access to, like a boarding pass or transit card. It's also great for holding a small notebook if you're into that sort of thing. We don't recommend keeping items with extremely sensitive information—like a passport or credit card—in this pocket, though it's great for storage in a pinch. We don't know about you, but we hate the panic of trying to shove cards or cash back in a wallet at checkout before the person behind you in line gets irritated. With this pocket, you can shove first and organize later.
But, if you want to stick to storing gear on the inside, there's lots of space to do so. On one side, there's space for four cards and a phone. On the other, there are two more card slots, a passport pocket, and a zippered pocket for loose change or rolled-up cash. Let's break this down a bit more.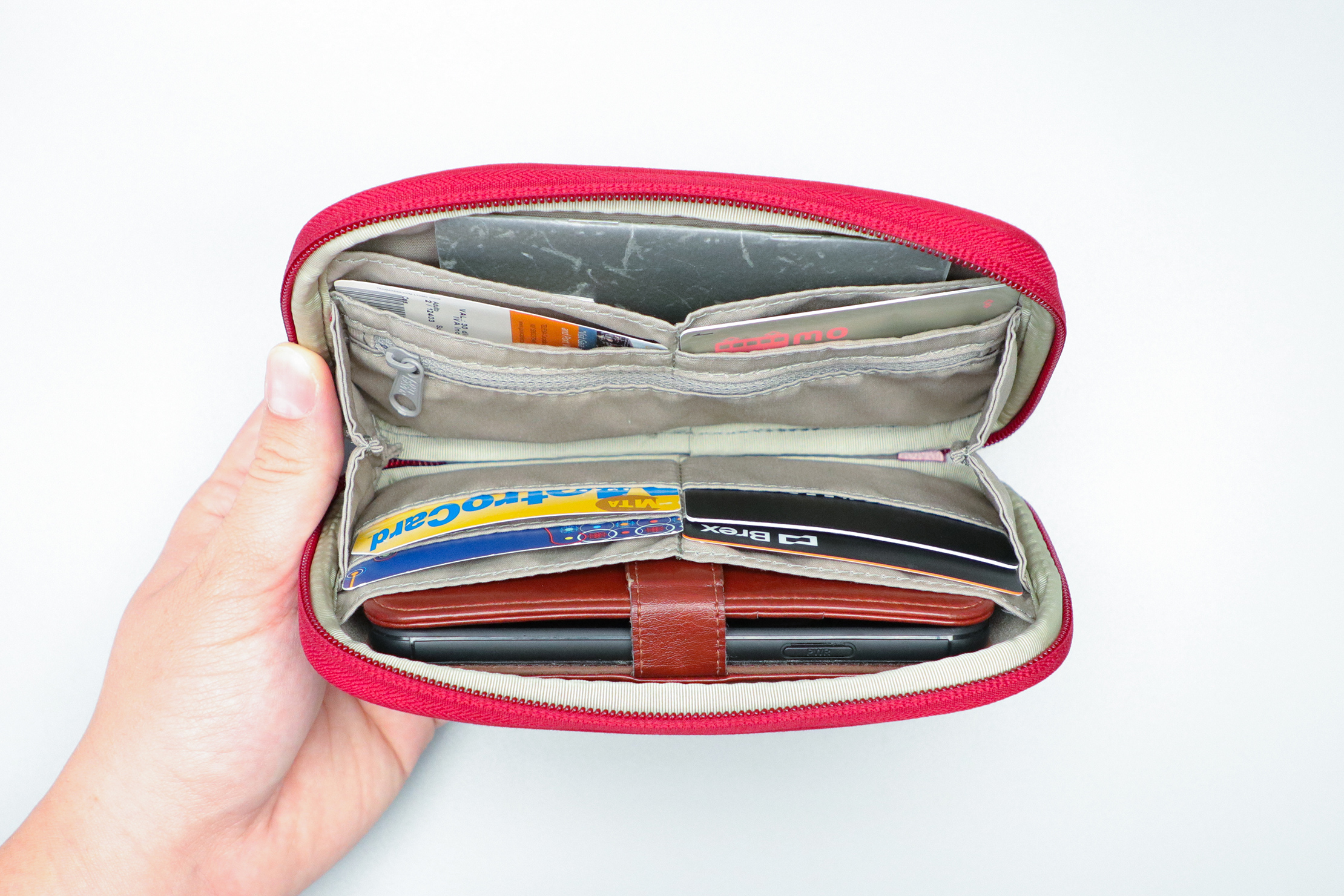 The side with four cards will hold—you guessed it—four credit cards, I.D.s, transit cards, or anything approximately that size. One thing worth noting is that the bottom row is not as deep as the one above, which results in the cards sticking out halfway. While we had no issues with our cards falling out, we weren't huge fans of the aesthetic and would have preferred some extra security. We either avoided these two pockets entirely or used them for things that wouldn't get damaged (we're looking at you, paper transit cards).
As for the uppermost pocket, this is where your phone goes. The felt lining on the back is soft on your screen, and though many people use screen protectors, we like the thoughtful touch. As mentioned above, some phones show through to the outside, so although we had no issues actually getting a phone to fit, it may impact the aesthetic.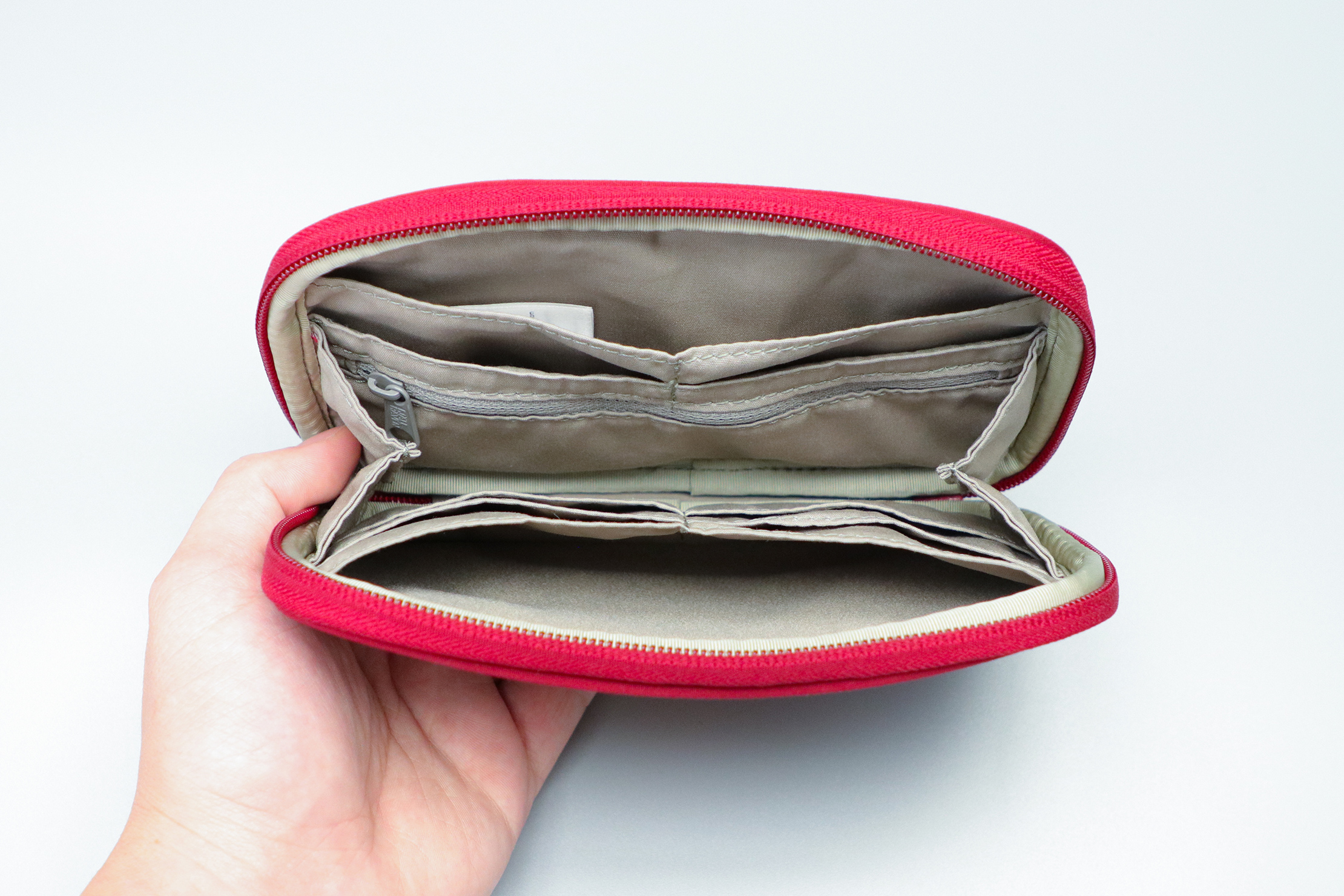 On the other side, the two card pockets fully hide whatever card you put inside, unlike the others where a bit of the card pokes out. The zippered pocket holds loose change and even a few bills if you roll or fold them up small enough. However, we found that to be a tight fit, so we mostly kept cash in the back pocket if we carried it. This one is designed to fit a passport, but it's large enough to stack two if you're carrying for more than just yourself.
Between all of the organization spots, we had more than enough space to keep our travel documents and wallet contents in one place. Even when fully packed out, there's enough space for additional gear in the center open area. There's piping along all the edges, which adds structure and helps maintain the wallet's boxy shape, so we used that extra space to our advantage. If we didn't feel like fussing with the phone pocket, we stuck it in the middle of the wallet (this also prevents the phone outline from showing externally). Or, if we wanted to use the wallet as a makeshift pouch or clutch, we could store car keys here while running errands.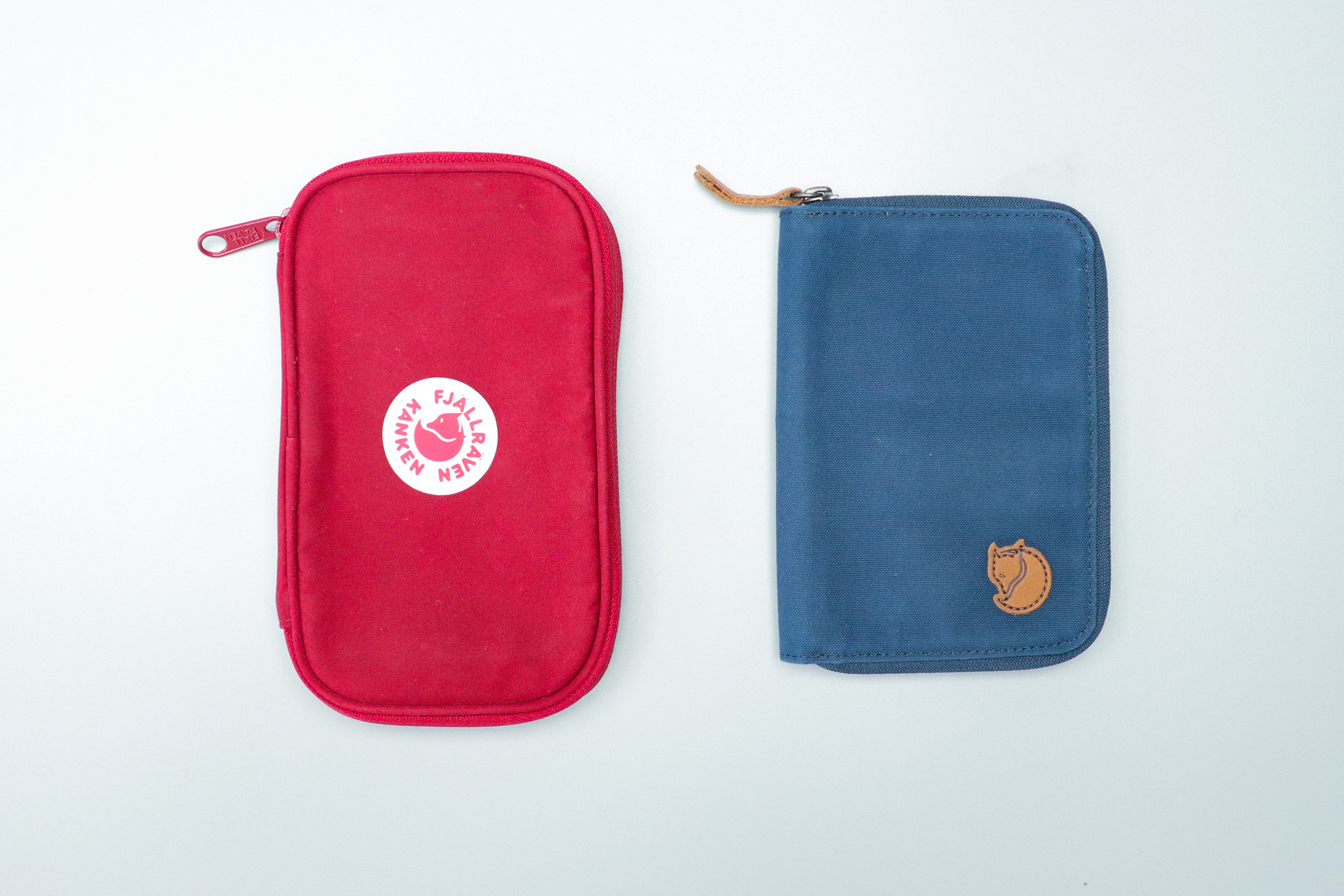 We tested a similar product by Fjallraven, the Passport Wallet, which has one less card slot and lacks a dedicated phone pocket. We found it to be a bit large at the time of testing, but it's smaller than the Kanken Travel Wallet here—at least in terms of length and width. The Travel Wallet is bulkier in general, though we can't say either is great if you're looking to keep things as minimal as possible. While we don't think you can choose wrong between them, it depends on what you need it for most and which style calls your name.
Overall, this wallet satisfied our needs and then some. The size took some getting used to, but if you're looking for maximum storage with minimal fuss, this travel wallet is a great way to keep your important items safe as you plane-hop your way across the world.
Usage Timeline
Initial Usage
Condition: Excellent
It's a wallet with pouch-like organization
Good space inside for even small accessories
Has a wide gusseted opening
2 Weeks of Use
Condition: Excellent
Material easily picks up dust and pet hair
Top of wallet buckles down even with a phone inside
Fleece-lined phone pocket prevents scratches to your screen
Inside is big enough to store one or two flat items that don't fit in the pockets
Access the Pro Community Discussion
Get your questions about the Fjallraven Kanken Travel Wallet answered from our team and the Pro Community right here on the page. Plus, join discussions with other members about gear, guides, and more.
Other Organizers & Pouches Reviews