Fjallraven Greenland Top Backpack Review
Great for outdoor enthusiasts who are looking for a casual, versatile backpack, the Fjallraven Greenland Top Backpack balances a classic style with modern functionality.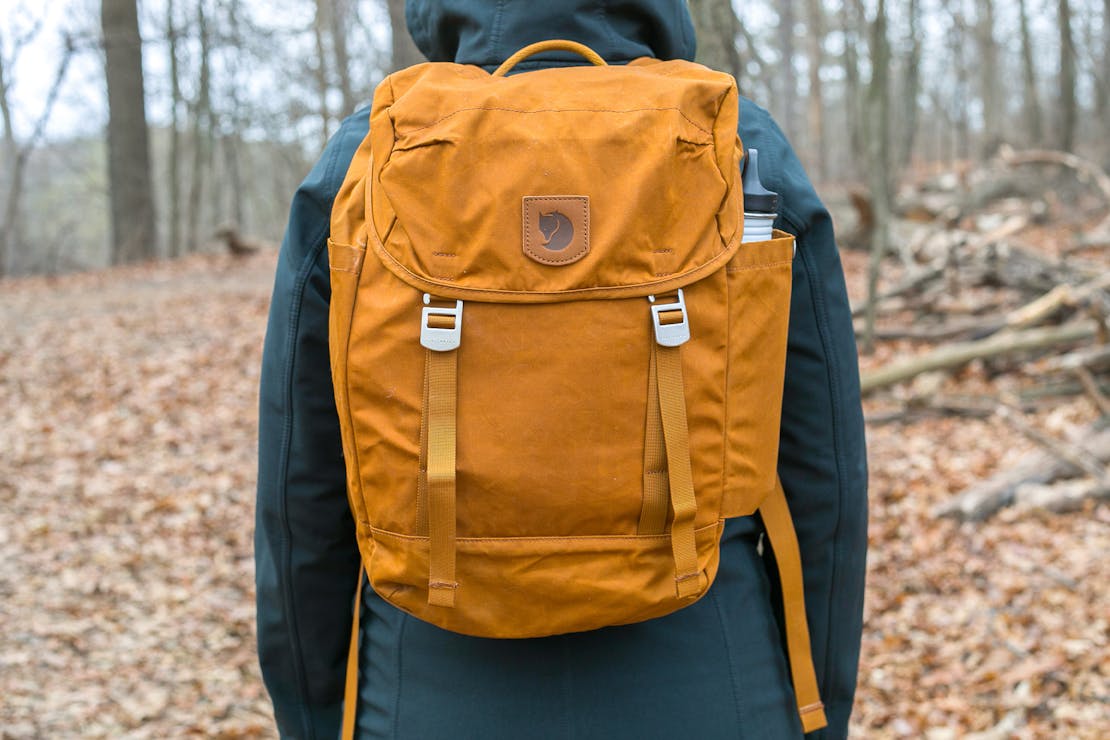 Our Verdict
Unlock the Pro Summary
Save time. Get access to brief summaries of our reviews so you can browse and make decisions more efficiently.
Pros
Compartments and pockets are hidden, adding anti-theft benefits
Versatile design is great for students and travelers alike
Durable enough for heavy daily use
Cons
Getting into the pack can be tedious
Lacks quick-access external pockets and internal organization
Water bottle pocket is tight and not flexible
Recent Pack Hacker Video
Technical Details
Capacity

20l

Weight (lb)

1.54 lb (0.7 kg)

Dimensions

16.93 in x 10.24 in x 5.9 in (43 x 26 x 15 cm)

Notable Materials

G-1000, YKK Zippers, Metal

Manufacturing Country

Vietnam

Laptop Compartment Size

15"

Warranty Information
Buying Options
$125.00
Full Review
Picture this: You're at the base of a mountain in Scandinavia and the sun has just hit its peak in the sky. The birds are chirping and an arctic fox scurries out of its burrow to find some lunch. You're marveling at the world around you when – uh oh. You definitely forgot to submit that project for work. So what do you do? You run back to town, fling open the door of the nearest café, plop down at an empty table, open your trusty Greenland Top backpack and boot up your laptop.
Why did you have your laptop on the mountain with you? The better question is, why not?
Whether you're a college student, public transit commuter, frequent trail explorer or just desperately in need of reliable car camping luggage, this is a laptop backpack that looks outdoorsy but can perform just as well in the city.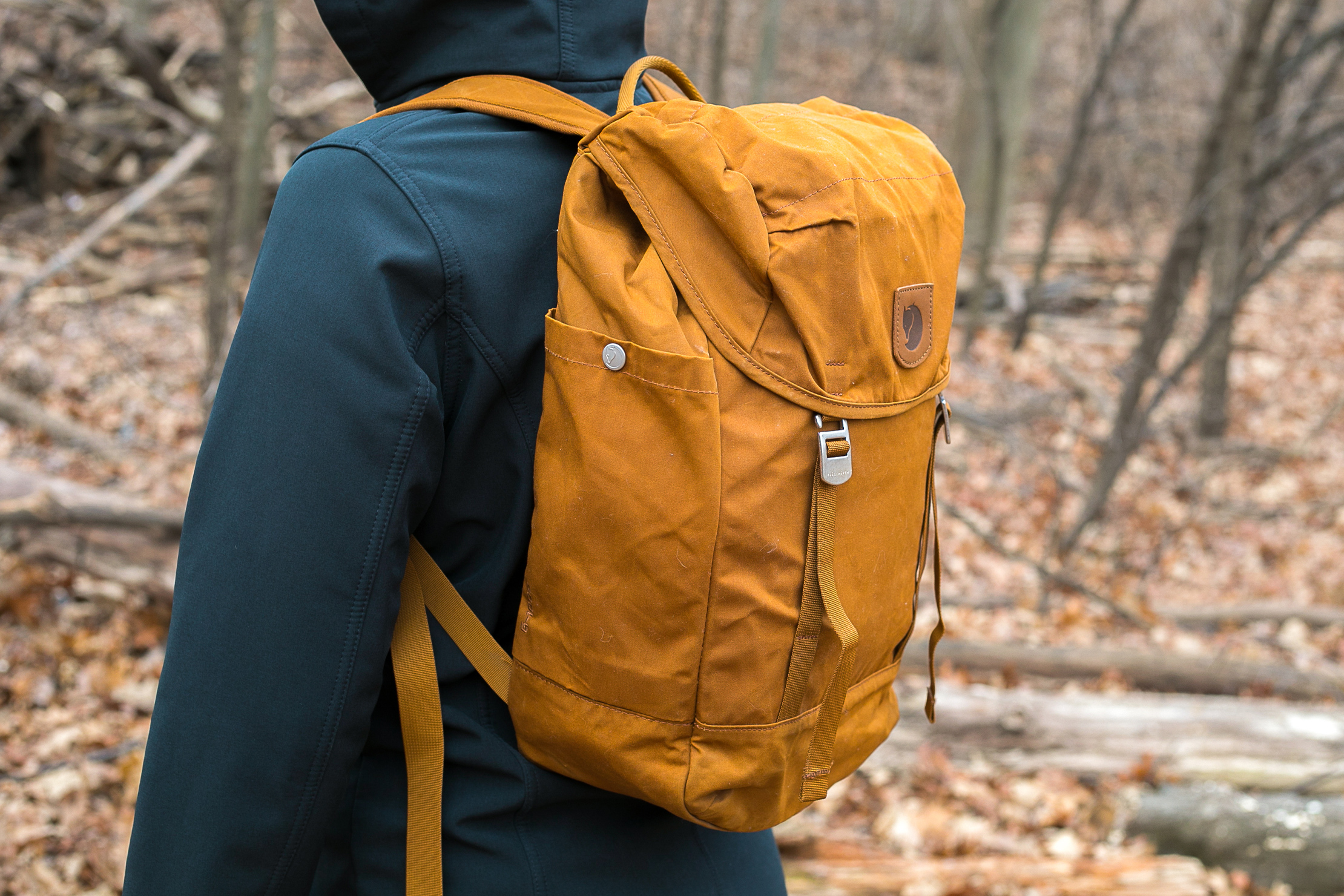 Materials & Aesthetic
Though the design is familiar, it's not something you often see in the 21st century. Packs have largely moved away from hook and buckle closures in favor of zippers, which are much easier and quicker to use. That being said, what you sacrifice in design you make up for in uniqueness. No, you may not be able to open the bag up just a crack to get to your granola bars, but you do have a secure and safe backpack that makes it hard for Joe Schmoe to get access without your knowledge, which is great for frequent travelers.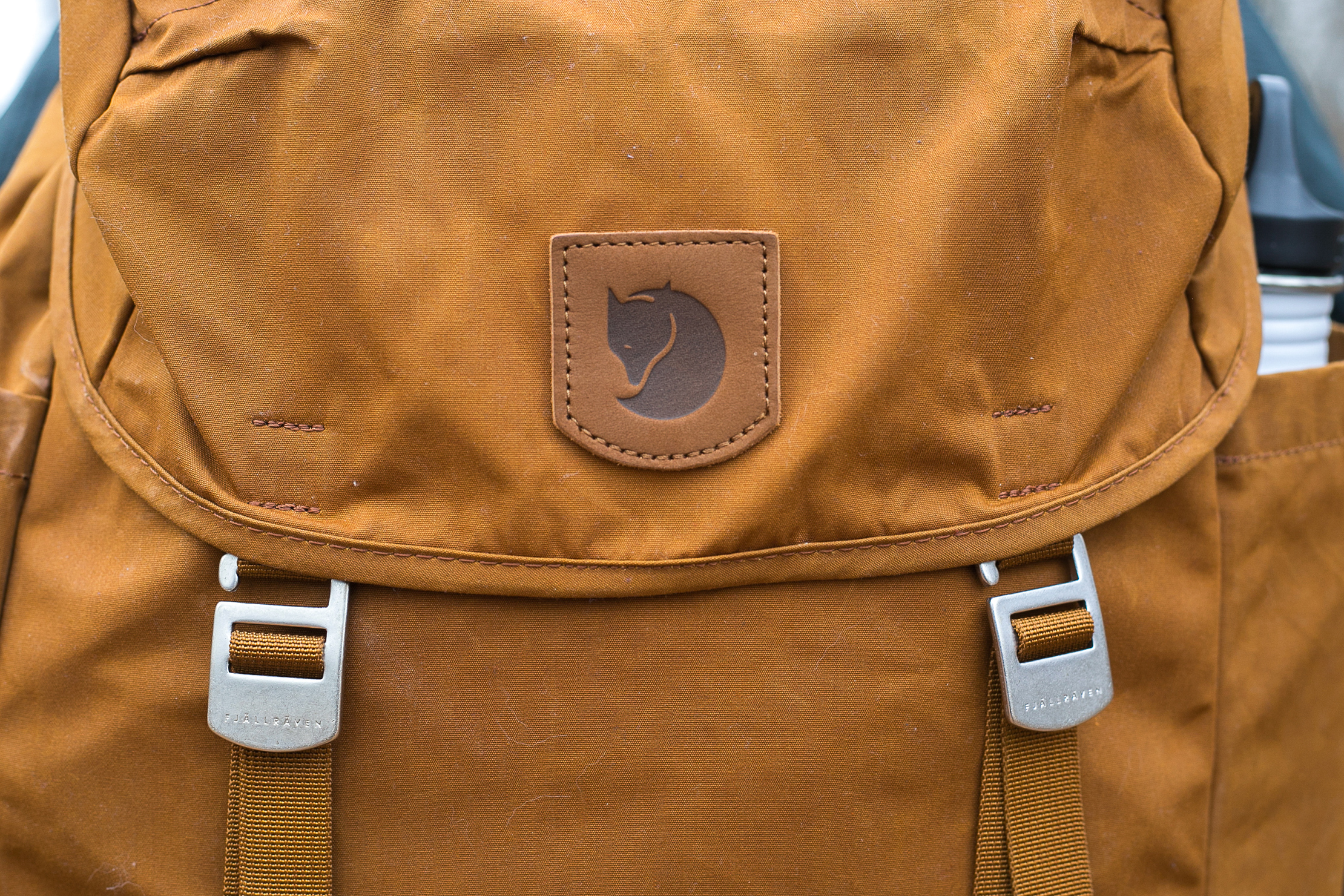 Made with G-1000 Heavy Duty Eco material that blends polyester and cotton, this backpack can stand up to a lot of activity without showing any signs of impending tears. It's ethically sourced and built to last, finding that sweet spot between buying yet another backpack and knowing it'll last you a while.
The waxed material easily bends and expands as you shove your gear inside, but it does start to look a little lumpy if you don't strategize where you're going to put your stuff. On the plus side, you can fill it to the absolute brim and still have a little room to spare. The internal cinch top can be as loose or tight as you need it to be, but either way, we had no trouble getting the lid to wiggle its way over the top and secure down tightly with the pull strings.
Its metal hook closure can be a little tedious at times, but once you get it through the loops and tighten it up, you feel pretty confident that it's not going anywhere. If some stranger tries to get access to your bag, they'll definitely be struggling enough to make a scene and draw attention before they can get any goodies out and bail.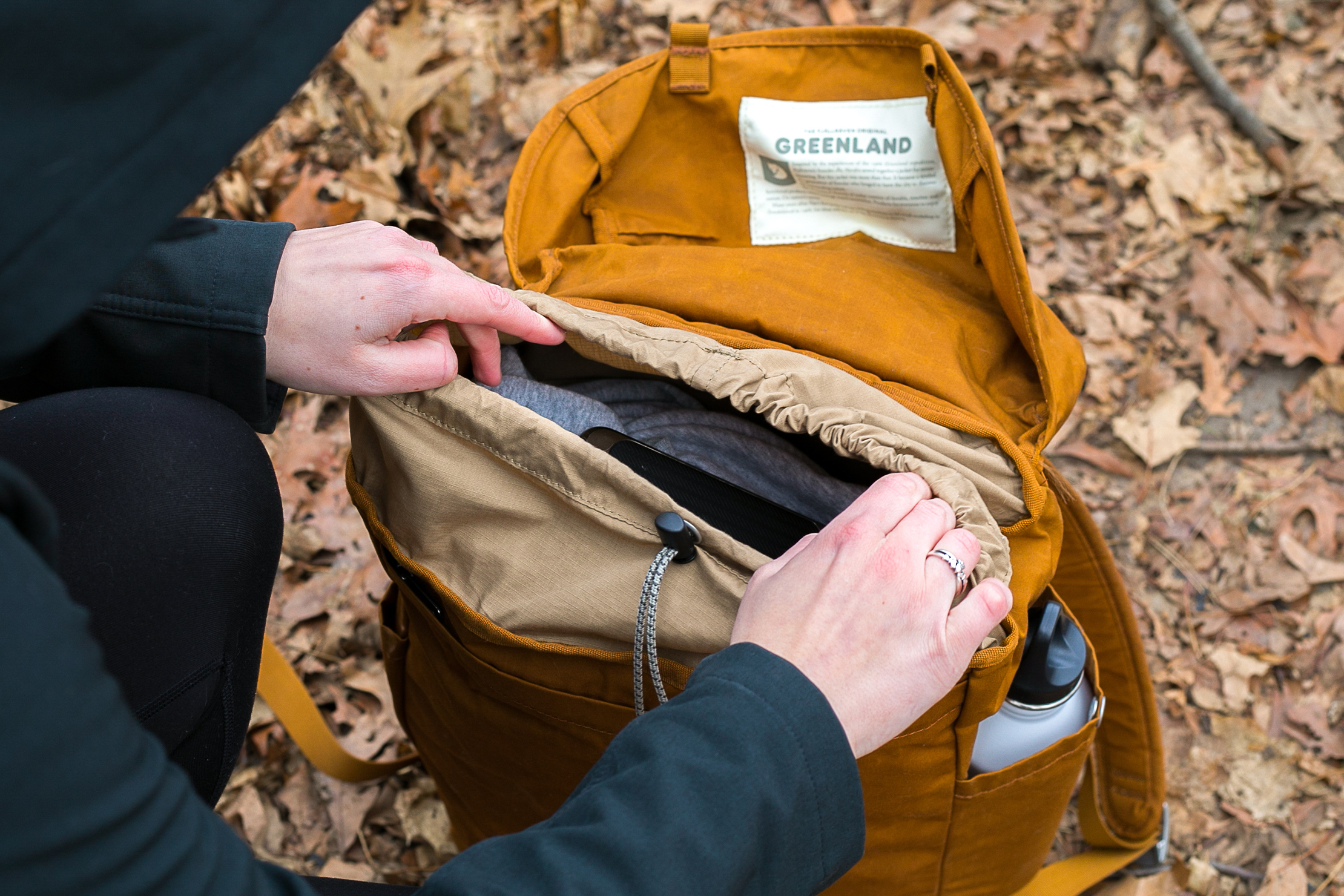 Though it's advertised as water-resistant, windproof, and quick-drying, we didn't find ourselves in any situations that warranted testing those features. Based on the durability of the material and the feel of the wax, we think it's safe to say the bag would be fine if you get caught in a sprinkle, but we wouldn't take this bad boy out in the rain if it's avoidable.
A major downside is that there's no bottom support to keep the bag's shape. It does bow out into a nice rounded bottom, but that's all depending on what you put in there. Angular items tend to stick out more when they're at the bottom of the pack or shoved into available gaps, which leaves you with one area coming out a little more than the rest. The laptop sleeve does have padding at the base to support your tech, but it isn't a significant amount and it seems more to function for holding shape rather than actually protecting the laptop.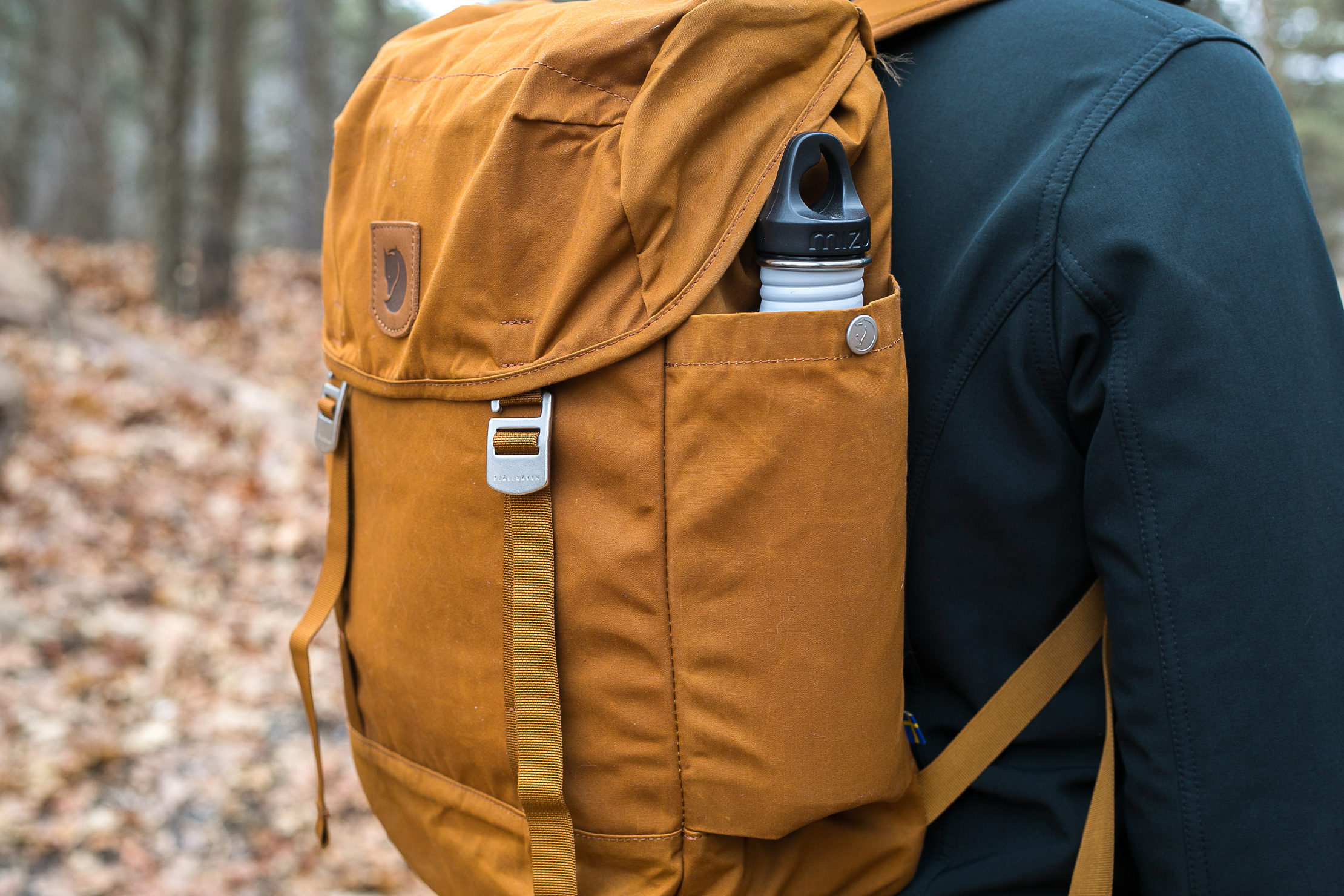 Over the course of the last two months or so, we used this backpack to lug personal items on casual camping trips, long car rides, or trips around the city. In that time, the quality of the seams and hardware did not diminish, but there's definite creasing and discoloration in the bag itself. It almost looks like it's dusty or dirty, but when you go to wipe it away you can see that it's happening where the bag is bending most.
However, for those of us who like the worn-in look of canvas and leather, this isn't really a bad thing. The bag is still in great shape, it's just losing some of the "fresh off the shelf" cosmetics.
External Components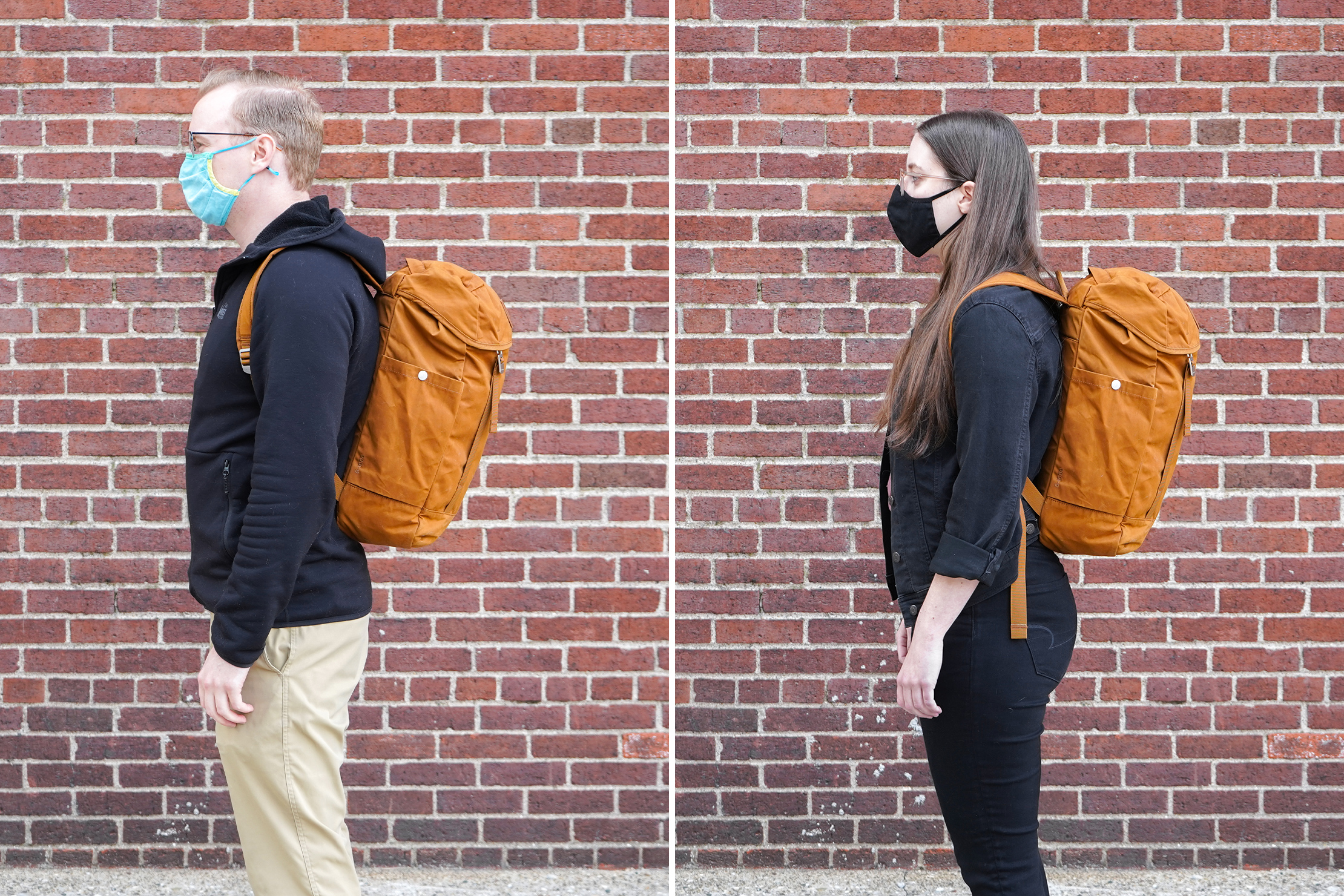 Because of its simplistic design, this isn't the pack you come to for external storage. There's a fairly hidden zippered pocket just below the mouth of the backpack that goes to the bottom seam and can hold an 8.5 x 11 sheet of paper without bending it. However, it's a thin pocket, so its best use is carrying loose documents to avoid the risk of damaging them in the main compartment. It's also a great place to put a notebook and pen if you're using this pack for school or work purposes.
There's a second pocket on the pack's lid, which is handy for carrying things you want quick access to, like chapstick or your car keys. However, if the backpack itself is pretty full, you'll be able to see a general outline of whatever bulky items are in there. You can also see a bit of the zipper pull sticking out, which isn't a huge deal but important to note if you're planning on putting important items in there while you travel. It's not an obvious pocket but it's not a secret, either.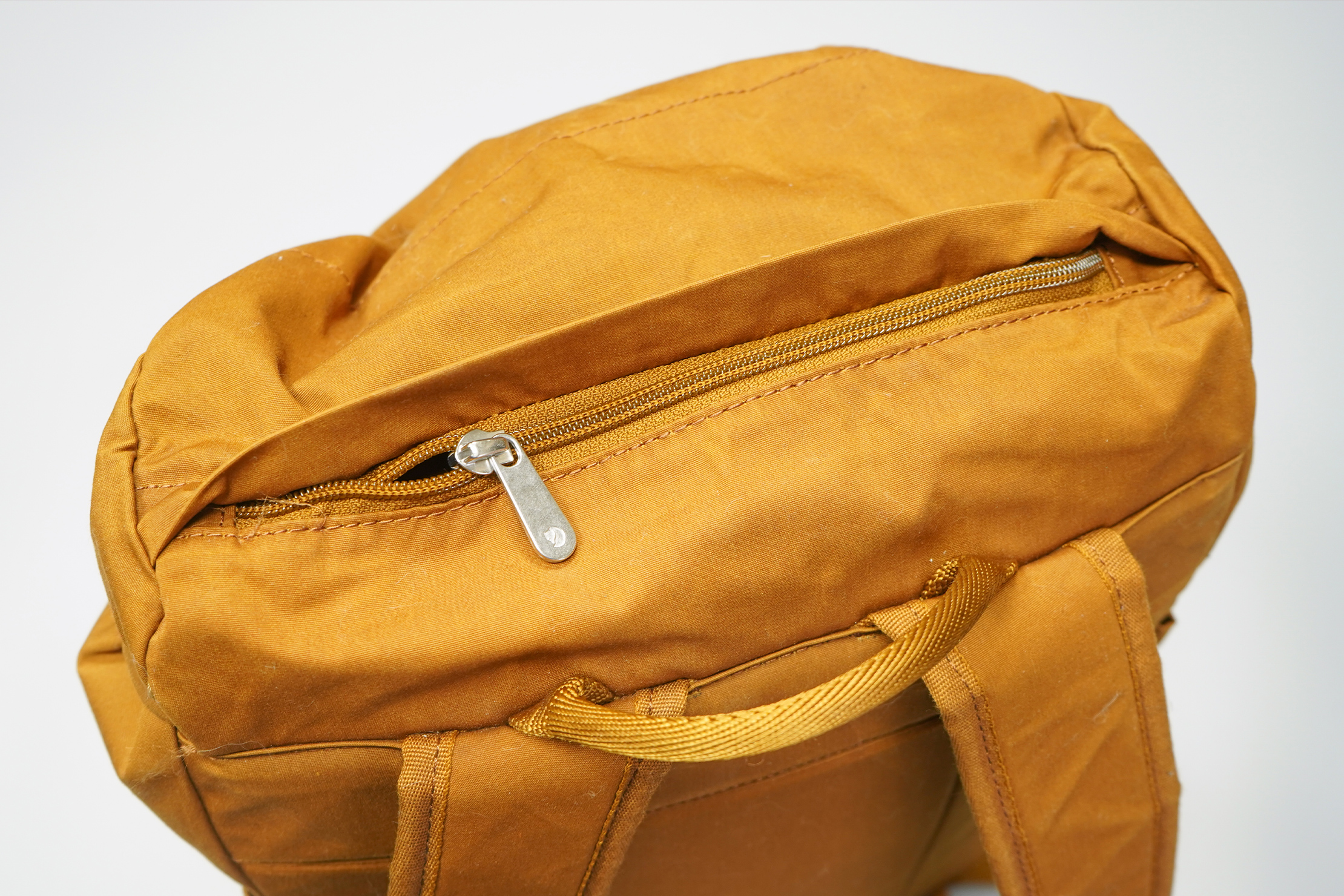 Both side pockets are deep – almost half of the entire pack's height – and can be closed using snap closures. They're designed to be water bottle pockets, but we struggled to find a water bottle that fit once the pack was already loaded. The largest we were able to comfortably fit pre-packing was a skinny 18 oz screw top bottle, but any larger or wider could be a pain. If you want it to fit as it should, you need to load around the bottle initially and then send out some good vibes when you're trying to shove it back in after taking it out for a sip or two.
We also ran into an issue where the snap closure left a large scrape in the water bottle as we pulled it out when the pack was full. The bottle has a matte enamel design over stainless steel, so we're not exactly surprised, but it's safe to say that it could scrape up other materials as well.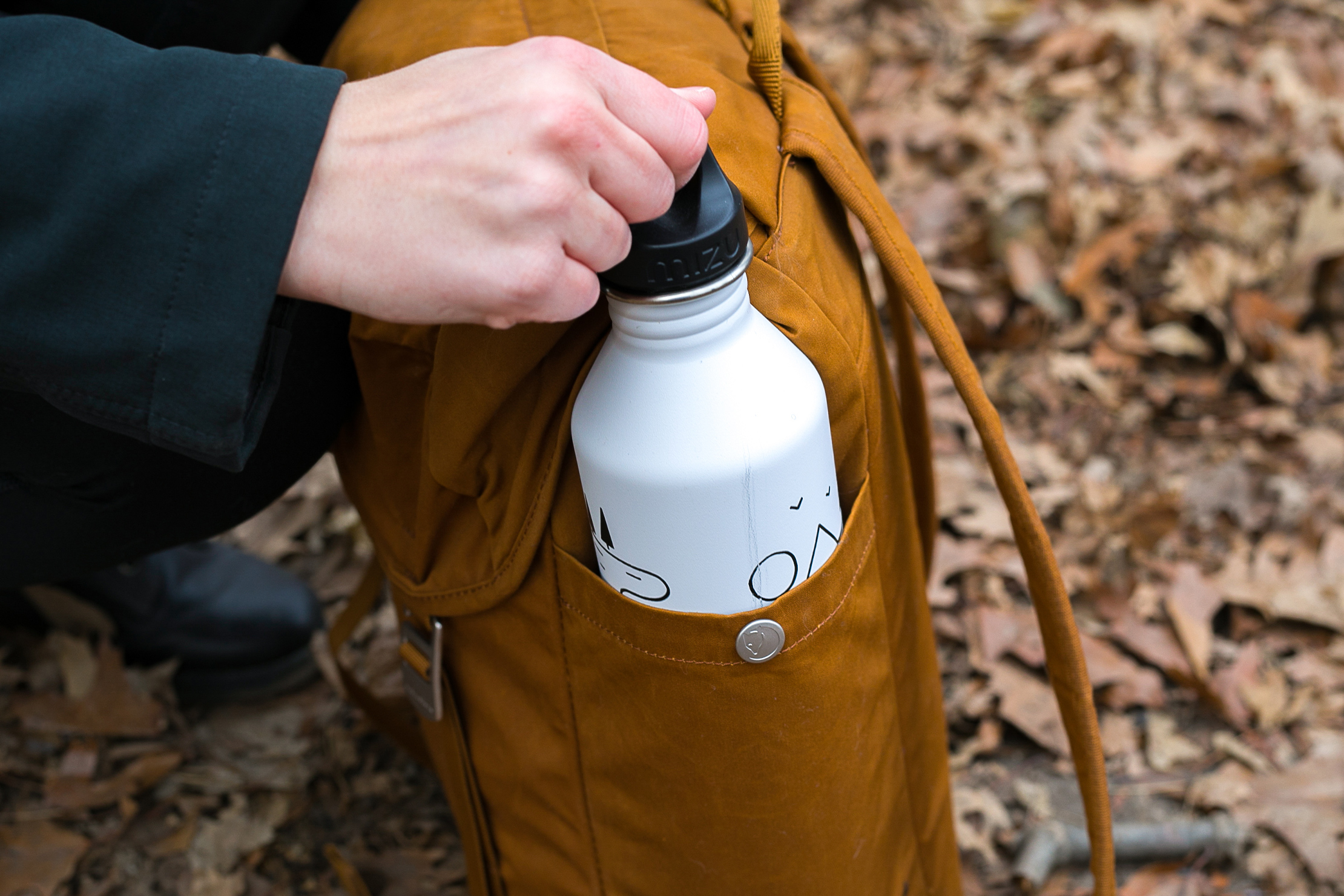 Its top carry handle is nice when you need to move the bag quickly, but it's pretty stiff and isn't comfortable to hold very long. This is the kind of feature you're happy to have when you need it but isn't a selling point either way.
The padding on the back and straps is pretty stiff and has no change in material from the rest of the bag. There's no mesh to wick away moisture, so you're not going to be riding the comfort wave on long walks if you start to sweat. You can adjust the straps on the go to help balance the weight depending on what you're doing, but this pack is ideal for leisurely activities like a casual bike through town or a walk along your favorite park trail.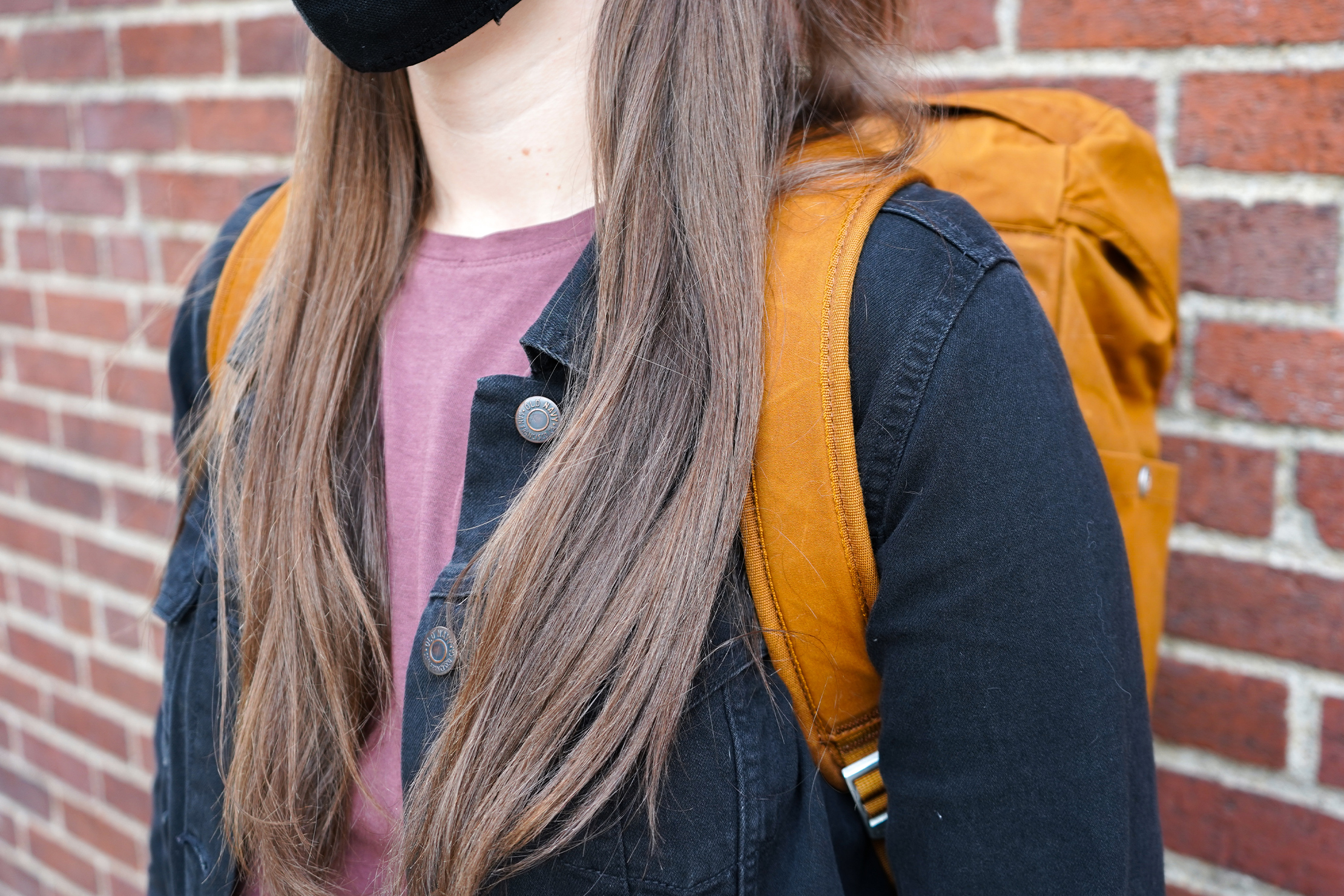 Inside The Pack
With zippered pockets on the outside, this backpack forgoes any internal organization to give you full freedom to pack as you please. There's a laptop sleeve to keep your tech safe, but otherwise you're on your own in how and where you want to store your gear. The sleeve fits up to a 15" laptop or tablet and is pretty wide so it can fit a larger range of models, from a Macbook to LG.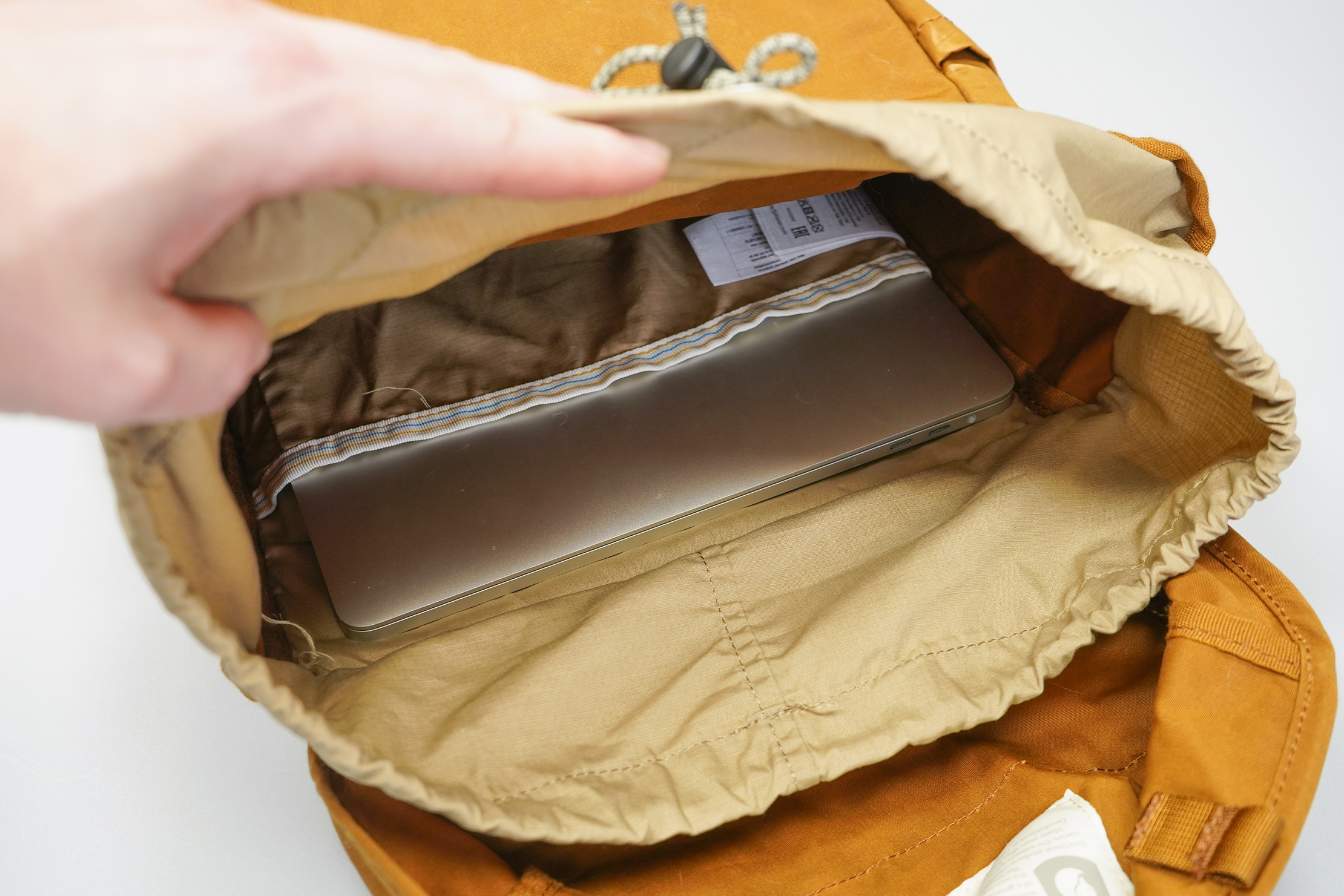 The biggest disadvantage to the Greenland Top is the lack of small item storage that doesn't outright change the shape of the bag. We found ourselves choosing between different pockets based on how full the bag was, sometimes opting for the top zipper or just sticking small things like our phone and chapstick in the side water bottle pocket. It was hard to keep consistency for those of us who often go, "Wait, where did I put that?"
Though it seems like Fjallraven traded function for form in key areas like storage and support, this backpack is still a fun bag to have for days around town when we know we'll just be out for a short while or when we're looking for a secure pack that can handle a rough road or two in style.
Usage Timeline
Initial Usage
Condition: Excellent
Padding on the shoulder straps and back panel is thin but dense
Simple organization with no segmentation inside any compartments other than the laptop sleeve
Water bottle pockets button with a snap closure when not in use to keep a small profile
2 Weeks of Use
Condition: Excellent
Top-loaded design is easy to use but the combination of the cinch closure and hook-and-loop closure makes it hard to access items quickly
It's near impossible to get a water bottle in the water bottle pocket with a super full pack, and the buckles slightly damaged a metal water bottle with an enamel coating when we took it out
External zippered pockets are hard to access while the pack is on and showed the shape of items like chapstick tubes or sets of keys when the pack was full
Lack of internal organization leaves plenty of room for packing large items in like you're playing Tetris
1 Month of Use
Condition: Excellent
Shoulder straps are comfortable for short trips but not ideal on longer days or if the pack is super heavy
We find ourselves avoiding the water bottle pocket entirely because it's not worth the struggle to get it back in
The material has held up, with only minor creasing if the bag isn't packed to the brim
It's not particularly breathable, so we'd avoid this one on super hot days
2 Months of Use
Condition: Excellent
The inside of the pack looks as good as new, with no irreversible stretching from lugging a laptop around
External fabric is durable and still waxy but is beginning to show signs of use with faded coloring in areas frequently bent
It's super versatile and has powered through camping trips, hikes, and city walks alike without taking on any damage
We haven't really found a use for the external pockets, especially the zippered one on the front, because it's so thin and doesn't easily fit anything that's not flat
It holds on to pet hair unless you make an effort to lint roll it off
6 Months of Use
Condition: Excellent
Still in solid shape
Slowly collecting more crease marks, but nothing major
1 Year of Use
Condition: Excellent
Slightly lost weatherproofing, so it could probably use a refresh of the Greenland wax soon
All in all, no major issues with fabric or stitching
Access the Pro Community Discussion
Get your questions about the Fjallraven Greenland Top Backpack answered from our team and the Pro Community right here on the page. Plus, join discussions with other members about gear, guides, and more.
Other Bags & Luggage Reviews