Bellroy Slim Sleeve Review
The Bellroy Slim Sleeve makes for quick access to your most-used cards—but we've been having some minor issues with the pull-tab compartment.
Our Verdict
Unlock the Pro Summary
Save time. Get access to brief summaries of our reviews so you can browse and make decisions more efficiently.
Pros
Sleek, minimal wallet
Stores 12+ cards, while still remaining slim
High-quality, ethically-produced material
Cons
Leather on the card slots beginning to stretch
No full-size cash sleeve (have to fold cash in order for it to fit in compartment)
Tab in the pull-tab compartment can get stuck (avoidable with a gentler touch)
Recent Pack Hacker Video
Technical Details
Weight (oz)

.9 oz (25.5 g)

Dimensions

3.15 in x 3.74 in (8 x 9.5 cm)

Notable Materials

Leather

Manufacturing Country

India

Warranty Information
Full Review
If you're looking for a minimal wallet to store your cash and cards, the Bellroy Slim Sleeve is a solid choice.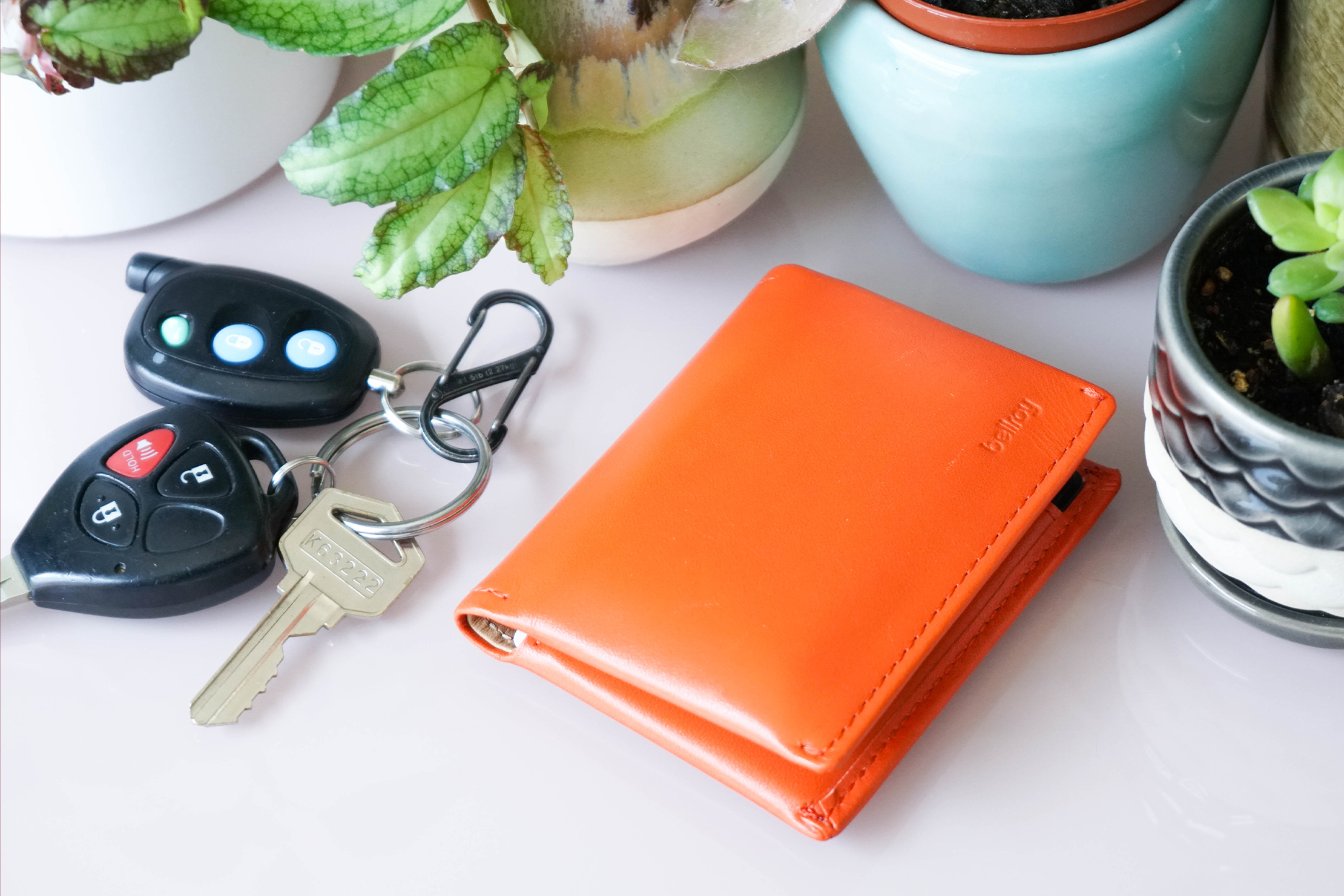 It holds and organizes your cards based on how frequently you use them—so you can get to the ones you use the most quickly and easily, and also have a handy spot for the ones you use the least. And there's a slot for cash if/when you carry it. The best part? You get all of this organization, without all of the bulk.
We've been using this wallet every day for a month now, and we're ready to share our thoughts. Let's get started.
Materials & Aesthetic
If you're familiar with Bellroy, you know that they like to incorporate high-quality leather on their products. The Slim Sleeve is no exception. And not only does the leather look good, it always comes from gold-rated Leather Working Group tanneries, so it's eco-groovy which we appreciate. Plus, it's super soft and supple to the touch—but this can also leave it a little more vulnerable to scuffs and scratches than other material.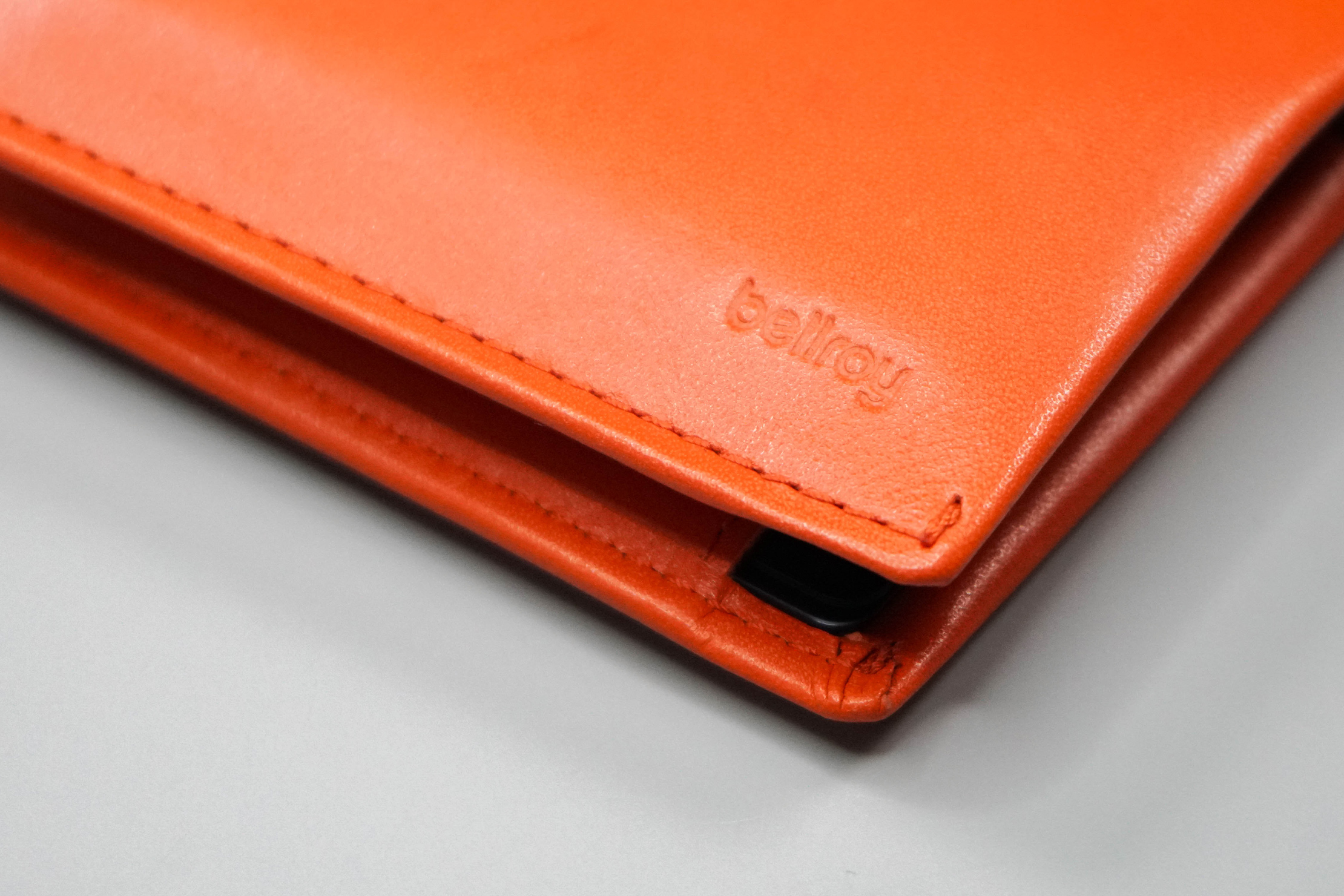 The Bellroy name appears in a couple of places on this wallet—debossed on the front, on the inner pull-tab, and even where you wouldn't think to look for it, like inside of the actual pull-tab compartment (which we think is a nice touch). This branding is subtle, and overall, this wallet has a sophisticated, minimal aesthetic—you should have no worries pulling this out in casual and professional settings alike.
If you're familiar with us here at Pack Hacker, you probably know that we usually opt for black, blue, or gray when it comes to wallets—but we decided to mix it up this time around and test with the Tangelo colorway, and we haven't regretted it. For reference, a tangelo is a mix between a tangerine and grapefruit which gives it a bright orange hue. It makes this wallet nice and vibrant. But if this just isn't your vibe, at the time of this review the Bellroy Slim Sleeve is available in 10 different colorways—so you should be able to find something that fits your aesthetic.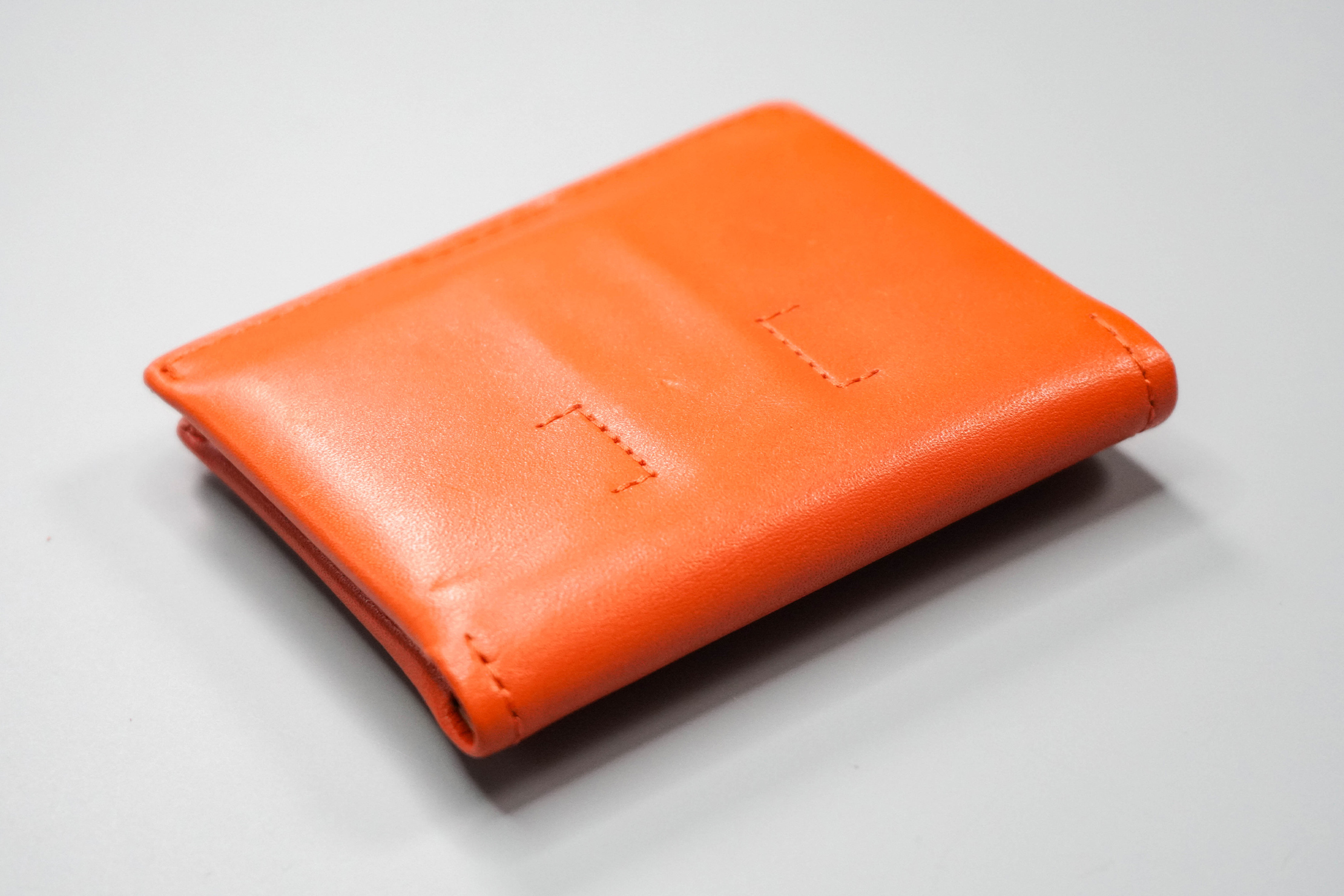 There's nice and neat stitching around the bottom perimeter of the wallet in orange thread—it blends well into the leather so it's pretty subtle. You'll also notice some bonus stitching on the back. This is what allows the pull-tab on the inside of the wallet to work, but we'll get to that in the next section.
Inside the Wallet
When you open this wallet up, you're met with four vertical compartments. Bellroy advertises that this wallet can hold 12+ cards at a time—so naturally, we've been putting it to the test. We've found that we can indeed fit at least 12 cards in here, and pretty well too—each slot can hold about three cards comfortably. That said, if you do plan on carrying 12+ cards at a time, you might get more use out of a larger, less minimal wallet that has more space.
Of course, it all depends on your preferences and what works for you. If not, then our advice is to commit the number of cards you're carrying in here, because if you're typically maxing out the wallet, the slots will stretch to accommodate the bulk. And if you suddenly start carrying less, you'll have excess space in the compartments which makes it easier for the card(s) to slip out.

We've even tested this out ourselves by shaking this wallet around with different amounts of cards. With the Slim Sleeve, we've found that when we've got multiple cards in the vertical quick-access slots, they stay fairly secure (and we really rattled them around). If we only have one in each slot, they tend to slip out after a few shakes.
We've also been curious how the shape of the slots factors in, so for reference, we've also been shaking up the Bellroy Zip Wallet (while unzipped, duh)—this wallet has horizontal slots that have also begun to stretch, and we've found that even when we're only using one card in each slot, they all stay nestled inside no problem.
Essentially, the take away from our testing has been that again, the more continuity you have with packing your cards, the more secure they'll be in the long run—and that (at least in this case) horizontal slots keep your cards more secure than vertical ones.
And as for when it's empty, this wallet weighs less than a full ounce. So unless your cards are made with cement, they're not going to add much weight either. Which means this wallet won't feel heavy in your pocket, even when completely filled.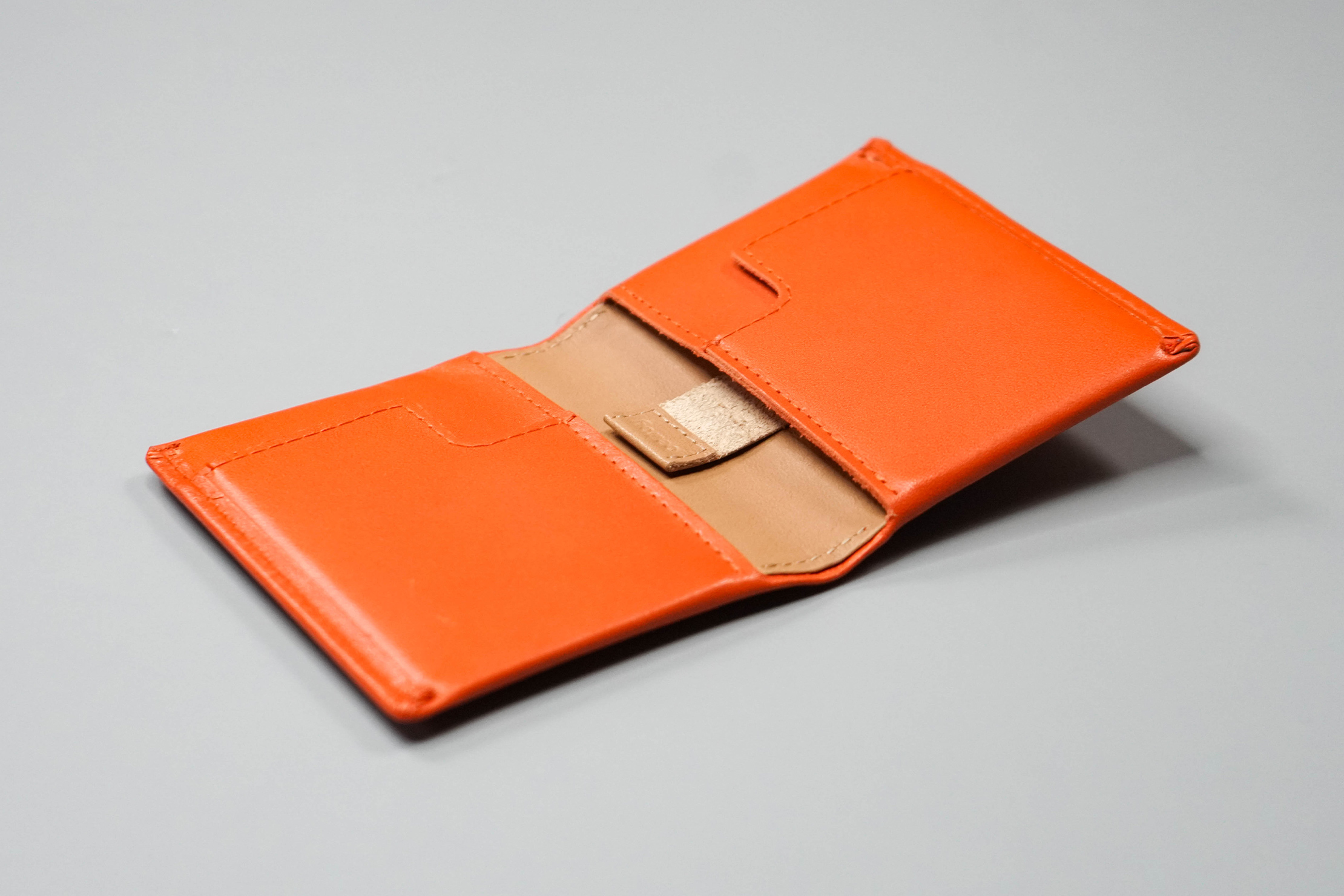 The two front-facing slots are great for your most frequently used cards. The tops of the slots drop down on one side, creating a rectangular-shaped opening that's about the size of your thumb—this allows you to slide the cards out one-handed with ease. This handy design detail is one we see often from Bellroy, and we've enjoyed using it on the Slim Sleeve. Of course, you can always opt to pull your cards out the standard way, too.
Tucked behind one of the quick-access card slots, is a compartment designed for your more infrequently used cards. There's a nifty little tab that when tugged, pulls the cards out nicely from the pocket while also slightly (and we mean slightly) fanning them out, which allows you to grab whichever one you need. And that exterior stitching we mentioned earlier is what anchors the loop inside the compartment that secures the pull-tab.
Once you've got the card you're looking for, the pull-tab glides the rest back in. This pull-tab doesn't have any elastic like you might see in other wallets—it appears to be just a piece of leather—so it's not very stretchy. Still, it goes back in easily enough.
In fact, we ran into an issue with the pull-tab going too far in, with pushing the cards in with a little too much force after that exciting ice cream transaction—so we recommend sliding them in gently to avoid this. This isn't a deal-breaker for us by any means, but you might not want to have to exercise caution with something as simple as pulling a card in and out of a slot. That may be enough to turn you off of a wallet, which is why we feel it's something to note.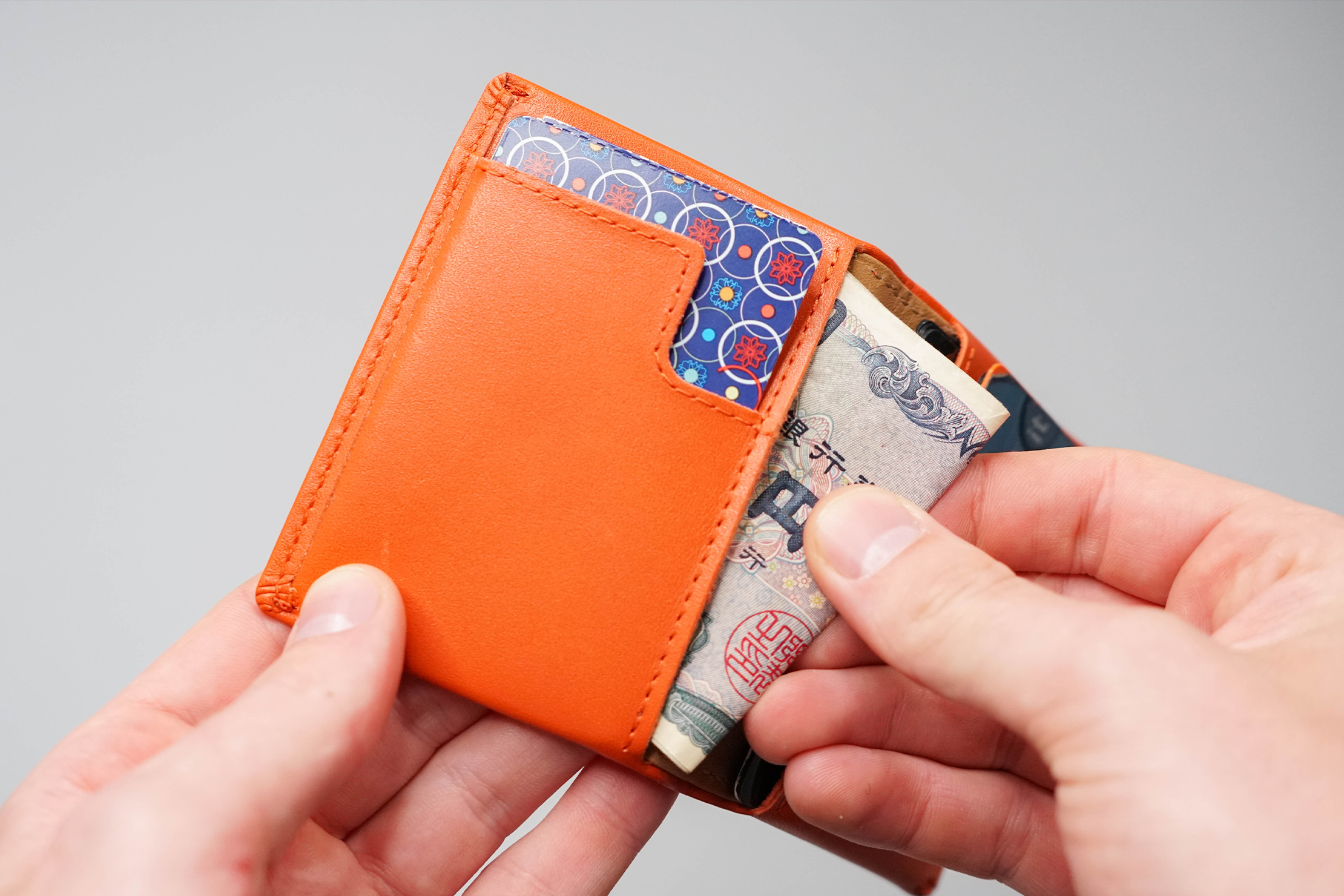 The Bellroy Slim Sleeve doesn't have a full-size cash sleeve (which might also be a deal-breaker for you when it comes to wallets) but there is a spot to store cash. It's a compartment on the left side that's essentially the same as the extra cards compartment on the right, just without a pull-tab.
It fits USD nicely when folded in half. If you're traveling with larger currency or live outside of the US, you may need to fold it into thirds to get money inside. This will bulk up the wallet a little bit. It's nothing crazy, but we prefer the slimmer look with a half-fold since it works for our purposes. And if you're not carrying paper money, feel free to slip some more cards or an ID in here.
Now, if you're someone who likes or needs to keep some change on them, there's not really any place for it in here. If that's a must for you, you may want to check out the Bellroy Hide & Seek RFID Wallet. The Slim Sleeve's build and design cater more to cards than anything else, so if that's mostly what you're using (in addition to a small amount of cash), then you're probably not missing out.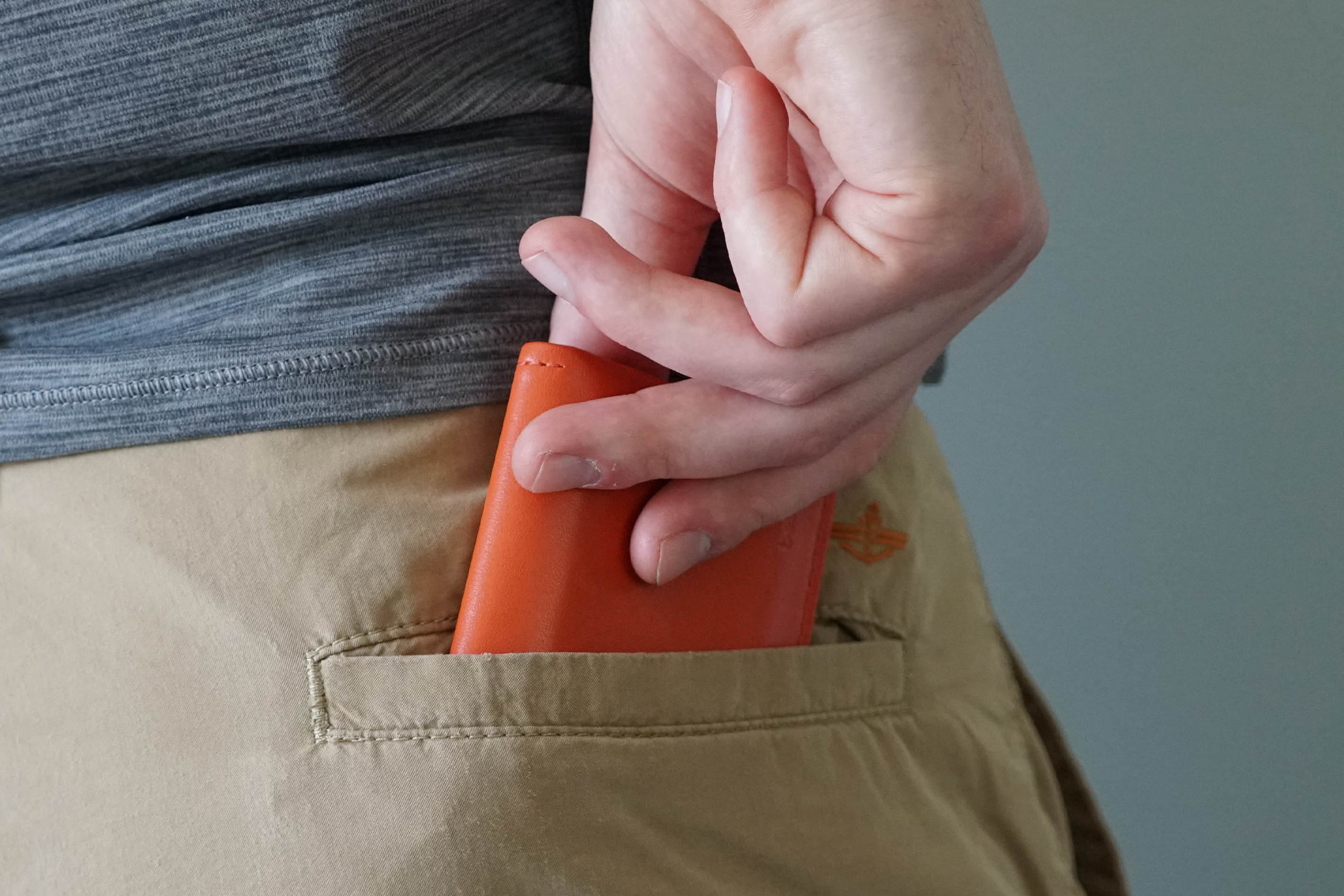 We're happy to report that this wallet is breaking in nicely. We're starting to notice some minor stretching on the card slots, but we haven't had any issues with cards coming loose as a result. Overall, the wallet is much less stiff than when we unboxed it. Durability wise, we have sustained a small scratch on the interior left side, though you have to look pretty closely to see it—and it hasn't affected the wallet's function as of yet.
Usage Timeline
Initial Usage
Condition: Excellent
Made of quality leather and feels great in the hand
Holds 12+ cards with two quick access card slots
Bills will need to be folded to fit
2 Weeks of Use
Condition: Excellent
Still slim!
The wallet is continuing to soften up and take form
The leather on the card slots are beginning to stretch a little, but so far, the larger leather pocket slot is keeping cards in place nicely
1 Month of Use
Condition: Excellent
The wallet is continuing to break in nicely
We ran into an issue with the pull-tab going in too far after jamming in cards with a little too much force—easily avoidable with a more gentle touch
Access the Pro Community Discussion
Get your questions about the Bellroy Slim Sleeve answered from our team and the Pro Community right here on the page. Plus, join discussions with other members about gear, guides, and more.
Other Organizers & Pouches Reviews