Osprey Arcane Waist Review
The Osprey Arcane Waist is basic in all the right ways, offering durability for those who don't need bells and whistles, but it can feel awkward to wear.
Our Verdict
Unlock the Pro Summary
Save time. Get access to brief summaries of our reviews so you can browse and make decisions more efficiently.
Pros
Recycled materials are durable
Can be worn multiple ways
Able to fit a surprising amount of gear for its size
Cons
Dirt and hair easily stick to the fabric
The strap can look a little funky in certain situations
Material lacks breathability
Recent Pack Hacker Video
Technical Details
100 %
Carry-on Compliance
Capacity

1l

Weight (lb)

0.348 lb (0.2 kg)

Denier

500D

Dimensions

5.51 in x 9.45 in x 1.97 in (14 x 24 x 5 cm)

Notable Materials

Recycled Polyester, DWR Coating, Duraflex Hardware, YKK Zippers

Manufacturing Country

Vietnam

Warranty Information
Full Review
Merriam-Webster defines arcane as 'known or knowable only to a few people.' We were able to get our hands on the Osprey Arcane Waist pretty easily, but regardless, we love the mystique. This waist pack features recycled materials, offers a fair amount of organization, and comes in some pretty rad colorways.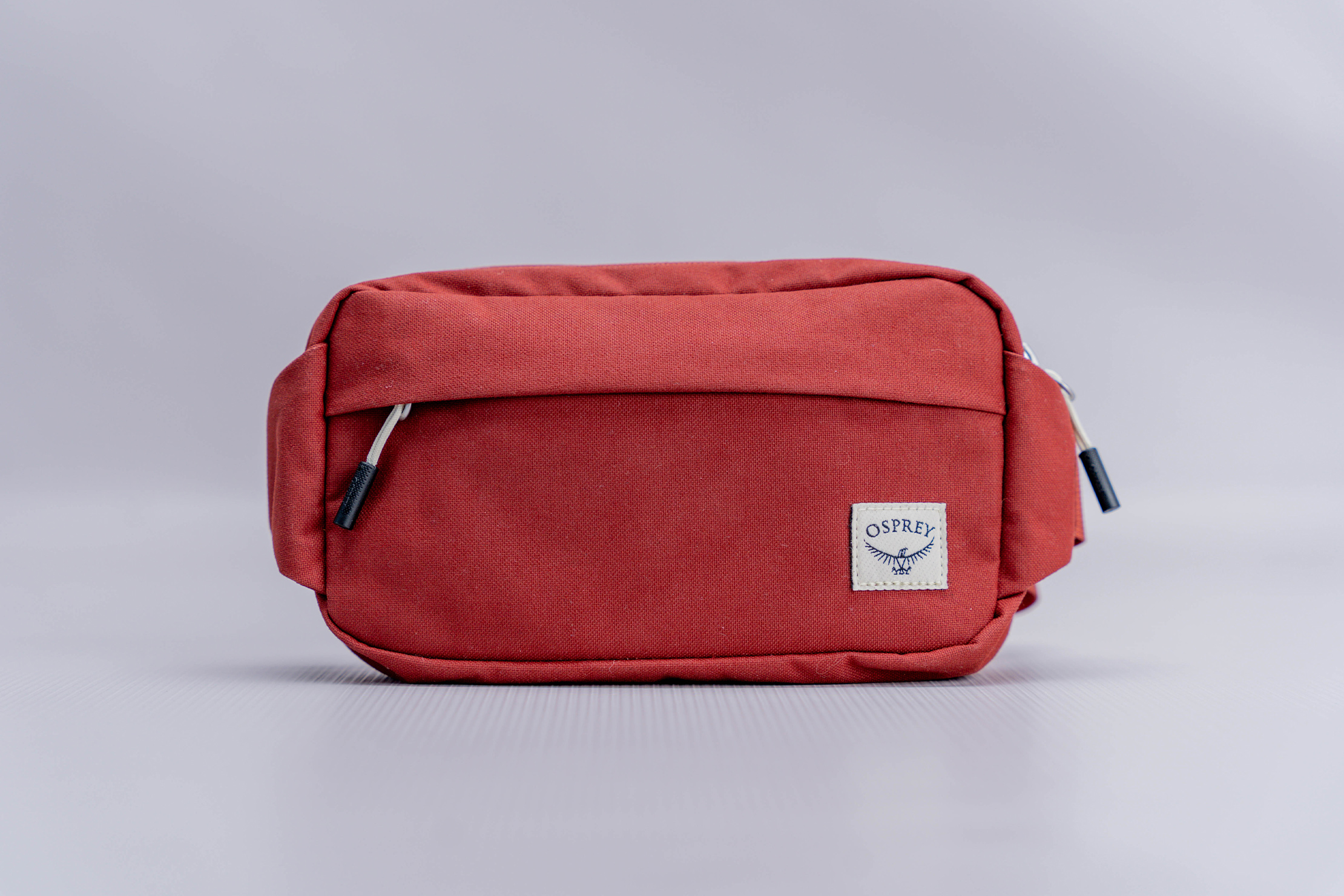 This all looks great on paper (or retina display), and we've grown to expect quality from Osprey over the years, but how well can this pack hold up in real-world situations? Let's find out.
Materials & Aesthetic
The shell is a recycled 500D polyester packcloth. This material is approved by bluesign®, an organization that researches responsible and sustainable manufacturing, which offers a little peace of mind when purchasing a new product while being environmentally conscious. We found the material to be durable and lightweight, but it does like to pick up little pieces of dust and hair. It wipes clean easily with a wet rag, but mud takes a little longer to scrub out due to the material's texture.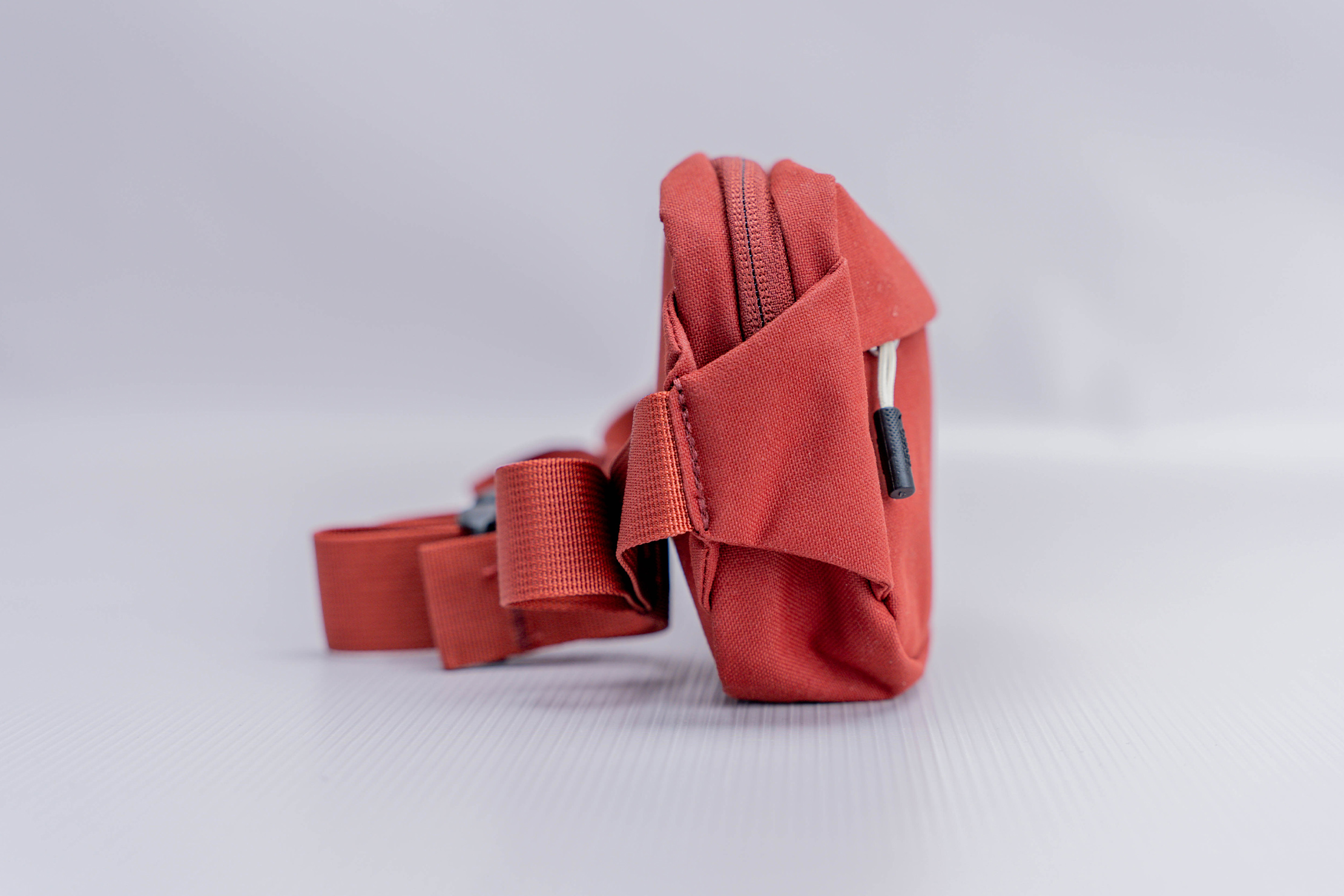 The fabric also has a DWR treatment that's PFC free. PFCs, or perfluorochemicals, are chemicals commonly found in clothing that take ages to break down and have been found at high levels in lakes, streams, wildlife, and humans. Most waterproof treatments contain PFCs, so seeing Osprey stick to their mantra of sustainability here is a great shout, we think.
The pack keeps water at bay during light rain and fares moderately well during heavier precipitation, but don't head out for a walk in monsoon season expecting your iPhone to stay dry. The DWR treatment handles the snow well, but again, if you spend an extensive period of time outside in inclement weather, the inside of the pack will end up a little wet.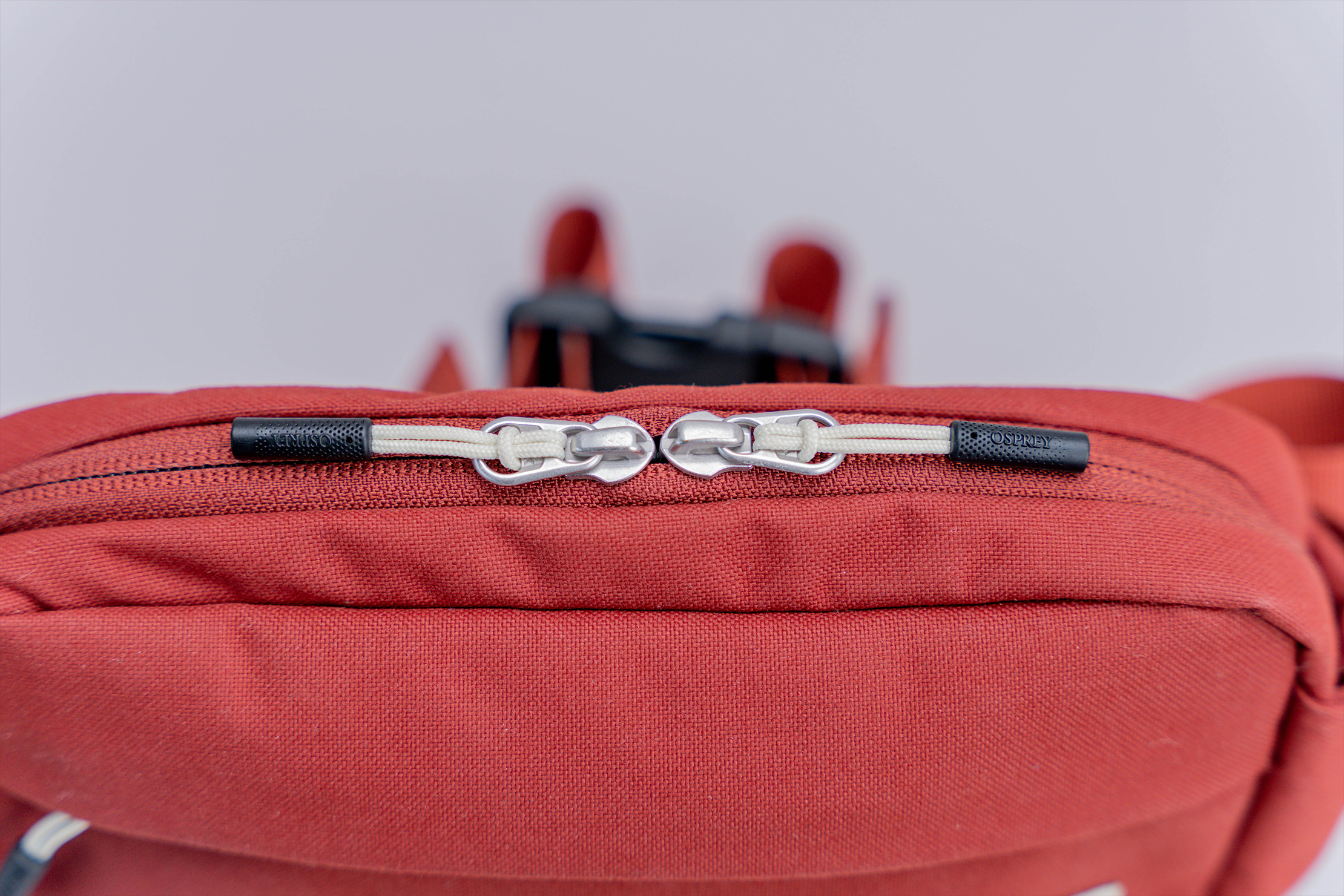 At the time of writing, the Arcane Waist comes in three different colorways. The one we have here is Acorn Red, which we really like. It has a pop of color and feels woodsy, and we love that the strap matches the pack's color. The other colorways are Milky Tea Tan and Stonewash Black. The Milky Tea Tan Waist is tan at its root, but it has an almost desert texture and features a burnt orange strap. The Stonewash Black is, well…black. Black, black, and a little more black.
The pack has a minimalist look, but the logo patch and zipper pulls offer a nice contrast in materials and colors. The patch feels durable and reminds us of a postage stamp. I'm not sure what you should do with that information, but we think it looks quite lovely. That contrast is heightened on the images we've seen of the Stonewash Black pack, but it's lost a little on the lighter Milky Tea Tan pack. Depending on what look you're going for, these three colorways each offer something unique.

The exterior zippers are both YKK brand, which is excellent. We have yet to find a YKK zipper that doesn't get the job done, and these are no exception. The main compartment zipper is a YKK #5, which we feel is more than adequate for the amount and weight of the use we put it through. It isn't weatherproof, but neither is the pack, so this isn't an issue for us. The front compartment zipper is also a YKK #5. It has a little more protection than the main compartment zipper as it has a protective fabric welt, but again, it's far from weatherproof.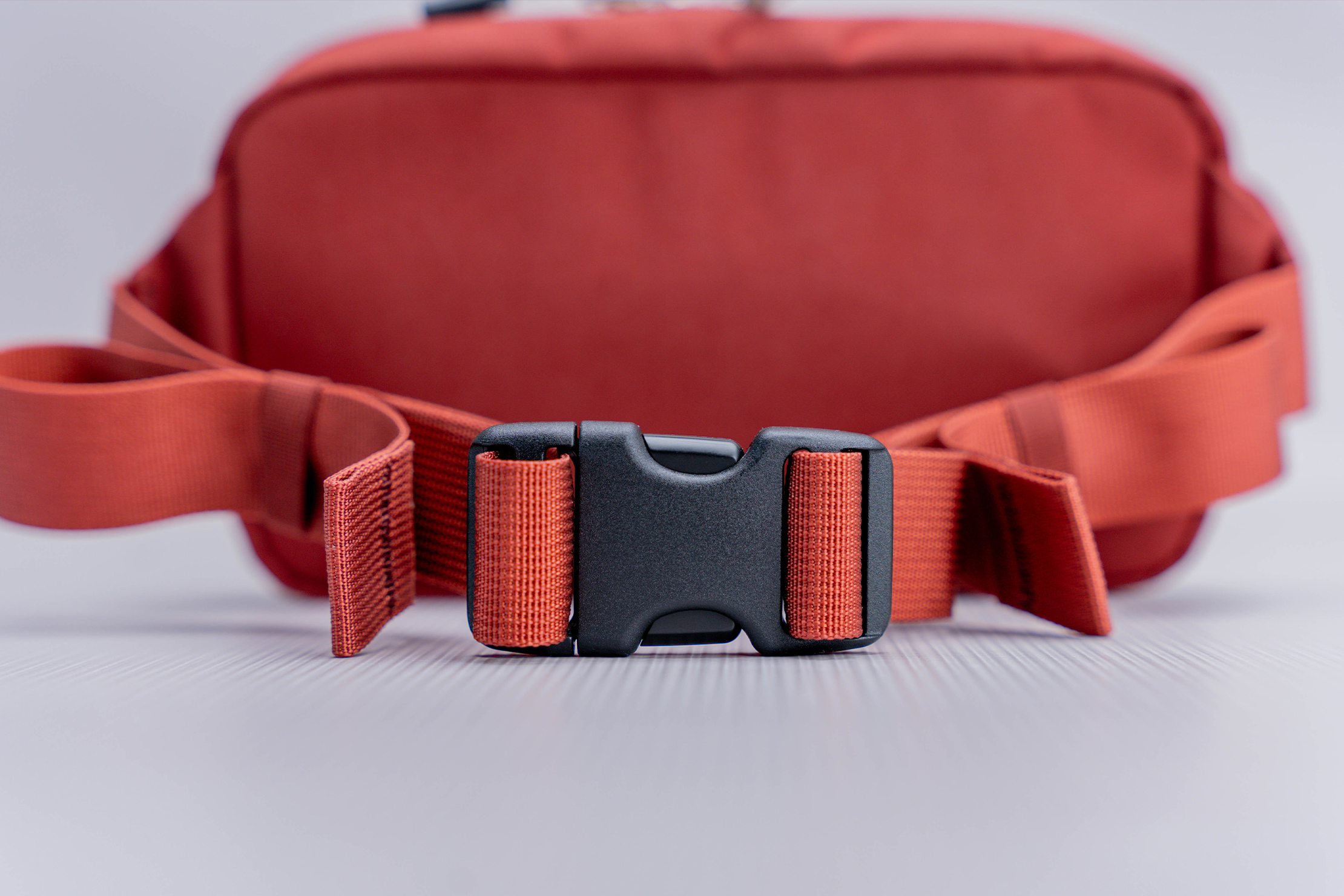 The pack's strap is secured with a Woojin Duraflex 30mm buckle. We think this is a great shout, as we have come to expect quality from Duraflex hardware. It's easy to snap into place, and once secured, it does not come apart. The strap consists of a thinner fabric which means that adjusting it through the buckle is smooth and easy.
External Components

The thinner fabric also makes the strap light and easy to adjust. The strap keepers are really tight and don't have much give, which makes looping the strap through a little difficult, but they stay put once secured. You can slide the strap keeper to any part of the strap, which is great for managing slack on different size bodies. We like to place it close to the clip and loop the strap through the strap keeper a few times to minimize loose fabric, though it's also fine with the strap fully extended rather than bundled.

The strap is stitched to a small loop on each side of the waist pack. The loop uses the same fabric as the rest of the pack, which is very rigid. While wearing the pack across our shoulder, the area where the strap connects to the loop can look a little odd, especially if you have a bigger build, as there isn't much give to angle the strap in the right direction. It almost looks like the strap is a receipt that is coming out of the printer but got caught on one corner and came out sideways. In our experience, this is most noticeable while wearing a coat or larger sweatshirt, but it may be an issue for some.

The side loops do have some positives that are worth noting. They're a bit large, but you can attach a small item here with an elongated or plus-sized carabiner, like the HEROCLIP Hybrid Carabiner Clip. We think it's most useful for attaching the pack onto another piece of luggage or a hook when not in use, but it depends on what you plan to use the pack for. It's also a nice place to put a decorative pin without poking a hole into the bag's compartment. The rear side of the pin stays protected, too, which is great for pin retention. Who doesn't love that?
There is a thin sheet of foam padding in the back panel of the waist pack. It's flexible and has a little bit of squeeze to it, which is comfortable and stops most items from bulging out. There isn't any mesh, and the recycled 500D polyester doesn't breathe very well. The padding in the fabric also takes away from the breathability, which is something to keep in mind for hot days.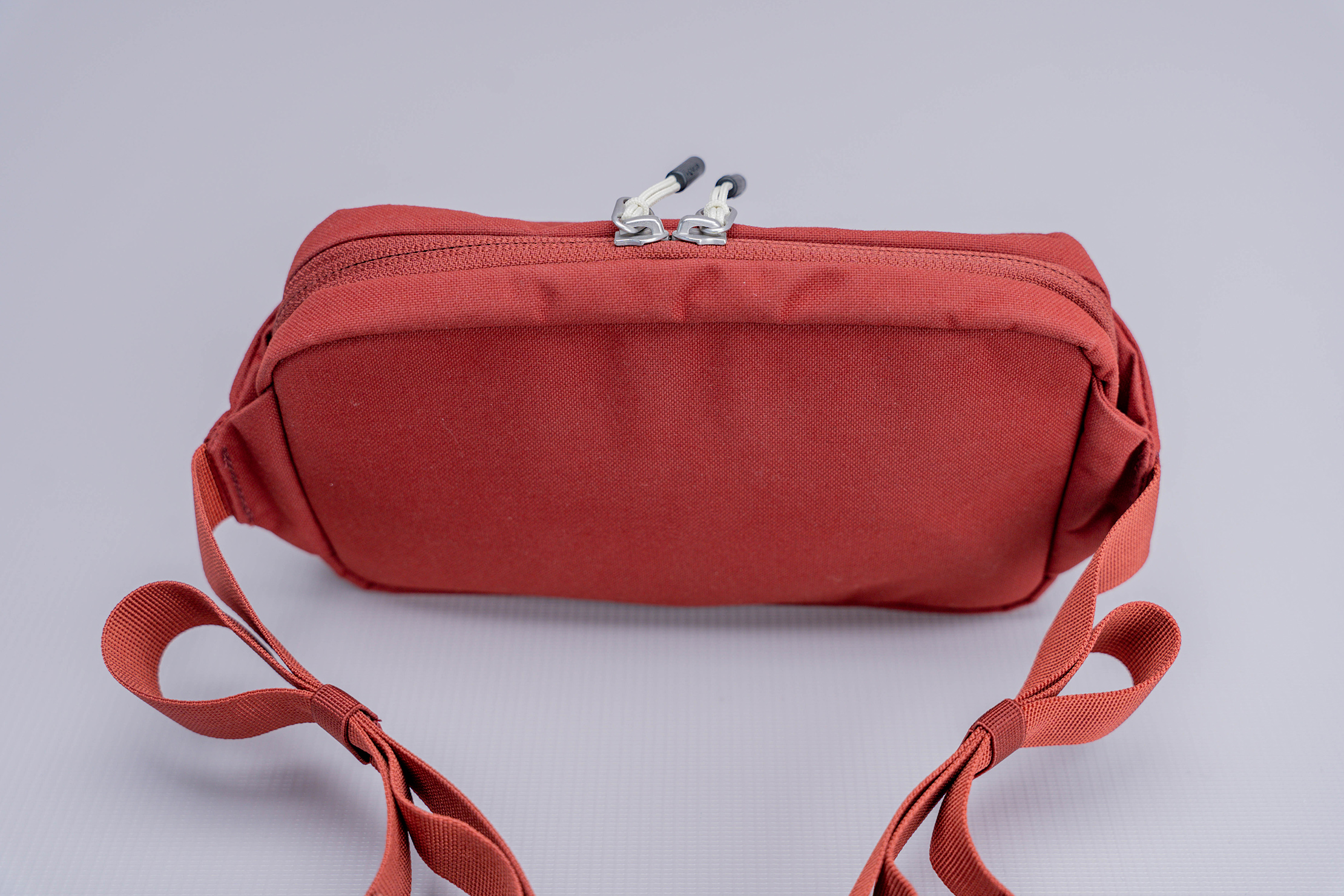 When fully extended, the straps are roughly 19 in (48.3 cm) each, totaling around 41 inches (104.14 cm) when you include the buckle hardware. This allows for a few different ways to wear the pack.
In classic fanny-pack mode, we have quick access to all of the compartments, can hide it under our shirt or coat, and wear it out front or in the rear. While wearing it on our front, our mobility towards the ground is limited and it can be a little uncomfortable to pick something up off the floor.

Our favorite way to wear the pack is over our shoulder in sling mode, which gives quick and easy access to all of the pack's features. We found that getting the sizing of the straps just right is a little tricky, but after that first try, it's easy to jump back into it at any time so long as you don't go back to waist pack mode in between.
When the pack is full, accessing the front pocket is a little tricky, especially if you wear it higher on your chest. We remedy this issue by sliding the pack down a little, grabbing our items, and sliding it back up.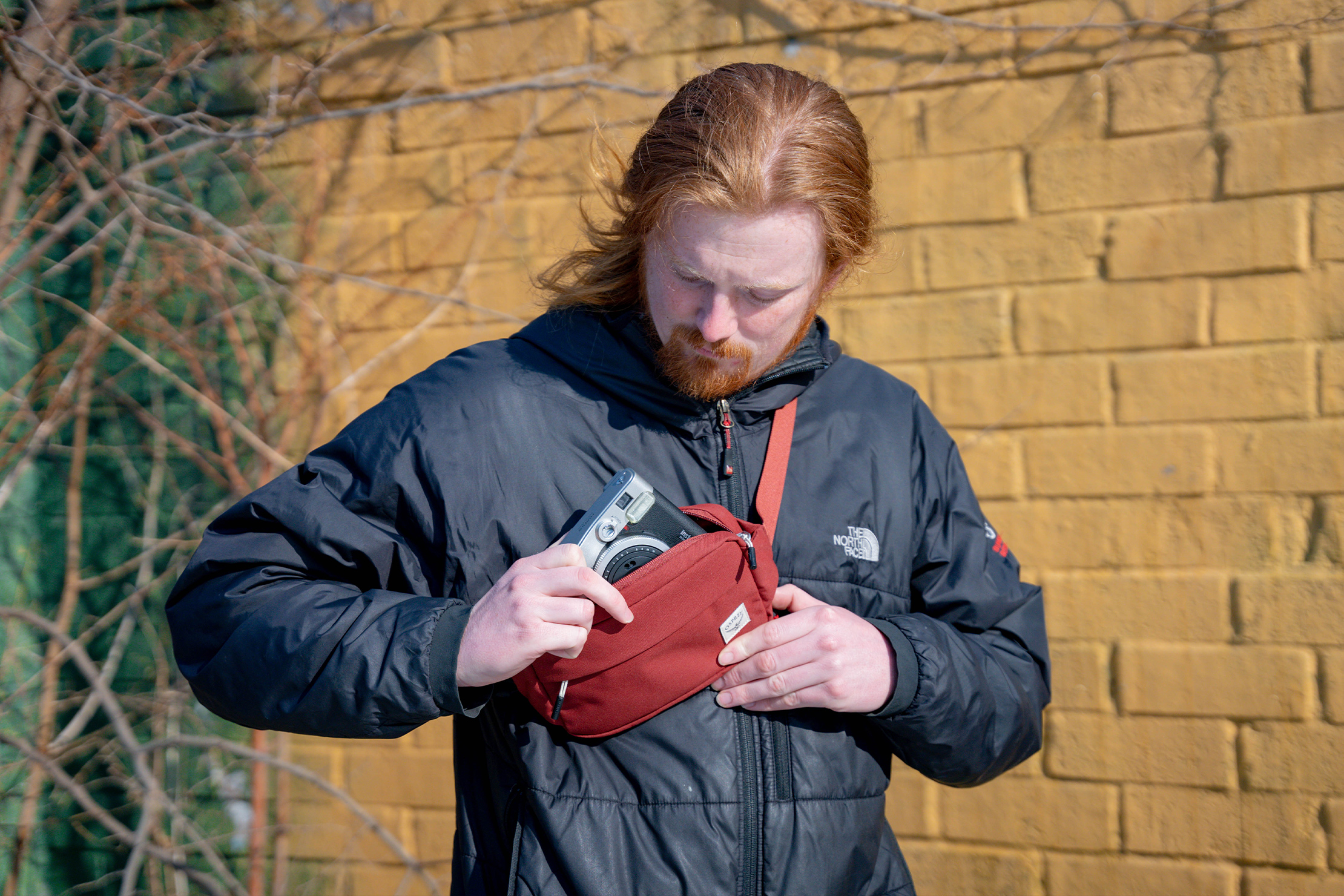 Transitioning the pack over your shoulder onto your back is great for cycling, as the strap keepers keep everything tight and close to us. You cannot access the pack while it's on your back, but it's easy enough to shift it forwards and check your phone at a stoplight or while taking a break on a sidewalk. This is a little trickier while wearing a puffy coat, but it's still manageable.
Inside The Waist Pack
The pack's main compartment has a fair amount of space for storing gear. We're able to fit an Instax Mini 90 camera, a set of headphones, and a Lightning cable with a power brick. This pocket has a little more protection than the front pocket because it has the material that makes up the front pocket on one side and the foam padding on the other, in addition to the shell of the pack, to keep our gear safe. As we've mentioned, the recycled polyester doesn't have much flex, so you can't stuff that extra little bit of gear inside when it's full, but we are happy with how much we can store inside.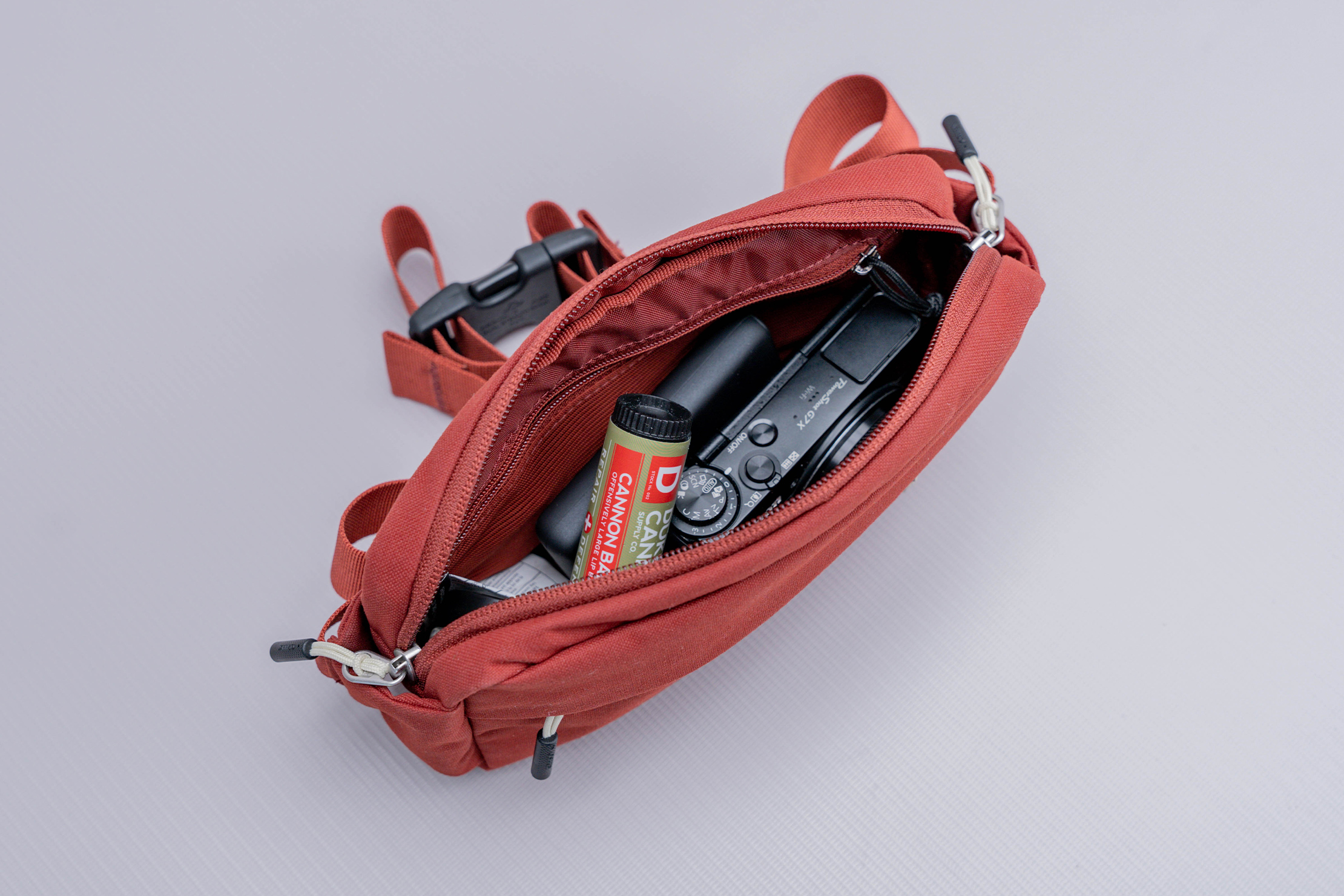 As for organization, there's a mesh pocket on the back panel with a key clip inside. Both the clip and the little piece of material that connects it to the inside of the pack are red, which makes them easy to find. The clip doesn't feel very strong, but we don't have an issue with our keys falling off the hook. The zipper on this pocket isn't marked, but we assume that it's a YKK zipper like the rest of the pack. It opens and closes smoothly, but the zipper pull can be hard to find in darker environments.
The pocket itself is made of durable mesh, allowing items inside the pocket to bulge out into the main compartment a little. We like this because it lets us put smaller, non-flat things inside that we don't want to get lost in the larger main compartment.
We're able to fit our keys, an iPhone 6S Plus, and a Joby GripTight™ ONE Micro Stand with room to spare. The foam sheet in the back panel stops items from bulging out of the pack, which is a good shout, we think. There aren't many bigger letdowns than a pack that fits everything you need but is uncomfortable when you put it on. No issues on that here, thankfully.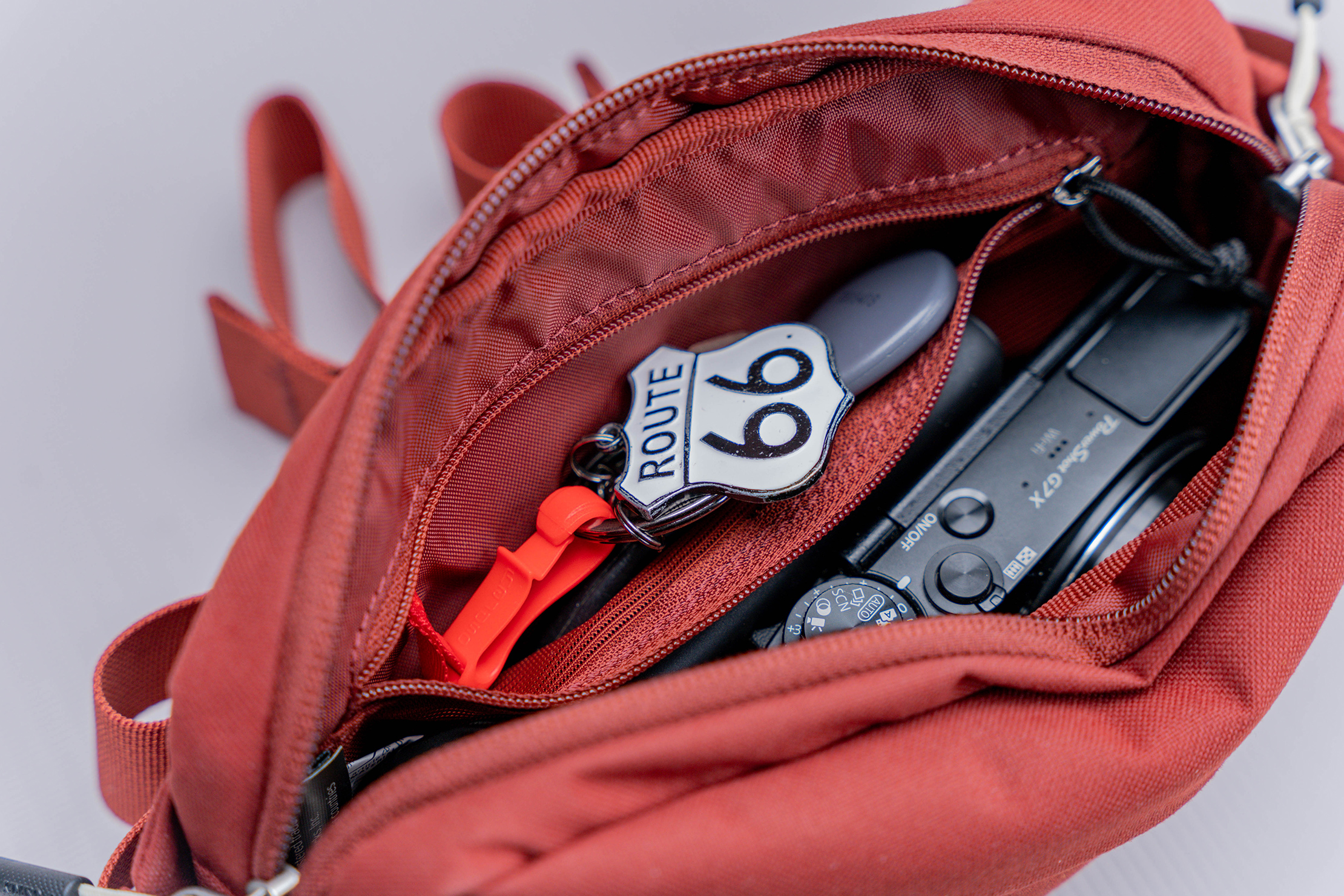 The front compartment is a quick access pocket that's great for storing small items that we might not need but we feel like bringing along for the ride just in case. There aren't many thrills here, just a small pocket, but we find it quite helpful. On walks around the neighborhood, our wallet is almost always in this pocket, but when the main compartment and mesh zipper pocket are full, a standard iPhone 11 with a case can fit inside snugly.

Although this pack is not a one-size-fits-all, we think it's an excellent option for those who want a versatile waist pack with enough organization to give everything a home but not enough to feel overwhelmed. We think the sustainable materials are to be commended, and we're happy that Osprey continues to honor their commitment to sustainability. If this pack doesn't quite strike your fancy and you are interested in something a little different, check out our How to Choose the Best Sling Bag for You Guide!
Usage Timeline
Initial Usage
Condition: Excellent
Can be carried as a waist pack or as a sling
Zipper pulls feel relatively big
The built-in key clip is a bit thin-looking
2 Weeks of Use
Condition: Excellent
The 500D Polyester remained clean and kept gear dry in the rain
Fabric tends to pick up dust and hair
White on patch and zipper pulls collected some dirt but cleaned up well
Access the Pro Community Discussion
Get your questions about the Osprey Arcane Waist answered from our team and the Pro Community right here on the page. Plus, join discussions with other members about gear, guides, and more.
Other Bags & Luggage Reviews