Heroclip Hybrid Carabiner Clip Review
The Heroclip is a multifunctional carabiner that you can twist into a hook. We've found the larger size more versatile than the smaller ones.
Our Verdict
Unlock the Pro Summary
Save time. Get access to brief summaries of our reviews so you can browse and make decisions more efficiently.
Pros
Two tools—a clip and carabiner—for the size and weight of one.
Keeps your bags off dirty floors.
Available in a variety of different sizes.
Cons
Some sizes don't fit a good amount of tables.
They scratch pretty easily.
A few of the color combinations are a little out there.
Recent Pack Hacker Video
Technical Details
Weight (oz)

1.20 oz (34 g)

Dimensions

3.75 in x 3 in (9.5 x 7.6 cm)

Notable Materials

Aluminum

Manufacturing Country

China

Warranty Information
Full Review
We've all been there—mentally cringing as we lower our bag to the floor of an airport bar—trying not to notice how the floor shines with who-knows-what beneath the lights or hear that horrible shucking sound it makes when our bag finally makes contact.
That's where the Heroclip—part carabiner, part clip—comes in handy.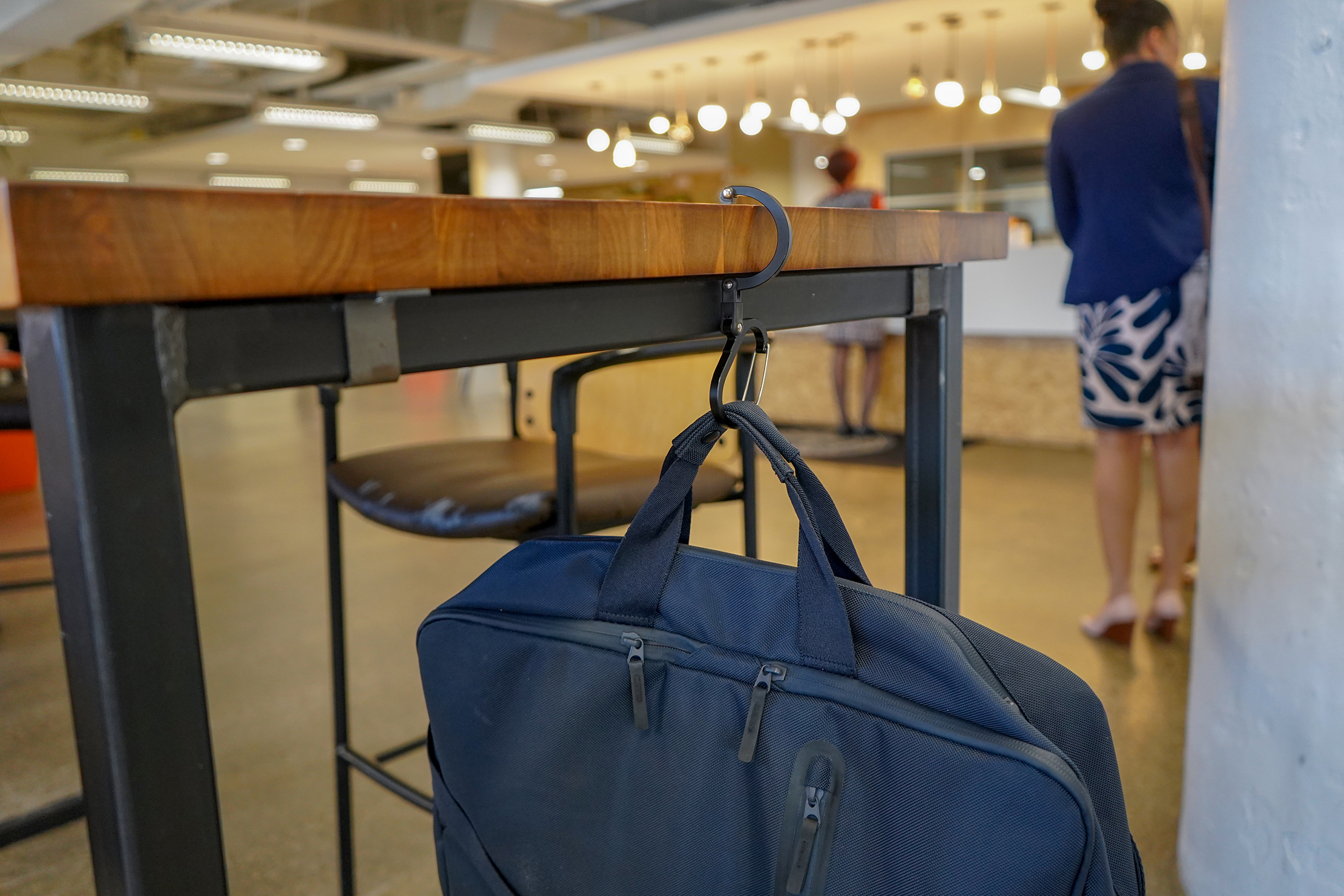 Heroclip's founder formed the idea when she needed an "extra set of hands" while hiking with her children, but there are a million different use cases for it. Like we already mentioned, it's a great tool to keep your bags and purses off of sticky, disgusting floors. Such floors aren't limited to airport bars either: we've found them in airport bathrooms, terminals and even our own homes (joking…maybe?).
All you need to do is twist the internal carabiner down and out—the swivel rotates 360°—and then it's ready to hook to any flat surface. Just clip your bag, purse, duffel, or whatever to the carabiner side. There's a little piece of rubber on the end of the hook to keep it secure to the table.
The Heroclip also just works as a carabiner, which have a million different uses themselves, from keeping your keys more secure inside a bag to clipping your water bottle to a pack to attaching two bags together. Although, something to note, Heroclips should not be used for climbing.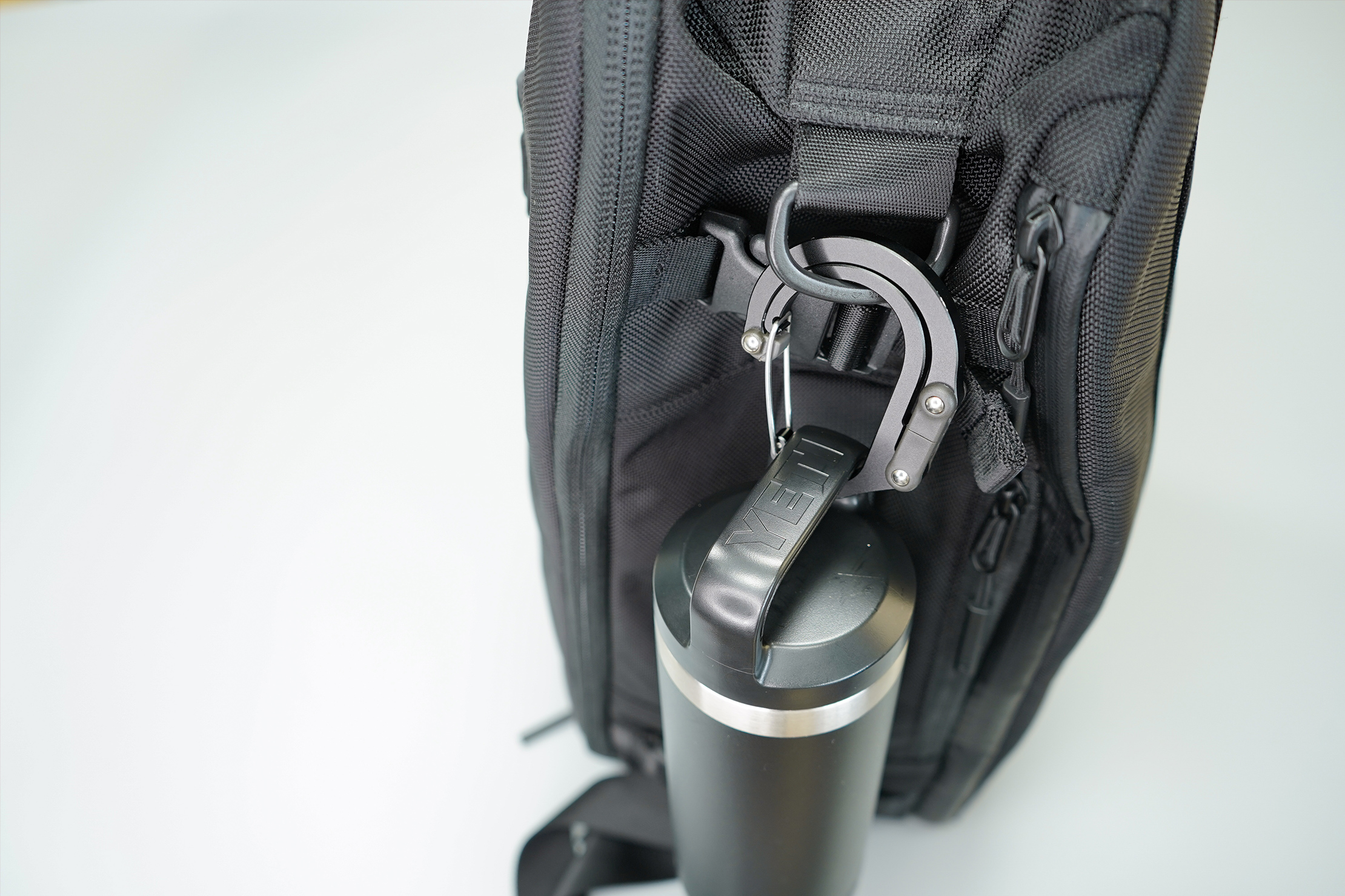 At the time of this review, it's available in three sizes—mini, small, and medium—and ten colors. We're partial to black here because, well, of course, we are. But you can choose fun colorways such as Woodland (camo), Solar Flare (orange and blue) or "Go Seattle" (green and blue).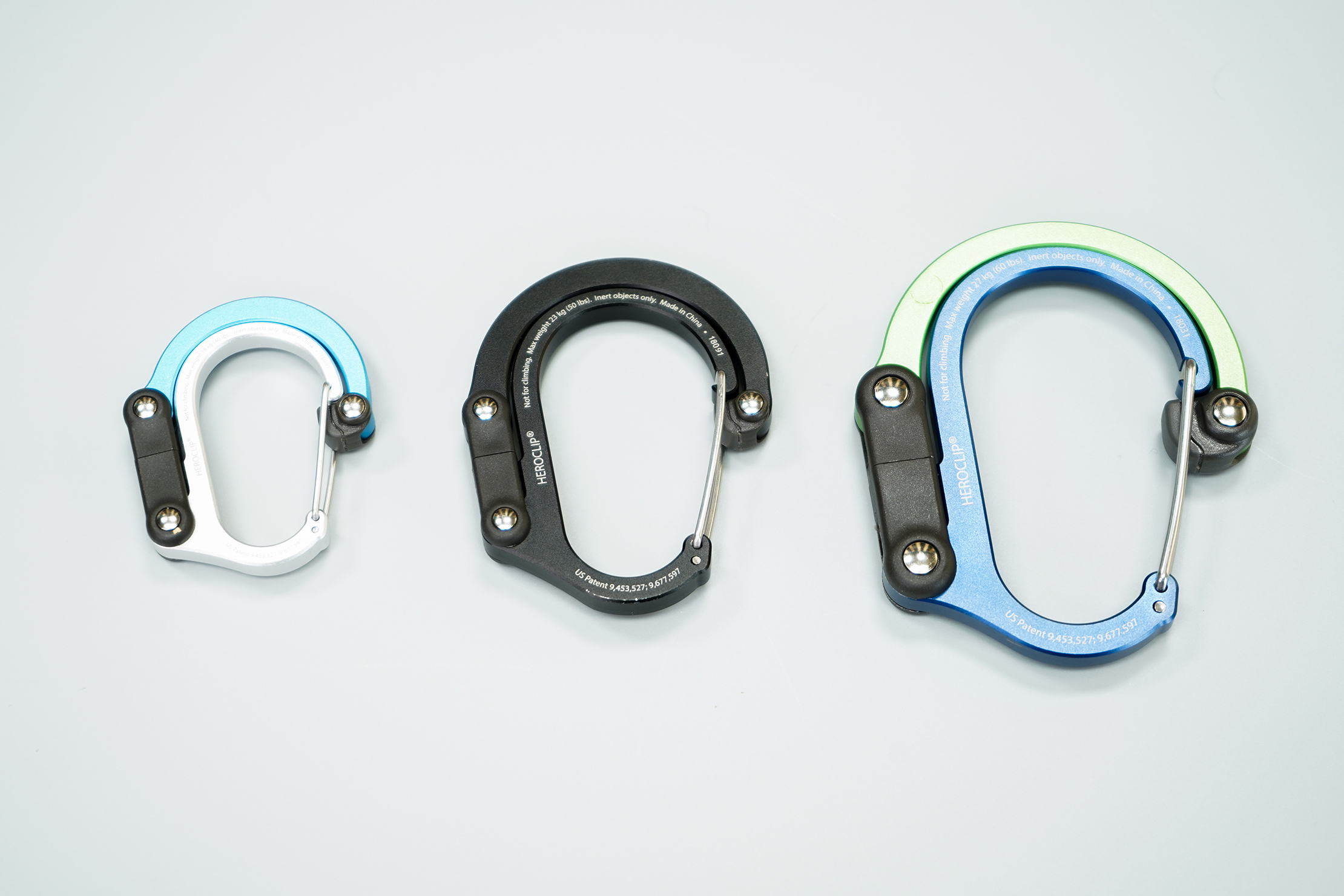 Size is particularly important when it comes to the Heroclip, so definitely think about how you'll use it before you click "purchase." The Heroclip team says the mini holds up to 40 lbs, the small up to 50 lbs and the largest size—medium—will hold the most weight at 60 lbs. But weight is only part of the story. The medium will fit the most surfaces, as a good number of tables are actually too thick for the mini or small sizes. Take a look at the photo below to see what we mean.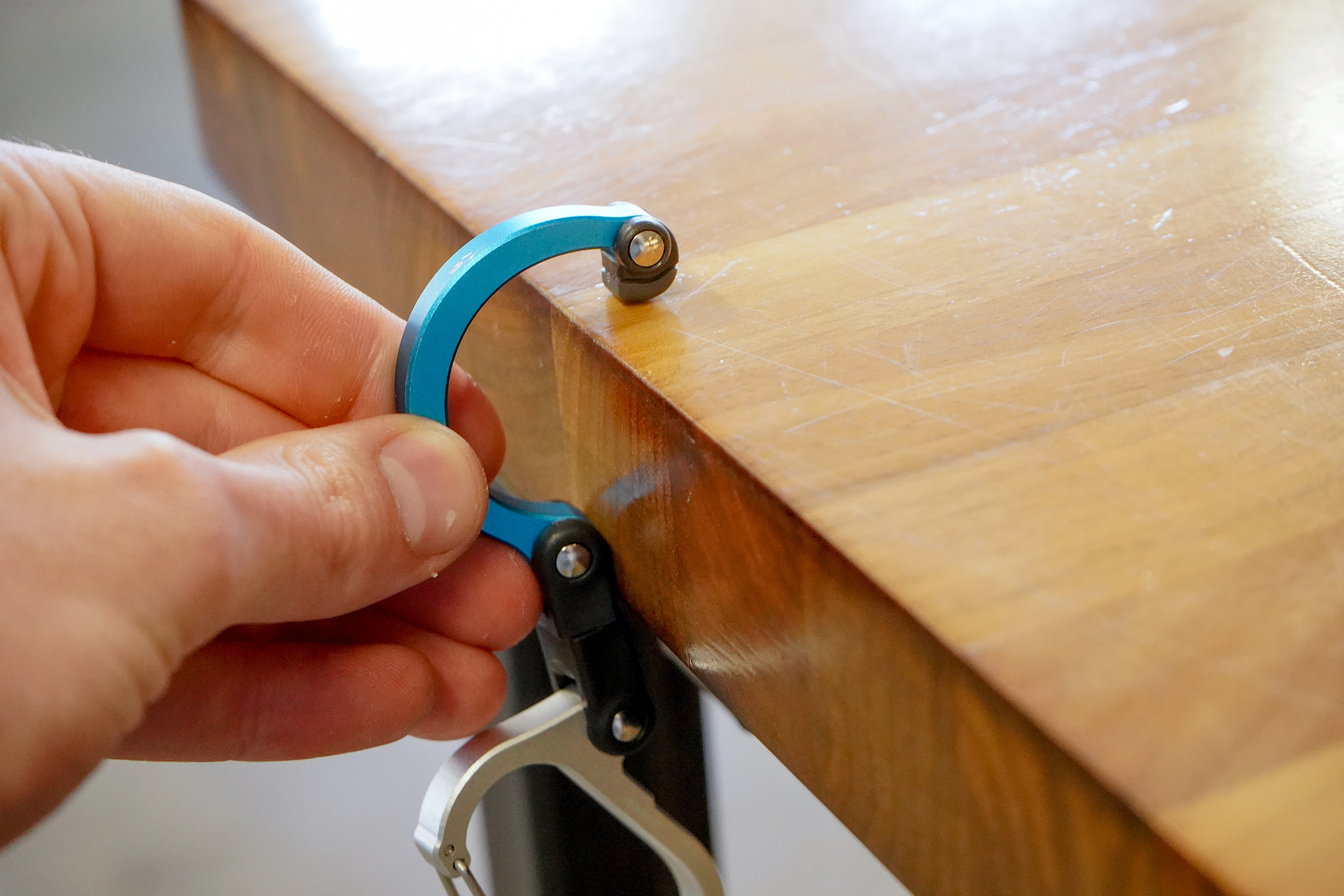 The Heroclips themselves are quite lightweight and pretty small—the largest size is still half the length of an iPhone 8—so they're pretty easy to just throw in your bag and forget about until you need them.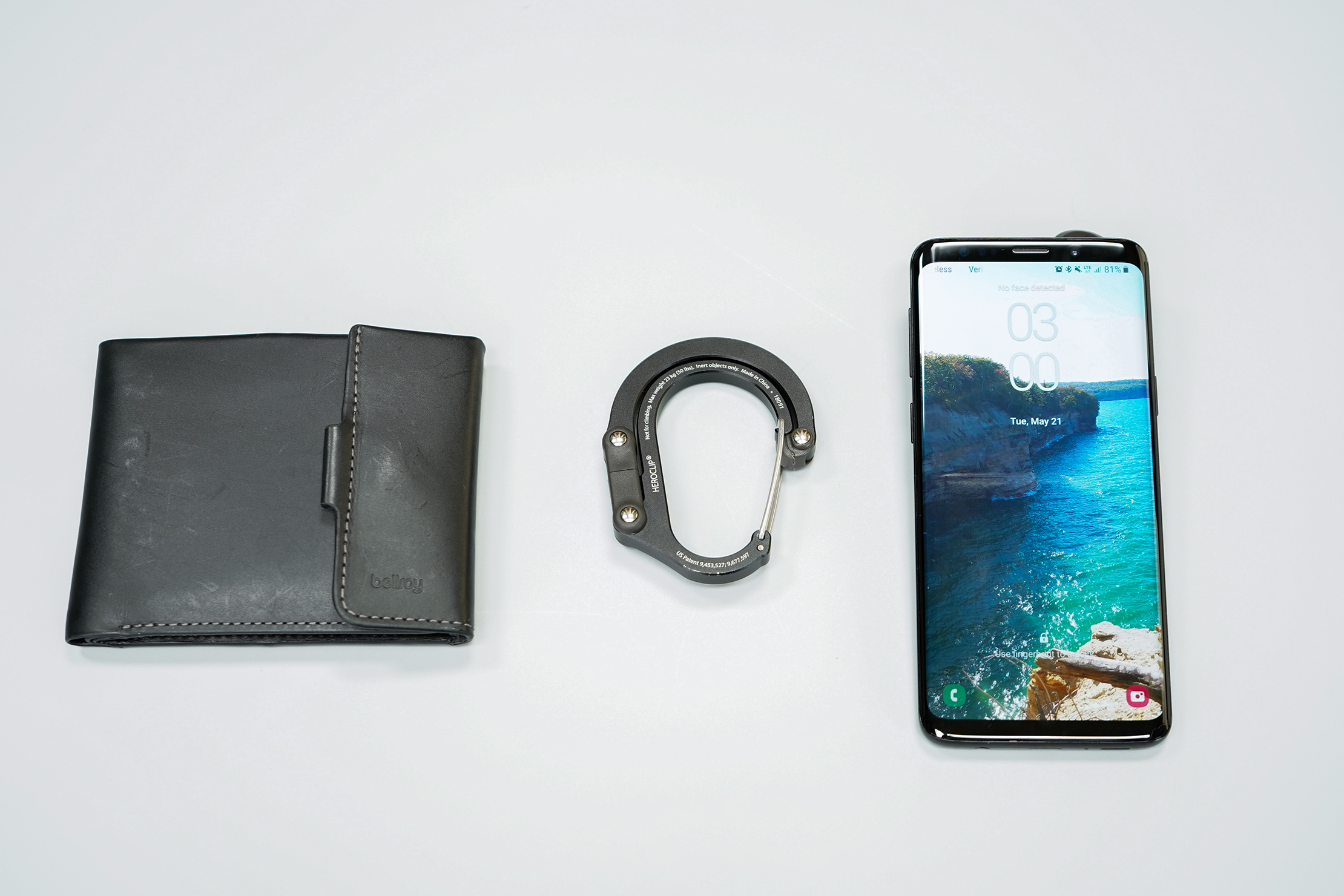 Materials
The clips are made of aircraft-grade aluminum, with rubber on the swivel and on the end of the hook for gripping purposes. There's not much to say here—the rubber does indeed grip surfaces (for the most part) and the aluminum has held up, although we have found some small scratches and hope that Heroclip can improve their durability in future iterations.

Heroclips are made using CNC (computer numerically controlled) machines, which is just a new-ish way to sculpt a physical product from a computer design. The Heroclip team claims making their Heroclips this way allows them to offer more colors and a smoother finish—and we're going to take them at their word for it.
Durability & Testing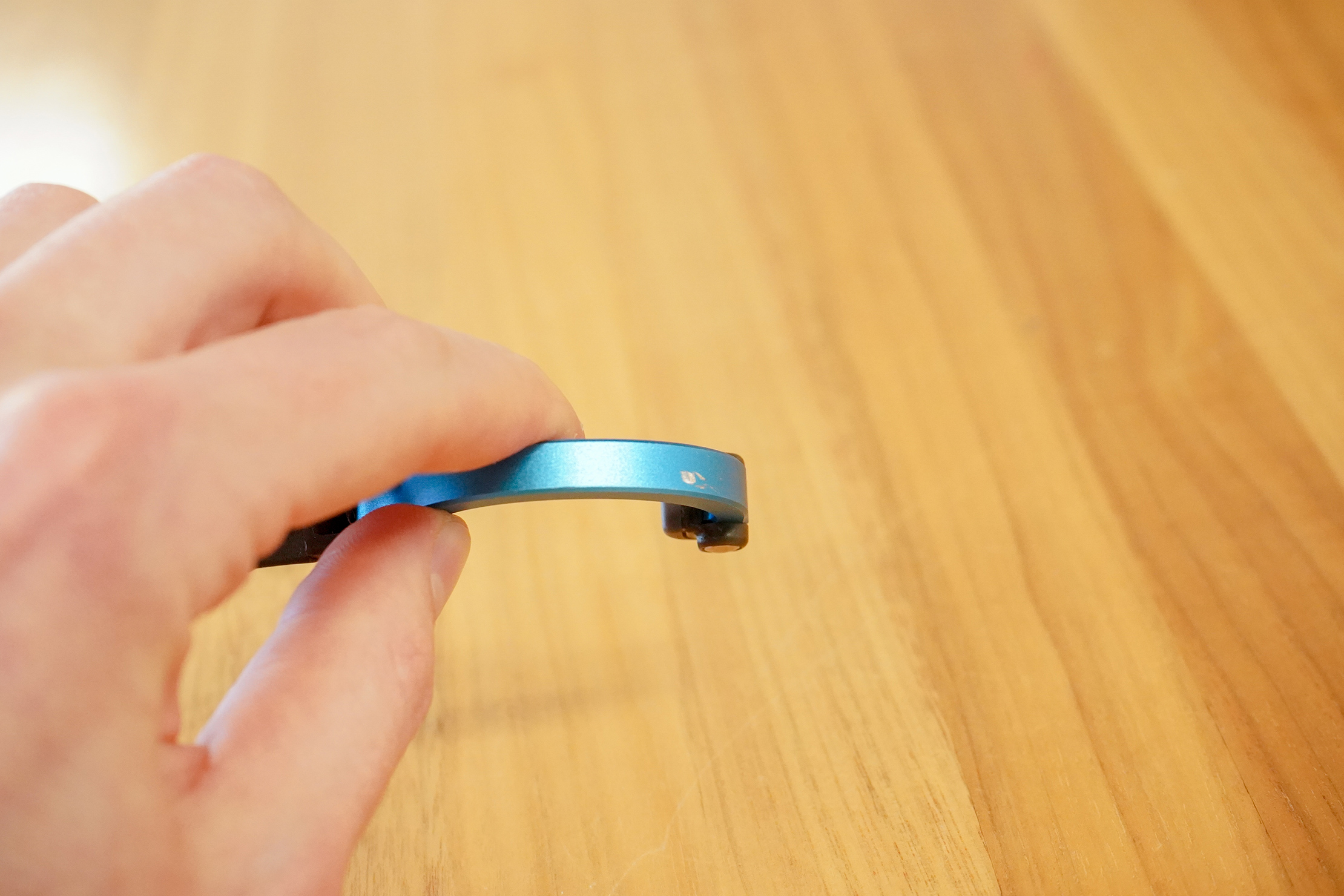 We've been testing our Heroclips for a little over a month now. We've noticed a few small marks along the sides and tops of all three sizes, as well as a larger scratch on the top of the mini. But outside of these scratches, the integrity of the clips has stayed intact. The clips still clip, the swivels still swivel, and they all still hold weight.
Honestly, if you're going to buy a carabiner, we think you might as well spring for a Heroclip and get that extra functionality.
Usage Timeline
Initial Usage
Condition: Excellent
Handy to hang a bag off of a table or other flat surface.
This thing has trouble on thicker tables.
Great additional functionality added to an already useful carabiner clip.
1 Month of Use
Condition: Good
A few scratches and marks along the outside, but otherwise still looking good.
Access the Pro Community Discussion
Get your questions about the Heroclip Hybrid Carabiner Clip answered from our team and the Pro Community right here on the page. Plus, join discussions with other members about gear, guides, and more.
Other Miscellaneous Reviews