Peak Design Small Wash Pouch Review
The Peak Design Small Wash Pouch's smart organization and hanging shelf mode translates well from its bigger sibling despite its smaller size.
Our Verdict
Unlock the Pro Summary
Save time. Get access to brief summaries of our reviews so you can browse and make decisions more efficiently.
Pros
Internal partitions organize available space
Built-in metal hook allows shelf-style setup
Wide access through gusseted opening
Cons
Accordion-style partitions stack items once closed
Items can fall out when the pouch is jostled while in shelf mode
Wobbles when standing if packed tightly
Recent Pack Hacker Video
Technical Details
Capacity

1l

Weight (oz)

6.2 oz (175.8 g)

Denier

200D

Dimensions

3.9 in x 10.2 in x 5.1 in (9.9 x 25.9 x 13 cm)

Notable Materials

Nylon, DWR Coating, Zoom Zippers, Hypalon®, Leather, Aluminum

Manufacturing Country

Vietnam

Warranty Information
Full Review
Get up to 10% off Peak Design • Join Pack Hacker Pro
Toiletry bags, Dopp kits, wash pouches, whatever you want to call them, they're one of the pieces of travel gear we think is worth investing in. Whether it's an overnight stay at a friend's house or a transcontinental road trip, keeping ourselves looking and feeling fresh is important to keeping the adventure fun after all. Peak Design's original Wash Pouch served this purpose pretty well. With its good capacity and shelf-like design, it was a convenient pouch to bring along.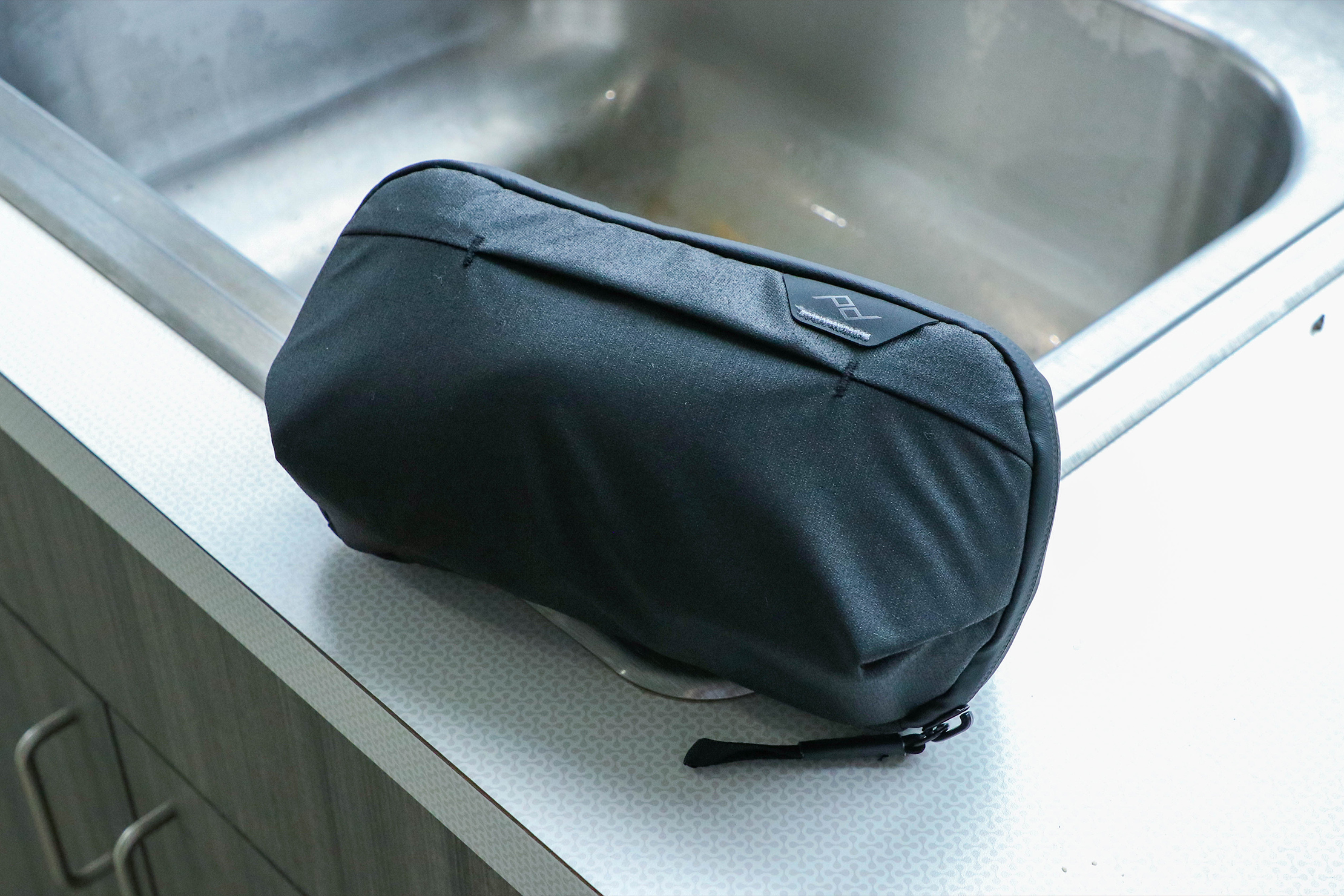 That said, shaving off a few cubic inches here and there is a tempting proposition for those taking the minimalist route. Luckily, the Wash Pouch now also comes in a smaller form: the Small Wash Pouch. However, it's not a simple shrunken down version. Peak Design reshuffles the interior organization, but it's more or less a familiar experience that keeps a lot of the good points we like about the Wash Pouch. Make no mistake; this isn't a cut-down version where the quality suffers; this is still peak Peak Design, so let's take a look at what they've done to change things up.
Materials & Aesthetic
While the Small Wash Pouch is, as the name suggests, the smaller version of their Wash Pouch, they've done a good job of disguising the size difference. Looking at the pouches side by side, the Small Wash Pouch really doesn't look all that smaller, just a bit shrunk down. It's when you take a look from the side where you'll appreciate the downscaling they've achieved here.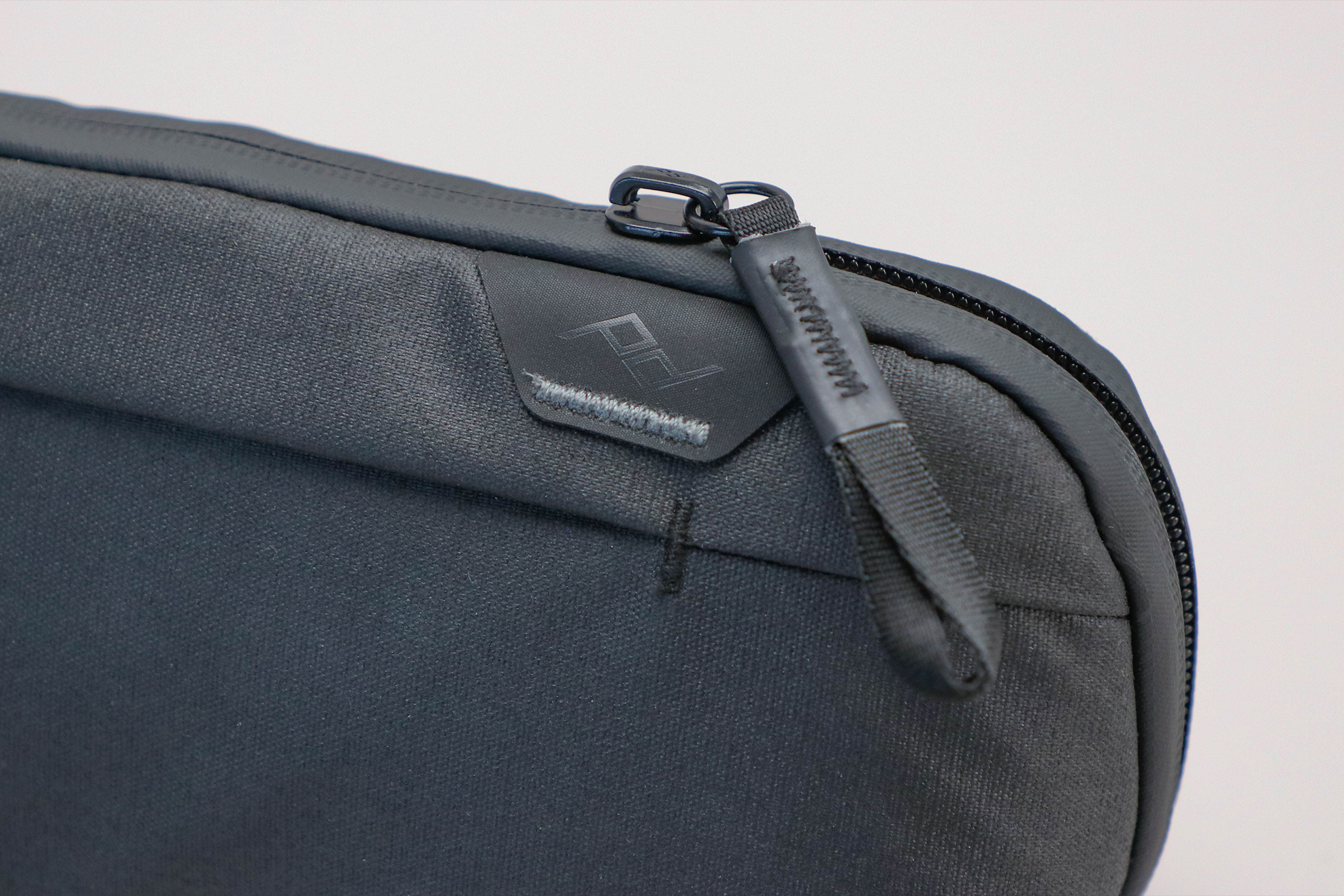 The Small Wash Pouch has a more triangular side profile, similar to that of some standing pouches like the Aer Split Kit or Topo Designs Dopp Kit. However, when we have ours packed to the gills, the proportions look a bit more rotund. It's all kept very minimalist, though, with the most flair-y design aspect being the gusseted side and shape of the pouch. We have an all-black colorway here, complete with a Hypalon tab with the Peak Design logo, though other colorways come with a leather tab instead.
The all-black fabric might not be the best when it comes to hiding toothpaste residue, but the 200D nylon fabric does have a DWR coating to ward off most stains and splashes. It gives the pouch a nice matte sheen; a nice plus if you're into that.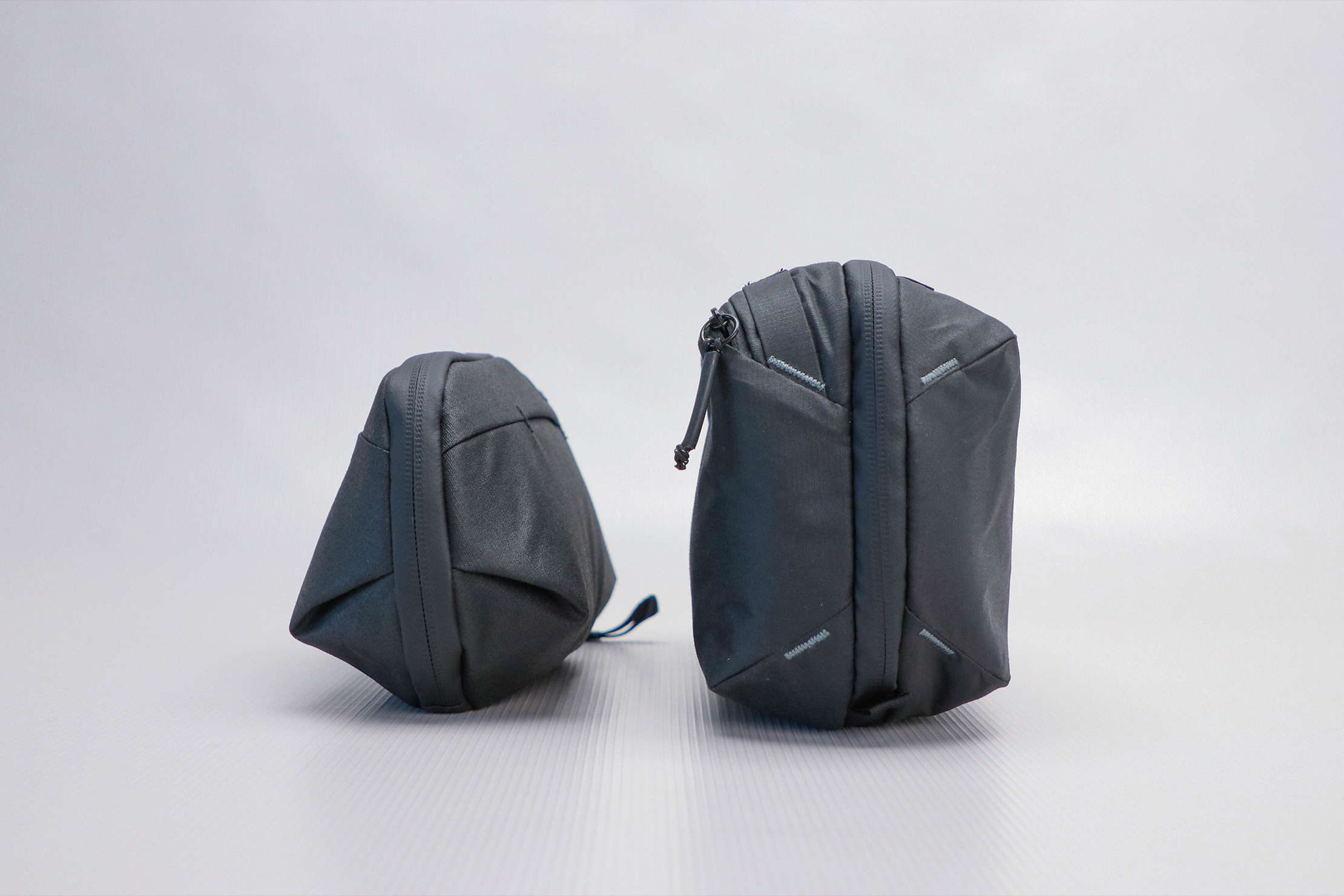 As for hardware, the Small Wash Pouch has Zoom zippers—not unheard of for Peak Design. They work fine, especially with the grippy pull they use on the external one. In fact, if we were to find any fault with these particular Zoom zippers, it's that they don't come in pairs. Not a huge issue by any means, and this is something we also noted as a minor nitpick in our Wash Pouch review.
Lastly, there's a built-in hook around the back of the pouch. It's made out of metal, and with our fully packed out pouch, it noticeably bulges out of its slip pocket. However, it's not a huge deal given that it's because we're making full use of the available space inside; the hook's outline on the fabric is purely cosmetic. The metal hook itself is sleek, solid-feeling, and feels right at home on Peak Design gear. In fact, it looks very similar to the one on the bigger Wash Pouch.
Usage & Features
There's not a ton of features on the outside of the Small Wash Pouch—which is okay. We're not expecting a toiletry pouch to have a Swiss army knife sticking out of its every corner. More often than not, it's the subtle things that catch our eye, such as this neat little gusset in front.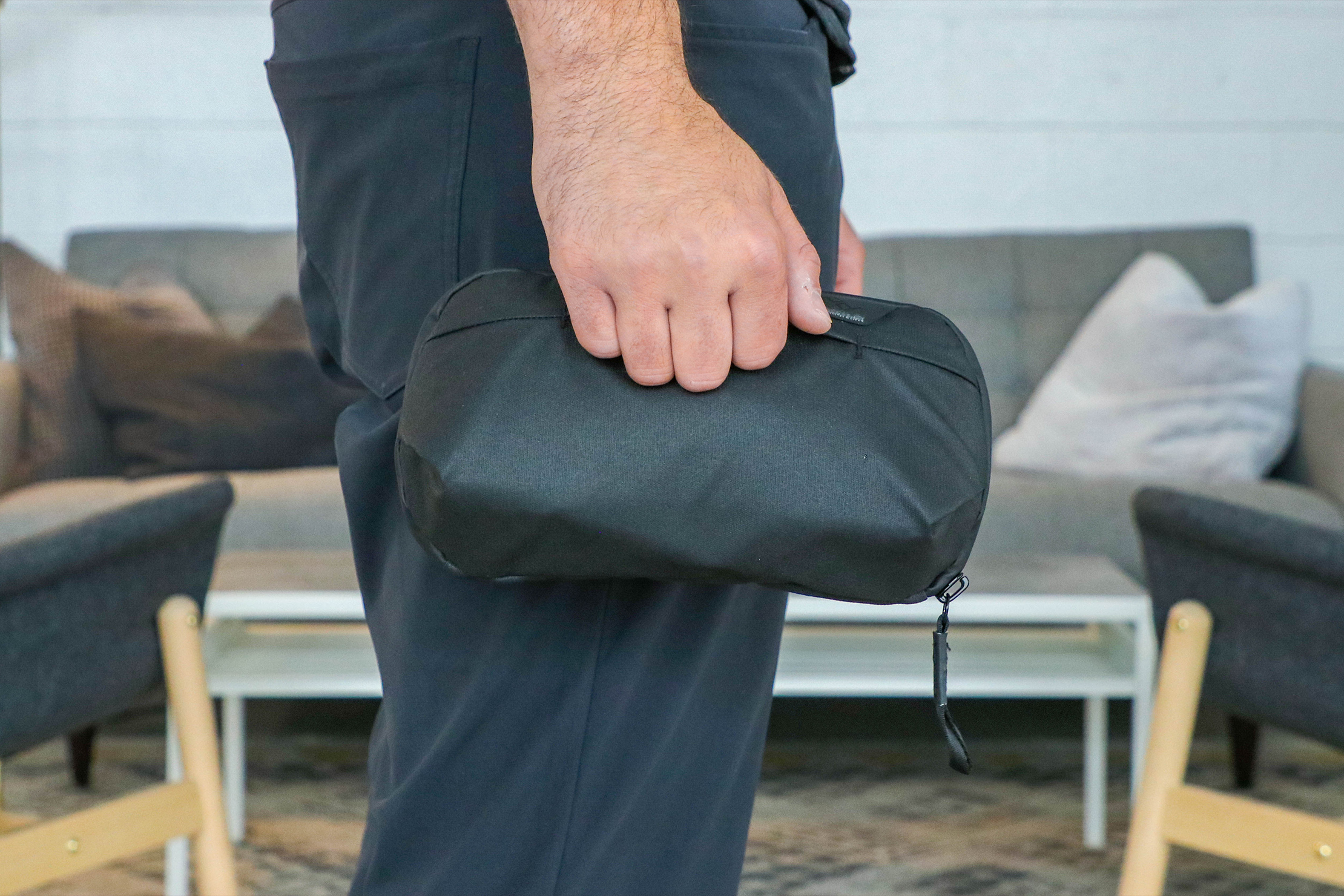 This small piece of overhanging fabric is fairly easy to miss or mistake as a front zippered pocket, which we certainly did at first. It can also act as the Small Wash Pouch's main handle. It can be a bit awkward to clutch at first because the depth is a little on the shallow side. For context, the larger Wash Pouch has a low-profile nylon handle that you can fully wrap your hand around on. This gusset handle, though, may take some getting used to, but we found ourselves using it a lot nonetheless.
As we mentioned before, we have our Small Wash Pouch fully kitted out throughout our testing. This includes a couple of TSA-approved 3.4-ounce GoToob+ containers (full of body wash, shampoo, and lotion), an electric travel razor, deodorant—basically our complete kit. As a result, our setup is a tad bloated, resulting in a wobbly side effect. The base of the Small Wash Pouch goes round, so the whole pouch can rock back and forth.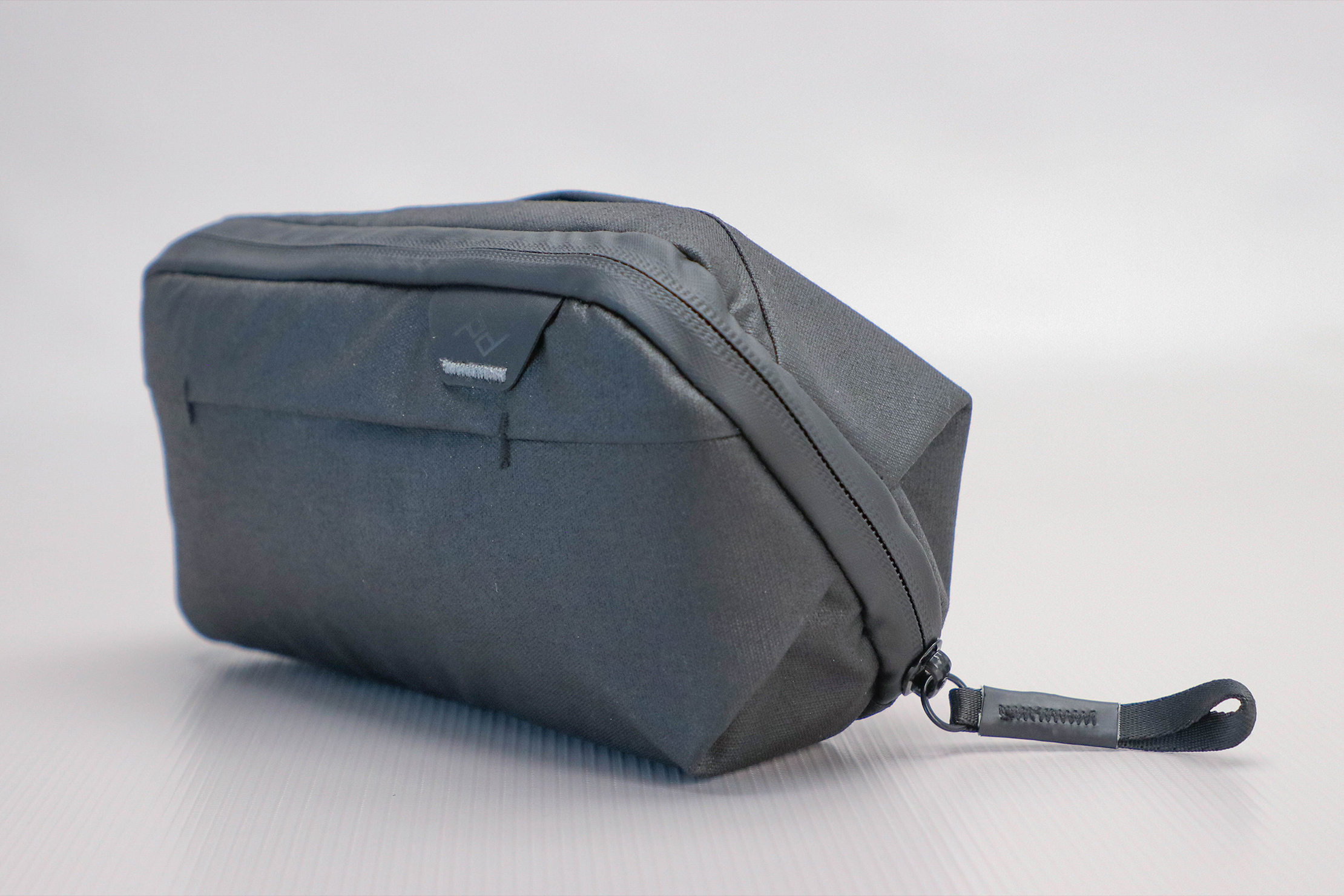 Fortunately, we'd consider the standing pouch mode more of a secondary way to prop up the Small Wash Pouch. It's good, but we're bigger fans of the hanging shelf mode. Take out the back hook, hang it on a towel rack, open up the pouch, and poof! you now have a mini shelf of your toiletries.
The hanging shelf concept isn't new; we've seen this with the regular Wash Pouch. It works similarly to other hanging toiletry kits such as the Aer Travel Kit and NOMATIC Toiletry Bag 2.0 Small. We like using toiletry kits this way—home away from home doesn't always have the biggest bathroom. However, there is a small caveat with the Small Wash Pouch when you hang it this way, which we'll get into later. But first, let's take a look at what kind of organization we have inside.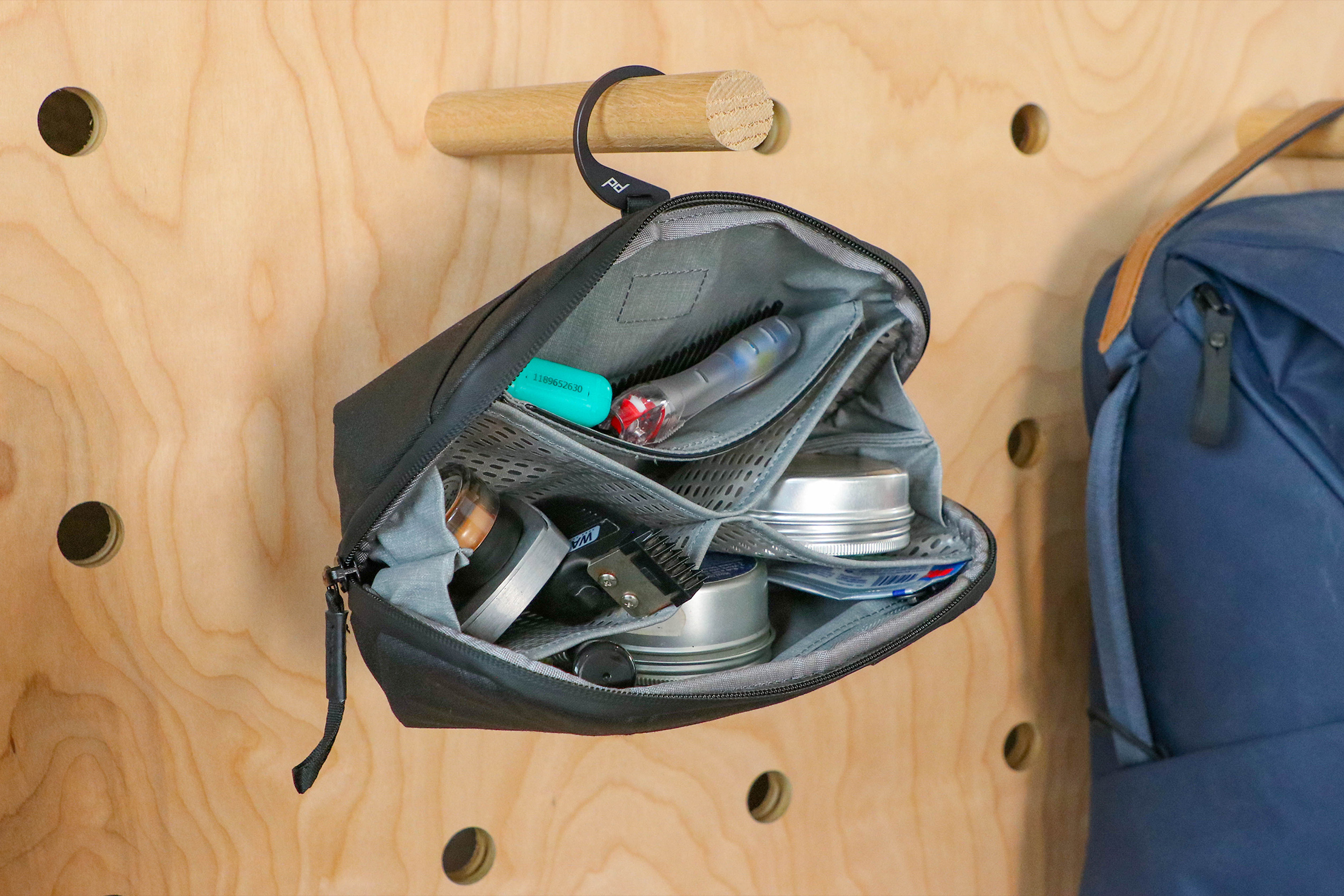 The Small Wash Pouch unzips cleanly from one bottom edge to the other, but this isn't a clamshell opening. Instead, gussets at the sides stop it from fully unraveling while still enabling wide access inside. Peak Design nailed the size of the opening here, matching it well with the numerous partitions inside.
The main portion of the compartment is subdivided into four partitions by rubbery mesh material. Once fully stretched out, the four partitions form an X shape, with two spaces at the sides, one at the front, and one towards the back. This is the general-purpose organization where most bulky items like travel canisters will go. Keep in mind, though, that once you close the pouch, these partitions compress. You get a stacking effect that pushes everything closer together, so planning which items go where is worthwhile.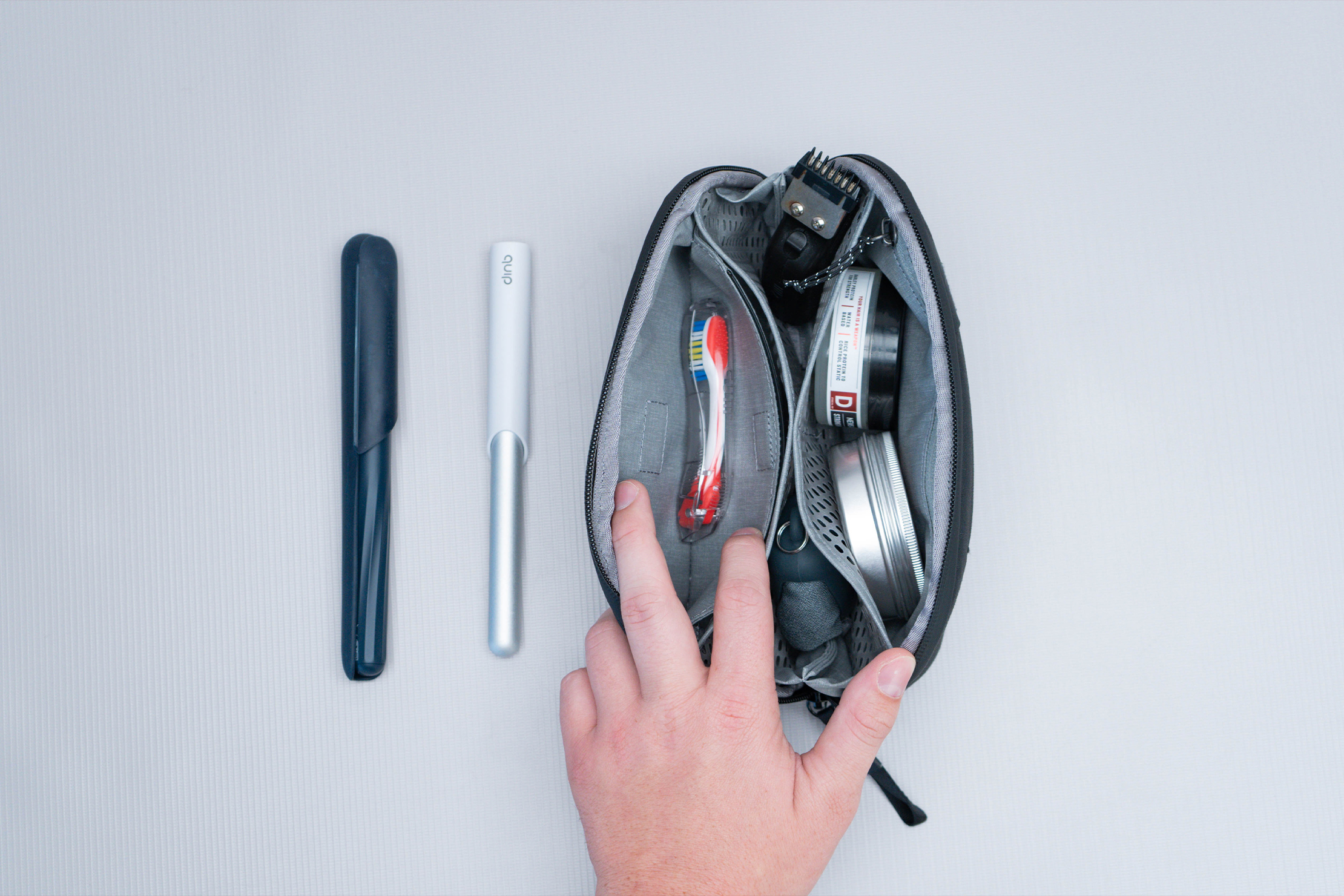 These partitions are open and easily accessible, which is something to watch for when you have the Small Wash Pouch hanging. A rough jostle can shake items loose, causing them to fall out. It's not a frequent occurrence with our testing, but not unlikely either. For example, maybe you're reaching for a towel after washing your face and accidentally knock the pouch while you're turning around.
The Small Wash Pouch has a zippered front pocket and a rear magnetized liner pocket for more secure storage. The front pocket is a bit shallow, going about two-thirds of the way down—which isn't necessarily a bad thing since this way, we didn't have to dig too deep for our sachets of sunscreen.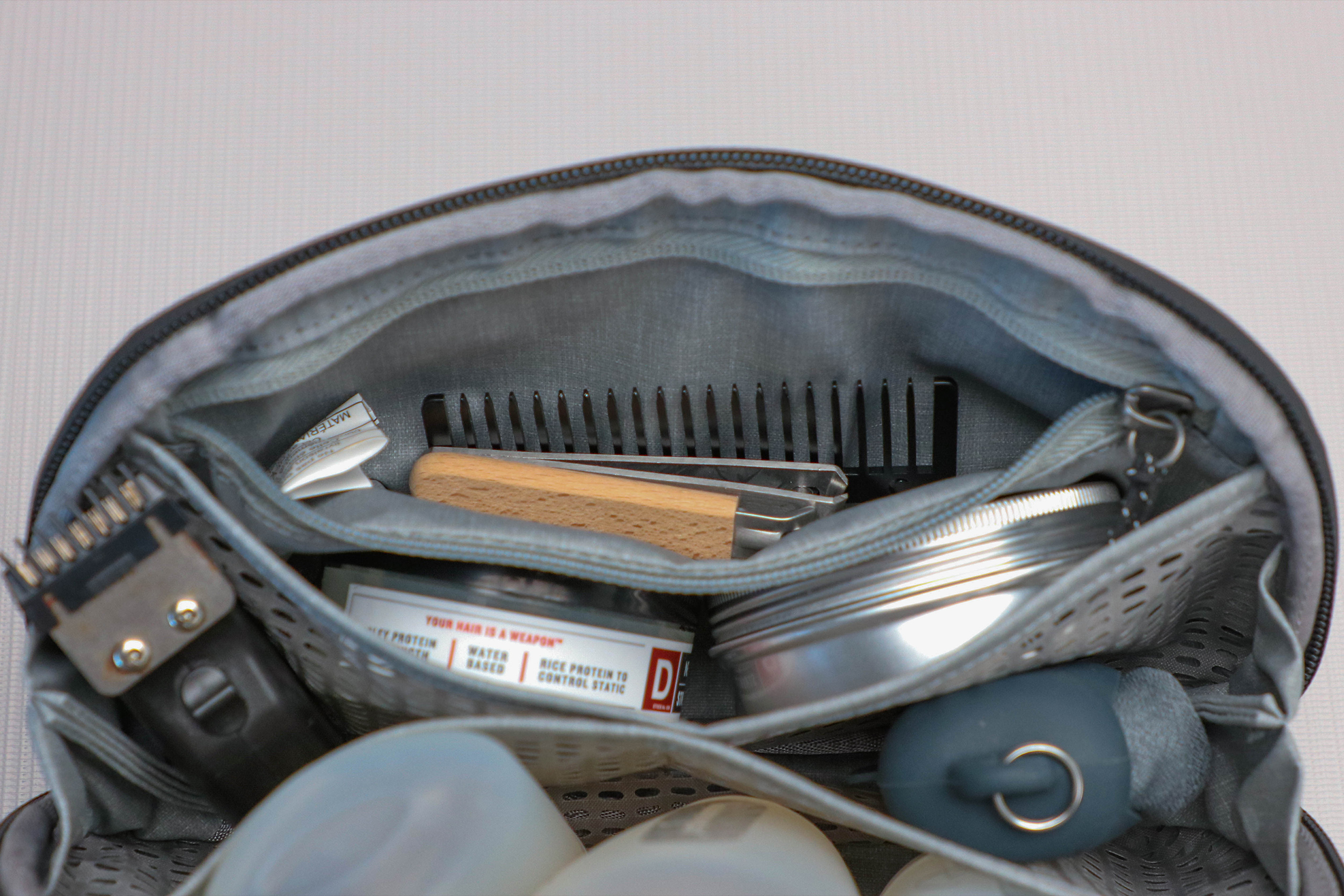 The rear pocket is more of a toothbrush pocket. We tried out a handful of our travel toothbrushes to give you a better idea of what fits and what doesn't. The GUM Travel Toothbrush fits no problem; no surprises there. Interestingly, the Philips One Battery Toothbrush doesn't fit, while the quip Electric Toothbrush does—proof that a few millimeters do make a difference in packing, and it shows the importance of choosing the right gear.
The brim of this pocket is reinforced, with a magnet in the middle to keep it closed. It's a nice subtle design for a pocket and isn't a hassle to open or close while you're getting spruced up in the bathroom.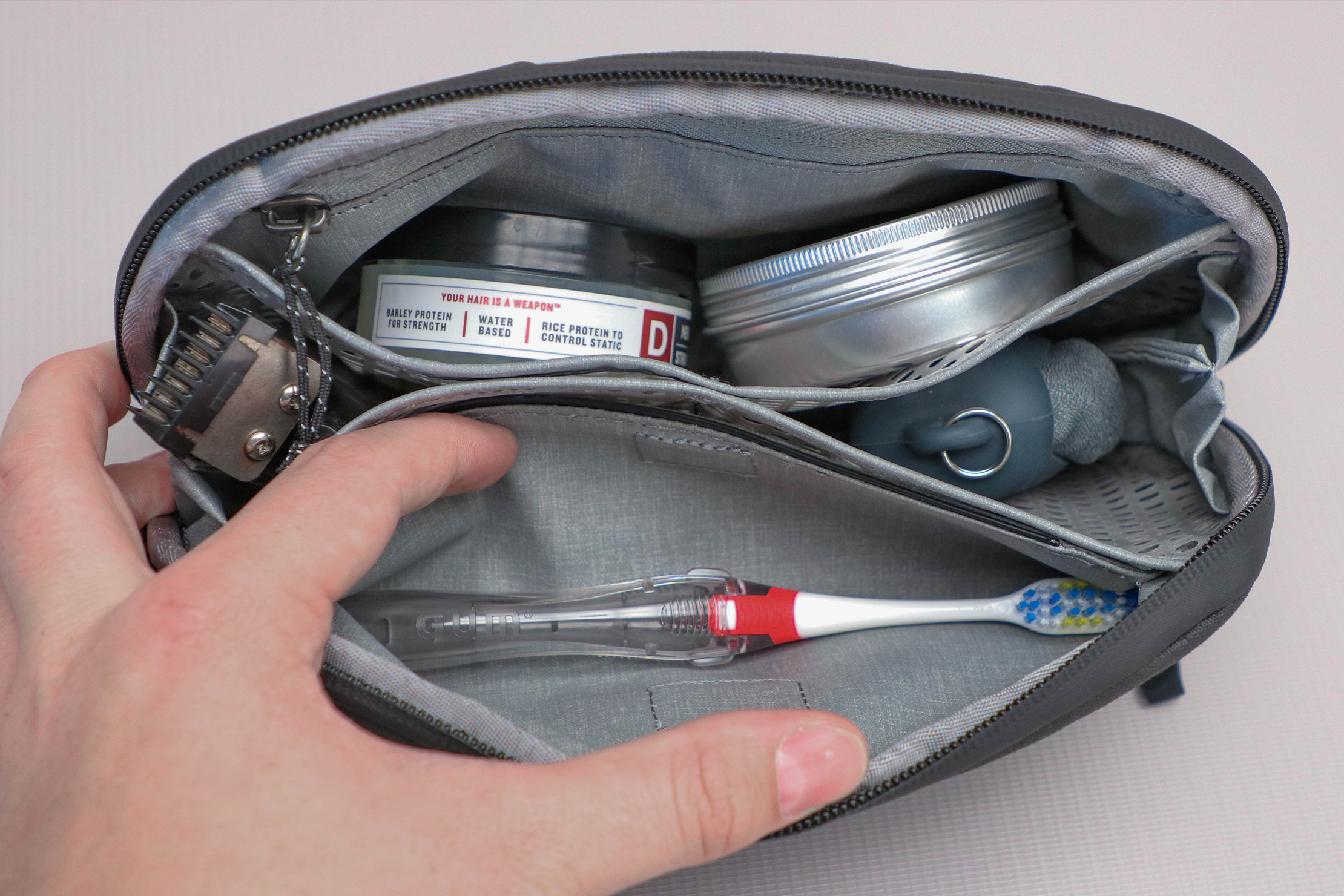 We're fans of the original Wash Pouch because of its thoughtful design and internal organization, and we're glad to say Peak Design was able to keep the magic at a smaller size. It doesn't hold as many toiletries as its bigger sibling, but that's understandable given the size difference. And as long as you're careful not to knock it by accident, it holds and dispenses your toiletries well, like your own personal mini shelf. If the Wash Pouch is too big for your use case, the Small Wash Pouch might be a step in the right direction.
Usage Timeline
Initial Usage
Condition: Excellent
We dig the weather-proof materials and water-resistant zippers
Clever organization is easy to use if your travel toiletries are sized right
Overall, the design is well-thought-out and unique to the size
Even though the pouch is designed with a flat, wide base, it can still easily lose balance on a countertop
The hook mechanism handles better than the ordinary-sized Wash Pouch from Peak Design
2 Weeks of Use
Condition: Excellent
Triangular shape helps the pouch stand on its own but can be wobbly when packed full
Hook system seems to be more effective than the larger sized wash pouch from Peak Design, keeping more gear in the pouch
Dig the weatherproof materials for the use case
Just-right organization inside without going overboard
Access the Pro Community Discussion
Get your questions about the Peak Design Small Wash Pouch answered from our team and the Pro Community right here on the page. Plus, join discussions with other members about gear, guides, and more.
Other Organizers & Pouches Reviews