Philips One Battery Toothbrush by Sonicare Review
The Philips One Battery Toothbrush by Sonicare is a tight fit for small toiletry bags, but it delivers in terms of cleaning prowess for a travel toothbrush.
Our Verdict
Unlock the Pro Summary
Save time. Get access to brief summaries of our reviews so you can browse and make decisions more efficiently.
Pros
Good, strong vibration
Two-minute timer for ADA-recommended brush time
Long battery life from just one AAA battery
Cons
Case's hinge isn't reinforced
Long and bulky with case on, which impacts Dopp kit storage
Need a coin or flathead screwdriver to replace the battery
Recent Pack Hacker Video
Technical Details
Weight (oz)

3.52 oz (99.8 g)

Dimensions

8.25 in x 0.875 in x 1 in (21 x 2.2 x 2.5 cm)

Manufacturing Country

China
Full Review
Reaching for our toothbrush on a cold morning is one of our key wake-up calls. Whether you're in the comfort of your own home or in a ski lodge up in the Alps, a good scrub of the teeth is a welcome taste of a brand new day. With this in mind, having a reliable toothbrush in your kit is a must for any packing list.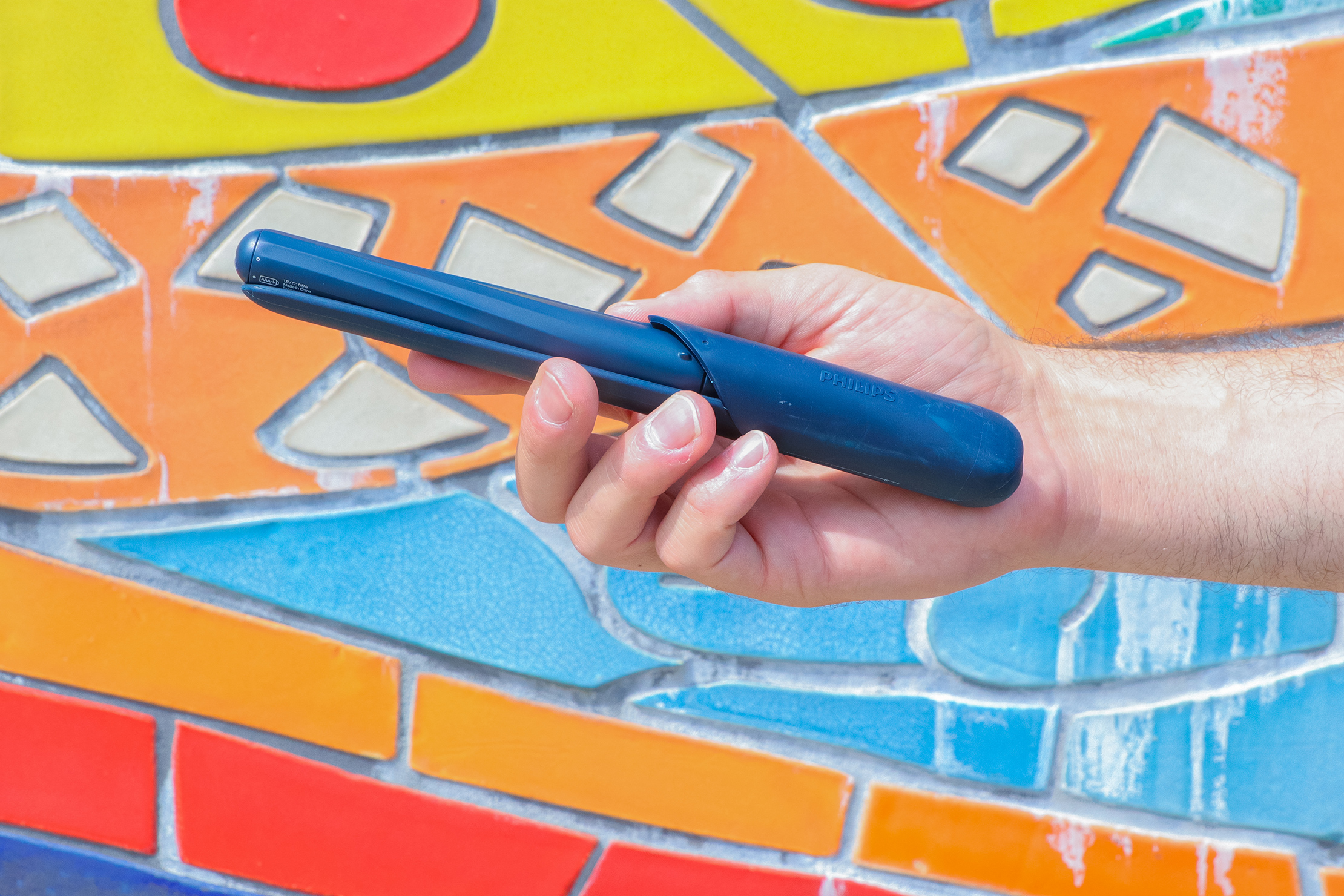 In this review, we're taking a look at Philips' One Battery Toothbrush, an electric toothbrush designed by their sub-brand Sonicare. It's definitely not the most compact toothbrush out there for traveling, so its size is something to watch out for. Meanwhile, the toothbrush itself performs well and delivers good vibrations for a decent clean—it even has an automatic two-minute timer. As always, the devil is in the details, so let's take a closer look at the One Battery Toothbrush and what it has to offer.
Materials & Aesthetic
As far as toothbrushes come and go, the Philips One Battery Toothbrush leans toward sleek yet traditional. The upper brush head portion is more of a typical manual toothbrush style, while the thick bottom half is more "definitely-an-electric-toothbrush" with its thickness and power button. That said, it's not the chunkiest electric toothbrush out there either. For context, it's nearly the same size as the quip Electric Toothbrush, which is one of the more futuristic and sleeker-looking toothbrushes we've used.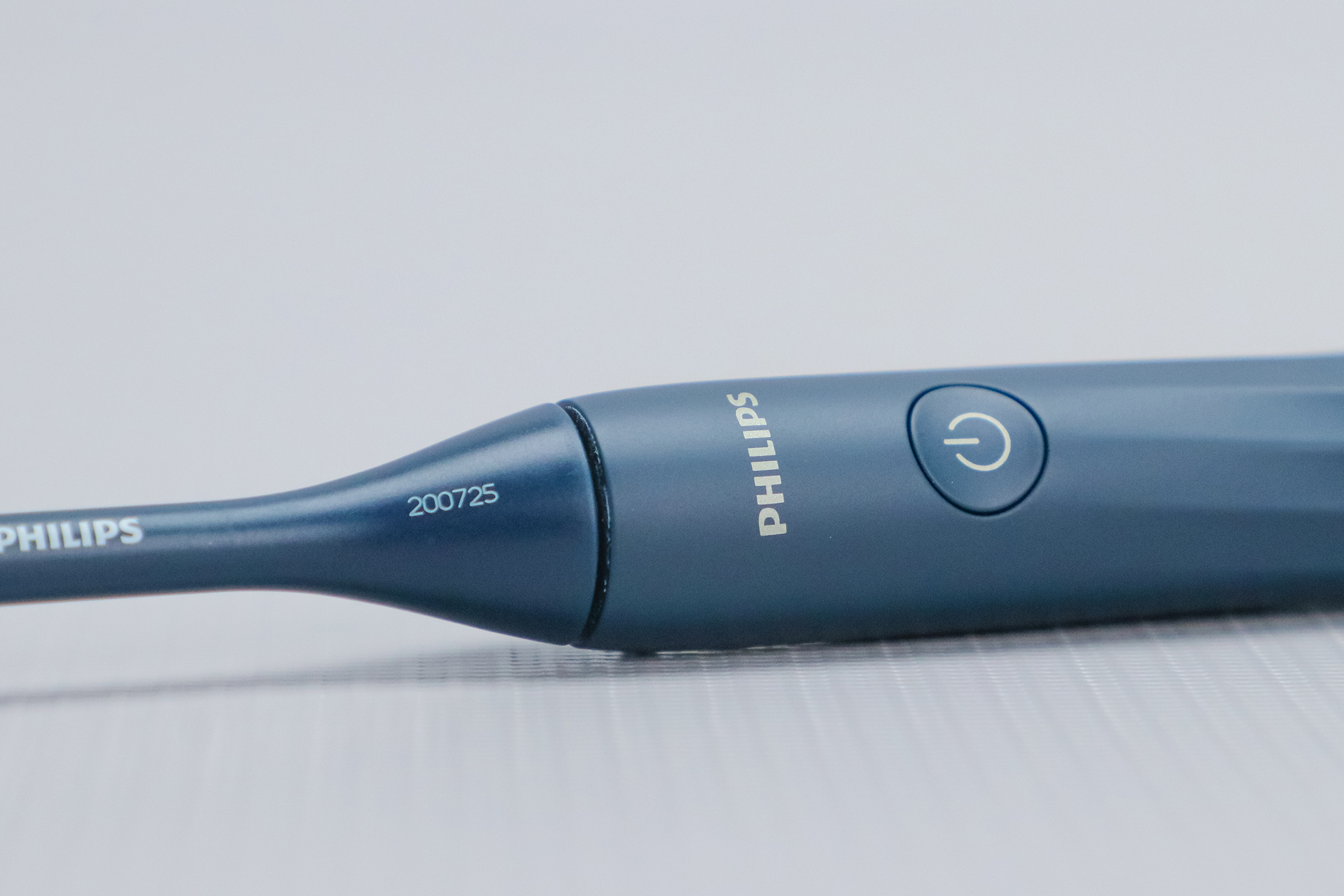 For some, the aesthetic of a toothbrush may come as trivial, but we personally don't mind if brands want to jazz it up. The handle has a subtle twisted groove pattern that gives it a touch of classiness, which we like. Philips put their branding on both the replaceable brush head and main body. But unlike the white text on the brush head, the logo on the main body gets a golden finish.
We have the Midnight Blue colorway model, and its dark color gives it a sleek look. At the time of this review, there're also Miami (salmon pink), Mint Blue (very light blue), and Mango (yellow) colorways available. If you want to get cute with it, you can mix and match with differently colored replacement brush heads as well. There's also a One Rechargeable Toothbrush model that's, well, rechargeable via USB, as opposed to this AAA battery-powered model. That one has its own range of colorways of Snow (white), Shimmer (peach), Shadow (black), and Sage (dark green).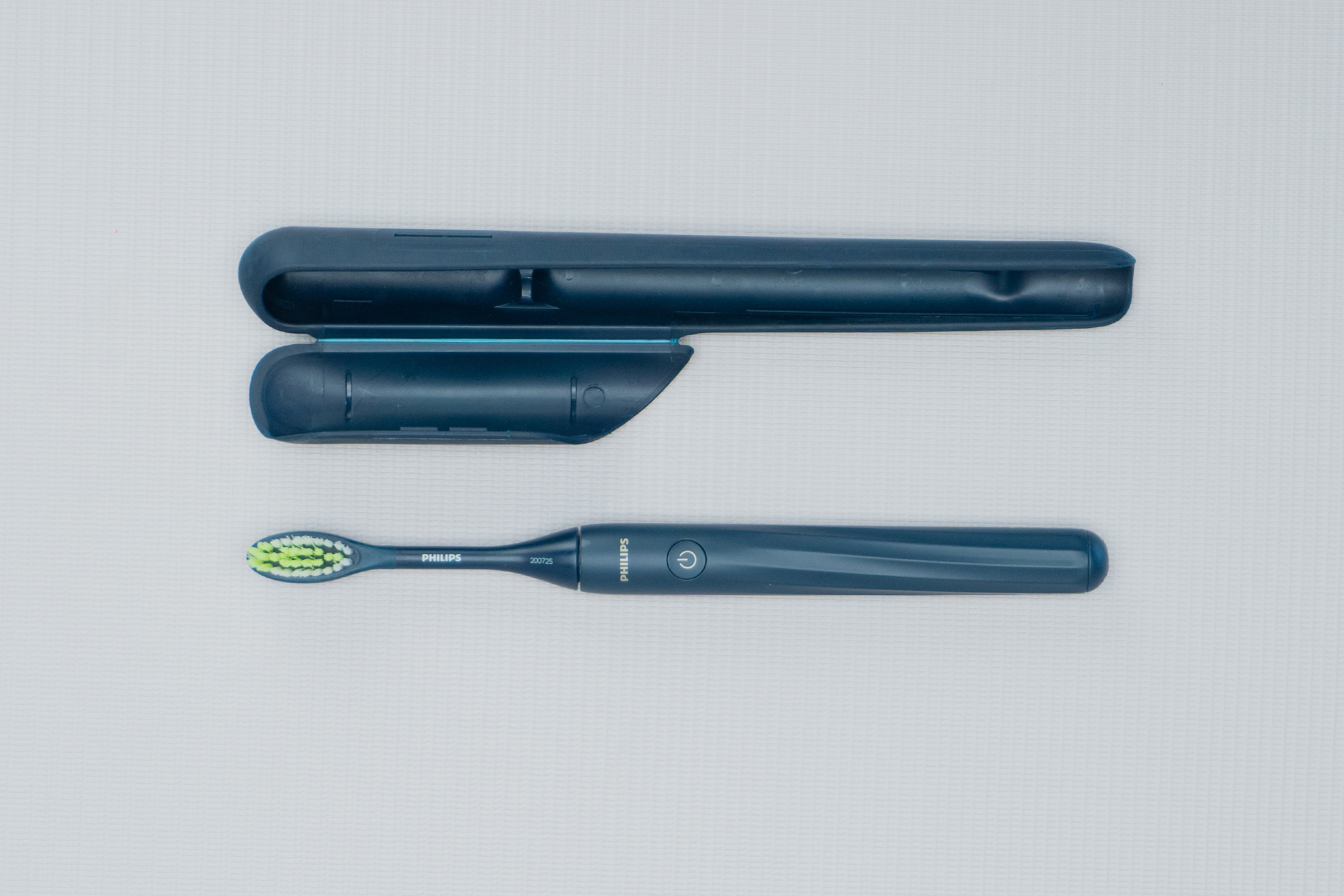 There's no material difference between the two models. Both are primarily made out of plastic with a matte finish, save for the brush head. Maintenance is pain-free as well, with no spots too hard to reach or rinse. Durability-wise, everything feels up to the task of toothbrushing, save for one area.
Usage & Features
The protective case of the One Battery Toothbrush is fairly beefy and uniform. Inside are two cutouts for drainage and a partition that keeps the brush head separate from the rest of the body. The toothbrush fits fairly snugly inside. One potential snag is when the bristles eventually wear and bow outwards, they might snag on the case when you insert it. That said, it's a good indicator of when to replace your brush head.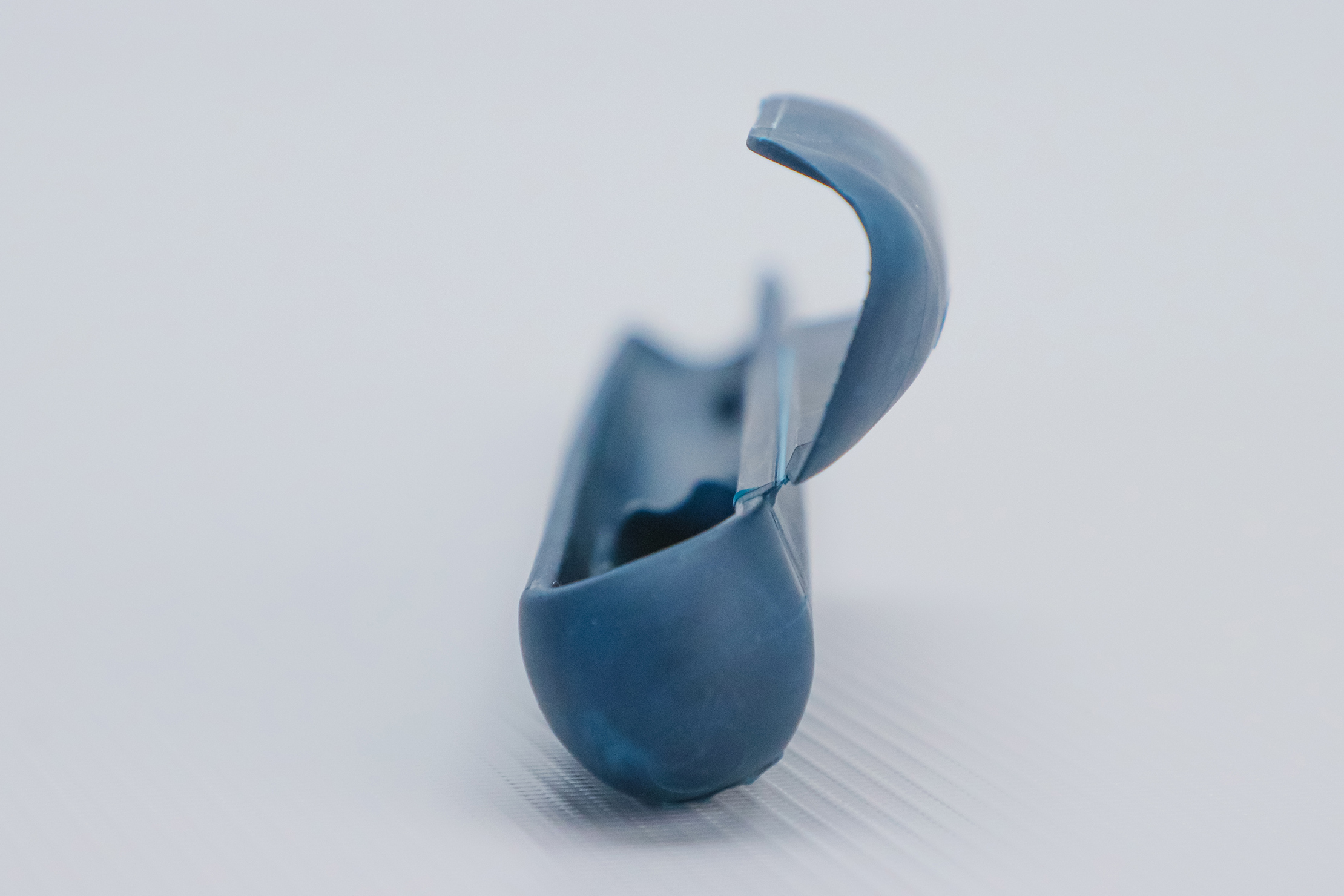 The case gets the job done, albeit being on the larger side, but one area we're really not huge fans of is the hinge. A thin layer of plastic joins the lid to the rest of the case—the sort of stressed and worn plastic that you might see on packaging or old toys. Either way, we were hoping for something more robust since we're using the toothbrush often and taking it out of the case just as frequently.
At the bottom is a small cutout where the toothbrush's base pokes out a bit. This allows you to give it a little push, which pops out the toothbrush easily. It's a neat touch for those who hate fussing and prying cases open with wet hands.
Since this is the AAA battery-powered model, one of the first things we like about this toothbrush is that it comes with one. Yes, there's already a pre-installed battery, so you don't have to scavenge one from the TV remote. When the time comes for replacement, there's a straight indent at the bottom, just wide enough for a coin or flathead screwdriver (not a Phillips head, sadly). Philips claims a 90-day life per battery. We've had the toothbrush for a little over two weeks, so we can't back this up for now. However, the power of the vibration remains strong even after regular use.
The vibration is relatively strong compared to the quip Electric Toothbrush. It's just right for a good teeth-scrubbing session that'll leave you feeling satisfied. The bristles themselves feel great, with just the right amount of softness and firmness we've come to expect from a toothbrush from Philips. The brush head is also easily removed with a simple yet firm tug at the end. Your mileage may vary, and your impression may be hugely influenced depending on what kind of toothbrush you're coming from.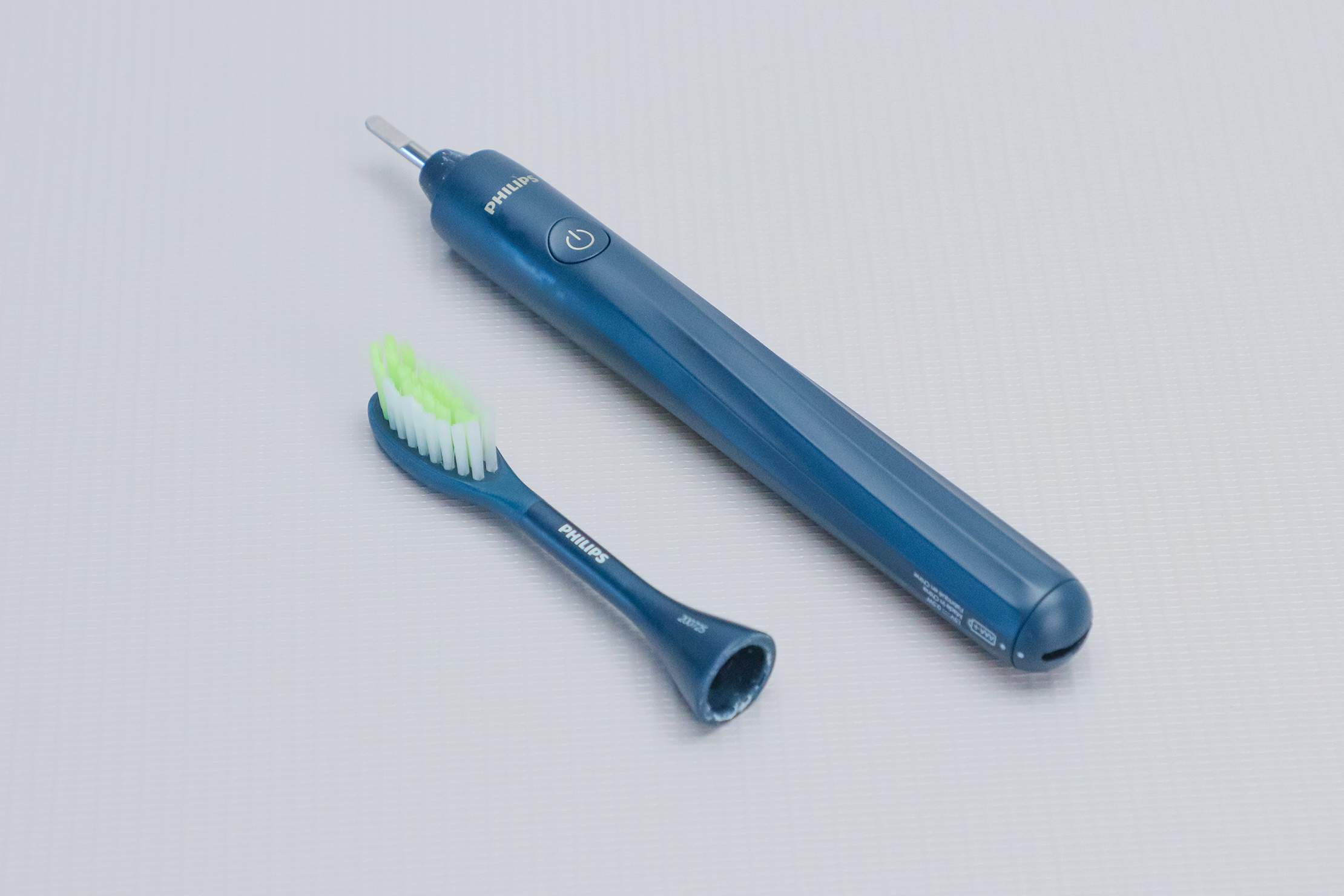 One neat feature to aid users in getting a better clean is the two-minute timer. It automatically kicks in after you press the power button, and it shuts off the motor after two minutes, the recommended length of brushing by the American Dental Association. Of course, healthy dental hygiene isn't solely based on how long you brush your teeth, but this is a nice-to-have feature that helps us keep track.
The biggest challenge to using the One Battery Toothbrush is the length of its case. We travel with a separate Dopp kit or toiletry bag, and it struggles to fit inside in some of them. For example, while the One Battery Toothbrush does fit in the Tom Bihn 3D Organizer Cube, it noticeably bulges and sits at an angle. On the other hand, it fits inside the larger Aer Travel Kit and slots into the elastic loops. We have the exact dimensions listed above if you want to check out the fit against your own pouch.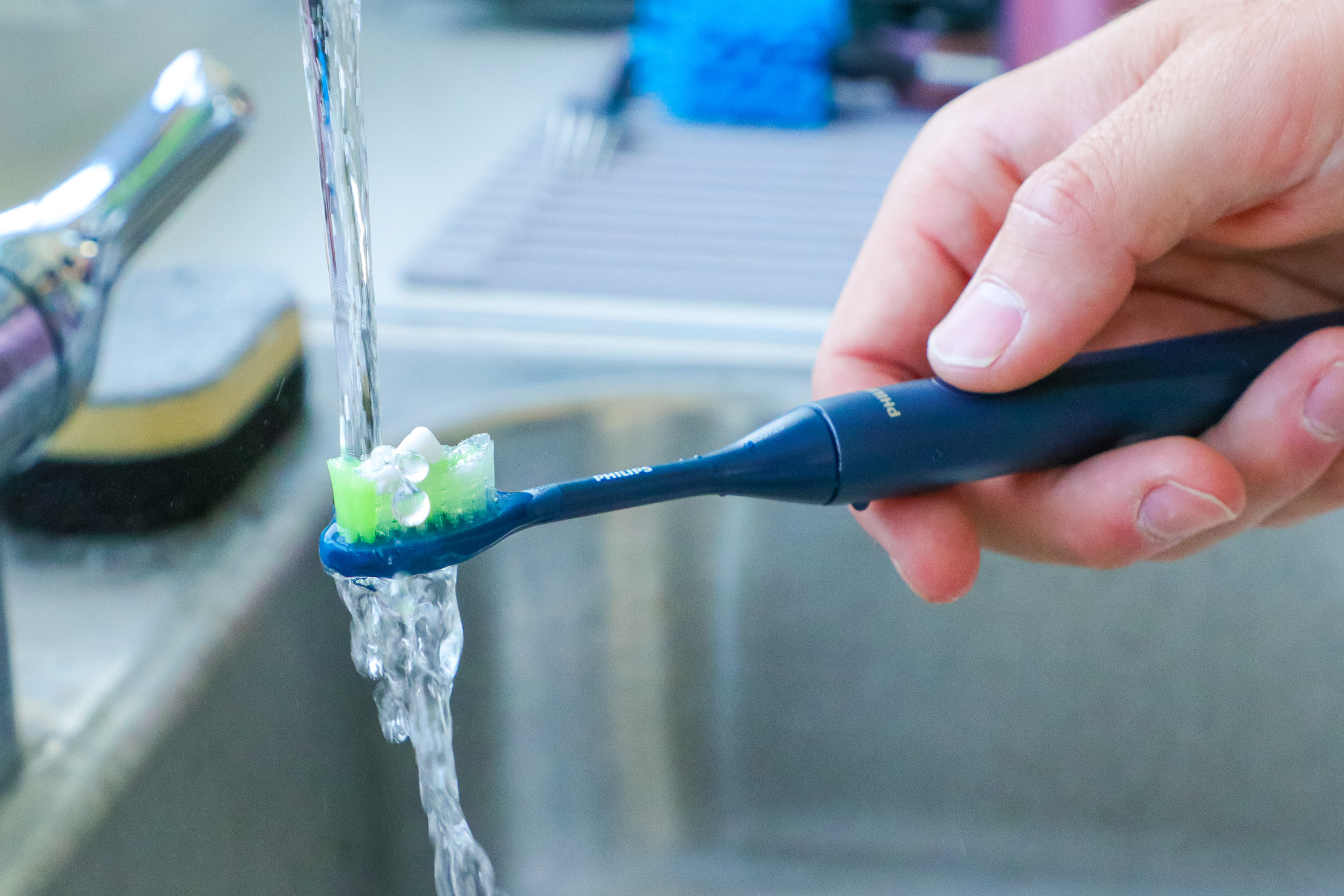 Keeping our smile pristine on the go is something we take seriously. It's a sort of universal welcome mat, unbound by language barriers. Fortunately, Philips' One Battery Toothbrush helps keep that smile in more ways than one. It gets the job done as a toothbrush, does it comfortably, and even helps you go the full recommended two-minute length. Provided it fits, it's a good choice for a toothbrush in your toiletry kit.
Usage Timeline
Initial Usage
Condition: Excellent
Comes with a matching travel case
There's already a AAA battery installed
Replacement brush heads also come in different colors
2 Weeks of Use
Condition: Excellent
The toothbrush is a little long and has some trouble fitting into smaller toiletry bags
The vibration provided is pretty good for the size
Looks slick for a toothbrush
Not super confident in the durability of the carrying case's hinge
Access the Pro Community Discussion
Get your questions about the Philips One Battery Toothbrush by Sonicare answered from our team and the Pro Community right here on the page. Plus, join discussions with other members about gear, guides, and more.
Other Toiletries & Personal Care Reviews