Aer Travel Kit Review
The Aer Travel Kit is ideal for organizing toiletries as you zip around the world. We love the internal organization, durable materials, and nifty hook.
Our Verdict
Unlock the Pro Summary
Save time. Get access to brief summaries of our reviews so you can browse and make decisions more efficiently.
Pros
Small enough to take up minimal space in your pack and large enough to hold all of your toiletries
Top-notch craftsmanship and materials
Great internal organization
Cons
If you don't pack strategically, this kit may be difficult to close
The fabric isn't waterproof
The interior elastic could be tighter
Recent Pack Hacker Video
Technical Details
Capacity

2.5l

Weight (lb)

0.4 lb (0.2 kg)

Denier

1680D

Dimensions

6.5 in x 9.5 in x 3 in (16.5 x 24.1 x 7.6 cm)

Notable Materials

CORDURA® Ballistic Nylon, YKK Zippers

Manufacturing Country

China

Warranty Information
Buying Options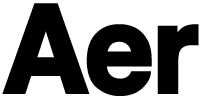 $45.00

$49.00
Full Review
Get up to 10% off Aer • Join Pack Hacker Pro
Unless you want all of your toiletries randomly splayed all over your bag, a Dopp kit—or toiletry kit as they're also called—is a necessary item to take while traveling. The Aer Travel Kit, with its durable materials, great internal organization, and nifty hook, is a solid option. It's also why we featured it in our Digital Nomad Packing List.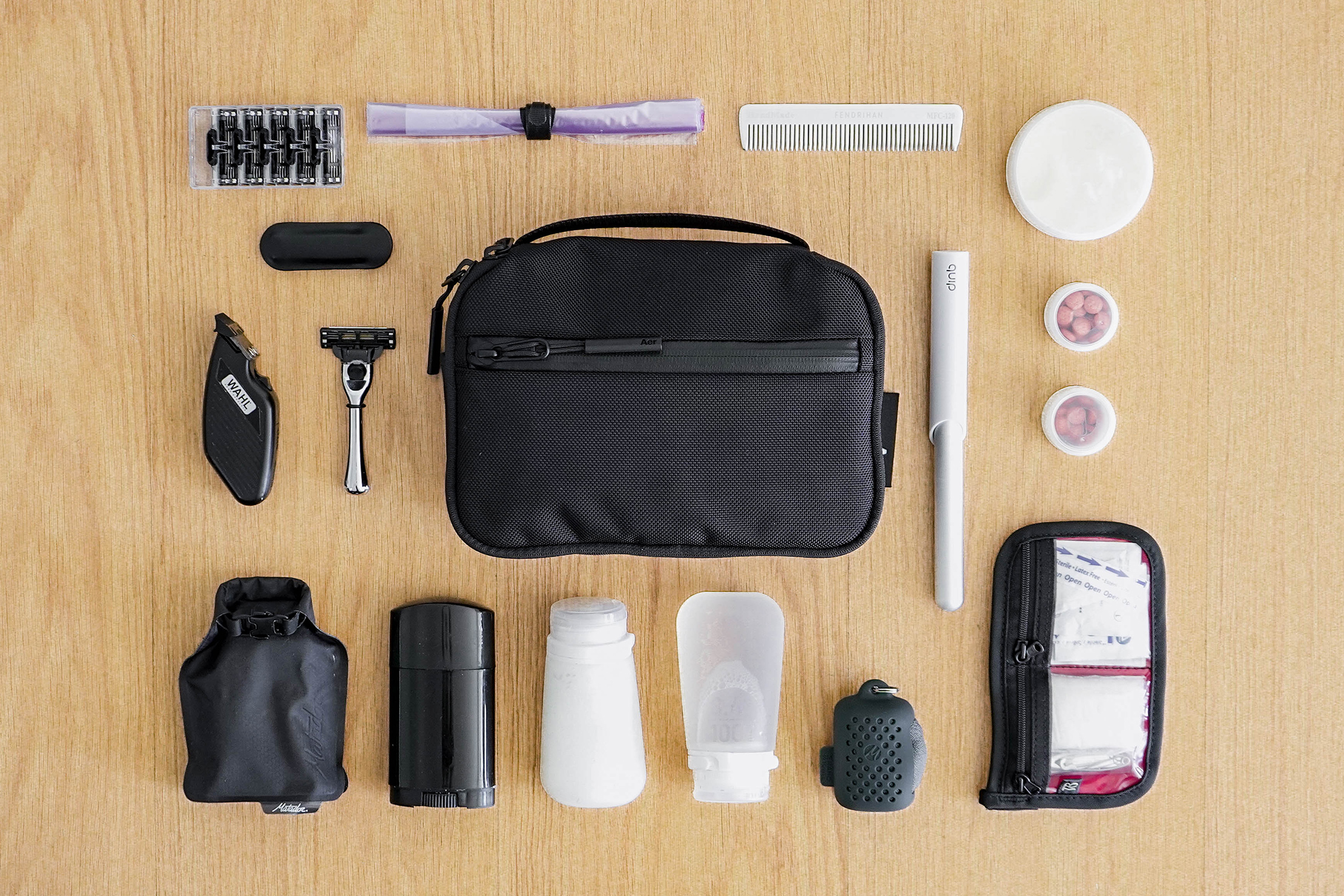 Alright, so now that you know we're into this kit, let's check out why.
Materials & Aesthetic
The look of the Aer Travel Kit just screams Aer to us. It has a similar aesthetic to a lot of Aer's other products (the Day Sling, Travel Duffel, Travel Pack, etc). So if you're a fan of that sleek and minimalist style, you'll probably enjoy the look of this kit too. We've been testing it in black, but it's also available in an equally classy gray.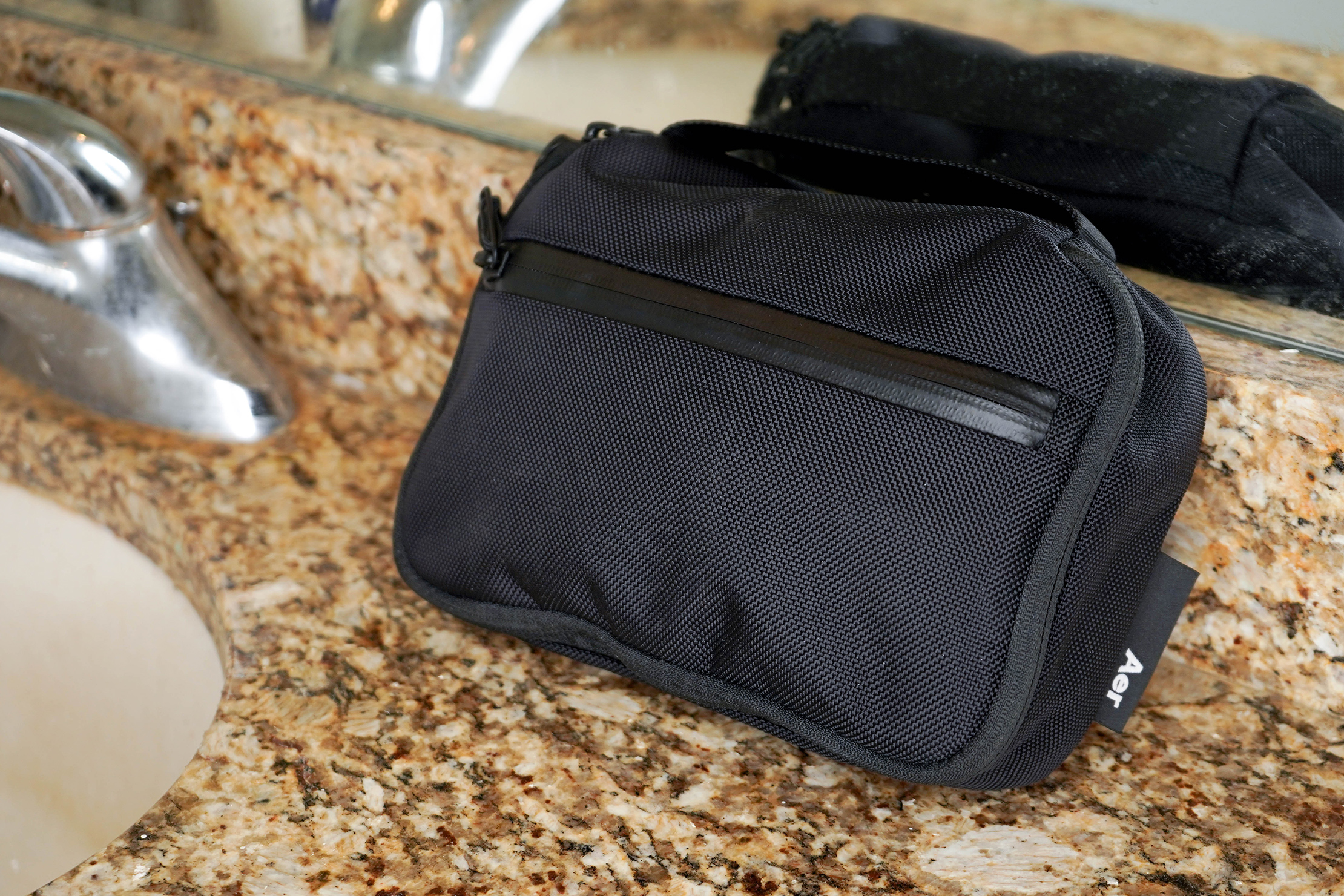 At 2.5 liters, this kit isn't huge, but it's large enough to fit everything you'll likely need on the road. We've also found it to be a great size and shape for packing, too. You can stand it up vertically in your bag, whereas a lot of other Dopp kits need to be laid horizontally.
And in classic Aer fashion, the materials are no joke. The exterior is made of 1680D CORDURA® ballistic nylon, which is some seriously tough stuff. While the kit isn't waterproof (best not to take a shower with it) it is water-resistant, which is definitely necessary for a Dopp kit since water and toiletries go together like peanut butter and jelly.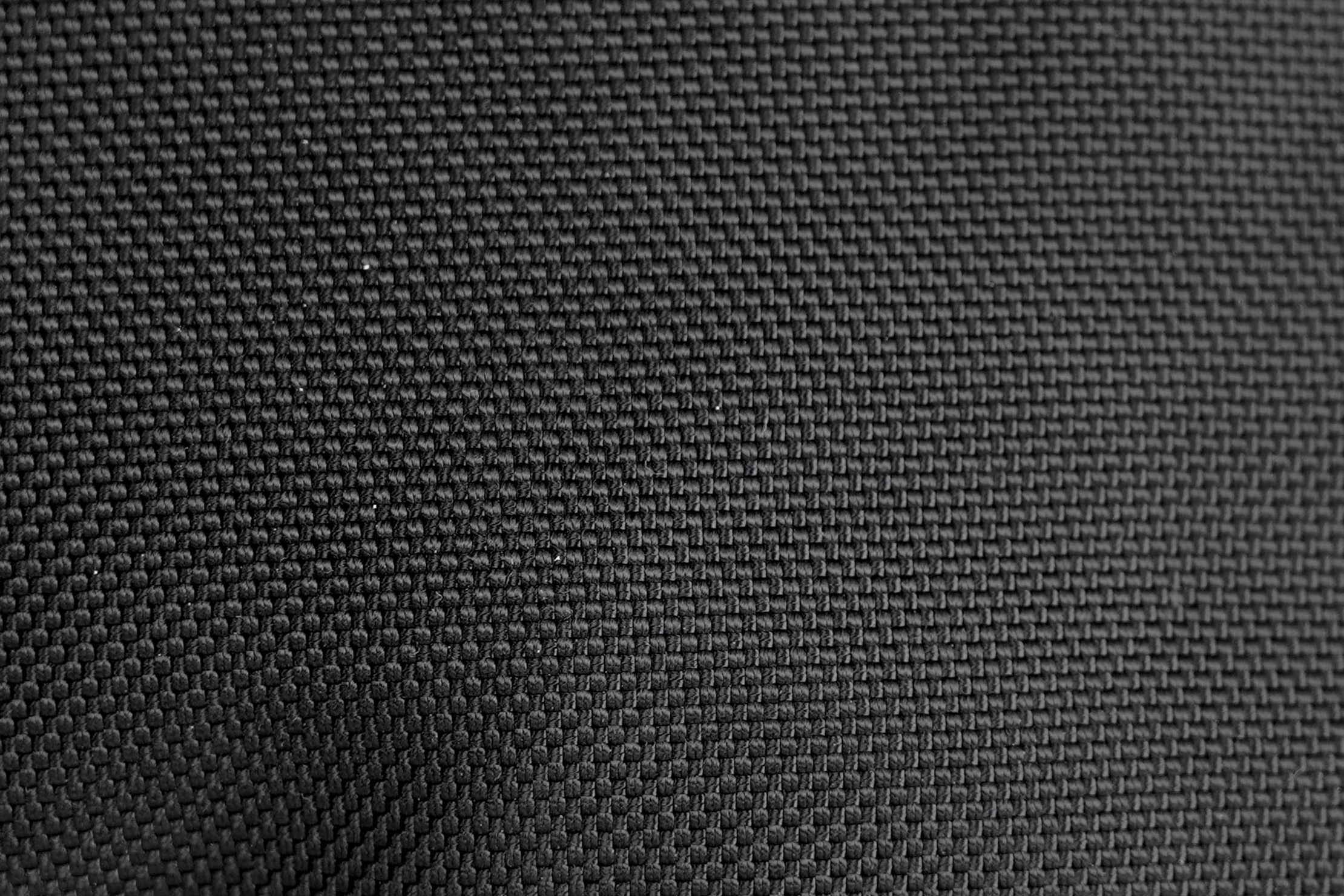 The main zippers are all YKK RC #8, which are a bit beefy for a kit of this size. In fact, these big zippers tend to jingle in-transit just like those on the Aer Travel Pack 2. This is a tad annoying, but we'd much rather have zippers that are too big than ones that'll break. The zipper on the front pocket is a YKK Aquaguard for added water-resistance, which is also a zipper you'll see on most Aer products. It definitely adds to that classic Aer aesthetic we mentioned earlier.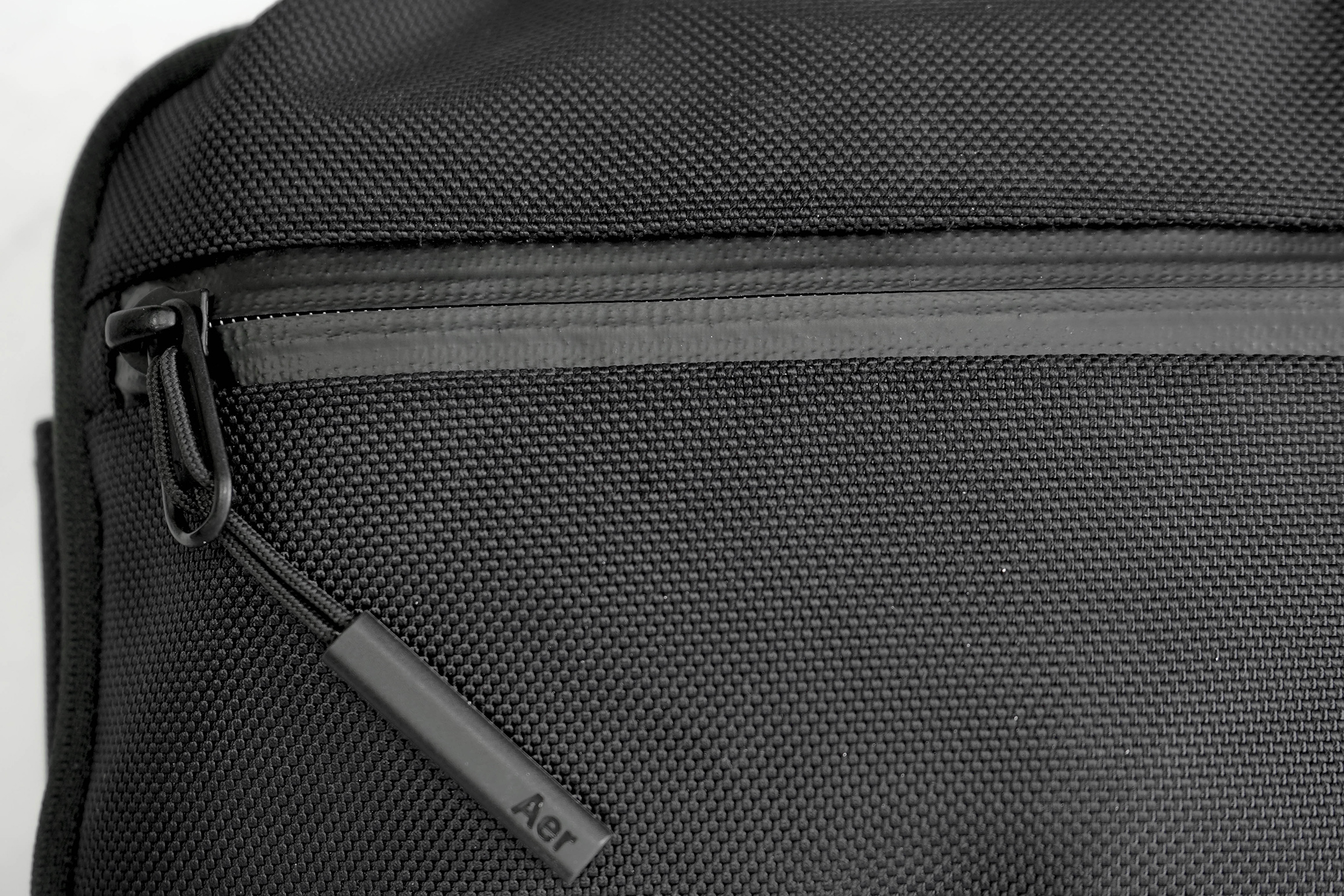 The internal zippers are also YKK, though a much more reasonable size at #3. And the stowable hook is YKK as well. We never knew YKK made hooks, but we're glad they do!
Inside the Kit
Moving right on to the interior of the kit, we think this thing has the ideal amount of organization. It has enough that you can fit and find all your toiletries easily, which is just what we want. That being said, if you do have a massive amount of toiletries—you might have some issues.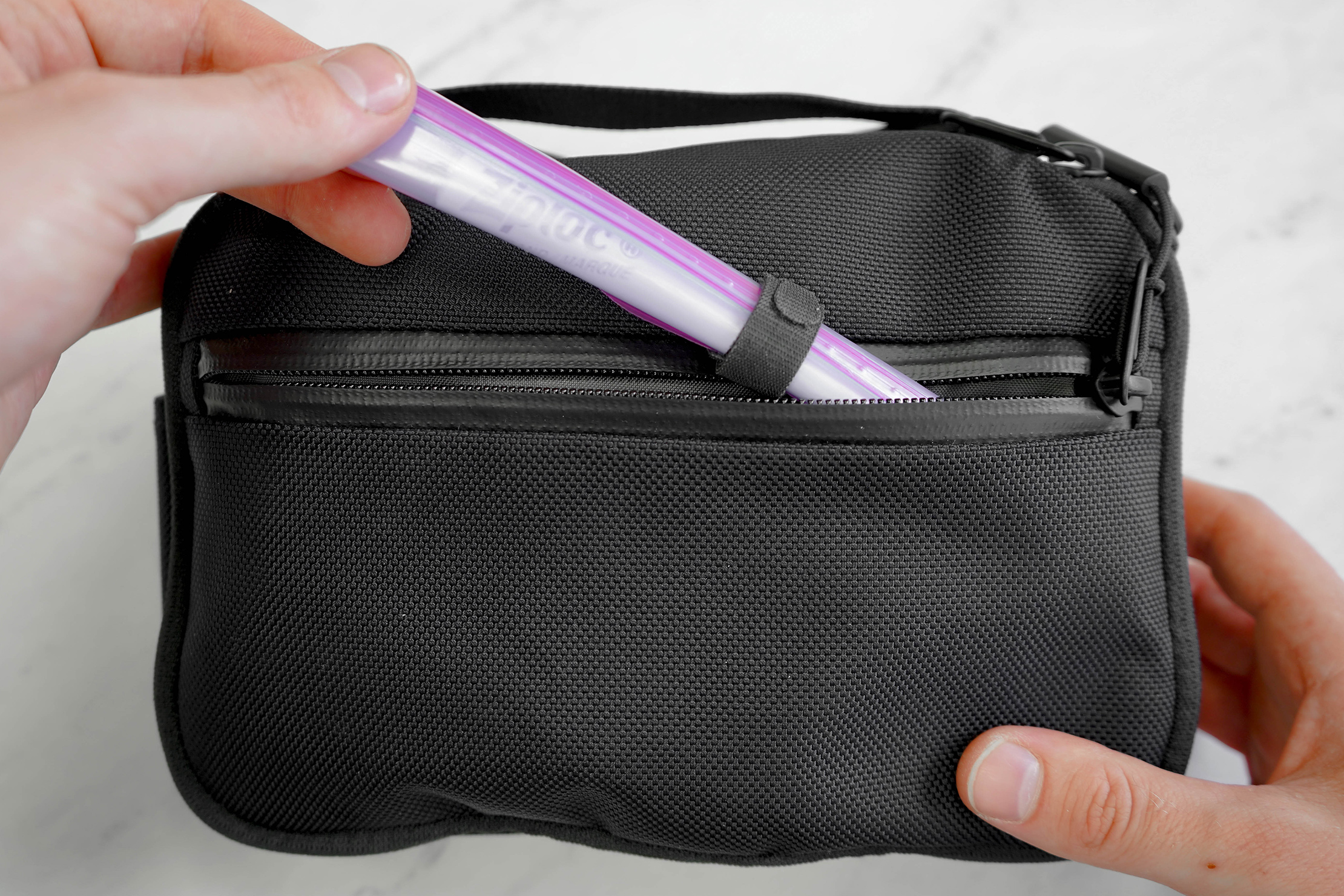 Taking a quick tour of the kit, we'll start with the two external pockets—neither of which have anything fancy going on. They're a great place to stash some flatter items you may need to access quickly. We've been tossing a small plastic bag in the front pocket—to hold our liquids at airport security if need be—and our first-aid kit in the back. Trust us—you never want to go digging for your first aid kit.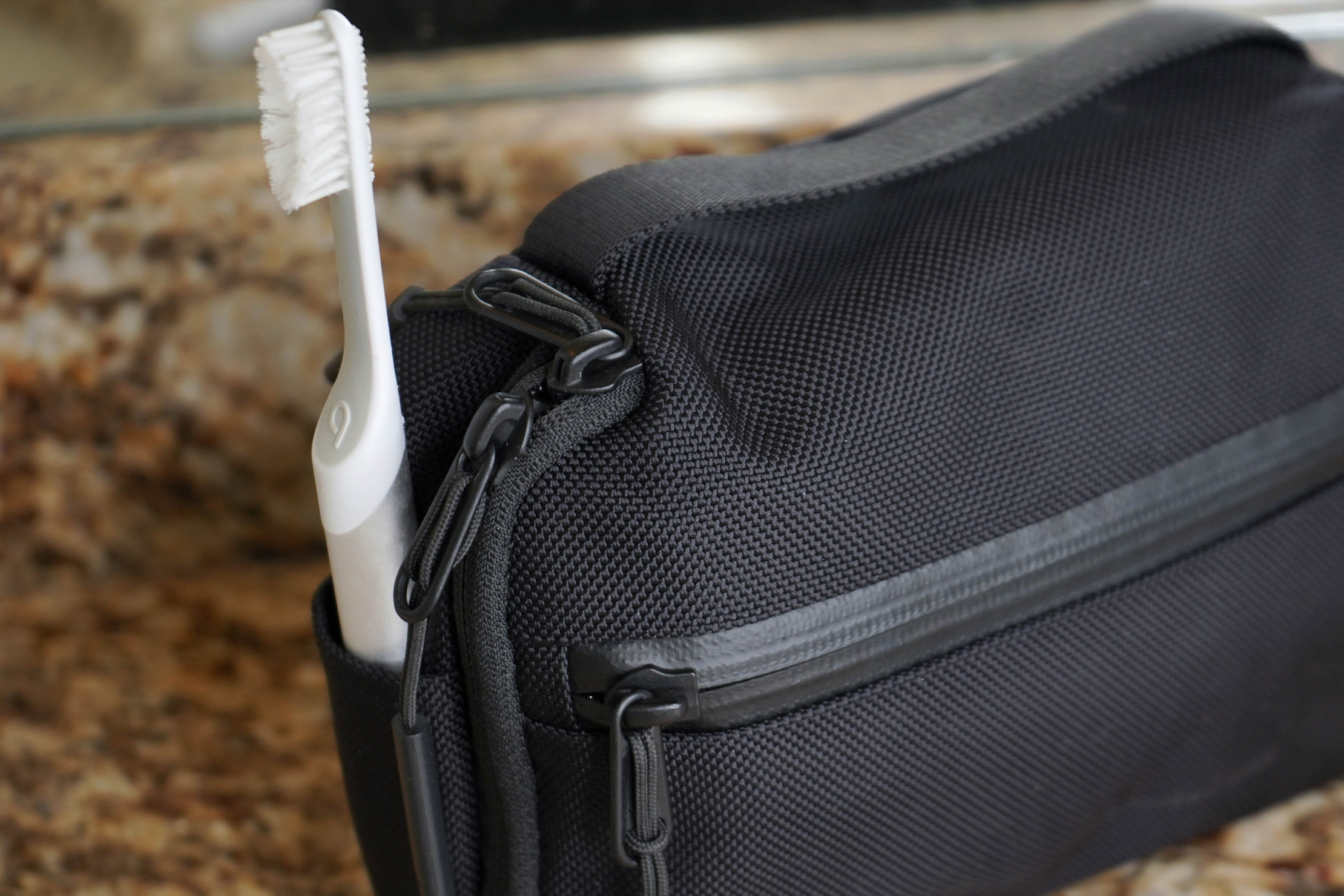 There's also a little toothbrush pocket on the exterior, which we think is a lovely touch. You'll likely store your toothbrush internally while in-transit, but having a place to stick it while staying at a hotel or Airbnb is super helpful. It's the little things, you know?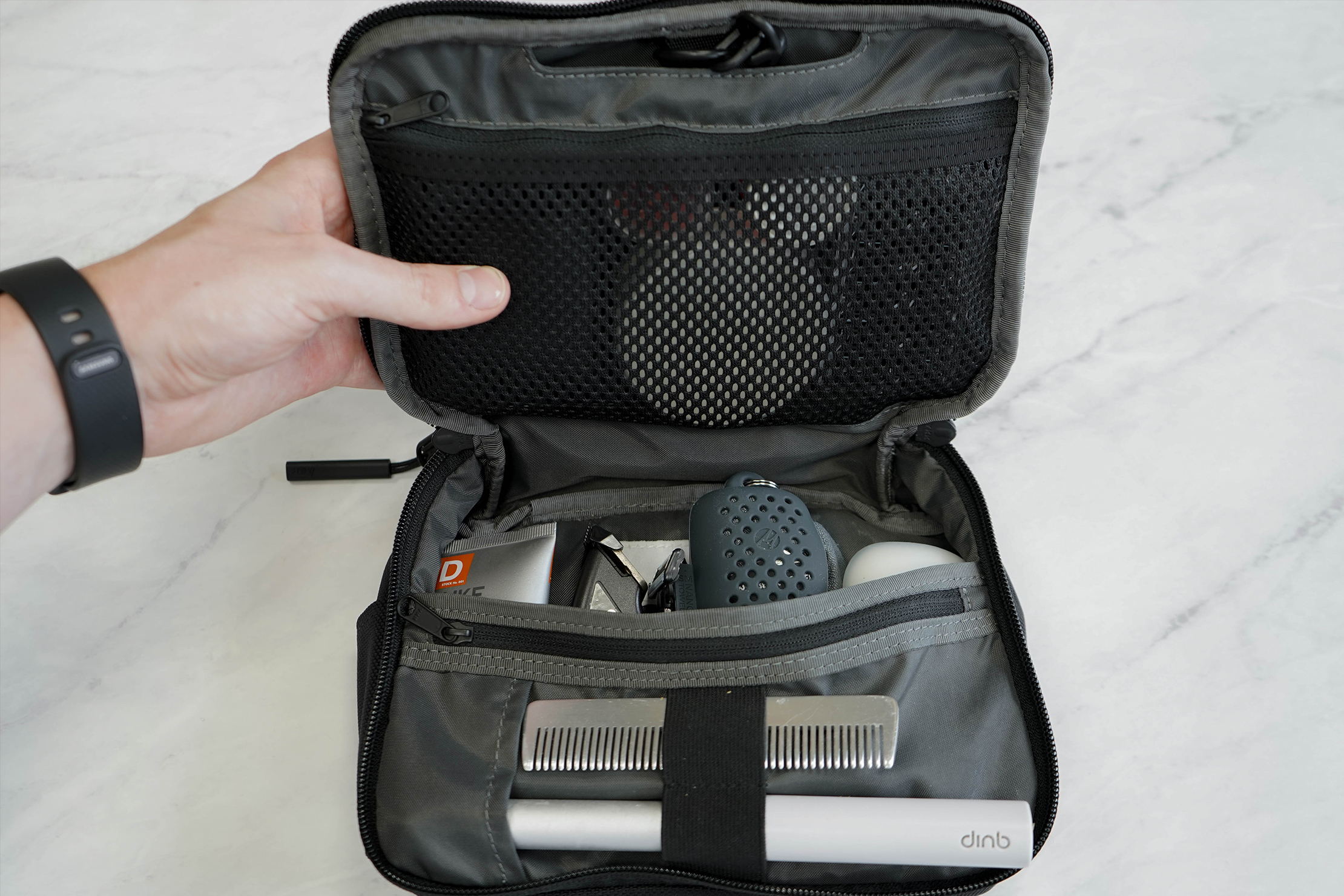 Now let's open up that main compartment. You'll immediately see the stowable hook at the top. This is great because it allows you to hang your kit up in your hotel/Airbnb room, or on a hook in a public shower—and it can always be tucked away when not in use. The kit hangs pretty well too, as long as the main zippers are all fully unzipped.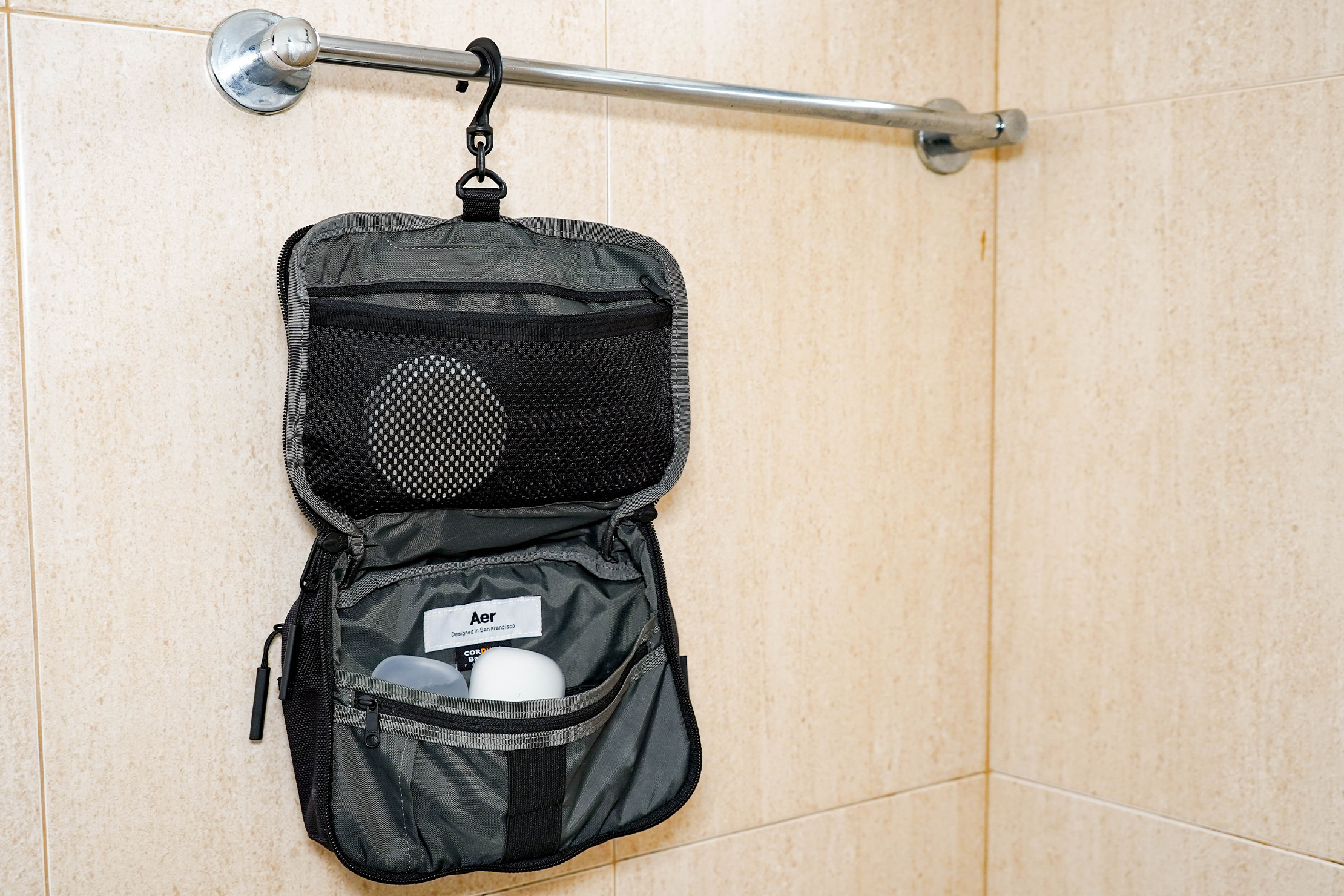 Beneath that is a large mesh pocket, which is a perfect spot for the flatter HumanGear GoToob containers that we've filled with gels, lotions, hair product, and some ibuprofen. We've also tossed our body soap in this pocket.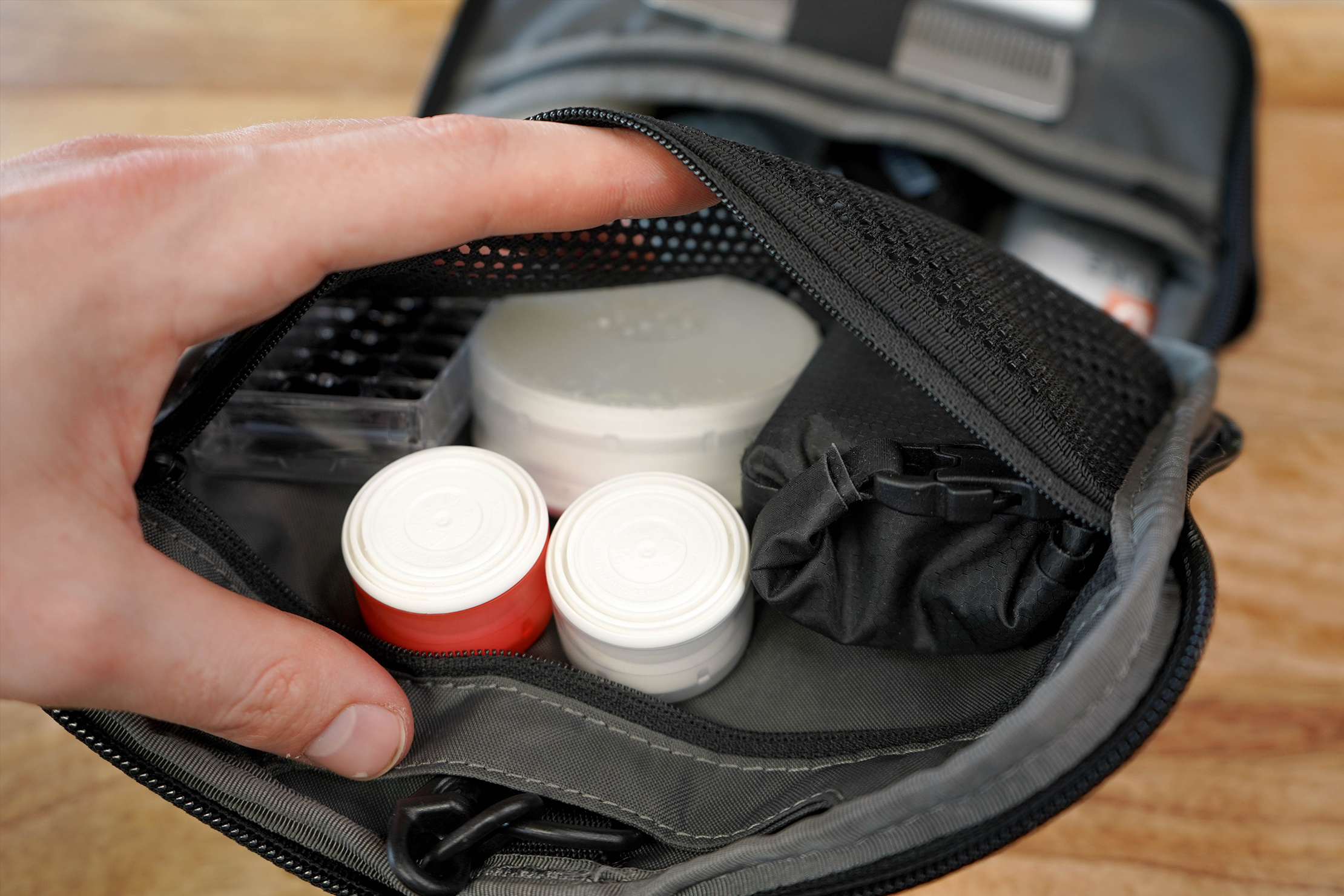 On the other side, you'll find a pocket with an elastic organizer that's split into four sections. This is where we've been keeping the bulk of our liquid toiletries: our HumanGear GoToobs liquid containers with toothpaste and our Merino Wool Wash inside of them, as well as our deodorant, and travel trimmer.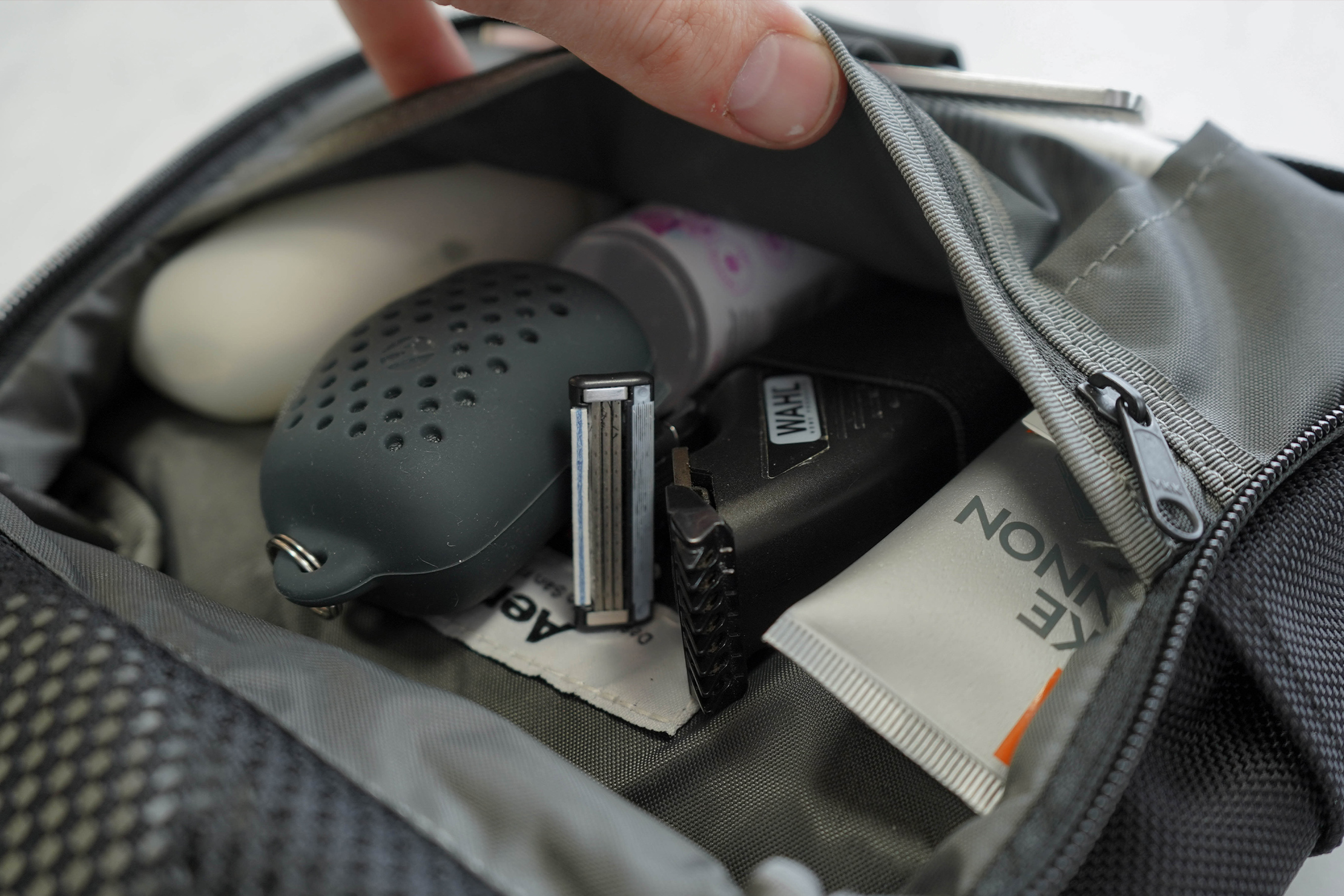 There's also a zippered pocket, where we've been storing smaller items like tweezers and nail clippers.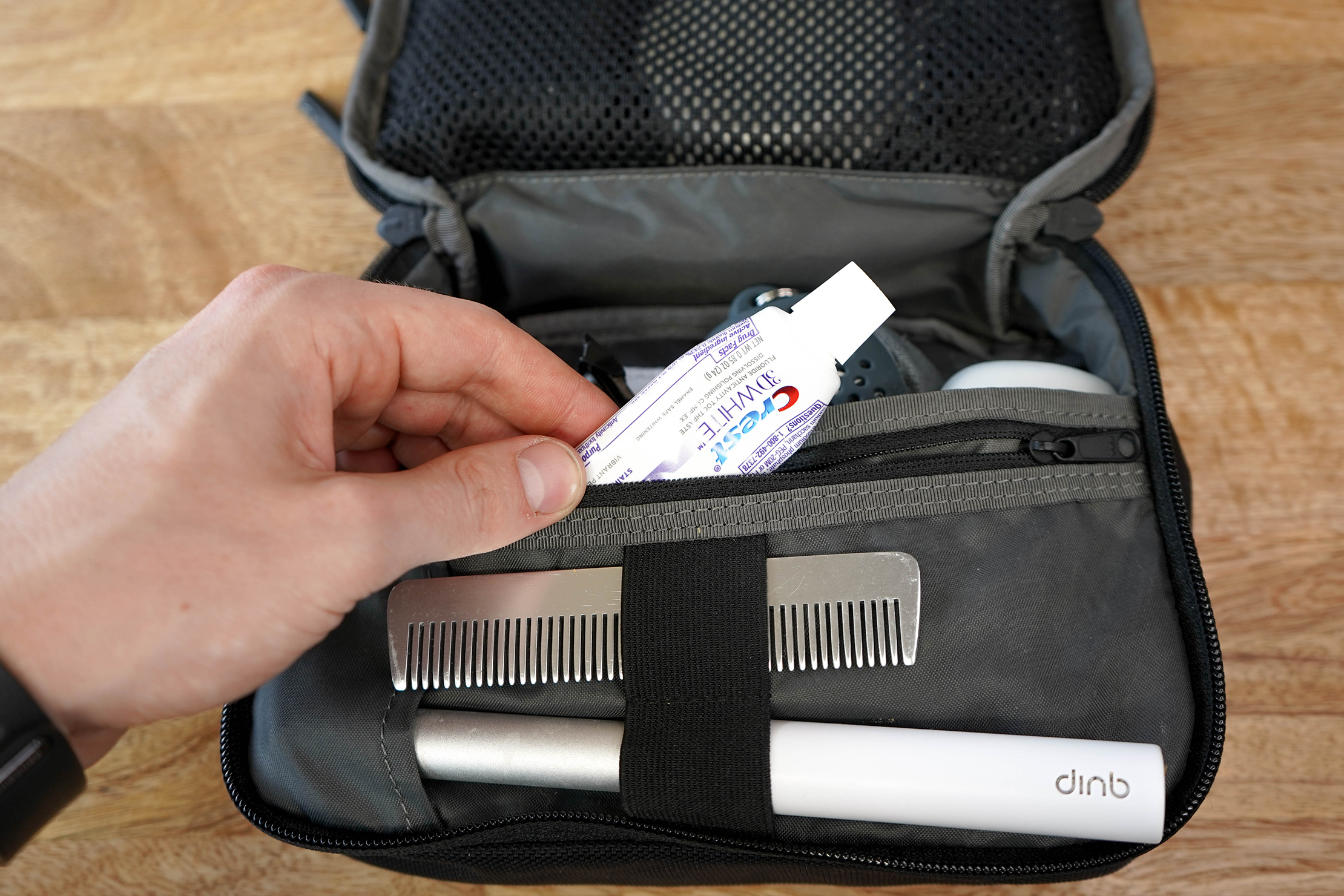 Lastly, there's another elastic organizer with two sections that's ideal for a razor, comb, or toothbrush. There's even a little vertical pocket to protect the head of your toothbrush, or to stuff a few small items if need be.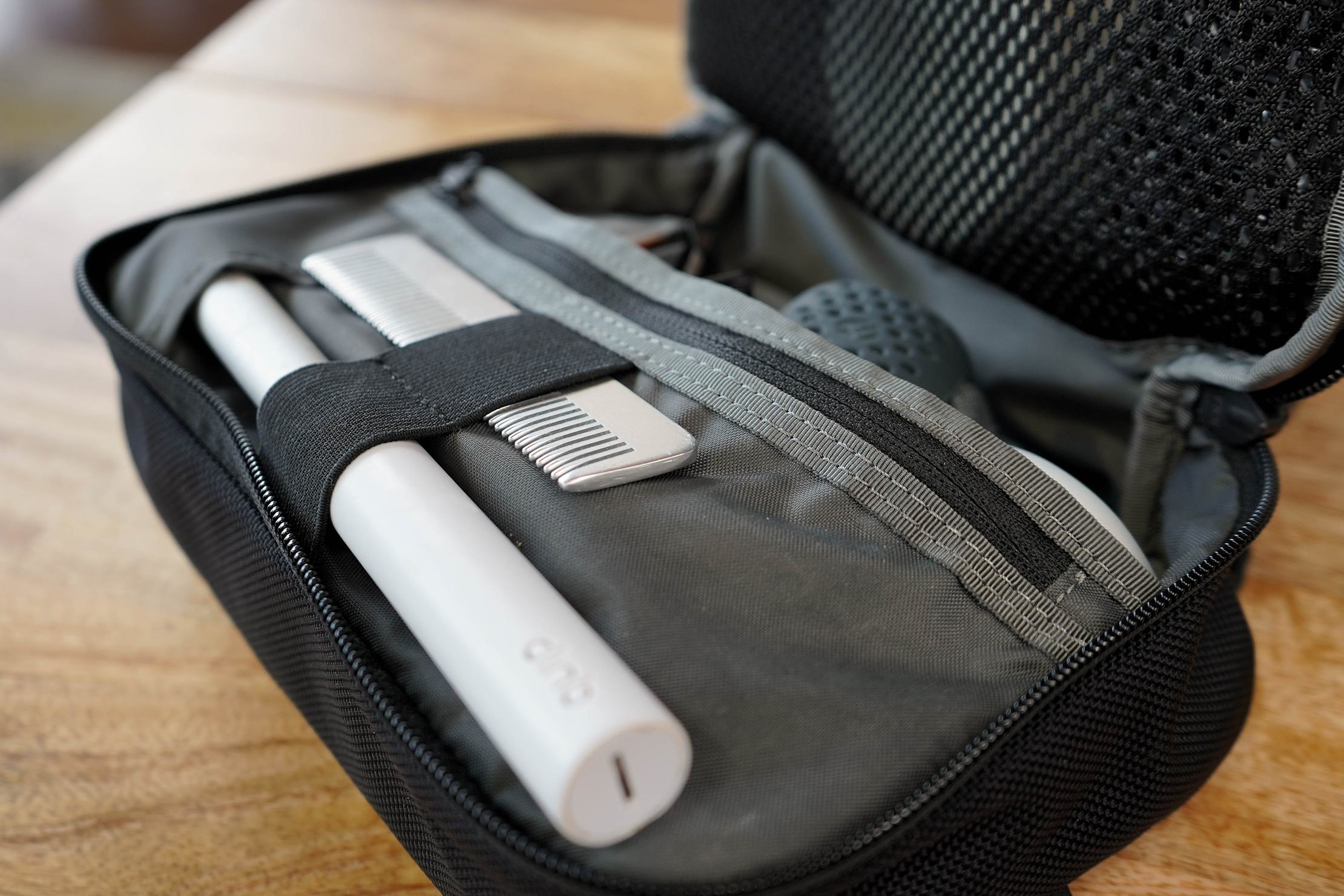 We did find that this elastic was a little large, especially for travel-specific items that tend to be smaller than their non-travel counterparts. While none of our items fell out, they did slide around quite a bit. We hope Aer can take a closer look at this elastic in future iterations.
Durability and Testing
We've been testing the Aer Travel Kit for about two months now and it's done us proud. There are a few loose threads and small blemishes (it appears toothpaste is to blame for those) but nothing unexpected.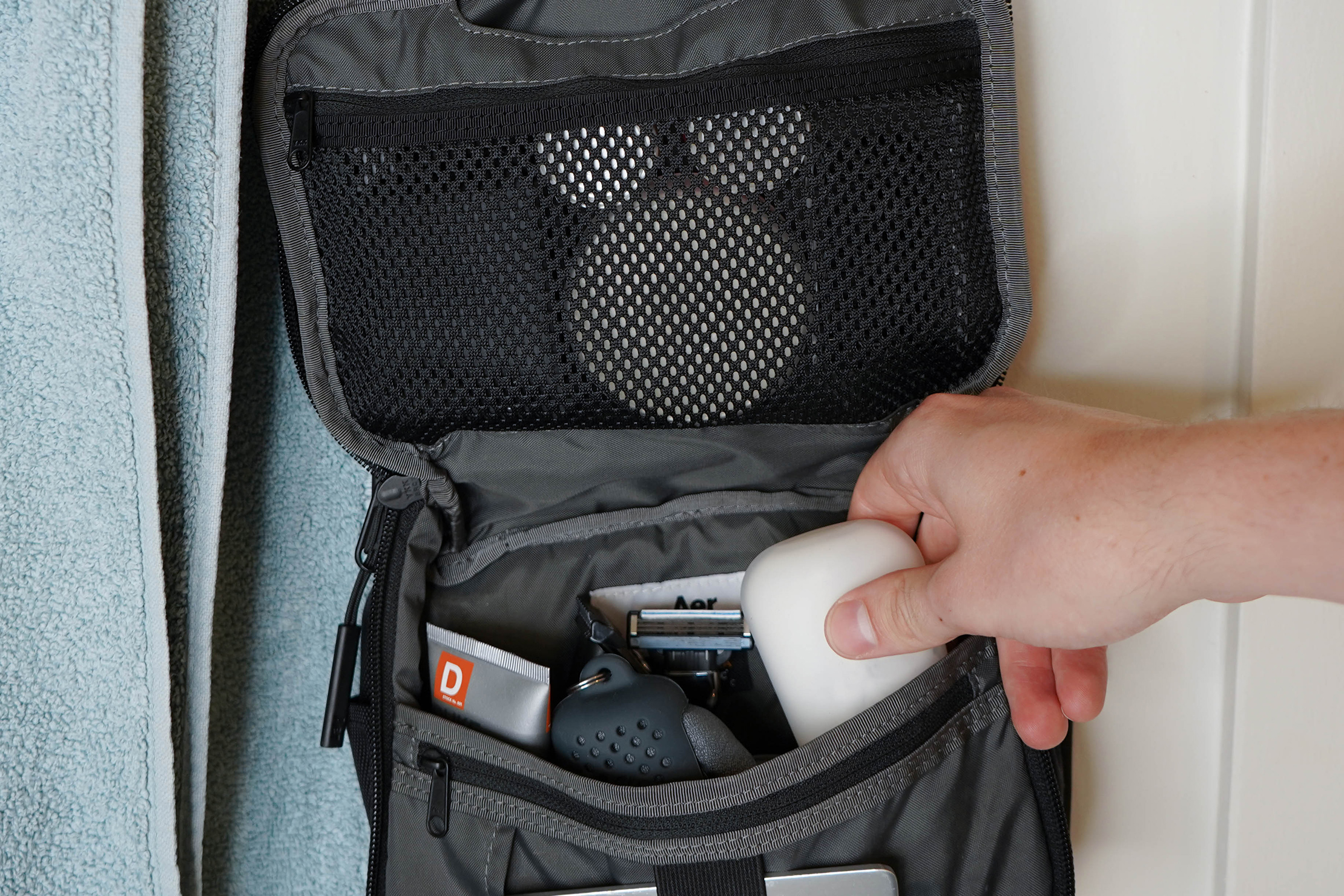 We have found that you have to be strategic when it comes to packing this thing. It's difficult to utilize all of the pockets and compartments unless you use really flat items—the kit can easily become too fat to close.
The way we think about packing is in layers, moving from flatter items up top to bulkier ones beneath. And as long as you do that, you'll be good to go.
Usage Timeline
Initial Usage
Condition: Excellent
Really digging the organization on the Aer Travel Kit.
We like the ability to stand a toothbrush upright on the outside of the kit.
Zippered compartment is great for thinner toiletries (about the depth of a bar of soap).
2 Weeks of Use
Condition: Excellent
Holding up nicely, liking that exterior toothbrush pocket
1 Month of Use
Condition: Excellent
Starting to see a few little blemishes along the interior. Toothpaste residue perhaps?
2 Months of Use
Condition: Good
Spotted the first loose thread at the top of the interior of the kit.
Access the Pro Community Discussion
Get your questions about the Aer Travel Kit answered from our team and the Pro Community right here on the page. Plus, join discussions with other members about gear, guides, and more.
Other Organizers & Pouches Reviews