NOMATIC Toiletry Bag 2.0 Small Review
The small NOMATIC Toiletry Bag 2.0 has some great water resistance. Sadly, one of the zipper tracks often pulls apart, which gives us durability concerns.
Our Verdict
Unlock the Pro Summary
Save time. Get access to brief summaries of our reviews so you can browse and make decisions more efficiently.
Pros
Water splashes roll right off tarpaulin material
Interior TPU windows make it easy to see where everything is packed
Small pockets can expand to make one giant pocket
Cons
One of the internal zipper tracks pulled apart several times
Toothbrush sleeve can be tight depending on the size of your toothbrush
Boxy shape and stiff fabric make it bulky, so it takes up lots of space in your bag
Recent Pack Hacker Video
Technical Details
Dimensions

10.5 in x 5 in x 1.7 in (26.7 x 12.7 x 4.3 cm)

Notable Materials

Tarpaulin, Zoom Zippers, Metal

Manufacturing Country

Vietnam

Warranty Information
Buying Options
$54.99
$54.99
Full Review
Get up to 20% off NOMATIC • Join Pack Hacker Pro
Toiletry bags are one of those essential travel accessories that make your life so much easier. Choosing the perfect toiletry bag for you is such a personal feat, as it depends entirely on the number of products you like to carry. The NOMATIC Toiletry Bag 2.0 is a good pick for people who have more toiletries than less to pack and want to keep everything organized.
It comes in two sizes—small and regular. We tested the small, and while the pockets seemed a bit tight, it did have enough space for everything we typically bring along. That included deodorant, hair oil, body lotion, face cream, toothpaste, and even cosmetics. We did find it a bit bulky for a "small" due to its shape, and it takes up quite a bit of space in your bag. We also had some issues with one of the zippers breaking, which is always cause for alarm. We'll talk more about that in the next section.
Materials & Aesthetic
The NOMATIC Toiletry Bag 2.0 is like a toiletries briefcase. The boxy shape, muted charcoal color, and modern aesthetic make it feel like the magic bag carried by a mysterious sci-fi heroine. Inside the bag is a mystical stone with the power to defeat some ancient evil threatening the future of humanity. Except the magical bag is the NOMATIC Toiletry Bag holding toothpaste and deodorant to defeat the evils of poor hygiene.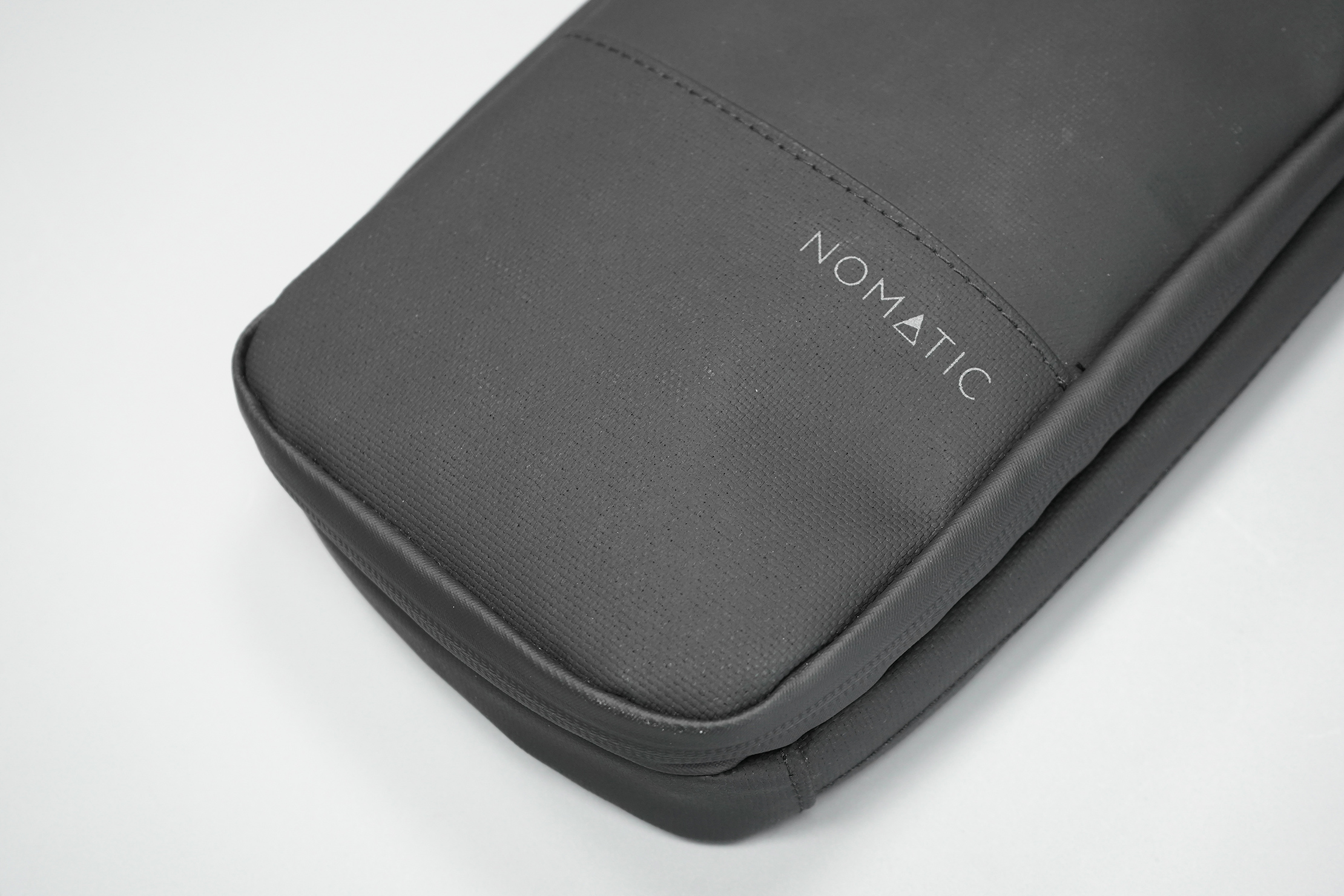 The bag is made of a swishy material called tarpaulin. While tarpaulin isn't great for travel backpacks, its water resistance makes it almost perfect for toiletry bags. Sink or shower splashes roll right off. If you accidentally drop it in a sink full of water for a few seconds, everything inside will stay dry. We're not saying it's completely waterproof—emphasis on seconds—but it will be safe on your sink basin.
NOMATIC uses Zoom zippers on this toiletry bag. The reverse coil design on the outer zipper adds further water resistance and keeps moisture out. While we didn't have any issues with that main zipper, one of the zippers on an inside pocket broke after only two uses. Check the usage timeline down below to see what we mean. The zipper self-repaired only for the zipper track to pull apart again later. We were still able to use the bag, but it was unpredictable whether it would break again or not, which made us uncomfortable. Would this be the time that it broke for good? What if the zipper track happened to pull apart at the exact moment a shower gel tube exploded inside? We've read several other reviews that didn't mention any zipper issues, so maybe you'll be one of the lucky ones. But then again, maybe you won't.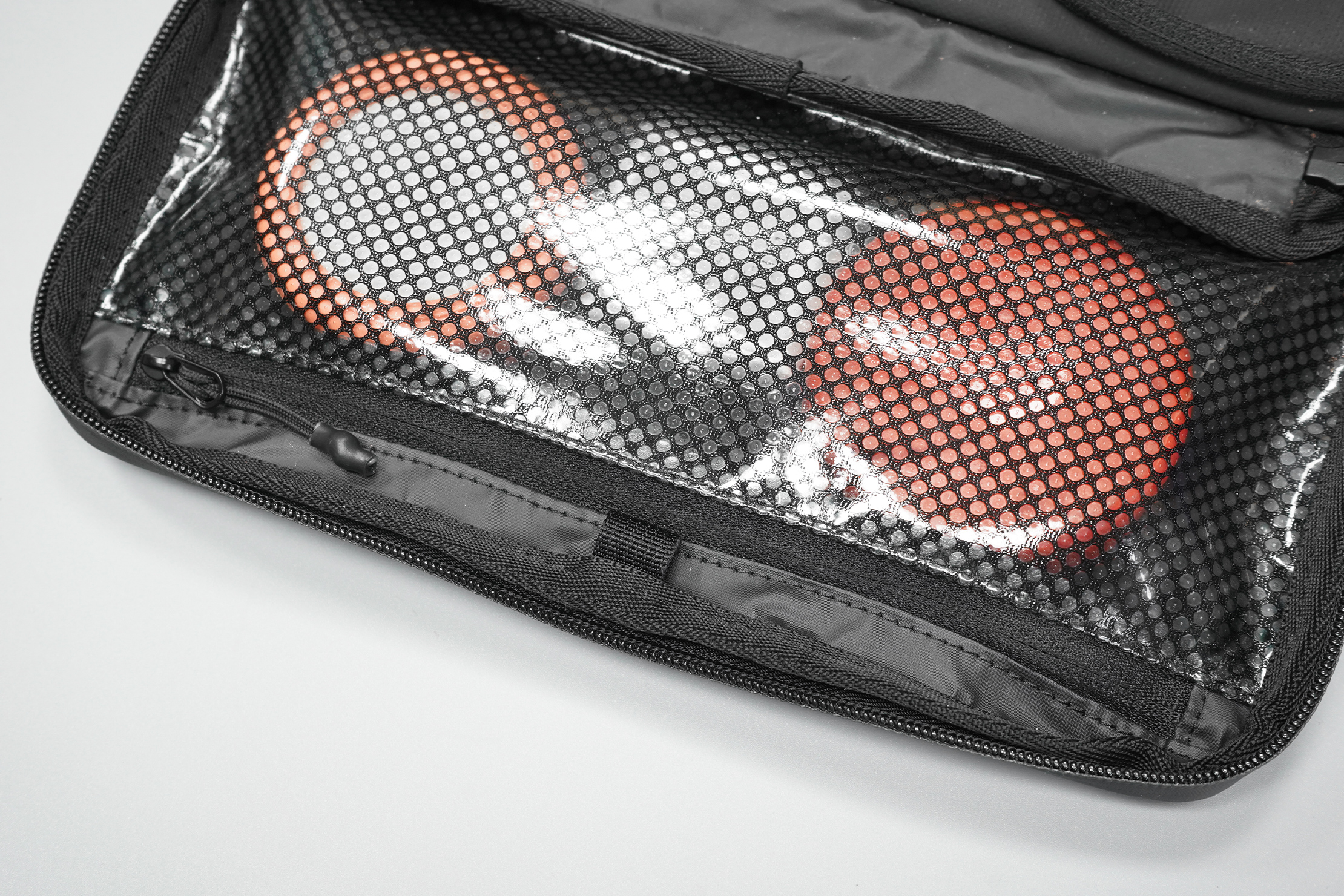 A soft nylon handle on top of the bag makes it easy to transport. If you're on a camping trip and need to carry it ten minutes to the closest bathroom, you're covered. The handle also helps you grab it out of your bag quickly. Just make sure you pack it right side up.
There's also a toothbrush sleeve on the long side of the bag. It's nice to have a separate compartment to keep your toothbrush away from liquids you don't want to end up in your mouth. It can be a bit tight depending on the thickness of your toothbrush, though. We tried it with a few different toothbrush styles, and none of them were really smooth to pull out. At least we didn't end up with face cream on it, though.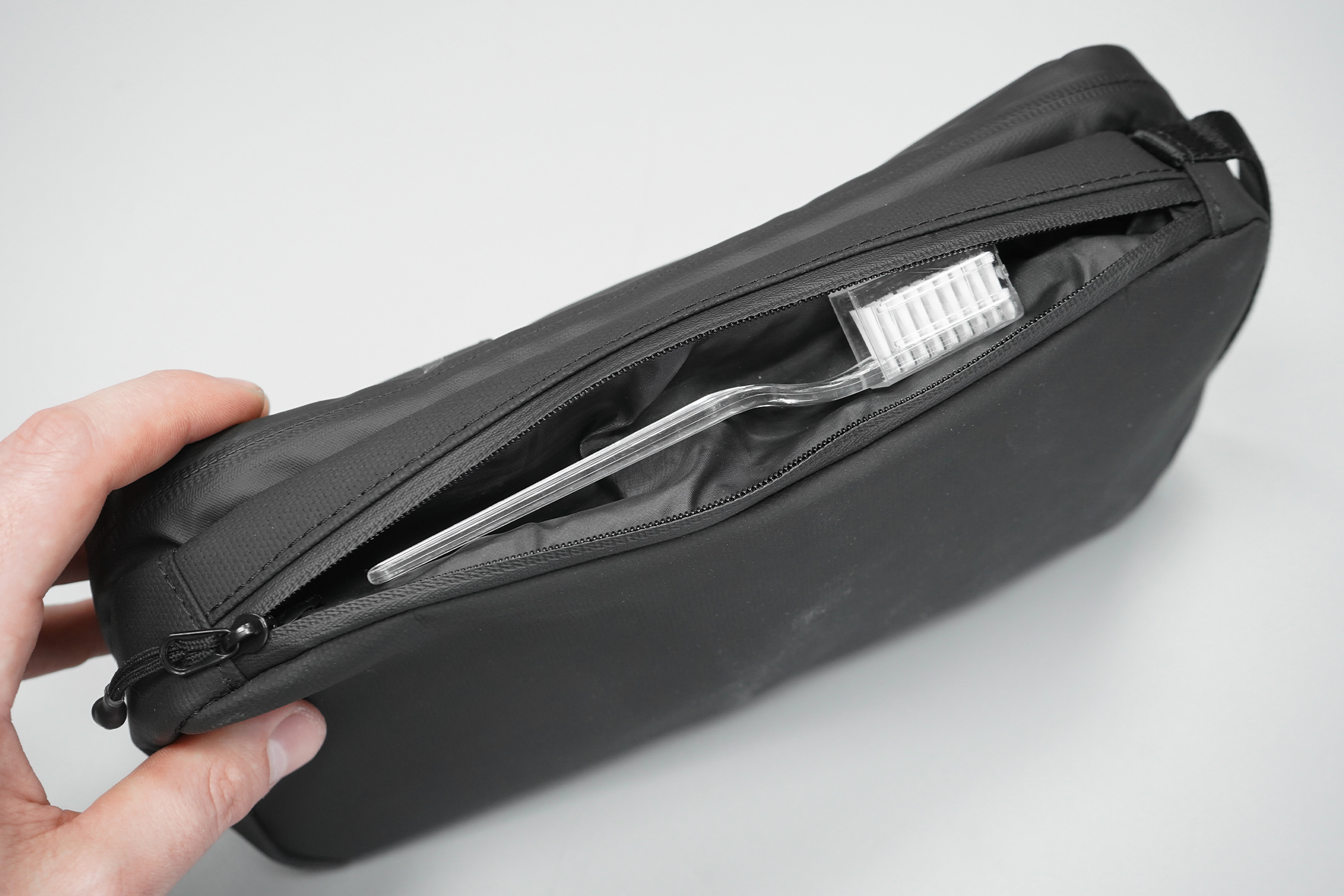 Features & Usage
If you like to keep all your toiletries organized in separate pockets, the NOMATIC Toiletry Bag 2.0 may be for you. If, on the other hand, you prefer an open pouch where you can dump everything inside, this isn't it. Inside there are three pockets—a long one and two smaller sized ones.
Two of them have a TPU window which is super easy to clean too. If your lotion explodes or opens unexpectedly while inside, you can just wipe it off. There is a thin layer of mesh-like material attached to the inside of the TPU. We're not sure what its exact purpose is, but it gives the bag a funky look. Toiletries can be personal, so this design allows you to see where you've packed everything without having intimate items fully visible. It's pretty nice that your stuff won't be entirely on display when going through airport security. Nobody wants a side-eye from the TSA agent for their toiletry choices.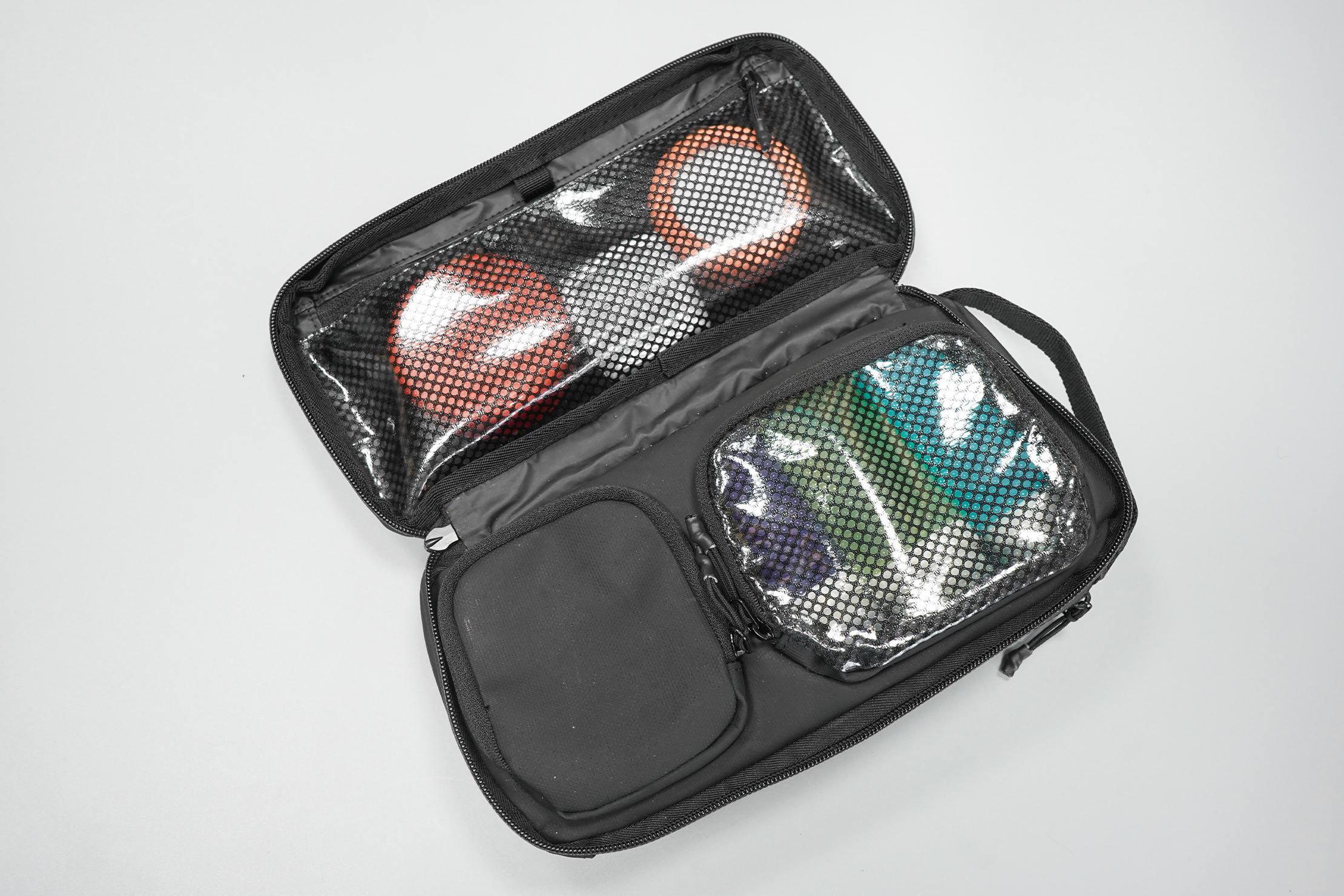 We used the long slim pocket for bigger, tube-shaped items as it seemed like the most logical choice. However, more round items (you know, like bottles of lotion or deodorant) will start to affect the shape of the bag's outside. Your stuff will poke outward, making the front of the bag bumpy, which doesn't look as clean as we'd like. Perhaps, this pocket is better suited for thin or flat items. This pocket is also where the zipper broke, so be careful what you put in here.
On the other side of the bag are two smaller pockets. These are much deeper and make a better spot for bottles and tubes. You can actually combine these into one big pocket by undoing a velcro flap in the middle. We like having the option to either keep it as two separate pockets or make a giant one. This is helpful for longer items, but it still looks like two pockets with two different zippers on the outside. That doesn't affect the actual usage, but it doesn't look too seamless. The velcro flap itself isn't very stable when you're using it to keep the pockets separate, either. The velcro strip is angled a bit weird and is hard to see, so it's not easy to secure. We used one of the pockets for cosmetics and had a makeup brush poke right through to the other side.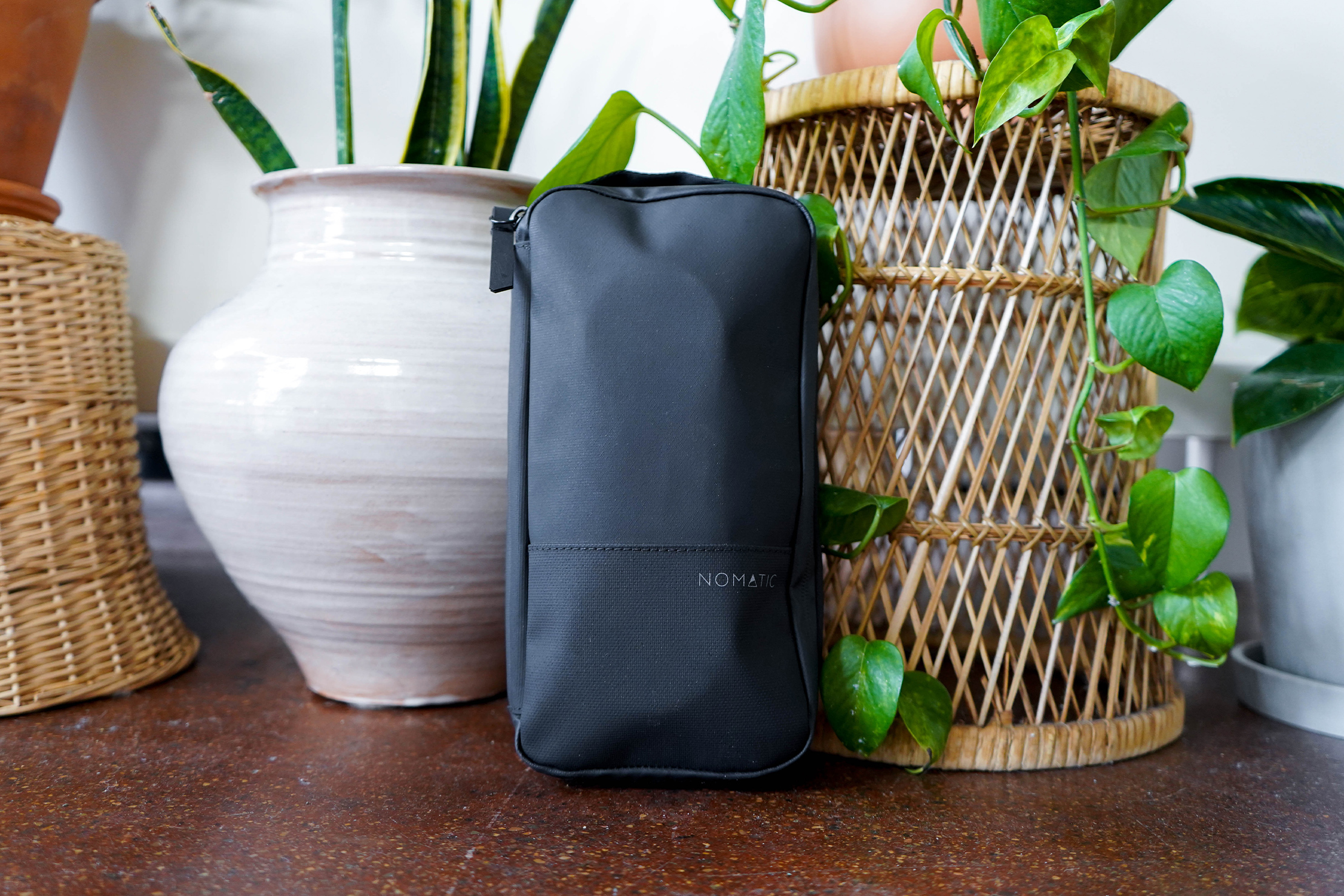 This toiletry bag also comes with a hanging strap so you can hang it up to avoid grimy hostel bathrooms. It's easy to remove, so it doesn't get in the way if you don't want to use it. Almost too easy. We've had it literally fly off upon opening the bag. The weight of your toiletries will hold it down when it's hanging up, but the strap itself is easy to lose. In stark contrast, the loop that you hook it through to hang it up is very tight. This is great because it will stay securely in place, but it can also be hard to get it set up. There seems to be a sweet spot between too tight and too loose that's missing here.
Overall, the small NOMATIC Toiletry Bag 2.0 is pretty spacious. It's suitable for people who have more to carry or want to bring along makeup without needing a completely separate bag. The material is sturdy and water-resistant, but issues with a broken zipper make us a bit wary about the bag's longevity.
Usage Timeline
Initial Usage
Condition: Excellent
Water-resistant and durable materials
Hanging strap for easy access to all the pockets
Minimalist design
2 Weeks of Use
Condition: Good
It's a bit bulky and takes up a lot of space in your bag
Water rolls right off the tarpaulin material
One of the internal zipper tracks pulled apart—it is self-repairing but seems unpredictable whether it will break or not when you're using it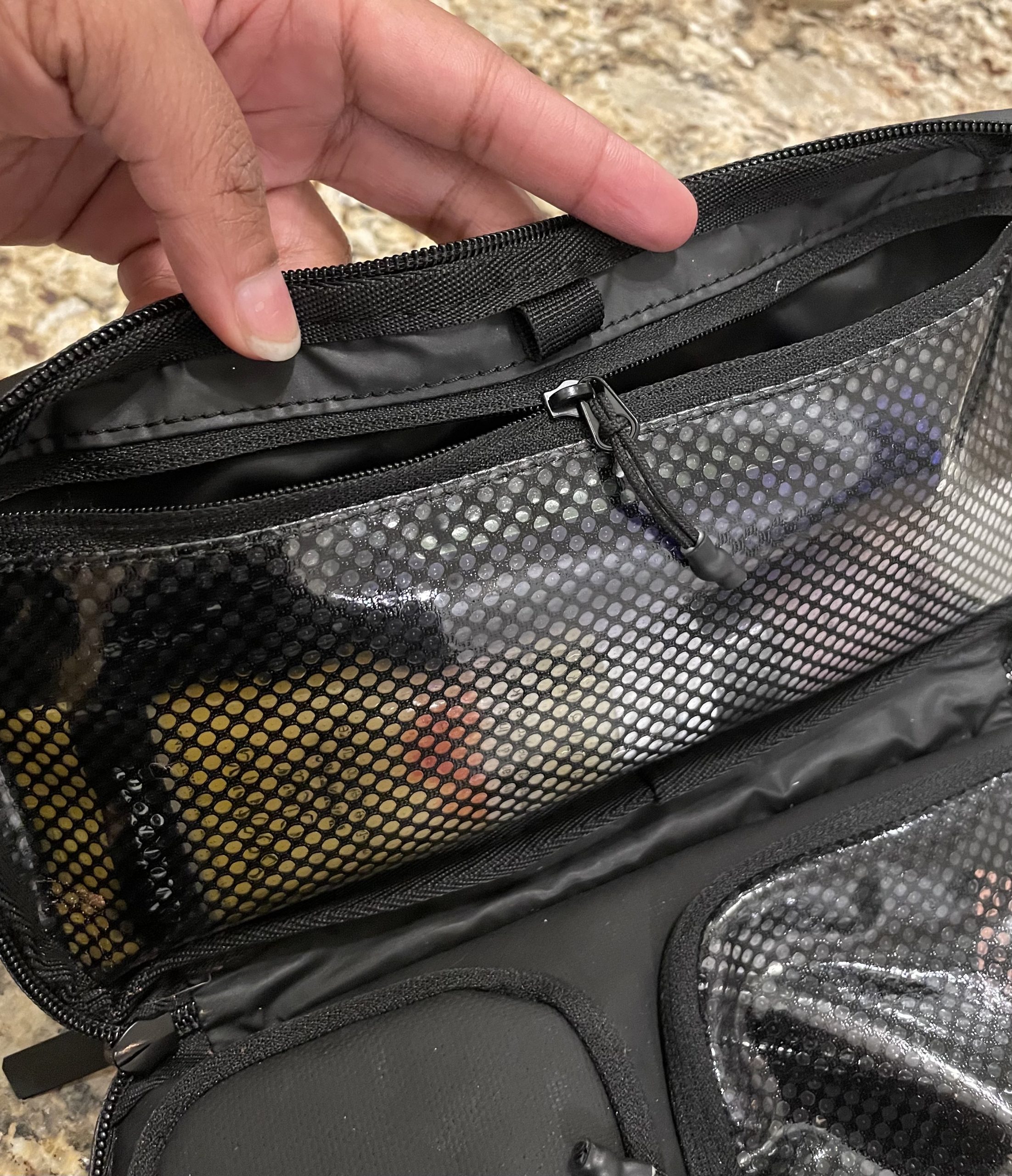 Access the Pro Community Discussion
Get your questions about the NOMATIC Toiletry Bag 2.0 Small answered from our team and the Pro Community right here on the page. Plus, join discussions with other members about gear, guides, and more.
Other Organizers & Pouches Reviews