Peak Design Wash Pouch Review
The Peak Design Wash Pouch is an innovative toiletry pouch with superior organization that actually works. We've been impressed with the way Peak Design has thought through every little feature on this pouch, and it easily ranks as one of the most functional toiletry bags we've tested to date. That said, it works best if you can truly fill it to capacity—as it doesn't compress—and we've had some issues with the attached hook.
Our Verdict
Unlock the Pro Summary
Save time. Get access to brief summaries of our reviews so you can browse and make decisions more efficiently.
Pros
Durable materials with high water-resistance.
Smart design and organization.
Reversible pockets make cleaning a breeze.
Cons
The hook doesn't work as well as we'd hoped.
Doesn't compress.
We wish there were two zippers.
Recent Pack Hacker Video
Technical Details
Capacity

2l

Weight (oz)

8.7 oz (246.6 g)

Denier

200D

Dimensions

6 in x 10.2 in x 4.4 in (15.2 x 25.9 x 11.2 cm)

Notable Materials

Nylon Canvas, Polyester, Silicone, Thermoplastic Polyurethane (TPU), EVA Foam, DWR Coating, Aluminum, Zoom Zippers, Hypalon®

Manufacturing Country

Vietnam

Warranty Information
Full Review
Get up to 10% off Peak Design • Join Pack Hacker Pro
What is a wash pouch, exactly? A laundry hamper? A dry-bag for washing your clothes? A pouch that doubles as a loofa that you can take into the shower with you?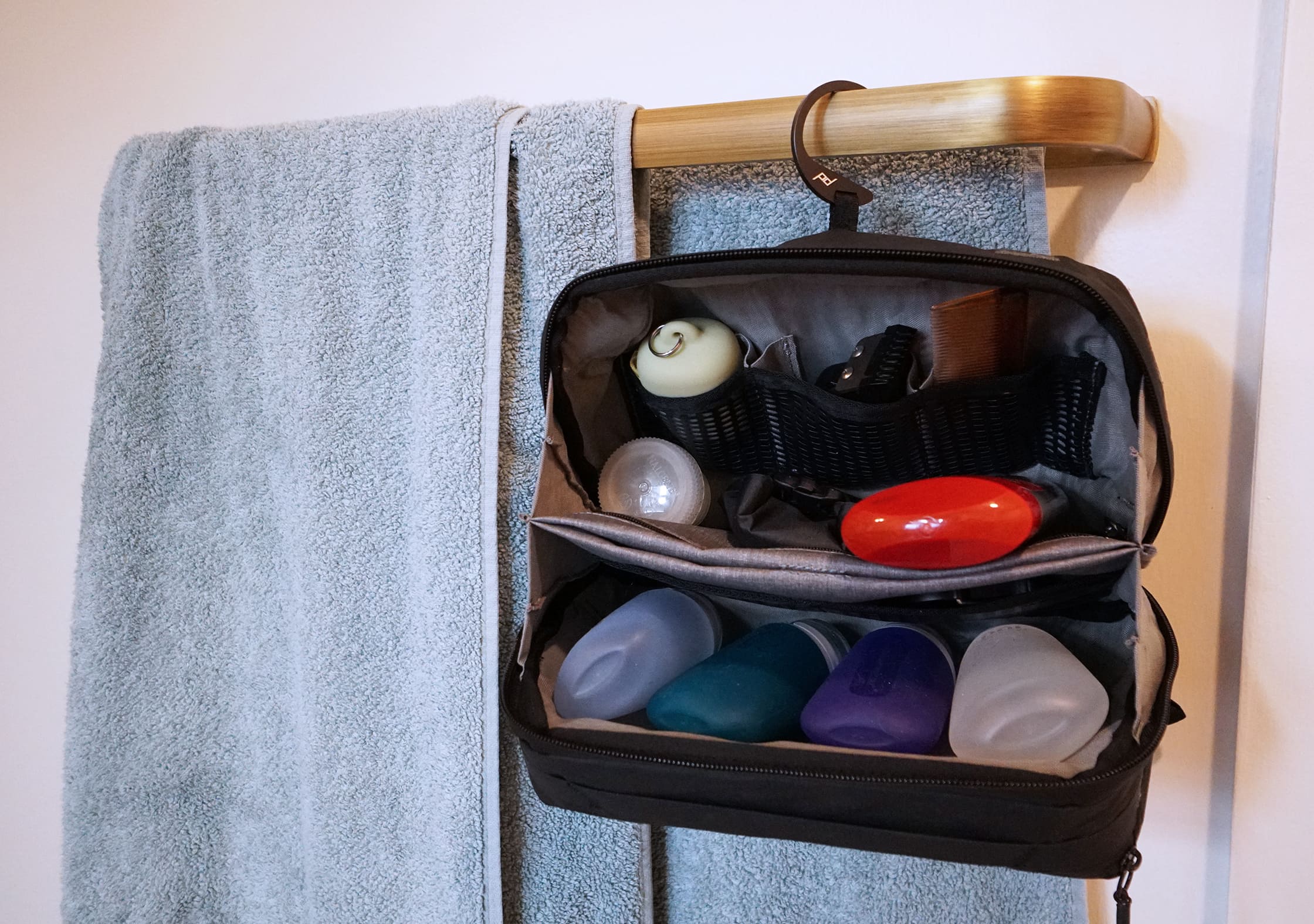 Well, if you're talking about the Peak Design Wash Pouch—it is none of these things. The Peak Design Wash Pouch is just a humble toiletry bag. Plain and simple…except, like most of Peak Design's items, this particular pouch is not very plain. Or simple.
(Well, it's simple to use—but the design is top notch. They've done some cool stuff here—you'll see.)
PSA: You might want to check out the other items in the greater Peak Design Travel System: The Travel Backpack, Packing Cubes, Camera Cubes, and Tech Pouch.

Diving right into this review, let's check out the materials. This bag is made of a 200D nylon canvas which is polyurethane and DWR coated on each side. This is the same stuff we've seen on the Tech Pouch, and the main external difference with this pouch is that there's an aluminum hook on the back. Obviously, you can use that hook to hang the pouch up in your bathroom or wherever else you encounter places to hang things up. The only other notable material is some siliconized mesh on the interior, which is just used to add some extra organization.
On the exterior there is a large handle, which we've found to be useful for grabbing the pouch out of your pack (duh). We did notice that this handle is a bit larger and easier to grab than the one on the Tech Pouch, which we like. Near the edge of the zipper there are also some nylon loops that you can grab onto as you're unzipping it.
Now before we get into the main compartment, let's talk about this little side pocket. This is intended to store your razor, though we've been using it for a toothbrush and toothpaste with great success. You can't fit too much in here, but it is a very convenient, quick-grab pocket. We like it.
Pro tip: Try to find toothpaste as close to three ounces as possible! We've always found those little travel-sized ones to be a bit too small. You're better off just buying a bigger one—it's a better value and you'll just have more toothpaste with you. That's a win-win in our book.
And opposite that zippered compartment you'll find the little area that holds the aluminum hook. It's hideable, which we love, however, we have found it to be a little bit precarious in actual usage. If you open the bag when it's hanging up, some of your stuff can easily fall out. Beware.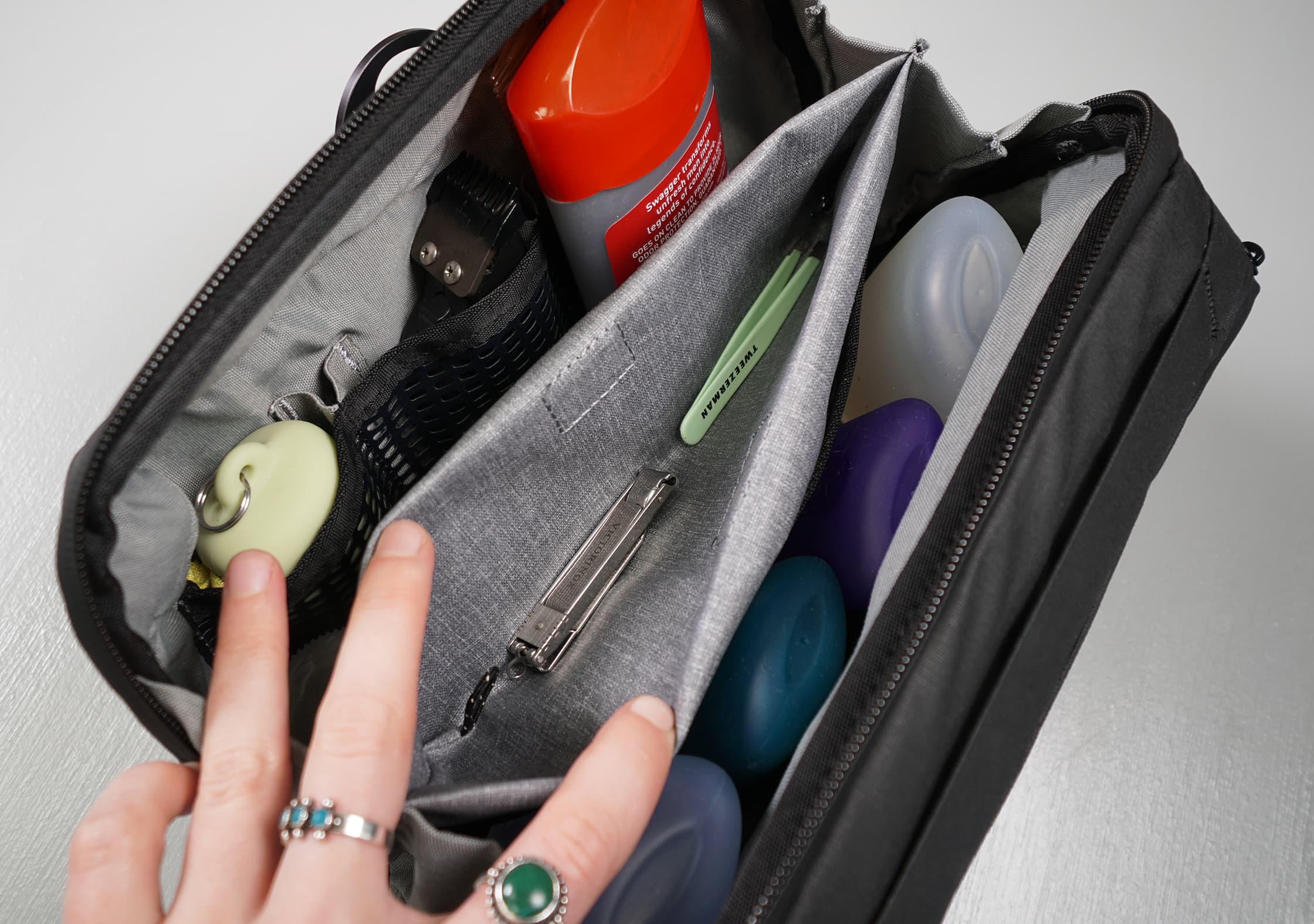 Moving into the middle of the main compartment, there is a small magnetized pocket. This is intended for a toothbrush, but it's also great for smaller items that you don't want floating around in the main areas of the pouch. The lining flips out for quick and easy cleaning, which is a nice little touch—especially in a toiletry bag, as you might end up with some rogue spills that would be otherwise very difficult to clean up. We really appreciate how Peak Design thinks of all these little things, and we have yet to see this feature on any other toiletry bag.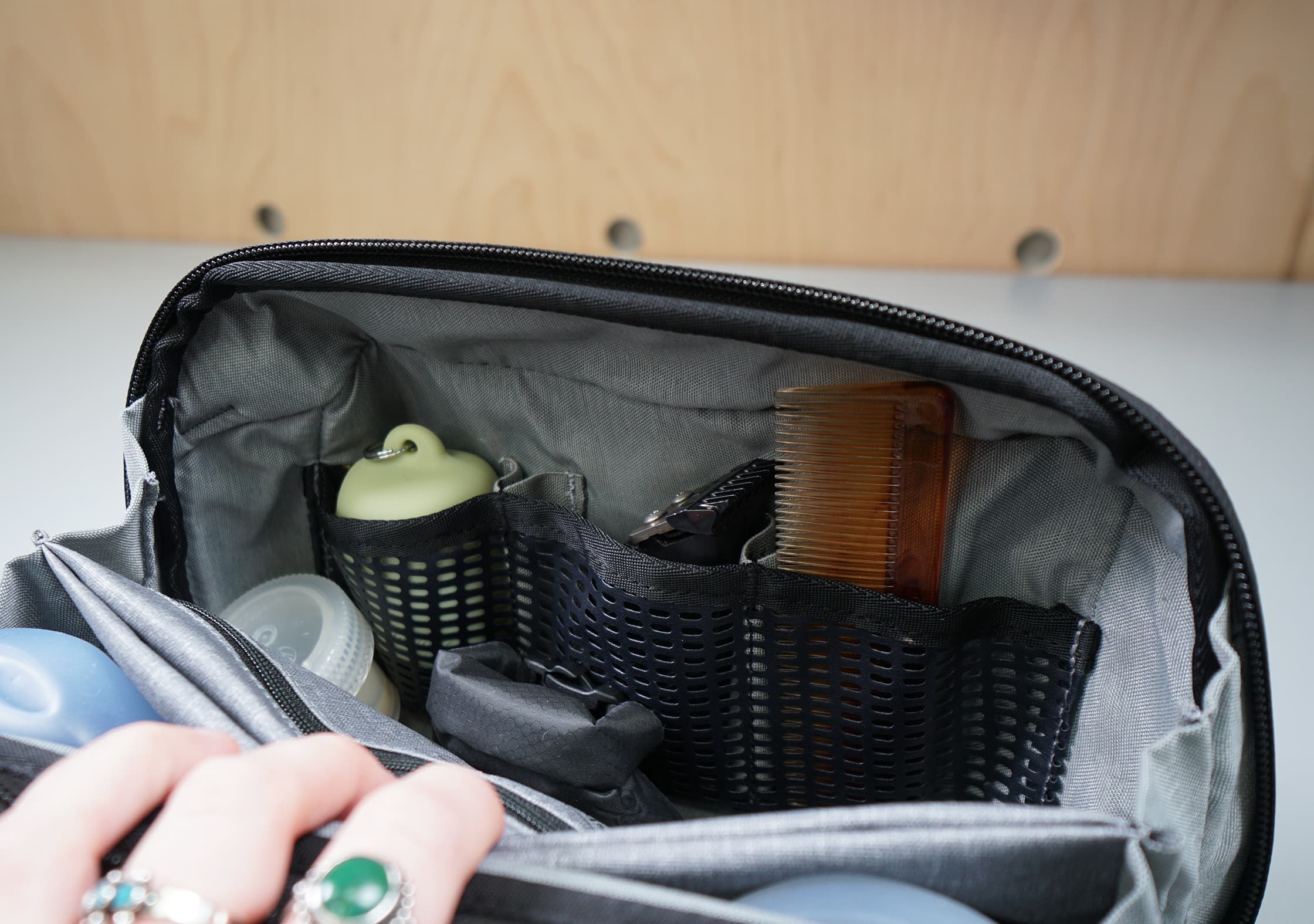 With that middle divider, one side has two siliconized mesh pockets and the other has a zippered pocket with two additional siliconized mesh pockets inside.
Moving on, you'll find there is definitely ample space on each side of this pocket. On one side we've been storing four TSA-approved 3.4 ounce GoToobs, and on the opposite side we've been storing some soap bars, deodorant, etc. You'll notice that one side has three of those siliconized mesh pockets, which we've found to be the perfect size for deodorant sticks.
In actual usage, we really liked all this organization. It's slick and it actually works well—as opposed to some stuff we come across, where we'd rather just have an open compartment. Much like the tech pouch, we think that if you have a lot of toiletries and you can actually fill this thing up, you'll want to grab it. It's easily some of the best organization available in terms of toiletry pouches.
If you generally carry less stuff or want to opt for something a little bit more flexible and malleable in your pack, you can get away with a smaller pouch. Something like a DAKA pouch might suit you better (we particularly like these for small amounts of toiletries because they're very water resistant).
Usage Timeline
Initial Usage
Condition: Excellent
Working well out of the box, enjoying all the organization features.
1 Month of Use
Condition: Excellent
Still going strong with nothing major to report. The water-resistant materials are nice in the bathroom, although sometimes a few things will fall out when we use the hook.
2 Months of Use
Condition: Good
A few minor blemishes, but nothing major. Still works well, seems like this thing is going to last a good while.
Access the Pro Community Discussion
Get your questions about the Peak Design Wash Pouch answered from our team and the Pro Community right here on the page. Plus, join discussions with other members about gear, guides, and more.
Other Organizers & Pouches Reviews