Magpul DAKA Pouch Review
The Magpul DAKA Pouches define utility. These things just work, all while keeping your items protected, preserved, and safe from just about anything.
Our Verdict
Unlock the Pro Summary
Save time. Get access to brief summaries of our reviews so you can browse and make decisions more efficiently.
Pros
Ultra durable and sturdy; the construction is top notch.
Varying sizes allow for a multitude of items to fit inside.
Nearly waterproof. You'll never have to worry about these in the rain.
Cons
Stickiness of the material sometimes makes it difficult to pull these out of a tightly-packed bag.
Length of zipper is narrower than width of the bag, slightly limiting the full breadth of the pouch's size.
Not ideal for protecting delicate items.
Recent Pack Hacker Video
Technical Details
Dimensions

7 in x 12 in (17.8 x 30.5 cm)

Zipper opening is 8.5". All measurements listed are for the Medium size.

Notable Materials

YKK Zippers, Paracord, Polymer Fabric

Manufacturing Country

United States

Warranty Information
Full Review
Magpul portrays itself as a tough and rugged brand, one not to be messed with. Land on their website and you'll see several photos of guns, magazines for guns, and grizzled men with tattoos holding and using guns. They sell much of the same: gun accessories for pistols; hunting rifle add-ons; tough-as-nails apparel. Why then would a brand such as this find itself and one of its products being reviewed on a travel-gear website striving for carry-on TSA compliance? It's because they also have something that could easily end up in a digital nomad's backpack in Southeast Asia, and it's just as tough and badass as anything else they make.
The Magpul DAKA Pouches are those products. Filed under Magpul's 'organization and gear' page, these pouches come in four different sizes: small; medium; large; and XL. While we've only tested the medium and large sizes, each variation possesses the same baseline specifications (taken from their website):
1. Reinforced polymer fabric with anti-solp texture
2. Welded construction creates permanent impenetrable seals
3. YKK AquaGuard® water repellent zipper
4. 550 paracord with heat shrink tubing for enhanced grip, even with gloves
5. Paint pen dot matrix debossed into body for identification marking
6. Carabiner attachment points
Much of that may sound like technical jargon, but distilled down you have an item that's exceptionally durable and strong (numbers 1, 2, and 4), will keep anything you put inside safe from rain, moisture, dirt, and grime (numbers 2 and 3), allows you to customize it (number 5), and will easily attach to anything (number 6).
Smartly keeping the aforementioned base specs consistent, the diversity of sizes provide options for anything you'd like to keep inside. If you want to only hold your passport, boarding passes, phone charging cords, and notebook and pen, the small and medium sizes are ideal, with dimensions of 6"x9" (15.2 x 22.9cm) and 7"x12" (17.8 x 30.5cm), respectively. If you want to hold bigger things, size up. The two larger pouches are, you guessed it—larger, thus able to hold more stuff, like the first aid kit you've been needing more than you'd care to admit. The dimensions for the large size come in at 9"x13" (22.9 x 33.02cm) and 9.8″x16.2″ (24.9 x 41.2cm) for the XL.
There's something important to note here. The zipper openings on each pouch are quite recessed; the zippers can't extend all the way to the edge given the presence of the carabiner attachment points. For example, on the medium size, the true width of the pouch is 12" (30.5cm), yet the zipper opening measurement is 9.5" (24.1cm). While you'd never be able to get a zipper opening to be the full width given the existence of the zipper itself, you do lose nearly 2" (5.1cm) of clearance from the carabiner attachments.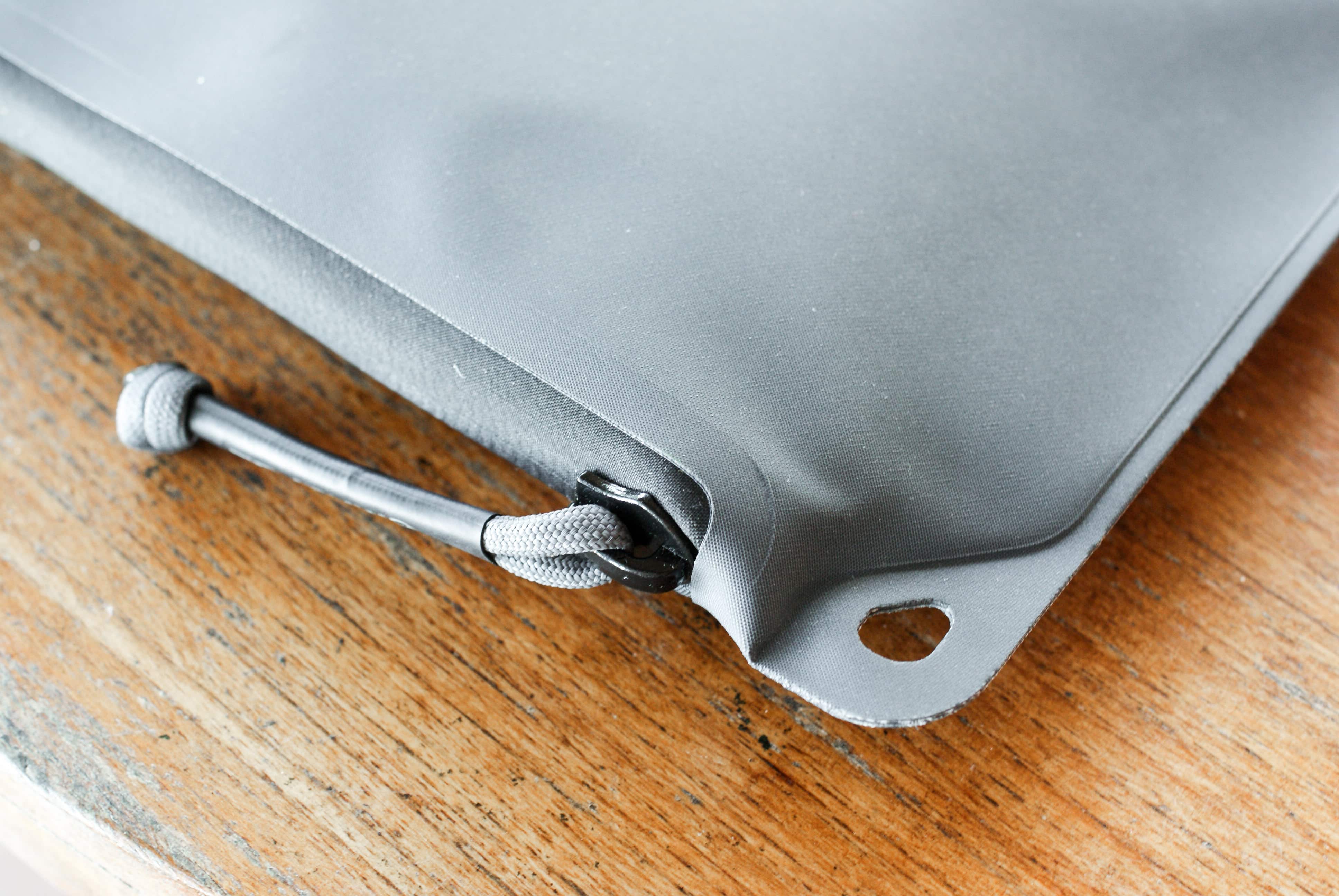 This could be qualified as a design error. Why not have the attachment points be on the bottom edge, the one without the zipper? On the two largest sizes, there are four attachment points, one on each corner. On the smallest two, there are just two attachment points, both on the long edge with the zipper. It may have been smarter to have only two attachment points per pouch and have them on the long edge opposite the one with the zipper. That would give you more clearance when the pouches are open and you're loading whatever you're putting inside.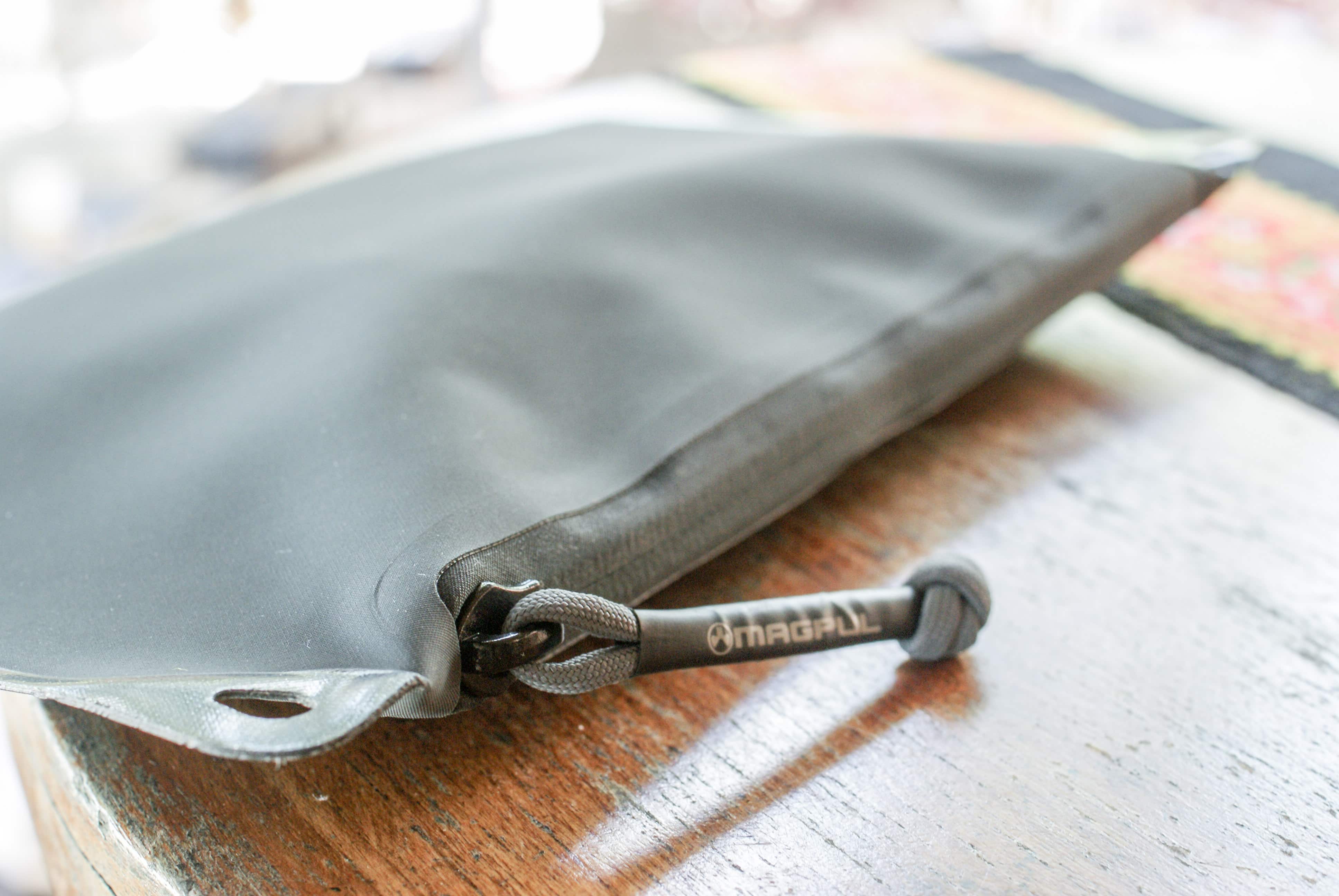 The truncation of the zipper opening and carabiner attachment points, combined with the welded construction, decreases the interior dimensions of the pouch. The welding around the outside eats up ⅛" on all sides, and the carabiner points an additional 3/4" depending on the size. In practice, depending on what you're loading, this can be an annoyance. For example, in our testing, the large size was able to hold a Nikon D600 DSLR camera body with two prime lenses very nicely, keeping it all snug and secure. The pain points came when loading and unloading the pouch. Given the shortened zipper opening, it was a tight fit going in and out. Gaining back those 2" or so really would've made a positive difference. If you're wavering between sizes, go with the next size up.
Though sometimes it may be difficult to get certain items into the pouch, once they're in you won't have to worry about anything damaging the contents. In tests, the pouches breathlessly keep out water, both from a faucet dousing and even when submerged in water for a couple seconds. If this is possible, you won't have to worry about dirt, dust, or spilled trail mix getting all over your stuff.
Do note though that Magpul says they're not 100% waterproof. We've found that when filling up the pouch with water, you'll start to see some breakage. This is due to increased water pressure from inside of the pouch pushing out on the water resistant zipper. So basically, the deeper you submerge this into water, the more pressure will be applied to the zipper, the more likely the pouch will be to lose the waterproof capability.
The reinforced fabric, with its anti-slip texture, remains anti-slip even when wet. The only downside there is sometimes it's difficult to pull these out from a tightly-packed backpack, just like trying to pull a T-shirt off your sweaty body on a humid day in mid-July. Being so tough and rugged, one may think that these pouches would be on the heavier side. On the contrary, they're extremely lightweight. The medium size weighs just 4oz!
You can also personalize and systemize these. First, choose one of six colors (four for the three largest sizes) and organize different types of gear based on those colors. Camera stuff goes in orange. Cords go in black, and so on. Or take a sharpie and label your pouch in the dot matrix area. Or do nothing of the sort. The choice is yours.
Finally, these things are made in the the U.S.A. And while they don't explicitly say they have a lifetime warranty on their products, some research suggests if one of their items breaks and you call Magpul and tell them, they'll send you a replacement at no cost to you. What's better than that?
Usage Timeline
Initial Usage
Condition: Excellent
Excellent. Nothing in the slightest to complain about.
2 Months of Use
Condition: Excellent
May as well be brand new. No signs of slowing down.
Access the Pro Community Discussion
Get your questions about the Magpul DAKA Pouch answered from our team and the Pro Community right here on the page. Plus, join discussions with other members about gear, guides, and more.
Other Organizers & Pouches Reviews