Peak Design Tech Pouch Review
The Peak Design Tech Pouch is not your average tech organizer. This is easily one of the most innovative tech pouches we've seen to date, thanks to its superior organization, well-thought-out design, and solid materials. That said, it might not work for everyone as it doesn't handle large items well and doesn't compress due to its rigid structure.
Our Verdict
Unlock the Pro Summary
Save time. Get access to brief summaries of our reviews so you can browse and make decisions more efficiently.
Pros
Innovative design.
Well thought-out organization.
Durable materials with high weather resistance.
Cons
Doesn't work well if not packed full.
Not ideal for storing larger items.
Handles are a little bit too small to grab.
Recent Pack Hacker Video
Technical Details
Capacity

2l

Weight (lb)

1.2 lb (0.5 kg)

Denier

200D

Dimensions

6 in x 9.5 in x 4 in (15.2 x 24.1 x 10.2 cm)

Notable Materials

Zoom Zippers, Hypalon®, Polyester, Nylon Canvas, DWR Coating, Polycarbonate, Thermoplastic Polyurethane (TPU), EVA Foam, Elastic

Manufacturing Country

Vietnam

Warranty Information
Full Review
Generally, when we think "tech pouch" we envision a simple pouch with a zipper that's bursting with random cords, chargers, and accessories.
However, when we hear about a Peak Design Tech Pouch, our ears perk up. If there's anyone that can take a simple pouch and turn it into something extraordinary…it's the folks over at Peak Design. And—no surprise—they've delivered once again. The Peak Design Tech Pouch does a great job at keeping all of your tech gear in one place, but it goes a bit beyond that by offering some excellent organization plus a bit of rigidity and padding.
PSA: You might want to check out the other items in the greater Peak Design Travel System: The Travel Backpack, Packing Cubes, Camera Cubes, and Wash Pouch.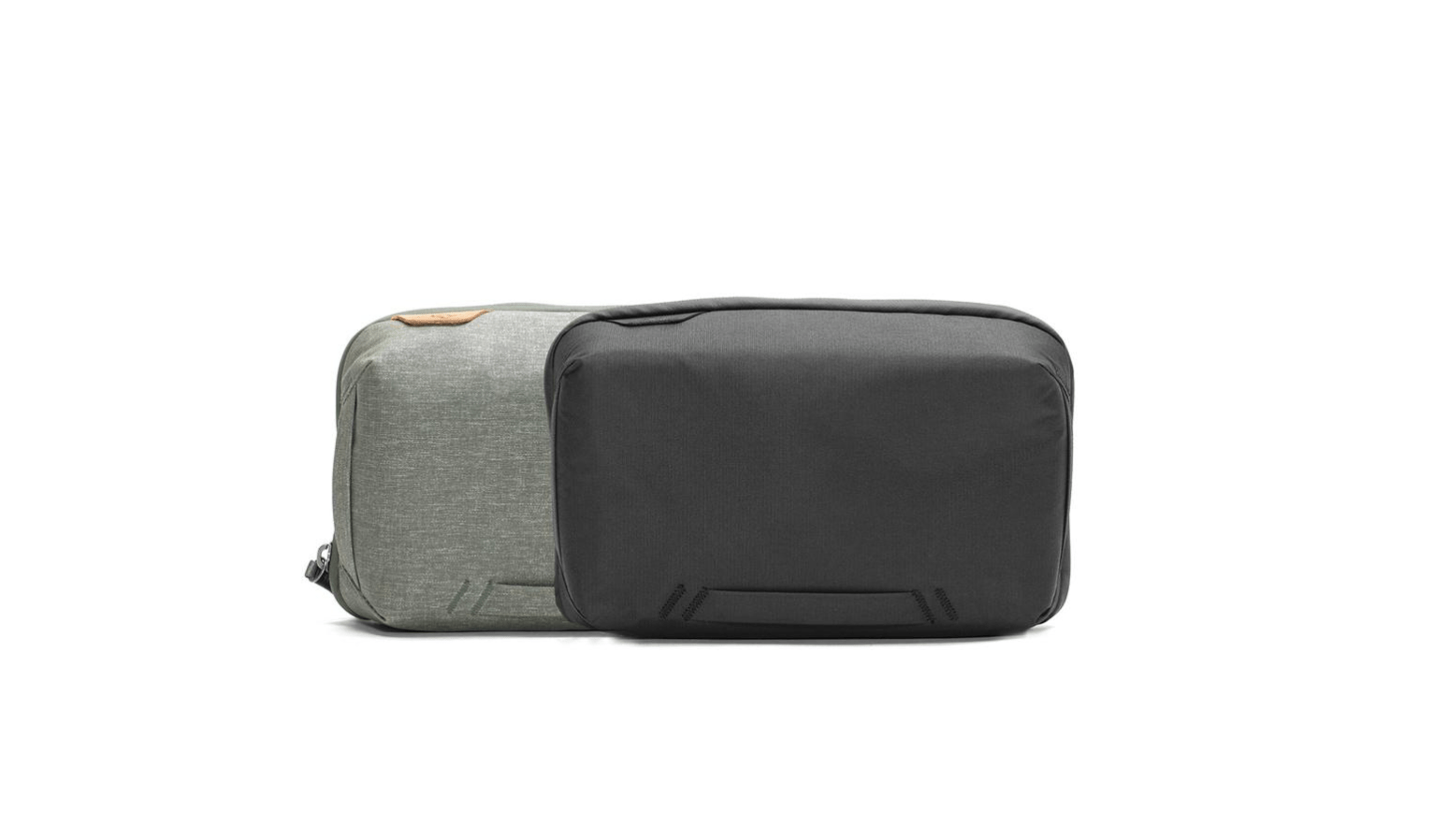 To start things off, this pouch is available in two different colors—black with Hypalon accents and sage with Nubuck leather accents. (Nubuck is top-tier leather that has been sanded slightly to provide a nice, velvet-like surface. It's good stuff.) We should make a quick note that any vegans out there will want to opt for the black since it uses no animal products.
As far as materials go, there is one weather-resistant #8 Zoom zipper that provides access to the main compartment of this little pouch. While we like the zipper itself, we do wish it had two different zipper pulls so you could partially open it up from the middle. Instead, if you want to open it up you have to start at the bottom, go all the way to the other side, and open it fully. Not a huge deal, but it seems like a simple addition that could add some extra functionality.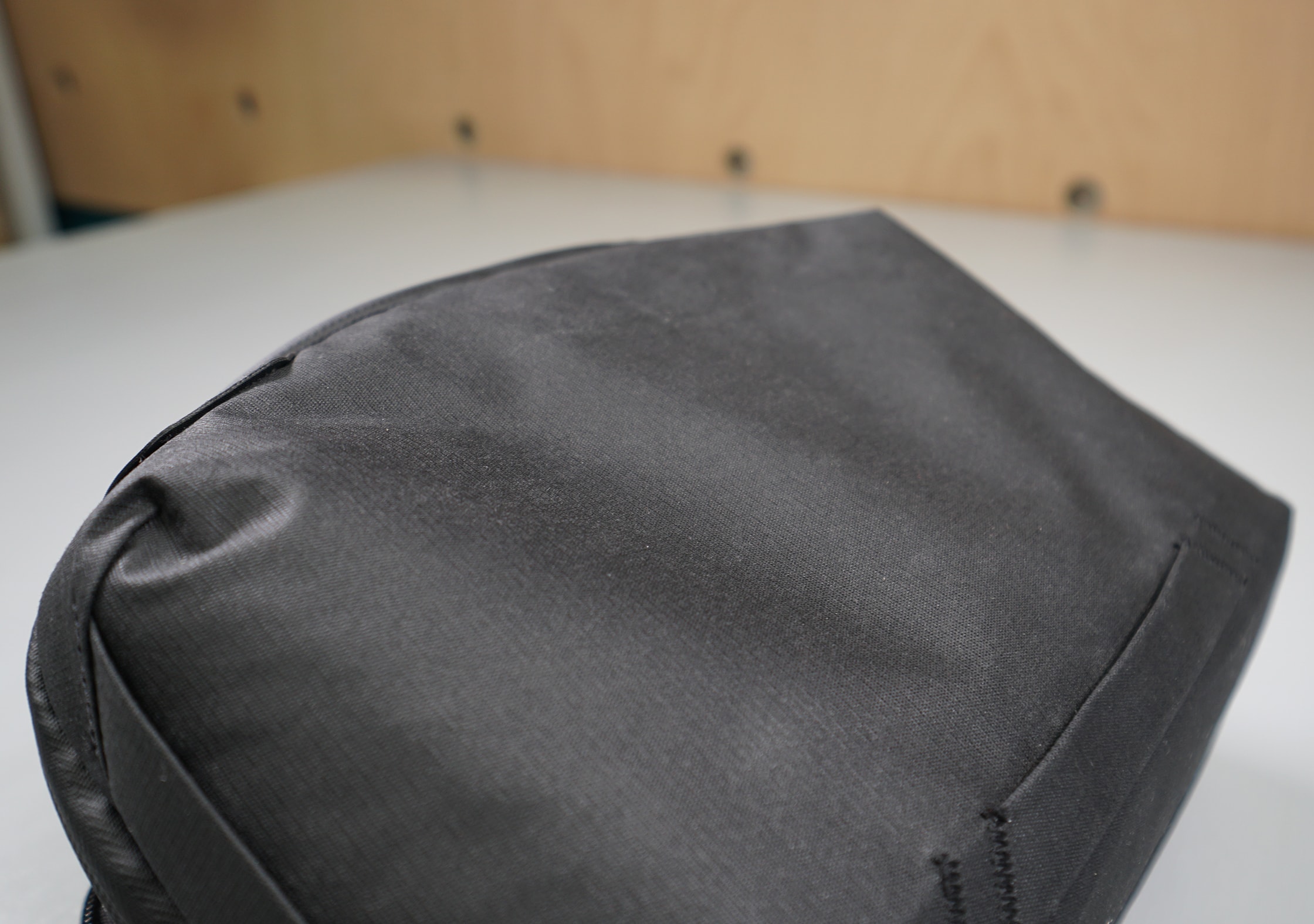 This pouch is made of 200D nylon canvas that is polyurethane and DWR coated on each side. Long story short—there's a lot of weather-resistance going on with this thing. And even without the weather-resistance, this is some serious material for a simple tech pouch—we've seen plenty of backpacks with materials lower than 200D.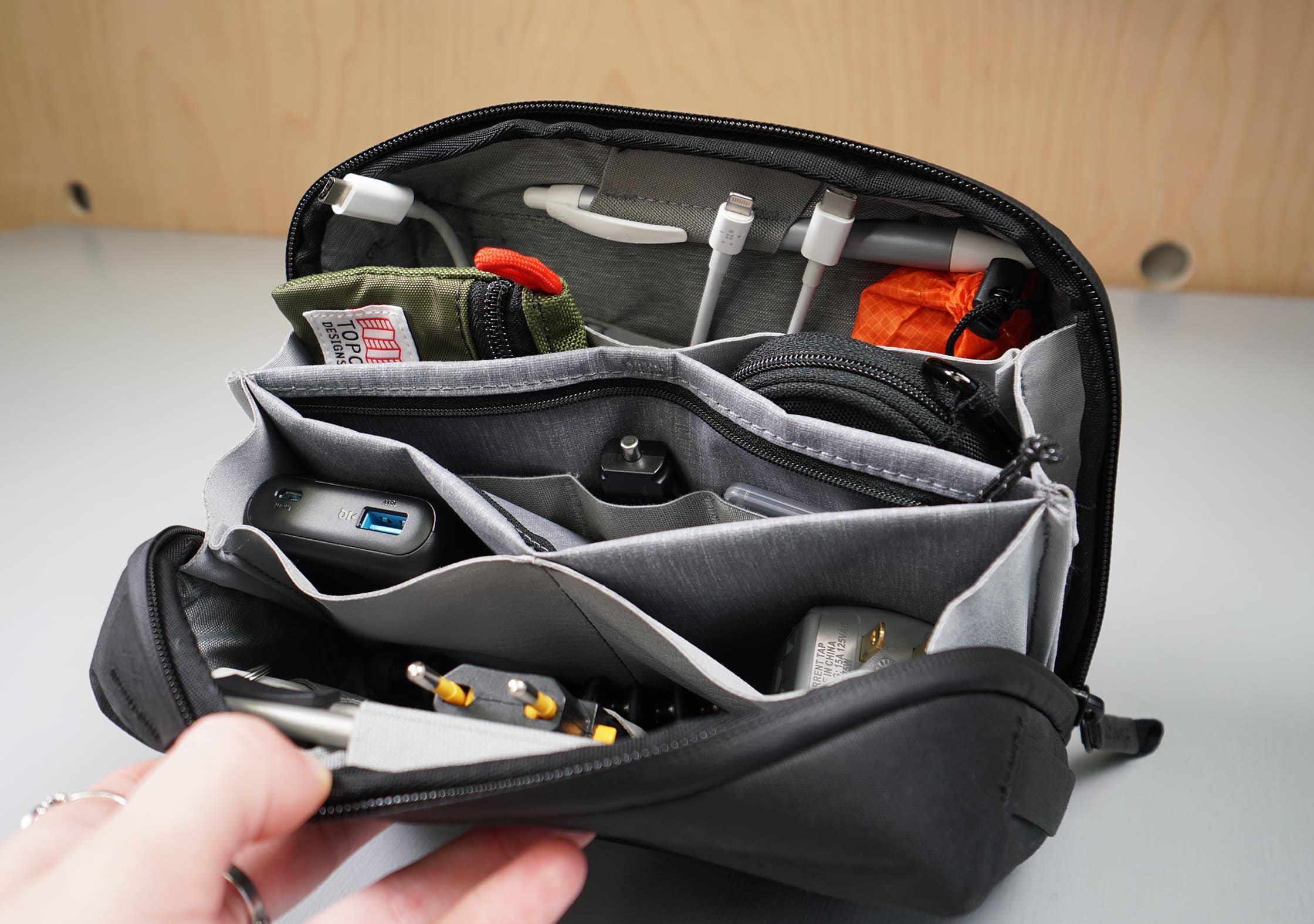 When you open this thing up, you're greeted with a ton of different pockets and compartments in Peak Design's classic "origami" style. It's a pretty innovative—and handy—way to organize your stuff and, although it might look daunting, it's very simple to use.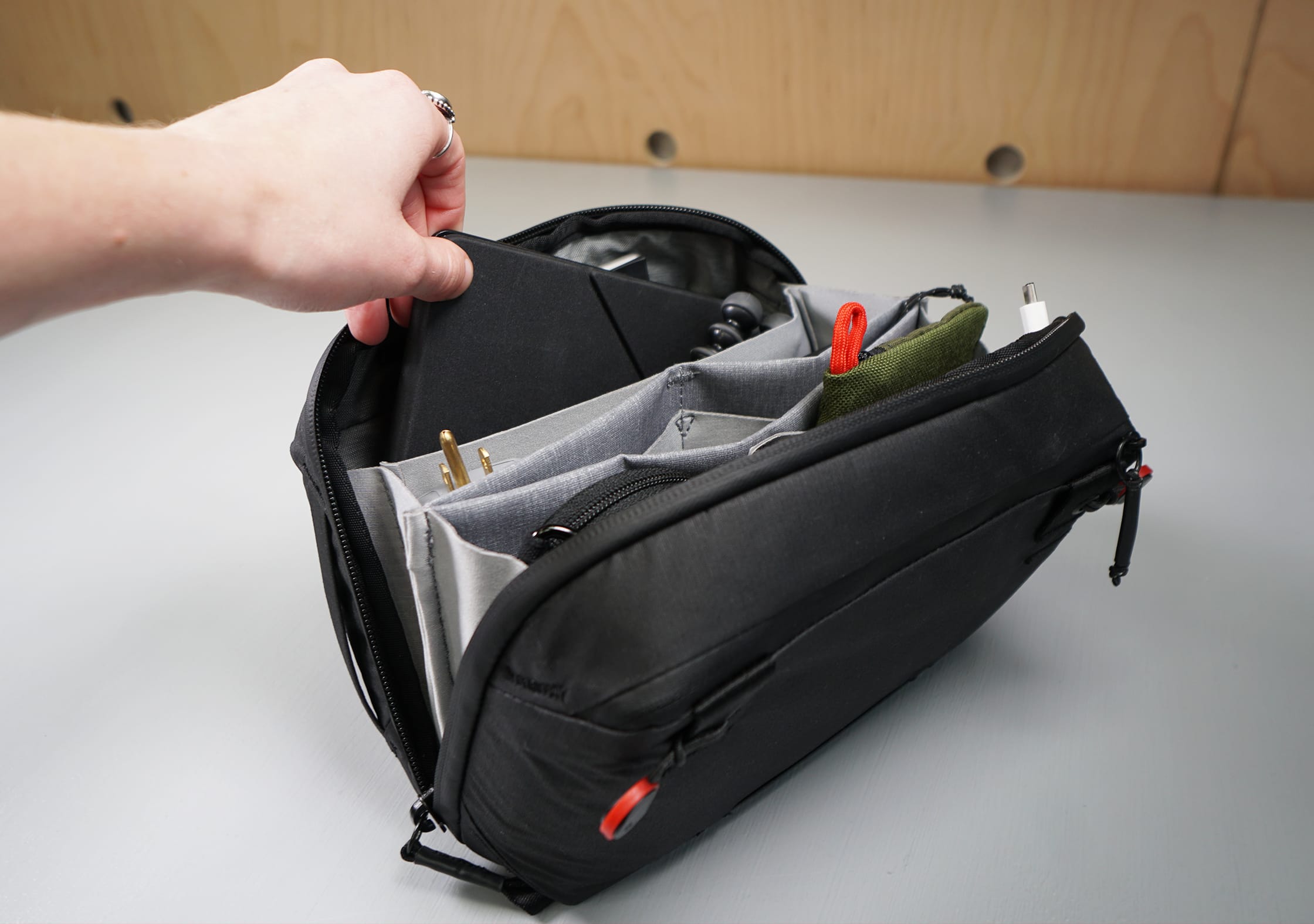 The middle area offers some ample space for large items, plus a zippered compartment that's good for holding three SD cards and some smaller items. There are a bunch of different partitions towards the middle to help organize your items, and on each side of those is a larger compartment. We've found that this area fits a Kindle Voyage pretty much perfectly, for reference. There are also three stretchy pockets here for some added organization.
Right above those three pockets are some elastic loops that can be used for pens, tighter wound cords, pencils—we've even been throwing some mini chopsticks in here. (Gotta be prepared for those impromptu ramen adventures!)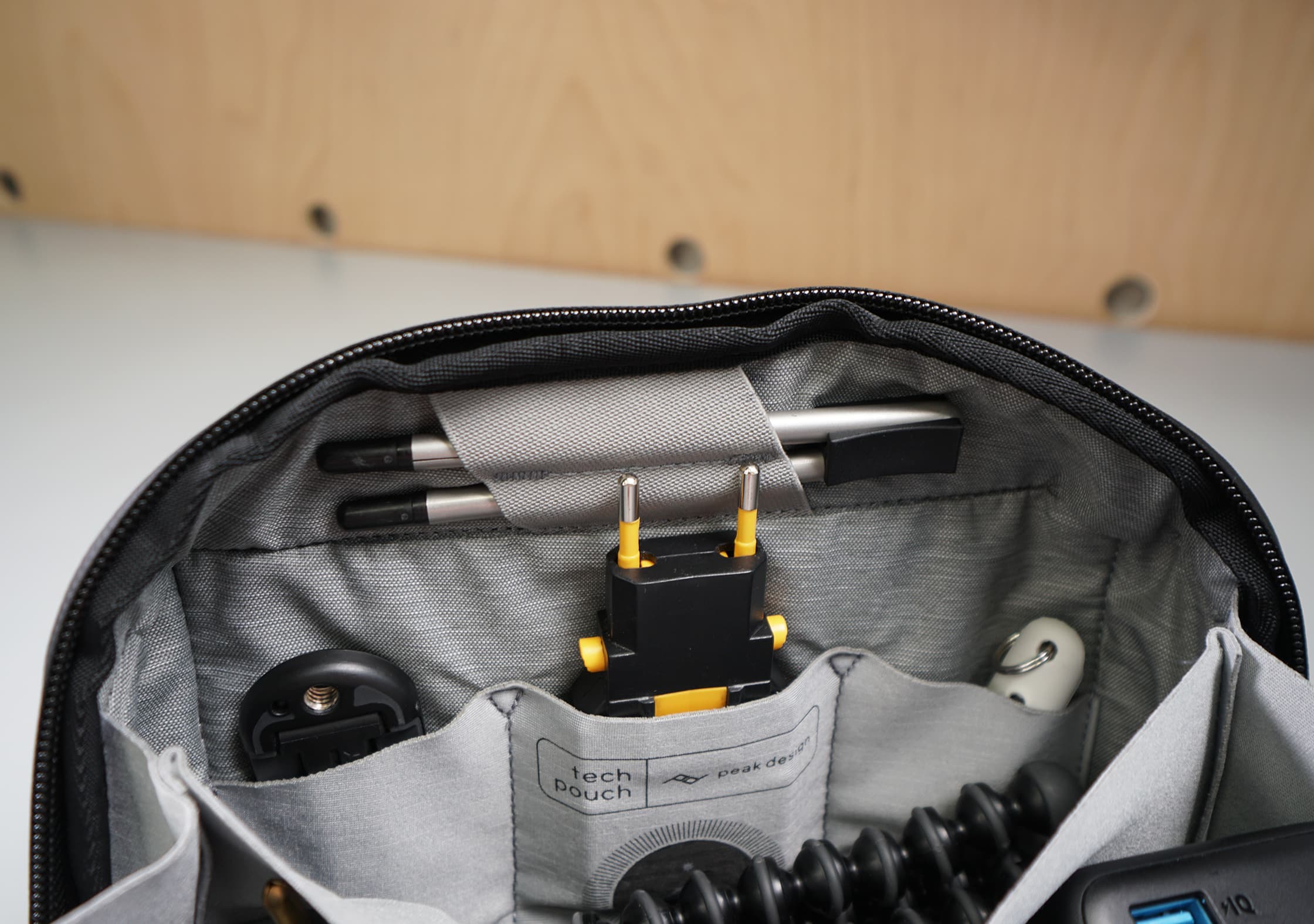 There are some exterior handles on the pouch, though we haven't been using them much. They're a bit small and attached very close to the exterior of the pouch, so it's kind of difficult to quickly grab them. However, since this thing is so small it's pretty easy to just grab it and go without using the handles.
On the exterior, there's a zippered pocket that fits an iPhone XS Max or an iPhone 8 Plus (with a case) pretty snugly, and there's a pass-through port for a charging cable as well. So if you have a battery bank inside, you can pass the USB cable through and keep everything nice and organized. Classic Peak Design—thinking of everything and keeping it slick. We love it.
And the last thing that makes this little pouch so great are the Anchor attachment points on the outside. You can attach any of Peak Design's additional accessories here—including a strap, which lets you wear this thing as a little messenger bag. When in messenger-mode it's a little bit bulkier than other slings we've tested—like the Aer Day Sling 2 or the Heimplanet Transit Line Sling—but it'll work in a pinch. We definitely think this addition gets extra points for versatility—since it pulls double duty as a sling and a cube inside of your larger bag.
One small tip: when packing this thing up, you're going to want to make sure you have items of similar widths on each side so that it closes easily. If you have items that are too thick on one side, it's going to be pretty difficult to close. (As soon as you start to pack it up, you'll know exactly what we're talking about.)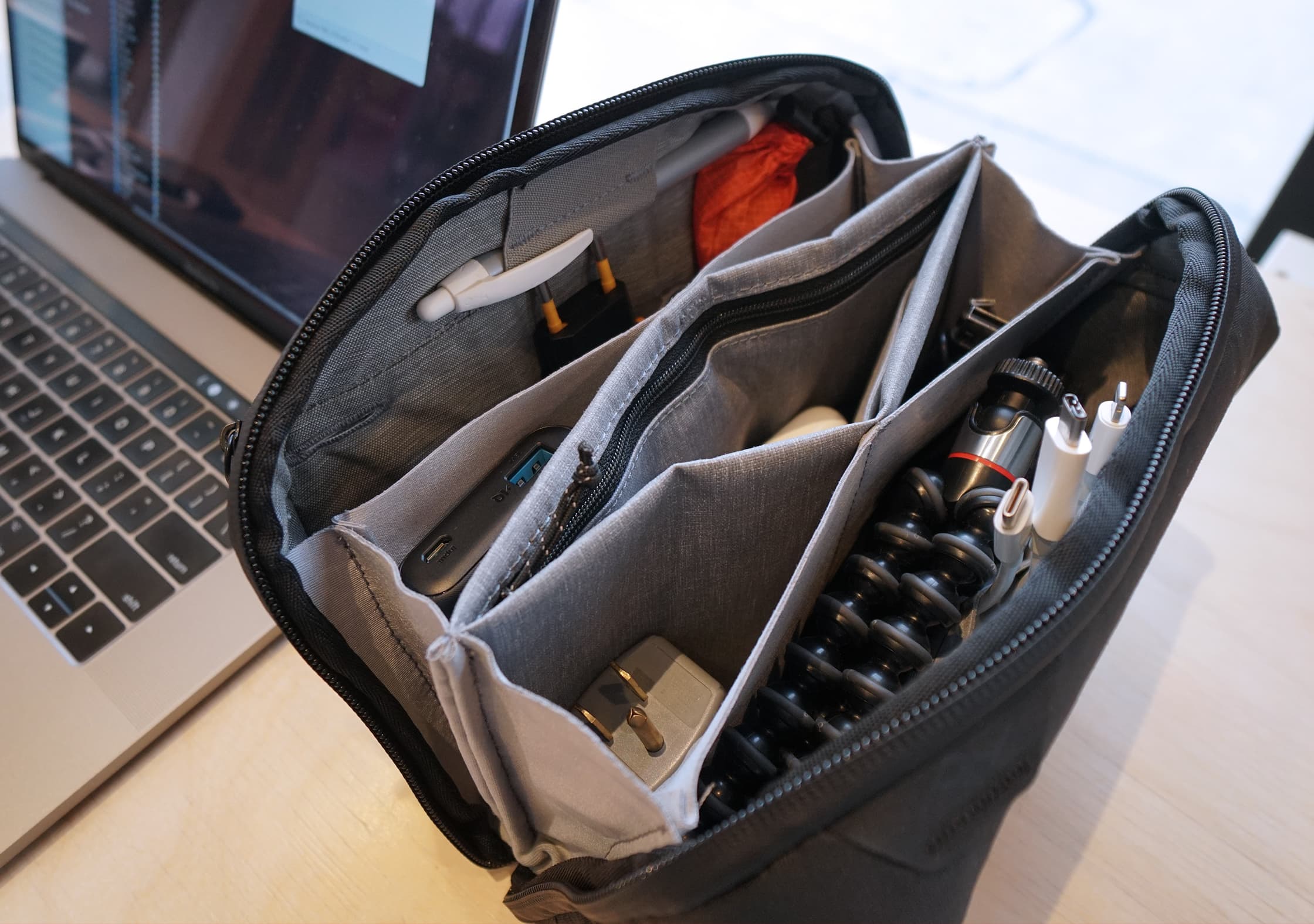 So…how do we actually like this thing? Well, after a couple weeks of testing, we think the organization options are truly some of the best out there. Everything is well thought out and the system works really well overall. One thing to note is the size and rigidity—it doesn't really compress down due to the thicker fabric on the outside. It keeps its shape quite well, which means your stuff should be kept a bit safer than it would be in your average pouch.
At the end of the day, we think that if you have a lot of tech gear to carry and you can really fill this thing out, it's going to be a great option for you. However, if you're only going to be partially filling it, it may not be the best pouch for you as it can't compress and will take up quite a bit of extra space in your pack.
Usage Timeline
Initial Usage
Condition: Excellent
WOW! That is a lot of organization for a tech pouch. Working well, trying to figure out the best way to organize stuff in here.
1 Month of Use
Condition: Excellent
This thing has seen a good amount of use with great success. Loving the organization features.
2 Months of Use
Condition: Excellent
Still going strong—a few minor blemishes, but nothing that couldn't be easily rubbed off. Noticing that bigger items don't work very well in this.
Access the Pro Community Discussion
Get your questions about the Peak Design Tech Pouch answered from our team and the Pro Community right here on the page. Plus, join discussions with other members about gear, guides, and more.
Other Organizers & Pouches Reviews