When heading out on a trip, whether for a few days or weeks, you'll need somewhere to store your shampoo and soap. And while your travel backpack might come with a plethora of pockets where you can stash every comb, toothbrush, and lip balm, you may want to reach for a separate pouch to carry it all, whether you call it a Dopp kit or a toiletry bag.
What's the difference between the two? Not really anything but a trademark. Leatherworker Charles Doppelt patented the term in 1919 and began marketing his leather toiletry bags as such before landing a contract with the U.S. Army during World War II to provide every soldier with a Dopp Kit. The name stuck when the G.I. Joes came home since it was more appealing than "toilet bag," though the terms can be used interchangeably.
History lesson over, we'll misquote Shakespeare to point out that a bag to store your toiletries is essential no matter what you call it. We prefer putting a barrier between potentially-leaking liquids and smearing soaps and clothing, so we look for bags that will contain any messes and make it easy for you to find what you need while getting ready for the day's adventures.
We've teamed up with REI to bring you this roundup since it's a great place to start your search for gear, whether it's clothing, a new bag, or other travel essentials. You can get even more from the store when you become an REI Co-op member, including an average of 10% back annually on eligible purchases, free shipping, and a generous return policy. Members also get access to the Re/Supply store, where you can choose from returned gear that's been thoroughly inspected. Or, trade in your used items for other members to enjoy!
So, without further ado, let's dive in!
Pack Hacker Pro Members-Only Live Stream
Get a detailed look at gear in real time and have your burning questions answered by our team. Unlock access to our entire catalogue of live streams when you sign up for Pro. Here's a preview.
Live Stream Preview
1. Matador FlatPak Zipper Toiletry Case
Best for: Relaxed Travelers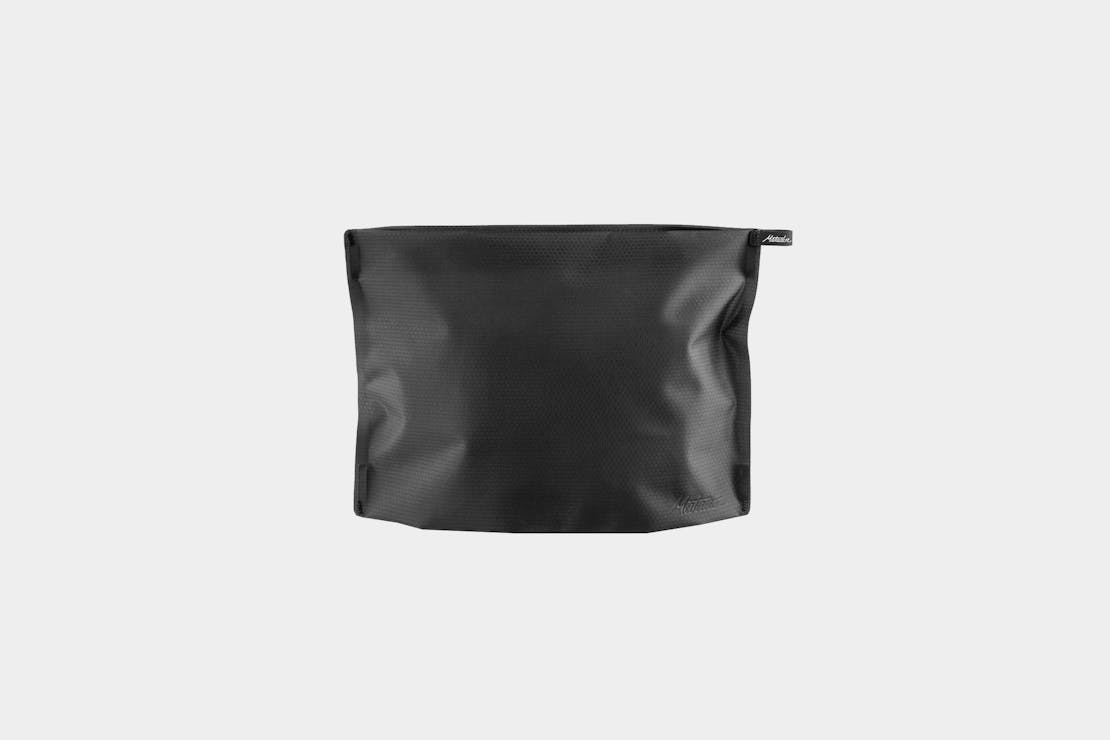 Why We Like It: You don't have to worry about tossing your damp bottles back in the bag since they can dry through the material.
What You Should Know: Air escapes through the zipper, so it's not completely waterproof.
We can't think of many worse things than rushing to repack on the last morning of vacation and arriving home to find our clothing damp because we didn't remember to dry our toiletry bottles after showering. If this has happened to you, avoid it next time with Matador's FlatPak Zippered Toiletry Case.
If you're familiar with Matador's other FlatPak products, the Zippered Toiletry Case has the same dry-through technology that lets water evaporate through the fabric while the exterior stays dry. While the material is waterproof, the bag itself is not since some liquid could still sneak through the hole at the end of the zipper. However, it should contain most spills, and if you prefer a zipperless design, you can check out the rolltop Matador FlatPak Toiletry Case.
The 2.25-liter pouch has no internal organization, but that means you'll have no problem tossing bottles of nearly any size inside—unless you're trying to travel with a family-sized bottle of shampoo, that is. (Although we've got news for you: TSA will make you toss that puppy!) Don't worry if you don't need to bring too much on a short trip, though. The toiletry bag's gusseted design expands and contracts depending on what you're packing, so you don't need to switch to a smaller Dopp kit when you are traveling for a shorter time.
See Details & Buying Options
So whether you prefer plentiful organization or extra open space, we think you'll find the best toiletry bag for you somewhere on this list. You may be heading to visit a new city or take in the sweeping vistas of a national park, but no matter where you travel, check out REI before packing. Members get great perks like free shipping and great deals on gear! Special thanks to them for sponsoring this post. Happy travels!
You can also check out this video for more toiletry bag ideas!