When heading out on a trip, whether for a few days or weeks, you'll need somewhere to store your shampoo and soap. And while your travel backpack might come with a plethora of pockets where you can stash every comb, toothbrush, and lip balm, you may want to reach for a separate pouch to carry it all, whether you call it a Dopp kit or a toiletry bag.
What's the difference between the two? Not really anything but a trademark. Leatherworker Charles Doppelt patented the term in 1919 and began marketing his leather toiletry bags as such before landing a contract with the U.S. Army during World War II to provide every soldier with a Dopp Kit. The name stuck when the G.I. Joes came home since it was more appealing than "toilet bag," though the terms can be used interchangeably.
History lesson over, we'll misquote Shakespeare to point out that a bag to store your toiletries is essential no matter what you call it. We prefer putting a barrier between potentially-leaking liquids and smearing soaps and clothing, so we look for bags that will contain any messes and make it easy for you to find what you need while getting ready for the day's adventures.
We've teamed up with REI to bring you this roundup since it's a great place to start your search for gear, whether it's clothing, a new bag, or other travel essentials. You can get even more from the store when you become an REI Co-op member, including an average of 10% back annually on eligible purchases, free shipping, and a generous return policy. Members also get access to the Re/Supply store, where you can choose from returned gear that's been thoroughly inspected. Or, trade in your used items for other members to enjoy!
So, without further ado, let's dive in!
Pack Hacker Pro Members-Only Live Stream
Get a detailed look at gear in real time and have your burning questions answered by our team. Unlock access to our entire catalogue of live streams when you sign up for Pro. Here's a preview.
Live Stream Preview
1. Matador FlatPak Zipper Toiletry Case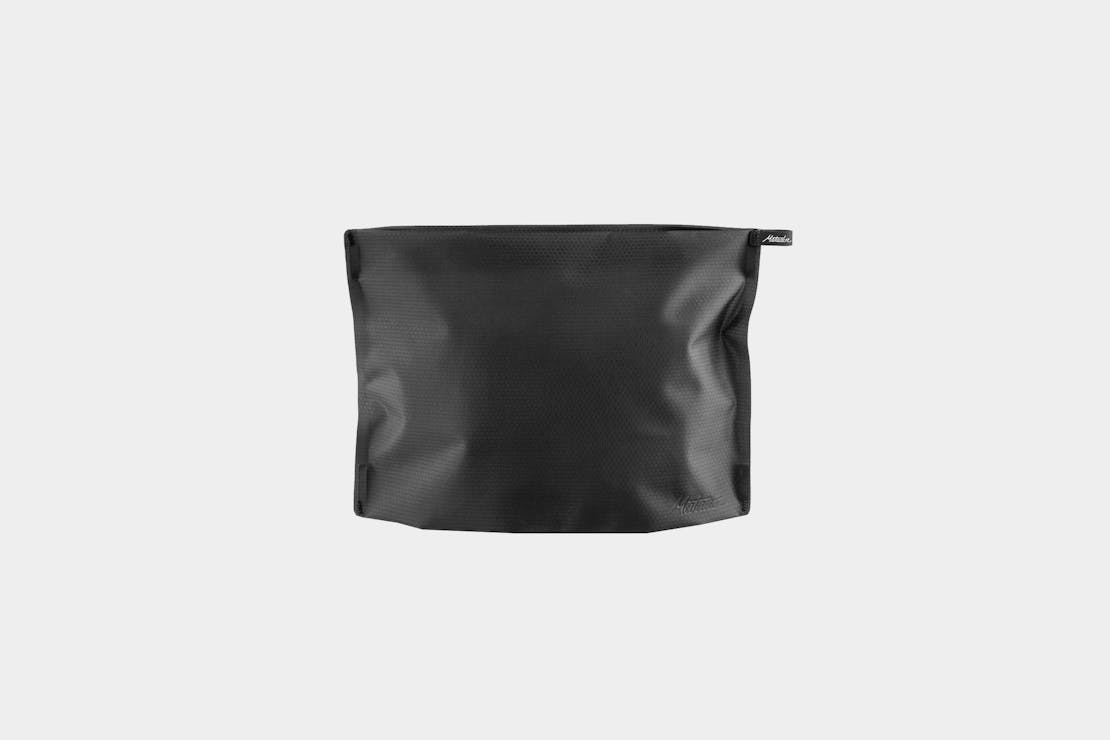 Why We Like It: You don't have to worry about tossing your damp bottles back in the bag since they can dry through the material.
What You Should Know: Air escapes through the zipper, so it's not completely waterproof.

We can't think of many worse things than rushing to repack on the last morning of vacation and arriving home to find our clothing damp because we didn't remember to dry our toiletry bottles after showering. If this has happened to you, avoid it next time with Matador's FlatPak Zippered Toiletry Case.

If you're familiar with Matador's other FlatPak products, the Zippered Toiletry Case has the same dry-through technology that lets water evaporate through the fabric while the exterior stays dry. While the material is waterproof, the bag itself is not since some liquid could still sneak through the hole at the end of the zipper. However, it should contain most spills, and if you prefer a zipperless design, you can check out the rolltop Matador FlatPak Toiletry Case.

The 2.25-liter pouch has no internal organization, but that means you'll have no problem tossing bottles of nearly any size inside—unless you're trying to travel with a family-sized bottle of shampoo, that is. (Although we've got news for you: TSA will make you toss that puppy!) Don't worry if you don't need to bring too much on a short trip, though. The toiletry bag's gusseted design expands and contracts depending on what you're packing, so you don't need to switch to a smaller Dopp kit when you are traveling for a shorter time.
See Details & Buying Options
2. REI Shower Roll (Small)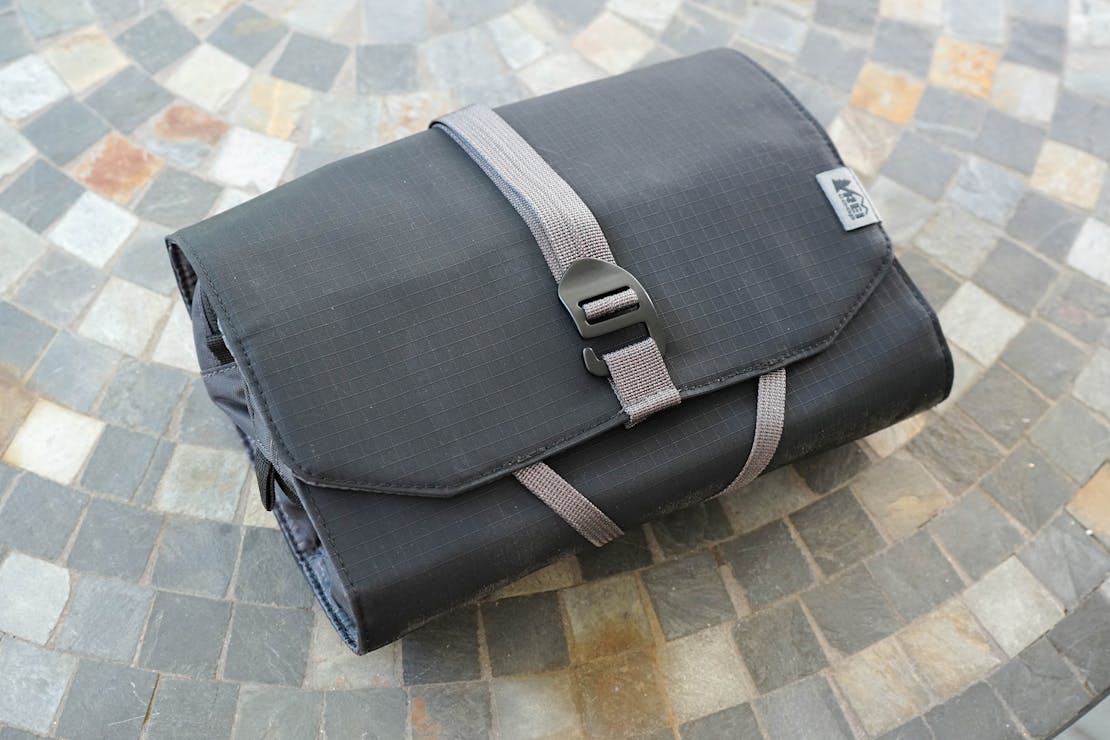 Why We Like It: The "Goldilocks" just-right organization works for different toiletries and accessories.
What You Should Know: It's rather big and bulky, so it isn't the easiest to pack.

This may be called a Small Shower Roll, yet it's a fairly large toiletry bag. While the footprint can make it hard to pack in your luggage while traveling, it does give you the space to carry just about everything you need to stay clean and shiny on the road.

When you unroll it, you find this toiletry bag contains a good amount of organization. At one end is a clear-windowed pouch for your travel toiletry bottles with water-resistant PU material to contain any accidental spills or leaks. It zips off easily, so you can separate your liquids as you go through TSA if your agent asks you to remove them. The middle includes a zippered pocket large enough for two toothbrushes and a full-size tube of toothpaste, which is great if you're traveling with family and want to pack just one Dopp kit for everyone. At the top is a large mesh pocket with enough stretch to act as a catch-all for all your other grooming needs: solid lotion, hair pomade, a comb, lip balm, nail clippers, and the like.

At the top is a mirror and a hanging hook, so you can hang this on the back of the door or the shower rod and get ready when your daughter is hogging the bathroom mirror. When you're heading home, it rolls up and secures with a metal hook to keep everything contained in one mucho-grande-burrito-like roll.
See Full Review & Buying Options
3. Nite Ize RunOff Waterproof Toiletry Bag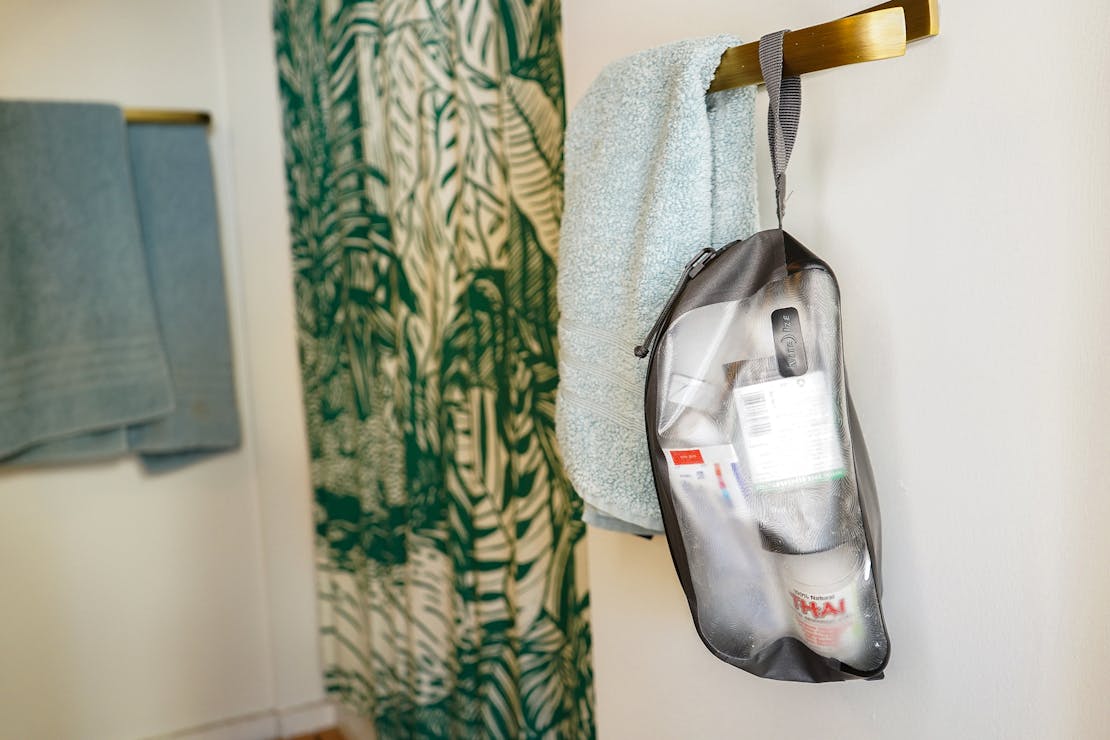 Why We Like It: You can protect your small toiletries in a waterproof pouch, keeping them dry and containing any spills from getting on your clothing.
What You Should Know: The zipper is slow to get around corners, and smudges show.

Many toiletry bags tout water resistance, but not all of them are so waterproof they can float off the side of your boat. The Nite Ize RunOff Waterproof Toiletry Bag can, though, so if you want to wash up in the lake with marine-friendly soap, go for it!

There's no internal organization in this 3-liter toiletry bag, so it's got enough space for full-size gear if you don't have to worry about staying under the 3.4-ounce limit for TSA. The TPU material will keep liquids from escaping onto your other travel gear with help from the waterproof TRU Zip, so you don't have to worry if your sunscreen bottle splits at the seam. That said, like many waterproof zippers, this one is a bit stiff to work around the corners and its placement on the front of the bag limits accessibility. The silver lining is that it also stays put if you only undo it partway. There's a large nylon loop at the end where you can hang the bag up in your hotel bathroom, and since it's the same end where the zipper begins, you can open it part of the way to pull out your shampoo before heading into the shower.
See Details & Buying Options
4. Green Guru Upcycled Sleep Pad Travel Kit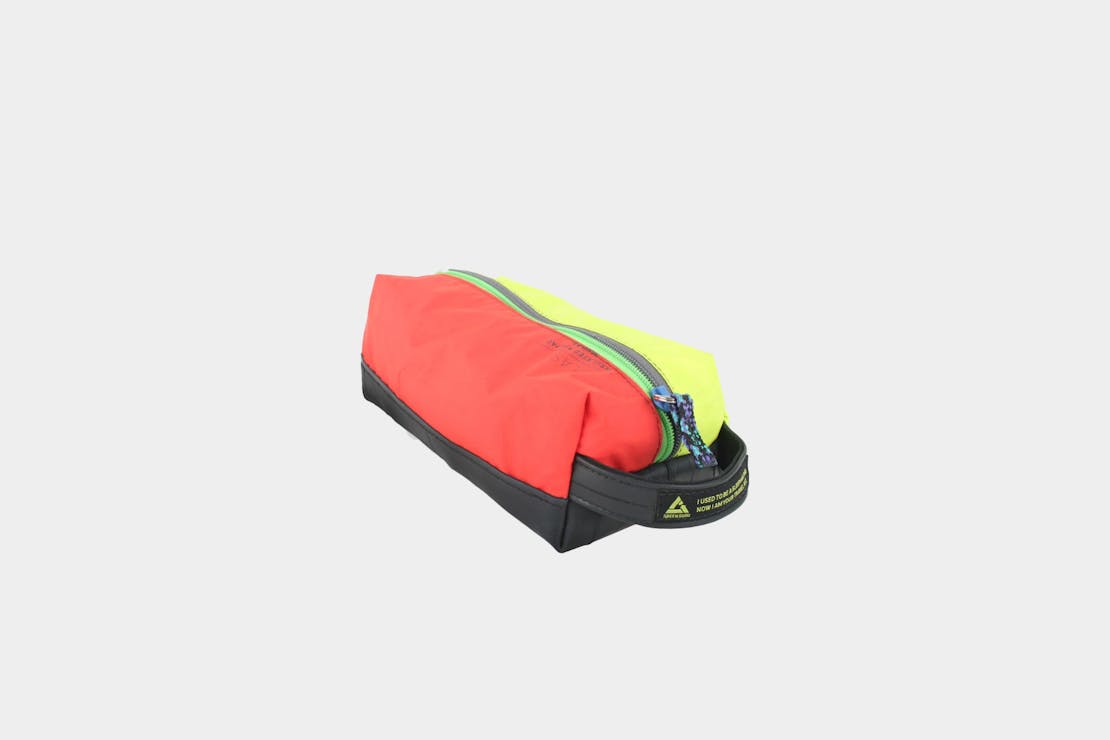 Why We Like It: Made from repurposed sleeping pads, tire tubes, and climbing rope salvaged from REI, you can feel good about the sustainability of this kit.
What You Should Know: Since it's all repurposed materials, you can't choose the colorway, so you may want to pass if bright colors aren't your thing.

If you like adopting shelter pets and feel like you're saving books from feeling rejected when you pick them up at the secondhand store, this might be the best toiletry bag for you. The note attached to the Upcycled Sleep Pad Travel Kit tells the sweet story of a sleeping pad that can no longer hold air taken in by REI and paired up with its bicycle tube and climbing rope friends to be given new life as your toiletry bag. Aww!

True to its roots, this toiletry bag feels super sturdy, especially on the underside where it rests on salvaged rubber bicycle tube material. There will be no worries about plopping this down next to a wet sink, that's for sure. The handle is the same material, so it's easy to grab from your travel backpack and hang on a hook in the bathroom. The pre-loved sleeping pad material on the top and inside is bright and cheery, and it's unlikely to get mixed up with your travel companion's gear.

Although there's no organization inside the Travel Kit, there is a lot of space. You can fit a variety of travel-sized bottles, a hairbrush, toothbrush and paste, makeup, and more in here, and the 10-inch length will even accommodate some full-size bottles if you're not carrying it on an airplane. You can pull the salvaged rope zipper pull open partway while it's hanging to get gear at the top or lie it flat to dive in and find your toothpaste tabs. The colorful liner makes it easy to find what you're looking for.
See Details & Buying Options
5. Gravel Explorer MINI Toiletry Bag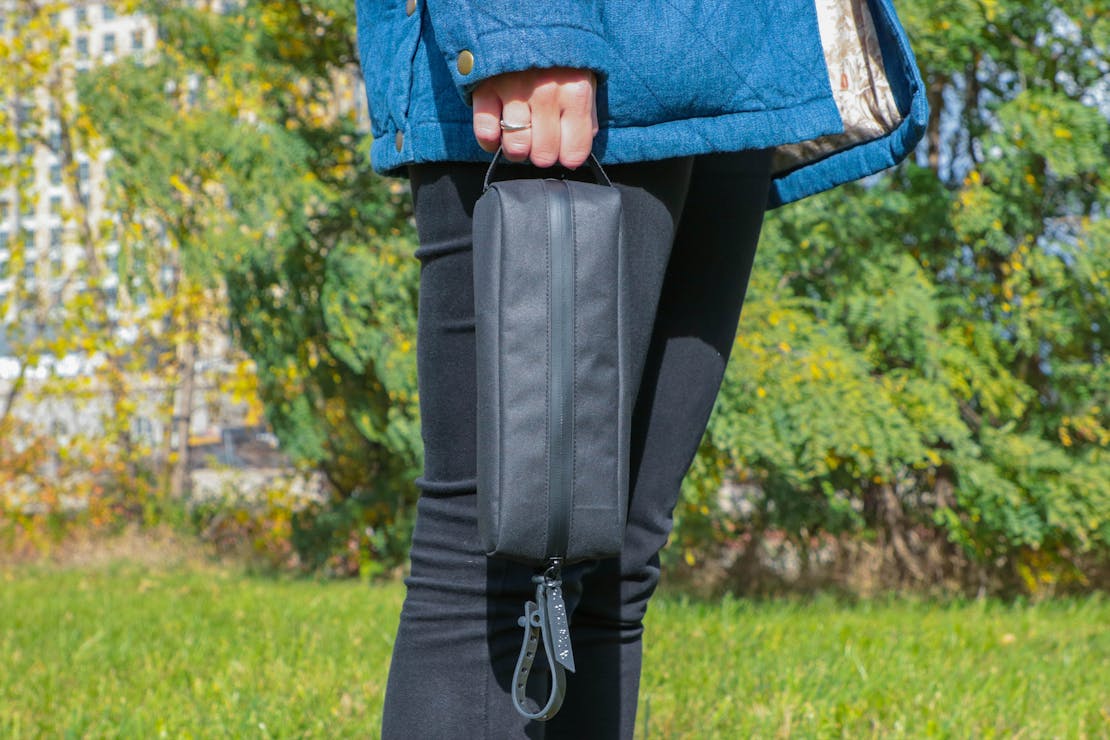 Why We Like It: You can hang this up in the hotel bathroom, or off the outside of your travel backpack, for easy access to your gear.
What You Should Know: If you open both zippers at once, accessing gear on one side can lead to your gear spilling out on the other.

The best toiletry bag for a short trip isn't always the biggest, which is why we're reaching for the Gravel Explorer MINI Toiletry Bag when we want to get away for a day or three. It's a Pack Hacker Pick , so not only do we recommend this bag to our friends, it's what we pack, too. The 1-liter capacity is enough space for the small bottles of toiletries you'll need, and it has two compartments so you can keep your toothbrush separate from bottles that could sit on the counter of a strange bathroom or have soapy residue from the shower.

On the toothbrush side, the fabric is a thinner water-resistant shell, both inside and out, which is great for containing the dampness that occurs when you want to brush before catching a morning flight home. Both regular- and travel-sized toothbrushes and toothpaste fit inside, although you'll have to take the head off an electric toothbrush if that's how you roll.

Gravel uses its QuarryPoly—a water-repellant, scratch-resistant, easy-to-clean material— for the main compartment, which has enough room for deodorant, lotion, face wash, eye drops, and a travel razer. If you don't already own refillable toiletry bottles, the Gravel Soft 3 oz Liquid Bottles are compatible with the Explorer MINI, but other containers work well, too.

A silicone strap makes it easy to hang up the pouch at your accommodations, and it's always nice when you can save space around a small hotel sink. It's easy to pack, too, since its size and shape fit perfectly in the odd spaces left near the top of your travel backpack or in the long space next to telescoping handles inside rolling luggage.
See Full Review & Buying Options
6. Aer Travel Kit 2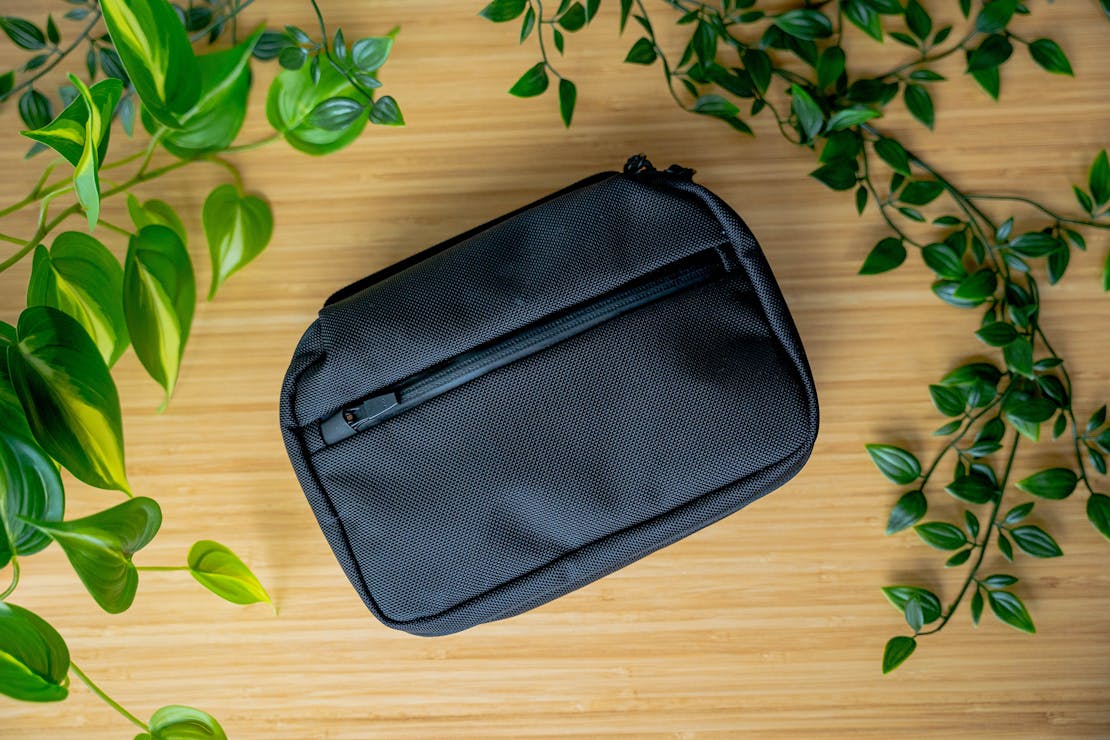 Why We Like It: From a hanging hook to a toothbrush garage, this kit has features that come together for a great user experience.
What You Should Know: Internal elastic loops struggle to store a range of toiletry bottle sizes

We loved the durable materials, internal organization, and hanging hook of the original Aer Travel Kit , and unlike some movie sequels, we think the second iteration is even better. The main compartment layout and the way it can hang from the built-in hook remains, which is great for getting it off of tiny hotel sinks. Aer also kept the kangaroo-style shelf design, elastic loops, zippered mesh pocket, and toothbrush slots. If it ain't broke, don't fix it, right?

Changes include adding an extra toothbrush pocket on the outside of the kit. This way, you and your travel companion can stand your brush up to dry throughout the day without sacrificing a towel to protect the head from germs on the countertop. It does the same for your razor if you're flying solo—although you won't want to leave either one there when you fly home.

As for organization, a slim front pocket is great for anything you need to grab while you're traveling, like tissues or wet wipes, while the rear compartment is roomier for a first-aid kit, makeup compacts, or anything else you want.

The main compartment has a super stretchy mesh pocket in its top half for tiny travel accessories and a slip pocket that hides the hanging hook. On the bottom, you can vertically slide travel-size bottles in elastic loops in one pouch and hide your toothbrush head in a garage that runs horizontally. While the elastic loops could seem overkill, they keep everything in place, even when you're running to catch a train.
See Full Review & Buying Options
7. Bellroy Dopp Kit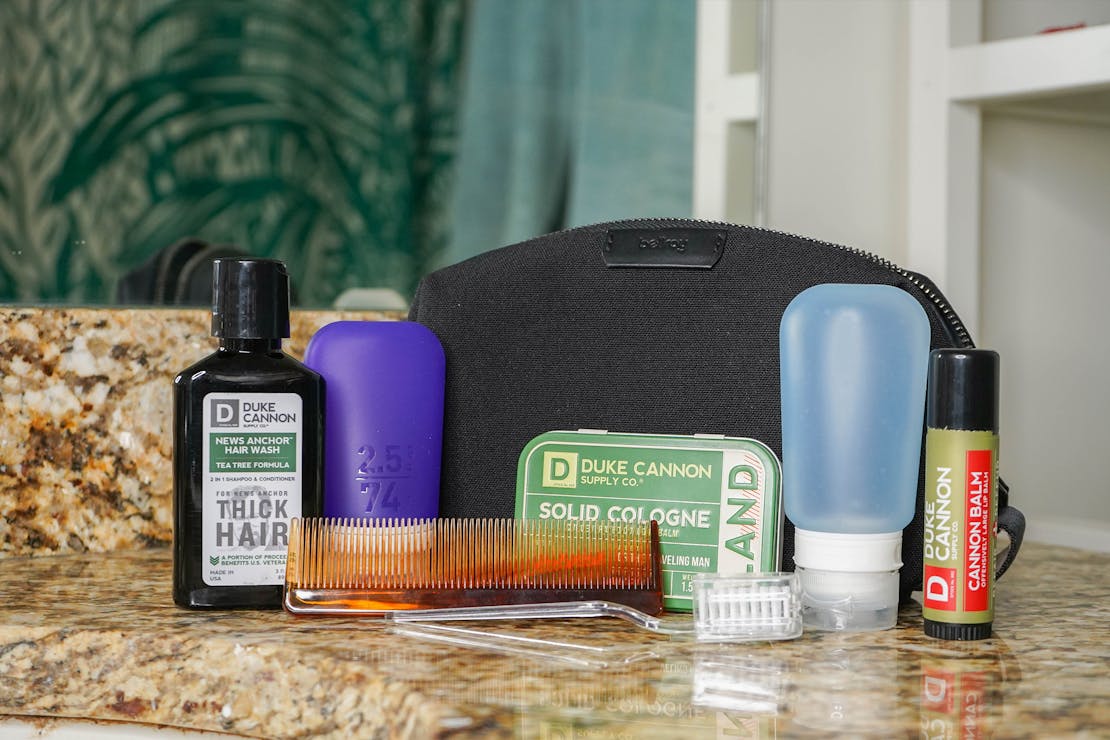 Why We Like It: A super sophisticated Dopp kit that has just the right amount of organization without taking up too much space.
What You Should Know: It has leather accents, so it may not be for you if you avoid animal products.

Keep everything organized in a sleek-looking package when you reach for the Bellroy Dopp Kit. The polyester and nylon materials are water-resistant, and the logo and zipper pull are leather, which looks great but may not be for you if you're avoiding animal products. The leather has been tanned under Leather Working Group environmental protocols, though, so that's a good shout, although the rounded edges can make it tricky to pack in some spaces.

But enough about the outside; you'll find equally luxurious mesh pockets inside where you can slide a few bottles or your contact lens case to make it easier to find later. It also has a unique magnetic toothbrush sleeve that snaps your dental gear out of the way after you've polished your pearly whites. During the day, you can leave the sleeve open to let the head of your brush dry, and it also works well for a razor if you want to toss your toothbrush elsewhere.

If you have a lot of differently-shaped bottles and tubes, you might think this is the best Dopp kit since the remaining space is open for interpretation. While the minimal organization won't be enough for those who like everything to have a specific place, we find it pretty perfect.
See Full Review & Buying Options
8. L.L.Bean Personal Organizer Toiletry Bag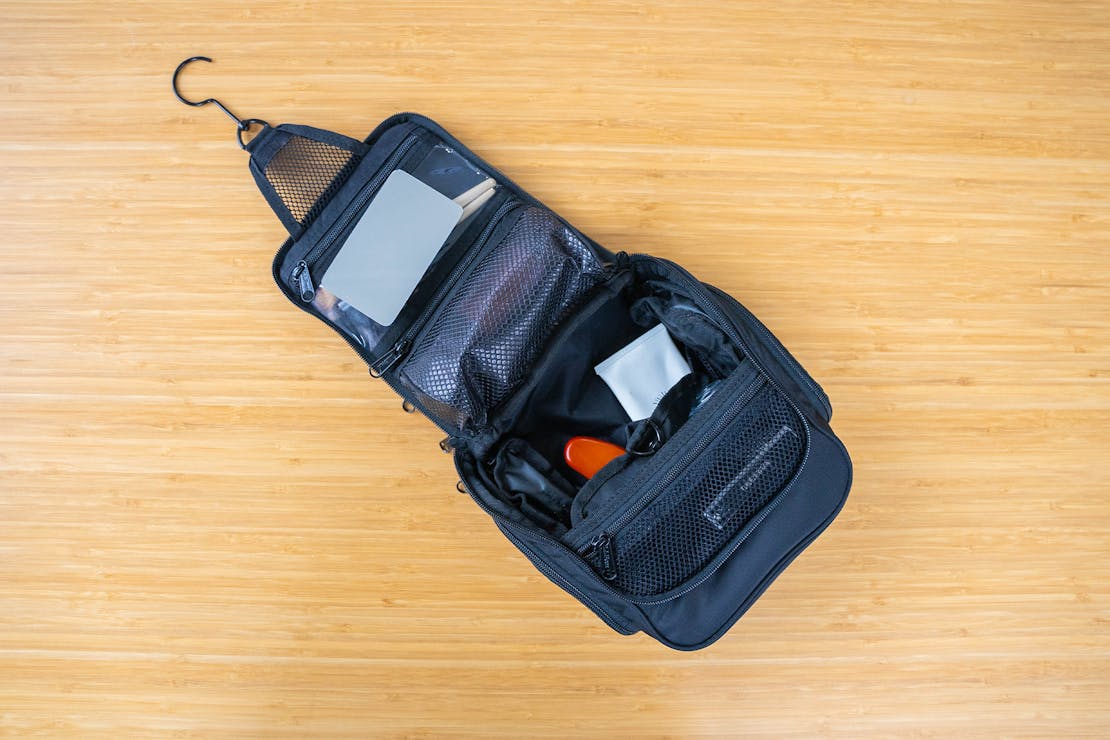 Why We Like It: It has lots of granular organization that takes advantage of all the available space and a removable shower caddy.
What You Should Know: It can be hard to zip down the front flap if you pack something tall inside.

There are enough pockets and pouches on the L.L.Bean Personal Organizer Toiletry Bag to help you sort all your travel toiletries, plus some of your friend's. However, you'll have to remember where you put everything (which can be difficult if you're getting ready for a red-eye flight home!). Each side has a zipper pocket that includes elastic loops for toothbrushes or razors and small mesh pockets, and the front pocket holds slim gear, though taller items make it more challenging to close the main compartment.

When you unzip this toiletry bag, you'll find a large swivel hook you can use to hang the bag from a towel rack or a hook, and since the nylon packcloth exterior is water-resistant, it doesn't matter if you splash it accidentally. Two pockets at the top are plasticky to contain liquids. The top one is clear so you can see what's inside, and there's a mirror that attaches to it with a hook-and-loop fastener if you need to get ready outside the bathroom or want to pull it off and check the back of your hair. The one pocket underneath is more barrel-shaped to take advantage of available space when you zip the bag shut.

The main area has space for taller bottles in two mesh pockets and a removable shower caddy to bring the essentials with you. It includes its own hook so you can hang your soap and shampoo in the shower if there are no available shelves. The material dries quickly, so you can repack it into the Personal Organizer Toiletry Bag in the evening to be ready for the next day.
See Full Review & Buying Options
So whether you prefer plentiful organization or extra open space, we think you'll find the best toiletry bag for you somewhere on this list. You may be heading to visit a new city or take in the sweeping vistas of a national park, but no matter where you travel, check out REI before packing. Members get great perks like free shipping and great deals on gear! Special thanks to them for sponsoring this post. Happy travels!
You can also check out this video for more toiletry bag ideas!