Gravel Explorer MINI Toiletry Bag Review
The Gravel Explorer MINI Toiletry Bag's minimalist size makes use of a clever layout, though it impacts accessibility as well.
Our Verdict
Unlock the Pro Summary
Save time. Get access to brief summaries of our reviews so you can browse and make decisions more efficiently.
Pros
Dual compartments offer sufficient organization in a small package
Adjustable strap easy to loop onto bars and racks
Water-resistant design is easy to clean
Cons
All-black interior hard to see into under poor lighting
Compartments eat into each other's space
Back-to-back layout means only one side can be accessed at a time
Recent Pack Hacker Video
Technical Details
Capacity

1l

Weight (oz)

3.63 oz (102.9 g)

Dimensions

1.96 in x 8.6 in x 3.14 in (5 x 21.8 x 8 cm)

Notable Materials

Thermoplastic Polyurethane (TPU)

Manufacturing Country

China

Warranty Information
Full Review
Get up to 15% off Gravel • Join Pack Hacker Pro
Getting by with the basics can be imposing when you're traveling. Before any trip, there's always an urge to double up and pack as much as possible with you. It's an urge that can be tricky to fight back, but it is doable without making the trip more of a hassle. Consumables like toiletries are one such area that's a good candidate for going minimalist.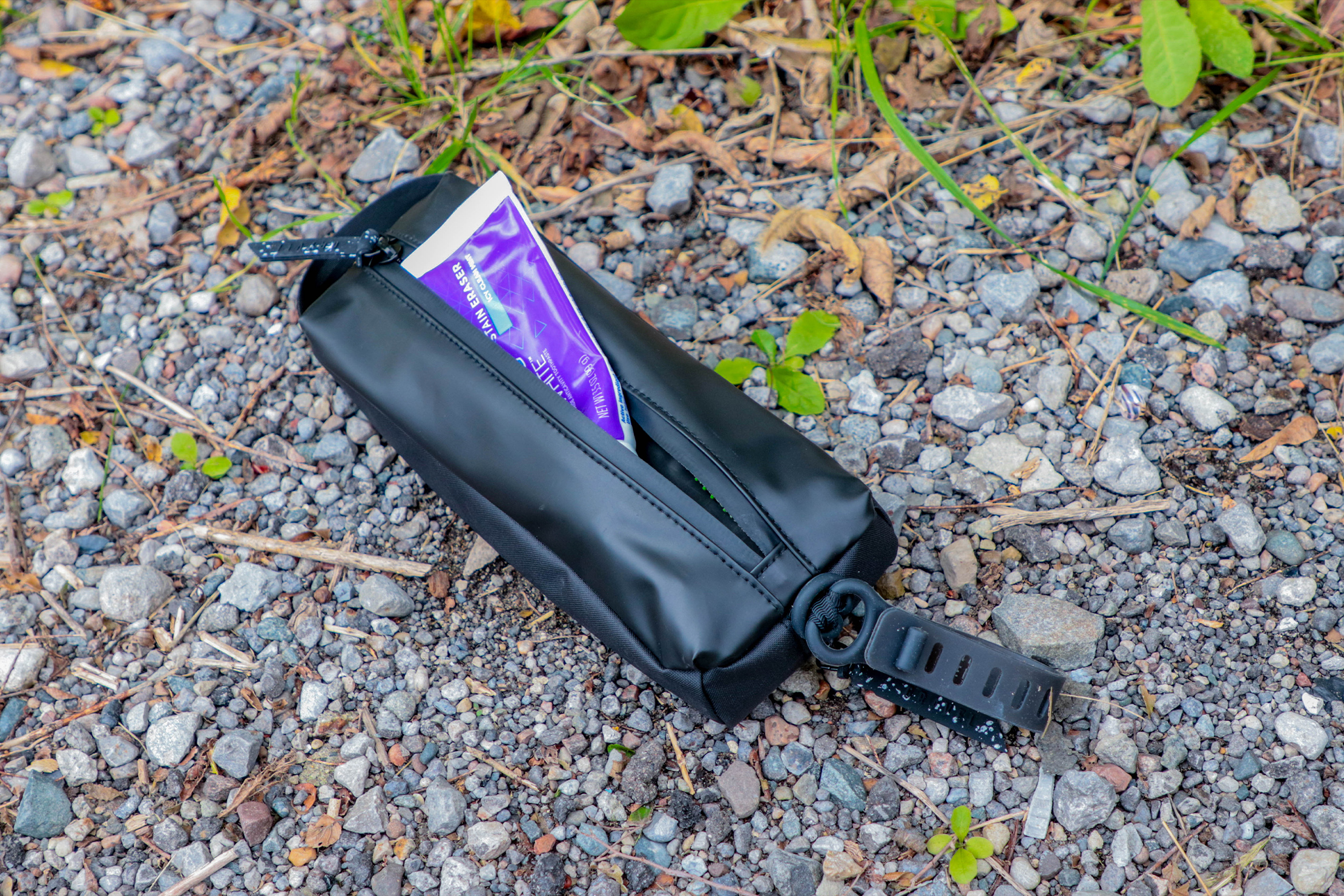 However, cutting back doesn't have to be a burden. A case in point is Gravel's Explorer MINI Toiletry Bag. It's a small back-to-back pouch with just enough space and organization for the basics. The adjustable silicone strap aids accessibility greatly, being able to hang off different fixtures. Clean and simple, but clever. Inevitably, there are compromises, as minimalist setups tend not to be one-size-fits-all solutions. Now, let's check out what those pitfalls are.
Materials & Aesthetic
At the time of writing, the Explorer MINI only comes in one fabric color: black. We're not completely ruling out other colorways, as brands can always change their mind. In our experience, though, Gravel has mostly stuck to an all-black design approach, with only a few exceptions for other neutral colors. That works for us since we ourselves tend to gravitate towards black—it's just hard to go wrong when it comes to styling and matching. The biggest downside is that an all-black interior like the MINI's can be tricky to navigate under poor lighting. There are other color options for the zipper pulls and silicone loop, though at an additional cost.

The black fabric is also arguably a pragmatic choice since it hides any potential stains with ease. There are two fabrics at play here. On the toothbrush compartment side is a water-resistant shell that's a bit thinner than the material on the other side, which comes in handy against splashes as we're getting cleaned up. The other side has Gravel's QuarryPoly material, which is a very tightly knit fabric that the brand claims is water-repellant, scratch-resistant, and easy to clean.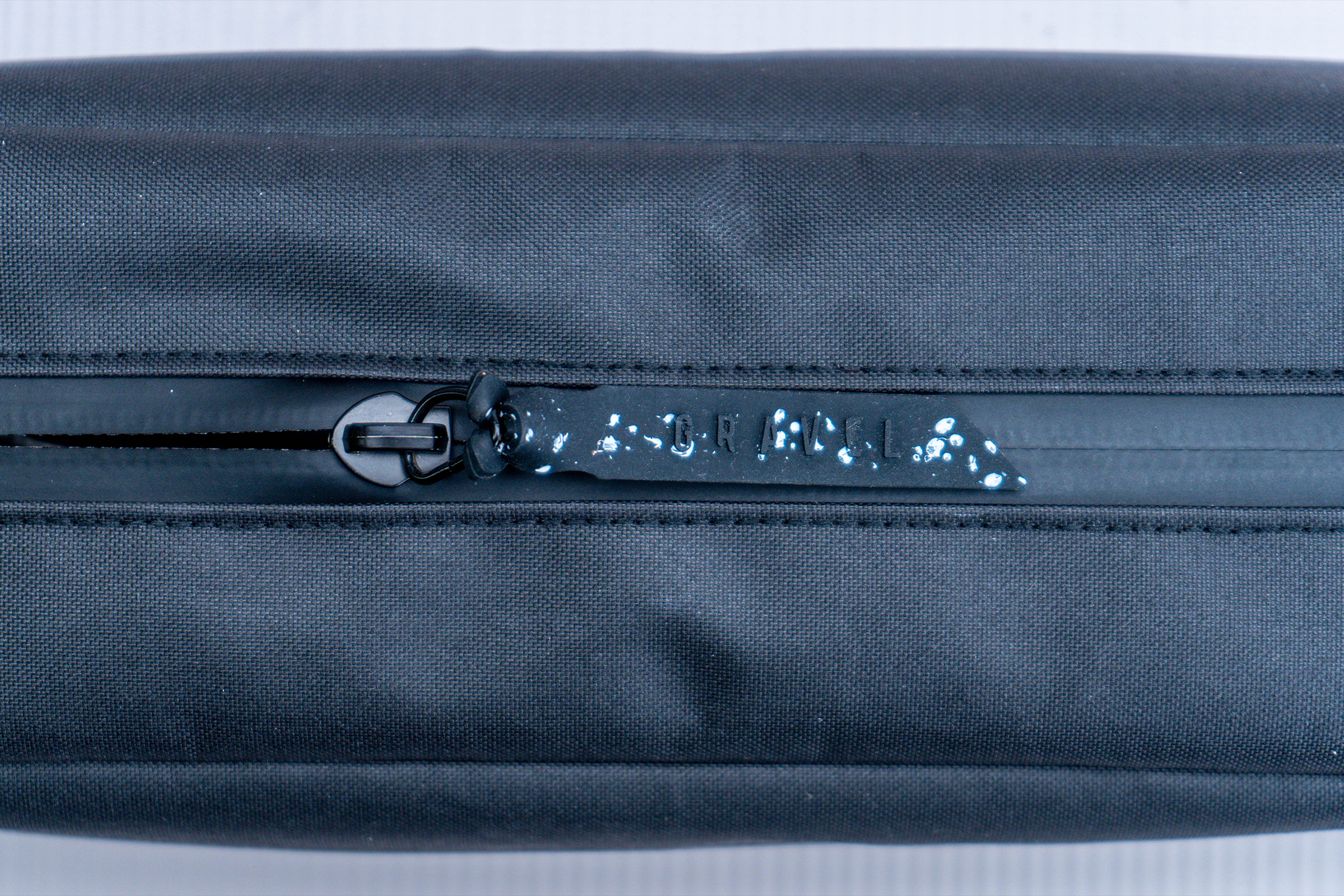 The Explorer MINI wears in nicely, but it still maintains its pill shape even after a few weeks of use. The QuarryPoly material does hold up to the brand's claims, though the black color of the fabric aids the easy to clean portion to a great degree. The zippers are unbranded, which is enough to give us pause. Fortunately, they perform well enough, with no notable jams or sticking to report. The silicone pulls and strap also fare well against repeated use and show no signs of permanent wear.
Usage & Features
The Explorer MINI is quite simple in its design—just two zippered compartments to separate dental hygiene from the rest of the toiletries. There's a handle for carrying the pouch around and a silicone strap for hanging it in place. Really, that's about it. There are no extra pockets inside the compartments, nor are there any expanding gussets or D-rings for sling-style carrying. This pouch is not bristling with bells and whistles, and that's the point.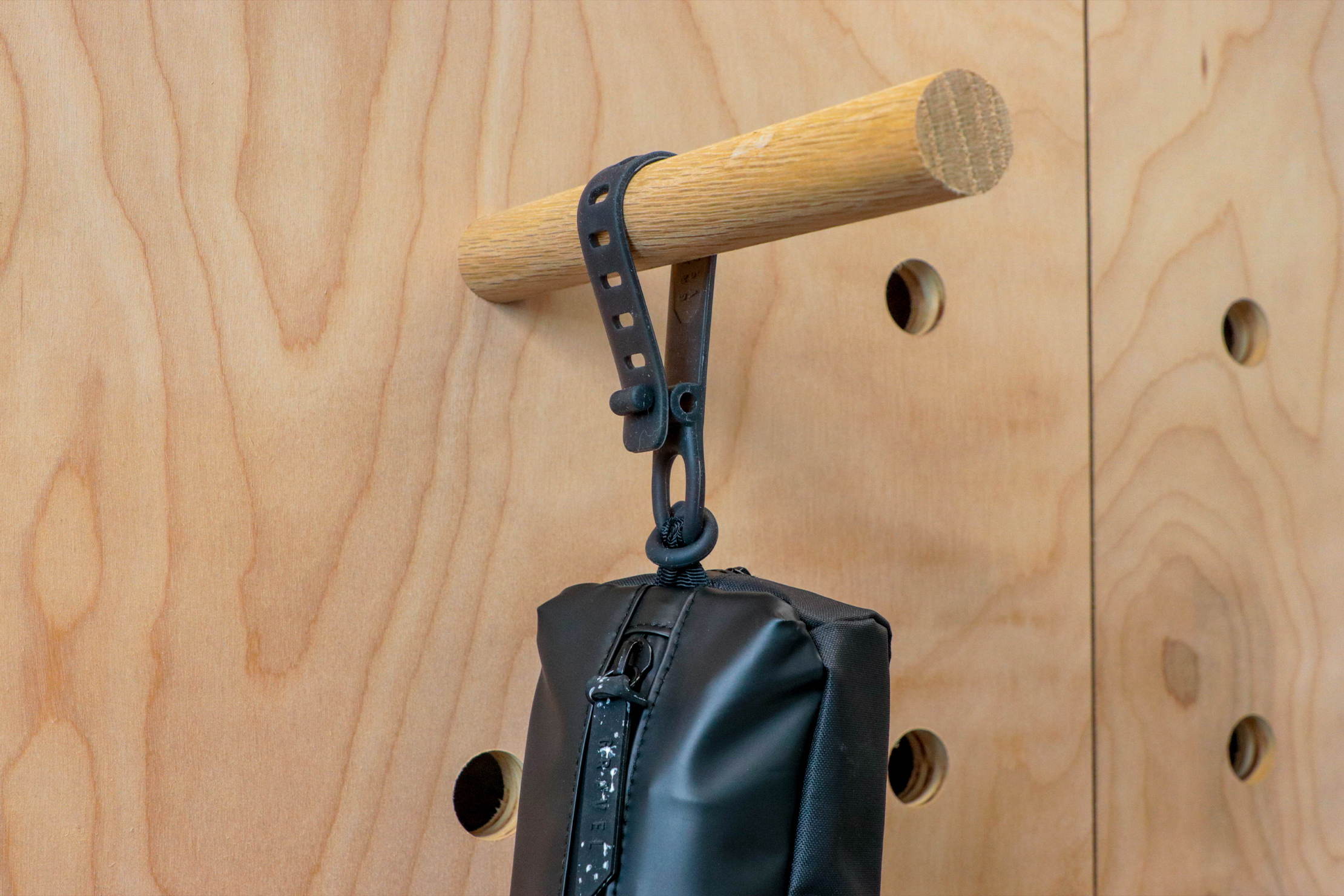 Carrying the Explorer MINI to and from the bathroom is easy enough, even if there is no handle. On the other hand, the adjustable silicone strap is a welcome feature once we're in front of the sink, ready to get cleaned up. We don't have to fuss around looking for a hook because the strap can loop onto bars like a wristwatch. The silicone strap has a fair amount of adjustment points, making it easy to secure the pouch to towel racks, doorknobs, and even along a shower curtain's railing.
For the compartments, we'll start with the toothbrush and toothpaste pocket. We tried fitting two types of toothpaste tubes, one with a slim cap and one with a wide cap. Both fit without a problem, so there's no need to go out and buy a travel-sized tube if you already have a regular one at home. However, wide-capped tubes may have a tougher time fitting inside, depending on how packed the main compartment is. There may be enough room to squeeze in some dental floss and toothpicks, though your mileage may vary.

The toothbrush and toothpaste pocket comes with a single reverse coil zipper. Gravel suggests the technique of leaving the toothbrush's head sticking out of the compartment to allow it to dry. It's a nice tip—just remember to shake most of the excess water off first to prevent droplets from rolling down into the compartment. But, if they do, the same water-resistant material that's on the outside is also inside for quicker cleanup. Travel-size toothbrushes fit, and so too do regular ones. However, we found most of our electric toothbrushes have to have the brush head separated in order to fit.
Next up is the main compartment. Despite the Explorer MINI's relatively small footprint, we're able to pack a decent amount of toiletries inside, including deodorant, face lotion, face wash, eye drops, and a travel razor. Gravel has their own travel bottles compatible with the Explorer MINI, but there's definitely enough room to play around with if you're trying out different containers. The interior material has a slick, glossy finish that's easy to clean should there be any accidental spills. It's a rare occurrence, but it does happen occasionally, so we welcome a subtle feature like this.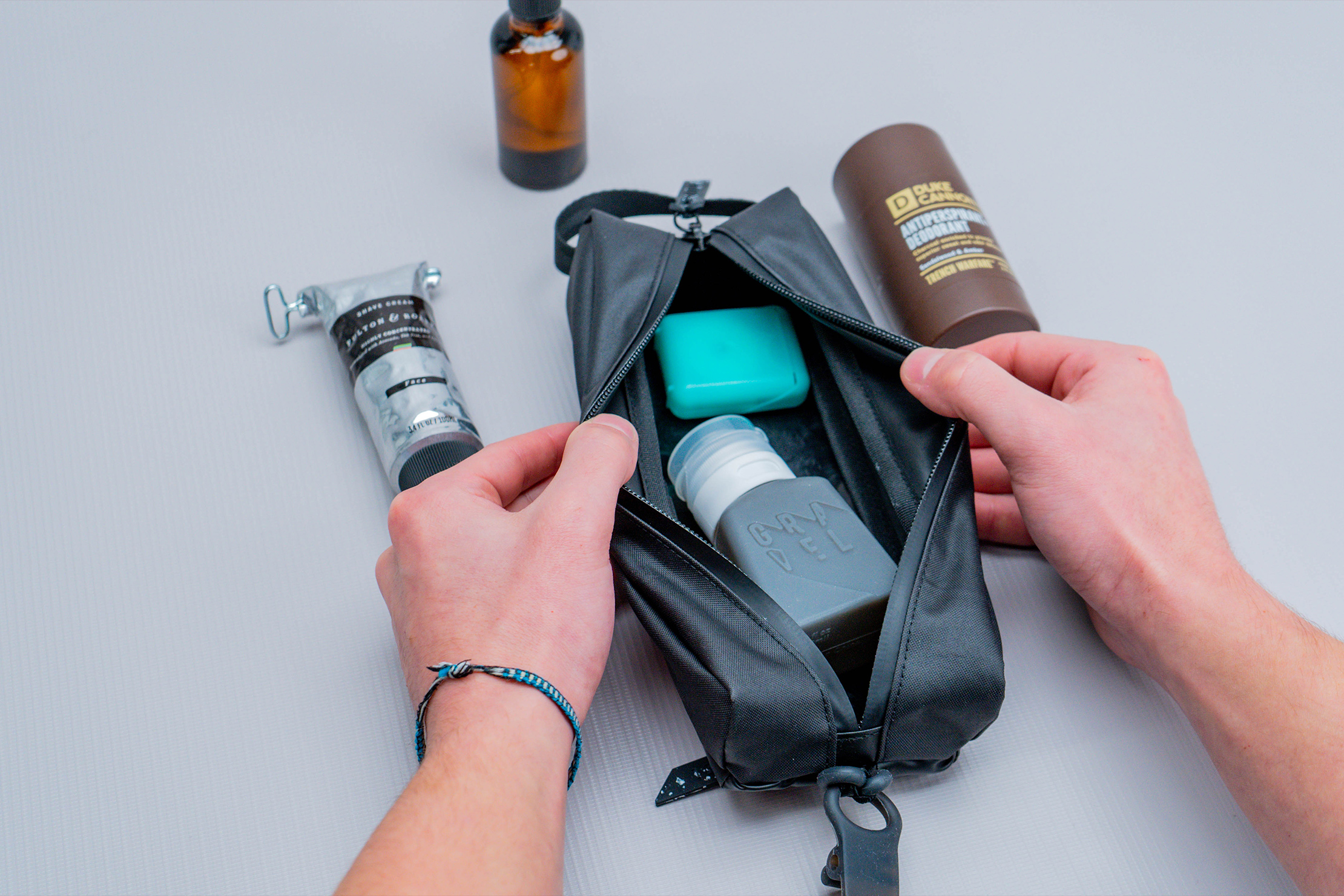 The back-to-back layout is flexible, and it maximizes the available space the pill shape affords. The downside is that this means only one compartment can be accessed at a time. From a hanging position, we have to twist the pouch around to get access to other items. In other words, it's not quite as fast as a toiletry bag that orients one way, though it's far from a deal-breaker by our standards.
Needless to say, the Explorer MINI takes very little space, even inside a packed-out travel backpack. In the worst-case scenario, it can simply hang externally through the silicone strap or by attaching the handle to a carabiner.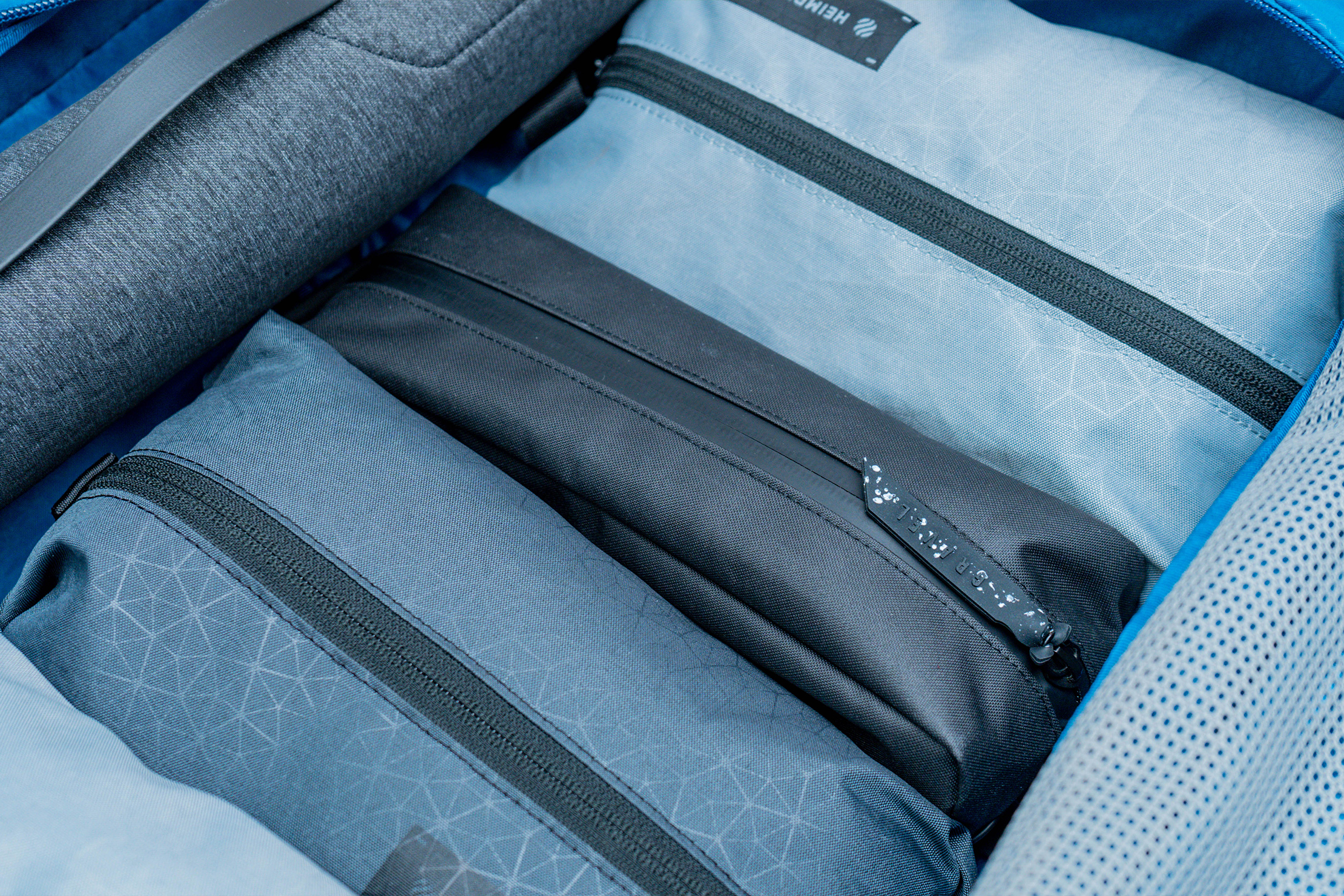 As simple as the Explorer MINI is, it has enough space for all the essentials, and we don't really feel the need for more on short trips. Of course, that's dependent on your needs, and the Explorer MINI likely won't be our first choice if the trip is substantially bigger and/or longer, like weddings and social functions. This makes the Explorer MINI a minimalist toiletry bag, but it doesn't leave its user struggling.
Usage Timeline
Initial Usage
Condition: Excellent
Has separate compartments at the front and back
Easy to hang via the belt-style strap
QuarryPoly material feels very structured and water-resistant
2 Weeks of Use
Condition: Excellent
Waterproof material on the toothbrush pocket is soft and easy to clean
Silicone strap for hanging has a handful of size adjustments depending on how far you want it to hang
Carry handle is handy for quick grabs
Fits the daily essentials for quick trips where you don't need a ton of storage
1 Month of Use
Condition: Excellent
Our community manager, Austin, brought this along on a snowboarding trip to Salt Lake City and enjoyed the packable versatility of it.
2 Months of Use
Condition: Excellent
3 Months of Use
Condition: Fine
Between 3 team members and trips to Utah, New York, Arizona, LA, and Michigan, one of the zipper pulls has busted off. That said, the zipper is functioning normally. We might add a piece of paracord to fix it up.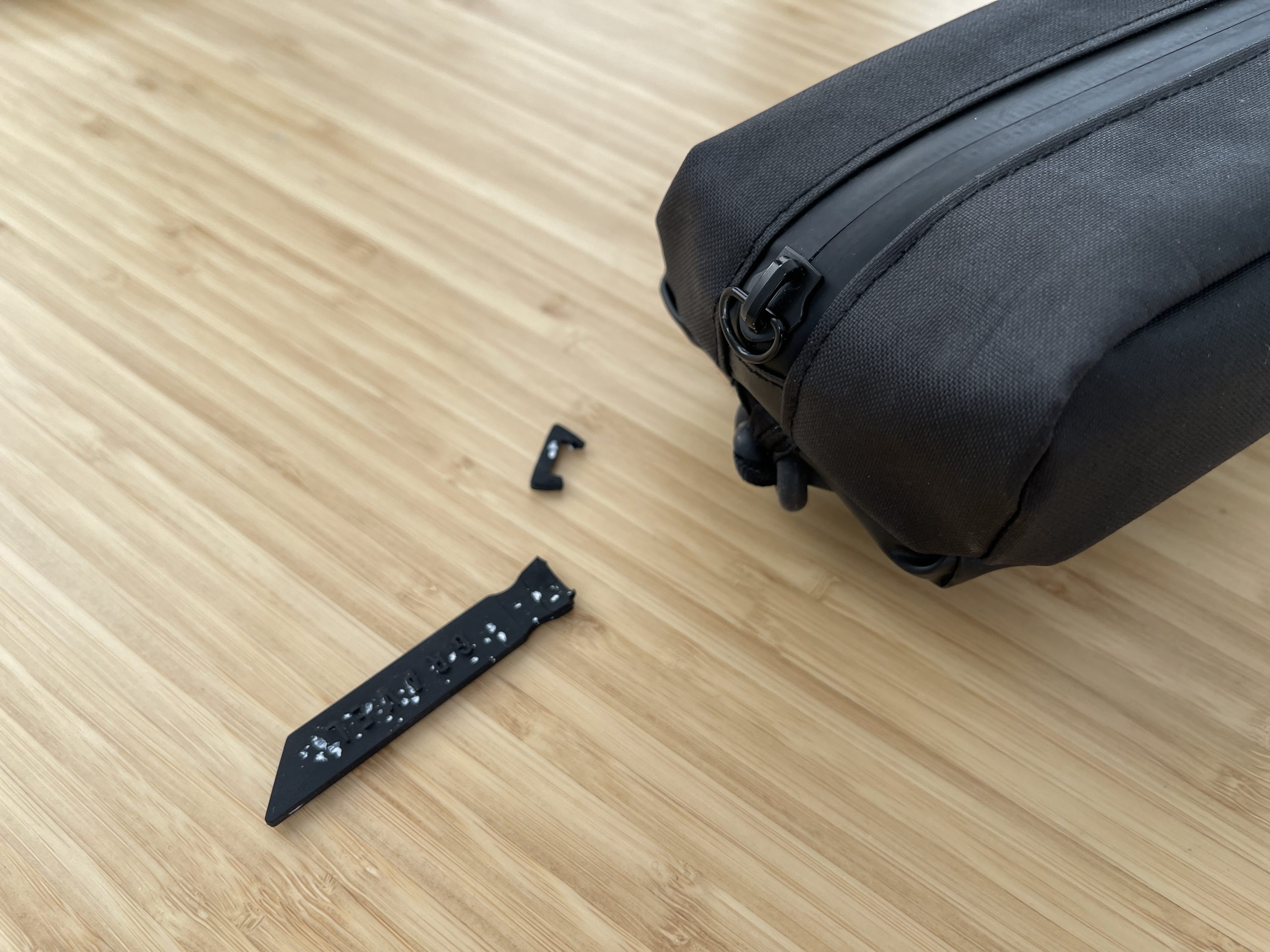 Access the Pro Community Discussion
Get your questions about the Gravel Explorer MINI Toiletry Bag answered from our team and the Pro Community right here on the page. Plus, join discussions with other members about gear, guides, and more.
Other Organizers & Pouches Reviews