Topo Designs Dopp Kit Review
Spacious, durable, and thoughtfully designed, the Topo Designs Dopp Kit is a solid place to store toiletries. We only wish it had interior pockets.
Our Verdict
Unlock the Pro Summary
Save time. Get access to brief summaries of our reviews so you can browse and make decisions more efficiently.
Pros
Stands up on its own
Spacious interior
Durable, quality materials used throughout
Cons
Lacks interior organization
A little large for a Dopp Kit (depending on your use case)
Recent Pack Hacker Video
Technical Details
Capacity

3l

Weight (oz)

3.5 oz (99.2 g)

Denier

1000D

Exterior Fabric

Denier

400D

Liner

Dimensions

5.5 in x 11 in x 5.5 in (14 x 27.9 x 14 cm)

Notable Materials

CORDURA®, Nylon

Manufacturing Country

United States

Warranty Information
Full Review
Get up to 15% off Topo Designs • Join Pack Hacker Pro
For being such a simple pouch, the Topo Designs Dopp Kit has a lot of clever things going on. While it's been designed to hold your toiletries, it also works well to organize whatever miscellaneous items you have that need organizing.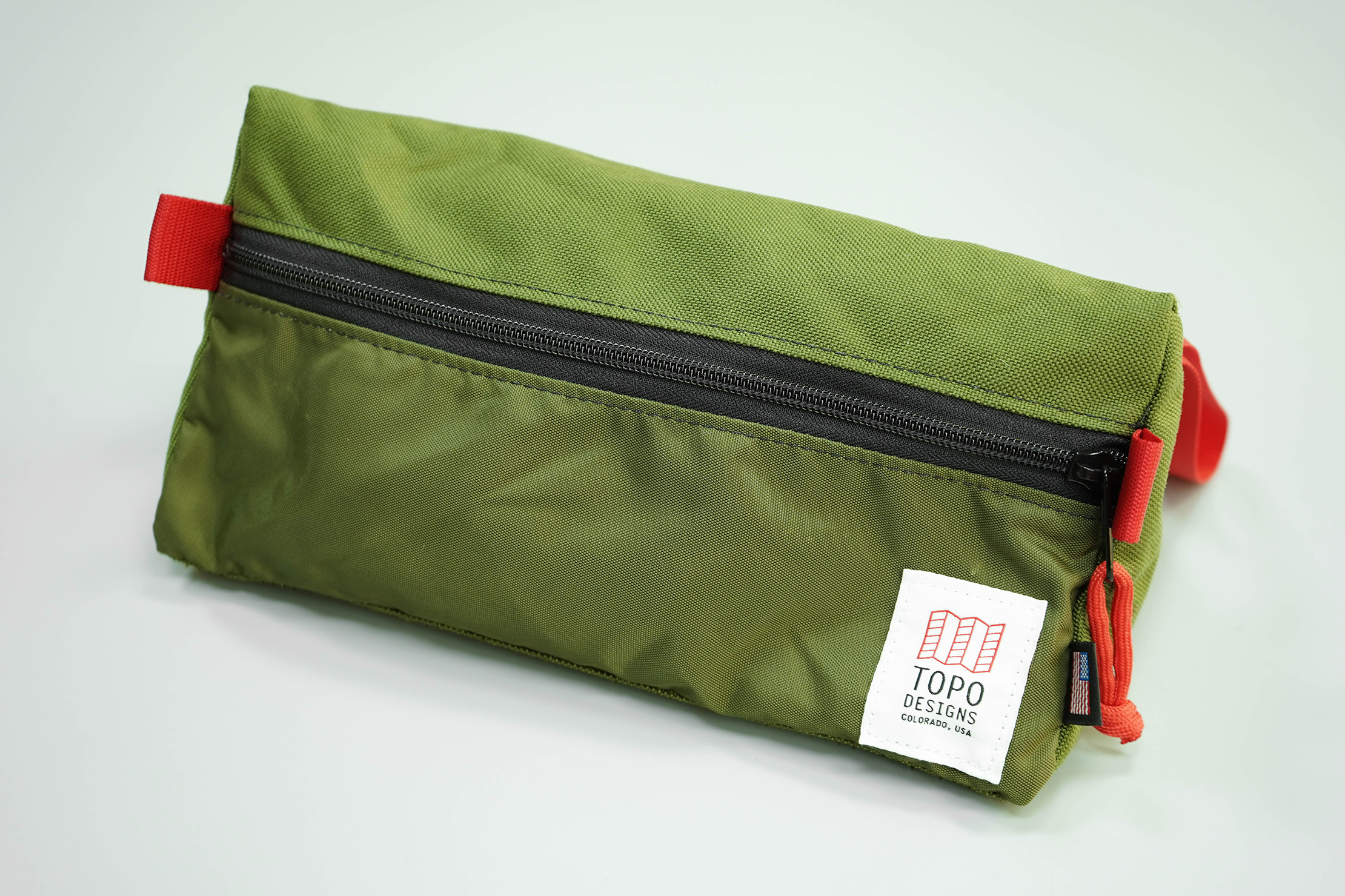 In fact, after testing the pouch for four months in two different continents, we've found that we prefer to use this Dopp kit for tech accessories—headphones, dongles, chargers, etc. Why? Let's take a closer look.
Materials & Aesthetic
The Topo Designs Dopp Kit looks like a Topo product—the little brother of the Global Briefcase 3-Way or the wise uncle of the accessory bags.
At the time of this review, it's available in five colorways, spanning from subdued to, well, not-so-subdued. Two of the colorways are accented by a leather panel, another classic Topo move. A little more sophisticated than their non-leather counterparts, the leather colorways are also a little pricier.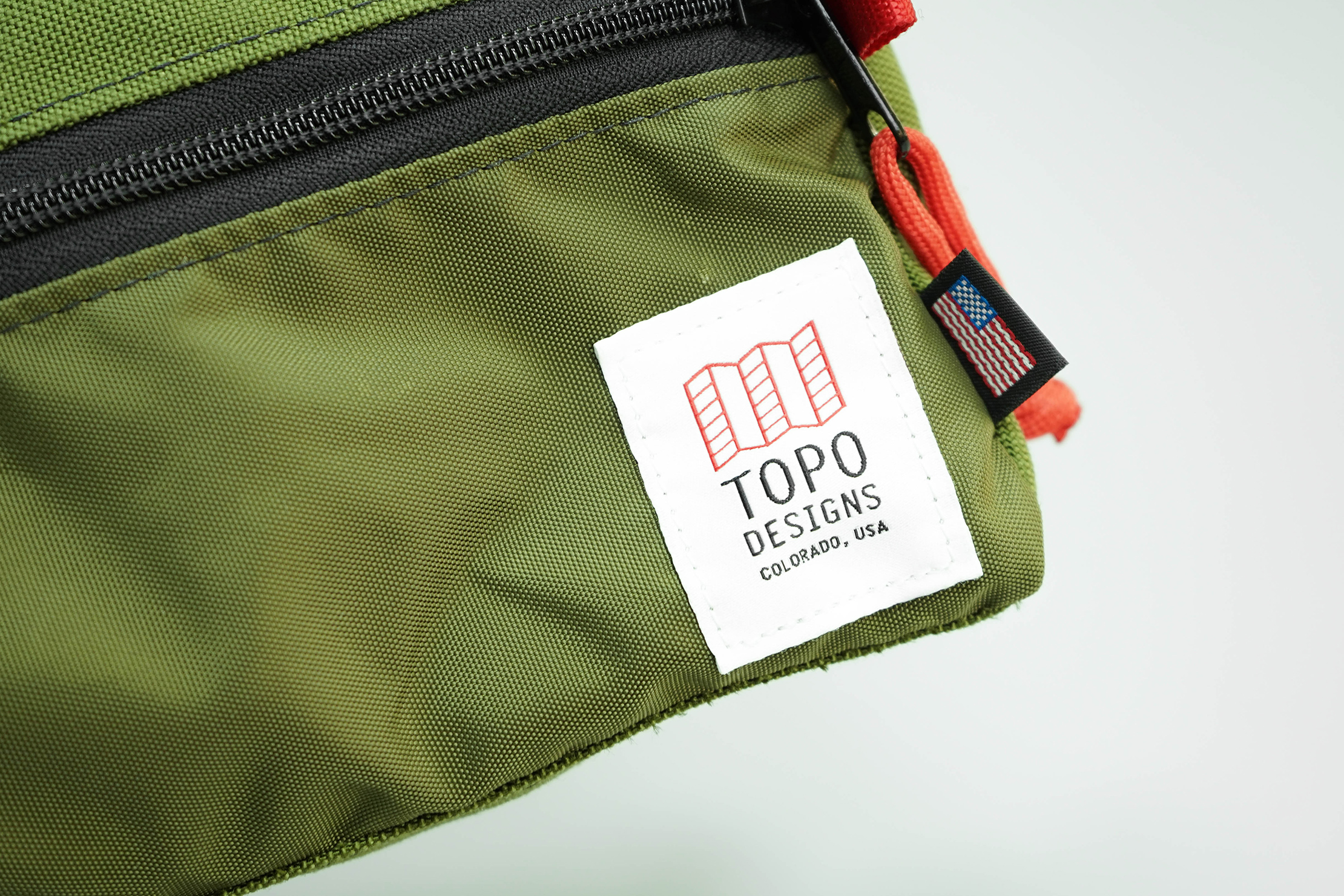 The branding is also typical Topo. While we don't mind it, the bright white logo tag can be off-putting if you prefer minimalistic branding. On other Topo Designs products, we've experienced frayed stitching on the logo tag, but so far, so good here.
Like most of Topo's products, the Dopp Kit is made of some durable stuff, including a tough 1000D CORDURA® fabric exterior and a 400D coated nylon pack cloth liner. In theory, you should be able to throw this Dopp kit around football-style and not have to worry about the fabric wearing out.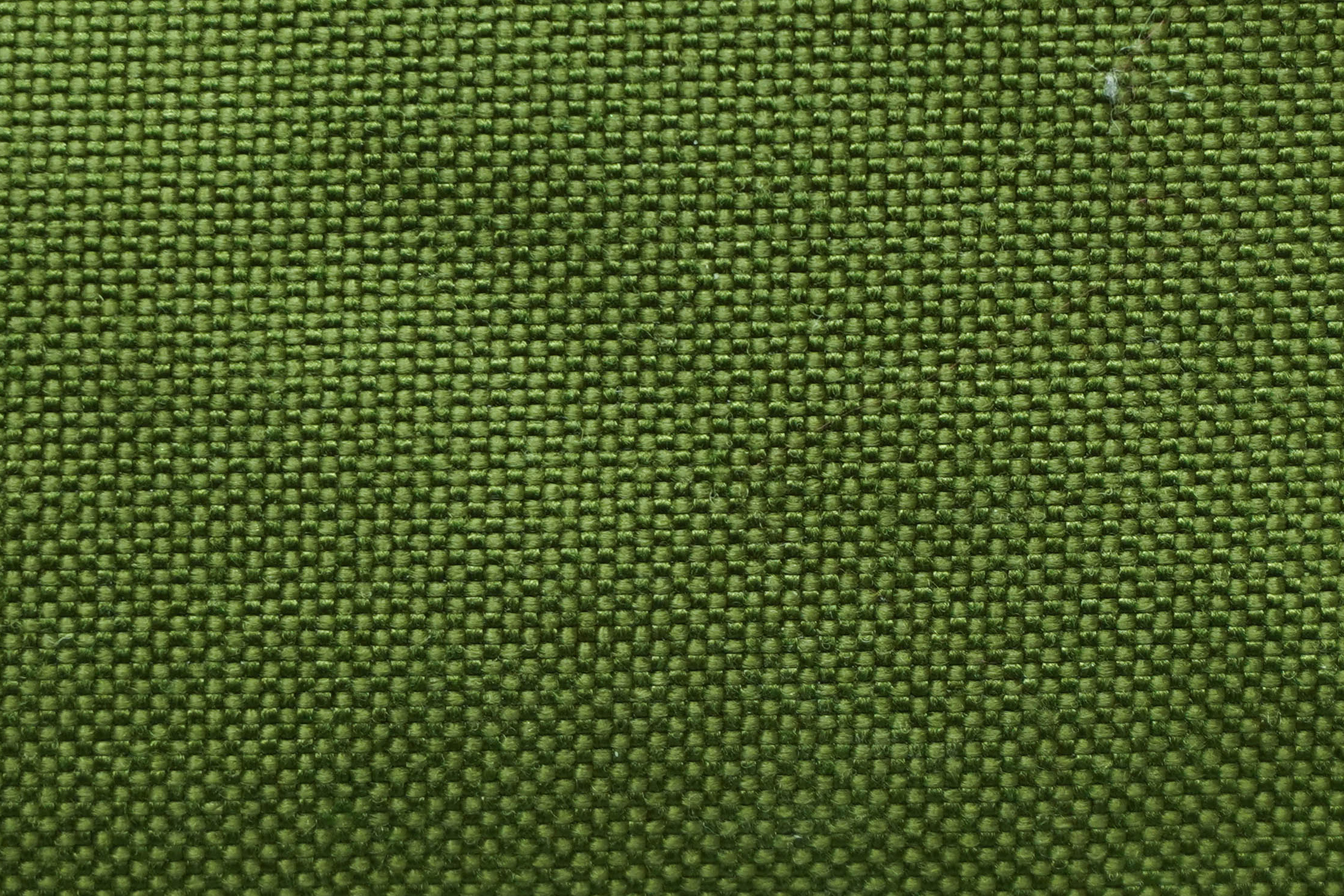 The pack cloth is also water-resistant, a huge plus for a Dopp kit since toiletries usually involve water. Water-resistance doesn't mean waterproof, though. You'll be able to toss a wet shampoo bottle in the pouch no problem, but you won't want to take this kit inside the shower with you.
And the zipper is just as durable. A YKK #5, the zipper is beefy enough to give you peace-of-mind. The thick paracord zipper pull borders on being too bulky, but we prefer that to a dinky zipper pull that wouldn't be as quick to grab. Bright red, the zipper pull also adds a fun pop of color.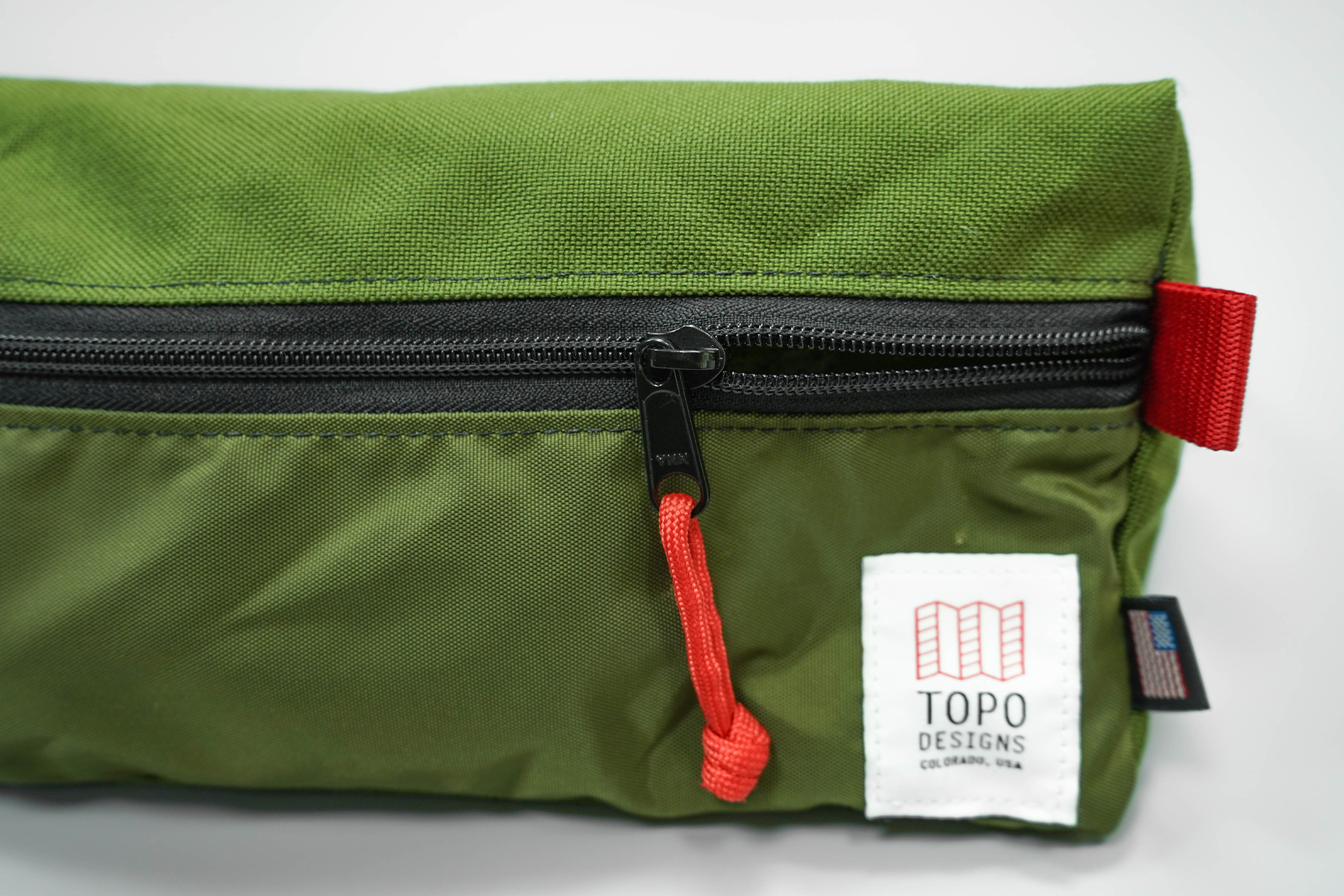 Features & Usage
When you zip the Dopp Kit open, you'll find a cavernous space highlighted by a bright, yellow fabric. We love the bright interior as it clearly shows what's going on in there. It's quite an effective design.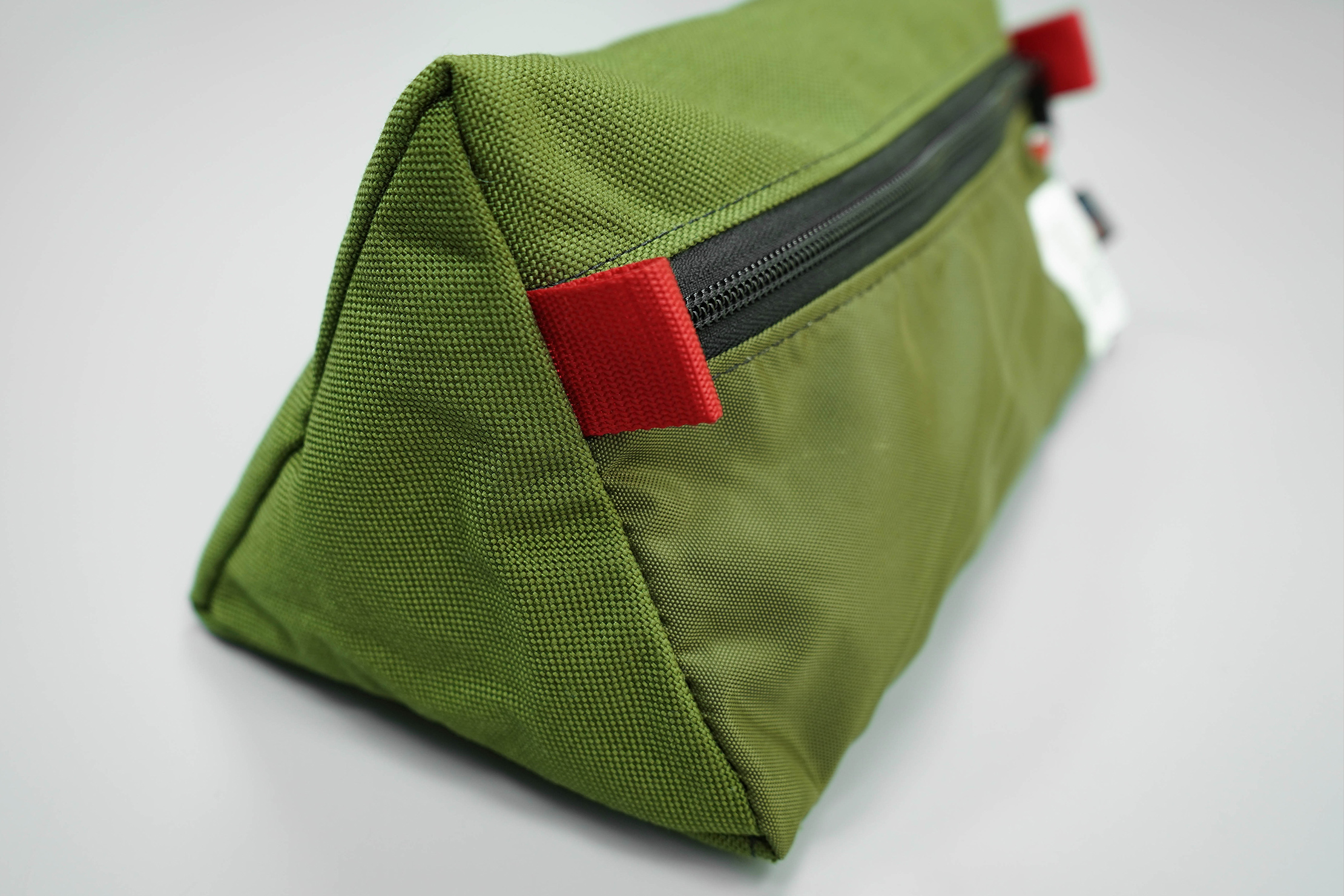 The zipping process is helped by the nylon pull tab, making it super easy to rip the Dopp kit open and closed. There is also a loop, so you can carry it via your wrist, carabiner it to your bag, or hang it up. But you probably won't need to hang the pack up much. Its triangular shape means that this pouch sits up on its own, whether or not it's full.
You can set it on the bathroom counter, your desk, even the tray table on a plane. Its shape is one of the best aspects of the pouch—you can tell the folks at Topo put some thought into this design.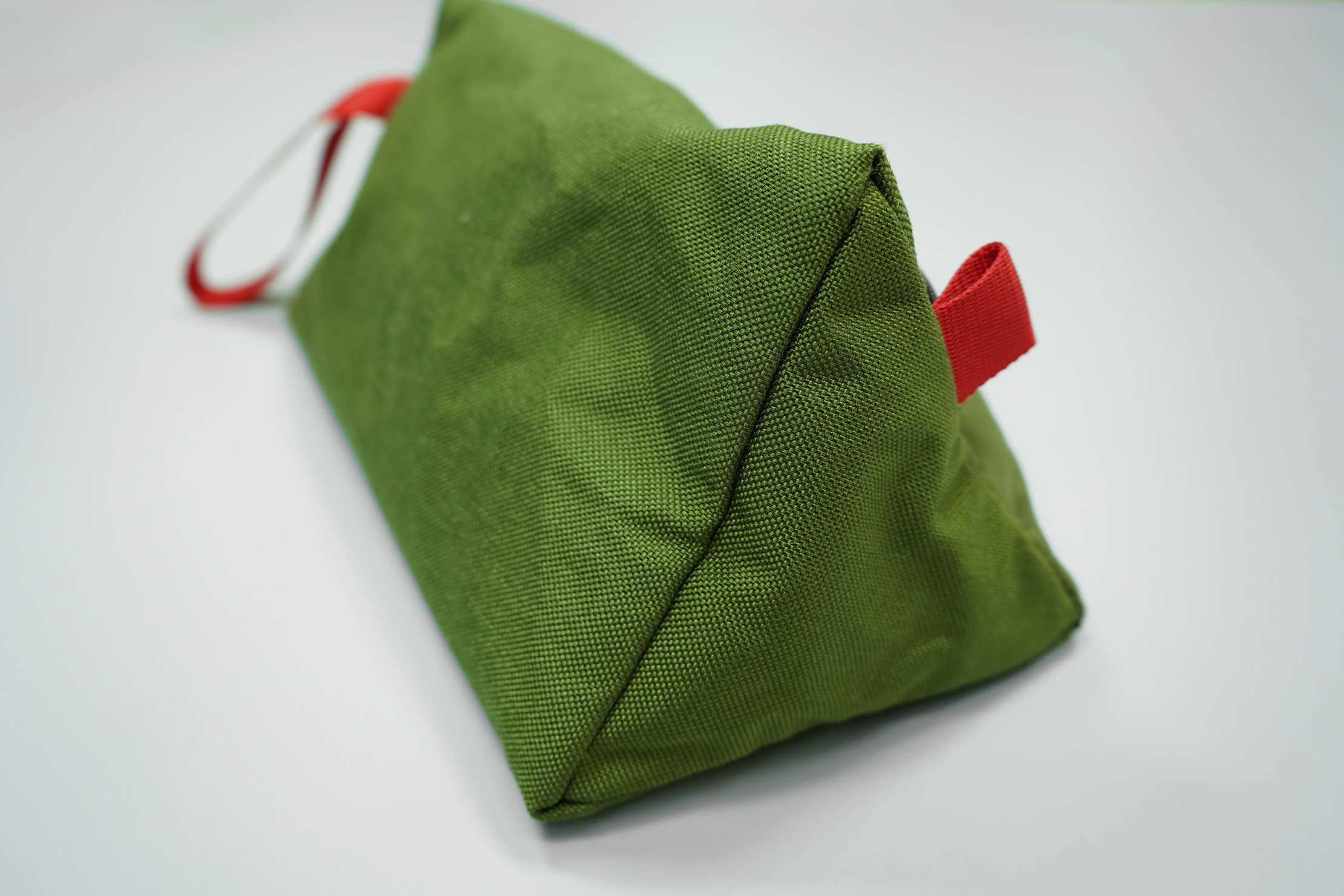 The triangular shape also means you can fit oversized, awkward items inside of it. Of course, that's helped by the pouch's size. The interior is super roomy. To be frank, we think it's a little big for a toiletry pouch. But that, of course, depends on your bathroom routine.
There are also no interior pockets to cut into the main space.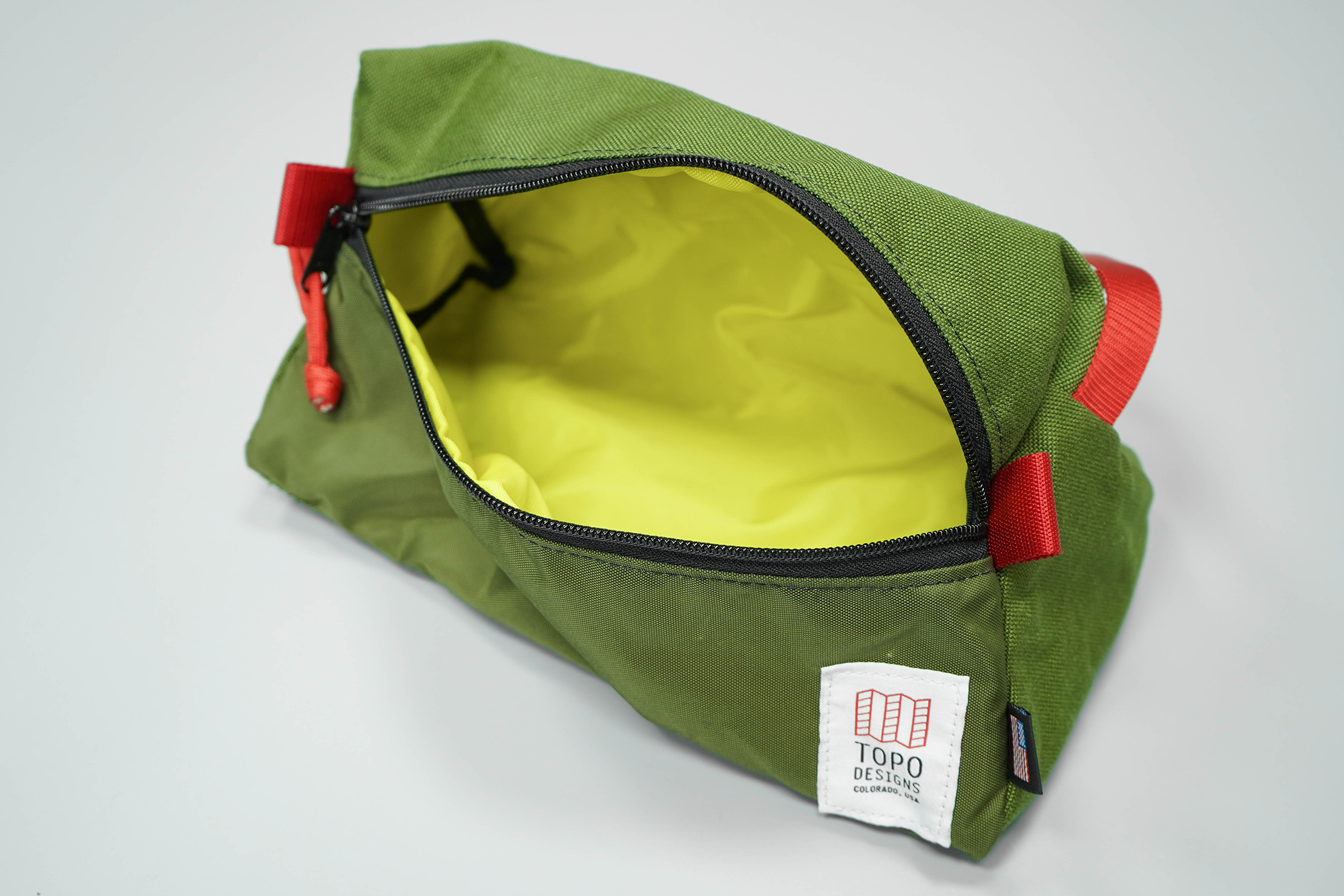 The lack of interior pockets may be a pro or a con, depending on you. Even the team here at Pack Hacker is split—some of us like a spot for everything, while others like an empty space that requires less thought to pack out. Still, even the minimalists here think one or two interior pockets would've been nice. Particularly on a pouch meant for toiletries, as we tend to appreciate a little more organization for bathroom essentials.
For us, the large size, coupled with the lack of organization, works particularly well for tech. We've tossed a MacBook charger, headphones, cables, dongles, etc, in this pouch effectively.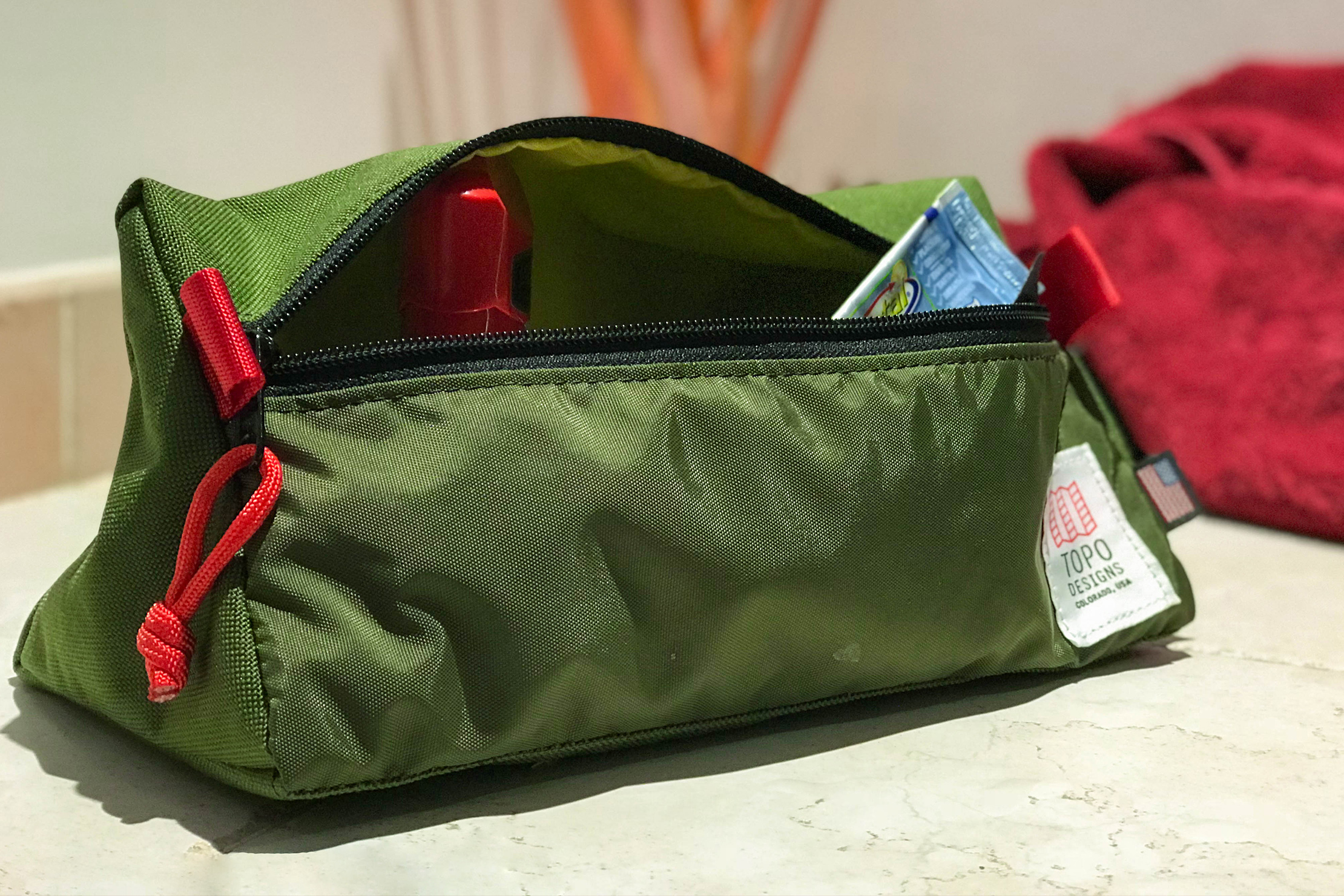 That said, you're the expert on your situation. And the wonderful thing is—this Dopp kit is versatile enough to fit your needs (well, within reason). Maybe you have oversized toiletries that don't need compartmentalization, in which case you would love using this pouch as a Dopp kit. Maybe you need a spacious makeup bag or a place to hold your Mini Beanie Babies collection. You do you.
Despite the fact that this pouch can accommodate oversized items, it's flexible enough to be squeezed into whatever leftover nooks and crannies you have in your travel bag whenever it's not full. When full, it can look a little funky and won't be as easy to pack.
Finally, the access on this pouch is superb. Its zippered opening is large enough that getting to your stuff inside is quick and easy. And the flat bottom means things tend to stay in their lane.
Durability & Testing
We've been testing the Topo Designs Dopp Kit for four months in Detroit, Los Angeles, and throughout the U.K. As you may have suspected from the fact that we've been testing this pouch for so long, we've loved using it. Particularly as a tech pouch, but it works for toiletries too.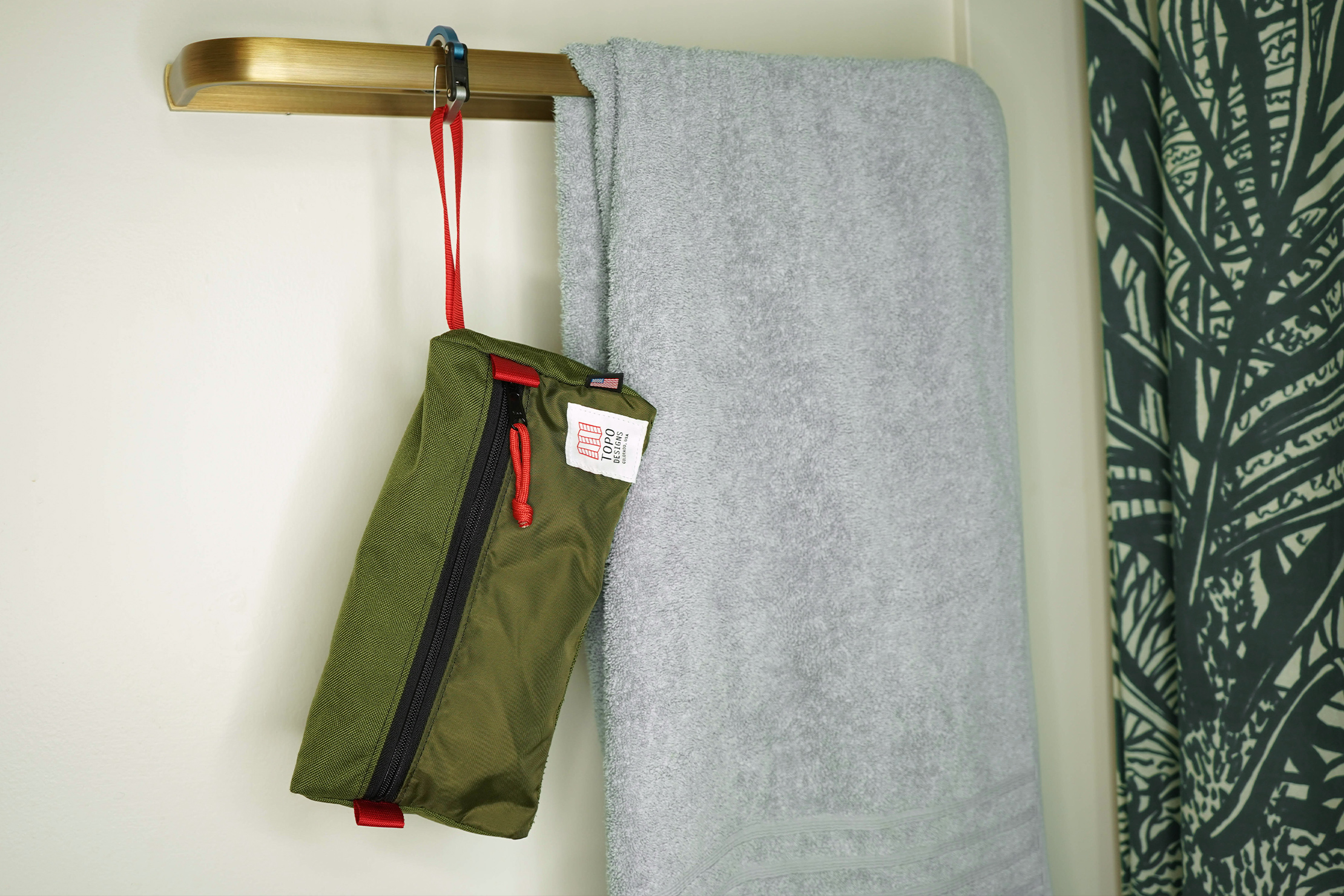 Topo Designs is famous for its durable gear, so it's no surprise that this pouch looks brand new. Not a scuff or loose thread to be found.
Usage Timeline
Initial Usage
Condition: Excellent
We like the high-visibility interior
Triangular shape is interesting—creates a lot of space to dump items into
Nylon loop is good for carrying or hanging up
1 Month of Use
Condition: Excellent
So far, really enjoying this Dopp Kit. The triangular shape works well, allowing the pouch to stand up on its own and making accessing your stuff that much easier.
2 Months of Use
Condition: Excellent
We've tested it as a toiletry kit (its intended use case), but for us, it's a little too big and a little too simplistic as a Dopp kit. Don't get us wrong, it still works, but we've decided to use it for tech accessories (#rebels). And it makes a great tech pouch.
3 Months of Use
Condition: Excellent
Still using it as a tech pouch. As far as durability is concerned, everything is holding up. Even the Topo Designs logo tag that we've had issues with on other Topo products is looking nice.
Access the Pro Community Discussion
Get your questions about the Topo Designs Dopp Kit answered from our team and the Pro Community right here on the page. Plus, join discussions with other members about gear, guides, and more.
Other Organizers & Pouches Reviews