Topo Designs Global Briefcase 3-Day Review
The Topo Designs Global Briefcase 3-Day is a durable pack that's great as a daily driver or for quick trips—but we wish the laptop sleeve had more padding.
Our Verdict
Unlock the Pro Summary
Save time. Get access to brief summaries of our reviews so you can browse and make decisions more efficiently.
Pros
High-visibility interior
Versatile carry
Crossbody strap is thick, padded, and thus comfortable
Cons
Laptop sleeve lacks padding
Mesh is scratchy and abrasive
The way the backpack straps attach to the bag doesn't feel secure
Recent Pack Hacker Video
Technical Details
Capacity

18.8l

Weight (lb)

2.2 lb (1 kg)

Denier

1000D

Dimensions

12.25 in x 17.5 in x 5.5 in (31.1 x 44.5 x 14 cm)

Notable Materials

Nylon, Packcloth, Ripstop Nylon, Ballistic Nylon, YKK Zippers, Duraflex Hardware

Manufacturing Country

Vietnam

Laptop Compartment Size

15"

Warranty Information
Buying Options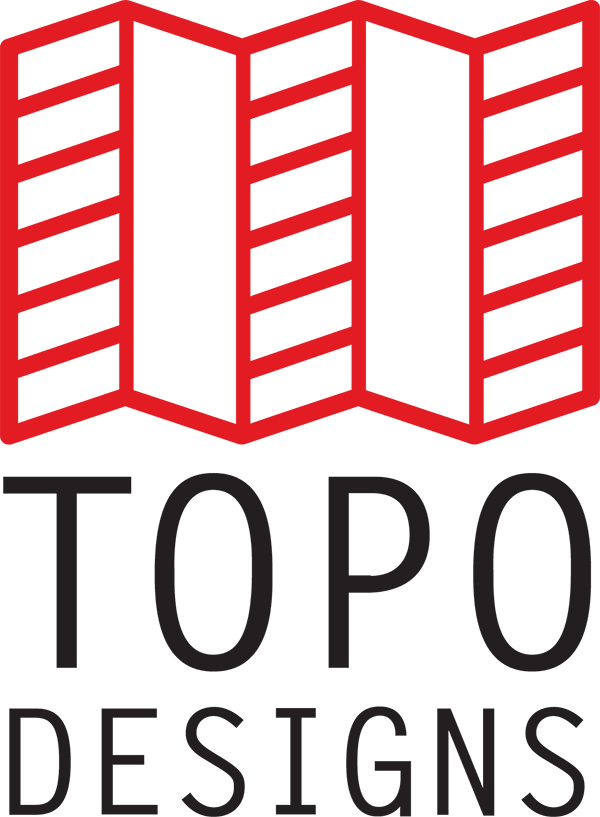 $129.00

$129.00
Full Review
Get up to 15% off Topo Designs • Join Pack Hacker Pro
If you're looking for a pack that doubles as a spacious daily driver and a minimal carry-on travel bag for quick trips, you'll love to meet the 18.8L Topo Designs Global Briefcase 3-Day.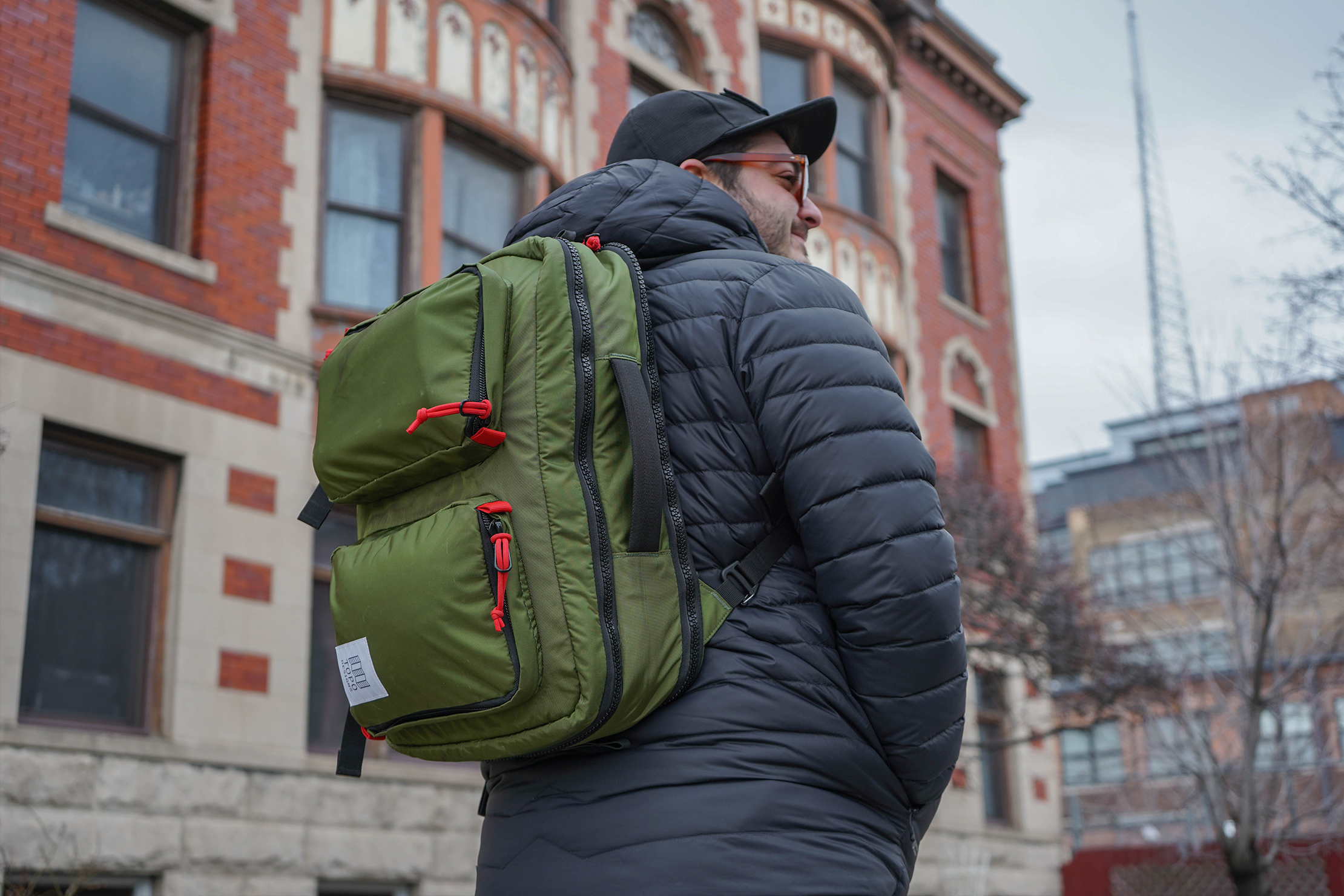 This pack is a triple threat—a briefcase, messenger bag, and backpack rolled into one sleek profile. And we've enjoyed testing it for the past couple of weeks in Detroit, Michigan. Although, it wouldn't be a Pack Hacker review if we didn't have some nitpicks as well.
So let's get into it.
Materials & Aesthetic
The Topo Designs Global Briefcase 3-Day is definitely not the most professional-looking briefcase out there. But it's unique—and we mean that in the best possible way.

It has the over-the-top YKK zippers and beefy red zipper pulls Topo is famous for, creating a fun look that can be heightened or toned-down depending on the colorway you opt for. As of this review, you can pick up the briefcase in Charcoal (which has black zipper pulls), Navy, Blue/Black Ripstop, and Red/Black Ripstop. We've been testing it in "Olive," which is sold out at the time we're writing this, but, who knows, maybe Topo has restocked it.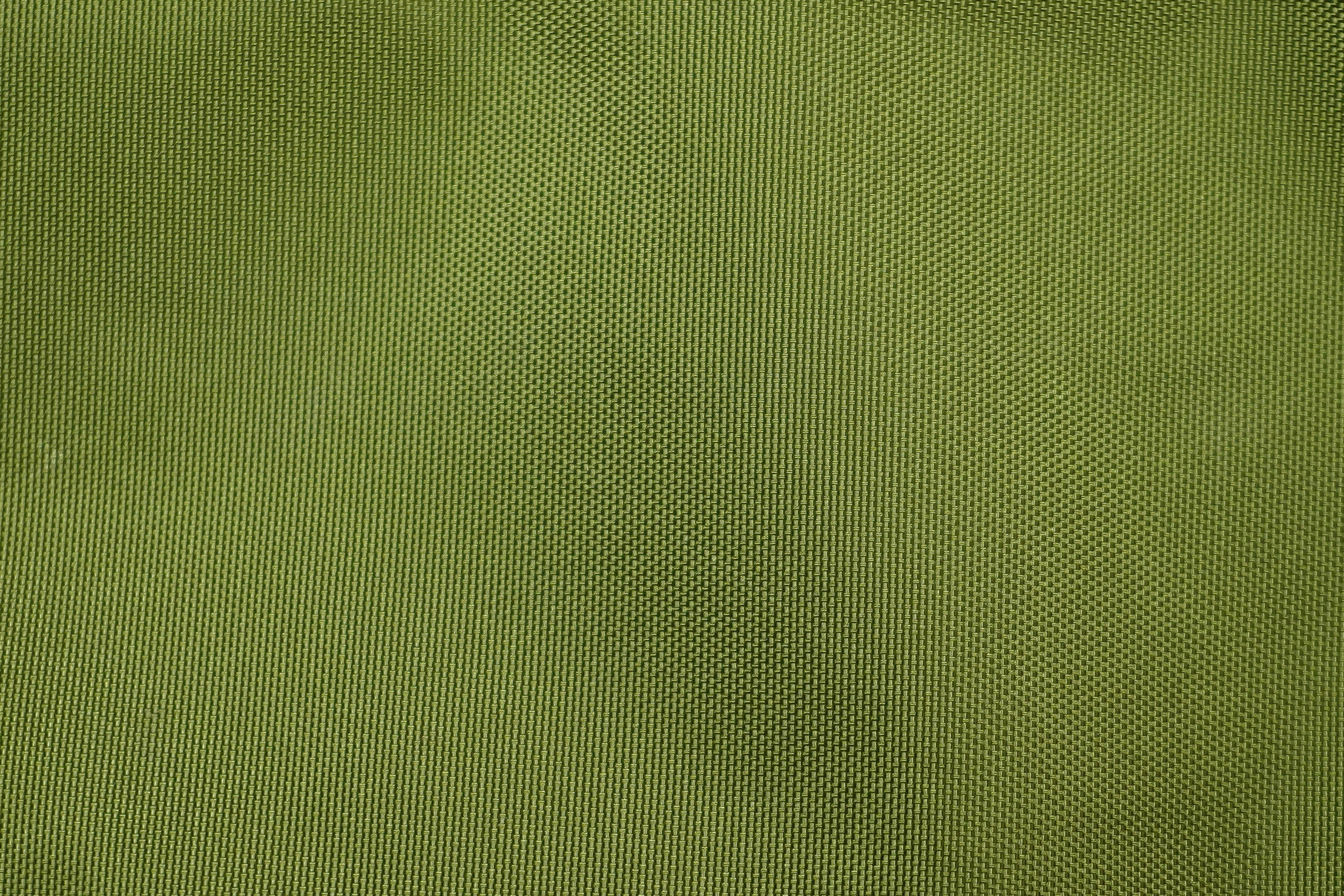 Most of the colorways feature a 420D nylon packcloth and 1000D nylon exterior with a 210D nylon pack cloth liner. If you're rocking one of the two ripstop colorways, the exterior fabric is 200D nylon ripstop and 420D nylon pack cloth. But wait—there's also a Ballistic Black colorway that has a 1680D ballistic nylon and 420D nylon packcloth exterior. (The Ballistic Black is also sold out at the time of this review, but again, maybe it'll be back by the time you're reading this.)
If all those numbers and letters remind you of a high school math class that's best forgotten—just know that there's no bad choice here. All of those fabrics are durable. If you hate crinkly fabrics, avoid the ripstop. If your adventures require extra ruggedness, go for the ballistic. Otherwise, pick by color.
External Components
One of the neatest things about the Topo Designs Global Briefcase 3-Day is that you can carry it 3-Ways. (We think the folks at Topo missed an opportunity here and should've called the pack the Global Briefcase 3-Day 3-Way, but that's beside the point.)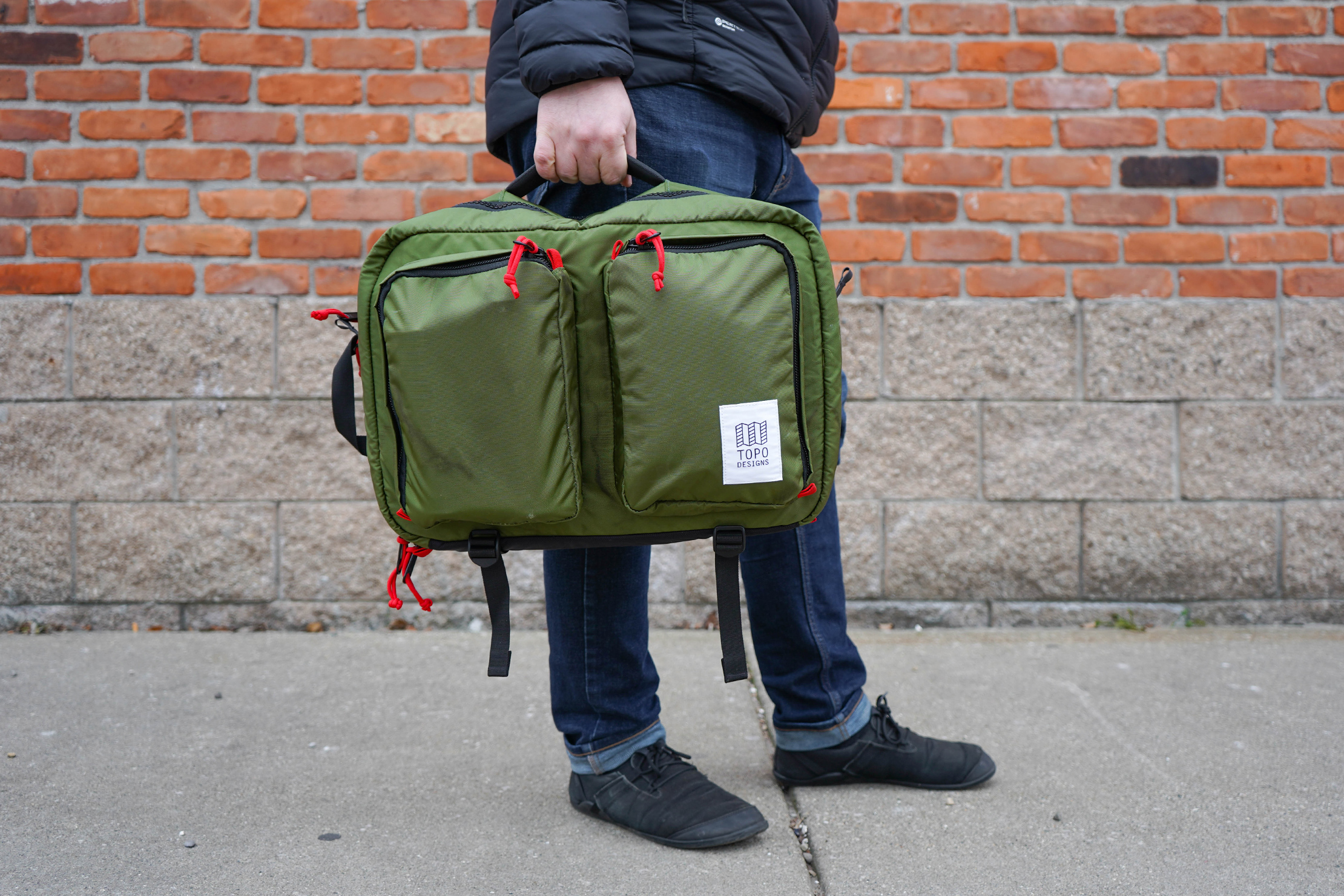 The first way is by using the top handle and holding it like a briefcase. The handle is thick and well-padded, making it comfortable to hold. You know, to a point. You probably won't want to carry it in briefcase mode for hours at a time.
It's also nicely centered on the bag—with the weight distributed evenly—so it carries straight up and down. And the handle comes in handy for maneuvering the bag around, like when you're swinging it out of the overhead bin on a plane.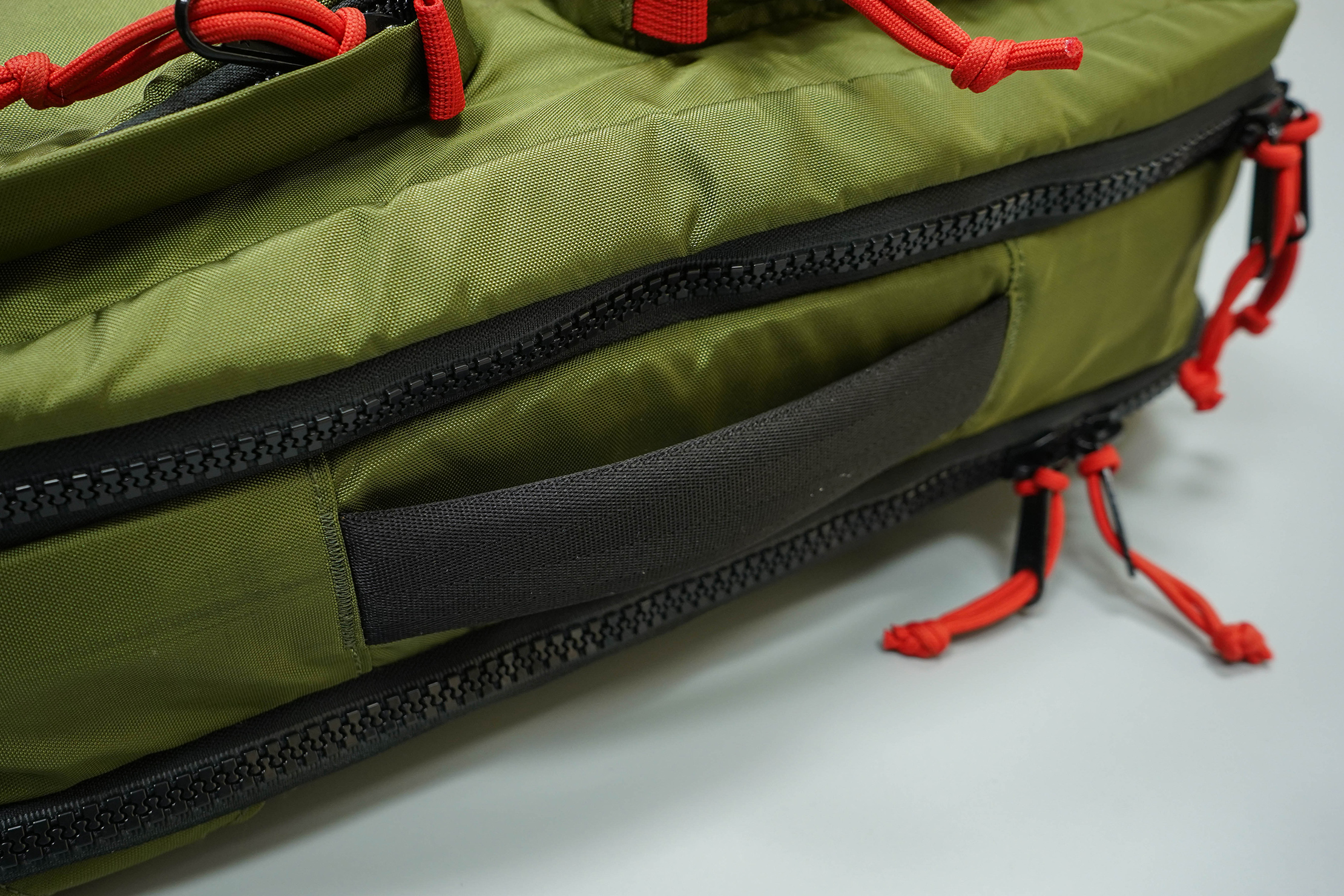 There's a second handle on the side of the pack that also helps for maneuvering it or hanging it up. This handle is a simple nylon strap without any padding.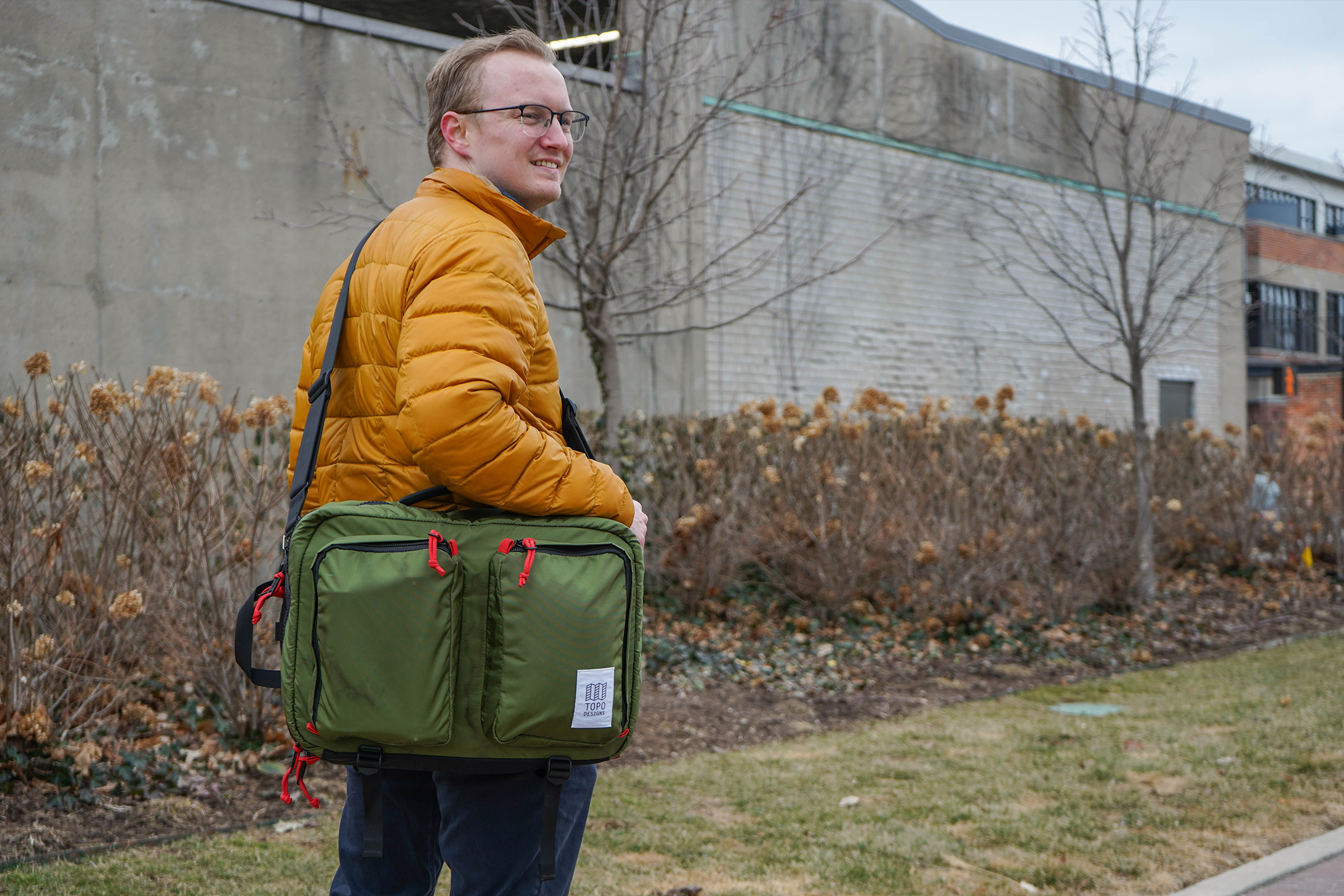 The second way you can carry the Global Briefcase 3-Day is as a messenger bag (over one shoulder or crossbody). The shoulder strap is thick with the perfect amount of padding. It's so comfortable that this is the way we carry the bag the most. We also appreciate how the strap is detachable, you can toss it inside the bag whenever you don't need it.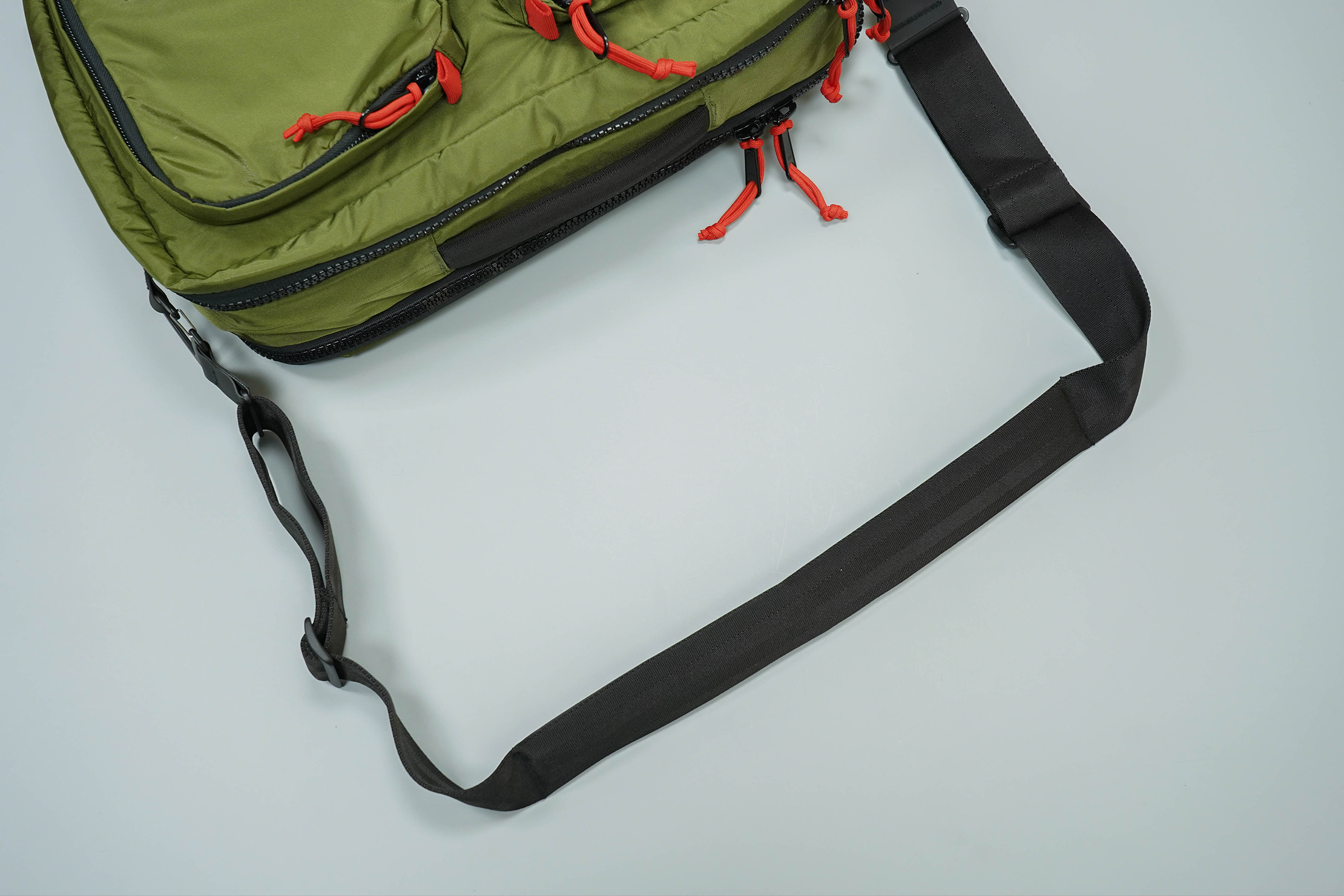 Of course, no amount of padding can fix the fact that in a messenger style of carry the entire weight of the pack dumps into one shoulder. After an extended period of time—or if it's fully-loaded—it tends to get uncomfortable.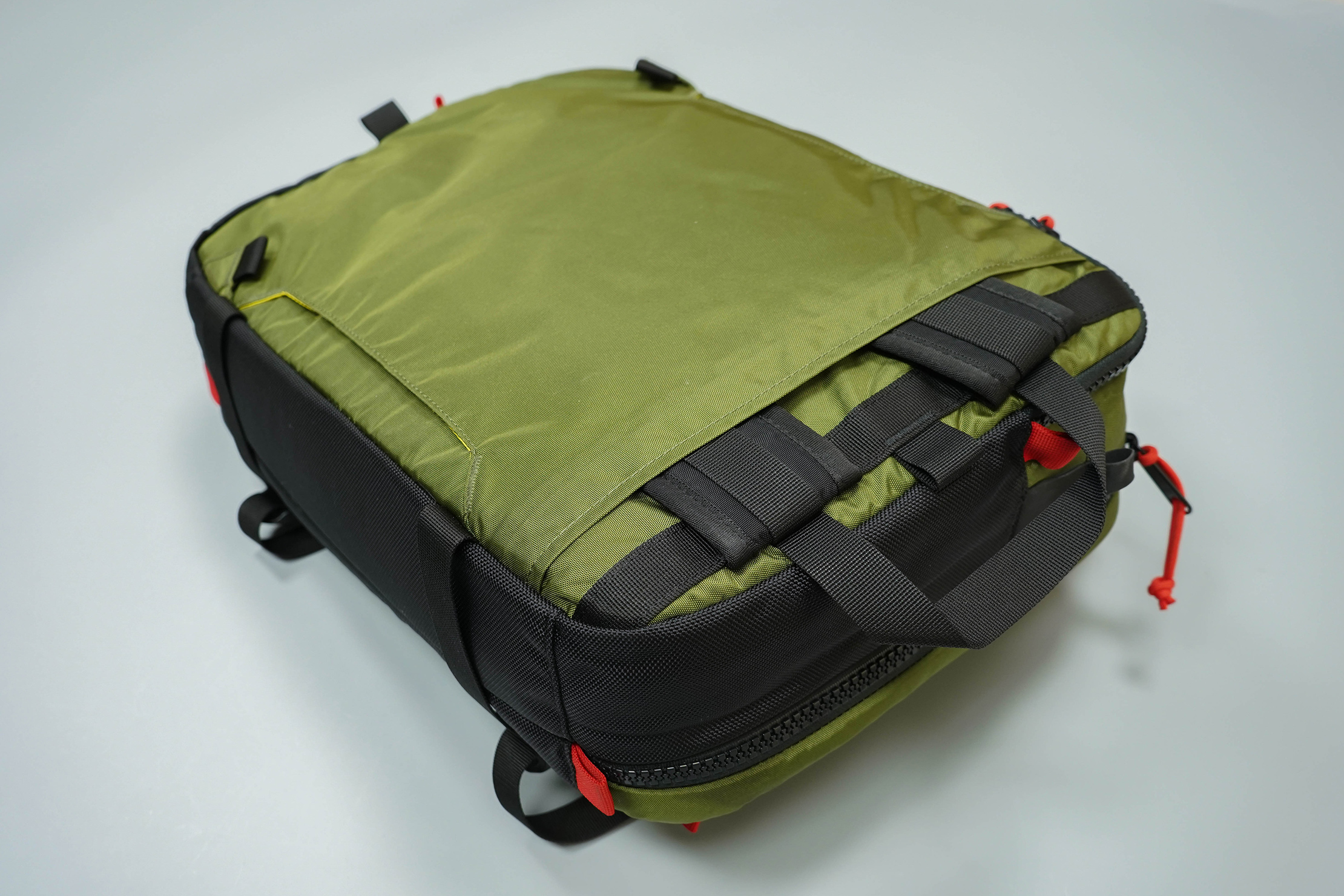 Which is why Topo offers a third carry option: a backpack. The backpack straps tuck into the back panel. But the panel doesn't zip or close with velcro, so the straps could fall out while you're carrying the bag in one of the other two modes. We haven't experienced this yet, but we wanted to point out the possibility.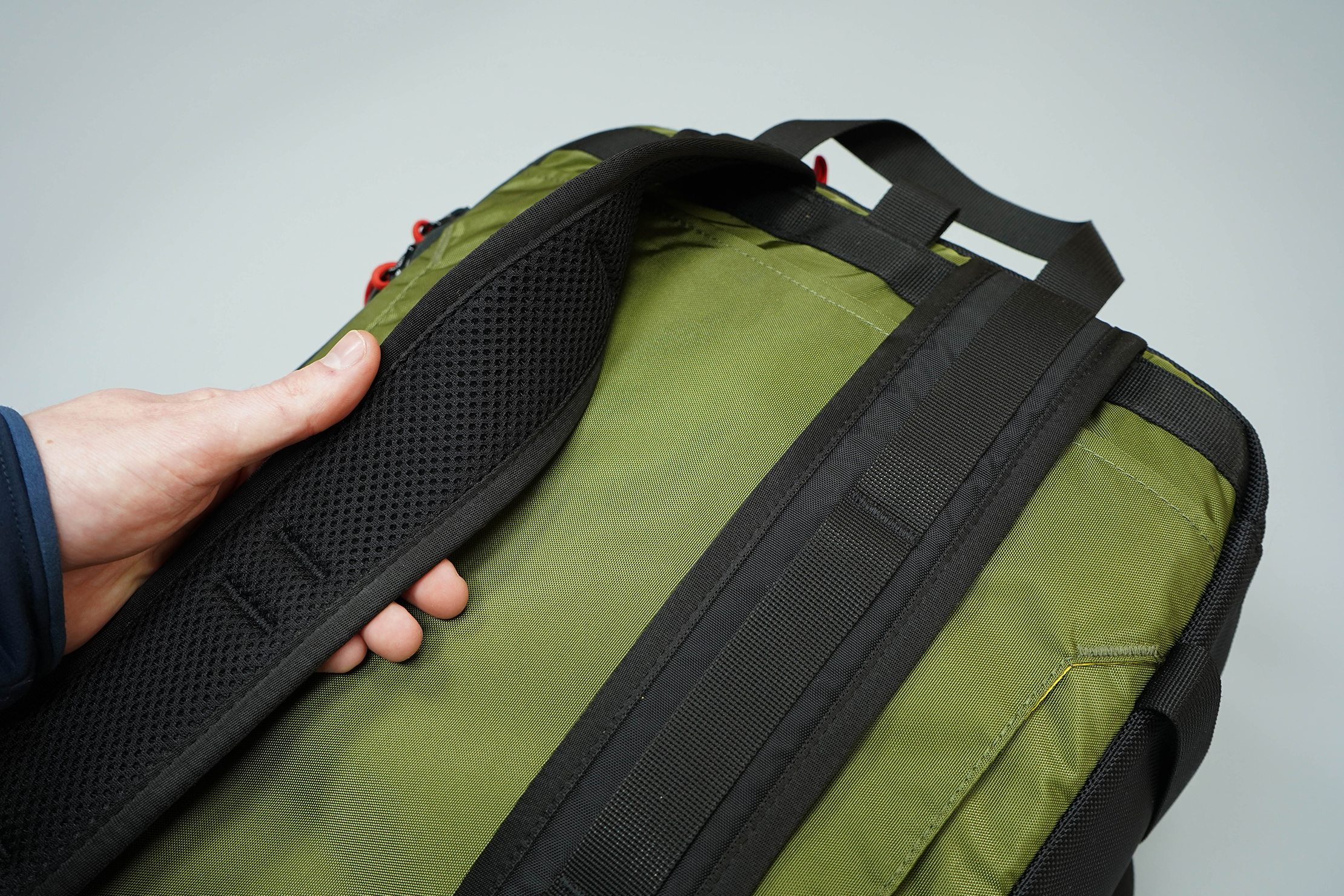 The straps themselves are thin, especially compared to the thick crossbody strap. But they're nice and wide for solid weight distribution. There's also mesh on the backsides to help with airflow.
The backpack straps attach to the small loops at the bottom of the bag via plastic gatekeepers. We haven't had any problems with them on this pack, but we've had problems with similar attachment points on other packs. These gatekeepers are known to randomly disengage, which isn't ideal (obviously).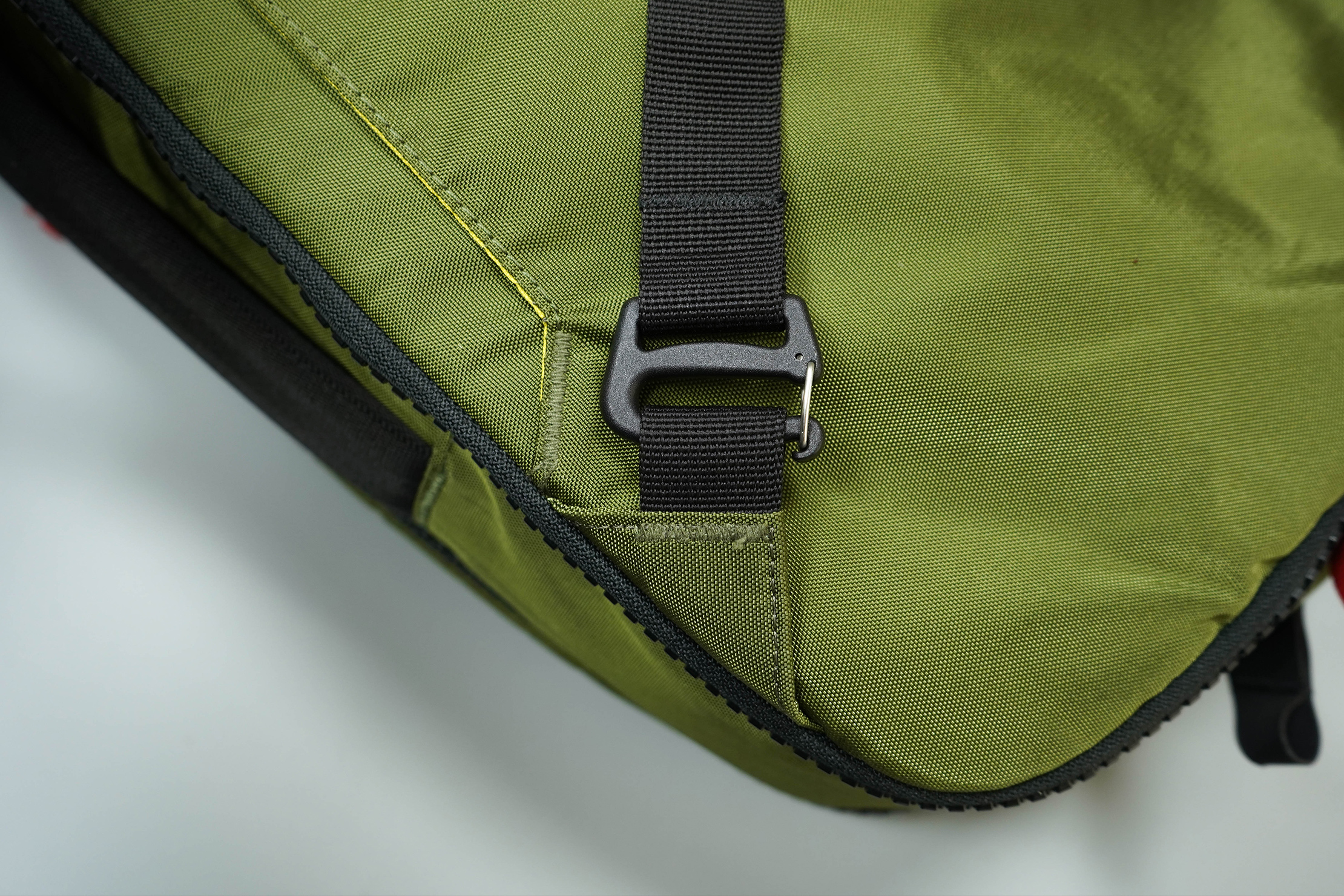 The back panel is nothing special. There's no mesh, extra padding, or anything like that. On the inside of the back panel is the laptop sleeve, and you can feel the outline of your laptop when you're wearing the pack in backpack mode. It's not as bad as it sounds, but it isn't great either.
Behind the back panel is a luggage passthrough, so you can easily connect the Global Briefcase to your rolling luggage if need be.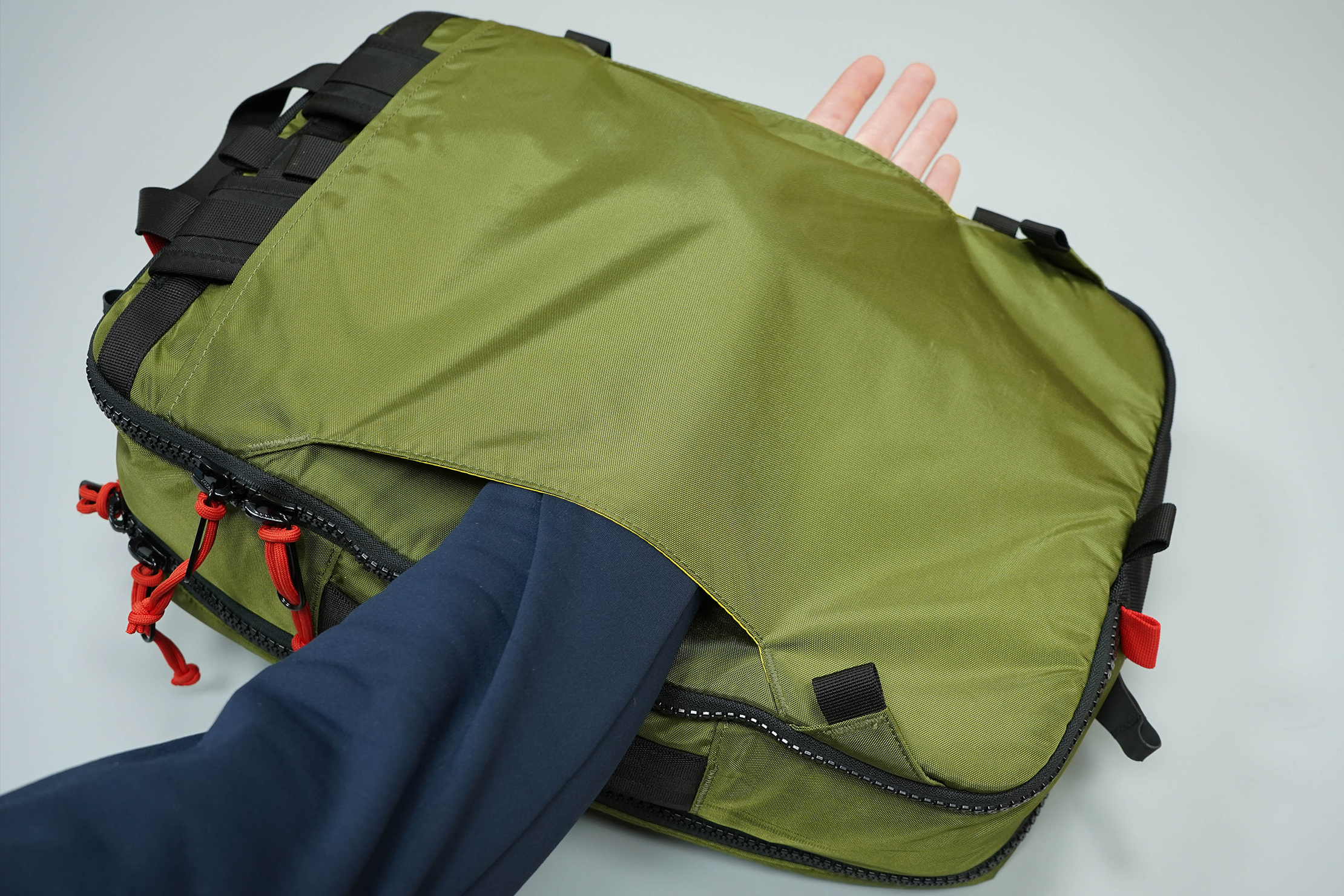 On the front of each shoulder strap, there's a strip of nylon loops for attaching gear externally. You'll also find a couple more of these loops on the body of the bag. Finally, there are carry straps on the bottom of the bag (or side of the bag when in backpack mode), so you can hold a tripod, yoga mat, or whatever else.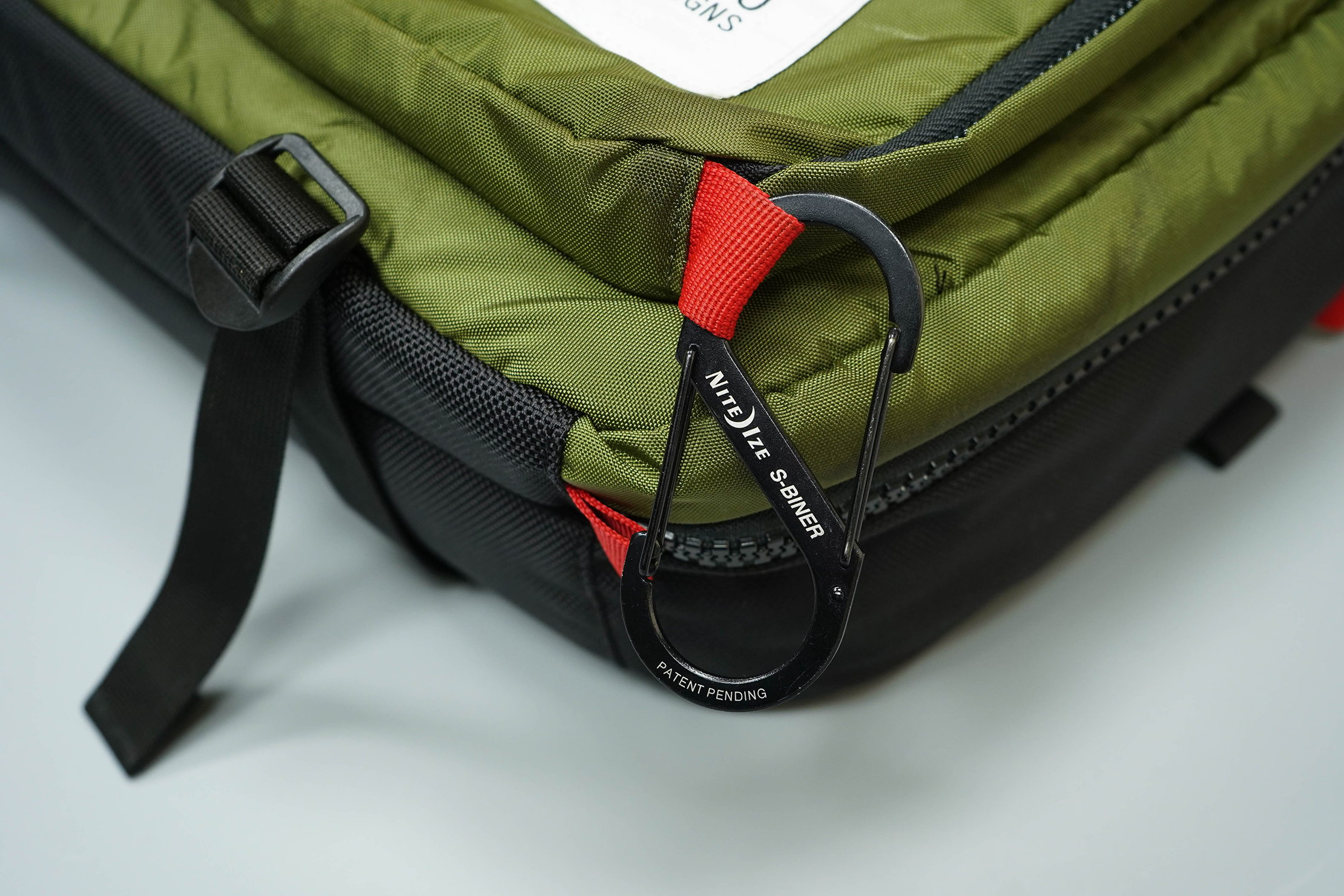 Inside the Pack
Before we get into the nitty-gritty of everything going on inside of this pack, we want to point out the bright, neon yellow interior. Not only does this bright interior put smiles on our faces—and remind us of the sun on dreary winter days—but it helps you spot your stuff. Black against yellow is easy to see; black against black, not so much.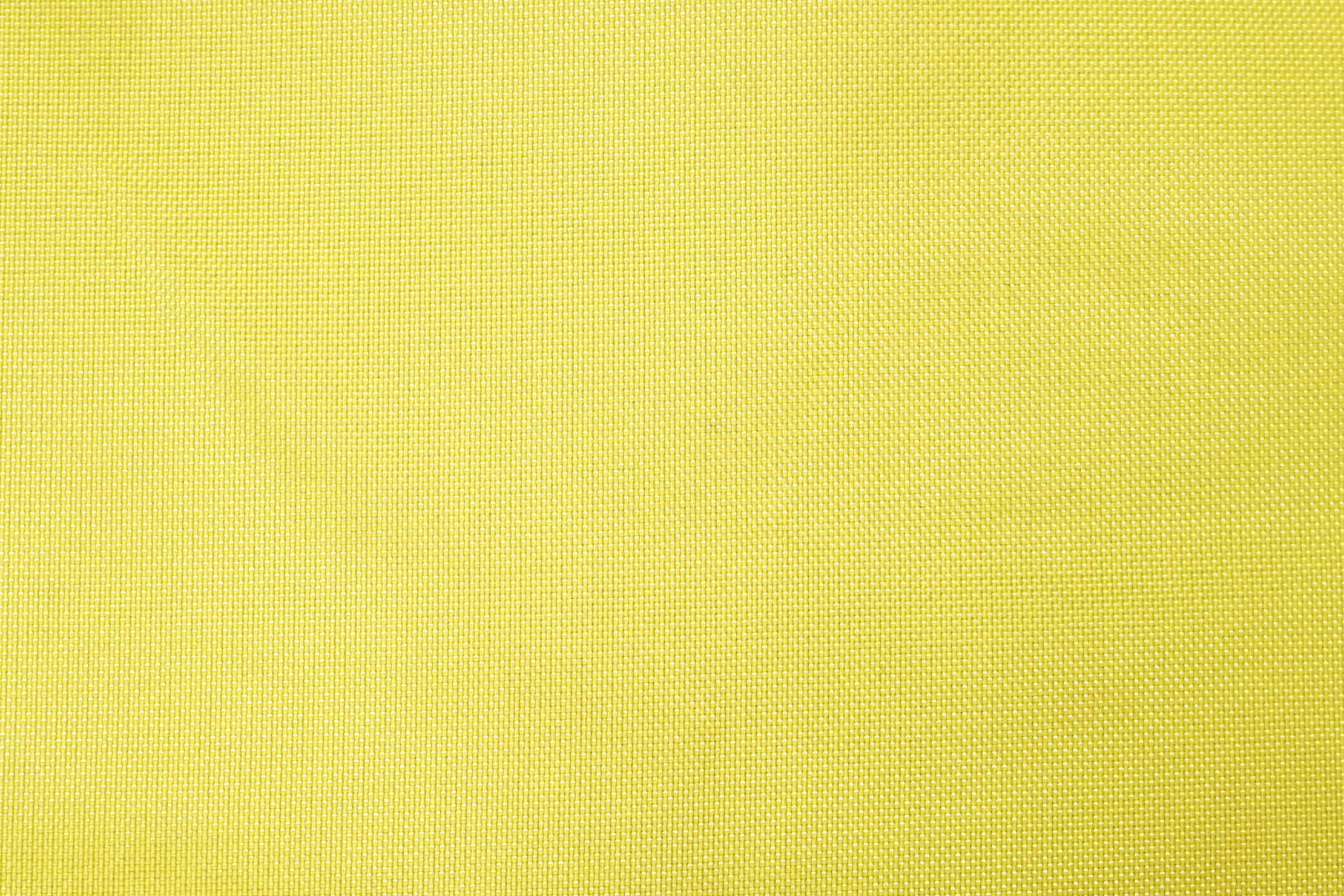 We also want to point out that all of the pockets have been designed with the briefcase and messenger bag styles of carry in mind. When you throw the pack on your back, all of the pockets will be turned sideways. Your stuff may fall out of the internal pockets into the larger compartments or fall out of the bag entirely if you haven't properly zipped everything up. So keep that in mind.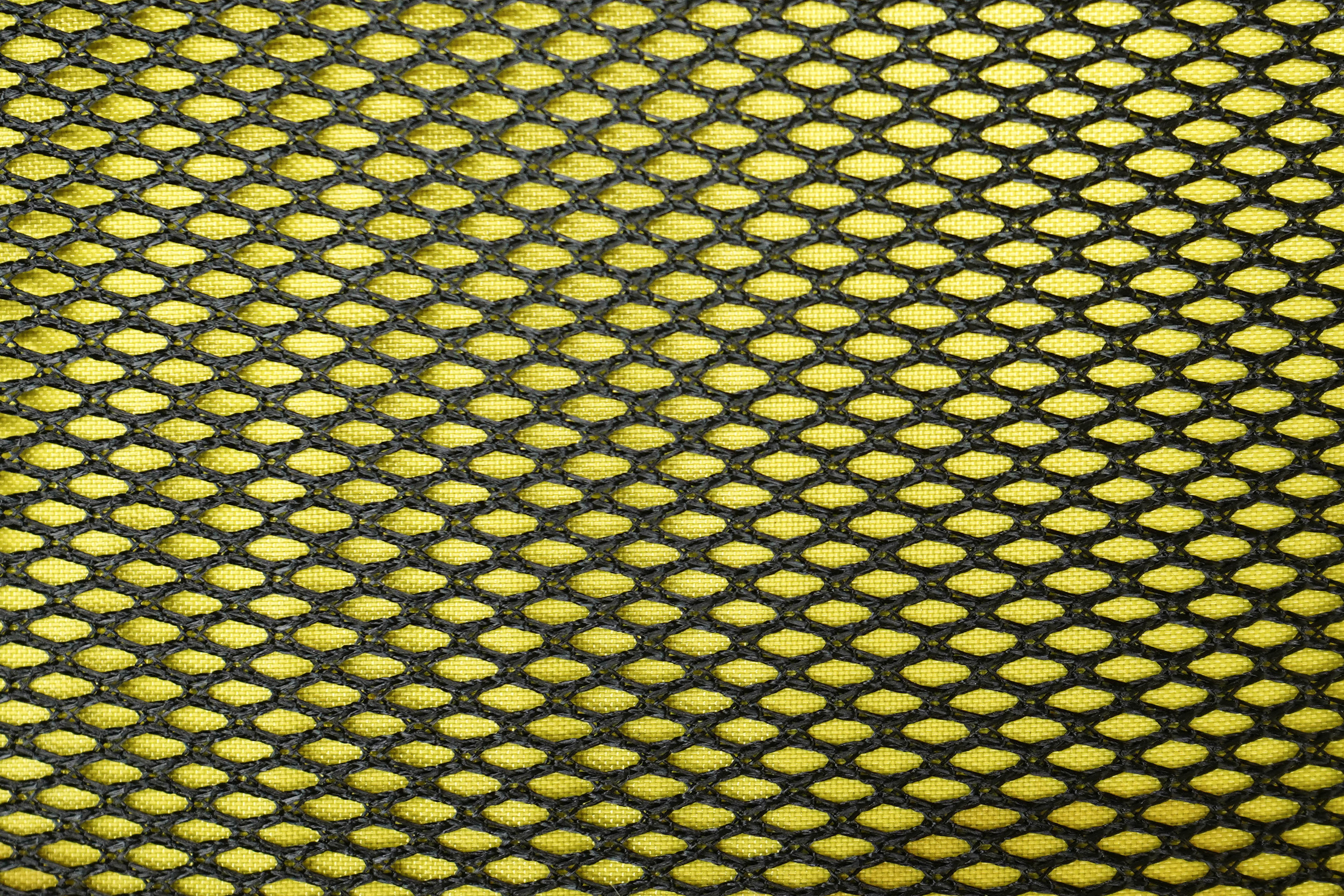 The two front pockets are mirror images of each other. Inside of both, you'll find a mesh pocket. The mesh is scratchy and rough. You could file down a callous with it (maybe we're exaggerating, but just a tad). The mesh hasn't destroyed anything of ours yet, but it doesn't feel great. We wouldn't recommend keeping anything delicate near it.

These pockets are liter independent, meaning they don't cut into the space of the main compartment—which is always nice. And they're quite roomy. We've put the 18oz Yeti Rambler full of water and the 12oz Yeti Rambler full of coffee inside the left one. Inside the right, we've stashed some tech gear—a mouse and headphones to be specific.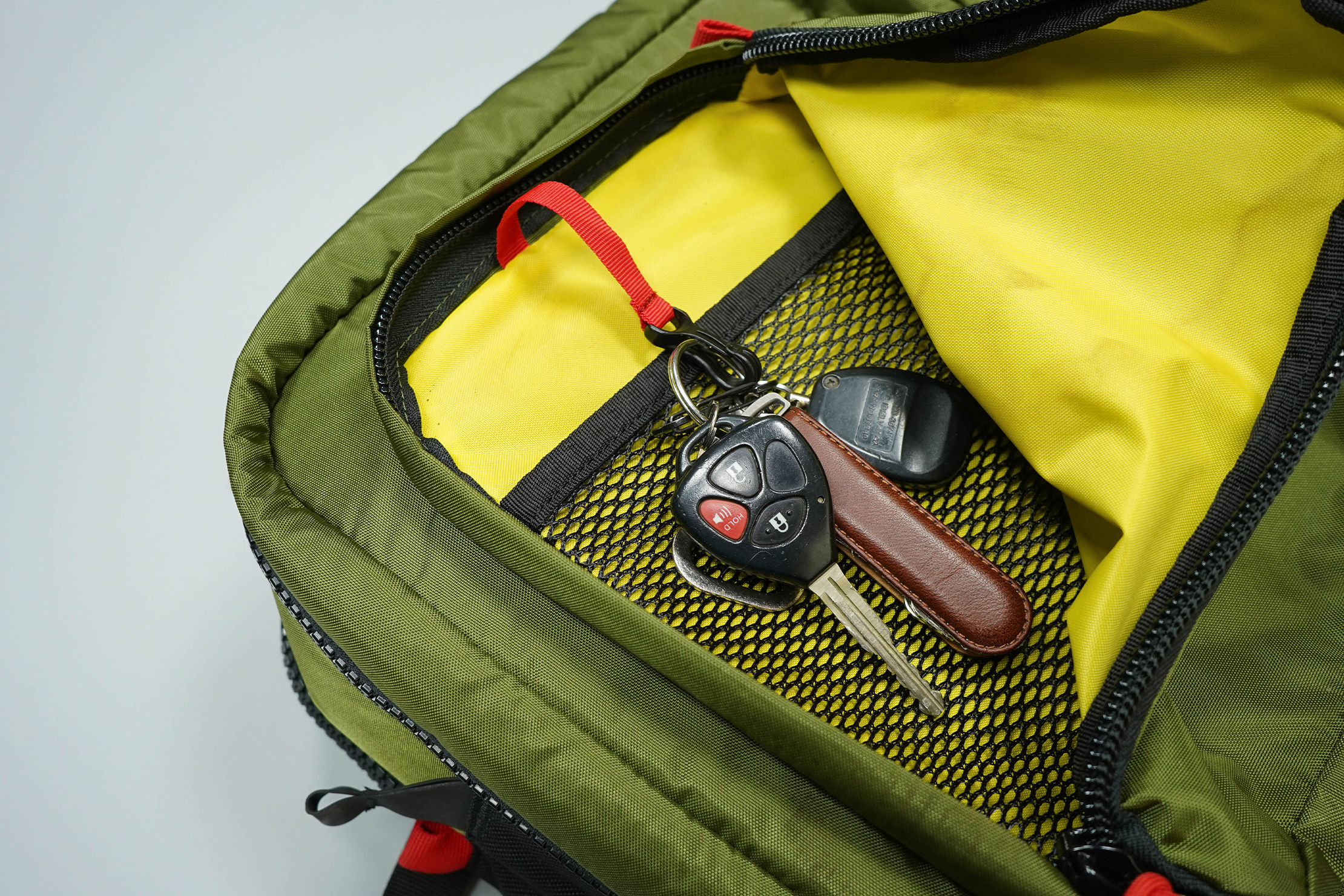 The only difference between the two pockets is that the one on the left has a key clip inside of it. The key clip is plastic, which makes us concerned about longevity. We always prefer metal key clips that are more likely to stand the test of time.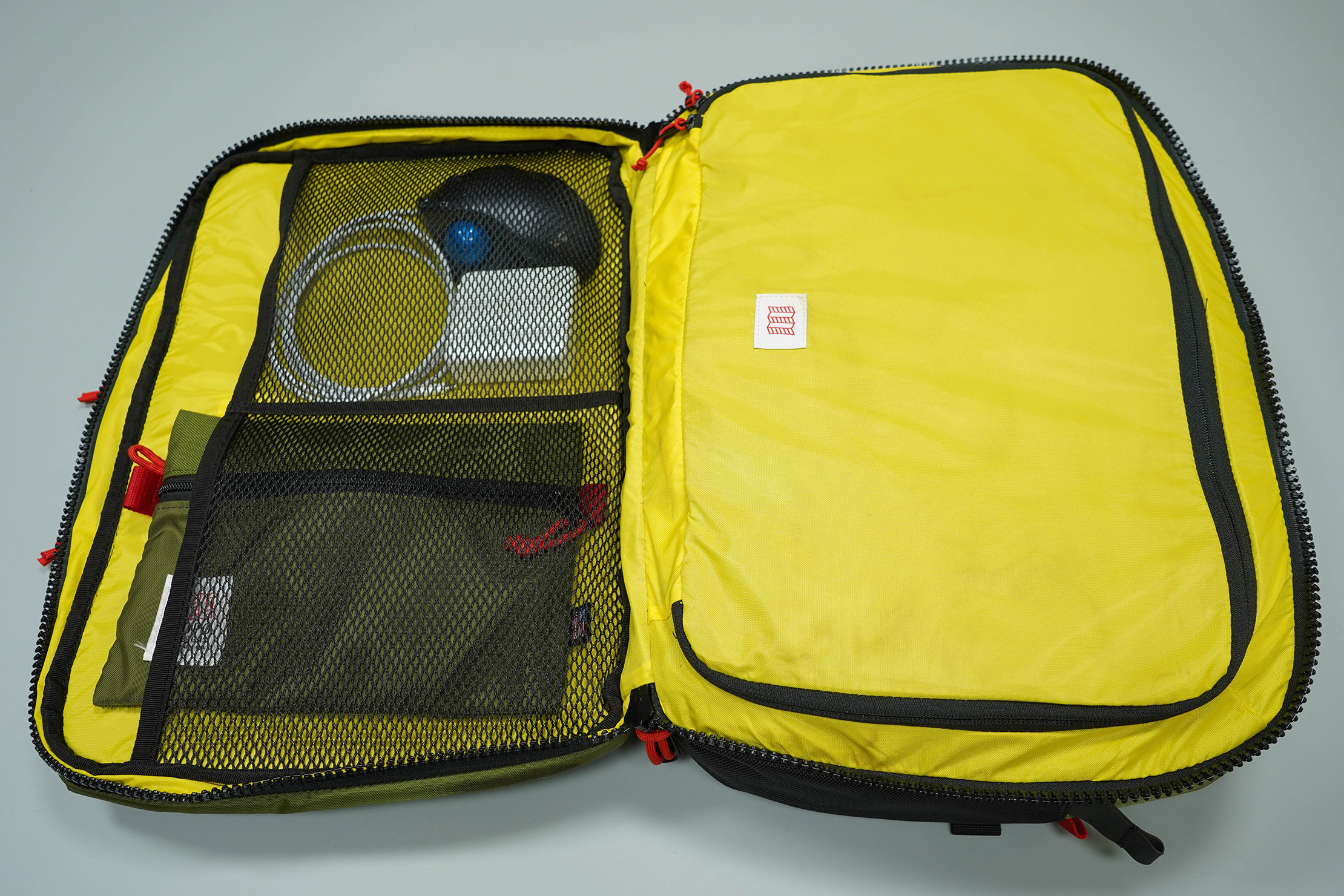 Behind these pockets is the main compartment, which opens all the way around clamshell-style. We always love when a bag opens up like this as it makes them as easy to pack as traditional luggage.

On one side, you'll find two large mesh pockets made of that same scratchy mesh. You can use this space to organize socks and underwear or chargers and things of that nature.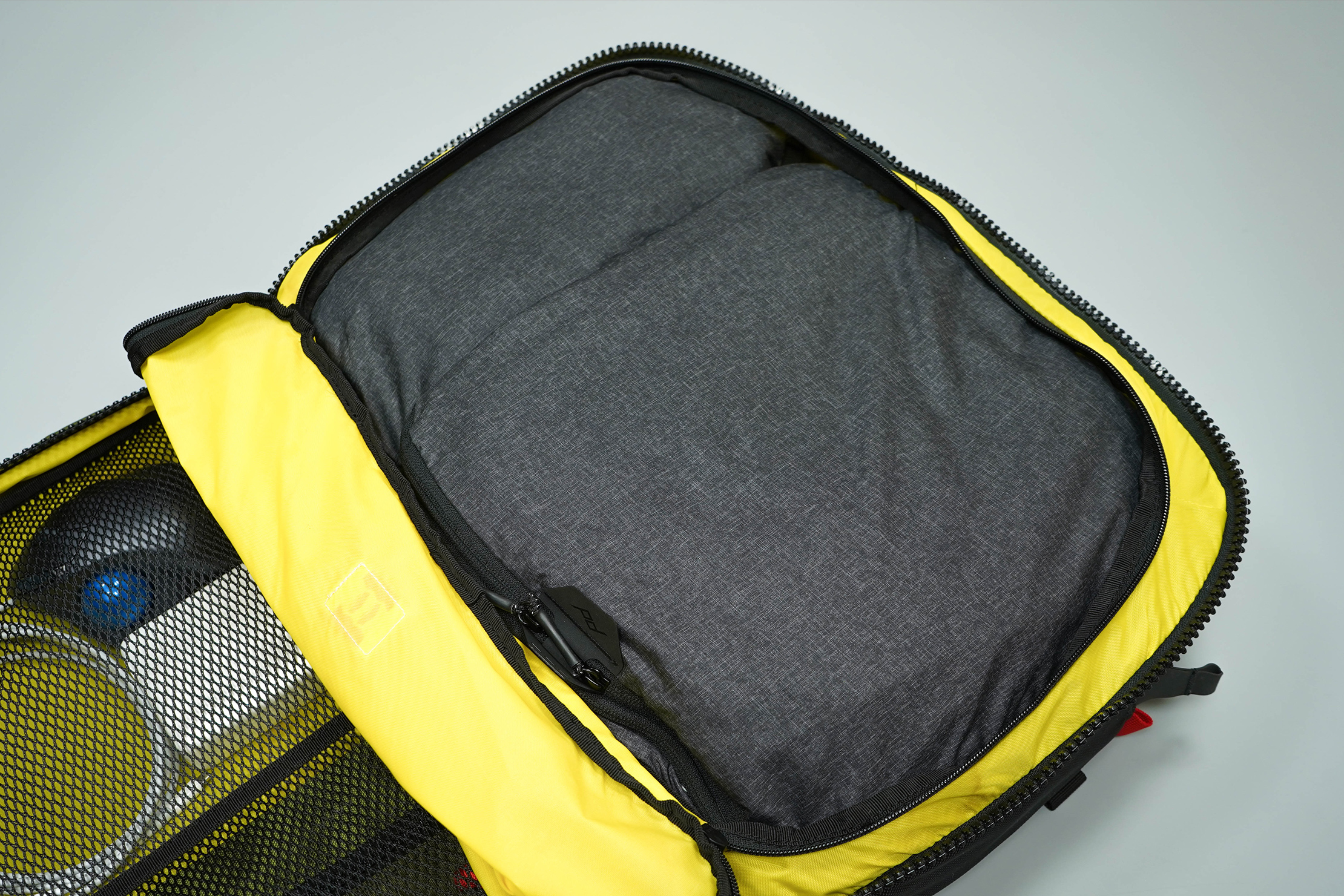 On the other side, there's a big ole bucket of space secured with a zippered cover. It's almost like a giant pseudo packing cube, keeping your stuff from falling all over the place. That said, we still suggest actual packing cubes to fully use the space and keep everything organized. You could also throw some tech or other accessory pouches here.
Finally, there is the tech/laptop compartment. Unlike the front pockets, this one does cut into the space of the main compartment. So we don't suggest putting anything bulky here. Bulky items will also make it difficult to zip up this compartment.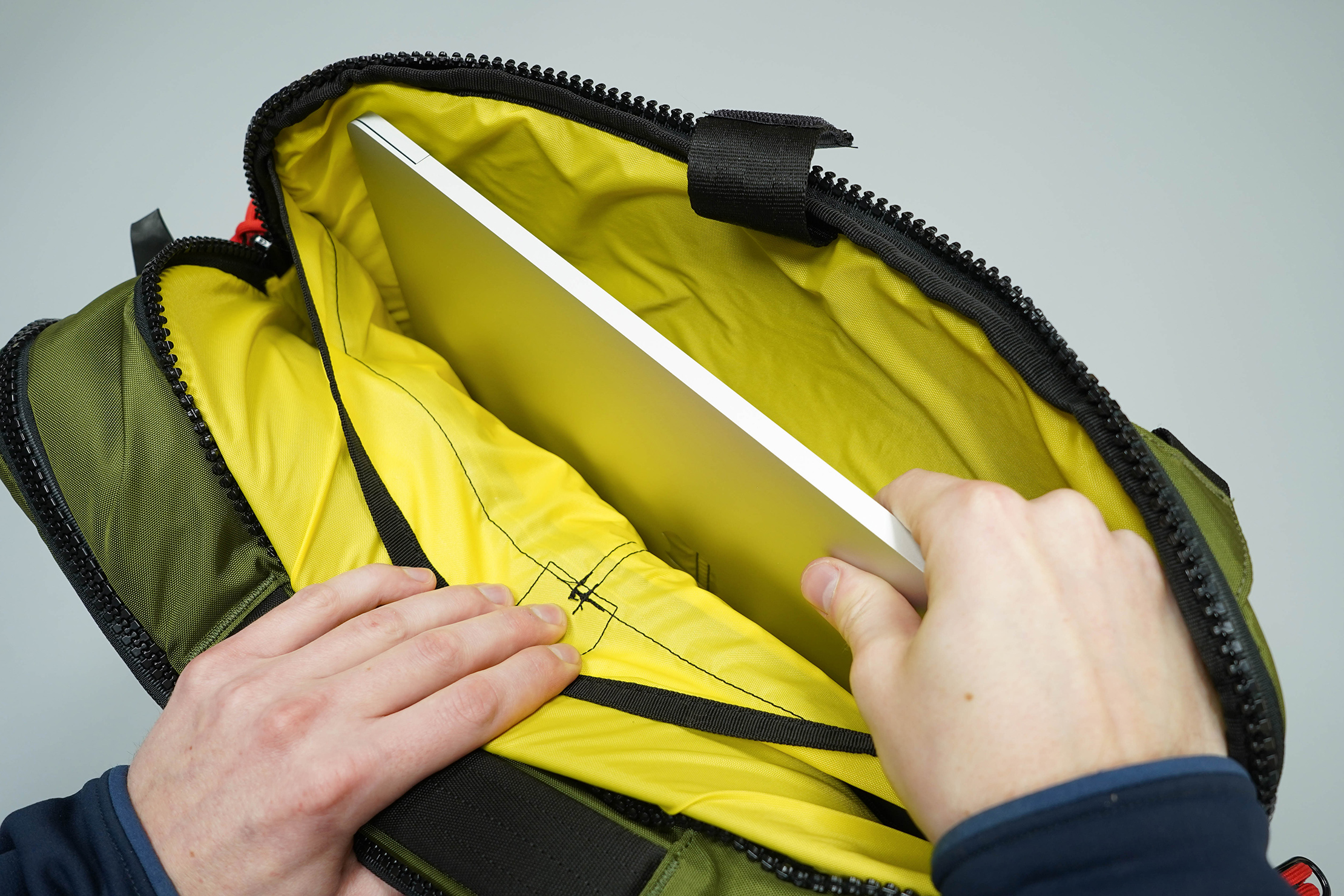 Inside, there is a wide laptop sleeve that Topo claims fits most 15'' laptops, but it's actually a lot bigger than that. We've tested it with a massive 17'' laptop, which fits with room to spare. The fact that this laptop sleeve is so large is both good and bad, depending on the size of your laptop.
Obviously, it's a huge pro if you're in the massive laptop club, but if you have a smaller laptop it'll likely slide around quite a bit. And because this sleeve lacks any substantial amount of padding and a false bottom, all that sliding makes us a little nervous. We highly suggest putting your laptop in a case before putting it in this sleeve.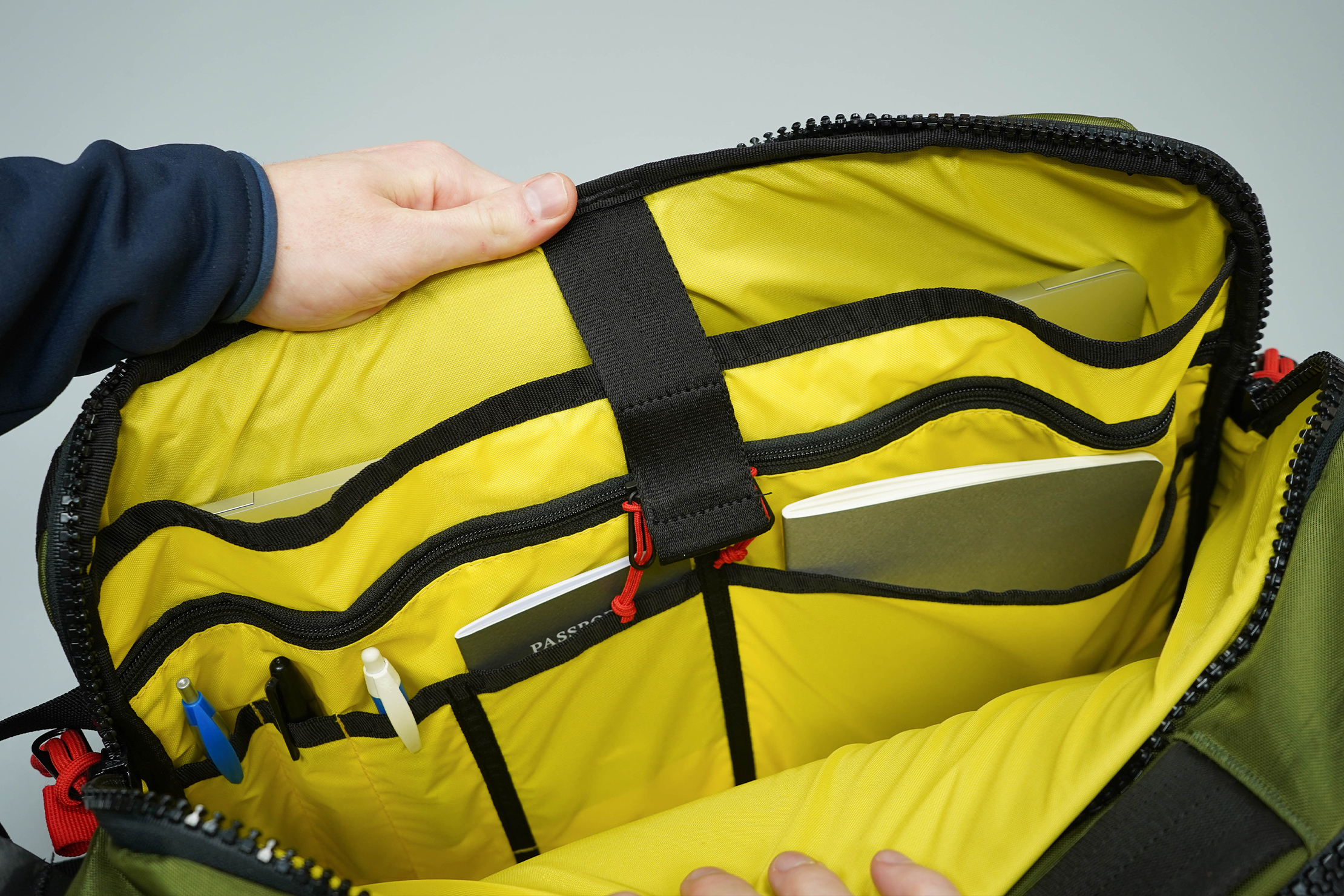 There's also an organization panel inside this compartment with two zippered pockets, a large open pocket, a smaller open pocket, and a few pen/stylus pockets. As we mentioned earlier you can't put bulky stuff here. For example, a MacBook charger won't fit very well. We've preferred to put most of our tech gear in one of the front pockets instead.
Durability & Testing
We've been testing the Topo Designs Global Briefcase 3-Day for a couple of weeks as a daily driver in good ole Detroit, Michigan. Overall, it's been a great weekender bag. It has plenty of room to hold all you'll need for short excursions or the tools of the daily grind (by which we mean your laptop, chargers, thermoses full of coffee, etc.)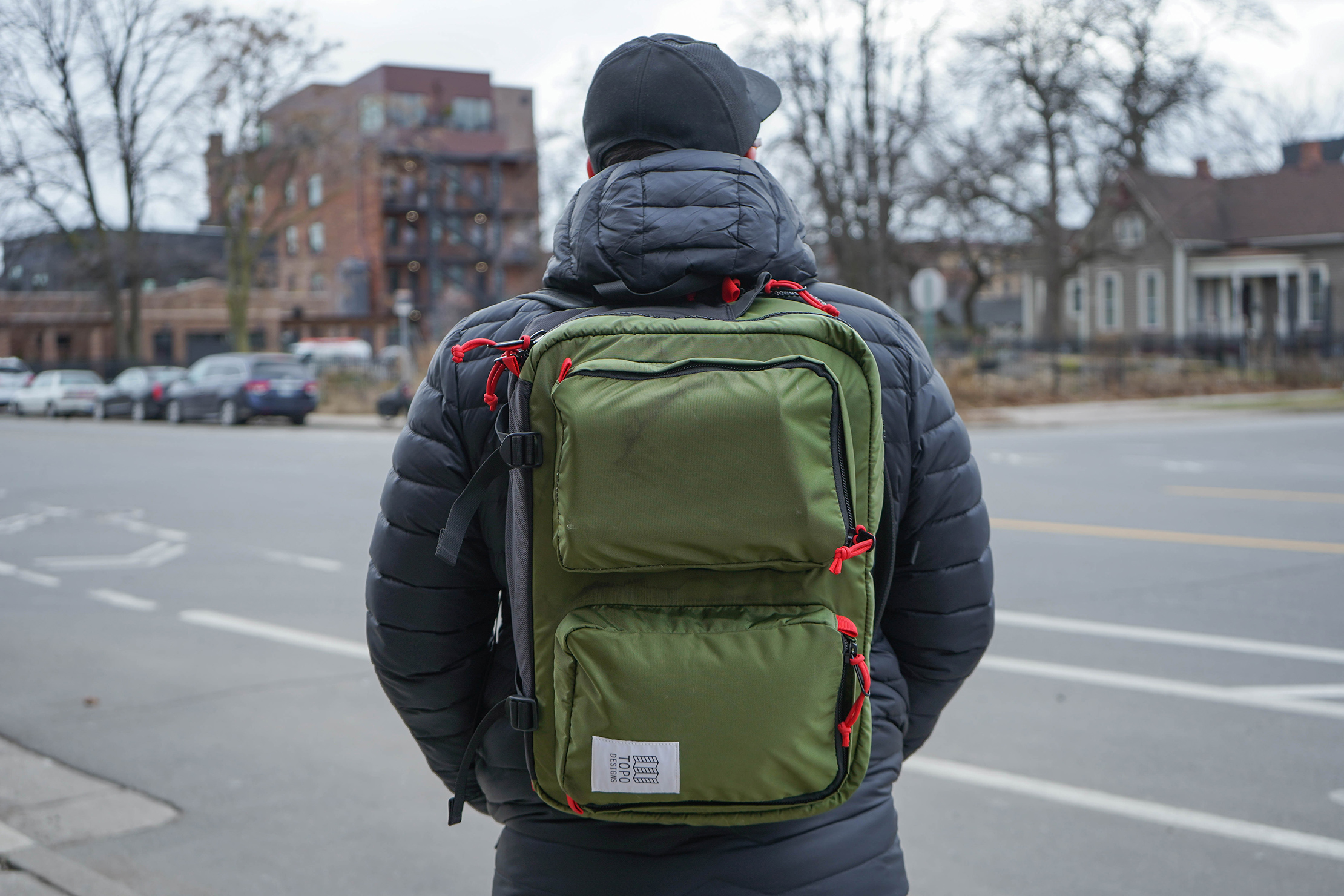 And it's still looking good. We have no durability issues to report.
Usage Timeline
Initial Usage
Condition: Excellent
Perfect size bag for a weekend trip with plenty of room for clothes and tech
Shoulder strap and briefcase handle are thick and well padded, however, the backpack straps are pretty minimal and thin
Giant YKK zippers all over this bag make for a unique look
2 Weeks of Use
Condition: Excellent
Still loving the carry system, but the lack of padding on the laptop sleeve is making us a little nervous about bumping into things
Access the Pro Community Discussion
Get your questions about the Topo Designs Global Briefcase 3-Day answered from our team and the Pro Community right here on the page. Plus, join discussions with other members about gear, guides, and more.
Other Bags & Luggage Reviews