Aer Travel Kit 2 Review
The Aer Travel Kit 2's extra toothbrush holder and spruced-up interior are fairly minor upgrades, but it brings it that much closer to a 10/10.
Our Verdict
Unlock the Pro Summary
Save time. Get access to brief summaries of our reviews so you can browse and make decisions more efficiently.
Pros
Twin toothbrush holders great for sharing
Spacious shelf-like organization
Built-in hook saves countertop space
Cons
Elastic loops aren't very grippy for smaller bottles
Slightly wider than the first version
Tends to swing around its hinged hook
Recent Pack Hacker Video
Technical Details
Capacity

2.5l

Weight (lb)

0.5 lb (0.2 kg)

Dimensions

9 in x 6.5 in x 3 in (22.9 x 16.5 x 7.6 cm)

Notable Materials

CORDURA® Ballistic Nylon, YKK Zippers, X-Pac, CORDURA® Nylon

Warranty Information
Buying Options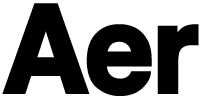 $49.00

$49.00
Full Review
Get up to 10% off Aer • Join Pack Hacker Pro
Having a good quality and capable toiletry bag is one of those travel conveniences that, once you have it, you can't imagine going back. It's like your own medicine cabinet/vanity table/first aid kit all rolled into one very portable pouch. Among the many toiletry bags out there, one of our favorites has to be Aer's Travel Kit, which we praised for its size, organization, and craftsmanship.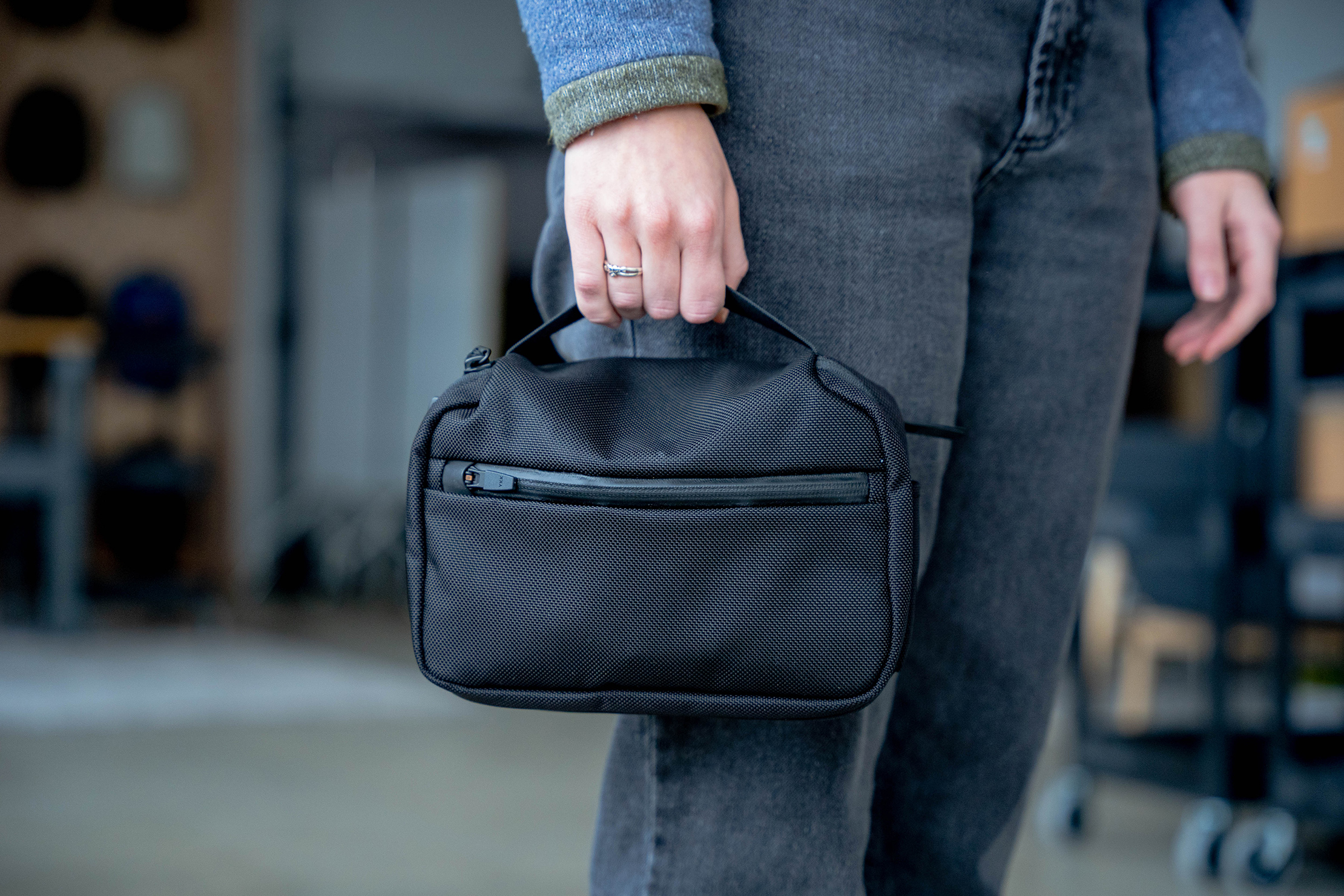 Now, Aer's deemed the Travel Kit worthy of a successor: the Travel Kit 2. We already dig the straightforward naming, and there's more to like in terms of upgrades. Yes, the changes are fairly mild: an additional exterior toothbrush holder, a roomier and more accessible rear pocket, and a cleaner interior. However, it's less about being revolutionary and more about reinforcing what made the original Travel Kit an already capable toiletry bag.
Materials & Aesthetic
Style-wise, Aer hasn't gone crazy with the changes—why fix what ain't broke, right? Aesthetics has never really been a problem with their gear. It's all-black, sleek, and goes well with pretty much anything. It's like a classy black suit or dress—you just can't go wrong with that classic style. In any case, the Travel Kit 2 is, first and foremost, a toiletry bag—not exactly something that needs to stand out.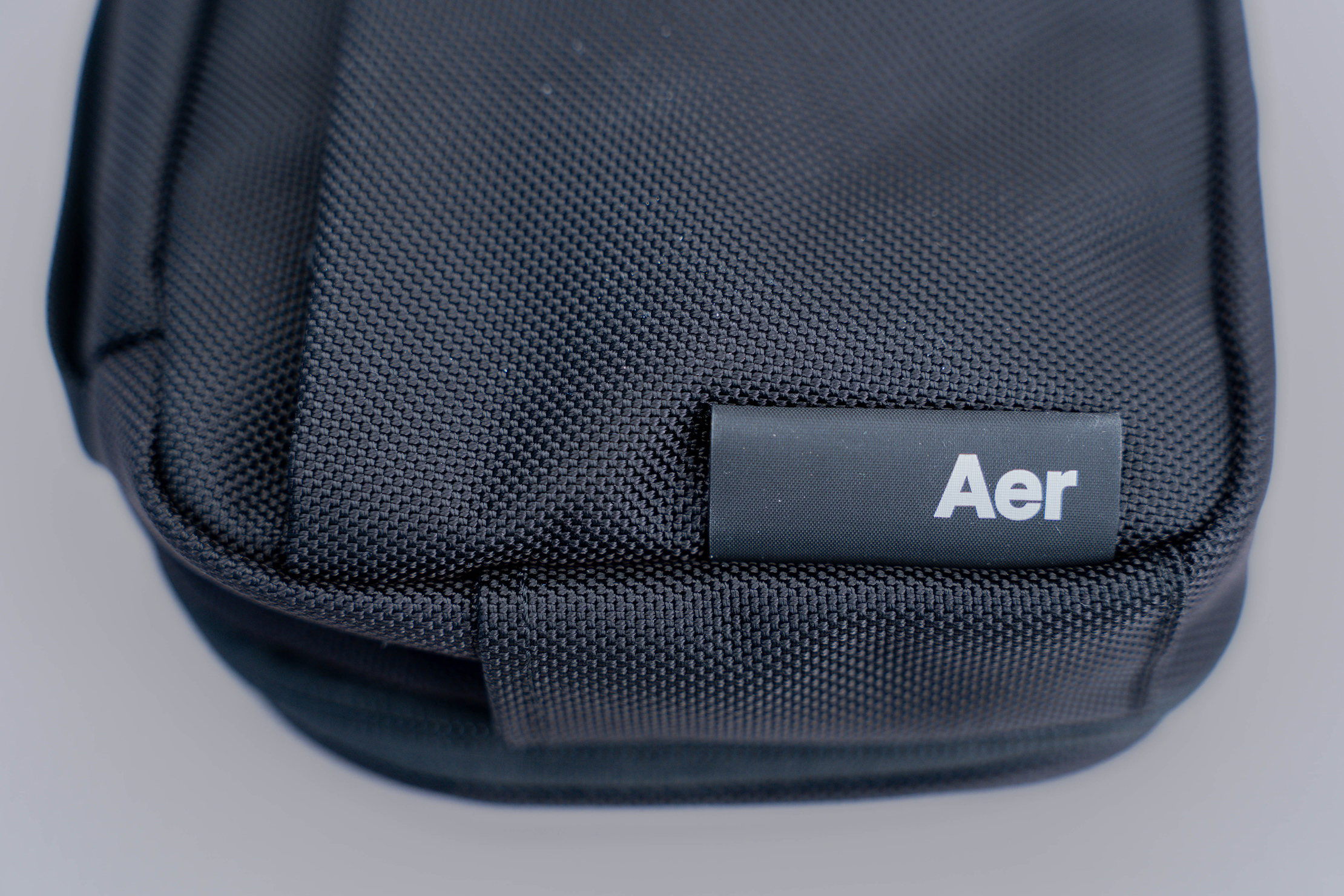 The Travel Kit 2 is a touch cleaner visually than the previous version. Look close enough, and you start to see some of the differences. The most notable is the move to a self-locking YKK zipper for the front pocket and Hypalon pull on the back. This simple switch means two less dangling zipper pulls, which further minimizes any jingling. Otherwise, most of the changes are functional rather than aesthetic, and that's okay with us. We'd rather have a more capable toiletry bag than a stylish one (in case we haven't made that clear enough yet).
The main fabric on our sample is 1680D CORDURA Ballistic Nylon, a heavy denier fabric that's very abrasion-resistant. That sounds a bit overkill for a toiletry bag if you're only planning to take it back and forth to a hotel bathroom or airport restroom. However, robust ballistic nylon is a good choice for those who take their toiletry bags outdoors, where smooth surfaces are rarely available, if at all.
That doesn't mean the Travel Kit 2 is immune to dirt and stains, though. Our sample's gray-colored liner collects toothpaste and lotion stains just as easily as the first version does. To be fair, it's not an uncommon downside in the world of toiletry bags and Dopp kits—very few fabrics fend off those kinds of fluids well.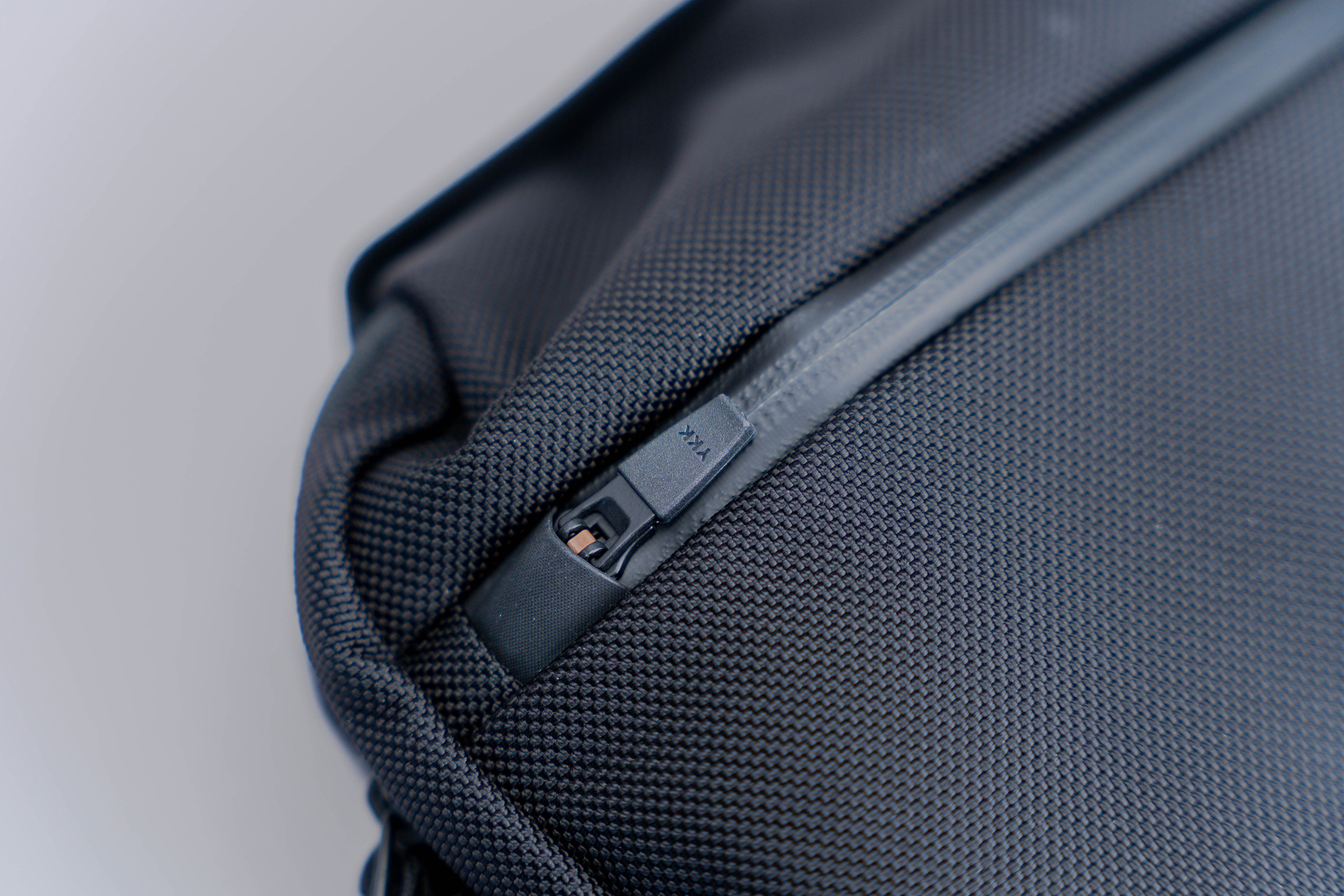 There are two other colorways available as well, each with a different material. There's X-Pac, which has a unique X pattern and very water-resistant properties. It's also black, so you can go for the Heathered Gray option if you want something different. That comes with 700-denier CORDURA, a lighter fabric than ballistic nylon, but still quite durable and arguably more eye-catching.
Whichever colorway you go for, all of them come with Hypalon (for the logo) and YKK zippers. We typically don't have any issues regarding YKK zippers, and such is the case here with the Travel Kit 2. However, we have heard others complain about YKK's AquaGuard zips and the tendency of the material around the zipper elements to crack over time. None of our gear with AquaGuard zippers has shown this so far, but we're keeping an eye out for it.
Usage & Features
The Travel Kit 2 isn't really meant to be carried as a standalone bag. Well, you can—there's a top handle for it—but it's not really the kind you'd want to carry by hand throughout a lengthy overseas trip. The top handle is a thin nylon strap, but this time it's a heavier, rougher-feeling one compared to the seatbelt-like one on the original Travel Kit. We do prefer the softer material of the original, but considering the secondary purpose of the handle, the difference is only minimal.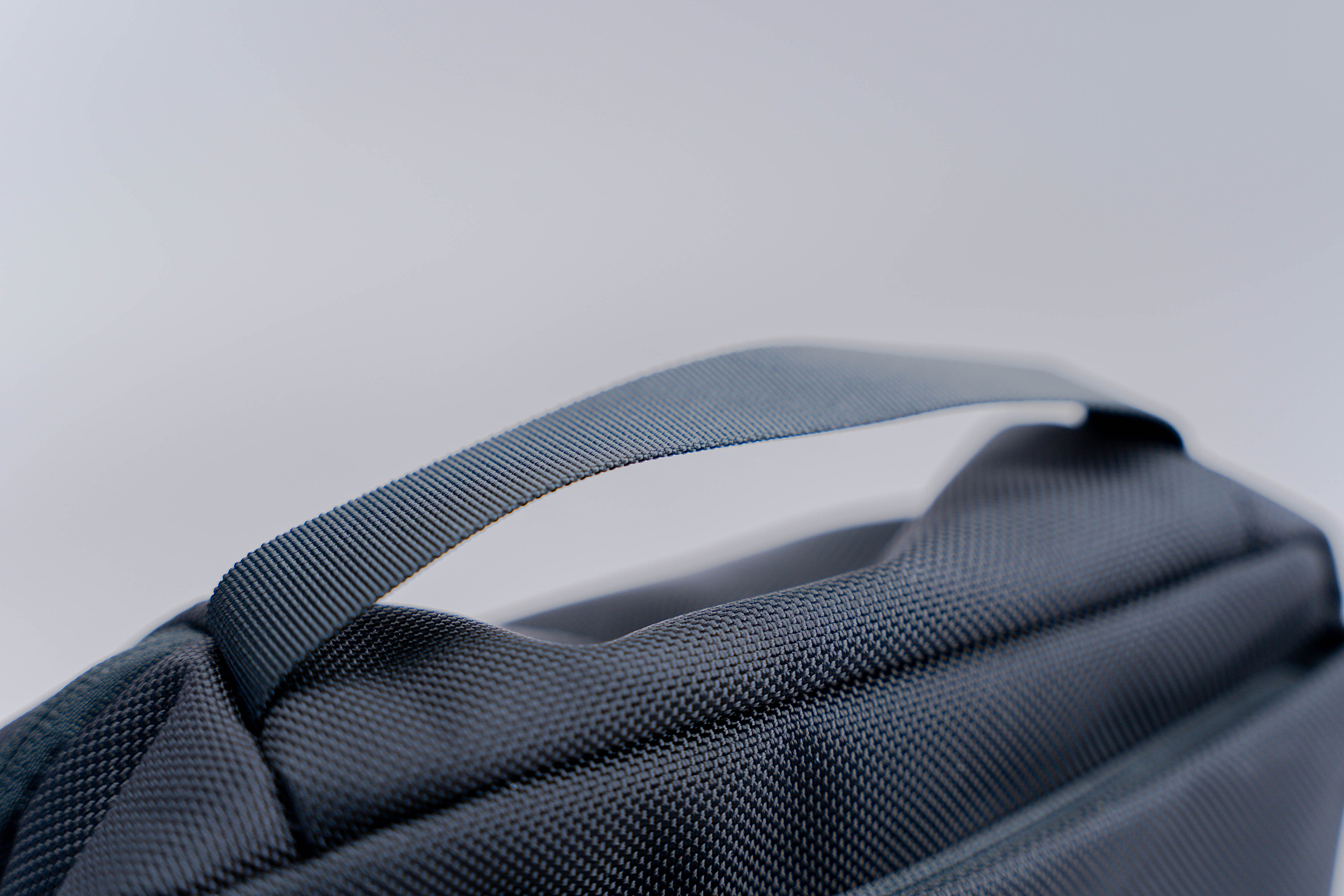 Most of the time, our toiletry bag lives inside our travel bag (we also keep some toiletries in our sling or quick-grab pockets). We praised the original Travel Kit for its compact size, and Aer's kept the dimensions the same for the Travel Kit 2, so we have no trouble fitting it inside a smaller daypack, let alone a travel backpack.
Flanking the Travel Kit are side pockets where you can prop up wet toothbrushes or razors. This is a feature carried over from the original as well as Aer's own Dopp Kit 2, though those two only have one slot each. We like that there are two of these slots now because it makes sharing the Travel Kit 2 easier; you and your travel companion each have a slot for your respective toothbrushes. It's a neat little inclusion that highlights the potential of the Travel Kit 2 not just as a solo traveler's toiletry bag but also as a shared one. Practically speaking, there's a benefit in weight and space savings when you share travel gear.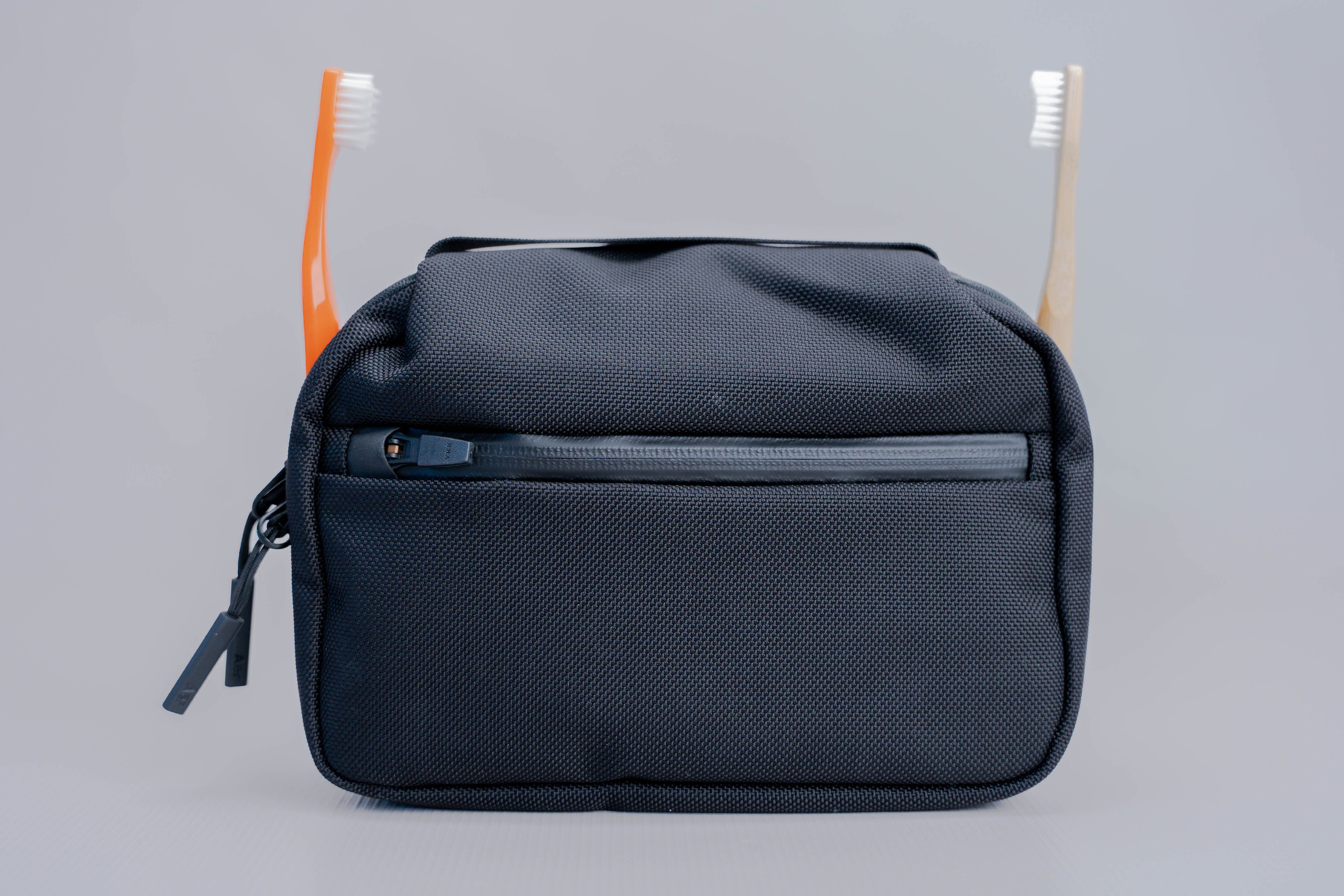 Alternatively, you can use both slots for yourself and use one for your toothpaste, the other one for a stick of deodorant. Either way, having two grants you the flexibility to choose what to store and how.
The Toiletry Kit 2 has a front pocket for quick-grab toiletries—the kind that we typically reach for while in transit, such as a pack of wet wipes, lip balm, eye drops, and maybe some aspirin. It's easy to reach them in this pocket, which means we don't have to always take the Travel Kit 2 out of our main bag to get to them. Of course, we can also place these items in our sling or the pockets of the main bag itself. However, we prefer to keep all of our toiletries and personal care items together for easier organization, so we don't have to remember what goes where—it's all in one place.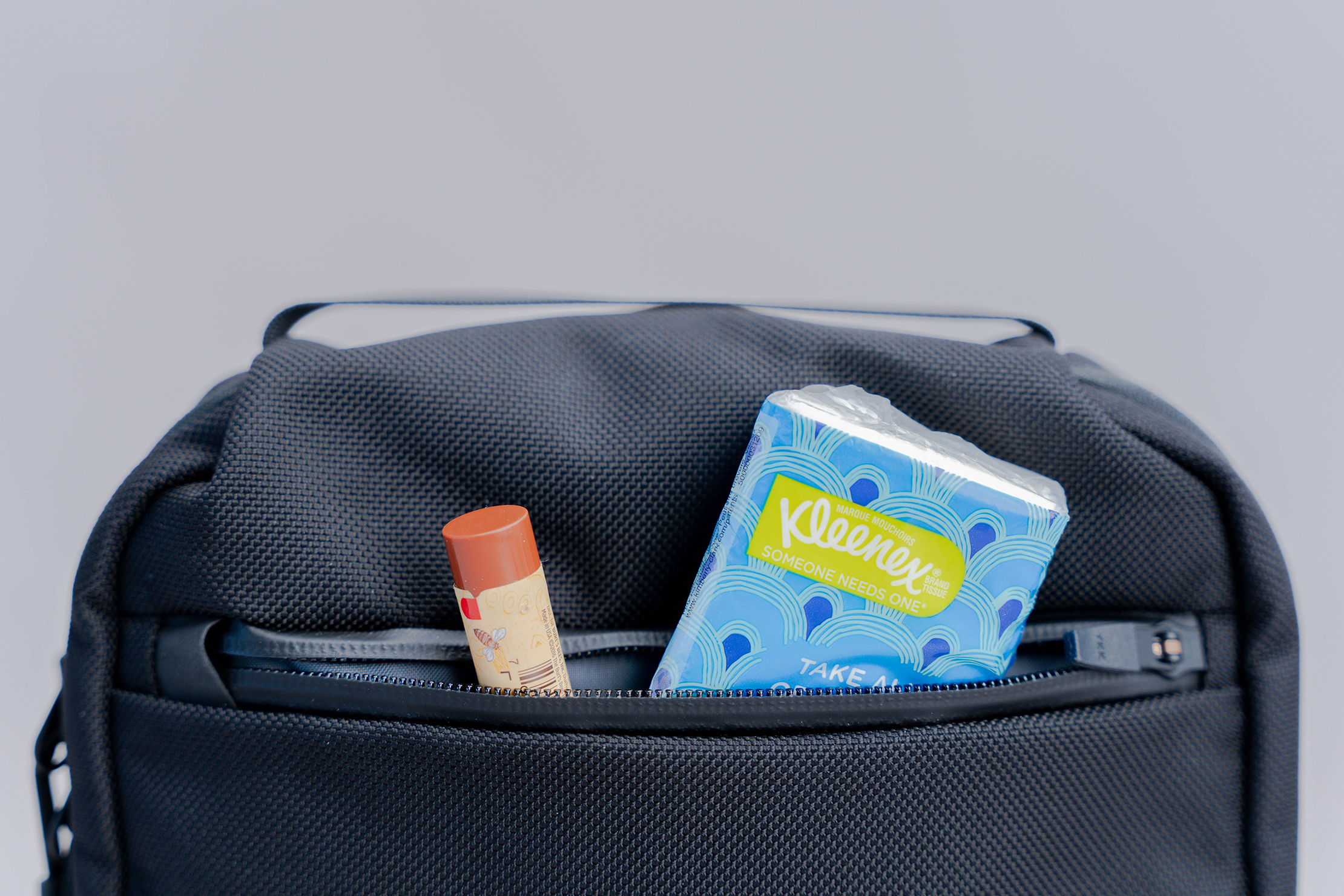 Keep in mind that space in the front pocket is quite slim. Larger items (read: bulkier than a compact of 20-pack wet wipes) that you still need quick access to are also at home in the much roomier rear pocket. A couple of things about this pocket: The opening is pointing upwards, and its volume sticks out noticeably from the rest of the Travel Kit 2. This means better accessibility and independent volume, respectively.
With all the available room, this is an ideal spot for a mini first-aid kit—a genuine must-have for any packing list. That pocket's volume isn't infinite, though, so our packing strategy is still to stack items on top of each other to avoid visible lumpiness.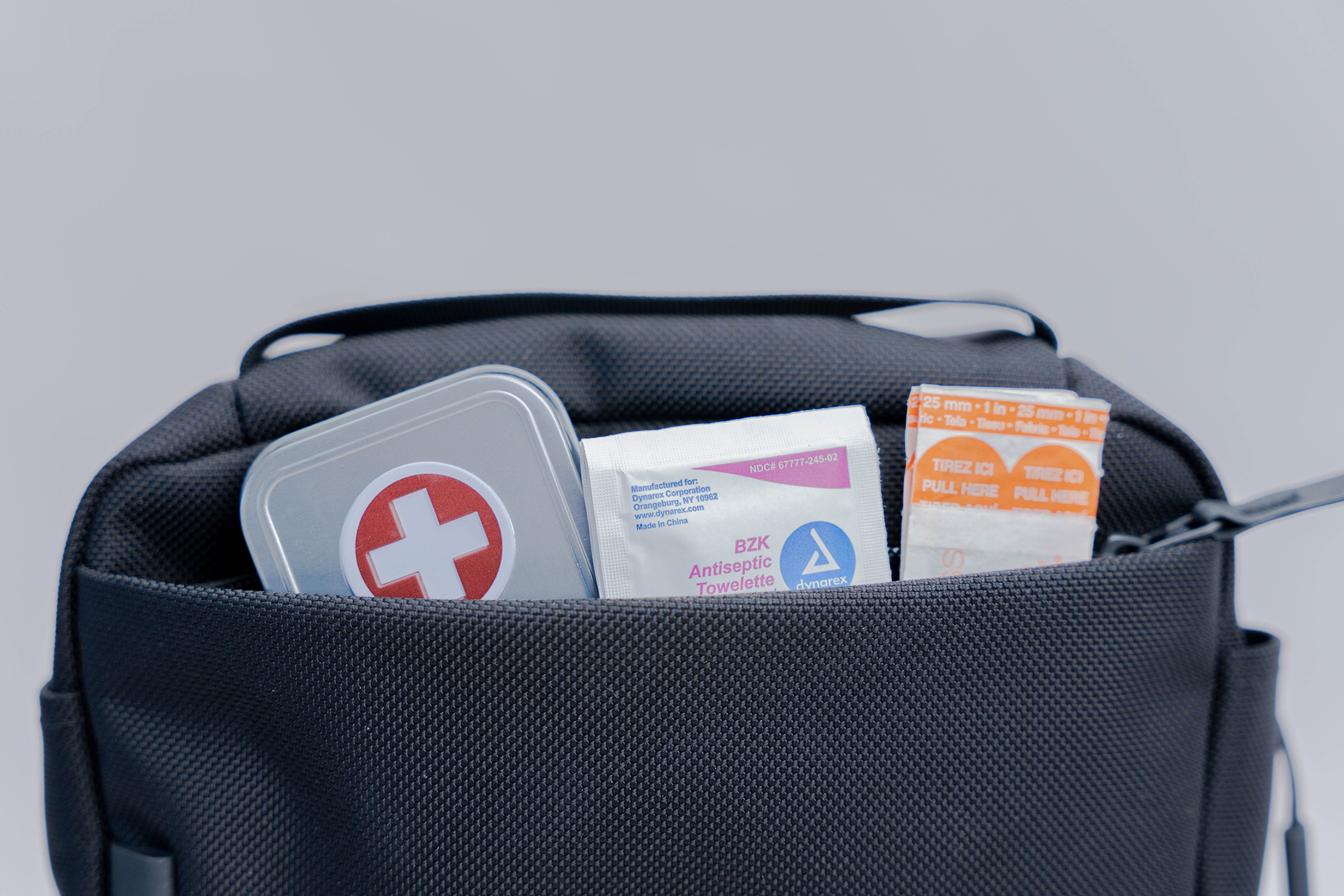 The main compartment opens up fully clamshell-style—as it does with the original—to reveal a layout that's all too familiar. We mean that in the most welcoming way, of course. We like the layout of the original Travel Kit because of its clever organization. Not much has changed, but the fit and finish feel a lot cleaner.
That's not just the out-of-the-box new-ness speaking, either. There's now less stitching visible around the seams and outline of the liner. The mesh material on the top pocket is much finer and stretchier. The interior itself appears cleaner thanks to the liner fabric's bluer shade of gray.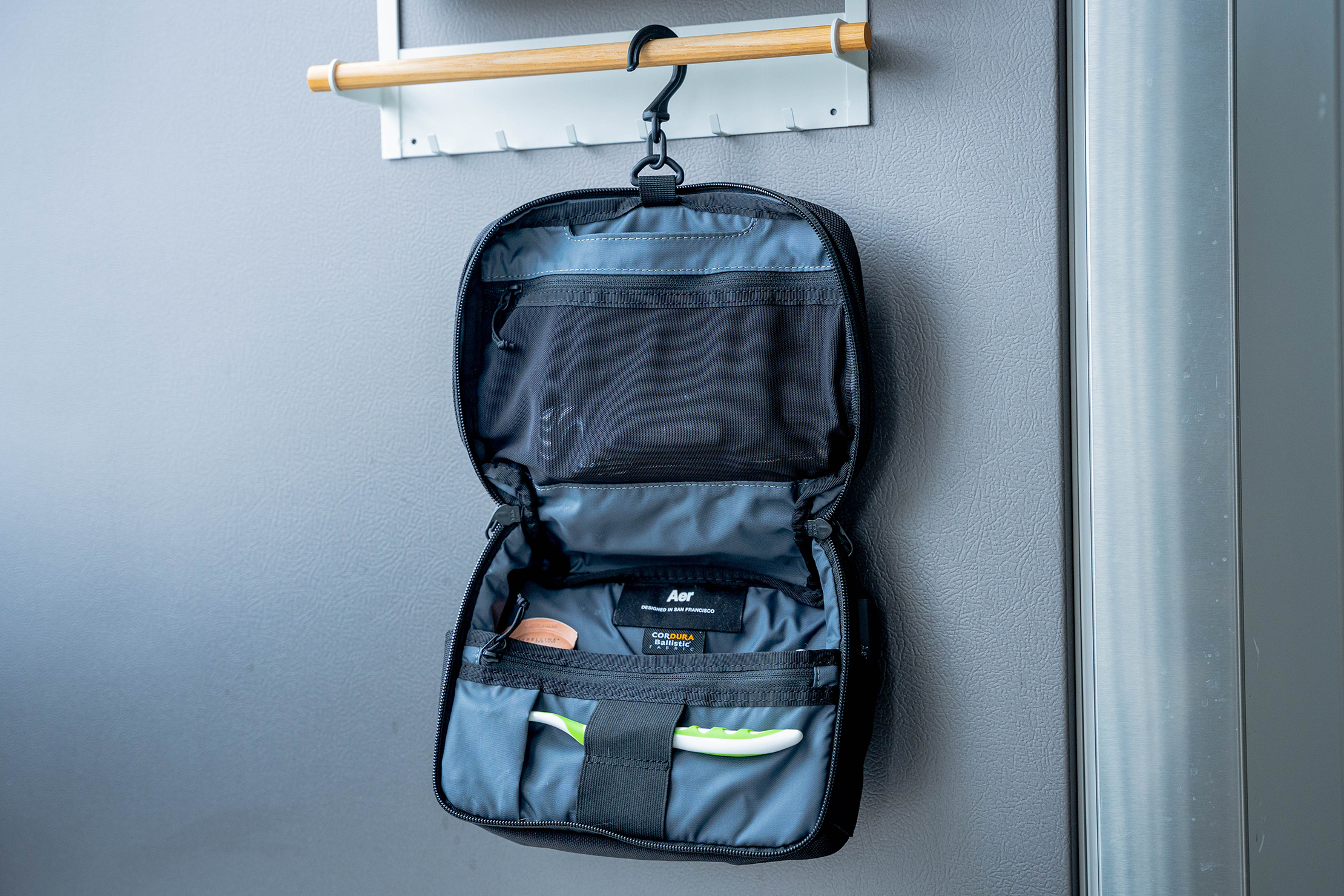 Starting from the top, there's a built-in YKK-branded hook that's tucked away inside its slip pocket. This is another carry-over from the original Travel Kit that we're glad to see make the cut. We like hanging the Travel Kit 2 from a towel rack, a hook, or wherever it's most convenient in our accommodation. Once it's hanging, the lower half tilts backward noticeably, preventing items from falling out. Something to note about the hook is that it's hinged, and this allows the Travel Kit 2 to rotate 360-degrees. Consequently, the bag also tends to spin freely, which is quirky at best and slightly inconvenient at worst.
Just below the hook is a zippered mesh pocket. Because the mesh is now a lot stretchier, the pocket has more than enough volume for our makeup items like eyeliner, lipstick, and some canisters of lotions and creams.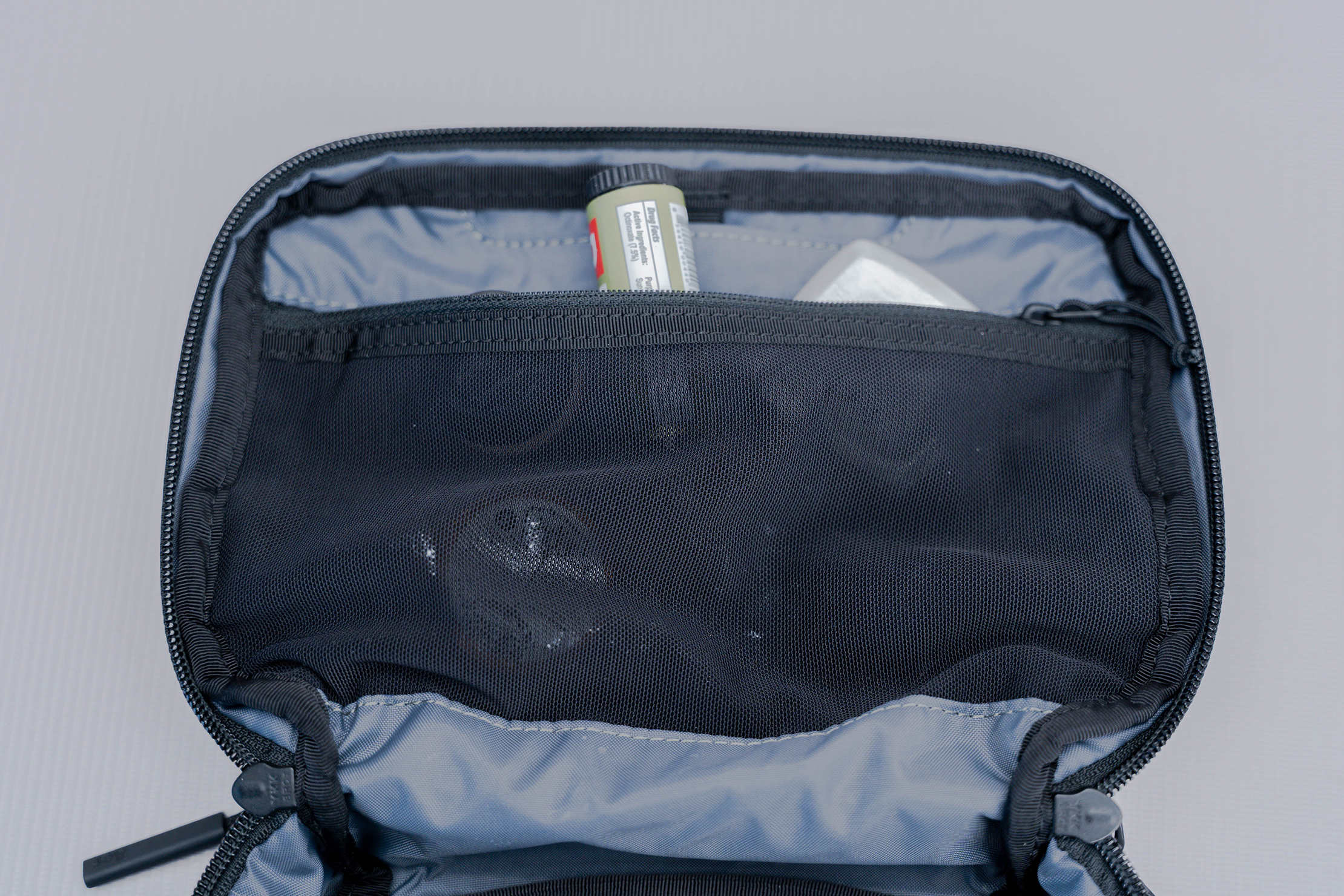 The bulk of the Travel Kit's capacity is allocated to the kangaroo-style pouch in the lower half. It's a sort of mix between a standing pouch and a shelf design like Peak Design's Wash Pouch. Inside, there's a row of four elastic loops, each big enough for travel-sized bottles around 2 to 4-ounces.
However, your mileage may vary depending on the size of your bottle. The relatively wide elastic loops have a tricky time locking skinnier bottles in place. On the other hand, bottles too large for the elastic loops need to be placed in the open space in front. Fortunately, everything stays in place even after all the tossing and jostling that comes with traveling.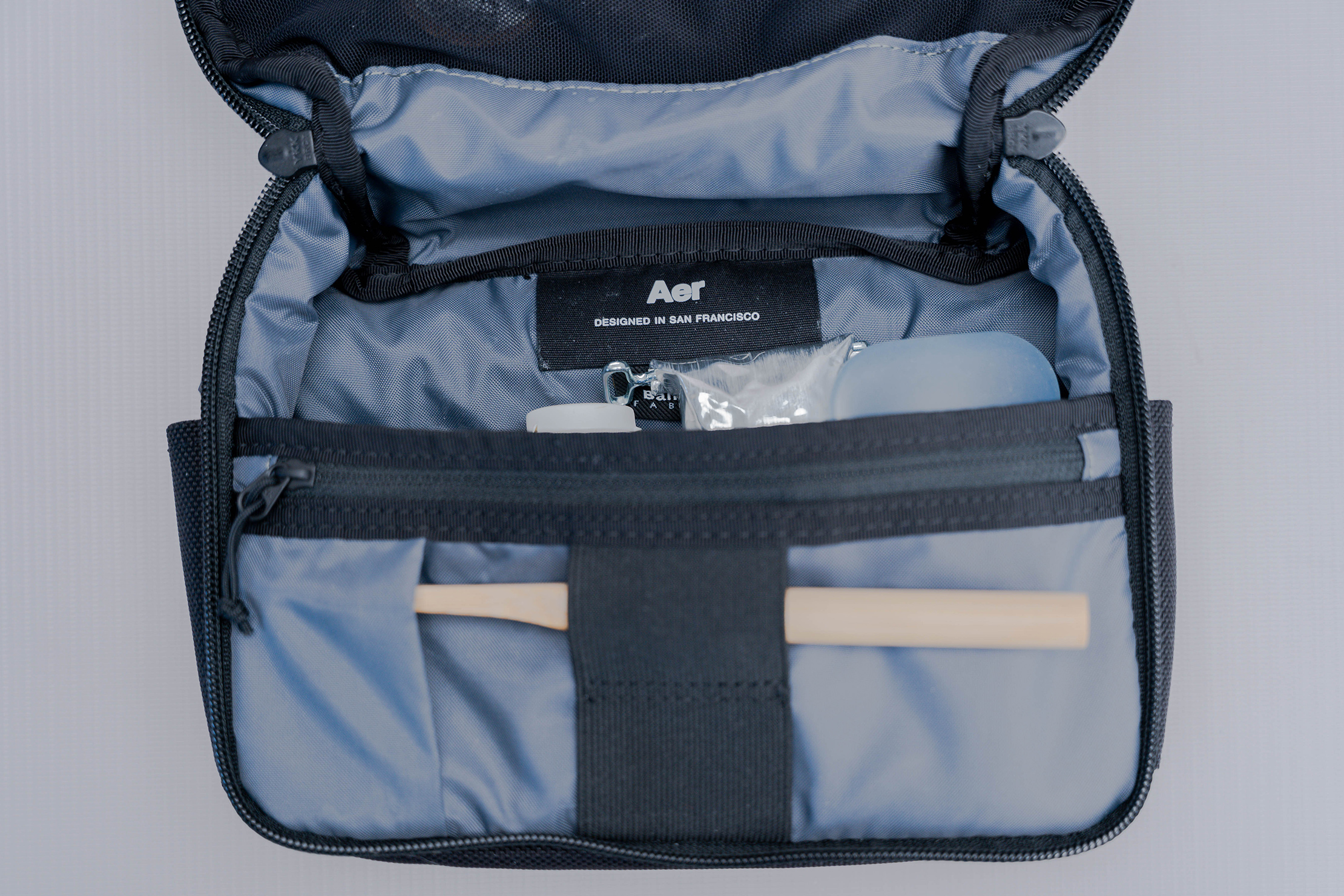 Lastly, there are two sideways toothbrush slots with a fabric garage on one end. These two slots complement the toothbrush slots on the outside of the Travel Kit 2 and are for longer-term storage (i.e., in transit after the bristles are dry)—you wouldn't want to get gunk inside that fabric garage, that's for sure. However, if you do, the liner has an antimicrobial coating designed to keep bacteria from building up, so it's not the end of the world.
The Travel Kit 2 is yet another example of Aer taking what they know works with one version and successfully adding features to make it better. It has the signature hook, more toothbrush loops, and a spruced-up interior.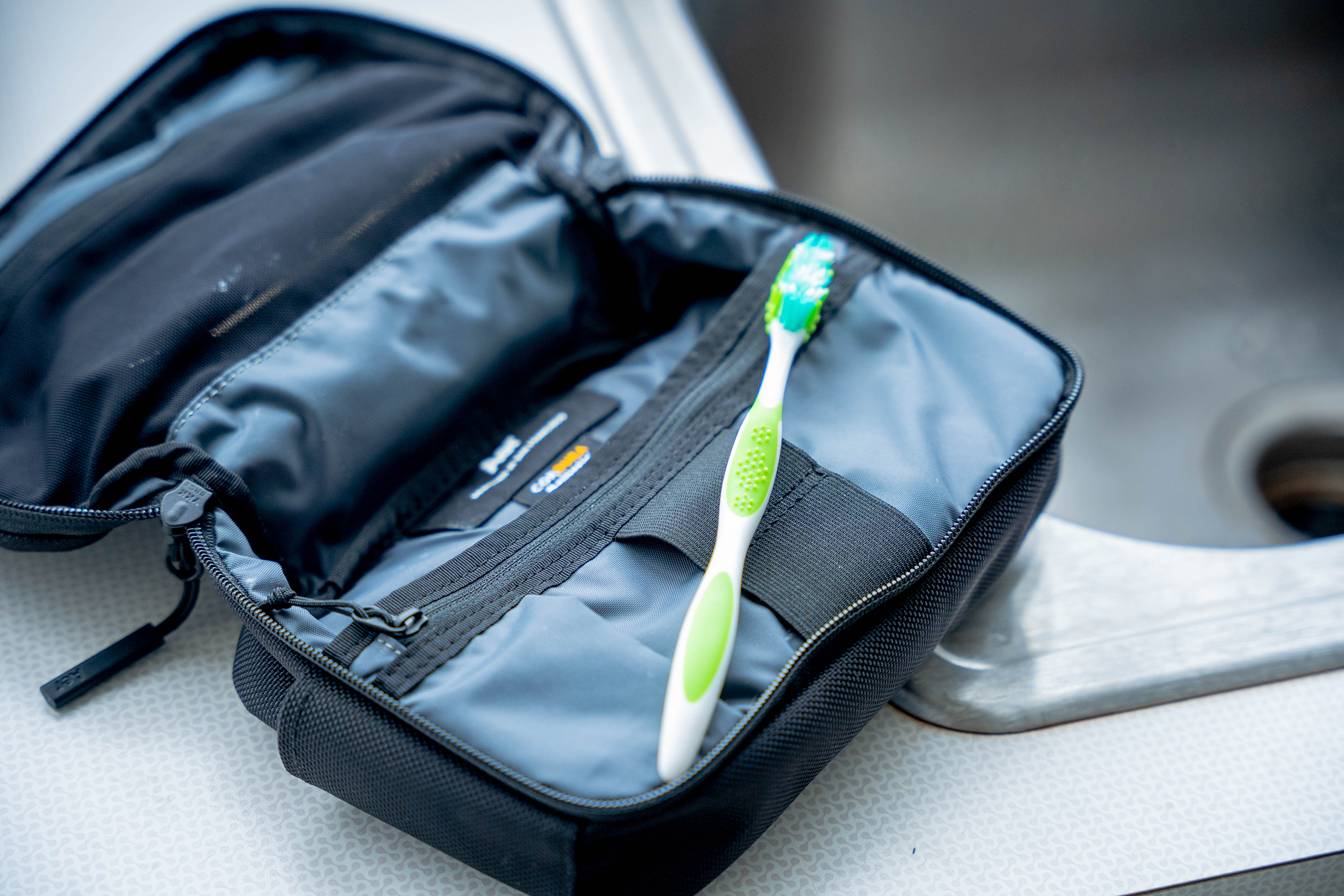 Granted, the improvements might come off as less than groundbreaking. But hey, sometimes you pull something off so well the first time that a wee bit of polish is enough to set the bar higher.
Usage Timeline
Initial Usage
Condition: Excellent
Front pocket's zipper now a YKK self-locking one
Still has that nifty hook we really like
Mesh pocket appears to be slightly bigger
2 Weeks of Use
Condition: Excellent
Small updates to the design make a big difference
Has a sleeker, more polished look than the first iteration
Addition of another external toothpaste holder comes in handy for sharing Dopp Kit space or in small bathrooms
Hangs at an angle, which keeps gear from falling out
Plenty of storage for everything from makeup brushes to bulky containers of hair pomade
Access the Pro Community Discussion
Get your questions about the Aer Travel Kit 2 answered from our team and the Pro Community right here on the page. Plus, join discussions with other members about gear, guides, and more.
Other Organizers & Pouches Reviews