GUM Travel Toothbrush Review
The GUM Travel Toothbrush folds into its own handle to save you space in your toiletry bag and is a great budget option if durability isn't a concern.
Our Verdict
Unlock the Pro Summary
Save time. Get access to brief summaries of our reviews so you can browse and make decisions more efficiently.
Pros
Folds into itself for built-in carry case
Antibacterial coating to keep bristles clean
Handle is comfortable to grip during use
Cons
Toothpaste builds up along case hinges and grips
Hinges are thin and lack durability
Trade tall and slim design for short and wide
Recent Pack Hacker Video
Technical Details
Weight (oz)

0.7 oz (19.8 g)

Dimensions

4.38 in x 0.88 in x .75 in (11.1 x 2.2 x 1.9 cm)

Folded

Notable Materials

Plastic

Manufacturing Country

China

Warranty Information
Full Review
When you choose what gear to bring on your next trip, it can be difficult to find things that fit together. Literally. Sometimes your favorite water bottle is a few ounces too big for the built-in pocket on your bag, or you find yourself in need of one extra cord loop in your tech kit. One thing we run into a lot here at Pack Hacker is the awkward size difference between a toothbrush and a toiletry bag. Though both vary from brand to brand, we often find ourselves with a brush slightly longer than our Dopp kit, which means we have to slide it in at all sorts of odd angles just to close the zipper. That's where the GUM Travel Toothbrush comes in.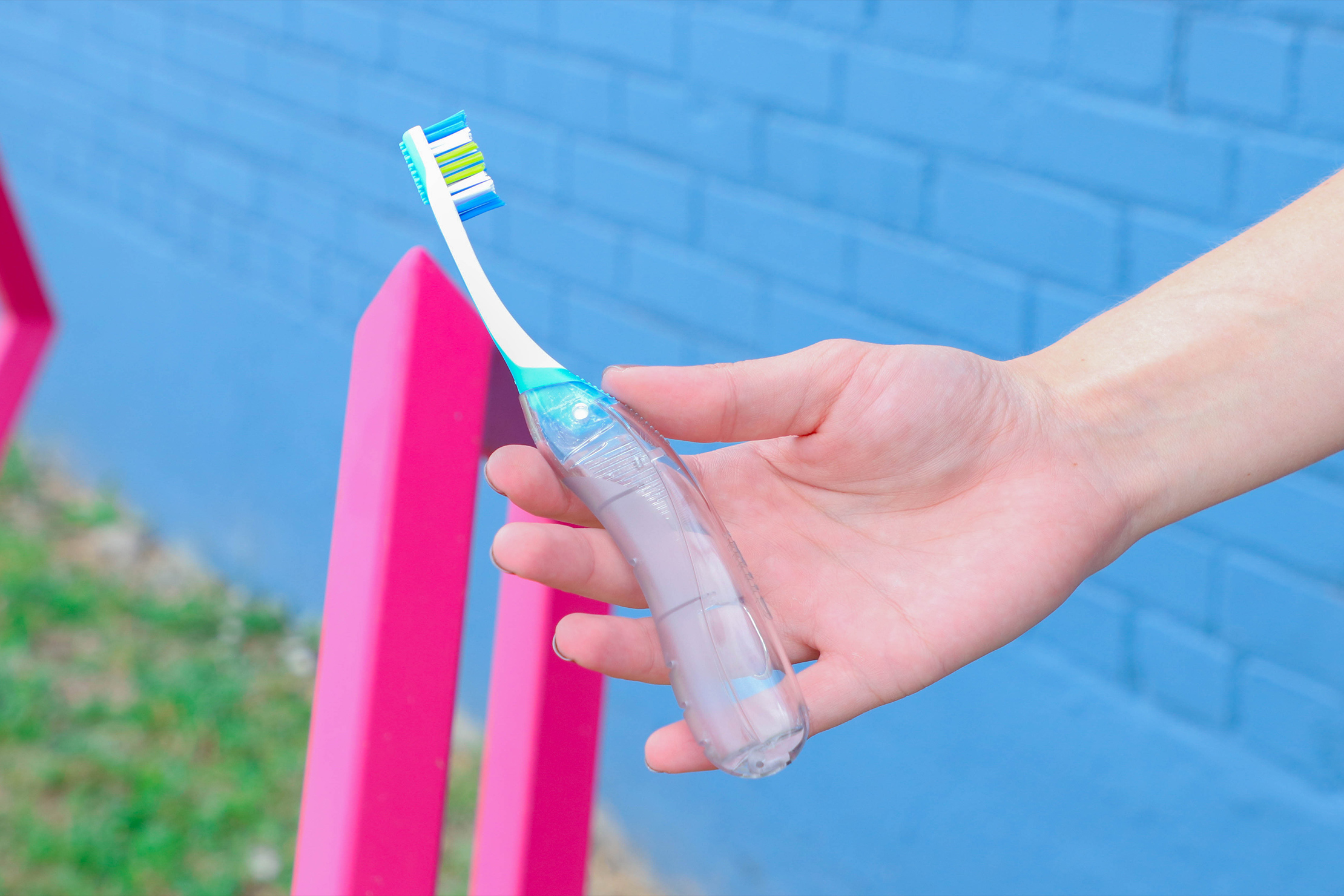 It's cleverly designed so that the handle acts as a case for the collapsible head, making this toothbrush a great way to save space and cash. Its budget pricing is hard to beat, though it comes at a durability cost. Let's get into the details.
Materials & Aesthetic
It goes without saying that this toothbrush looks like, well, a toothbrush. Why ruin a good thing? Sure, fancy electric ones are great, but sometimes all you need is a good 'ole manual refresh. This toothbrush reminds us a lot of the kind you get for free from the dentist, and though the handle is a bit on the chunkier side, it serves a welcome purpose, which we'll get into later.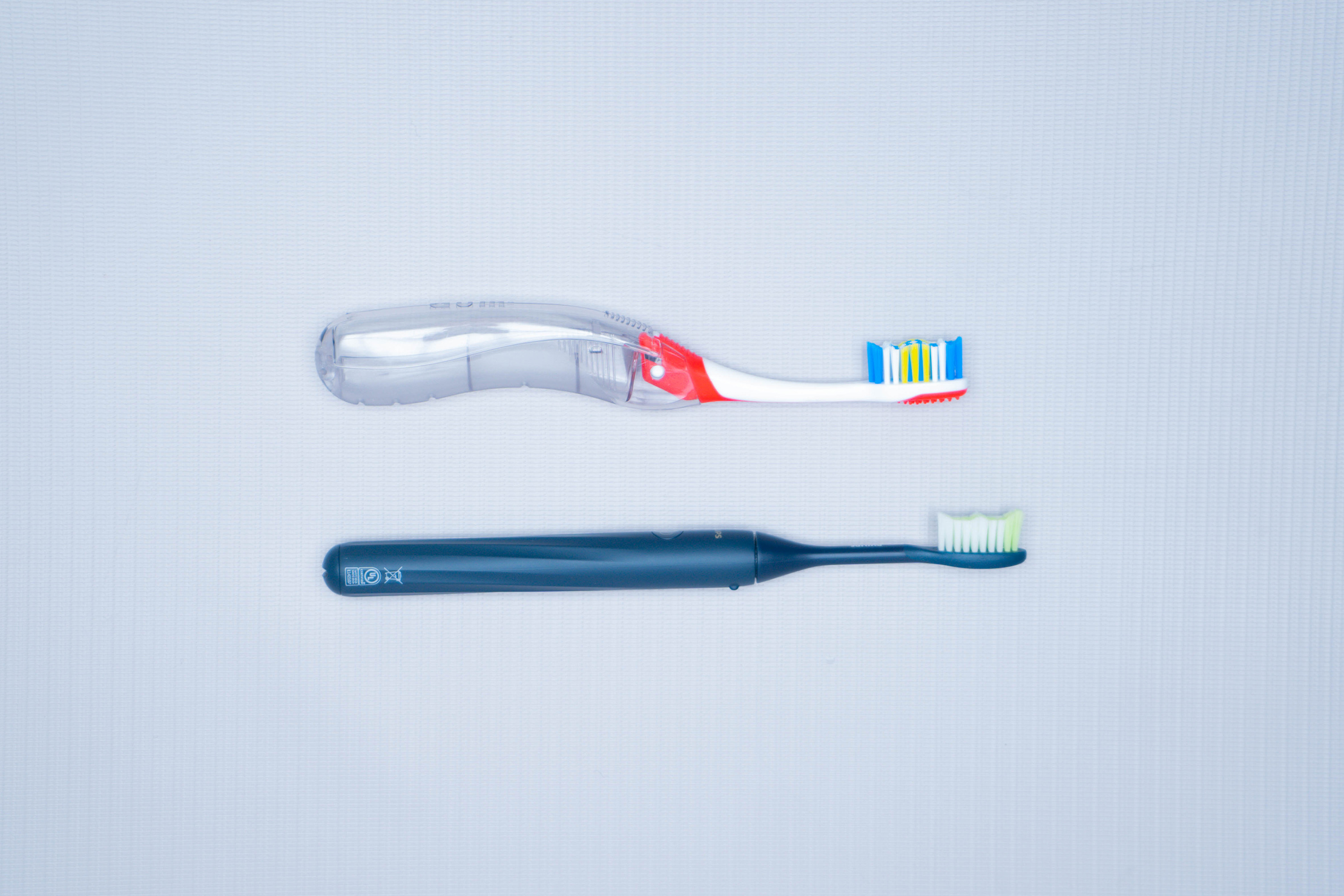 Though the design itself is pretty minimal, it's not on the sleek side like other toothbrushes we've had our hands on. The Philips One Battery Toothbrush by Sonicare, for example, has a more professional look. However, sometimes convenience needs to take the front seat over style when you're on the road.
At the time of review, there are only a few colors available in the GUM Travel Toothbrush. That said, the case/handle is clear, so the only color you're going to get is in the brush head anyway. It helps you tell your brush apart from a travel buddy's and adds a little flair, but overall, this isn't the kind of toothbrush you get because you want to show it off on the bathroom counter. Half of the handle is completely clear plastic while the bottom half has a sort of fogged glass look to it, which blocks your bristles from view and better hides any accidental drips.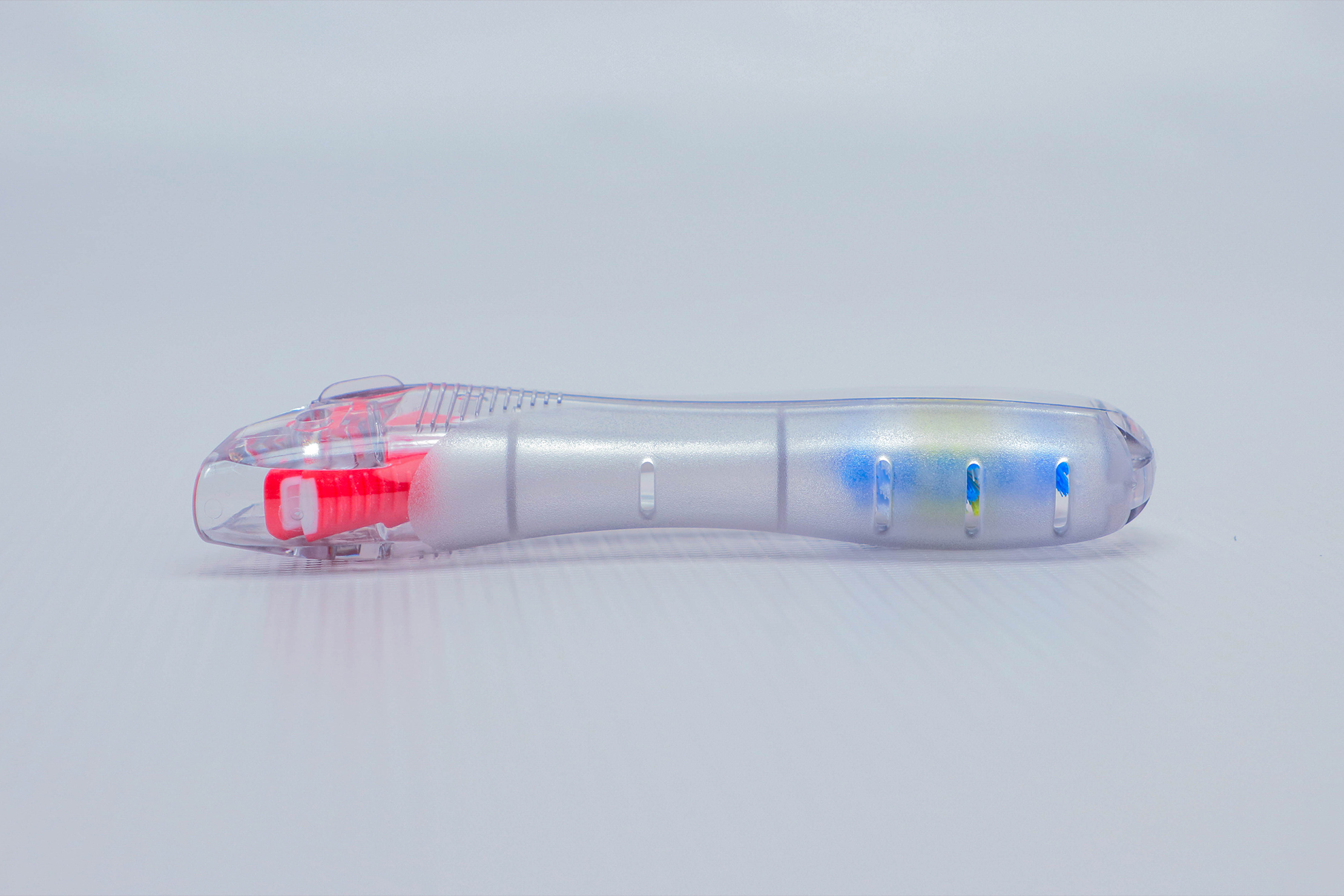 The materials are fairly unclear, and we don't like to make assumptions here at Pack Hacker, but it's safe to say that it's constructed primarily with plastic. Both the head and handle/case are sturdy but not top tier, which likely explains the budget price. On the plus side, GUM says that the bristles include an antibacterial coating that helps keep germs at bay. While we can't vouch for this under a microscope, we had no issues with buildup or smell after two weeks of use.
There's always a risk that moisture can get trapped since the brush head is primarily stored within the handle, but the ventilation slots on the bottom side do a solid job at letting water evaporate so that you can fold it up right away and hit the road. Just be sure to fully rinse it off before you do to avoid bringing along remnants of toothpaste.
Features & Usage
While it's not the most revolutionary toothbrush we've ever used in terms of brushing prowess, the packability is incredibly convenient. To transform the carry case into a handle, lift the fully clear plastic top so that it hinges upward, pull up the toothbrush head and lock it into the expanded position, and then put the clear plastic top back in place. There's even a side lip to make gripping the lid easier. Check out the GIF below for a tutorial.
GUM calls this the Tri-Fold design, presumably because it's a three-step process to engage the toothbrush, for lack of a better phrase. This takes it from 7.5 inches tall to about 4.5 inches small when closed. Like we mentioned earlier, sometimes your trusty Dopp kit is just barely too small for a toothbrush, so rather than finding a separate storage container, this toothbrush can fit in a wide range of sizes. You can even bring it along for daily use if you anticipate needing a refresh, like following a long day at the office or after eating a dish with a ton of garlic (we've all been there).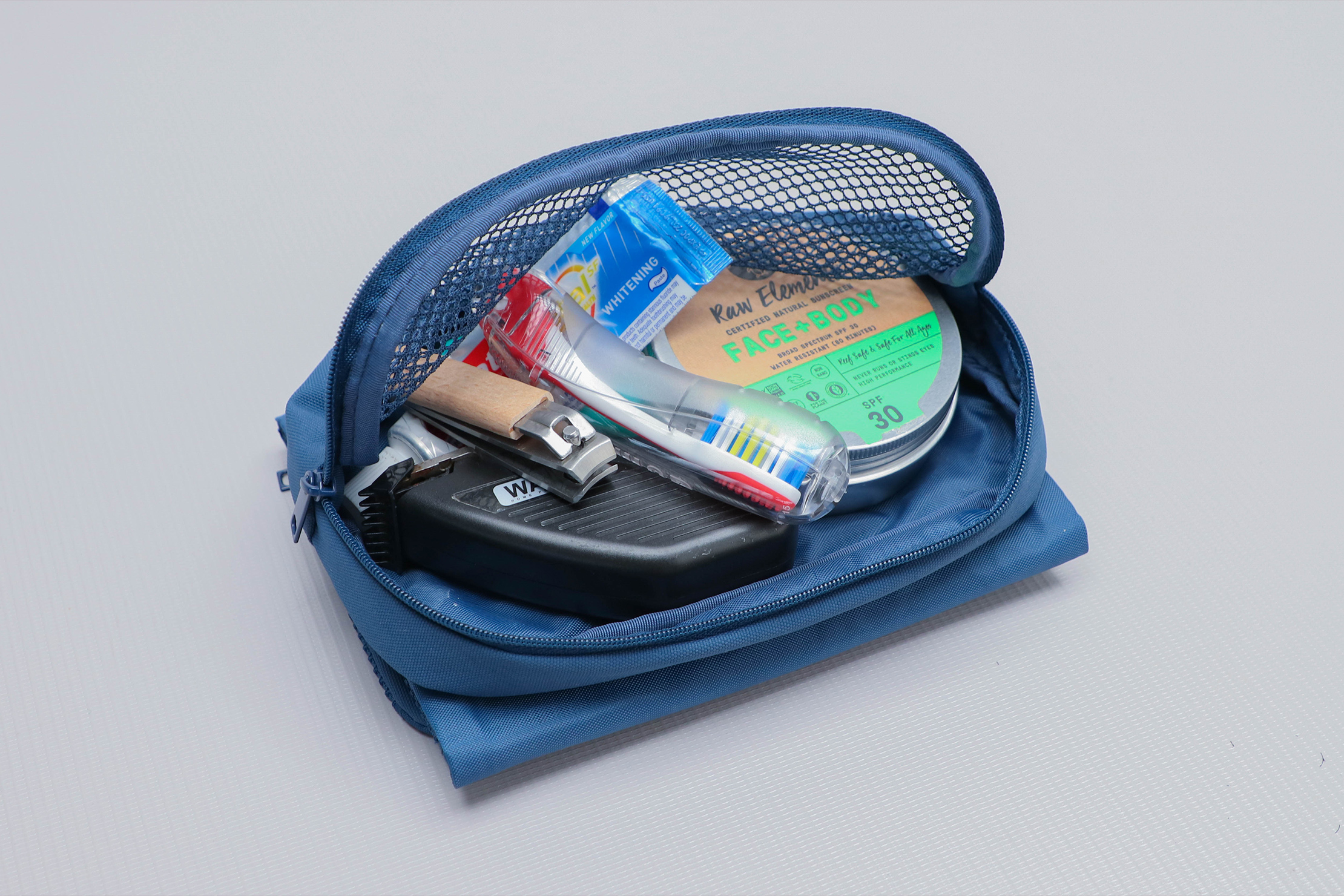 We're big fans of the portable design, but it's not all sunshine and daisies. The hinge of the plastic handle is pretty flimsy, and though we didn't have any issues over the course of our testing, we wouldn't be surprised to see it break after significant use. However, as the heads aren't replaceable, this is the kind of toothbrush you toss when the bristles go bad, which means you'd probably end up tossing it at some point anyway. If sustainability is your jam, this may not be the toothbrush for you.
Another thing to keep in mind is that toothpaste can build up over time. Even if you're a super clean tooth-brusher, the slow, gradual slip of water down the neck is often unavoidable. We only have a small amount of buildup after two weeks, though we anticipate that it'll increase as we continue testing. What surprises us is that we had no issues with toothpaste collecting within the clear plastic handle. We're not complaining—it's the opposite, really—and it adds comfort knowing that we don't have to hide our toothbrush before someone else uses the bathroom so that they don't judge us for something we can't control.

As for additional features, there are rubber (or rubber-like) bristles on the back of the toothbrush head for tongue-scrubbing. Nothing crazy to report here; they work fine, though we don't really rely on it for an ultimate clean. If you're looking to really get in there, maybe snag a separate, tongue-specific tool. That said, it's a nice add that doesn't detract from any other function of the toothbrush, so we're happy to have it.
One last thing to address is comfort. Apart from carrying convenience as a travel-size toothbrush, the handle itself is pretty satisfying to hold in hand. It has a few grips along the left and right sides, as well as the front where you rest your thumb. They're not rubbery—they're the same plastic as the handle itself (aside from a little at the top)—but it adds a smidge of grip. Additionally, the sheer size of the handle is nice to hold, and everything feels sturdy during use. However, we did collect a little toothpaste between the ridges on the grips, though it's not super visible at a glance.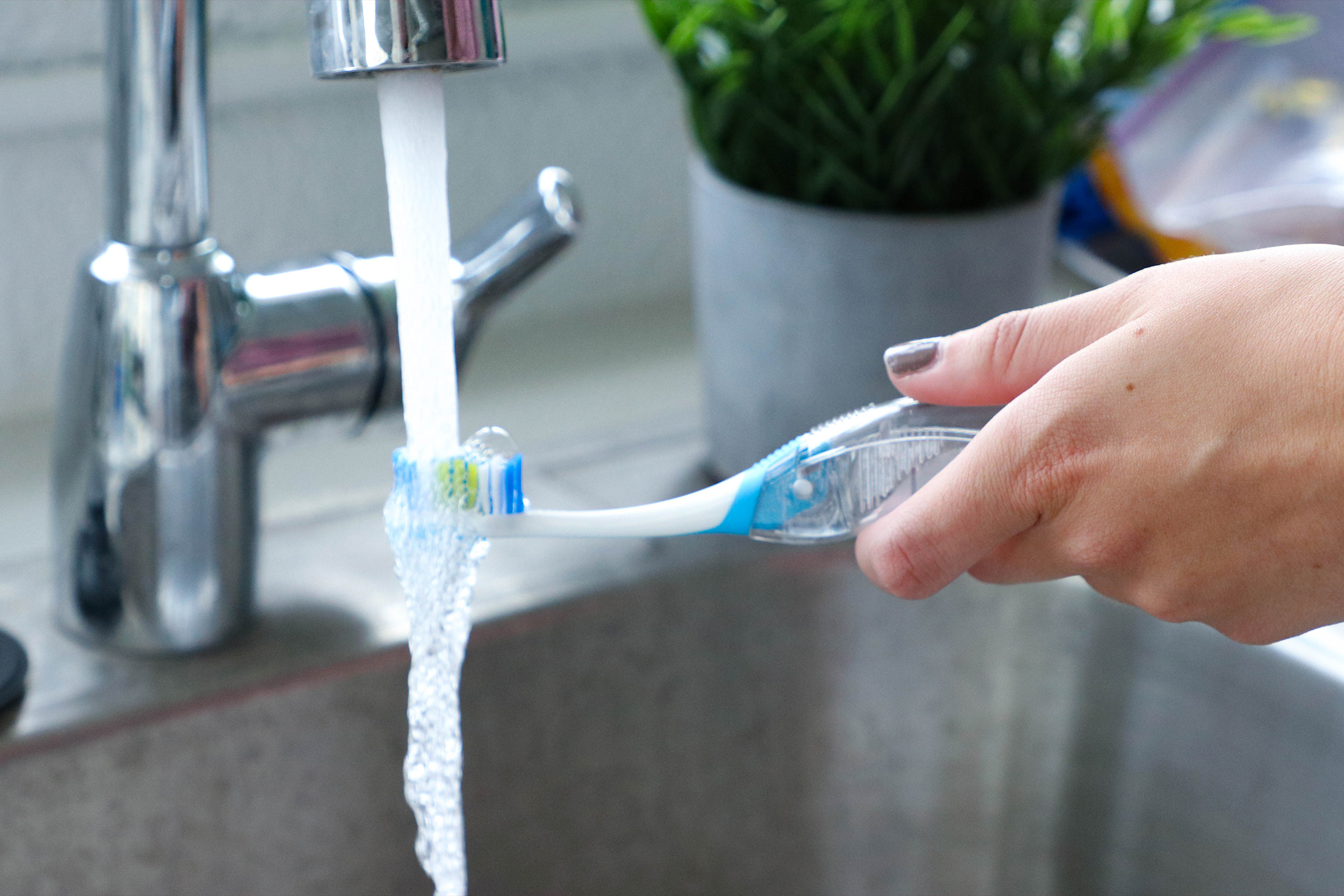 Apart from the slightly less sturdy materials, the GUM Travel Toothbrush is a worthy travel companion if you're tired of trying to accommodate the length of a standard toothbrush. We're fans of electric toothbrushes as much as the next person, but sometimes all you need is an avenue for dental hygiene that doesn't break the bank or inconvenience your packing. For that, we see ourselves using it in trips to come.
Usage Timeline
Initial Usage
Condition: Excellent
Toothbrush head folds into the handle
The handle acts as a protective case
Semi see-through design may show stains
2 Weeks of Use
Condition: Excellent
Bristles are still in great shape
Clear handle that doubles as a travel case has no grime buildup except for a little at the top hinge
Handle/protective case is plastic but feels sturdy
Great size for storage in a dopp kit or toiletry bag
Access the Pro Community Discussion
Get your questions about the GUM Travel Toothbrush answered from our team and the Pro Community right here on the page. Plus, join discussions with other members about gear, guides, and more.
Other Toiletries & Personal Care Reviews