How to
Travel the World Vegan
From fueling your travels with plant-based meals, to choosing vegan-friendly gear, we cover it all.
01

Introduction
Why vegan travel? We can think of a couple reasons...
How to Be Vegan While Traveling
Eating and living vegan can be a choice that is based in the ethical, environmental, the healthy, or any combination of the three. Whether you've already made the jump to veganism—or if you're on a rollercoaster with vegan ups and downs (no judgement!)—nothing needs to change when you travel.
Like any other part of your pregan life—you know, pregan: that time in your life before you decided to become one with the plant gods—you just have to think about things a little more consciously now. And the same applies to traveling. You might find it easier to just not think about; or you might even settle for the Paris Exception. (If you don't eat any cheese, did you even visit Paris?)
We're not all vegan at Pack Hacker, but there are plenty of us who are vegan or are trying to introduce more plant-based foods into our diets. Traveling for some can mean indulgence, but we like to eat food to fuel our travels wherever we go, and eating a healthy meal can help you push yourself a little farther—without feeling the weight of dairy and meat.
The good news is that traveling while vegan is getting easier as the vegan world expands. With a little bit of preparation—and some vetted recommendations from us—you'll be on your way to traveling vegan around the world. And believe it or not, you can do it without packing an entire extra suitcase full of plant-based, macro, low-sugar protein bars.
One pack, one diet: No problems.
Veganism Around the World—At a Glance
One upside to the trendiness of #plantbased food outside of the Instagram closeups is that many traditionally meat- and dairy-heavy cuisines have started to embrace veganism—either accidentally or intentionally.
Still, the word "vegan" (or its badly translated equivalent) isn't always instantly understood in the wild. Some cities and countries are a lot more vegan-friendly than others. In most major cities, there will be at least a handful of vegetarian and vegan restaurants where the weary vegan traveller can find dietary refuge.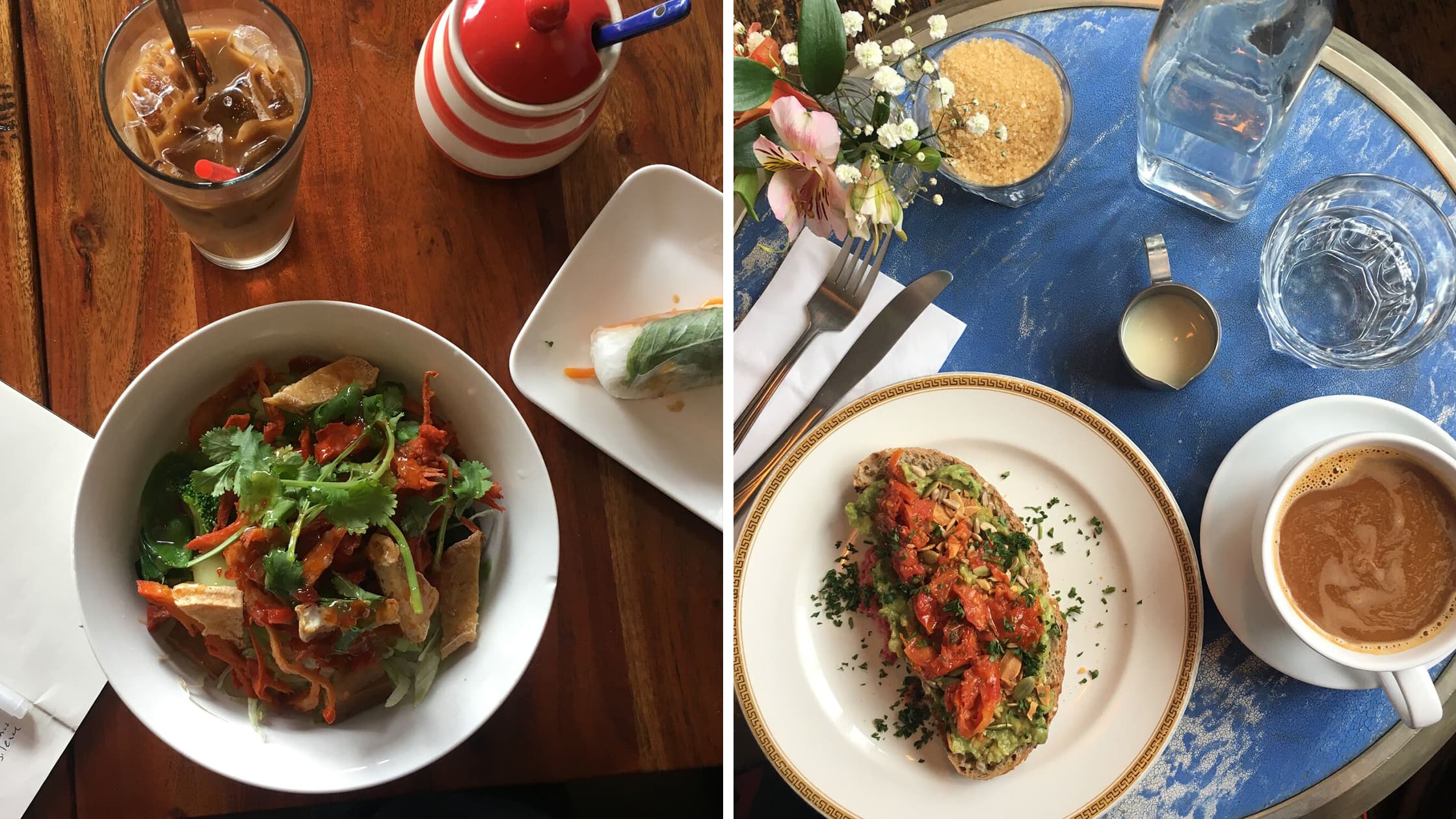 If there were a contest (and there is), some cities are definitely winning. Taipei is bursting with vegan restaurants. Ubud, Bali is a vegan—and yogi—paradise. Melbourne, Australia has a vibrant vegan scene, with its own vegan deli! European cities, while still deeply rooted in their centuries-old cultures of meat and cheese, have added quite a few options in the last few years. You can find the word "vegan" plastered on packaging, storefronts, and restaurants all over Italy.
The best way to know if there will be vegan options in a given city or country is to ask yourself the question, "Do vegetables grow there?" And unless you're planning a remote trip in the dead of winter, we're willing to bet the answer is yes. There are accidentally vegan foods—foods that just happen to be vegan—almost everywhere. And a lot are vegetarian to the degree that with a few modifications, you'll be enjoying something typical and vegan.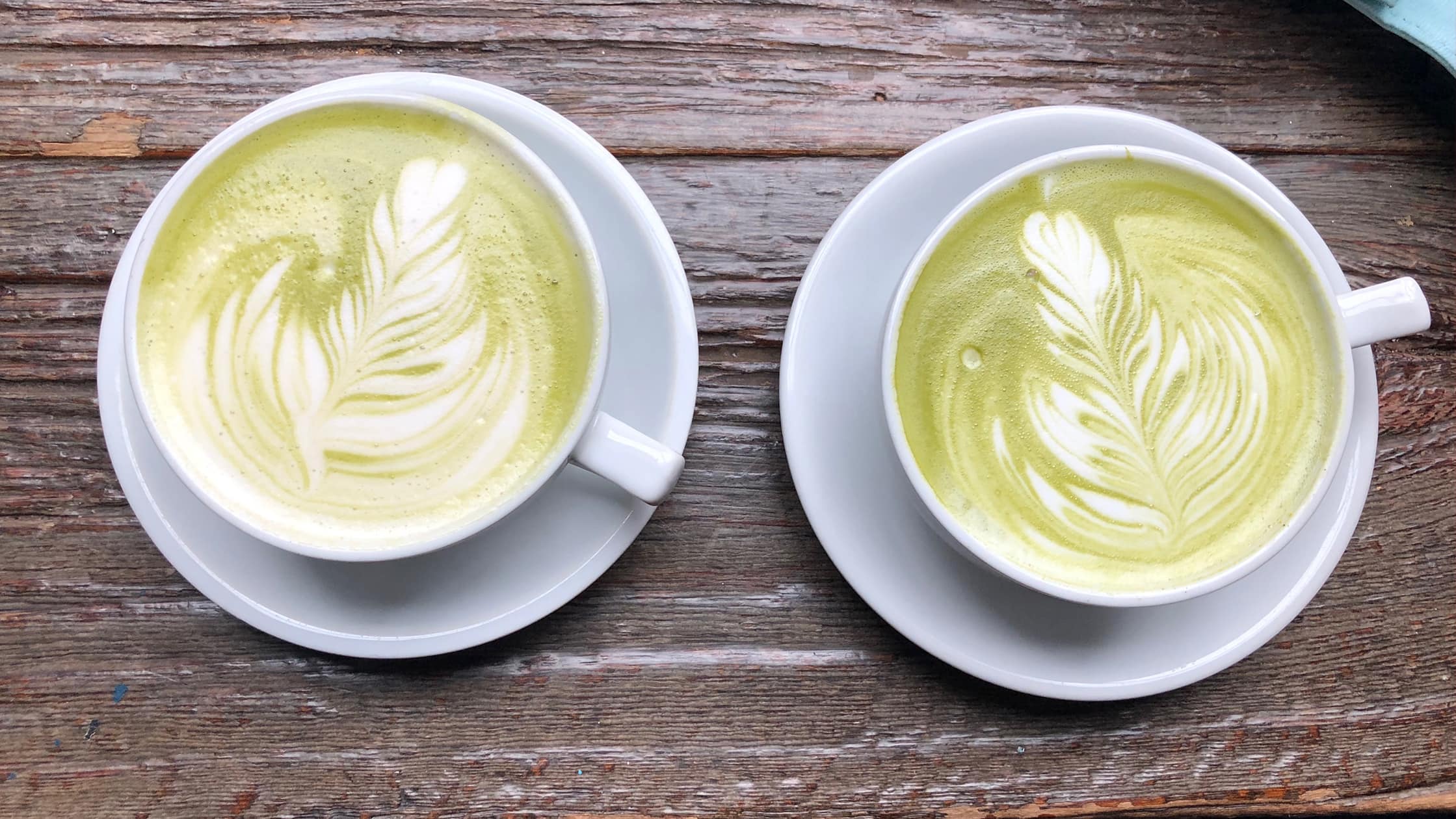 While finding healthy, minimally-processed vegan food can sometimes be a challenge, it is doable with just a bit of planning, a few words in your host country's language, and a flexible attitude. Sometimes, the safest bet will be a simple dish of plain rice and steamed vegetables.
02

Gear
Luckily, finding vegan gear is as easy as pie! (Vegan pie, that is).
How to Choose the Best Vegan Clothing, Backpacks, and More
There has been a transformation in the world of vegan-friendly travel gear. With the rise of synthetic and sometimes eco-friendly materials, it's never been easier to find gear that checks off the boxes for form, function, vegan, and aesthetic.
Luggage
Finding a pack to put all of your gear in won't be challenging at all. A lot of packs out there are nylon-based, which, while technically vegan, isn't the most sustainable option. Veganism for many folks isn't just about the animals. It's about a more sustainable and more compassionate way of living, taking into account the impact that everyday choices have on the world. There are some more eco-friendly versions of nylon being produced and upcycled, though not much in the travel bag space (yet). For greener gear, you can find polyester packs that are upcycled from ocean plastics. Look specifically for the bluesign label, which guarantees sustainable textiles.
Patagonia is a brand that many vegans rely on, since they promote fair labor practices and safe working conditions, and their fabric has the bluesign label. Their Black Hole 32L Backpack, while a bit on the smaller side, can definitely work for shorter trips in warmer times. The Thule Subterra 34L is another bluesign label certified bag, so it's worth checking out.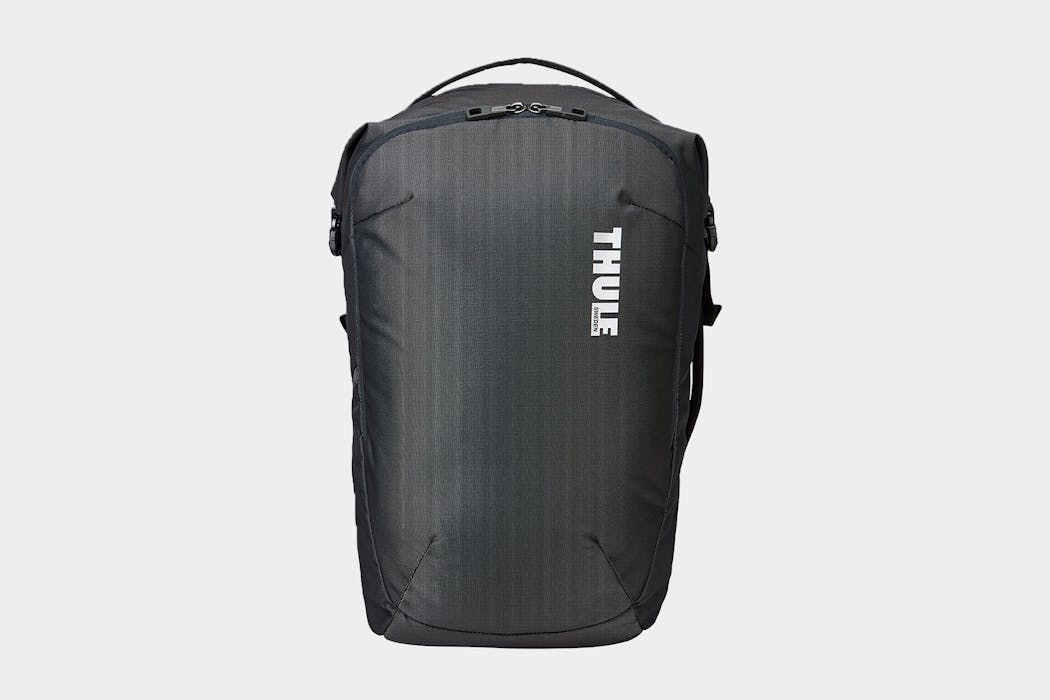 Thule
Subterra 34L
Want a one bag travel backpack that functions just as well as a daypack? The Thule Subterra 34L may just be the pack you're looking for.
One thing to watch out for when shopping for bags is leather finishes. These could be the ends of zippers or just little patches on the actual bag. While vegan travel excludes you from having a full-on leather bag, you probably wouldn't want one anyway. They're hard to care for, heavy… overall, just not a great option for travel.. For the full download on picking the best pack, we've got you covered with the Pack Hacker guide on How To Choose The Best Travel Backpack.
Daily Wear
The first thing to think about when packing your bag is the kind of shoes you'll need. The phrase "vegan shoes" hearkens images of clunky hiking boots, ugly faux-suede shoes, or something that screams vegan: birkenstocks, wood clogs, or hikings boots you can see from a mile away.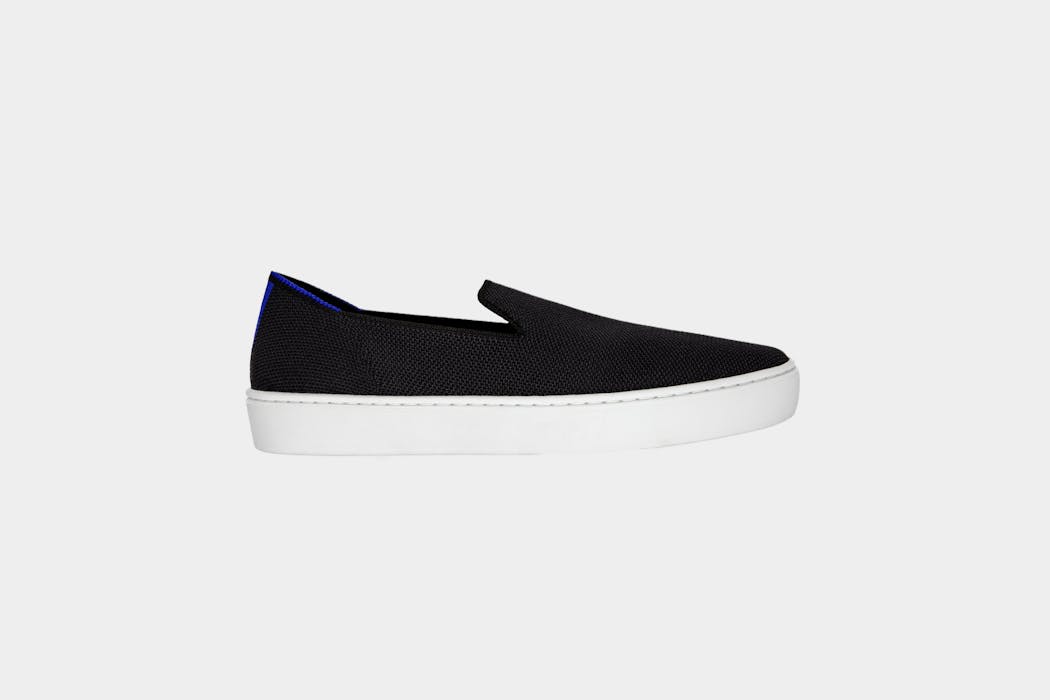 Rothy's
The Sneaker
Ideally, you'll want to look for one pair of shoes that can serve multiple purposes, and The Sneaker from Rothy's fit the bill nicely.
There are just two things to note about these shoes. First, make sure you warm your feet up to them—they rely more on your natural barefoot posture, so make sure to wear them a bit before you travel. And second, if you end up getting them in black they attract lint pretty easily and it's fairly visible, so you might have to do some lint-picking to make them more presentable.
When it comes to clothing, you'll want to look for lightweight and multipurpose options. A good rule of thumb: if you think you'll only use an item once during your trip, it's probably not worth its travel weight.
Socks are all about quality. Nothing is worse than socks that fall apart as you wear them.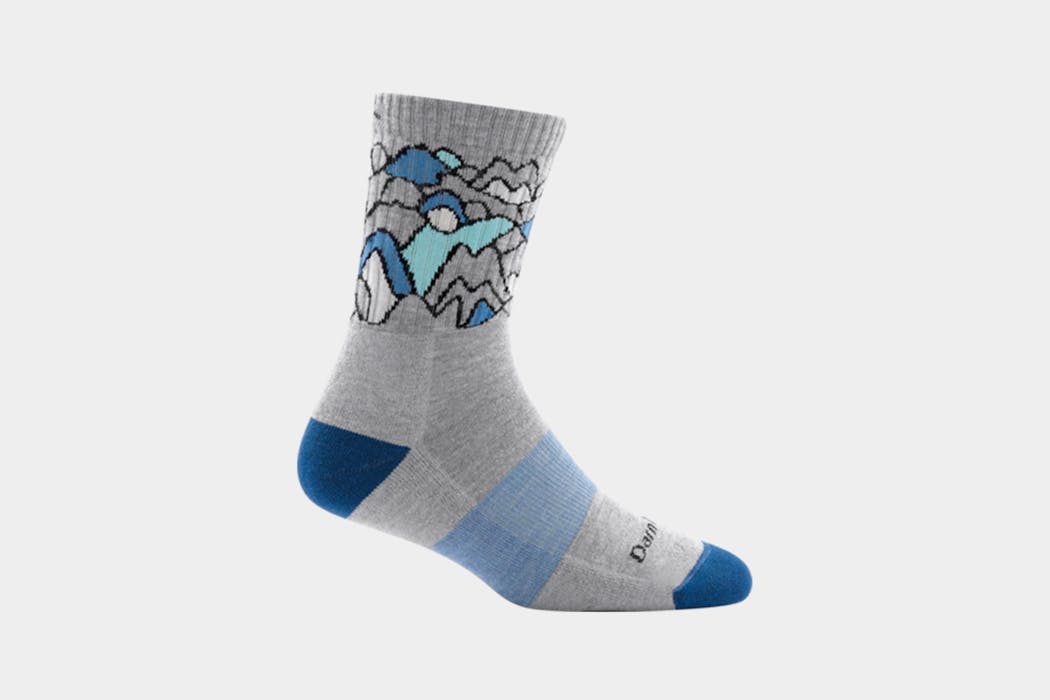 Darn Tough
Coolmax Zuni Micro Crew Cushion Socks
A lot of the most-recommended travel wear contains merino wool for its moisture-wicking properties. But thanks to Darn Tough Coolmax socks—a Vermont company—your socks will stay both warm and cool without the added merino wool. Plus, they're guaranteed to last a lifetime, good for working out in, and come in a variety of different styles.
Outerwear
Multipurpose and versatility is great for daily wear, but it's even more important when it comes to outerwear. For instance, instead of packing a bulky umbrella that you probably won't remember to bring with you on the day that it rains, pack a lightweight raincoat that can go over whatever else you're wearing. Umbrellas stop working in high winds—cities become graveyards of umbrellas after a storm—and they won't protect you in the long term. There's nothing worse than packing something that you need, only to have it break when you need it most.

Plus, raincoats allow for a little more versatility. They can offer at least some insulation for mild weather, and can often double as a windbreaker. If you're looking to use bike shares or do any hiking on the road, a raincoat will serve you far better than an umbrella. We've been loving Ralph Lauren's Waterproof Hooded Jacket, Patagonia's Torrentshell Jacket and Uniqlo's Blocktech Parka, available in both men and women, it's a great travel companion for both vegan and non-vegan travelers alike.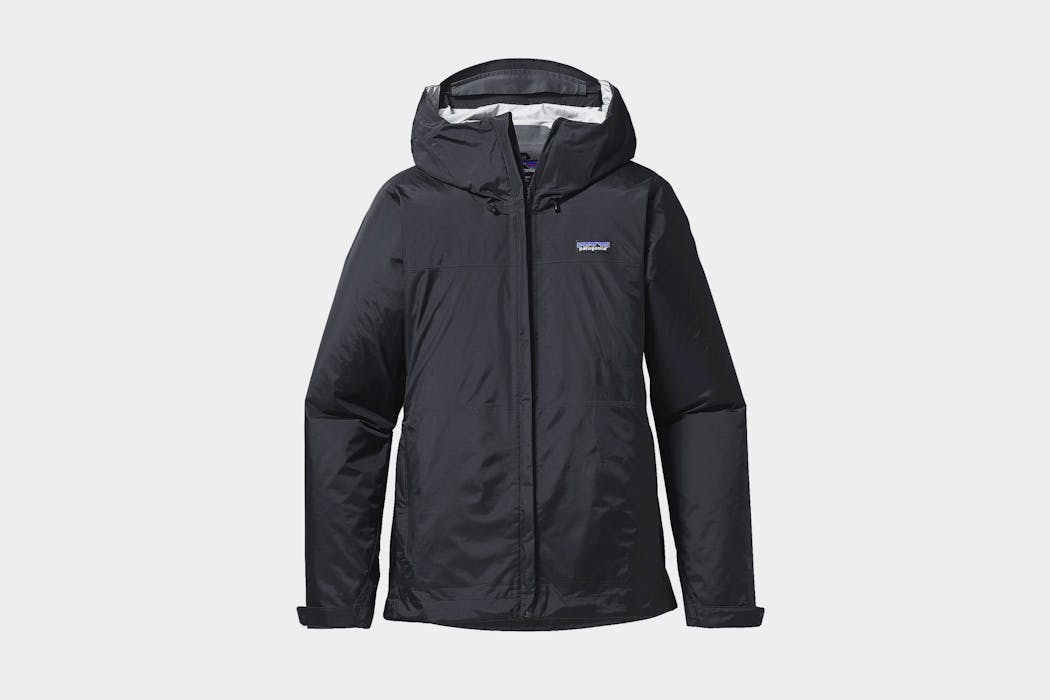 Patagonia
Torrentshell Jacket
Made from recycled nylon, this lightweight and packable jacket is great for travel.
PRO TIP: Better to buy a size up, since that will make sure you literally cover your ass, and it allows you to easily add a second layer when it gets cold.
Thermal layers are another must if you're planning on venturing into colder climates. Again, Uniqlo is another safe bet—their Heattech collection, available in both men and women, offers version suited for three different ranges of cold temperatures: Heattech, Heattech Warm, and Heattech Ultra Warm. The basic set of tights and a long sleeve shirt will keep you warm as you wander.
In colder climates, one bag travelers often look to down jackets for their high warmth-to-weight ratio and compressibility. Patagonia is a favorite as their down jackets compress into tiny sacks that make packing and transporting a breeze. Luckily for vegans, they've been making huge advances in the world of synthetic down. In the past few years, they've come out with the Nano Puff and Micro Puff—both made of synthetic down that is actually better than the real stuff. It's lighter, warmer, and more water resistant. We like both jackets, but the true ultralight travelers will probably want to opt for the Micro.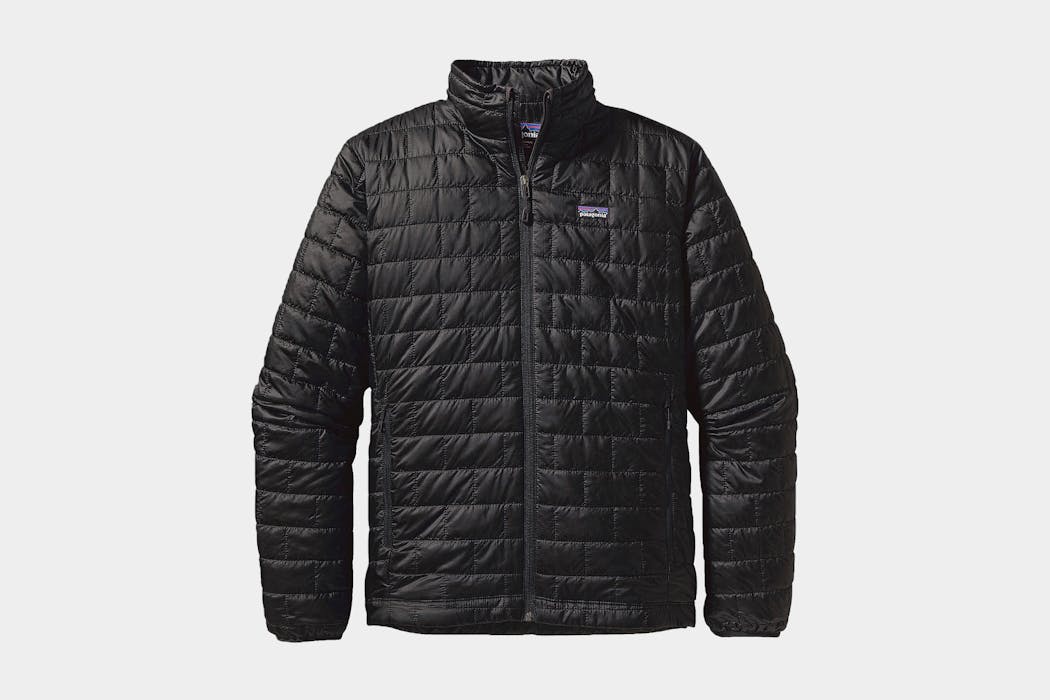 Patagonia
Nano Puff
A deceptively light jacket that keeps you super warm for the weight that it is—the Patagonia Nano Puff stows away easily when not in use—ultralight.
Looks like the vegans win this round!
Accessories
One of the only things that might slip through the vegan radar is sunscreen. So many sunscreens can be extremely harmful to coral reefs. (Corals are animals too!) There are three specific chemicals to avoid: octinoxate, oxybenzone, and octocrylene. Avoid nano-particles as well (look for non-nano) and you'll be sure to swim without coral on your conscience. And let's be honest here—if it can kill coral, you probably don't want it on your skin. You can just check the label to make sure. We've had good luck with Sun Bum, which is a popular brand that's widely available.

Sun Bum
Original SPF 30 Sunscreen Lotion
Won't harm your skin or the coral—plus it smells like a piña colada!
And let's be honest here—if it can kill coral, you probably don't want it on your skin.
Shampoo and soap are often left out during the packing process. If you're looking to make sure that you're fully prepared for whatever comes (and smells) your way, the Lush Shampoo Bar—which we've already reviewed and like quite a bit—is a great option. Lush products are almost always vegan—only one of the soaps isn't, because it contains honey—and they're never tested on animals. That's 13 soap and shampoo options that get our vegan seal of approval.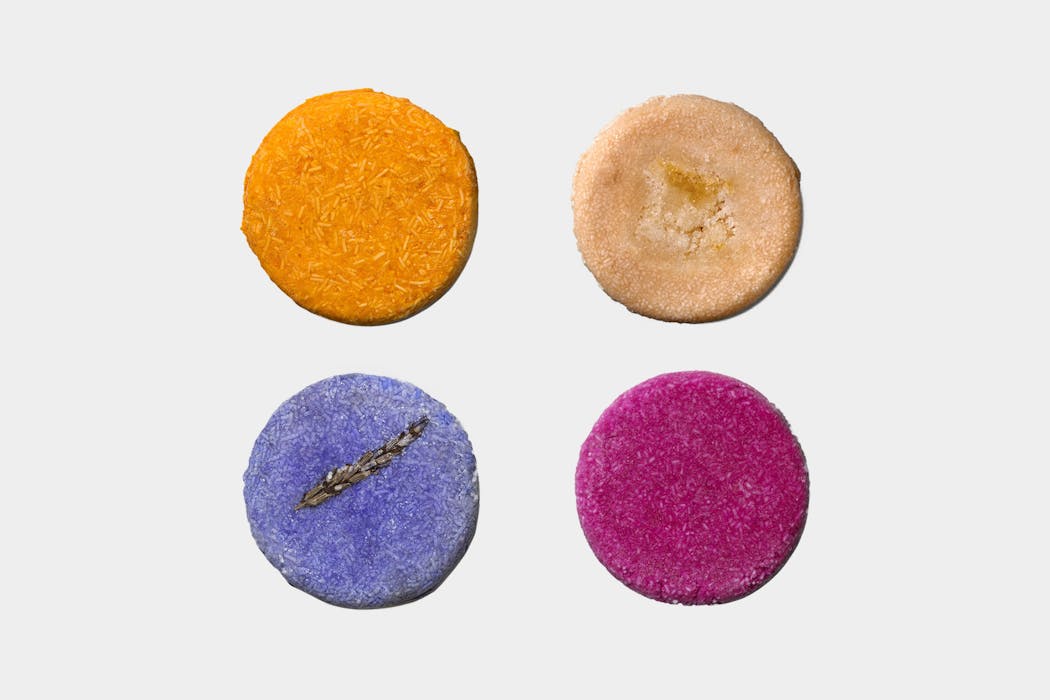 Lush
Shampoo Bar
A tiny bar of soap & shampoo that lasts much longer than typical liquid soaps, the LUSH Shampoo Bar proves to be a great TSA-approved option for travel.
And lastly, you don't want to forget about something for your head. Once you see how something like the Original Buff can go from headcover to neckwarmer to even more creative uses, you'll bring it with you wherever you go.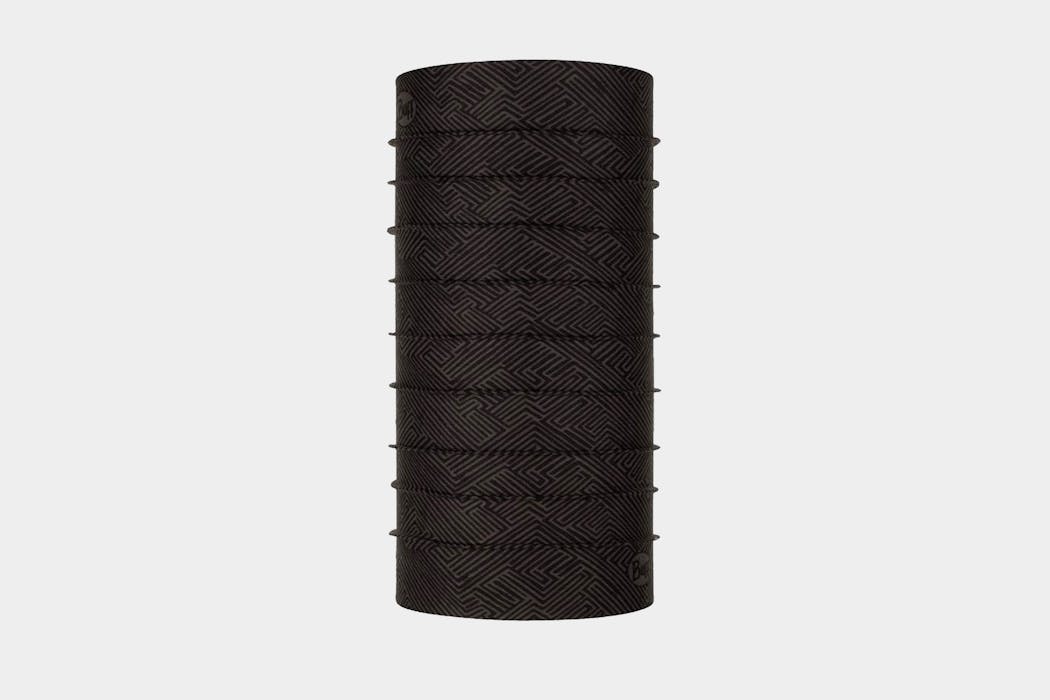 Buff USA
Original Buff
Hats are a single-use item that are better left at home. You'll probably mostly wear this as a neckwarmer, but it'll easily convert to a facemask, and it can help keep back the sweat when you're trekking across cities full of hills—we're looking at you, San Francisco.
Note from our editor: While we do not yet have a complete list of vegan travel gear that we recommend, we are always on the lookout. We will update this list as we continue to review more vegan options for luggage, daily wear, outerwear, and accessories.
03

Transit
Whether you're catching a plane, taxi, or boat, you're going to want to be prepared.
Vegan Snacks to Eat While Traveling (Airlines and More)
If there is any one part of vegan travel that is particularly challenging, it's finding vegan food in transit. There are a few things you can do to ensure that you'll have something to eat during your travels. Whatever you do, especially when there's a long day of travel ahead of you, pack something that you can eat while waiting at the airport, in flight, or during any other form of transit. If you can find something vegan before you begin your journey, you'll thank yourself later. Nothing is worse than being tired and hungry while mid-transit.
Vega's One All-In-One Plant Based Protein Powder make for a nutritionally-rich meal with 20 grams of protein—great for a long flight or before a day of transit. The Vega powders come in individual packs that are lighter and more packable than your typical protein bar. You can stuff a few packets in side or outer pockets for easy reach during your travels, without having to worry about anything getting squished or roughed up. We always like to pack a few extra, just in case.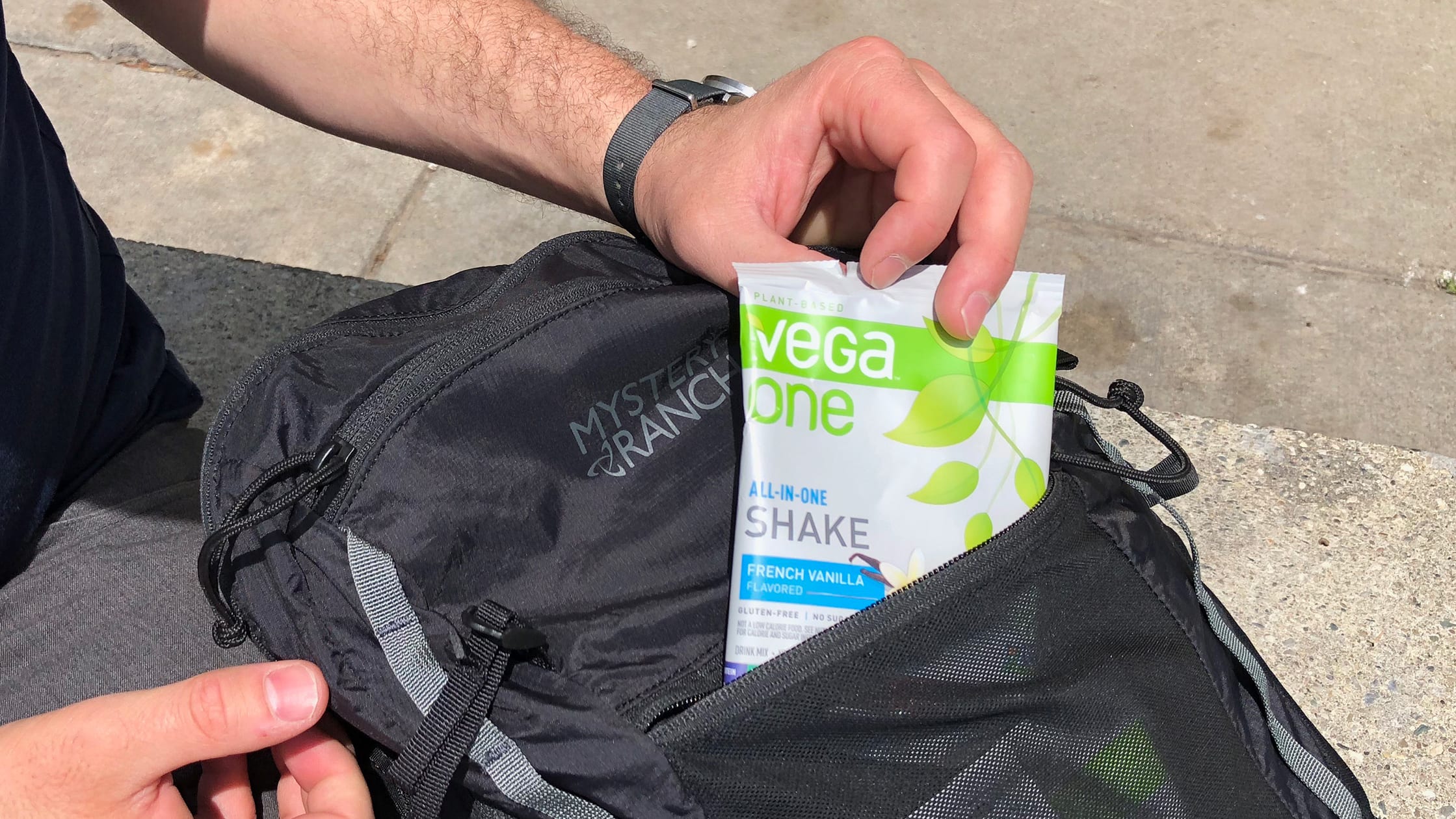 While airports can sometimes be desolate of healthy options, the larger ones will usually have restaurants that can offer you something. Big airports like LAX, PDX, and SFO will have entire vegan menus, but depending on the time of day, you might not find anything open. Smaller airports often have very few options. You might be able to find some nuts, chips, or granola, but maybe not an entire vegan meal waiting for you.
Before and on the flight there are some things you can do to make sure there will be at least something vegan to eat. When booking flights, specify VGML. This most often means strict vegetarian, even though the food will be bland AF. But at least you won't be hungry or risk food poisoning from undercooked meat.
You'll also want to call the airline more than 24 hours beforehand to make sure the meal is vegetarian and does not contain dairy or egg. Happy Cow has a pretty complete guide of meal codes across different airlines. Consult this list and you can come armed with the right information. Once you've boarded your flight and taken your seat, try to confirm right away with a flight attendant the status of your meal—just to make sure. If they come back with bad news, they may be able to scrounge together some options because you were a decent person and did your due diligence. (Hey there, plain salad and peanuts!)
PRO TIP: Please be nice to your flight attendants, regardless of the situation. They put up with a lot and they're just trying to do their job. Delays and problems with your flight are almost never their fault. And if you don't think this quite fits the definition of a "pro tip," we've seen some things over the years that might make you think otherwise.
But really, bring those meal powders. A few other foods that are easy to pack and travel with: Primal Strips Vegan Jerky at 10g of protein, and GoMacro Protein Bars at 9g of sugar. These might not last your entire trip, but they'll make sure you have the protein to get through the first couple days. To refuel along the way, if you can't find anything like the above, you can probably find things like nuts and dried fruit. You might find it helpful to bring along something like this Nordic by Nature Reusable Snack Bag to make sure you'll have something to put your packaged food in. Nothing says vegan like GORP (trail mix), but you can get a little creative with it. Instead of peanuts and raisins, try GODA—dates and almonds.
04

Food
Finding kick-ass vegan food is arguably one of the best parts of your entire trip—important!
The Best Vegan Cities and Where to Eat On the Road
Finding vegan food while navigating a new city in a foreign country can seem impossible, especially if you don't speak the language. But with a little bit of planning, you'll always have something to eat. Plus, you're in luck: many vegans have traveled before you! It can be done, and with some snacks and advanced reconnaissance, you won't go hungry.
Key question: Why travel?
This is something all travellers need to ask themselves. The answer can dramatically shape your travel experiences. Do you eat to travel, do you travel to eat, or do you do a little bit of both? You can find incredible meals wherever you go, but thinking about an answer to this question can help you craft your ideal vegan travel experiences.
If you're looking for kick-ass vegan food, you'll probably want to make sure you stop in major cities or places with vibrant veg communities. If you're simply looking for sustenance to power your travels, you can content yourself with a few hacks and sometimes lackluster food options.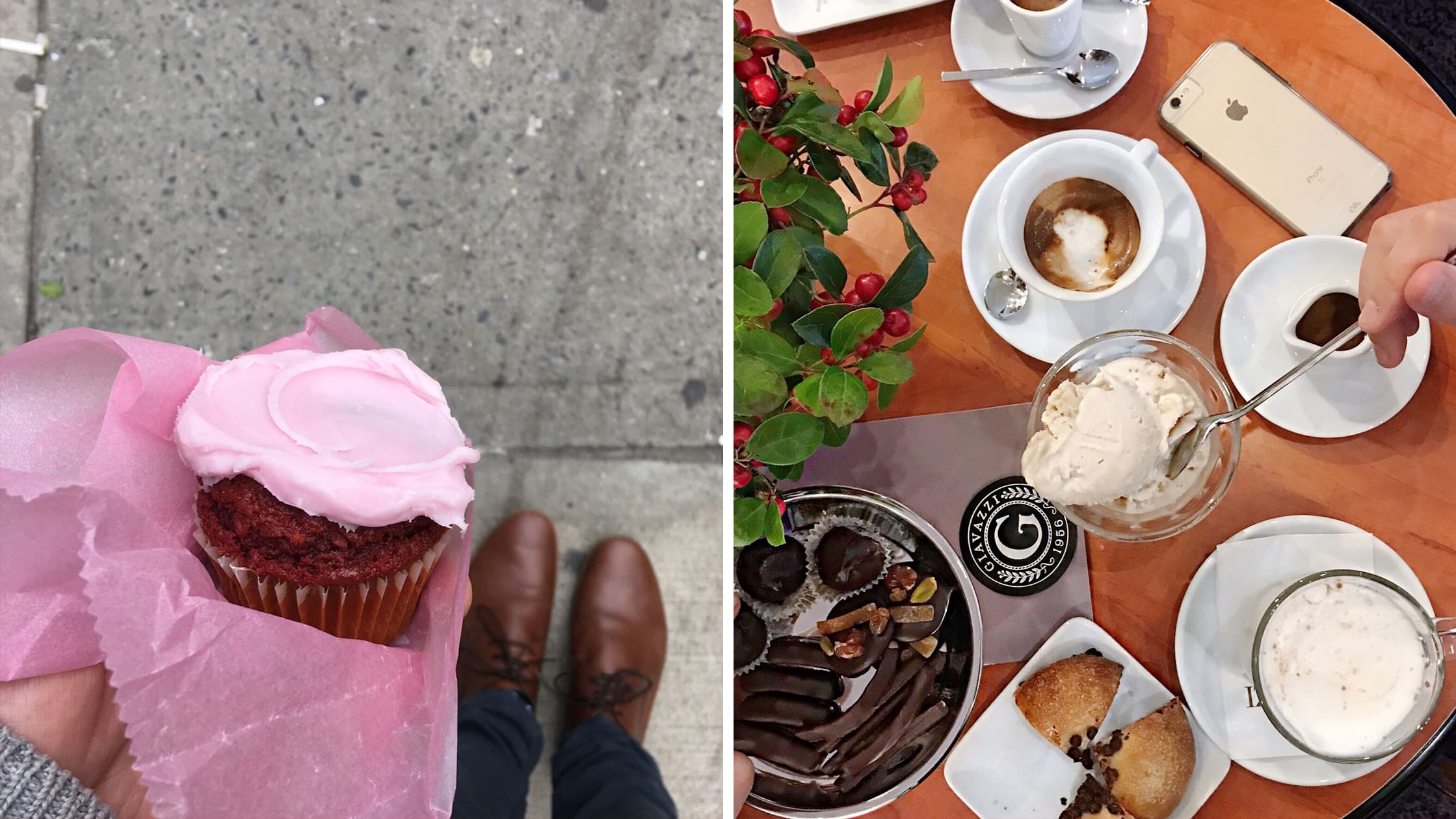 The cities with the most number of vegan restaurants are, unsurprisingly, some of the largest cities by size. This Happy Cow Top Vegan Cities List sheds some insight on the best places to go if you're looking for an abundance of vegan options. Berlin, Los Angeles, Warsaw, and Taipei top the list. Singapore and NYC also make the list, but you'll get a feel for the places you can go with the least amount of planning ahead of time. Something that might work well for you is to hit up a big city once or twice during a trip—they're good entry and exit points, as travel hubs—and plan for a vegan feast while you're there. You can also pick up some packaged vegan food to sustain you in times of drought.
Beyond the list of vegan meccas, here's the first thing to keep in mind when planning out your meals while traveling: if you're going to a place where fruit and vegetables grow you'll have better luck winging it. And you might get to try a few new things. English-speaking and Western European countries are reliable all around—you'll be able to find foods in grocery stores that are specifically marketed to vegans. You can even see foods labeled as palm-oil-free. (Palm oil, while vegan in origin, is often produced by clear-cutting rainforests and destroying orangutan habitats.) Stores will also usually have a dedicated vegan deli/dairy section, so you can get your fix of plant-based yogurt while abroad.
Going to Siberia in the winter? Bring along a few extra meal replacement smoothie packets.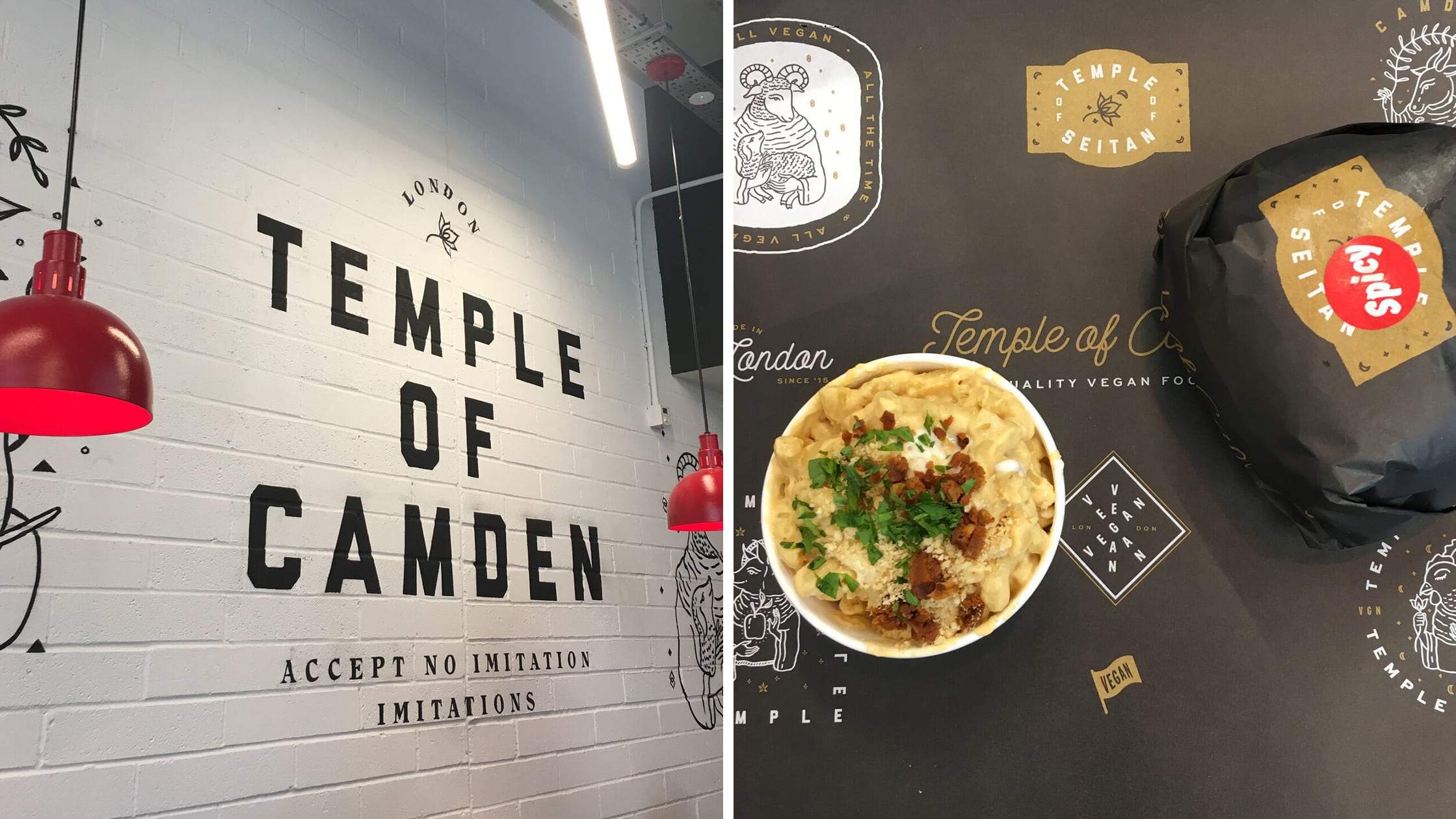 If you're in Italy: pizza marinara is about the simplest thing in the world. It's just pizza with sauce and no cheese. You can also ask for a few vegetables to go on top—cime di rapa is a delicious, traditional Italian green. Beyond the pizza, there are plenty of other accidentally vegan foods—these are foods that weren't created by vegans, but just happen to be vegan. Farinata di ceci (also known as socca) is flatbread made from chickpea flour—which makes it gluten-free too. Caponata, Italian ratatouille, is generally also vegan.
Heading to Southeast Asia? In Thailand, khanom krok are rice flour and coconut milk patties. They're vegan, simple, and everywhere. Not to mention there are plenty of vegan restaurants. (May Kaidee is a chain in big cities in Thailand.)
In Mexico, street tacos are everywhere. You can start by asking for a taco with just potatoes and other vegetables, and then top the hell out of it with salsas and veggies. In Mexico City there are actually several 100% vegan taco stands that will keep you coming back several times a day.
If you're somewhere you've never been and you're not sure about the local produce, you should definitely check out some of the world's best vegetable markets. The list of the 11 Best Farmers Markets In The World is a good start. It will also give you some clues as to what you can expect from restaurants when you're eating out. In Germany, for instance, you'll be able to find wild garlic—also known as ramps—pretty easily. (And some vegans kill for ramps.) Italy might have the perfect artichokes.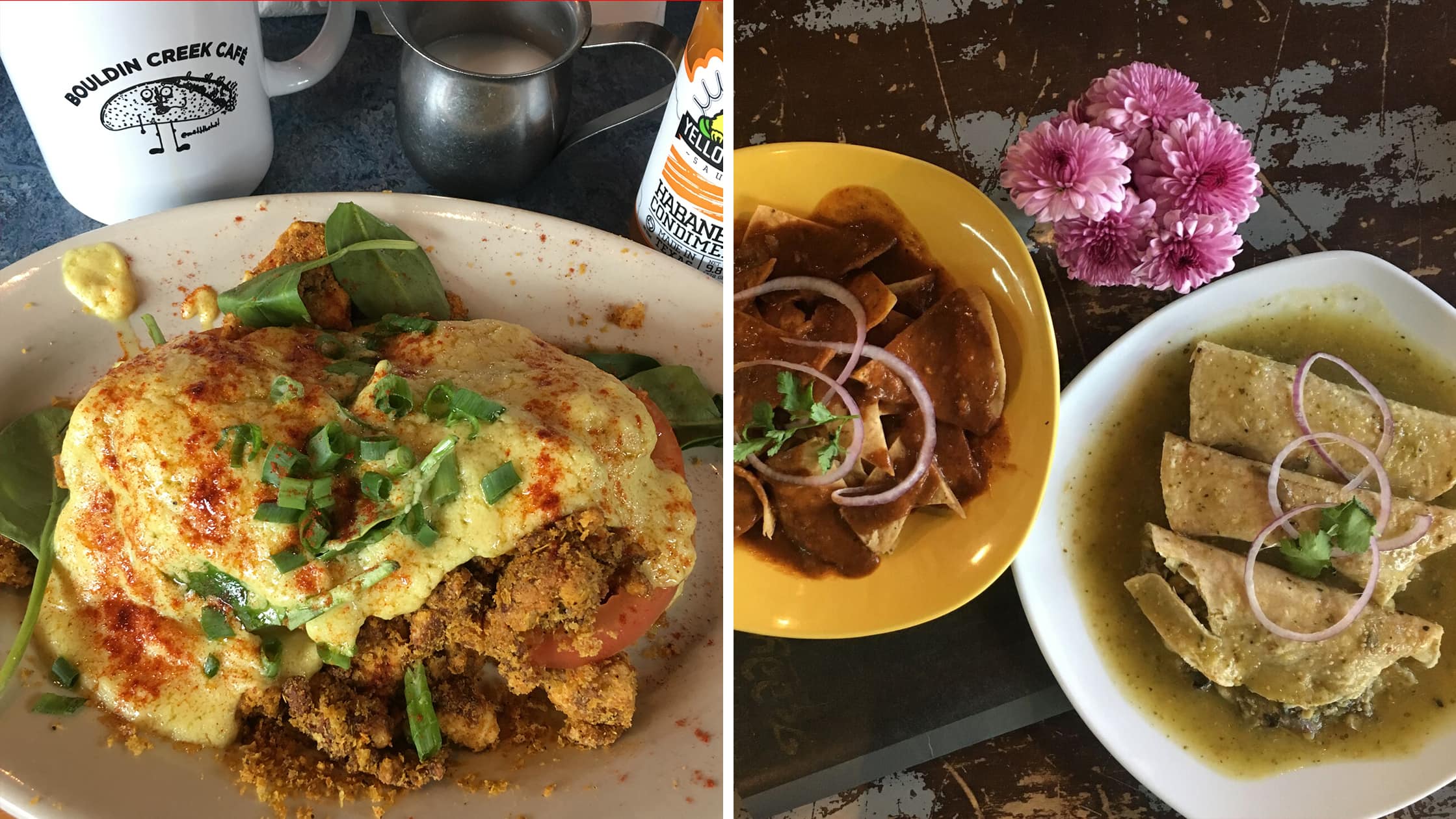 Wherever you go—especially if it's a place where English isn't widely spoken—pick up a few words. Know the right words in the language(s) spoken locally. This will help you clarify what you can't eat, and it will help you to spot forbidden foods on menus.
"I'm a (strict) vegetarian"
"No fish"
"No dairy"
"No milk"
"No butter"
"No meat"
If you're not up to the task of learning the language of every country you intend on visiting, the Vegan Passport app, available for both iPhone and Android, will save your butt. It provides a written manifesto—in 78 languages—of what vegans can and can't eat, as well as tips for the chef on preparing a vegan meal. Beyond the language, it is probably in your best interest to learn some of the dishes that are most likely to be vegan friendly around the world.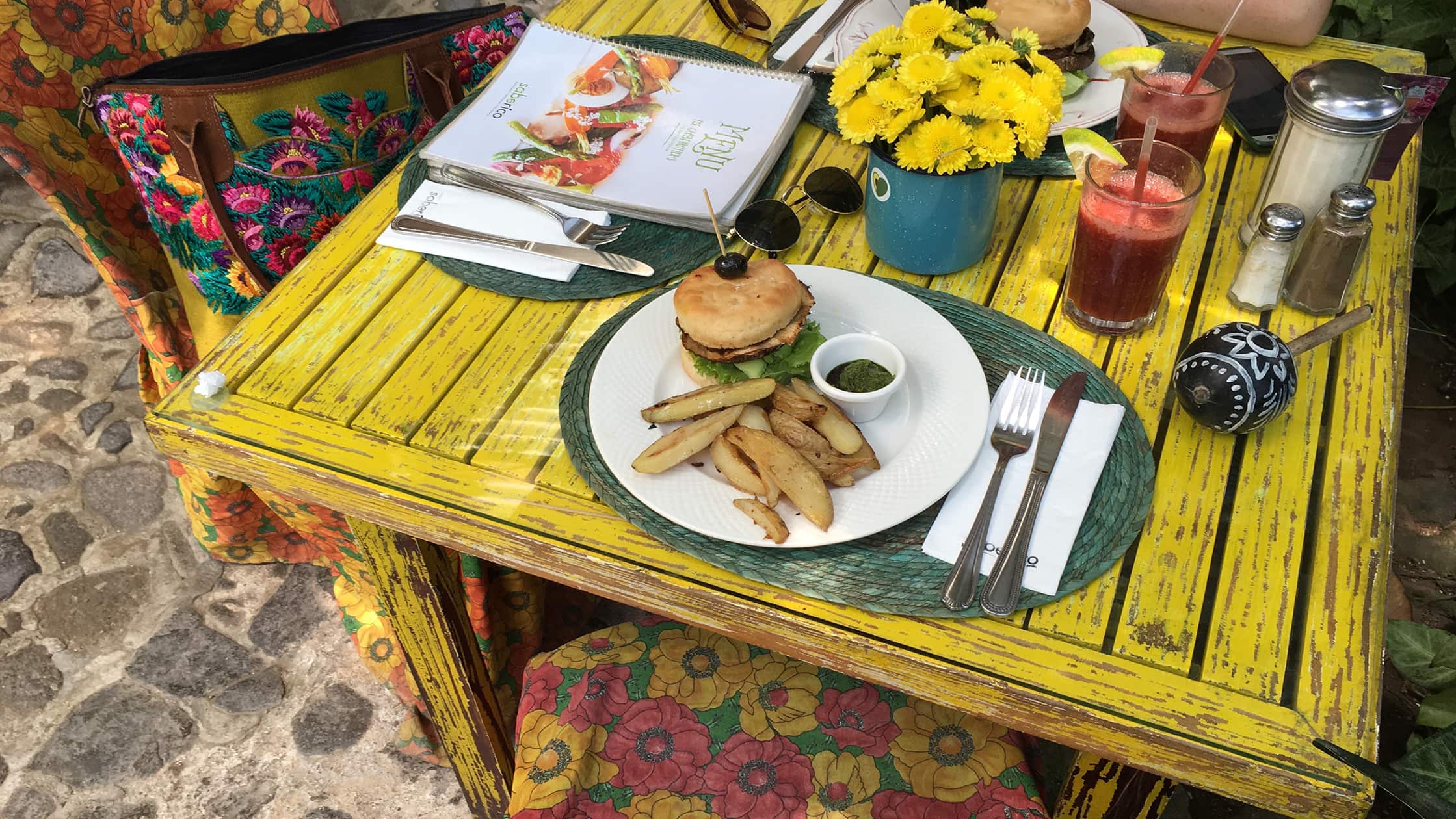 Fear not! Intrepid vegans have blazed the trail before you—and they've left reviews! Happy Cow is an incredible resource that features reviews of everything from Level 5 vegan restaurants to grocery stores with at least a small sliver of vegan appeal.
05

Conclusion
Now, it's time to book that flight and discover those vegan-friendly corners of the world!
Finding The Best Travel Vegan Diet For You
Vegan travel isn't much different than omnivorous travel. As far as preparation goes, clothing and travel gear are the easy part as there is an incredible selection of synthetic, stylish, and functional wear that will meet your travel needs.
Before jetting off for any kind of long-term travel, everyone should ask themselves, "Why travel?" Are you more interested in eating to travel or traveling to eat? While the answer to this question can shape itineraries, nothing says that you can't do both. You may want to enjoy a wonderful meal the day after you arrive in a new place, but you might be okay with protein powders, bars, fruits, nuts and grains for the remainder of your stay. The experience is always what you make it.
You can be in control of the places you go, the restaurants you visit, the words in the language you know, awareness of the dishes that are most likely to be vegan… But you can't be in control of everything. Sometimes, you may need to be flexible. Even with the best-hatched travel plan, butter can and will sneak into a dish. Something might taste fishy that shouldn't.
And it's okay. Hopefully, with the above resources and a little bit of planning, you'll avoid this. But in the end, you sometimes have to take what comes and let it better prepare you for next time. In our opinion, this is what travel is all about. Getting to know more of the world is really the only way to learn the tips and tricks of travel.
This Guide Was Brought to You By…
Ted Palenski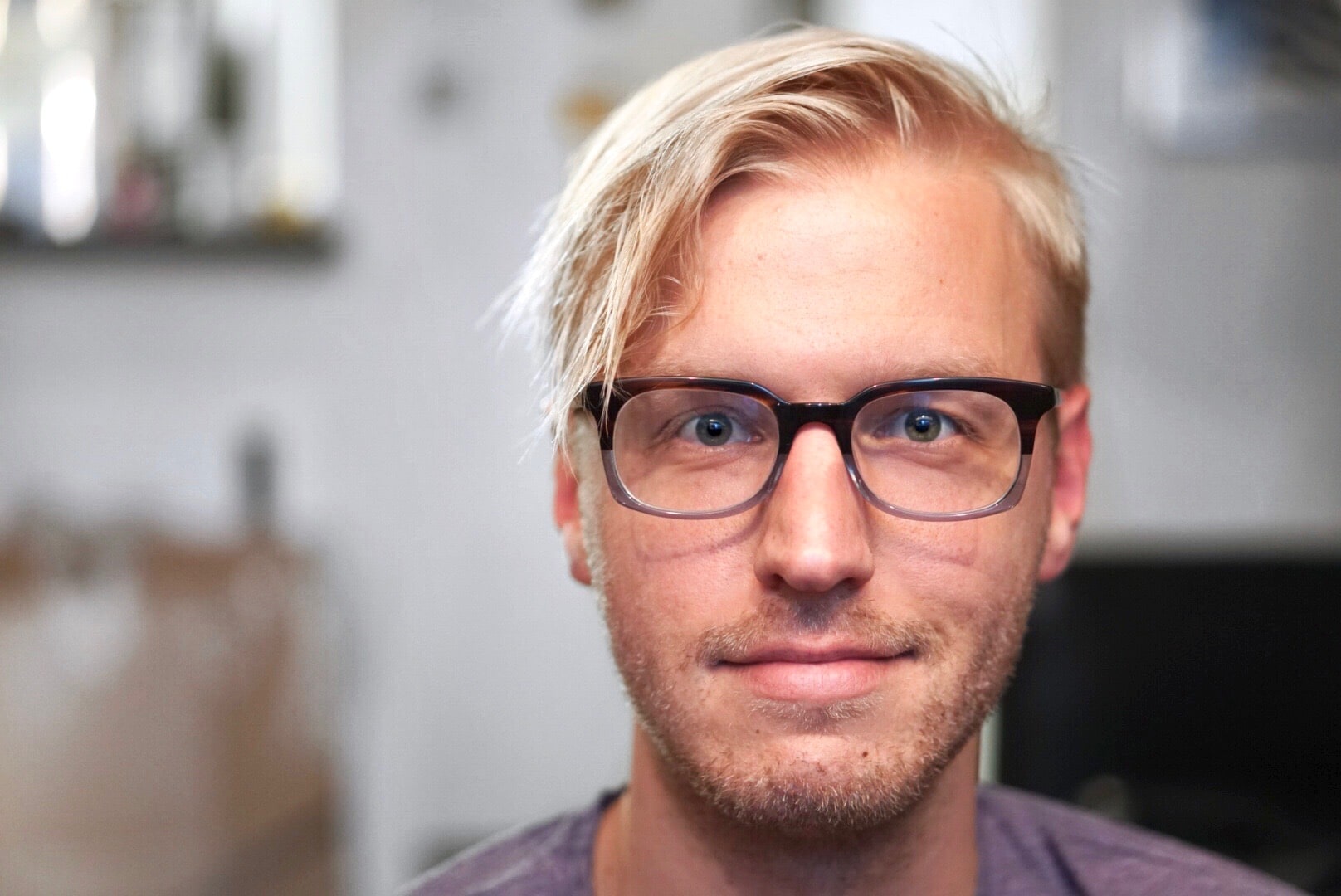 Ted got his start teaching kindergarten, where he learned the art of looking closely at the world. He works in the education technology space, trying to solve problems for students and teachers. When not working, Ted loves creating itineraries full of beautiful moments and plant-based foods.