Patagonia Micro Puff Review
The Patagonia Micro Puff is an ultralight jacket that is incredibly packable and has one of the best warmth to weight ratios we've seen.
Our Verdict
Unlock the Pro Summary
Save time. Get access to brief summaries of our reviews so you can browse and make decisions more efficiently.
Pros
Impressive warmth to weight ratio
Hood keeps the heat in around your noggin
Packs incredibly well
Cons
Won't replace your cold weather jacket—best for 35-50 degrees
Ultralight materials mean a sacrifice in durability
Spendier than most other mid layers
Recent Pack Hacker Video
Technical Details
Weight (oz)

9.3 oz (263.7 g)

Denier

10D

Notable Materials

Nylon, Polyester, Ripstop Nylon, PlumaFill

Manufacturing Country

Vietnam

Warranty Information
Full Review
A while back, we put the popular Patagonia Nano Puff® jacket through the ringer. Despite it being a bit delicate and very hoodless, we loved that it was lightweight, warm and came with a great warranty from a reputable brand. Patagonia has since stepped up its game by adding a hooded version of the Nano and, more recently, launching the Micro Puff®—an even lighter synthetic down jacket.
You might notice that the Micro Puff is eerily similar to the Nano Puff. Which is also eerily similar to the Ultralight Down jacket. Which is also eerily similar to the down sweater and the down sweater shirt…
If you're currently feeling lost amidst the clusterfun of Patagonia's trendy named puffy jackets, we don't blame you. We had to do some FBI level investigation to sort through it ourselves and we're still not certain we have a solid grasp on it.
When it comes to the Micro, Nano and Ultralight Down, they're all incredibly similar. If you're not overly concerned with the technical bits, you'll probably be fine going with whatever looks or feels best to you. That's not how we roll, of course, so we had to dig a bit deeper. All three jackets do offer slightly different options based on weight, warmth, and materials. Below is a quick summary of our findings.
Ultralight Down: A down jacket that isn't very versatile. Too hot in 50° temps, but good in colder temps. Not great for layering. Doesn't do well when wet.
Nano Puff: A synthetic jacket that is quite versatile. Comfortable in 50° temps and easy to layer in colder temps. Stays warm when wet, and lighter than the Ultralight (guess it wasn't so light after all).
Micro Puff: A synthetic jacket that is also quite versatile, also comfortable in 50° temps and also easy to layer in colder temps. Stays warm when wet—supposedly better insulated than the Nano when it comes to water. It's not quite as warm as the heavier Nano Puff, but it's super lightweight ultimately makes for the best warmth-to-weight ratio of the bunch. It is also the most expensive.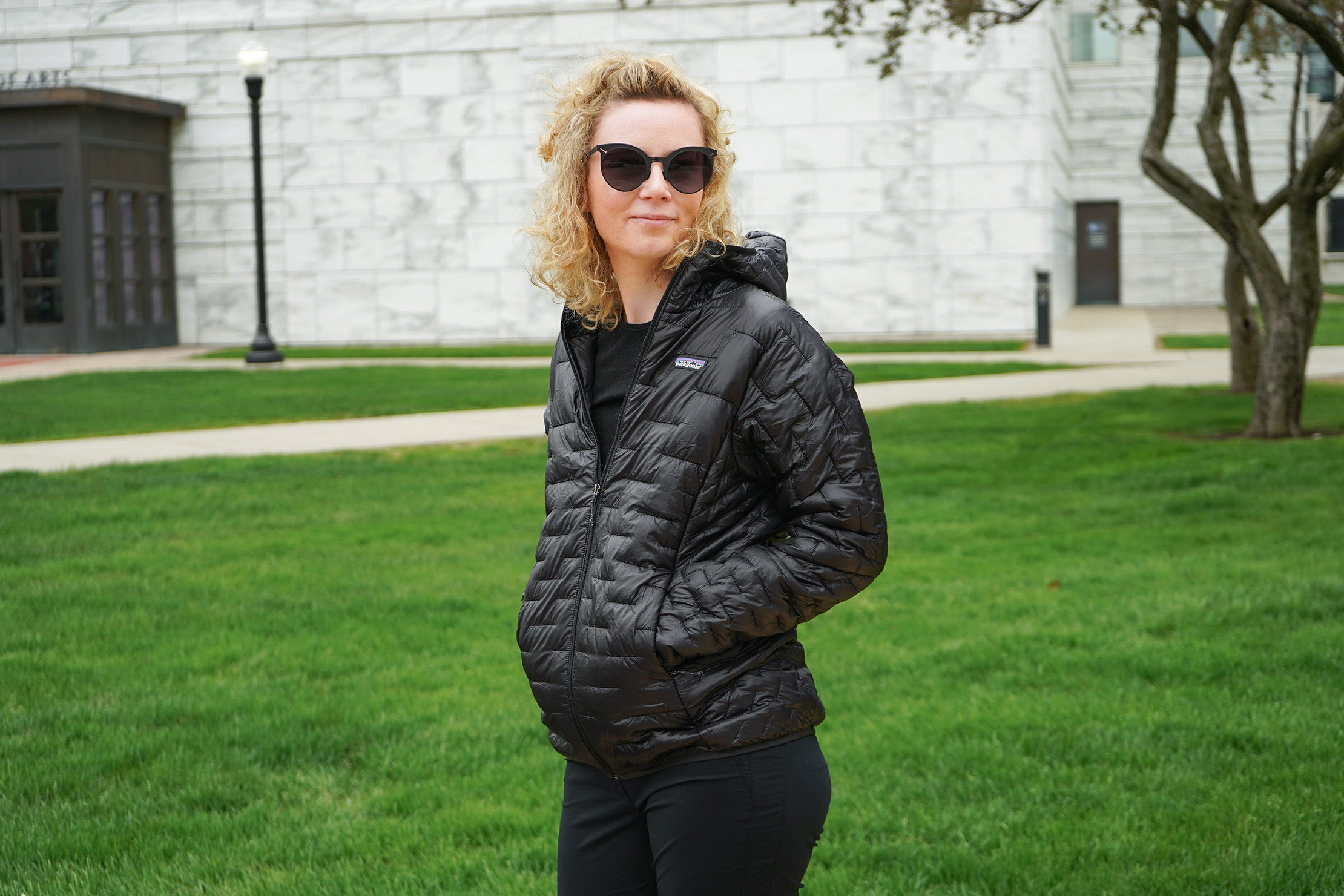 For one bag travel, you're better off with one of the synthetic options—which is why we can't be bothered with the Ultralights (yet, at least). Both the Micro and Nano are versatile and should serve well as your main jacket if you have a few layers in the mix. If you're overly concerned about weight, the Patagonia Micro Puff will be your best bet.
If it's still not clear to you which jacket you should go with, we're about to get pretty nerdy on the situation. Buckle up.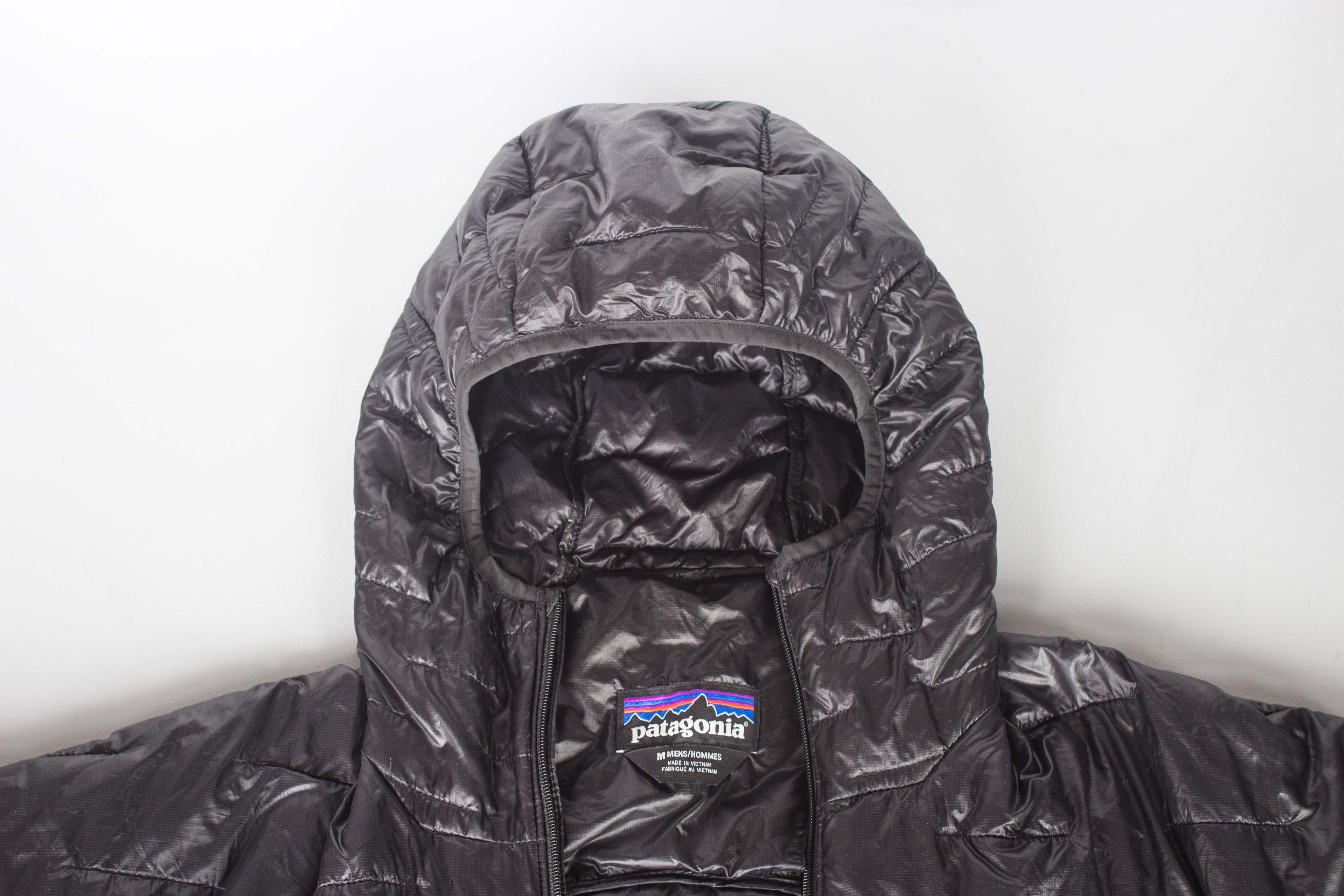 Micro Puff vs. Nano Puff
We opted to test the Patagonia Micro Puff Hoody as our Nano review left us feeling deprived of that extra head and neck protection. And for those who prefer more cranial freedom, Patagonia does offer a hoodless Micro Puff jacket.
The untrained eye may have trouble spotting the differences between the Micro Puff and the Nano Puff but, luckily for you, we are (incredibly humble) experts when it comes to this sort of thing. The most obvious difference is that the Micro is significantly shinier than the Nano (which we're pretty sure is just an aesthetic thing—we'll leave it up to you to decide if it looks better or worse). The Micro Puff shell is made from a 10-denier 100% ripstop nylon Pertex Quantum® with a DWR (durable water repellent) finish, as opposed to the Nano's 22-denier 100% recycled polyester with a DWR. The DWR sheds rain well for short periods of time on both, but you definitely shouldn't mistake either for a rain jacket. The Micro also has a visibly larger quilting pattern—we'll get to that in a bit.

We think the hood on the Patagonia Micro Puff Hoody is definitely a value add from the other models. The stretchy material is the same as the sleeves and does a great job sealing in warmth, though it may have benefited from a drawstring to really lock it in. There are two zippered outside pockets and two zipperless inside pockets. The YYK zippers with pulls are always a plus, and for those who are as detail-oriented as we are, the primary zipper is a YKK 45CL. Once on, we found the fit to be less boxy than the Nano.
If you thought the Nano Puff was light, just wait (weight?) until you feel the Micro Puff. At 8.9 ounces, the same size (medium) Patagonia Micro Puff is over 2 ounces lighter than the 11.1 ounce Nano—and that includes the hood. While the warmth to weight ratio is very high with the Micro's synthetic 65-g PlumaFill® polyester insulation, it ultimately didn't keep us quite as warm as the Nano's 60-g PrimaLoft® polyester insulation. The Micro wears most comfortably in the 35-50 degree range—though you will work up a sweat if you're on the move. Anything consistently colder and you'll probably want to opt for the Nano, or at least be sure to layer something substantial underneath.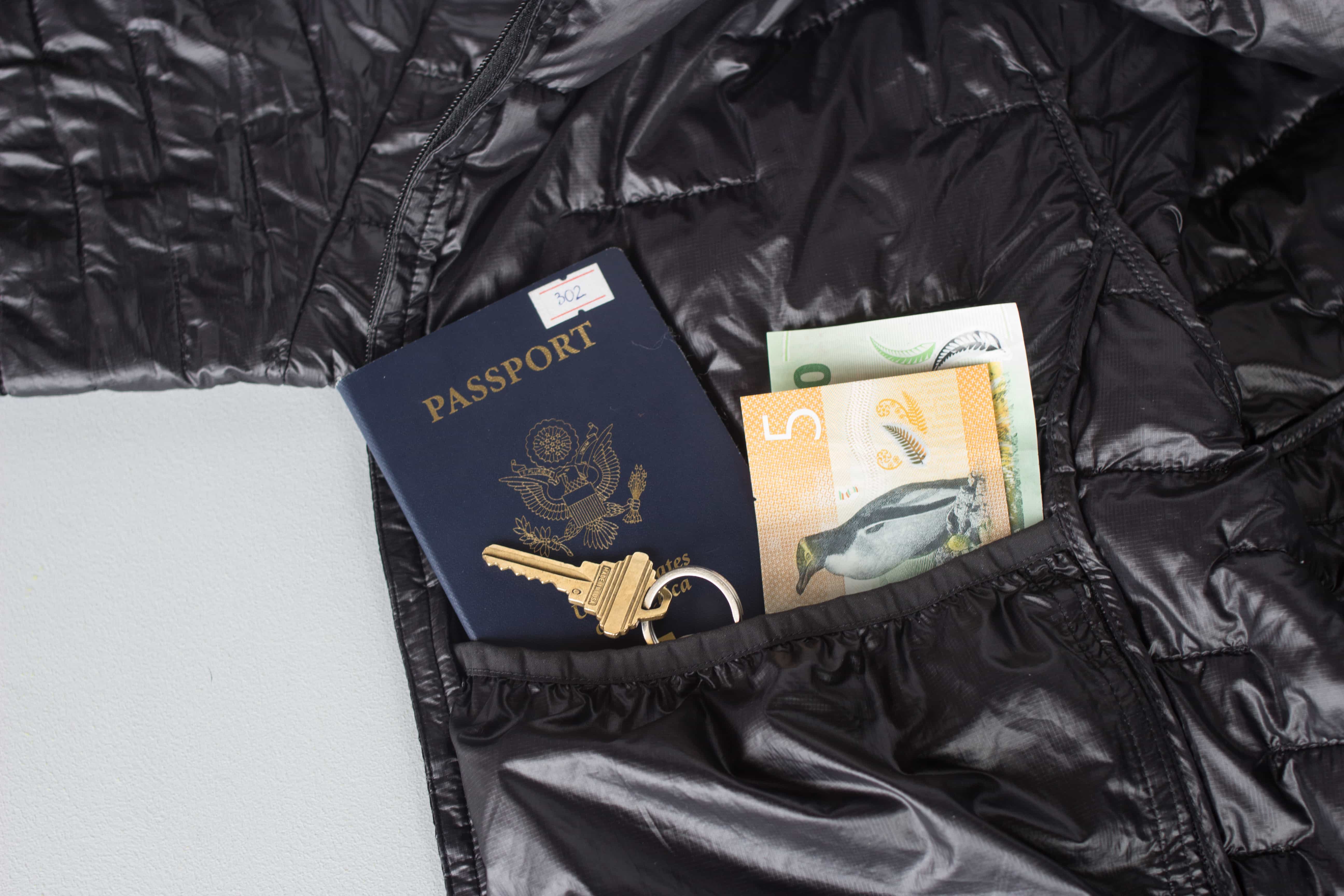 So why switch from PrimaLoft® to PlumaFill®? Patagonia claims the revolutionary PlumaFill stays warmer when wet, traps heat and compresses better for ultimate packability.
Speaking of packability, a major perk of the Micro is the ability to compress tightly into the left pocket—a feature also found in the Nano. This is a huge benefit for one-bag travelers and those who prefer to save a little extra space (who isn't?). When packed, we found the Micro to be more rectangular (as opposed to square) than the Nano. Despite being a little "bigger" when compressed, it's less solid and more forgiving (meaning it takes up less space overall). There's also a handy loop that lets you attached the compressed jacket to a carabiner if you want your it to be a bit more accessible.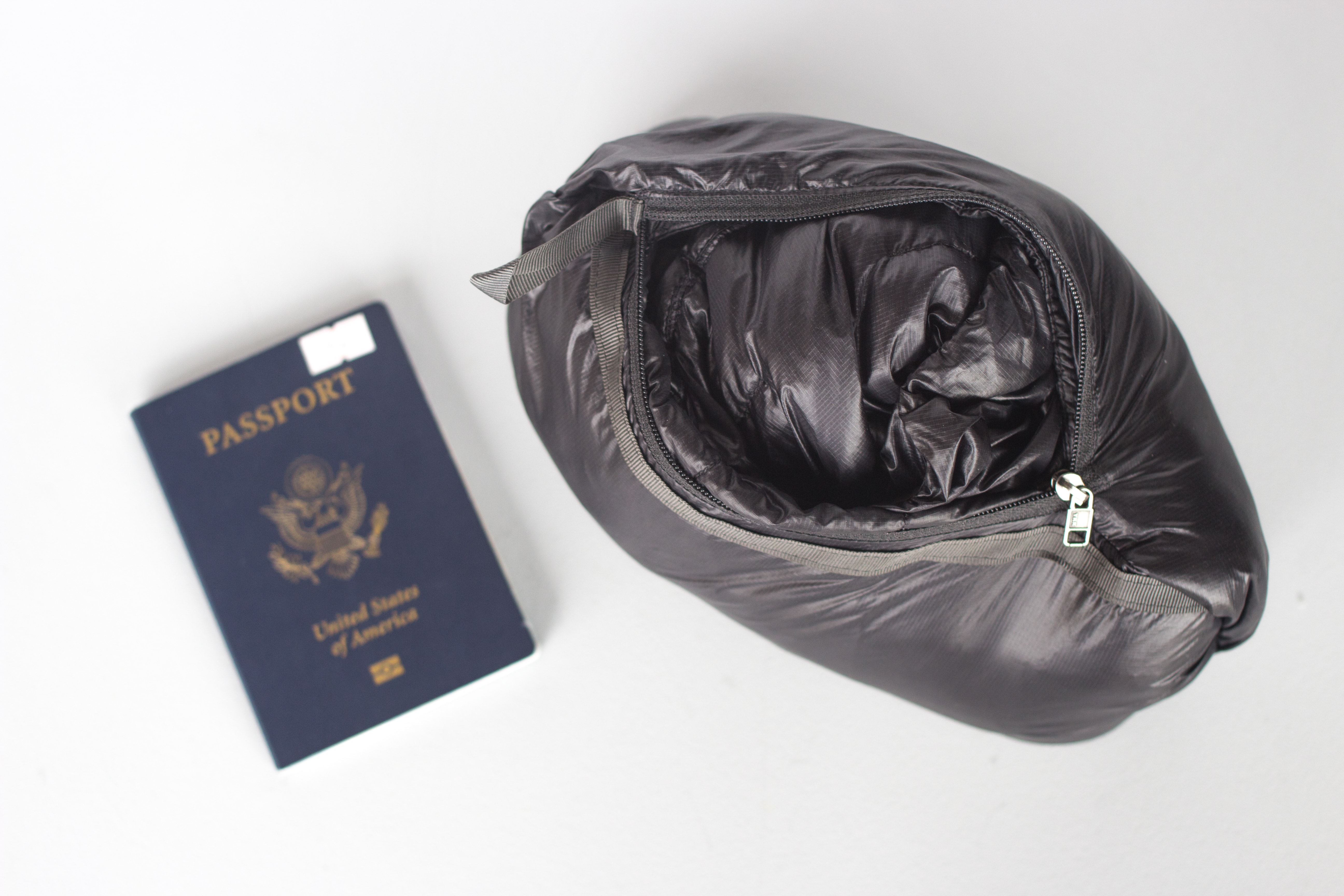 The ultralight materials make us a bit nervous when it comes to this jacket's durability. The visible ripstop isn't messing around, but you'll still want to be cautious of errant branches when doing any woodland adventuring and, when packed into itself, it may be wise to put it in a packing cube for extra security from zippers and other things in your bag. The good news is, you can always fall back on Patagonia's kick-butt Ironclad Guarantee which includes help with repairs and returns of damaged goods. If you're close to a Patagonia store, just pop in and explain your problem—we've had fantastic luck with exchanges and repairs (gold star for Patagonia's customer service).
If you're in a bind or don't feel like dealing with a lengthy repair process, you could always keep some repair tape on hand—we recommend Tenacious Tape. This stuff will work on almost any surface and we can confirm that it gets the job done for rips and tears in down (or synthetic down) jackets. Keep in mind that most of the colors have a matte finish, so it won't match up super well with the glossy finish on these jackets—but hey, when people ask about your patches you can make up some badass story about how you narrowly escaped death while jumping out of a moving train… Or just admit you lost a fight with your Airbnb's cat.
We're not going to skirt around it, the Patagonia Micro Puff will put a dent in your wallet. But if you're going to fork up some extra change for a jacket, you're wise to choose a reputable brand like Patagonia. Opting for the Nano will save you a little dough, though it's still on the pricey side.
Usage Timeline
Initial Usage
Condition: Excellent
This jacket is considerably shinier than the Nano out of the box. The PlumaFill pockets are soft like down and we're impressed by the warmth to weight ratio. Interested to see how the lightweight materials hold up after some use.
3 Months of Use
Condition: Excellent
So far, so good. No pilling yet on the Micro like we saw with the Nano. We've been careful to avoid zippers and sharp edges.
6 Months of Use
Condition: Good
We've started to notice some wear on the arms. Other than that, everything still looks good.
9 Months of Use
Condition: Good
The jacket is still holding up well into another cold season, although it seems less "puffy" compared to a brand new micro puff, likely because it's been compressed so many times with use.
Access the Pro Community Discussion
Get your questions about the Patagonia Micro Puff answered from our team and the Pro Community right here on the page. Plus, join discussions with other members about gear, guides, and more.
Other Clothing & Accessories Reviews