Thule Subterra 34L Review
Want a one bag travel backpack that functions just as well as a daypack? The Thule Subterra 34L may just be the pack you're looking for.
Our Verdict
Unlock the Pro Summary
Save time. Get access to brief summaries of our reviews so you can browse and make decisions more efficiently.
Pros
Great looking backpack
Functions as a daypack and travel bag
Awesome side pocket
Cons
Top handle can be hard to grab at full capacity
Larger laptops can be a tight fit through the side zip
Not a great packing cube (but it is included)
Recent Pack Hacker Video
Technical Details
Capacity

34l

Weight (lb)

2.75 lb (1.2 kg)

Dimensions

20.5 in x 12 in x 9 in (52.1 x 30.5 x 22.9 cm)

Notable Materials

YKK Zippers, Nylon, Duraflex Hardware, EVA Foam

Manufacturing Country

Vietnam

Laptop Compartment Size

15"

Warranty Information
Buying Options
$176.89
Full Review
Perhaps better known for their bike and roof racks, Thule has been in the bag market for quite some time now and their range is one of the most expansive we've seen. From crossover duffel bags and hydration packs to camera bags and, of course, travel backpacks—Thule has you covered. Or do they? Can a company that started off making roof racks transition to making great travel backpacks? We decided to investigate.
We'll be testing the Thule Subterra Travel Backpack 34L from their Subterra range—described by Thule as "Stylish, versatile and built to last, the Thule Subterra collection offers luggage, backpacks, laptop bags and sleeves that help you put together a great look for your travels." The Subterra 34L is a dual purpose pack that can function as a travel bag or everyday backpack. We're curious to see if they can pull this off, so let's get into the review!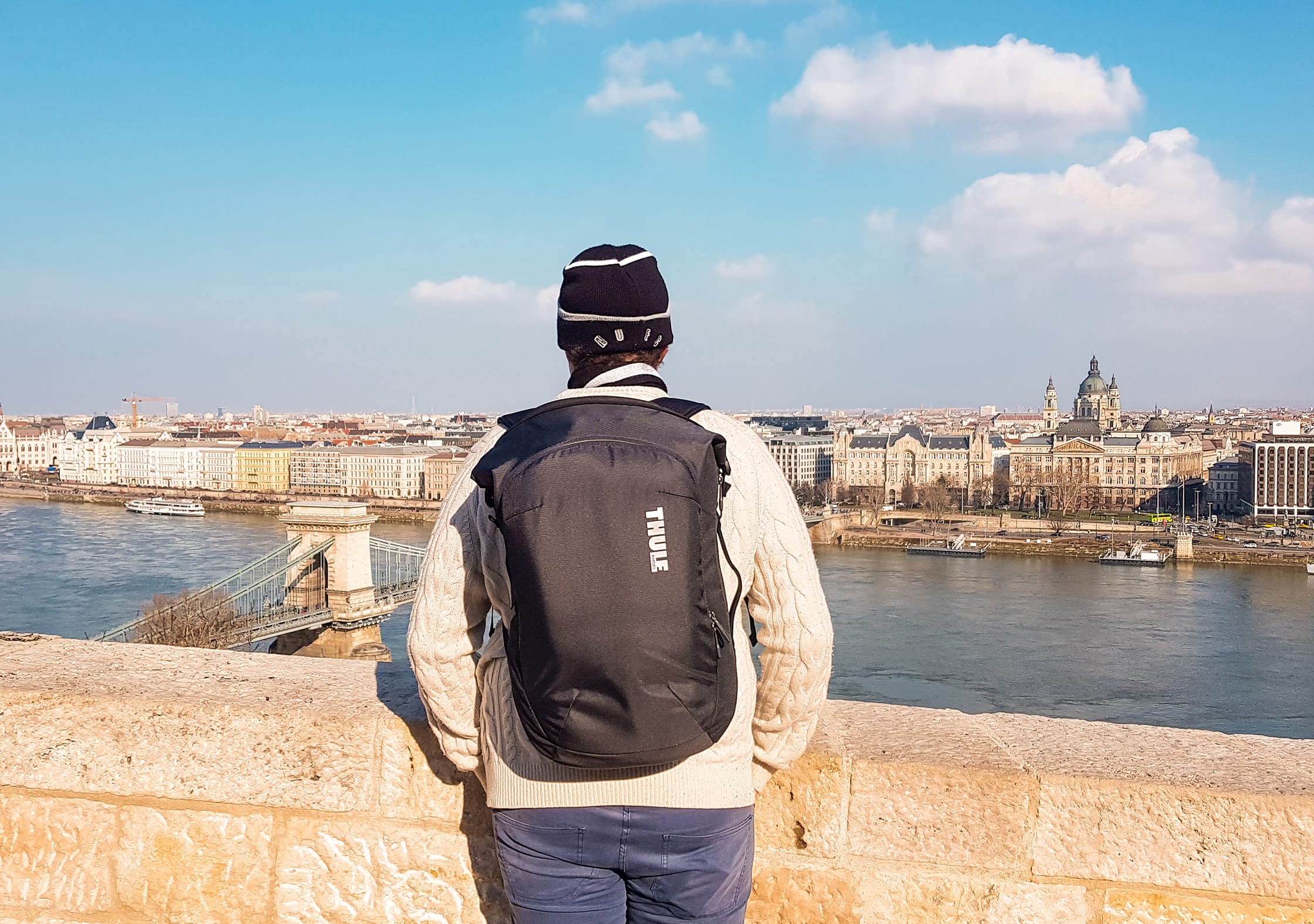 Material & Aesthetic
At first glance we think the Thule Subterra 34L is a really slick looking pack. Its streamlined shape gives it a great, low profile look. This bag will look great sitting in a coffee shop or a business meeting, and with the ability to use this thing as a travel backpack, you'll be one of the more stylish globe wanderers out there.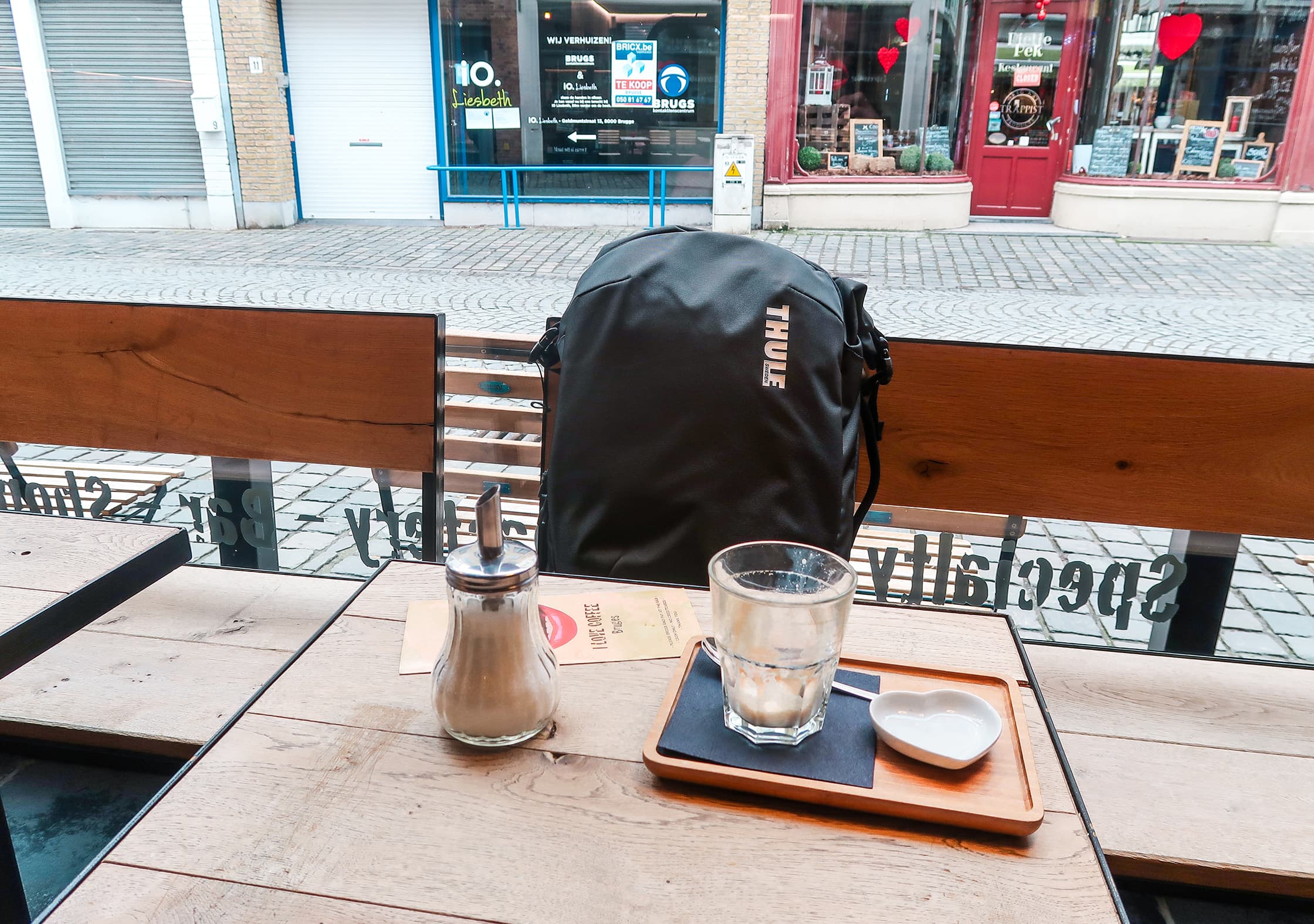 The Thule Subterra comes in three different colors—dark shadow (black), mineral (blue) and ember (red). We're testing the dark shadow color and we've really been enjoying the contrasting neon green interior. It kind of "turns the lights on" and lets you easily see whats inside. We really like the look of all the other colors too.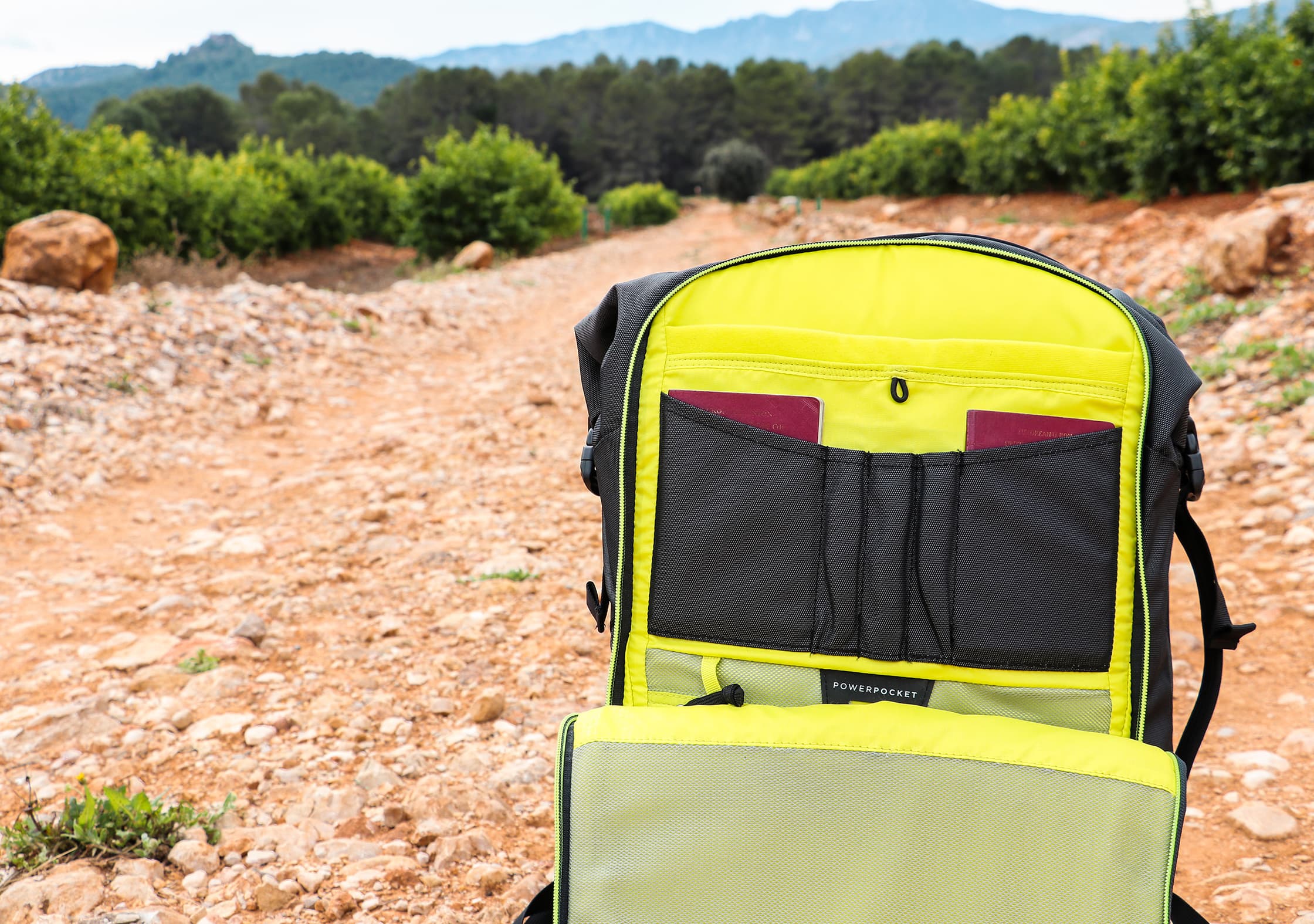 The Nylon material used on this bag is highly durable and built to last, but at 800D it's nothing crazy—if you're in need of something super durable check out our review of the GORUCK GR2. All of the zips on this thing are YKK—the go-to brand for quality zips—which is great. The two side panels and front compartment zips are all YKK 8RC, while the zips on the side pocket and inside the front compartment are all YKK 5RC.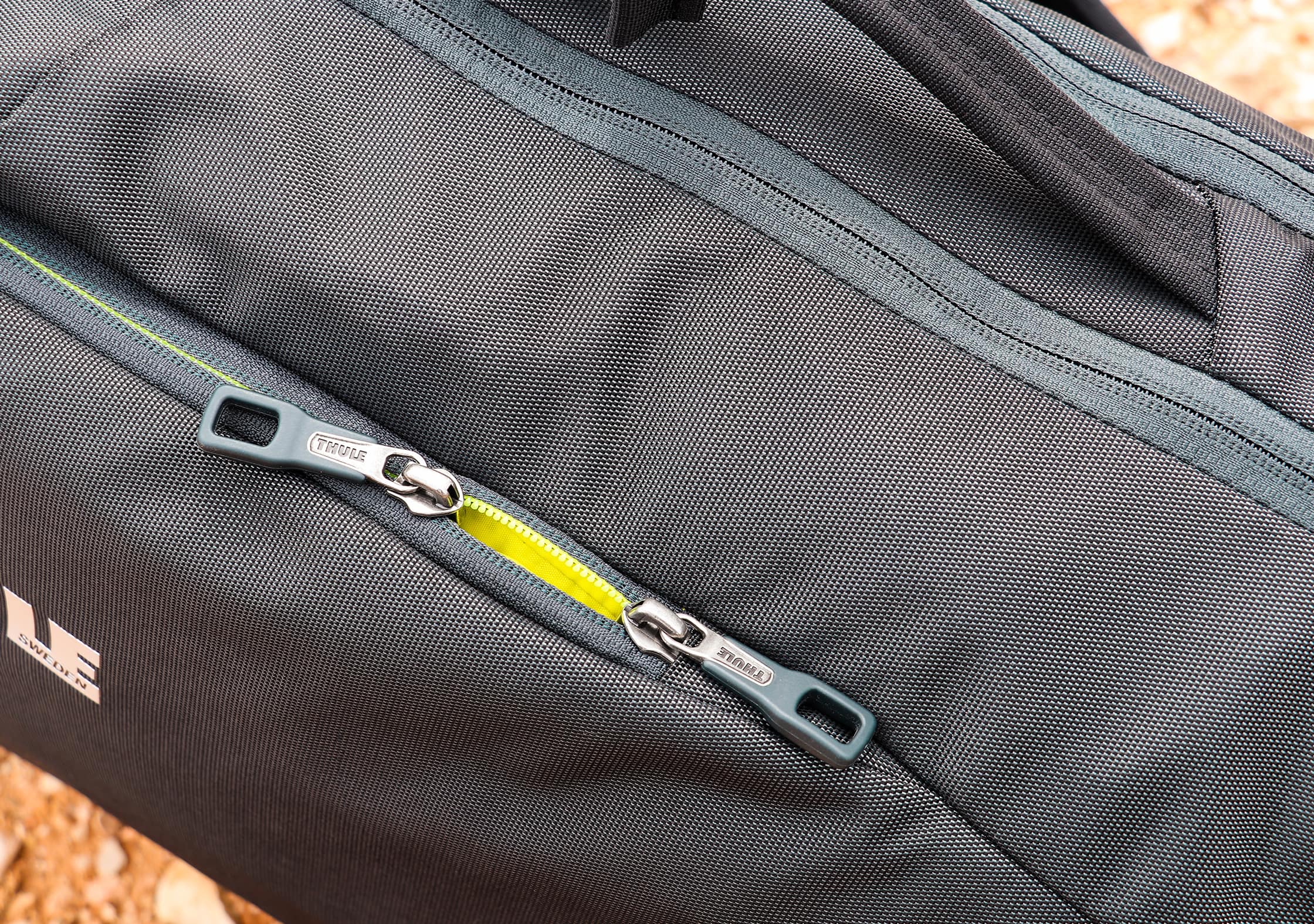 The Thule Subterra 34L comes in at 2.75lbs (1.25kg) and the dimensions are a carry-on compliant 20.5" (52cm) in height, 12" (31cm) in width and 9" (23cm) in depth—perfect for one bag travel.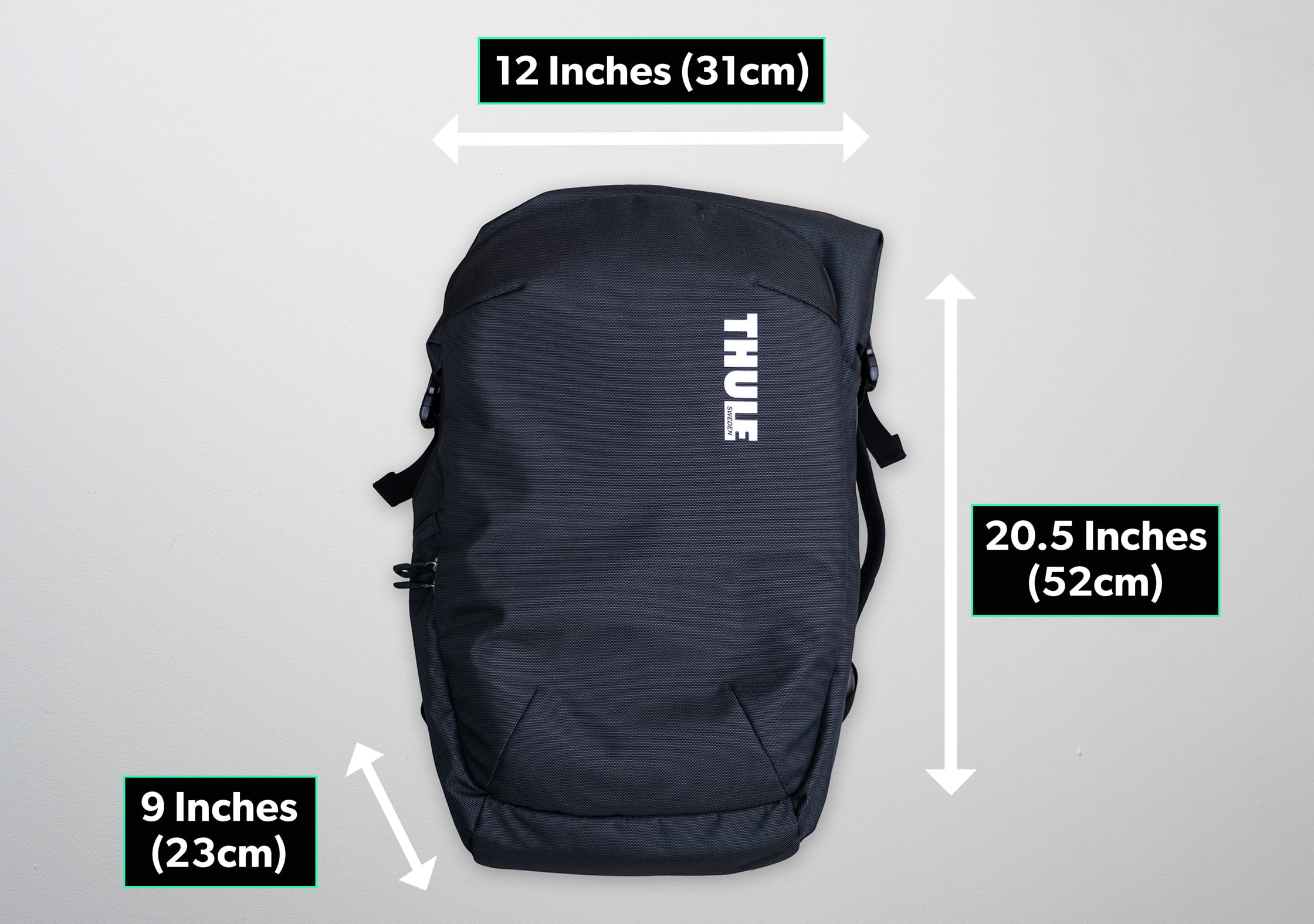 External Components
As we mentioned before, the Thule Subterra is a really streamlined backpack—you won't find any crazy external components on this thing, but they have the essentials locked down. We want to bring up the incredible side pocket first. While this is sometimes an overlooked feature, Thule hit this one out of the park. When it's zipped up you can barely tell it's there, but unzip it and you'll find enough room to fit a one liter water bottle.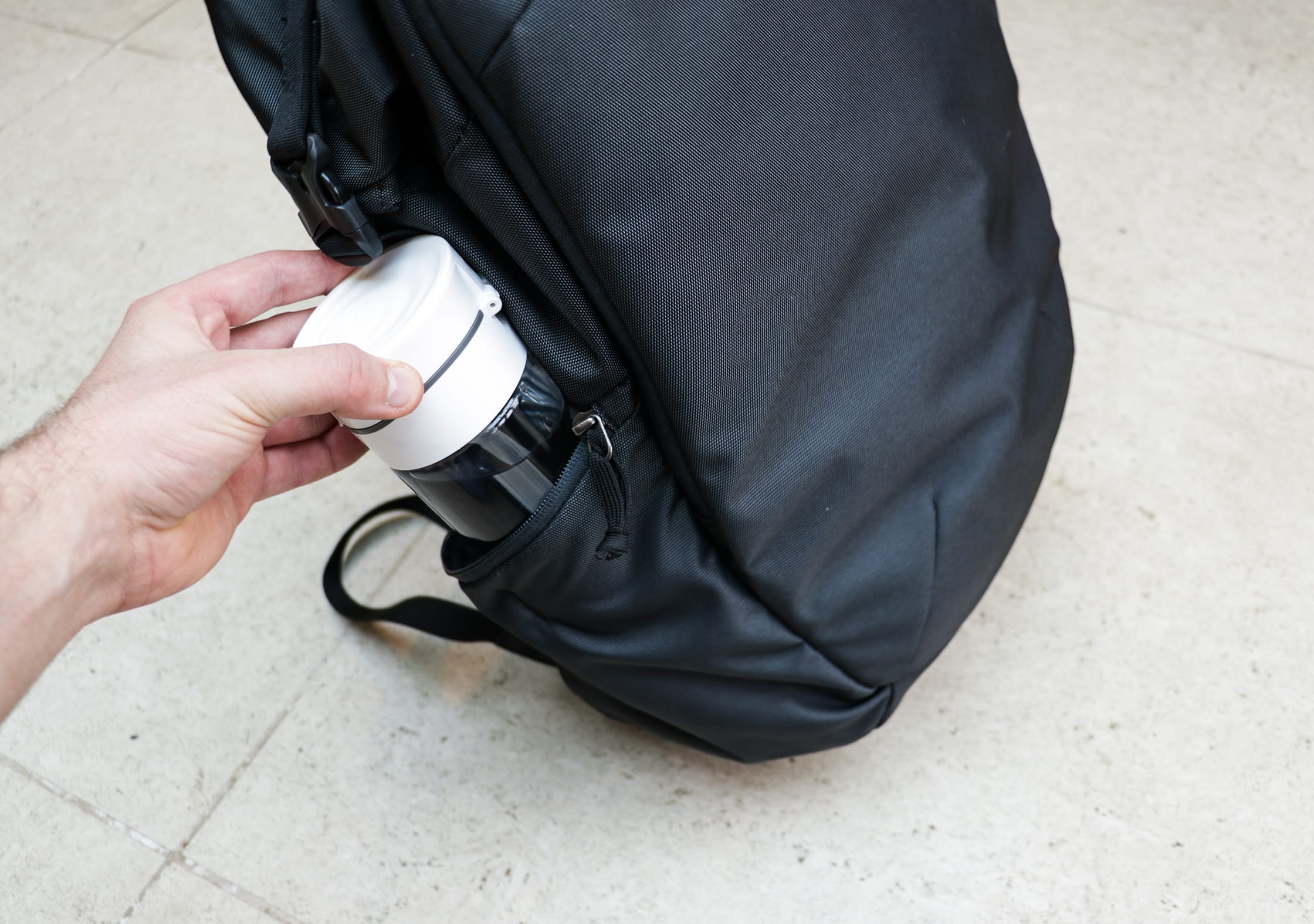 We were amazed at just how much you can fit in this thing. The pocket has an elastic band as well—so if you're carrying something smaller, fear not, it'll be secure.
Using the side pocket, we also found a work around to safely secure a tripod to the outside of the bag. By slipping one or two legs into the side pocket, you can then use the roll top buckle at the top to lock in the top of the tripod. Not a necessity, but if you want to carry around a tripod it's a big plus.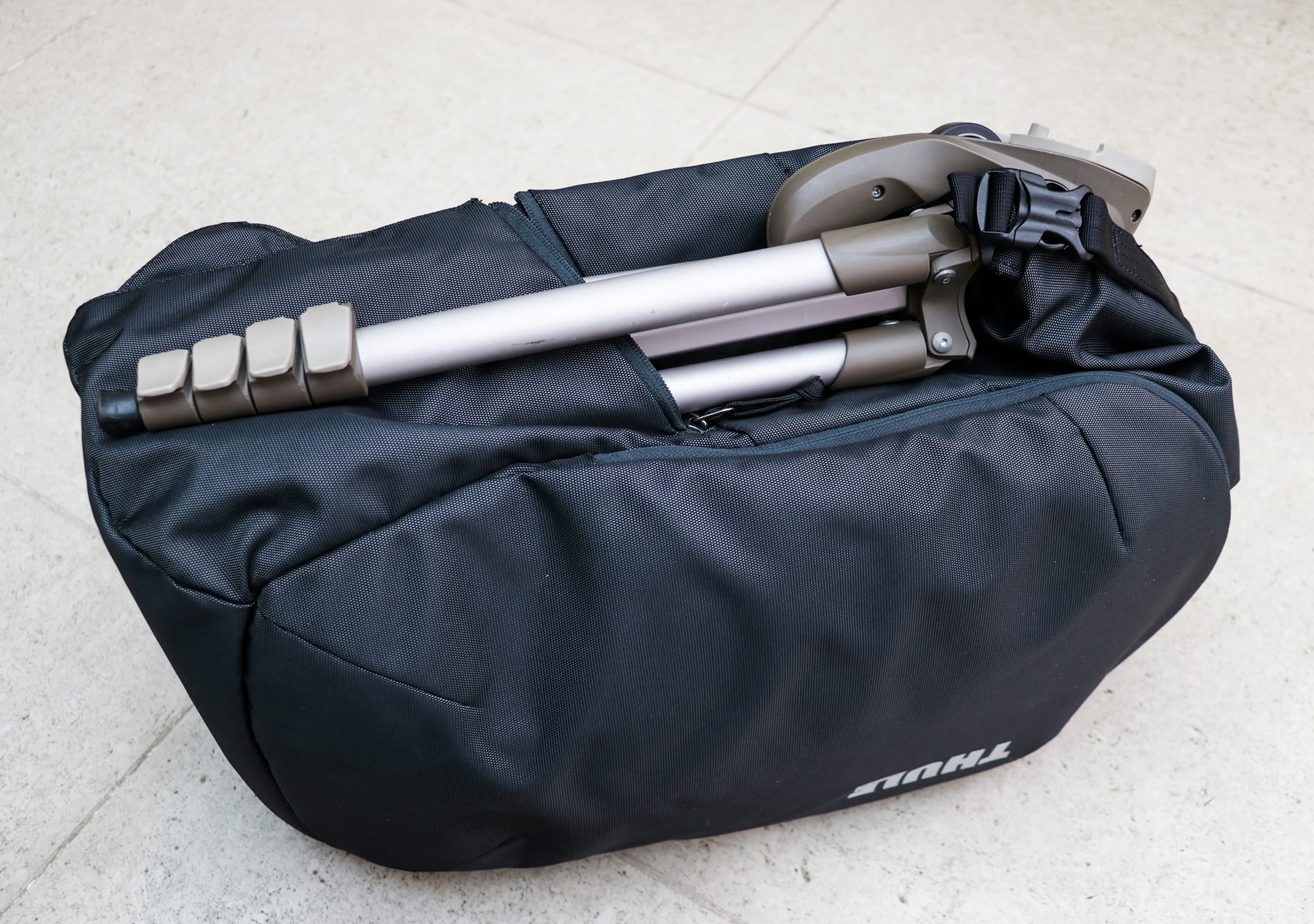 At the top of this pack you'll find a large roll top, and there's a load of stuff—pun intended—going on here. First of all, there's a large handle across the whole thing. Though not particularly well padded, it does feel very strong and the impeccable stitching is a testament to just how well-made this bag is. At both ends of the handle you'll find Duraflex buckles that lock in with the side of the bag and cinch down—meaning the roll top is fully secured and can be compressed as much as you like. We love the way they've done this. For added security the roll top has a magnetic closure, which is simple and works well.
An important thing to note is that because the handle is attached to the top, you'll only want to roll it down twice—anything else and the handle won't be visible on the top of the bag. One thing we would have liked to see here is some sort of small looped handle on the back of the bag, at the top. The roll top handle works great nine times out of ten, but when the bag is full it can be hard to grab a hold of.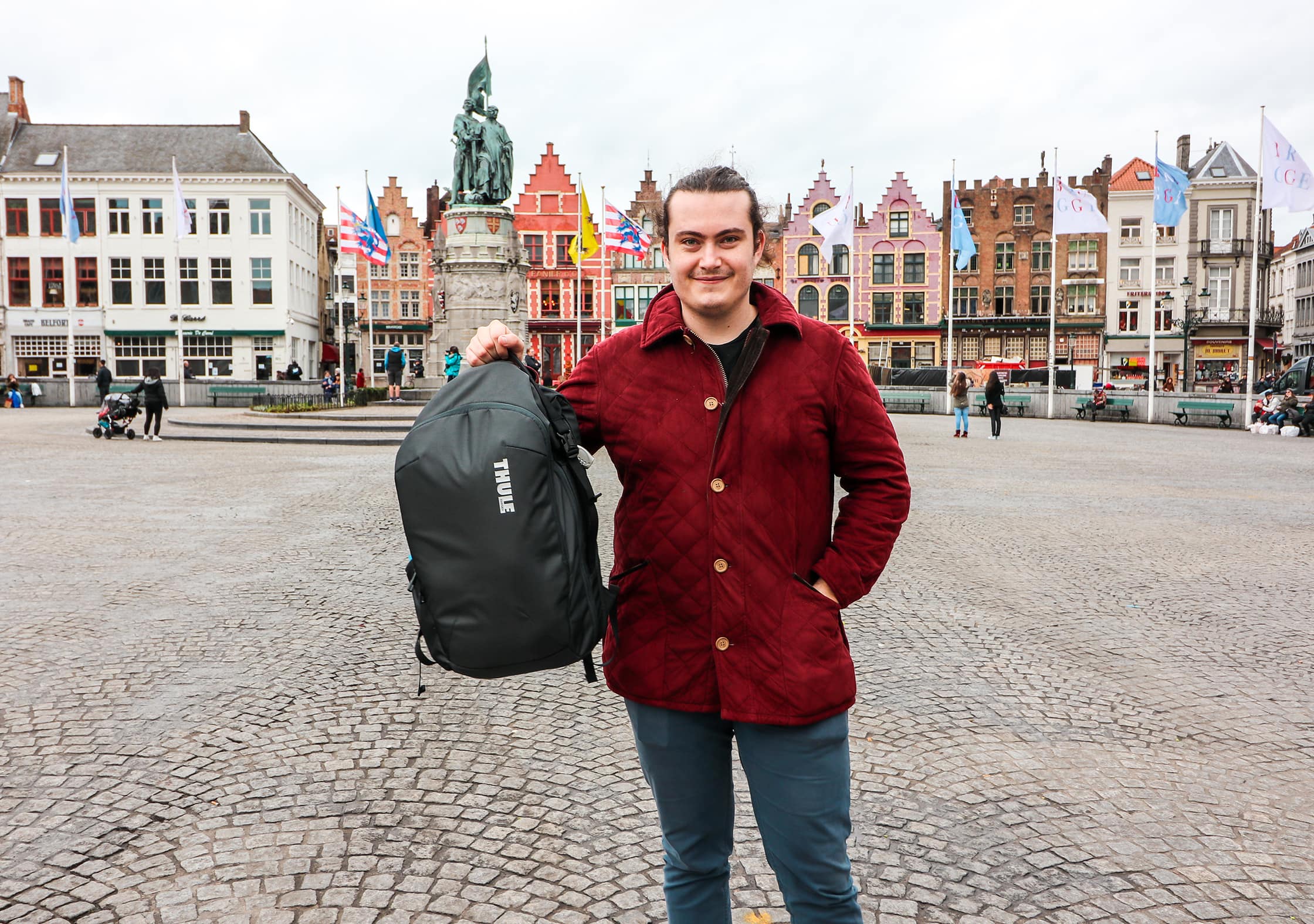 The Thule Subterra 34L does have a side handle as well, but only one. We're not sure why they've done this seeing as there appears to be room for one on the other side too—even if it's a bit smaller. We have found ourselves once or twice going to grab it from the side and not being able to pick it up. It's not a big problem and it does help with the aesthetic of the bag, but just something to be aware off.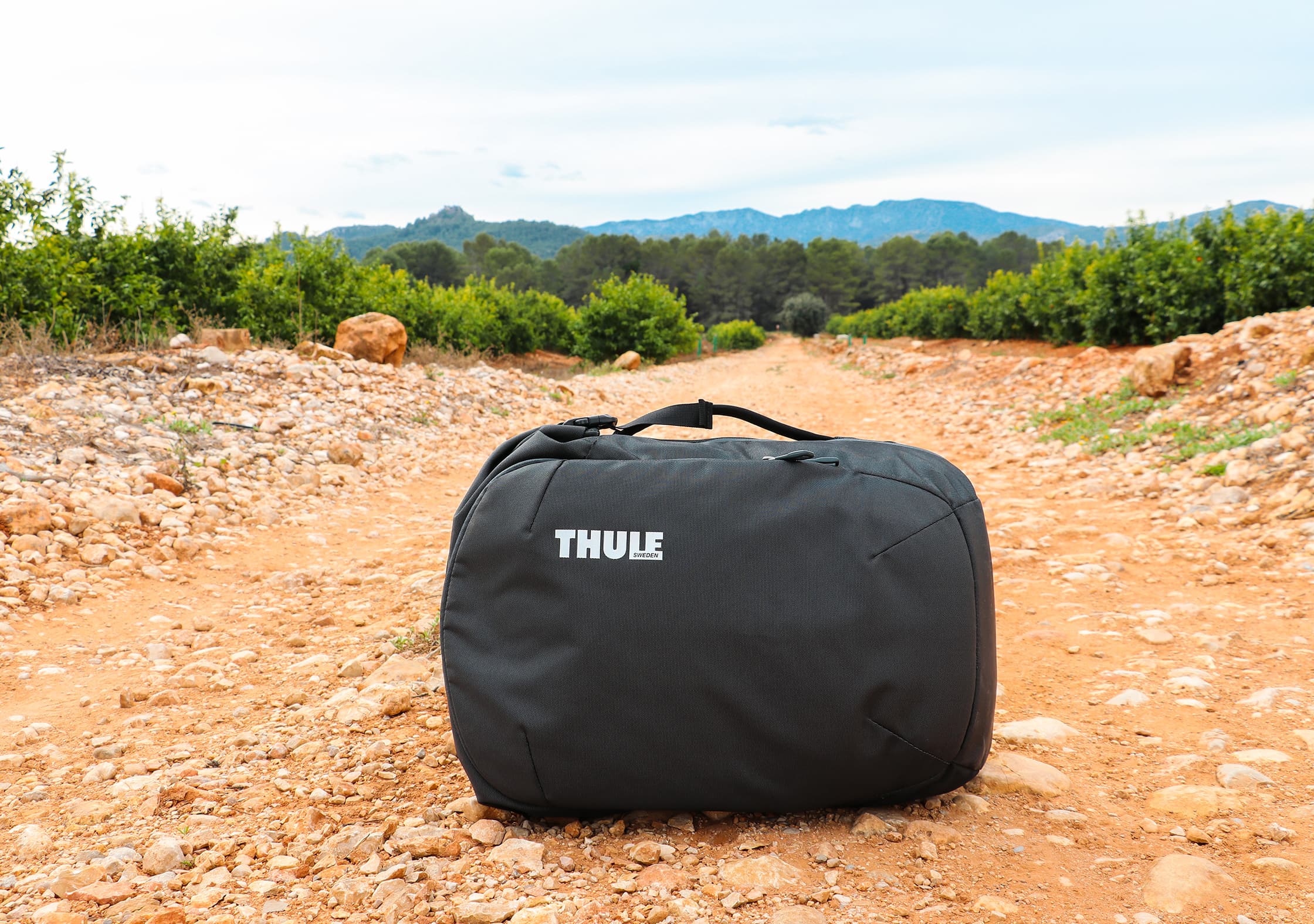 The shoulder straps on this thing are made of perforated EVA (Ethylene-vinyl acetate) foam with a mesh covering, which obviously makes them soft yet durable—because we all know what Ethylene-vinyl acetate is and definitely didn't have to Google it, right? Even though the foam is quite thin, they are surprisingly comfortable even at heavier weights.
One thing we really like about these straps is that they lie flat against the bag when not in use. The bag doesn't have a strap hideaway system, making it even more important that they don't stick out or get in the way when not in use.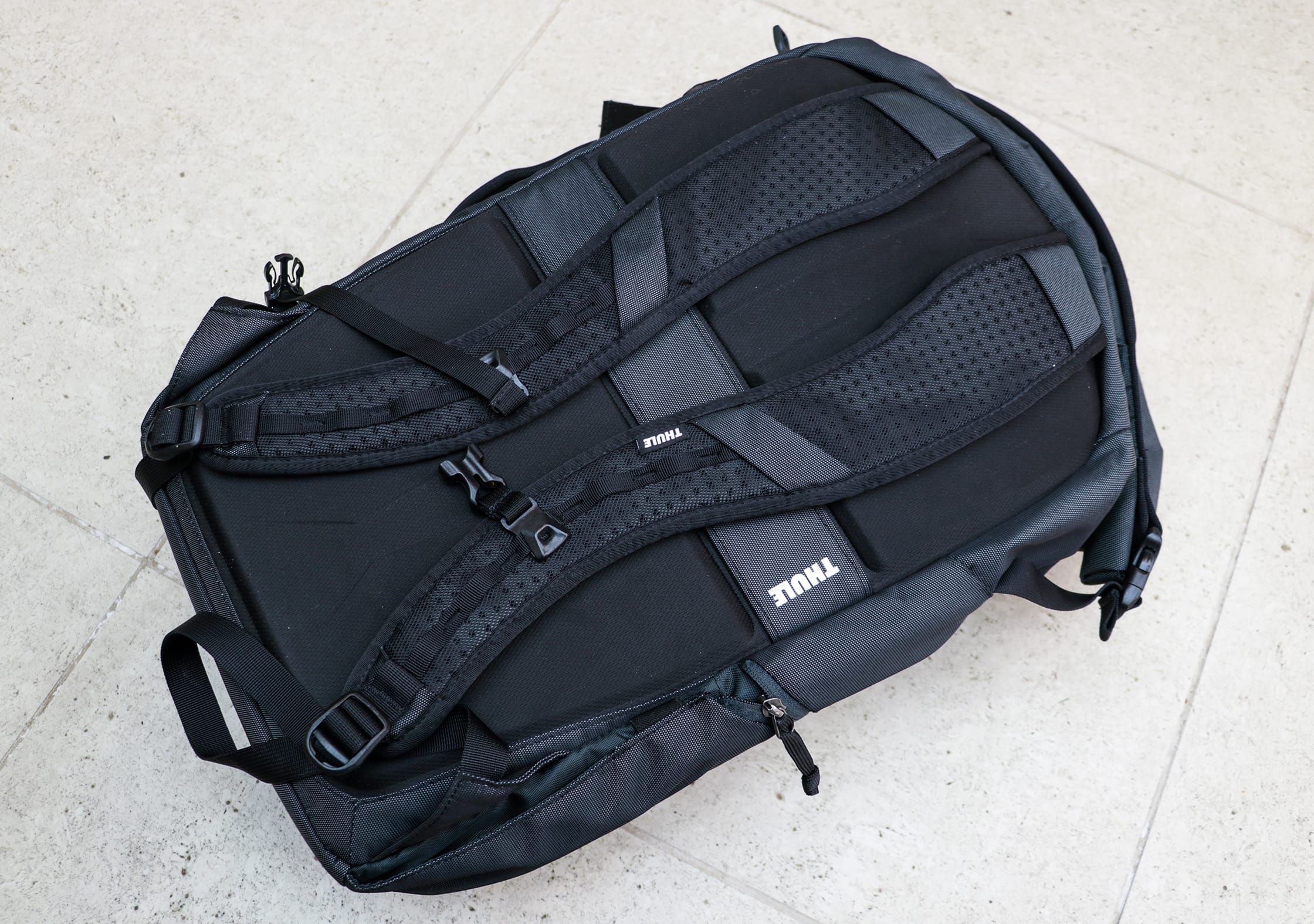 The back panel on the Thule Subterra 34L is nicely padded but doesn't offer much in the form fitting department—it's pretty much just a flat panel. We haven't found this to be an issue however, as it's only a 34L pack and it does have a nice, comfortable carry. The back panel does offer a cool additional feature—there's a pass through panel so you can attach this thing to a roller suitcase. This is nice to have and you don't notice it when not in use—which for us (being all about one bag travel) is most of the time.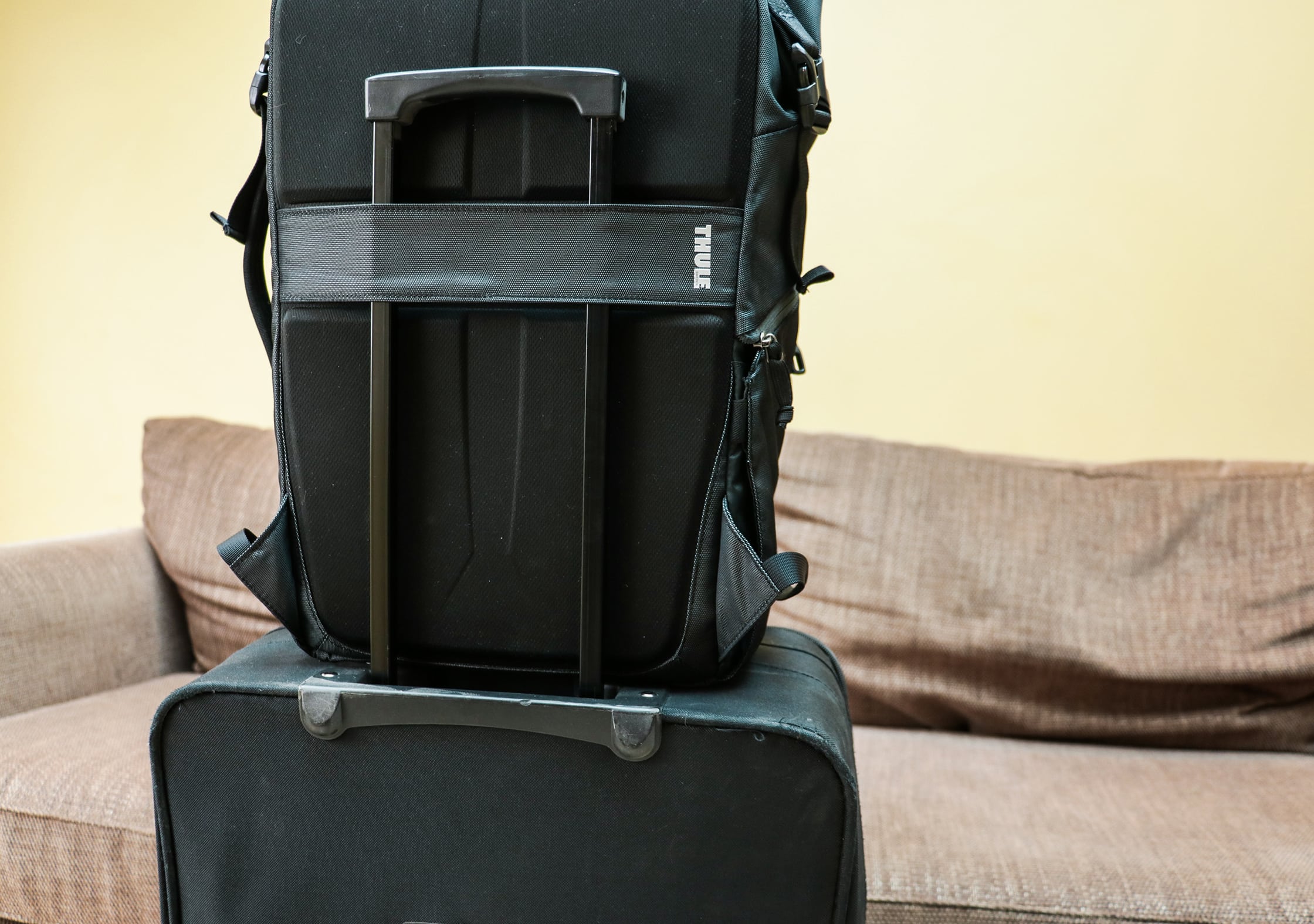 The sternum strap is pretty minimal, but does have a nice Duraflex buckle. It's comfortable and does the job well—considering it's a 34L pack, it doesn't have to be anything crazy. It's also detachable and can be moved higher or lower, which is a nice touch.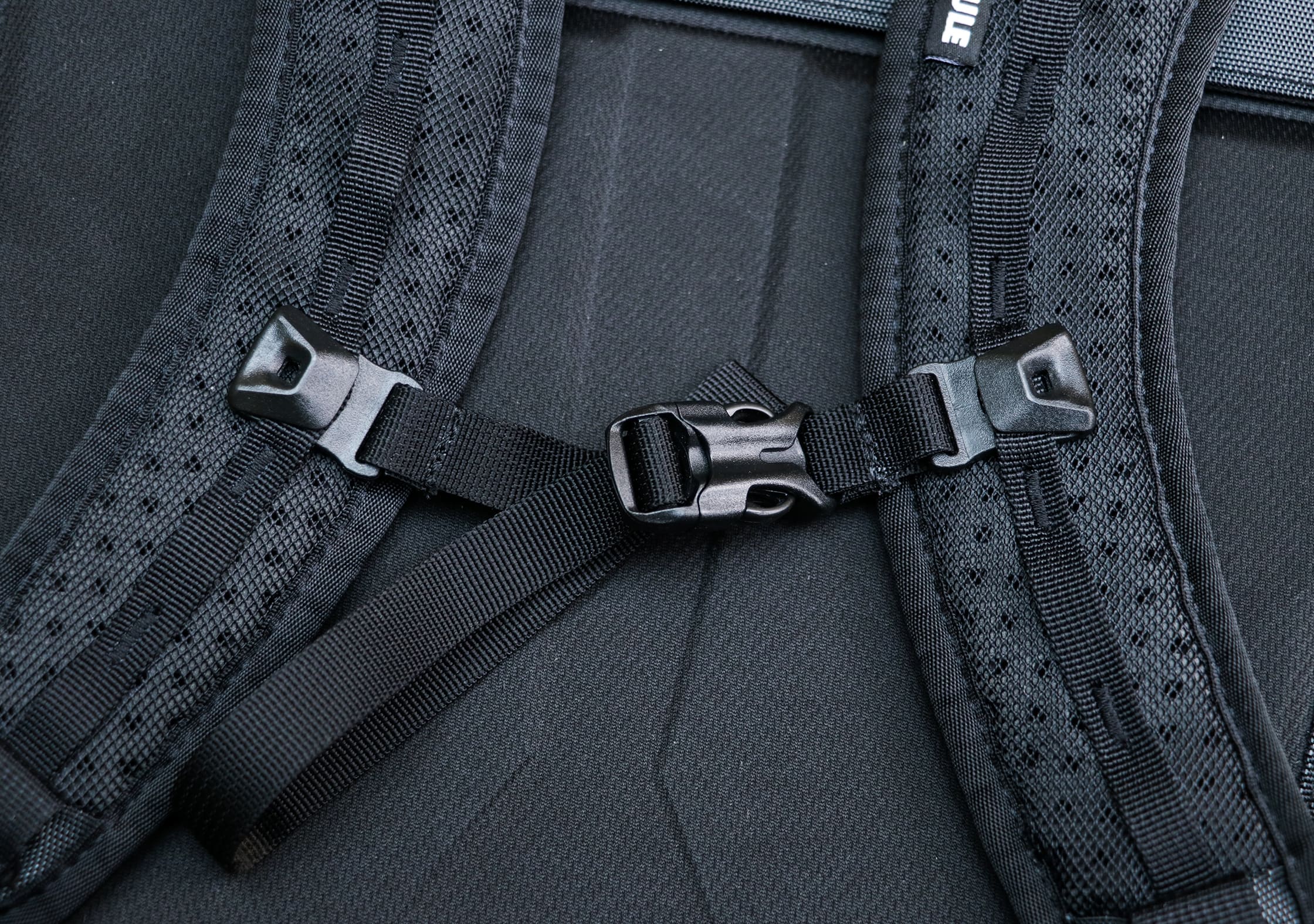 Inside the Pack
Now it's time to unroll that roll top and check out what's going on inside the main compartment. It's pretty much just a big bucket, so there's actually not much going on, but we like it. There's plenty of room and you will find access to the laptop compartment here via a velcro opening. Keep in mind that when this bag is full to the top, you're not going to be able to access it—but don't worry, there is another way to access it—we'll get to that in a bit.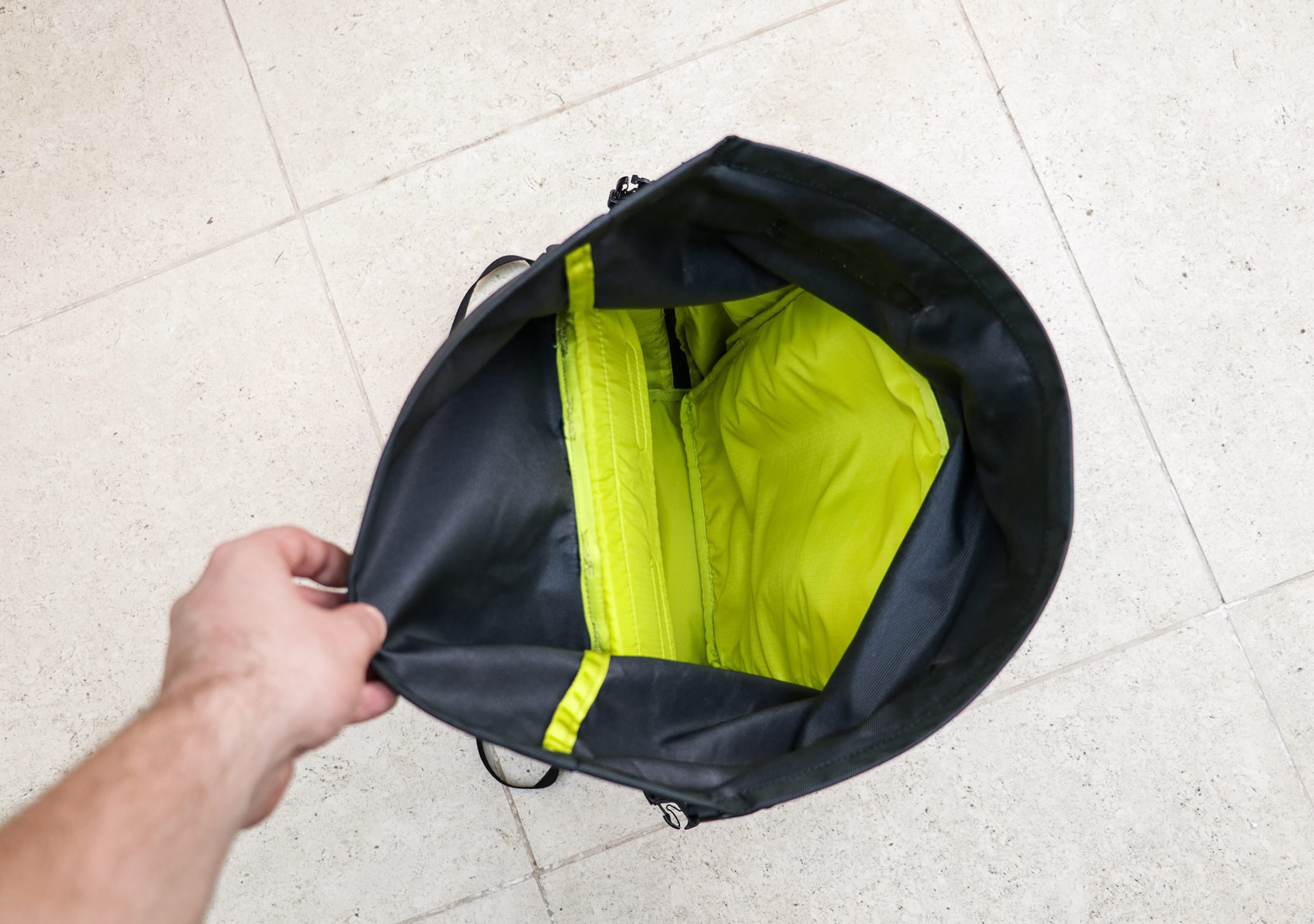 Thule does provide you with a large packing cube, which is a nice touch. It's designed to fill up the entire main compartment, but in practical use it's just not that great. We used ours once to try it out but haven't since. It's not a problem with the packing cube itself—it's made well, it's got a nice opening etc… Our problem is with the size, it's just too big. Packing cubes are useful because they help with organization within a pack, so having one large cube just doesn't offer much benefit.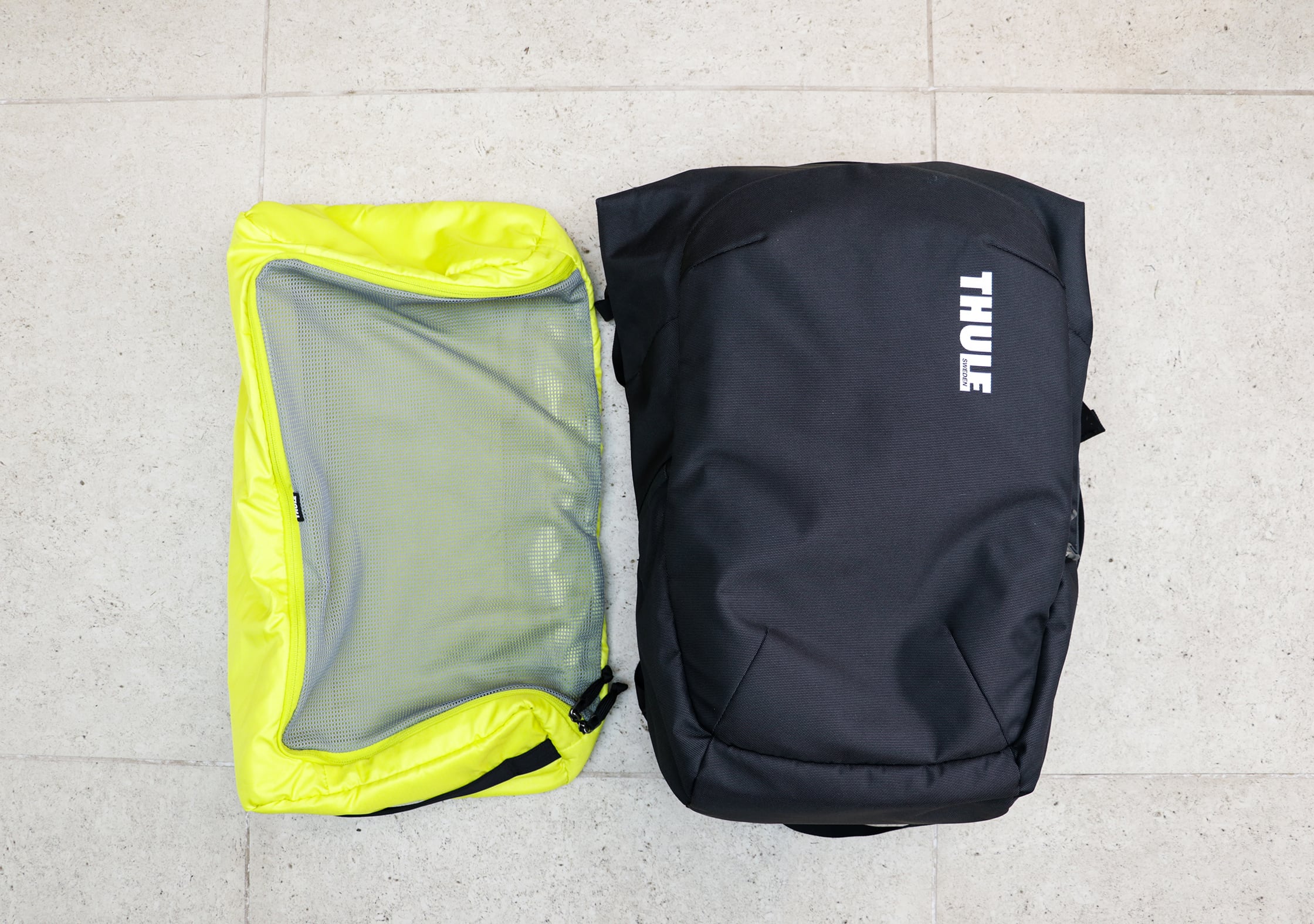 For added organization we would highly recommend using two to three medium sized packing cubes. This will leave you with a bit of space at the top for any miscellaneous items you may have. Our top tip for this bag would be to pick up some Eagle Creek Spectre Compression Cubes (you can check out our in-depth review of them here). Because this pack is only 34L, you'll find that the amount of space saved by compression makes your life a lot easier. We've learned this from experience.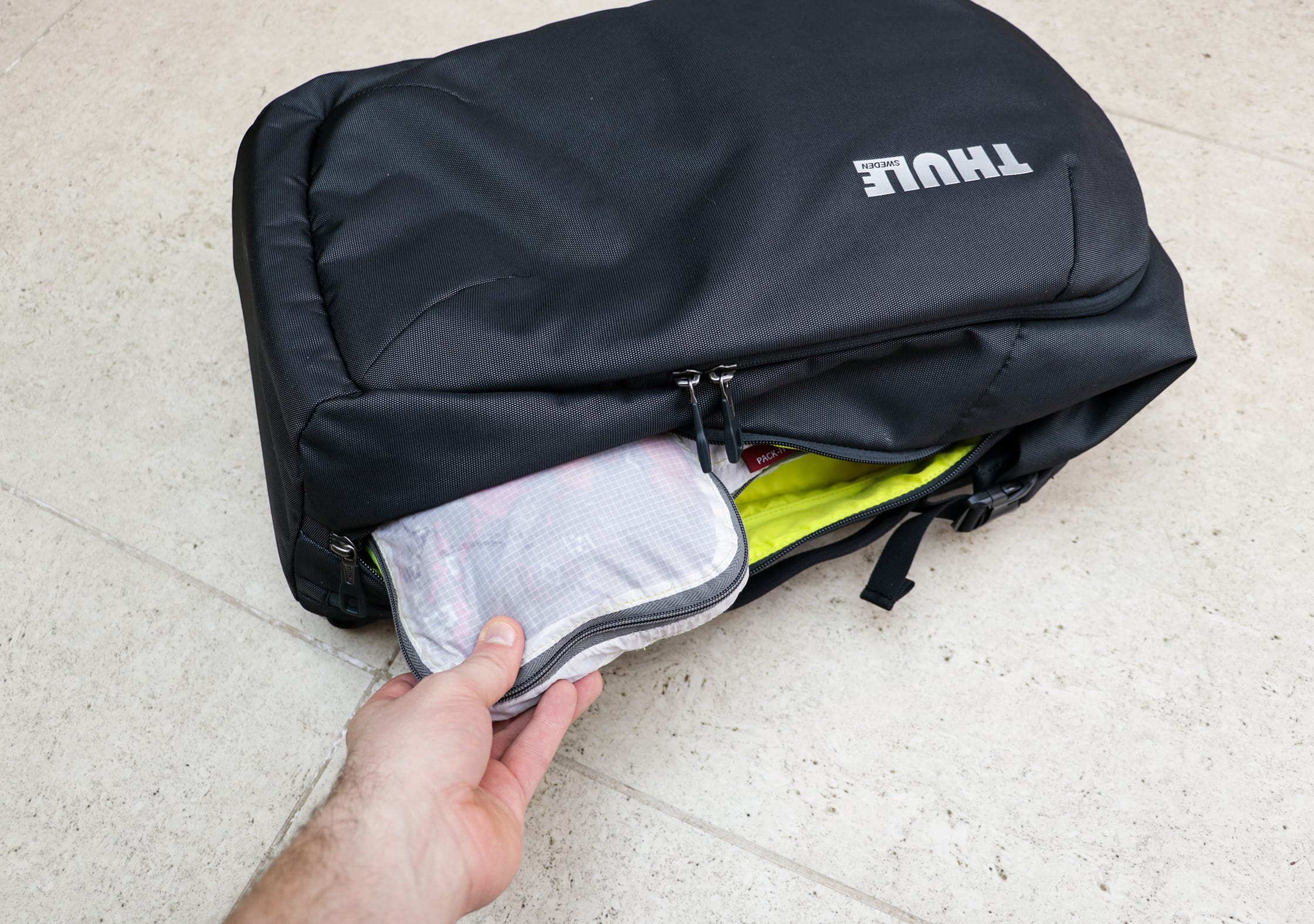 Now onto that laptop compartment we mentioned earlier. It's very well padded on the front and back, so you can be sure your laptop will be safe. Accessing this area through the main compartment can be a pain, but there is access through the side—which you'll be using about 90% of the time anyway. This side zip means you can take your laptop out whenever and wherever with ease. The compartment can hold a 15" laptop comfortably, but we have found the side access to be a bit tight if you've got a case.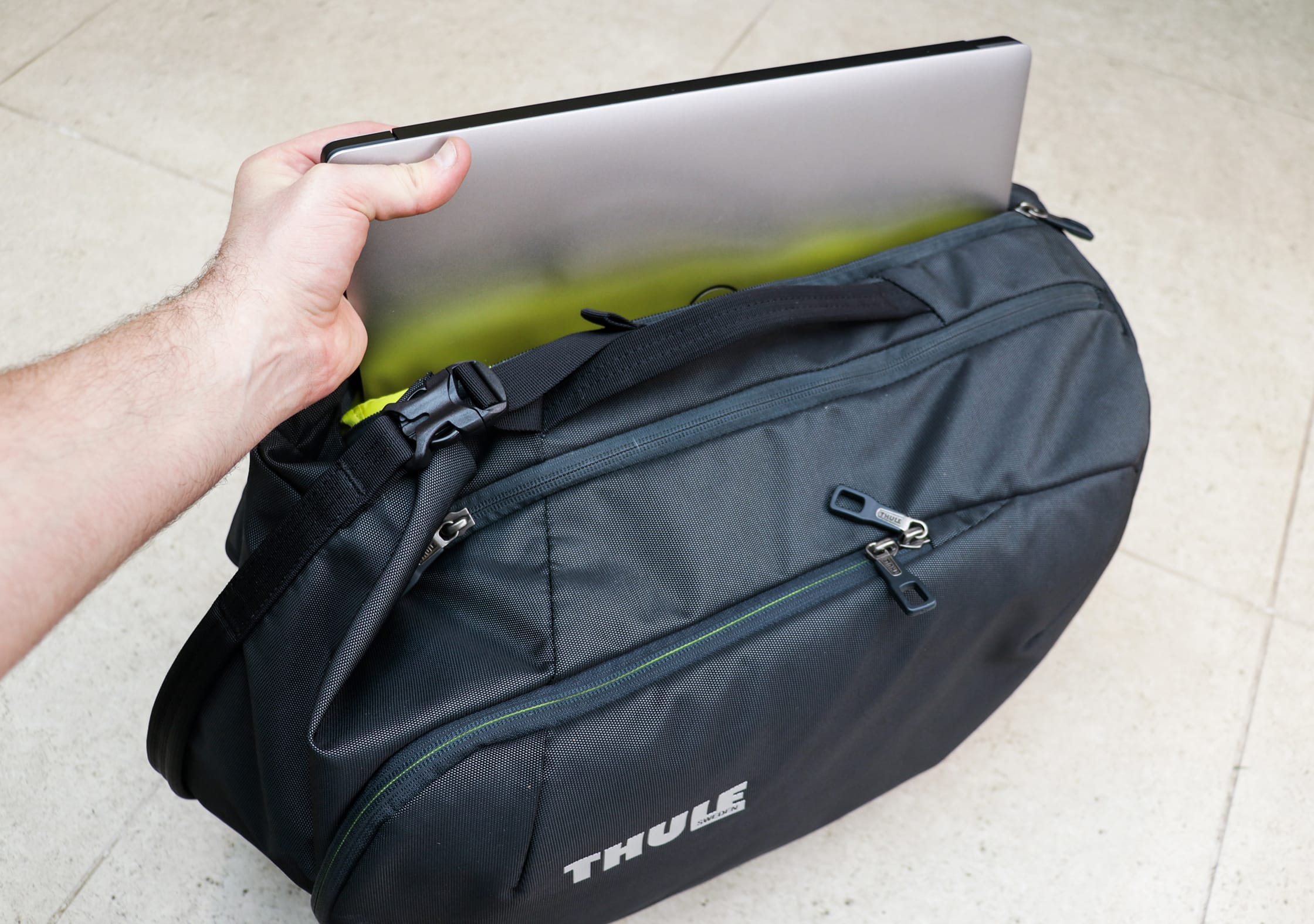 There's another zip for side access to the main compartment of the bag, which comes in really useful when you don't have time to mess around with the roll top or you want to grab something located at the bottom of the bag. There's only one zip on both the side access openings—we would have liked to see two zips that can be locked together for security—but there is a work around if you're worried about someone sneaking your laptop out. You can pass a small padlock through each compartments zip, and because the roll top buckle stops the padlock, you won't be able to unzip either compartment. Check out the photo below to see this in action.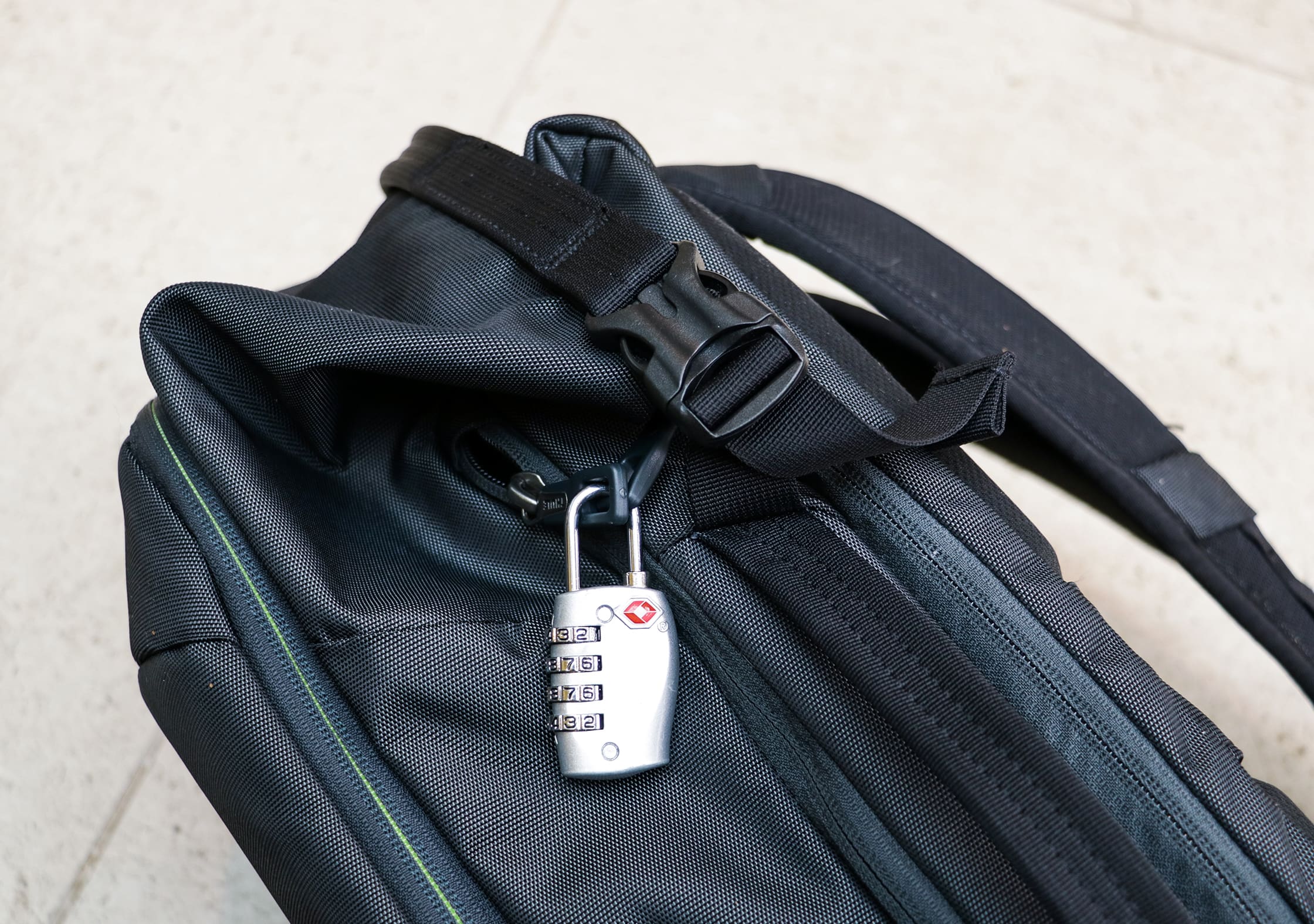 Moving onto the front compartment, you'll find some really useful pockets. There's a large soft pouch at the back which is perfect for tablets, phones, anything really. You'll also find a selection of pockets on the front of this—two that you can perfectly fit a passport, two pen holders, and a thin pocket designed to pass a wire through… which leads us to the next pocket at the bottom.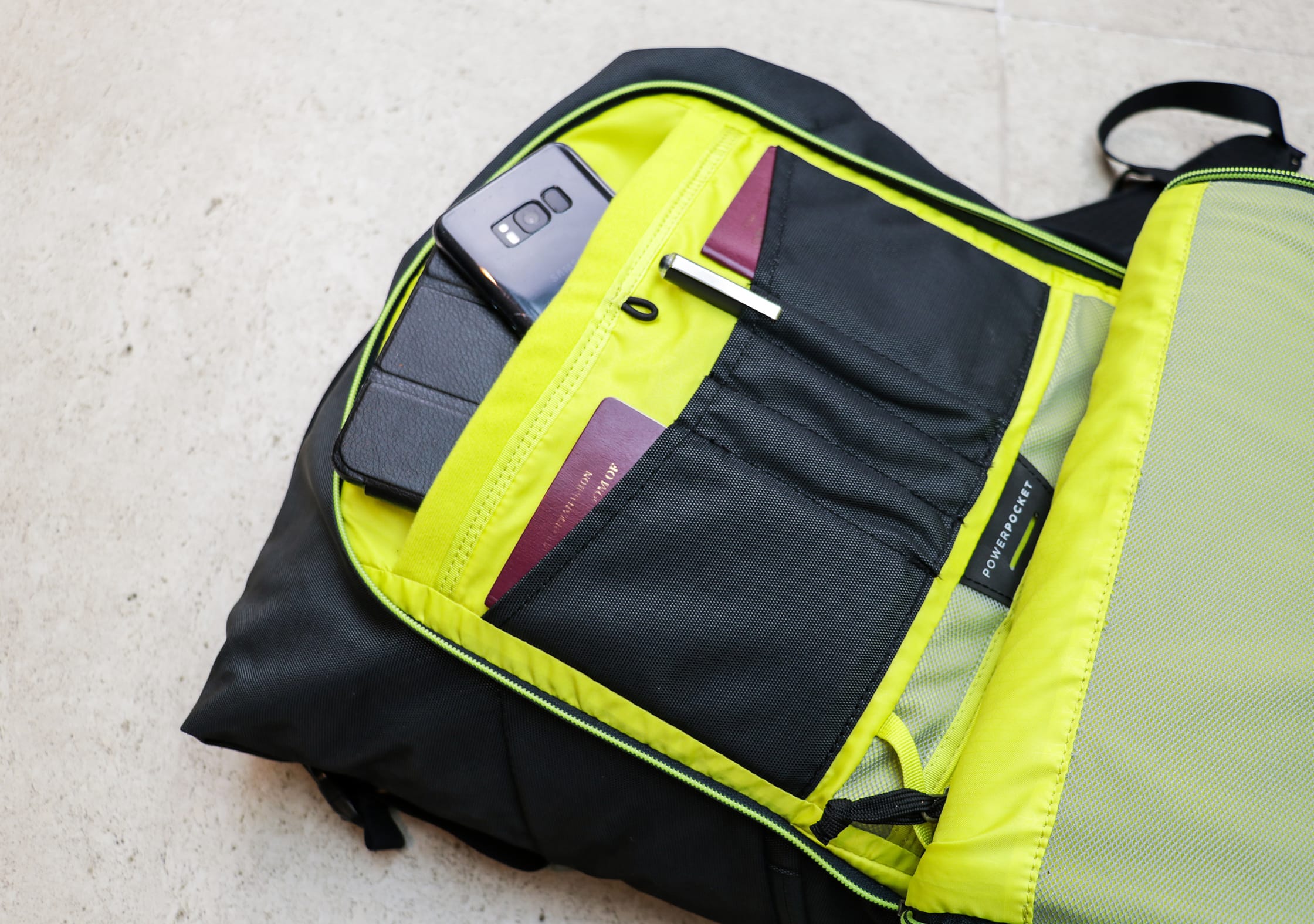 This zipped mesh pocket at the bottom is called the 'Power Pocket' and is designed to hold a power bank. Ideally, you thread the wire through the hole provided, up the thin pocket and then into your tablet/phone that's nicely tucked away in the large pouch. It's quite a nice touch by Thule considering the amount of people that utilize power banks nowadays. And if you don't have one, the pocket just acts like a normal mesh pocket—a win-win! Finally, there is one large zippered mesh pocket on the front side, which is great for any smaller items you may have.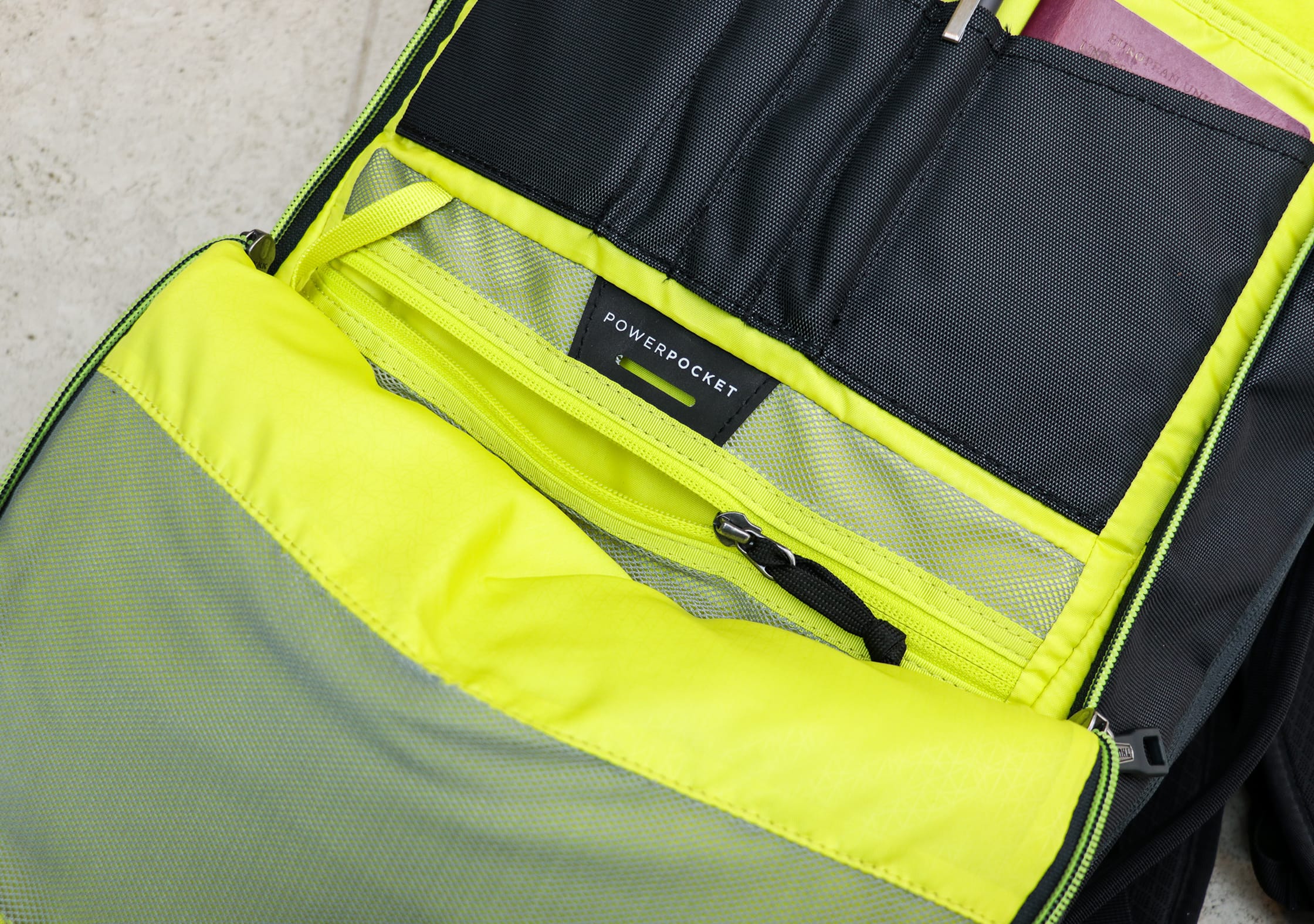 Durability and Testing
We've been testing the Thule Subterra for three months now. We've taken it on trips to Belgium, Hungary, Spain, and plenty of coffee shops with nearly everyday use. In that time the bag has held up remarkably well—it almost looks brand new. We will keep the usage timeline updated below to note if this changes.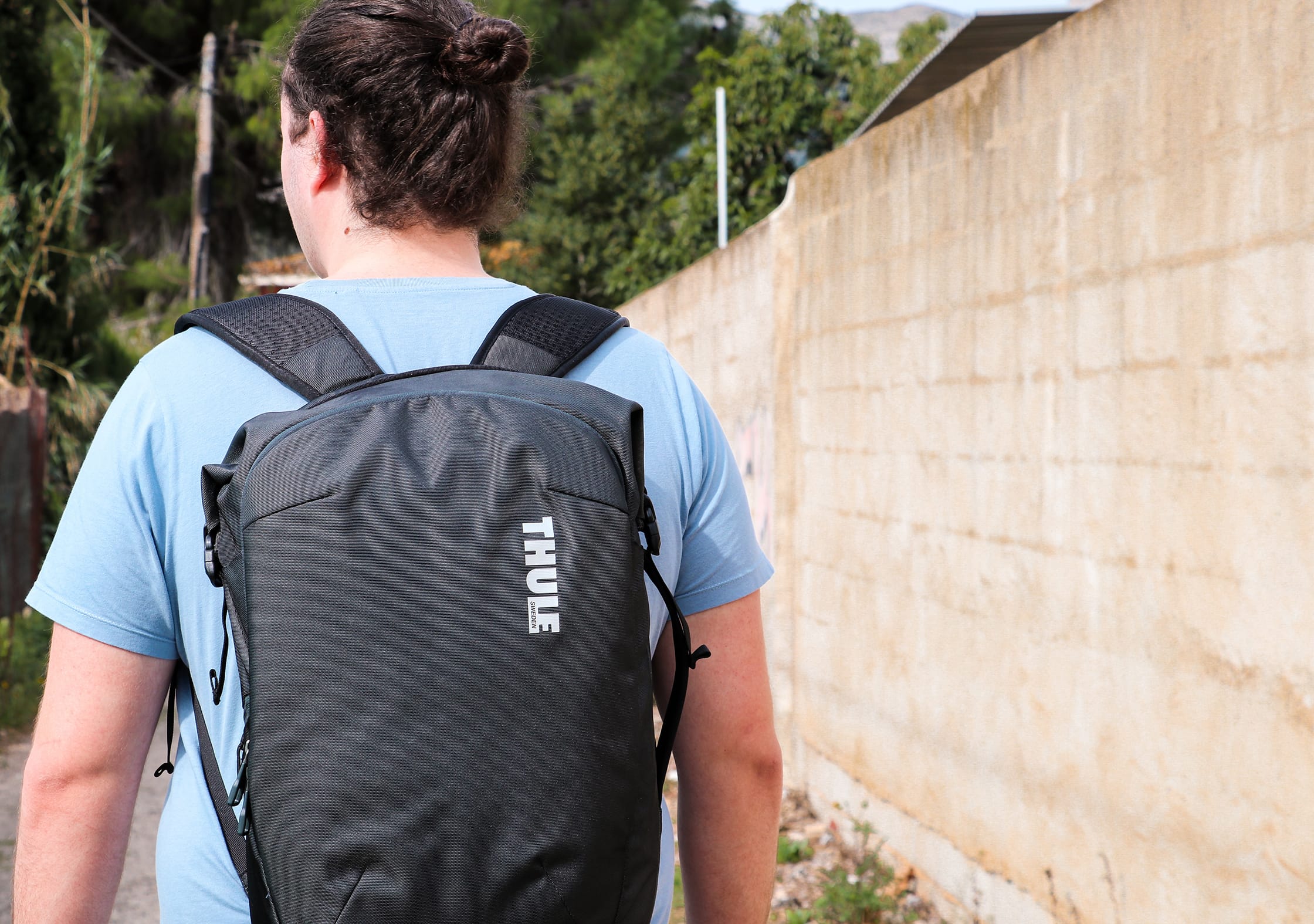 What first attracted us to this bag was that Thule sold it as an everyday pack and travel bag. We were skeptical as to how well they could pull this off, but they have done a great job! The 34L capacity is perfect for weekend city breaks and the bag holds its shape and compresses well enough for trips to the coffee shop when you just have a laptop, charger and notepad. The fact that this pack works just as well as an everyday pack as it does a travel bag is, quite frankly, awesome. A big thumbs up from us.
Thule offers a seemingly decent warranty as well. their 'BringIt!' guarantee will cover any defect or damage affecting the bag. Even damage caused by normal wear and tear or the natural discoloration of materials for two years from the date of purchase.
Usage Timeline
Initial Usage
Condition: Excellent
Love the look of this pack, the roll top works really well.
3 Months of Use
Condition: Excellent
Looks as good as new, no signs of wear and tear.
6 Months of Use
Condition: Excellent
Still going strong, we're really enjoying using this pack.
9 Months of Use
Condition: Excellent


This pack has seen use as a fully loaded tech daypack for the last few months and it's holding up incredibly well. We're really pushing this thing to its limits but it keeps on impressing.
1 Year of Use
Condition: Good


We've noticed some wear along the sides of the back panel. It's just cosmetic for now, and fortunately, it's not visible when this bag is on your back. All in all a solid showing after testing this pack nearly every day for one year!
1.5 Years of Use
Condition: Fine


The mesh pockets inside are showing some pretty bad wear and tear. We must reiterate that these pockets have been crammed full to the brim with heavy tech gear day after day, but it's still not ideal. Hopefully they'll remain usable but we'll wait and see. Externally the pack is still performing and looking great!
Access the Pro Community Discussion
Get your questions about the Thule Subterra 34L answered from our team and the Pro Community right here on the page. Plus, join discussions with other members about gear, guides, and more.
Other Bags & Luggage Reviews