Stasher Reusable Silicone Bags Review
TSA-compliant and packable, Stasher bags are a great travel-friendly alternative to single-use plastic bags, even if they collect dust and lint easily.
Our Verdict
Unlock the Pro Summary
Save time. Get access to brief summaries of our reviews so you can browse and make decisions more efficiently.
Pros
Lay flat and are super packable
Comes in a variety of sizes, shapes, and colorways
Environmentally friendly
Cons
Exterior attracts dust and lint easily
Don't dry quickly
Look worn after only a few uses
Recent Pack Hacker Video
Technical Details
Capacity

15oz

For sandwich size - other sizes available.

Weight (oz)

2.61 oz (74 g)

Dimensions

7.5 in x 7.5 in x 1 in (19.1 x 19.1 x 2.5 cm)

For sandwich size - other sizes available.

Notable Materials

Silicone

Manufacturing Country

China

Warranty Information
Full Review
We've heard a lot about Stasher bags—the reusable alternative to single-use plastic sandwich bags—and have been excited to put them to the test for a while. A product that's good for the environment, easy to pack, and safe to toss in that AirBnB dishwasher? Sign us up.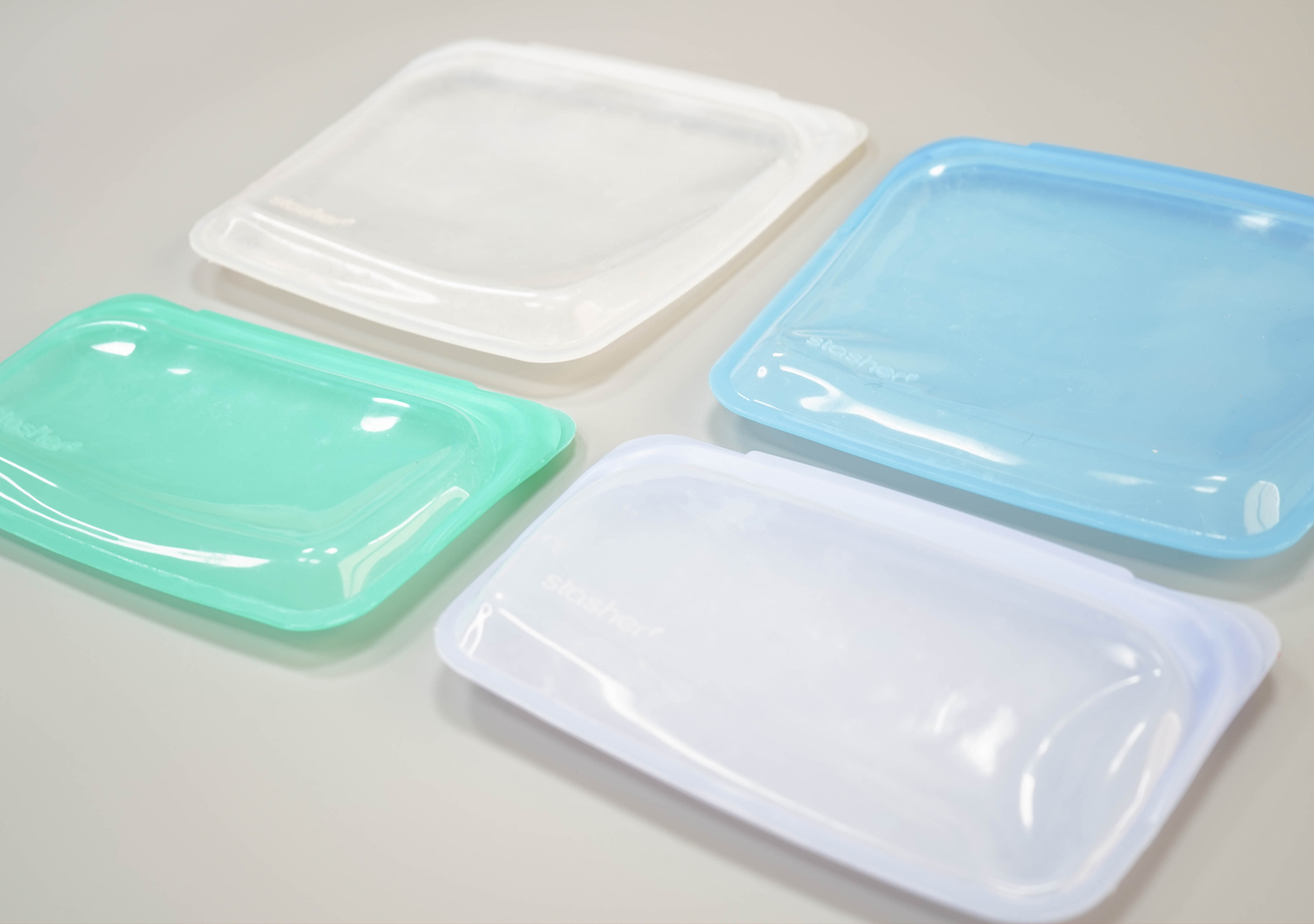 Stashers are made of platinum grade silicone (a tougher standard than food grade) and come in a variety of shapes, sizes, colors, and patterns for all sorts of different use cases. They're great for storing snacks, makeup, and even tech accessories. Basically, whatever you do with a plastic bag, you can do with a Stasher bag.
And while Stasher bags are available in black (our favorite color here at Pack Hacker), we've mixed it up and have been testing a variety of colors and sizes. We do have a few complaints—it wouldn't be a Pack Hacker review without them—but overall we've enjoyed our experience thus far. On that note, let's get into what we've been liking and what we think could use a bit of improvement.
What We Like
Let's start with the obvious: the environmental impact (or lack thereof) of these bags is a major plus. These things were created, and continue to be advertised as, an environmentally-friendly alternative to single-use plastic bags. (If your day is going too well and you need a hit of sadness, check out Stasher's marketing videos featuring the infamous plastic island). It truly does feel great to stop tossing plastic bags in the trash.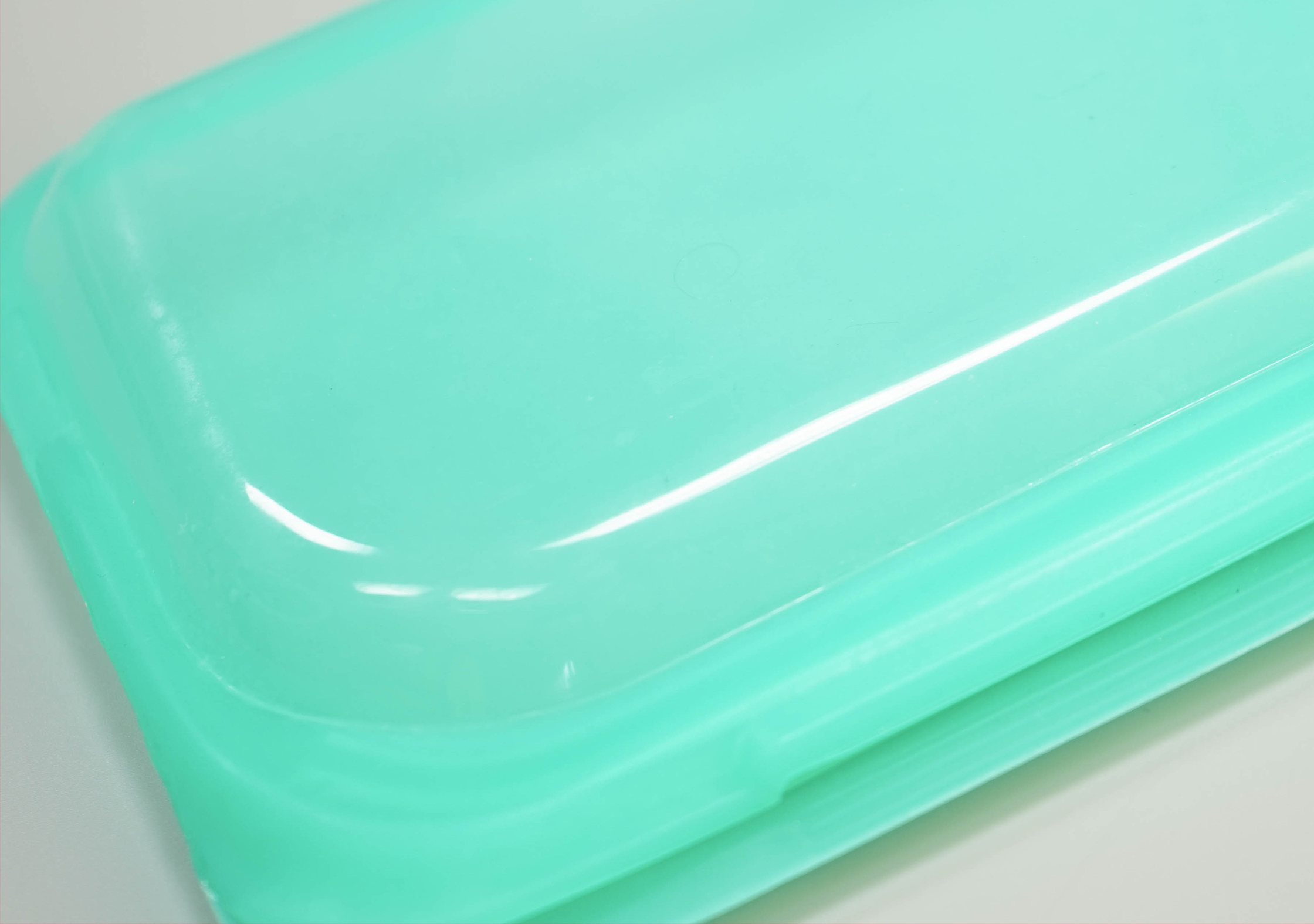 Like we mentioned above, Stasher bags are made of 100% platinum grade silicone and Stasher claims they are "endlessly reusable." That's a pretty strong claim, and two weeks has not been enough time to verify it, but beyond some superficial dirt and the like on the exterior of the bags, they've held up well so far. Still, we're not sure about this forever claim, so check our usage timeline below to see how these bags continue to hold up.
In addition to creating sustainable products, Stasher considers environmental responsibility to be at the core of their business. They share tips on how to live an eco-conscious life on their website and various social media channels, which we can definitely get behind.
But environmentalism isn't the only reason Stasher bags are great, particularly when it comes to travel.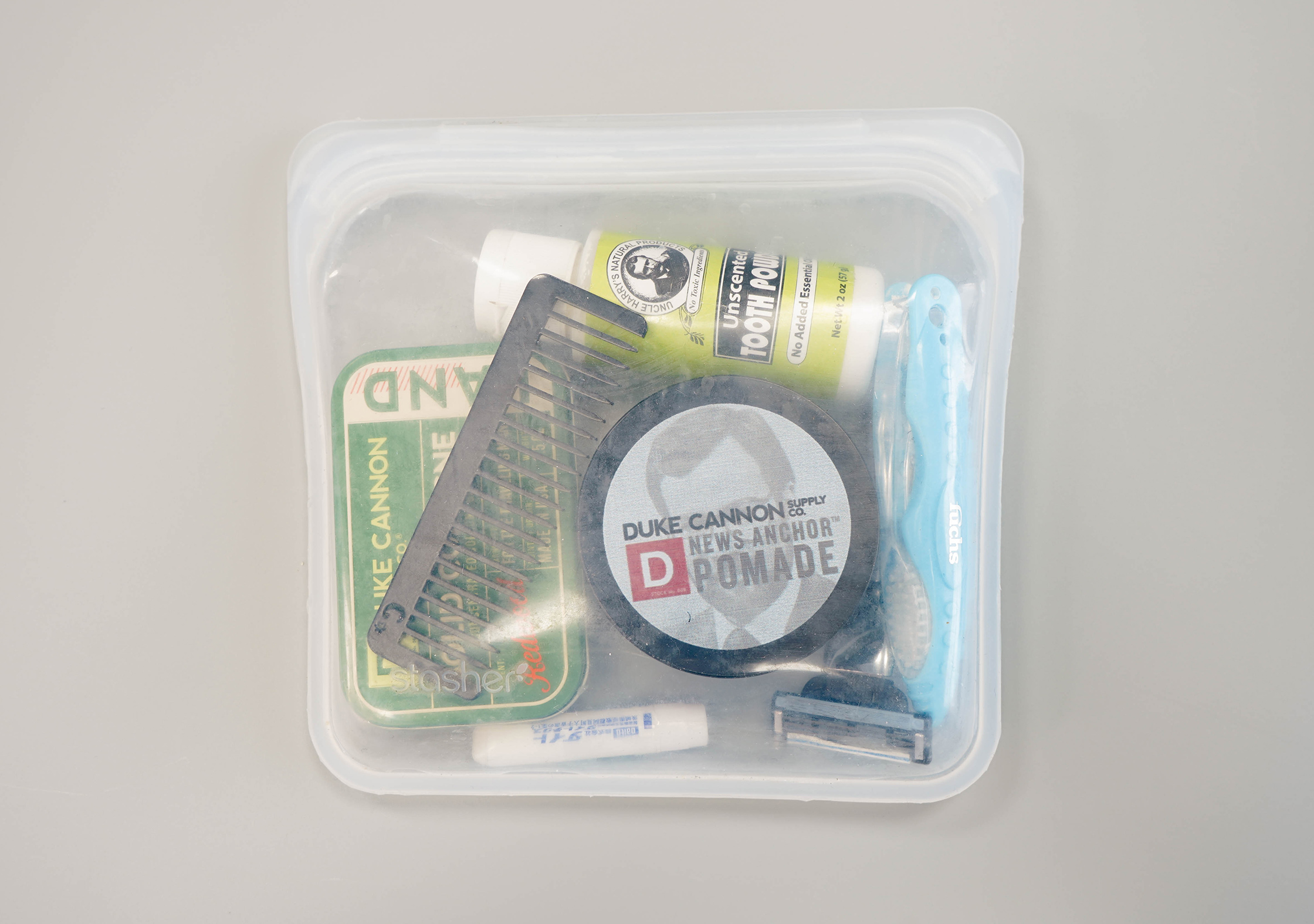 First of all, the sandwich-sized Stasher bag is TSA-compliant. So you don't have to remember to pack a separate plastic bag or feel bad when you toss said plastic bag once you get to your destination. Plus, there's less chance of ripping, so you don't have to worry about your liquid products spilling all over the rest of your stuff (never a good time).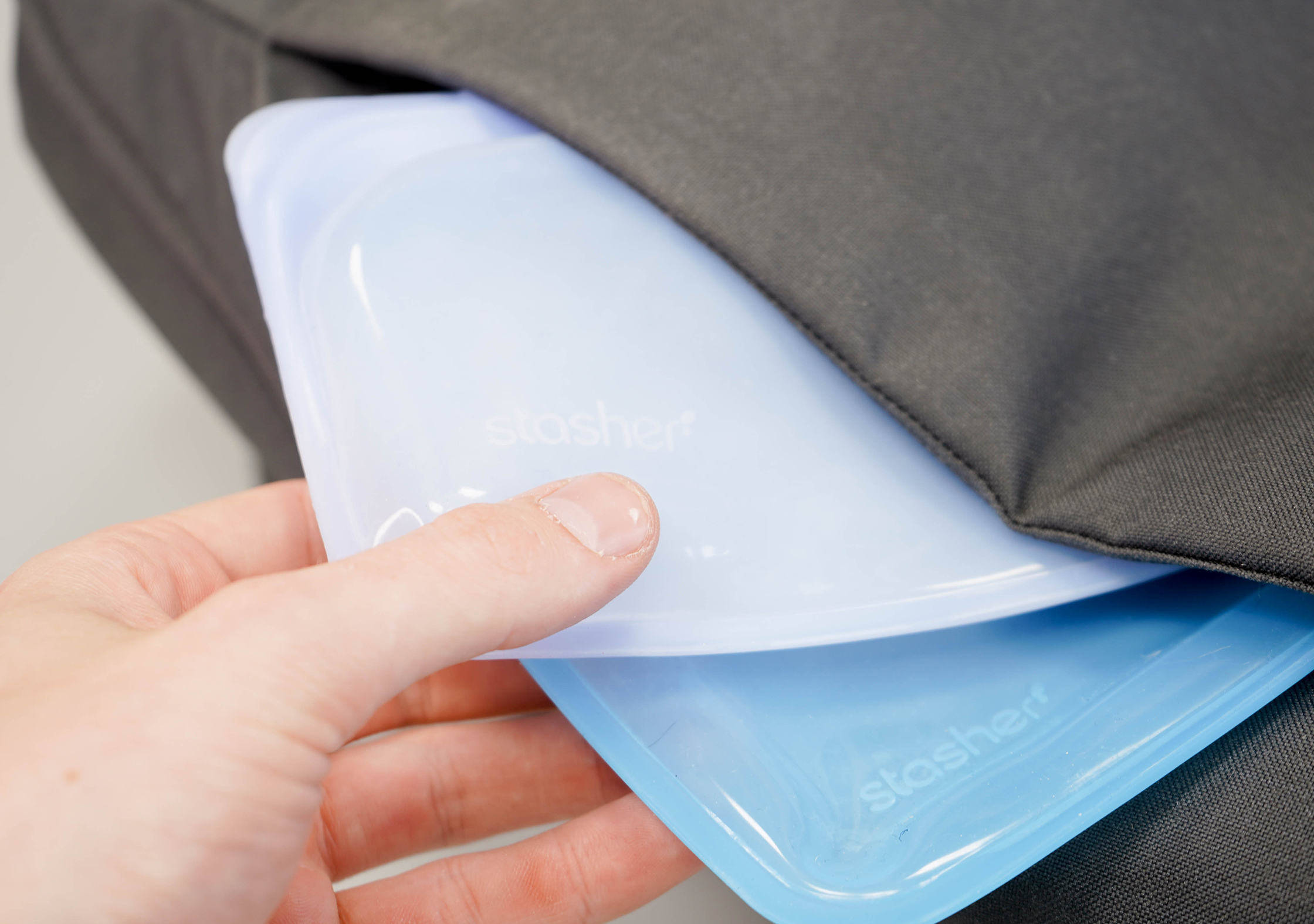 The bags also lay flat and weigh almost nothing, which means you can easily toss them in your pack when not in use. Even when you are using them, they're not that big (at least compared to traditional food containers) which makes them great for storing snacks while hiking or city-strolling.
Additionally, the bags have a Pinch-loc™ seal, which means they seal in a similar way to plastic sandwich bags. We've found the seal works really well in keeping our snacks fresh and secure. We've never had any leakage problems while in-transit.
That said, the seal isn't impervious. If you fill it up with water, turn it upside down, and shake it, the seal will break (and, yes, we actually did try this). However, a plastic bag reacts in a similar fashion, so we haven't thought of this as a major downside. We're also not really sure when you'd be carrying around that much liquid inside of a Stasher while traveling… (If you are looking to carry liquids while traveling, we'd recommend GoToob+)
The seal is also a breeze to open and close, allowing you to get in and out of the bag quickly. This is very helpful when you're seconds away from hangry-ness and need a handful of [insert favorite snack here] stat.
Because of the seal, you can also throw various need-to-be-dry items in the bag to keep them safe. We wouldn't recommend tossing your smartphone in a Stasher bag and scuba-diving, but for all those situations where you toss your phone in a Ziploc and call it a day, a Stasher will work just fine.
Now, Stasher says that touch-screens work through the silicone and, while that's technically true, they don't exactly work well. You'll likely be able to do what you need to, but it's not going to be the picture of peace you think it will.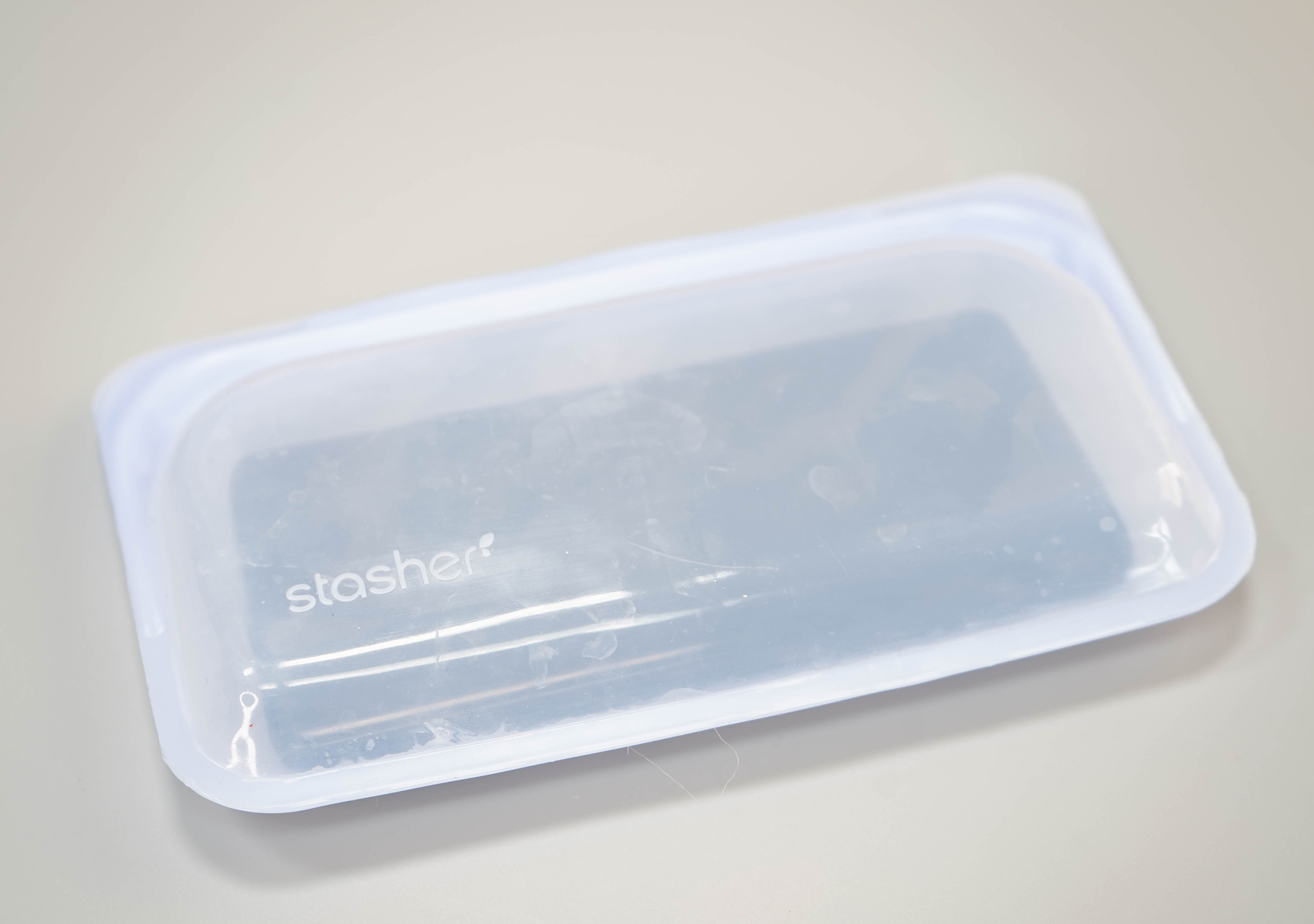 And because Stasher carries bags in a variety of sizes and styles—from pocket to half-gallon—you can likely find one that fits your needs. They even recently released Shimmer bags—called so because they're glittery—which they market as a makeup bag, but could also be used for food since they're made of platinum grade silicone and a non-toxic shimmery additive.
We appreciate that all of their bags have some level of transparency, so you can easily see what's inside—a major plus when traveling.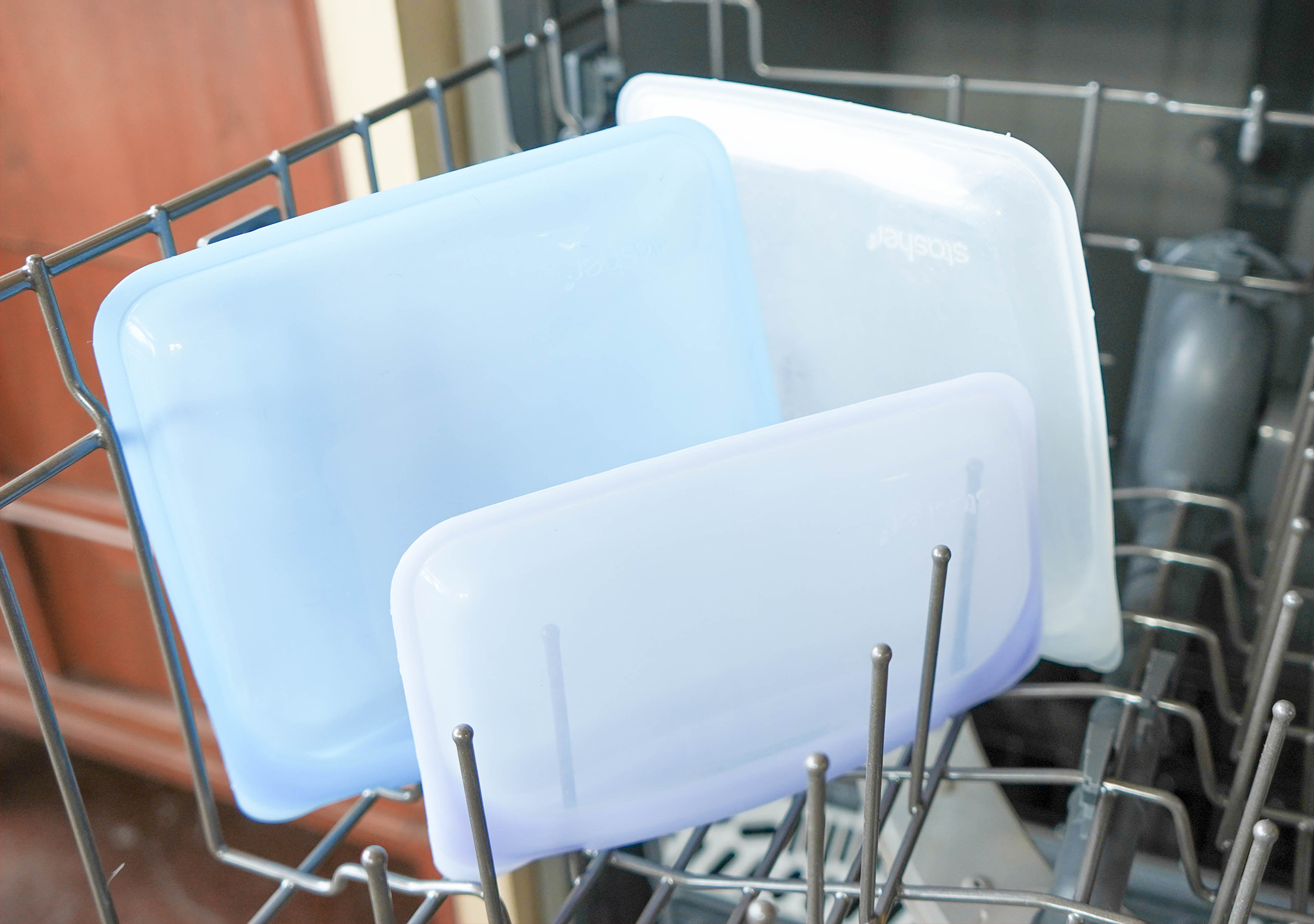 Lastly, Stasher bags are dishwasher safe but can also be hand-washed. However, washing them by hand is kind of a pain and definitely something that could use improvement (more on this below).
They're also microwave, oven, and sous vide safe—meaning you could sort of cook with them? And if you're anything like us and don't know what "sous vide" means, no fear, we did the Googling for you. To put it simply, Sous vide is a way to cook food by sticking a sealed bag inside a temperature-controlled pot of water for long periods of time. #Nowyouknow.
What Could Be Improved
The worst part about the Stasher bags is how easily they collect dust and fluff. You might think your brand new backpack doesn't have any dust inside, but toss a Stasher bag in there and it'll find some. While they're "endlessly reusable," they do start to look a little meh, to use concise language, after you've been using them for a bit.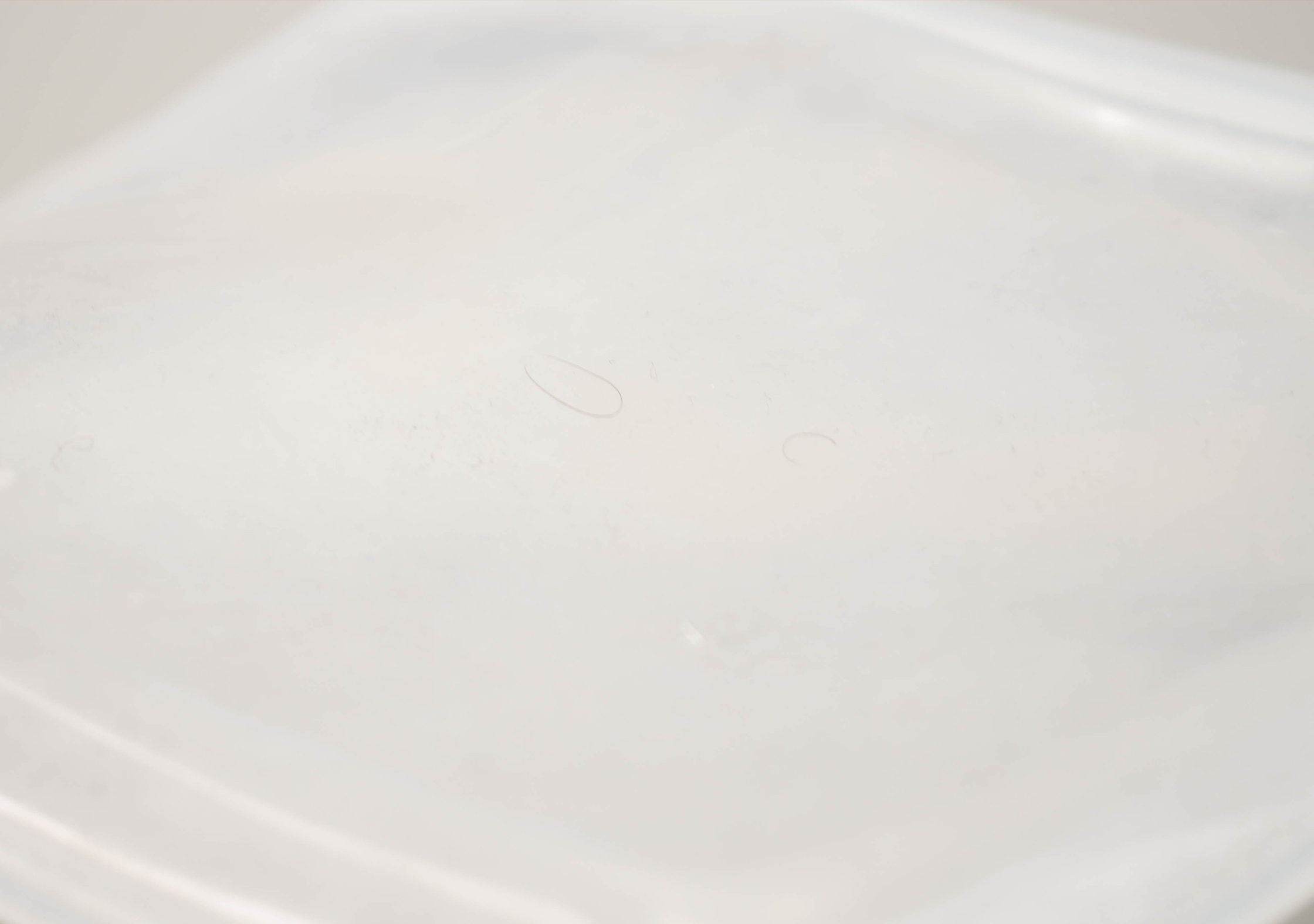 And, while they are dishwasher safe, they aren't the most fun to wash without a dishwasher (it's a similar experience to washing a Ziploc bag). We've found flipping the bags inside out for washing works the best for getting those bottom corners clean. A brush also works here, but you probably won't have a brush with you on the road.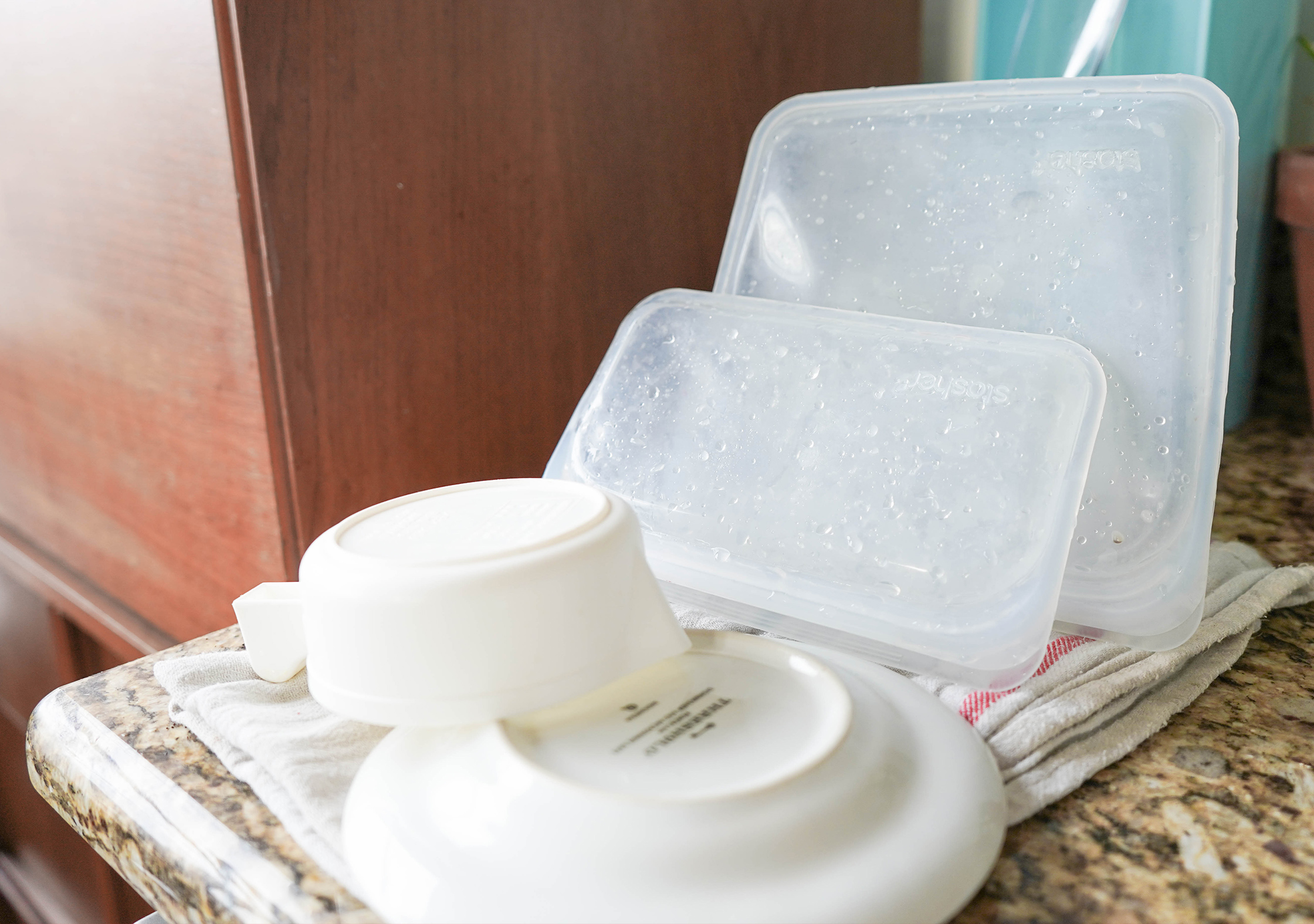 And, no matter if you wash it by hand or by dishwasher, the inside takes a while to dry. We've found patting it dry with a towel or drying it inside out will help speed things along.
Usage Timeline
Initial Usage
Condition: Excellent
We like that we're not using as many disposable bags!
The seal closure is secure.
Silicone can attract dust and dirt but is a great material for storing food.
2 Weeks of Use
Condition: Good
Starting to look a little worn down but still functioning well.
Access the Pro Community Discussion
Get your questions about the Stasher Reusable Silicone Bags answered from our team and the Pro Community right here on the page. Plus, join discussions with other members about gear, guides, and more.
Other Organizers & Pouches Reviews