Scrubba Wash Bag Review
Cleaning your clothes on the road is never fun, but we've been impressed with the packability, durability, and practicality of the Scrubba Wash Bag. Its load is limited, and it's not perfect for bulkier items, but the benefits over alternative washing methods are impressive.
Our Verdict
Unlock the Pro Summary
Save time. Get access to brief summaries of our reviews so you can browse and make decisions more efficiently.
Pros
Cleans your clothes anywhere (as long as you have water).
Uses minimal water and kind on your hands.
Lightweight and compressible.
Cons
Can only take small wash loads.
Have to wash bulkier items like sweaters twice.
Leaves your clothes pretty wet after washing.
Recent Pack Hacker Video
Technical Details
Capacity

13l

Weight (oz)

5 oz (141.7 g)

Dimensions

21 in x 12.5 in (53.3 x 31.8 cm)

6.3" x 2.4" x 2.4" when rolled up and compressed

Notable Materials

Nylon, Thermoplastic Polyurethane (TPU)

Manufacturing Country

China

Warranty Information
Full Review
The Scrubba Wash Bag is an innovative piece of travel gear designed to give you "clean clothes anywhere," and who doesn't want that? Cleaning your clothes is something every long-term traveler in the world has to deal with, so a product that claims to make that easier is definitely worth checking out.
At the time of this review, we've been testing the Scrubba Wash Bag on trips around the UK for just over a month. So, can this thing really give you "clean clothes anywhere?" Let's get into it.
Material & Aesthetic
At first glance, you could be fooled into thinking the Scrubba Wash Bag is an ordinary dry bag, which makes sense because it can be used as one.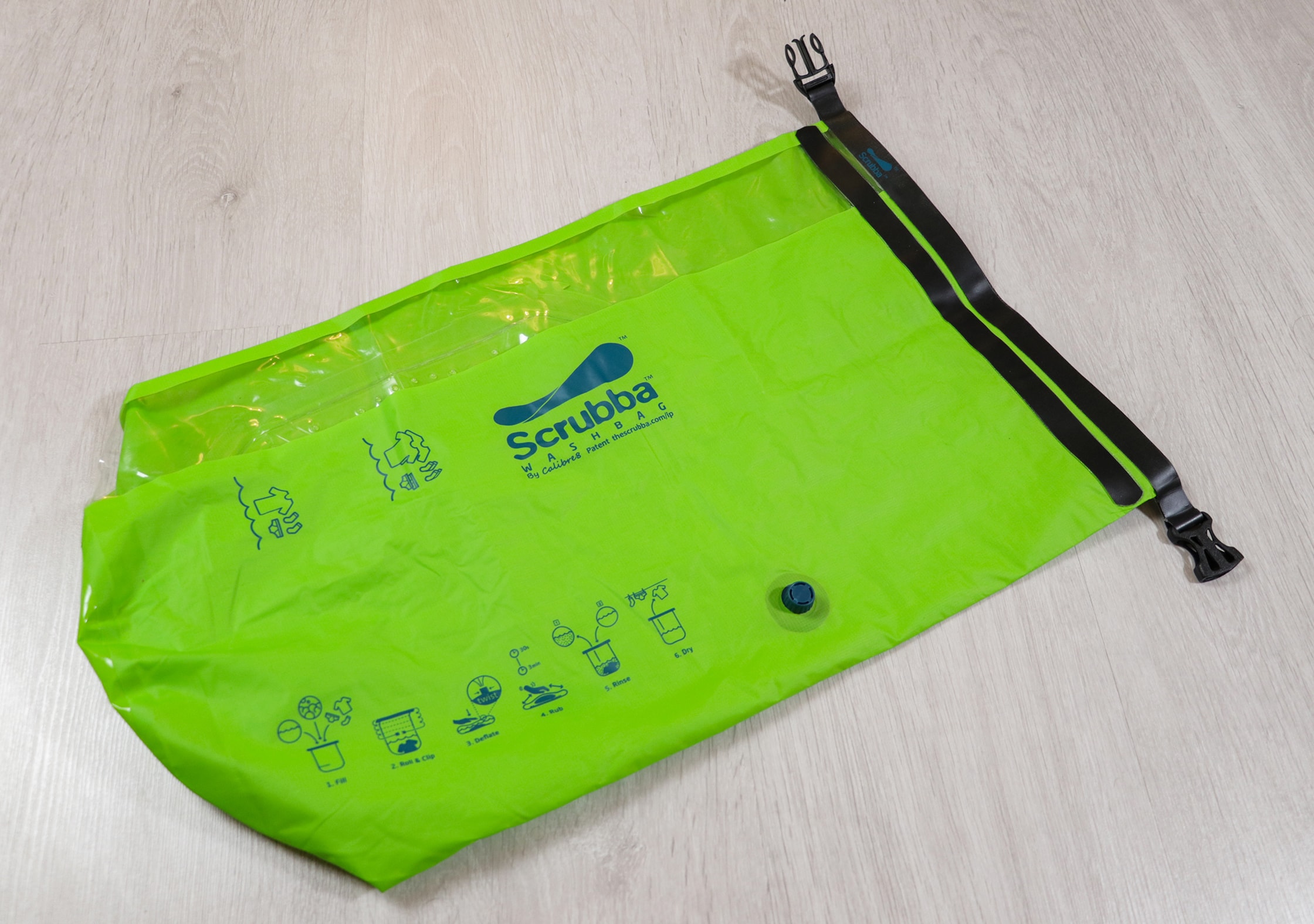 Taking a closer look, you'll find instructions on how to wash your clothes on the outside, which is super helpful and should clear up exactly what this thing is designed for. Additionally, there is a large Scrubba logo on the front and a smaller logo on the rolltop too.
We went with the green version, which is certainly a bold color choice—especially for us—but it does make finding it inside your pack easier, which we like. Alternatively, there is a black version too for people who prefer to be a bit more inconspicuous.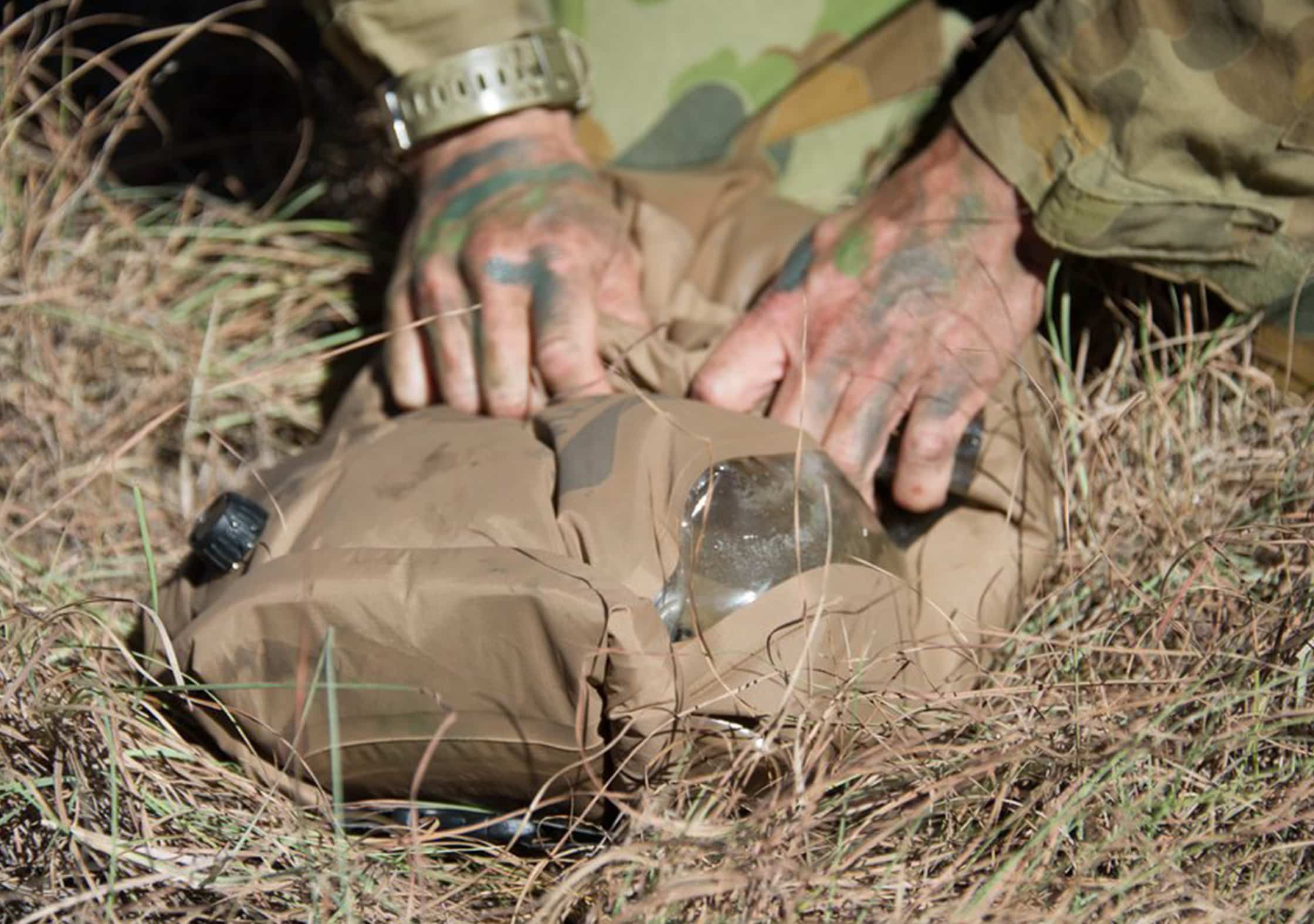 Scrubba also makes a "tactical" wash bag that was designed in consultation with a former Australian SAS Team Leader, which according to them is "perfect for military, outdoor adventurers, disaster relief, zombie preppers, and superheroes." While we can't imagine Captain America or The Hulk using a Scrubba Wash Bag (we will keep an eye out in upcoming superhero films) this thing does look ideal for the military with its extra-large valve and brown color.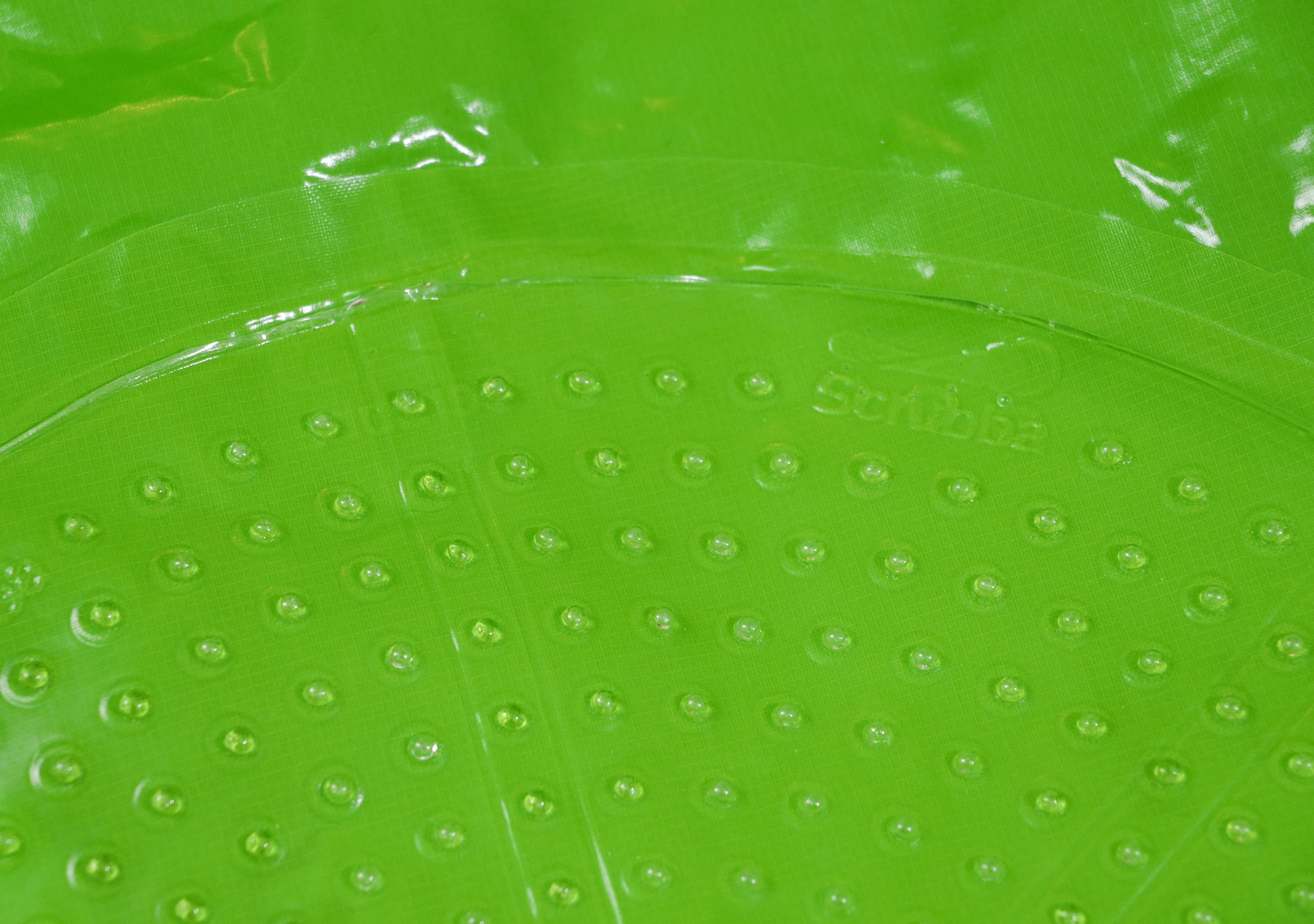 The Scrubba Wash Bag is made from 40D Nylon with a TPU coating. You've almost certainly come across Nylon before—it's a commonly used fabric that's regarded for its durability while remaining thin and flexible. And the "40D" part refers to its Denier, which is a unit of textile measurement that will tell you how thick a fabric is. (It's a bit more complicated than that, but just know that higher denier generally means thicker material.) In our testing, we've found 40D to provide a great balance of strength and lightness, so all good here.
If you've never heard of TPU (thermoplastic polyurethane), or simply want to learn more about it, Scrubba does a fantastic job of diving deep into the details over on their website:
"Polyurethane is one of those magical substances that helps improve many of the products we use every day – even if most of us don't realise it! Indeed, according to the Essential Chemical Industry, 'No other plastic allows itself to be made to measure in the same way as a polyurethane. Foams can be flexible or rigid, resistant to cold or particularly kind to skin.' Wildly adaptable, this nifty substance can even occur as a spray or coating, adding vital strength in the form of defence against corrosion and abrasion. TPU has been used in the textile industry for many years, where it has achieved proven results and is particularly admired for its outstanding abrasion resistance."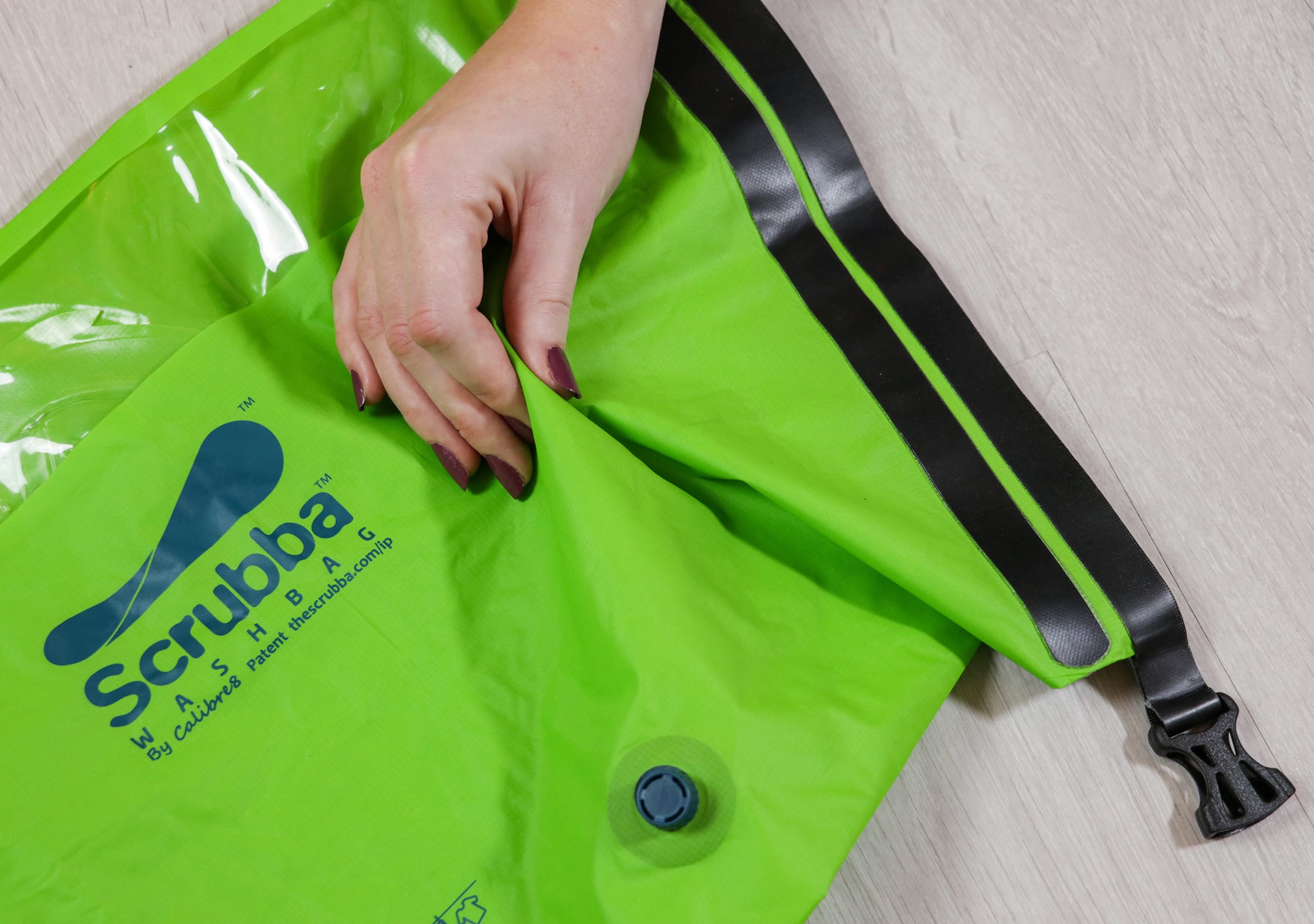 We've found these materials give the Scrubba Wash Bag a crinkly and plastic-like feel, but it's clear that Scrubba has thought long and hard about everything going on here, and it all comes together really well.
Usage & Benefits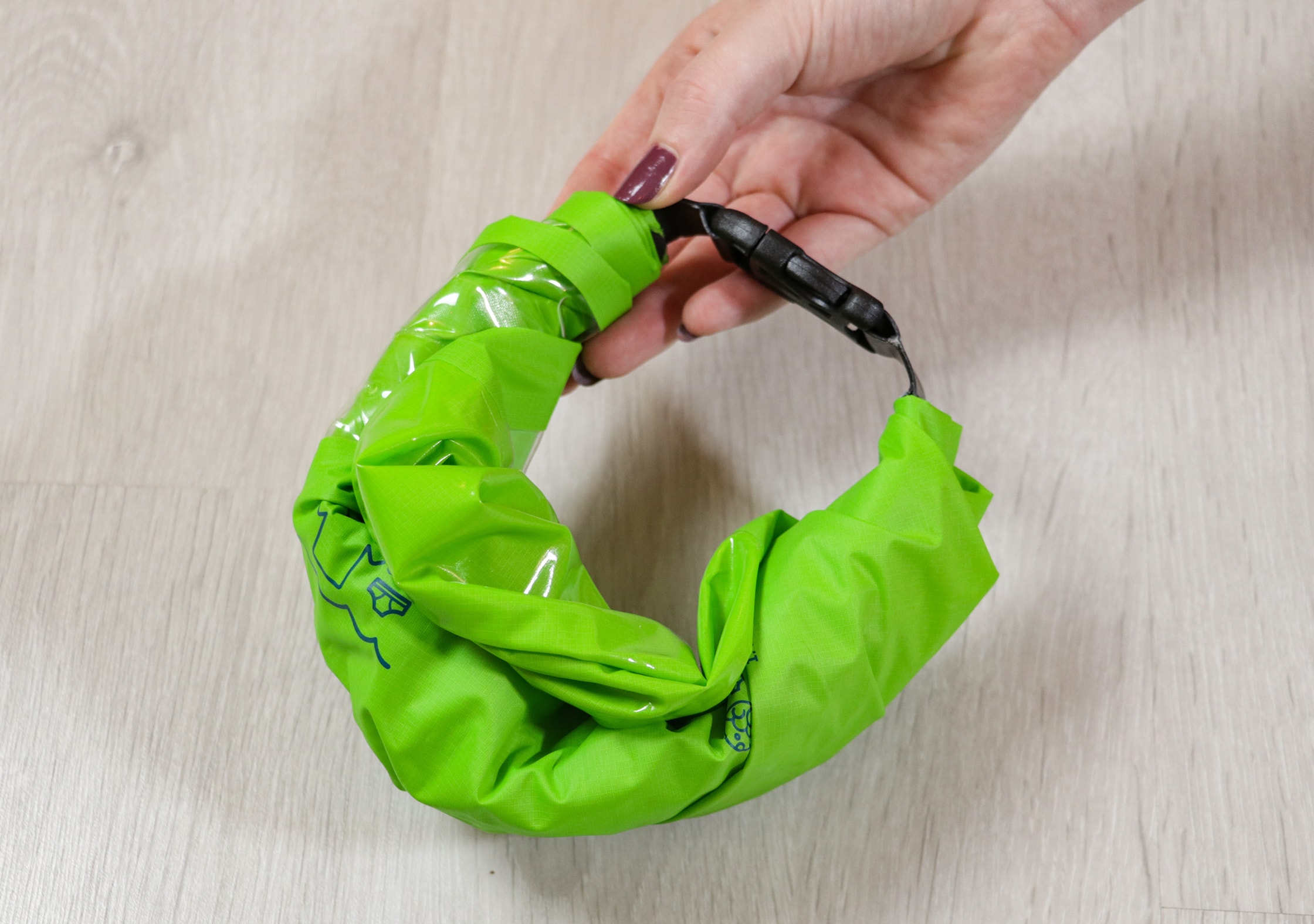 The Scrubba Wash Bag is purpose-built for travel, where weight and space are at a premium. Fortunately, this things weighs in at a mere 5 ounces and can be rolled up or easily folded to save space. Adding to its benefits for travel, the Scrubba Wash Bag can also double as a dry bag. Versatile products that have multiple uses are always sought after, and we're happy to see that Scrubba has delivered on this front.
Washing your clothes inside this thing is a straight-forward process, but it's not entirely foolproof, which we discovered when we left the valve open during the scrubbing process. You know when you spill a small glass of water and it seemingly turns into ten liters and gets absolutely everywhere? It wasn't pretty. Luckily for you, that's why we do the testing—so you don't make the same mistakes.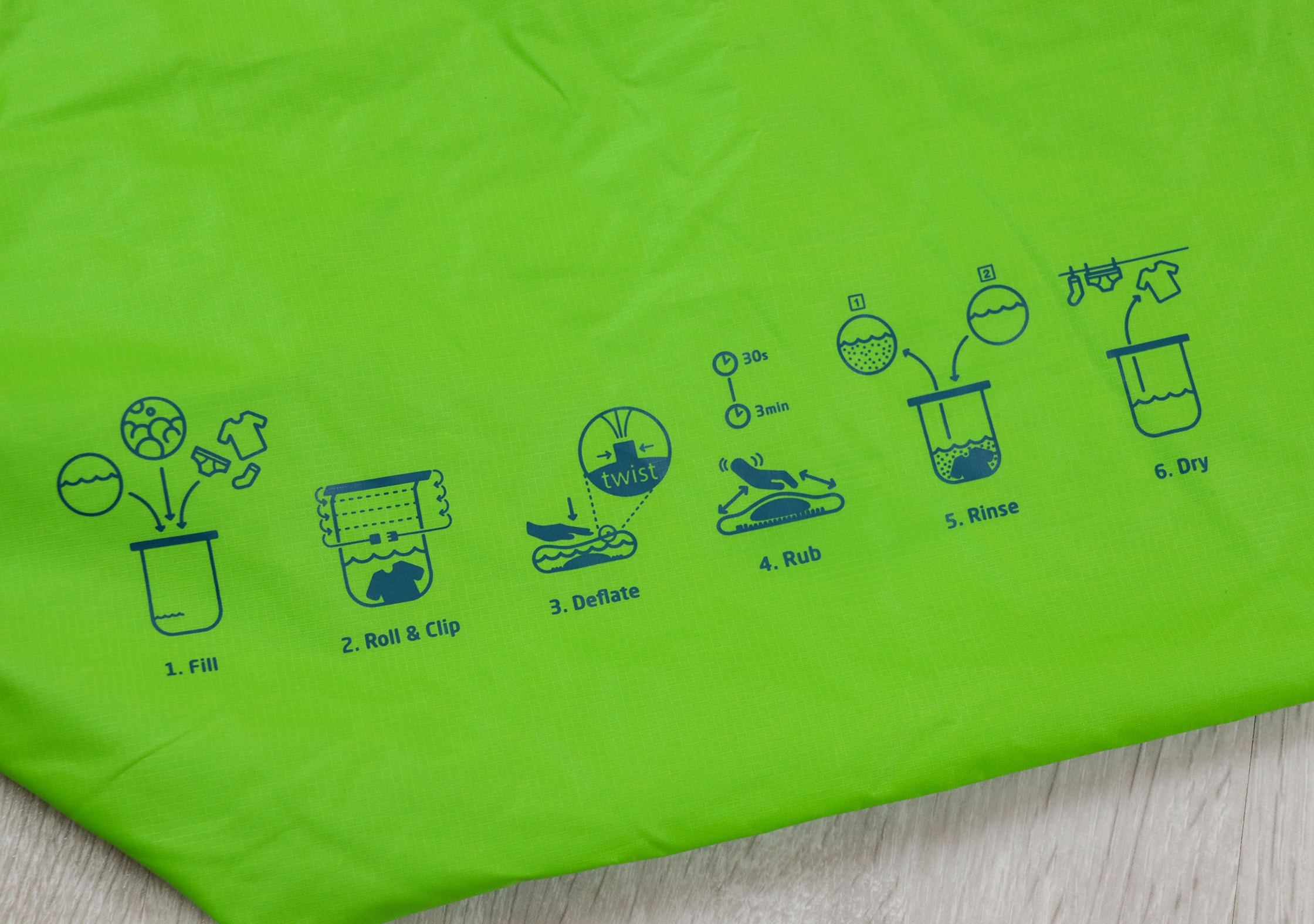 Without further ado, let's dive into the six simple steps you can use to wash your clothes with this bad boy. (These are also conveniently placed on the front if you ever forget.)
1. Fill with clothes, water, and soap: How well, quick, and efficient the Scrubba Wash Bag washes your clothes will depend on how many items you put in. We've found that two t-shirts, two pairs of underwear, and two pairs of socks to is a perfect combination. Anything more and you increase your chances of overfilling the bag, which will result in clothes that aren't as clean as they could be. The Scrubba Wash Bag can be used for thicker and heavier items of clothing, like a sweater and trousers, but it may take a couple of washes. And at two to three minutes a wash, that's not too big of an issue.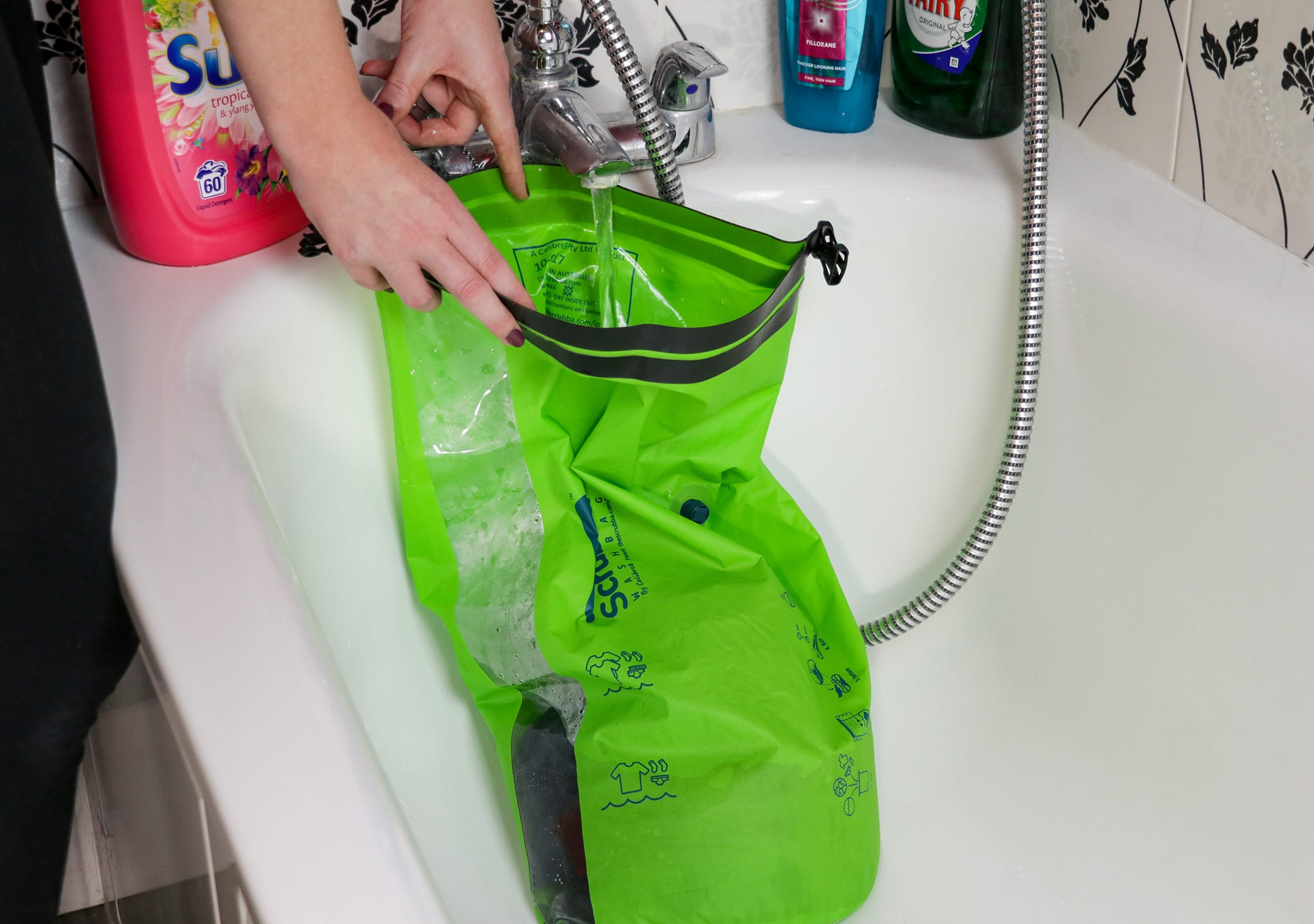 Warm water will work best, but be mindful not to use water that's too hot. A good rule of thumb is if it's too hot for your hands, it's too hot for the Scrubba. If you're out in the wilderness—or you're staying at a dodgy hostel—and don't have access to warm water, cold will work too, just give it an extra minute of scrubbing.
The amount of water necessary depends on how many clothes you have inside. Thankfully, there's a useful guide on the front of the wash bag that can be used in conjunction with the see-through panel—Scrubba really has thought of everything.
Now it's time to put your soap inside. Specific clothes washing liquids will work best here, and as little as 2ml will do the job. Solid detergents like powders and leaves can be used, but they will take longer to get the water nice and soapy. If you're in a pinch, handwash, body wash, and shampoo can also be used—but they won't deliver as deep a cleanse.
2. Roll down and clip: This is an important step you'll want to do right, as you don't want water going everywhere. Make sure that you roll the top down nice and tight, and clip the buckle in. We'd recommend giving the buckle a pull to just double check too.
3. Deflate using the valve: The valve on the front works by twisting, and it's easy to tell when it's open or closed. For this step, you'l want to open it slightly and push down on the bag to release some air. Make sure to close the valve after doing this, because water will come out when you start scrubbing if you don't. (We totally haven't made this mistake and gotten water everywhere. Nope.)
4. Rub for 1-3 minutes: Now it's time to get to work! Push down on the top of the bag and simply rub your clothes up and down. The see-through panel helps you see exactly what's going on and you can even see the water color change quite a bit (eww). For a few socks and t-shirts, a one minute scrub is plenty, whereas we'd recommend two to three minutes for larger items like pants and sweaters.
5. Rinse with clean water: Empty the dirty water and pour in a small amount of clean water for a final cleanse. After a little shake you can then tip that water away too.
6. Dry your clothes (and your Scrubba): Pull your clean clothes out and allow them to dry. To speed up this process you can press them inside a towel quickly to soak up additional water. Finally, turn the Scrubba Wash Bag inside out and hang it up using the clipped buckle at the top.
There we have it, nice and simple. And other than being able to wash your clothes anywhere (which is awesome), we found the Scrubba Wash Bag has unique benefits over other washing methods too.
Using this thing is gentle on your hands when compared to hand-washing in a sink or a bucket. This is because your hands stay dry during the entire process, and they won't get sore because the internal washboard does all the hard work for you.
The Scrubba Wash Bag even has benefits over a washing machine too. By washing your clothes inside a Scrubba you're using far less water, and it uses no energy (apart from a tiny bit of your own, of course). For smaller loads, this thing is also a lot faster than a washing machine, which is a huge bonus.
Durability & Testing
At the time of this review, we've been testing the Scrubba Wash Bag for just over a month, and it's seen plenty of use on our travels around the UK. Impressively, it's still looking as good as new.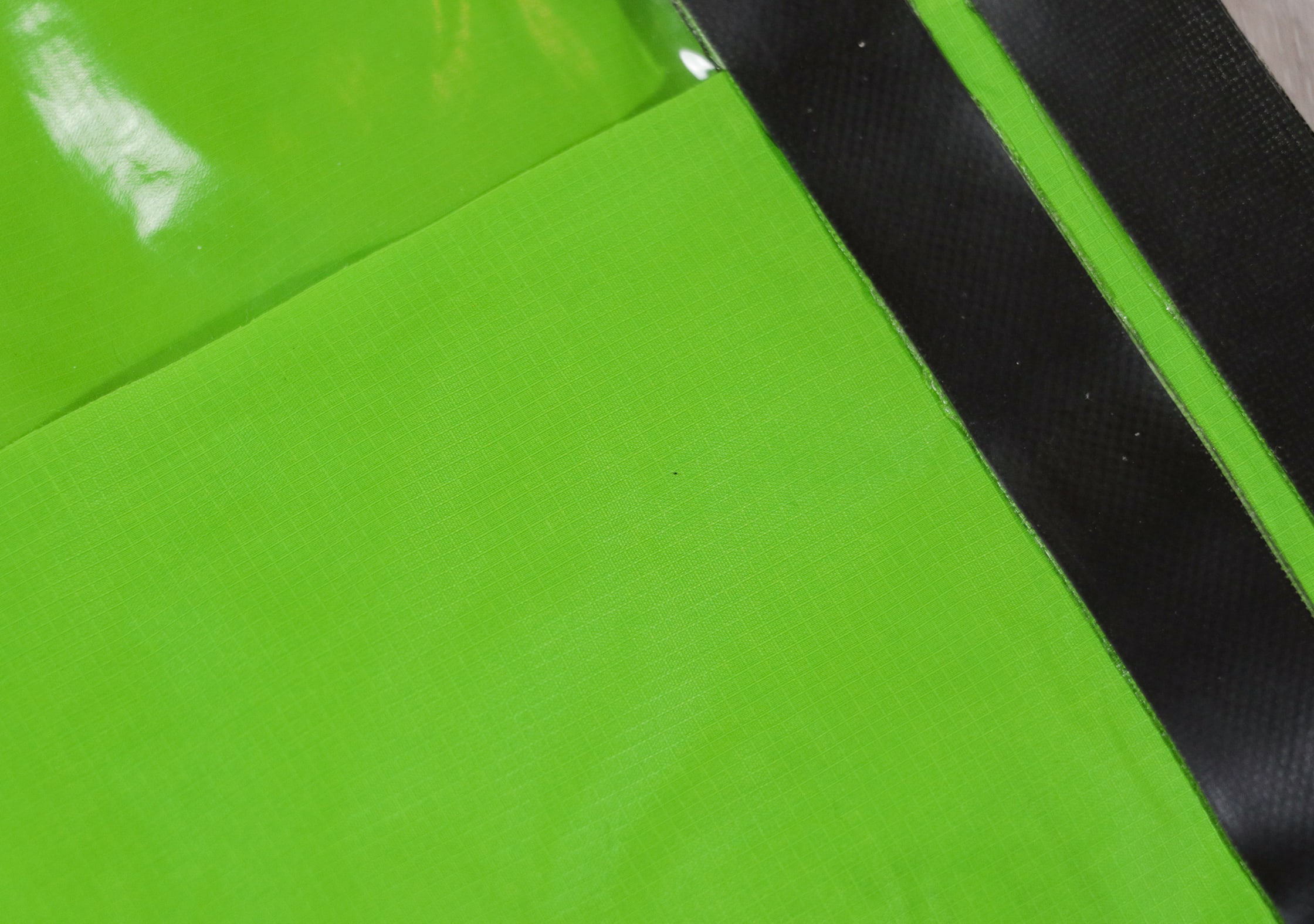 Initially, we did hold some doubts over its durability, but this thing has proven us wrong. The craftsmanship is impressive, and the materials have proven their durability. Be sure to check out our usage timeline below to see how it's getting on after extended use.
In testing, we found that it does take a little while to master the washing process, but it's straightforward and simple enough for anyone to get the hang of eventually. And we're happy to report that the Scrubba Wash Bag does deliver on its promise of "clean clothes anywhere."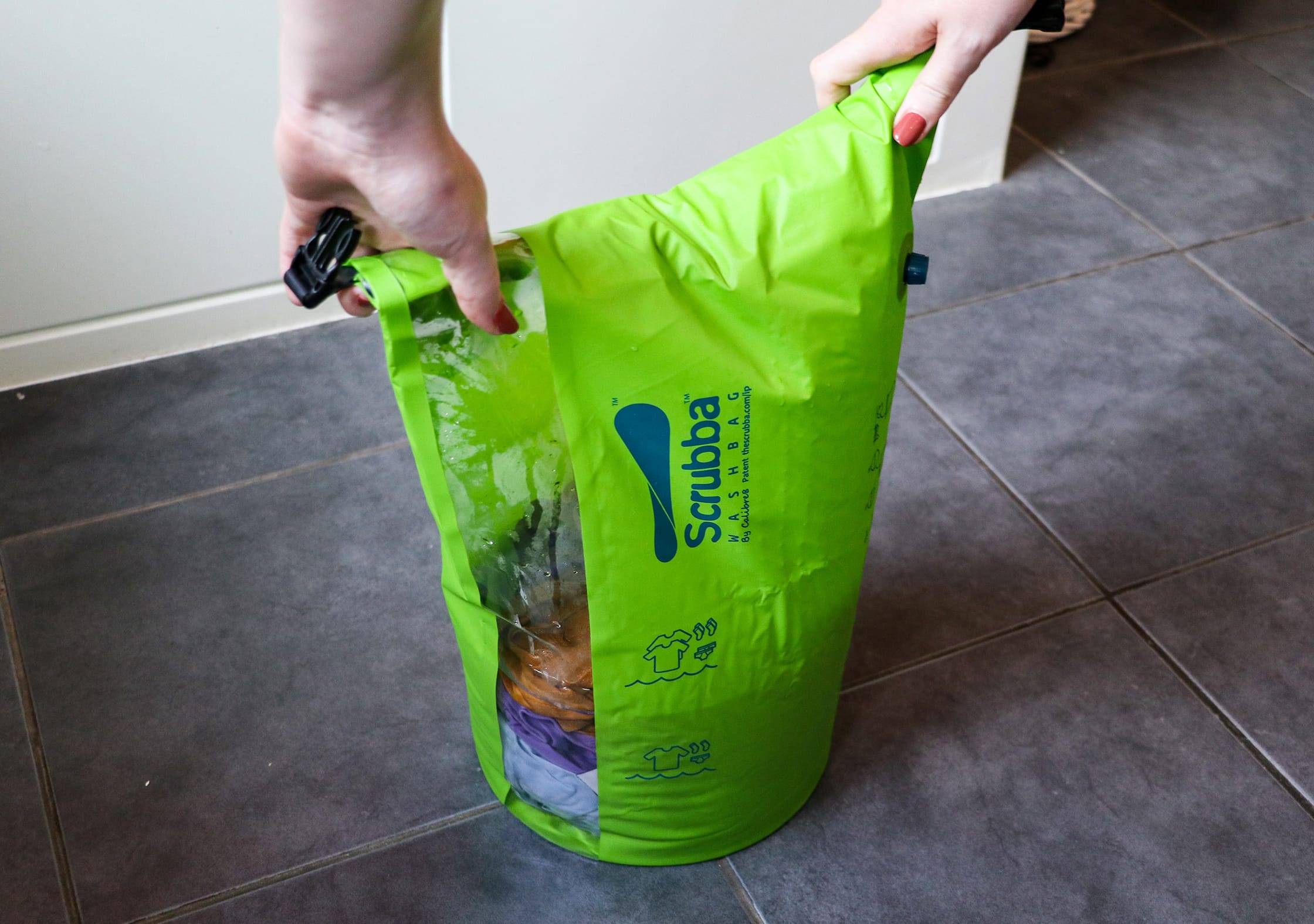 While we've thoroughly enjoyed putting this thing to the test, we have found that the Scrubba Wash Bag will leave your clothes very wet after washing—hopefully their next product will be a portable clothes dryer (if only). It's only the same as handwashing would, but it's still a pain, and we'd highly recommend pressing your clothes inside a towel before hanging them up.
Whether or not you'll benefit from this depends heavily on your travel style, because it's certainly not for everyone. If you plan on staying in luxury hotels and Airbnbs that have washing machines, you may not need a Scrubba, and you could opt to save the space inside your pack. But if you're staying in hostels and adventuring to remote areas, the Scrubba Wash Bag could be a game-changer.
Usage Timeline
Initial Usage
Condition: Excellent
Not quite foolproof, but it really does work!
1 Month of Use
Condition: Excellent
Compresses down really well and takes up minimal space.
Access the Pro Community Discussion
Get your questions about the Scrubba Wash Bag answered from our team and the Pro Community right here on the page. Plus, join discussions with other members about gear, guides, and more.
Other Miscellaneous Reviews