Stanley Classic Trigger-Action Travel Mug 12 oz Review
The Stanley Classic Trigger-Action Travel Mug 12oz makes drinking coffee one-handed a breeze. Although, it can be difficult to vent hot drinks.
Our Verdict
Unlock the Pro Summary
Save time. Get access to brief summaries of our reviews so you can browse and make decisions more efficiently.
Pros
Trigger-action is easy to use one-handed
Insulation keeps hot drinks hot and cold drink cold
Made of durable materials
Cons
Have to unscrew cap/hold trigger to vent hot drinks
12oz capacity is not ideal for water
Lid is harder to clean than others we've tested (it is dishwasher safe though)
Recent Pack Hacker Video
Technical Details
Capacity

12oz

Weight (lb)

.68 lb (0.3 kg)

Dimensions

7.4 in x 2.9 in x 2.9 in (18.8 x 7.4 x 7.4 cm)

Notable Materials

Stainless Steel

Manufacturing Country

China

Warranty Information
Full Review
If your morning routine always starts (and ends) with a hot cup of joe, you'll be pleased to meet the Stanley Classic Trigger-Action Travel Mug 12oz. Of course, you can use it for other beverages like tea, lemonade, or apple juice (carbonated drinks are not recommended). But we've found it to excel most as a portable coffee mug—keeping that liquid gold warm all morning whether we're at work or on the go.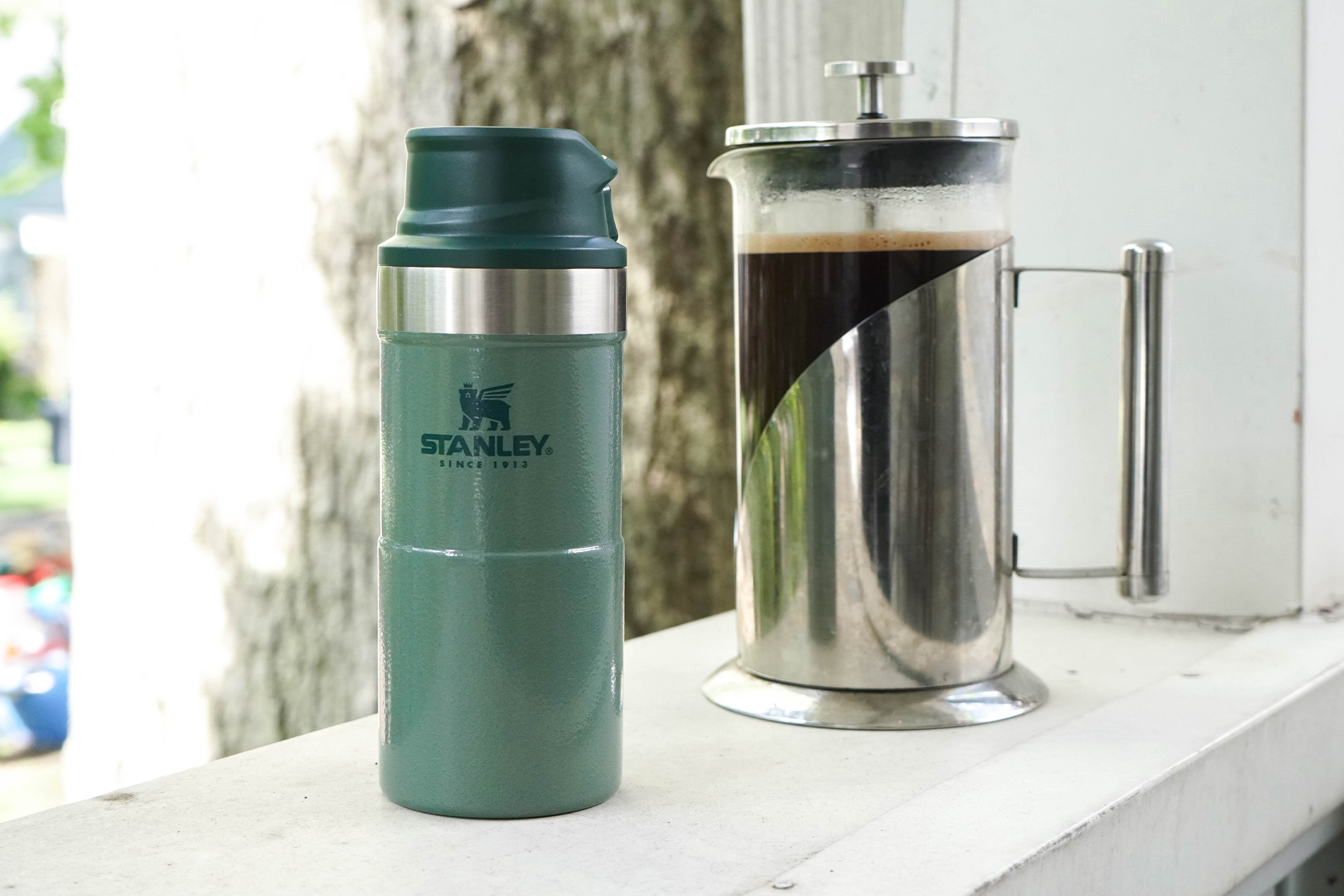 We've been testing the Stanley Classic Trigger-Action Travel Mug 12oz for about three weeks with mostly good things to report.
Let's get to it.
Features & Usage
Stanley has been around for a long time—since 1913, to be exact—and we appreciate the way their Classic Trigger-Action Travel Mug 12oz marries classic design with modern functionality. Especially with the Hammertone Green colorway we've been testing with. We're digging its earthy vibe that reminds us of campsites, the smell of pine, and simpler times.
At the time of this review, this bottle is also available in four other different colorways—some of which have a more sleek, modern aesthetic if that's more your style.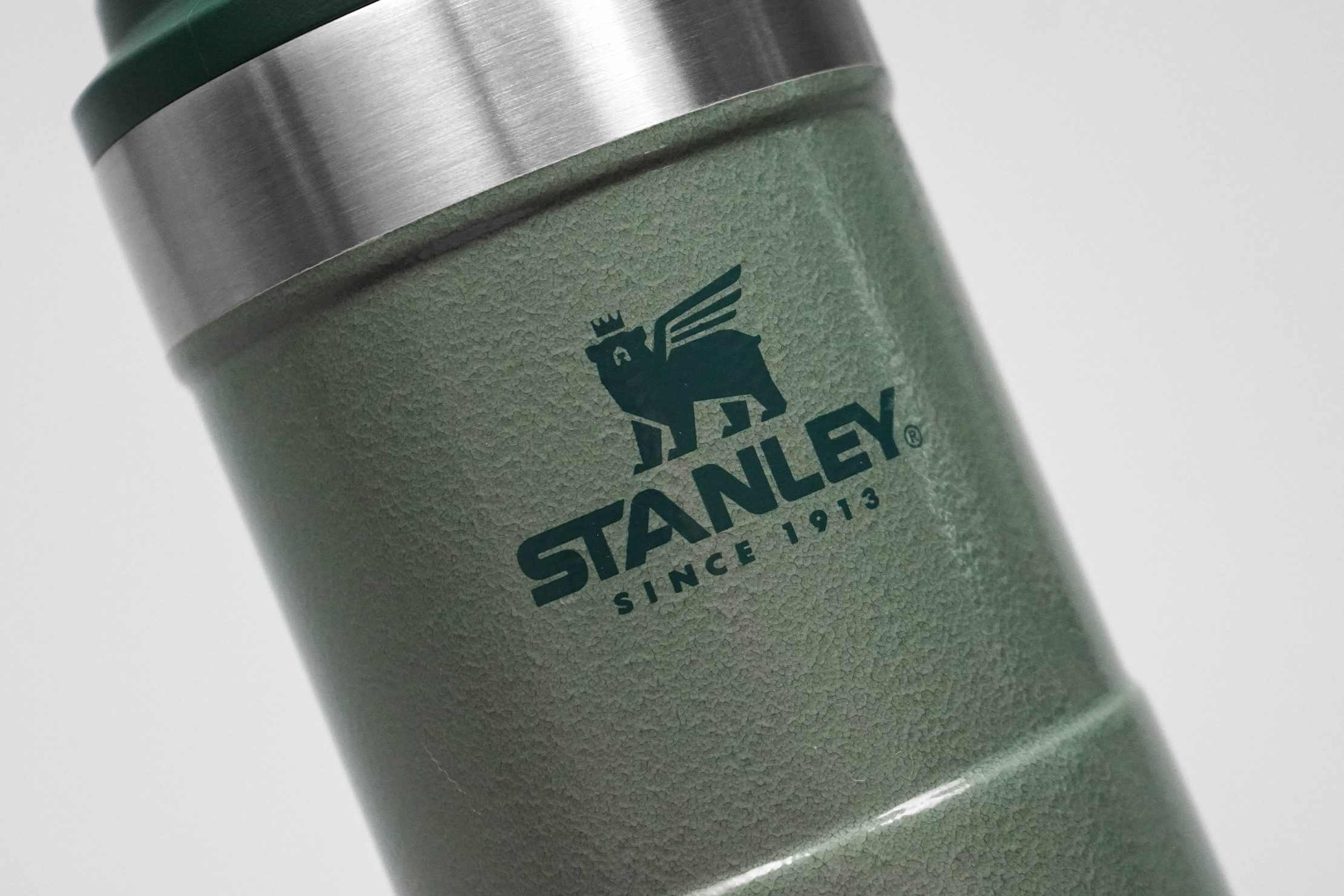 The Stanley Classic Trigger-Action Travel Mug is made with durable 18/8 stainless steel that doesn't hold onto coffee smells or stains. It also touts double-wall vacuum insulation that keeps your coffee or tea hot all morning. Stanley claims it'll keep drinks warm for up to five hours, and we're happy to report that this has been a pretty accurate estimate during our testing. It's done a great job of keeping our java warm enough to savor all morning.
It will also keep drinks cold if you're in the mood for iced coffee or water. That said, at 12oz, we've found the capacity to be a little too small to use as a water bottle. If you're looking to carry more water and want to stay in the Stanley realm, perhaps check out the Stanley Classic Easy Clean Water Bottle 25oz.
And, weighing in at .68 lbs (or roughly 10.8 oz) empty, the Stanley Classic Trigger-Action Travel Mug is relatively lightweight. Now, it's not ultralight by any means but it is lighter than some other insulated stainless steel bottles we've tested of the same size. (The YETI Rambler 12oz Bottle With HotShot Cap, for example, weighs 16 oz empty.)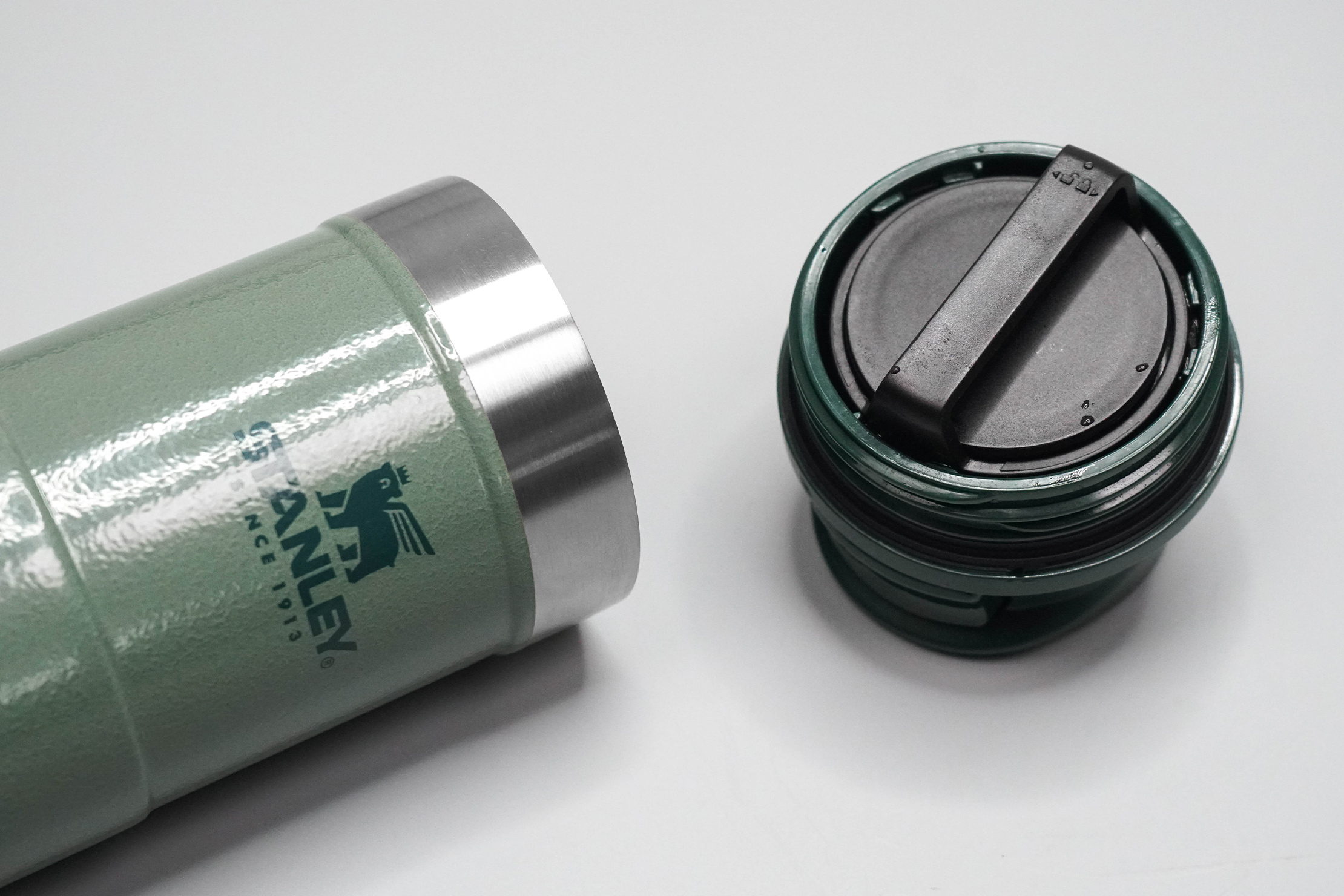 The thing that sets this Stanley mug apart, we think, is its trigger-action lid. With a push-button that stays sealed until you press it, it's great at preventing leaks if (let's be honest, when) it falls over. To get the liquid flowing, you just push down on the trigger button, tip, and enjoy. It's so easy you can do it with one hand. (This mug makes anyone a coffee-drinking pro.)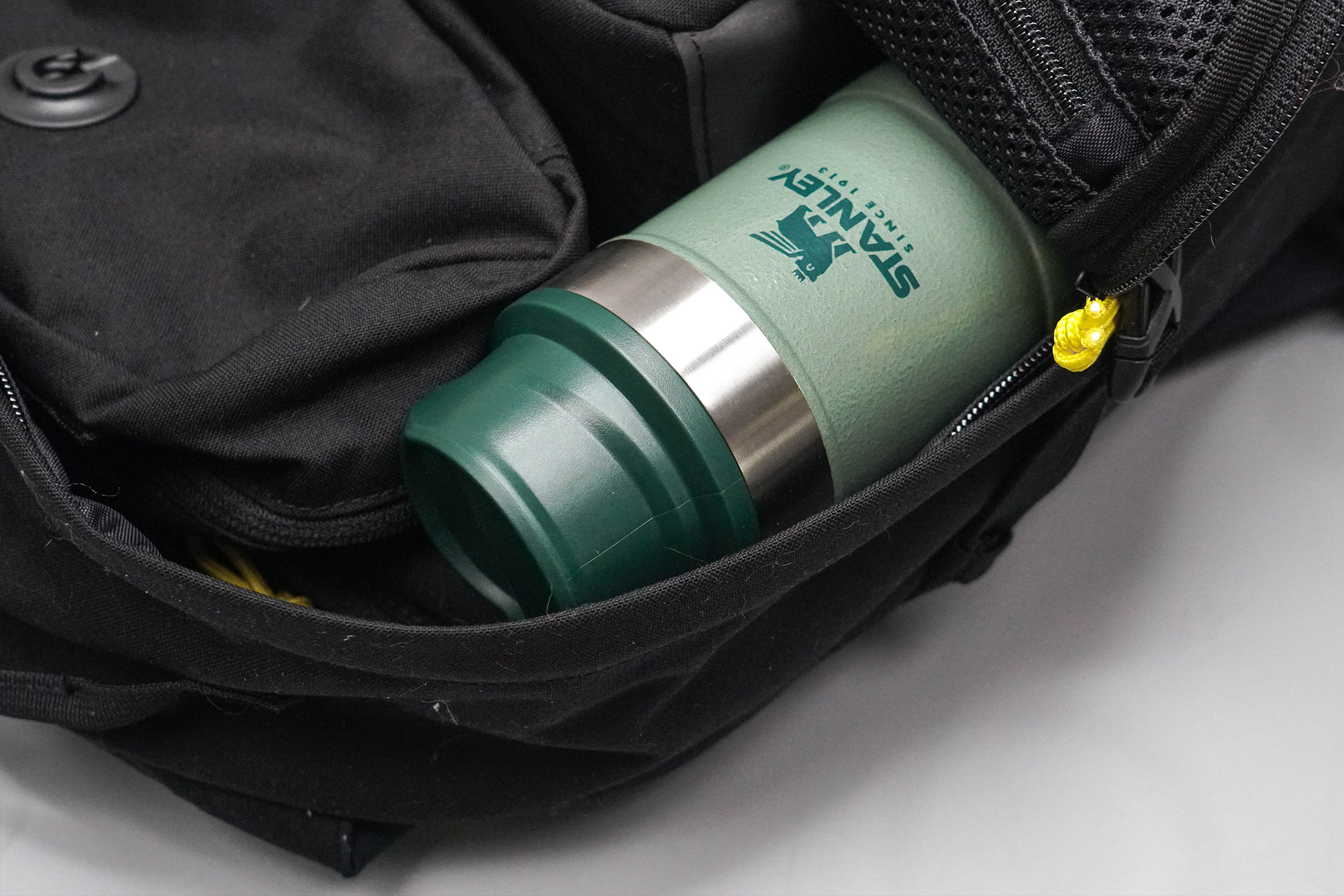 We've been tossing this mug into our packs, turning it in every direction, knocking it over (both on accident and on purpose), and we haven't had any leaks so far—the lid stays sealed. Obviously, this is a pro as you don't have to worry about spills. But we've also found it to be a con too—it's difficult to let that piping hot coffee vent, unless you remove the lid completely. Every now and then we get a sip of coffee or tea that's almost too hot. This isn't a deal-breaker, but sometimes it's a tongue-burner.
Thanks to this lid, the Stanley Classic Trigger-Action Travel Mug 12oz is becoming one of our favorites we've tested so far. It may sound small, but not having to fuss with twisting or removing a lid is super convenient—you can grab a sip quick and easy with one hand. This feature really shines while driving (or sitting on the couch swiping through Pack Hacker Instagram stories). And its leak-resistance means you should be safe to keep this thing on your desk near your precious tech (we have been anyway).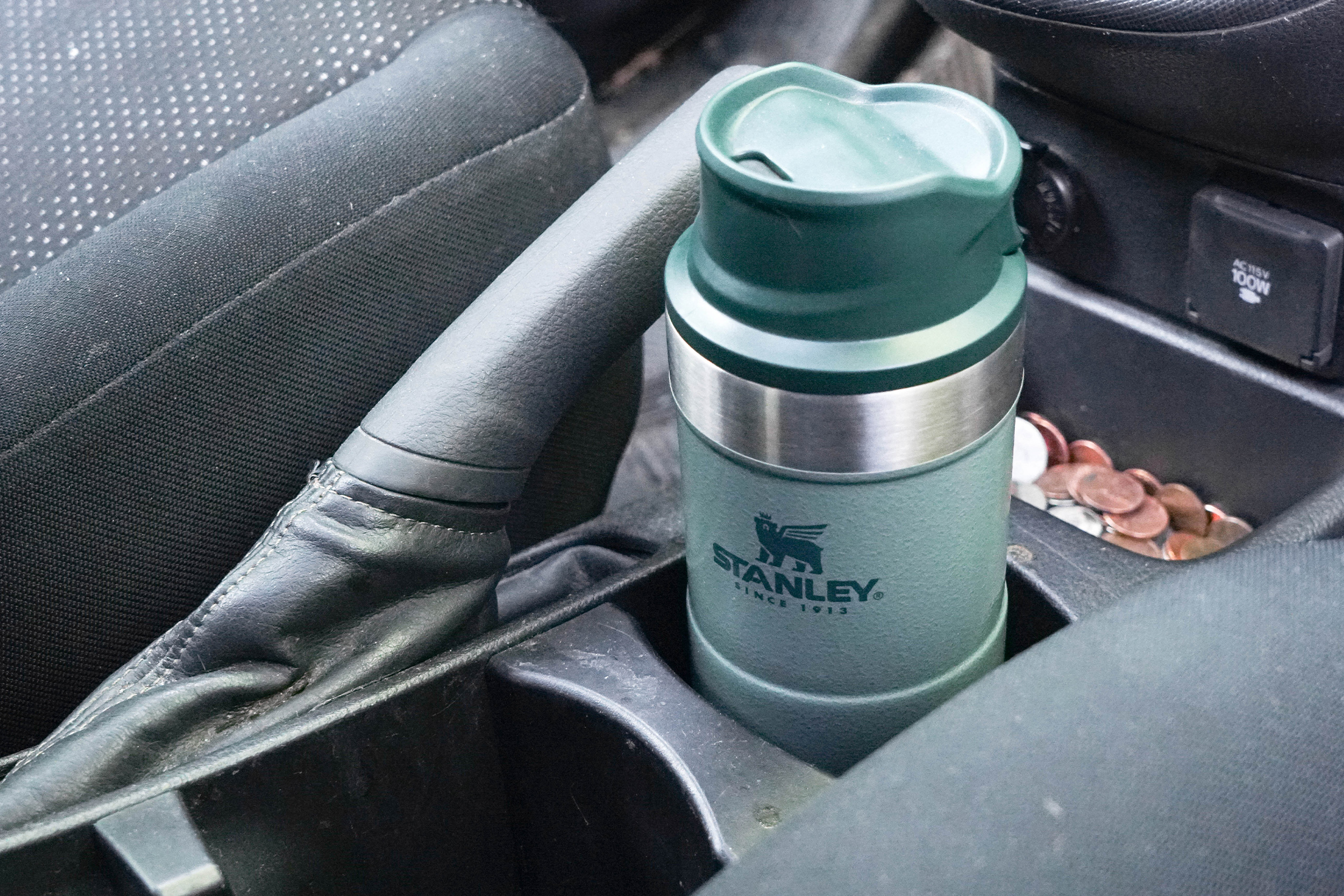 Plus, the lid is easy to take apart when in need of a wash. Just untwist the top lid, turn the handle underneath the lid, and pull. The inner piece should come right out. Then throw all three pieces of the mug in the dishwasher (yeah, it's dishwasher safe) and voila—it's ready for the next use. We've also been washing the mug by hand, however, the lid is not as easy to clean this way as others we've tested. There are some small spaces inside the cap that are a little difficult to reach. It's not a deal-breaker, especially since everything is dishwasher safe, but it's something to note.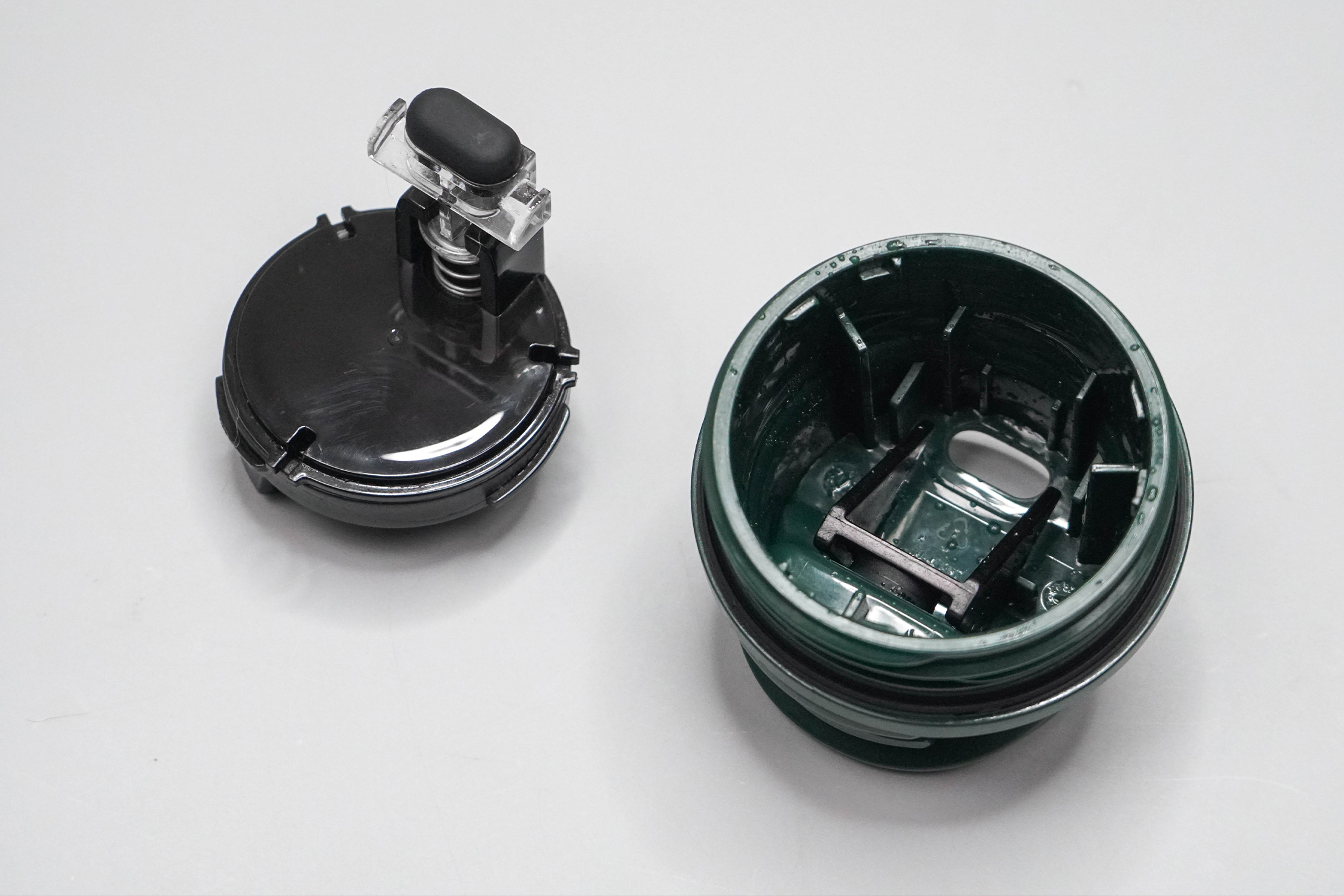 Something else we want to note is that there's no handle on the outside of this mug. So you can't clip it to your pack with a carabiner or hook it around a finger if your hands are full but you can't not bring the coffee. It also keeps the profile of this mug sleek. And since it's highly leak-resistant, you can toss it in a water bottle pocket—or directly inside your pack—when needed.
As far as durability is concerned, everything is looking good. Like we said at the beginning of this review, we've been testing the Stanley Classic Trigger-Action Travel Mug 12oz every day for about three weeks now—mainly to savor our daily dose of coffee. And there are no scratches or dents to report. We haven't dropped it down any rocky cliffs, but it's held up well to normal, daily use.
Usage Timeline
Initial Usage
Condition: Excellent
Trigger activated lid lets you control the flow of liquid
Lid seals when not in use to prevent links and splashes
Made of sturdy stainless steel
2 Weeks of Use
Condition: Excellent
We've been loving the trigger cap on this! It's great for one-handed coffee drinking. This is especially great while driving. You can just pick it up and drink. Other coffee thermoses still have a small opening that hot coffee can splash up through and this just eliminates that problem.
1 Month of Use
Condition: Excellent
Still loving it, but the lid has been a little hard to clean. We had luck getting in there with a q-tip to clean the tight spaces.
Access the Pro Community Discussion
Get your questions about the Stanley Classic Trigger-Action Travel Mug 12 oz answered from our team and the Pro Community right here on the page. Plus, join discussions with other members about gear, guides, and more.
Other Miscellaneous Reviews