Encircled Women's Dressy Sweatpant Review
The Encircled Women's Dressy Sweatpant marry comfort and style, which we love. Besides the long drying time and a few minor gripes, we're a big fan of these pants.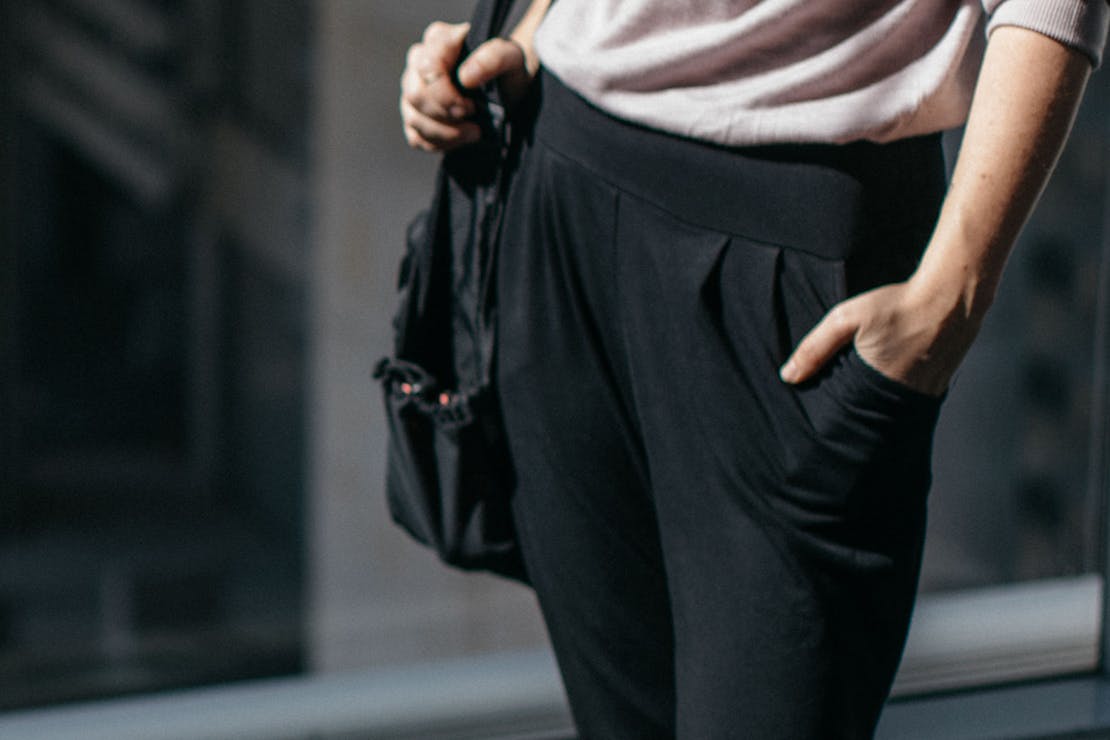 Our Verdict
Unlock the Pro Summary
Save time. Get access to brief summaries of our reviews so you can browse and make decisions more efficiently.
Pros
Versatile enough for everyday use or fancier situations
Comfortable and breathable
Encircled uses sustainable materials and treats their workers well
Cons
They take longer to dry than we'd like
We think the waistband could be a bit tighter or better designed
They don't provide much warmth, which could be a con for some
Recent Pack Hacker Video
Technical Details
Notable Materials

Lycra, MicroModal

Manufacturing Country

Canada

Warranty Information
Full Review
Encircled is a Canadian company devoted to creating versatile clothing options using sustainable materials and employing ethical treatment of their workers. Each item is carefully designed to be versatile, which makes them excellent pieces for either a capsule wardrobe or a travelers companion. The simple designs, neutral color options and excellent quality keep their clothing timeless—which means you won't have to worry about ditching them anytime soon.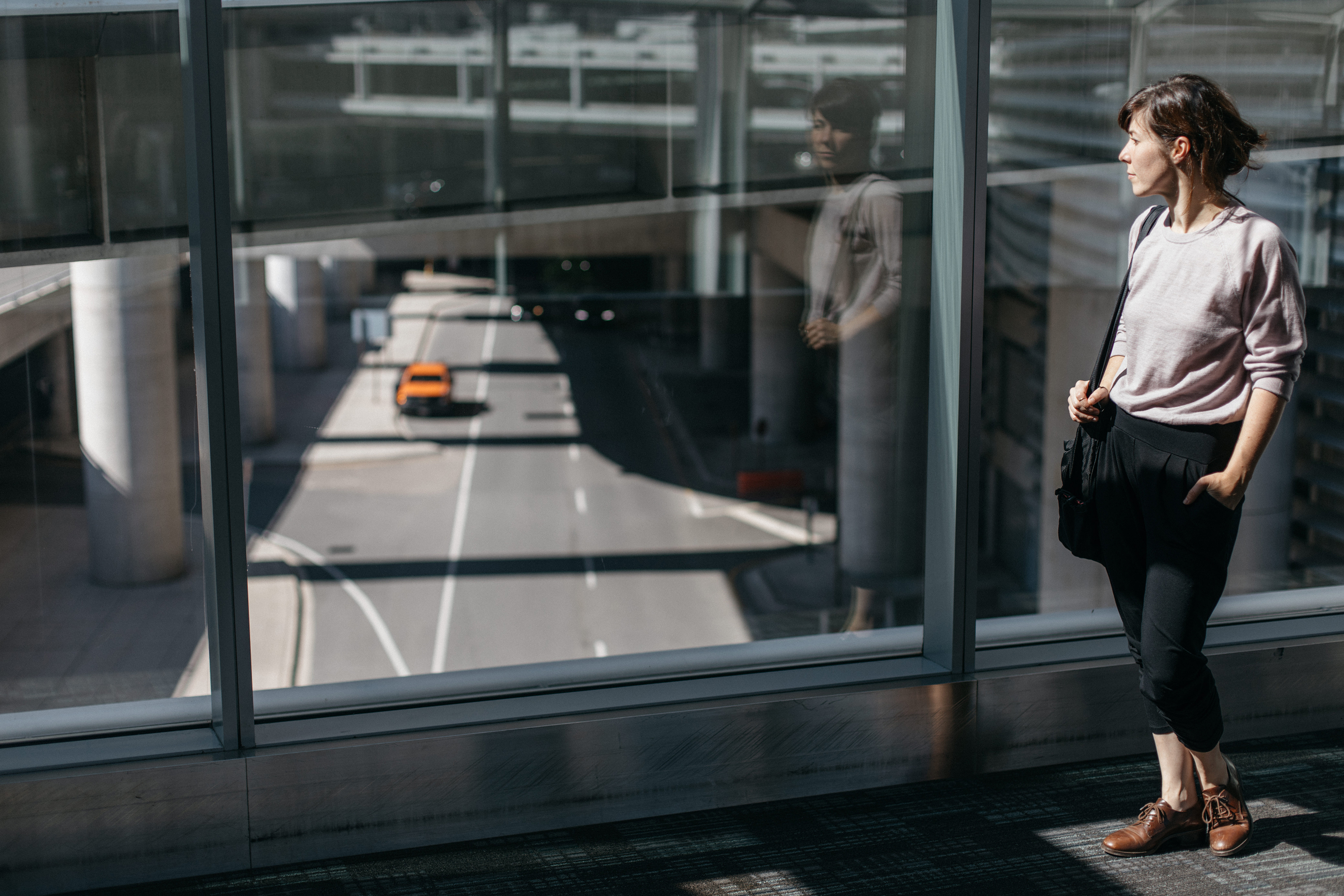 The Dressy Sweatpant is one item that really stands out on Encircled's website. How could it not? Those two words don't typically go together, and they almost feel a little contradictory, but Encircled has proven that they should go together. Normally when you think of sweatpants you probably think of comfort and sitting on the couch, binging Netflix and eating potato chips. (At least that's what we think of.) And don't worry, you can still do that in your Dressy Sweatpants, but you'll also be able to brush those crumbs off and meet your friends for a drink without looking like you just finished watching season four of Buffy the Vampire Slayer for the eighth time (no judgments).
We've been testing these sweatpants for about a year and have been thoroughly enjoying them. So let's check out the nitty-gritty.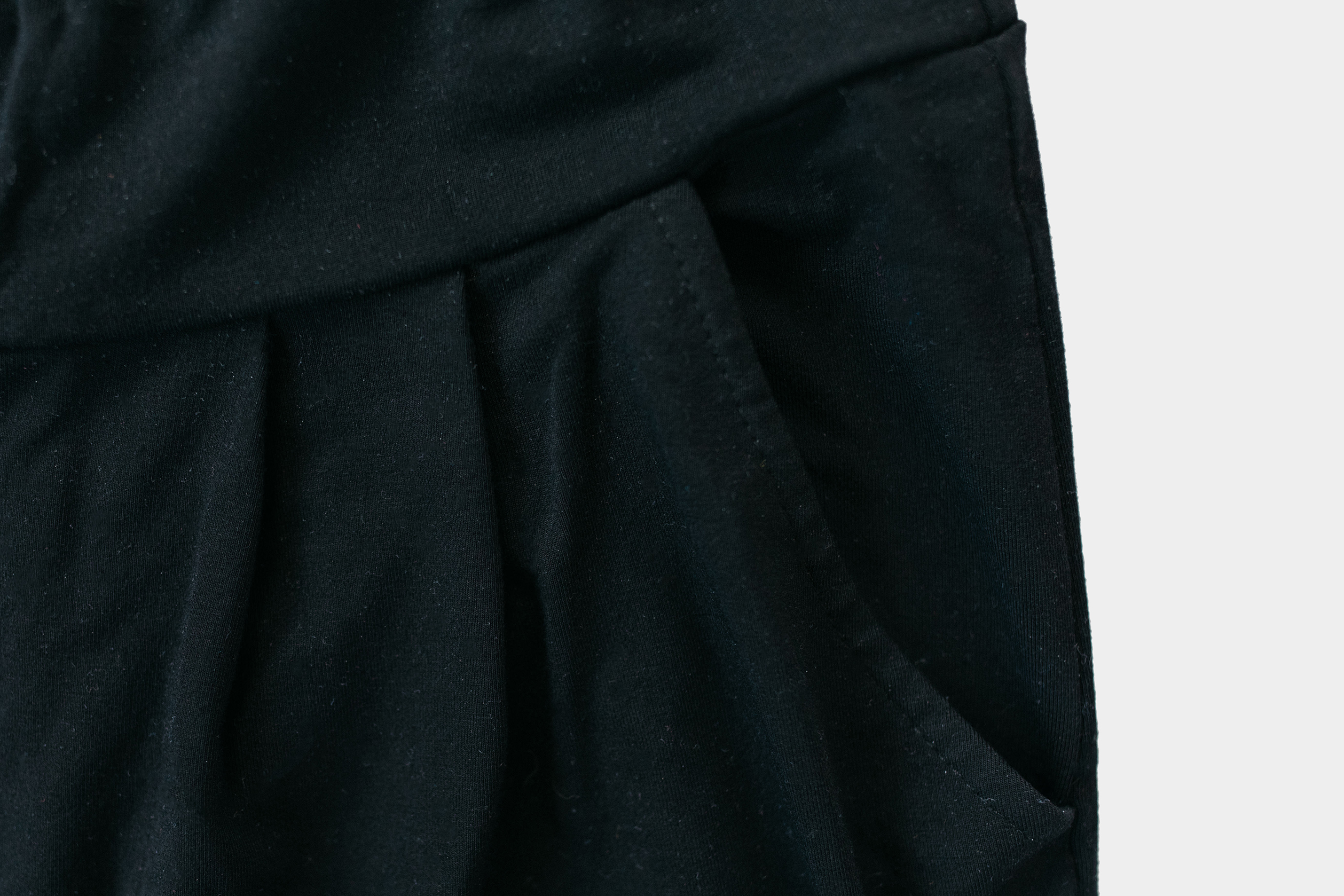 The most obvious thing about the Dressy Sweatpants when you first get your hands on them is how soft the material is. Made from 88% MicroModal and 12% Lycra, these pants are soft to the touch. MicroModal is a renewably sourced material made from beech-tree pulp that is similar to cotton in feel, but uses far less water to create and has a significantly higher yield. It is also similar to cotton in its breathability, which is a definite plus for comfort. The Lycra gives these pants enough stretch that you could do some airport yoga and not worry about tearing anything (in the pants, at least) or losing their shape in the process.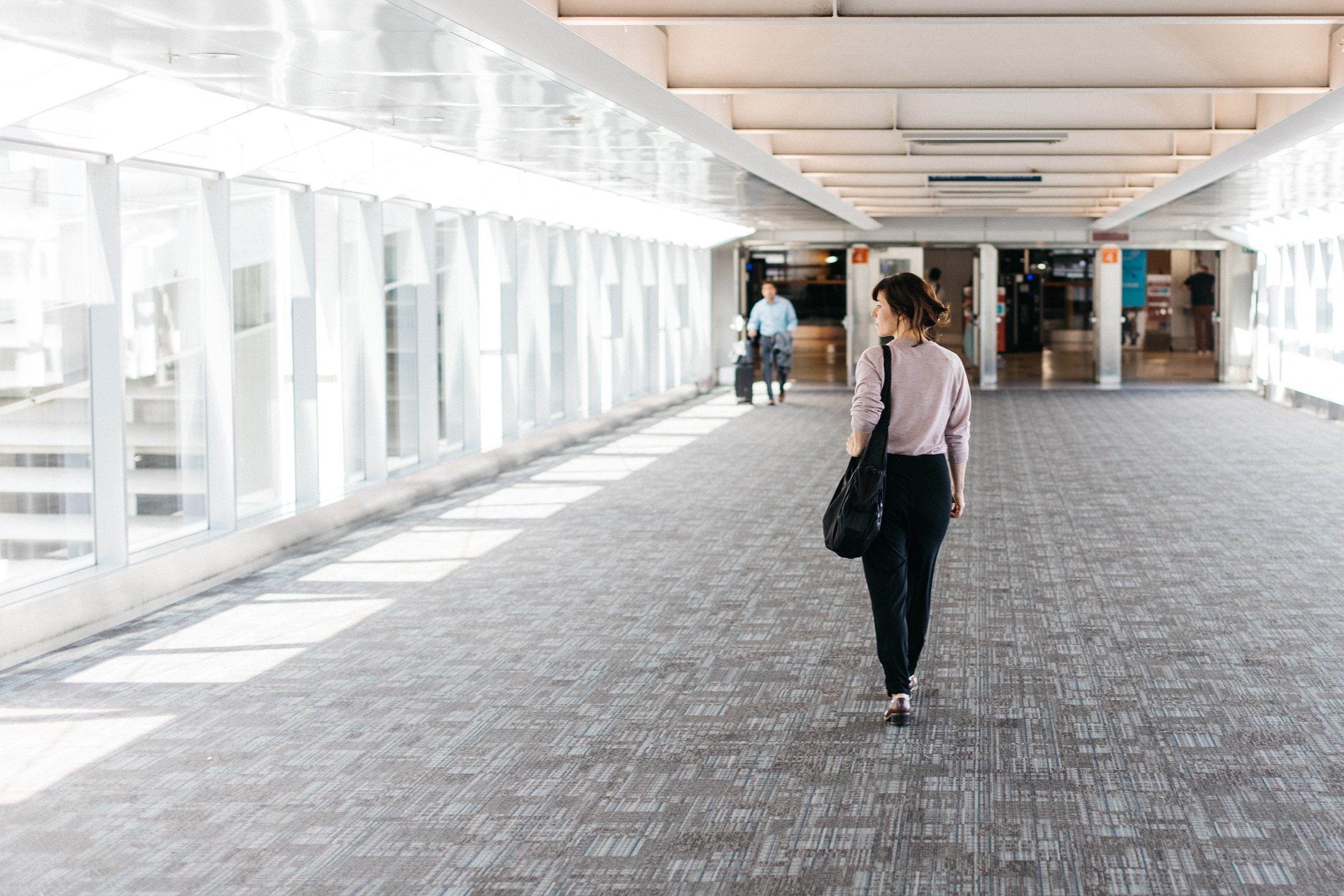 These pants are designed to fit close to the leg, rather than the loose and relaxed fit you might be used to with traditional sweatpants. They have a bit of a harem style—in that the cuffs are tight, but the legs are baggy—but they are designed to look more like a trouser than a harem pant. Encircled recommends sticking to your normal pant size when sizing these, but we've found them to be a little on the loose side. With the weight of the material, we've found that they can sometimes ride down a bit from your natural waist, requiring you to pull them up from time to time. Without belt loops, you'd have to resort to suspenders to keep them up or consider sizing down. We kind of wish they had some sort of drawstring, but we get it—that would definitely take away from the whole "dressy" vibe they're going for.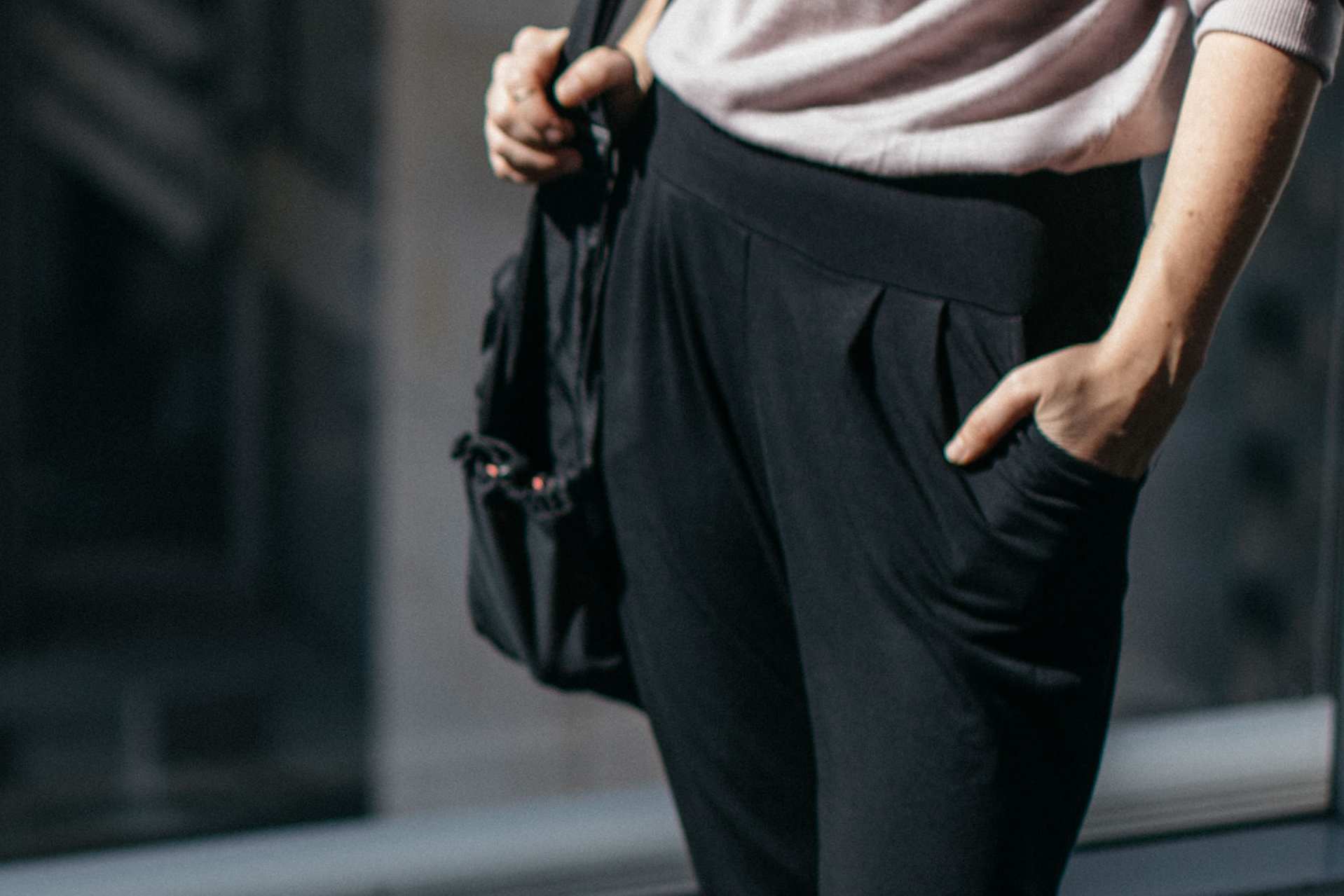 One of the design elements that make these dressier than your typical sweatpants is the pleating around the waistband. Pleats just below the waistband is a more formal style typically found on trousers—it allows the material to expand and gives the wearer a little more freedom of movement where they exist.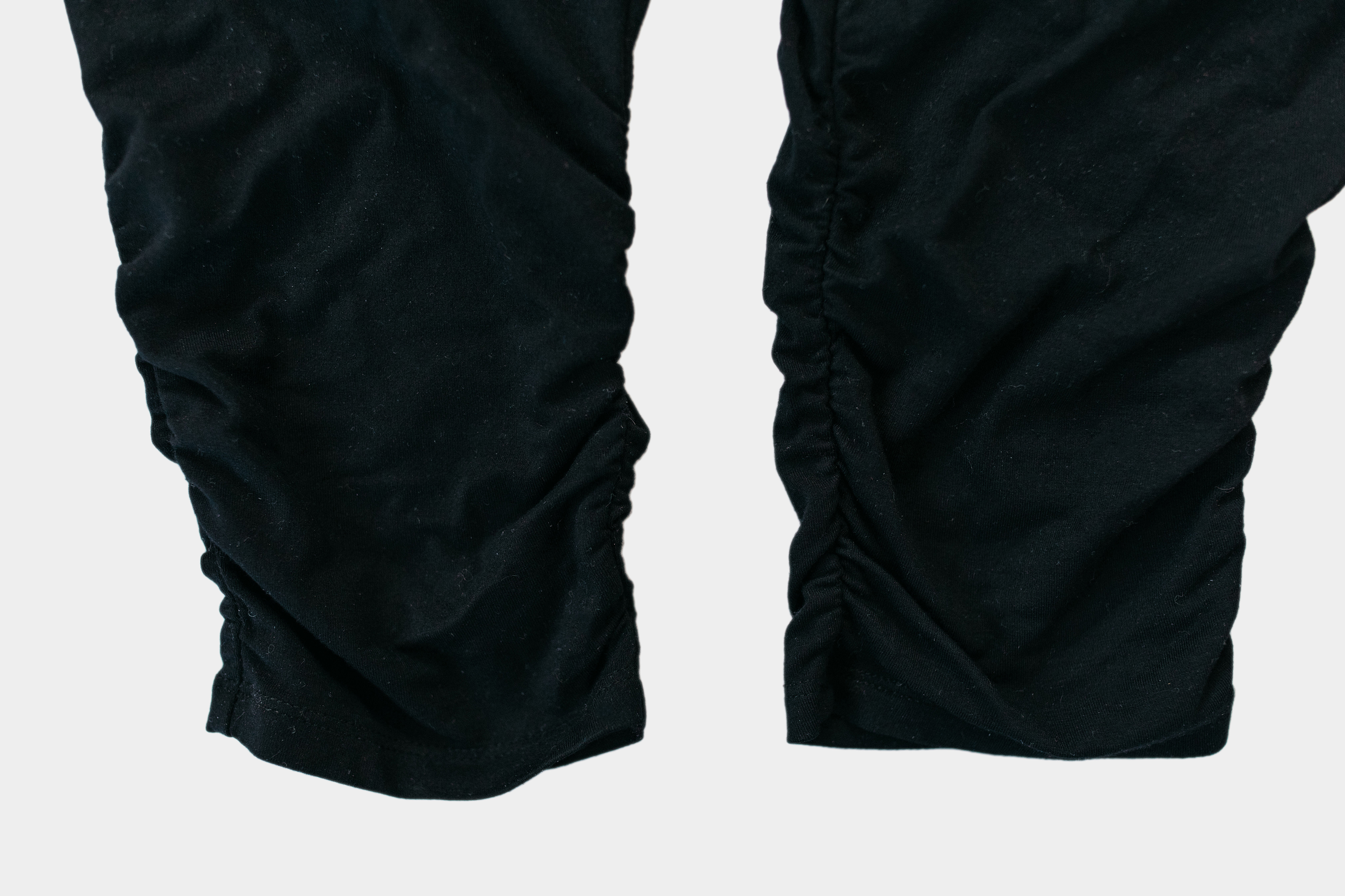 Another design feature that takes these pants from sweats to dressy is the ruching around the cuffs. Ruching is a bunching of material that enhances the contour of the body and creates a focal point on the garment. Having the ruching at the cuffs will enhance your calf muscles and draw attention to your ankles/shoes.
As with most items by Encircled, these pants were designed so they could be worn a number of different ways. Using the Lycra stretch, the waistband and cuffs can be played with for a few different styles. The pleated waistband can be pulled up to your natural waistline, or it can also be pulled down for a more relaxed fit. The ruched cuffs can also be worn at your ankle or pulled up for a cropped look.
In keeping with a minimalist mentality and the desire to create timeless pieces, Encircled only has two colors available for the Dressy Sweatpants—Black and Navy. Both of which are classic colors that can go with pretty much anything.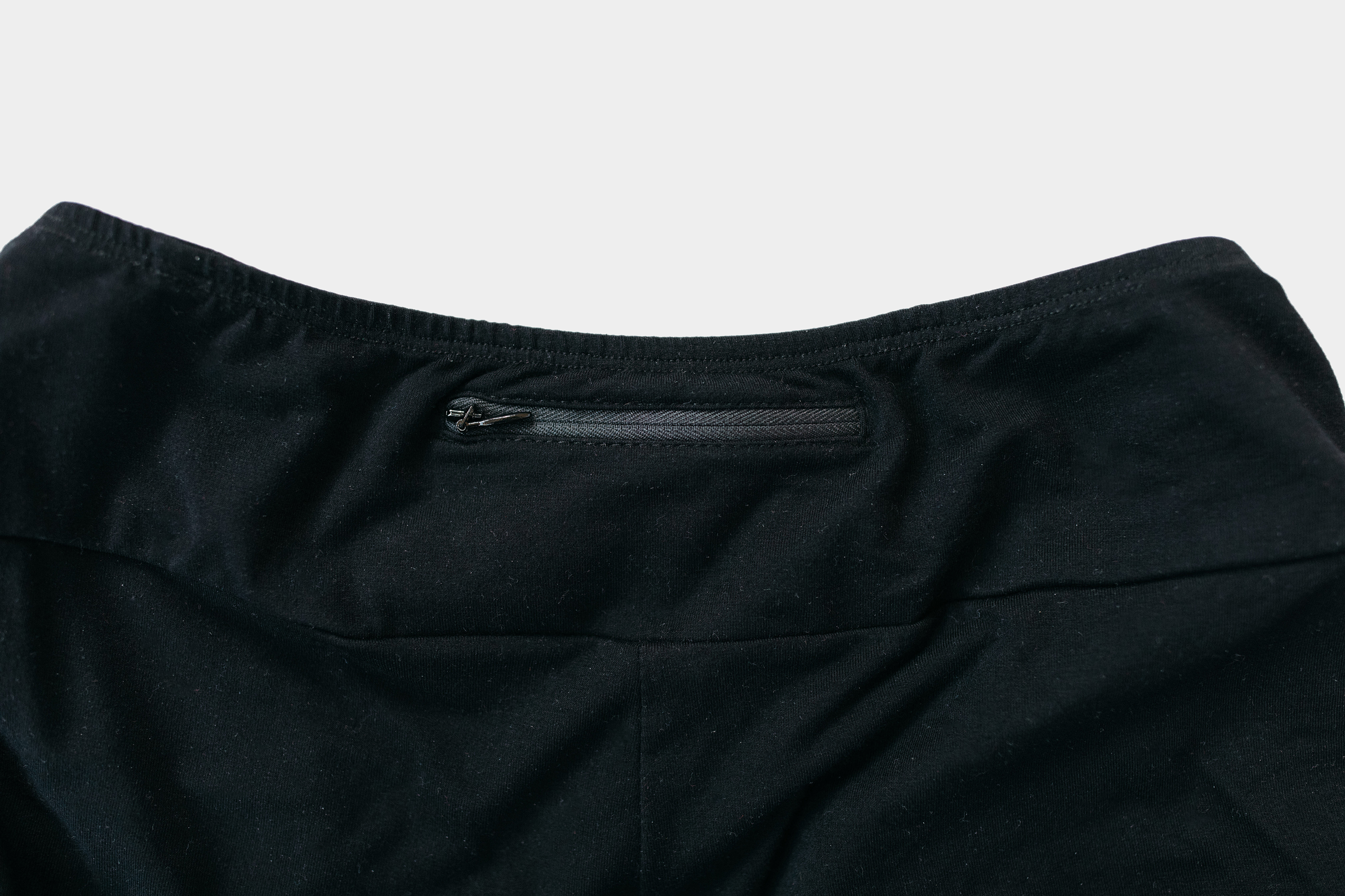 Seeing as Encircled designs their products with travel in mind, these pants come with a hidden zippered pocket in the waistband—a thoughtful addition for keeping a little emergency cash on hand when you head out the door. It's not quite big enough for a cell phone or wallet, but you wouldn't want to store anything that big anyway as it would weigh the waistband down quite a bit. There are also two more standard pockets at either hip. They blend in nicely with the pleated waistband, but we wouldn't call them hidden.
Caring for a travel wardrobe is always something to consider, and we're happy to say the Dressy Sweatpants are pretty low maintenance in this department. They are wrinkle resistant, which makes them ideal for traveling. When kept rolled up in a bag for a long period of time, they came out with no obvious wrinkles and could be worn right away. (Rolling your clothes is far superior to folding when packing your bag, FYI!)
They are machine-washable but not dryer friendly, so you will need to lay flat to dry. And just to warn you, MicroModal is not a fast drying material, so this can take a while. It's not necessarily a deal breaker, but something to keep in mind if you plan on washing these on the road. You will need a little extra lead time in order to ensure you aren't putting on damp pants. (As a side note, Damp Pants would make for a great band name. "Next up we have Damp Pants, with their new hit single—MicroModal!")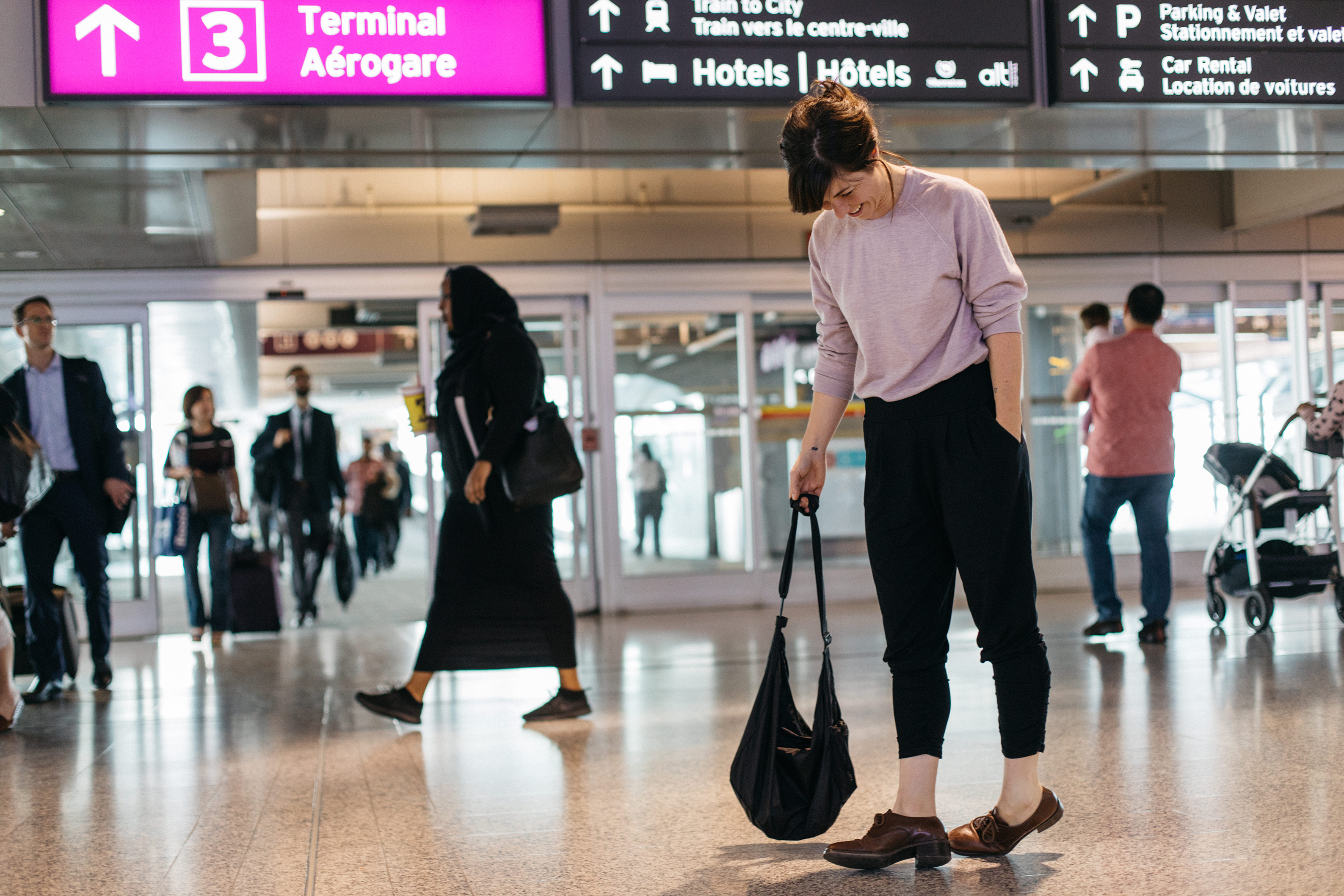 Typically one expectation for sweatpants would be warmth—as in, they can often be too warm. That's not the case with the Dressy Sweatpant. The material is fairly thin, which is great for most applications, but can leave you a little chilly on a winter day. Luckily, there's enough room in the cut that you could layer them with a pair of tights or thin thermals.
In truth, we actually prefer the thinner material because it makes them comfortable even on hot days or in hotter climates. It also makes them a great option for flying, as you can stay comfy without the chance of overheating while you're 20,000 feet in the air (which is never a good scenario). Having a super heavy pair of dressy sweatpants would be a bit less versatile, in our humble opinion—and if there's one thing we like, it's versatility.
Usage Timeline
Initial Usage
Condition: Excellent
Material is soft and supple.
1 Month of Use
Condition: Excellent
Fit is good, but could have sized down a little.
2 Months of Use
Condition: Excellent
3 Months of Use
Condition: Excellent
The waistband is a bit loose and does need to get pulled up from time to time.
6 Months of Use
Condition: Excellent
Wash easily and are super comfy.
9 Months of Use
Condition: Excellent
Still no signs of wear after heavy use on long trips.
1 Year of Use
Condition: Good
Waistband feels a little looser, but that could be the gym paying off.
Access the Pro Community Discussion
Get your questions about the Encircled Women's Dressy Sweatpant answered from our team and the Pro Community right here on the page. Plus, join discussions with other members about gear, guides, and more.
Other Clothing & Accessories Reviews