Patagonia Atom Sling Review
The Patagonia Atom Sling is great for both urban and outdoor adventurers alike with a comfortable carry, quality materials, and solid organization.
Our Verdict
Unlock the Pro Summary
Save time. Get access to brief summaries of our reviews so you can browse and make decisions more efficiently.
Pros
Comfortable carry
Solid amount of organization
Top-notch craftsmanship and materials
Cons
Quick-access pocket is a little small
Zippers aren't lockable
Shoulder strap can only be worn on the right shoulder
Recent Pack Hacker Video
Technical Details
Capacity

8l

Weight (oz)

10.1 oz (286.3 g)

Denier

630D

Dimensions

17 in x 10 in x 3 in (43.2 x 25.4 x 7.6 cm)

Notable Materials

Nylon, Polyester, Polyurethane, DWR Coating, YKK Zippers, Duraflex Hardware

Manufacturing Country

Vietnam

Warranty Information
Full Review
If you're looking for a reliable and handy sling bag that's built for the trails (but works for the city) then you'll be excited to meet Patagonia's Atom Sling.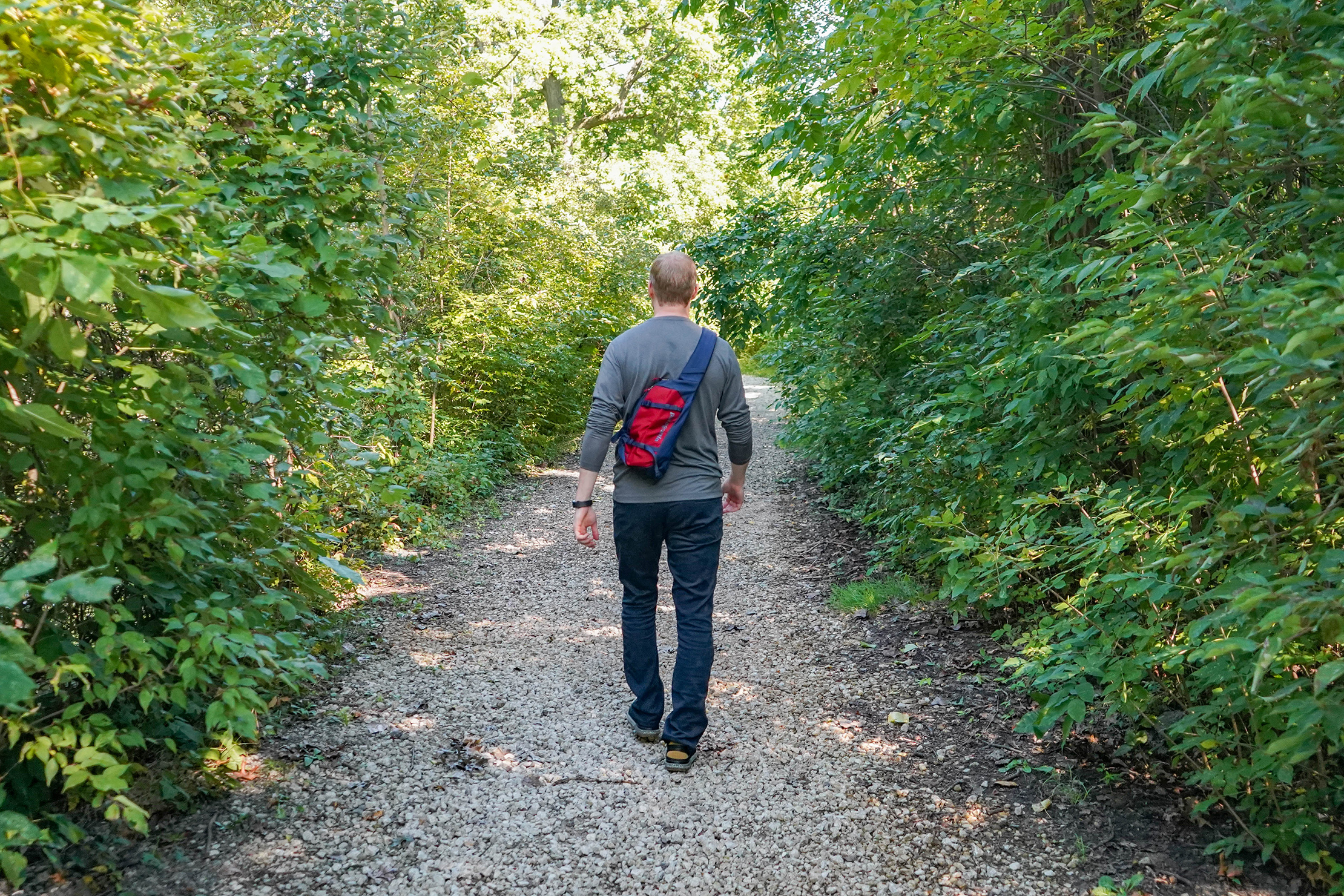 This 8L sling bag is the perfect size to hold the essentials—phone, wallet, snacks, keys, even a jacket—while you're off seeing the world.
So let's jump right into it.
Materials & Aesthetic
The Patagonia Atom Sling has a strong outdoorsy vibe (similar to the Osprey Daylite Shoulder Sling). It's sporty and available in a wide variety of colorways—Black, Forge Grey, Classic Red, Tasmanian Teal, Arrow Red, Fatigue Green, Resin Yellow, Birch White, Classic Navy, and Smokey Violet—so you can be as flashy or as subtle as you'd like to be.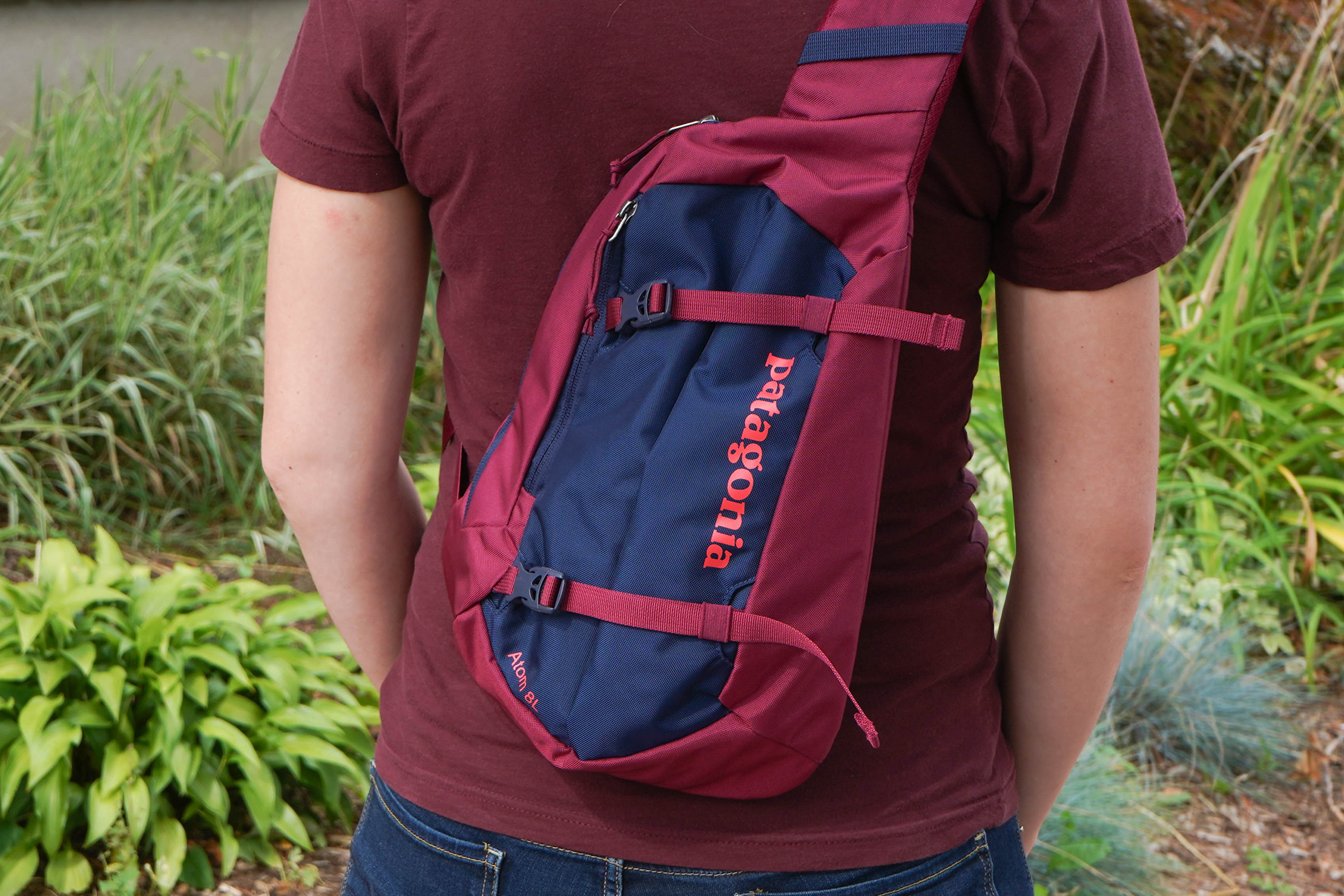 Instead of opting for our usual black, we've decided to switch things up over at Pack Hacker HQ and test the Arrow Red and Classic Red colorways. And we've been digging it. These colorways really pop against the all-black wardrobe we've cultivated on our Digital Nomad Packing List.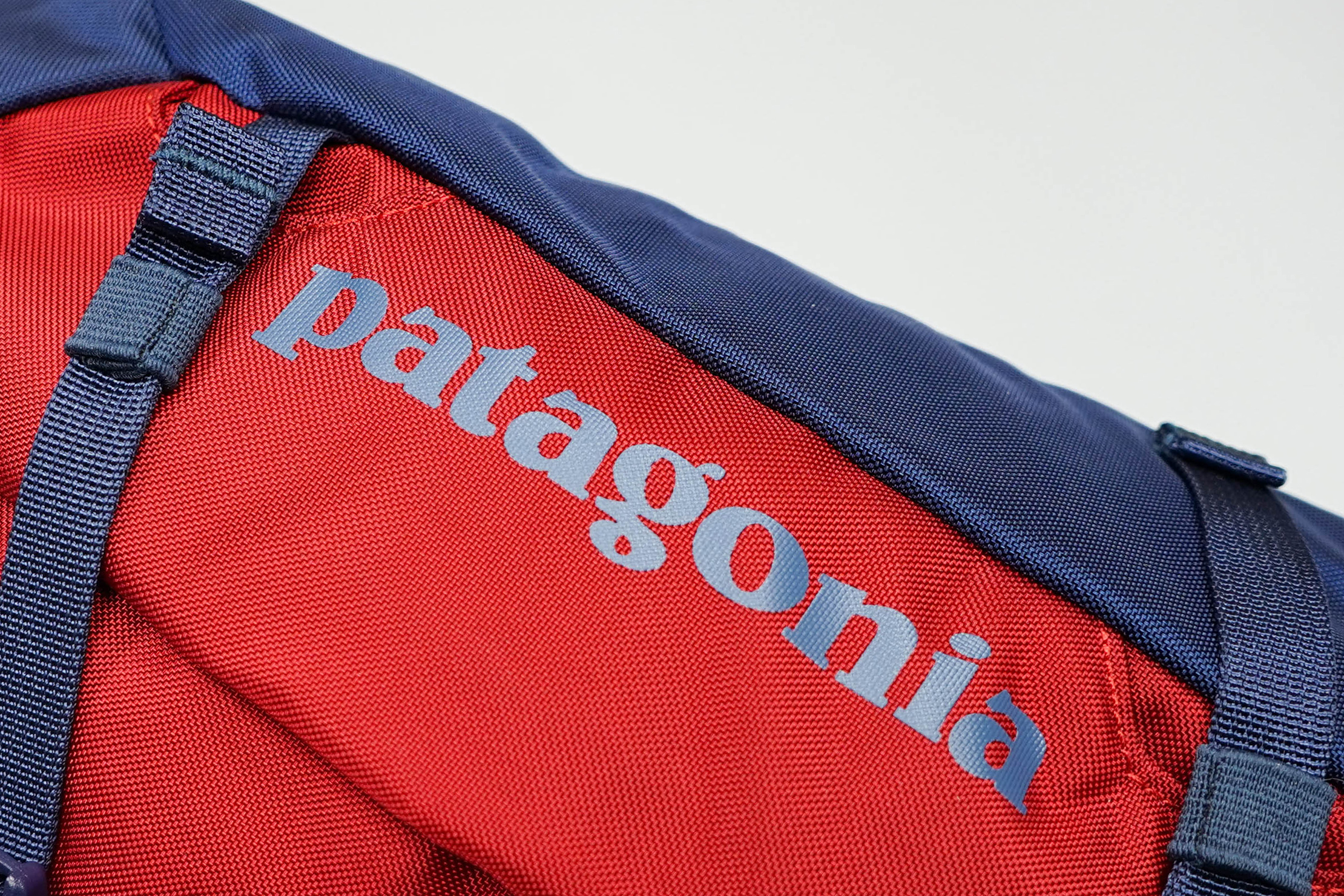 Anyway, there are enough colors available that you truly can do you. The branding is typical for Patagonia—you'll find the company's name along the side of the bag in a way that's obvious without being too over the top. Everyone will know you're rocking Patagonia, but you won't feel like you're being sponsored by the brand as you go about your life (for better or worse).
You know what else is typical Patagonia? The high-quality materials and top-notch craftsmanship.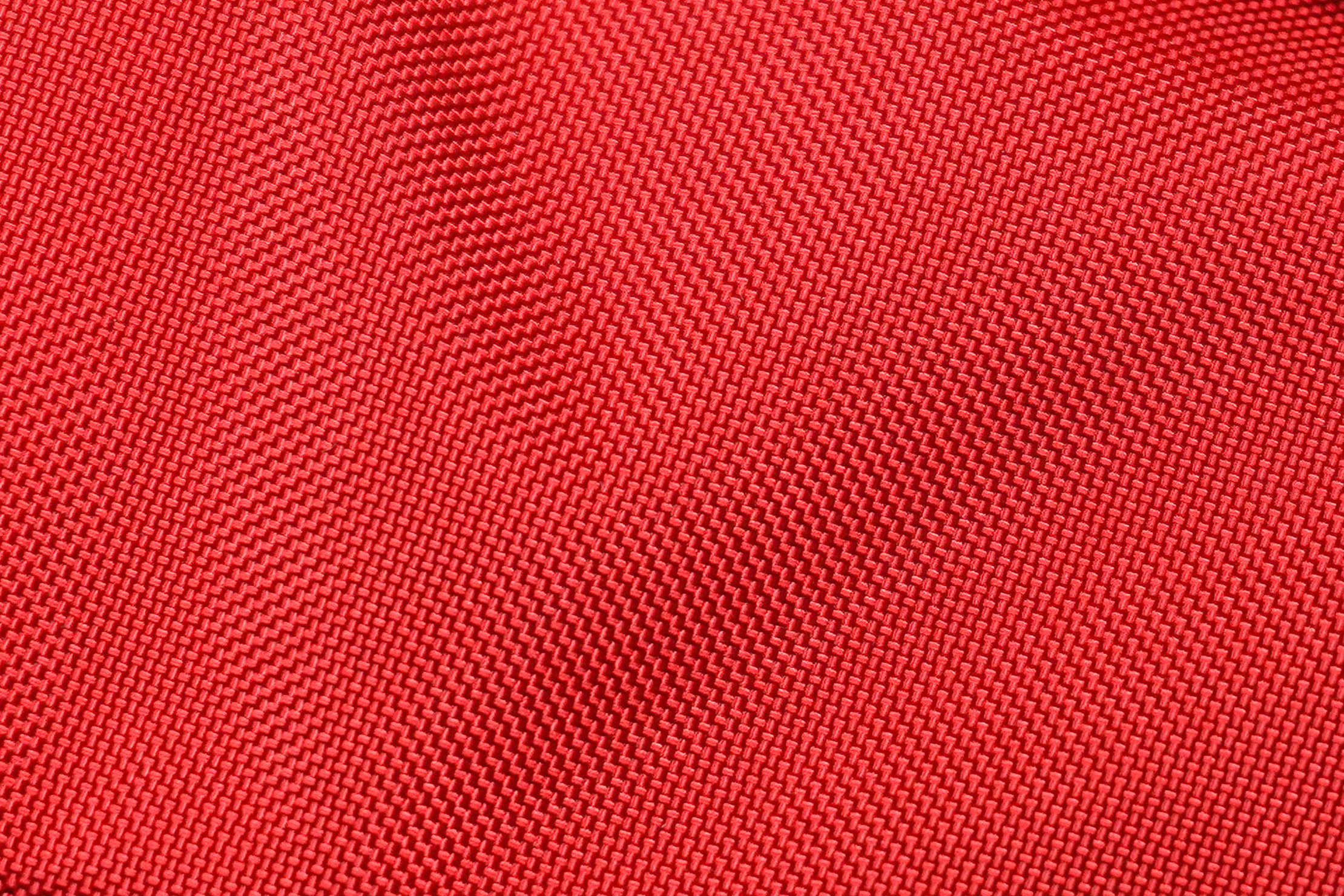 The body of the bag is made from 630D nylon (50% recycled/50% high-tenacity), while it's lined with 100% recycled 200D polyester. For additional abrasion and weather-resistance, the bag is finished with both a polyurethane and DWR coating.
While that all may sound ridiculously technical, all you need to know is that this bag should keep up with all you throw at it. Flame throwers being one obvious exception.
External Components
One of the best parts about this sling bag—and what sets it apart from the crowd—is its comfortable carry. There have been multiple times we've forgotten we've had it on. Seriously.
This can be credited to the soft, breathable mesh on both the back panel and shoulder strap. The air channels on the back panel also help with airflow, mitigating that dreaded swamp back effect that can happen on hot days. We're not promising you won't get sweaty wearing this thing, but we can say we've gotten less sweaty with the Atom Sling than other sling bags on the market. That's a huge plus for outdoorsy excursions or long days touristing in hot climates.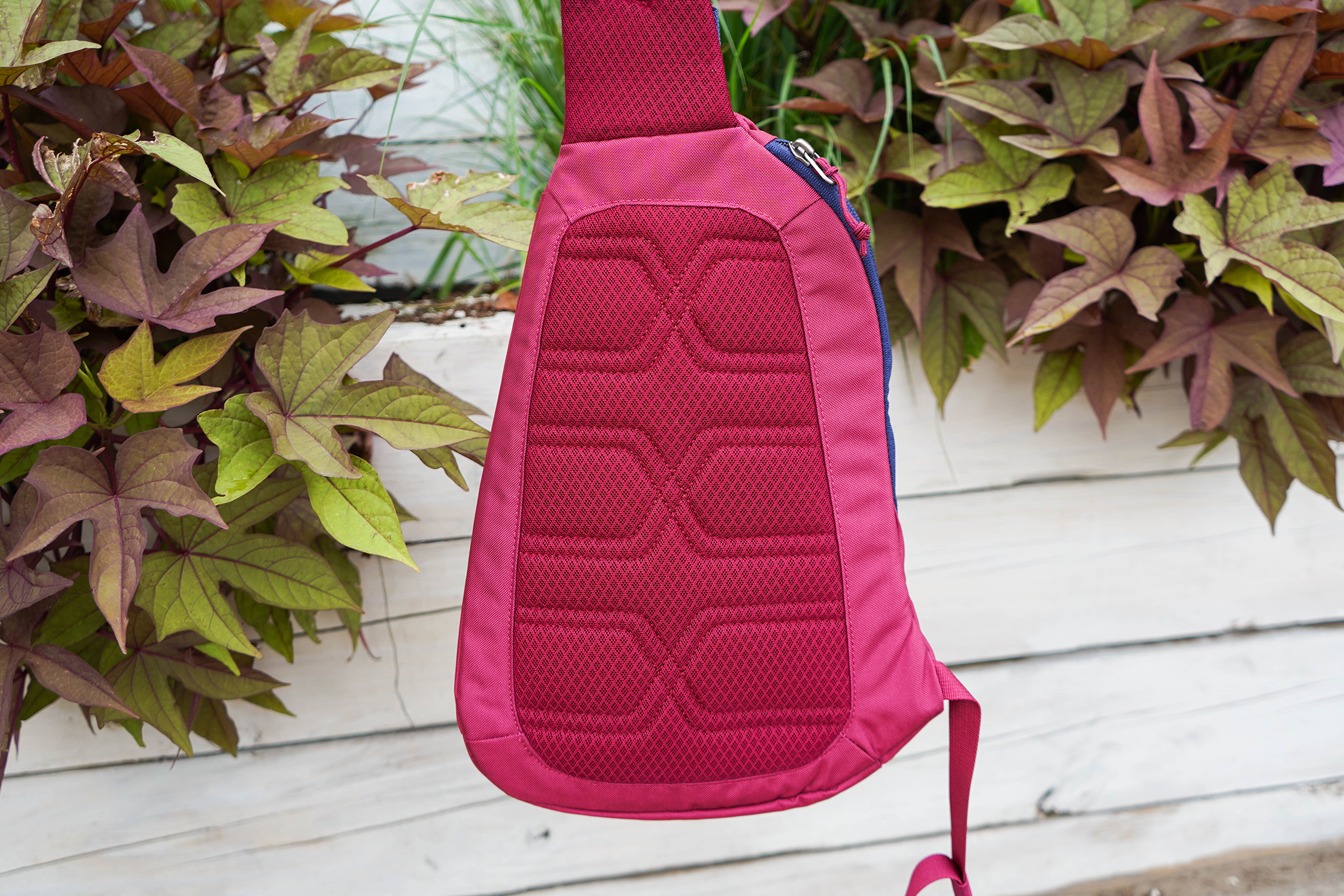 That said, the shoulder strap can only be worn on the right shoulder (if you're wearing this sling on your back). It "slings" forward on the left side of your body.
This isn't ideal for lefties—sorry, friends—and can get uncomfortable after long stretches no matter if you're right-handed, left-handed, or ambidextrous. Having the weight of an 8L bag dump into one shoulder for hours at a time will never be comfortable.
We would love a future iteration of the Atom Sling to have a shoulder strap that can be anchored on either side of the body—so you can switch up the shoulder you carry it on. But hey, we don't design sling bags. We just review 'em (and write guides on them).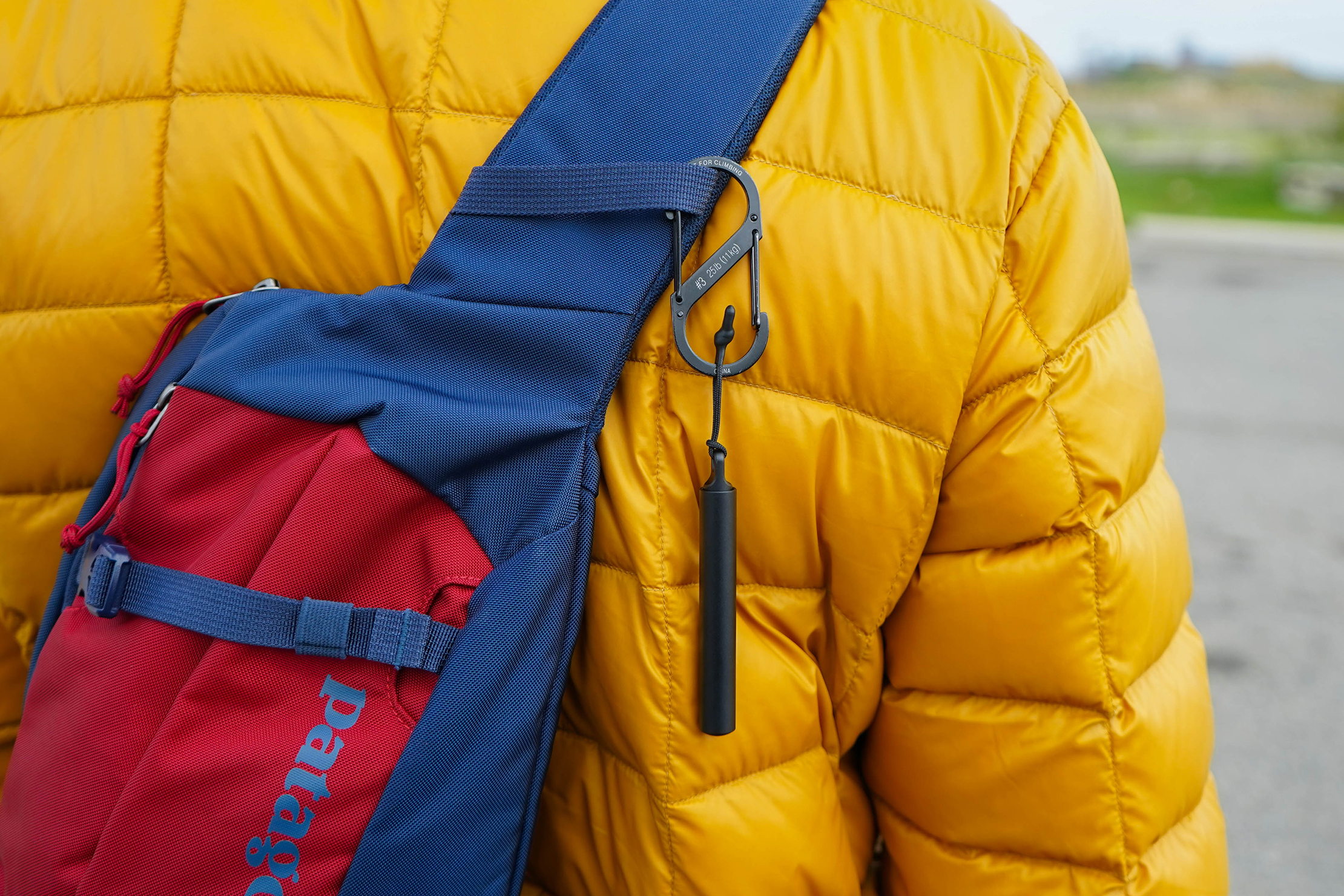 You'll also find a loop to attach some accessories. Some people use a carabiner to attach a water bottle here, but we haven't found that to work very well. Unless you have an ultralight water bottle, it's simply too heavy.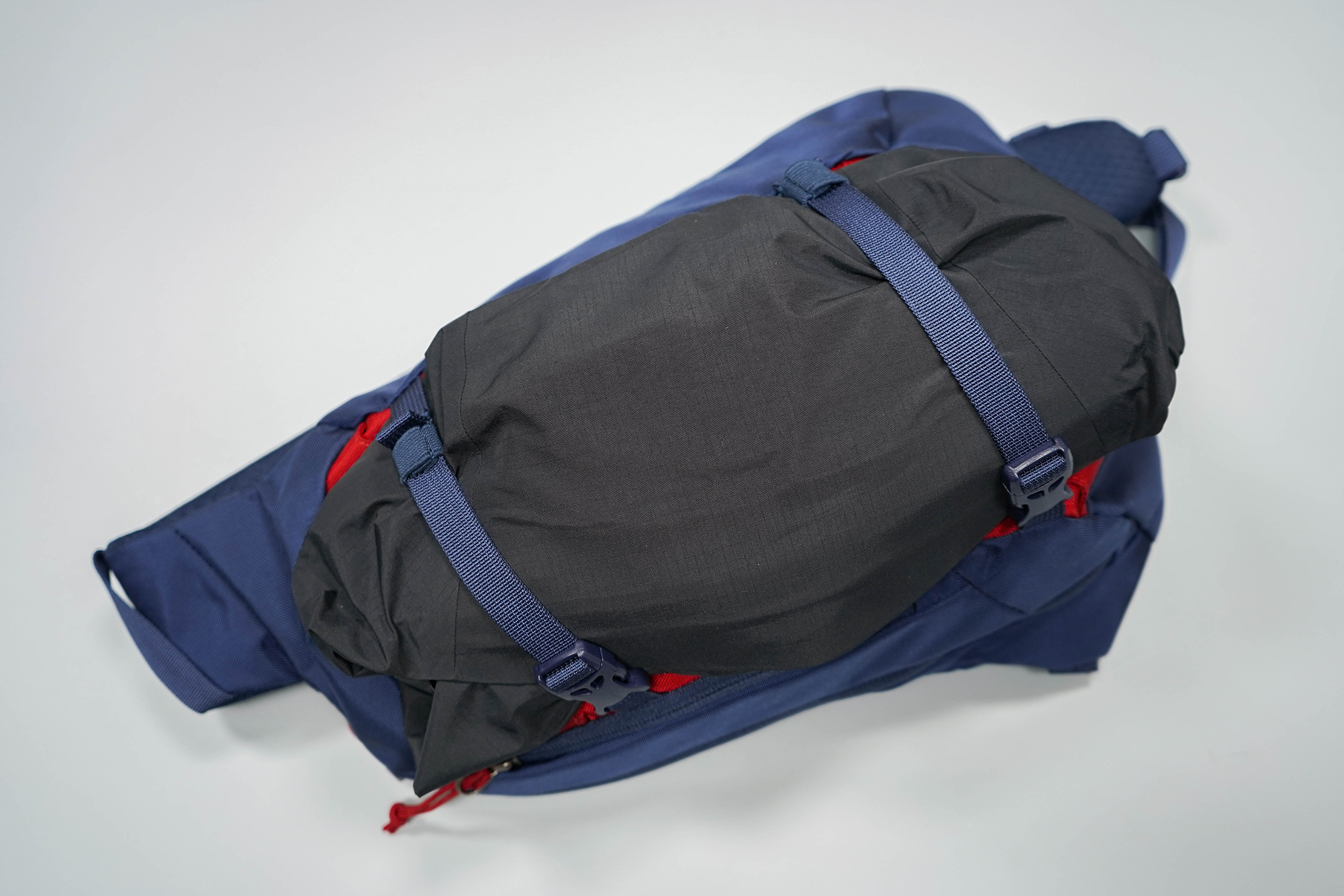 We're big fans of the compression straps on the front of this sling. Not only can you loosen them up to create more usable space in the main compartment, but they can hold some stuff externally. We've put a wet rain jacket here to 1) help it dry faster and 2) keep it from soaking our other stuff.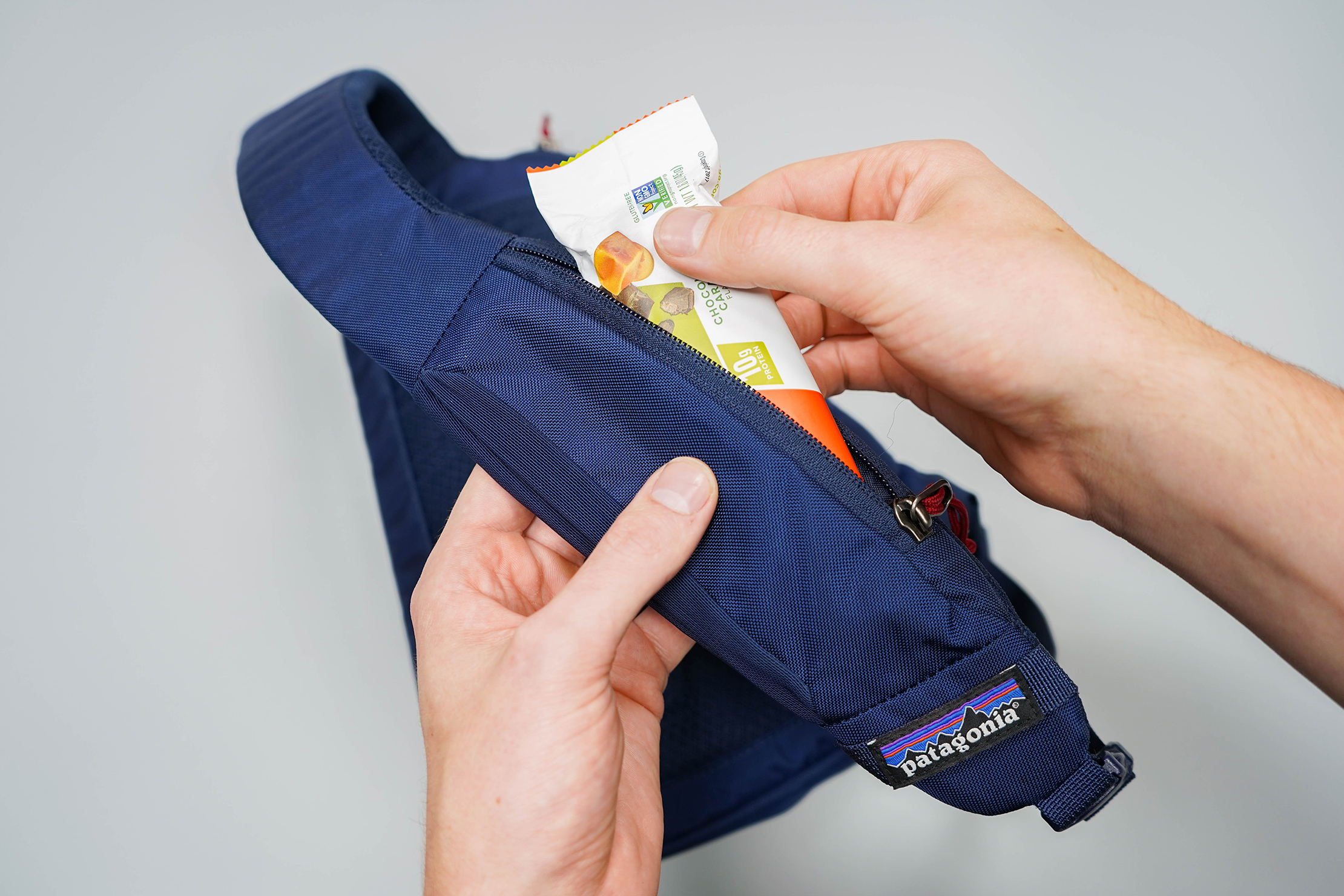 Finally, you'll find a stretchy pocket on the shoulder strap. It has a good amount of dimension, so you can fit snacks or smaller smartphones inside. We haven't used it much, but it's there if you need it and out of your way if you don't.
Inside the Sling Bag
There's not too much going on internally—and there doesn't need to be. We think the two compartments offer the perfect amount of organization for a sling of this size.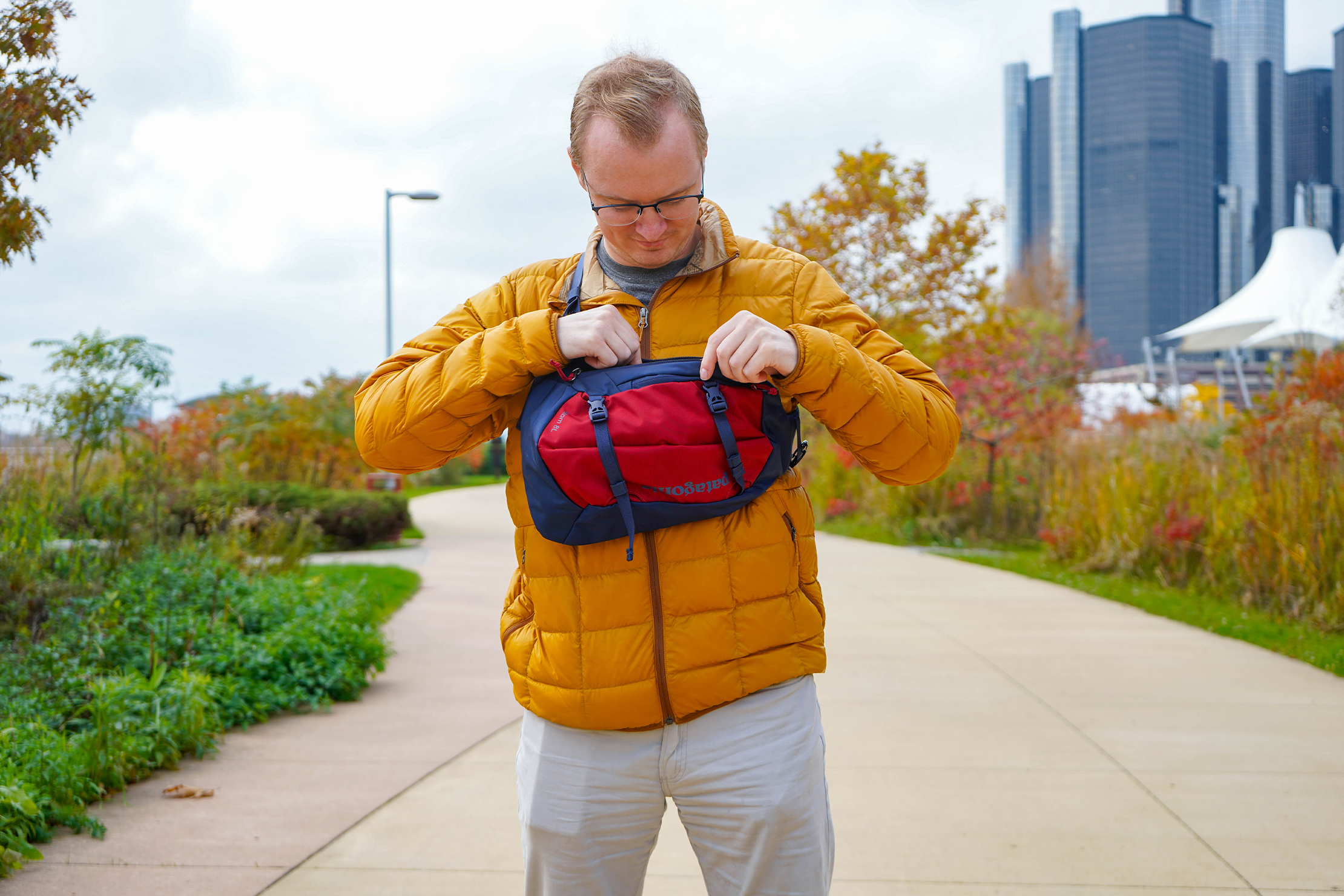 The quick-grab pocket is ideal for the little things you'll want to access quickly (did the name give it away?). Think your phone, keys, and wallet. A great thing about this sling—and sling bags in general—is the convenience of being able to "sling" it forward and access your stuff within seconds.
Now, this quick-grab pocket is a little small. Our phone with its case has to be squeezed inside and won't fit with both our keys and bulky wallet. We're alright with this since it's not exactly slow to access the main compartment, but it's worth noting.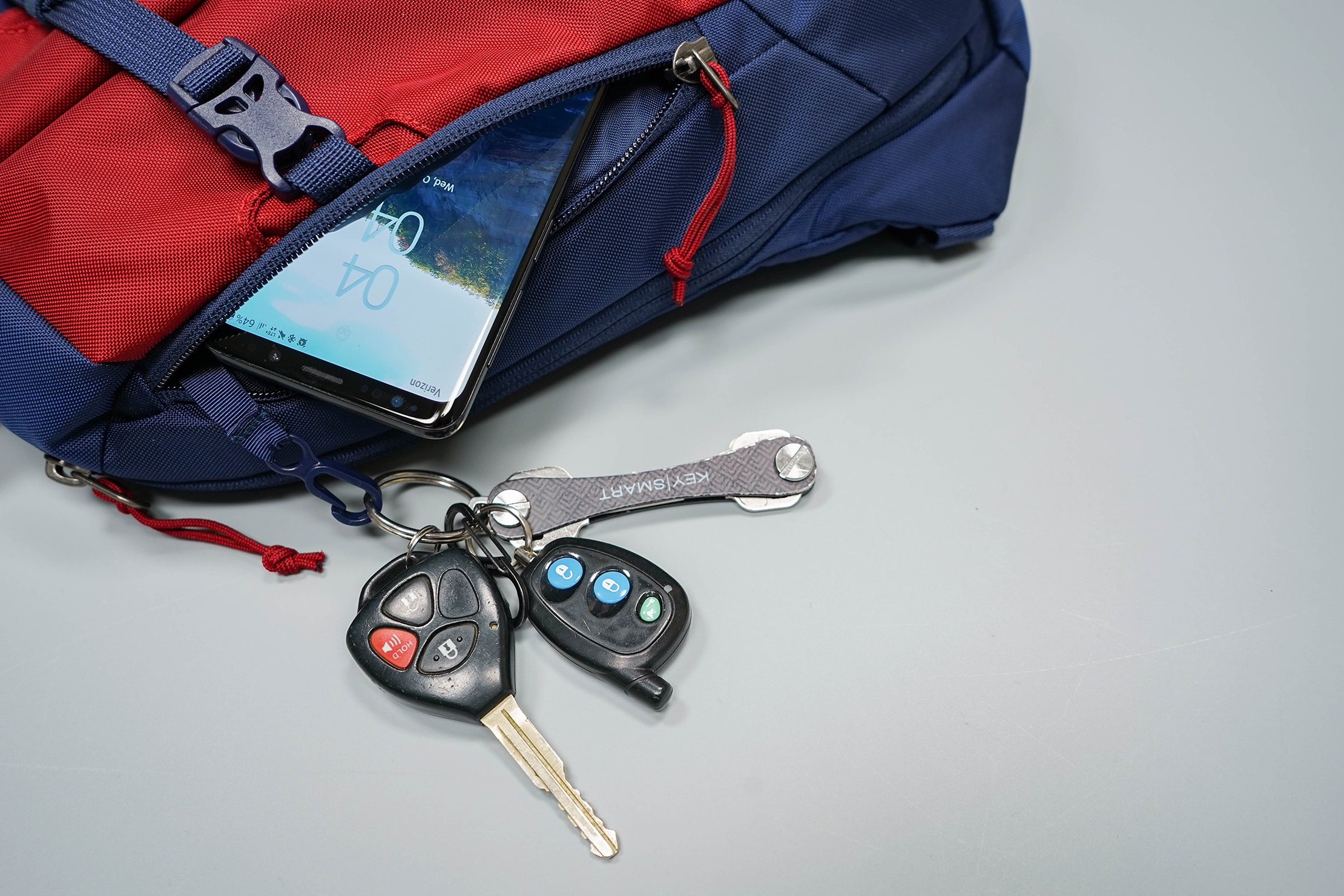 This pocket has a key clip, which is a nice feature as you never have to go rummaging for your keys—although it is made of plastic and we're not confident about its longevity.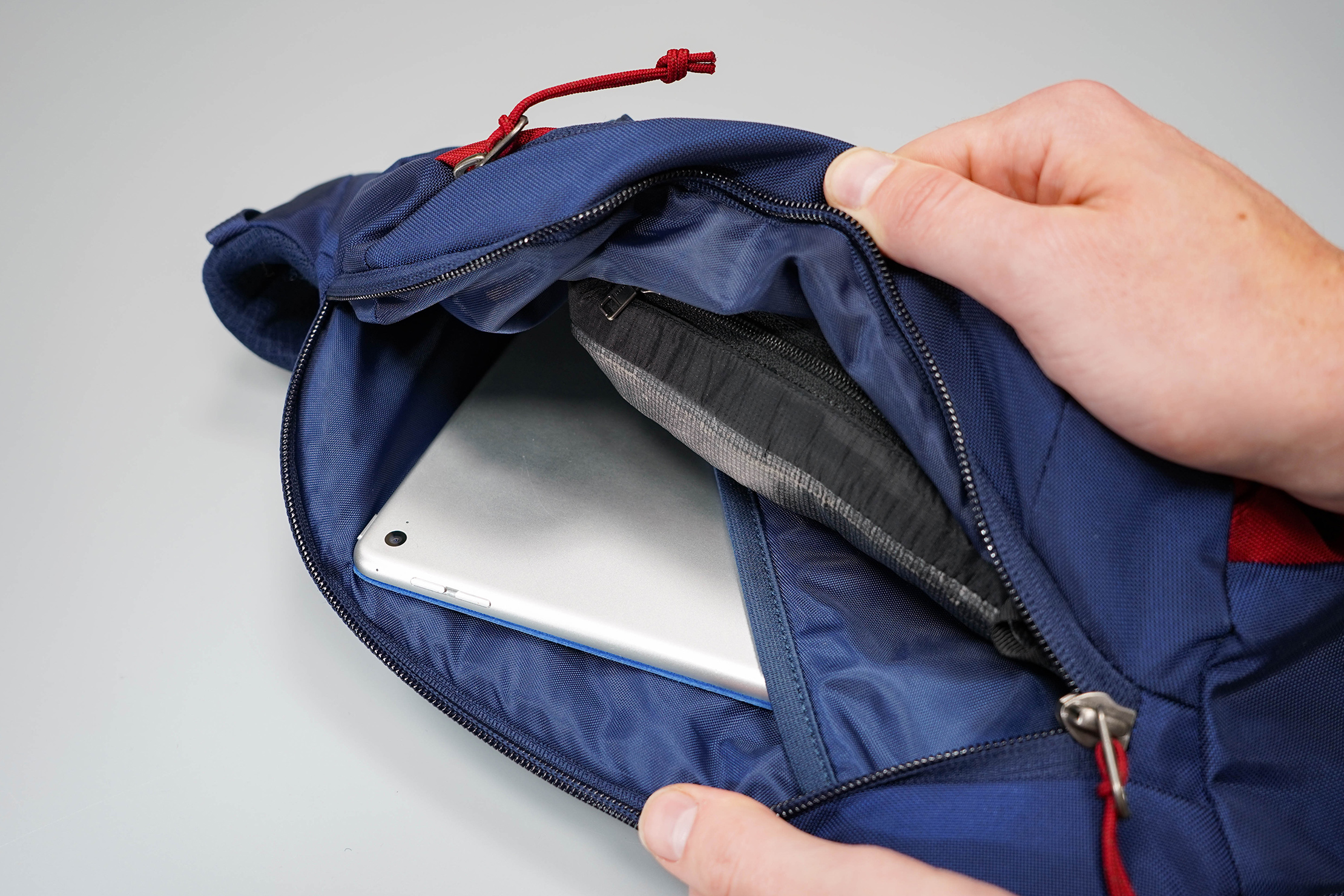 The main compartment has a padded sleeve against the back, which is a great spot for tablets or e-readers. Between the soft padding of the sleeve and the soft padding on the back panel, we're pretty confident your tablet will be properly protected.
The rest of the compartment is a bucket of open space for you to carry whatever—clothes, notebooks, a water bottle, your collection of horse figurines. Truly anything you want.
And that's it.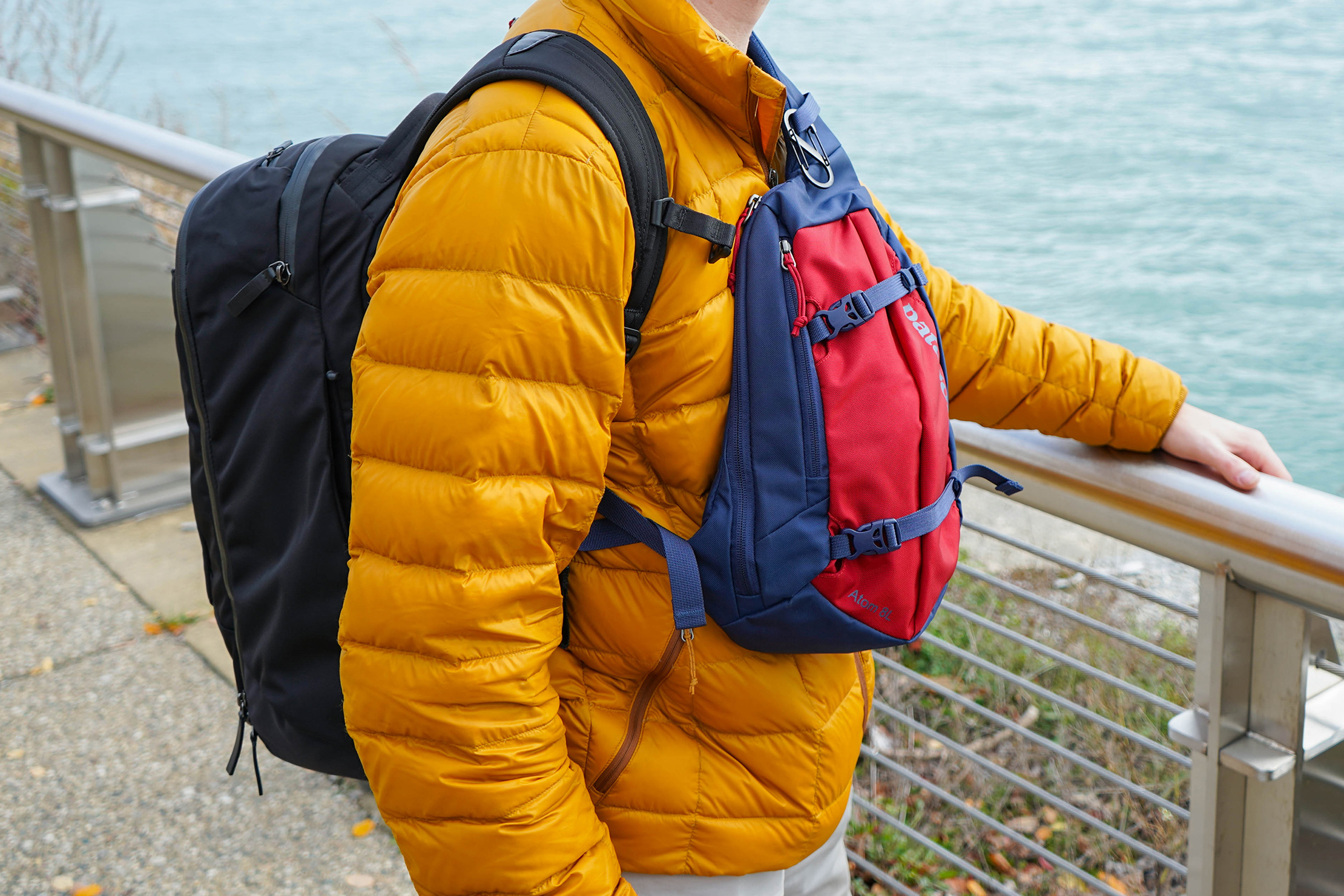 We should note that the zippers aren't lockable. If you're going to be hanging out in crowded markets or public transportation, you can wear this sling on your chest for better security. It's not the hippest look in the world, but it works in a pinch.
Durability & Testing
We've been testing the Patagonia Atom Sling for a little over two weeks as a daily driver in Detroit, Michigan. As you'd hope after only two weeks, we have no durability issues to report. Everything is looking good—no marks, pilling, scratches, anything like that.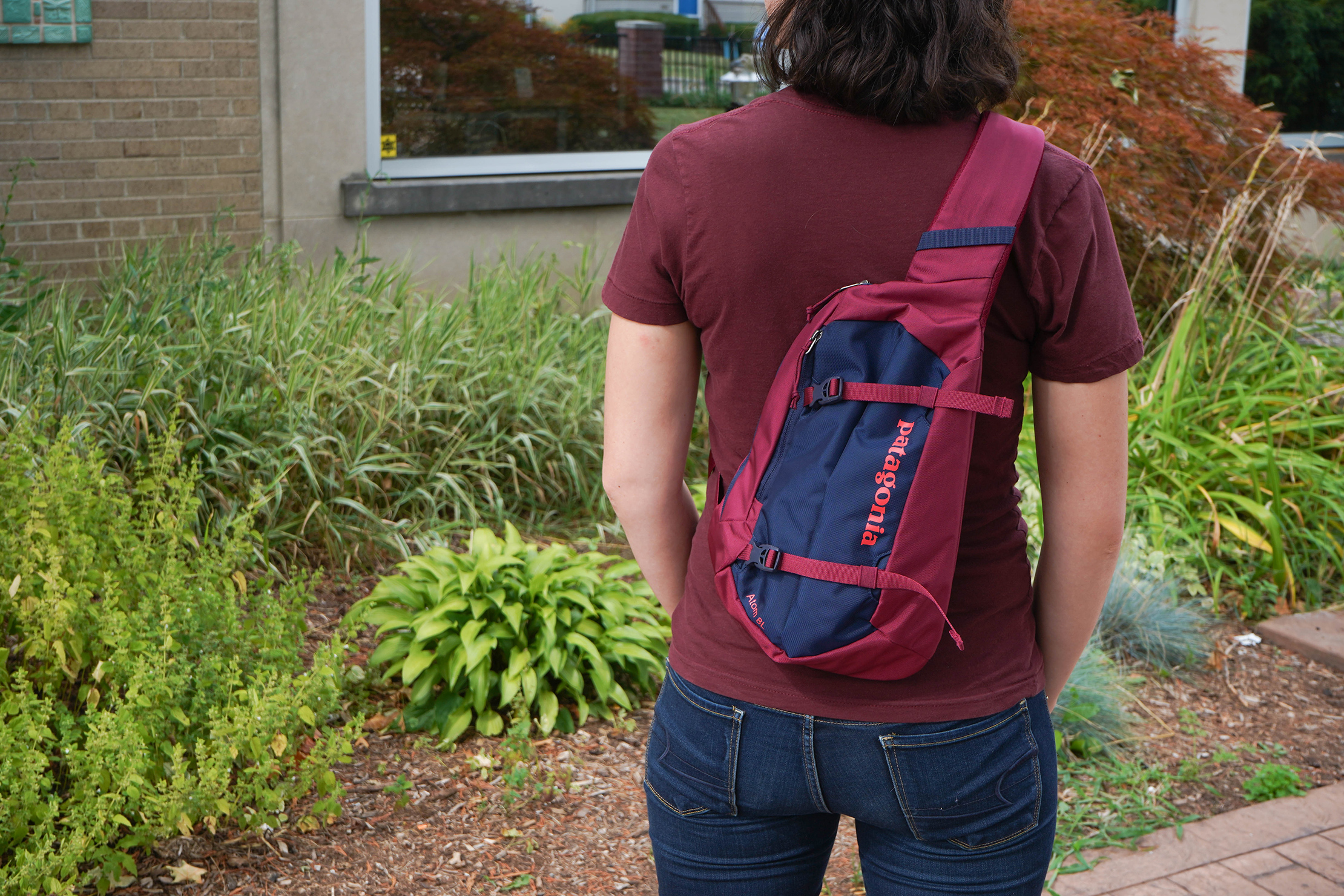 All in all, it's a solid sling bag. We've been pleasantly surprised by how comfortable it's been to carry—great for short hikes or day trips.
Usage Timeline
Initial Usage
Condition: Excellent
We dig the 3D mesh pocket on the strap—it makes the pocket more usable for bulky items, even as the strap is contouring to your body
The zippers aren't obstructed by the compression straps—big win for quick access
Back mesh is padded and pretty breathable
Quick-grab pocket could be a little larger—it's a challenge to pocket some phones in there
2 Weeks of Use
Condition: Excellent
Access the Pro Community Discussion
Get your questions about the Patagonia Atom Sling answered from our team and the Pro Community right here on the page. Plus, join discussions with other members about gear, guides, and more.
Other Bags & Luggage Reviews